Moderator

Posts: 16208
Joined: Tue Mar 22, 2005 6:31 pm
Location: Tinley Manor, KZN North Coast, South Africa
arks wrote:I've uploaded all the pix onto the computer, but in total there are @10,000 (I forgot to count in the point-and-shoot ones

), so it's going to take me some time to sort through them and organise them.

And in addition to KNP, I also have to report on WCNP, Cape Point and Boulders ... And it's gonna take me some time to organise my thoughts, as well as my pix.

Soon ...
Wow Arks, you sure have some work ahead of you, so good luck but I'm sure you will have fun as it does bring your whole trip back to life and you find yourself remembering little things that you had forgotten, well, I did anyhow!!
---
If the "new riverfront bungalows" referred too are the same as the one below, it might be more accurate to say that they are new instead of renovated units. When we were in Lower Sabie at the beginning of February they were busy building these units. They would completely demolish a old unit and then rebuild the new one and then start on the next.
This is the building site of the 3rd unit from the restaurant side after the units have been demolished and as can be seen not much is left of the old units. When we were there they have already completed first two units (With unit I mean two bungalows joined together)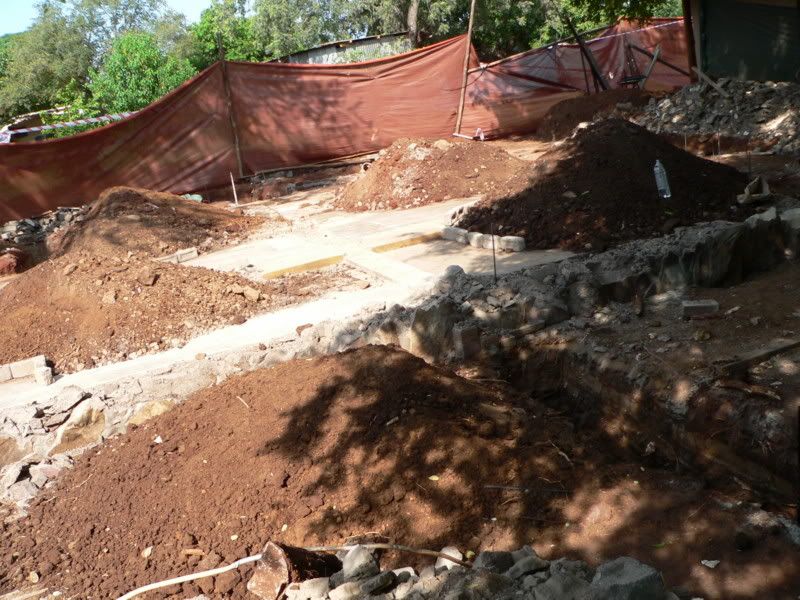 ---
Thanks Arks and Francois!
Wow, Lower Sabie has just sky rocketed in my ratings! I always thought it had an amazing location from every perspective but I couldn't stand those red roofed cottages, it just put me off....when in Kruger..one must have thatch.
These new bungalows look ideal, and from what Arks describes about the internal layout, especially the inside kitchen (HUGE plus..will help with the primate problem) it seems that much thought went into their design. I personally prefer them not to be semi-detached from a privacy perspective....but this wouldn't deter me now that they are so vastly improved.
I must commend SANParks for commencing with these much needed upgrades across the Park. It is so important to update accommodation and keep things in good condition for the sake of the future of the Park. This keeps KNP truly world class. Keep it up.
Perhaps these posts should be moved to the Lower Sabie thread.
"Acts of kindness never die. They linger in the memory, giving lift to other acts in return."
Lord Sacks - From Optimism to Hope
---
---
---
---
Jumbo wrote:Looks like very nice units….thanks for the pics Francoisd.

It is however a pity that they decided to attach them like that….dunno, this sort off puts me of a bit.
Made the same comment to my SO. The old units was attached to each other and I did not like it and I thought they had a good opportunity to change this when they demolished the old units.
Imagine having the likes of WTM staying next to you and then have to listen to his snoring the whole night
---
Jumbo
francoisd wrote:Imagine having the likes of WTM staying next to you and then have to listen to his snoring the whole night
Ok, now you have put me off from these units forever!
But seriously, they should have given more thought to what their clients actually want and prefer. Why do 2 people go to Kruger…definitely not to share a veranda with strangers?
(BTW, we are messing up Arks' thread
)
---
Senior Virtual Ranger

Posts: 3866
Joined: Sun Mar 20, 2005 5:53 pm
Location: Cambridge, MA (and home from home in Darling, WC)
Jumbo wrote:(BTW, we are messing up Arks' thread

)
All in a good cause
— tho probably a good idea to move this discussion to the LS thread.
@ Francois: Those are useful pix, because I "forgot" to take pix of the interior and that looks like my bungalow (#4). The empty corner across from the kitchen counter area holds a really nice daybed/sofa, which I particularly liked because it was a bit chilly to sit outside, but this was a very comfortable spot to sit with my legs and feet up and still with a nice view down to the river.
Bushmad wrote:... it seems that much thought went into their design
I happened to have a chat with the LS Hospitality Manager, Garth Holt, who was interested in what I thought about the rennovated bungalows as I think I was the very first guest to stay in one
. Apparently some of the nicest details (such as the small brass reading lights over the beds — SO much nicer than the usual huge plastic ones in other camps — and the sliding glass doors between the bedroom and kitchen areas) were features that he personally chose and fought for. I felt that these "upscale" features were very much worth his efforts
I agree that having the bungalows attached is a down side, but my guess is that they needed to keep the same number of units and were replicating the existing semi-detached footprint.
RSA 2017
9-11 November Cape Town
11-29 November RMS St Helena: St Helena & Ascension
29-30 November Cape Town
1 December-21 January Darling
---
Perhaps they had to follow that plan because of the existing sub-terrainian infrastructure that may have been too costly to move. If this is not the case, perhaps it's not too late to suggest that the rest be separate?

The separating wall seems to slope down, that would minimise privacy, it should stay at the same height right across. This is just what I see from the photo, maybe it is not the case.

As for seeing onto the next door patio of the next building, perhaps some clever planting would do the trick.

Having said all this, I am delighted with the improvements.
"Acts of kindness never die. They linger in the memory, giving lift to other acts in return."
Lord Sacks - From Optimism to Hope
---
---
Who is online
Users browsing this forum: No registered users and 5 guests