This is my first Trip Report on the forum, so I thought I would start where we finished off last, in KTP June 2012. We had been to Kruger many times, but this was out first trip to KTP, and what an experience it was. It lived up to all our expectation, and more. The last 2.5 days in the park were a real treat.
After a week in the park (Twee Rivieren, Kalahari Tented, Nossob & Grootkolk) with lots of exciting encounters, we headed to Bitterpan. We had no idea what to expect, but were looking forward to the drive through the desert. There was not much wildlife to see on the drive there, but beautiful scenery to drink-in as we crossed the dunes. Arriving late afternoon we checked in, relaxed and enjoyed the location.
Early morning was cool and nothing at the waterhole, so we decided to head off. We chatted to the ranger for a while and then got in the car to drive off. We went no more than 50m and then....lions, coming straight for camp!!! Another couple of minutes chatting with the ranger and we would have been jumping into his hut for safety.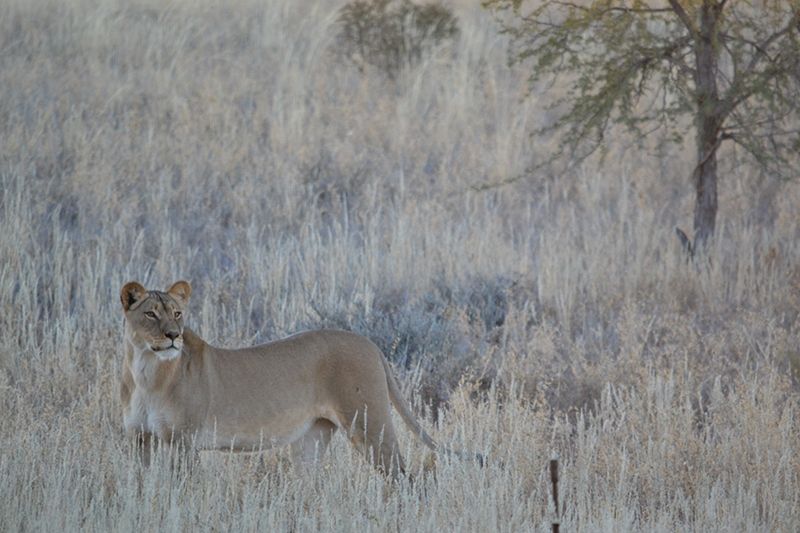 We quickly reversed back to camp. The lions came straight past the camp and then down to the waterhole. A pride of 1 male and 5 females. After a drink it was off to the pan where they relaxed and socialized.
When the lions finally departed the pan, we went back to the car are continued on our way. It was a windy day, but lots of interesting sightings on the way to Kieliekrankie, including meerkats, gemsbok and 2 cheetah trying to keep out of the wind.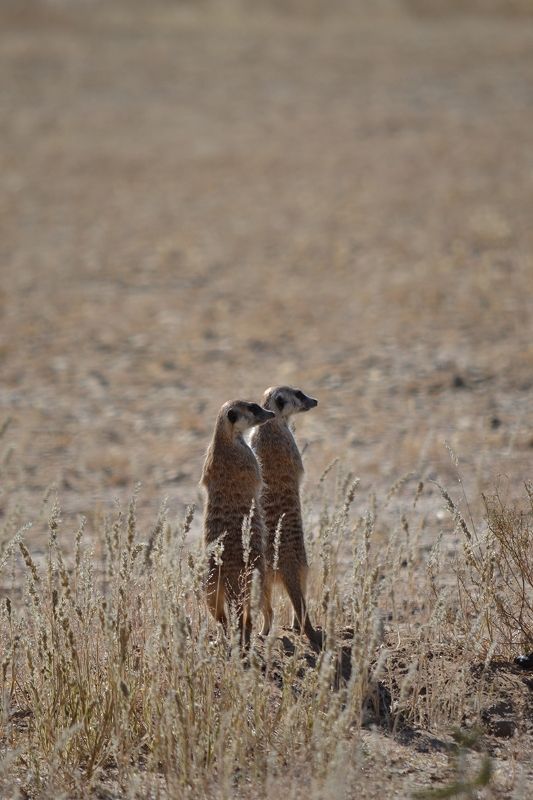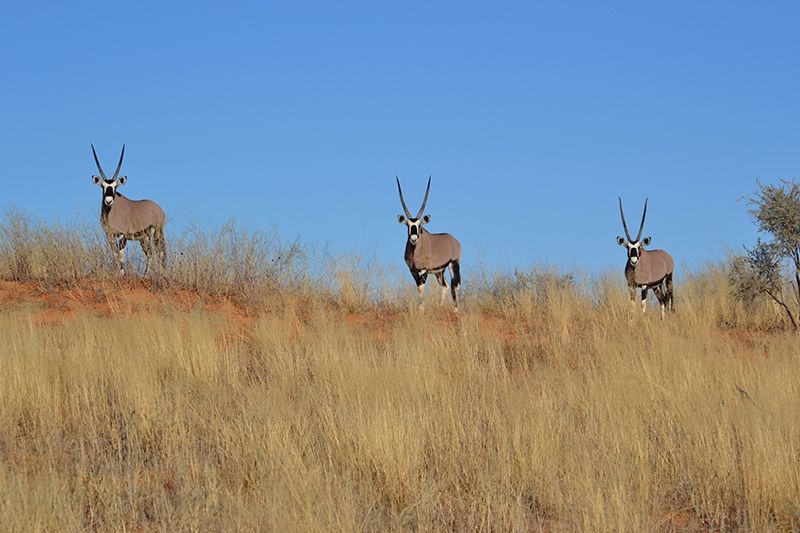 A highlight of the afternoon was driving up to Kieliekrankie, what an amazing location!!!
We settled into our unit and enjoyed the view with a nice glass of wine in hand. The ranger showed us the taped hole in the bathroom tent where a checky adolescent lion had tried to see what was inside.
After a good nights sleep we were up early to check the water hole. And who should arrive, but the cheeky lions! After a quick drink they decided the spotlight looked like a fun toy. It was attacked, pulled down, dispatched, and given a chew for good measure!
What a great start to the day, at least for us. The ranger was probably a little more frustrated about having to repair the spotlight...again.
After leaving KK we drove north up the Auob River. We hadn't gone far before we found 4 cheetah casually walking along the dunes. They were very relaxed and we got some lovely photos.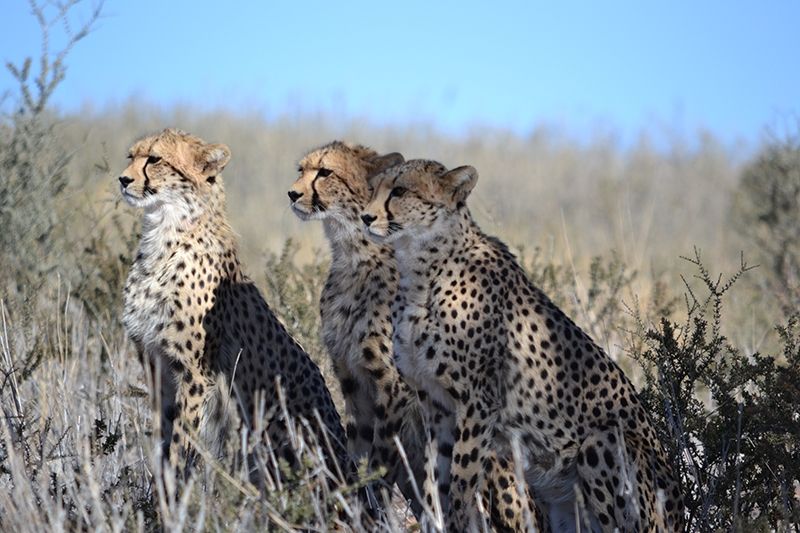 One seemed interesting in hunting springbok on the other side of the road, but the others were happy to sit back and watch.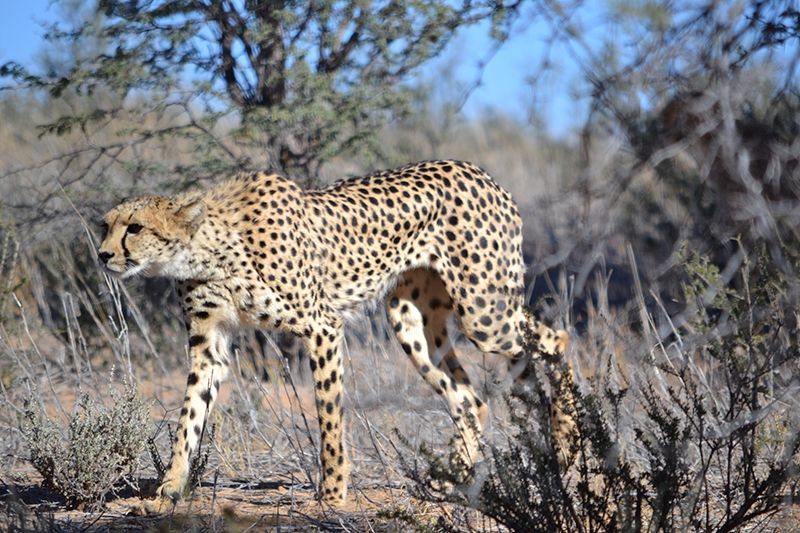 With no support he quickly gave up.
Other cars arrived so we moved off to let them enjoy the sighting. Further up the road, another cheetah. This time under a tree finishing off a kill. A bit too far away for a good photo, but nice to watch through the binoculars. What a great day. We were reluctant to return to camp (Twee Rivieren) that evening as it was our last night in the park. But at least we had a few hours in the morning for one last drive before heading back to Upington.
We were up early for the final drive and decided to head up the Nossob side this time and then cut across to Auob past KK. it was a beautiful morning with plenty of nice sightings along the way. There were 7 lions at the turnoff, but they quickly moved away. Probably our last lions we thought.... Wrong!
Driving across to the Auob side we came across some flighty hartebeest. Then around the corner was the reason why. 10 lions sauntering up the road!!!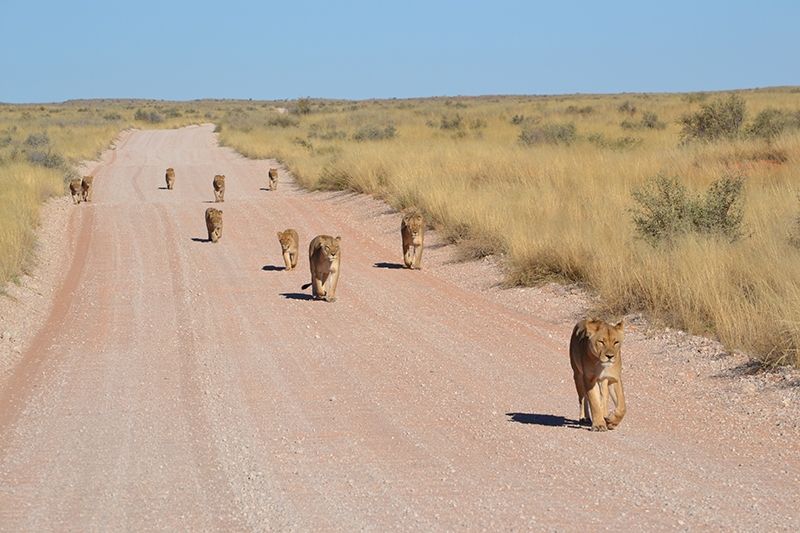 We stopped the car and simply let them walk by. The cubs were quite inquisitive of the lump of tin and rubber on the road. What a magic experience.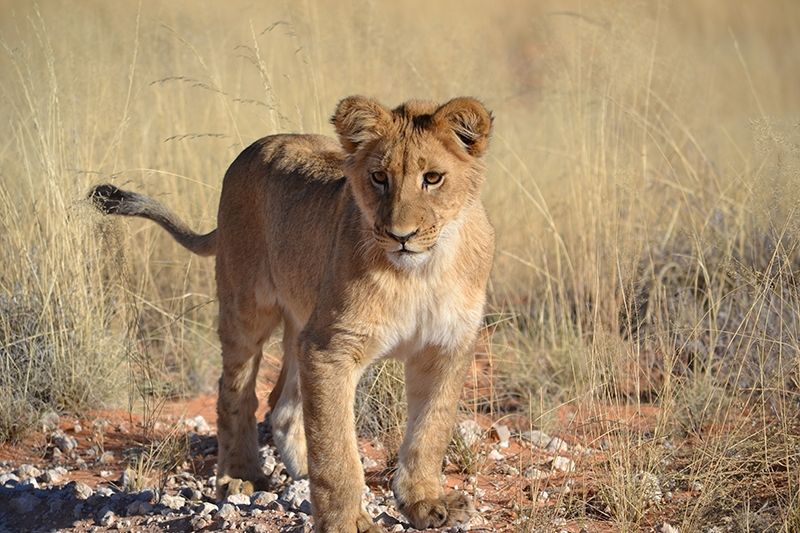 Couldn't get any better than that, surely not. So off we went to Auob with that glowing feeling that comes from a memorable sighting.
A few kilometres up the road and what do we find, 2 cheetahs with a small wildebeest they has brought down. They hadn't even stated eating when we arrived, but by the time we left they were red with blood.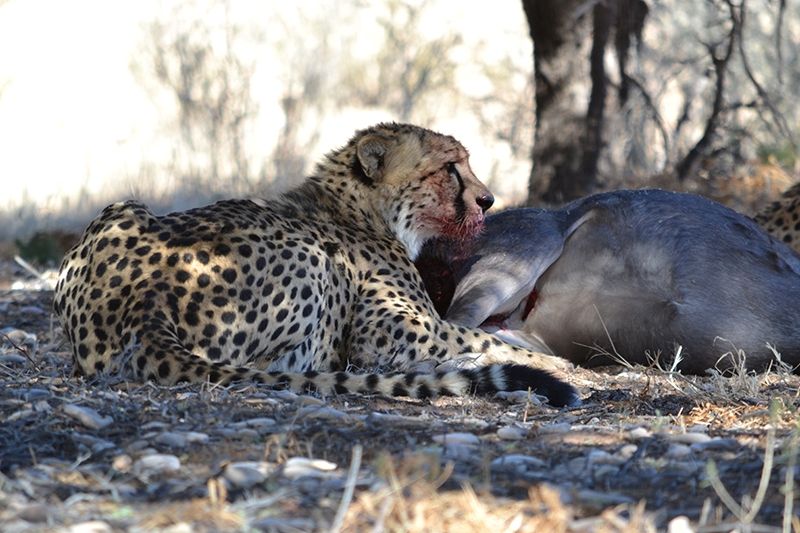 We stayed as long as we could, but time was finally catching up with us and we had to start the long drive back to the airport.
What a fantastic couple of days. We were hooked on Kgalagadi and were already thinking about our next trip.
And now it's getting close. Two weeks in May: Twee Rivieren, Mata Mata, Nossob, Bitterpan, Kieliekrankie & Gharagab. Can't wait.
---
Hello tennisball,
We hired a 4x4 for the trip, and have done so again this trip. Yes, it's a lot more expensive that normal car hire, but well worth it for the better viewing experience and peace of mind, I think. Prices vary a lot, so shop around. The roads north of Nossob were corrugated when we visited in 2012, but not that bad really (by outback Australia standards). We needed a 4x4 for Bitterpan, but the real benefit was the extra height for viewing, especially in the Nossob area. The high burm on the side of the road, along with extra grass at the road edge would make for difficult viewing from a normal sedan in many areas. We were very grateful for the extra height off the road. The drive into Bitterpan is 4x4, with some soft sand, but not challenging for anyone with offroad experience. The road was surprisingly good when we were there. This will be our first trip to Gharagab, so can't comment on the road there. Definitely worth a look up north if you can. We saw a lot of eland up there and heaps of bat eared fox. We didn't see a brown hyaena last trip, so that is on the wish list for this trip!
All the best for your next trip.
---
---