September 14, 2013
The day started off with 3 male lions on a wildebeest kill, about 1 km north of Sitzas. One male was considerably older than the other 2. The older one got to eat while the 2 teenagers watched. We couldn't see any other lions around, but that doesn't mean they weren't there. Once again, they were too far in the distance for a photo.
We saw 1 giraffe and 4 kudu between 13th and 14th boreholes. The Cape Fox wasn't out and the Spotted Eagle Owls weren't there either.
We found the hyena den just south of Kamqua. 4 adults and one pup were out. I love the look of contentment on mom's face while she's suckling the pup.
We found another Cape Fox den, about 1.5 km north of the viewpoint road, north of Urikaruus. I promise this is the last Cape Fox photo.
We checked in to Urikaruus and Eric was our attendant this time. He had already been there for 3 days and reported that it was very quiet around camp.
A wildebeest with a broken leg came to waterhole for a drink. It tried to hang out with another wildebeest that came down but the late-comer was having none of it. The lame wildebeest hobbled up the dune and then was out of sight.
Later in the afternoon, we went back to 13th borehole. There were a lot of cat tracks around. We followed them and found 4 cheetah about 100 metres north of the waterhole. It looked like they were coming down to drink. This was probably the same 4 that we saw yesterday morning, just north of here.
There were 3 other cars at the waterhole. We waited. Another vehicle came up and we told them that the cheetah were nearby. They grilled us, repeatedly, over the exact location. Then they sat for about 15 minutes, right at the bottom of the dune where the cheetahs were. We waited until 6:15 and then checked to see if the cheetahs were still there. They had disappeared! In the meantime, some 25 giraffe had come down to the waterhole. Some drank, but most were waiting around. All 3 cars left when the giraffe seemed to be done. We certainly didn't want to spook them when they already take a considerable length of time getting their nerve up to take a drink.
On the way back, we saw 2 Bateleur Eagles sitting in a tree very close to the road.
We only had 2 nights left in the park. There wasn't much food left, but I wanted to make sure the marauding mice didn't get it, so everything went in the fridge - rice, pasta, salt, everything!
One of the units was empty that night. One couple had booked 2 unit sfor 2 nights, one for themselves, one for friends. The friends couldn't make it, but didn't cancel the booking. The other couple who was there wanted to stay a second night, but there is no space. Even though they knew that one unit would be empty tomorrow, since it wasn't cancelled, it can't be re-booked. It's such a shame, because it is such a popular camp.
tbc
---
September 15, 2013
Around 4 am, a jackal started howling and didn't let up until around 6 am. We found leopard tracks leading from our unit up to the attendant's hut. Alas – no leopard.
This was our last full day in the park. The previous evening, we had been chatting with our neighbours and told them about the Cape Fox dens. None of them had seen foxes yet so we made a plan to leave right at 6:30 and show them the locations. One couple slept in, so we left without them. Unfortunately, the fox had either slept in or had gotten up really early because it was nowhere to be found.
We stopped at 13th borehole. There were a lot of fresh cat tracks but that was all. We continued on to he second den and the fox was out. I wonder if it's the off-spring of Charlie Fax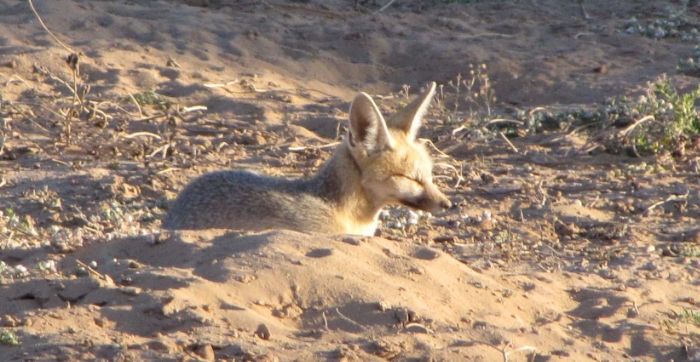 The Spotted Eagle Owls were back and this time one was posing very nicely with no branches in the way.
We returned to 13th borehole and ran into our sleepy neighbours. We took them to the den and the fox was still out. They were thrilled to see it. It's a great feeling when you're able to share a good sighting.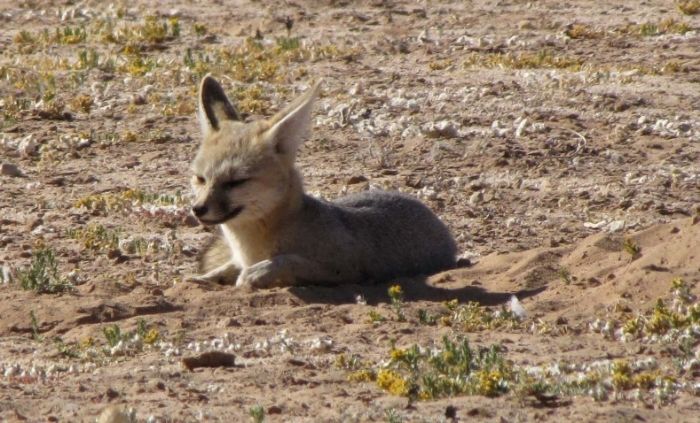 Back at camp, we watched 4 kudu drop by for a quick drink.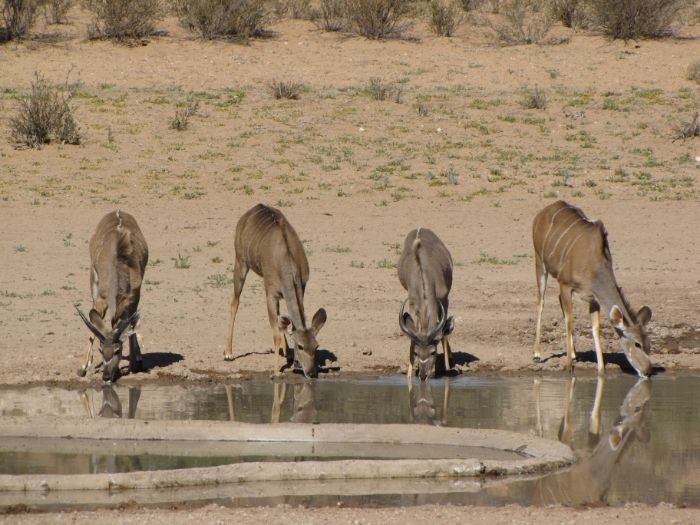 We spent a few hours packing and re-packing all of our stuff. How is it that even though we didn't buy anything, it seems like we have more stuff now than when we left?
We decided to go out for a quick afternoon drive. There were no vehicles on the road. It was as if we had the park all to ourselves. Finally, we came across one vehicle and stopped to ask if they had seen anything. They told us that everyone was probably at the lions, about 16 km from Mata Mata. Apparently the lions had been there all day, 2 mating pairs, one on either side of the road, plus others wandering around. We headed up towards Mata Mata but it was getting late so we returned to camp.
After a quick dinner and a short visit with our neighbours, we decided to turn in. We had to make sure that we were all packed and ready to leave as soon as we could pick up our permit and "the gate" opened.
Around 3 am, we heard a lion calling. He sounded quite far away, but we got up to look for him anyway. He was probably closer to Kamqua than Urikaruus.
He called again, 2 or 3 times and the last time he was somewhere behind the tourist attendant's hut.
tbc
---
September 16, 2013
As planned, we left right on time. Just south of Munro, we saw something on the right side of the road. Long spotted tail......maybe a leopard?
Another car coming in the opposite direction stopped. It was.... another cheetah. Actually, 2 cheetahs. We watched for a few minutes. Like all of our other cheetah sightings, they were on the move. They headed up the dune, so we continued on our way.
After a quick stop at Twee Rivieren to fill up with fuel and re-inflate the tires, we were on our way to Upington, to catch our flight.
I would not recommend staying at Urikaruus the night before if you are catching the 11:30 am flight to Cape Town. It is do-able, but there is no time to spare for any possible mishap.
We checked in as soon as we got to the airport, and then I went looking for Sokkies. I checked at the Budget counter where he lives, and Rose told me he was probably down at the other end of the airport. I went looking for him, but then got called back because there was something suspicious in my checked bag. Seriously???? It turned out that Security didn't like the fact that I had left the batteries in my torch. OK. I took one battery out and that made everything safe
tbc
---
gatita wrote:thank you for posting more lovely pics of the cape foxes, Timbits

what a wonderful shot of the cheetah.

Do you have a picture of the other one as well?

They seem to be very strict at Upington airport. Last year we had to open a bag because there was a lighter inside.
It was a pleasure to share the Cape Fox photos.
Here are a few more photos. The second cheetah was lying down for most of the time. I think the last photo may be the second cheetah. Do you know who they are?
---
Trrp-trrrrrrrr wrote:Timbits

Can't believe the TR is coming to an end.

Lovely pics of the Fox and how exciting to see Cheetah on your exit with a stunning

So did you see Sokkies this time round.
No, unfortunately we did not see Sokkies. When airport security tells you to wait around because there is something suspicious in your luggage, you don't argue. Very disappointed
---
September 17 – 19, 2013
A huge thank-you goes out to Scouter for arranging a forumite meet at Kirstenbosch on Tuesday morning.
We had hoped to walk around the gardens after the meet, but the weather didn't cooperate. This was taken just before we went into the tearoom.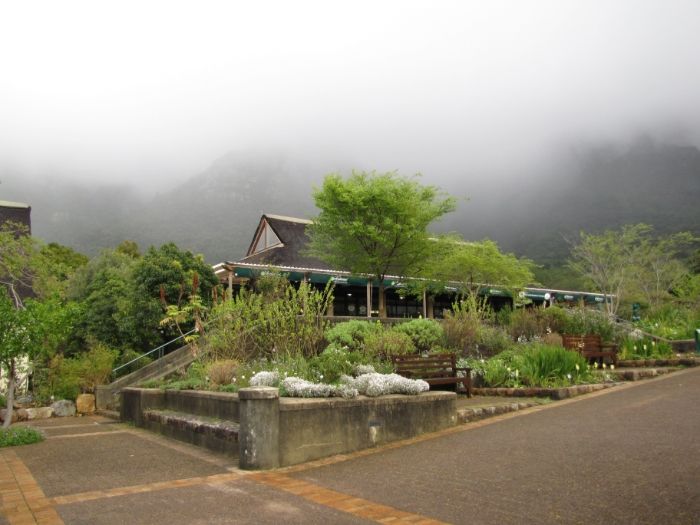 It only got worse afterwards. It's a shame we couldn't send the rain to the Northern Cape.
It was great meeting
Scouter, Wanderw, Caracal, Hugh and the real Hugh, AstroMatt and Suzie and Jenand
. Thanks to everyone for coming out on a rather soggy day.
The following day we drove up to West Coast National Park. The weather and the flowers were fabulous.
Our first sighting was a very well camouflaged Spotted Eagle Owl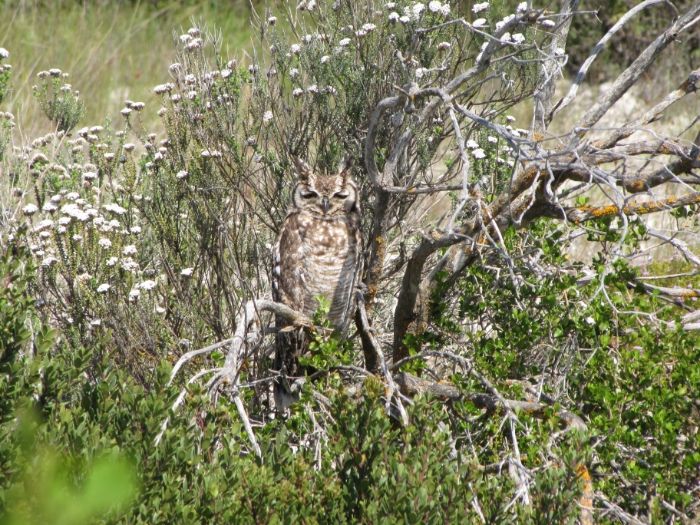 Followed by one of the fattest eland I have ever seen. It would probably take 2 Kalahari eland to equal the weight of this one.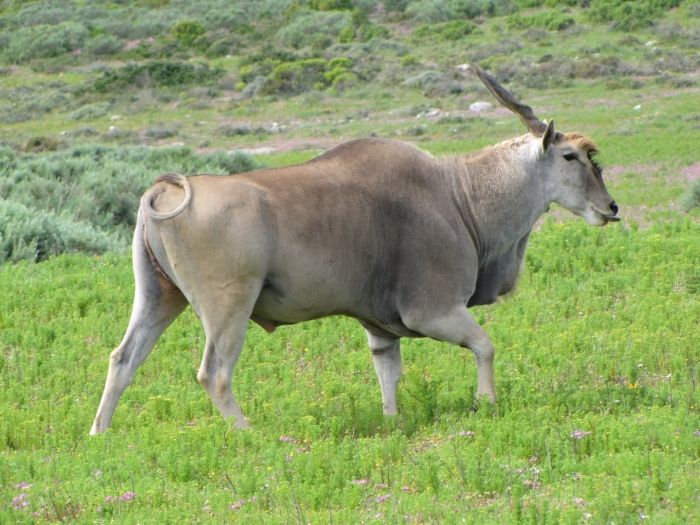 A Sacred Ibis was hanging around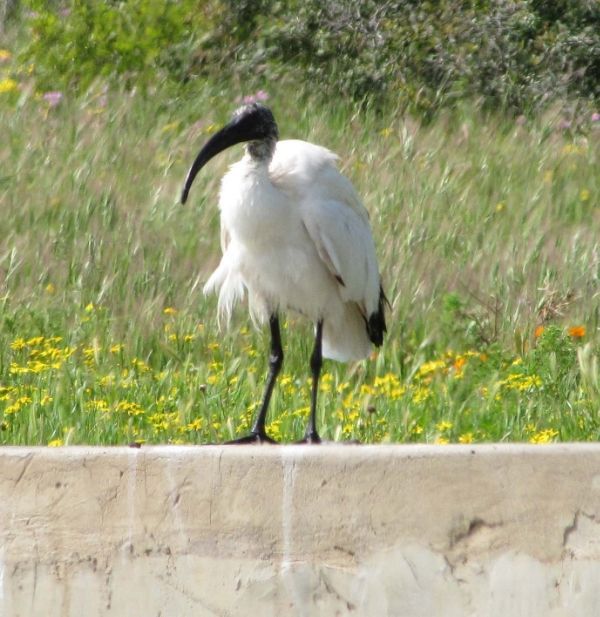 There were carpets of wild flowers everywhere. Unfortunately, the photo really doesn't do them justice. You really do have to see them for yourself.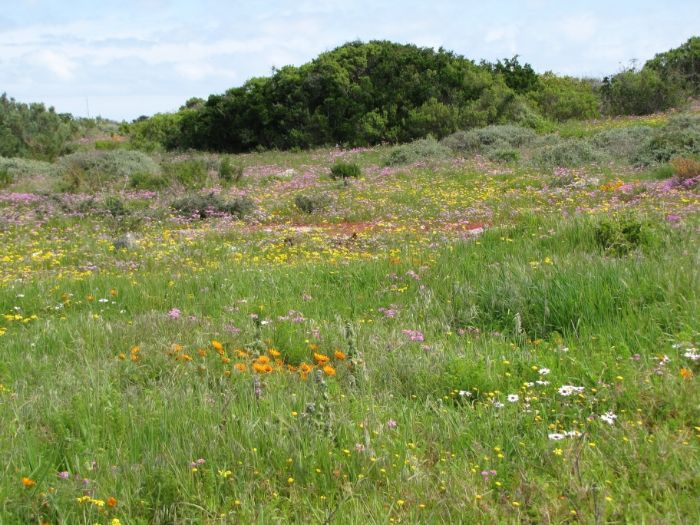 ]
There were a lot of these bugs running across the road. I have no idea what they were, other than fast.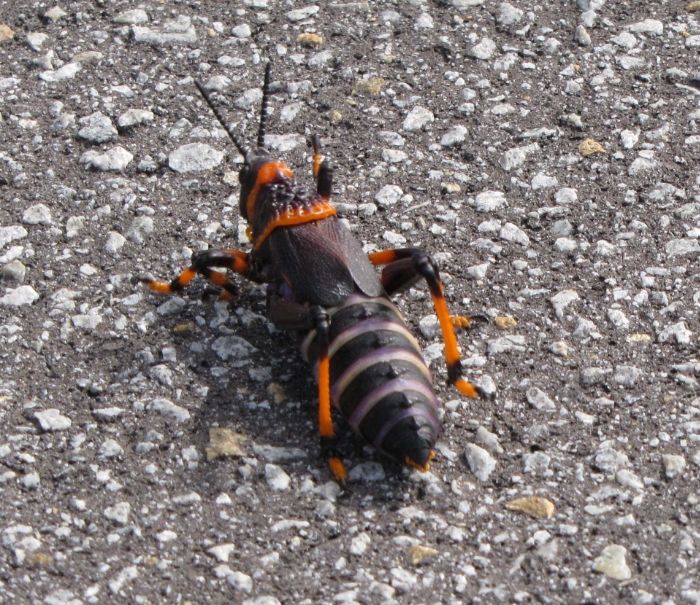 We had a pleasant lunch sitting on the patio of the restaurant. Initially we were out in the open watching the weavers build their nests. It didn't take us long to realize that sitting under an umbrella would be the better (and cleaner) choice.
it was starting to get late and we had to get back to Cape Town. We were staying with friends and the plan was to go for a quick bite to eat and then head to the Baxter Theatre for a concert.
SO had never heard of Johnny Clegg, so when our friends asked if we were interested in going to see him, he was less than enthusiastic. I had read the thread "What song reminds you of Kruger" and his name came up a few times. I had even written down "Johnny Clegg, Savuka, Jaluka" and a few of the song titles. I was going to "check it out" when I had some time.
That paper was still in my jacket pocket. When SO mentioned it to me I jumped at the opportunity.
I think the first song he played was "December African Rain". "African Sky Blue, Scatterlings of Africa, and "The Great Heart" were all part of the programme. I didn't know the songs, but I did recognize the titles. We thoroughly enjoyed the music and are so happy that we went. What a fabulous way to end our trip. It really was the cherry on top. Thank you Cheryl and Andy for taking us.
Thanks to everyone for reading and commenting. It's been a pleasure.
Next up - apparently there is this "Cricket" thing in March.
According to Wikipedia:
The Crickets, a rock and roll band formed by Buddy Holly
Cricket (insect), family Gryllidae, also known as "true crickets"
Cricket (musical), a musical by Andrew Lloyd Webber and Tim Rice
Cricket, nickname of the character Christine Blair in The Young and the Restless
Cricket is a bat-and-ball sport contested by two teams
I don't know which one it is, but there's at least 80 people who've said they are going to be there so it must be something big.
We'll see you there.
Timbits and Nighthawk2
---
Lionspoon wrote::yaya: Timbits!

Had a long hard look at your two cheetahs and am pretty sure they are Smith & Smit.

But don't ask me who is who.

Not sure about the other cheetahs you saw yet. Need to take a close look at their spots

two. It was 4 in total, right? A mum with 3 subadults?
Hey Lionspoon
Thanks for the id on the two cheetahs
Methinks you didn't read the whole TR though.
We saw a grand total of 18 cheetahs while we were there
That's definitely a record for us.
Just in case you missed them
Sept 09 - 1.5 km north of Nossob - 3 cheetahs
Sept 11 - 12 km south of Mata Mata - 2 cheetahs
Sept 13 - north of 13th borehole by Cape Fox den - 4 cheetahs - possibly Elena and cubs
1 km north of Craig Lockhart mother hunting, 2 cubs hiding
Sept 14 - 13th borehole - 4 cheetahs - probably the same ones from yesterday
Sept 16 - just south of Munro - 2 cheetahs (Smith and Smit)
Here is the one by Craig Lockhart. She was really far away and the image is heavily cropped so I didn't bother posting it before.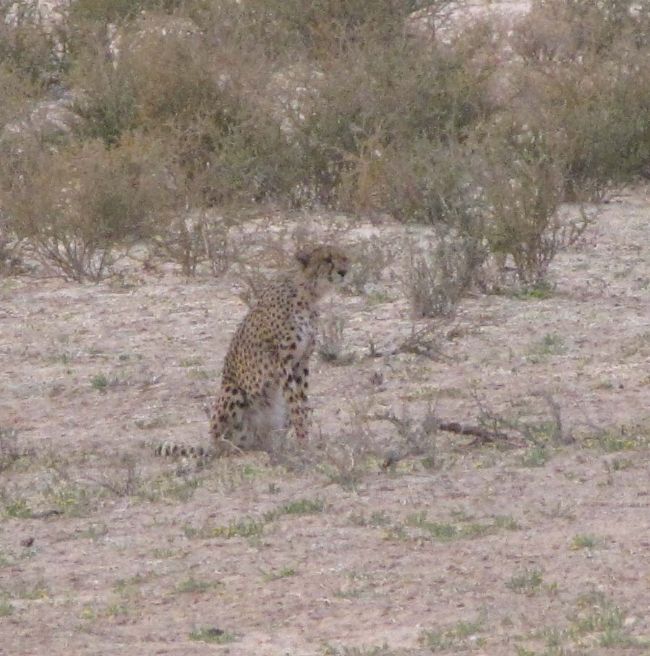 I know cheetahs are fast, but other than the group of 4, I don't think the others are "duplicates". I don't think it was the same cheetahs racing from one spot to another.
I had downloaded "Dirty Dancing" on my tablet so I could watch it on the flight down. I was hoping it would be the inspiration to have "The Time of My Life". I think we came pretty close.
---
Sorry, Timbits, I wasn't exact enough with what I had written.
I as referring to the 4 you saw at the 13th.
Summer 2014 - Oz! It was awesome!
---
---
Who is online
Users browsing this forum: No registered users and 8 guests