Senior Virtual Ranger

Posts: 1298
Joined: Wed Nov 18, 2009 6:22 pm
Location: Centurion
Chapter 13
From the spies to the sly's. It is amazing to see how many sly creatures are out there. Cunning and deceitful - the kind that is not to be trusted. The "little foxes that ruin the vineyard". They are not to be overlooked! It seems as if we often overlook them. We have never seen a lot of Black Backed Jackals out there in KNP, only tons of them in KTP. But we often visit KNP without seeing a single one.
This visit was a bit different - we actually spotted these guys...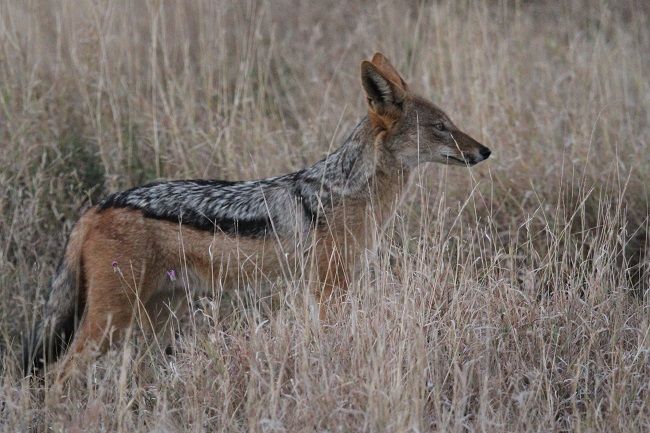 ...on more than one occassion.
And even more rare for us, is to spot a new type of mammal on the crime scene - one we've never seen before. So the excitement was great when we spotted this guy:
Our first Side-striped Jackal in KNP!
And if you meet a new suspect it is very important to do a full character analysis...
This guy definitely falls into the "sly" category!
Will have to keep an eye on this new suspect!
On with the interrogation, the interviews and the investigation. The next round of interviews were spent on the relaxed guys out there...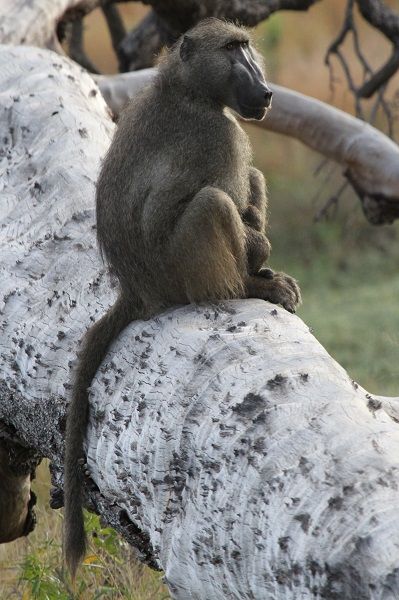 The ones sitting around in trees, munching some grub, and just "chilling".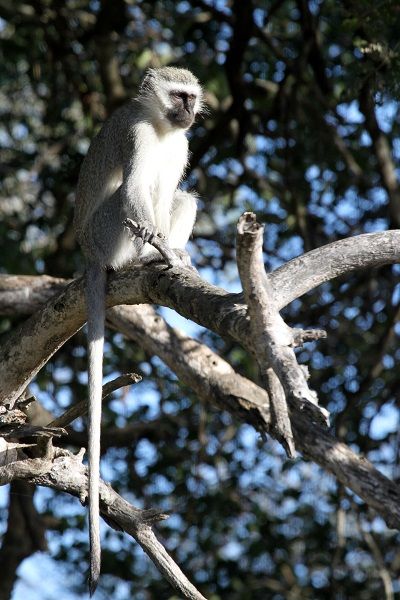 They are indeed a fascinating species. Quite clever, in fact, but with a streak of mischief visible in their eyes...
Sometimes just lazy - but always helping each other out!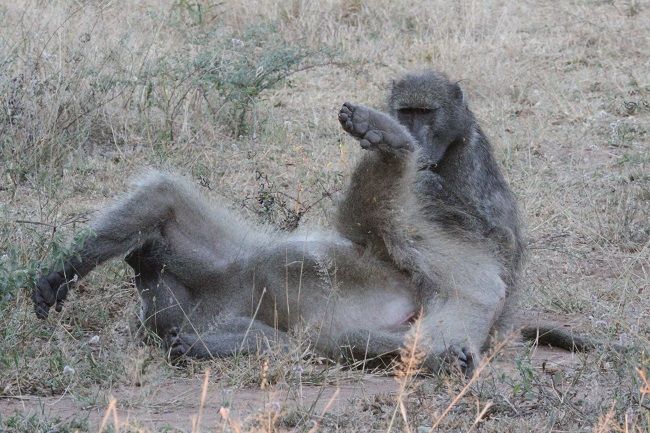 And if they sit so quietly and peacefully - one cannot believe that they will ever be involved in a crime.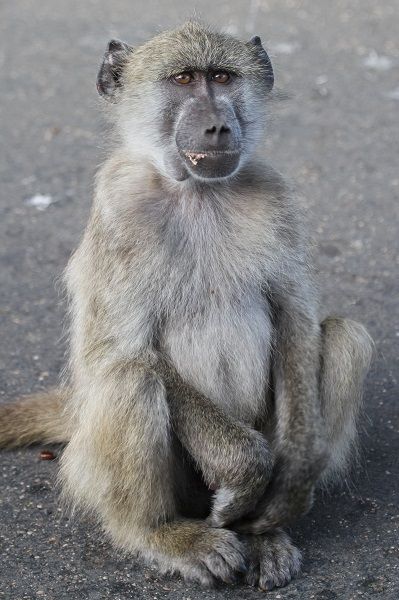 22-25 July 2016 - Pafuri Border Camp
25-31 July 2016 - Shingwedzi
---
Senior Virtual Ranger

Posts: 1298
Joined: Wed Nov 18, 2009 6:22 pm
Location: Centurion
Chapter 14
Satara area is well-known for its mafia-activity, and I have already introduced you to some of the S100-Mafia members. We did, however, come across a few other mafia-members during our investigation. We just did find their attitude annoying...
They either remained deep in a bush - well hidden, or got up, turned their back on us and walk away!
So not too many interviews were successful...
Firstly I must admit that we did see the S100 clan again in the same region as the night drive on the following day. They were, however far off, and you could only really spot them if one got up to move to a more comfortable spot!
Again the true king of the jungle proved himself to be superior to the lions. They really got quite skittish once the ellies arrived!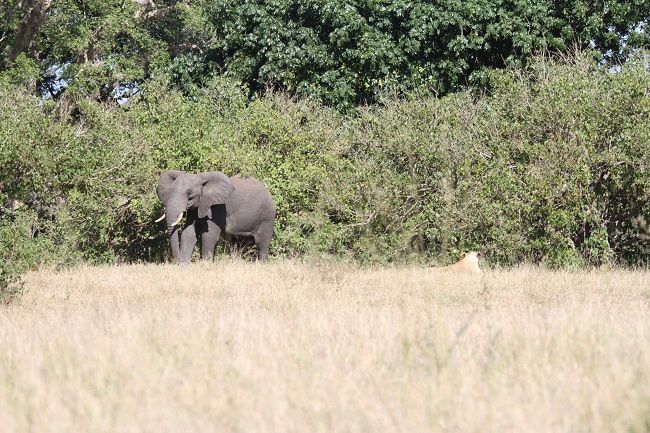 The H1-2 down to Tshokwane also delivered a few sightings of the mafia, especially of their big chiefs!
This one was lying hidden in the bush, showed no interest in talking to the authorities...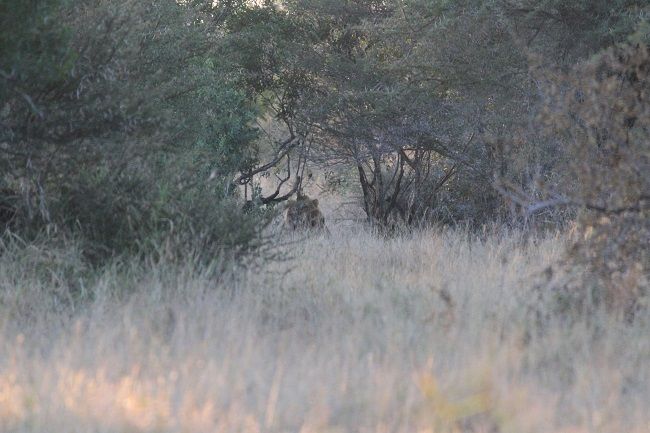 While this big guy moved off as soon as we spotted him:
We saw how he moved down into the riverbed, and thought that was it, our chances of a mugshot was over! Yet a few metres down the road, we managed to get a spot where one could look up the riverbed. It was quite a distance from him, but at least we managed to see his face now: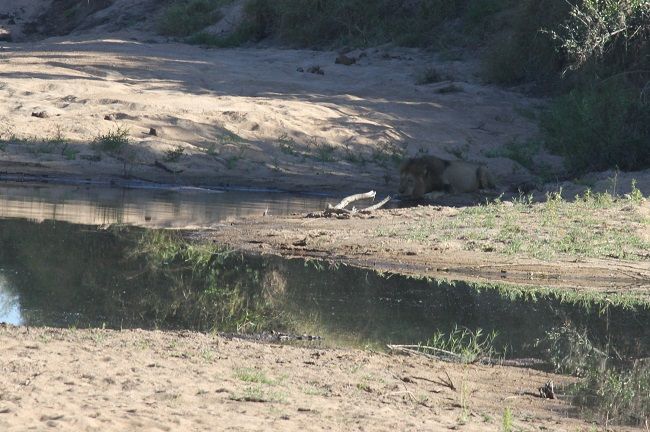 Even further down, another young male just showed no interest in talking to us - tail shots were all I managed!
All guilty if you ask me...
Really - why disappear so fast if I get my camera out!
So that's all of the mafia members seen during the investigation - the S100-group, the moms-anmd-tots group and the lone (and uncooperative) males.
Apart from the mafia, I always associate the S100 with another group of animals. The impressive waterbuck. A group of mammals that will give the mafia a challenge if they try to get them...
There are quite a few with impressive sets of horns!
But it is for the sweet young ones that I fear the mafia might succeed...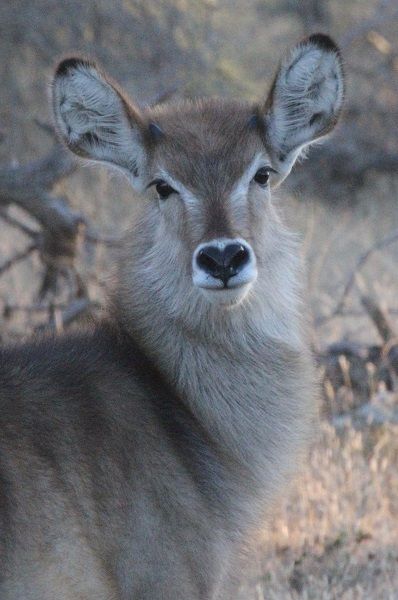 22-25 July 2016 - Pafuri Border Camp
25-31 July 2016 - Shingwedzi
---
Senior Virtual Ranger

Posts: 1298
Joined: Wed Nov 18, 2009 6:22 pm
Location: Centurion
Chapter 15
As word started going around that we were doing some detective work in the area, investigating this case, more and more victims and eye witnesses started coming forward. Coming to tell me their side of the story, trying to help me with the case.
The lovely Ms Kudu was one of the first to come forward.
With those ears, she is very well known in the area for all the gossip she can pick up on. She decided to come to me in the lovely early morning light, and tell me all about what she has heard.
Another critter eager to tell her side of the story, was this curious Yellow Mongoose:
Even the slow chameleon crossed the road to get my attention!
After Ms Kudu, some more ladies came in the early morning light to share their stories - such as Ms Z - who came out to meet me in her pajamas!
Some of the men out there were less cooperative. Too involved in their own fights to give me some attention!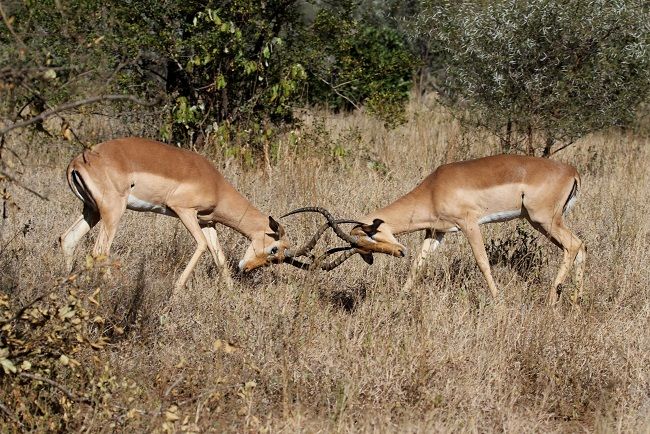 While others were too busy munching away to give any attention to a detective!
Although old Pumbaa was kind enough to give me his opinion on the matter...
...as well as mr Croc. But to be honest, I'm not too sure if I should trust mr Croc at all...
22-25 July 2016 - Pafuri Border Camp
25-31 July 2016 - Shingwedzi
---
Senior Virtual Ranger

Posts: 1298
Joined: Wed Nov 18, 2009 6:22 pm
Location: Centurion
Chapter 16
We are heading to the end of this investigation. Time to wrap up and make sure there is nothing that we missed. So let's just make sure at the Sweni Hide that there is nothing hidden, not yet discovered by us...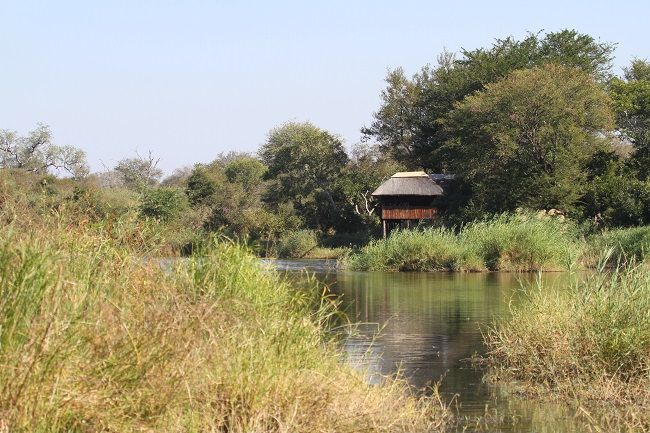 On closer inspection, all seemed calm at the hide, only two terrapins ("waterpasteitjies" or "waterpies" as we call them) basking in the sun. Not a care in the world...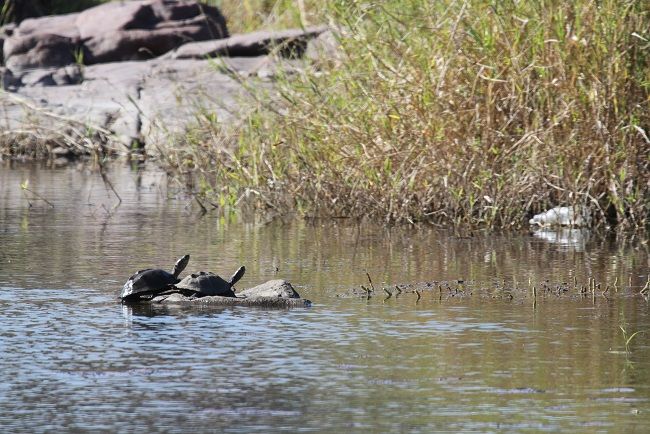 The only thing ominous was this big old croc lying around. They can never be up to any good!
And so our trip was coming to an end. It was time to put all the evidence together, to draw conclusions and to set the case before the jury. We called a press conference. Again - we chose Lake Panic as our final destination, before exiting the park at Kruger Gate. Our press conference in Feb was a complete disaster - nobody pitched!
So we were hoping the reporters would be more cooperative this time around.
And luckily - they were. All the old chaps were back at their stations.
Sir Goliath Heron (Reusereier), was prancing around, trying to get order...
...while Ms Grey Heron (Bloureier) was trying to turn her ear my way.
The Pied Kingfisher (Bontvisvanger) was too busy looking for snacks - he could honestly not have been concentrating on the facts at hand!
The African Darter (Slanghalsvoel) tried to make his presence felt by showing off his wingspan!
And through it all I noticed another big and unwelcome visitor to the proceedings - yet another croc!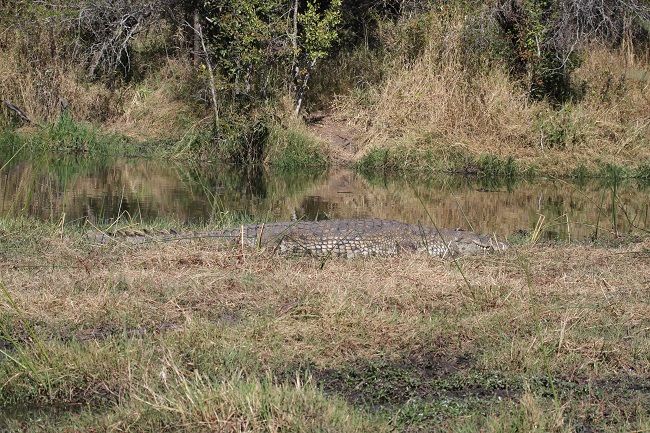 22-25 July 2016 - Pafuri Border Camp
25-31 July 2016 - Shingwedzi
---
Senior Virtual Ranger

Posts: 1298
Joined: Wed Nov 18, 2009 6:22 pm
Location: Centurion
Mandinga, Carol g, Sparrow, Pumbaa, hilda, melph68, Phokojwe, SurfCindy, barryels, Trrp-trrrrrrr, Kaapsedraai, Cape of Storms and Meandering Mouse
- thank you all for all your lovely comments!
It truly was a great and successful trip. It is a place of absolute beauty...
...where many a legend has lived.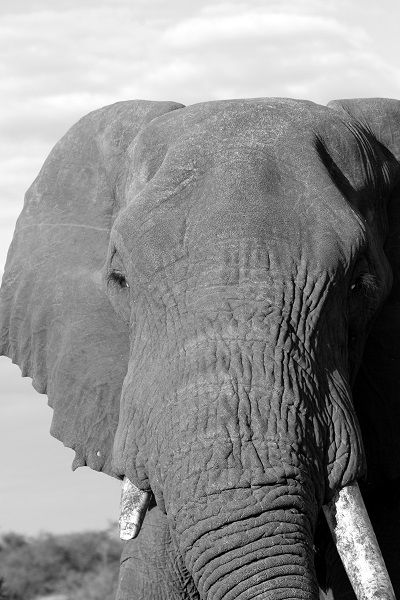 It lead us to first-time meetings...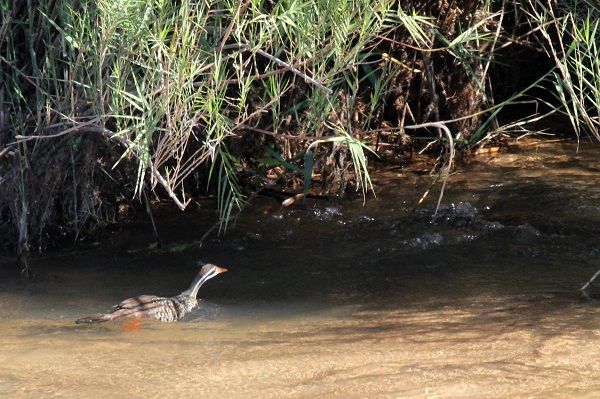 ...and first-time experiences.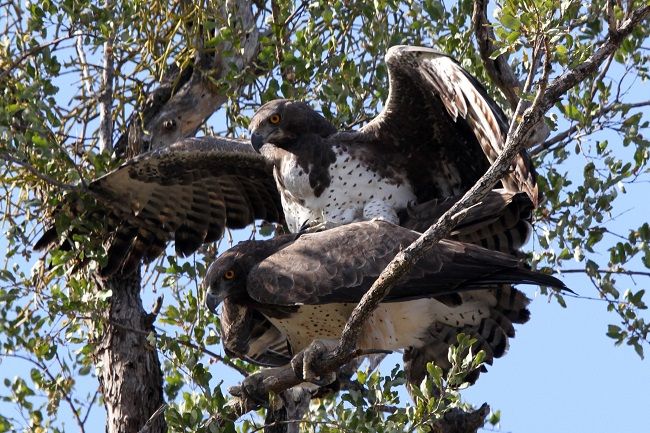 In the end, one cannot deny that the mafia's got the upper hand in Satara...
...with offspring to ensure their legacy continues.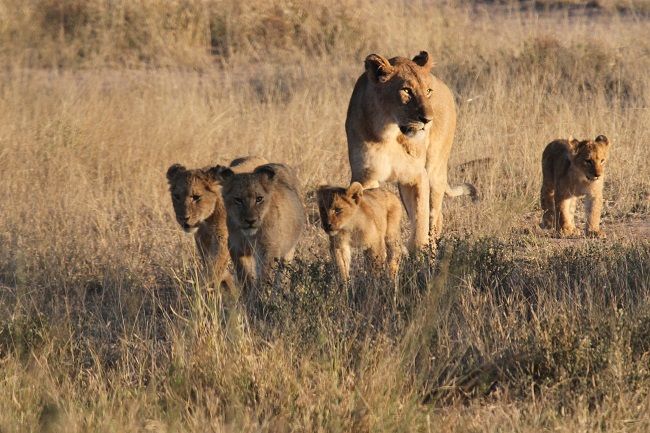 And if you don't get to see the S100-Mafia, you are likely to find the leopard family in the guilty seat.
So whether it is for the small creatures...
...the tall creatures...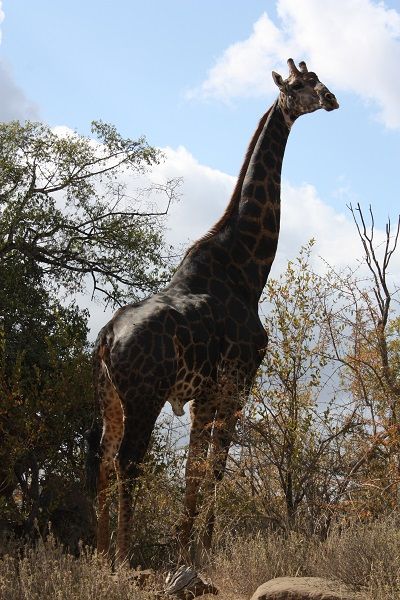 ...or any other creatures that you visit Satara, it is guaranteed not to be boring!
Thank you all for joining me on this memorable investigation!
22-25 July 2016 - Pafuri Border Camp
25-31 July 2016 - Shingwedzi
---
---
Who is online
Users browsing this forum: No registered users and 5 guests