A few more bird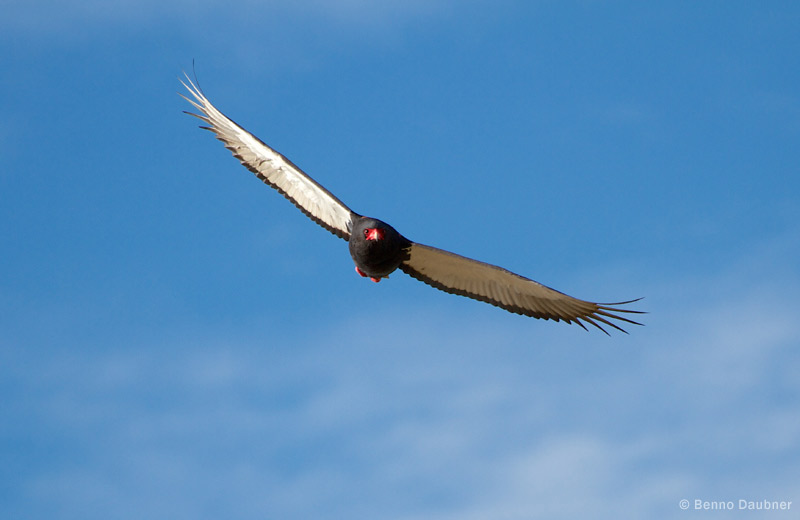 Bateleur (Terathopius ecaudatus)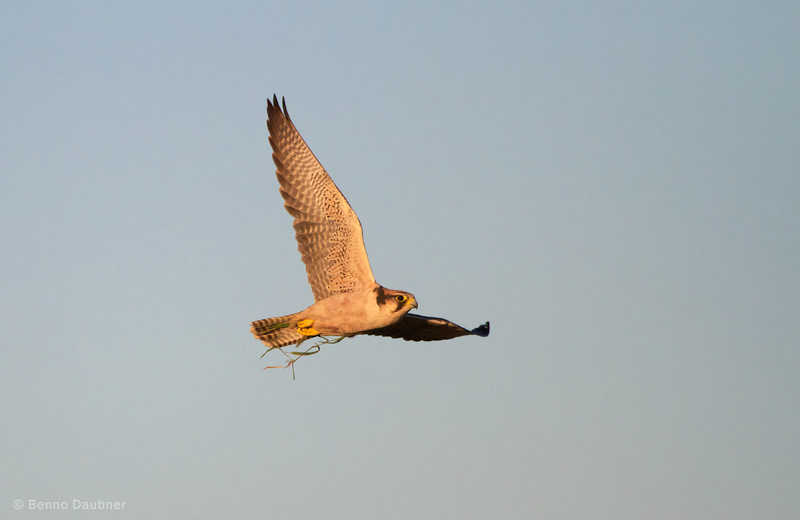 Lanner Falcon (Falco biarmicus)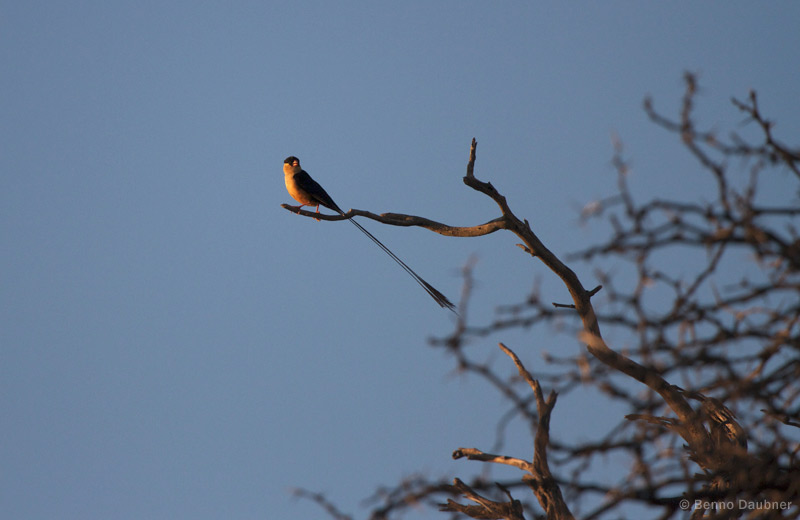 Shaft-tailed Whydah (Vidua regia)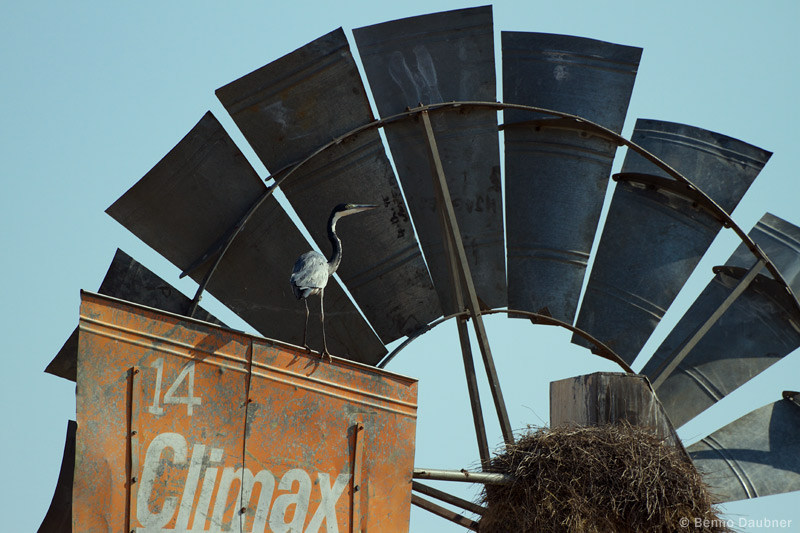 Black-headed Heron (Ardea melanocephala)
=> thanks Bush Baptist
In the night at the Nossob waterhole: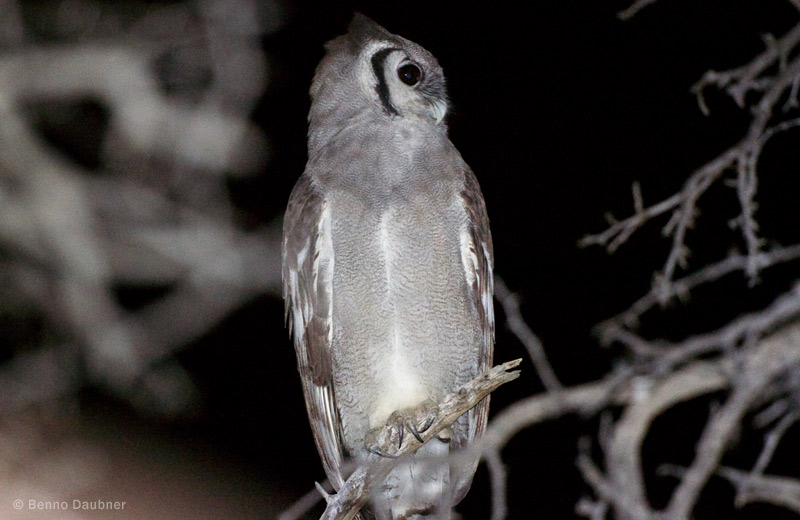 Verreaux's Eagle Owl (Bubu lacteus)
Last edited by
inado
on Sun Sep 29, 2013 7:44 pm, edited 2 times in total.
---
Legendary Virtual Ranger

Posts: 6884
Joined: Wed Mar 16, 2005 12:38 pm
Location: In the shadow of Table Mountain
Nice sightings inado.

Honey badgers never hang around.

BTW your grey heron is a black headed heron.
Whatever (according to BB): "You are correct but I don't want to admit it".
In a world of grey, be
RED
---
Thank you, Carol g, Meandering Mouse, hilda, Nina!, lion queen, Red Sand and Trrp-trrrrrrrr
and a special WELCOME to Nina! and Red Sand.
We are pleased about all your comments.
01.05.2012:
In the morning we make an excursion in northern direction to 'Cubitje Quap'. Around 09:00 o'clock the Sandgrouses are there again in the approach
. We observe the Sandgrouses for a long time at this waterhole. Occasionally falcons and goshawks try to catch a bird, but they are always unsuccessful.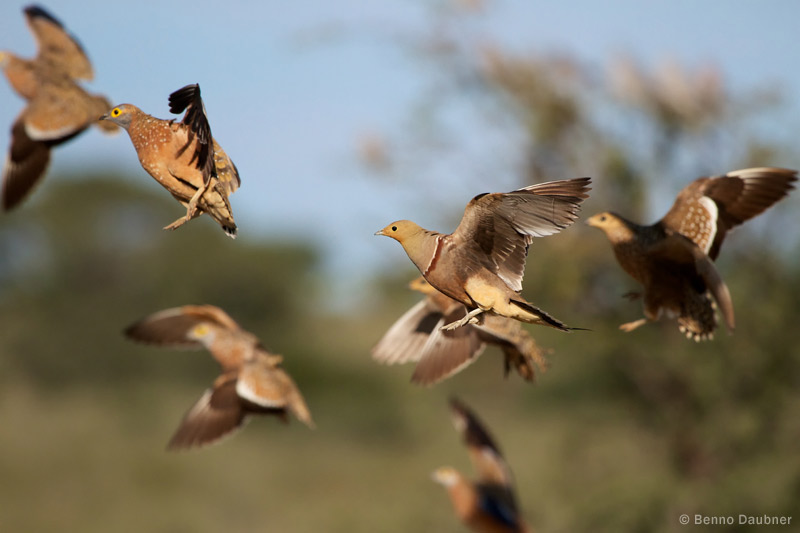 Namaqua Sandgrouse (Pterocles namaqua), ...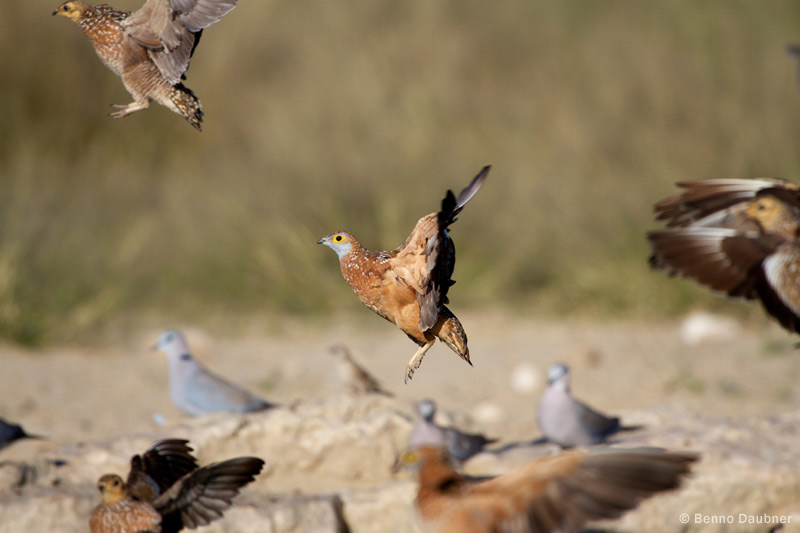 Burchell's Sandgrouse (Pterocles burchelli)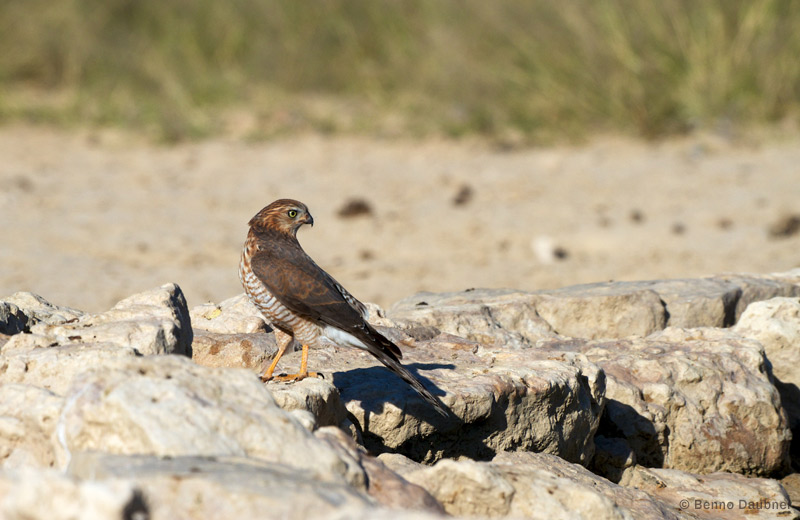 juvenile Southern Pale Chanting Goshawk (Melierax canorus) => I hope the name is correct.
---
Thank you hilda and Carol g.
At the Nossob reception a visitor tells me that at the 'Cubitje Quap' waterhole a leopard lies in the tree.
We start immediately and are there (still) completely alone. If we had not got the hint, we would have overlooked the Leo.
We search the trees and discover him opposite of the waterhole on the other side of the path into a large tree. He – or better she - lies well camouflaged on a branch.
We can identify she as LANGKLAAS - a female, born in 2005.
We do this thanks to the leopard-identification project of AstroMatt.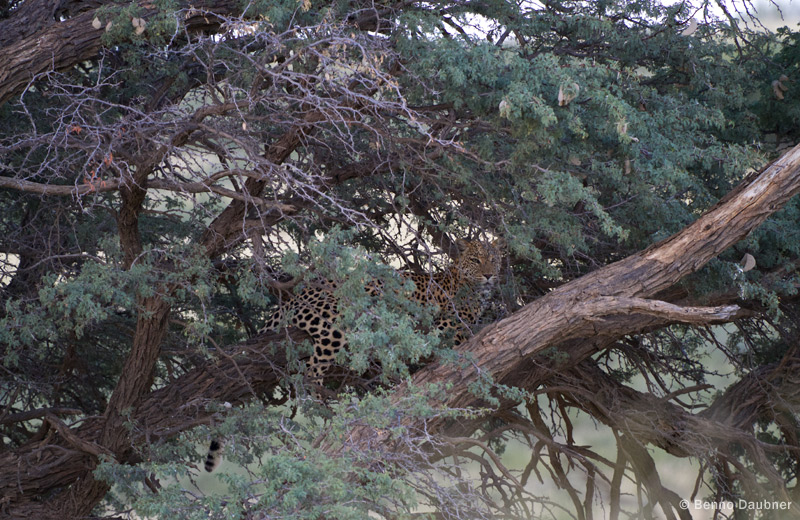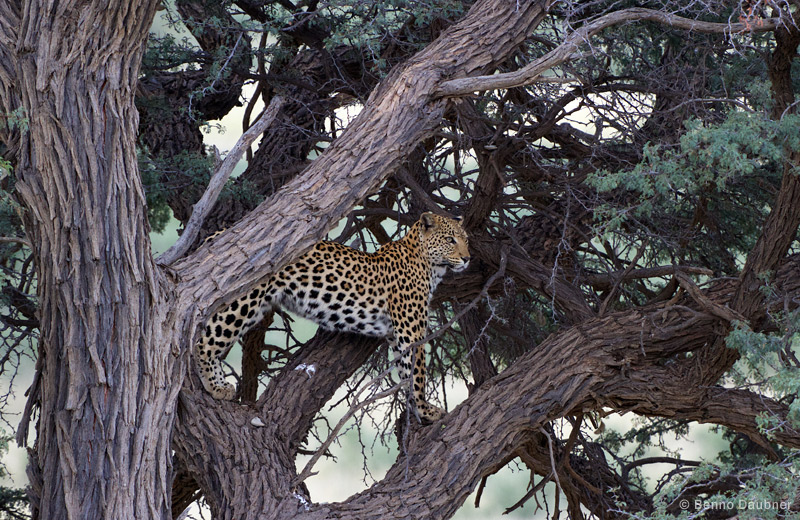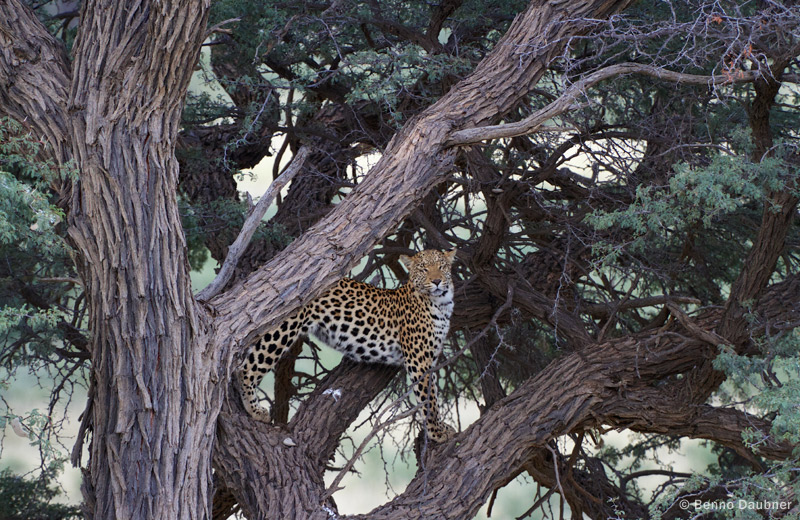 We observe them for a very long time. Other cars arrive. Finally, we unfortunately have to leave in order to arrive on time before gate closure (18:00 o'clock). We can hardly believe it - our fifth leopard sighting.
Last edited by
inado
on Tue Oct 01, 2013 6:49 pm, edited 1 time in total.
---
Thank you very much, Trrp-trrrrrrrr.
02.05.2012:
On our way to Mata Mata we meet again many Gemsboks, Springboks and Wildebeests.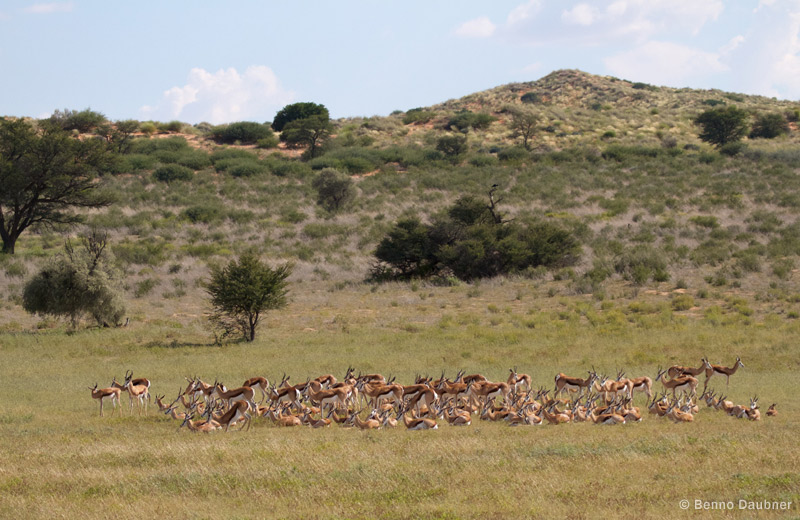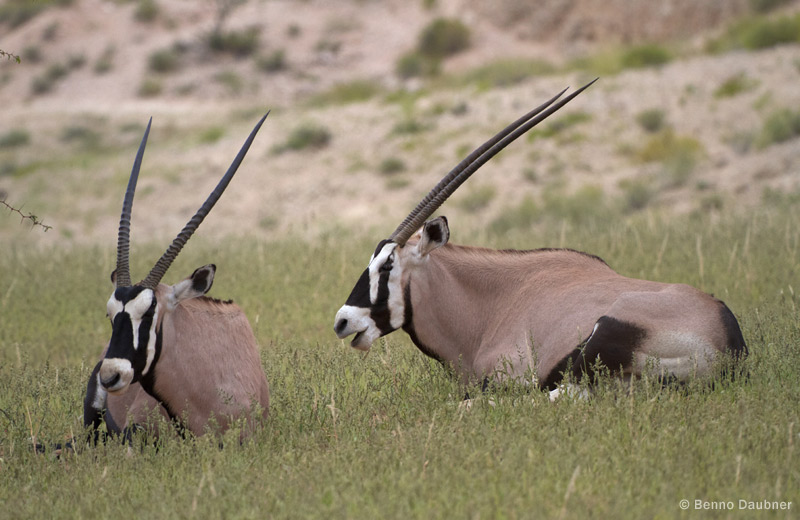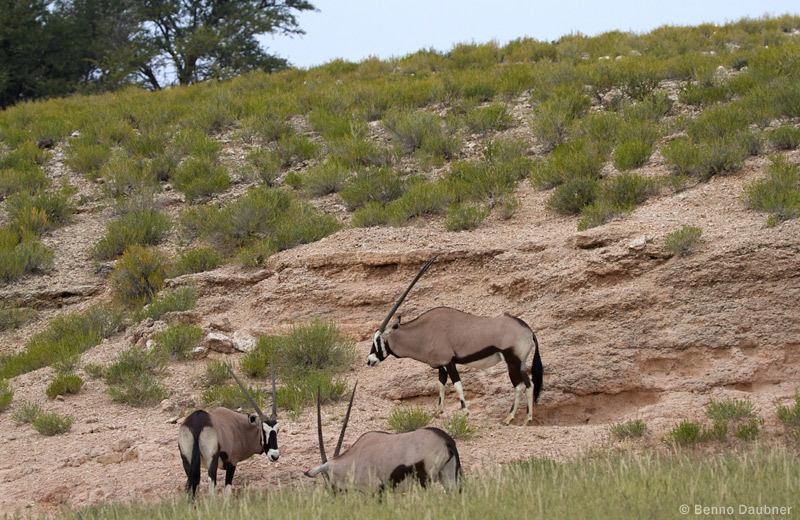 In Mata Mata we get again chalet No. 3 for our last overnight stay.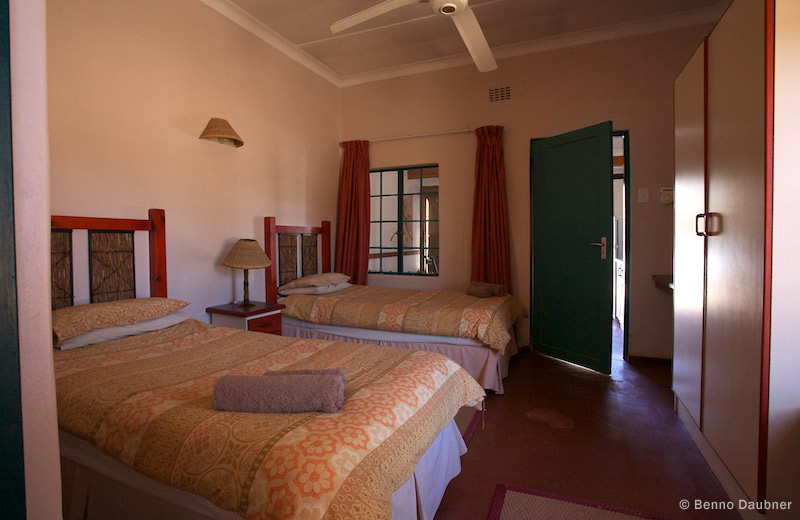 2010
We refuel again for the tomorrow's trip to Namibia.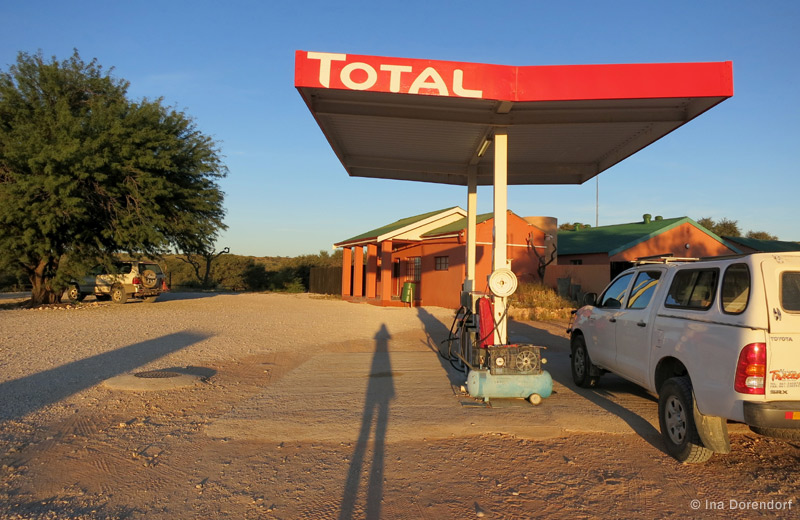 A wonderful time
in the Kgalagadi Transfrontier Park comes to an end. We can hardly wait to go again.
---
Thank you, Goronta, Meandering Mouse, Cape of Storms, kyknetta and Trrp-trrrrrrrr.
Goronta: We know the park even with a closed border in Mata Mata. Our first trip was 10 years ago.
Since then, we love the Kgalagadi
and and we always go back there. Therefore, we travel back there for our 6th visit next year (hopefully).
We would like to thank you all.
It has made us great pleasure to share the travel report with the great forum.
We have been glad very much about your comments.
Sunset in Grootkolk: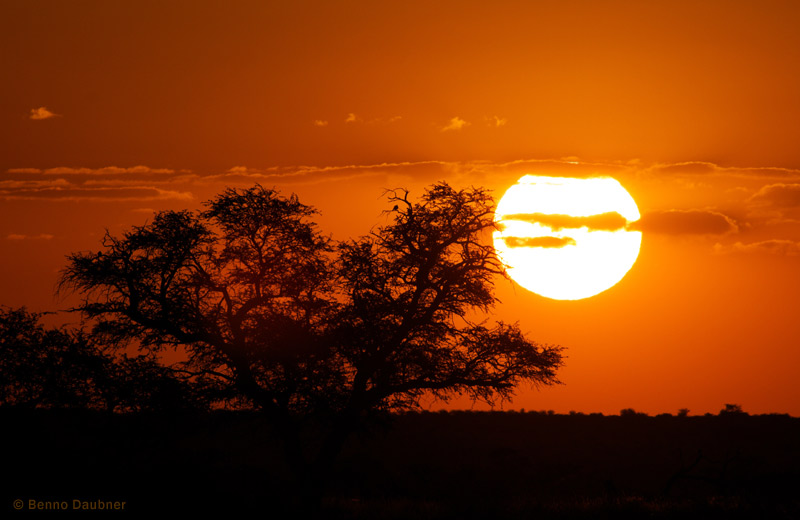 Last edited by
inado
on Fri Oct 11, 2013 6:14 pm, edited 1 time in total.
---
If you're interested, you can find all the pictures (and some more from other years) on our website:
http://www.inado.de
The main focus of our trips lies on the Kgalagadi Transfrontier Park, e.g. 2010:
http://www.inado.de/2010/
(but the texts are only in German)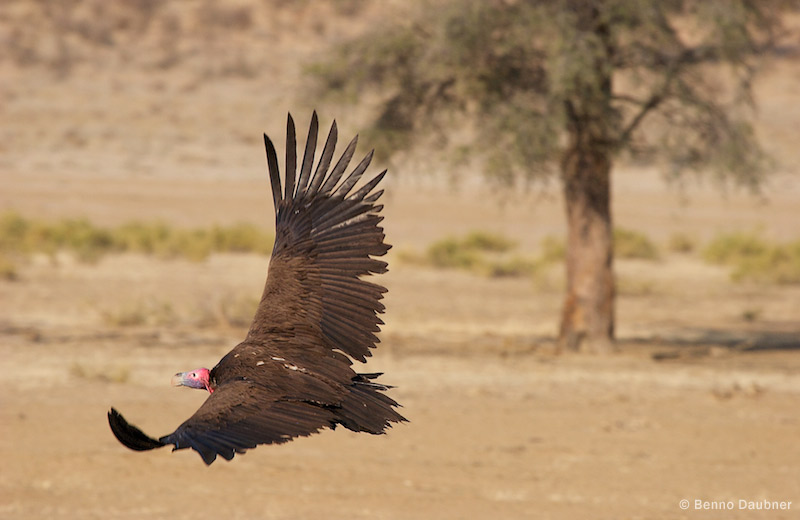 ---
---