Some days are worse than others. It is those days when the longing to be in the best place on earth just becomes so strong that you start browsing through the thousands of photos on your laptop, seeking the atmosphere and the smell of KNP. When the sun rises over the plains of the Mpumalanga Highveld with a voice calling you to
come… come… come…
And then you realise: I can not go to KNP right now but the best bushmedicine is to share some of the previously untold adventures with my forum friends in an effort to ease the yearning of a bush-heart
Sunrise over the Mpumalanga Highveld
Dupacc
I will join in the song, because I know why I sing. Soli Deo Gloria
---
Welcome on board everybody,
with a special word of welcome to
Lion Queen, Dijo, NetEk, Stampajane, isinkwe, Meandering Mouse, Trrp-trrrrrr, PNF, Cape of Storms, Porridge, gatitia, Heksie and Bushbuddies!
I don't know about you, but for us our holiday starts long before we actually enter the KNP gates. There is so mush to enjoy en-route to Kruger, and we always take time to appreciate the splendour of the simple cosmos flowers typically found during Autumn on the Highveld.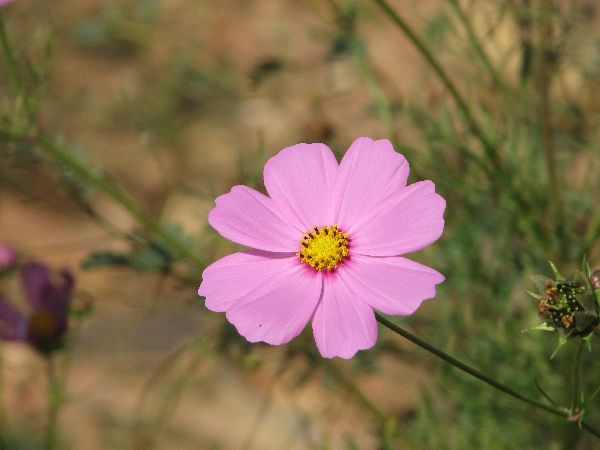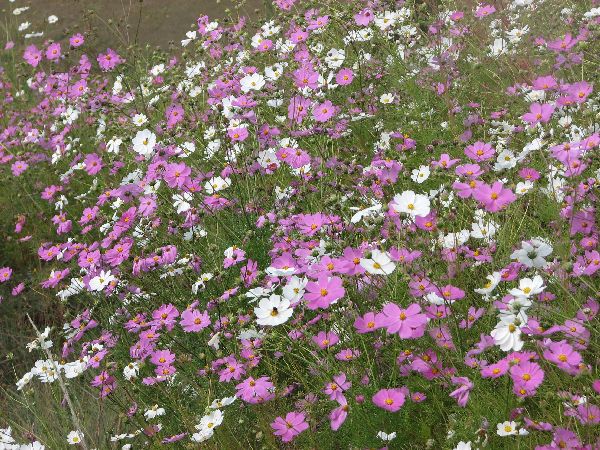 I guess we've been lucky: on more than one occasion now the first animal we see after entering KNP is an unmentionable.
To be followed shortly after that by one of our favourite antelope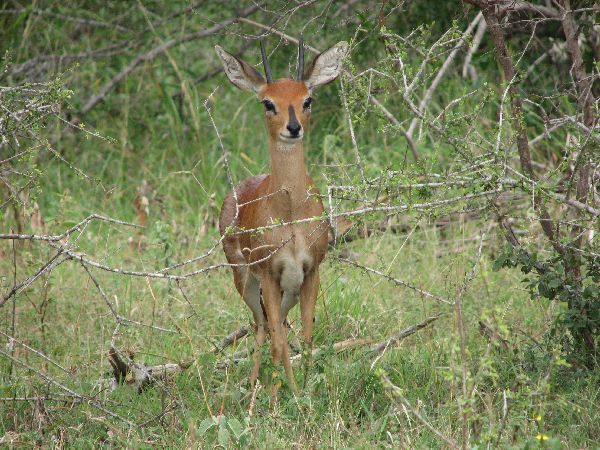 Berg-en-Dal was a welcome sight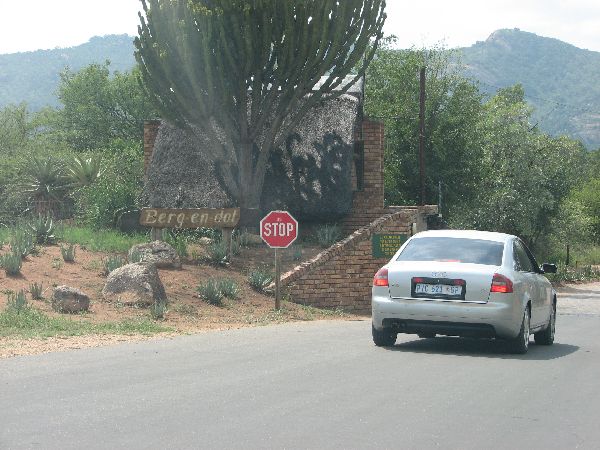 Once inside the camp, we could not wait to take a stroll along the fantastic route along the fence of Berg-en Dal. On this trip we were joined by my mother, and our eldest son decided he will carry a chair for Granny to sit on whenever she got tired.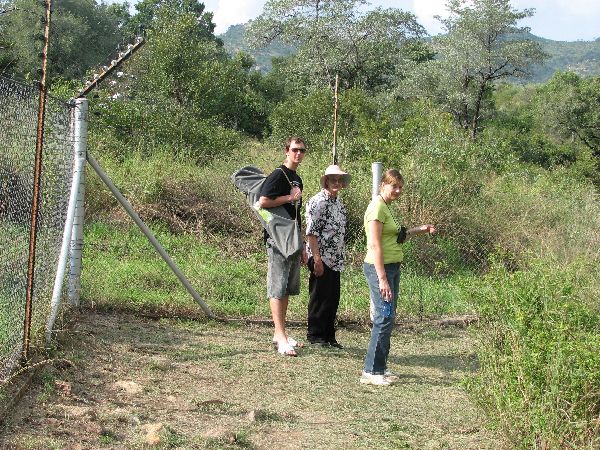 "Ouma Klokkie"
as she is fondly known
To be continued
Dupacc
I will join in the song, because I know why I sing. Soli Deo Gloria
---
Sitting next to the fence in BnD, we had some very exciting moments. We watched Mr Croc in stealth mode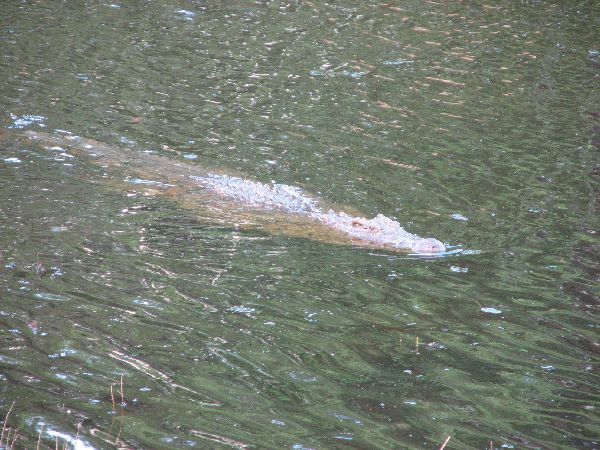 A few moments later he disappeared under the water only to explode in a gush of water with a catfish in his mouth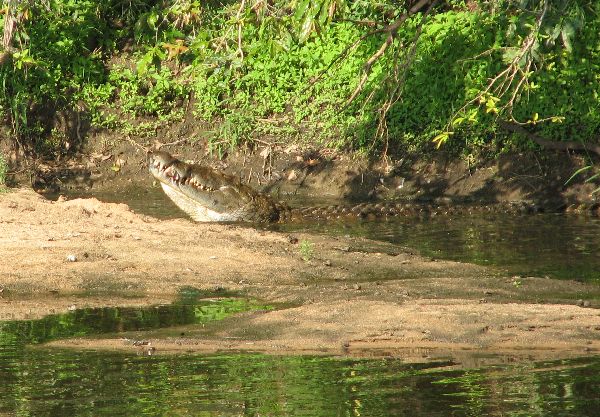 Then the Kingfishers joined in on the sushi-festival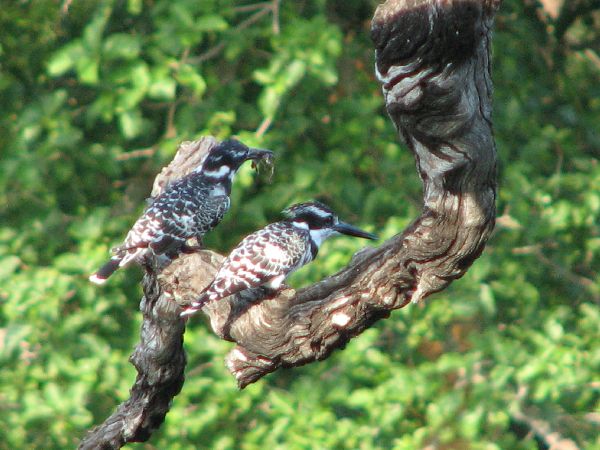 A little later we decided to go for a late afternoon drive. It was only then that we saw our first Impala of the trip. We found it very strange since Impis are common and often seen
After seeing the lone Impala, we travelled for about 35 minutes without seeing anything but centipedes on the S110 and S120. (Some day I'm going to do a TR on "tiny steps of a centipede" or something like that …. )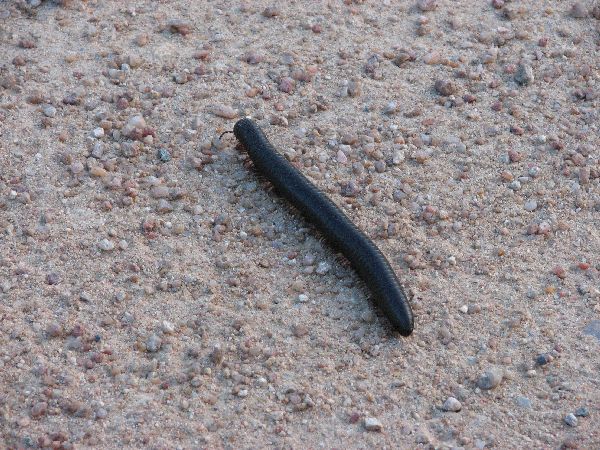 And just when we thought that we will not have much to tell in terms of sightings, we saw this Bushchicken.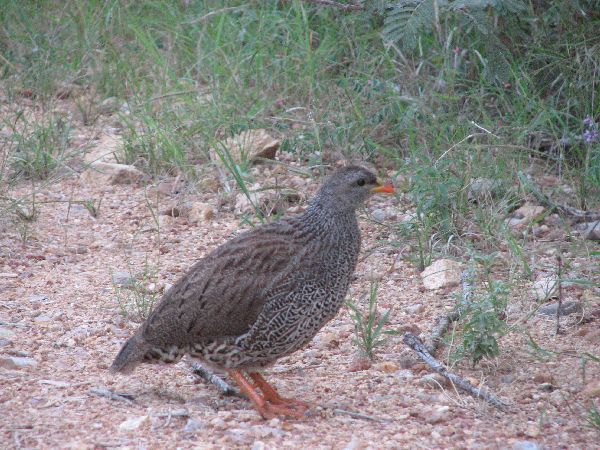 [/URL]
Then the highlight! I can not describe what went through my mind when our youngest whispered: "Pappa, kyk die luiperd!!"
"Daddy, Look at the leopard"
He was stalking the bushchicken!! We watched in utter amazement as he broke cover and gave charge to try and catch the bird. Everything happened so quickly that it was over in a flash! I don't know how the bushchicken managed to escape …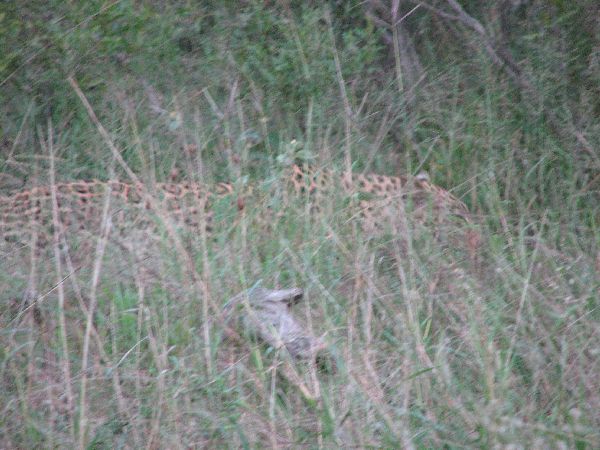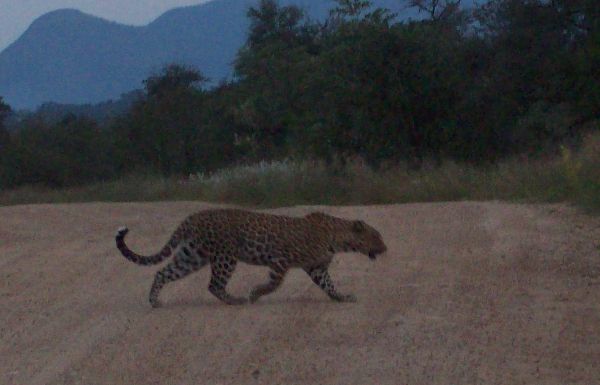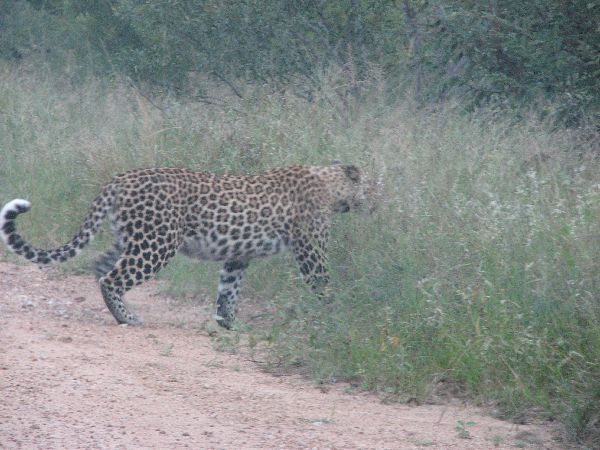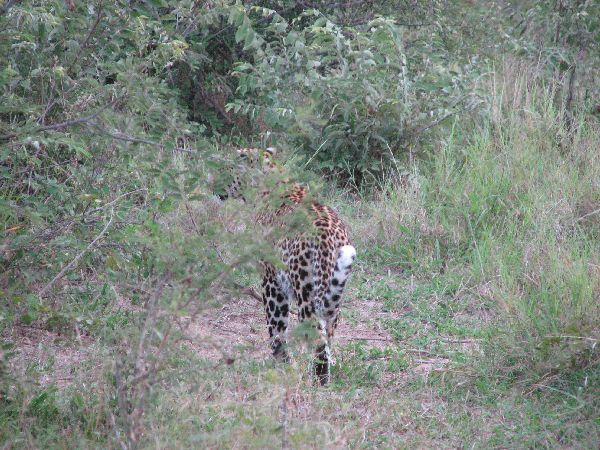 to be continued
Dupacc
I will join in the song, because I know why I sing. Soli Deo Gloria
---
After the excitement of seeing the leopard action, we didn't think we would have another adrenaline rush so soon afterwards. We were driving back to BnD when we saw this elephant.
Ellie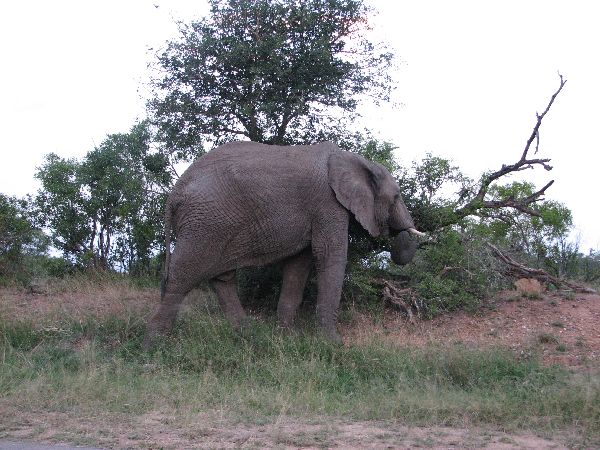 ]
He was very relaxed, but his Big Brother not so! He was blocking traffic and mock-charging vehicles. It was only after we were some safe distance past his play-pen that we dared to stop and turn for a photo. (And may I share a secret? It was not our only Ellie-scare during this visit to KNP. But more about that later...)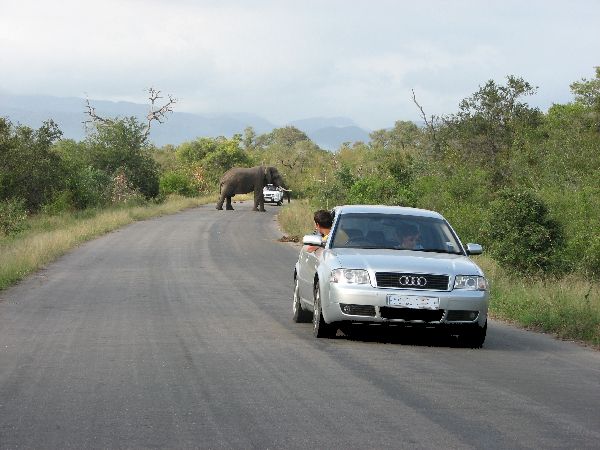 This unmentionable we saw in the distance has (if he is still alive) or had (if he fell victim to poachers) one of the finest horns I have ever seen.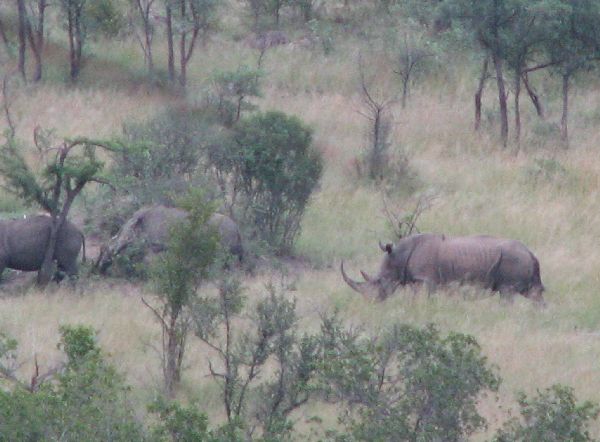 Early the next morning we were on the road again. Ouma Klokkie wanted to see a lion and she has barely uttered her wish, when we saw this beauty right next to the road.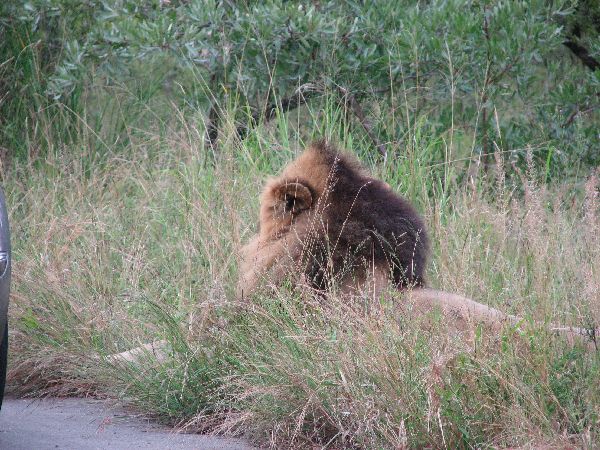 Ouma Klokkie was overjoyed! And just when we came around a bend, we saw this raptor catching a starling. I didn't catch it on camera, but as he sat down after eating much of it, I got this photo.
Can any stiffneck perhaps help with an ID?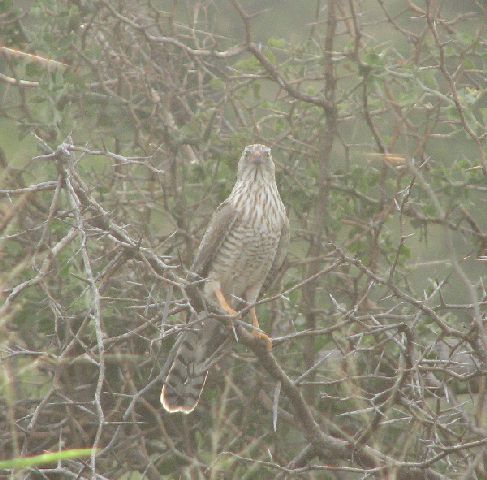 And what is this?
Can any stiffneck perhaps help with another ID?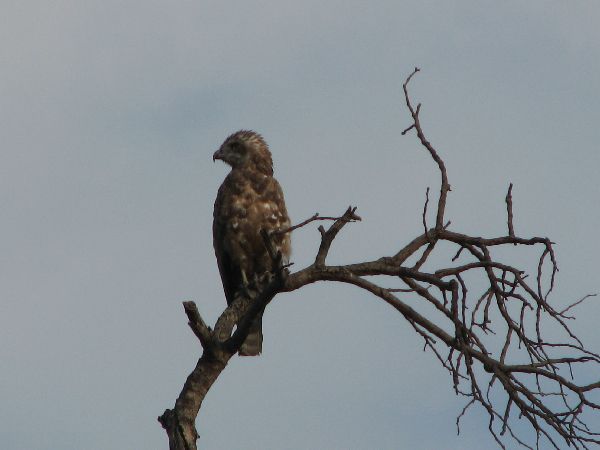 The next animal in the road was luckily for Ouma Klokkie's nerves much more peaceful than the angry Ellie.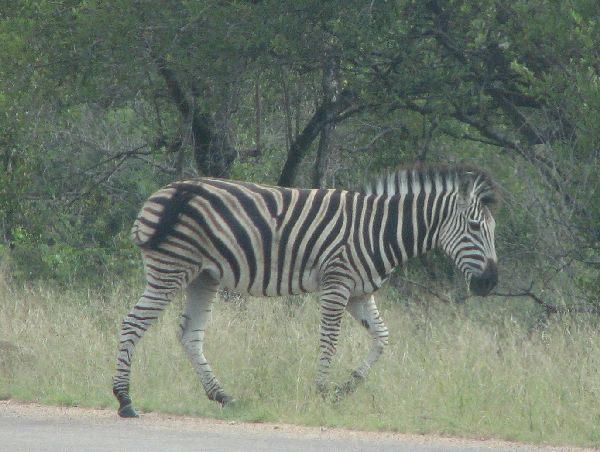 To be continued...
Dupacc
I will join in the song, because I know why I sing. Soli Deo Gloria
---
After the unforgettable sighting of the BnD Lion King, we were making our way towards Gardenia. And once again we were lucky to see unmentionables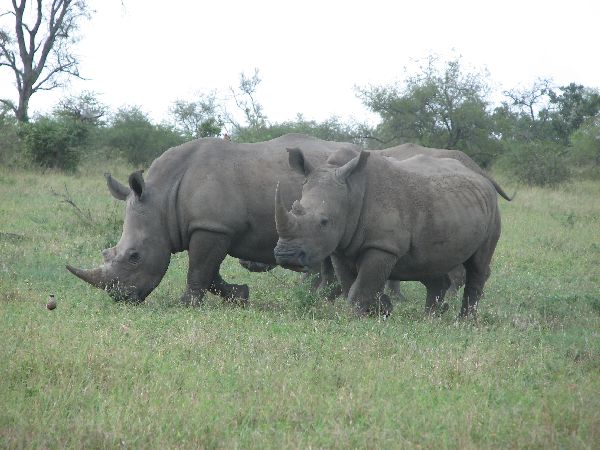 At Gardenia this Hamerkop entertained us before we had another Ellie-encounter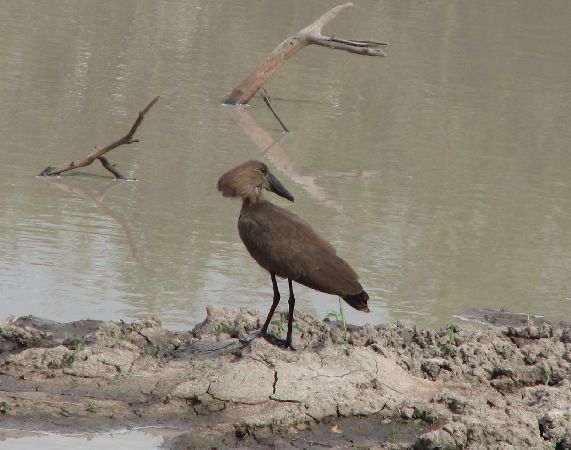 A herd of elephant came to drink water and enjoyed a mud bath. But then one of the tourists in the hide decided to throw an apple to towards the ellies. I don't know what he was thinking! The reaction from the ellies was to surround the hide. We ended up being trapped in the hide for more than 3½ hours ... (nice at first, but later ....)
This one guarded the gate diligently
We eventually made our way back to our vehicles and then decided to go to Skukuza via Afsaal. Just being in nature is so special!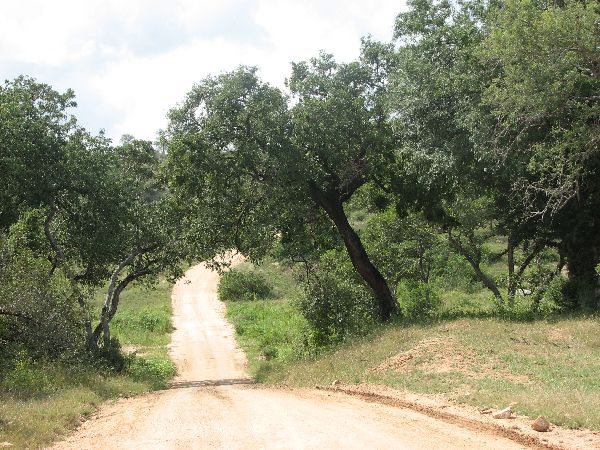 We were thrilled having spent some time with the Lion King, the rhino, the leopard and of course the elephants, but we started to think that this trip will be the one without seeing buffalo, because up to now we haven't seen any. Just as we crossed over the Mlambane, we saw these beasts and our "Big Five" were complete!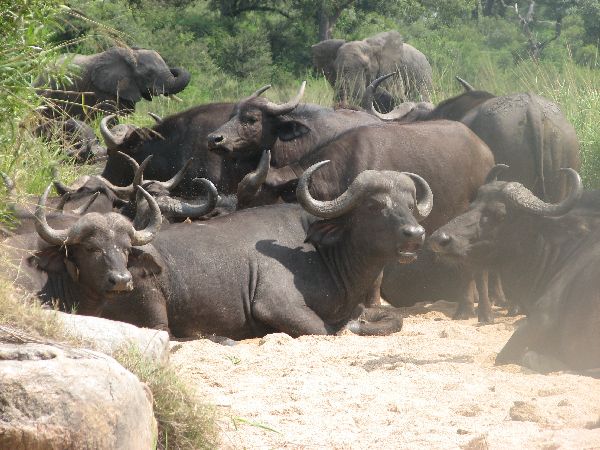 At Afsaal we were fortunate to have a clear view of Skopsie.
(Is he still there? When was the last time he was seen?)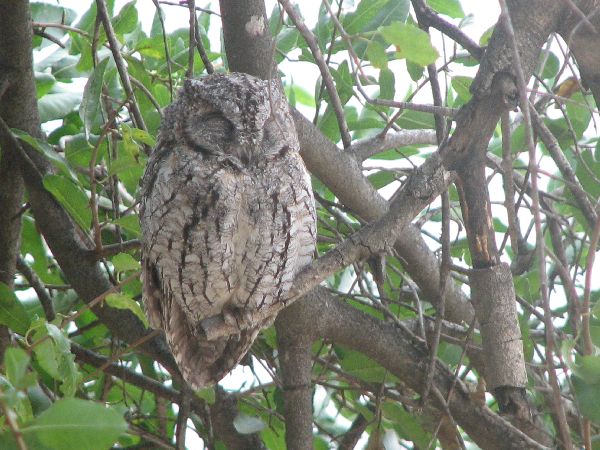 [/URL]
In Skukuza there were literally thousands of these grasshoppers. It just reminded us that, even if it was for Ouma and us very special to see the Big Five, there are so much more to see and enjoy in KNP.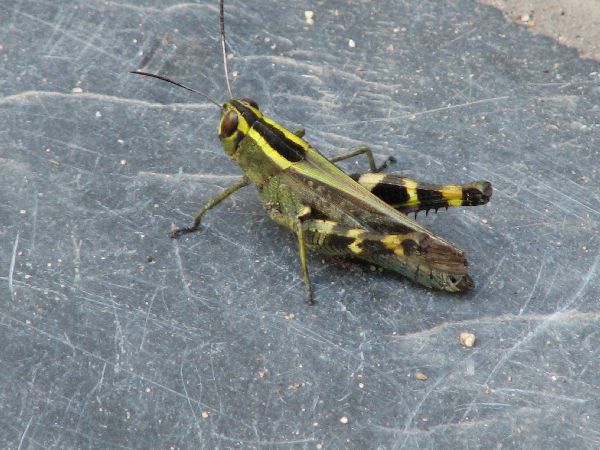 [/URL]
The S83 Marula loop is yet to be kind to us: the flora are beautiful but other than these zebra and a lone young nyala, we have over the years not seen any animals or birdies on it ...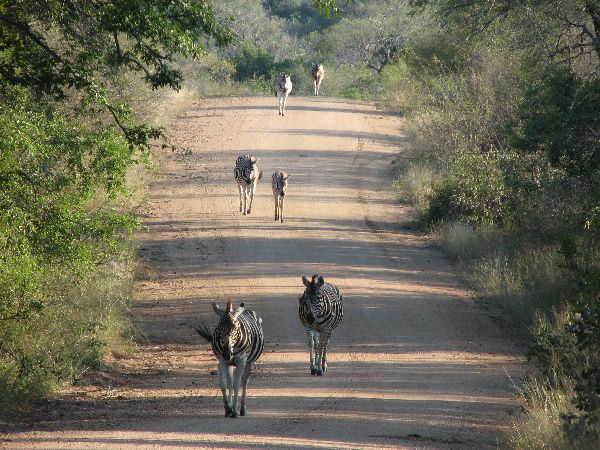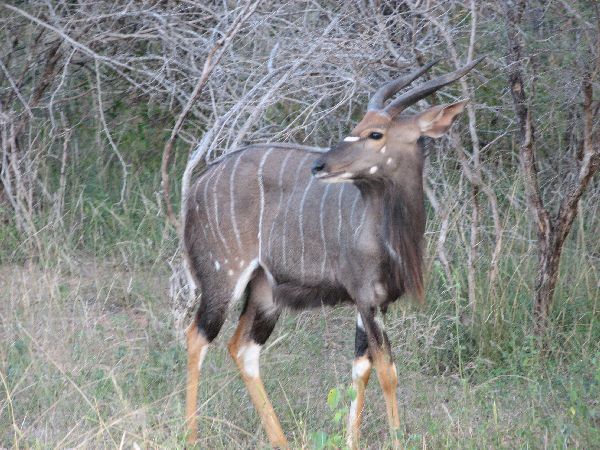 to be continued
Dupacc
I will join in the song, because I know why I sing. Soli Deo Gloria
---
Heading North we did not even think that the abundance of wild life we enjoyed would soon dry up. After all, we were heading towards Satara. Big Cat Country!!!
Little did we know that this was the last animals (except for a lone impala or two) we would see over the next two days.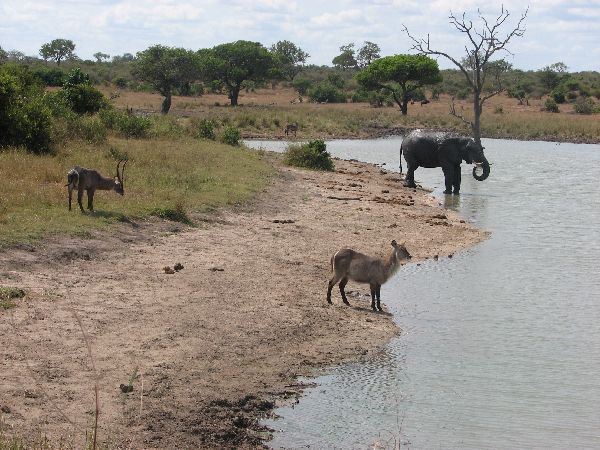 While we did not see any animals after this, this trip once again had its surprises. We saw birds that I've never seen before! Thinking back after all this years (this trip was in 2009), I think we saw more birds because we were not really looking for the Big Five, and just enjoyed being in KNP and in the bush.
Please correct me if any of the bird IDs are wrong
Black Stork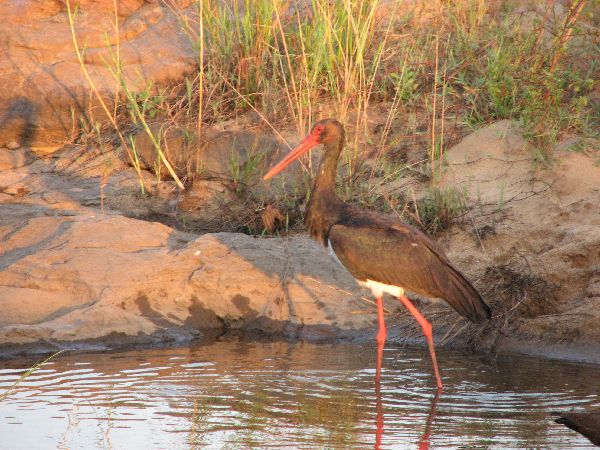 Greenbacked Heron
Pied Kingisher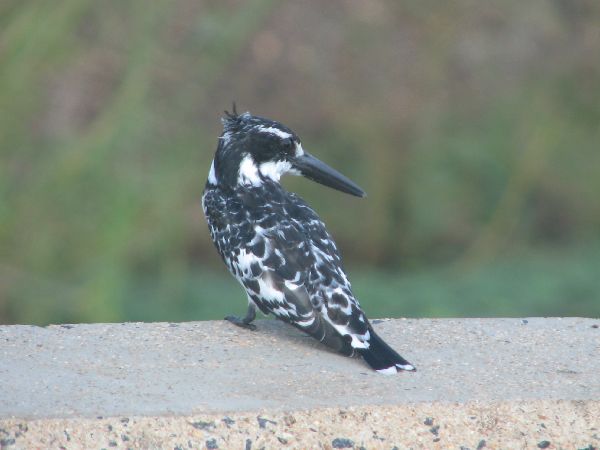 Whitefronted Bee-eater
European Roller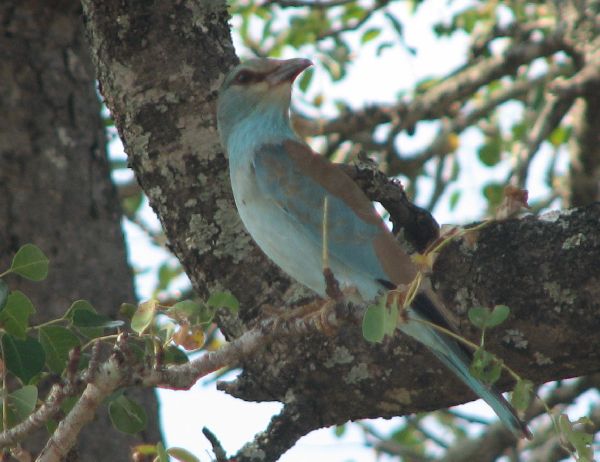 Greyhooded Kingfisher
Vultures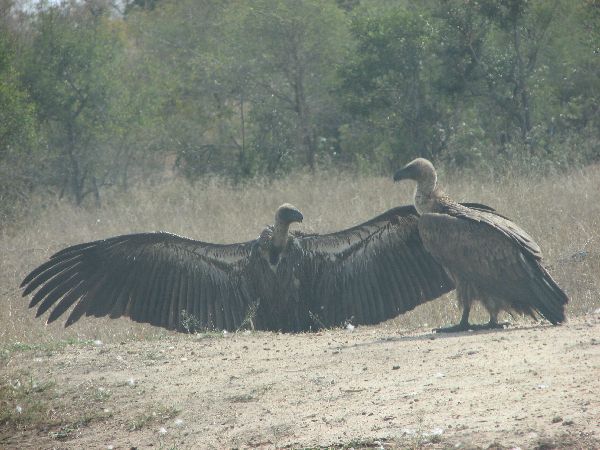 Lilacbreasted Roller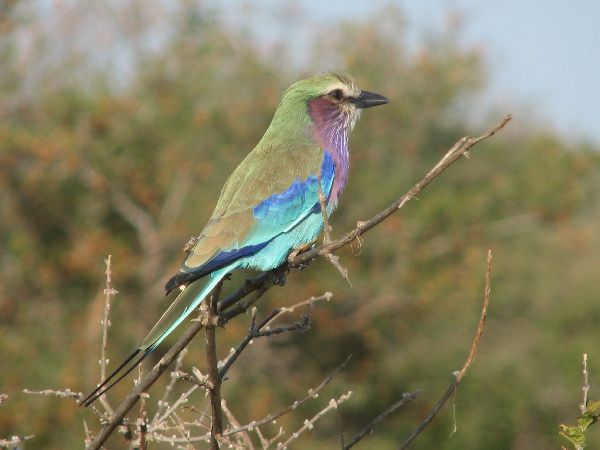 This photo of a Bushbaby is one I feel very bad about taking it: we heard something in the trees and I grabbed my camera. We tried to see what it could be, using my torch and when I saw some movement, I just pointed and "shoot". Only then did I think about the possible harmful effect the camera flash could have had on the poor animal's eyes. When I got back to the office at the University where I work, I immediately consulted some of my colleagues working in the Ecology Department and the Nature Conservation Department. The consensus was that the animal would be blinded for a couple of minutes, but the possibility of permanent damage to the eyes were about zero. But still, I do not think I will ever again take a photo of an animal with a flash pointed directly at it at night.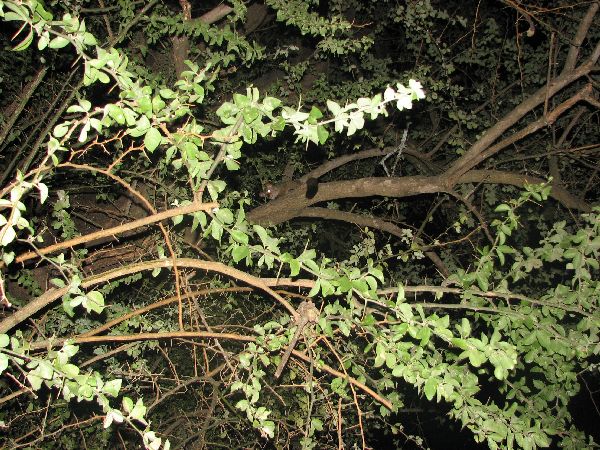 We were very glad we could see so much during the week with Ouma Klokkie in the beautiful KNP. On our way out, Ouma said she wish she could see Lions one more time. And after about 25 minutes, there they were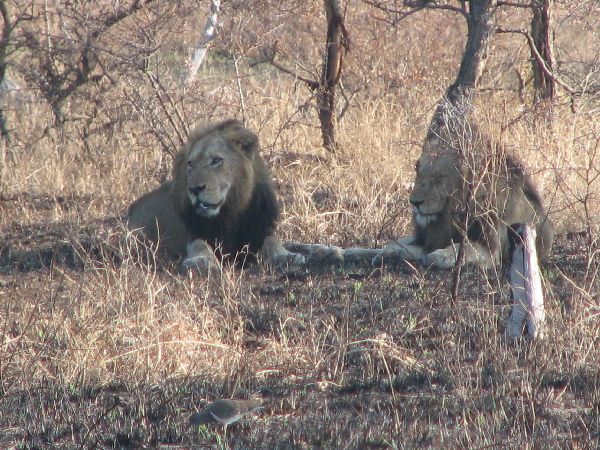 The road back to Johannesburg. Majestic mountains but sad. And only the promise of another visit in the not too distant future (and the joy of writing a TR to look forward to) makes it bearable. These photos and the memories will have to be bush-medicine.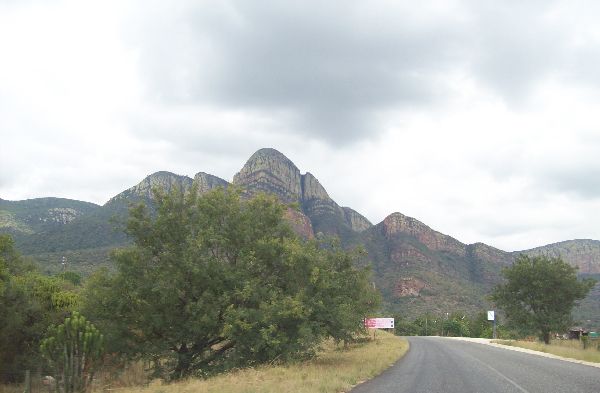 It is with a lump in the throat that I finish this TR. Ouma Klokkie recently fell and broke her hip quite badly. She had a hip-replacement, but at present she has great difficulty in moving. We firmly pray and believe that she will one day again be able to join us for a week in KNP. That's why I can end this TR with
…
TO BE CONTINUED…

.
Dupacc
I will join in the song, because I know why I sing. Soli Deo Gloria
---
---