Today we drove a big loop down to Afsaal Picnic Area. It was not an early start. One of the first things we saw were these little mongooses frolicing in the warm sun.
I wonder what is lurking up in those red rocks.
Upcoming road block. From mongooses to elephants with in a few kilometres - such contrasts.
A coffee and loo break at Afsaal Picnic Area. Was very busy.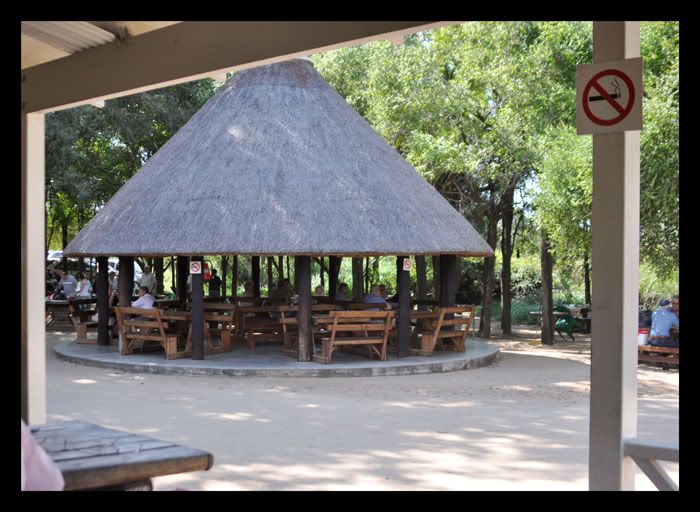 Bit of a confrontation ? Territorial ? or just being B....y minded.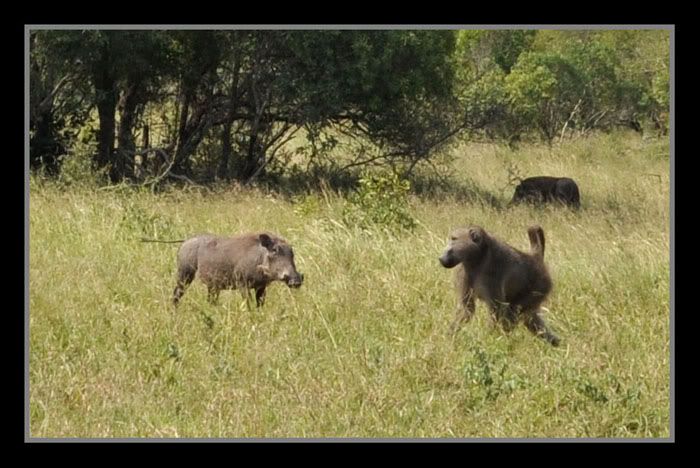 More cameleons, somehow when one thinks on visiting a game part you do not think of these funny little animals.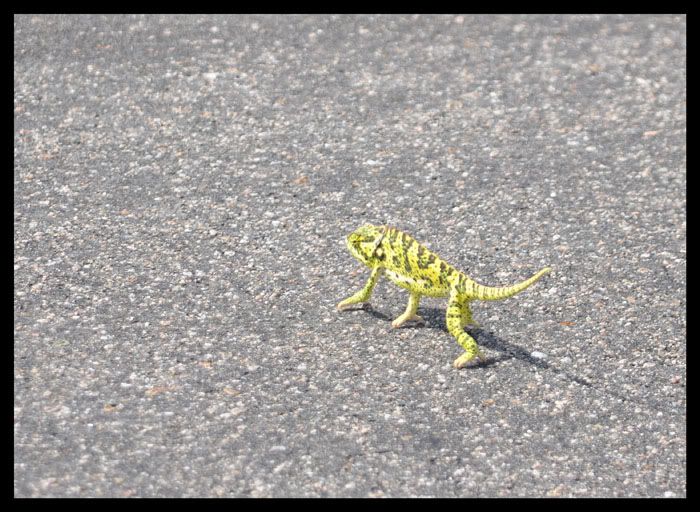 Ah, now this is a fine Lilac Breasted Roller picture, luckily I still do not have a decent Glossy Starling picture so I have an excuse to visit again !
Wartpiggies ! One of my favorite animals and we saw so few of them.
Next - we return to PretoriusKop
---
We were slowely wanding around, on the way back to Pretoriuskop from Afsaal. Aha, we are in rhino country.
Hornless Rhinos ?
No there we are, perfect rhinos.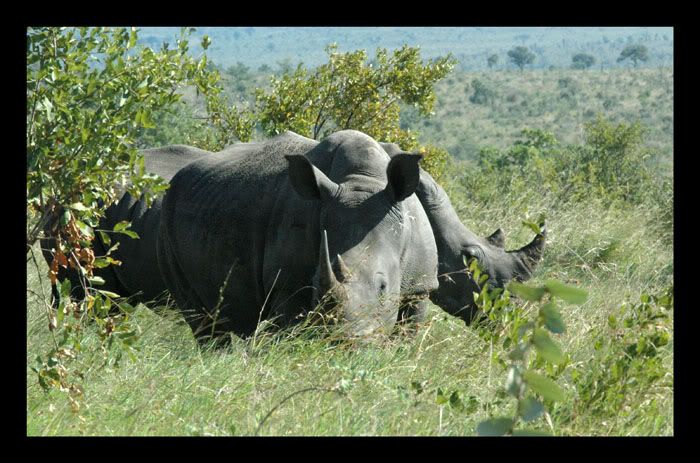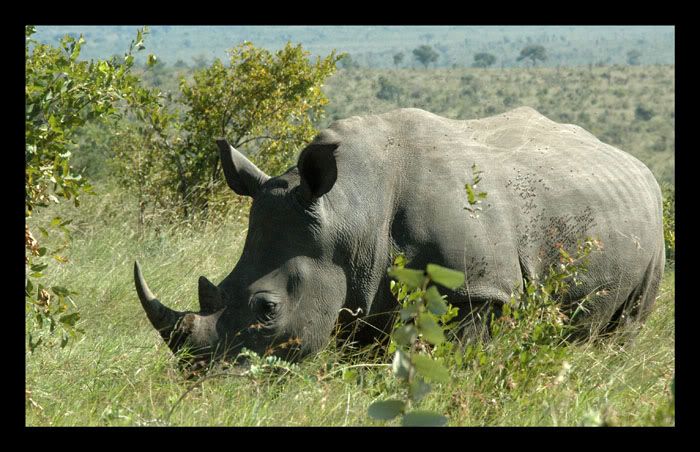 More mushrooms, these ones have chosen a particularly nutricious place to grow.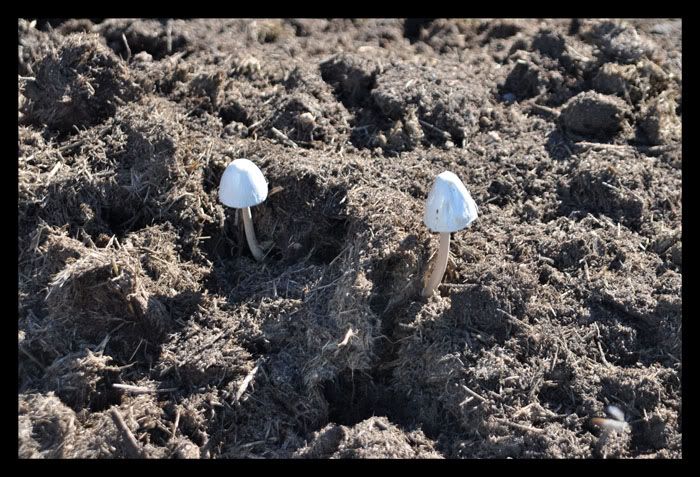 Back to Pretoriuskop for more relaxing round the pool and for a walk round camp.
We chose to eat at the resturant - being our last night - bad move. It is a pretty building and and on that day was all about it was good for.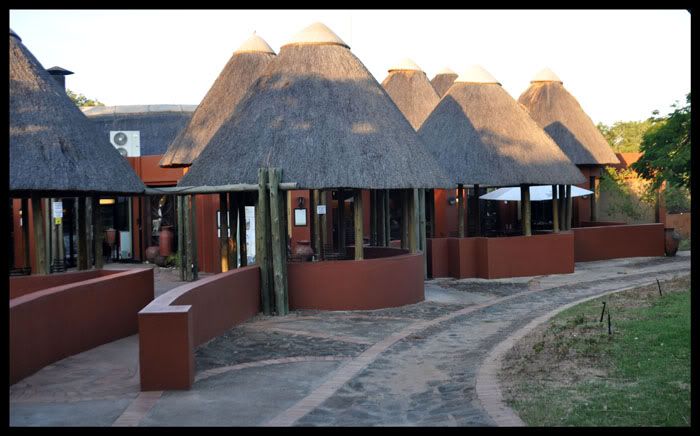 Next - our last day, update with hirecar issues (It is not over yet) and some conclusions.
---
Our last day - a quick local drive round camp and back to Pretoria. One of the Aussie chicks had to go back to work and was flying home and the remainder were catching THE BUS back to Cape Town. There were issues with the train we were booked on, so took the bus.
Now the hirecar. About 2 days ago the boot lock broke. The metal just broke through as a clean break. Looking at the metal it appears to be inferior casting. We took our washing line string and tied the boot lid down, then used that traveller's saver - stickey black tape - to tape the boot closed. Sort of worked. When I returned the car there were no problems. They accepted that I hade not forced the locking mechanism and that was the result of faulty manufacture. All good.
And some conculsions
We travelled almost the whole length of the park, avoiding the busy Lower Sabie area. As a relaxing, interresting ecologicaly and pleasant area, the central and northern areas win. But for variety of animals sighting the southern area is bettter.
Camps - every one is different and the joy is the different character. I can not say that there are any that I would not go back to. While there are others that I would definately go back to. One of the Aussie chicks said that the 'inside fense camp experiece' is an important part of visiting Kruger. They are not just somewhere to spend the night.
Photography - make sure that all your pictures are not perfect - otherwise you will not have a good reason to go back again. ( ! ! ! ! )
Well we now have five Aussie booked for a Kruger trip in October. I have a list of pictures I wish to take. When looking through all my pictures for this trip I realised that I did not have one decent picture of a guinea fowl.
So I have a list already, tops is the guinea fowl, followed by more attempts at that dastardly Glossy Starling. I have pictures of birds of prey but they are all very inferior, so on the list - good bird of prey pictures and an ostrich. Also I must remeber to take more pictures of the environment, the roads, the places that are unique, that are part of the atmosphere.
Thankyou for all of your kind comments. It is a joy a share pictures and stories with other who enjoy them.
---
---
Who is online
Users browsing this forum: Rooies and 8 guests