Senior Virtual Ranger

Posts: 2631
Joined: Fri Feb 05, 2010 8:57 am
Location: Perth, Western Australia
Well it's only taken me 3 and a half months to get this TR going - thanks to the kind and gentle encouragement of my mate Melph (thanks Mel!)
As a bit of a background - myself and Mark (a.k.a. Mork - the SO) took a trip to South Africa in March/April to visit my beautiful grandmother. She is turning 94 this year, and had decided she could no longer make the journey to visit us in Australia - her last trip being in her 92nd year.
[Incidentally – she also decided in the last year that she would stop driving!
]
So we had made a resolution to visit SA on a far more regular basis - rather than every 3 years, as I / we have done in the past.
These visits to SA always include a trip to Kruger, and sometimes other parts of this great country.
So after our 11 days with beautiful Gran in Kwazulu Natal, we headed off on a couple of adventures...
I understand this first stop is not officially on the SANParks list – but it did lead us to new SANParks territory…
We decided to head to Gansbaai (3hrs out of Cape Town) for a quiet little activity called shark cage diving – which I will say briefly was mind-blowing, and is something I would quite happily repeat again.
Once we had spent our morning with the Great Whites we had an afternoon free, and so decided to head to the "Tip of Africa" – Cape Agulhus.
It really was a beautiful drive there – the scenery was quite spectacular, and at times it felt like we were the only people driving through the countryside.
I have to be honest – I never realised that Agulhus National Park was SANParks territory, so it was very exciting for me to see the SANParks logo before heading to Kruger!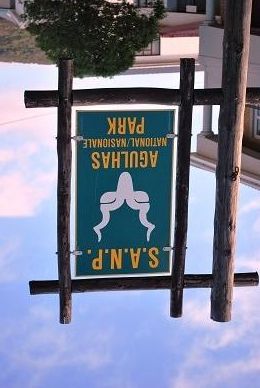 I don't know why – but there is something quite special about standing on the edge of any continent, which is why I think I am compelled to write to you about it.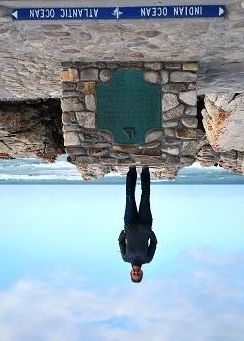 The water looked most inviting (despite being a chilly 13 degrees) and I was tempted to go for a dip just to say I had swum "off the most southern point of Africa" – but after spending a morning with 8 massive sharks all the size of a miniature bus, the appeal somehow wore off.
We weren't able to spend long there – we had to make it back to Gansbaai for the evening – but it was an afternoon drive we both thoroughly enjoyed. Cape Agulhus was quite beautiful, and we both wished we had more time to explore the quaint little town…
I guess there's always next time.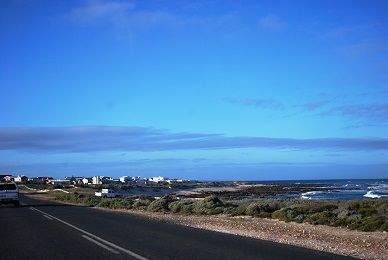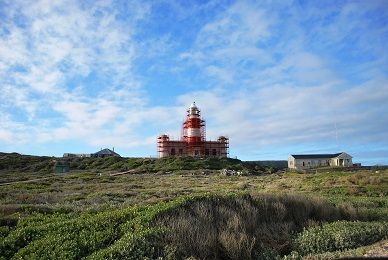 What a great start to our adventures – but it was only a warm-up, as our next stop was Jo'burg and the journey to Kruger…
---
Senior Virtual Ranger

Posts: 2631
Joined: Fri Feb 05, 2010 8:57 am
Location: Perth, Western Australia
Into Kruger we go!
We spent a couple of days in Johannesburg with some of my gorgeous cousins, who gave us suggestions on our best route into the Park.
Our destination for the first two nights was Satara, and so (after studying numerous maps and a fair bit of head-scratching) – we headed for the Orpen gate.
We decided to do this via Blyde River Canyon – somewhere I'd never been before. It was visually spectacular and well worth the detour.
I think what was even more spectacular was the fact that we managed to make it without getting lost… and I'm very pleased this was the case, as the total travel time from Jo'burg to the Orpen gate was just over 7 hrs. Suffice to say we were VERY happy to see the cheery faces of the SANParks staff when we arrived!
Heading down the H7 towards Satara, our bets were placed on which animal we would see first. Our currency when placing these bets in Kruger is in the form of biltong, not money, and I had my "biltong" on impala. Mork decided his "biltong" would be on giraffe… we were both wrong…
Not far up the road we saw our first giraffe – so we decided Mork had won that bet – but since it (technically) wasn't the first sighting, I could keep my "biltong wager" – awesome, I call that a "win-win" situation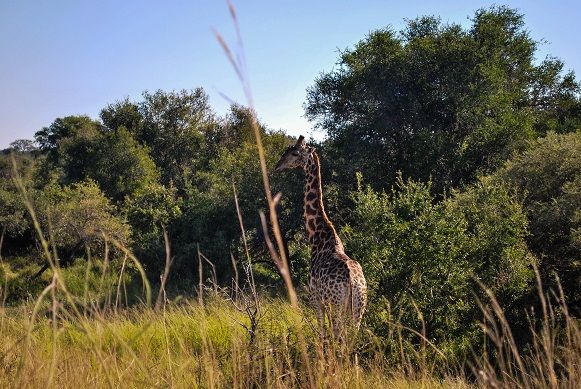 Forever the optimist, Mork decided that after his part-victory – this was going to be a lucky trip to the Park, and that he would like to see leopard, cheetah and wild dog…
From here the conversation went something like this:
*insert a whining, nagging voice here*
:
"Moooork – you know we would be lucky to see just one of those animals… it's not about the big stuff, you've got to appreciate the small stuff too… in 11 visits to the Park, I have NEVER seen cheetah or wild dog, and we were extremely lucky to get a glimpse of a leopard last time – plus all those lions!… let's just enjoy being in the park with no expectations… no we're not listening to music while we drive here… yes I know it's warm but I really would like to keep the windows down so I can smell and hear the park… no, I don't want to drive faster – 30km/hr isn't too slow, there's no need to go the speed limit… etc… etc… etc…"
[Hehe poor Mork – he has the patience of a saint. Secretly I was hoping to see a serval and a pangolin, but of course I couldn't say this!
]
This conversation came to a grinding halt when I slammed on the brakes for the first time, and it was for one of the strangest looking creatures I have ever seen in my life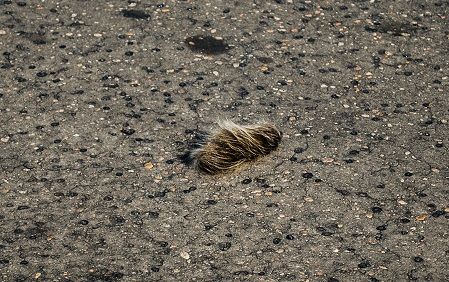 Perhaps someone can help us with this – I assume it is some type of caterpillar?
Not far behind us was a taxi that had been catching us while we crawled along… he went to overtake us, and we stopped him – we didn't want him running over our furry friend! I think the taxi driver thought we were a tad loony, but he was kind enough to let the fur-ball cross the road before hooning off. Good deed done for the day! (We ate biltong to celebrate this – we at biltong to celebrate everything – biltong is practically unaffordable to the average person in Australia)
Continuing down the H7 we had a few more "first" sightings: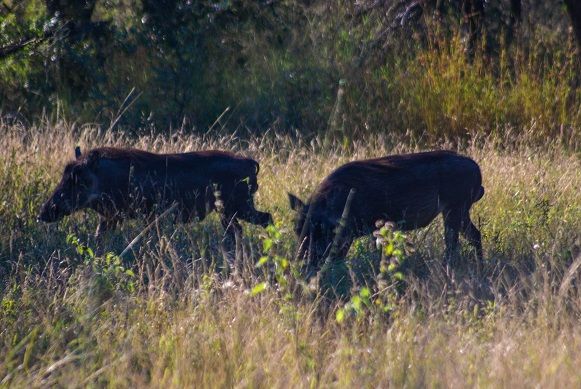 We were having a great old time. Then we hit a bit of a road block – and not the awesome, animal-kind of road block:
Our visit followed the second lot of floods in the park, and there was still some repair work to be done. Our original plan had been to get to camp, unpack and then head out for a late-afternoon drive, but according to our good friend Tom-Tom (the trusty GPS) – this required detour down the S106 would add quite a bit of extra time to our travels.
Nothing we could do about it, so we decided to slow down even more, with a view to arriving at camp right on gate closing time.
Not 5 minutes down the road, we managed to catch a glimpse of this little guy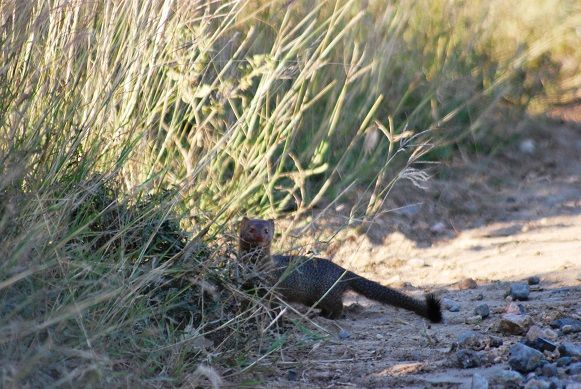 I'm hoping I'm correct in saying this is a slender mongoose?
A bit further along and we saw some more giraffe friends
I'll try and refrain from posting too many pictures of giraffes – I love them, they are the most bizarre yet beautiful creatures I think I have ever been lucky to see (actually I think they are tied in first place for bizarre looks with the Proboscis Monkey, but I digress)
We drove on for a little bit, spotting more impies and zebras – until this guy caught our eye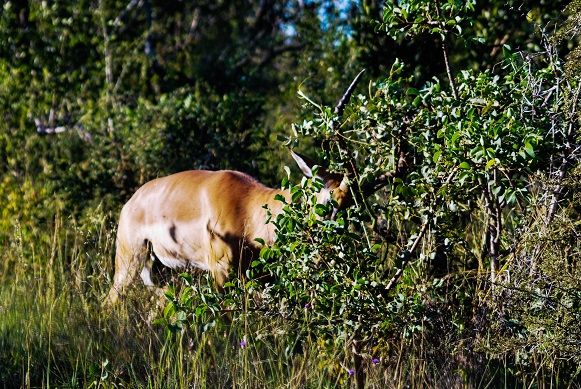 He was having an intense head-scratch in one of the bushes, and we watched him for a while. It was highly amusing – he seemed to have trouble scratching the right spot, and the scratching got more and more vigorous to the point where he seemed to become really frustrated! I felt like getting out and giving him a good head rub but – well – for obvious reasons that didn't happen.
We came across a few more firsts before the S106 ended: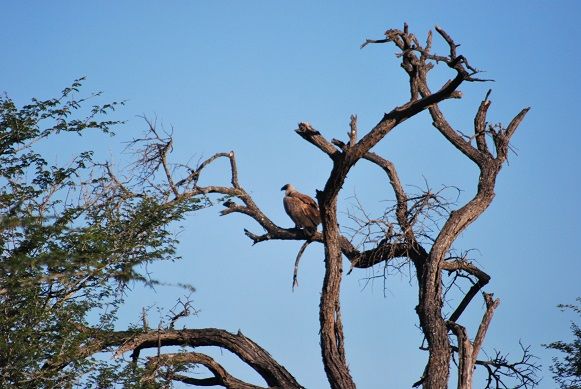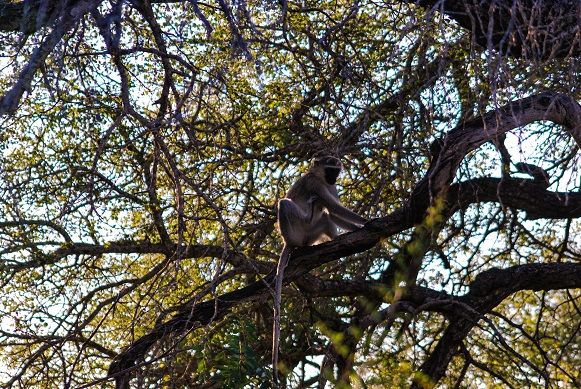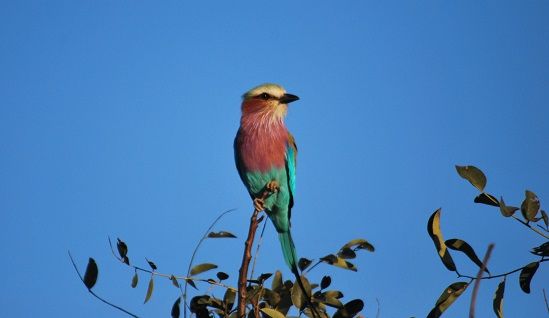 Then it was back on to the tar road (H7). We decided to up the speed from 30km/hr to 40km/hr, as time was marching on. Just as we did this, Mork said "SHHHHHHHHH!!!" – to which I slammed on the brakes. Two male impies came bolting across the road making their "clicking" noise. I quickly turned off the car and we listened – but nothing. Whatever had frightened them was nowhere to be seen… still, it got our hearts racing.
After waiting and listening for 5 or so minutes – we continued with our journey – and spotted our first ellies (YAY!)…
And another 10min of travel found us our first waterbuck (but the photo of I have of him is sadly out of focus - I think my eyes were getting tired by this stage!
)
Awesome! We'd seen quite a selection of animals on our drive to camp!
By now we were nearing the turn-off to the H1-4, and the entrance to Satara… and just in time – we drove into the camp at exactly 2 minutes before closing time
Check in was painless, and before long we were enjoying a coldie while the braai heated up… we were starving by the time our "5-star camp meal" was ready.
It was such a great day – we'd already seen quite the buffet of creatures and we still had 4 and a half days of Kruger goodness to enjoy. But I think more than anything – we were just happy to be there after a long day of travel.
With the alarm clocks set for 4.30am, we retired early – oh I can't wait to tell you about our second day, the fun had only just begun…
---
Senior Virtual Ranger

Posts: 2631
Joined: Fri Feb 05, 2010 8:57 am
Location: Perth, Western Australia
First full day in the Park begins…
We were up at sparrow's fart – excited for our first morning drive. I am not a morning person at all while I'm at home, yet I never seem to have any problems jumping out of bed at a ridiculously early hour of the morning while I'm in Kruger.
In fact, this morning I woke up 10 minutes before the alarm went off – I think my subconscious was working in overdrive
Since we didn't take long to have some coffee and a little bite to eat, I suggested we wait in our car at the gate until opening time. We were half an hour early – I really was jumping out of my skin with excitement.
After 20min of waiting I wasn't quite jumping out of my skin as I had been earlier.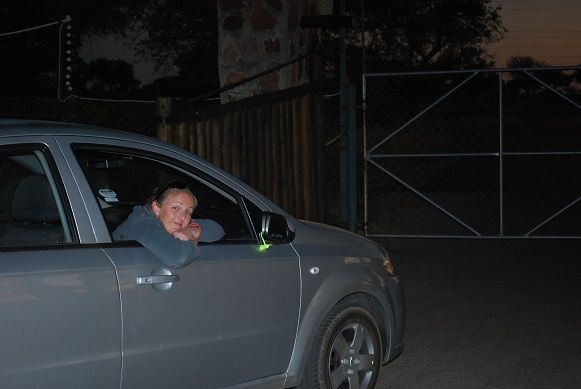 Notice my attempt at a yellow ribbon on our car… it is not the best, but at least it is yellow (a very bright yellow at that).
Once the gate opened we were off – we turned left on to the H1-4 (heading north towards Olifants) – at our usual speed of 35km / hr. We were immediately overtaken by 3 or 4 cars – all in a hell of a rush to get to a very important, unknown destination.
This made us grumble a little bit, but we were travelling under the speed limit. Besides, how can you grumble for long when this is the view you are looking at?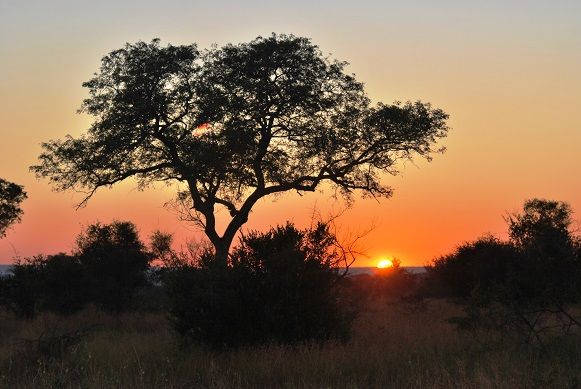 Our first animal sighting was a wildebeest crossing the road. We congratulated him/her for making it through the night, but he/she just kept walking...
A little further along the road we sat and watched the antics of this little Dwarf Mongoose – it looked stunning in the morning light.
Not much further and we found this lone Male Kudu, wandering in the tall grass.
We weren't even 5km down the road and it was already a good morning
Our next stop was for a very noisy roadblock: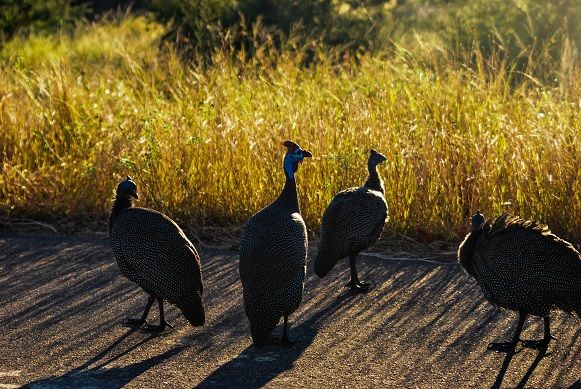 Helmeted Guineafowl appear to be such daft animals, they remind me of kangaroos: instead of running away from the car when you approach them – they run into it. The problem we have discovered with the Guineafowl is they are a lot smaller than a kangaroo, so you can't see them when they run in front of the car. We spent nearly 10min trying to get through this lot without causing a casualty – thankfully we were successful.
Just before our intended turn-off to the Timbavati Picnic spot – we came across this feathered friend:
Can any of the birders help with an ID here?
My Dad loves his birds and used to know them all – but struggled with this ID. His thoughts were a shrike of some description?
Moving along – we decided to take the turn-off down the S127 towards the Timbavati Picnic Spot. We'd never visited Timbavati before; the promise of toilets made it a very appealing destination.
Just after the turn-off, we spotted some zebbies on the road: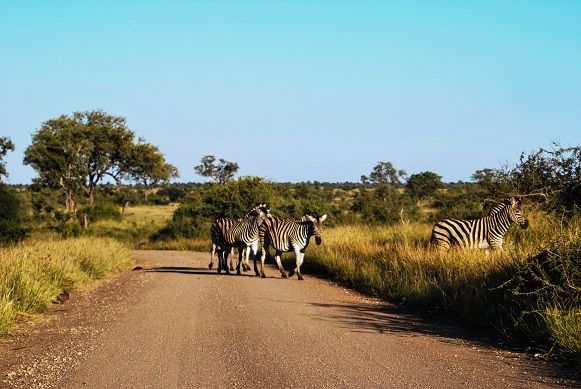 Then we came across some Kori Bustards out in the long grass
It was a somewhat quiet drive along the road, with the usual suspects (such as impies, giraffe, zebras and wildebeest) spotted along the way. I'm using up my photo limit rather rapidly here, so I will refrain from posting pictures of these now.
Coming into the Timbavati picnic spot was this beautiful Baobab: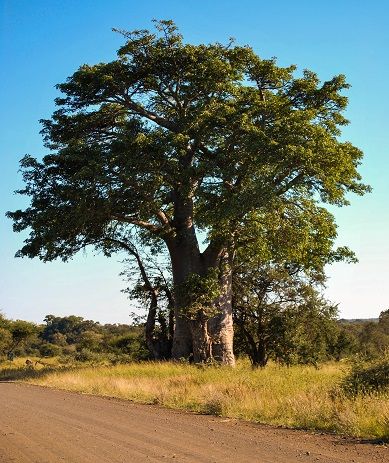 It was the only Baobab we saw on this trip, so we stopped (and Mork waited patiently) while I took a million photos of it.
We really liked the Timbavati Picnic Spot – there were quite a few people there when we arrived, most enjoying their breakfast… what a bloody fantastic idea! Our grumbling bellies wished we'd thought of that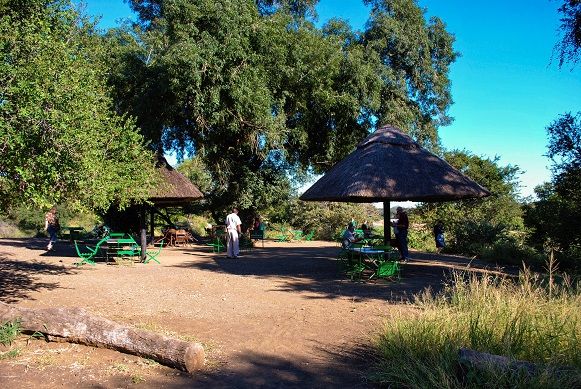 It was great to be able to get out of the car and stretch the legs. We also got chatting to a lovely man who used to live in SA but was now living in Canada (returning twice a year to visit Kruger and his children – in that order). He told us all about the cheetah he saw sleeping under a tree the previous day, and the lions he had seen… but other than that, he said he'd had a quiet visit so far.
It was so nice to chat to a friendly person in the park… but it made me realise, I hadn't seen any yellow ribbons yet.
After another walk around (including stopping to watch this little Bush Buck)…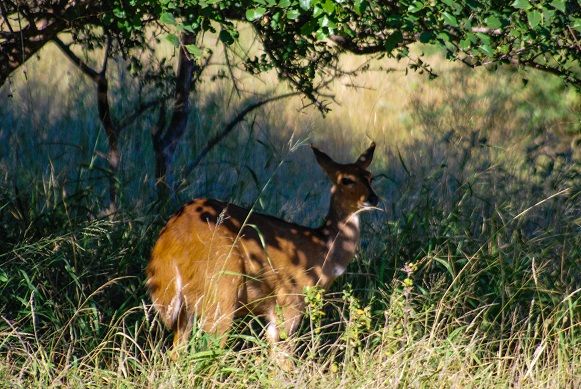 … we hopped back into the car and headed on our way.
We decided to head down the S40, the idea being to continue a "loop" back to the H7 (we didn't want to head back down the same road we came in on).
By this stage it was 9.40am, and it was starting to warm up. The rumbling in our bellies was getting louder, and so we decided to drive closer to the speed limit to get back to camp.
Not a minute after deciding on this plan, there was an animal crossing the road ahead of us – a big cat-like animal. My heart started pounding – I said to Mork quietly "look!"
It was huge – "Mork said is it a lion?" and I said "I don't think so – it's got the tail of a leopard, but it is HUGE!"
It was about 80-100m up the gravel road – we didn't want to race up and scare it, but it was crossing the road quickly – so I put my foot down and actually went the speed limit (for once) to try and make it…
It had walked into the bush just before we got there – a little disappointing (as we couldn't get a photo), but we'd both seen it... Mork got his wish for a leopard, and we both saw it!
(There really is nothing worse than one person seeing something special, and the other missing out!)
We were both pretty chuffed… we turned off the car and sat looking into the bush where the leopard had disappeared, hoping we would catch a glimpse of it… but to no avail. Those things are so darn camouflaged!
Mork had the camera positioned out his window – just in case – but still nothing.
Then I heard a rustling on the driver's side of the car – lo and behold, look what popped up: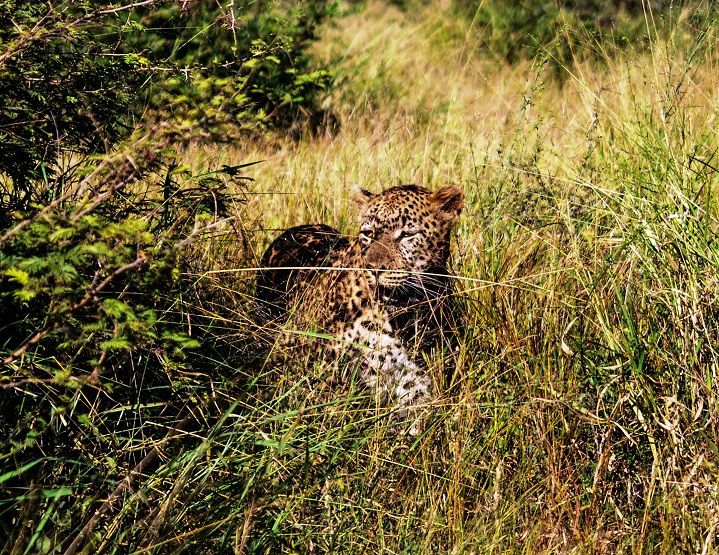 I whispered to Mork something along the lines of (but not quite as polite as) "holy moly Mork – look what's outside my window – quick, give me the camera!"
We had found ourselves a breeding pair of leopards, and this fellow was trying to follow his lady friend that had just crossed the road… how lucky were we!
He walked up past the car, then on to the road behind us. The following pictures were taken through the back window of our car, as we didn't want to reverse back and get in the way of true love.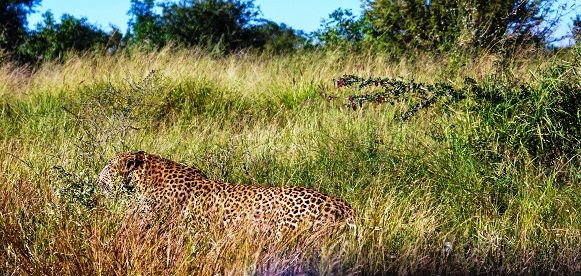 This sighting happened at 9.45am, and we had it all to ourselves. It was over in all of about 4 minutes, but our hearts were racing – my hands were also shaking… SO exciting!
Just as our spotty friend walked into the bushes, another car drove up and said "what are you guys looking at?"
I felt terrible saying "I'm so sorry – you've just missed a leopard walking into the bush…"
Normally it's people saying stuff like this to me, so I know how disappointing it is to have someone say "sorry you just missed it…"
After a quick little chat, we headed off again. Of course, now the discussion turned to Mork's wishlist… he had now seen the leopard, and proclaimed "we just have cheetah and wild dog to go."
My reply:
*again – please insert a whining, nagging, (and for MM) Aussie drawl here*
"Moooooorkeeeeeeee – you have just seen a breeding pair of leopards… we are SO lucky – did you see how close that thing was to the car!... finally – we got a picture of a leopard!… if this is all we see for the rest of the trip, I'll be happy – YOU should be happy too!… you cannot be disappointed at not seeing cheetah and wild dog… and by the way, HOW AWESOMELY CLOSE WAS THAT LEOPARD!!!... etc… etc"
[We were both beaming – you could not wipe the smile from our faces! And yes – we ate A LOT of biltong to celebrate this one!]
Our trip back saw the usual characters (impies, giraffe, etc) – plus also a kudu pottering around in the bush.
Turning left on to the H7 (heading back towards Satara) we had another "first" sightings – some ground hornbills. We watched these guys scavenging for ages… they seemed to find heaps of lizards and other creepy crawlies to eat – throwing them into the air, catching them gobbling them down.
Sadly, I wasn't successful in getting a picture of them actually eating anything, but it wasn't for a lack of trying - I had about 120 photos of these birds by the end of our visit with them!
Not to despair though – they are beautiful birds, I just love their eyelashes (I would kill for nice long eyelashes like that!)
That concluded our wonderful morning drive.
We were pretty shattered once we returned – the early start had caught up with me – and so after a smaller than anticipated breakfast (thanks to the celebratory biltong we had eaten an hour or so prior), I had a little nanna-nap
:
I swear I dozed off with a permanent smile on my face – what a great first morning drive in the park!
---
Senior Virtual Ranger

Posts: 2631
Joined: Fri Feb 05, 2010 8:57 am
Location: Perth, Western Australia
First full day in the Park continues…
We had a nice rest after our morning drive – we were both still quite tired after our previous days' journey into the park (and the subsequent early morning), and so we spent the middle of the day relaxing around (Satara) camp.
We were staying in rondavel number 177 (right along the fence), and so I spent most of my free time watching the birds, and also the men cutting grass along the fence by hand... I was entertained.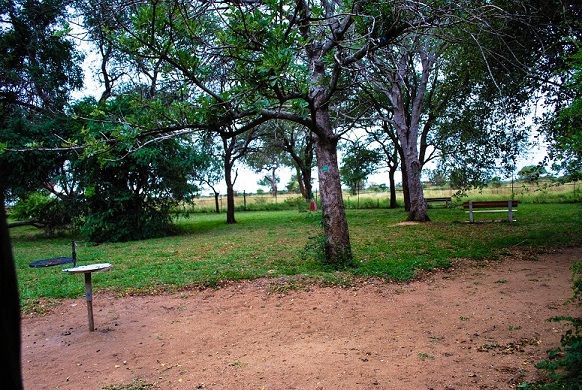 We also walked around the (inside) camp perimeter (along the fence), which included a visit to the watering hole – the home of the Satara Cam.
I'm kicking myself – I spend hours watching the SANParks Cams, yet I never took one photo of it from behind the fence… the whole time I thought "I must come back and take a photo of this" – and I never did
Shame – I have one from our last visit, but that was in September and the view then was very different to the view in April!
I don't know where the time went (it always goes so fast on holidays) – but before we knew it we were back in the car for our afternoon drive.
This afternoon we decided to head north on the H1-4 (towards Letaba / Olifants) – the idea being to keep driving up this road until it was time to turn around and come back again.
This road had been most productive on our last visit – in fact, we spent our last trip just driving up and down the H1-4 – it had been lion central. We were hopeful it would be the same this time around.
As we headed north – away from Satara – our first sighting was of these two ellies grazing: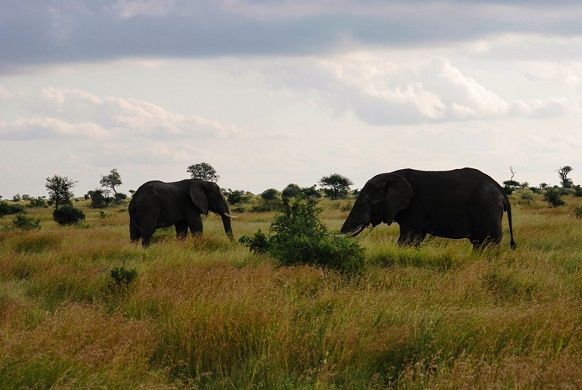 They looked lovely in the afternoon light.
Then it was time for the feathered friends to make an appearance:
Magpie Shrike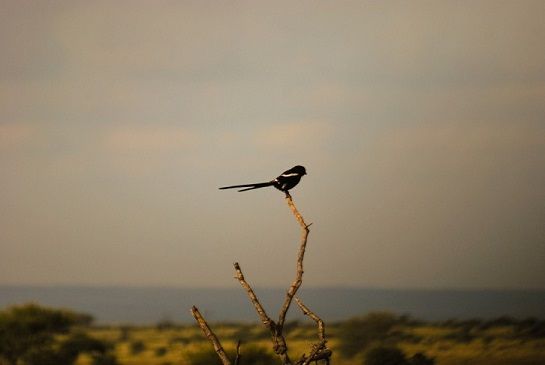 Kori Bustards in the distance
We ambled along in no great rush – enjoying the scenery. When we came to the turn-off for Ngotso Dam – we decided to go and have a look.
We were happy to find a couple of hippos waddling through the water:
I don't know why some of our photos are slightly out of focus today – I think maybe our eyes were still half asleep!
After watching them move around for a while, we continued north.
We then came to the section of road just after the Ngotso North watering hole (where the dry creek bed runs along the side of the road)…
Mork and I love this little section of the road – we saw a leopard here last visit, and we always say it "looks like leopard territory" – there are all the nice big "leopard trees" there.
No leopards today, but we found this snake making its way into the bushes by the side of the road. I'm not sure what type of snake this is?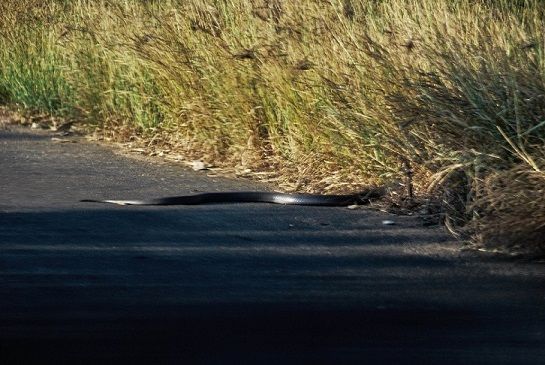 By this stage the sun was getting low, and our reliable friend Tom-Tom told us it was time to think about heading back.
We turned around and – after having a brief chat to a really nice couple in a van (which had a sunroof held up by newspapers and was missing glass windows) – we headed back towards Satara.
Just past the "leopard trees" – a herd of buffalo had decided to cross the road: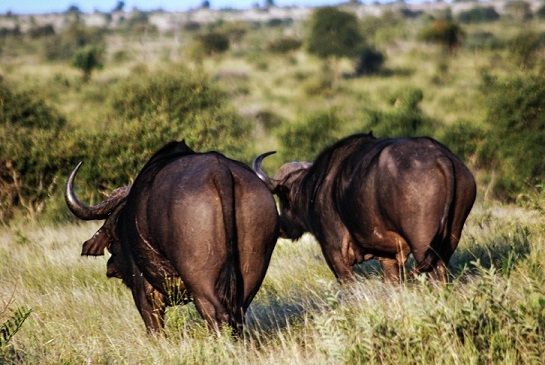 Again – I didn't get any decent in-focus shots (grrrr
) – except for the bum shot. But we were happy to see our first buffalo's for the trip… another "tick" off the list
And then - these lovely kudu ladies were foraging in the bushes: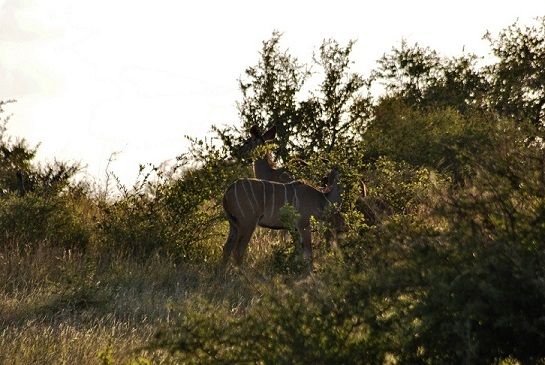 And a little further on, we came across this Lesser Spotted Eagle in a tree: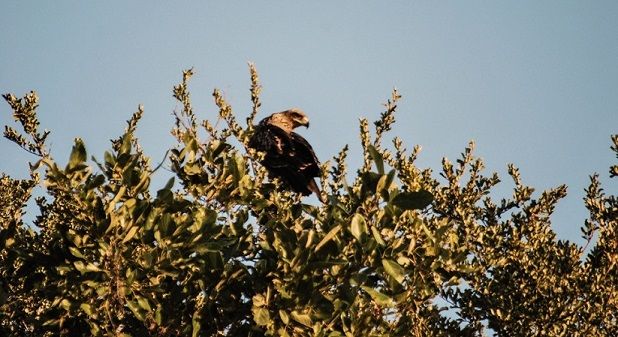 The remainder of the drive back to camp was actually very quiet – we happily spotted more feathered friends.
I had never seen a Grey Hornbill before – I only knew of their red and yellow-billed cousins – so this was a little highlight for me.
It was also great to finally see some Kori Bustards a little closer to the road.
We bid a farewell to our ellie friends before heading back into camp to prepare for our yummy braai dinner
Our plans for the following morning were to join an (organised) early morning drive – the organised drive left camp half an hour before opening time, so we hoped this would work in our favour.
With this in mind, we headed to bed early, bellies full and big smiles on our dials – it had been another great day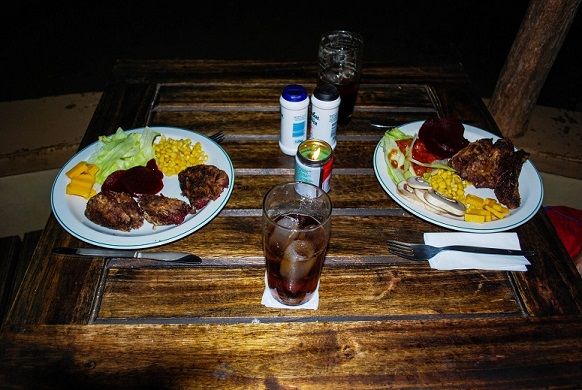 *edit - sorry - just fixed the link for the last picture
*
Last edited by
Melrockson
on Fri Aug 16, 2013 3:55 pm, edited 1 time in total.
---
Senior Virtual Ranger

Posts: 2631
Joined: Fri Feb 05, 2010 8:57 am
Location: Perth, Western Australia
Day Two in the Park – Early Morning Drive
This morning we had organised to go on a (SANParks organised) Early Morning Drive.
Initially we booked ourselves on to this drive so we could get out of the gate half an hour before opening time. The added bonus was – it was quite nice not to have to drive a vehicle ourselves for the morning
It turned out there was only Mork, me and another couple on the drive, so I think we were lucky that it was going ahead to begin with.
So we set off in the cold, spotlights in hand – heading south on the H1-4.
We passed lots of "blue" eyes – with the usual impala, zebra and wilderbeest dotting the landscape as we drove.
A little over 5min into the drive, I was the first to yell "STOP"
Some little red eyes were poking out at us – we'd found an African Wild Cat:
It's a terrible photo… it seems my eyes still couldn't focus this morning
I think I was the only one excited about this, because the other couple had a quick look then sat down again, and Mork exclaimed to me "it just looks like the domestic cats we get at home!"
Ba humbug to them I say – I was happy, we'd seen a cat!!!
We also had to explain to the other couple about shining the torch into the AWC's eyes. The poor little thing was obviously struggling with the bright light, but I don't think they understood us as English wasn't their first language.
We didn't stay with the little guy too long, and continued to head down south on the H1-4.
Another 10min up the road our guide slowed right down. I said to Mork "he must have seen something" – but we couldn't see what it was. We crept up slowly and then all of a sudden – there they were: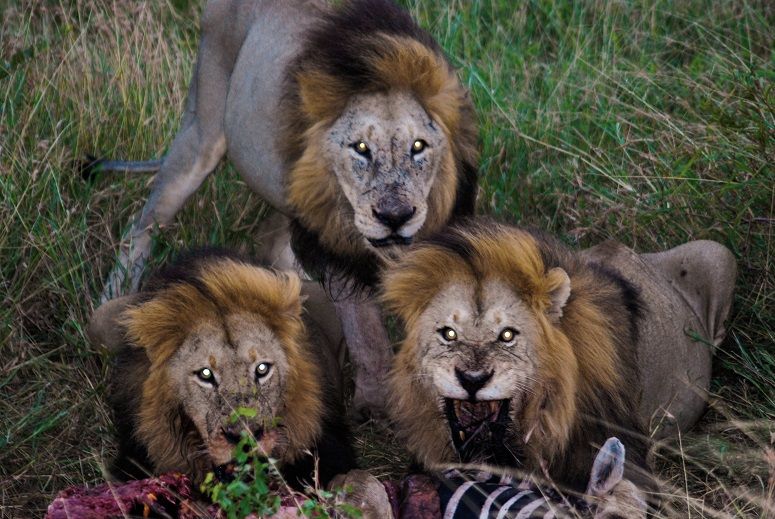 A coalition of three male lions had brought down a zebra, and were eating right on the side of the road! The game vehicle rolled up and then stopped right next to them – I was less than 5m away from where they sat.
The lions all stopped eating and looked straight at me, then growled. I'd never head a lion growl so close – and never at me before… I started shaking... that growl just goes straight through your bones.
It didn't help that I was the one sitting right by the stairs, I was waiting for one of the lions in particular to launch at us, but he just kept growling.
Eventually he must have decided we weren't going to make a play for his food, so they ignored us (somewhat) and continued eating.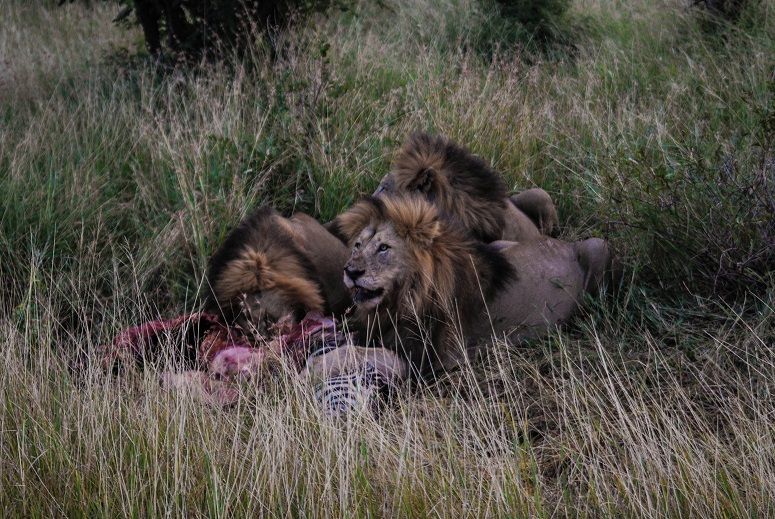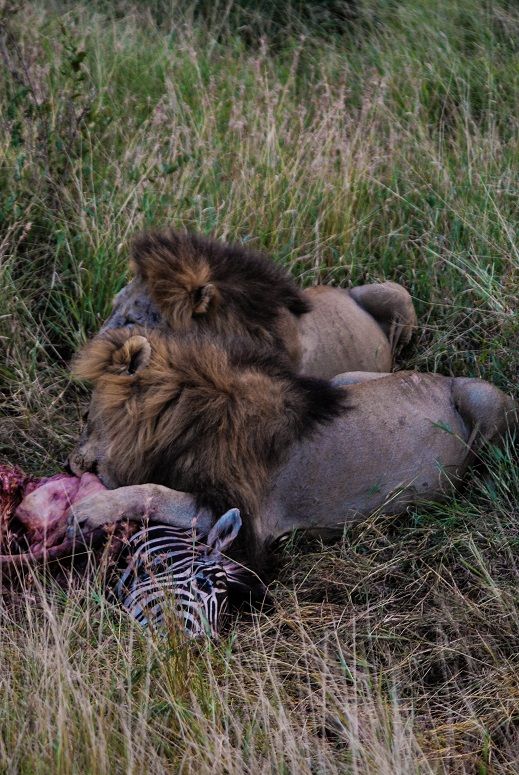 [Or perhaps they got sick of looking into the spotlight the other couple were still shining on the lions – eventually the guide took the spotlight from them].
We had a good 10min with the lions all by ourselves, and then the cars arrived.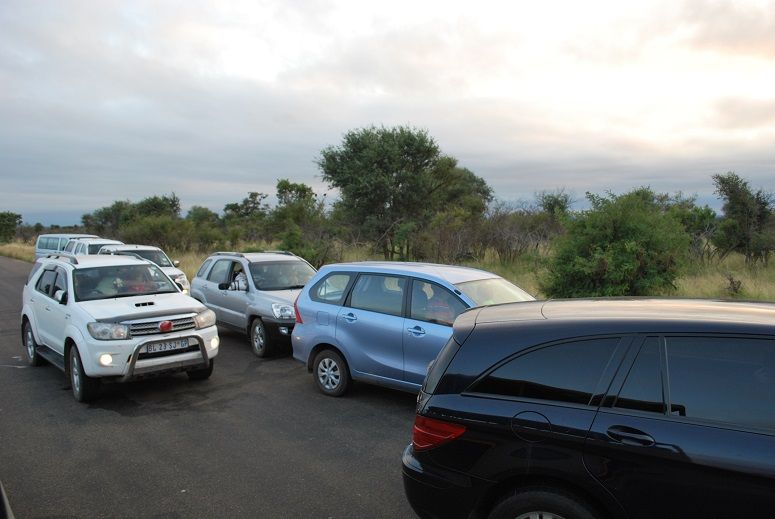 Our guide managed to manoeuvre the game vehicle out of the way so that other cars could get a good view. This gave us a great view of the vultures waiting patiently nearby.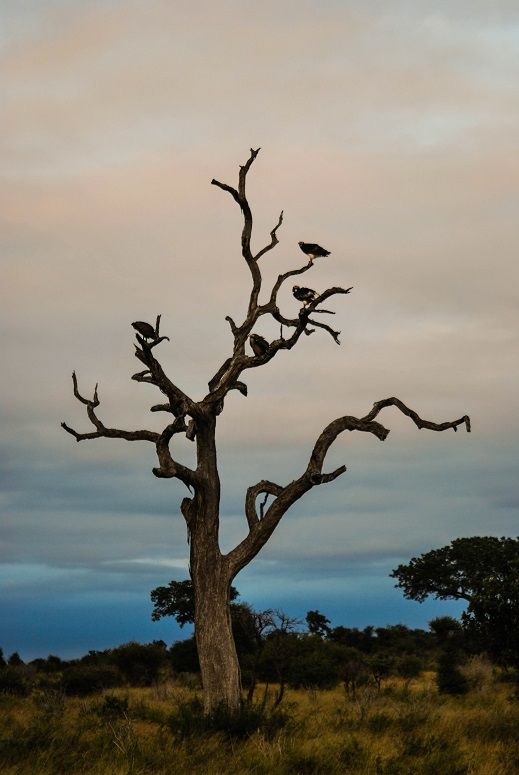 What we did notice was – we didn't see any hyenas hanging around, just the vultures. I thought this was quite unusual
We decided to leave the lions to their meal, and we headed back-tracked north on the H1-4.
Stopping on a bridge, we saw our first Hammerkops for the trip: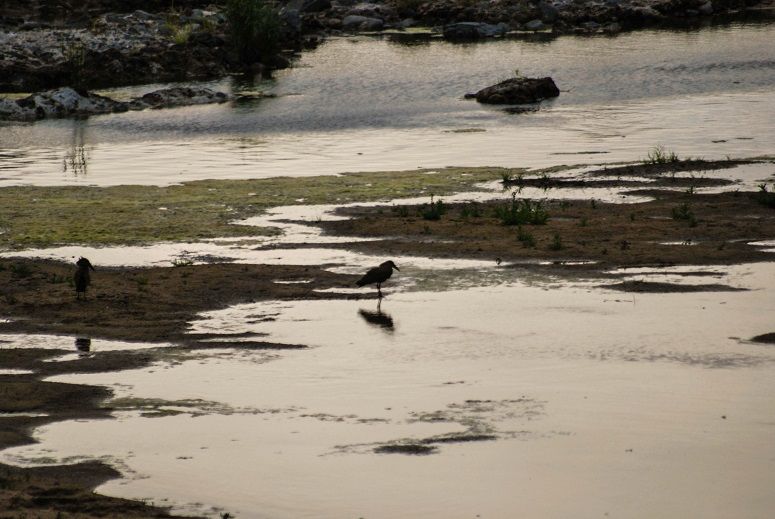 My eyes had lost their focus again – these out of focus photos are very frustrating!
We took a turn off on to a little side road, where we came across some wilderbeest with a zebra friend: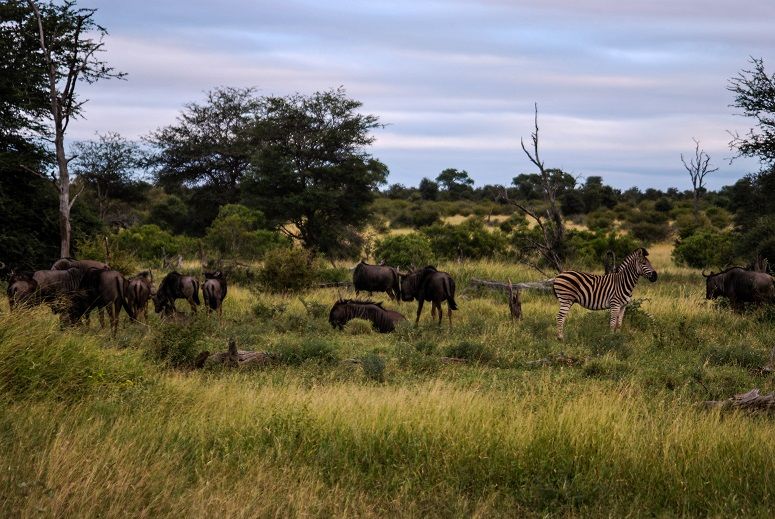 Our guide told us that this zebra is sick, and you could tell this from its mane – which wasn't straight, but rather leaned to one side. I never knew that's how you can tell if a zebra is sick… another interesting tidbit.
We continued north on the H1-4, where we came across some other usual: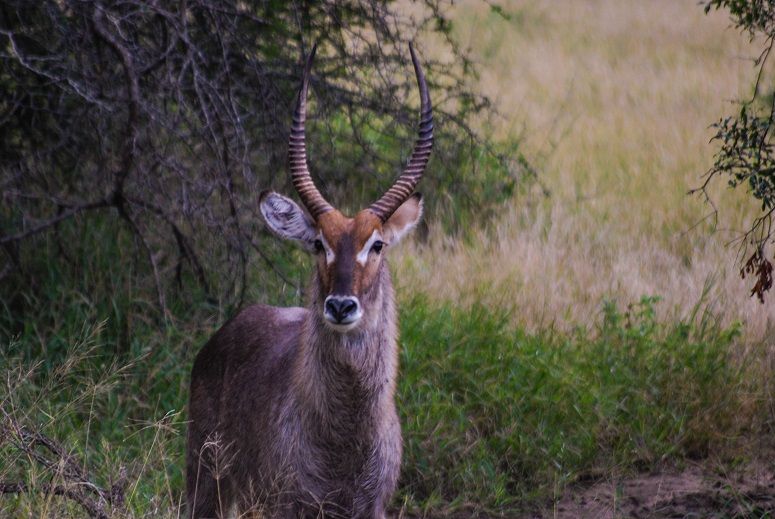 Our guide also gave me a funny quote about the waterbuck – his exact words were "the waterbuck is the only animal in the park that has a toilet seat on its bum". Maybe that's something that is said often, but I had never heard it before and it made me laugh. These waterbucks weren't being cooperative though, so I couldn't get a picture of their "toilet seat bums" this time.
*edit: Thanks NetEk for picking up my error with the waterbuck*
Just across from the bushbuck and the giraffe were some buffalos:
I managed to get a more focussed shot of them today – YAY, finally!
We continued on the H1-4 – back past Satara, still heading north. It was a bit quiet after that, but yet still interesting as the guide continued to fill our heads with interesting information about the park and the wildlife.
We did bit of a loop down a no-entry road, which brought us back on to the H1-4 (just near the Timbavati turn-off). When we hit the H1-4 again we headed back towards Satara. It was getting close to 9am, and we knew the drive was coming to an end.
All of a sudden, the guide sped up… I mean, REALLY sped up. As he was doing this, he was punching his fist into the air… then he'd drive a bit more, then fist pump more, then keep driving. I said to Mork "I think he's seen something REALLY good…"
The fist pumping and mad driving continued for a good 100m down the road, until we came to a grinding halt. Looking out the side of the vehicle, all I remember was gasping then whispering to Mork: "cheetah!"
There were two of them, and they were on the move.
One decided it needed a better view: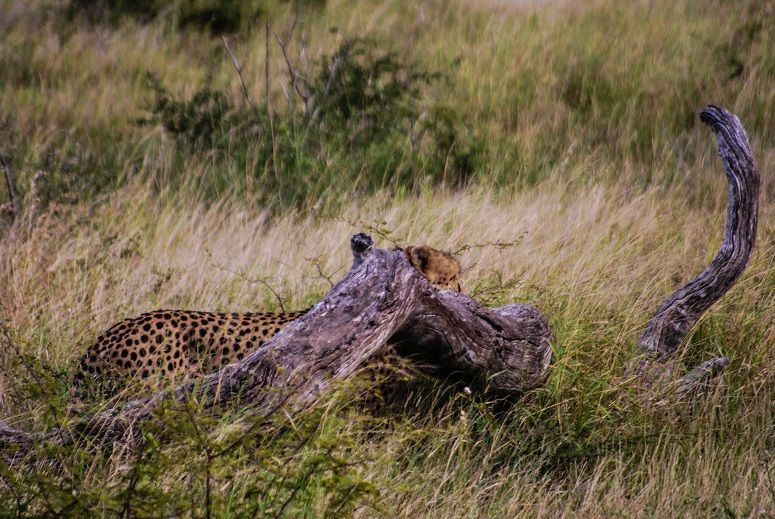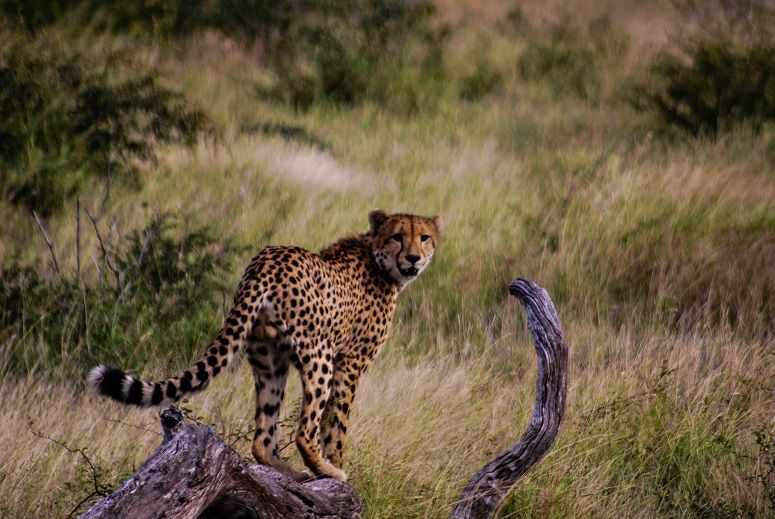 Once it had finished looking, it hopped back down and the two cheetah's headed on their way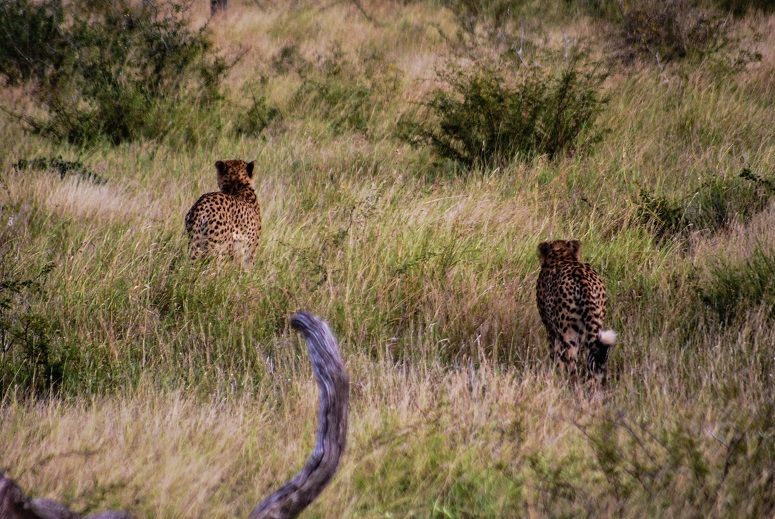 And that was it! It was 8.45am, and within 2 minutes the sighting was over... we were just too lucky.
Also worth noting was – this sighting happened less than 1km from Satara, and people had been spotting cheetahs all around Satara… why don't we ever see them on the Kruger cams?
Too many questions – and it didn't matter cos WE HAD JUST SEEN CHEETAH!!!
We were buzzing on our return to camp, and thanked our guide profusely (I felt like kissing him I was that elated)
But – we couldn't celebrate too long. There was just enough time to eat some celebratory biltong before we had to pack up our stuff into the car and head to our new home in the park…
Our next drive would be to Tamboti, and I will tell you all about this in my next instalment...
Last edited by
Melrockson
on Tue Aug 27, 2013 2:17 am, edited 1 time in total.
---
Senior Virtual Ranger

Posts: 2631
Joined: Fri Feb 05, 2010 8:57 am
Location: Perth, Western Australia
Thank you all for your lovely replies!!!
I'm just working on my next instalment and will respond individually to each of your lovely comments before I post the next adventure.
In the meantime, I thought I would post a
"Random Rhino Moment"
(Thank you mods for allowing me to do this).
One wonderful day during our Kruger adventures, Mork and I were driving along at our usual pace (i.e. 10km under the speed limit
)
We had the annoying experience of a fellow visitor driving very close behind us - despite us pulling over a number of times to let them pass.
Mork was driving and he found it most frustrating, because he really had to concentrate on what the people behind us were doing. He was annoyed because it meant he couldn't "spot" for animals as well as he would have liked
When you have someone tail-gating you (as we call it in Oz) - you tend to increase your speed. Well this just wasn't ok with us in Kruger... we are on holidays!!! We should be able to drive as slow as we like!!!!!
We crept up to the speed limit, and the car was still right on our tails (grrrrrrr).
There was a turn-off coming up, and (admittedly, without indicating) - Mork decided at the last minute to take this turn-off.
It gave me a bit of a fright (because I wasn't expecting the car to turn off the road) - but what was funny was the reaction from car behind us... you could almost see what they were thinking.
They didn't know whether to stop, reverse and follow us - or whether to carry on. They slowed for a bit - paused looking our way - started talking to each other - then finally continued on - leaving us to continue down the turn-off.
This is what we found: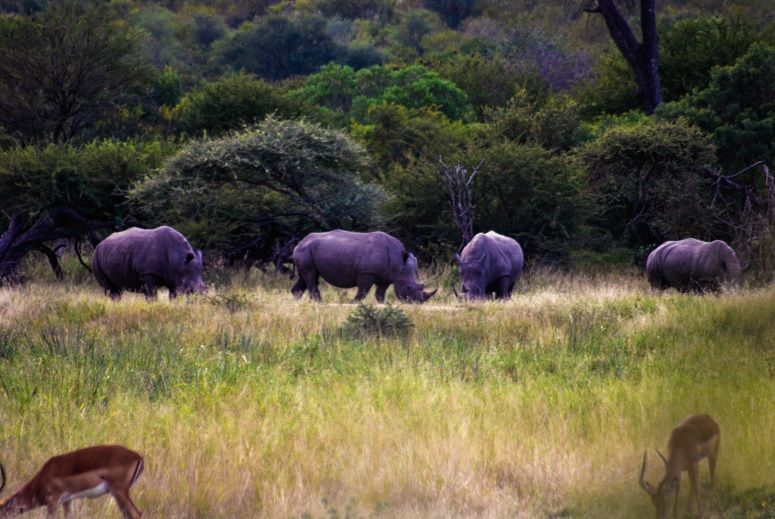 What a sighting - and all thanks to people who had started to annoy us! We weren't annoyed with them anymore
It was also a lovely sighting because we met a lovely South African couple, and we stayed and had a LONG chat to them. They told us all about their regular visits to the park, and answered some questions we had on photography and some of the animals we'd seen.
It was a lovely sighting - both because of the people we met, and of course because of those wonderful rhino's.
We consider ourselves lucky every time we see a rhino, and we both often comment that we hope they are still around for our (one-day-in-the-future) children to appreciate in the years to come
---
Senior Virtual Ranger

Posts: 2631
Joined: Fri Feb 05, 2010 8:57 am
Location: Perth, Western Australia
Off to Tamboti we go!
Well after our wonderful morning drive, we were on quite the high, so getting motivated to pack our things and get back on the road wasn't difficult… actually, I don't think we've ever packed up so quickly in our lives.
Pretty soon our little car was on the road, as we waved goodbye to Satara and headed towards our new "home" - Tamboti.
We had a whole day to get there, and so we decided to take the H1-4 north, and head through Timbavati again (this little section of the park really was a favourite of ours on this trip) – but instead of heading back down to the S40 to the H7, we would take the longer route out of Timbavati – along the river on the S39.
So off on our merry way we went…
On our way up the H1-4, we saw a nice little family of warthog, and a beautiful male kudu grazing: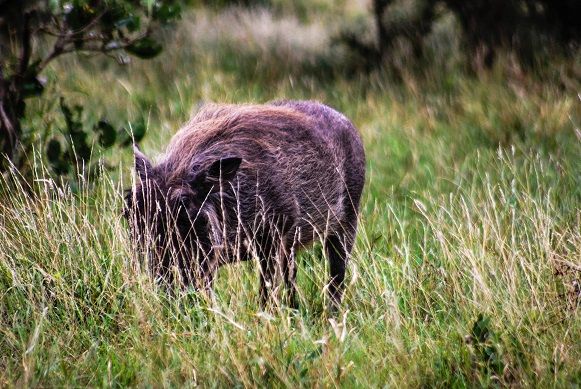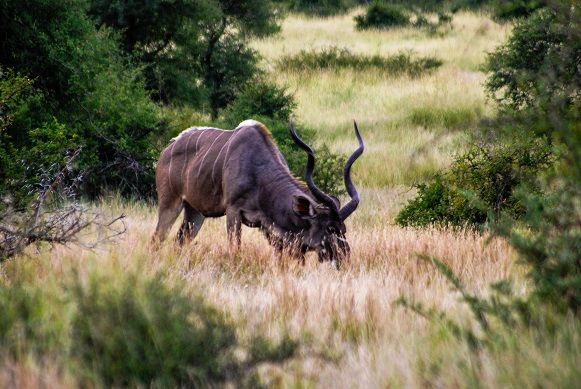 Turning left on to the S127 (heading towards Timbavati) – we were lucky to find our first of the "Little Five" – wandering up the gravel road:
We spent ages watching this little guy slowly wander determinedly to a destination unknown. Eventually he/she headed into the thick grass, so we continued on.
We stopped for a little while at Timbavati – it was a lovely day, and now that we'd learnt to always have snacks on hand (
) – we used this as our lunch stop.
Once our bellies were full, our legs stretched, and we'd said hello to the little bushbuck, we continued along in new territory – down the S39, the river to the right of the road. We left Timbavati at around 1pm.
We were following another car, but it was quite a way ahead of us and travelling at a similar speed to us, so we only really saw it on the longer, straight stretches of road.
We saw a few of the usual suspects along the way: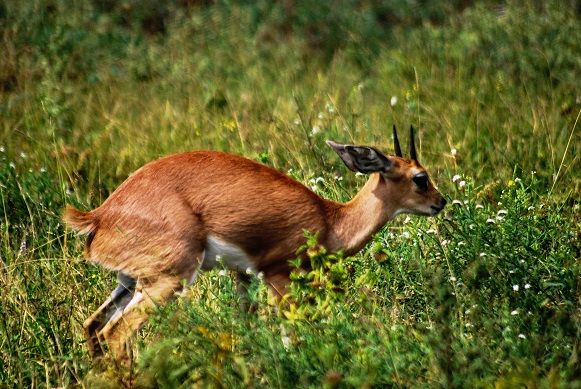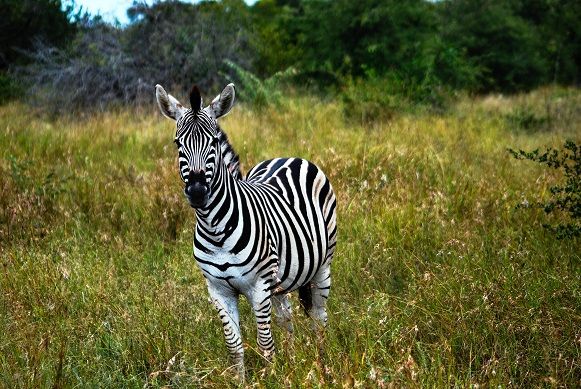 Then we came to another straight stretch of road, and we could see the other car (a white 4WD) ahead of us – approximately 150m away. It had stopped, and it only took a moment before we saw what they were looking at… a leopard!!! It was crossing from the river side of the road – right in front of their car!!!
We didn't want to spook it too much, so we very slowly rolled closer to them, engine off. The leopard wasn't spooked, but did continue crossing the road. By the time we made it to their car, it had disappeared into the bush.
We didn't get a photo, but we both saw it clearly. We had a little chat to the excited couple, who were most sorry for us that we hadn't seen it as closely as what they had.
Never mind – we had already had a lovely close encounter with a leopard, and we were just pleased they got to have a similar experience. I think the beams on their faces were just as big as ours had been at some of our amazing sightings… it makes me grin now just thinking about those massive smiles on their dials
We sat at the spot a little longer after they left – just in case the leopard decided to make another appearance, but it wasn't to be this time. We were so happy – we'd just seen our third leopard of the trip, you little ripper!!!
We almost finished the remainder of our biltong at this sighting.
Continuing down the S95 we took time to duck into all the little "off-shoot" roads that loop to the river and back. We didn't see much down these roads, but it was still a really pretty and relaxing drive.
Towards the end of the S95 we came across a couple of ellies grazing:
Before we turned right on to the H7.
We had hoped that some miraculous road works had been completed in the two days since we'd driven here, but alas, the road closure signs were still up.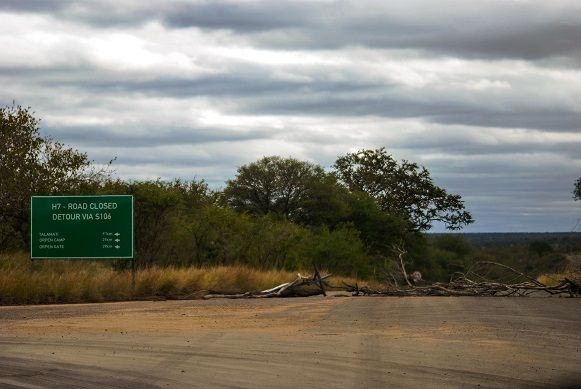 The S106 was very quiet on this drive, I guess to be expected given it was now the main route to and from Orpen. But it was not completely devoid of life: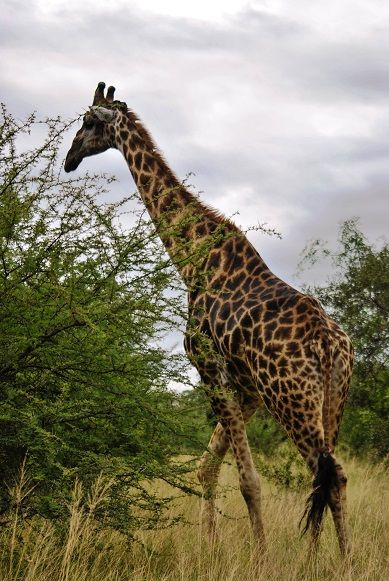 We arrived at Orpen to check in, and were greeted by some really lovely staff – they were so friendly at Orpen! Plus we also met another lovely South African lady, who started chatting to us after commenting on our Aussie accents… I'm learning quickly that we sound very strange to the rest of the world
They were camping at Maroela, and it turned out we would cross paths with them quite regularly over the next few days.
Heading back out of Orpen we noticed a few cars pulled over just past the Tamboti turn-off. I said to Mork "let's just see what they've stopped for before we go to our new home."
We were pretty stoked to find two Black-backed Jackals on the middle of the road (my photo of them on the road is extremely disappointing so I haven't included it here).
The one then proceeded to leave the road, for an obviously very necessary piddle:
And then it seemed to settle in…
…so it could check that everything "down below" was still in the right place
I'd never seen any jackals so close before – only at a distance through binoculars – so I was pretty excited about this.
We also noticed this big feathered fellow hanging out a little distance away: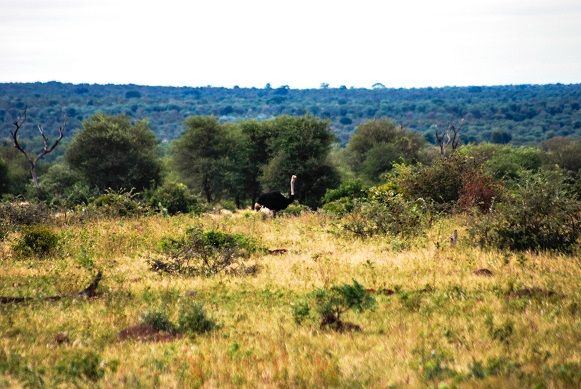 He wouldn't come closer for a photo, and by now I needed to do what the jackal had just done (the piddle - not the "checking things were in place
) – so we headed off to Tamboti.
Our new home was tent 38, and when we found it, we were ecstatic… what a place to stay, the tent was unreal!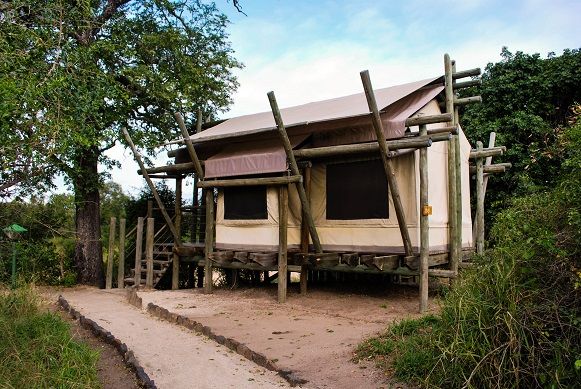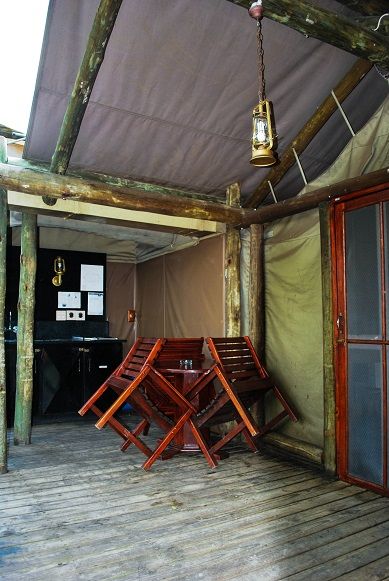 The facilities were awesome, and the view of the river bed (albeit dry) was just splendid…
The outdoor kitchen was so cool (we loved the concept), and the signs up in the kitchen made us smile: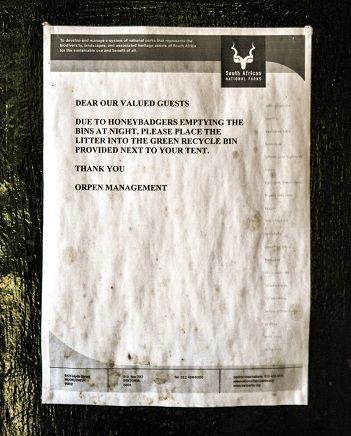 We were SO happy, and spent far too long just enjoying the view and the general feel of the place, while settling into our new home.
It got quite late before I said to Mork – "we've gotta go for our drive – the afternoon is nearly over!"
Mork decided he was quite content where he was, so I hopped in the car for a quick, half-hour drive before gate closing time.
I was greeted with an audience as I left the gate: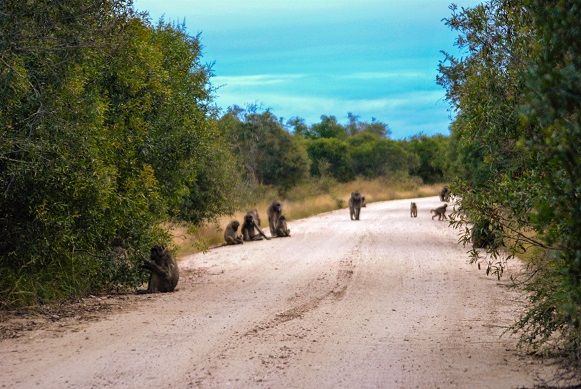 I watched the antics of this baboon troop for about 20min of my half hour drive... I'm still unsure if I like baboons (I don't think I do), but they are entertaining to watch
Suffice to say I didn't get much further before I head to turn around and head back again.
I arrived back at camp to find Mork busily lighting the braai… he's a good lad that Mork, and in no time our yummy dinner was served:
Our third day in the park ended with us going to sleep to the sound of lions roaring – gosh it's a tough life in for some in Kruger
---
Senior Virtual Ranger

Posts: 2631
Joined: Fri Feb 05, 2010 8:57 am
Location: Perth, Western Australia
Waking up in Tamboti…
We had gone to sleep with the sound of lions roaring – and we were woken up by them too, both during the night, and then early morning.
I have to say – I thoroughly enjoyed waking up to lions, as opposed to my dreaded alarm clock!
When we were woken up for the last time (around 4.30am), we both got up to see if we could actually spot them… they sounded so close, but we couldn't see them at all. Not having the best flashlight didn't help the matter, I guess.
It was cold and dark out there, so back to bed I went… I lay there for about an hour just listening to them. They really did sound very close.
It was so relaxing – lying there in our tent, all cosy and warm – listening to lions roar.
I have to admit – I wasn't in a mad rush to get out of bed this morning!
Eventually the lure of coffee and breakfast got me up, and soon after that we were in the car.
The first thing we noticed when we got in the car was our fuel – we only had just over a quarter of a tank left. My bad – I should have noticed this on my previous evening's drive
(At least Mork didn't give me too much grief about this – just a little light-hearted ribbing, all totally deserved
)
We didn't want to leave the Park and miss the awesome part of the morning, so we decided to go for a little drive, and turn around just after the fuel gauge went below the ¼ tank mark. Then we would head back to Orpen to fill up.
On our way out of Tamboti, we came across our baboon friends in the dry river bed:
(Bit blurry I know – my eyes were still warming up)
And then a lone wilderbeest on the road out of Tamboti:
When we got to the H7, we could see our ostrich friend – this time a lot closer to the road than what he'd been yesterday:
Nice start!
Originally we had wanted to drive the S140 this morning (the road that goes past Talamati), but being a much longer route (and one we weren't familiar with) we decided that – given our fuel situation – this wasn't the morning to do so
So we continued along the (detour) S106 to the H7.
There were LOTS of giraffes today… gosh I love them. I have so many lovely photos, but I'll just indulge myself with two: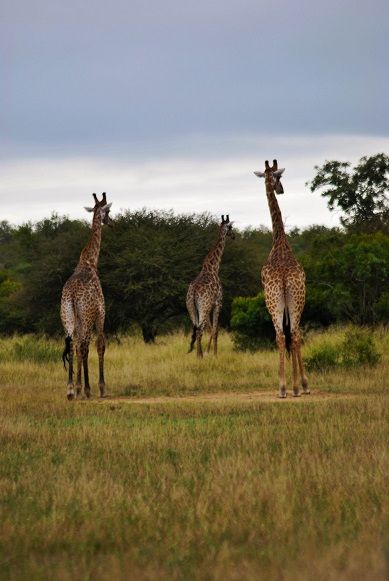 Then this little fella crossed the road – is this a Grey Duiker?
I don't think I've ever seen one before.
This morning we decided to check the Bobbejaankrans Lookout point – not much to see from the lookout, but there were Waterbuck enjoying their breakfast near the road: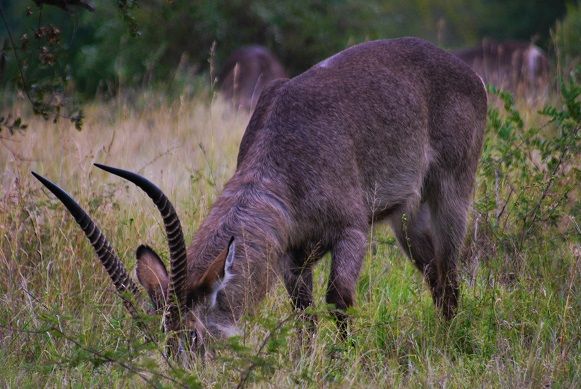 Mork had his eye on the fuel gauge the entire time… we were a little worried because the gauge seemed to be dropping quicker at the end of the tank that what it did at the start. I'd asked him to drive this morning because I would have had the attitude of "oh let's just drive a little further and then we'll turn around…" – not smart
Mork is far more rational in these situations than me, so when he said "we need to think about turning around soon" – I knew we wouldn't have much longer
We decided to drive up the Timbavati Road just for a little bit – and I'm pleased we did, it was an animal buffet there, with lots of babies around.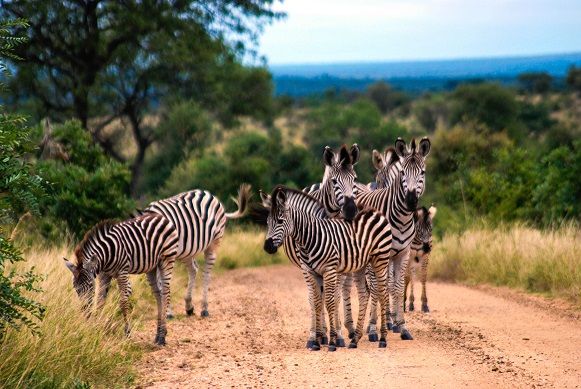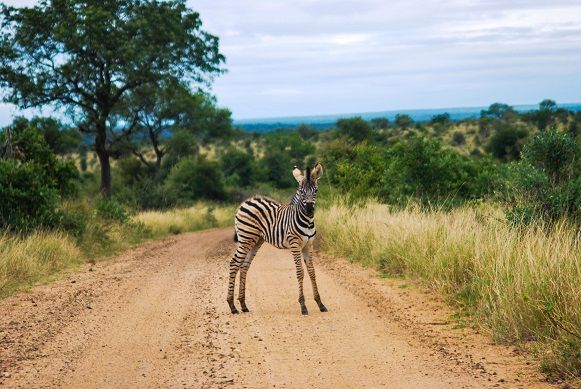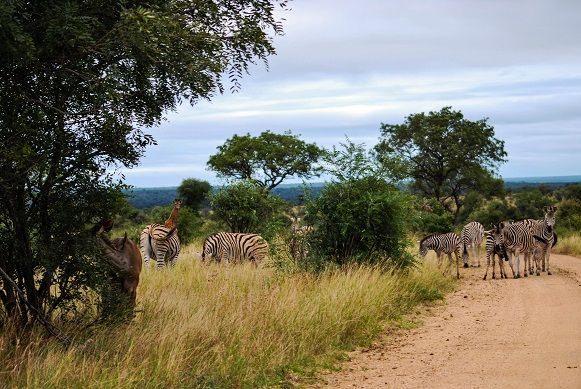 The baby giraffe in the background was cute – shame I didn't get any award-winning photos of it though
Mr and Mrs Kudu were also there, enjoying their early meal: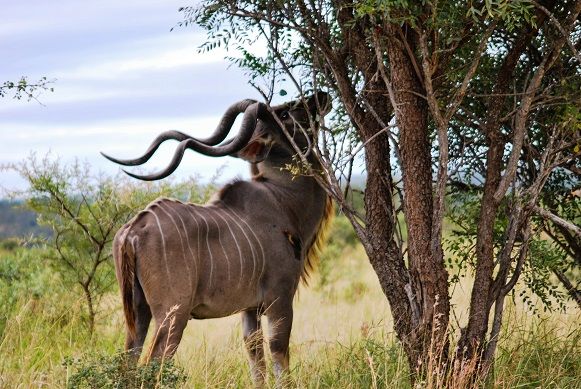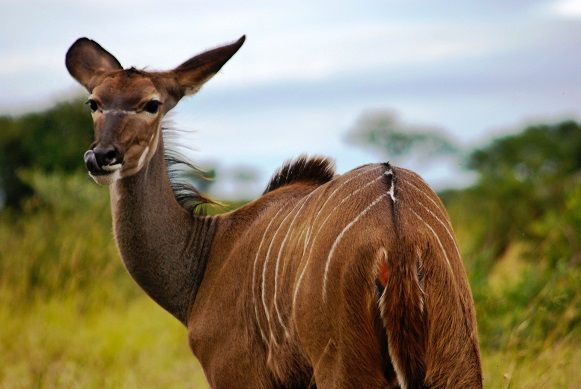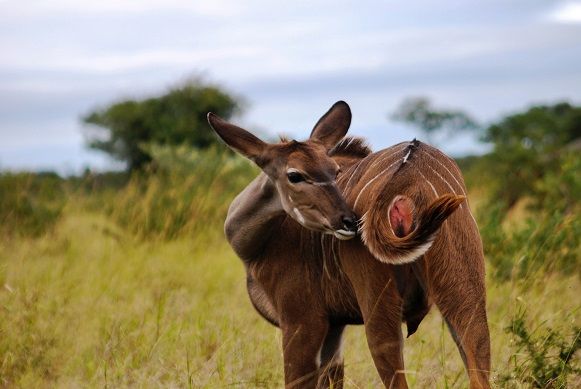 We had turned the car off and just watched this scene for a good half hour. It was so peaceful – just watching the animals all eating / wandering / playing – with the view of the bush and the mountains in the background.
Once we'd decided we'd watched for long enough, we turned around – with heavy hearts I have to say. So silly of me not checking the fuel – we'd lost half a morning drive because of it
It was a little uneventful on the H7 – although I did manage to spot an old kill in a tree far away: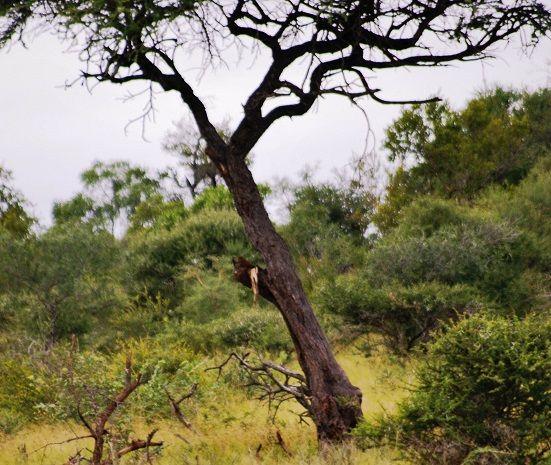 I've never seen a LIT – just lots of kills in trees… today was no exception
Heading back along the S106, Mork slammed on the brakes and said "I've just seen something running in the bush – I think it's about to cross the road…"
Right on cue – we finally had our first hyena's come into view!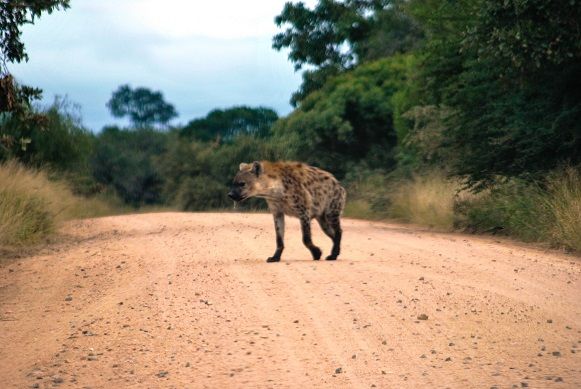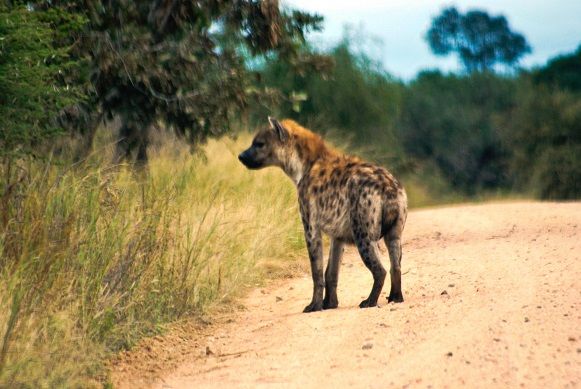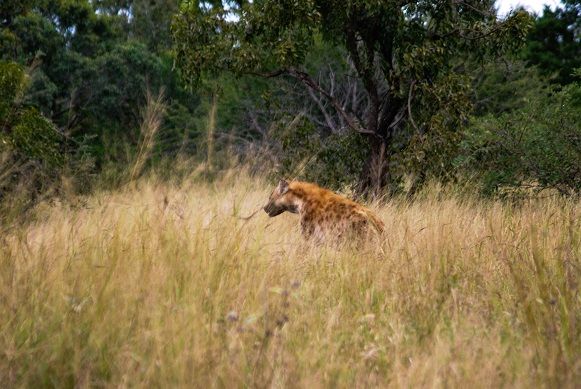 There were three of them, and they were on a mission – crossing the road and running straight back into the bush. We were somewhat relieved to see hyenas – I'd always seen so many of them, but this trip was much quieter for hyena sightings.
Someone we spoke to in camp told us that they believe the hyena numbers are in decline, but I would have no idea if this is actually true.
Anyhoo – we could now confirm they still exist
Once the hyenas ran off, these two popped their heads up: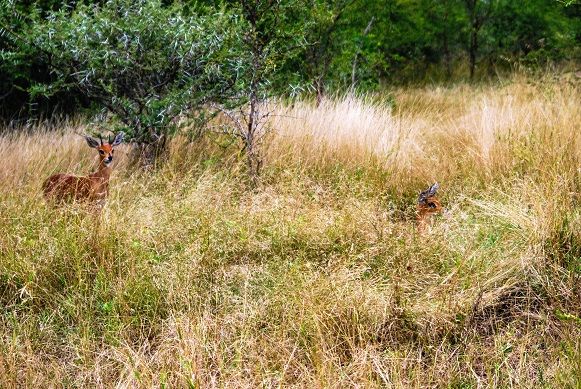 They had hidden themselves well... lucky, clever steenbokkies!!!
Once we got back on the H7 – the warthog family was back out foraging: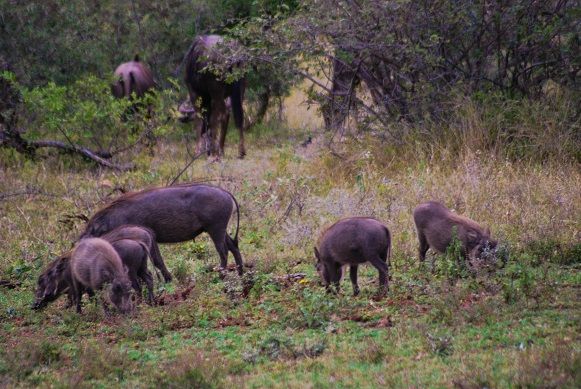 And just before we got to the Orpen gate – we saw this Dwarf Mongoose: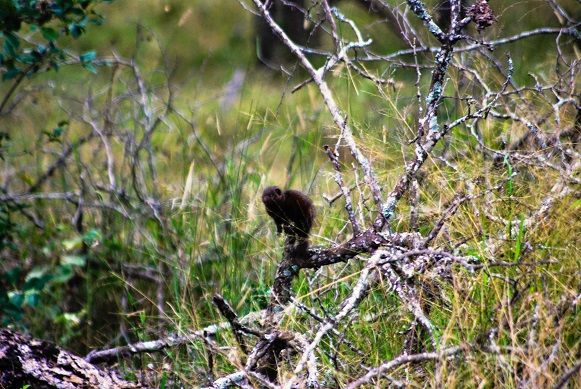 I took so many photos of it, and didn't get any decent ones… my photography skills were frustrating me, to say the least
We were also lucky to get a glimpse of the jackal pair again, but they didn't stay put long enough for a photo.
Out through Orpen we went to the petrol station.
I have to say I was impressed to see the SANParks staff checking cars for guns / ammo / poached animals / etc. on the way out… go the anti-poaching efforts!!!
Once fuelled up, we headed back to Orpen to check the sightings board.
Well I went to check the board while Mork organised us some "real" coffee.
My heart sunk when I got there. A couple had just arrived, and they'd spotted Wild Dogs on the Timbavati Road... The same road we'd been driving on, and would probably still be travelling on, if I had checked our fuel situation
Mork took it surprisingly well… He didn't even bring up his wishlist of the leopard, cheetah and wild dog(!!) I think because he was actually really tired - he certainly looked quite shattered.
We discussed whether we thought they'd still be there but I was leaning towards no… the couple told me they had been on the move, and they move so far so quickly – I didn't like our chances.
We decided to head back to our tent, have a feed, shower and rest, and then head out for a (very early) afternoon drive.
We were greeted by a friendly squirrel on our return to Tamboti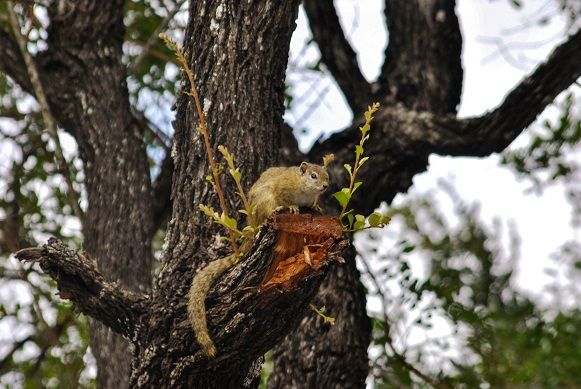 I crashed out for two hours after that. The lions keeping us awake all night had caught up with the both of us, and Mork slept for even longer
While Mork was still snoozing, I got out the binoculars and watched the birds in the river bed. There were still a few puddles of water left, and a number of different birds were having baths in one of the larger puddles.
To my delight – I think I saw my first ever Violet-backed Starling: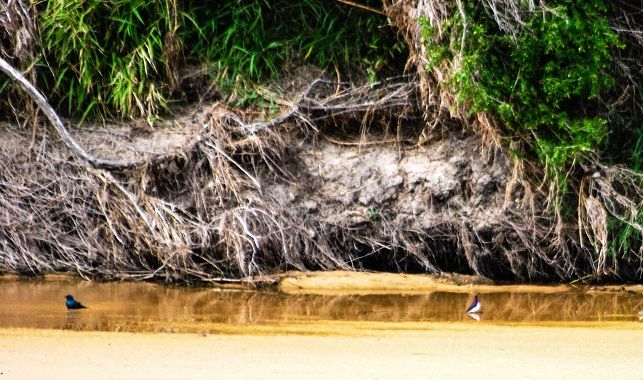 The photo isn't the best because this was at the other side of the river bed (I've had to crop this quite severely to even see the birds) – but I think the one on the right is the Starling…
This got the blood pumping again, and I decided Mork had slept for long enough!
So after waking him up, coaxing him out of his slumber with food, and packing our snacks – we headed off for our afternoon drive.
TBC…
---
Senior Virtual Ranger

Posts: 2631
Joined: Fri Feb 05, 2010 8:57 am
Location: Perth, Western Australia
Our afternoon drive…
We left our camp earlier than usual, as we wanted to stop in at the Orpen shop. Our supplies of celebratory biltong were almost gone, and this was cause for alarm… quite incredible that we'd managed to knock off a kilogram of biltong already… the sign of a successful trip to Kruger!
After purchasing the supplies we needed, we had a quick stop-off at the Orpen Watering Hole – the location of the Orpen Webcam. It was nice to see a wilderbeest and some warthogs at the watering hole.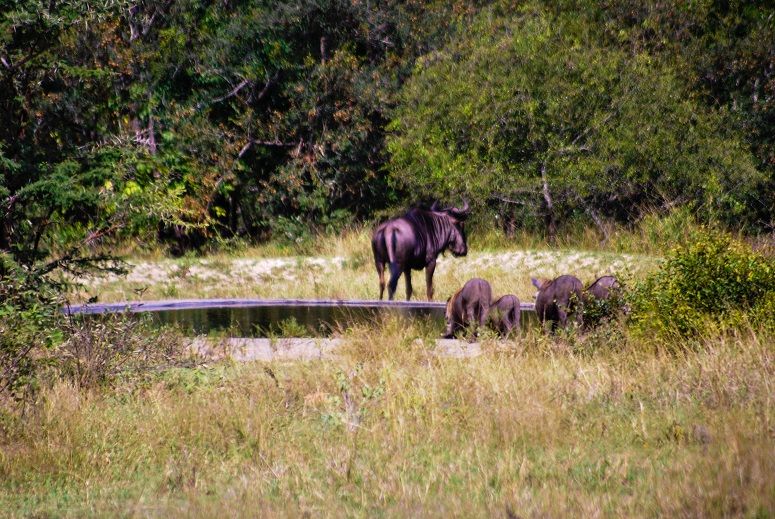 We then headed down the familiar route of the H7, then the (gravel road detour) S106 – back to the H7.
We didn't see too much on the gravel road – I think it was still a bit warm for the animals; they all seemed to be hiding.
We did see the giraffes that seemed to be hanging around as they crossed in front of us and another car:
Back on the tar road (H7) – we came across the waterbuck again, near the turn-off to the Bobbejaankrans Lookout.
And a little further down the road, a troop of baboons were foraging, with one of their troop on lookout duty: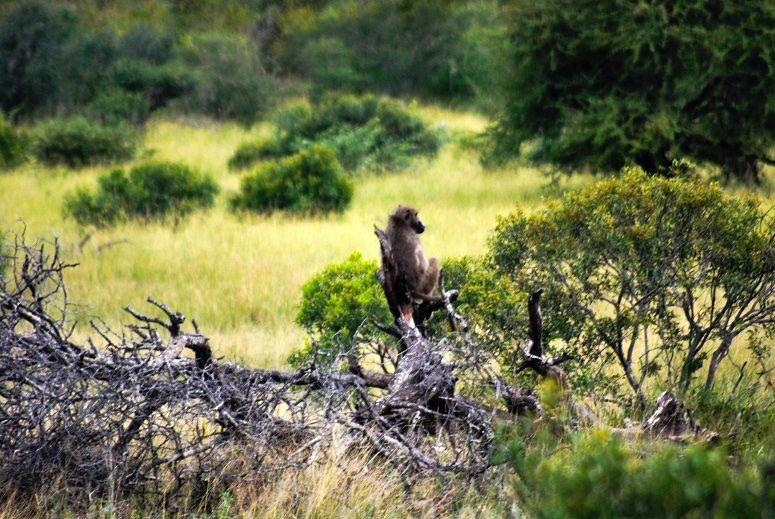 We didn't stay with them too long – we were keen to start heading down the Timbavati Road…
We were hopeful that we may see the Wild Dogs that had been there earlier, but we knew our chances were slim. It had been about 5 hours since they were spotted by the couple we spoke to, and they move so far so fast…
But we had to give it a go
We drove along for a good 8 minutes before we came across our first car – heading in the opposite direction. We slowed down but they kept going on past us.
Not long after, a second car did the same, and I said to Mork – "I don't think the Wild Dogs are there any more Mork, otherwise one of those cars would have pulled over to tell us where they were…"
We were a bit disappointed, but not surprised really.
We drove down a few of the off-shoots (towards the river) – and on the third one we saw these crocs sunning themselves on the opposite side of the river:
They looked pretty big and we hadn't seen any crocs on this trip yet – so another tick for the sightings list
Back to the Timbavati Road, and we passed another two cars heading in the opposite direction. Again, both drove past without stopping. We were happily chatting away when a red car approached us, with a lady waving out of her window, so we stopped to have a chat.
She told us the words we want to hear:
"At exactly 6km up this road – there are Wild Dogs… we've been sitting with them for 2 ½ hours, they are just resting… just stay on this road and exactly 6km from here you will see them… you can't miss them, they're sleeping on and by the road… there's a lot of different types of vultures there too… good luck!"
We wanted to kiss her – thank you kind lady!!! And how incredibly lucky are we!?!?!?!?!
So off we went, big smiles on our faces – hoping they didn't decide to get up and move after a long day of rest.
6km felt like 15km – but when we got there she was right, you couldn't miss them: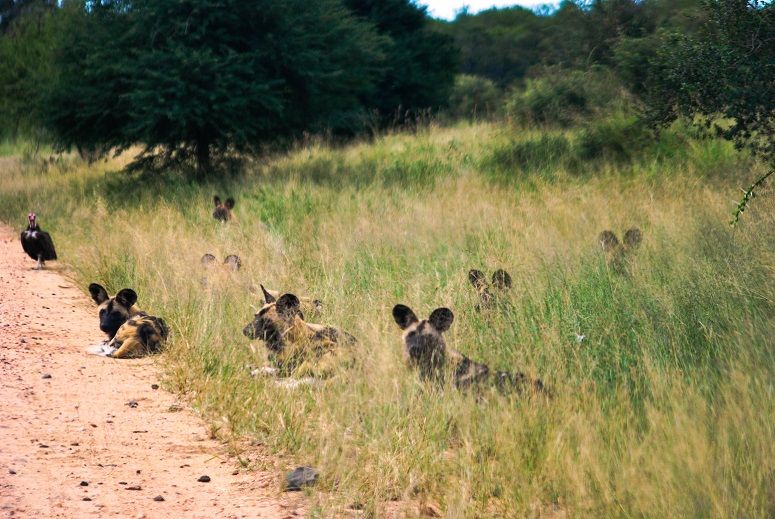 They weren't doing much – most of them were snoozing in the grass, however one of the doggies was most unhappy with one of the vultures, and it spent all of its time chasing the vultures away.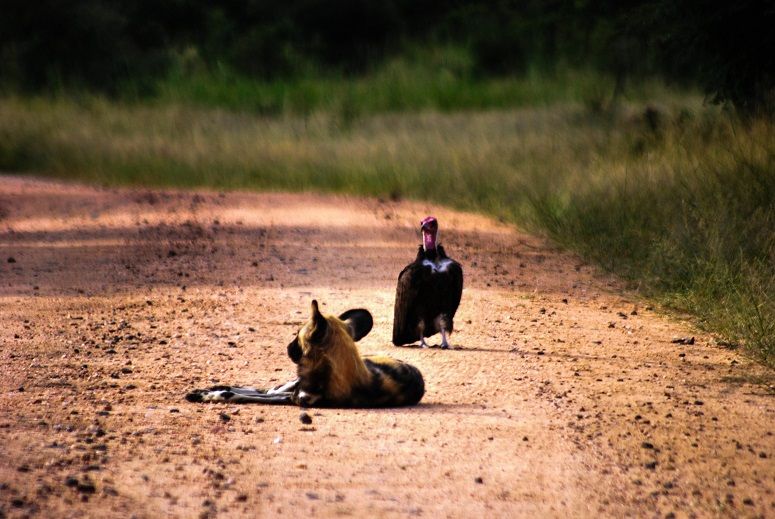 Eventually the vulture managed to grab a small snack before the doggie could get to it… proving once again that persistence pays off.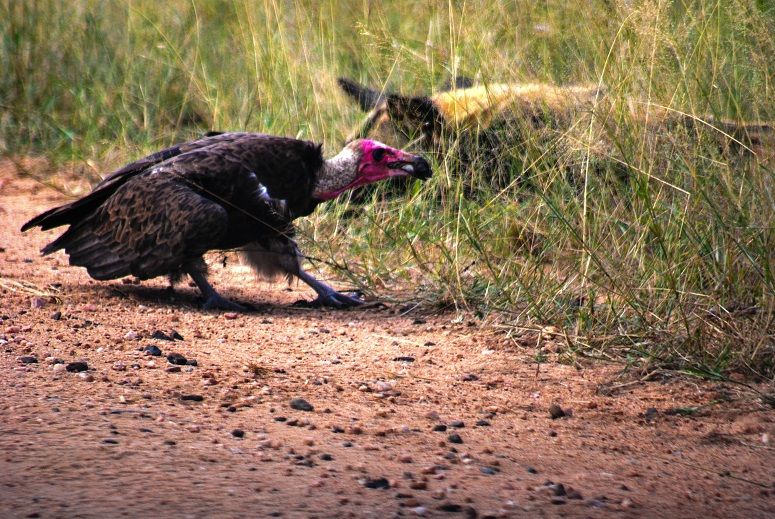 We sat with them for ages… it must have been a good 2 hours – before my bladder and the Tom Tom both told us it was time to go.
The dogs weren't going anywhere in a hurry.
By the time we left, two cars had turned up – but for the first hour and a half, we had them to ourselves.
We were BEAMING! I mean, really REALLY beaming… I had a ridiculously stupid grin on my face the whole drive back… half the time I forgot to even look out of the window properly, it was incredibly exciting.
And we ate every piece of biltong we'd just bought from the Orpen store… so pleased we made that purchase beforehand!
Back on the H7, we did notice our Waterbuck friends again. They hadn't moved very far in the last two days.
We also had a lovely view on the drive back – it looked as though it was raining in the distance – over the mountains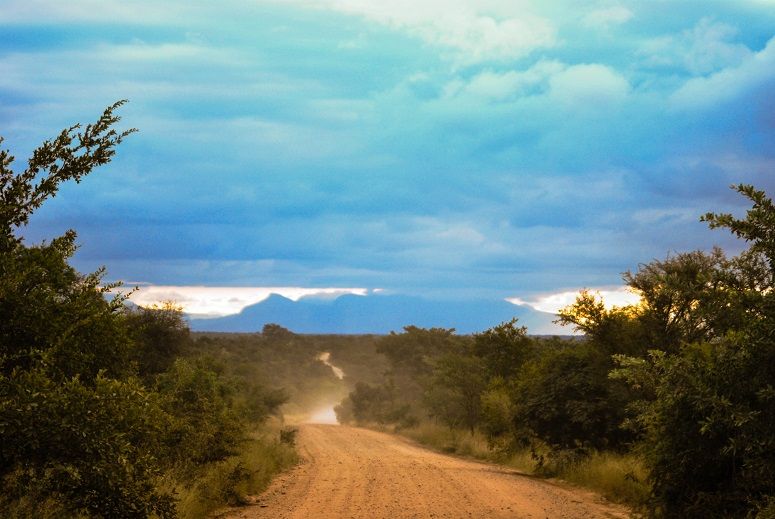 When we got back to our tent, we weren't in a big hurry to cook our dinner. We sat back and knocked off a few coldies – and looked both out on to the dry river bed, and through our photos of the Wild Dogs. We were still buzzing, it was so exciting.
We also started talking about Mork and his bloody ridiculous wish list – he'd actually succeeded in seeing in everything plus more in three days. Leopard, Cheetah and Wild Dog (plus the remaining Members of the Big Five) – all in three days… I made sure he knew he was one of the luckiest men alive.
Once we did settle into dinner, we were starving. It was a much later meal than usual – somehow that made it tastier.
It was hard to switch off again tonight – the lion started roaring again, and was quite adamant that this was his territory (as he didn't stop for very long during the night).
Eventually I dozed off to sleep with the roaring noise… and was woken up by a different, strange sound the next morning… TBC
---
---
Who is online
Users browsing this forum: No registered users and 5 guests