Luckily we didn't encounter any elephants on the way to the top, just beautiful scenery …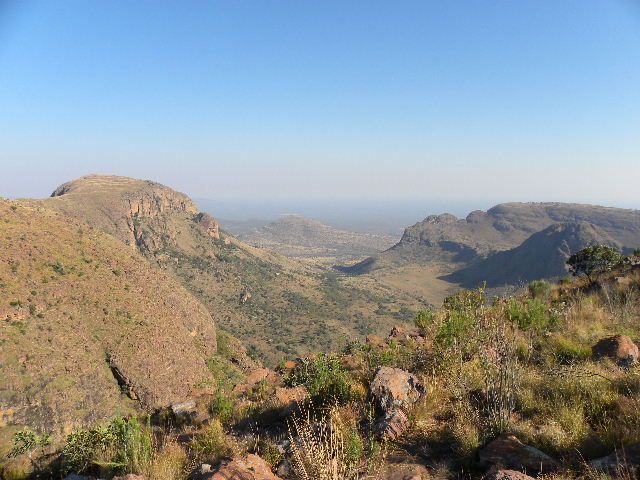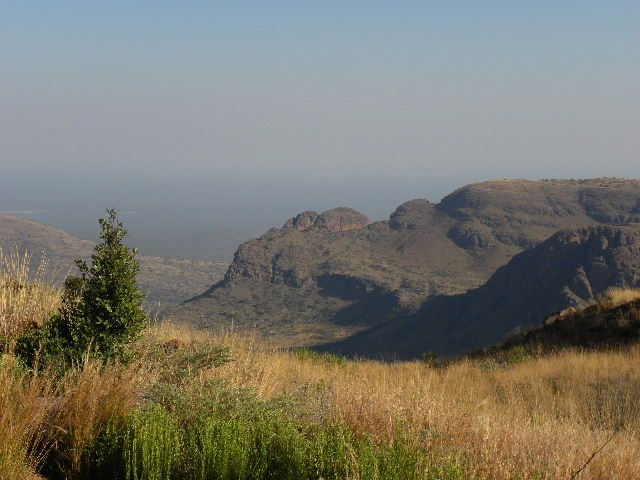 We went to the lookout point where we could see vultures circling in the distance. We stayed there about 20 minutes just admiring the view. Amazingly enough, although we were well wrapped up and prepared for even colder weather at the top of the mountain when we got out, it was actually quite warm and we ended up shedding a layer or two before getting back in the car to make our way back down the mountain!
Just as we were leaving, we found this little guy …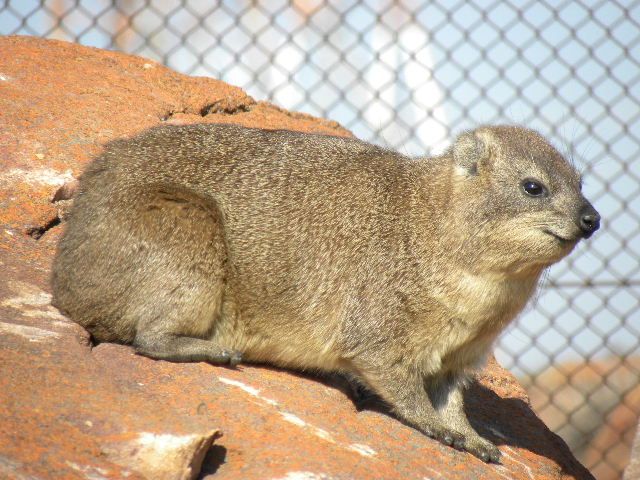 A little further down and Heksie noticed this tree with the most stunning red flowers that really stood out …
We then decided to take the road that goes past Tlopi tented camp. As I mentioned before, what a nightmare of a road – it really was horrendous. Again, we were saying how awful it would be to suddenly come across an elephant in the middle of that road – driving forward was bad enough; I'd hate to think what it would have been like reversing. Anyway, just then, I noticed a small herd of ellies to the right of us.
Luckily for us they were very peaceful and happily munching away, pretty much oblivious to the fact that we were there!
We returned to camp around midday to find this lady walking around the place …
---
We chilled for a few hours. Unfortunately I couldn't sleep so sat and watched lots of animals making their way down to the waterhole just on the other side of the "poles" separating the humans from the "dangerous animals";
there were a few ostriches and a warthog family in camp! We set off back into the park just after 3:30pm that afternoon.
Here are a few of our afternoon sightings …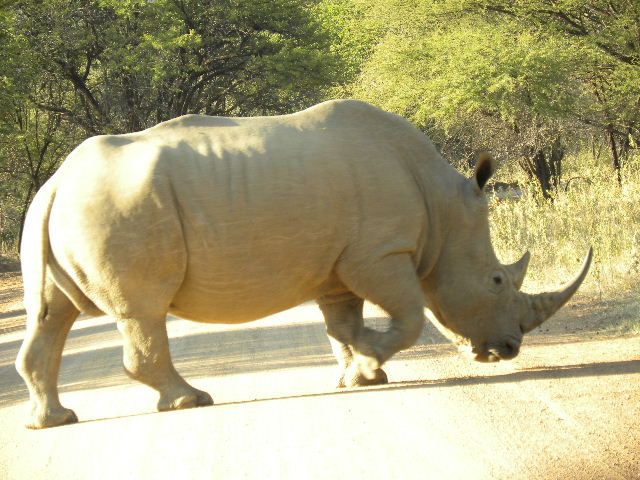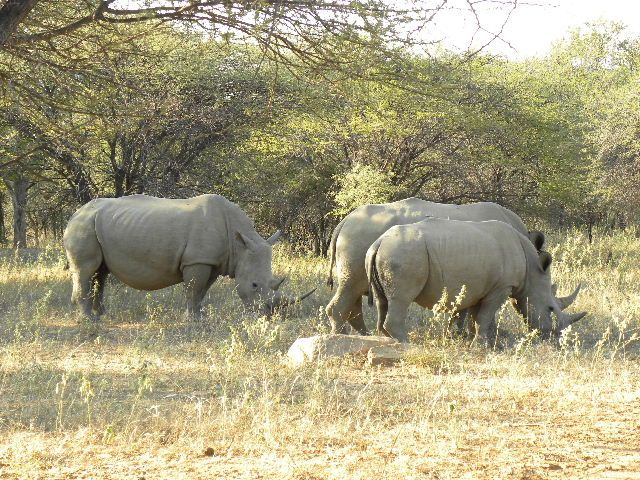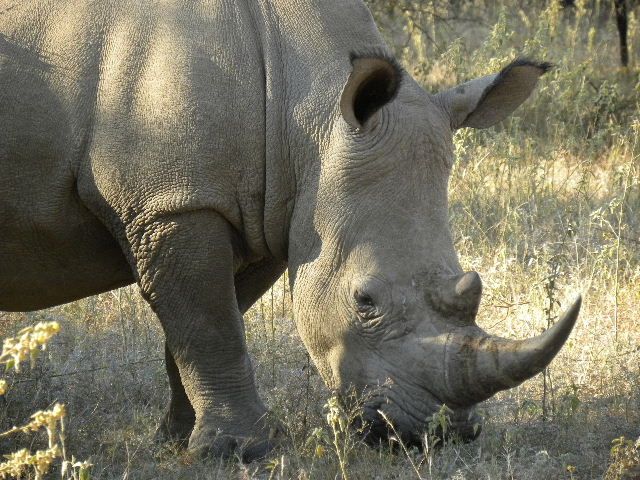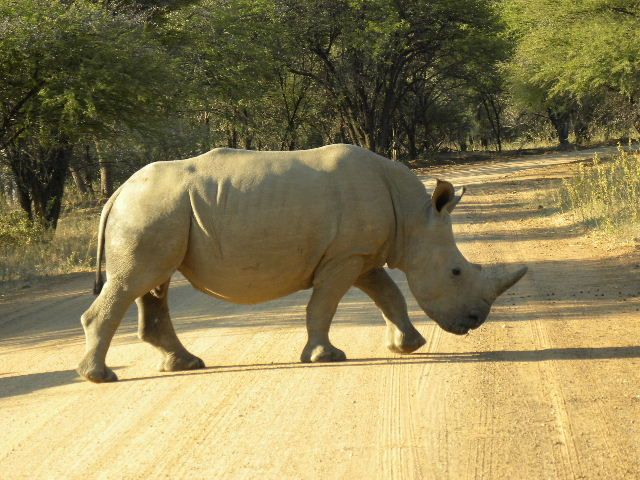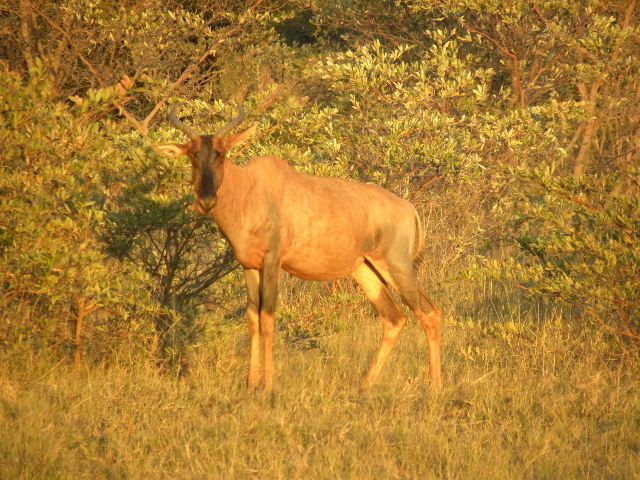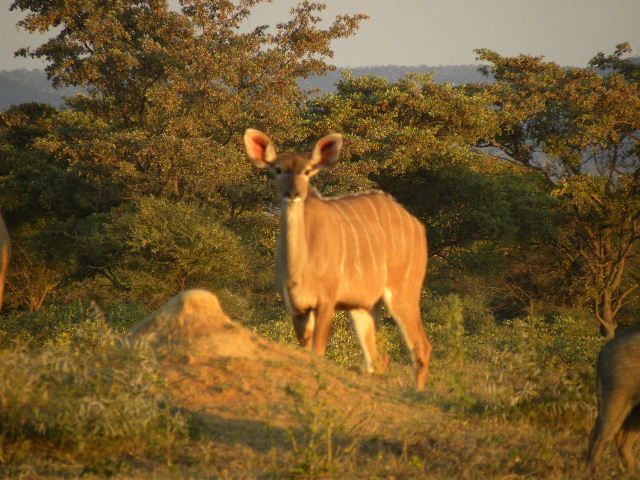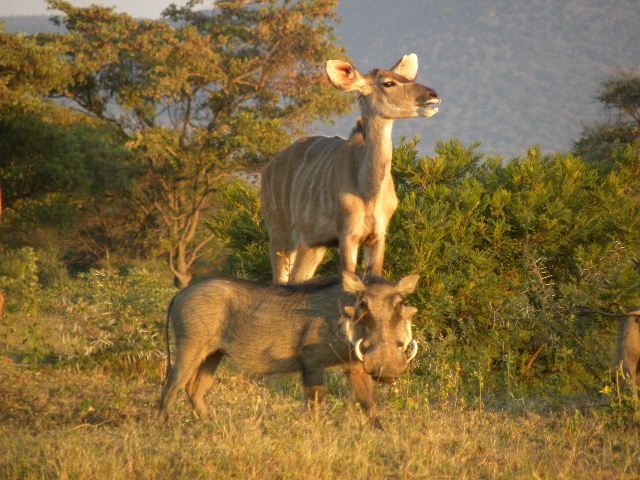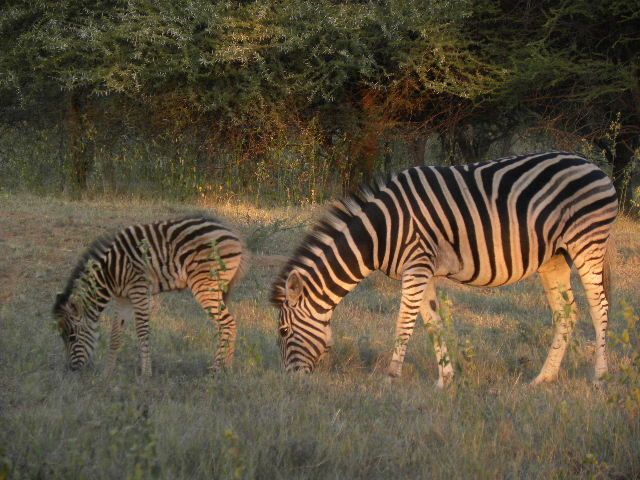 ---
A first for me (but one of the first birdies that Heksie learnt to ID as a youngster) … a white helmeted shrike …
And a real surprise for both of us …
We had no idea there were Nyala in Marakele!
We found all the animals (even the impala) to be rather skittish. They certainly aren't used to the volume of traffic that Kruger gets so are still pretty shy.
This chap was running away from his wife and mistress – obviously having been caught out!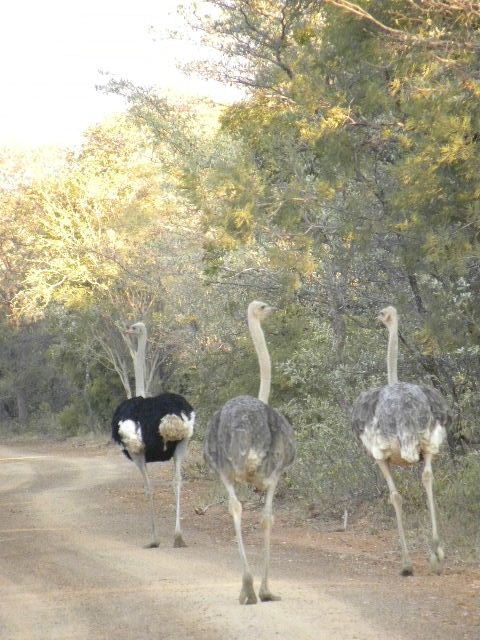 And that was the end of our 1st day in Marakele.
It was just after 8pm when we decided to call it a night – we were shattered! With a few more layers on than the night before, (3 layers on my feet and legs, 4 layers on my body plus my thermal beanie hat on my head!) I crawled under my heavy winter duvet, snuggled up to my hot water bottle and managed to sleep MUCH better!
---
We'd heard jackals, hyenas, lions, wildebeest, zebra and impala through the night both nights we'd been at Marakele, but this morning, the lions' roaring sounded VERY close to camp and on the opposite side from the bit of the park where the lions are. Could a lion have escaped and made its way to Bontle camping site???
After our morning MMC, we left camp and headed towards where we thought the lions' roaring was coming from.
Just outside camp was a tsessebe … surely a predator couldn't be close by …???
We weren't allowed to venture into the part of the park where he was grazing, but he boldly crossed the road into the "human" part!
We found some nice giraffes that morning – the day before we hadn't seen any in the park, only one at the waterhole when we returned to camp.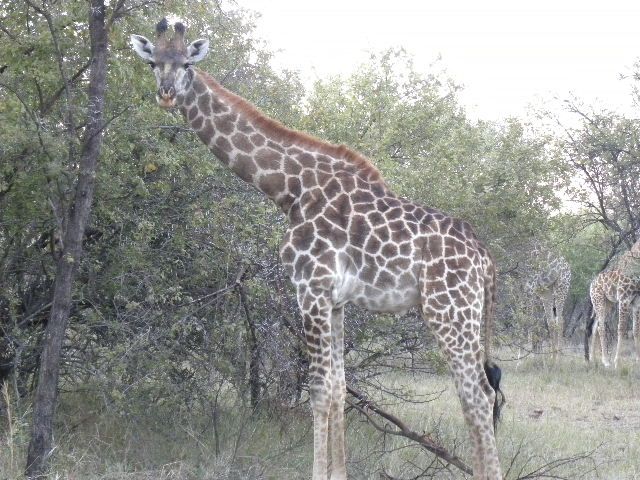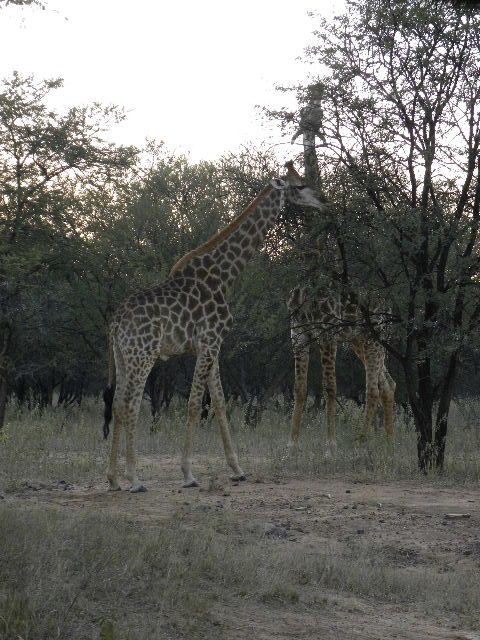 What a beautiful morning it was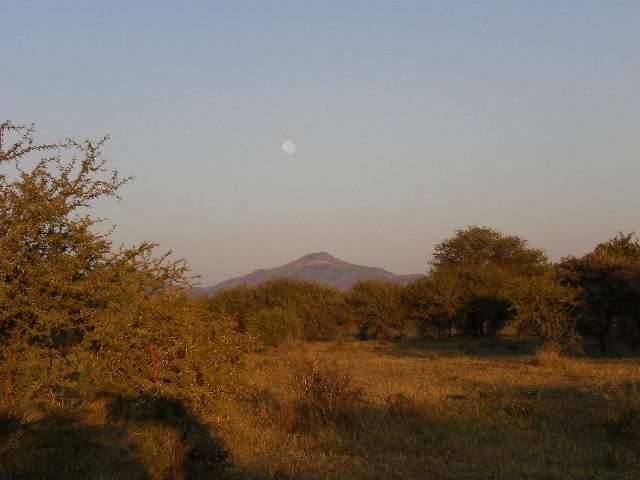 It was lovely seeing the full moon though I am gutted now to learn that the recent "Poachers' Moon" shining so bright, meant that 4 more of our beloved rhinos were savagely slaughtered.
What a surprise we got when we spotted this guy …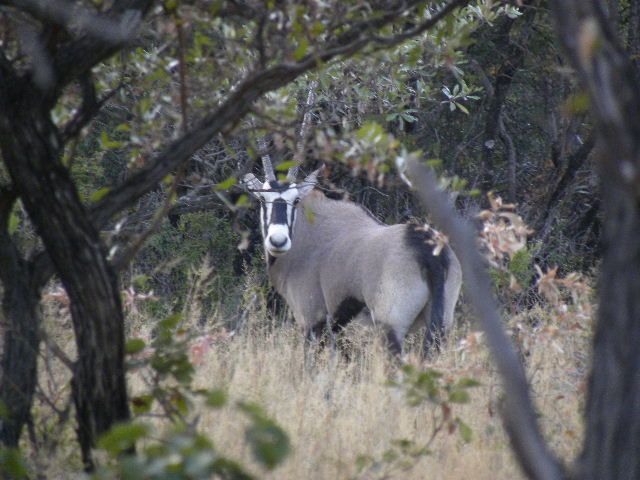 Gemsbok in Marakele!!!!! Unfortunately that was the only picture we got – like all the other animals in Marakele, Mr Gemsbok was very skittish and took off into the bush within seconds of our spotting him!
This beauty stood long enough for a portrait shot …
… and we were just saying to each other how we hadn't seen any of the small bok when we came across this little duiker …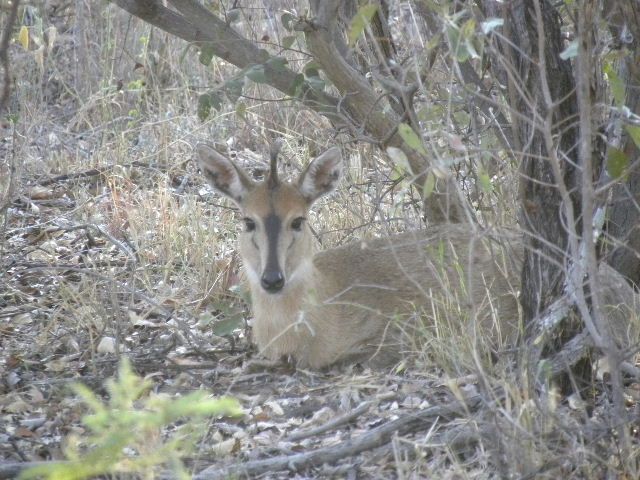 we then kept commenting about how we hadn't seen any lions or leopards …
unfortunately for us it remained that way!
We saw plenty of wildebeest and they weren't skittish …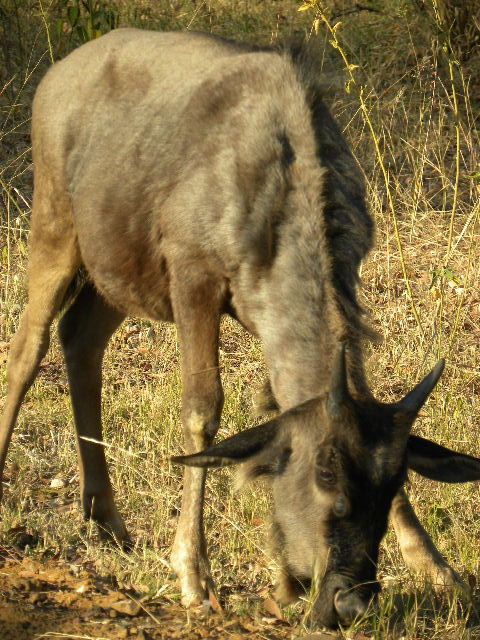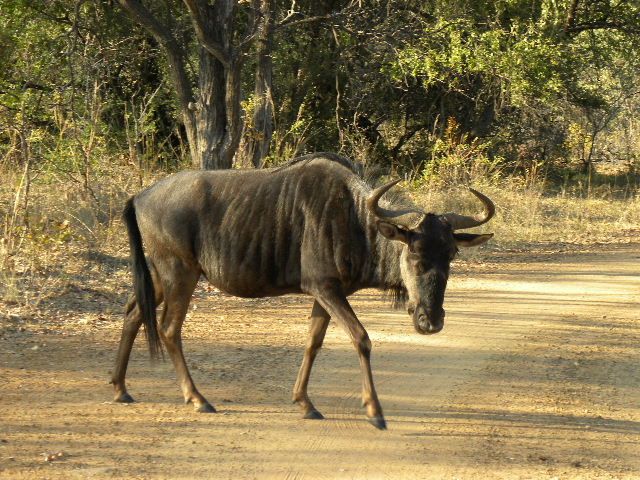 ---
We returned to camp around 9am and took our time packing up. We went and sat by the waterhole where giraffe and zebra were coming and going …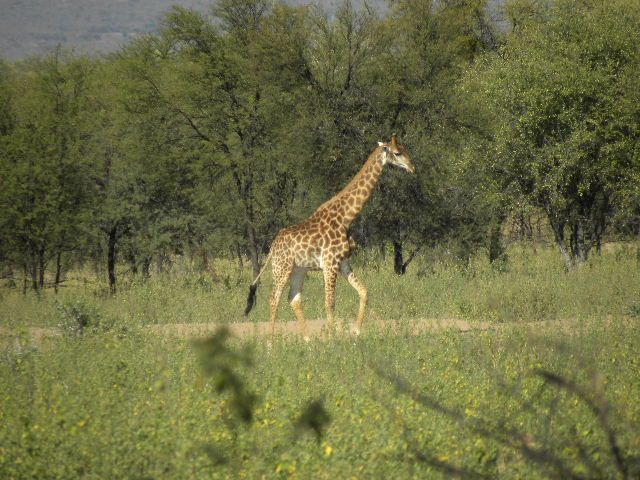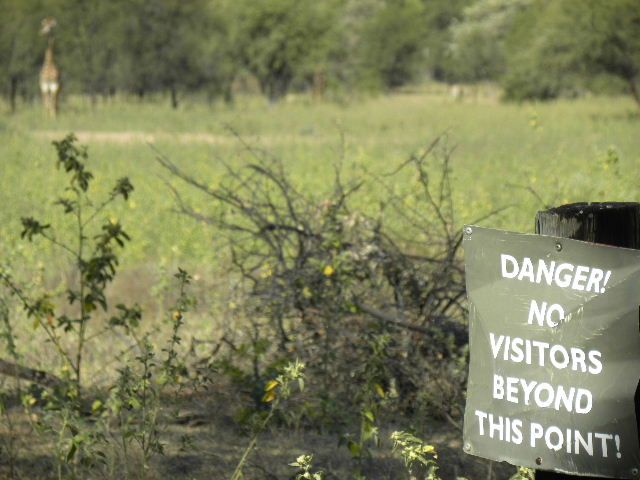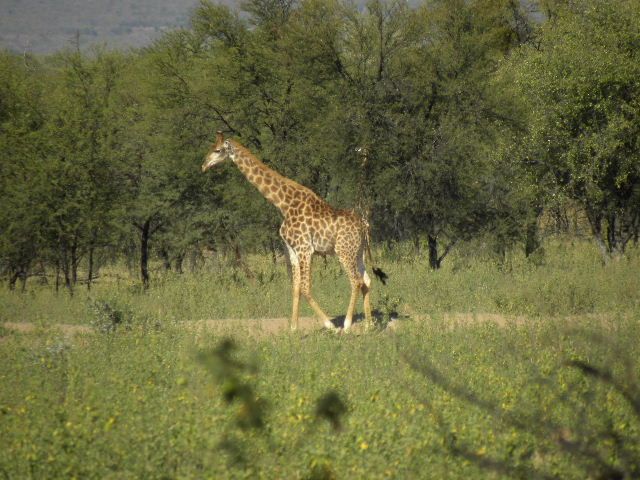 We had our last Marakele MMC before leaving the park around 11am.
We decided we'd return to Pretoria via Thabazimbi and Brits which was a good idea as it was tar roads all the way and only took 2 and a half hours! Another reason that it was a good idea, is that we saw that just along from Marakele was the Thabazimbi Predator Centre – that must have been from where the lions were roaring that morning; at least we knew that none had escaped from the enclosed area!
We'd had a great weekend – it wasn't Kruger, but we weren't expecting Kruger. Instead of being out of camp at gate opening time and not back until gate closing time, we'd gone for shorter drives and had spent time in camp relaxing.
The ablutions were pristine …
The kitchen area is a lot smaller than Kruger with just a sink to wash dishes. No hotplates or boiling water on tap so a kettle is a must.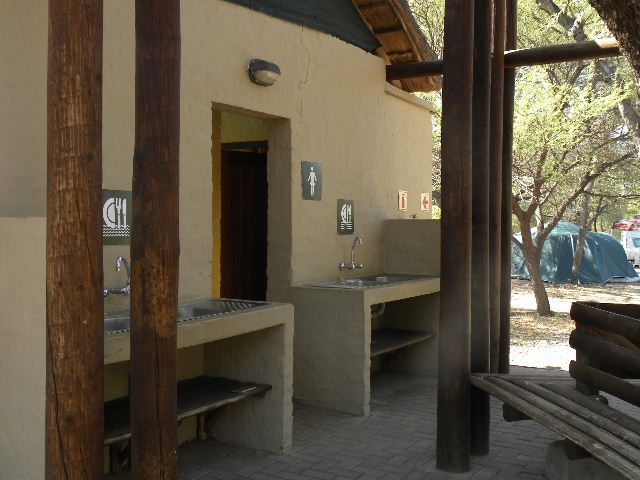 There is a small shop at the gate but they really didn't have much apart from cold drinks, crisps, biscuits and long life milk so you need to bring ALL your stuff with you (or go into Thabazimbi to buy).
You don't need a caravan plug to use their electricity sockets – a normal 3-pin SA plug is all you require – ideally at the end of an extension cord with a multiplug on the end.
It was cold, but we expected cold, after all, it was the end of May!
Would we go again … YES!!! In fact, we've already decided to go for a weekend at the end of September!
Hopefully we've enticed a few of you to give Marakele a go and there will be a few more Marakele TRs before our next one!!!
Thanks for following!
---
---
Who is online
Users browsing this forum: adw and 5 guests