Posts: 71
Joined: Sun Jul 15, 2012 9:21 pm
Location: Pretoria
Mokala National Park - "Where Endangered Species Roam". That statement was certainly true during our visit in the Easter weekend. Roan sightings where quite common in all the park (but especially in the north), also a couple Sable were found.

It was hard though, to believe Mokala is a arid park, as heavy rain meant water everywhere and it even closed the main connection between the north and south for a couple days.

We first stayed two nights at Lilydale, fantastic accommodation with view of the Waal river, and easy access to the plains of the northern end of the park where Roan, Oryx, Black Wildebeest, Springbok, Red Hartebeest, Steenbok and Warthogs are plentiful. Also a few Blesbok and Eland were seen.

South of the plains is an area with a bit of trees and bushes, here Tsessebe and Kudu dominated with the occasional Duiker.

After our stay at Lilydale we moved down to Mosu, where again the accommodation was absolutely superb. We had one of the Luxury Bungalows with view on the waterhole, although it was very quiet (due to the standing water everywhere I guess).

The southern end of the park is much more hilly and rocky with a mix of bush and smaller patches of grass land. Here we found Giraffe, Buffalo, Zebra, Blue Wildebeest and again Tsessebe, Roan, Red Hartebeest and a few Impalas.

We desperately wanted to make a night drive and luckily Sunday evening was dry. We had seen lots of signs of Aardvark actively and also other animals often hiding at day like Aardwolf and couple smaller cats are high on our list.

We meet our great Ranger Jarryd that told us he had just seen an Aardvark in daylight near the camp, and we would go looking for it. Unfortunately we didn't find it. We did come across lots of Springhares and General game including Mountain Reedbuck and Eland. Then the fun started, within 20 minutes, first 2 Stripped Polecat, then 5 Bat Eared Foxes and to our surprise an Aardvark (unrelated to Jarryd's earlier sighting). Have the feeling they are much more common at Mokala than most other places. Was a great drive and will be on top of our list for future visits (as night drives are for us most places anyway).

Finally we also found White Rhino, the Black ones unfortunately kept hiding. Another of our 'taget' animals for the trip, The Cape Grey Mongoose was not found. We did see Slender and Yellow Mongooses and Meerkats though.

Despite the weather some pictures will follow shortly.

Regards, Michael and Margot
---
Posts: 71
Joined: Sun Jul 15, 2012 9:21 pm
Location: Pretoria
The photos
We came for the Roan so lets start there. First a very young calf alone with the mother. If our book is anything to go by it should not be much older than 5 days...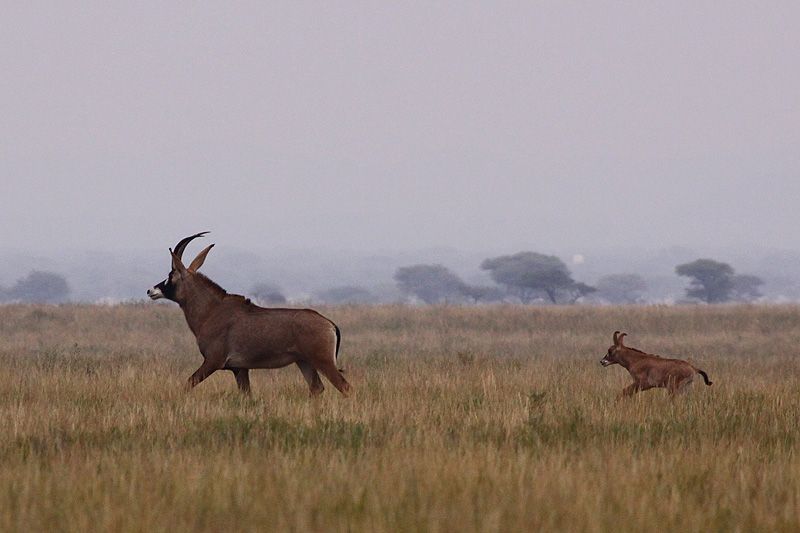 Later we found more youngsters, first a somewhat older and below another kiddie...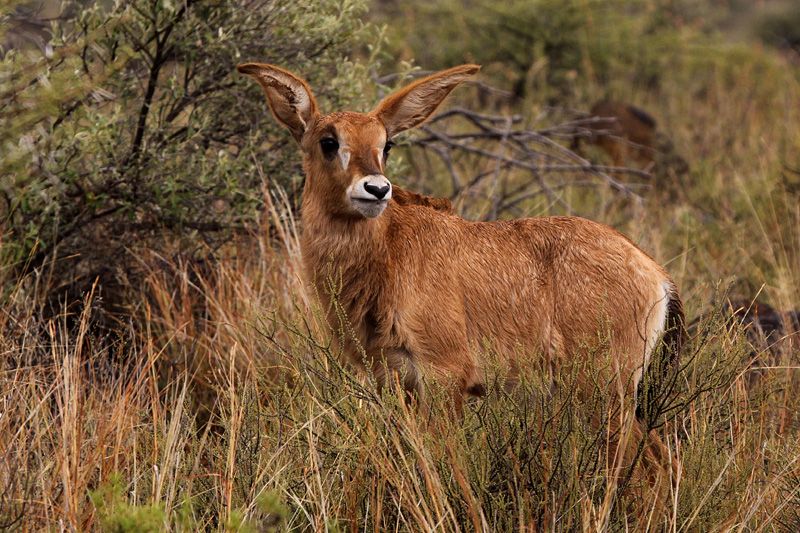 While on the subject of these rare antelopes here one of a Tsessebe after a mud bath...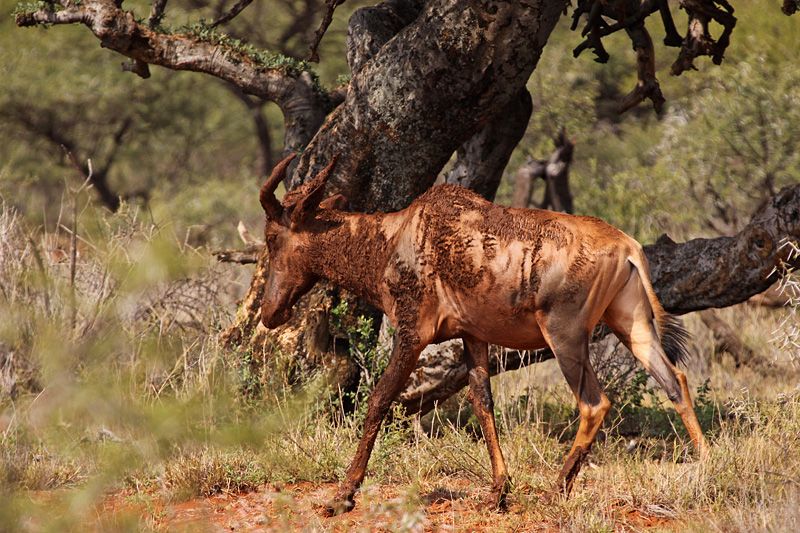 Black Springbok, not something I have seen before, but after a bit of goggling it seems to be a colour variation of a normal Springbok. Couldn't find out if they occur natural or are bred to become like this. But being in the park I presume natural??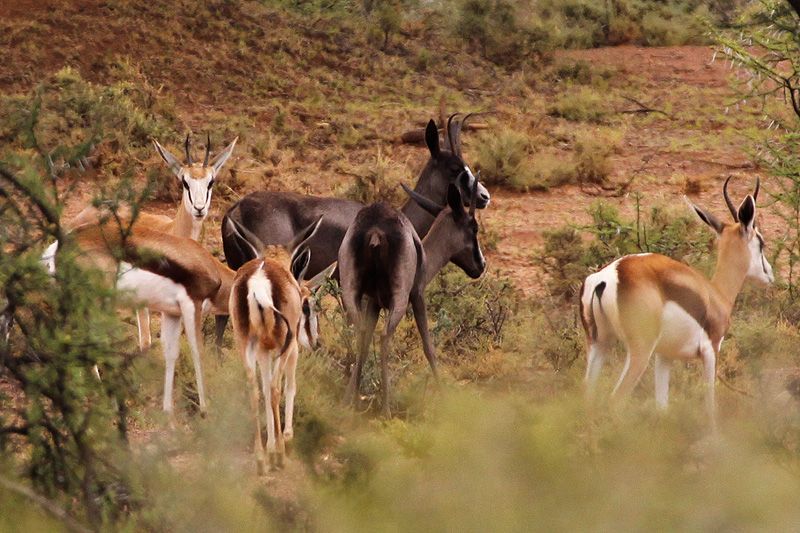 One of the Sables we saw. With these horns I guess he doesn't have to be too worried about trophy hunters
Odd horns became a bit of a theme at Mokala. Wonder if it has something to do with lack of predators more of these survive? Here a couple Kudus...
Few more to follow...
---
Posts: 71
Joined: Sun Jul 15, 2012 9:21 pm
Location: Pretoria
The last ones...
White Rhino in the dark on a rainy afternoon
Another of the heavyweights, old Buffalo Bull with nicely worn horns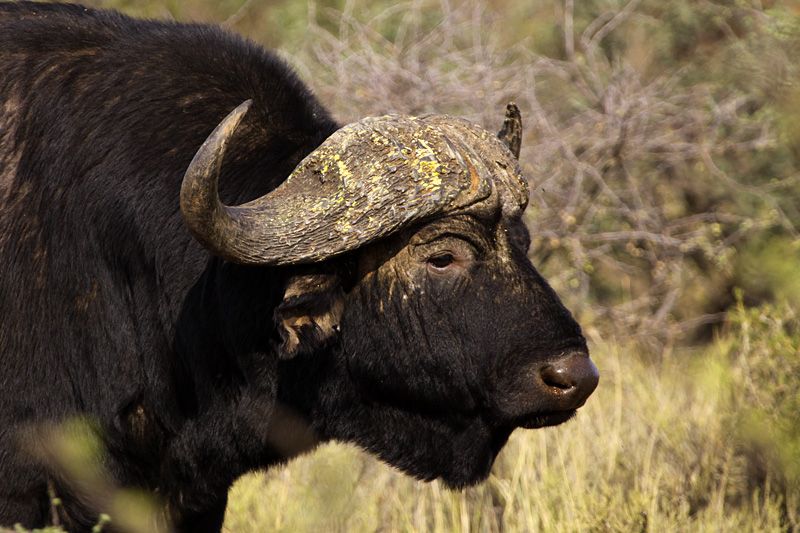 Many of Mokalas Zebras look a bit odd with their white buts and legs...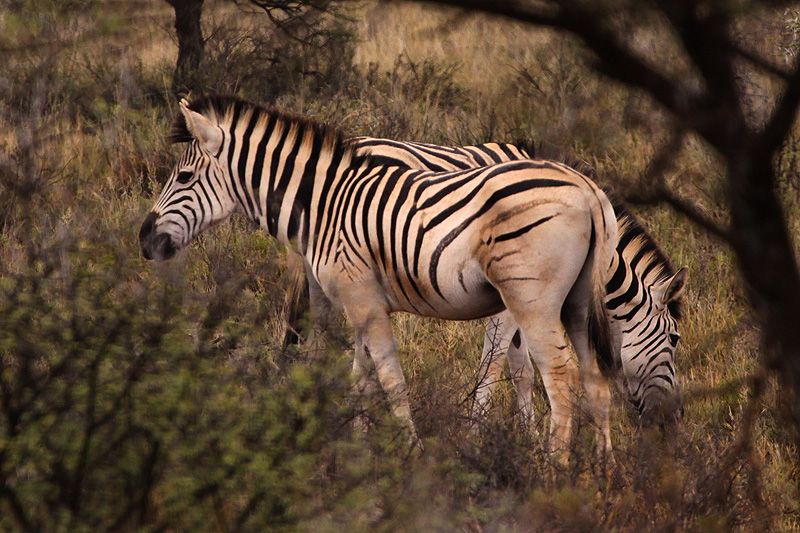 The night drive, animals didn't feel for standing next to the car and pose, so my camera and I were somewhat challenged. Anyway got away with proof of the Aardvark and the Bat Eared Foxes.
Not too busy with birds in the rain, but a fair few seen.
Orange River White-Eye (not on their bird-list handed out at the reception)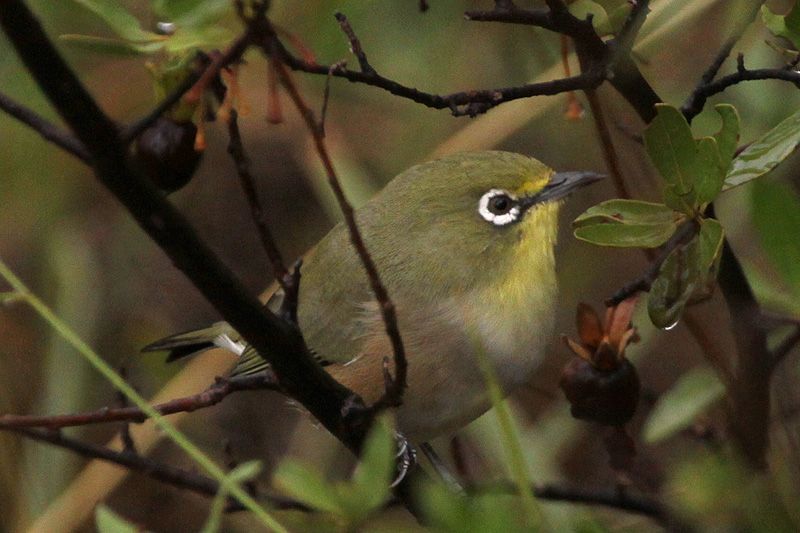 What are these? Burchell's Sandgrouse?? If so on the edge of their distribution according my Sasol book.
On the road from the main road towards Mosu there are quite a few gamefarms, and a fair few animals can be seen along the fences to get those bush-eyes in focus. The below antelope seemed to be popular. I guess they are Lechwes? (NO THIS IS NOT INSIDE THE PARK)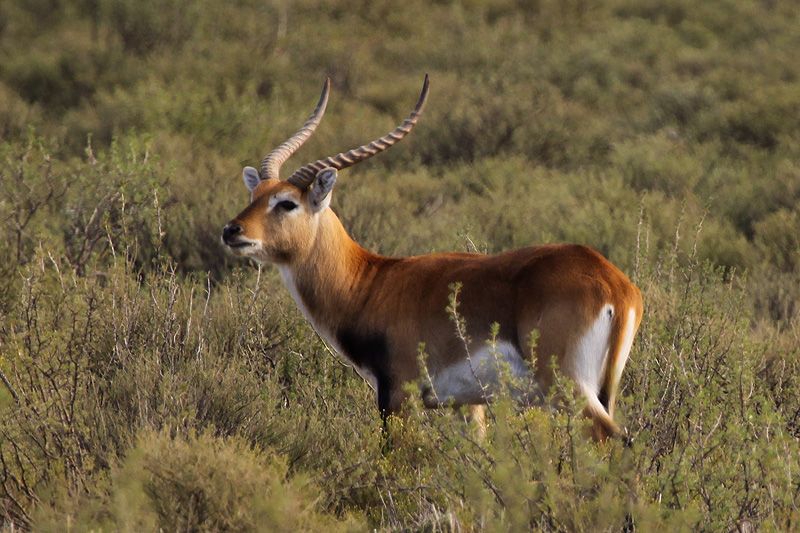 Hope someone found this of interest.
Best regards, Michael and Margot (will be back at lovely Mokala - sometime, just too many nice thing to see)
---
---