There was no life at Leeudril this time around except these birdies along the road.
At Rooiputs we came across this Red Hartebeest, walking to the waterhole to get a drink.
Between Rooiputs and Kij Kij we came across the following sightings:
This Ground Squirrel that seems to be the leader of the group.
This family of Blue Wildebeest with the youngsters in tow.
This family of springbok on their way to Rooiputs waterhole.
And again some ground squirrels.
We arrived at Kij Kij waterhole and captured the following inhabitants of KTP.
Jackal to the left of the waterhole lying in the shade of a bush.
One kept him busy patrolling the area.
Blue Wildebeest taking over the waterhole
Whilst a Gemsbok waiting for his turn to get something to drink.
Always be humble and understanding.
---
Forum Assistant

FAC Member (2017)
FAC Member (2016)
Posts: 19838
Joined: Fri Apr 06, 2007 6:39 am
Location: Pretoria SA
There are quite a view sightings that we would have loved to see, but that will have to wait for next year April! I would love to see a Brownie from a much shorter distance, as well as the Bat-eared Foxy, we didn't see any Cape Foxies, Cheetah or Leopard, no Puffadders or any other snake, no Meerkats, no live Eland, no Lions in the toilets at Dikbaardskolk, and what I really missed was a Bateleur! Can't wait for next year!
"Like a sunflower, always turn toward the light." Eleanor Brown.
---
Third leg:
It was now 09:00 and 29 degrees outside. It was time to move on to Melkvlei for a bodybreak. The road at this point in time was really smooth to drive on. The only sighting between Kij Kij and Melkvlei were these vultures.
The scenery as you drive along is so beautiful that one just cannot resist taking pic's and share it with the 'mites. Here are two pic's taken on our way to Melkvlei.
We arrived at Melkvlei and only two other cars were there. We sat under a tree at the picnic spot, having some coffee and rusks and just enjoy the silence and splendour of the environment. This little guy came to visit.
It was time for us to leave Melkvlei and head towards Dikbaardskolk. It seems that the road from Melkvlei is travelled a lot at high speeds, because it became more corrugated and really quiet sighting wise. Our first sighting was only when we reached Jan se Draai, where we met with some Gemsbok which were too far for a pic.
Between Jan se draai and Kameelsleep we had these birdies and steenbok sightings, as well as some flora next to the road.
We also had Blue Wildebeest, Gemsbok, Red Hatrebeest and ostrich sigtings along the route, however it was too far for pic's.
When we arrived at Dikbaardskolk, Hilda thought that somebody brought their dog with to KTP, because the "dog" was sitting at one of the picnic benches close to the people who was busy eating. Only when we got closer did we ID it as a jackal. He was really thin and not in good condition. Here is some pic's of him.
While we were eating we had a birdie that came to welcome us to KTP.
We had a nice brunch and after a body break it was time for the fourth leg of our final day. No lions in the loo for us.
Always be humble and understanding.
---
Fourth Leg
It was 11:44 and 34 degrees when we left Dikbaardskolk for Kamqua via the dune road. Our first sighting was at Vaalpan where we capture this birdie on the dam wall.
While we were looking for something else to move, a secretary bird came in for a landing.
We decided to move along and found this birdie perched on top of a tree.
We reached the end of the dune road and turned South on our way back to Twee Rivieren.
At Rooibrak we saw this long neck lying under a tree to get some shade.
Although we also came across Gemsbok; springbok; Blue Wildebeest and secretary birds, they were too far for a decent photo.
Just past Montrose we captured this birdie in the shade of a tree.
It was now 38 degrees outside and all that normally moves were under or in trees to escape the heat. This little Blue Wildebeest did just that before we reached Monro waterhole.
Just past Monro waterhole we met up with these two who used the tree's trunk to escape the sun. I was actually smiling at the big guy, lying like a dog on its front paws.
Our last sighting before we reached camp was this little steenbok.
Last edited by
barryels
on Sun Mar 24, 2013 7:13 am, edited 1 time in total.
Always be humble and understanding.
---
Final drive in KTP
When we reached camp, we ran into picnic and LQ who was on their way to the shop. They told us that they saw cheetah between Monro and Houmoed and that we should drive back to see if they have moved in the meantime.
We quickly got some refreshments and were off again. Along the way we had some great birdie sightings as below.
We also ran into a lion couple that was lying for dead in the shade of a tree.
We were looking for the cheetah all over and at last it was detected between two schrubs on the other side of the river bed. Here are two pic's of what we could see.
Our last two sightings in KTP were in the same tree; however for us to get a decent photo was just not on. The first one is that of a Verreaux's Eagle owl. Here is the best pic that we could muster.
The next one was an unbelievable genet sighting. This was what we captured. Take a very close look at the centre of the pic. Just to the right of the upright branch is the genet's black and white tail hanging down.
It was near gate closing time when we were back in camp. Tonight will be our last braai with picnic and LQ, before we have to leave for Augrabies the next day. We had a great dinner together whilst reliving our very short stay in KTP. It was again close to midnight before we hit the sack. Tomorrow we will be leaving Augrabies for another first for me and Hilda.
Always be humble and understanding.
---
Forum Assistant

FAC Member (2017)
FAC Member (2016)
Posts: 19838
Joined: Fri Apr 06, 2007 6:39 am
Location: Pretoria SA
Lion Queen took great pictures of the owner of this tail (Genet). See
Here on page 9
"Like a sunflower, always turn toward the light." Eleanor Brown.
---
Forum Assistant

Posts: 15847
Joined: Tue Oct 06, 2009 5:03 pm
Location: Upington SA
Lovely to relive all our moments again.........
What a stunning trip it was!!! Will treasure every moment. Thank you so much for inviting us along!!!
Here is the Genet photo.........he was a lot friendlier earlier..........that's why I got a better photo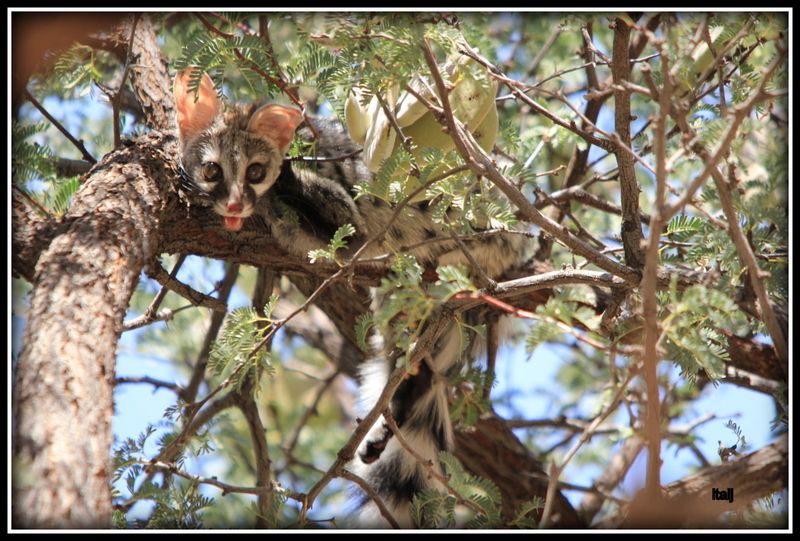 You only live once, but if you do it right, once is enough - Mae West
---
6 March 2013"Trek" to Augrabies Falls National Park.
It was with sadness that we woke this morning, because we have to leave KTP and two wonderful 'mites after our really short but unbelievable visit till next time.
We were packed and ready to leave Twee Rivieren for Augrabies by 06:00. I tried to capture the sunrise but for some reason both camera's only produced out of focus photos that was not great at all. It was really beautiful and I decided to post a photo as proof.
The Garage was still closed at 06:30 when we wanted to pump the tyres to normal pressure. We had to leave at snail's pace to the next best place, which was Askham
.
Picnic and LQ took a quick de tour to show us Grootaar-pan which we did appreciate. Not every day one has the opportunity to experience such vastness.
By 09:00 it was already 30 degrees although totally overcast. We drove for approximately 80km in the rain which was a blessing.
Next to the road sitting on a telephone pole was this beautiful birdie that came to say good bye and we just had to take some pic's.
We were in Upington by 11:00 and had to say our goodbyes to picnic and LQ. We could not have asked for any first time trip as enjoyable and filled with stunning sightings as this one. Thanks for deciding to join us on the "trek" you two. This trip will be in our memories for ever.
Along the way we came across this interesting Padstal (Road Stall) if you want to stock up for the road ahead.
They even have a saying written on a piece of blackboard, uttered by Mae West at some point in her life, to remind us men not to get to old to soon.
I just had to take a pic of this still young but perfect quiver tree on the pavement.
Then we were all on our own and on our way to Augrabies. We arrived at the main gate to Augrabies at 01:10 and were greeted by smiling SANParks personnel who let us through to reception in no time.
Here is a photo of the landscape on our way to reception. One will never think that there can be a waterfall that beautiful in this landscape.
The next photo is a clear indication that you arrived at Augrabies Falls National Park and are welcomed with open arms. Stunning I think.
Although we arrived at reception by 01:15 and could only occupy the bungalow at 14:00, the friendly and professional personnel at the desk gave us the key so we could put our perishables into the fridge. It was 36 degrees outside.
We quickly booked a table for dinner in the restaurant before we set off for the bungalow and then for a drive through Augrabies. The view of the landscape around Augrabies was stunning. It was impossible to take photos of every outstanding rock formation that we came across. Here are some landscapes that we took to give 'mites and first timers an idea of the environment you will experience when visiting Augrabies. There is much more to see than only the waterfall.
To be continued.........
Last edited by
barryels
on Thu Mar 28, 2013 6:04 am, edited 1 time in total.
Always be humble and understanding.
---
We visited only some of the areas of special interest on the vehicle route, however if you do the whole route and back to camp you will be travelling at least 113 km, which might take you a whole day.
We first visited Moon Rock which is a huge exfoliation dome, formed by solid rock and one of the prominent landmarks of the park. You guys that loves walking will experience one of the best views from the summit of the park and its surroundings.
Here are a few photos of Moon Rock. It is a shame that I don't have software to link the pic's to form a total image.
Left side of Moon Rock
Half way to the summit
The summit
Half way down the summit
Right side of Moon Rock
Our next stop was Oranjekom. This viewpoint gives one the best opportunity to experience the massive gorge area that was left by the Orange River in full flow. This area is known for nesting spots of Verreaux's (Black) Eagles which we could not spot on the day. Here are some photos taken from the viewpoint.
Here are more photos of the landscape around Augrabies.
We then visited Ararat which gives you an idea of the gorge towards the falls with its flat top on the opposite side of the viewpoint. Here are a few photos from the viewpoint.
To be continued...........
Always be humble and understanding.
---
For those of us that does not believe that fauna actually exists in Augrabies, here are a few pic's of what we saw.
A Springbok mom with her young one
.
A very funny birdie
One of Melph68's friends on a rock
Our next stop was the Swart Rante (loosely translated into English as Black Hills/koppies). These hills are another unique feature of Augrabies in the sense that these hills divide the harsh environment of the gorge side with that of the more fertile area on the other side.
Here are a few pic's we took of the Swart Rante.
Our final area to visit on this trip, except for the falls itself was Echo Corner. This is the furthest view point from the rest camp and has the most stunning scenery on offer. The name implies that a long-lasting echo can be produced. I could not take a photo of my echo; however here are some photos taken at Echo Corner of the scenery.
Wonder what these people thought when they throw their plastic bags on the ground a few meters from the dustbin?
On our way back to the main road we were surprised by these two klipspringers. It seems that the little ram is quite old already. Must say that it was 39 degrees outside at that point in time; therefore the reason for his open jaw.
Some more photos of the scenery (rock formations) at Augrabies.
To be continued......
Always be humble and understanding.
---
This was our final drive in the park back to camp and our visit to the falls.
Here is more scenery that we encountered on our way back.
At some point on the road one crosses this stream that is in total contrast to the landscape around you.
And this vervet in a tree with his friends hiding in the shrubs.
Finally we got to the falls. The newly laid ramps to seven different viewpoints are a work of art. One really feels safe to step right to the edge of the falls. Here is a photo of such a ramp.
Although still stunning and overwhelming to be there, it must be awesome during the rainy season when the water rushes over the edge of the gorge with spray coming down over the viewpoints. Here are a few photos of the falls currently.
Here are a few "friends" with us at one of the lookout points who also admired the falls.
It was getting late and we had to get ready for dinner at the restaurant. Whilst we got ready I took some final photos of the trip.
This was the view we had from our veranda.
Our final photo of the trip was this birdie that was actually ringed a few times if one looks closely.
We had a marvellous dinner at the restaurant which was under new management and seemed to have made some changes for the best. We actually received a menu to order from. They even had a wine list to order from. We had snails with garlic butter as a starter, veal snitchell as a main and filter coffee to finish the evening with.
There were some issues with the lighting at the falls that evening and we could therefore not take any more photos of the falls.
We went to bed, knowing that this was one of the best trips ever.
We must mention the fact that the accommodation at KTP as well as Augrabies, was the best that we had stayed in. The bungalows were superb and fully functional. We want to congratulate both of the parks personnel for the exemplary service that is rendered to us as visitors.
We left for home at 07:00 on 7 March 2013 with the knowledge that we will return to these two parks in the near future with God's will.
Always be humble and understanding.
---
Forum Assistant

FAC Member (2017)
FAC Member (2016)
Posts: 19838
Joined: Fri Apr 06, 2007 6:39 am
Location: Pretoria SA
Thank you so much for this beautiful trip report my SO! I have enjoyed reading it as much as I have enjoyed doing the trip with you! You have also finished it in a very reasonable time, taking into account all your year-end work at the office!
"Like a sunflower, always turn toward the light." Eleanor Brown.
---
---
Who is online
Users browsing this forum: No registered users and 5 guests