This is my tale about my visit to the Kruger during the December holiday.
It was during the dates 14-31 Dec and I will gladly share it with you.
Foreword:
I would like to mention that I am Afrikaans speaking so mind the spelling.
I started planning this trip 6 months before, as you can imagine six months of excitement is a very long time. It was tuff sitting at work and dreaming of my holiday to come, all I could think was nature and the Kruger feeling, the history,all the animals in their natural habitat, braaivleis and sounds. I was reading books of the Game Rangers and their stories at night before I went to sleep.
The six months gave me ample time to prepare. Thats when I started to visit this Forum and I studied it, I read all the travel tales for Decembers before just to find out what I might see and how the bush would be like South and up North. I read the Camps and roads topic to see wich roads was best and what I should expect at which camps. I read all about the animals I would like to see under the animals topic and studied there patterns, like example where the wild dogs was seen.
I planned the routes out of a Kruger guide/map book you buy from the shops from a previous visit. I calculated all the km and what time I should leave the camp and be at the picnic site to when I will arrive and check in again.
I planned with a budget in mind and I worked out the menu for the almost 3 weeks.
I have been to Kruger before,but never so prepared.
Every spare bit of time I had I spent dreaming en reading up and planning for this was going to be my dream Kruger visit..Join me and I will tel you all about my journey…..
13 December 2012
All the shopping was done and the car was loaded to the brim, and as I departed my home in Pretoria I gave a sigh of relief because the holiday I was waiting for all 6 months was actually here. I drove on the N4 and made a stop at the Alzu petro port where I bought a cappuchino and sat down to look at the game they have there. There was Eland, and I thought to myself "I will be looking for your brothers in the Kruger" (Its just not the same to see Eland on a relative small game farm). As I sipped on my drink I was thinking in excite about the time that laid ahead. I took the scenic route through Waterval boven and at Ngodwana I turned right past Kaapschehoop to Nelspruit where I stayed the night with the Krieke wich is good friends of mine. As I stopped at there home the engine light came on and my mood went from great to zero. My friends tried to cheer me up and we had a great evening,but in the back of my mind all I could think about was ENGINE LIGHT WHY NOW………..

14 December
Needless to say I did not have a good nights rest for the engine light in the car was haunting me. I took the car to the VW dealer where a guy that was trying to be very smart said a lot of stuff wich was far from true, I know that because I have been around the block and can help myself if need be. Went home and popped the hood. Being far from home and my garage I had no tools and the cars now a days does not let you just work on them, everything is hidden behind plastic panels. I looked for something that was making a air leaking noise when I drove. The time was ticking past for I was on my way to Kruger. There was no time to take is to a workshop that day and my vriend offered his car to me,and he will take my car to a workshop the next day. I was very grateful and it was some reliëf, but could stop myself from thinking on my way through Malelane that this was not how I intended my first day of the holiday I planned for so long. Soon I was trough Komatipoort and on my way to Crocodile bridge gate at about 14:00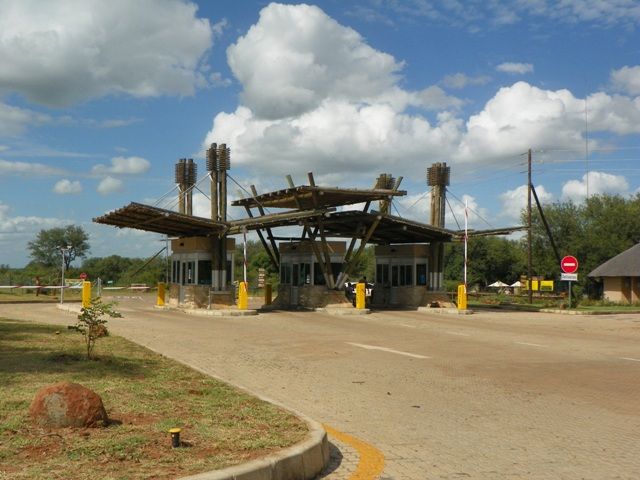 I went into the office to get my permit and I was in Paradise. I gave a glance at the Crocodilebrige camp on the left at the junction and said to myself "I will get you next time" then my holiday started. The first animal I saw was not Impala as one might imagine but a Blouwildebeest. I then discoverded that it is not that easy to look for game when you are alone and have to look both sides,but I knew that in the next 3 weeks I will learn how to do it. I was on my way North on the H4-2 to Lower Sabie. Saw some general game and among them a group op Kudu bulls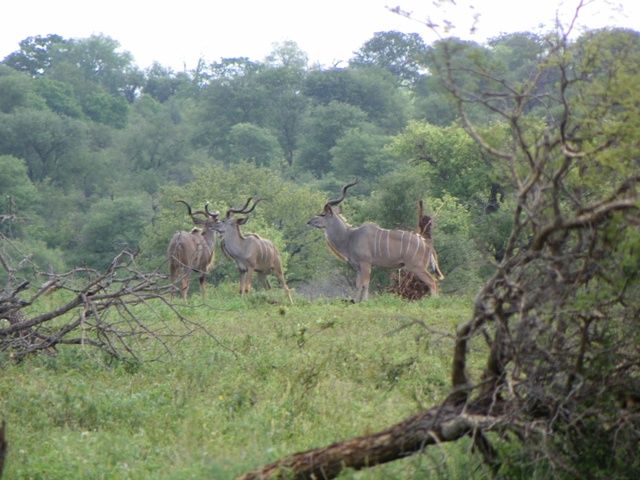 For my first day and I was lucky to see this character taking a nap.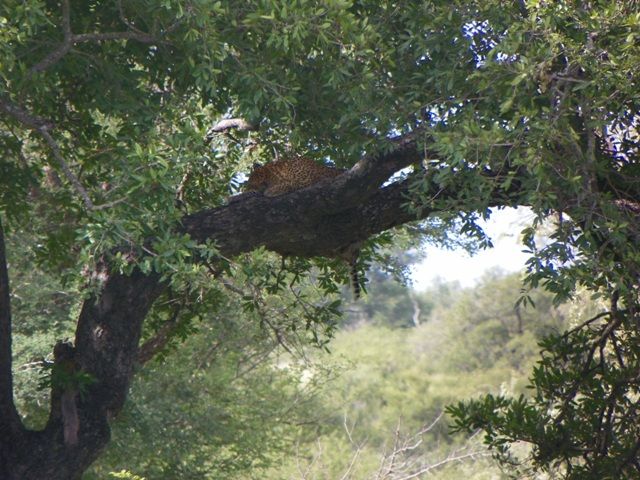 There was not much movement so I took the picture and head up further. And not very long after the leopard there was these two taking a nap

It was a breeding pair of lion. There was not any movement either so I just took the picture and moved on.
I saw some birds as well, this Fisant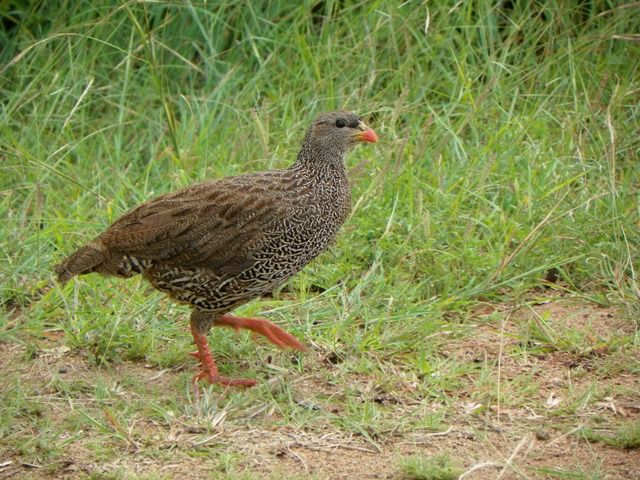 And where the road meets up along the Sabie river I first heard the saw the king of the fishers.


I was very lucky to see four of the big five in the heat of day and on such a short drive. The fourth being Rhino


(Just for further use I wil just post photos of the rhino I saw and no description on where I have seen them)
I got to Lower Sabie camp and went to the office to check in. I was staying in a Safari tent.


With this view over the Sabie river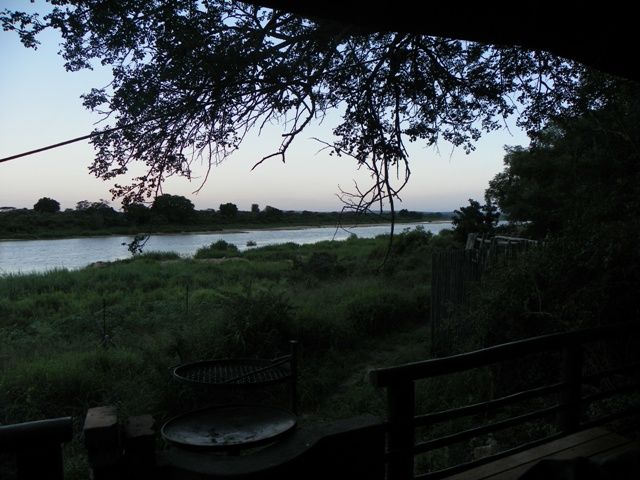 And what did I see on the other side of the river?
Number 5 of the big five on my first day.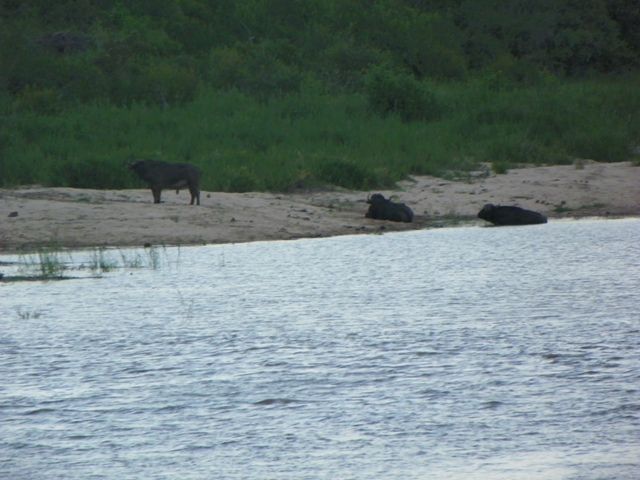 My Friends Yolani and J.C. Kriek joined me that evening for a braaivleis en potbread dinner. It went down good as we discussed the bigfive day we had.



We had a visitor crawling around on the tent sides looking for dinner


As I laid my head on the pillow that evening listening to the night sounds I was gratefull for a great day that started off wild and ended up seeing a lot of wild. O this is going to be a great trip……..

15 December
I woke up this morning very refreshed, after a good nights rest in the Kruger Park with all the sounds close to the river, how can it be beter? I woke up to this view


Packed everything up and we where off. We saw a leopard at the Mosehla bridge but he did not stand still for a picture We opted to go back South via the S28 but had no luck finding any Cheetah.
We saw some Giraffe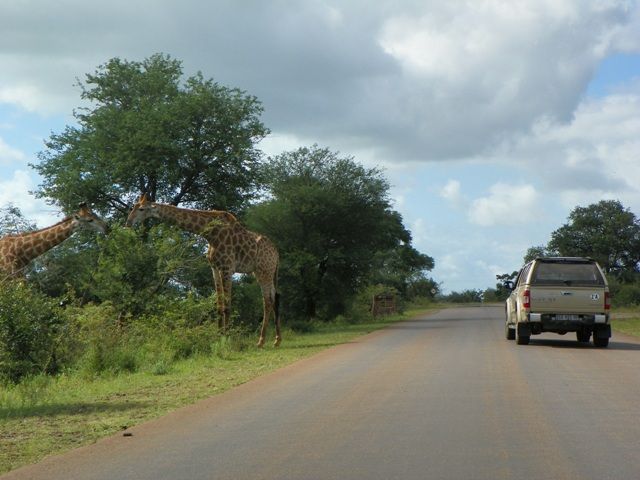 And the biggest birds in the park among Zebra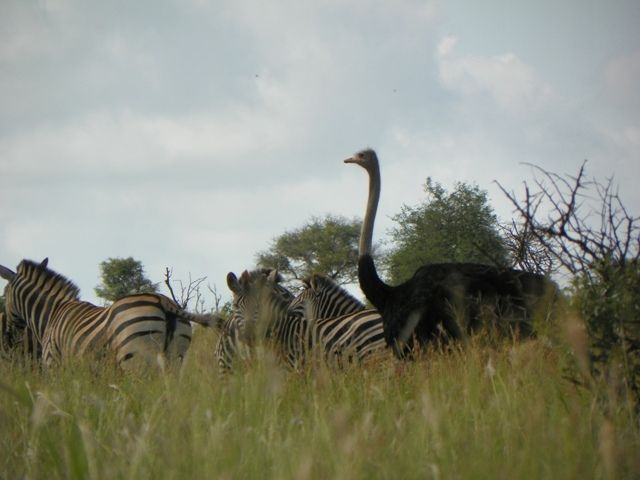 And some European visitors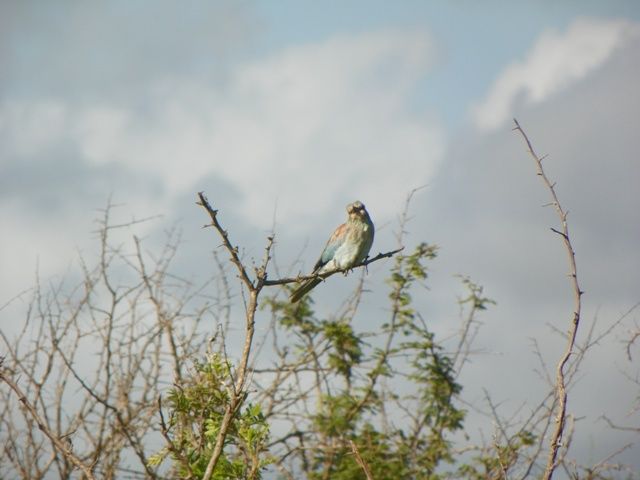 We went West on the S25 where we saw very little because it was very lush after the amount of rain that fell in the weeks before.
Wê stopped at Afsaal for brunch,having some leftovers of the potbread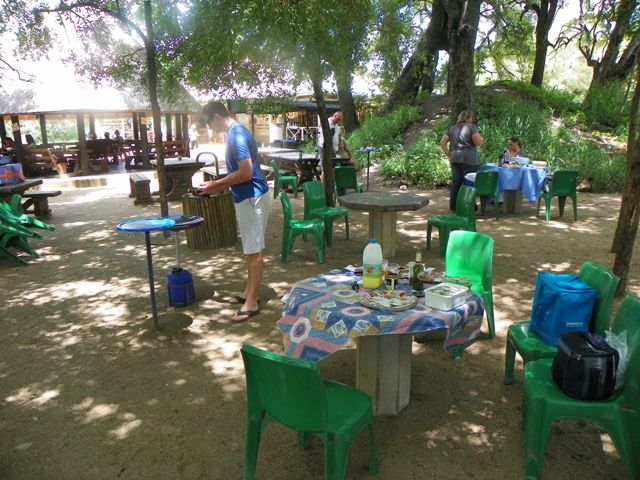 After watching the squirils and birds at the picnic site I went up the Voortrekker road wich was very quit with very little animal sitings.
I did read up on Shipmountain and here it is looking like a upside down ship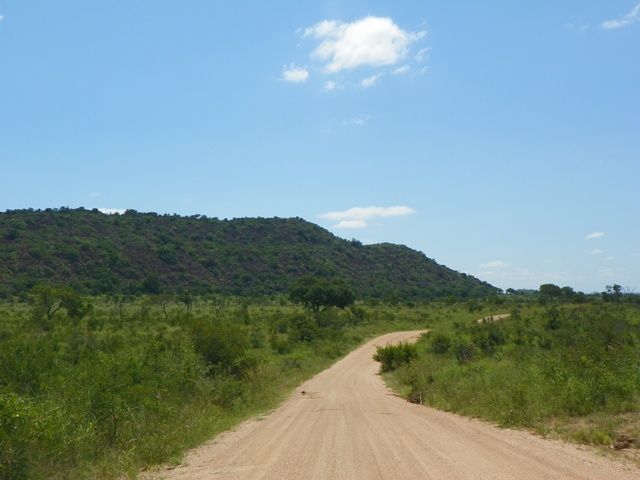 Interesting how it looks like somone piled that rocks to form a mountain
I reached


Where I would be staying 3 nights for my friends will soon be departing and it will be me and the Kruger.
After booking in at reception I made my way to the hut.


My friends and I had some cheese and wine and a very interesting onion marmelade.


We had some braaivleis and mielies and we had a great evening. It was a very slow day with very little sightings, was it because of the lush area I where in or just bad luck?
Off to bed because I had to get up early tomorrow………..



16 December
It was Gelofte dag today as I woke up. It was overcast and cool,wich was nice because it can get very hot in this park, although I was in die coolest camp. I greeted my friends and the were off. I was alone. It was just me and the whole Kruger Park.
I decided not to do allot of driving today because of the bad luck of yesterday and it looked like rain. I did drive to Shitlhave dam and spotted some buck there


I spent some time there just relaxing.
I went back to camp and decided to try the Sable trail wich is there somewhere. I asked the woman at reception about a map but she didnt even know what I was talking about. I also asked about any films that should be shown during the holidays there, but a snotty comment told me that the projector was broken and they will not show any films, nice one Sanparks.
I started the Sable trail where the game drive vehicles is parked. There is arrows on the ground pointing you in a general direction. It is sad to see something that was built by the Honorary Rangers being in such a state it is in. 40% of the info boards on the trail is missing and you need a panga to hack through the bushes to see the board at some places.
Along the way I saw this guy watching me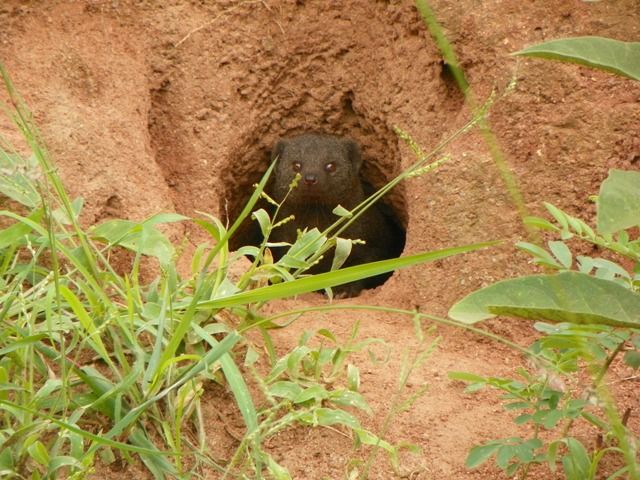 The trail makes a turn at the swimming pool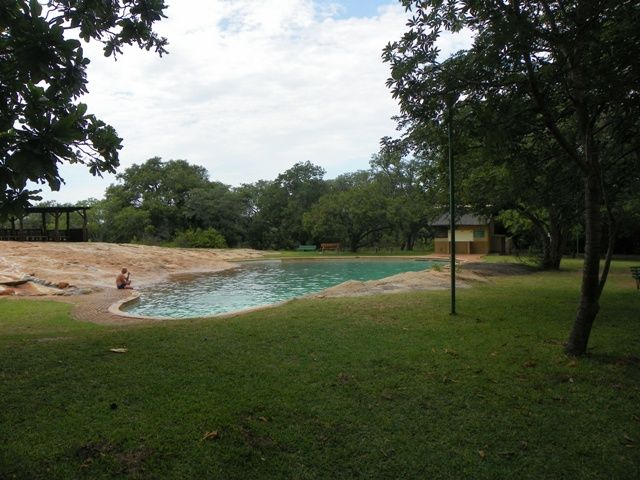 Before it heads up back to the middle of the camp where the Wolhuter hut is


It was one of the first huts in the park. As I stood and looked at the hut I wondered how it must have been like in those days.
Again I was pointed in a general direction through the huts where I struggled to find the trail. I ended up going past one of the guesthouses to find the lonely info board. It said that I must look at a hill in the distance. That was where Albasini had a trade post


I finished the trail but I am certain that I might have missed a few boards.
It started raining and I went back to the hut. I had a Sunset drive that afternoon but it was raining and the game drive vehicles was wet


We dried it and of we went hoping the rain wil give us a gap, and surely it did. We did not see much on this drive. We did see Klipspringers and Baboons on the big rock on the S10 loop. When it got dark the owls came out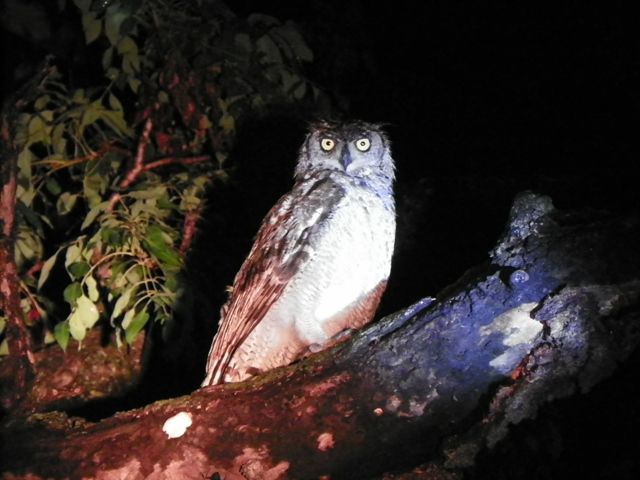 I got back at camp and made a light dinner. It was nice and kief that evening. I went to bed early because tomorrow I wil be up very early.

17 December
4:15 my alarm went off and I jumped out of bed because I wanted to get up and get out of camp to go and search for the animals. Got up made some coffee for the road and by 4:35 I was out of Pretoriuskop for my day. My plan was to go down the H1-1 and up the Watergat pad (S65). West on the S1 to Albasini picnic site for brunch and down the S3 back to Pretoriuskop.
The H1-1 was quiet and I did not see much, I did see a beautiful bird that I could tick of my list


Went on the S65 and still quiet. I did spot a nice big warthog though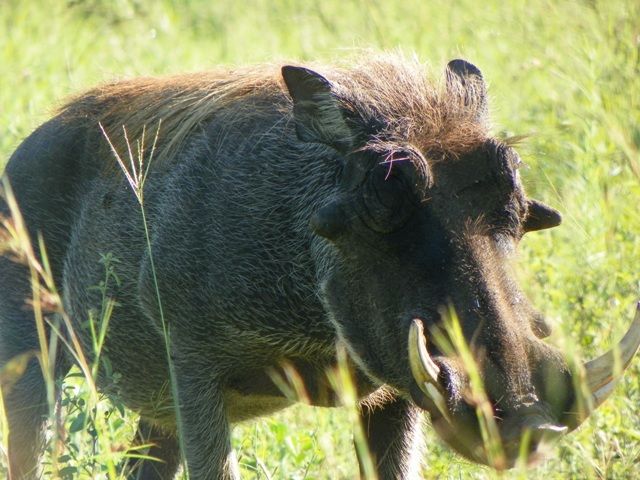 While driving with your windows open you can clearly hear the Korhaan calling with the loud click click sound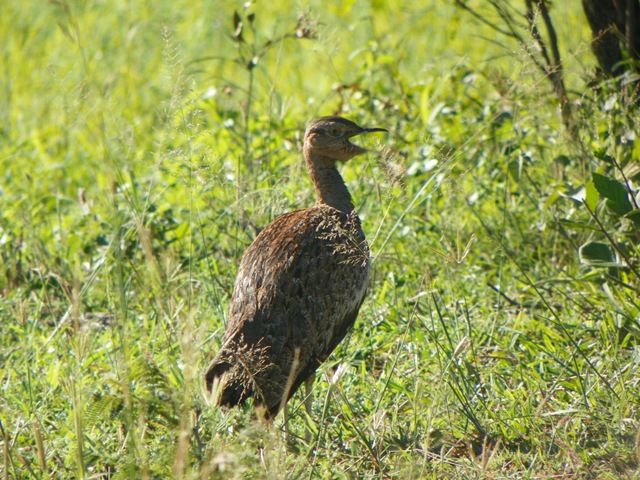 Another bird I checked off my list


At the S65 and Nwaswitshaka river crossing I stopped next to a car, the driver asked if I have seen anything where I came from, I told him that it was quiet, but he had great news hê told me that on the S4 there was a pack of Wilddogs. I thanked him and I was off.
On the S4 I started looking and surely under the trees hiding from the sun the (what I think) the Skukuza pack was hiding from the sun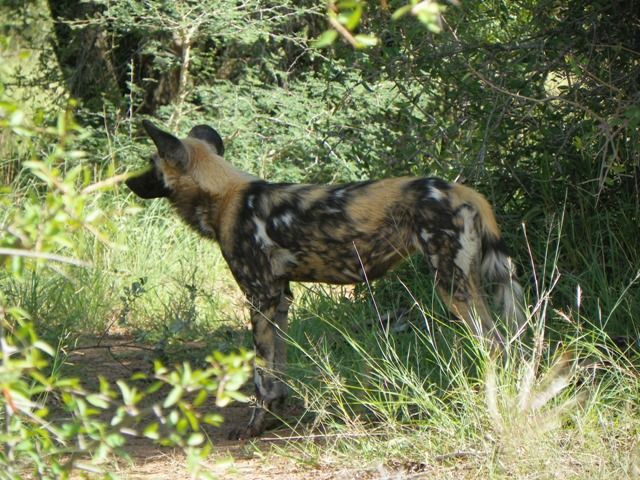 I spent about aan hour there for they were hiding in the bush and only now and again some stood up to find a beter place in the shade, thats when you have to be quick with the camera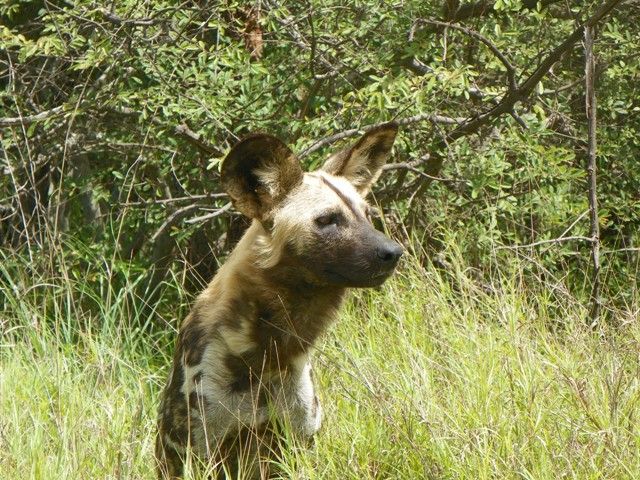 What a great sighting and I would have missed it if it weren't for the friendly people sharing the sighting.
Back on the S1 with general game sightings I saw this Zebra, firstly one would think that it is giving birth but it looks like some predator might have got its tail…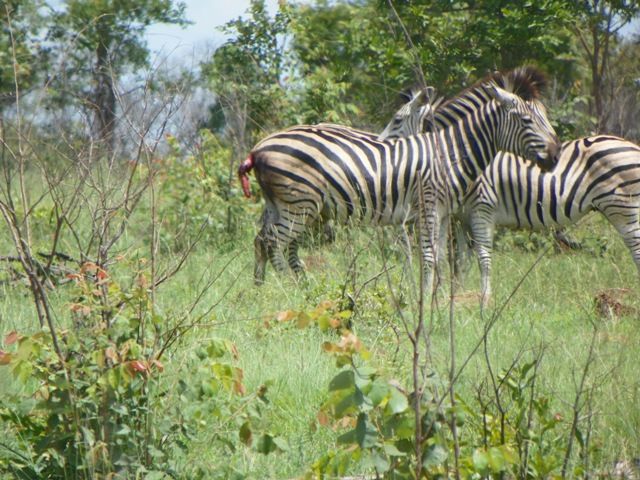 I arrived at Albasini and was the only one there. The peace and quiet is so wonderful.
It is very lush and green


South on the S3 I saw mommy Boskorhaan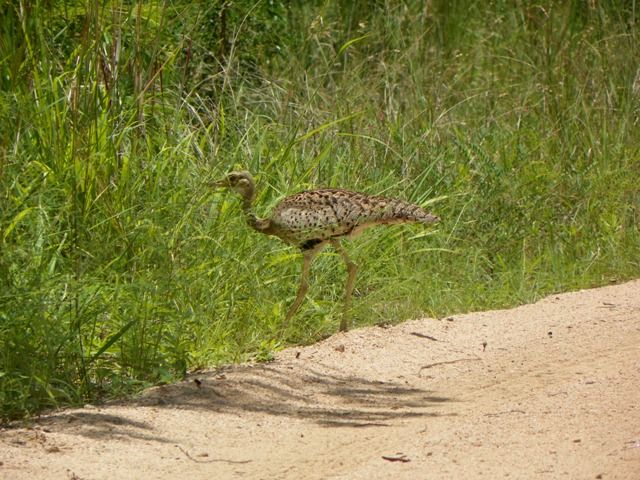 And baby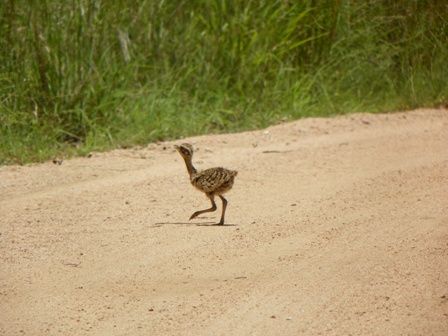 At the Kwamfamehlo stream crossing there was a Hamerkop waiting to catch some fish


I stopped at the Mestel dam but there was nothing to be seen. With all the rain there was enough water to drink in the veld like in this picture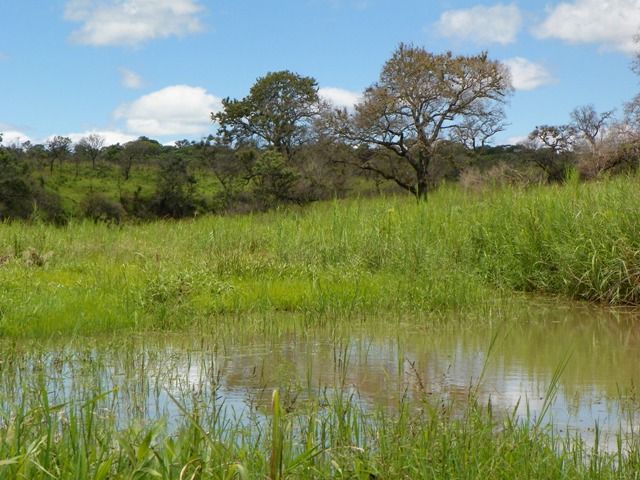 I was back in camp to take a nap and hide from the heat of day. When I woke up it had rained and it was time for a sunset drive. The clouds moved away for a beautiful Kruger sunset.
Normally the S10 loop has been unkind to me but this evening it was very good, because we so 4 of the big 5 there in a time span of 20 minutes, even the guide was surprises by this.
I don't want to brag but I am claiming this one, while the guide was explaining something about the Elephant to some German tourists I was looking through my binoculars at the big rock wich the S10 loop goes around, I spotted something faint on top. And would you believe what it was, I never would imagine that this predator would climb up there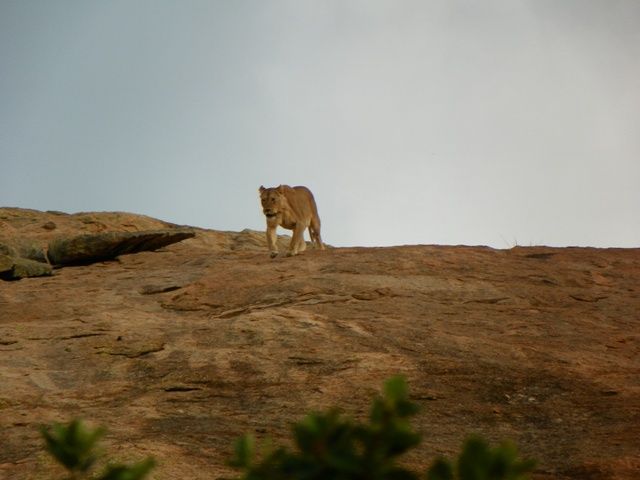 She was calling faintly and the guide reckon that she might have a liter somewhere near. We followed her down


The grass was so long that she disappeared right in front of us.
It was getting dark and we did not see much further on the drive. The guide spotted a Boomslang in a tree. Here is a poor photo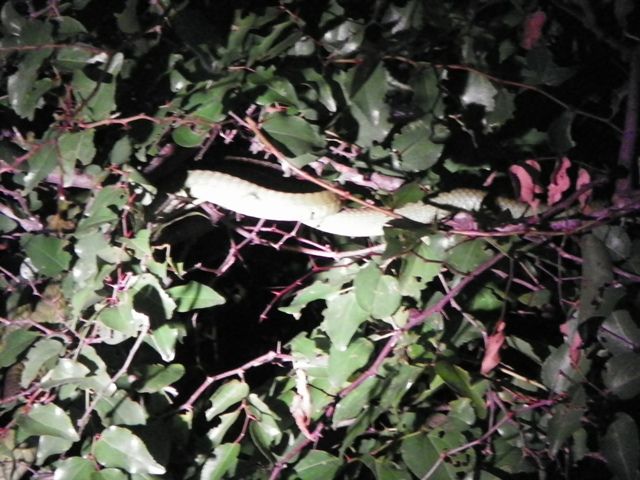 This was a good day for me. Tomorrow I am packing up and heading for Skukuza.

18 December
It was an early start today, got up packed everything, got my mug for coffee, dropped the key in the key box and I was out of camp at about 5:00.
I took the Voortrekker road and again I did not see any animals. Stopped at Afsaal to refill my mug and have some rusks.
Then I took the S118 and just at the turn I saw this fellow on mission to somewhere


I drove onto the S119 to the Gardenia bird hide


There was not allot going on just peace and quiet. Did see this guy


And some water tortoise


Along the road at a stream I took this picture just to show why the call it a Hamerkop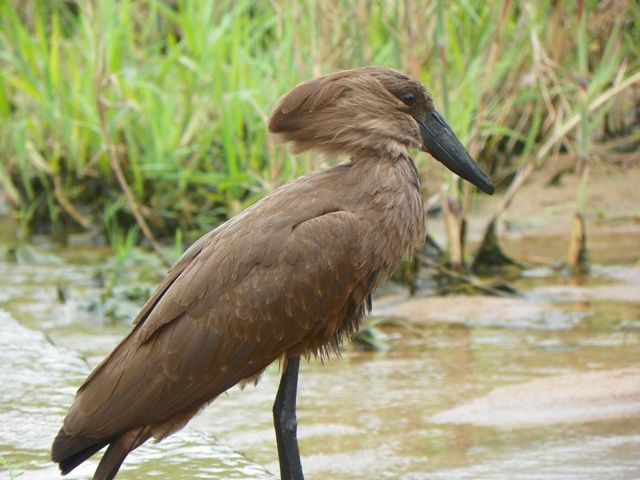 Some beautiful rhino


One of the many tortoises crossing the road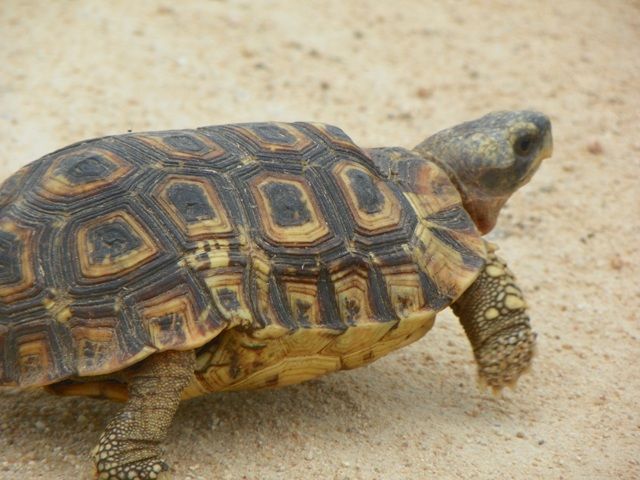 I traveled up the S114, S23, S113 then North on the H3. I was to early to book in at Skukuza so I went to the Lake panic hide and saw this resident Darter


bit further up the road is the Skukuza gholf club


It was getting hot and it was time to book in at Skukuza, I stayed in Hut no 82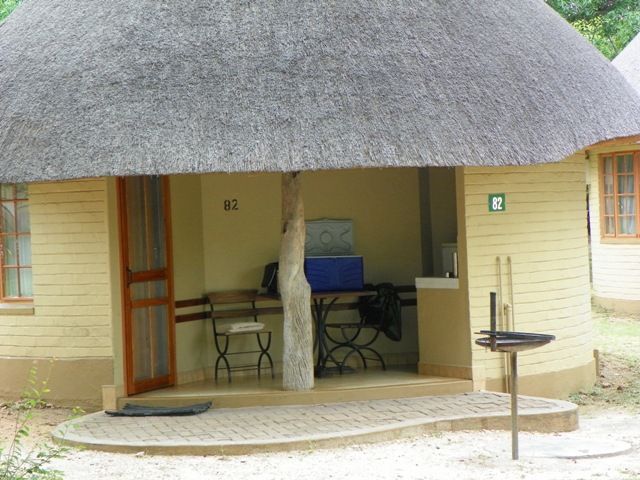 Very nice. It seems like these huts is the most new ones and it is most likely the best accommodation of my trip.
I went for a walk and a cool down at the quieter pool


I booked a sunset drive for this evening. It was a very bad experience and I am very disappointed in the guide. What happend was that the drive was rushed. We had to pick up people at Kruger gate so he drove well over the speed limit to get there, we did not see much on the way. We drove on the S65 and the older people was uncomfortable with the hopping due to the bad road.
We dis see some animals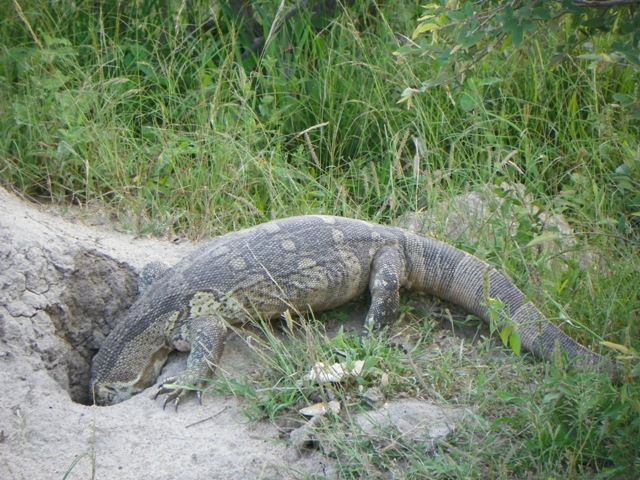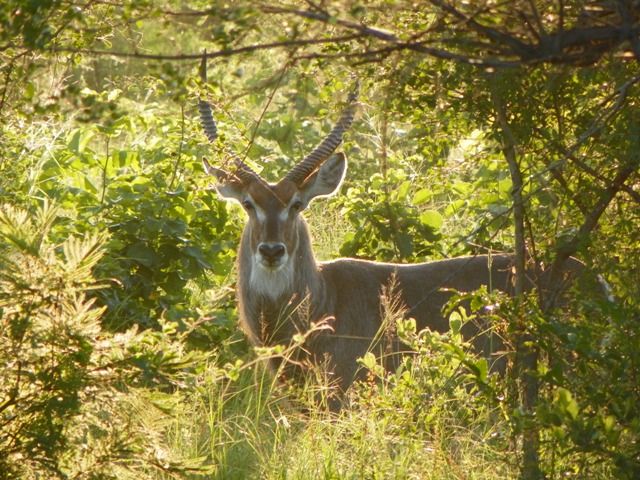 When we met the H3 it was speeding time again because the people had to get back to Kruger gate. We then saw these Wilddogs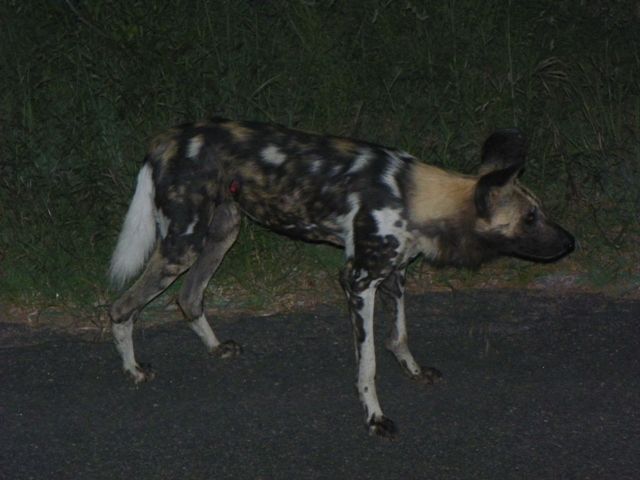 I was so amazed in seeing these dogs, but the driver told us that we can not stop due to time. I was stunned. There was German tourists WHO never have seen wilddogs and we could not stop!
Well needless to say we did not see any animals again because he was speeding to Kruger gate and even faster back to Skukuza. I reckon he was doing 100kmh at times. What example is that and what a waste of my money.
When I got back at camp I sat at the fire to reflect on the day,but I just couldn't get this bad experience out of my head.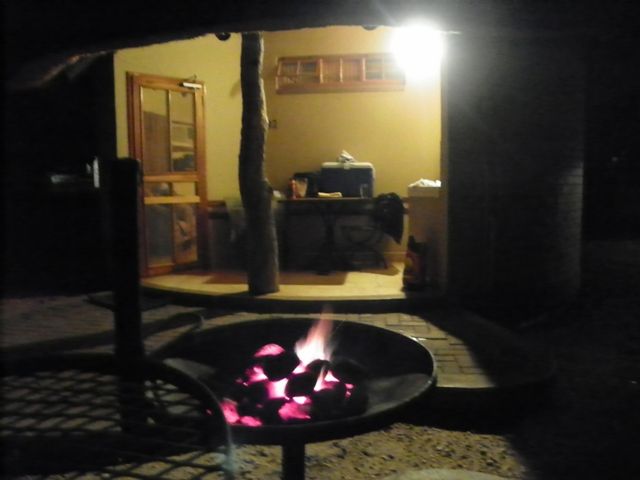 19 December
This was going to be a great day and it was. I got up bright and early and left Skukuza to go to Tamboti. As I stopped at the crossing I looked at this board and saw just how many place there is to visit in the park.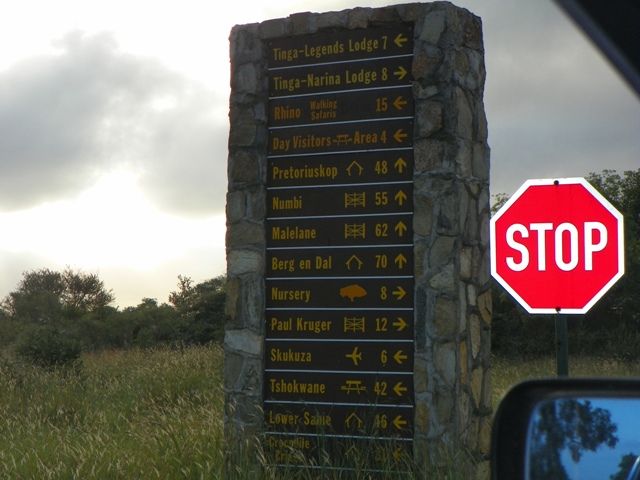 Just at the H4-1 and H1-2 crossing I saw this brandwag baboon that was in a fight moments earlier. He sat there and it seems like he was crying, I did not see tears but he was definitely sobbing. Well I can understand it must have been hurting like mad


As I crossed the Sabie river I took this picture of a beautiful morning on the river


A monster snail crossing the road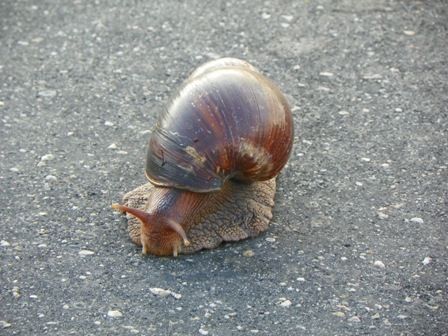 I have counted all the Ground Hornbills and saw a total of 25 during my trip even one as high as Crooks corner. This was part of a family of 6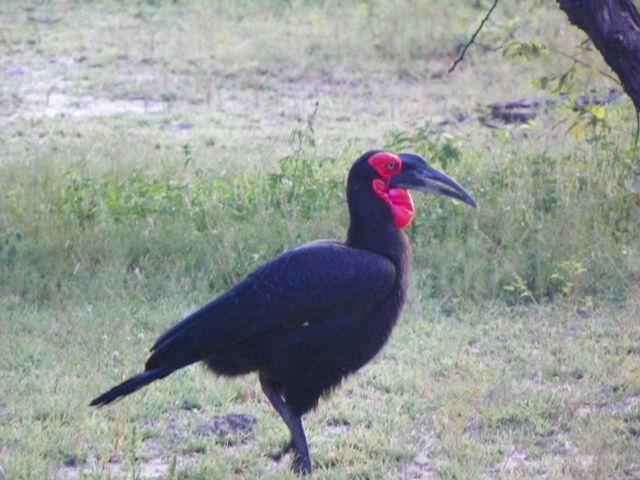 Majestic Fish eagle calling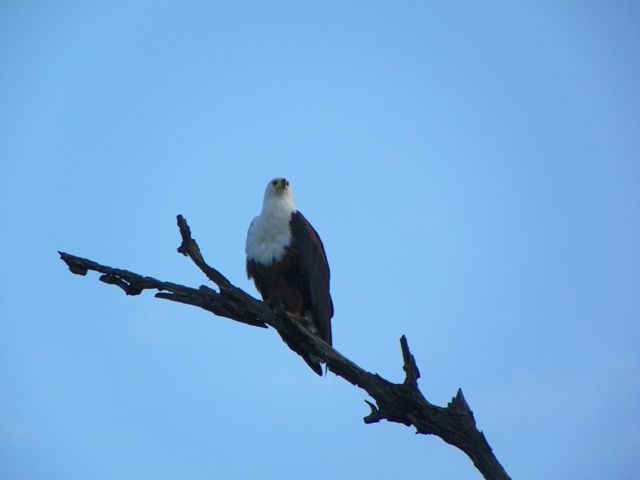 Then just before the Mantimahle dam turn off there was a great sighting. I first saw a Hiena walking around a tree then saw this Leopard in the tree feasting on his kill.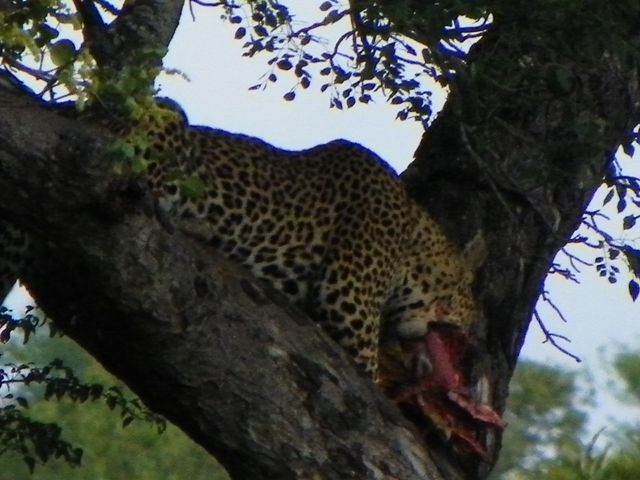 It was a bit far for my camera but I could get one or two nice pictures. What a beautiful leopard.
After spending a while there I decided to move on to the S36. Now I would just like to give you some background. Each and every one of us has a list of animals you would like to see, even if it is just once, and not in the zoo or a private game lodge but in the Kruger. I have a list and it has got a few rear animals on it. One of them is the Sable. Now I have mentioned that I did my research and I read through this forum to see where the best places is to find these majestic Antelope. My research found that it is the S36 South and North as well as the S39. So I was focused and in the zone of looking for Sable.
Here I go……
I drove slowly and I searched. I stopped at Jones dam wich they are seen regularly but all I saw was this beautiful Nimmersat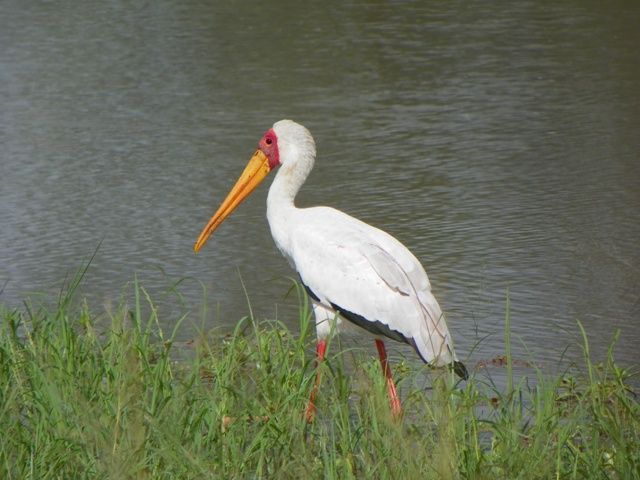 And a Sadlebill Stork. I have counted a total of 10 during my trip wich I think is realy great if you think that the park reckons there are only 90 left.


I moved on and searched….
I stopped at the Lugmag dam


Its a shame that it is not fixed, it is just in the same state as it was when I was here in July.
I stopped at Nhlanguleni picnic site and asked the fellow working there about the Lugmag dam. He said that the park is waiting for a sponsor to come up with the money to fix it.
I went further North on the S36 and did not see much animals let alone Sable. And I was starting to think like previous times that I will never see a Sable here. You can do tons of research but if your luck is out its out.But would you believe me if I said the just about between the S145 and Muzandzeni picnic site there in the road tight in front of me walked 'n Sable bull


I was so amazed that I could not stop shaking I struggled to get the camera to focus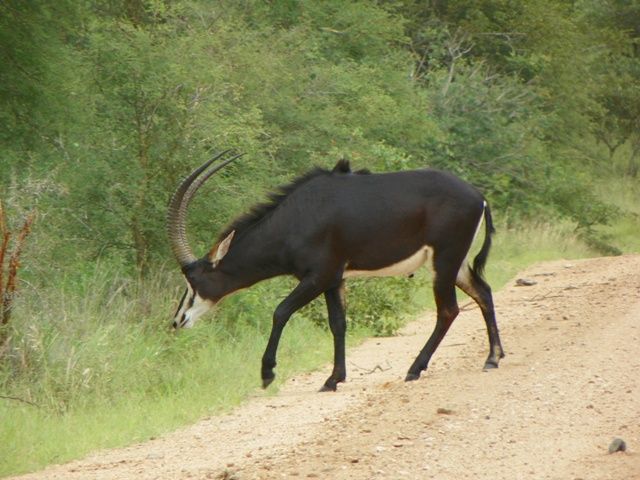 I spoke to him and asked if he would please stand still for a photo. It was like he heard what I said. He ran along the road then stopped as if prancing and going at the bushes with his horns then posed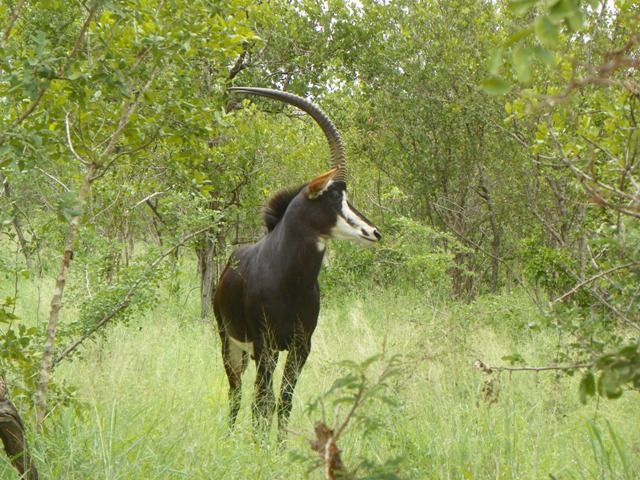 Then he ran off again me following alongside him. He stopped and posed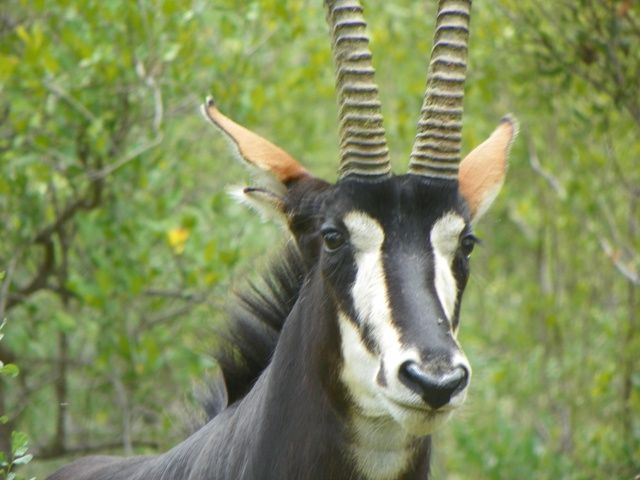 I looked for the other but he was all alone just me and him, no cars for miles. Just the two of us


He posed for one more photo and he calmly walked into the thick Mopani bush. I thanked him. And with my hearth thumping I drove off.
I turned left on the H7 on my way to Orpen gate. And there are big shady trees at the bridge where the road cross the Phelwana river. On one of the branches sat a Hooded Vulture.



It was very hot as I booked in at Orpen and made my way to Tamboti for my first visit there.
My tent no 16 was hot inside as it baked in the sun


The van was not helping it was just blowing the hot air around.
That afternoon I drove the S106 past Rabelais hut and back on te H7


As I got to the Tamboti turn off at about 18:25 there was a few young Jackal playing as the harsh sun was slowly fading into darkness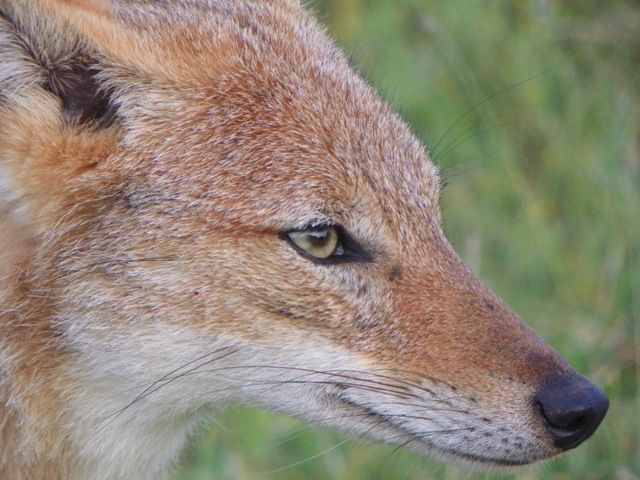 I kept the tent flaps down through the night to hear all the night sounds. At about midnight there was 'n racket. The brandwag baboons shouted and I could hear Zebra making there distress call. There was a predator lurking.
What a day……..

20 December
Early rise, stopped at the kitchen for boiling water to make coffee and I was off. I saw the same Jackal playing there this morning. Got onto the H7 Going East until the S39 Timbavati road.
Got to see a Hiena running along the road.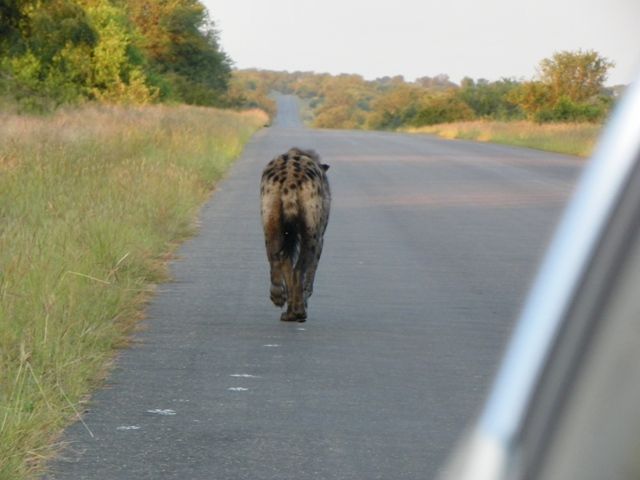 Some general game.


There was a big gang of Baboons walking along the road.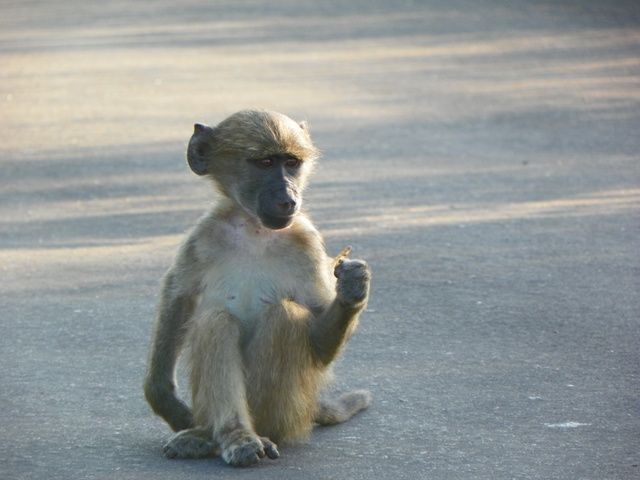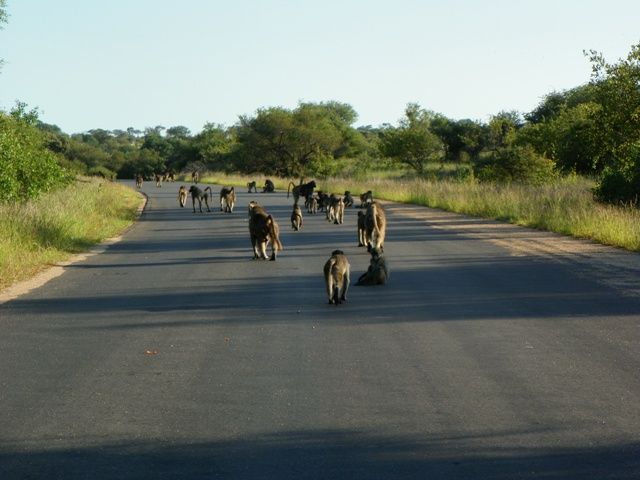 Somewhere on the S39 at a little waterhole I saw this beautiful male Comb duck. Its a first for me. Great one.


I was starting to see Boabab trees


I made a stop at Timbavati picnic site. The river was bone dry and you can see animal tracks in the sand. It was getting hot early in the morning.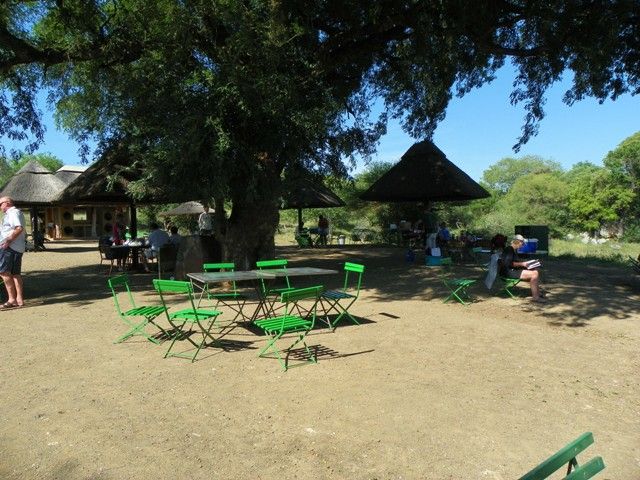 I went further North on the S39 and near the Goedgegun waterhole there is a road going left. It a badly corroded road, but it leads to a secluded spot with a water hole. Nice piece and quiet.


Crossing the Olifants


After that I got on the H1-5 North to Olifants. Made a stop at Nwamanzi lookout point. It was very hot. Stopped at Olifants for something cold for the throat. Glad to see the little elephant fountain is working.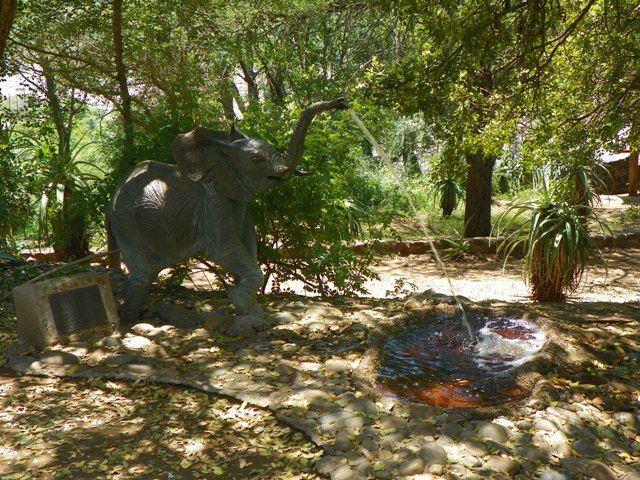 Slowly drove North on the H1-6 in the heat of the day and with that said I did not see much. Got at Letaba aan hour before check in. Went to cool down at the swimming pool.


Stayed in one of the EA3U huts with a lovely river view


Took a nap this afternoon, when I woke a took a strole through the camp. Got back and made myself a chicken braai dinner.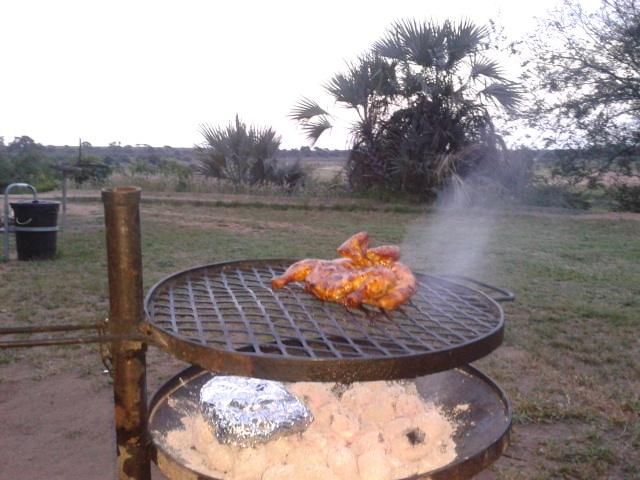 At 20:00 it was time for the night drive. We did not see much, not even elephants. But some hippos grazing, some hares. But this sighting of aan Africa Wildcat was one of those animals on my to see list.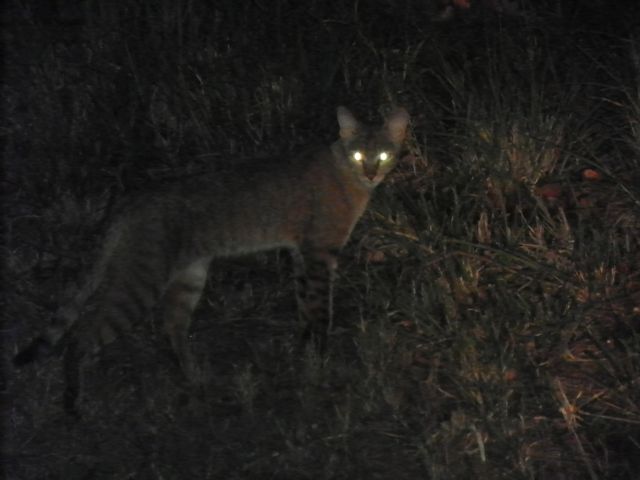 It was really nice to see one of these nocturnal animals, and they look just like a house cat. This one was on the thin side, and we left him hoping that hê would find some food soon.
What a pretty cat.


As I laid my head to rest that night I was glad to have seen what I did that day. I was in the Northern part of the park and I was happy to be here….

21 December
Early rise to beat the sun, because the sun in this part of the Kruger is blerrie hot.
From Letaba I took the S131 gravel road West. And the first animal I saw for the day was Buffalo. Look at the interesting horns on the one in the back ground.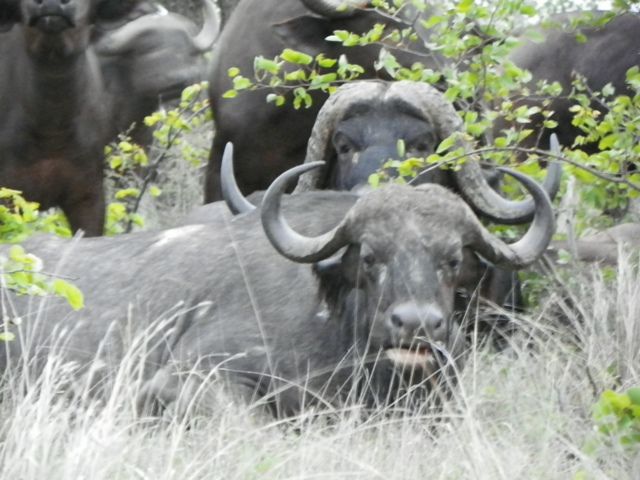 I drove a long way without seeing any animal. South on the S132 and to the Marhunbyeni dam where there was only elephant bones. Just before the H9 tar road I met the Sebra.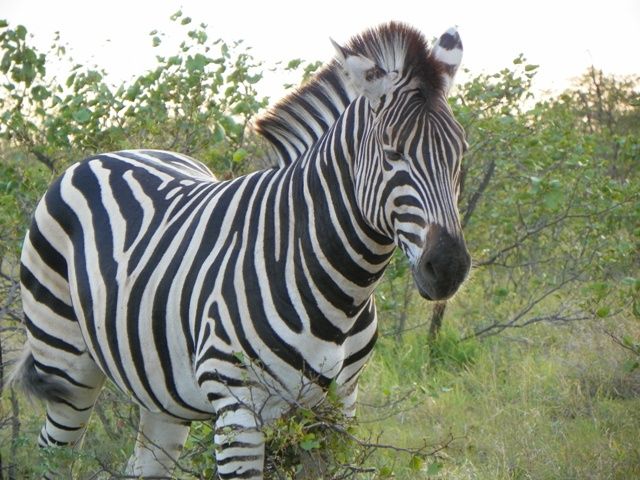 I turned West to Phalaborwa gate. Turned left on a road wich is not indicated on my map and is actually for 4x4 vehicles. I was on a adventure. I saw Cheetah tracks in the road wich I thought might have been from the night before but they where going in the wrong direction. This Climax pump was aan interesting site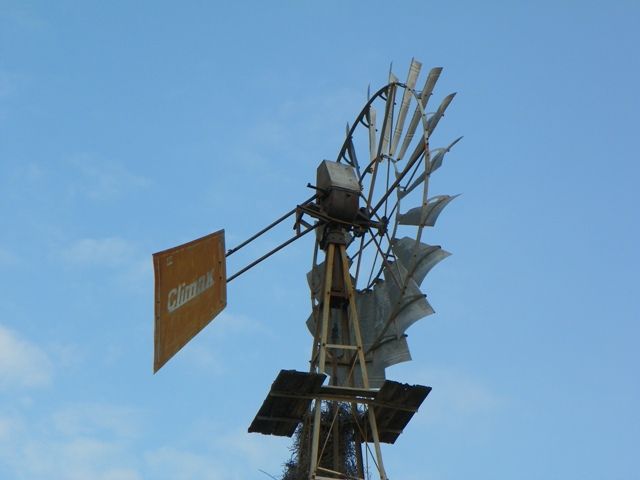 I wondered what this windpump have seen in the years that it stood here.
I came up toe Masorini picnic site.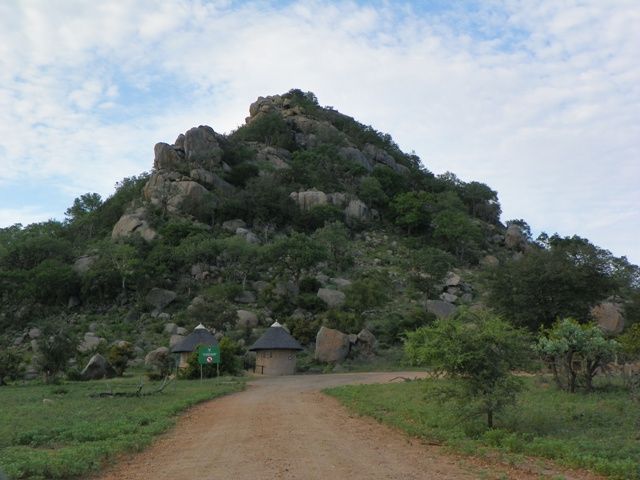 There was no one there for it was too early. While I waited for the Sanparks staff to come I made some coffee and watched two Impala fighting. When they arrived I asked if I could go and look at the ruins there on the koppie. Very interesting.
I took the S51 to the Sable dam


I would like to stay over here one night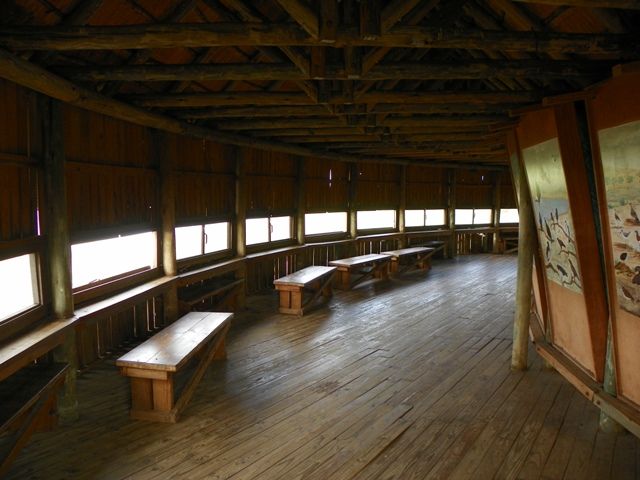 I took the right turn on the H14 to go North. A lookout point along the way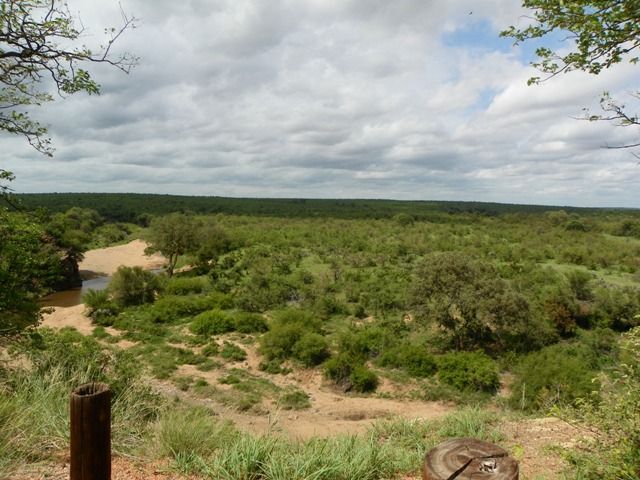 There where a little cloud cover bur it was hot. Lots of Mopani worms crossing the road but not much luck with animals.
Buffalo cooling down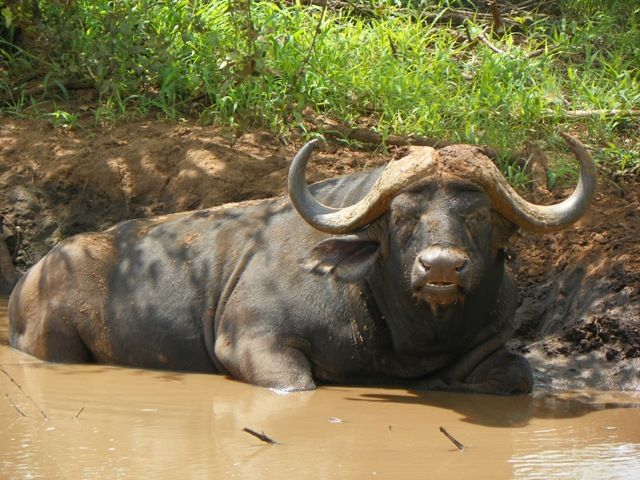 Headed North on the H1-6 and turned of at the Mopani camp sign. This would be my first time in Mopani camp. I would like to come and stay here one night.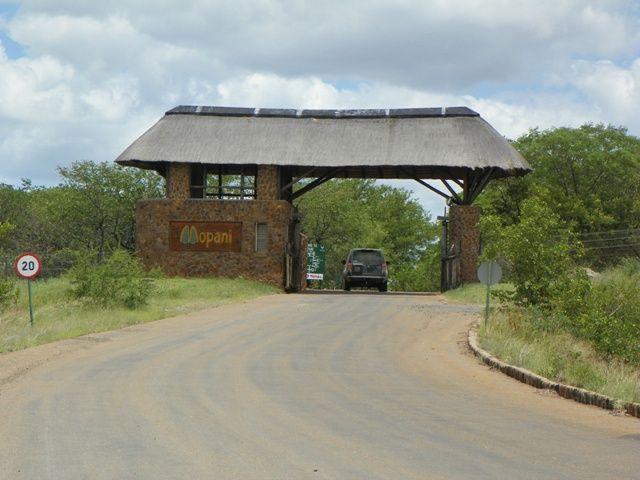 The camp looks out on the Pioneer dam


I found an eagle feasting on its prey


At one of the waterhole along the road I saw a couple of Open Bill Stork


At one of the cement dams this Vulture was sitting around. They are big birds with big wing span


The further I headed North you could see that it was dry. There were no grass and even the Mopani trees was pale.


I came up to a familiar face, the white gate of Shingwedzi. Booked in at reception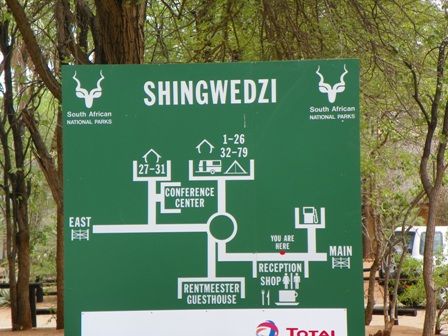 It was very hot that day, and the van did not help it was just blowing the hot air around.
I went for a afternoon drive.
Maraboe the old undertaker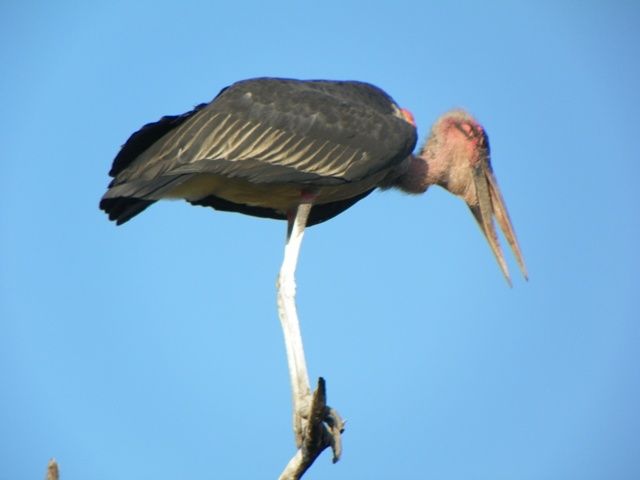 I stopped on the bridge over the Shingwedzi river. Its hard to believe that this dry river bed could have a flood running down it destroying the beautiful Shingwedzi camp. My heart goes out.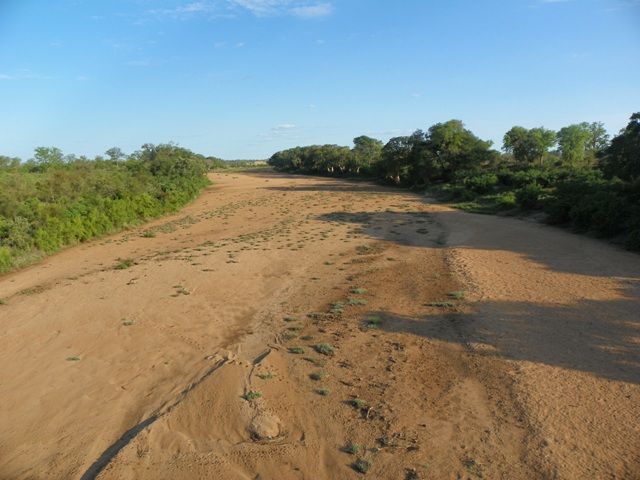 Later that evening I downloaded the photos of the day and searched the animals and birds in books.


I went for a cool down at the pool. And when I was inbed I tried to hear the Shingwedzi pride, but they where silent.


Last edited by
Wildkyker
on Mon Feb 04, 2013 1:05 pm, edited 5 times in total.
---

22 December
Today I was going to the most North Eastern point of South Africa aka Crooks Corner.
From Shingwedzi I drove North on the H1-7 and the S56. I did not see much but I did see an Elephant what I thing might have been one of the tuskers in the park


He did not give me a nice picture but I really think it might have been a tusker.
I made a stop at Babalala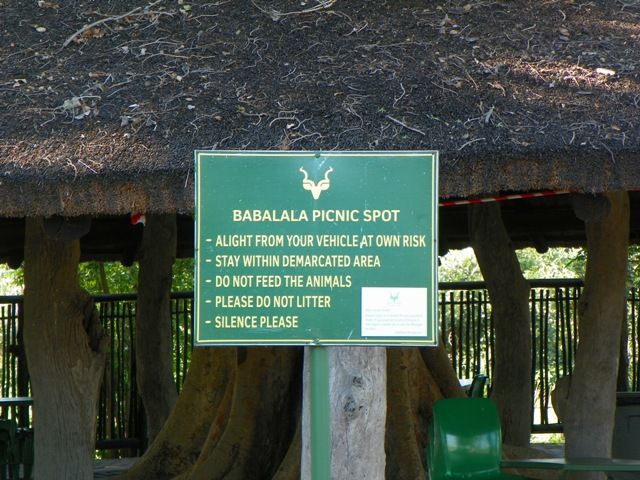 One of the animals I really want to see-in the park is the Eland. I searched hard and I knew that this was the area where they where but I could not spot them, I searched really hard.
The power lines going to Mozambique


I saw allot of Chameleons on my trip. They seem to be slow but believe me if they want to run they can and they do it really fast.


Another bird I was hoping to see here up North was the Crested Guinea fowl but I was not lucky enough. I did see their cousins


I thought that it was dry at Shingwedzi but look how it looks here.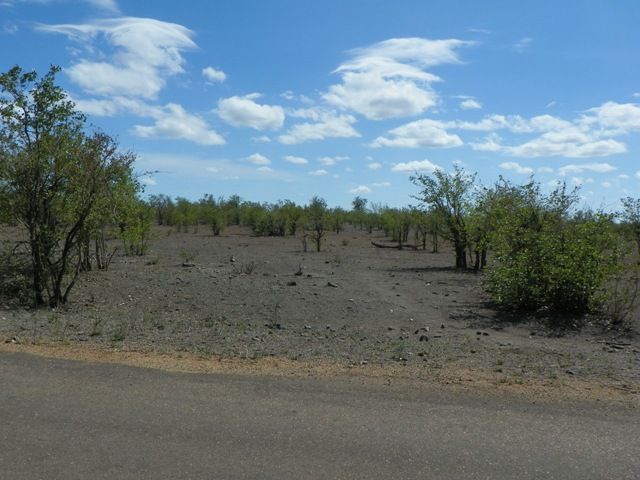 High North at Boabab hill, can you imagine what this tree has seen if to bee more that 2000 years old?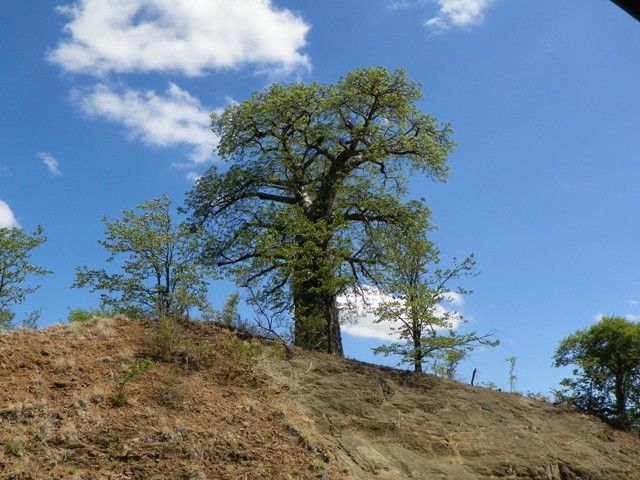 The flood plains on the Luvuvu river banks, bone dry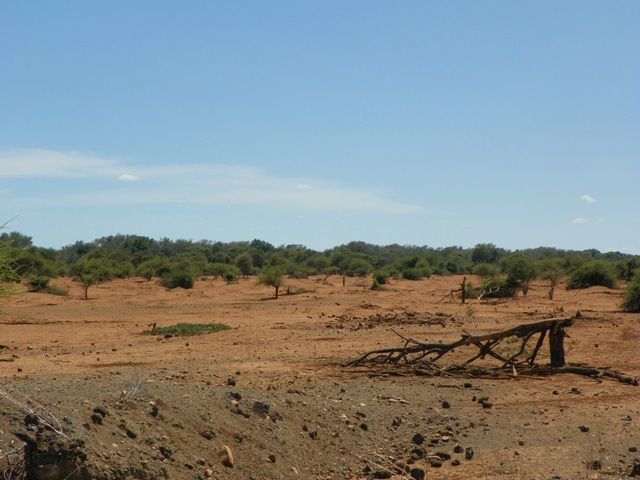 This was the Luvuvu river bridge


I made my way to Pafuri picnic site on the S63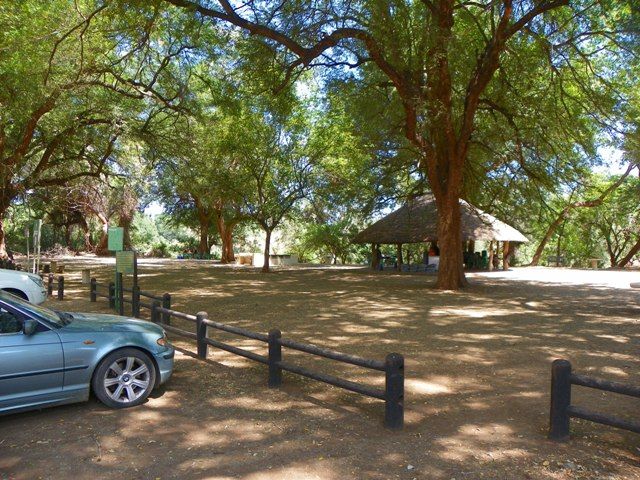 This is Nyala valley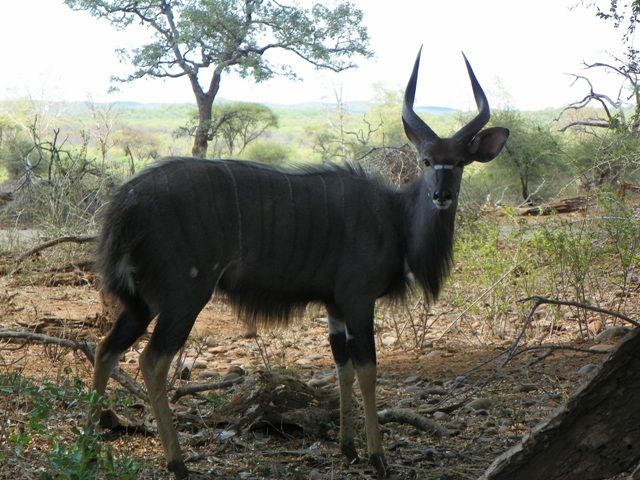 Lots of young Impala. Look at the ticks on this one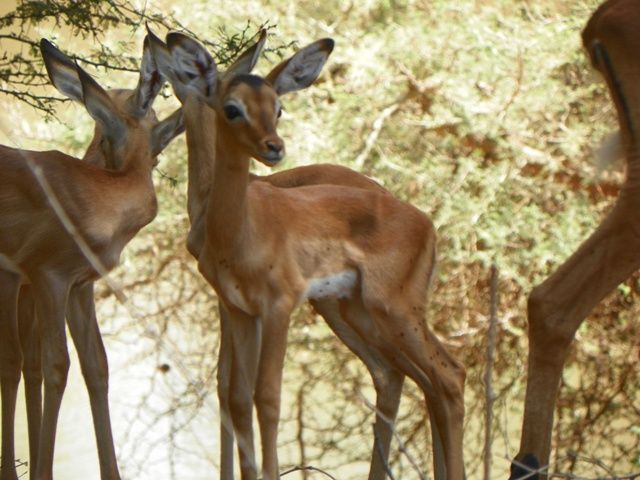 I made is to Crooks Corner


The Limpopo river was flowing good. When I was here in July it was dried up. This was where I would make my turn around and go back South but not without a panorama photo.



Steenbok hiding from the harsh sun


I turned right on the S61 to see this contrast of dry land with a pink flower in the middle of it all


Klopperfontein dam was also dry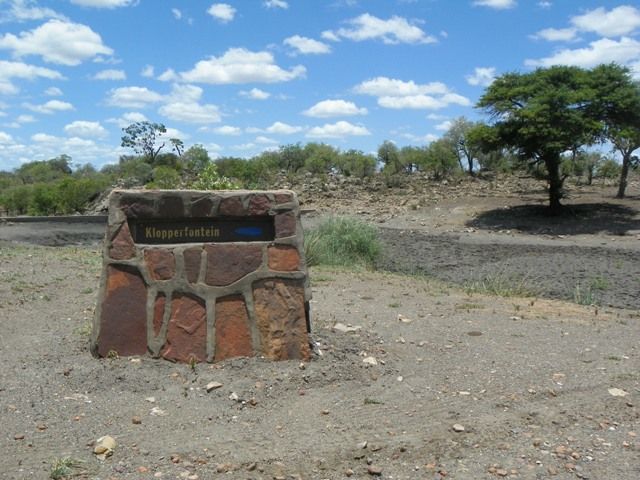 This is how it looked on the Nortern part of the S61


Not a great photo I know. I did see a few Sharpes Greysbok but not one in the middle of the day


I drove on the S60 towards Punda. Did not see any animals on this road,but what do you think with all the traffic going to the Pafuri border post. Something else I realised is the amount of Toyota vehicles going to Mozambique. I just wonder how much of those where stolen vehicles…..
A first time for me through these gates.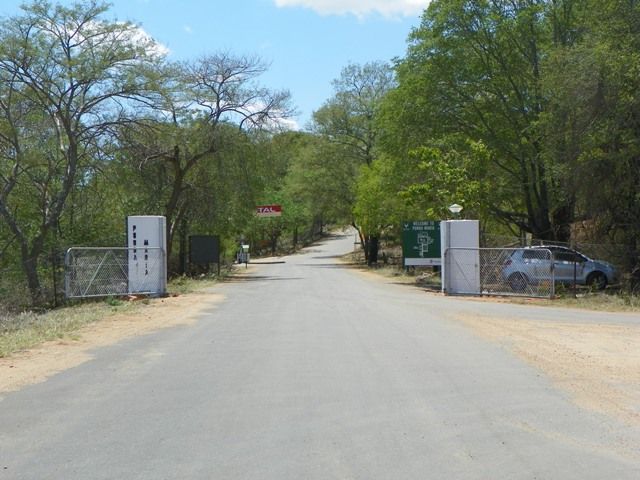 What an interesting camp,very old on the outside but the huts is very modern on the inside. A relative small camp. And the huts look like the traditional old huts. (Striped Donkey) Punda Maria would be my home for the night.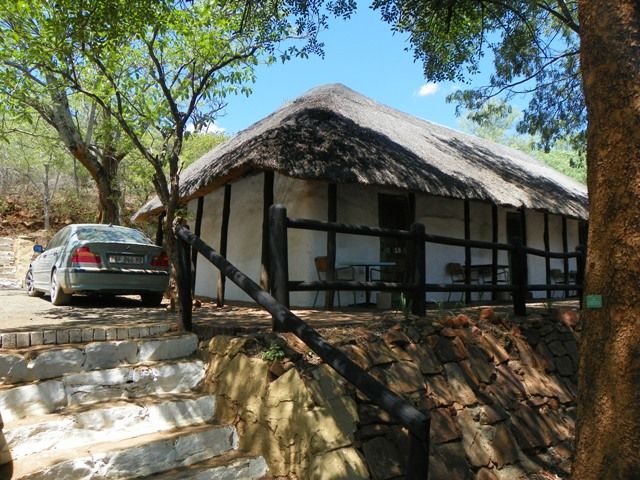 With all the drought around this looked like an oasis. I did have a cool down in the pool


I had a night drive that evening. There are alot of animals around Punda. Baffalo,Girafe,Sebra,Impala,Lots and lots of Springhare but what I did not expect to see here was Lion


Not a great picture I know. It was two young female Lion trying to hunt. The guide told us that the pride there is small and there are two males that they named killing machine because they are not scared of anything. That was my day….

23 December
I laid in this morning and took a drive on the Mahoni loop. There were some general game to be seen and this tree in the road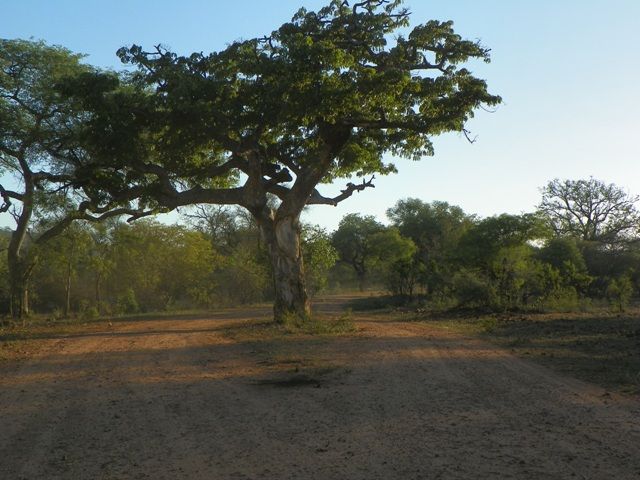 I got back to camp, packed up and left on the H13-1 South to Shingwedzi. I searched for the Eland again but they eluded me. This secretary bird was walking around and I caught it with a snake it had caught


South on the H1-7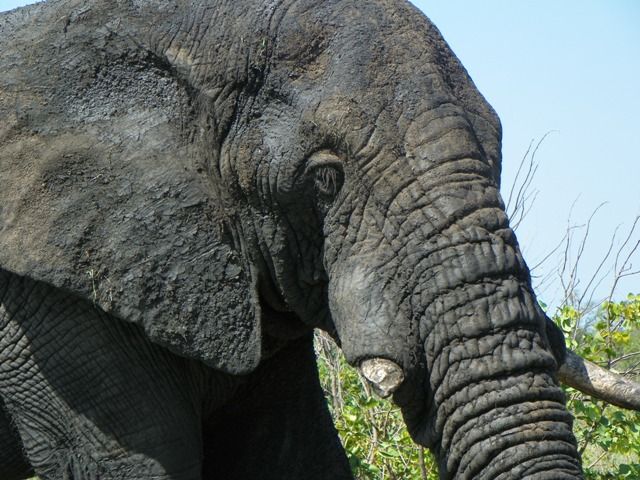 At the Babalala picnic site one can see how the habitat changed and how lush the grass is growing. I searched for the Eland and even did a round trip on the S57 and S56 but nothing. Some ostritches.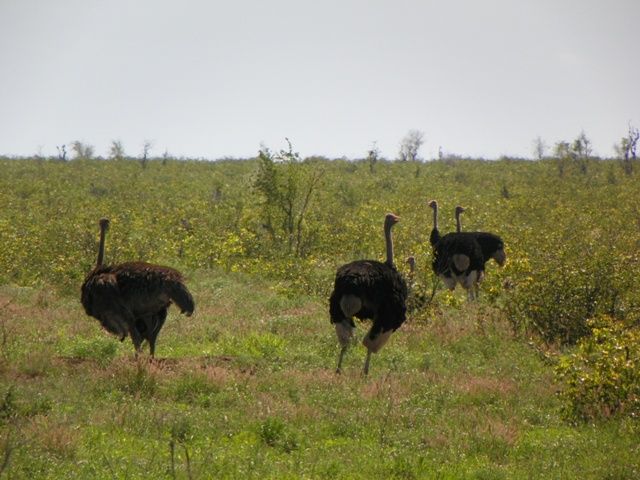 Back at Shingwedzi it was time to sort out some washing.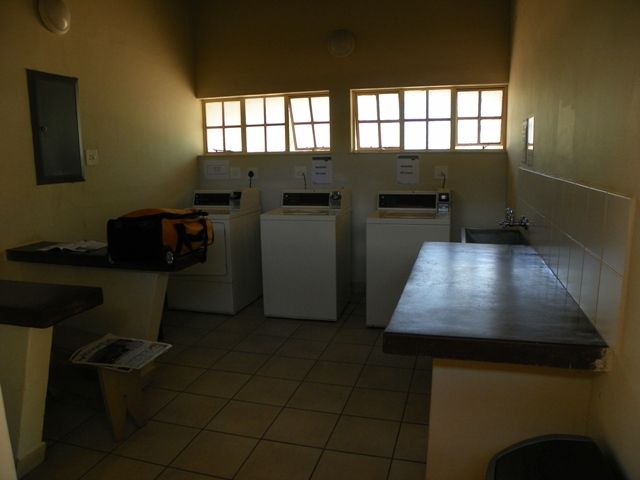 After a lazy afternoon and a cool down in the pool, I sat on the stoep and read my book and just enjoy being there.


I had a night drive this evening. It was very quiet. We did see side striped Jackal wich I am grateful for, another animal marked on my list.

24 December
I would like to start this day in saying that though I did lots of research and that some animals tend to be in certain places in the Kruger it is not a given. There where surprises for me and I still cant believe it. And I am not talking about the boards in the camps where you put a colored magnet on the map where you saw a lion for example. I don't trust that boards because I have seen children moving that magnets around for fun. I am talking about the books at reception where the park ask people to write down if they have seen rare antelope or so. And the books where the guides write down what they saw on the previous drives.
One surprise for me was that people wrote that they saw Roan near the Kanniedood dam, the research that I have done did not state that Roan was seen that North. A Mail Collard Cheetah was seen on a night drive at Shingwedzi, again that high North. Well bottom line the Kruger does surprise you.
My mission today was to see Eland and Roan and from what I read Tihongonyeni was the place to go.
I departed Shinwedzi at 4:30 as soon as the gates opened. It was still dark. I wanted to make ground to be at Tihongonyeni as early as possible. Then I saw something on the side of the road. It was a leopard. I stopped and reversed and it was gone. Was it a leopard or my imagination?
Went South on the H1-6 and turned left on the S144 wich is just before the Tropic of Capricorn line. I was zoned in to find eland and Roan today. I drove slowly and searched. Saw some Buffalo on the S143 as I neared Tihongonyeni.
Gompou


Tihongonyeni is certainly a paradise with lots of animals coming to drink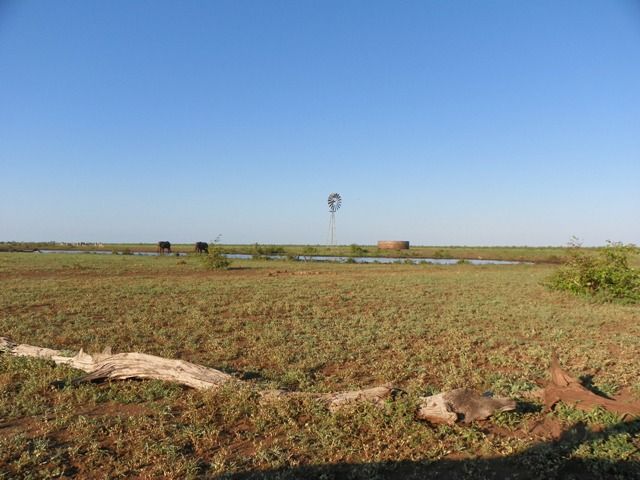 There were lots of Elephants, Zebra, Blou wildebeest and one of the more rare Tsessebe


There were also a lot of White Stork walking around, another bird I could mark off the list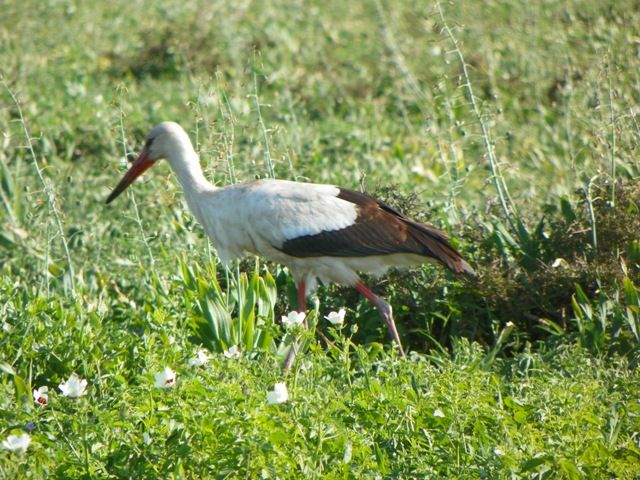 I drove on past the dam and as I drove and stopped looking through my binoculars in search of the Roan guess what appeared stalking the sebra..


Further on I met this guy witch I am most certain is one of the bigger tuskers walking the Kruger


What a beautiful animal.


I turned around back to the waterhole again where the little wildebeest was running around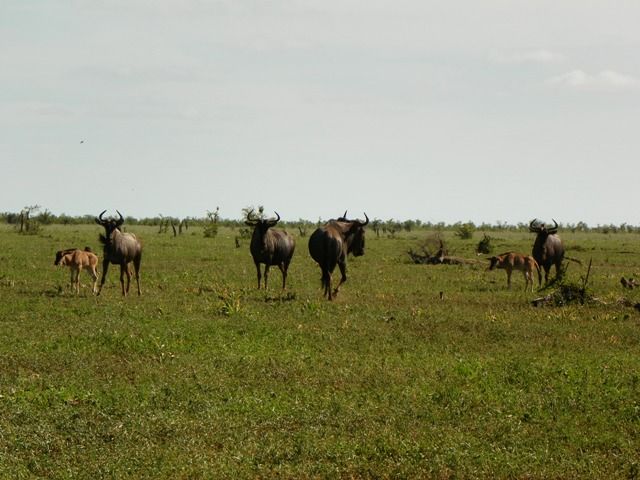 All the stork that was walking around decided to take flight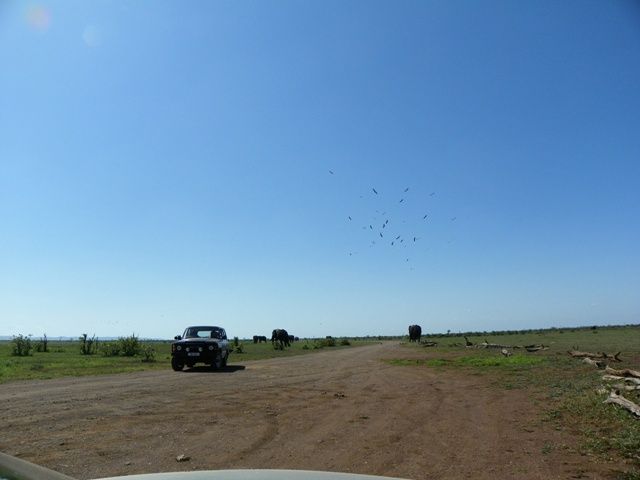 Interesting how the elephants all know to step on the little step to get over the dam wall to have a drink


Detecting aan hunter maybe?


I spent about 3 hours there around Tihongonyeni looking through binoculars and searching for Eland and Roan but my luck was out. It was getting hot and I decided to move on.
I went South on the S50 to the Mooiplaas waterhole where I saw three Tsessebe lying in the burning sun. I can not understand why he would lay in the open in the very hot sun.


A quick stop at Mooiplaas picnic site


The road down to Letaba was uneventful wich can be understood for it was really hot toady.
I arrived at Letaba


I would sleep in a Safari tent tonight, and believe me these tents can get very unpleasantly hot during the day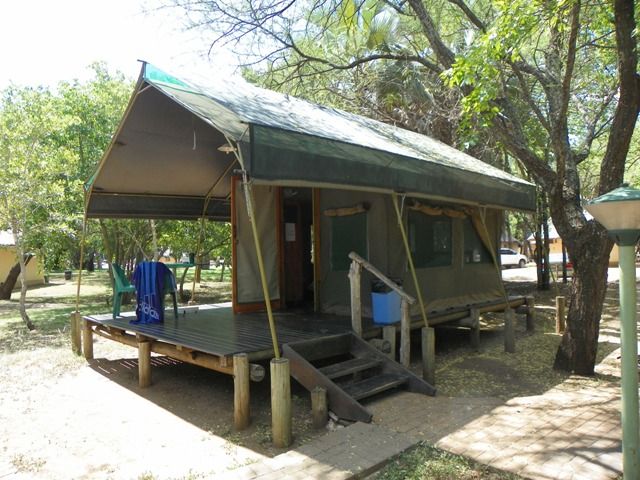 It was Christmas eve and I spent it with braaivleis and the tame bushbuck and the bush babies that played in the trees above the tent




25 December
It was Christmas morning and what a place to spend it, Letaba. I read about the Christmas service that is held at Letaba on Christmas morning so I wanted to attent. We met at the reception parking and I also met some Forum friends there. Vlakvarkvrou en Mads wich were in the Shingwedzi night drive with me.
We were driven with the game drive truck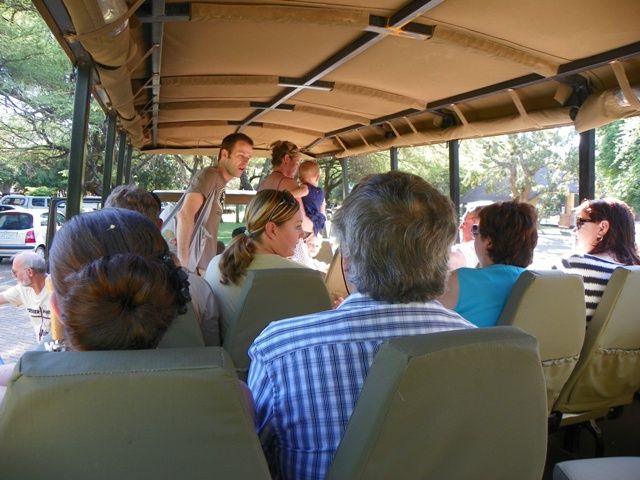 To a location outside camp beside the Letaba river for the Christmas service.


It was getting hot early on so we moved the chairs under the trees. There were Hippos nearby in a pool and a curious Buffalo that wanted to see what was going on.
After the service the forumite friends gave me an invite to have breakfast with them at Letaba restaurant.
I left Letaba at about 11:00. It was already very hot and there was not much to be seen on the road to SkukuzaSome Buffalo cooling down


I was getting tired so I stopped under a tree next to teh Olifants river to rest a little. With the windows open listening to the river. There were monkeys that was interested in what I was doing, I watched them as they came closer and climbing on the car,playing on the roof. They got bored and moved on so did I.
The park was full today many cars was driving the H1-3 road.
I stopped at Tshokwane to stretch my legs. Then I got my Christmas gift, just pas the H10 turnoff. There was a car parked and the guy had n huge lens camera so I knew he was looking at something. I stopped and searched with mu Binoculars and I could see spotts under a tree. A leopard I thought. This sigting was causing a traffic jam and many people asked what we were looking at, I told them a leopard,they tried to see it but it was hiding under a tree and just sticking out. So many cars came and went. I decided that I am going to sit and endure the heat because I wanted to see the leopard and get a good picture. About an hour passed and I was sweating in the car,reading a book glancing at the cat sleeping,trying to show people where it was. Then he lifted his head...


Thats not a leopard my bra thats a cheetah!!!
So I endured the heat some more because I definitly wanted to see a Cheetah. I have never seen a Cheetah in the wild never the less in the Kruger.
Well another hour passed and it was just me and the guy with the huge lens, and the Cheetah decided to get up.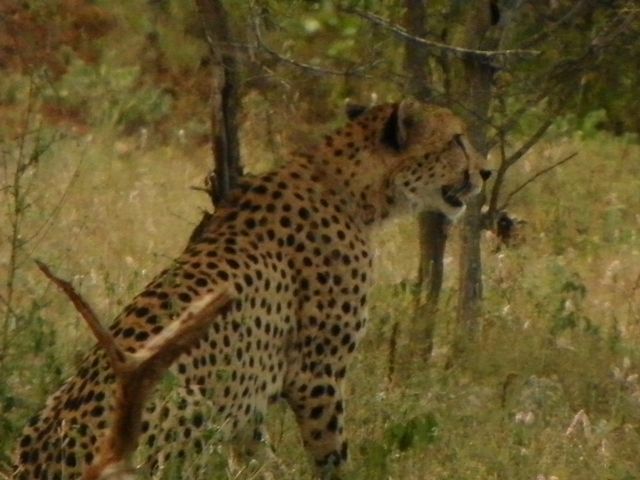 He stood up an cassualy walked away into the thicket,did not get the greatest photos but it was worth the 2 hour wait.
A great Rhino sighting


Look at the ticks trying to penetrate that armour, a feast for these guys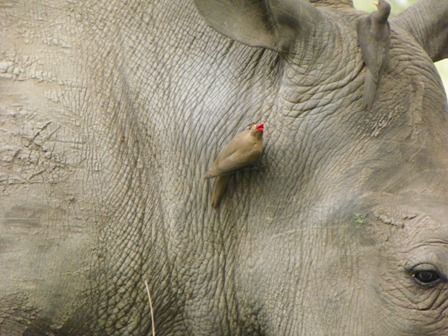 The little one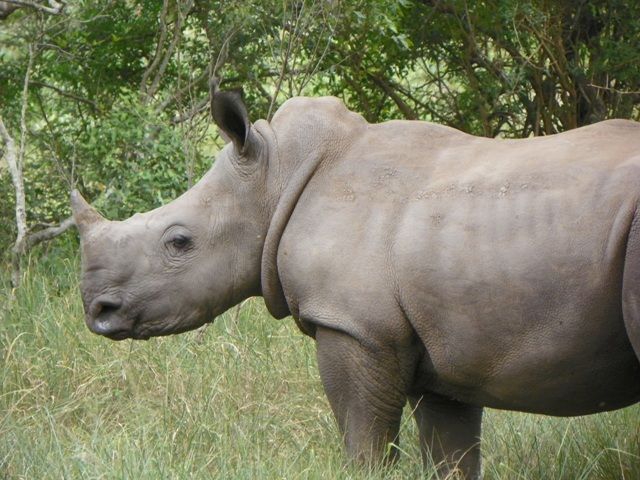 Such a harmless animal,why would one want to hurt them???????


Skukuza would be my stop for the night a warm Safaritent


I met up with a friend of mine and had a drink on the deck at the restaurant,it was nice to see the moon reflecting on the Sabie river that flows past the camp. A great Christmas day for me in the Kruger.
26 December
I was going to Lower Sabie via Orpen dam and H10 so I packed up early, dropped the key in the box at the gate and I was out of Skukuza.
Crossed the Sabie river and a King Fisher greeted me


Huge snails crossing the road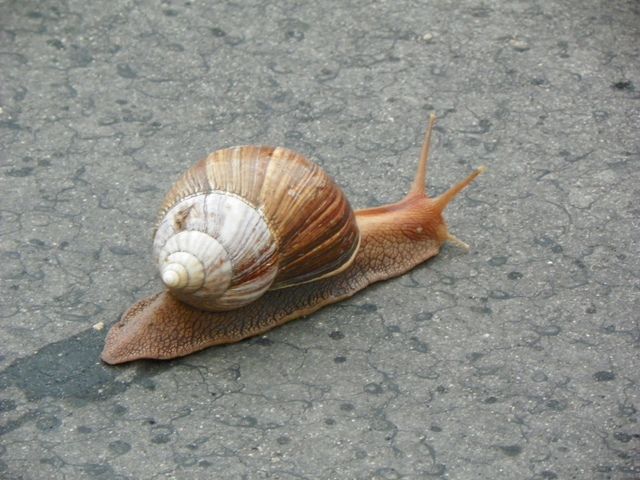 Turned of at the H10 and S32 to Orpen dam, lookout


There was lots of Leasinth in the dam and I only saw one Waterbuck and few hippos in the water.
Back on the H10 South , Ants was crossing the road


As you drive up the hill you get to see breath taking views of this part of Kruger. I made a stop at Nkumbe lookout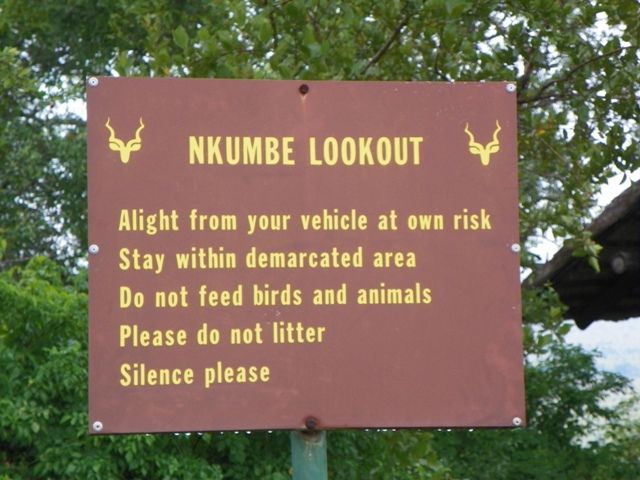 And what a view


Now what my research revealed was that this is Reedbuck country so I focused on looking for them (another animal that was on my wish list, there are low numbers of them in the park)
And my luck was in, Just down the hill on the H10 I got to see a pair walking together, this is the ram.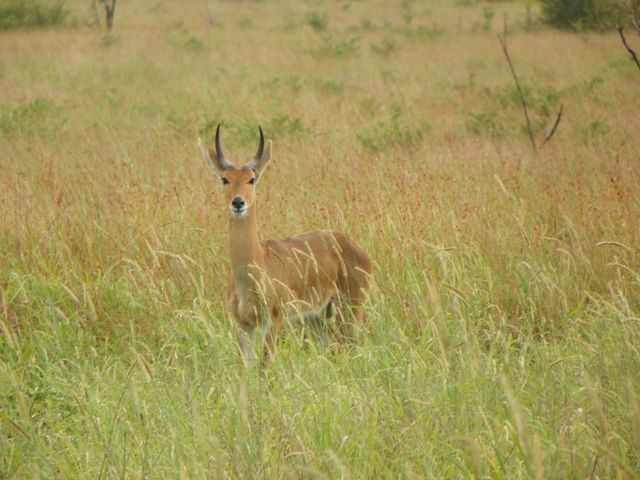 Great sighting!
I got onto the S122 Muntshe Ompad in search of Cheetah. I saw there footprints
near Mlondozi but no luck in seeing Cheetah. On the way to the picnic site I did see some other animals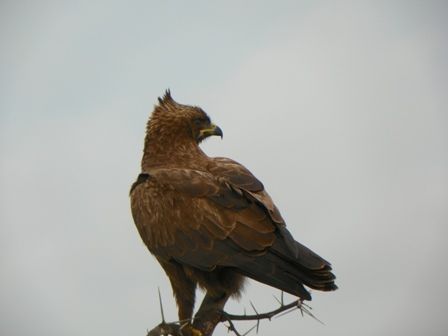 It was a public holiday today and Mlondozi was packed. The dam on the other hand had little water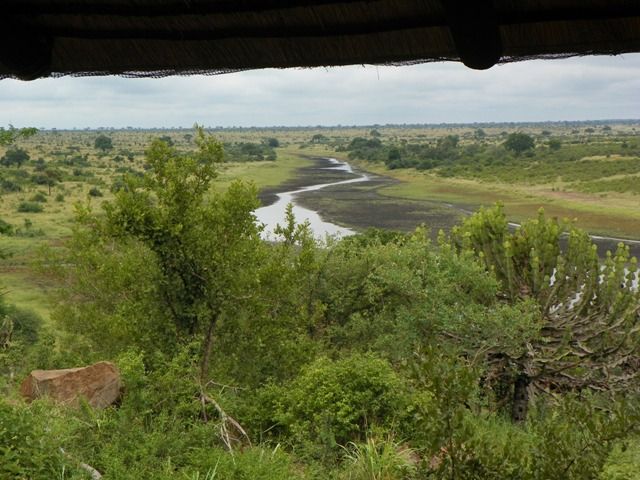 Trickeling down to Lower Sabie I saw these guys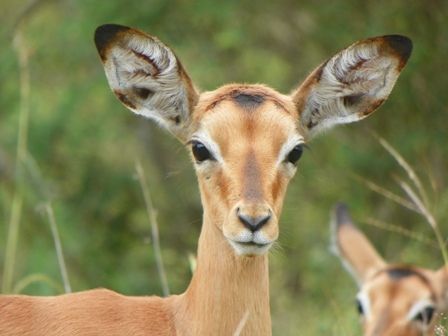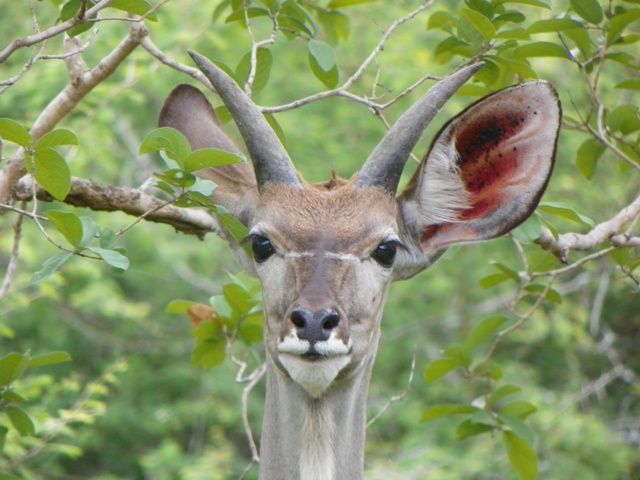 This is the old entrance to Lower Sabie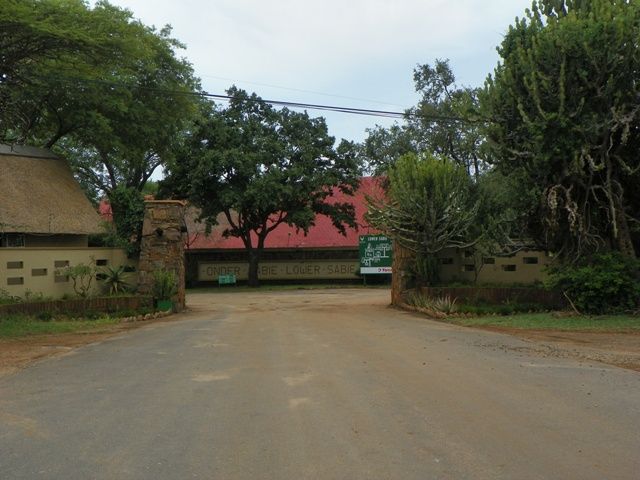 I stayed in hut no 35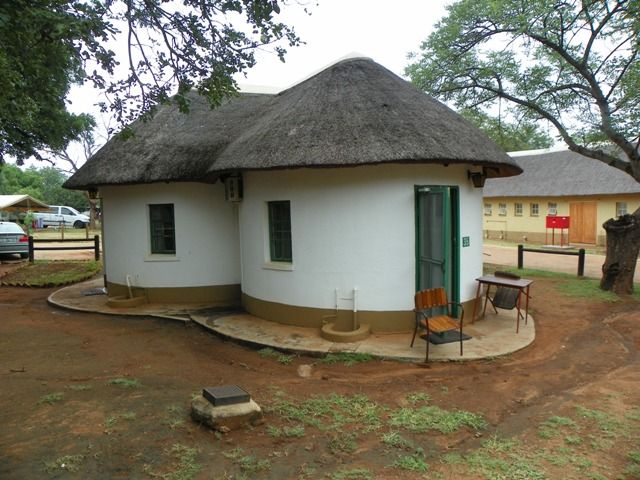 I took a little strole through the camp and with Shingwedzi camp in my head I took this picture. One cant believe how lush the grass grows here and how dry it van be up North


I did also see a Pigeon Dove in one of the trees, beautiful bird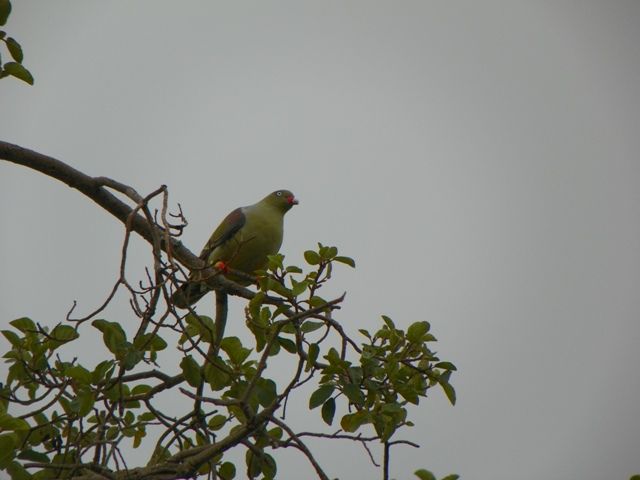 I had a afternoon drive in wich we did not see much wich was bit of a disappointment for me because we were in the animal mecca.
We did however see a Black Stork


Just before we entered camp again we stopped at Sunset dam, and while the truck was switched off we could hear Lion, so the guide drove up the H4-1 and surely two young males laying in the road. As soon as we arrived they stood up and walked into the bush, but I could snap one just before they disappeared


It was great to be back South again but the lush vegetation was making it more difficult to spot animals.

27 December
Today I was heading West to Pretorius kop again. I read in the history pages about the Selati railway that was going through the park. I was at the Selati restaurant in Skukuza on my previous visit so I wanted to follow this railway on the H5 today.
Out of camp I went South and took the S28 in search of Cheetah again. I Made a stop at Ntandanyathi bird hide and this was the view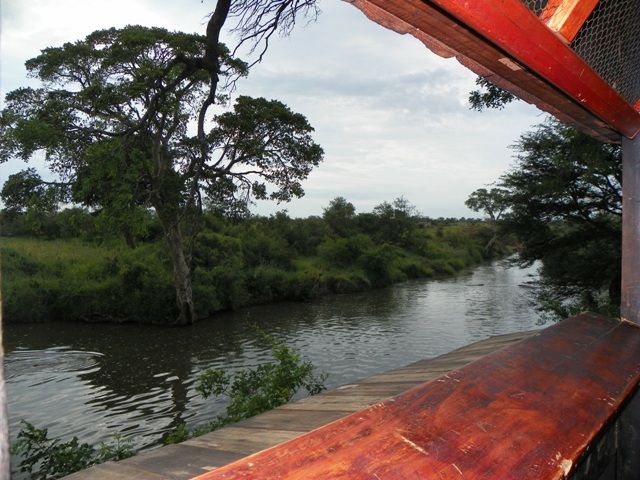 There was Hippos in the water blowing out their noses as they came up from under the water. A view from the outside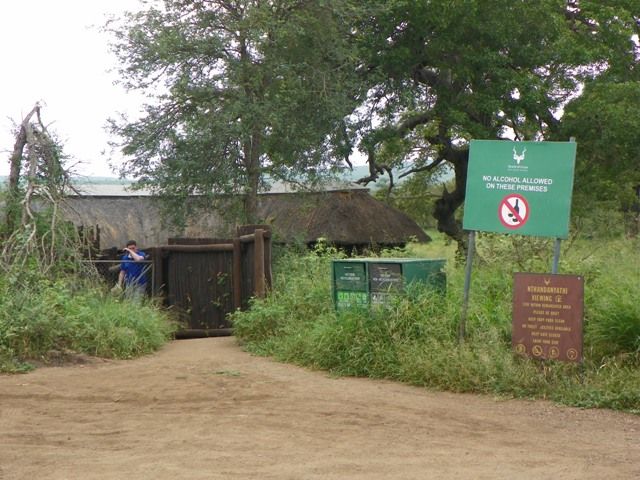 Further on the S22 aan Elephant crossing the road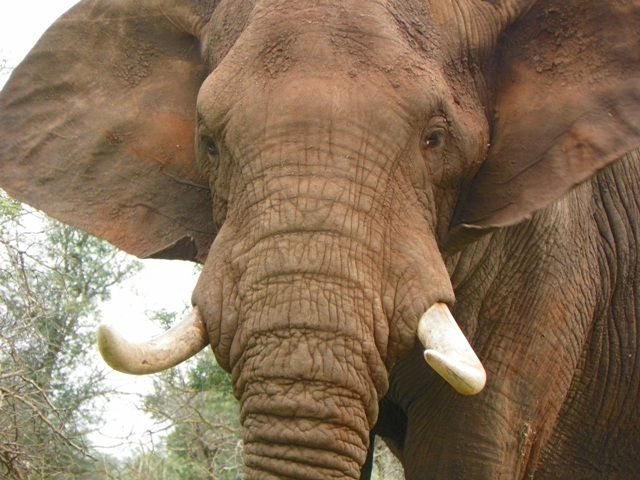 A Monitor Lizard high up a tree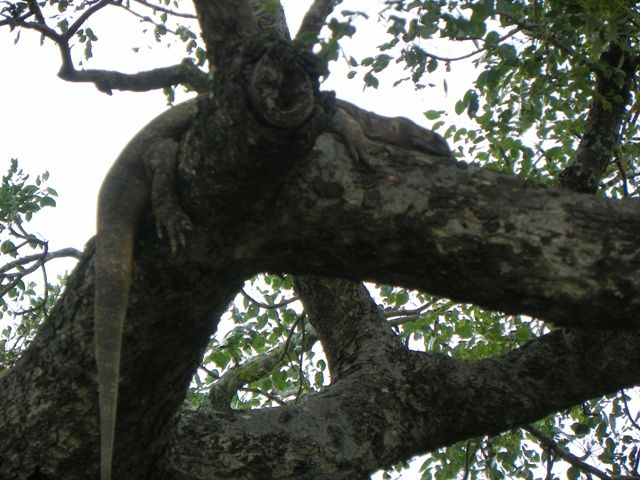 Mr. Giraffe


Hey pick on someone your own size!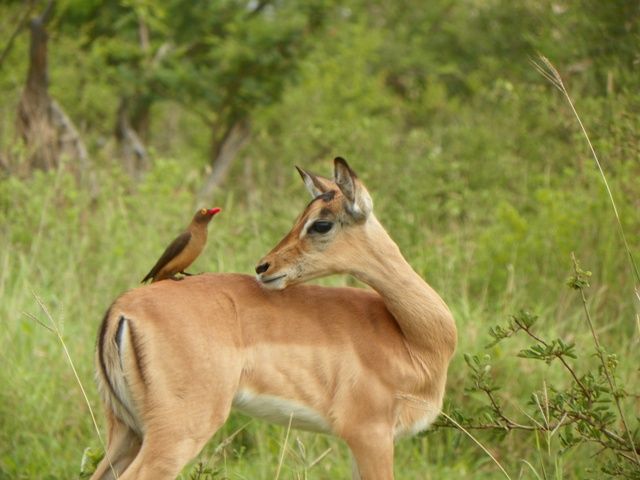 Down South were the S22 meets up with the H4-2 near the Hippo pools there were some Wildebeest with young ones. This one must have been a couple of hours old. He was still wet and struggling to walk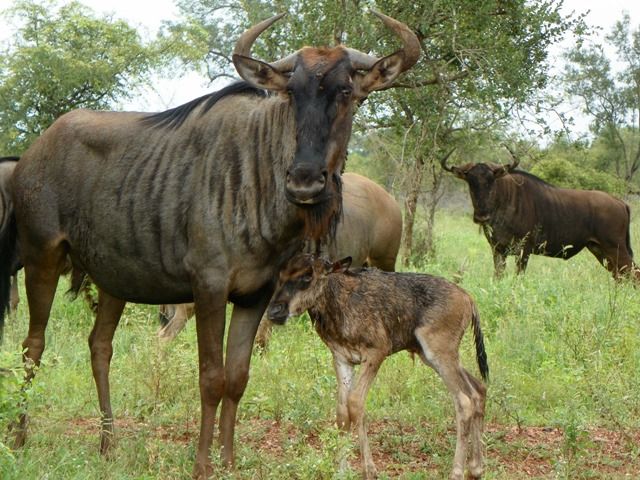 I took the H5 and you could see on the left hand side on the road where the track use to be. The elevated ground is over grown but you van make it out.


Along the H5 I saw this Dagga Boy. He has been around the block more than once thats for sure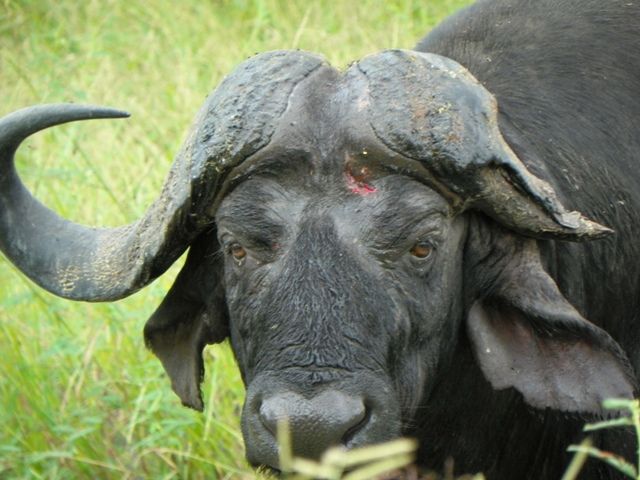 Little Monkey


I followed the H5 till the Renoster koppies dam. There was a traffic Jam. This was the reason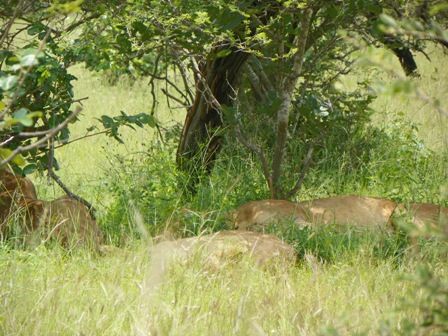 They were sleeping under the trees so you could again not see them good.
I took the S112 and the H1-1 to Pretorius kop. I checked in again at reception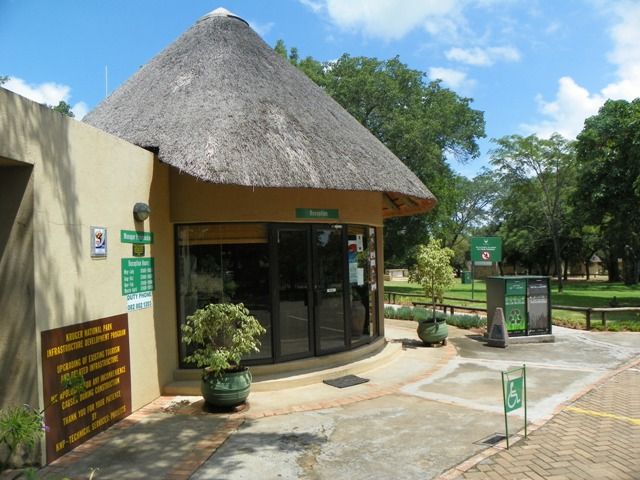 I just relaxed in side the camp. It was of to bed early because I booked a morning drive and it departs 3:30 the following morning.

28 December
Well I was up at 3:00 and I made my way to the meeting point where we would depart for our morning drive. It was a bit misty and even my camera was fogged up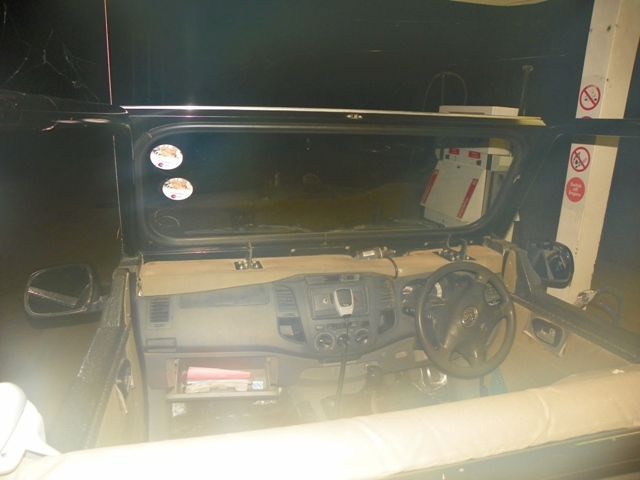 The drive went up the S7 and S3. We did not see much due to the lush vegetation. We turned right on the S1 towards Skukuza were I spotted a Reedbuck wich was a surprise to me because I saw the other on the H10. Like I Said the Kruger surprises when you least expect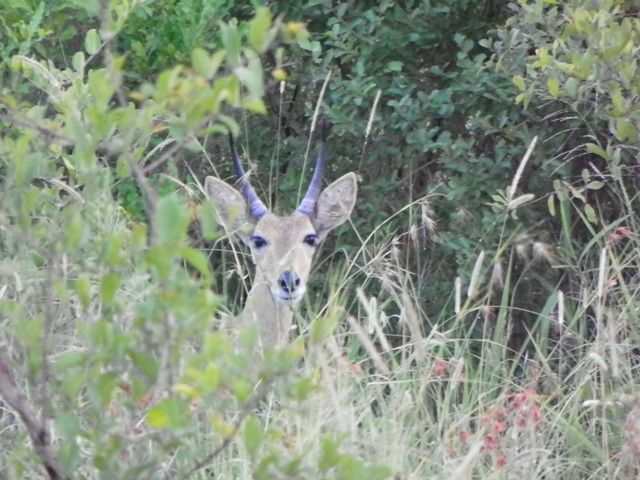 We turned around and went back the same way and would you know who was running up the road on a mission…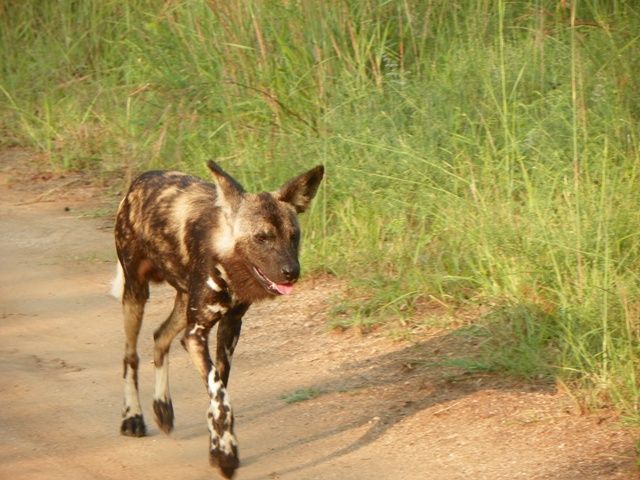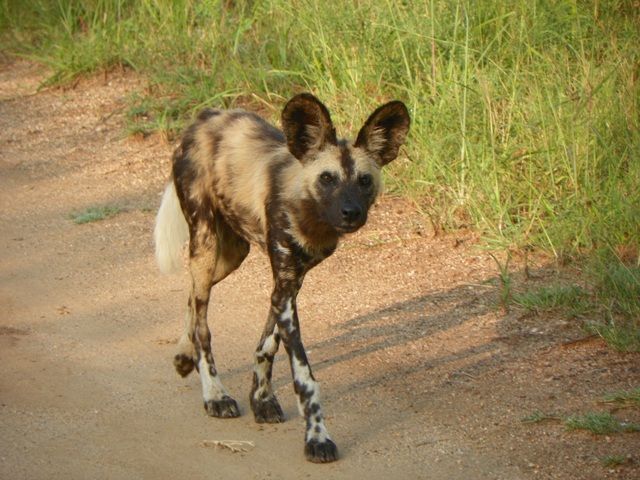 There was only four of this mystical dogs and they where in a haste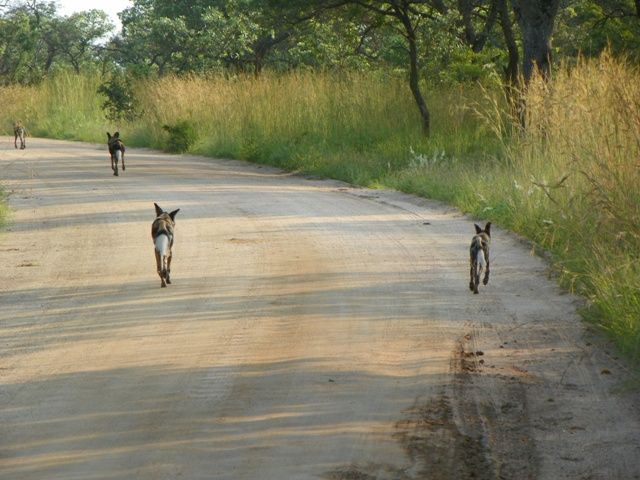 Back at camp I made breakfast. After that I was of to Nelspruit to go and fetch my car. I took an exit at Numbi Gate.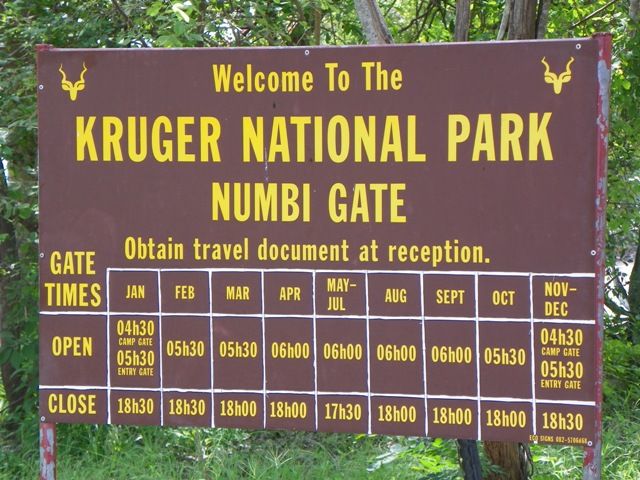 I drove to Nelspruit and visited the Krieks and shared my adventure with them. My car was fixed and I was off again. I was going to enter through Malelane gate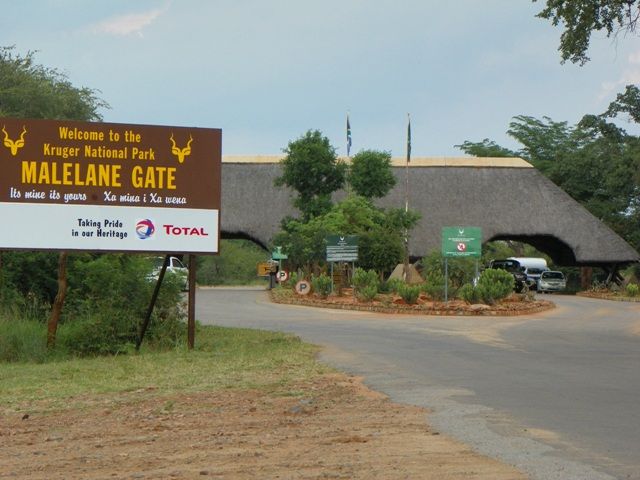 These guys was waiting for me somewhere in the park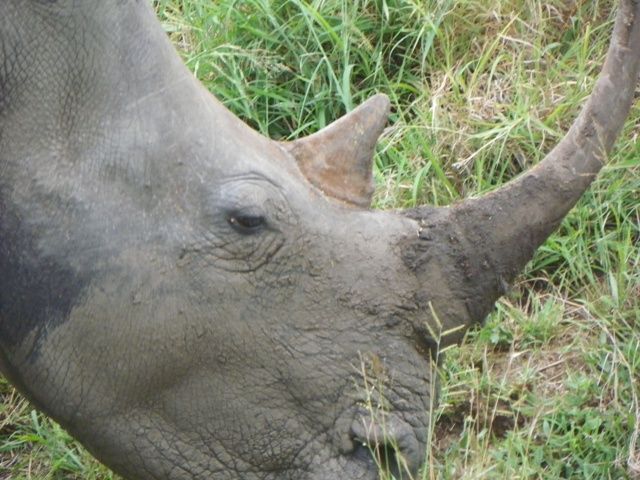 Who said the only graze the flats?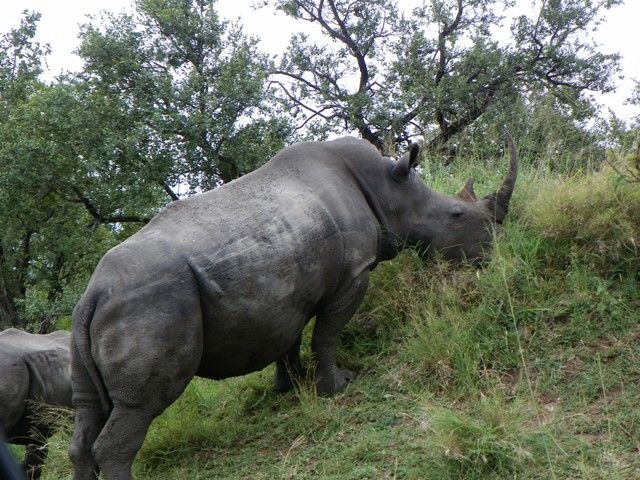 On my whole trip the Lion sightings was skimpy, I only just had glimpses or they were lying under the trees but this sighting made up for that. It was a breeding pair beside the road


This was my first big Maanhaarleeu of the Kruger


As I made my way back to Pretorius kop the Fowl family crossed the road


What a day. I was glad to have my car back and what great sightings, Wilddog, Lion, Rhino. Great day!

29 December
My holiday was drawing to a close but not before I have a visit at Satara. I left Pretorius kop early this morning just as the gates opened. As I drove up the H1-1 the sun came up on a clouded morning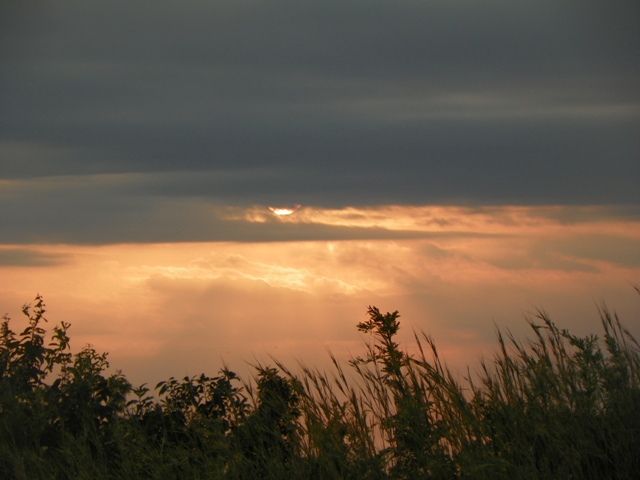 I went up the hill at Mthekenyane lookout


Couldnt resist taking a picture of the one that almost canceled my Kruger visit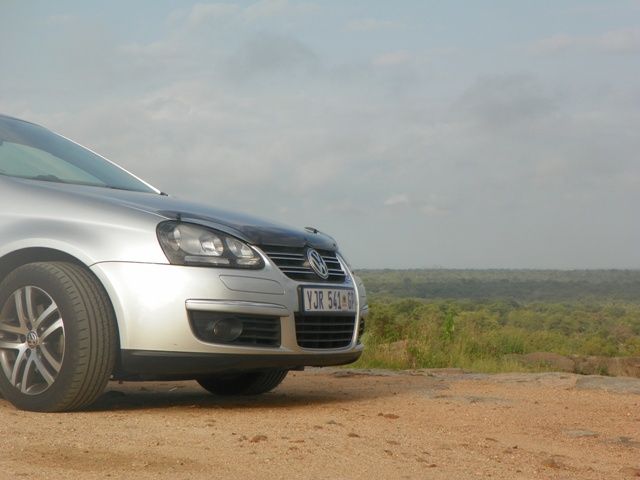 Warthog near Skukuza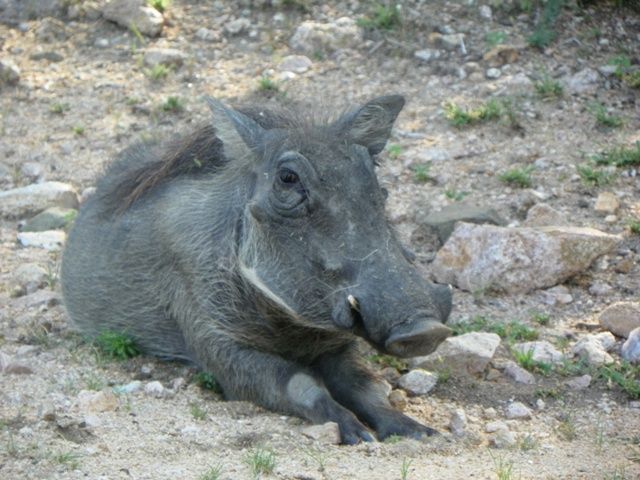 Look at Huckleberry Fin here chewing on one grass halm


Ground Hornbills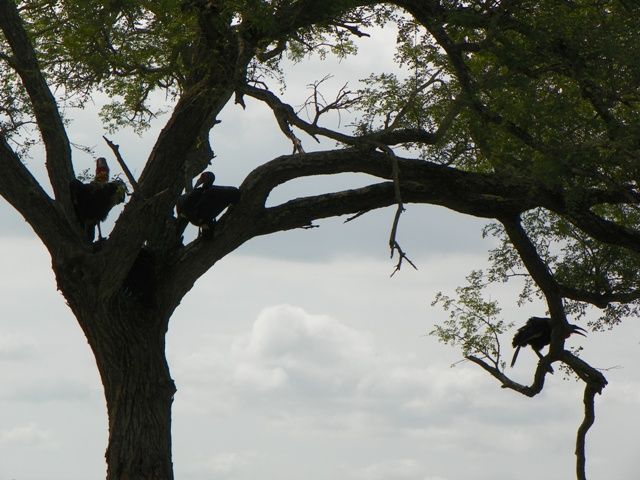 I made a stop at Tshokwane again to look at what they were cooking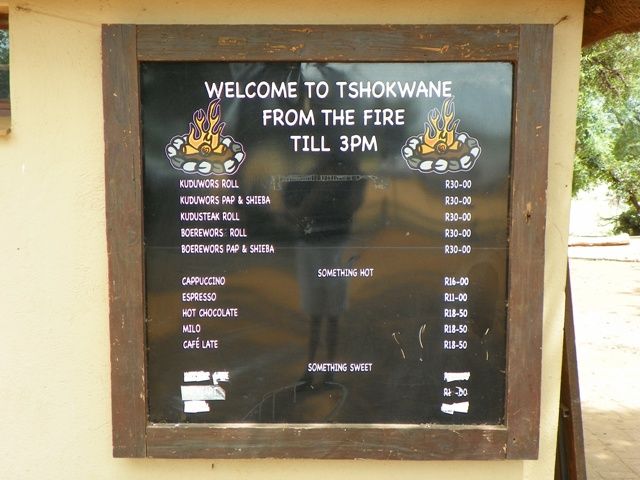 Nothing much happened on the H1-3. I entered the gate at Satara. I must say this is the most uninspired gate in the whole park. Come on Satara!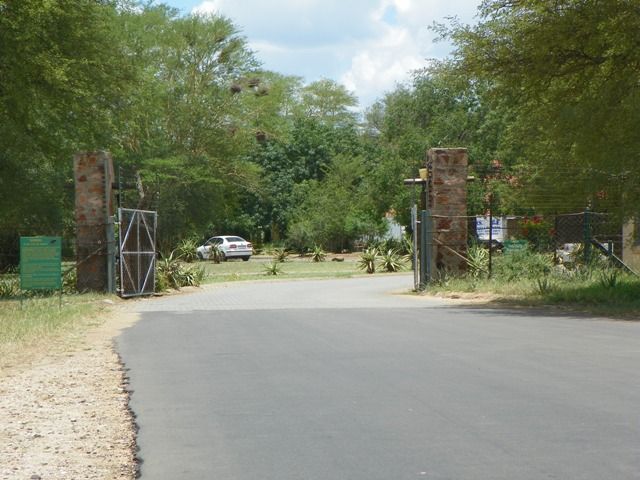 It was to early to check in so I went to cool down in the swimming pool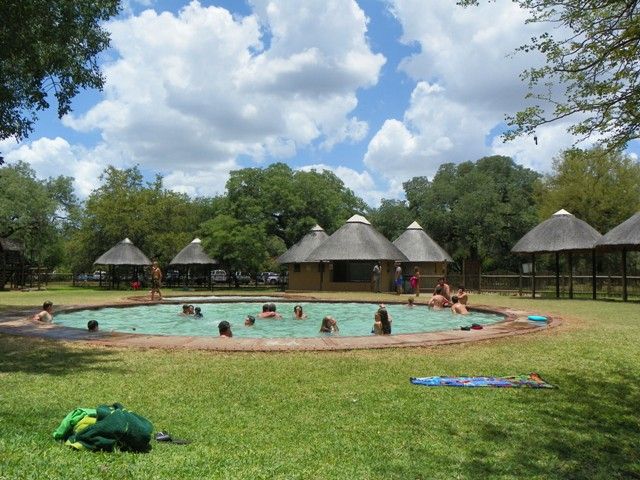 I had a lovely Bungalow for my visit


I have never walked through Satara before so I did just that. I saw a Monitor Lizard walking on the grass in the middle of Bungalow circle B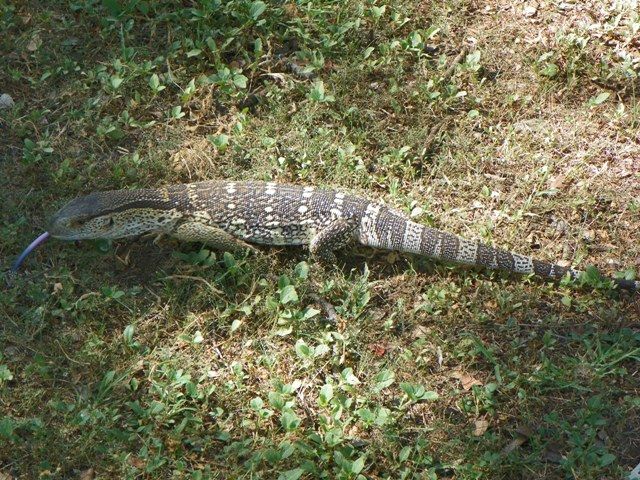 That afternoon I went for a drive in search of the Lions of Satara. East on the H6. Saw general game and this Steenbok


I turned right on the S37 to visit Sweni bird hide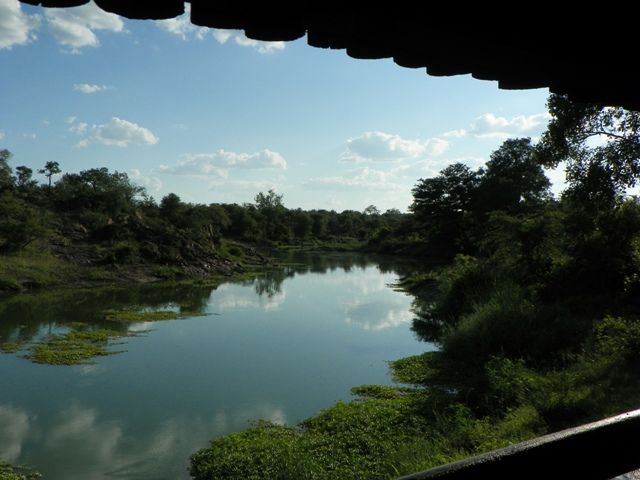 This was one of the hottest afternoons I had on this trip. Look at the time of day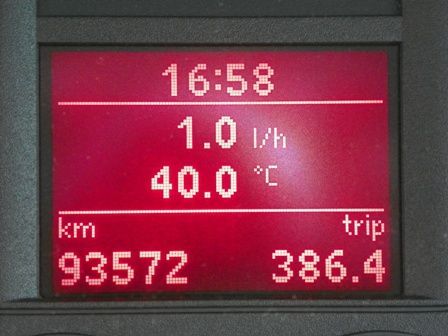 Then Nwanetsi lookout.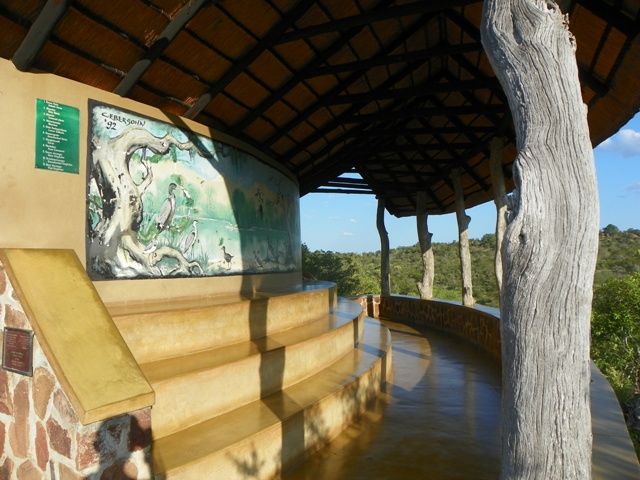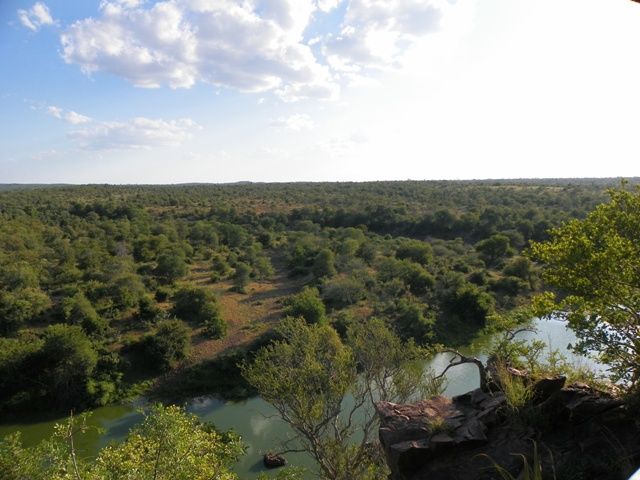 This was one of the hottest afternoons I had on this trip. Look at the time of day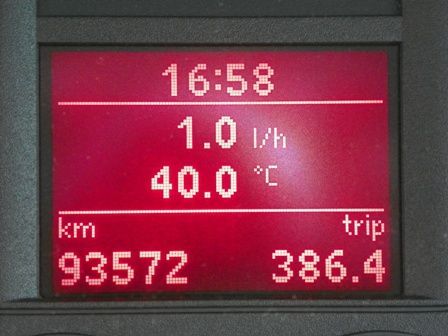 I drove back on the S100 but did not see any Lion.
Back at camp I made dinner and sat on the stoep enjoying the sunset. I had a night drive that evening, surely I would see some Lion? And so it was two old males walking down the H7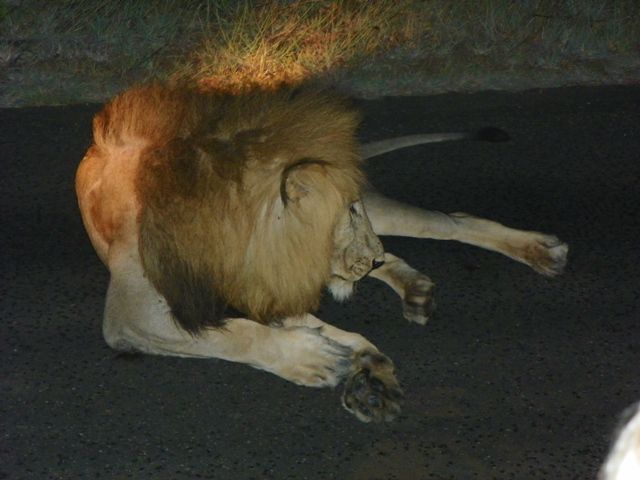 Tommorow would be my last full day in the park and the camp I would spend my last night Tamboti.

30 December
For my last day I thought I would leave early again and go search for Lion after all it is Lion country. I went out on the H7. Not far from Satara cars was stopping for those two males we saw yesterday on the night drive. I drove past and just down the road a female crossed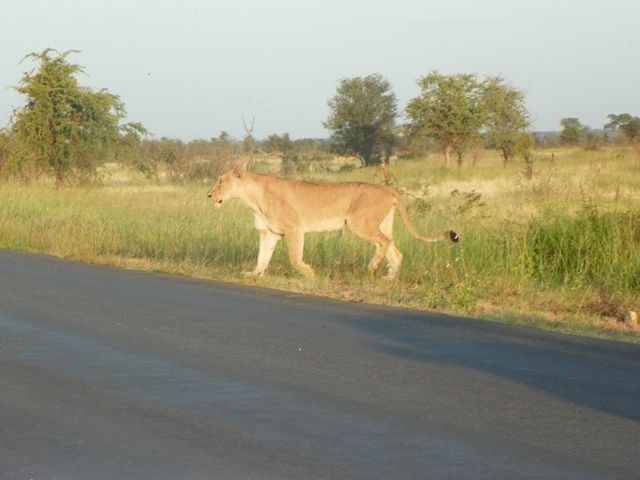 and het teenage cubs was not far behind


I turned right on the S40 stopped at the Girivana dam with no luck. Giraffe was there on the way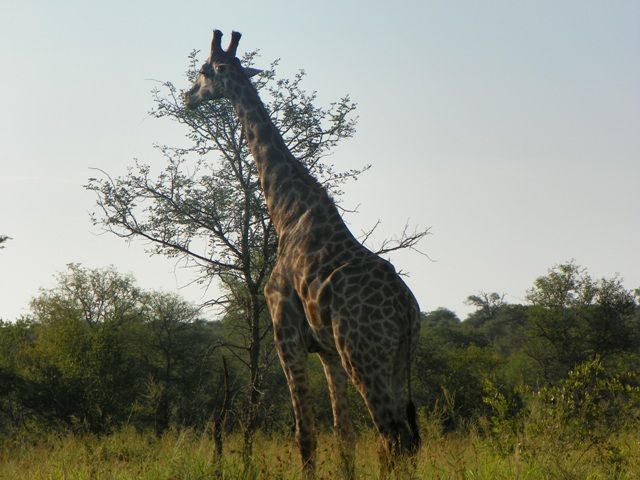 I went down the S36 to get to the Sweni road S126 aan man this must be the worst corroded road in the whole park. It is very bad.
Something else I learned on my trip is that one tends to fiddle so much with you camera that you almost miss a sighting completely. Nature is so beautiful and we want to view it through a little hole on a camera. Thats exactly what happend to me. I came bouncing down the corroded road and spotted a Leopard right on the side of the road. I slowed down switched off the engine and coasted closer. He moved into the bush a bit. The I started fiddling turning the camera on, then the blerrie auto focus could see the leopard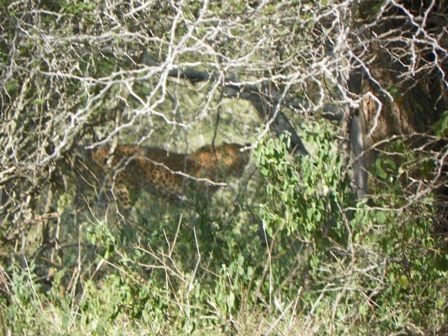 The leopard gave a big roar and stormed the car for a few feet, it gave me such a fright I was shaking and with that shaking I could get the camera to work.
I got one meager picture of this sighting wich would have been great if I just left the camera and actually looked at this beautiful animal, let this be a lesson


At the Welverdiend waterhole I saw a Hippo with horns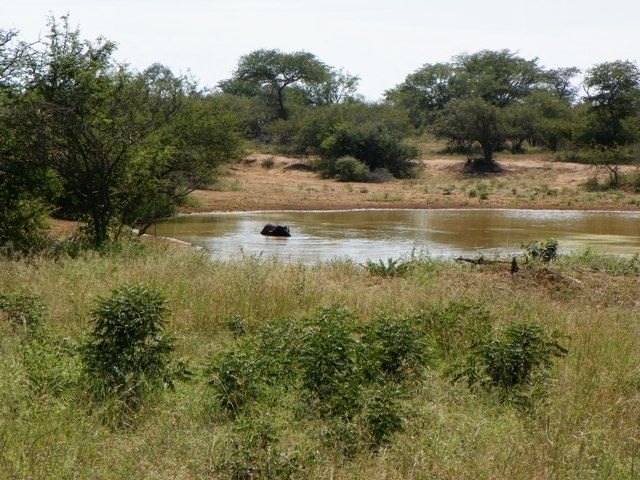 At a closer look I was corrected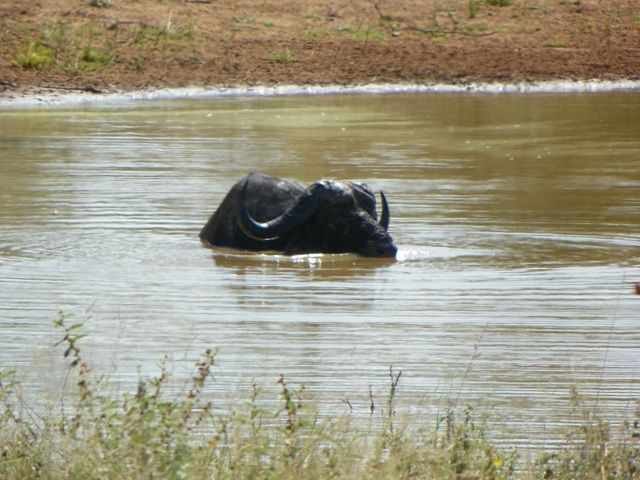 South on the H1-3 and West again on the S125 and it had nothing to show me. I went North on the S36 and turned left on the S145 where the road crosses the Nwaswitontso river


I slowly drove the road and it turned into the S140. There were no animals. It was getting hot so I suppose thats the reason why. I turned off at the H7 to go and check in at Orpen gate. Drove to Tamboti for my last night.
The tent I stayed in


The view from the tent over the Timbavati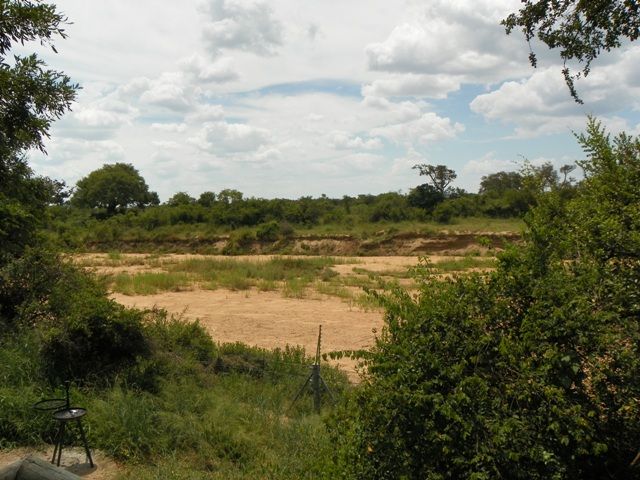 It was very hot that afternoon as well. As the sun went down in the African Bushveld I sat there and thought of aal the animals I saw on my trip and in my head started to plan my next trip.


Well it was a sad night for me, the trip I planned for so long was over. For someone that constantly think about the park aan follows the Forum it is like heaven to be there and you don't want to leave. I thought about my special sightings and the sunsets. The calmness of the veld. It was a great trip but it was over now.
I laid there that night listening to the sounds and I wished so hard that this could be my life, to do this everyday for the rest of my life.
31 December
I woke up early the next morning and packed up. I left Tamboti as soon as the gate was open. While I drove up the road I though of wich animal would be my last to see before I leave the park. The first was Blou wildebeest. Then just at the T junction where Tamboti and Maroela camp road meet. Right in front of me a Leopard. I could not believe my eyes. I looked at my camera and I thought not today today you are just going to look at this Leopard en take it all in. He sat there and looked at me. Started walking into the bush and just like that he was gone. I like to think that he came to say goodbye and to say "see you again soon, and that we like you nature lovers, who adhere to the rules and not litter.
I wasn't that sad anymore. I exited at Orpen gate. And I took on the long scenic road through Sabie and Lydenburg, Dullstroom and the N4 to Pretoria.
THE END

It took me a while to write this report and i struggled with some of the English words, as I am Afrikaans. But I would like to thank you for reading my report and I hope to be back in the Kruger Park to write a new one.

---
Hi Everyone.
Thanx for everybody that wrote a reply on my TR. It gives me pleasure to know that you enjoy the KAruger as much as I do. Thanx for the English speakers for the comforting words for the grammer. Ek is maar n plaas seun so weti of ek n goeie soutie sal maak nie
. I would love to write another TR as soon as I get to do another trip. Glad to hear that others also do the research like I have done.
Yes Kaapsedraai we could almost have done the trip together? Did you write a report on your trip?
Thanx to all for reading an loving nature.
RayK,Kaapsedraai,JeanniR,Mandinga,Sheenaugh-Lee,granny,barryels,madz,vlakvarkvrou,netek,kallis1786,Grantmissy,meandering mouse,billyf,dellac,pumbaa
---
Thanx to everyone that read my report and the positive comments. Look out for my Tsitsikama, Karoo and Mokala reports.
---
---