Virtual Ranger

Award: Video of the Year - Bushbuck Award (2016)
Posts: 297
Joined: Thu Jul 27, 2006 7:13 pm
Location: Pretoria
Dear all,
we are sorry to be so rude.. We did not reply on any posts, because of our hasty reports, trying to finish before we leave! Unfortunately we could not because of Internet Problems!!!! So please stay on this ride... While writing to you, VVV and I are sitting on our veranda watching Large spotted genets, grooming one another.. And Listening to the thick tailed bush baby and spotted Hyenas. We had wonderful sightings today!!

We will be back in a week... And we left the best for last!!

Enjoy Christmas with wonderful friends and family!!
"Even if I knew that tomorrow the world would go to pieces, I would still plant my apple tree." Martin Luther
---
Junior Virtual Ranger

Posts: 378
Joined: Fri Oct 16, 2009 10:56 am
Location: Pretoria
Dear Mites,
All of you who paged and sometimes commented on our TR, Thank you again. I will, after my last post, say thank you to everybody in writing
Mads and I wish all of you and your families a wonderful 2013 and I hope to be able to communicate with all of you through 2013 - either via a TR, or any thread on the Forum or even over a cup of coffee or a forum meet
Love
The stoep and some sightings: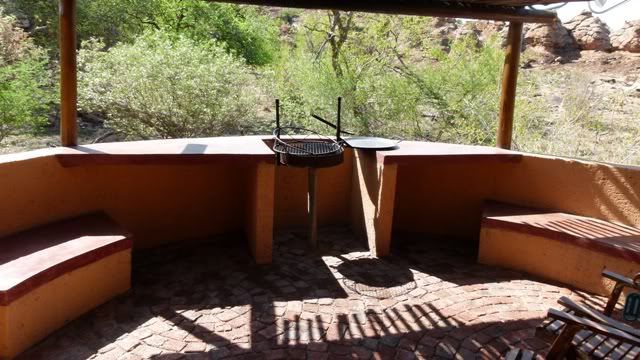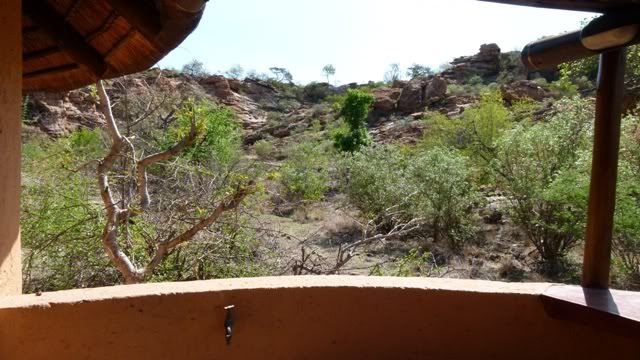 You can see the Bushbuck on the right from Mads. We also saw 3 beautiful Kudus passing our stoep, but did not take photos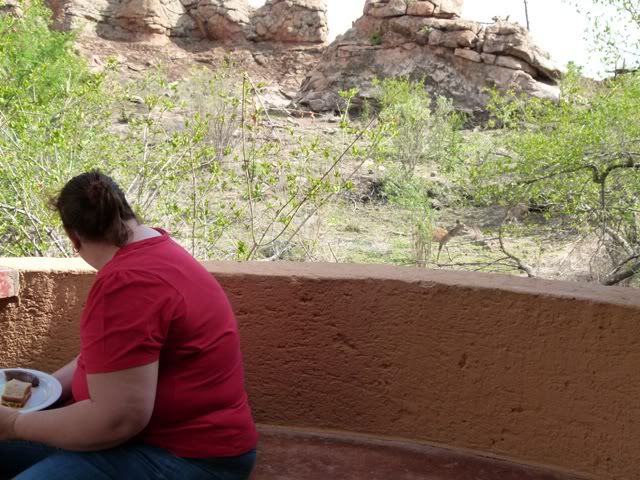 The Mocking Cliff Chat (Dassievoël)'s wife also visited later in the afternoon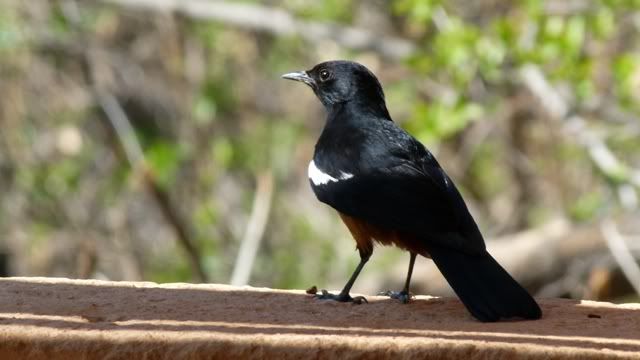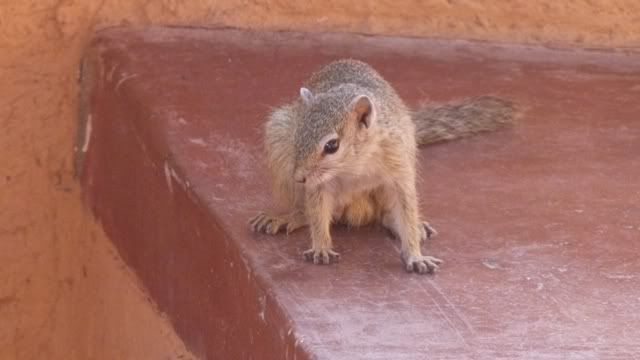 20-24 Feb 2018 - Croc Bridge
24-28 Feb 2018 - Tambotie
1-4 March 2018 - Skukuza (Cricket)

24 - 31 Aug 2018 - Ngwenya, enter every day - Croc Bridge
---
Junior Virtual Ranger

Posts: 378
Joined: Fri Oct 16, 2009 10:56 am
Location: Pretoria
And now my final post - Although Mapungupwe is not a big 5 Park, we saw proof of Rhinos presence in the Park and took pics of Ellies. We did not see a Leopard but they are quite frequently seen and one was in Leokwe Camp the morning before we arrived. Many people say there are no Lions in Mapungupwe. Some heard them roar and some was told that they are there. Well here is proof - when we got up this morning and get into the car, a friend of Mads told us to get out again and just look at the Koppie behind us
Just before we got out of the Bungalow 3 Kudus ran past the bungalow and up the hill. Afterwards we realized that this is what they ran away from.
Sightings from the parking area: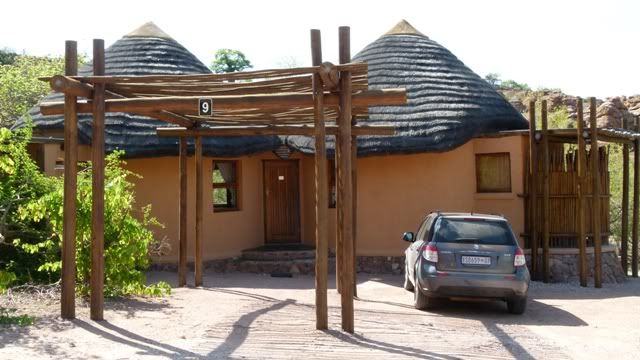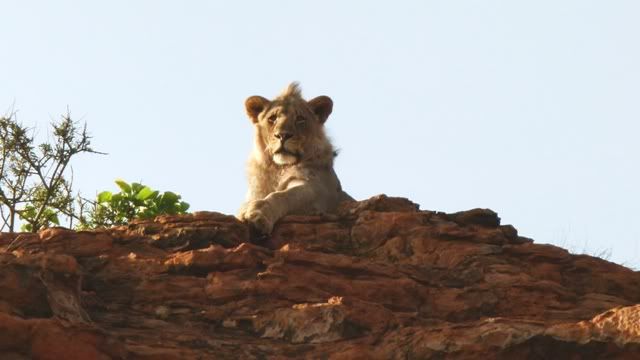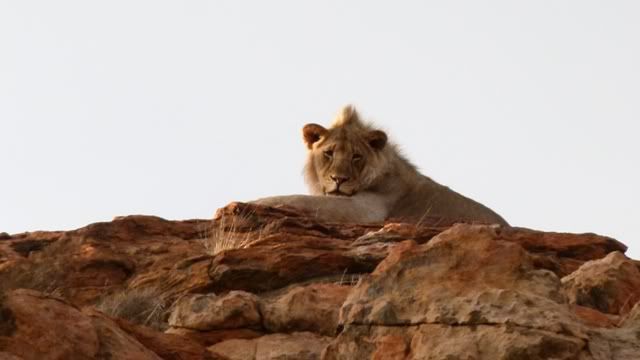 And then he got up and this Dassie started looking for a safer place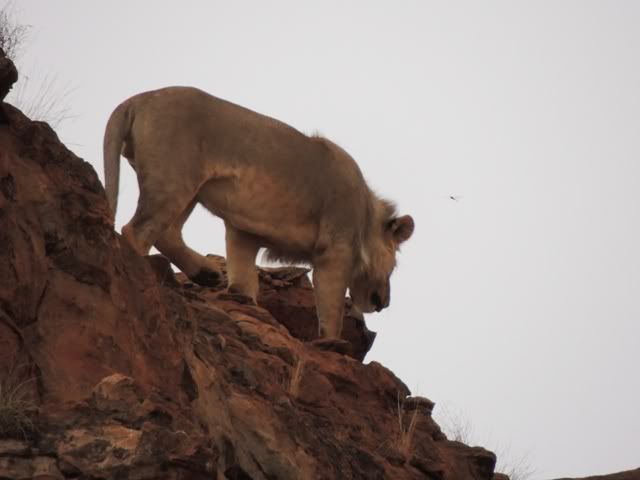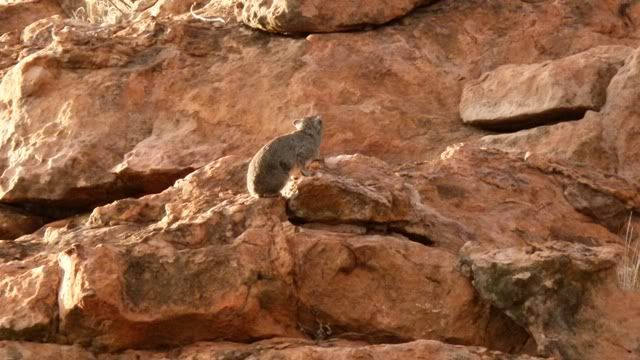 Mapungupwe is one of those Parks where you can just relax and enjoy the beauty of nature by sitting in a hide, on your stoep or just driving slowly through the Park.

20-24 Feb 2018 - Croc Bridge
24-28 Feb 2018 - Tambotie
1-4 March 2018 - Skukuza (Cricket)

24 - 31 Aug 2018 - Ngwenya, enter every day - Croc Bridge
---
---
Who is online
Users browsing this forum: No registered users and 2 guests