Posts: 26
Joined: Thu Apr 23, 2009 3:49 pm
Thanks everyone for all your comments
Especially first visitors to this thread. I am enjoying sharing the trip with you.
Day 7
In many ways this was one of the most boring mornings. Photographically wise it was a failure.. For one the lions were not where they normally could be found..All the waterholes were quiet except for the normal… A lot of time is taken in driving as I am now in Mata Mata and the big cats that I know about are at least 30km away…
But when it failed photographically it still succeeded in some unique sightings…
For one (and I know it's a big one..but I am getting spoilt), I saw the leopard again. She was now on the other side of the thirteenth borehole. The guy in front of me suddenly stopped and aimed his car to the right, so I assumed what he was looking at was on the right.
So while I am looking right the leopard is having a fright..and is disappearing left. I eventually see her but she is skittish and heads up and over the dune…So I have now had three leopard sightings in my trip so far..
I spend about two hours between looking for her again, going back to 14th then back to dalkeith where I eat breakfast in the car….Still nothing is stirring. Tried to take a photograph of a running ostrish but by only having two legs the impression of speed is lost…Threw those shots away…
Went back to look for the leopard at 11am but no sign (she is known to be a daytime hunter) and then gave up…So now as I am heading back to Mata Mata and I am tired, and then I see this Gemsbok eating something in the road.
Rather then shove her off the road I stop and watch for a few minutes…She is digging then eating, digging then eating. I decide it could make an interesting shot even though the light is horrific so I position my car and start photographing.
One thing I couldn't pick up with the naked eye is that as she digs she separates her hoof into two toes…Can you believe it …she actually has ability to manipulate them…Fascinating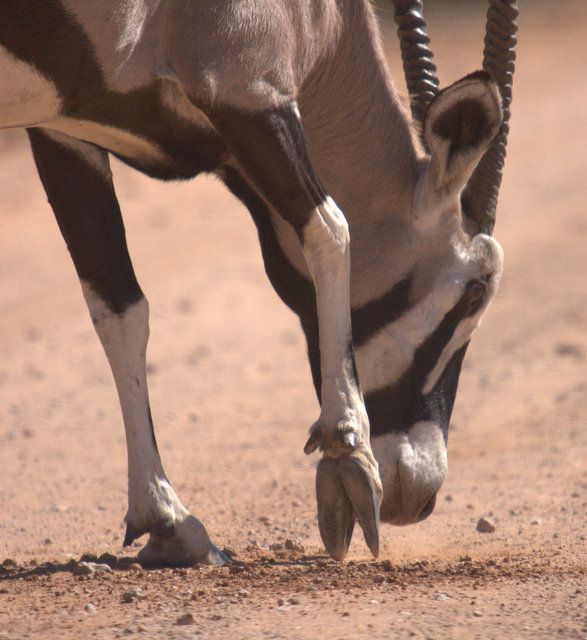 …I am sure you have learnt something new..I have..
Then further along the road I suddenly see a
honey badger
. I am ecstatic and brake far away…She (or he) and then disappears, probably because I was not expecting this and rummaging to prepare my camera. I drive up and find two jackals following her..She disappears into the scrub…A few minutes later two pop out back onto the road, I am struggling to get my camera, and they both disappear on the other side. Wow great sighting!!! Yet poor for photography..
So the morning wasn't a failure…Ive added a new mammal to my list…And the gemsbok hoof was good behavioral photography…
That afternoon was generally very still with nothing much happening….
But just to add something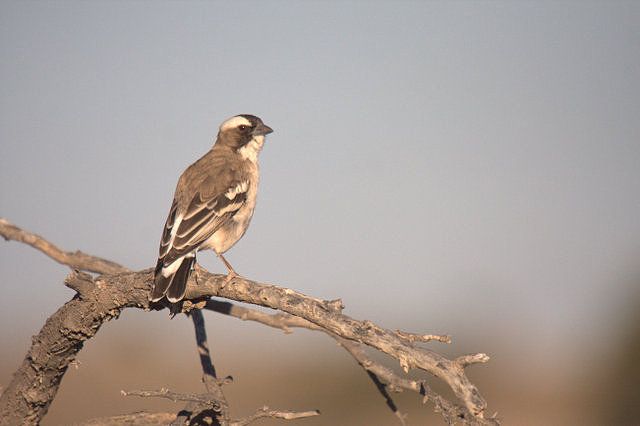 Sunset on returning back to camp
So a quieter day but Day 8 was going to be good and Day 9 my last day I will remember forever....
---
Posts: 26
Joined: Thu Apr 23, 2009 3:49 pm
Thanks everyone for your comments
Day 8
left early through the gate with two other people ahead of me….The second car ahead of me was going quite slowly so after a about 15km I chose to overtake it…I was aiming for fourtheenth and Urikaruus hoping to see the mating lions again…Side stepping Dalkeith (owing the the fact that the waterhole has been very quiet lately)…However just before getting to the bottom of the shortcut I slowed a bit to check out if there was anything down there and noticed that the first car had stopped at the waterhole…Then I looked more carefully and noticed a male lion walking next to them…
I turned left into the road coming from Dalkeith…The lion was moving towards me followed by the car….I paused a reasonable distance from the lion and allowed her to approach aiming for the sun rise walk as I call it…A lion with the sunrise in his mane!!!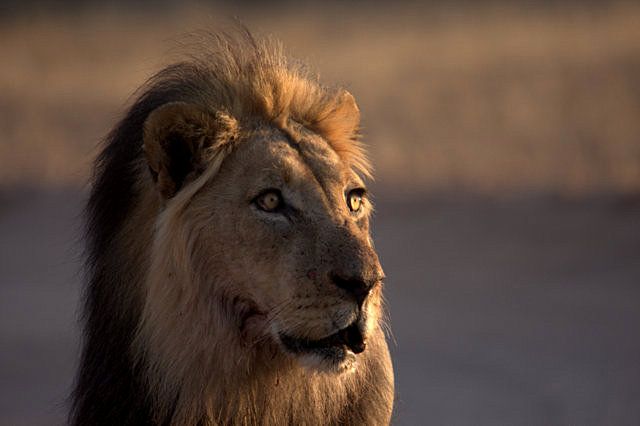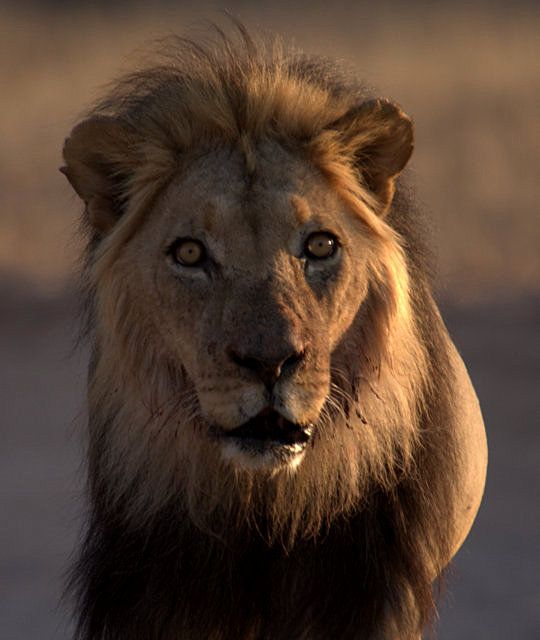 He continued to walk straight at me without veering off the road and I took these photgraphs…Then just before it got tooo close I pulled my camera in and kept still so it could pass (I could have touched it) in peace….
He then walked a bit further, I turned around and followed and then he sat down on the left where I took a few photographs. Now the other car eventually left and I chose to do the same…At least 10 cars would descend on us in the next five minutes, no other lions were around and I wanted to see what I could find while the light was still good…
I worked my way down to Urikaruus looking for the leopards and the mating lions but I did not see anything of interest. After that the road was quite empty. Stopped at dalkeith and Craig Lockhart on the way back. Got a LBR taking off…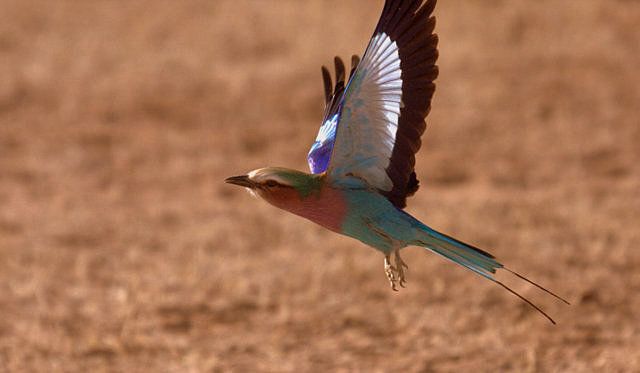 Found a tawny eagle on its favourite perch
And then at Craig Lockhart there was a male eland. The gemsbok seemed unhappy with it drinking there but did nothing about it…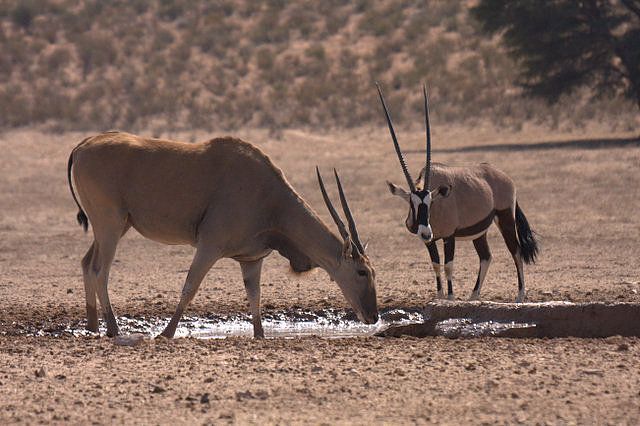 In the afternoon I only left at four o'clock .. Found some swallow tailed bee-eaters near the entrance of mata mata but didn't manage any shots that I was really happy with…When I came Craig Lockhart, I saw that the kudu were back and at last there were some admirers …About six cars were waiting for them to drink…I chose to join them as the light was good and took this
Then I moved towards Dalkeith but did not arrive. A cheetah had killed a springbok,,,,I wonderered if anyone had seen the kill…She was too far for any decent shot…On the way back I spent some time with the springbok in the golden light…One was digging in the distance however those running/walking nearby made the best photographs.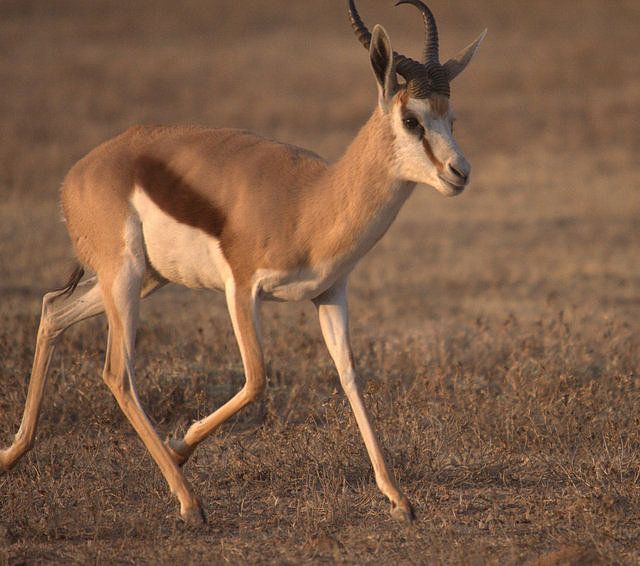 Tomorrow would be the last day... Now lets see if anyone has picked up the hint earlier in my trip report...What game will the lions be playing??
---
---
Who is online
Users browsing this forum: No registered users and 4 guests