Junior Virtual Ranger

Posts: 80
Joined: Thu Sep 02, 2010 2:09 pm
Location: Cape Town, sometimes Jo'burg
I must confess that this is a rather belated trip report. My partner, SB (fondly known as Stinkbug), and I spent three nights at Marakele at the end of April as part of a trip that also included four nights at Mapungubwe and seven in northern Kruger. My excuse for only getting round to the TR now is that I've been busy at a conference in blissful Mauritius (and, of course, one cannot go there without taking a holiday to soak up the sun, tour the island, taste the local rum and swim with the dolphins). This was followed by a short stint at Pilanesberg Nature Reserve. Plus, I've had to catch up madly on work in between.
Anyway, this was our second visit to magical Marakele. Previously, we spent a peaceful week there between Christmas and New Year at the end of 2010. We were happy to be back for another stay and to spend time watching the much-loved and well-protected rhinos, amongst a wide variety of other game. Snippets of memories, with pics, will follow soon.
The highlight of our visit this time was an aerobatic display by over a hundred graceful vultures as they soared overhead above the cliffs. Marakele probably houses the largest colony of endangered Cape vultures in the world with more than 800 breeding pairs. More about these ballerinas of the sky later . . .
Last edited by
Buglette
on Sat Jul 07, 2012 3:37 pm, edited 2 times in total.
Buglette's Trip Reports

:
Introducing a Rookie to the KNP
Red Dust and Diamonds (Mokala)
Tinkering in the Tankwa
Loerie Stalking in the Wilderness
Scratching the Bottom of Africa
Golden Gate to Happiness
Rambling Round the Richtersveld
---
Junior Virtual Ranger

Posts: 80
Joined: Thu Sep 02, 2010 2:09 pm
Location: Cape Town, sometimes Jo'burg
One of my favourite things about Marakele, besides the fact that it's situated in the heart of the majestic Waterberg mountain range is that the camps are unfenced. Well, at Bontle Camping Site there's a token line of knee-high poles demarcating the camping area beyond which humans may not step. However, the animals don't recognise these stumps as any kind of barrier so they come wandering in, especially at night. On stepping out each morning, one has to tread very carefully for fear of landing in a fresh crop of dung or disturbing a lizard in its burrow.
Returning from a game drive on our first afternoon, we were surprised to find a large male rhino chomping away on the grass right in the camp. Apparently he'd been roaming around for two hours or so. We were presented with the perfect picture of peace: campers lounging in their chairs watching the sunset, glasses in hand, and the gentle grey giant weaving his way between them.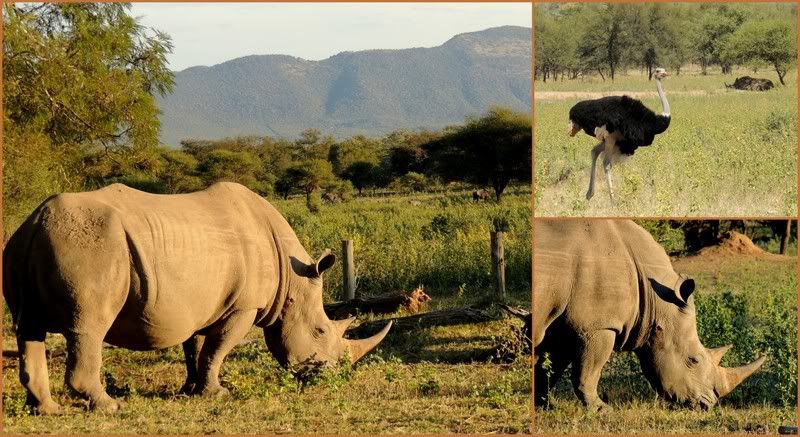 That was until some silly tourists decided they wanted a close-up pic of themselves and the rhino. As mom, dad and teenage daughter took turns posing they slowly inched their way closer and closer to the grazing body. Suddenly, he decided they'd overstepped their mark. With a derisive snort and a stamp of his foot, he charged. Dust flew into the air and the tourists fled for cover behind the nearest tree. Luckily for them, it was a mock charge only! Hope they learnt their lesson.
Sadly, it looked as though our resident rhino had been in the wars as he had a wound on his neck. He seemed to be approaching his senior years and was most likely ousted by a younger, more virile bull. Perhaps he viewed the camp as his retirement hang-out.
Ostriches are quite at home in the camp too. We watched one lady peck her way from site to site, fluttering those long eyelashes, looking for forgotten tidbits on the ground. On our previous visit she'd trailed a brood of hungry chicks but by now they'd all grown up and left home.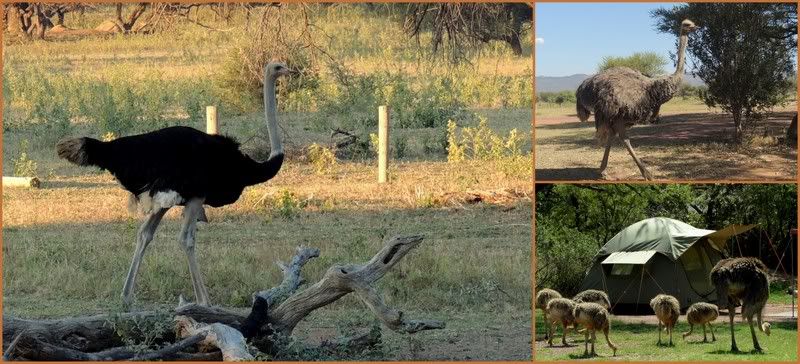 A couple of noisy guinea fowl arrived each morning to check the braai grids for leftovers.
And hornbills screeched and hopped about after them.
We enjoyed spending a relaxing day in camp, waiting for the game to make their way to the waterhole just a hundred or so metres beyond the poles. Why go chasing them around the Kwaggasvlakte when they will happily come to you?
Even better is the endless entertainment provided as they splash about.
Being the rutting season, the male impalas were in fiercely competitive mode, chasing one another round the arena at the waterhole. Occasionally, there'd be the clashing of horns as bodies writhed and twisted in serious combat. Raucous grunting noises rumbled late into the night. That couldn't believe that these normally placid animals now sounded like ferocious beasts.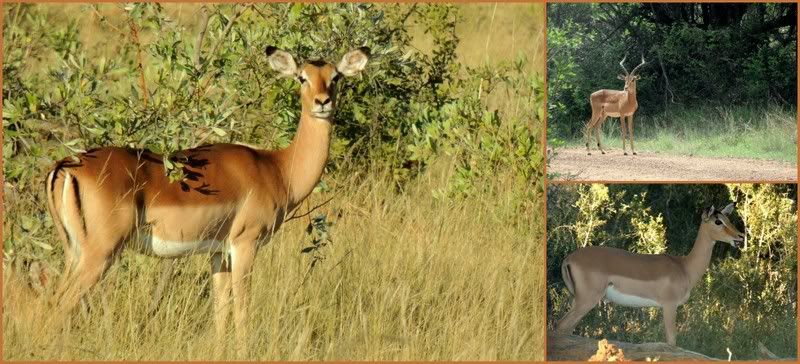 Wildebeest ambled down for a drink in rows, never seeming to rush. With no predators on this side of the park, they had nothing to feel threatened by. Zebra, some heavily pregnant and others proudly showing off their young, streamed in too.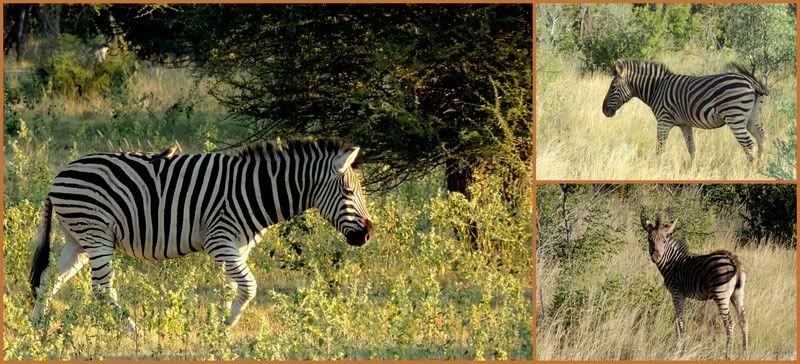 And, I was in warthog heaven. Pumbaas, big and small, were everywhere. One just had to follow their aerials through the grass as they trotted to the water. They seem to breed especially well here as all moms had large families. We counted one with nine healthy and mischievous piglets!
To be continued . . .
Last edited by
Buglette
on Sat Jul 07, 2012 4:09 pm, edited 1 time in total.
---
Junior Virtual Ranger

Posts: 80
Joined: Thu Sep 02, 2010 2:09 pm
Location: Cape Town, sometimes Jo'burg
That afternoon, my reading was interrupted by the loud hammering of a woodpecker in the tree above me.
'How does he do that without getting a major headache?' asked SB.
'Even listening to him drilling away gives me a sore head,' I replied.
Despite my best contortionist moves, I couldn't get a picture of the little rogue above me so I stalked it as it flitted from tree to tree. Finally, I had some success.
In my meandering, I discovered a plastic water tank at the top of the camp which was evidently a favourite gathering spot for birds. They flew in to sip water from a leak in the pipes. Again, I craned and twisted my neck. Then I discovered a drip tray placed on the ground to gather any overflow from the tank. It was silted up with dead leaves and muck so I cleaned it out, topped it up with fresh water and then sat back and waited. It didn't take long before doves and bulbuls were splashing about, taking a bath.
A crested barbet and some colourful friends came for a drink too
The barbet wasn't shy and came quite close.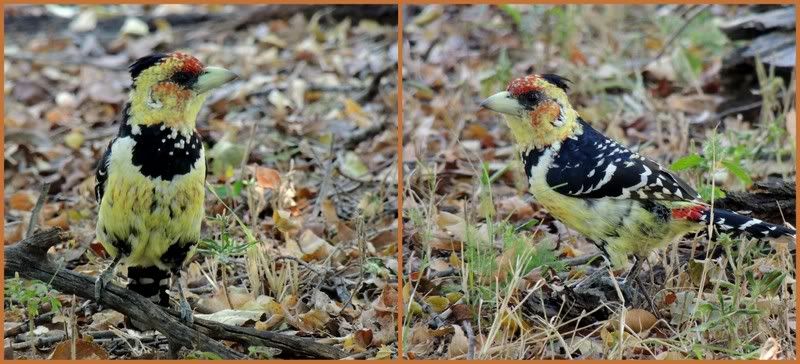 I even had a monkey playing peek-a-boo with me but he was too quick to be captured on film and he waited till I got up to leave before he sneaked in for a drink.
It was only when SB came looking for me that I realized I'd spent two very rewarding hours alone with the birds. My friend, Rookie, reckons that bird watching should teach me patience and she may be onto something there!
---
Junior Virtual Ranger

Posts: 80
Joined: Thu Sep 02, 2010 2:09 pm
Location: Cape Town, sometimes Jo'burg
Time for a little more on a cold and rainy day in Cape Town . . .
To enter the part of the park where they hide the ellies and the lions, one has to pass through a tunnel under the tar road and through a gate. On our previous visit, we encountered just two ellies. The one magically appeared out of the bush, took one sniff of our vehicle then promptly disappeared. We scoured the surrounding area the following morning and were rewarded by another glimpse of him, together with his companion. All we saw were ears flapping above the greenery, but we were satisfied that we'd seen ellies at Marakele.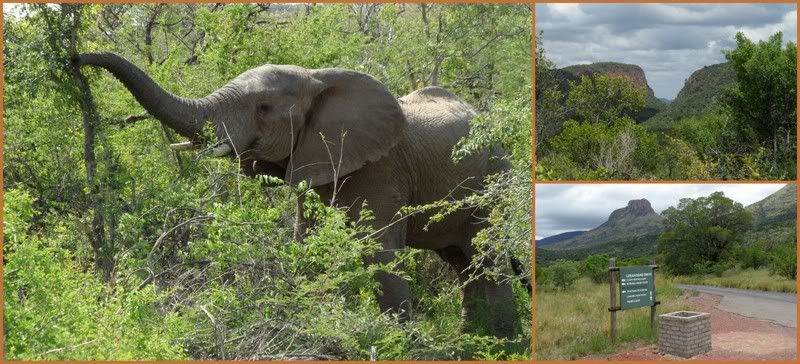 This time we were fortunate to see a herd of at least twelve drinking at the dam as we arrived at Tlopi tented camp to visit some friends.
The whole fam-damily was there – big bulls, moms, teenagers, kids and the cutest babies. Now at least we know they have more than two ellies in the park. (We have yet to find the lions though.)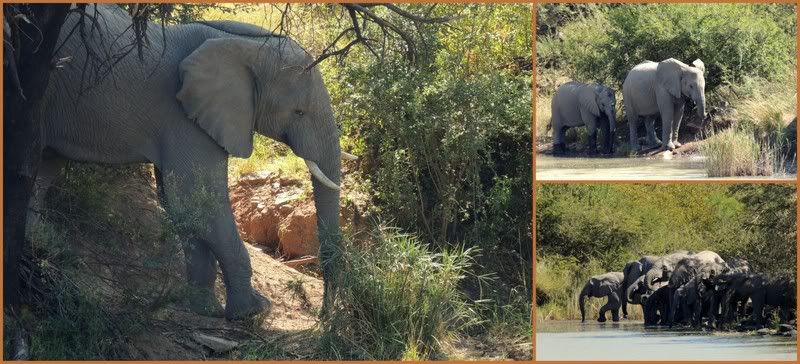 With cameras pointed across the dam we shot a couple of pics, fearful the herd would move off soon. Suddenly, chattering monkeys surrounded us on the deck. I ignored them until SB remarked, 'Hey, that one's eating a brazil nut.' Then the penny dropped and he shouted, 'Oh no, those are our nuts!'
In our haste to photograph the ellies, we'd left a window partially open in the vehicle. Big mistake! The little devils had scampered in and invaded our picnic basket. Their loot included the prized nuts and a small bag of dried fruit strips. They'd also ripped open our pack of wet wipes and left their muddy paw prints all over.
With raised arms, SB tried to chase the culprits off but one big boy bared his teeth and snarled, warning us to keep our distance. They refused to budge until they'd devoured all the nuts. We then tried to retrieve the plastic bag but regretfully they carried that off into the trees.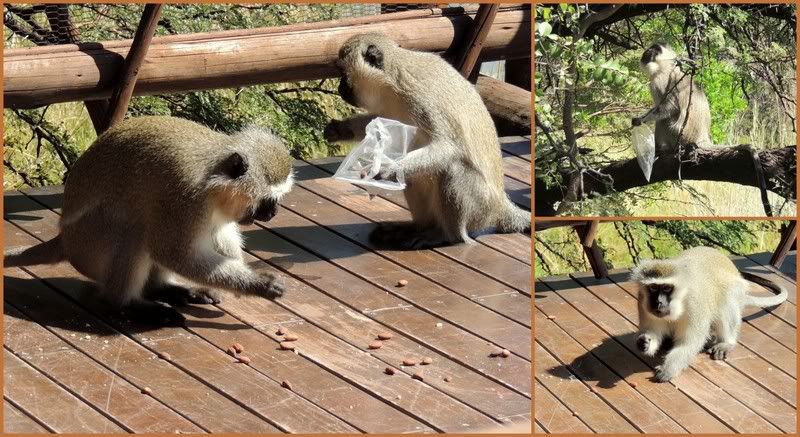 It seems that not only the monkeys were up to mischief that day. At the Modikela Bush Camp there were signs of mayhem and destruction. An elephant, presumably a large bull, had stripped the bark from branches and uprooted whole trees. One had fallen onto a thatched hut. Glad we weren't inside when that happened!
The camp is normally a tranquil place.
To be continued . . .
---
Junior Virtual Ranger

Posts: 80
Joined: Thu Sep 02, 2010 2:09 pm
Location: Cape Town, sometimes Jo'burg
One particularly golden evening was spent at Bollonoto hide. With not much water around, we had little hope of seeing anything, when suddenly the reeds rustled. We listened and waited and watched . . . but nothing appeared. Then another slight rustle. Our keen eyes combed the area around the water puddle but it was bare. Then suddenly, a gliding motion above the tall reeds caught our attention and the head of a giraffe appeared. He turned his back on us and we noticed his snow white ears. We watched as the head moved off to the far side of the reeds and, eventually, a body materialized. The inside of his back thighs matched the whiteness of his ears. Unfortunately he didn't pause to drink but moved off into the bush.
Disappointed, we prepared to leave and make our way back to camp. A crackle in the bush halted us and another two giraffe appeared, glowing golden in the soft evening light. Silently, they followed the steps of their companion and melted away.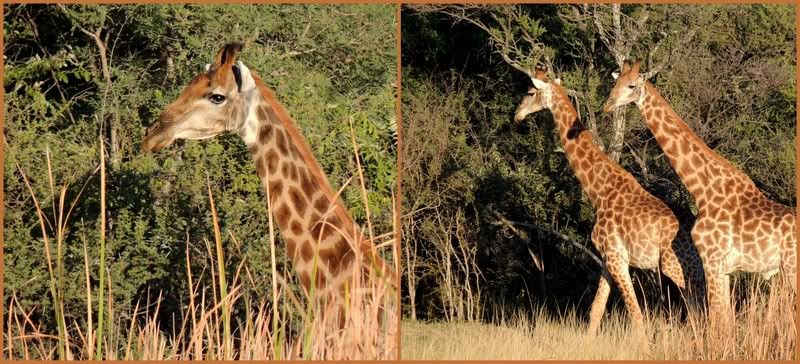 At Bontle camp, after supper each evening, it was our habit to take a stroll around the camp before settling in for the night. One night, as we strolled along the line of wooden pegs looking up at the stars, we heard snorting noises. SB flicked on his torch and shone it into the darkness. A hundred green eyes glowed back. Just metres away from us, lay a large herd of wildebeest. With profuse apologies for disturbing them, we walked on only to find an even bigger herd of impala. It was comforting to know that with no predators around, they'd still all be there in the morning.
Marakele certainly lives up to its Tswana name meaning 'place of sanctuary.' We did hear jackals yipping and howling but they were way off in the distance. Our last sighting for the evening was a pair of spring hares, their ears glowing pink in the torch light, as they hopped away.
Sadly, it was too dark for any pics.
******
PS. Vultures coming in the next episode as soon as the page turns.
---
Junior Virtual Ranger

Posts: 80
Joined: Thu Sep 02, 2010 2:09 pm
Location: Cape Town, sometimes Jo'burg
The drive up to the top of the Waterberg massif is where I sit tight and hold my breath. The road is steep and narrow and I dread meeting another car coming down.
However, views of the valley way down below are a good distraction as are the groves of tree ferns and cycads. Luckily, we made it safely to Lenong viewpoint where we enjoyed a picnic lunch.
Several birds hovered, hoping for scraps.
As we sat overlooking the cliffs, perched on rocks warmed by the sun, we watched vultures riding the thermals in the distance. Suddenly, a large shadow appeared on the side of the mountain. We looked up to see a glider glinting in the sun.
'How wonderful to be able to fly like a bird, drifting on the currents,' I remarked.
'And with no noisy engine to distract you,' replied SB.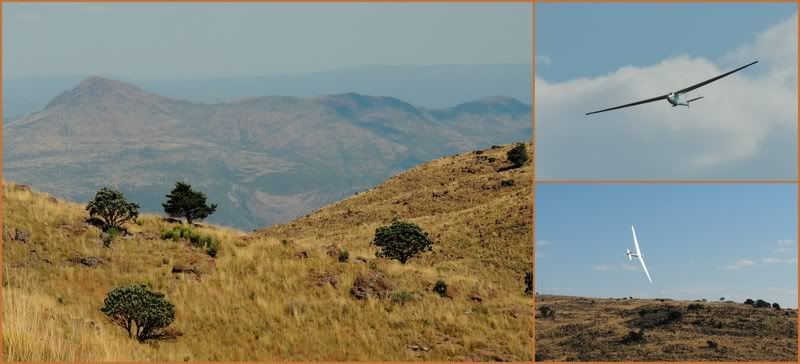 Then the most amazing thing happened. Clouds of birds took off from the cliffs and rose up to follow the glider. They gracefully followed him as he dipped and dived. Like a well-choreographed group of ballet dancers, they moved in unison.
The pilot circled, wider and wider, with his troupe of over a hundred vultures close behind. As he swished above us, he waved and smiled. He was so close I could see the gleam in his eye. Boy, was he having fun!
Mesmerised, we watched the spectacular aerial display. Then calamity struck. One vulture flew too close and connected with the glider's wing. A bundle of feathers tumbled to the ground a hundred metres below. Without hesitation, the pilot turned and headed for home over the far hills. The show was over.
The crowd that had gathered fell silent. As the plane faded to a speck in the sky, I imagined the pilot feeling deeply saddened. Nevertheless, the memory of the graceful vultures following their prima ballerina is one that will stay etched in my mind forever.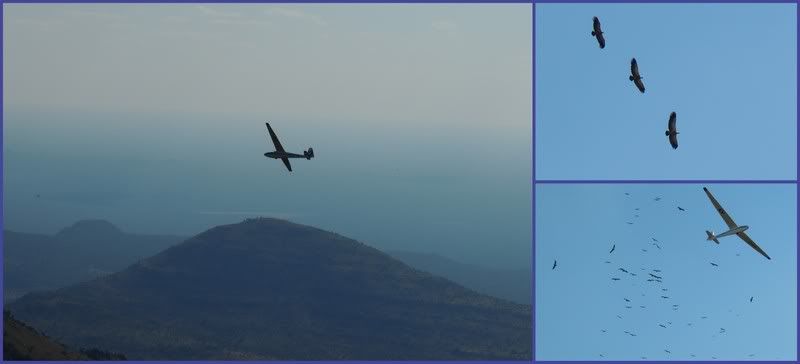 Buglette's Trip Reports

:
Introducing a Rookie to the KNP
Red Dust and Diamonds (Mokala)
Tinkering in the Tankwa
Loerie Stalking in the Wilderness
Scratching the Bottom of Africa
Golden Gate to Happiness
Rambling Round the Richtersveld
---
Junior Virtual Ranger

Posts: 80
Joined: Thu Sep 02, 2010 2:09 pm
Location: Cape Town, sometimes Jo'burg
On the last morning, we left the park early and travelled the Bakker's Pass route towards Vaalwater and on to Mapungubwe.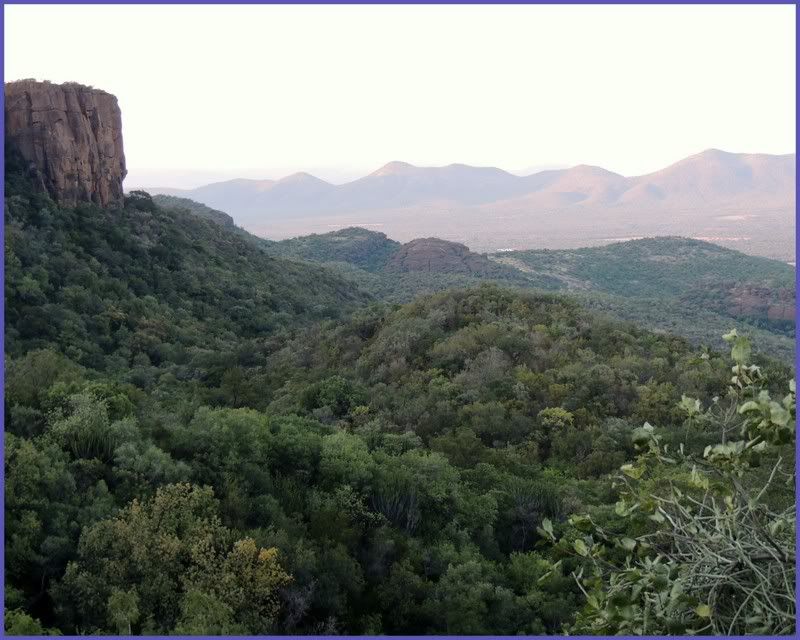 Skirting Marakele, we saw the vulture cliffs from a different angle. White streaks on the rocks revealed where their nests were.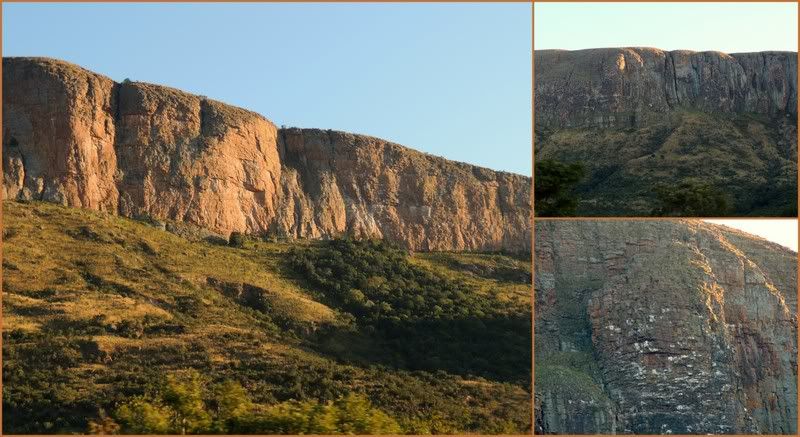 And we had a bonus sighting. Out the corner of my eye, I saw a vulture swoop down from the cliff top and I followed its flight path until it settled on a nearby telephone pole. Since we were taking the drive to Mapungubwe at a leisurely pace so there was time for a couple of pics as he posed briefly for us.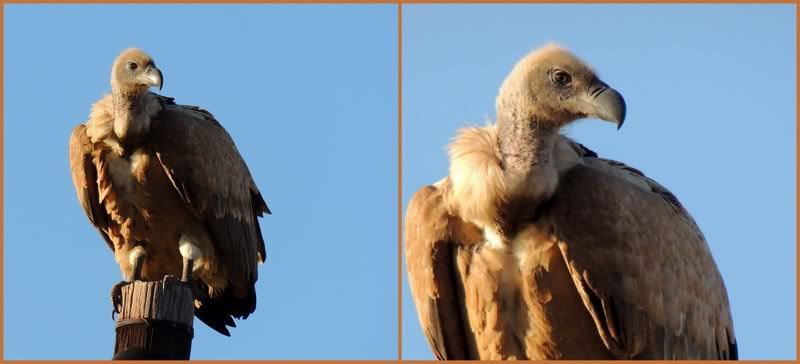 A few kilometres later I thought I was seeing ghosts in the grass. They turned out to be leucistic blesbok and SB patiently stopped again.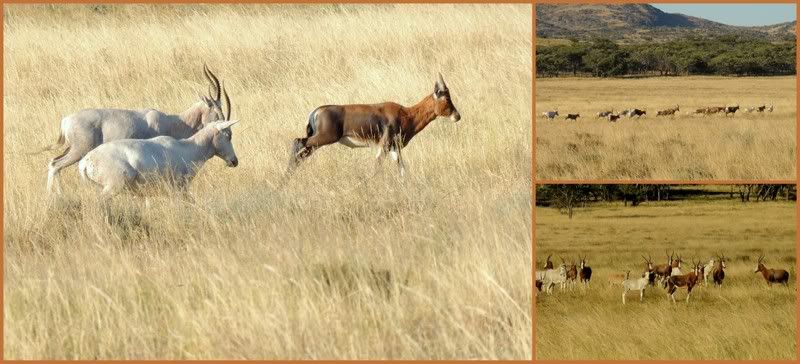 I shuddered at the thought that these beautiful animals were probably being bred for trophy hunting. There was certainly an abundance of hunting lodges in the area.
I thought back to all the animals we'd seen at the waterhole in Marakele and I was glad they would be kept safe.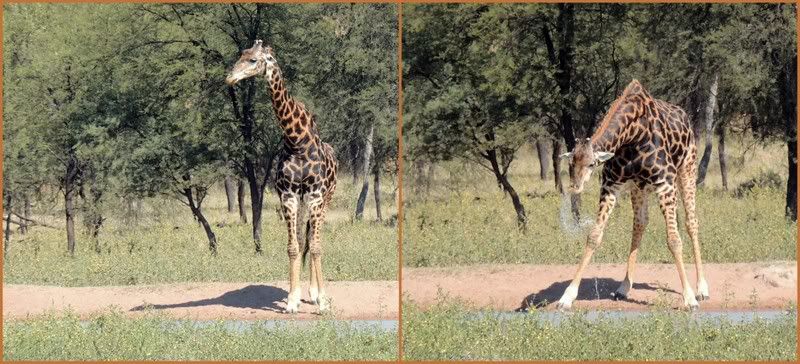 Even the little creatures too!
Buglette's Trip Reports

:
Introducing a Rookie to the KNP
Red Dust and Diamonds (Mokala)
Tinkering in the Tankwa
Loerie Stalking in the Wilderness
Scratching the Bottom of Africa
Golden Gate to Happiness
Rambling Round the Richtersveld
---
---
Who is online
Users browsing this forum: No registered users and 4 guests