Vehicle: Toyota Corola 1.6 with 4 People and LOTS of Luggage.
Accommodation:
30,31 Dec Skukuza - Safari Tents
1 Jan Lower Sabie - Huts
2 Jan Skukuza - Safari Tents
3 Jan Lower Sabie - Luxury Safari Tents
4,5 Jan Berg en Dal - Bungalow
Tip: Book more than 2 nights at a camp. The packing in-and-out killed us, because we booked late, we had to take what we could get.
Activities:
31 Dec Sunset Drive
2 Jan Morning Walk
5 Jan Morning Drive, Bush Braai
Planning:
Since this is our first visit to Kruger and it's so short, we wanted to get an overview of as much as possible in the short stay. We visited ALL camps (Excluding private and Bushcamps) from Satara southwards. We visited ALL Gates from Kruger Southwards(Kruger being my Favourite).
Weather:
First couple of days were overcast and drizzling now and then. Middle of our stay and towards the end we had numerous 33 degree Celsius days. But it was not an uncomfortable hot 33.
Trip Summary & Sightings:
30 Dec:
Enter Through Kruger Gate, In our First trip we just had to enter through KNP's main gate.
Down the S3 towards Phabeni & Numbi Gate. In less than an hour we saw Giraffe,Waterbuck: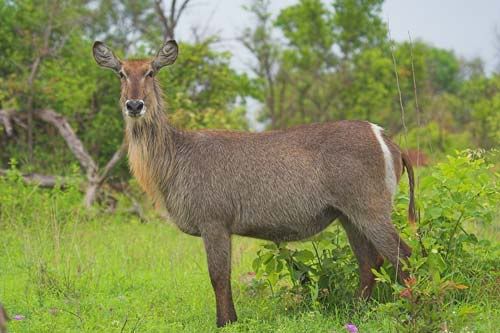 And my GF spot a Cheetah in dense bush, that we can eventually see through binocs and camera lenses.
Some Hippo in the Sabie river, Fish eagles etc.
From Pretoriuskop to Skukuza we saw Elephant and White Rhino. Also saw a Croc & Monitor Lizard, Fish Eagle at Shitlhave dam. Evening braai was interrupted by Hyaena patrolling the fence, I suppose hoping that we would feed it some scraps. Tuff luck for that one, but he should go catch his own food natures way(And the little matter of a deterring fine).
31 Dec:
4:30 out the Gate, off to Satara. Drizzling weather, but we managed to spot Hyaena, Giraffe and when the weather cleared... Lots of Giraffe, Zebra, some Buffalo, Eagles and various other bird species.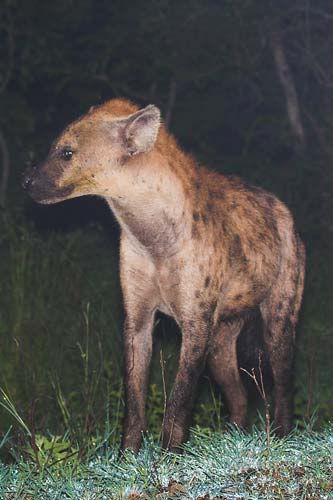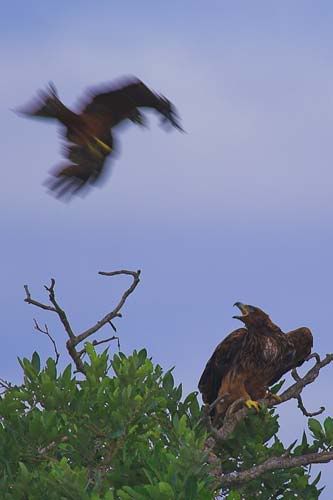 Our sunset drive was to be the highlight of our trip. We saw Elephant, Rhino(including mother and calf), Hyaena and pup, Some owls & Eagles, Zebra, and then the Highlights... 3 Cheetah together and a Leopard in the bushes.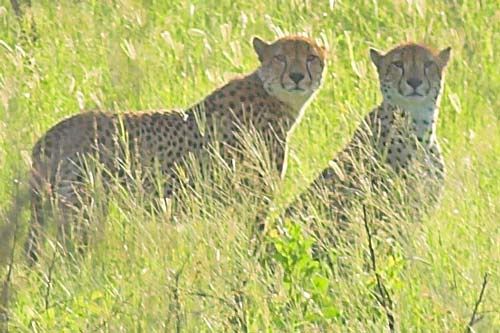 An amazing end to 2005!
1 Jan:
all packed up and off to Lower Sabie via some sightseeing. Spotted some Elephant & Buffalo. At the buffalo sighting this nice Indian couple pulled up alongside and informed us of a lion kill about 4km's from our current position, close to the H12, H1-2 intersection. We arrived there fairly early and was about 5'th from the front. We decided that patients would pay off and the people in front of us would eventually leave(and we were correct). Eventually ended up in front after a short wait with more and more people arriving. The heat and stench was unbearable. 2 Females and 3 cubs pulled down a giraffe in the road and blocked one lane. Then ALL HELL BROKE LOOSE. It seemed like every IDIOT
and BRAINDEAD
person in the park found this kill. People would pull right up to the carcass, wheels toughing the giraffe and then lean out their windows with half their bodies trying to take photo's with their cellphones. P!ss!ng the Lions off and also P!ss!ng everybody else off that the cut in front of and blocked every body's view. We were luckily parked o the side of the road with the kill in front of us, but these idiots still made my blood boil, and that in 33 degrees Celsius was not good.
Then you had the Braindead Idiot who pulled alongside the carcass,blocked the road, stopped, switched his car off, and started the traffic jam, which lasted for over two hours, before we eventually managed to get out of there, and only able to reverse in a ques of cars that were all driving forward
Here are some pics: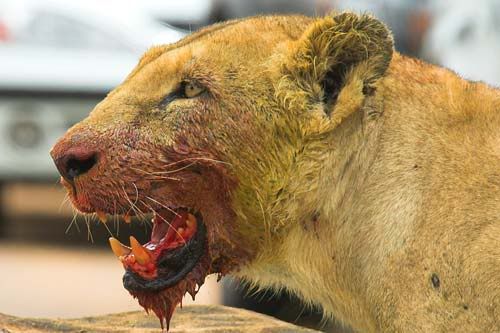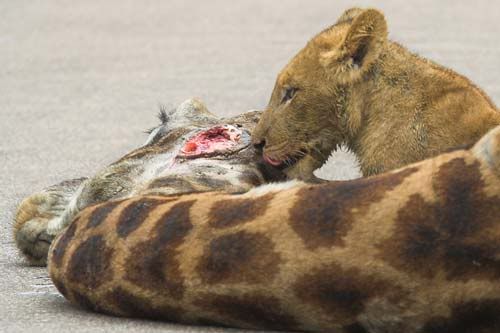 I think the second pic shows how peeved the lioness was a one stage.
Booked in at Lower Sabie and took a afternoon drive via the H10, S30 and back with the H4-1. Saw some Elephant, Rhino and various smaller mammals. Some nice pics of Lilac breasted Rollers.
Stopped off at the Giraffe carcass, which was now moved to a clearing by SANParks staff and found the lions in the bushes and the carcass covered with vultures etc.
Stopped off at Sunset dam for some Hippo Shots before the gates closed.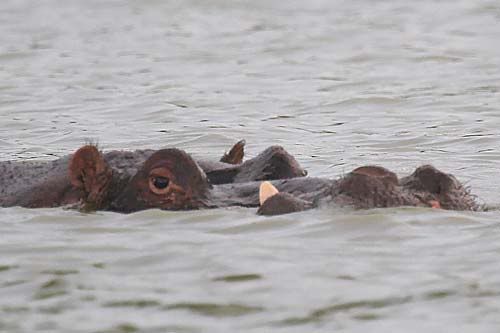 We found this colourful little lizard close to our Safari Tent.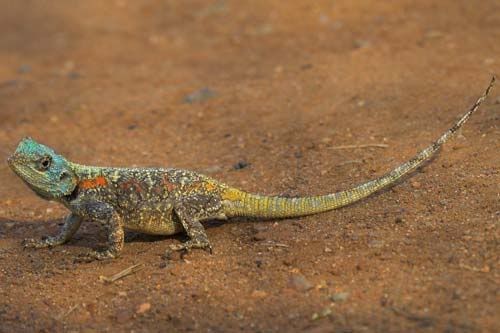 2 Jan:
Up Early again for our morning walk. These rangers have the most amazing eyes and spot things at such a distance that I have difficulty seeing it through my 100-400 lens at 400mm. We crept up to about 20m of a White Rhino. What an awesome experience. I would definitely recommend the morning walk to everybody. The rangers point little things out to you, which you would never have noticed yourself.
The Crackers&Cheese, biscuits, sweets and juices were also very Nice
After our morning walk it was back to Skukuza and a little well deserved R&R. We spent the afternoon exploring Skukuza and visiting the pool. Loved the OLD HUT and the Museum. The Take away Shop have brilliant buffalo Pies and are cheap.
The Selatti Railway restaurant is also a Must Visit. Nice food, but their service was awful. Good thing we arrived early.
3 Jan:
Back to Lower Sabie. Spent most of midday in the pool and got some take aways from the shop and headed off to Sunset dam for some serious photo sessions, as I've always dreamt of getting a Hippo yawning shot. Was I in for a surprise... Parked off with the car right next to the water, parallel parked, with on the back seat, Bean bag on the window and camera at the ready. Girlfriend on the front seat with binocs at the ready... Got my Hippo Shots: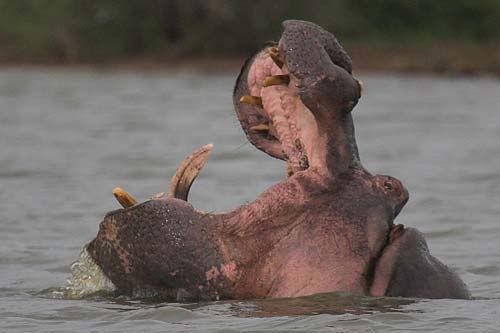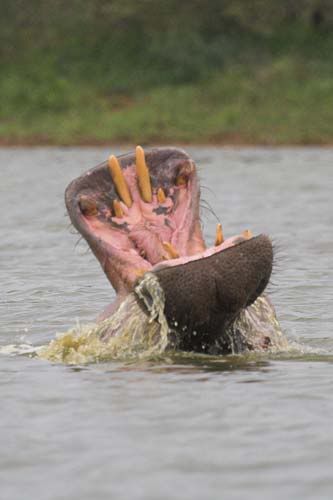 And then I could not believe my luck, when this croc pulled up about 2 metres from me with a fish in its mouth: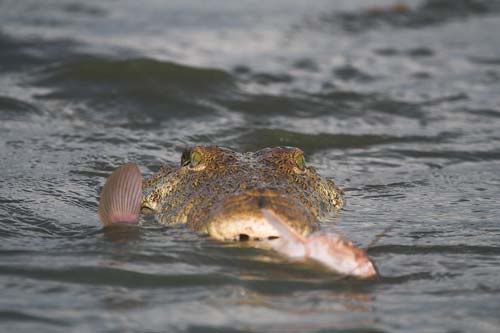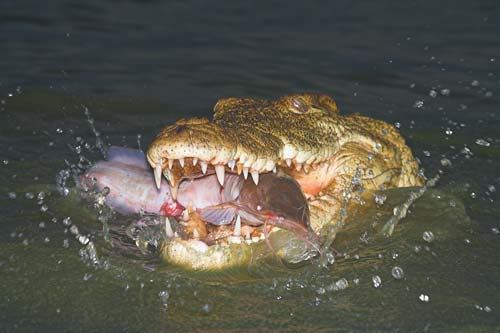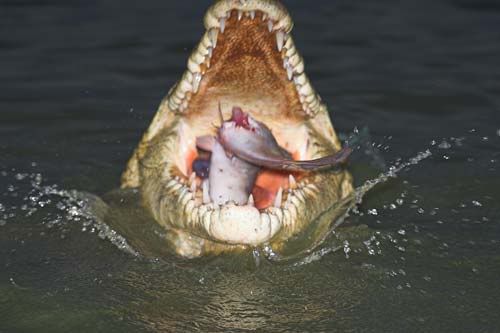 After he swallowed the fish, he just stared at me for about 15 minutes... Mot probably hoping that I would come closer to the water to drink.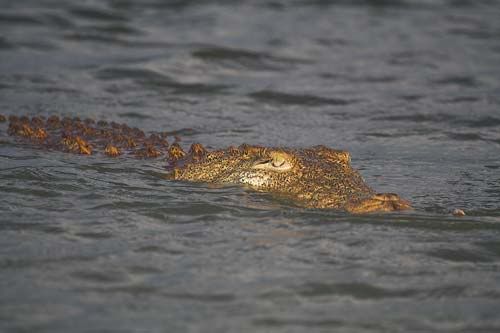 4 Jan:
Off to Crocodile Bridge & Gate, including Hippo Pools. Saw some Hippos, Elephant, Rhino, Blue Wildebeest, etc. Then headed to Malelane Gate and Berg en Dal. On the way to Malelane Gate we saw this lone injured buffalo. His back leg was seriously injured and his horn did not look that great either.
Just before Malelane Gate(about 500m) we saw these Lions.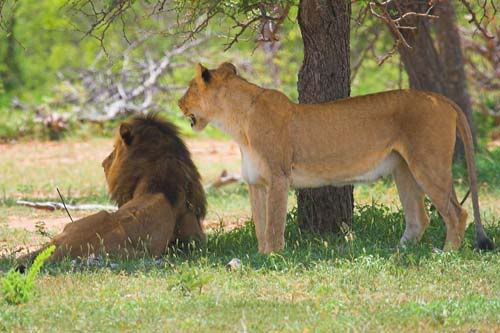 Berg en Dal is incredibly picturesque.
5 Jan:
On the morning Drive we saw no less than 20+ Rhino
Some Elephant, Giraffe, Zebra, Variety of Birds: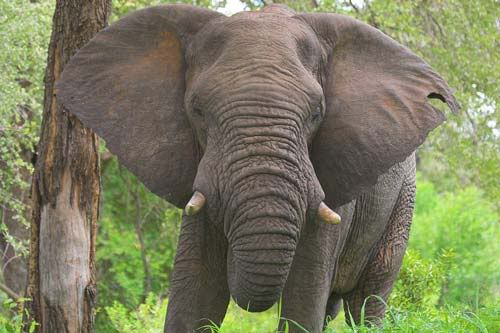 The afternoon we drove to Afsaal Picnic spot and saw a variety of herbivores(and more Rhino).
The evening bush braai was a feast and proceeded with about a 2 hour Game drive. Once again we saw Rhino a assortment of other game. Including our own driving, for the day we must have seen over 30 Rhino and stopped counting. Berg en Dal, definitely deserves the nick name of 'Rhino Camp'
6 Jan:
Packed up and ready for the long trip to our overnight spot at Bloemfontein, but first a drive through the park to Numbi gate to get to Blyde river canyon for some sight seeing there. On the way to afsaal we saw this lion in the middle of the bridge, with 2 buffalo in the river bed, unaware of his presence.
Eventually decided to back up a bit and then slowly approach him at constant speed and then drive past, as to not give him a fright or scare him. I HAD to get past, as the detour would have added MANY ours to our trip. When I drove past him(about 15cm from him), with windows closed, we made eye contact. PIERCING is all I can say. But he was tired and full of battle scars from the previous night and also very much fixated on the 2 buffalo beneath. Truly King of the Jungle.
Saw some more Rhino and other game, then it was out Numbi Gate and the end of our Kruger experience. No better way to finish it, than with such an incredible Lion sighting.
I know this is a bit long,but I hope it's of interest to some people.
Here are some more pics: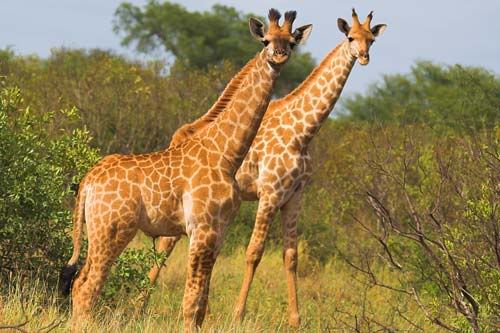 ---
What made this trip even more special is that it was my Girlfriends Birthday on the 31'st December and the Kruger trip was her birthday pressy with a sunset drive on her Birthday and to end the year off. It's as if the Leopard and Cheetah knew this and showed themselfes just to wish her happy birthday
---
Snoobab: You welcome to join us for a Stake-out at sunset Dam
Must warn you though. Bring saamies with. I parked there for an hour & half and got Absolutely Awesome shots. Still working through all my 1920 pics taken on our trip.
My philosophy when I'm in a park is... You won't see any animals while lying in your bungalow/tent sleeping... They are all in the bush. I spend as much time as possible in the bush and only spend time in camp to recover/sleep/eat
Also do some exploring of camp in the Heat of the day
.
I'm one of those that's first out by the gate and have the gate close behind me again in the evenings.
All the compliments mean so much to me, because I only started with the photography hobby in September. 2 September 2005, to be exact, my camera arrived. I've been on a steep learning curve ever since.
Here's some more pics for you guys and gals: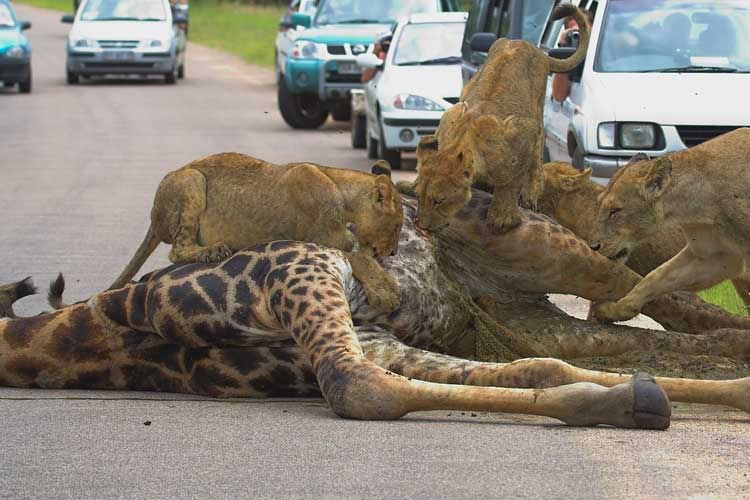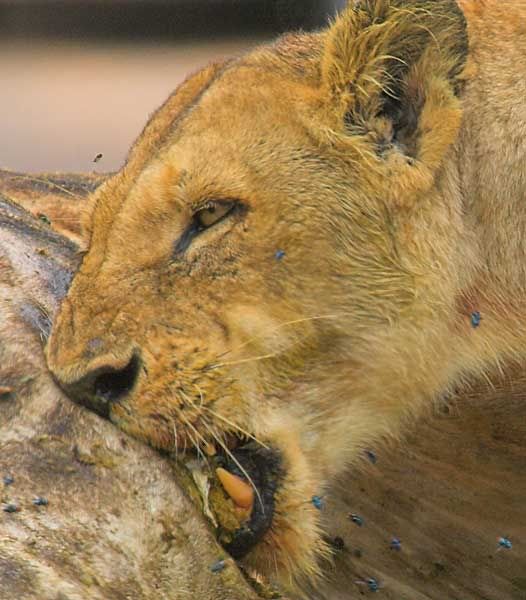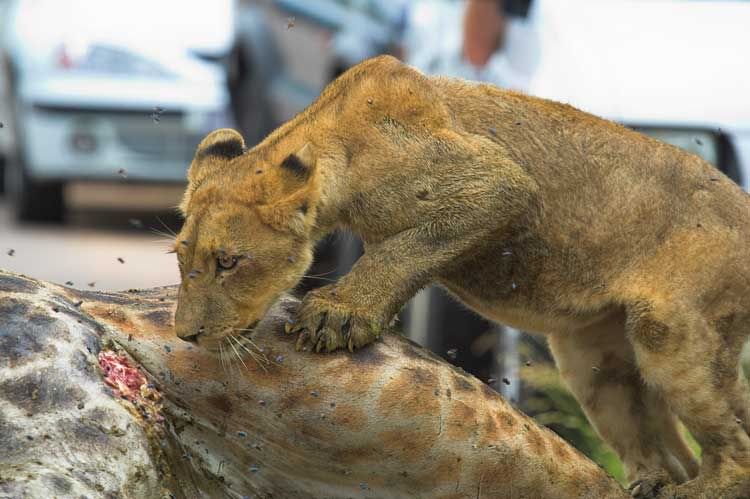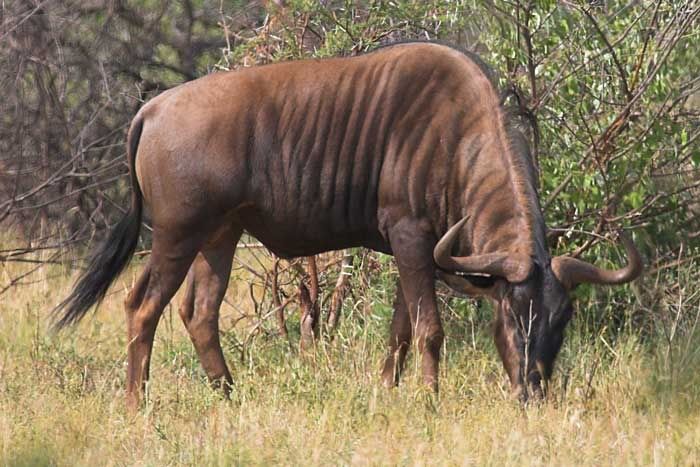 Enjoy...
---
Honorary Virtual Ranger

Posts: 14519
Joined: Fri Jan 14, 2005 5:42 pm
Location: Red sand, why do I keep thinking of red sand?
Ollie: I use a Canon EF 100-400mm f/4.5-5.6L IS USM lens.
have a 2X Canon extender, but never used it on this trip, since everyime I needed it, I did not have it with me, and every time I had it with me, I did not need it
You certainly started your kit with the right lens!
I quickly got into the habit of hanging the case of my binocs over the headrest of the chair in front of me, with my extender and such in there. Always could get to them fast, without disturbing the sighting.
(And you can stick a can of Castle in it without being afraid it will fall over when on a bumpy road...
)
Not posting much here anymore, but the photo's you can follow
here
There is plenty there.
Feel free to use any of these additional letters to correct the spelling of words found in the above post: a-e-t-n-d-i-o-s-m-l-u-y-h-c
---
Always have my 2x Tele in the car, but hardly ever need it, since it's a corolla and very low. Only need it on Game drives, when you can actually see over the trees into the distance and that is exactly when I did not have it with me.
Just Uploaded these:
Will upload more later...
I actually do still have a job
Although I wish it was rather in the bush.
---
I think the only gift I have is a love for nature. If you have that, then you normally see things the average Joe does not and you appreciate the smaller things. But as pointed out multiple times... In Wildlife photography it's all about LUCK.
Patients does seem to increase a person's luck as does a pair of eyes always scanning and looking.
Ollie: the combo works nice for me, except the manual focus thing
. I still need LOTS of practice with that. The parts that are in focus looks decent. Not going to post any of those pics, to save myself the embarresment of my trouble with manual focus.
And for those that love pics, here's the next installment.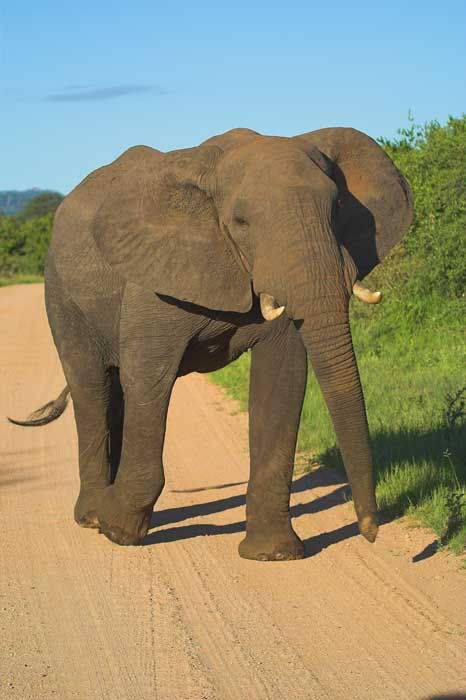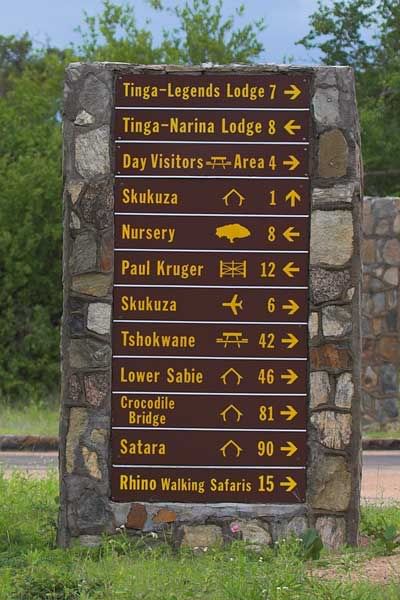 This sign above must be the best one in KNP. Decisions, decisions... Which way will I go
For the Rhino Lovers: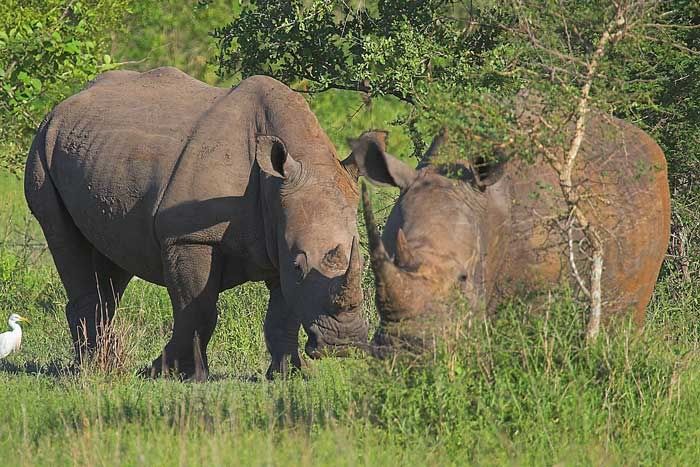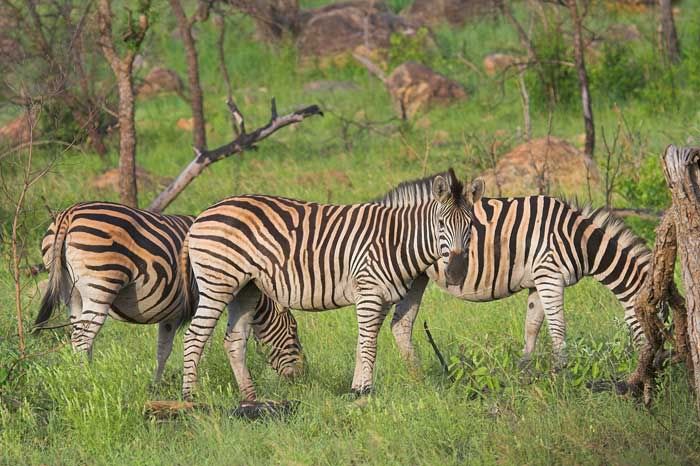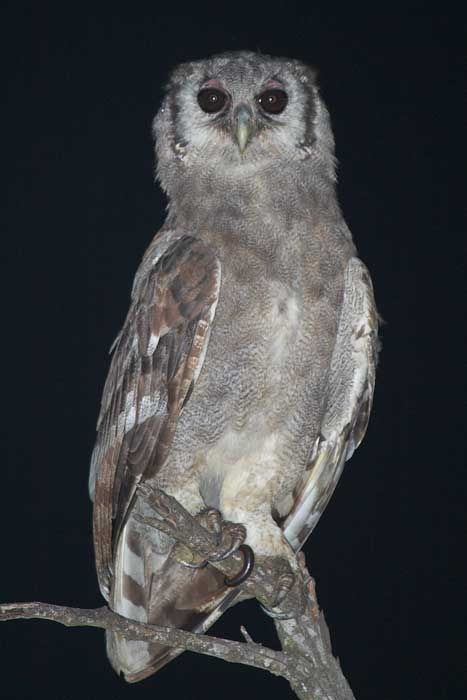 Enjoy
---
---
This will be the last set of pictures from our Dec/Jan Kruger trip. It takes quite a lot of time to work through so many images and then deciding which ones are best and which ones are not. But don't worry, I'll post Pics from Addo often on all my trips to Addo, so look out for some Addo trip reports with more pics.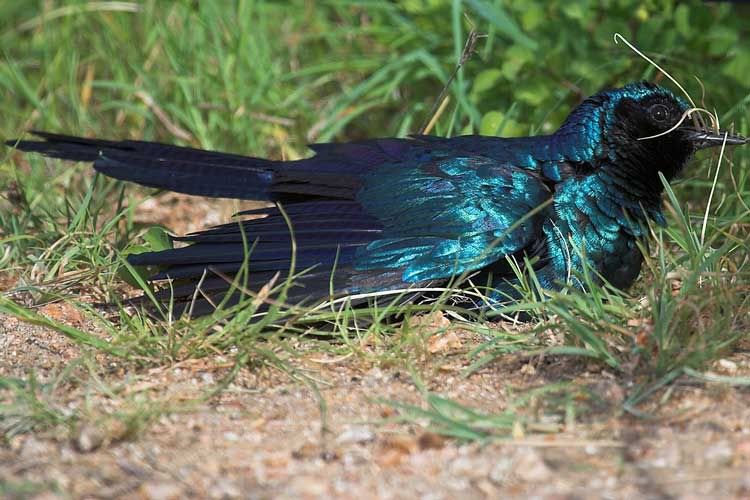 Hope you all enjoyed the trip report and pics.
Thanx for all the compliments.
---
---
Who is online
Users browsing this forum: colbol and 3 guests