Sorry about the hiatus, but work really has got in the way of this TR!
Now, today being freezing cold, what better way to spend it than by continuing with our memories.
Once the ellies had finished playng, a herd of zebbies came to take their turn to drink. I couldn't help wondering if the dead Kudu was not affecting the water and whether it was safe for the animals to drink. Nobody seemed inclined to remove it though.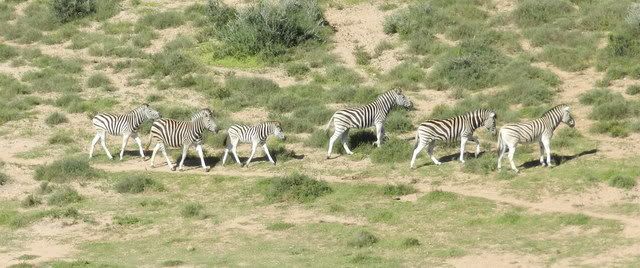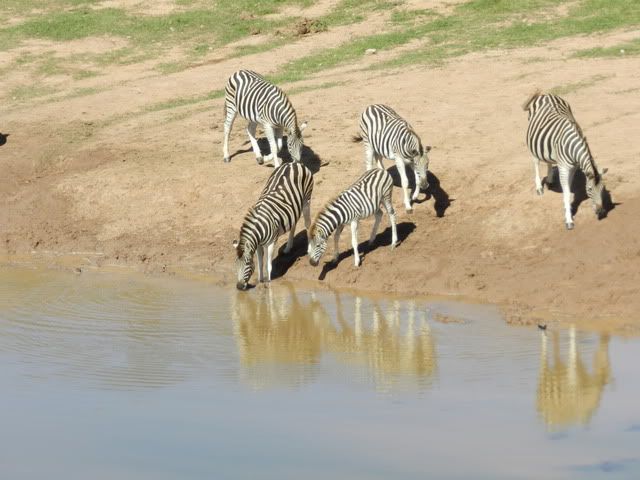 They slowly got into formation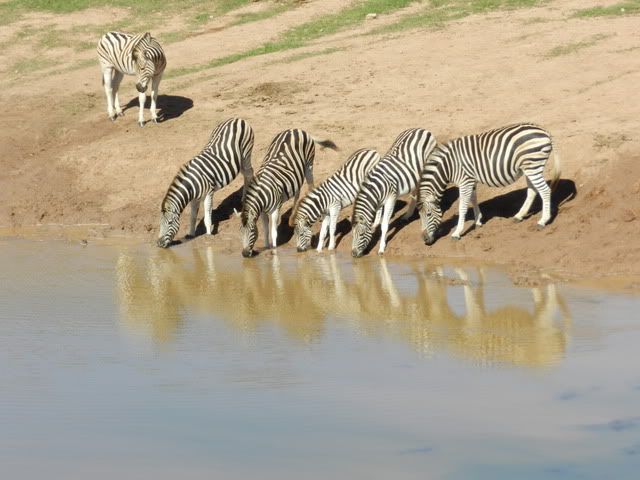 and all had their chance to drink.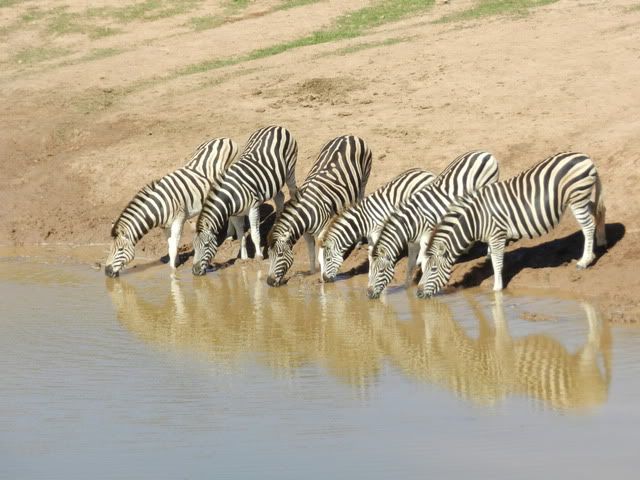 It was time for a convenience stop and we headed back to the cabin, finding this litte creature acting as a lookout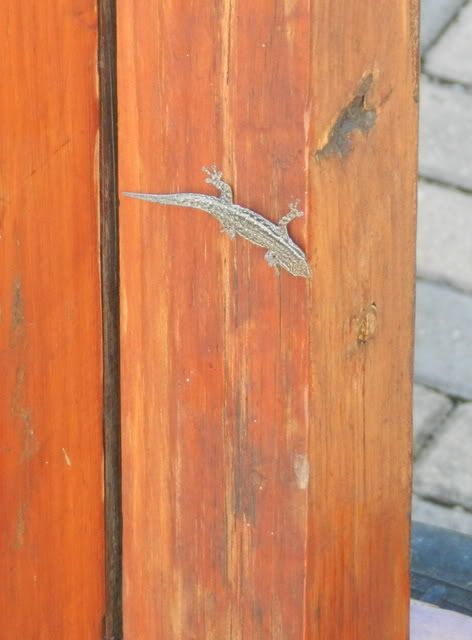 After a quick break, we headed to Rooidam. Along the way, we came across these Red-necked Spurfowl - a tick on my list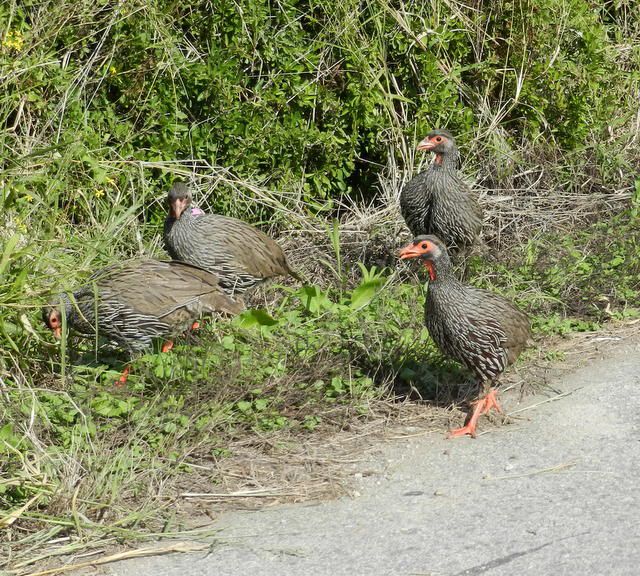 At the dam, we watched this small family drinking and then looking for muddy water - the young male was actually digging and then standing in the hole while mom and little sis were doing it the conventional way....boys will be boys!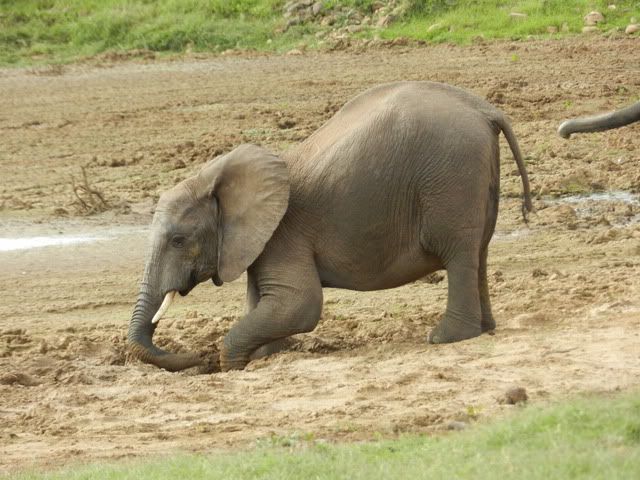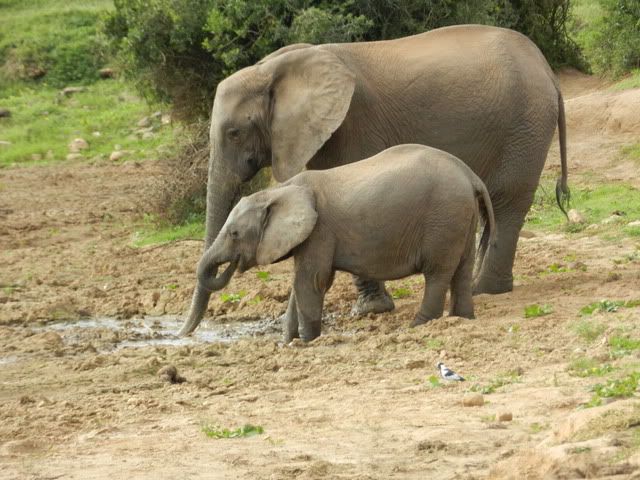 Need a page turn, so will have a wait a while.
---
After the family left Rooidam we moved off towards Hapoor dam. Again, it was only the Herons and the Lapwings playing amongst the reeds and at the water's edge and these Zebbies having a drink.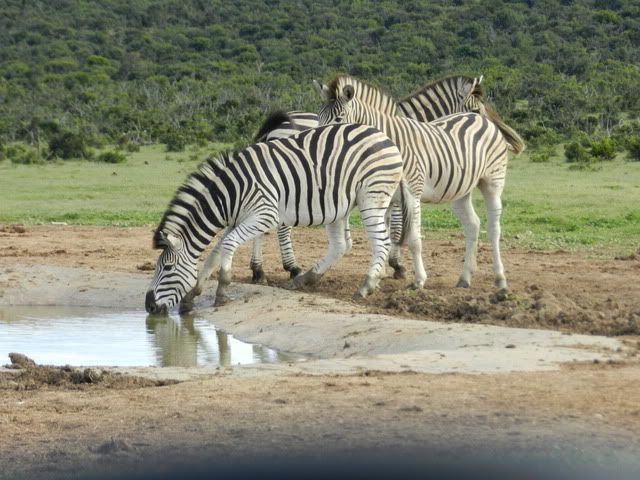 We took the Mpunzi loop and saw this pair of BBJs scurrying through the bush.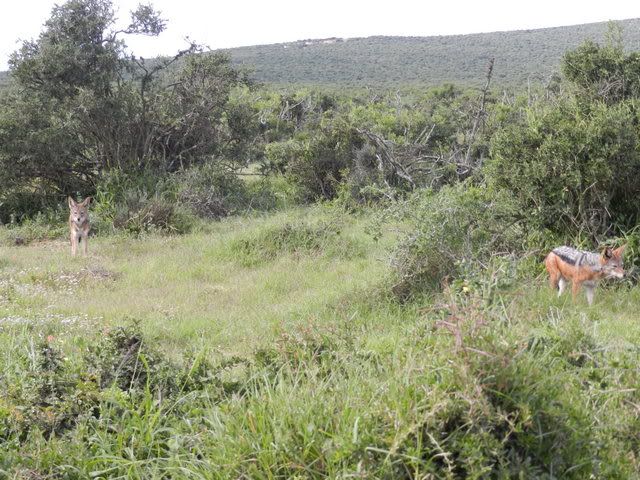 We caught sight of a pair of Black Shouldered Kites, one of which was enjoying his lunch.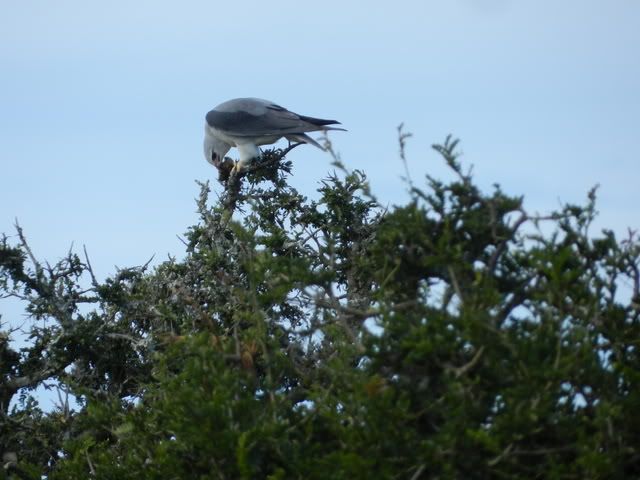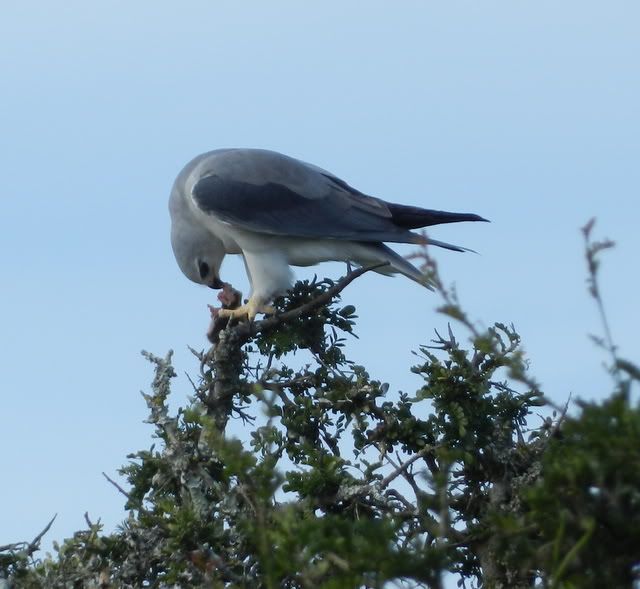 Obviously mousies are tougher than we think
and he definitely was not going to share!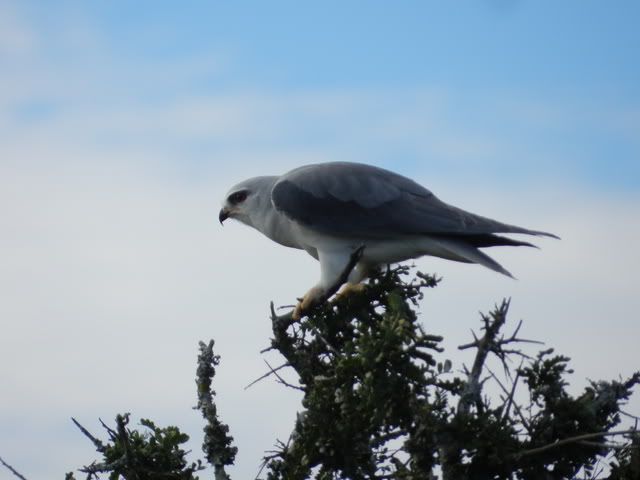 On the way back towards camp, we stayed on the tar and came across one of my favourite, but most difficult to photograph, birds - an Emerald Spotted Wood Dove. This is the best of about 20 really bad photos as I was trying to take the photo out of the window while it was walking right next to the car, but behind me and this was not working for me. We couldn't reverse for fear of squashing it under our rear tyres, so this is it.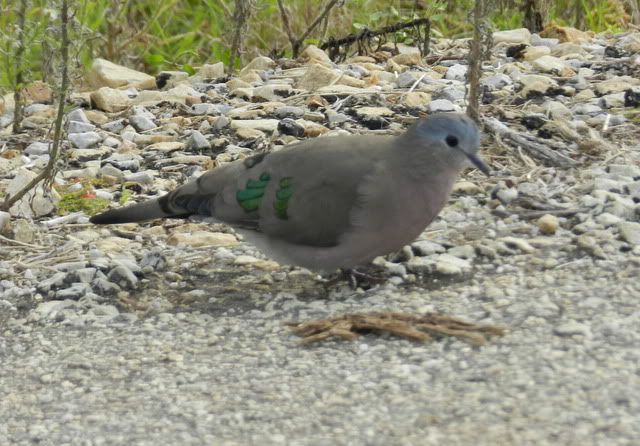 I was happy!!
---
Oh Boy! Work really did get in the way of this report.
I need to rush it to a conclusion as we are heading off to KTP for 5 nights next week.
On our way back to camp, we detoured via carol's Rest and were treated to a lovely Zebra family with a little foal.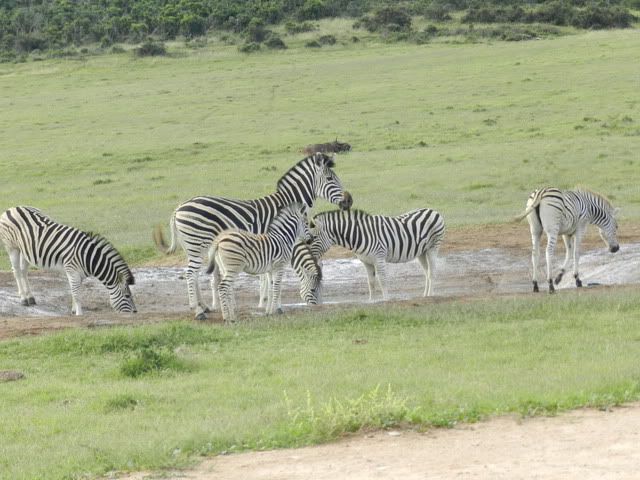 A little Yellow Mongoose stuck its head up and surveyed the surroundings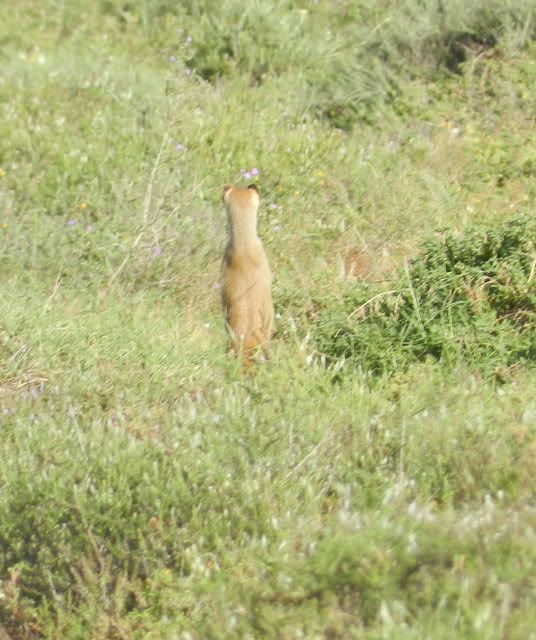 Another BSK looking for a mousie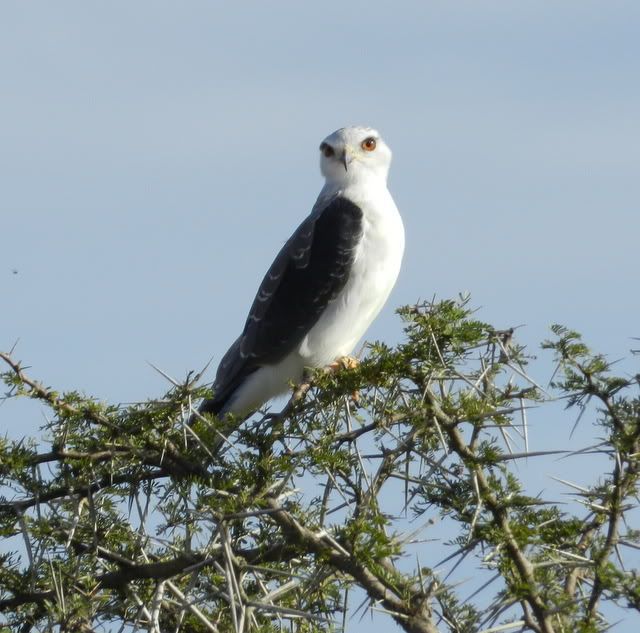 A lovely herd of Eland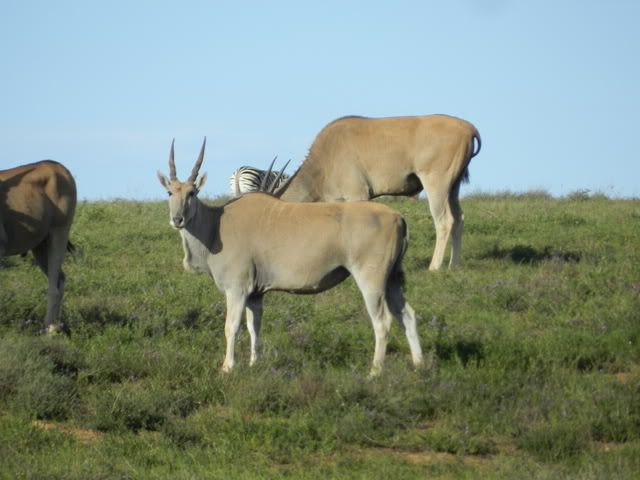 This juvenile PCG was standing majestically on the tree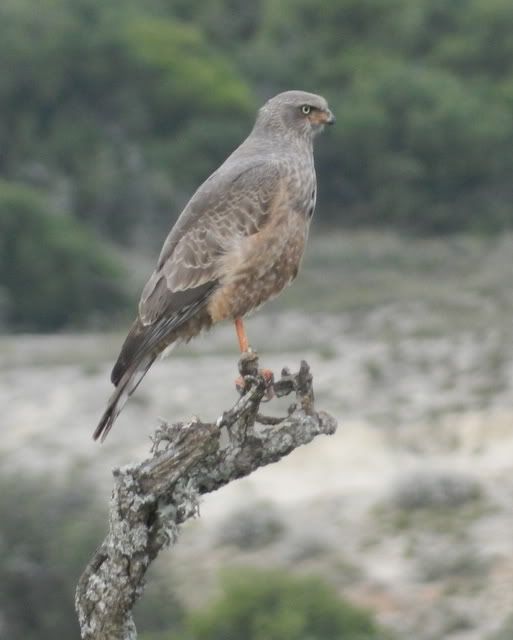 The next episode will include another "kill".....
---
Well I am finally back from my sojourn up to Kgalagadi and need to get on with finishing this report.
Not much more to go.
Obviously this little guy was also looking for the lions!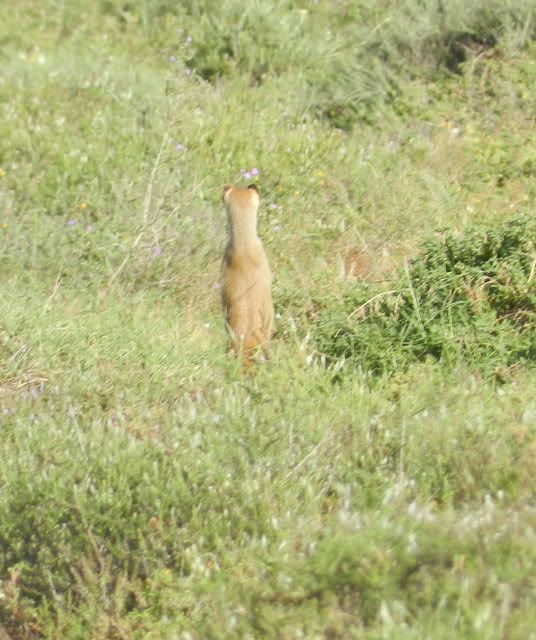 I love BSKs so couldn't resist taking a photo of this beauty...now I didn't say it was a beautiful photo, I said he was a beauty!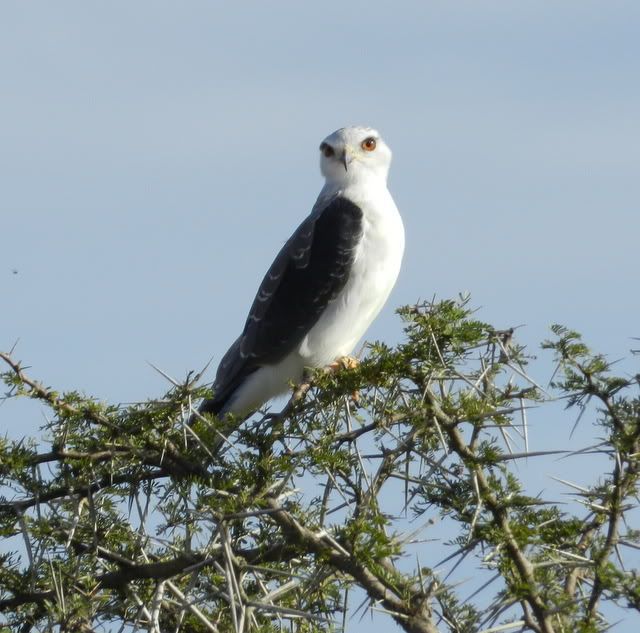 We passed the traditional Zebbies, Ellies and Eland and headed back to the cabin.
We also witnessed our first kill....why do you always root for the poor prey!
As we got back to the cabin, I caught sight of a bug in the bush. While I was trying to work out what it was, it fell to the ground and then the Southern Boubou swooped in!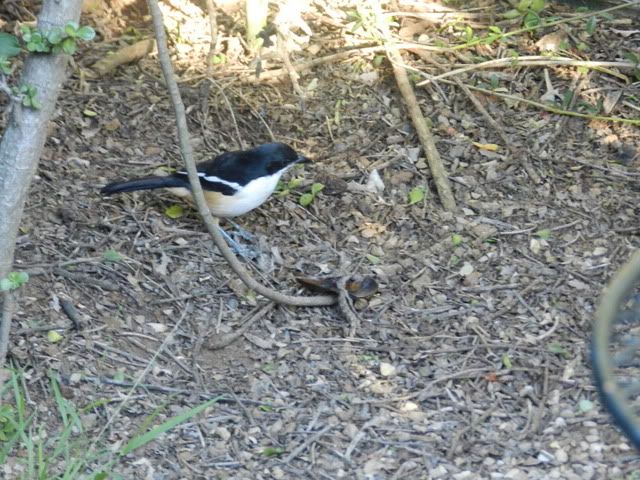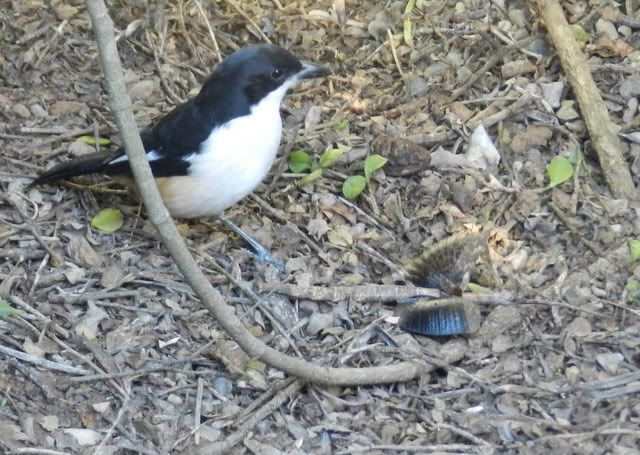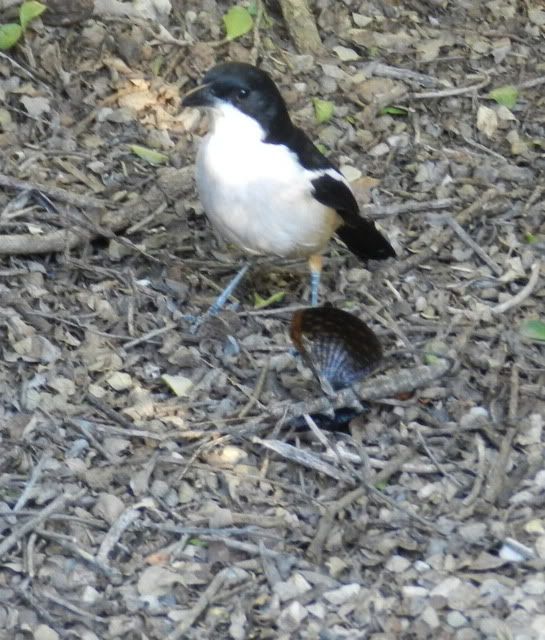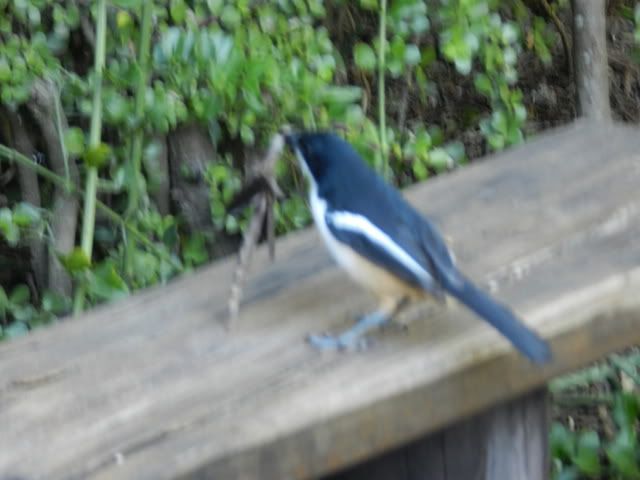 Not the greatest photos, but the darn thing was flapping all over the place and the bird was pecking it and throwing it in the air etc. I STILL don't know what it was!! Originally I thought it was a stick insect, but it was huge and it had wings which can be seen in the photo....and I was not going ot get too close as I dislike bugs!! If anybody has a better idea as to its ID, I would really appreciate it so that I know to avoid them next time!
We went out again later and watched this BBJ drinking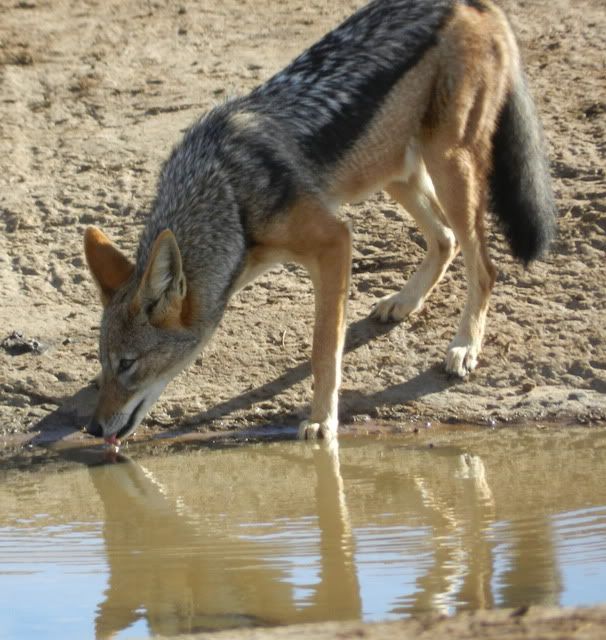 and while watching a PCG in the tree, I looked down and caught sight of this little mousie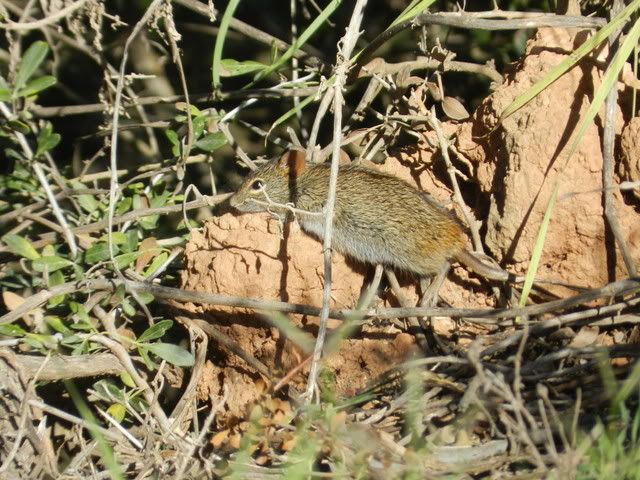 I was so sure it was dead, but after a little while, it srambled under the bush to escape.
We stopped at Domkrag and had to wait a long time while this tortoise made its way to the water. Now I am not sure when last it had anything to drink, but it dunked its head into the water and didn't come up for air!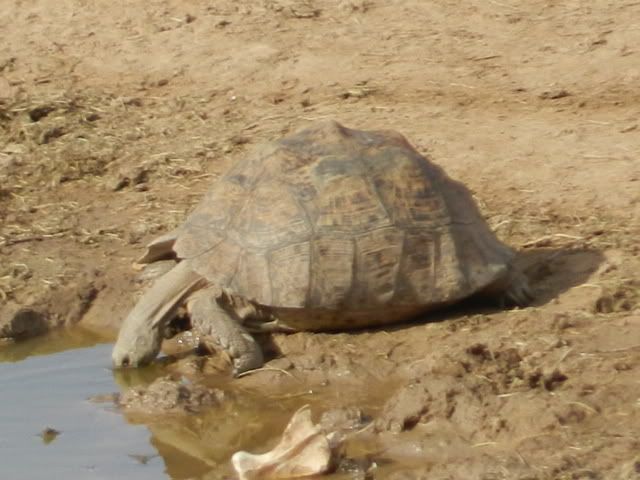 As it was our last night in the main camp, this guy came to say farewell!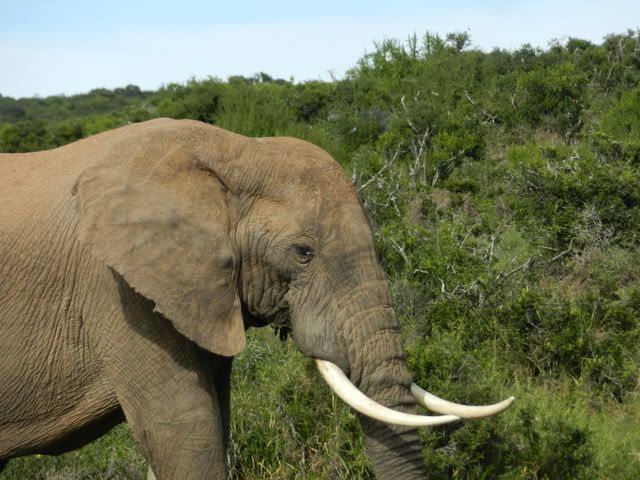 Tomorrow we head back to Matyholweni......
---
---
Who is online
Users browsing this forum: Crested Val and 4 guests