Friday 24 Feb cont …
And then, can you believe it, 2kms from Lower Sabie, just at the junction with the S29 and S128, more brothers …
It was just after 5pm and there were hardly any cars there. I was tired and had been planning on going back to Lower Sabie and having a snooze but instead stayed with these guys till there was just enough time to get back to camp before the gates closed!
They were very lazy but every now would open an eye and have a look around …
But then decide that there was nothing happening so would just roll over and go back to sleep again …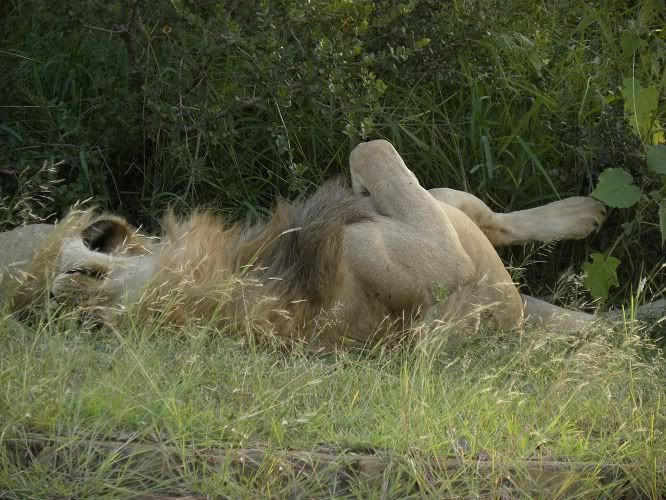 It was quite comical watching the brothers … whenever one changed position, the other did exactly the same!
I think they had full bellies and were very sleepy but they soon decided it was time to wake up …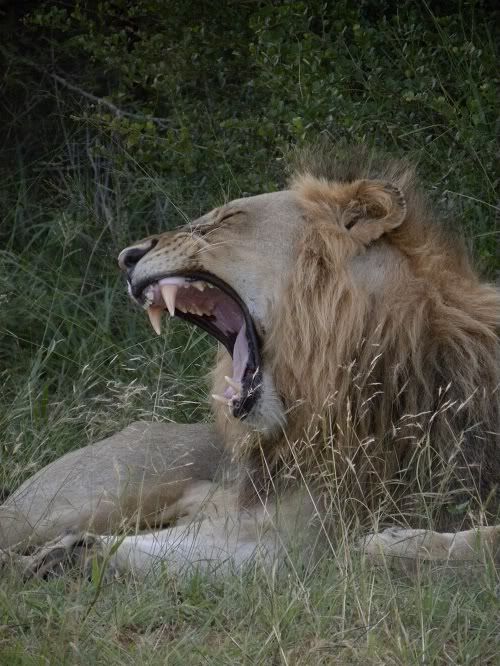 Check out the Mohican haircut …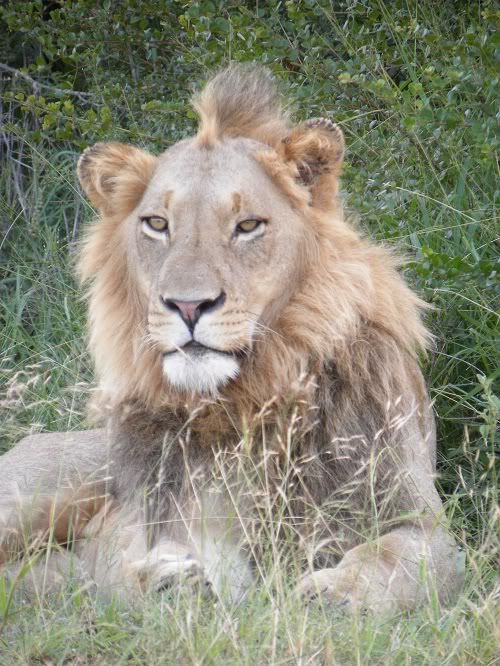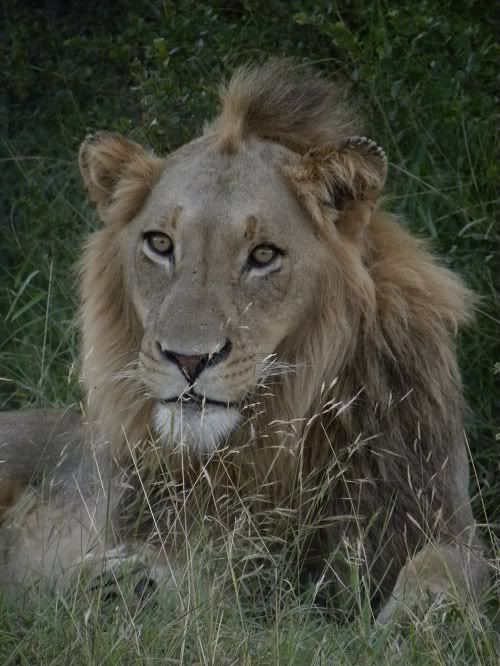 It was then time for a bit of personal grooming …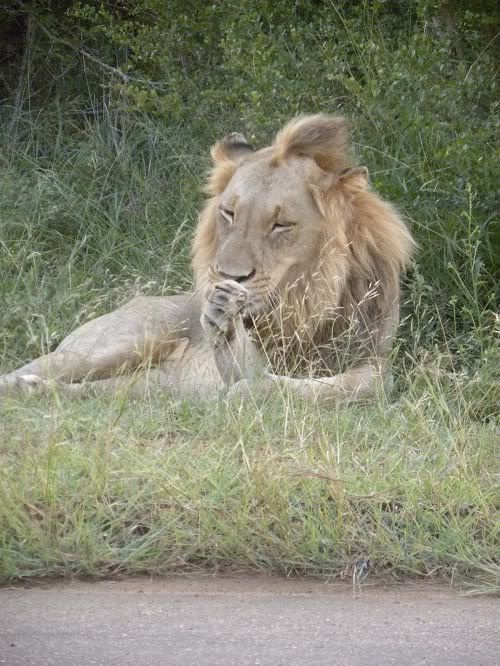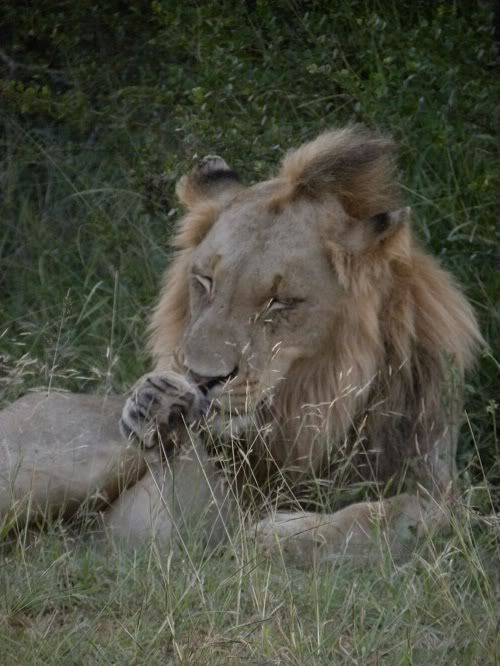 But goodness me, that was exhausting …
So it was back to sleep …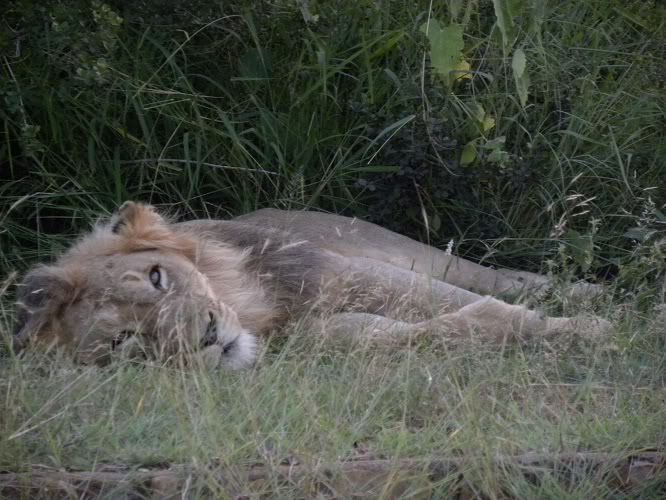 What a great way to end my last full day in the park, topped off by yet another beautiful Kruger Park sunset …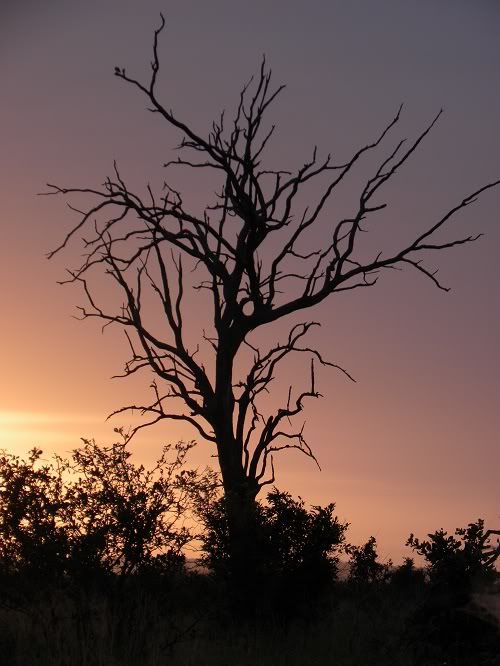 ---
Saturday 25 Feb
Well, D-Day had arrived again … I was up early, all packed up and out the gate at 05:40am. I decided I'd do the "small triangle" this morning – the S29 to Mlondozi then back down the H10. Mr Goliath Heron was in his usual spot by the reeds in the Sabie River; I came across giraffe, zebra, ellies, a red-crested korhaan, a nice black-bellied korhaan and a fab crash of 5 rhinos with a little one amongst them and
an ellie that was fairly close to them too…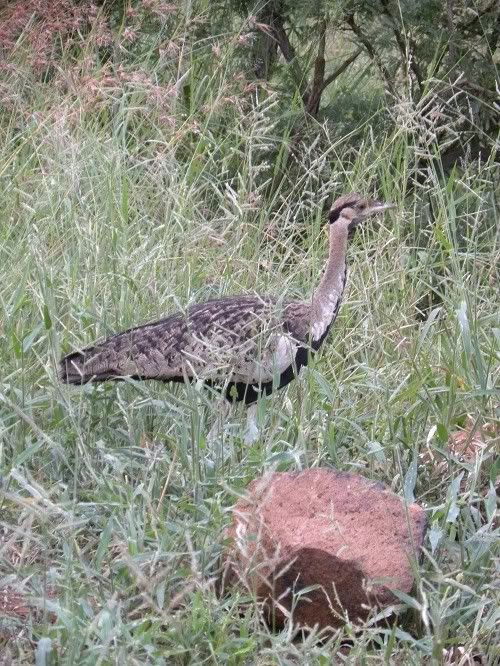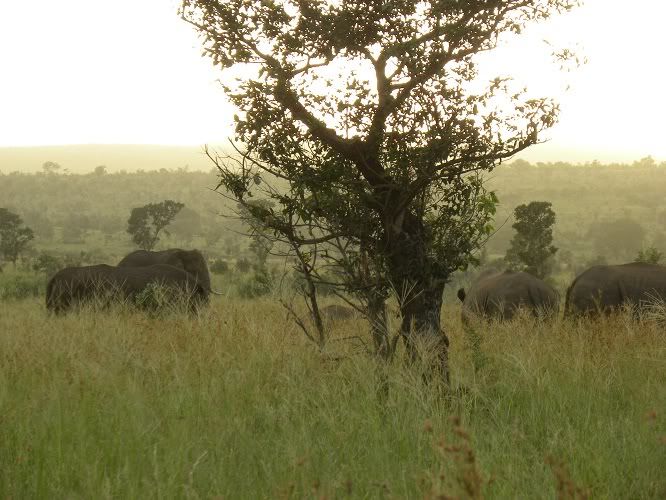 The grass was pretty tall which made it difficult to get some nice photos but I still stayed there for ages … such a special sighting!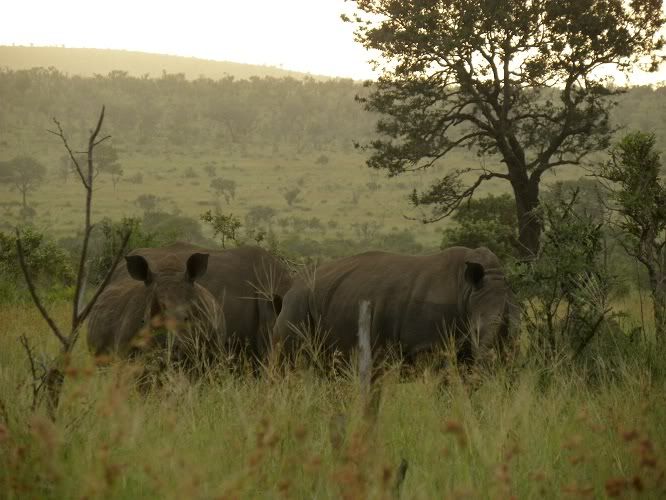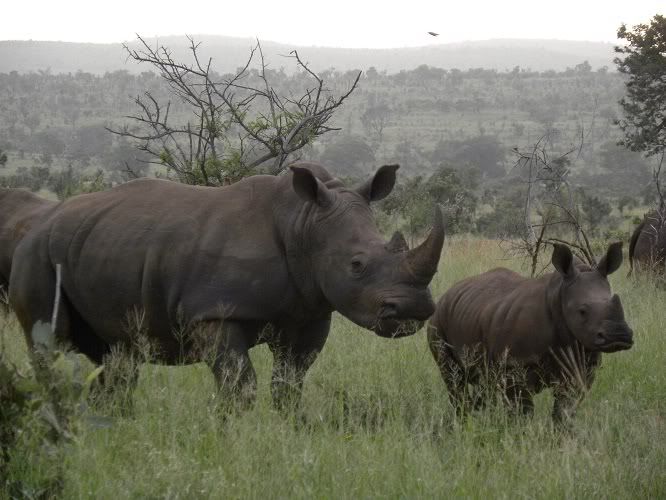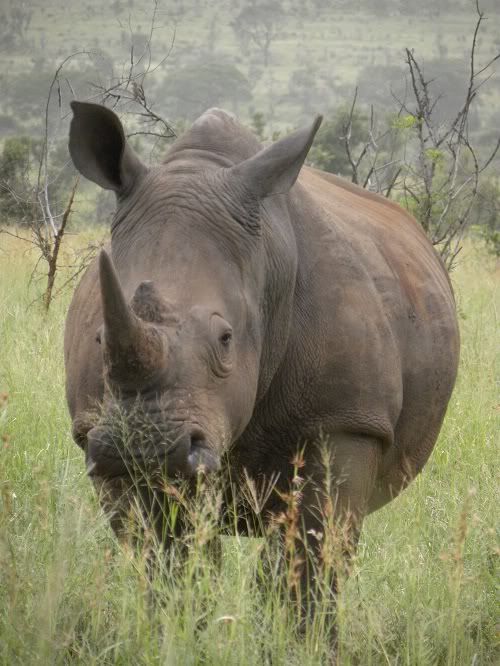 Further along was this little chap who I decided from now on would be called the "Kruger Park Road-runner" as he ran in front of my car for ages!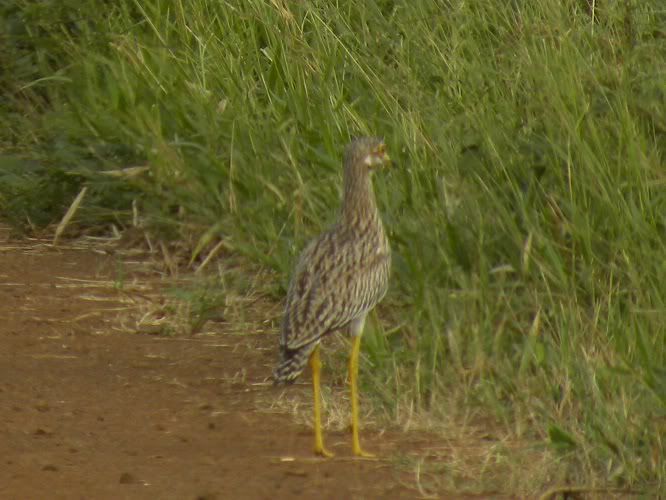 Right at the turn off to Mlondozi there was this lovely herd of ellies enjoying the greenery …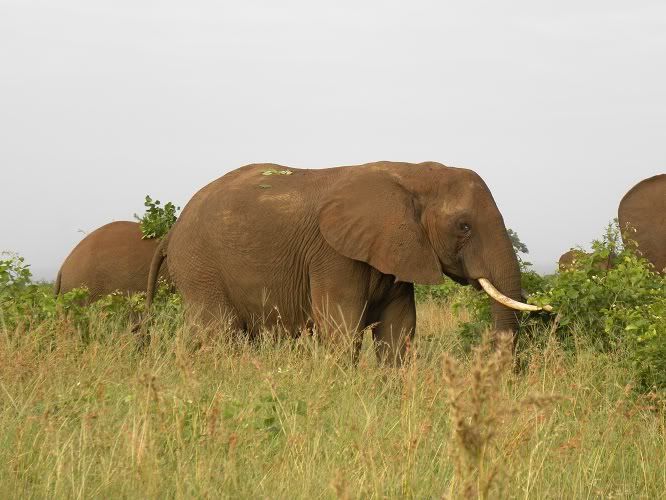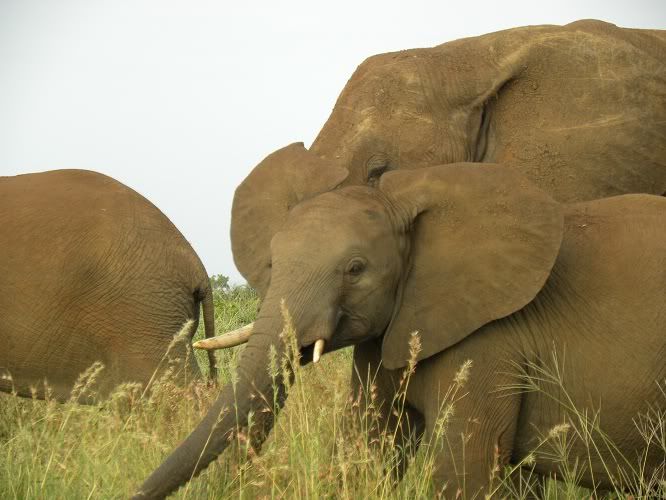 ---
Saturday 25 Feb
Mlondozi was full and looking very peaceful …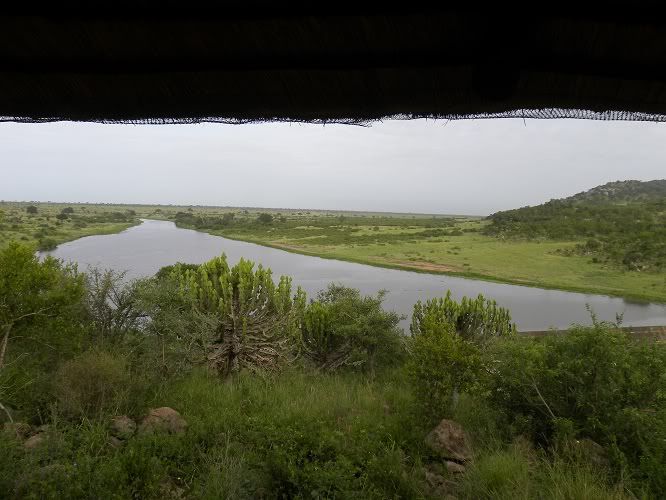 The herd of ellies I'd seen on my way there were no longer visible … just this guy was left behind …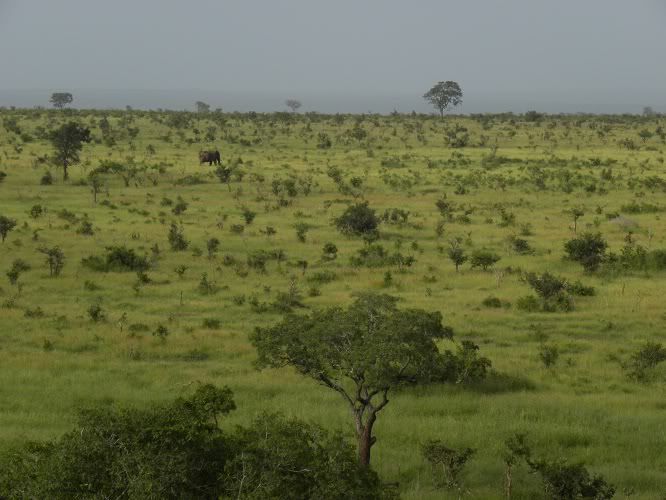 On the way down from Mlondozi I spotted this male ostrich sitting on his nest ,,,
The female was nearby but busy …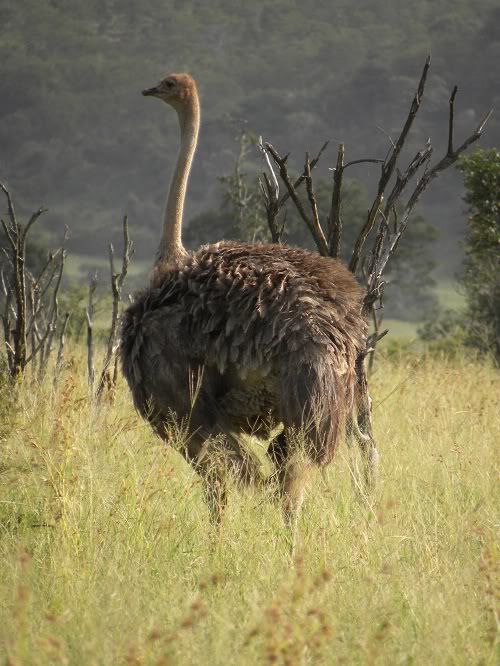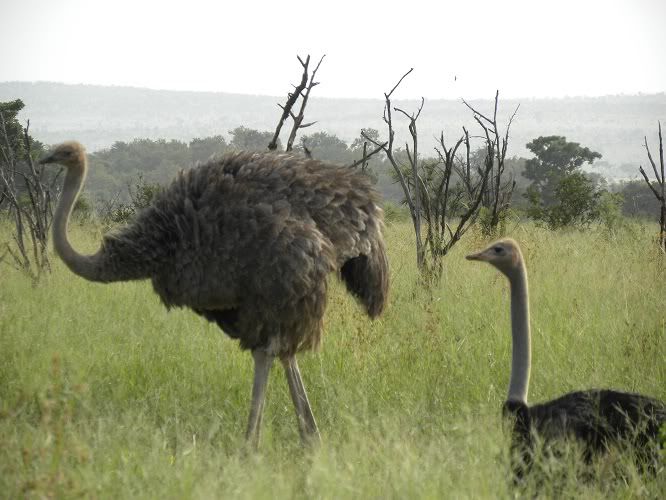 I thought the males sat on the nests at night time and the females during the day???
I guess maybe Mr Ostrich suddenly realised this too after seeing the curious look on my face for such a long time so got up to do a swapsie with his wife …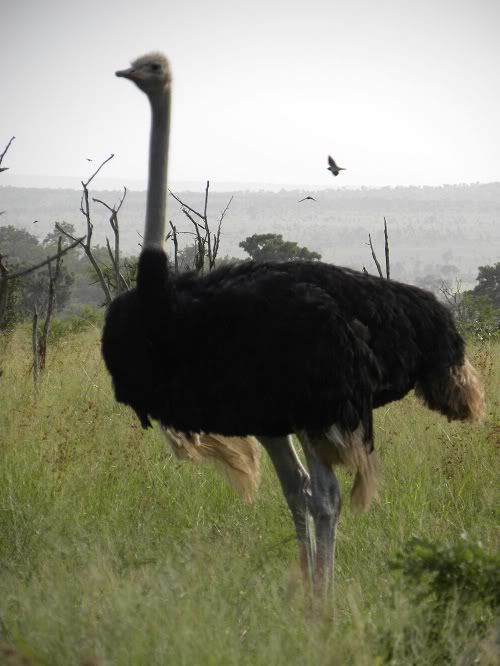 but Mrs Ostrich was having nothing of it and just continued to walk around …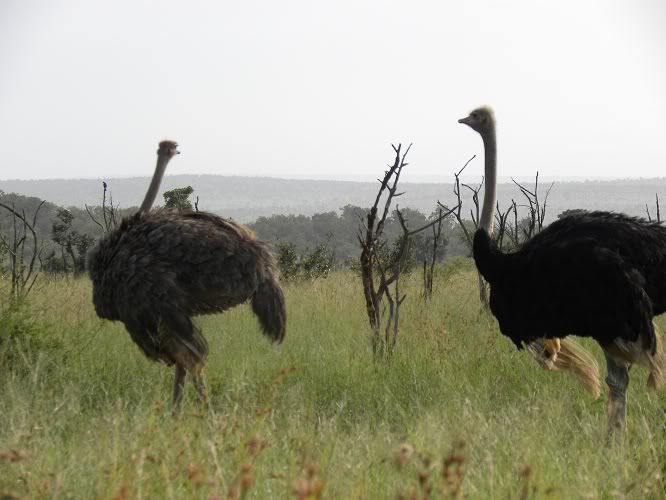 Maybe Mr Ostrich was just having a rest???
Further on and warties, zebras with foals, more warties, …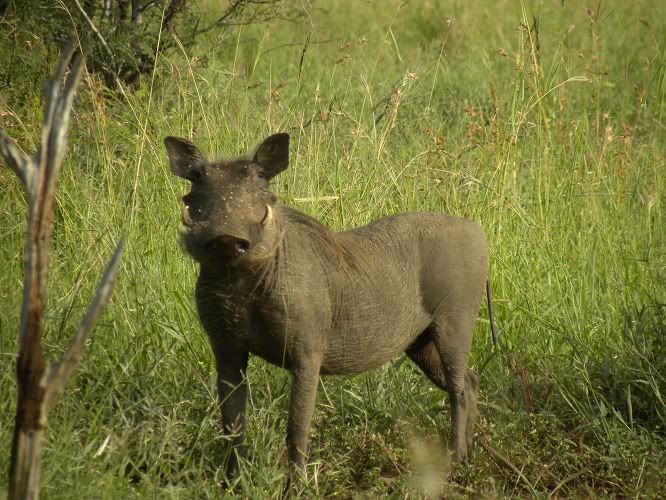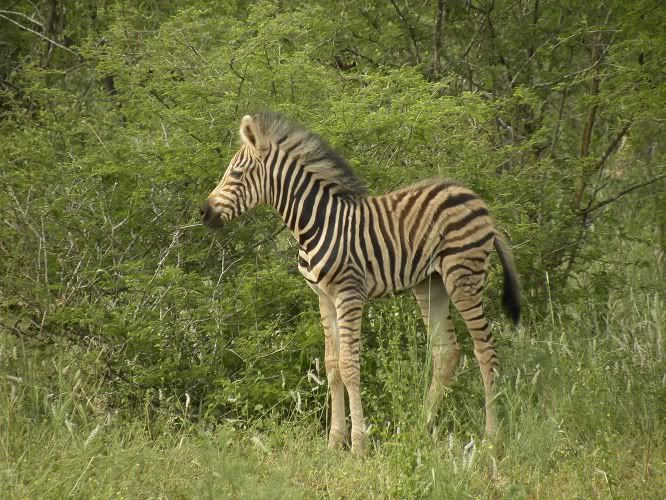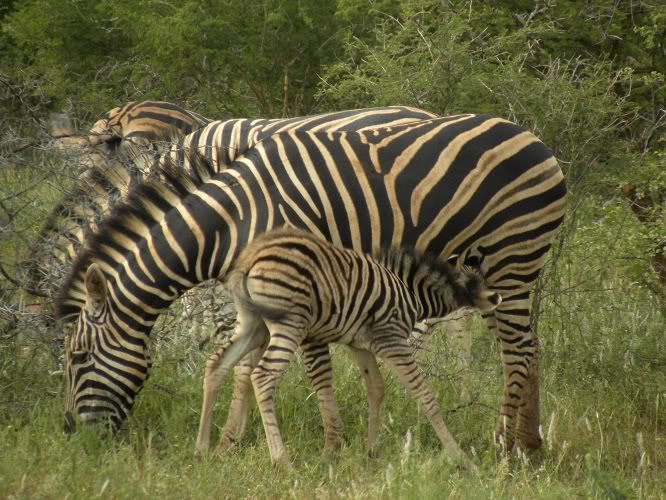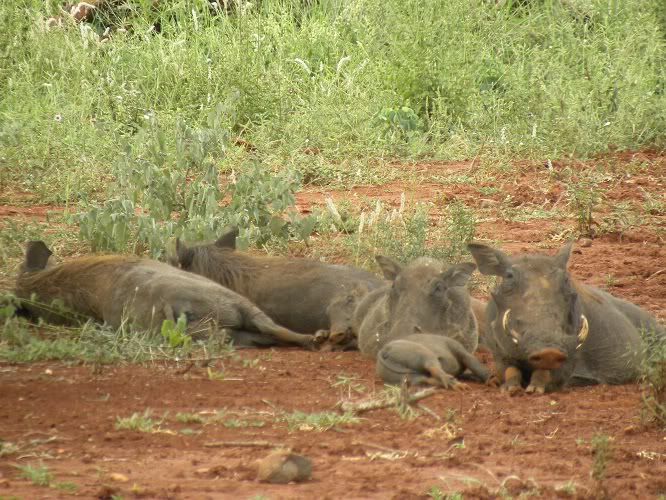 ---
Saturday 25 Feb
Back to the bridge going across the Sabie River for the last time this trip …
Hippos were on the sandbanks and ellies were crossing the river …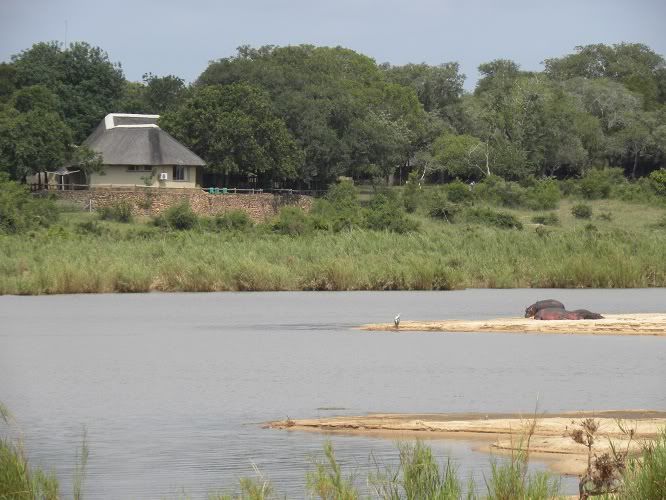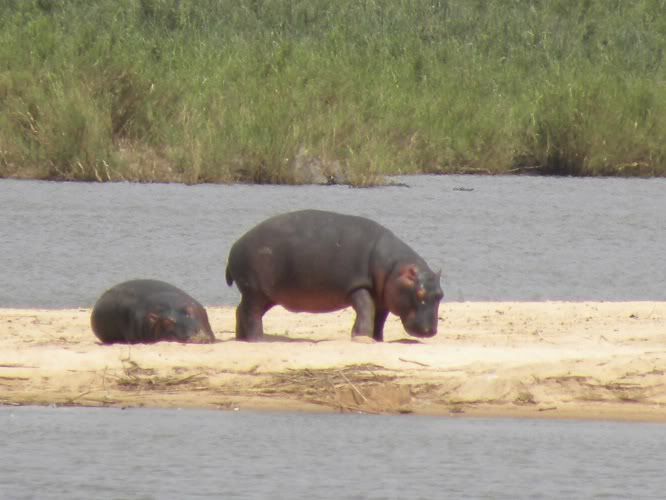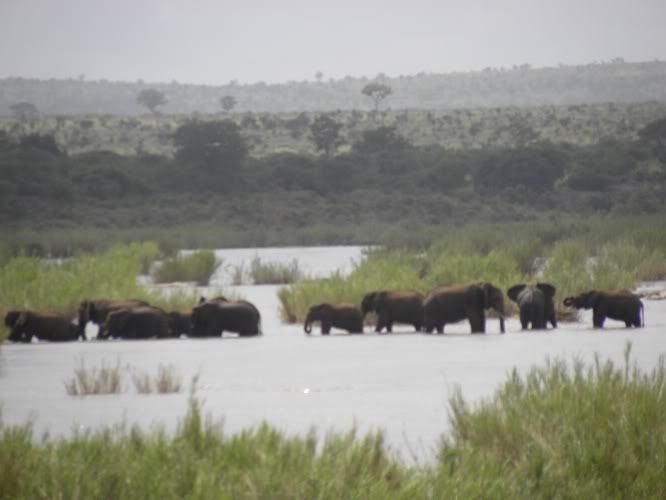 Golly stood there observing …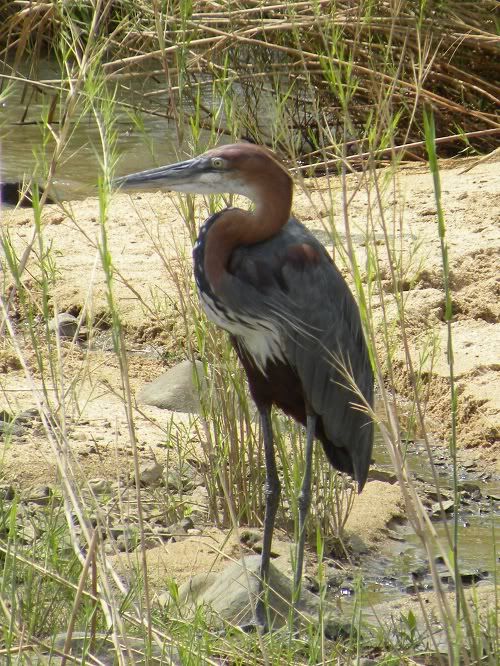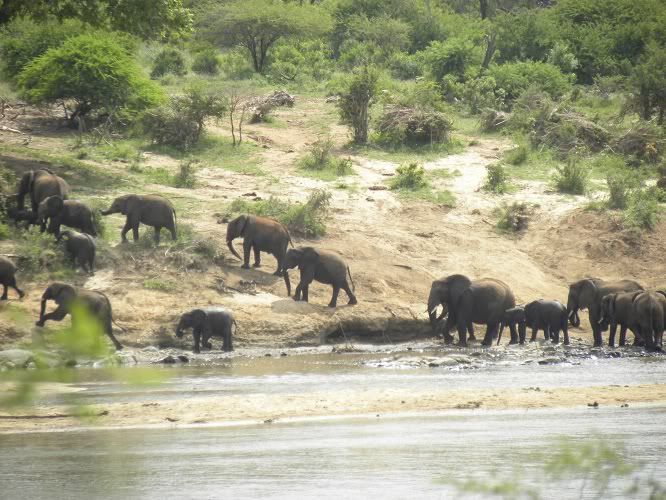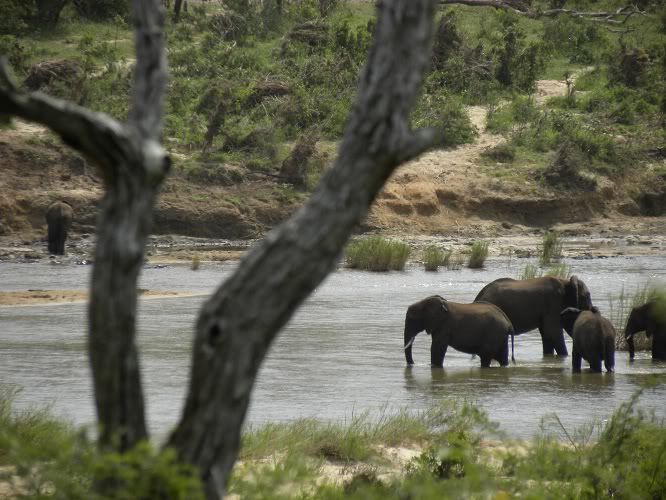 As did this bold chap who was sitting on Mr Fish Eagle's perch …
---
Saturday 25 Feb cont …
On to the H4-2 – the homestretch … those final +/- 35kms to Croc Bridge …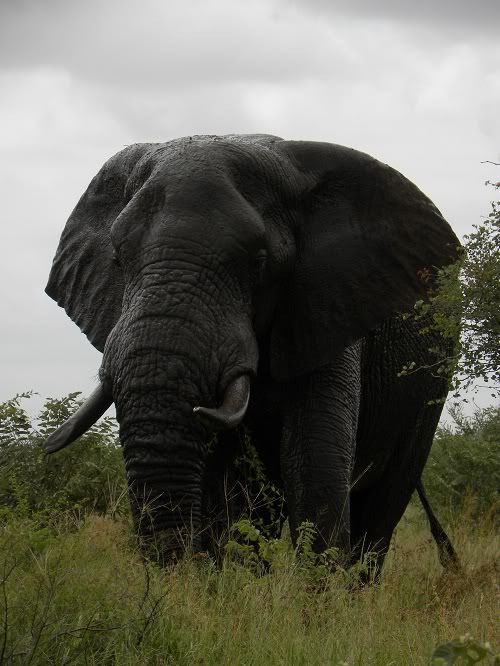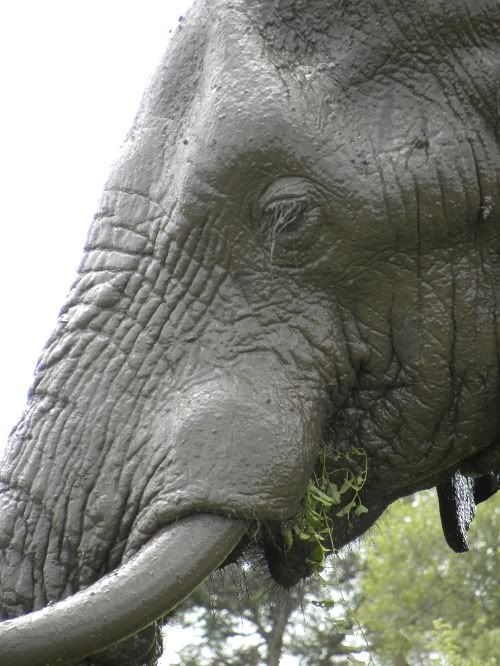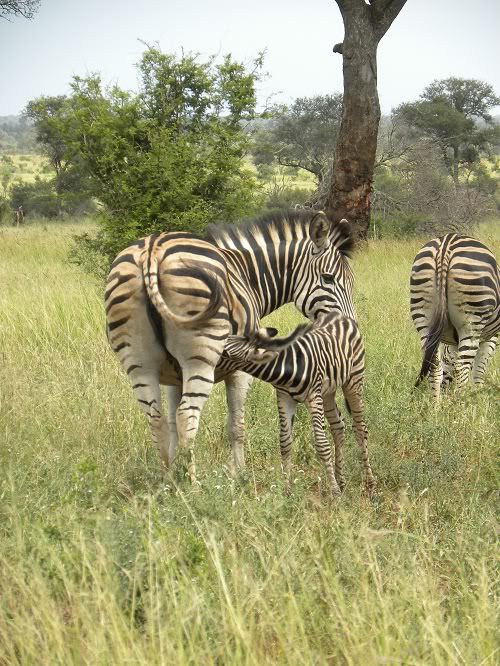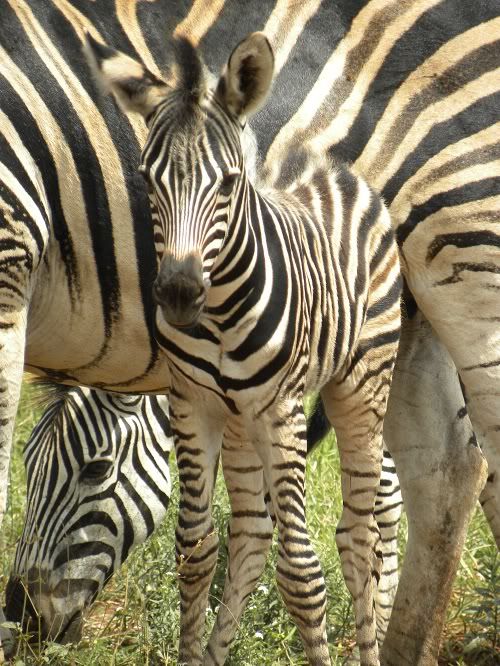 and then it was time to say goodbye for 6 weeks and wonder about the changes that would take place in that short space …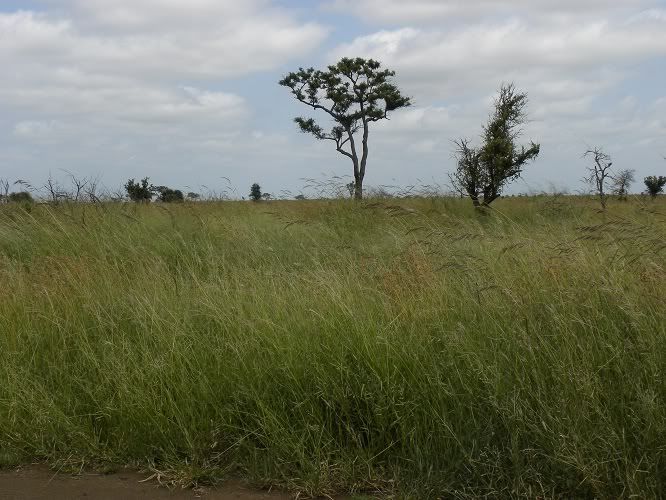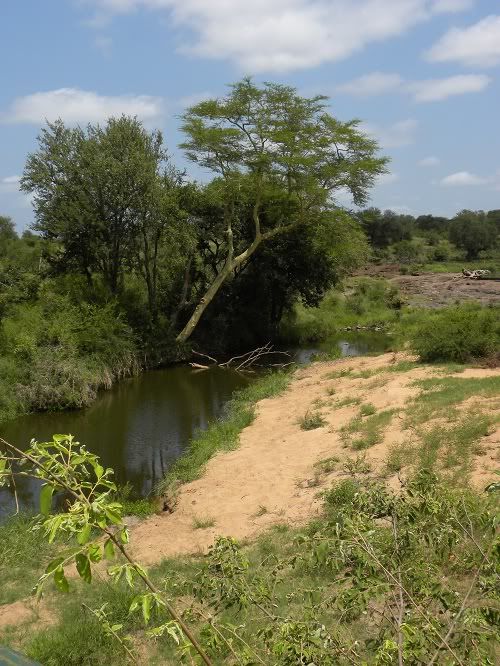 ---
Thanks to all those who followed my TR and especially to those who commented … that's what makes it all worthwhile!
Don't go away now, there's more coming up! Next is "A Spotty Easter in KNP" and here's a quick preview just to keep you hanging on …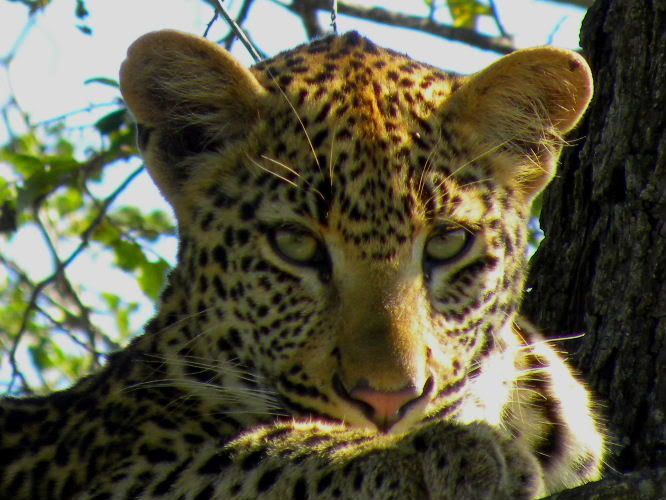 ---
Sharifa wrote:Thank you for another delightful TR Wendy

Gorgeous Heron and the ellie

More lovely zebras

Then you wet our appetites for the next TR

I'm ready
Thanks for following Sharifa and for your kind comments along the way! Next TR is just about to start ... get yourself a seat on board!
Timbits wrote:Beautiful spots!!!! Can't wait for the story that goes along with that photo.
Thanks Timbits! The story is just about to start ...
LindaS wrote:Hi Wendy

I'm ready and waiting patiently for the start of your "A Spotty Easter in KNP" TR ...
Hi Linda! Glad to have you on board for the next ride through Kruger. The bus will be leaving very shortly ...
hilda wrote:Excellent picture Wendy!
Thanks Hilda! It was THE best leopard sighting I've EVER had ... amazing!
saraf wrote:That's what I like about a WendyA TR, when one finishes, there's another one already on the way.

Thanks for sharing, Wendy, I really enjoy all your trips.
He he he! Thanks for your kind comments Saraf! The next TR will be starting in about 5 minutes ...
Sparrow wrote:Tanx for a most splendiferous TR Wendy, it was most enjoyable to experience your expreiences.
I can`t wait for the next one if that cutie is the hors douvres
Thank YOU Sparrow for following my TR and for all your kind comments along the way. The next TR is coming right up and yes, that little cutie was just the hors douvres!
granjan wrote:Great report, Wendy with lovely pics.

Looking forward to the next one
Thanks GranJan! Once again it was lovely to meet you - always nice to put a face to the "online name"!
Heksie wrote:What's everybody worrying about my marbles? I haven't lost them!!! I. Locked them far far away and dropped the key in the Sabie river. No one will ever find them!

Wendy I can't believe I missed 3 episodes

You saw a lot!!!!

Baby zebz they are definitely winning in the cute factor and those vrakkies!

Then great kiekies of the hippies and ellies

I really enjoyed your TR and what an intro for the next spotted one!

I'm starting to pop some poppers so we can get this new report started
Ahaaaaa .... here you are! I thought you'd got lost looking for your lost marbles!!! Yes, 3 episodes went by without your comments my friend ... so much reporting to do, I can't hang around!!! The baby zebbies were just the cutest ... and I couldn't stop taking kiekies! Your poppers woke me up this morning- I got the message, next TR coming right up!
Rookie2009 wrote:Those zebras are so cute

Waiting for your next TR
Thanks Rookie2009! They were soooooo cute! Next TR coming right up ...
cheetah2111 wrote:That leopard
What leopard?????
Oh, you mean this one ...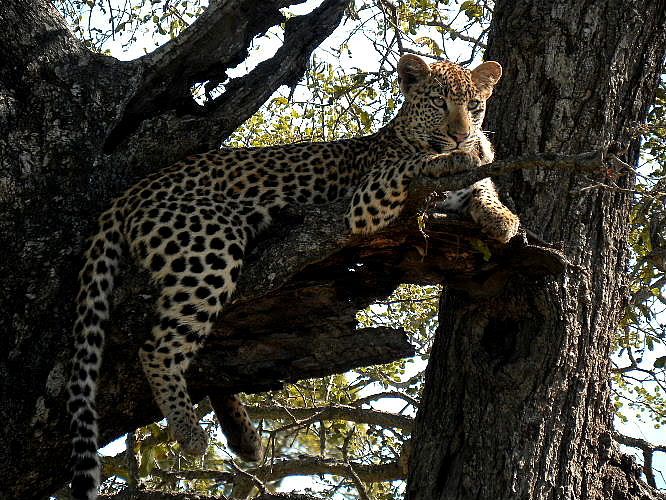 !!!!!!!!!!!!!!!!!!!!!!!!!!!!!!!!!!!!!!!!!!!!!!!!!!!!!!!!!
---
---
Who is online
Users browsing this forum: No registered users and 6 guests