Posts: 38
Joined: Tue Apr 03, 2012 11:49 am
Day 7 – Shingwedzi to Pafuri to Punda Maria
Well we had quite a long way to drive today as we had booked a walk at Pafuri at 11am! Yes I had managed to wangle a deal at Pafuri lodge to get there Wilderness guide to give us a late morning walk!! So off we set and although we had heard the lions roaring all night we couldn't afford any detours and we headed off straight on the H1-7. It was pretty quiet until after our breakfast at Babalala. We were now on the H1-8 and stopped to take photo's of this female black-bellied korhaan...
When all of a sudden we noticed these guys in the bush nearby!!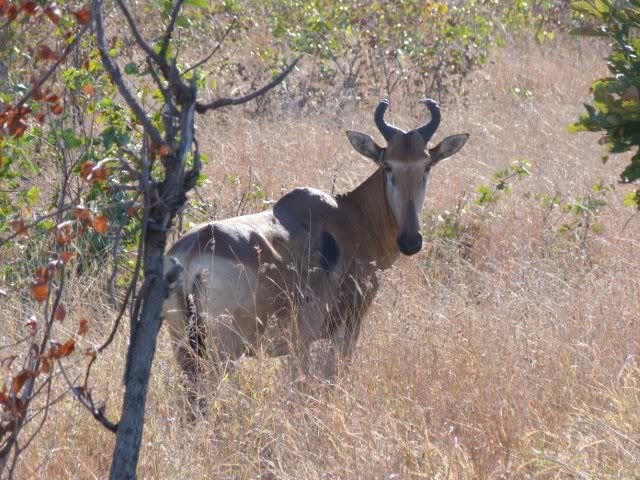 3 Lichtenstein's Hartebeest!!!!
A 1st for me!
We enjoyed the sighting and then headed on to Pafuri. Dropping into the Luvuvhu valley the scenery is special...
We arrived at the lodge with time to spare and sheepishly made our way to reception. The lodge is absolutely stunning, with fantastic views of the famous Luvuvhu. We sat down, met the manager (he was astounded we had made this arrangement as it had never been done before!), and enjoyed a lovely brunch! Yes, brunch was included in the fee which was less than a normal bush walk from a Sanpark camp!!! We then met our guide, Brian and set off for a walk along the Luvuvhu. What a guide Brian turned out to be. Our mission was to see a Pel's Fishing Owl, but Brian warned us it was the wrong time of year and day (11am was the only time he wasn't busy) Brian normally takes the wilderness trails at Pafuri, but they had a late cancellation. Anyway he warned us that at this time of day we were bound to bump into elephant. My SO, having never been on a walk was decidedly nervous! As soon as we left the safety of the cruiser, we were straight into ellies!! They were much closer at one stage, but my wife was too scared to pose for a photo!!!
We were also lucky enough to experience hippo on foot...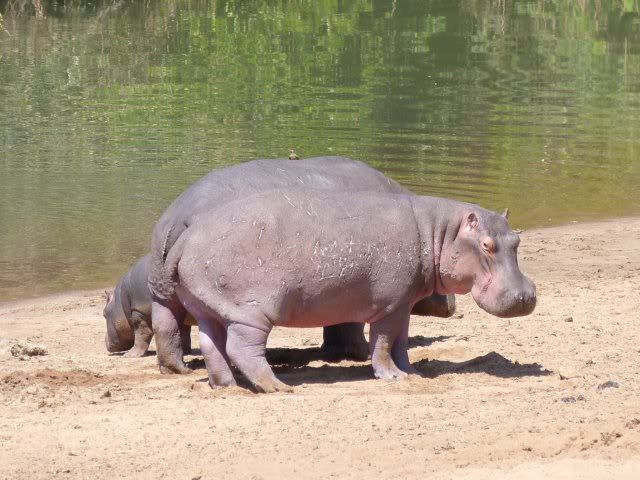 The scenery was great and although we didn't see the Pel's, Brian's knowledge was incredible and we organised to return in 2 days time with my step-brother and his wife who were meeting us in Punda that night!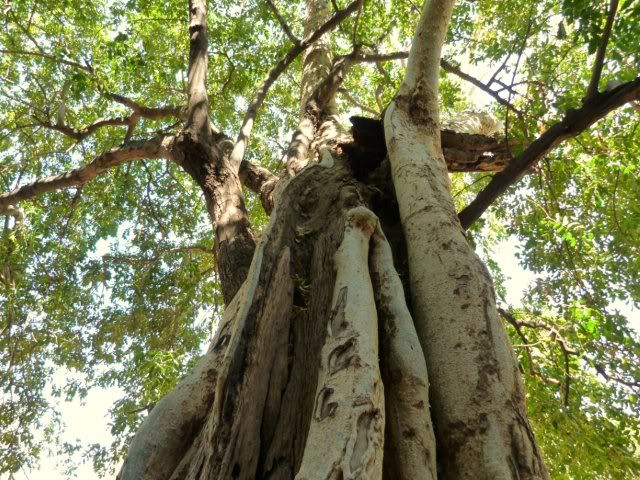 A nice one Brian took of my SO making sure I look okay in what Brian described as an elephant highway.
On the drive back to Pafuri we saw this guy!
It was time to head back to Punda Maria where we had booked in for 3 nights, but the walk, which turned into a 4 hour adventure, had been brilliant. Brian was awesome, but it was only 2 days later that I realised how good Brian really was.
On the way back to Punda we came across a carcass deep in the bush, but this Lappet-face gave us a bit of a display!
Another beautiful day had come to an end. My SO was so excited by her 1st walk and it was great to catch up with family. We had a lovely night reliving our best sightings and experiences!
Last edited by
Mungos mungo
on Fri Jun 01, 2012 8:57 am, edited 1 time in total.
Speed prosecution by distance – A solution to speeding in the Kruger?
---
Posts: 38
Joined: Tue Apr 03, 2012 11:49 am
Day 8 – Punda Maria
We decided to relax a bit and stay close around the Punda area, allowing the girls to sleep in a bit whilst the two men headed off on a bit of a birding trip around the Mahonie loop. It was very quiet and we didn't see any grey-headed parrots. We did see this cute family.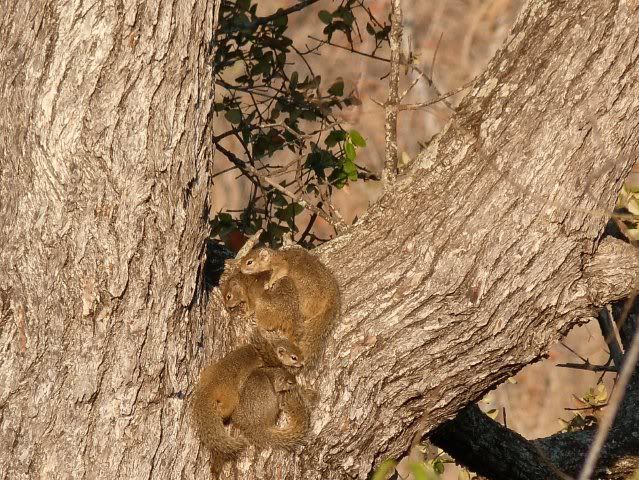 Later it warmed up enough for a swim.
We met up with an Irishmen living in Australia around camp – Dan. It was only his 2nd day in the country, but this guy new his birds. He had been studying up and was really excellent, so I invited him to join us on the walk we had organised at Pafuri the next day.
Anyway we went off on our afternoon drive to Klopperfontein and on the way we saw this massive Bull elephant lying down, which I don't think I have witnessed before.
He was massive and the scenery on route to Klopperfontein was great as usual.
The dam itself was an awesome spot to watch and enjoy the afternoon sun. A large herd of Buff and a herd of elephant made the dam an interesting place to turn off the car and just enjoy the surroundings.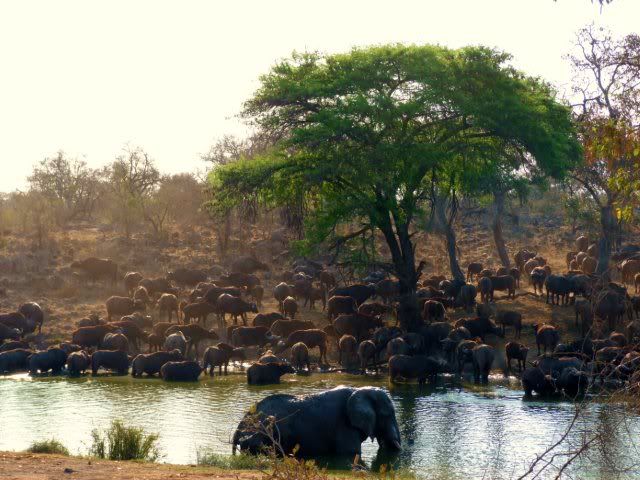 A beautiful green-winged pytilia (Melba finch) posed at the dam.
The drive back yielded more awesome scenery.
We met at our safari tent for a braai, where this little guy begged for some food – clearly habituated
– but he got nothing from us
. We also spotted a civet rummaging below our tent, but couldn't get a photo.
It had been another awesome day, but the next would be our last full day in the park and we were keen to make the most of it. Another Pafuri walking adventure was in store!!
Last edited by
Mungos mungo
on Fri Jun 01, 2012 8:58 am, edited 1 time in total.
Speed prosecution by distance – A solution to speeding in the Kruger?
---
Posts: 38
Joined: Tue Apr 03, 2012 11:49 am
Day 9 – Walking Pafuri again!
So the day started early and our first sighting was this Fish eagle eating a huge catfish in a drying up puddle of a waterhole.
Once again the scenery dropping into the Luvuvhu valley is spectacular.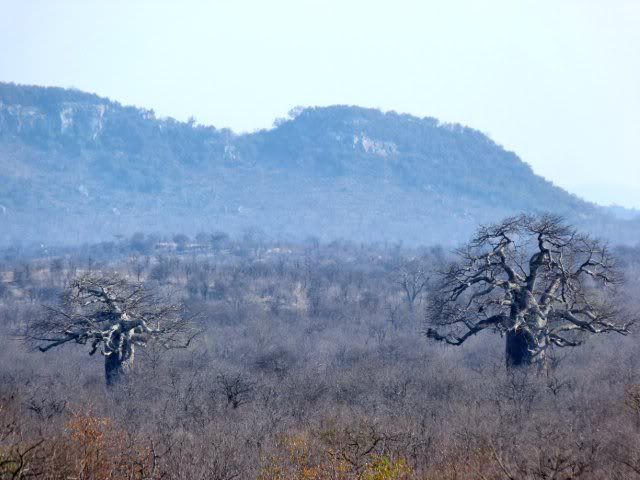 We drove along the Luvuvhu river and stopped to chat to Frank – what a legend. We told him we had organised a walk again and he informed us that we would not see a Pel's at this time of the year. We were a bit disappointed but were excited about our walk with Brian none the less. We saw this Giant Kingfisher at the bridge.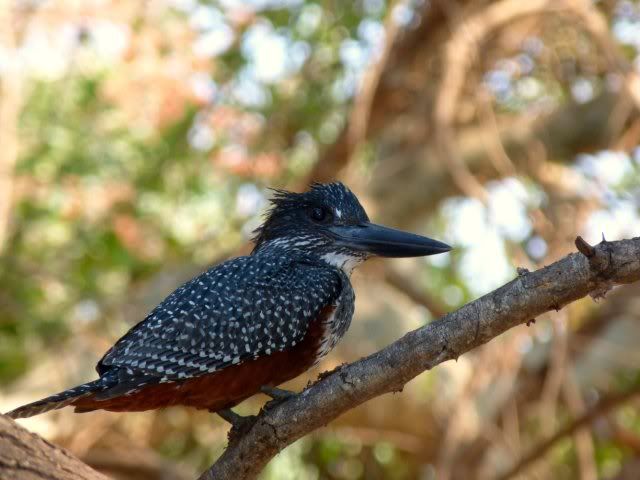 And these ground hornbills on the way back from the picnic spot – the photo's not great, but it was the 1st sighting of the trip which was a bit unusual as we normally see quite a few. Anyway they are my favourite birds so I was chuffed.
So we arrived at Pafuri lodge where we all enjoyed a lovely brunch and then the 3 boys set off for our walk (Dan, my boet and me). The girls were a bit scared and were happy to tan at the pool and read. It was really nice of Pafuri to allow this, but I suppose 2 blondes tanning at the pool is not something most people refuse!! Anyway Brian decided that whilst previously we had avoided some of the woody roosting areas because of elephants we would now go full out for the Pel's and wouldn't shy away from a little bit of elephant activity. The 3 of us were fully behind this idea, but a short way into the walk we realised just how close we were coming to elephants.
We entered a area of large trees (most of the area close to the river was either bare ground or heavily wooded with large trees), craning our necks to try and spot the elusive Pel's in the canopy. We were on a large game track and as we came round the corner, right in front of us was a large bull elephant. When I say right in front, I mean 5 to 7 metres away and it hadn't seen us yet. My 1st instinct was to identify a large fig tree and I took half a step towards it (I was in 2nd position), however Brian had a totally different approach. As we spotted the bull Brian lifted up his hands waving them gently up and down, started walking TOWARDS the elephant and gently uttering "sorry boy, sorry boy". The elephant immediately saw him, stamped a foot, shook its ears and headed off down another path where it watched us carefully. The whole incident happened so quickly and the elephant was so close that our adrenaline was pumping. I really was impressed by Brian immediate, instinctual reaction – the guy is a legend and ice cool under pressure, but when we walked out into a clearing we all had a sigh of relief and a good chuckle. Brian described it as 2 strangers bumping into each other in an embarrassing location, both quickly uttering apologies.
Anyway we continued to stalk the roosting sites and although Frank's words proved true we did manage to stalk up to a Brown Snake-Eagle (not easily done), a wood owl and numerous other birds. We stalked up to this owl, but it was a Giant (Verreaux).
The walk was amazing, fluctuating between relaxed open areas and intense wooded areas, where we would tighten up and become almost a part of the wildlife. Brian's knowledge and reading of the bush was such that I felt in touch with nature like never before. Easily the best walking guide I have experienced.
The more open areas: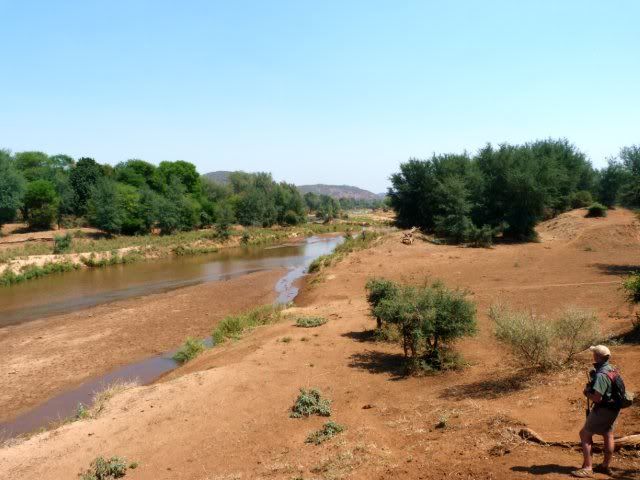 We did also manage to have more relaxing experiences with some ellies at the river:
Towards the end of the walk we were all pretty exhausted (4 hours walking in the heat of the day) and although we had had an awesome experience we hadn't seen the Pel's. We entered a dangerous period of our walk (as Brian explained), everybody was tired and a bit too relaxed. We entered the thornveld area, slightly away from the river. Suddenly Brian froze, he had been using squirrel alarm calls to spot roosting raptors all day, but this time he heard squirrels and dassies in the nearby rocky slopes. He told us we were going to head towards the rocky outcrops. A little while later he heard 2 kudu's also sounding an alarm call, he knew exactly what was out there, but we didn't. He directed us to stop in the shade of a thorn tree and instead of staying alert, we started to pass around a water bottle – he would later blame himself for not communicating to us to crouch down and keep still, but my boet and I have had enough bush experience to know, we should have done that anyway
– we were too relaxed and tired. Suddenly Brian said the words "leopard". Where? He lifted his hand to point and I saw a small female leopard moving straight towards us. As soon as it saw movement the leopard realised we were there and ran off. What a treat – leopard on foot
, but it was all over in an instant, really just a glimpse!! If we had been more aware, we could have crouched down and it would have walked right past us as Brian had positioned us down wind – Still what a sighting. This photo was taken a short while before the sighting.
Brian reckons he knew it was a leopard and should have trusted himself and told us. I reckon we should have just reacted better as we knew by then how good Brian was. Anyway he knew it was a leopard and where it was because the kudus were up wind of us and only a leopard would be moving around at midday. It was a magnificent piece of bushmenship and he managed to take us off course by about a kilometre to position us exactly where the leopard appeared – incredible. Anyway we said good bye to Brian over a few drinks, picked up the ladies and headed to Crooks corner. We didn't have much time at Crooks, but it had been an exhilarating day! My sister-in-law, me, Irish/Aussie Dan and my boet all trying to decide where Moz is and where Zim is.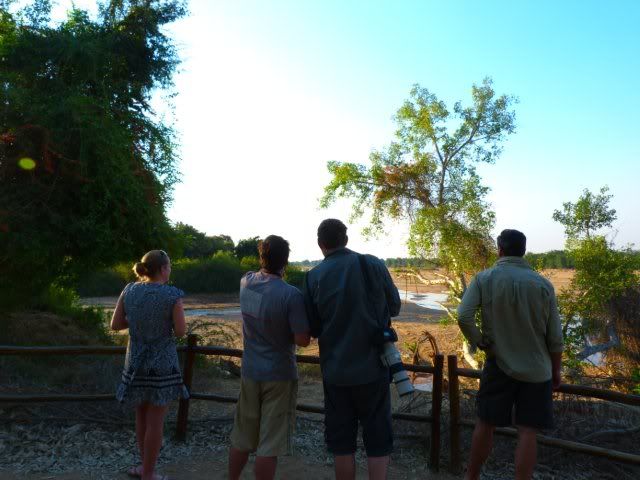 Before we headed back to camp where we all met up for an awesome braai and chat at our tent I had time to mark the edge of my territory at the corner of SA! We had made it
, our exodus was complete – from Malelane to Crooks Corner!!!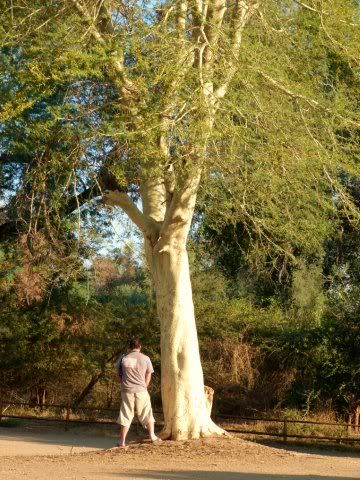 Speed prosecution by distance – A solution to speeding in the Kruger?
---
---
Who is online
Users browsing this forum: Pumbaa and 6 guests