Senior Virtual Ranger

Posts: 1298
Joined: Wed Nov 18, 2009 6:22 pm
Location: Centurion
So it was time for the Bushbuddies to head out to KNP again. Those of you who know us by now - know the story... "We've been working really hard - and needed a break!" And if we get a chance to break away - we tend to go to the place where we find peace and excitement - all rolled into one: KNP!
For many years now, I've tried to get us a booking at Biyamiti. So many people told us about this "wonderful camp". But it seems a lot of people think that - because it is almost IMPOSSIBLE to get an open spot there!
We stayed at a Bushveld Camp for the first time last year - at Sirheni - for one day. We absolutely loved it. Biyamiti held the same promise of peace and tranquility - but now also situated in our favourite part of the park - the South: teaming with wildlife, yet situated in a quite area in terms of traffic. The perfect combination!
So when we realised we got a long weekend off (inbetween the two other long weekends in April), we hit the Sanparks website - and to our amazement - Biyamiti had a cottage available for us!
We managed to book for 4 nights.
The booking was made, and excitement started to reign in our house. Searching the forums for comments about Biyamiti, looking up our Kruger Map-book and deciding on routes to drive... I think you all might know what I'm talking about.
With all the research we realised one important fact though... Due to the floods earlier this year - 2 major roads leading away from Biyamiti were closed!
That really limited one's choice of drives around the area. And the question arose - would it still be worth it - or was booking at Biyamiti a mistake?
22-25 July 2016 - Pafuri Border Camp
25-31 July 2016 - Shingwedzi
---
Senior Virtual Ranger

Posts: 1298
Joined: Wed Nov 18, 2009 6:22 pm
Location: Centurion
Thursday morning I woke up all excited - we were leaving for Biyamiti!!!
Got up and had a lot of things to do. SO was still at work - and would return later. Then all had to be packed for us to leave. Being busy makes time go by faster - and before you knew it we were on the road to KNP. We arrived in the afternoon, entered at Malelane gate and drove up to Biyamiti.
On our way in we were greeted by a few old favourites. First up a close up of a "mud-slinger":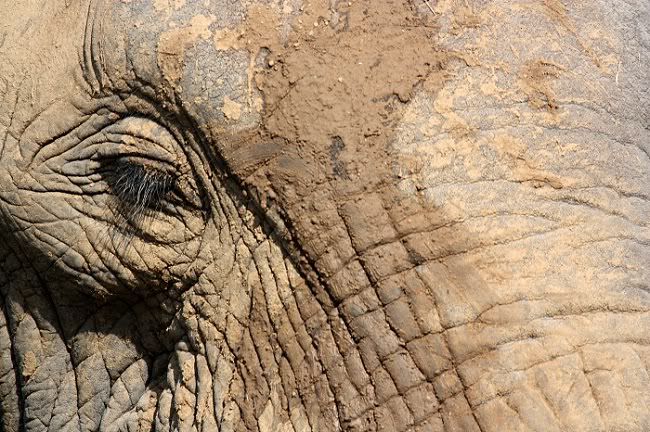 Another guy posing nicely:
And talking of posers - how is this for a terrapin. The two little white marks under his mouth almost look like fangs!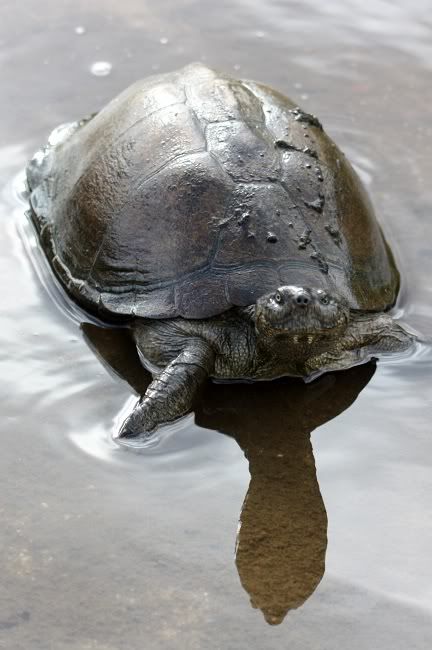 It seems the "tall and big" section of the park came out to greet us first. A small group of giraffes welcomed us next.
Our first rhino (we were blessed with lots of these on our trip
):
The birds also came out to greet us! Still have to ID this LBJ...
Any ideas?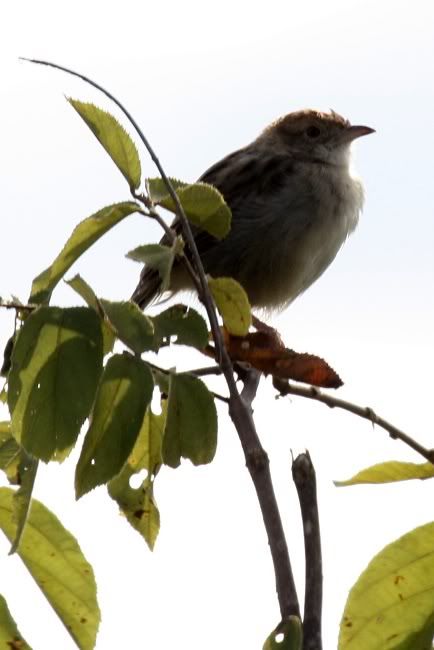 And then, close to Gardenia Hide - we actually saw this Green Pigeon (Papegaaiduif) sitting out in the open. First time ever that we saw it like this - probably was sent by the welcoming committee just for us!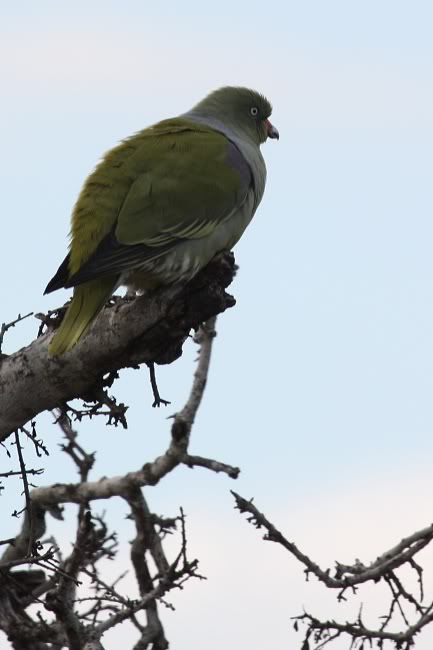 Later on, closer to Biyamiti - we did see his/her friends - typically found in a tree covered with leaves - and difficult to
!
Other members of the welcoming committee:
The Burchell's Coucal (Gewone vleiloerie):
The Purple Roller (Groottroupant):
Fork-tailed Drongo (Mikstertbyvanger):
Some of the last light of our day was spent at this lovely scene - always bringing up the feeling of peace in the bush. An elephant drinking:
And before you can be off to bed - you need to take a bath first!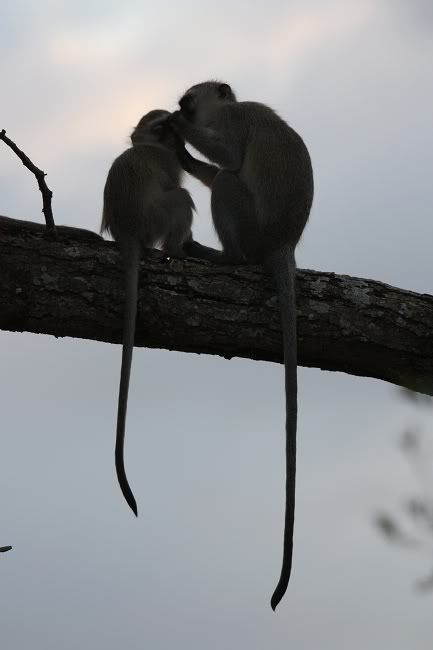 It was almost 18:00 when we arrived at Biyamiti. There was not a lot of light left, but what we could see of the camp looked lovely. We were allocated to chalet nr 4. And we were instructed to be aware of the monkeys...
22-25 July 2016 - Pafuri Border Camp
25-31 July 2016 - Shingwedzi
---
Senior Virtual Ranger

Posts: 1298
Joined: Wed Nov 18, 2009 6:22 pm
Location: Centurion
The next morning we got up early to be at the gate at 6:00. As is well known by most of you - the early bird spots the cat in the road!
We had driven all the way from Pretoria to Biyamiti without stopping for petrol. The tank needed some filling up again. Seeing as all the roads to the closest camps were closed
, it left us with Berg-en-Dal as the closest filling station. So the plan was to head to Berg-en-Dal, fill up the tank, and then on to Afsaal for a lekker skottel brekkie!
We turned left at the gate and our first sighting was that of 3 rhino right next to the road. They were friendly guys enjoying the early morning with us. The one was still very sleepy. It seemed like the younger ones wanted to wake him - but he was not interested!
At the T junction we turned right on the Crocodile River Road - the S25. To many a people this road is full of magic - delivering all kinds of wonderful sightings. For us - it was a dead and dusty road. We had never seen ANY cats on it. And we've driven it a lot. SO and I were not expecting much...
Well today - our luck on the S25 changed.
Well, it changed a little.
We had 2 GREAT sightings - but I got NO photographic proof
. So you'll just have to take my word for it. First sighting - a SERVAL!!!
It was sitting in the road right in front of us. But as we approached CAREFULLY with the car, it jumped into the bushes, and was off.
That was our 3rd sighting of serval in KNP. And all 3 of them happened the same way!
So on my wishlist now - a Serval willing to sit still, and not run away when we approach!
Next up - a LEOPARD walking down the road in front of us.
Unfortunately, he had the same shy character traits our serval had, and also headed into the bush when he realised there was a car coming in his direction.
Nevertheless - we saw a Serval and a Leopard - we were very happy!
Luckily our next sighting was willing to pose for my
. Ag my moeder - is this little one not cute:
All along the river there were big birds sitting in the trees. No, not raptors - these guys:
As we got to the end of the road - we had to decide: approach Berg-en-Dal from the S110 tar road or from the S110 Matjulu Loop...
I consulted Ossendryver's BBM group to see where the sightings had been... LIONS on the S110 tar road. The decision was made.
...and the decision was rewarded: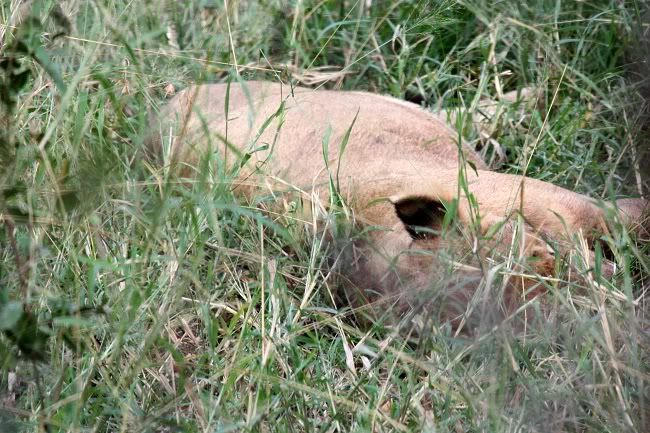 A small group of lions were lying asleep a few km's from Berg-en-Dal. They apparently had an old kill there, but it was no longer visible to us. What was visible was that these girls had full bellies:
There was also a BBJ running around the area - but we could never identify him clearly. I was lucky enough that the one girl lifted her head. She gave me a few stares...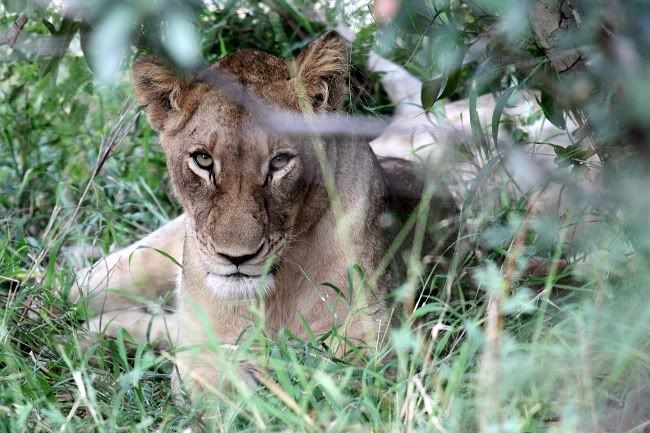 We arrived at Berg-en-Dal later than we anticipated - but we had already seen 3 different cats that morning!
Biyamiti was not dissapointing...
22-25 July 2016 - Pafuri Border Camp
25-31 July 2016 - Shingwedzi
---
Senior Virtual Ranger

Posts: 1298
Joined: Wed Nov 18, 2009 6:22 pm
Location: Centurion
We left Berg-en-Dal, after a quick visit to its dam, via the Matjulu loop towards Afsaal. On our way we thought we spotted a new bird!
When we ID'ed it - we realised we've seen his female counterpart before - but this was our first beautiful male: The African Stonechat (Gewone Bontrokkie):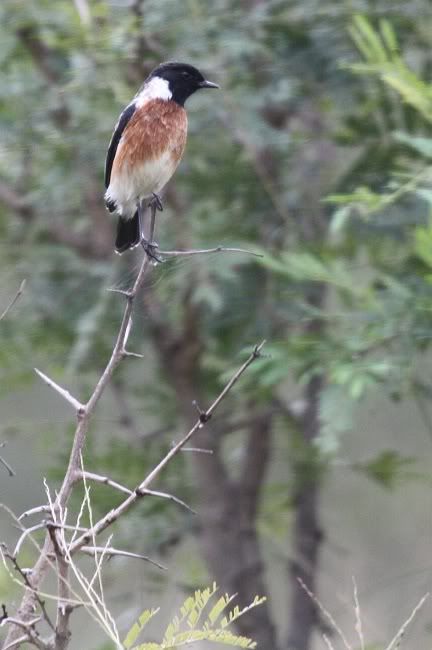 And next, we had a new bird sighting!
Our first ever Levaillant's Cuckoo (Gestreepte Nuwejaarsvoel) - lucky for us it had not yet departed to the warmer North...
Along the road we also spotted some distant buffalo:
At Afsaal - we had a great breakfast. The usuals were there to try and steal our food...
After eating I tried to capture this Crested Francolin (Bospatrys) - it turned out to be quite a difficult task!
After the breakfast, our tummies were full, the day was hot, and laziness attacked our eyelids...
So we headed home. In the Biyamiti riverbed - we spotted a collection of impala, buffalo and also waterbuck (the latter is not so clear in this pic):
Once back at camp,
we decided to explore the birdlife in camp. We were just walking around when one of my FAVOURITE birds - well, actually a pair of them - flew into the trees just above us.
And although they can be so difficult to photograph - these two actually allowed me one or two good shots:
The Purple-crested Turaco (Bloukuifloerie):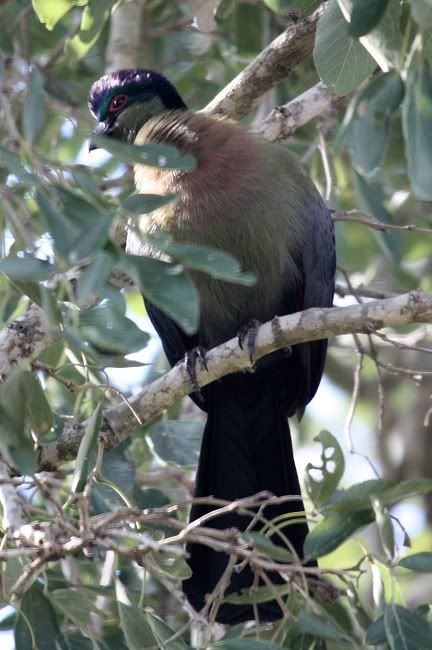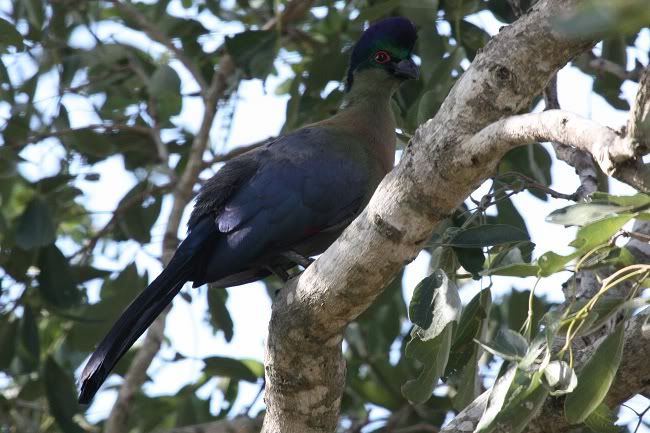 22-25 July 2016 - Pafuri Border Camp
25-31 July 2016 - Shingwedzi
---
Senior Virtual Ranger

Posts: 1298
Joined: Wed Nov 18, 2009 6:22 pm
Location: Centurion
So decided to do a circle route the afternoon - all the way back down to S25 and back. And first up - we got to meet some local Biyamiti ellies.
There were 3 bulls. And the young one kept on looking for a nice wrestle with the older one...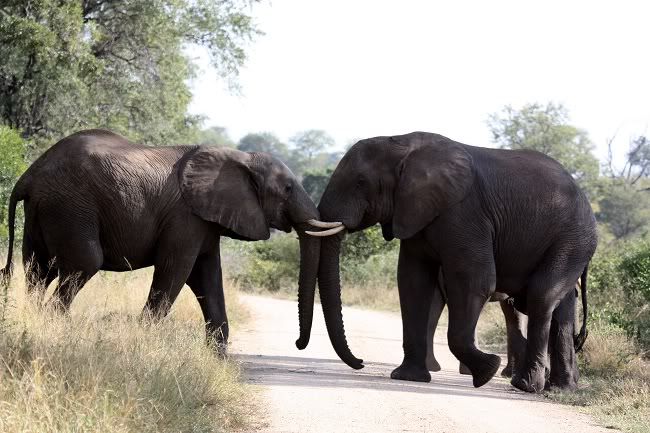 It all seemed to be in good fun. The young one was just measuring up his tusks...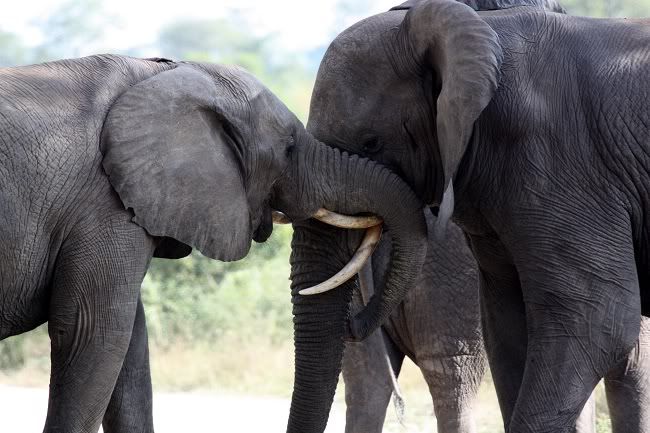 ...and his trunk!
At times they got quite serious...
The older one got tired of the fooling around, gave the little one the evil eye, a serious loud scoulding
and after at least 30 minutes of sitting and watching them (they seemed totally unaware of us), they moved on.
Hope I did not bore you with all the ellie photos...
I always find it magical to sit and witness a group of elephants. Their social interaction is just magical!
Two other sightings on the Biyamiti Road included this Martial Eagle (Breekoparend):
And this cute Dwarf Mongoose: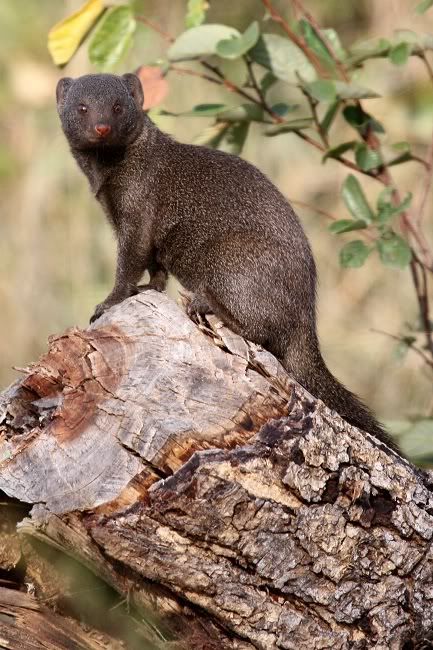 Around the Gardenia-area we saw this Double-banded Sandgrouse (Dubbelbandsandpatrys):
A Brown-hooded Kingfinsher (Bruinkopvisvanger) with his kill:
...it was barely 1 minute before the whole meal was gulped down!
And a group of monkeys having a late afternoon snack!
Once back on the S25 - we remembered the good sightings it showed us that morning. A serval and a leopard!
Maybe this road was not that bad after all! And just to prove itself - it gave us ANOTHER cat sighting!!!
One I could photograph!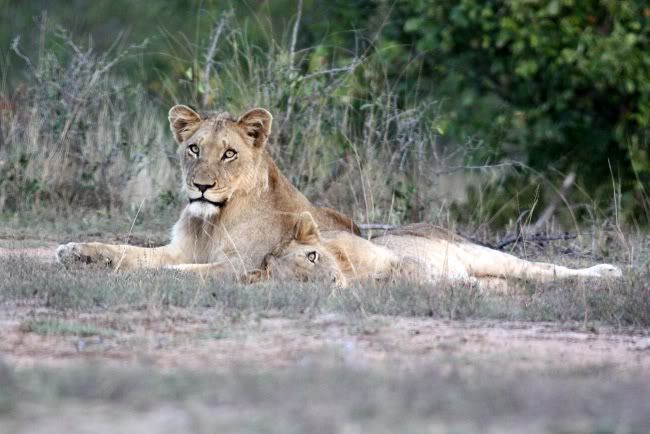 It looked like 2 young males cuddling up for an afternoon nap.
They looked at us just briefly, and then dosed off again. And just as that golden light of the setting sun reappeared from behind the clouds for that perfect pic... They closed their eyes!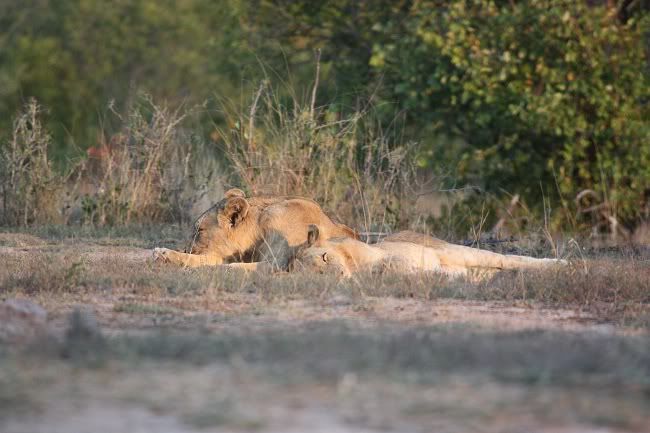 Last sighting of the day - a young Martial Eagle (Breekoparend):
What a day! Kitties galore! Biyamiti was not disappointing. We were having a great time! A nice braai and off to sleep. What could the next day be holding in store for us...
22-25 July 2016 - Pafuri Border Camp
25-31 July 2016 - Shingwedzi
---
Senior Virtual Ranger

Posts: 1298
Joined: Wed Nov 18, 2009 6:22 pm
Location: Centurion
The next morning we were up again bright and early. The plan was actually to drive the LOOOONG way around to Lower Sabie. We love Lower Sabie and the area around it. Normally it would be easily accessible from Biyamiti, but with the S25 closed...it became quite a distance.
So we set out in early morning light towards Afsaal area. First creature in the early morning light - you guessed it - a Biyamiti Rhino:
Then followed some nice birdies. Can anyone out there resist to stop and take a picture of the lovely Lilac Breasted Roller (Gewone Troupant) if it poses so nicely?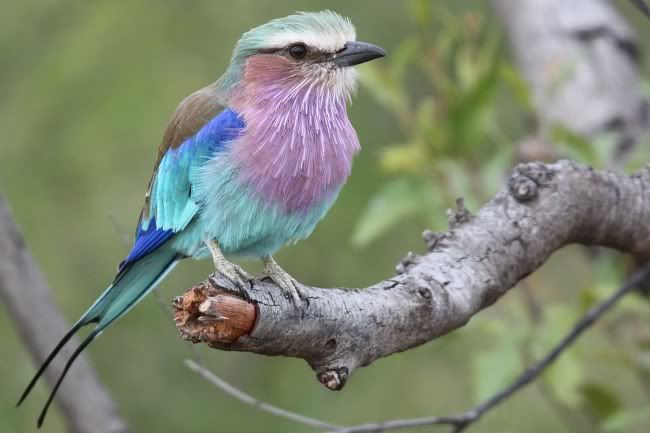 And another LBJ - maybe a Nedicky (Neddikkie)?
We had a quick loo stop at Afsaal and then headed North on the H3. The plan was to turn right on the S113, and follow the Bume Road (S26) through to Lower Sabie.
A few kilometers before we got to the S113, there was a car parked. My eyes immediately recognised the sides of 2 lions lying down in the grass....
The one lifted its head slightly - a majestic male lion!
I soon realised the other was a female. "It has to be a mating pair!!!" I exclaimed. SO got excited with me. We've never seen this kind of action from these cats before...
My words were barely cold - when the two got up....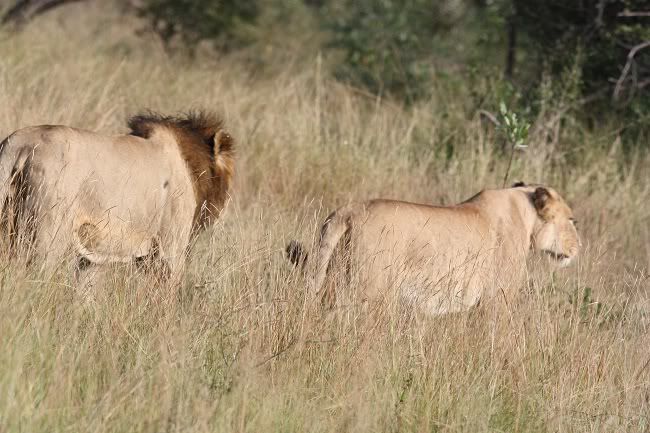 ...and the action followed:
It was all over within a matter of seconds. To be followed by another "episode" just a few minutes later. Always starting with the female coming over to give an "invitation" to her king:
Wow - our first pair of mating lions. This was becoming a special trip in terms of the cats!
We were off again after a few minutes, as the two moved in behind a bush. We decided to give them some privacy...
We were approaching the S113 as a car came from the front. We stopped them to tell them about the lion sighting. They in turn told us about 2 cheetahs a few km's North (passed the S113)...
Now those of you who know the Bushbuddies will know that we've been through a severe cheetah drought. We have not seen a single cheetah in KNP untill June last year - when we finally had a magnificent sighting on the S100. So if we hear there is a cheetah somewhere in KNP - we GO there. Unfortunately, we're often "too late"...
We thanked them and drove on.
Another car approached from the front. "Let's tell them about the lions and find out if they also saw the cheetah!" So SO stopped them and did exactly that. And they ALSO saw the cheetahs. We thanked them.
A few hundred metres on - we got to the S113 turn-off. Should we take it, or should we rather head North and see if the cheetah are there? If we wanted to go to Lower Sabie, there was no time to divert from our course... But we could possibly see cheetah - and break our cheetah drought for good! Decisions, decisions...
In the end, we decided to abandon our Lower Sabie plans. We wanted to see cheetah! So we continued past the S113 and on with the H3. About a km further down the road we saw another vehicle, and decided to hear from them if they'd seen the cheetahs... "Cheetahs - no! There was apparently some leopard somewhere but it walked off into the bush..." Oh no - maybe there hadn't been any cheetah - maybe the previous people just got leopards and cheetahs all mixed up...
And now they're gone. But we were on the road already. So let's just stick to it and keep our eyes on the bush... Maybe, just maybe...
A colourful birdie immediately got my attention: The Little Bee-eater (Klein Byvreter):
To be continued....
22-25 July 2016 - Pafuri Border Camp
25-31 July 2016 - Shingwedzi
---
Senior Virtual Ranger

Posts: 1298
Joined: Wed Nov 18, 2009 6:22 pm
Location: Centurion
So after getting distracted by the Little Bee-eater with its lovely eyeshadow, we moved on. And I kept my eyes wide open for those cheetahs...
AND THERE THEY WERE! No other cars around! The folks in the last car must've missed it!
They were lying in the open in front of Kwaggaspan:
I was SOOOO excited!
Now our cheetah drought was officially over. No cheetah sighting for YEARS and now 2 within 1 year!
They were just lying there, turning around every now and then.
Eventually the one decided to get up...
...and his brother joined him...
...and they started marking their territory.
After that they settled in on a new spot.
By now, traffic started accumulating slowly but surely. Luckily they were lying in the open and all the vehicles had a good view.
Still the cheetahs did not seem so much at ease anymore. They kept on getting up...
...and then lying down in another spot.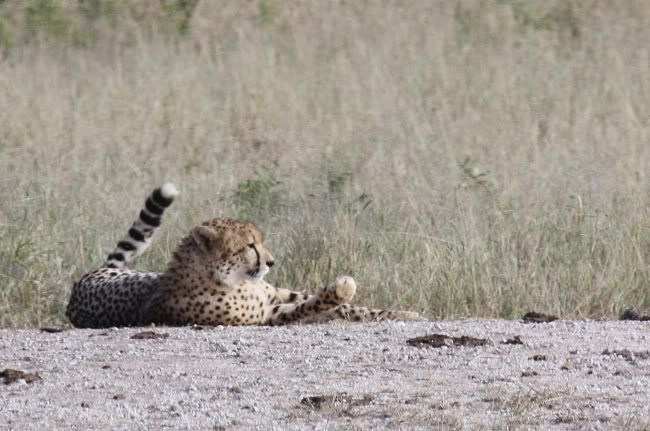 And so it continued...
and more and more cars and jocks arrived...
...and eventually they decided to move into a more distant spot.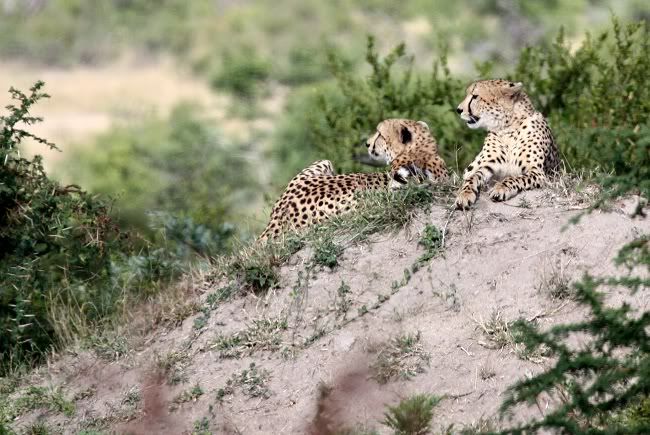 There was now just one or two spots in the road where one could have a good view. And there were LOTS of cars! We already saw these guys well, so we decided to move on. Our decision to go in search of the cheetahs paid off!
Next stop - Lake Panic, Skukuza and then back to Biyamiti. A completely different route than we had planned the morning - but also an area we loved!
22-25 July 2016 - Pafuri Border Camp
25-31 July 2016 - Shingwedzi
---
Senior Virtual Ranger

Posts: 1298
Joined: Wed Nov 18, 2009 6:22 pm
Location: Centurion
We continued North towards Lake Panic via the S65 Waterhole Road. This road has had a lot of sightings lately - and we wanted to see if we could get lucky again...
On the first stretch of the H1-1 - we got to see my favourite bokkies again: Klipspringer!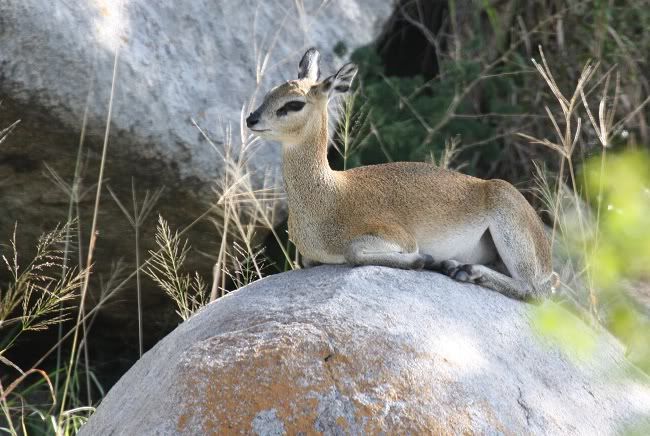 Her hubby was having a snack elsewhere...
Now that morning there were lots of lion sightings - with cubs - reported from the S65. And just to prove that the Bushbuddies did not have ALL the luck - it was dead quiet when we drove it.
On to Lake Panic! The parking lot was actually filled over capacity with cars. This spot seems to becoming a more and more famous spot in KNP!
While walking towards the hide - we noticed some Woodpecker activity going on above us in a tree. It was a very difficult shot - and thus also not the best one - but I managed to capture it...
...and ID it as a new birdie for us: The Golden-tailed Woodpecker (Goudstertspeg)
Although the hide was packed, Lake Panic was actually relatively quiet. We did, however, see the African Darter (Slanghalsvoel):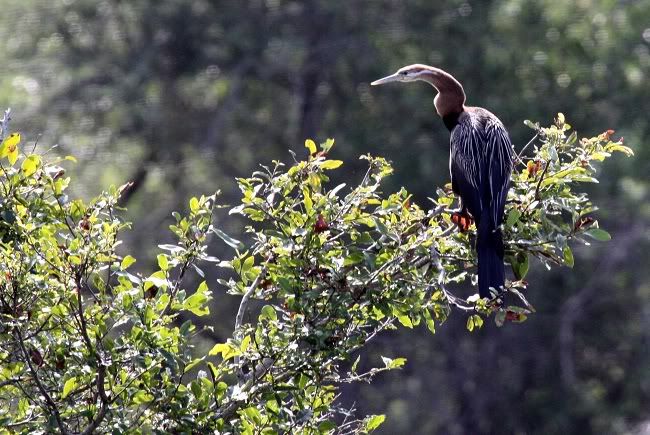 ...and its offspring: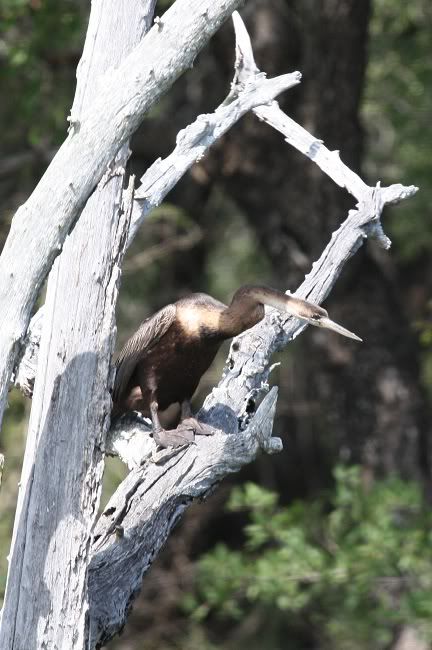 And then there was also the lovely waterlillies of Lake Panic. I find them so beautiful!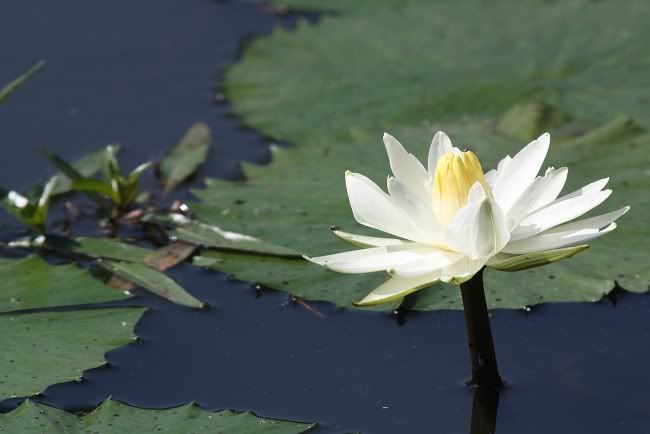 As promised to Friedrich von Horsten - we visited the Skukuza Nursery this time as well. It was lovely. A trip we will make again!
Then moved back to Biyamiti for the afternoon. It was now the warmer part of the day, and not much sightings around.
When we arrived back at camp - I saw lots of papers and wrappers lying around in front of our chalet...
This morning we left with chairs pushed in front of the kitchen cupboards and the fridge. The one in front of the fridge was still there - but not the cupboards. THOSE NAUGHTY MONKEYS!!!
They stole all our fruit, our bread, and my favourite sweeties from Woolies - Percy Piglets!
After a quick clean-up, we decided to stay in camp for the afternoon and guard our house against the naughty Biyamiti monkeys.
I heard a constant "knocking" in one of the trees. I grabbed my camera and followed the sound. It lead me to another new tick on our bird list: The Bearded Woodpecker (Baardspeg):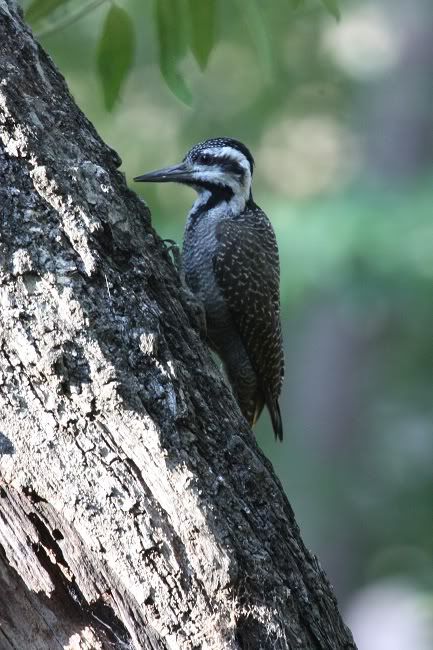 We spent the rest of the afternoon just lazing around camp, and enjoying all the scenes that unfolded from our view.
In the riverbed:
Of course the monkeys came back for round 2. But this time the owners of the food were there to protect what belonged to them. In anyway - I moved all our food to inside the house - so no more opportunities for these thieves!
Someone in camp claimed to have seen a leopard and her cub that afternoon in the riverbed. To prevent myself from becomming
- I decided that they had to be mistaken, or just kidding with us...
Another lovely evening with the love of my life, a braai and the sounds of the bush... HEAVEN!
22-25 July 2016 - Pafuri Border Camp
25-31 July 2016 - Shingwedzi
---
Senior Virtual Ranger

Posts: 1298
Joined: Wed Nov 18, 2009 6:22 pm
Location: Centurion
So the next morning, I was full of beans again. Seeing as we did not visit Lower Sabie the previous day, I thought it might be a good idea to do it today. But we were not in the mood to drive sooooo verrrrry loooong. So I came up with the idea to drive out at Malelane, highway to Komatipoort, in at Croc Bridge and up to LS. SO agreed.
So at the Biyamiti gate left and onto the S25. At one of the low water bridges there were 3 Hammerkoppe that just begged to be photographed. They were really posing so nicely.
I took a lot of pics of them - but I'll just share a few with you:
This one must be one of my favourites...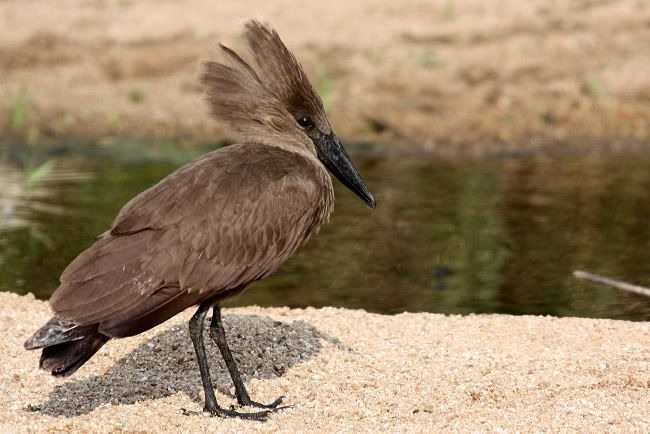 This one had a few leafs stuck to his you know what:
At the tar Road we turned left towards Malelane. First up - another birdie wanting to have his pic taken - a Pied Wagtail (Bontkwikkie):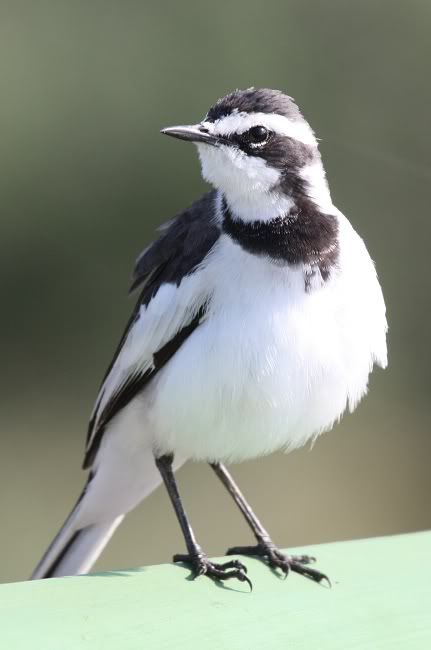 A new BBM arrived. Another Kruger sighting. It was on the S110 Tar road to Berg en Dal. We were probably 20 minutes away from the sighting. But it was not on our originally planned route. Dejavu!
They saw Wild Dogs...
22-25 July 2016 - Pafuri Border Camp
25-31 July 2016 - Shingwedzi
---
Senior Virtual Ranger

Posts: 1298
Joined: Wed Nov 18, 2009 6:22 pm
Location: Centurion
Okay - so there we were on the tar road, heading South to Malelane gate, and we get the message that there are Wild Dogs on the tar road up to Berg-en-Dal. Now just the previous day I mentioned to SO that we had been lucky to have seen Wild Dog plenty of times in KNP, but our last sighting was now over a year ago. I told him that I would actually "not mind" seeing them again. So when that BBM came through - I easily got him convinced to stray from our original route - AGAIN...
It took us about 20 minutes to get to the sighting and the whole time we were wondering if we would still see them. And we were really, really lucky again - we did!
There was a large troop of dogs right next to the road! Shortly after we arrived a few of them started getting very curious and walked between the cars and right up to us!
I got so excited and with it so frustrated. I still had my long lens on my camera - and it was too big to get nice shots of these beautifull creatures as they were moving around our car!
I was too scared to change the lens and miss the the sighting. And I was hopping from one side of the car to the next to look at them and try and fit one in the frame!
Anyway - they moved into the veld again, and I eventually, with a bit of a tremor (adrenaline pumping), got my lens changed.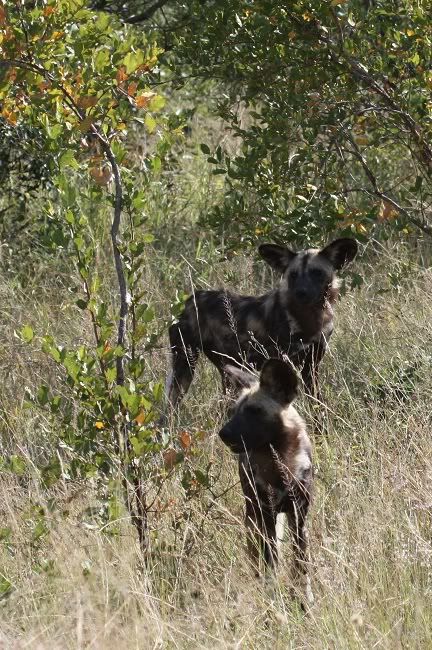 They then started playing with each other...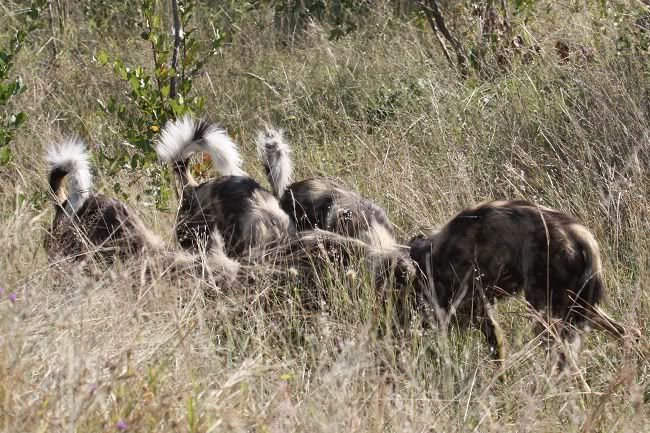 ...smelling, licking and yelping all the way!
What a sighting!!! We felt so privelaged. All our previous sightings they were either on the move or just snoozing. Not today...
They were all relaxed, standing around...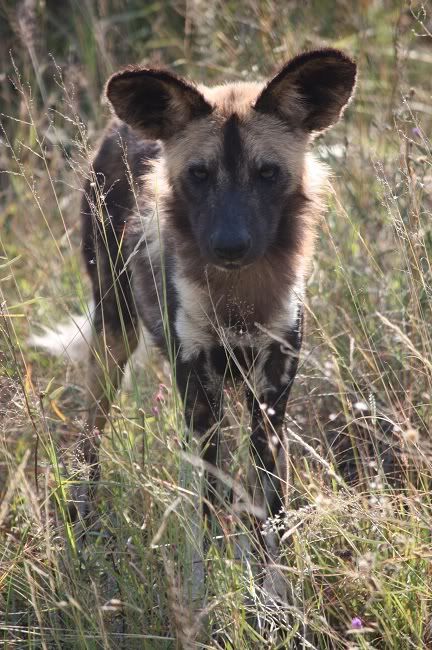 ...and moving in to the road around us.
We were pretty sure that this was the alpha male - he repeatedly marked the area:
And some even posed for nice pictures:
This lady with her light coat looked like she was or had been lactating - maybe the alpha female?
And after about an hour to hour and a half - they settled in for a snooze:
We had a prime spot at a prime sighting. Wow - forget about Lower Sabie - this was AWESOME!
22-25 July 2016 - Pafuri Border Camp
25-31 July 2016 - Shingwedzi
---
Senior Virtual Ranger

Posts: 1298
Joined: Wed Nov 18, 2009 6:22 pm
Location: Centurion
Now let's get back to Biyamiti. Last time we left the sleeping doggies on the S110 tar road to Berg-en-Dal. We spent about 1,5 hours with them, so no time left to go to Lower Sabie as planned. Up to Berg-en-Dal instead!
In camp we found this lovely lizzard posing for a pic in the morning sun:
A young croc was swimming in the dam...
... and a little further up in the dam - hippos were lazing in the sun:
After an ice-cream, we left back again towards Biyamiti. The doggies were STILL in the same spot - but all now peacefully asleep. How lucky we were to still see them in action!
Back in Biyamiti camp - we heard the familiar sound of a bird's pecking... and by following the sound we discovered another new woodpecker on our birding list - the Cardinal Woodpecker (Kardinaalspeg):
On the recommendation of some of the forumites (alleycat
), we decided to go on a sunset drive at Biyamiti. And tonight, our last night - was the night. We went with the very nice and informative guide, Elliot, and we had him all to ourselves - it was only SO and I on the drive.
First he took us South on the S25 - where we saw our first Black Storks (Grootswartooievaars) - I've seen them on so many TR's - but seeing as we mostly visit KNP in winter - we've never had the privelage to see them!
Not the best photo - but proof we saw them:
He drove us right up to the bridge that is closed due to flood damage. Man - is that bridge badly damaged!
The only ones that can still live there and cross the road - these White-fronted Bee-eaters (Rooikeelbyvreters):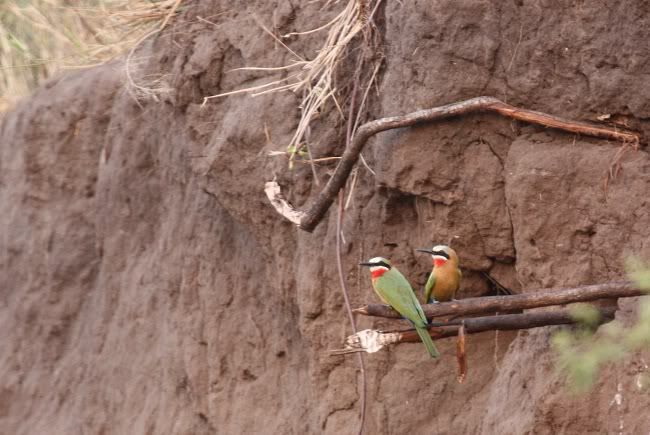 We then drove back on the S25 in the direction of Malelane gate. The road was very quiet. There were hardly any other animals on the road. Now those of you that know me and cheetah2111 will know that half of the joy we get out of a game drive is actually to watch and listen to the other people on the drive. You get such interesting people, such interesting comments...
Now tonight it was just SO and I - no other people to observe. Luckily, fate sent us some human entertainment outside of our vehicle that evening. We were on the S25, driving towards Malelane area and we were probably a good 30 minutes away from Biyamiti camp. It was 10 minutes before gate-closing time, when a Combi full of passengers passed us - heading in the direction of Biyamiti. "They're gonna be late for the gate!" we commented, and laughed. About 15 minutes later, we had still not spotted anything, so Elliot decided to turn around and head back. It was after gate closing time by now. After about 5 minutes, we saw a vehicle approaching us. Elliot found it strange - he is the only one supposed to be out in this area this time of night. We approached the vehicle slowly and Elliot waved them down to stop. It was that same Combi that had turned around and was now driving slowly in the direction of Malelane!
The driver greeted Elliot in a friendly fashion, and Elliot immediately questioned him on where he was going to, and why he was still on the road. He explained in a European accent (?German) that they were camping at Berg-en-Dal and were just driving around a bit. The guy had NO idea that you were suppose to be back at camp at a certain time...
Elliot was not impressed. He urged him to get to Berg-en-Dal ASAP - where he WILL meet trouble!
After they left, he contacted the regional ranger for Berg-en-Dal area and informed him of the people - they probably still had 1,5 hours to go before they would get to Berg-en-Dal!
The ranger thanked him and said he would wait for them at the H3/S114 intersection. Can you believe that! With poachers being a major problem in KNP - one cannot really accept mistakes like these...
Anyway - that was our human entertainment for the evening!
Animal-entertainment was very scarce...
At least we saw a little puffader on the S25:
We then turned back on the S139/Biyamiti Road. We drove passed the camp and on. Still quiet.
We were about 2 - 2,5 hours into the drive and it became time to turn back to camp, when all of a sudden Elliot stopped - "Leopard - right next to the road!!!" What a beauty! A huge male leopard was lying right next to the road. The famous Biyamti Leopard - we had finally seen him!
He did not appreciate the lights, but at least he got up slowly and moved into the bushes - allowing us a last few glimpses of it...
Wow - Elliot was so happy that he could finally show us somehting nice. We would've been happy anyway - but now our evening was made!
We drove back to camp, chatting to Elliot about his life as a guide, his training - all very interesting. We slept well that evening. Tomorrow we will leave with happy hearts!
22-25 July 2016 - Pafuri Border Camp
25-31 July 2016 - Shingwedzi
---
Senior Virtual Ranger

Posts: 1298
Joined: Wed Nov 18, 2009 6:22 pm
Location: Centurion
So it was time to leave Biyamiti
. We had SUCH a great time there. Sightings of leopards, cheetahs, lions, serval, wild dogs - I mean to say - WHAT can one ask for that was more than this trip! God truly blessed us with magnificent sightings, a great time together as best friends, companions and bushbuddies. We really rested well, and we felt refreshed.
We left early morning, and drove to Malelane gate. First ones to come and say their goodbyes - the bush chickens: Helmeted Guineafowl (Gewone Tarentale):
The road was quiet, but we were content. As a last special sighting - we had a favourite bird come to say goodbye - a Saddle-billed Stork (Saalbekooievaar):
While I was still taking pictures of this lovely bird - another bird landed: an African Fish Eagle (Visarend):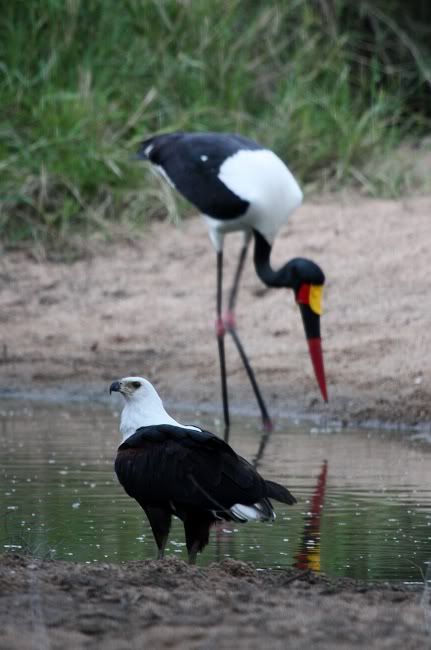 And I managed to get a shot of three lovely birds together in one frame - Saddle-billed Stork, Fish Eagle and Hammerkop:
While I was still shooting - I got this picture. A bit blurry, but I actually quite like the movement in the pic with the eye of the angry SBS in focus as it chased the Fish Eagle away: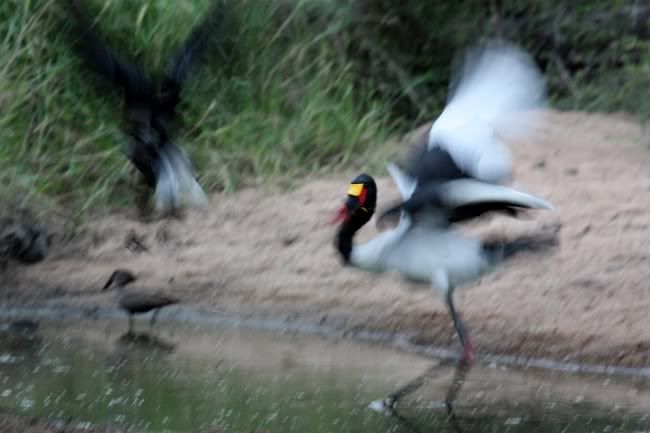 ...and then the king was in charge of his territory again!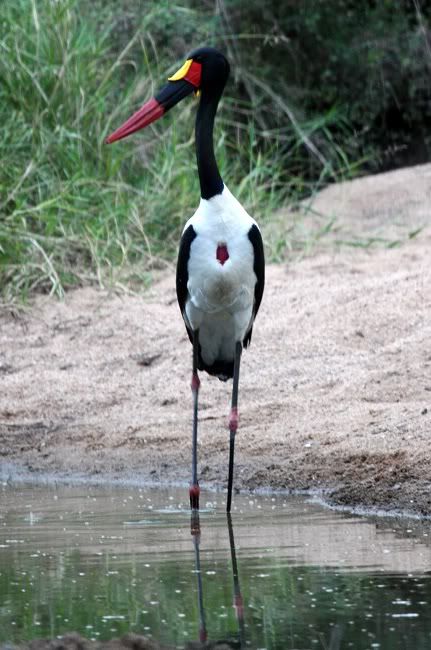 Thank you all for enjoying our trip to Biyamiti with us. As you all know by now - Biyamiti was NOT a mistake. It turned out to be a blessing of note! Great sightings, great memories, wonderful rest. The only problem is now....
.....to be able to get a booking there again!
22-25 July 2016 - Pafuri Border Camp
25-31 July 2016 - Shingwedzi
---
---
Who is online
Users browsing this forum: No registered users and 2 guests