Thanks Heksie.
And then it is time to tell you ( and show ) how Kruger can really put on a magic show for you.
After a braai and a good nights sleep in our luxery big bungalow up early and we are out at 6. We are the only car going out the gate. It is very, very quiet in the camp.
Monique decides that first of all we are heading for Mooiplaas waterhole. You never can tell if this 2 brothers are still around. We didn't make it to Mooiplaas. Just 5 minutes on the tarroad at the junction to Pioneer Hide we spot two cats walking slowly in our direction. It's still dark and at first I shout lions ( I wear specs) then Leopard, but it turned out to be "our" 2 brothers. And all for ourselves. We drive a little with them and at first we are a little concerned about the lack of light to shoot a couple of good pics.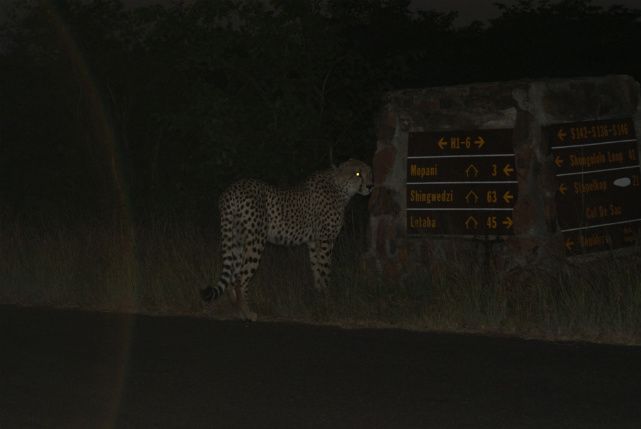 But then they decide to inspect the stone signpost and the early morning daylight suddenly turned out to be a great friend. The brothers showed themselves to us in a way we will never forget. They just didn't seem to take notice of us.
Pick your favorite. It started with the inspection of one and very soon his brother joined him.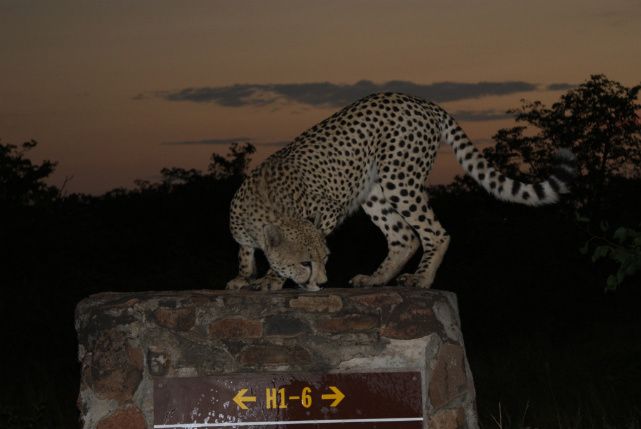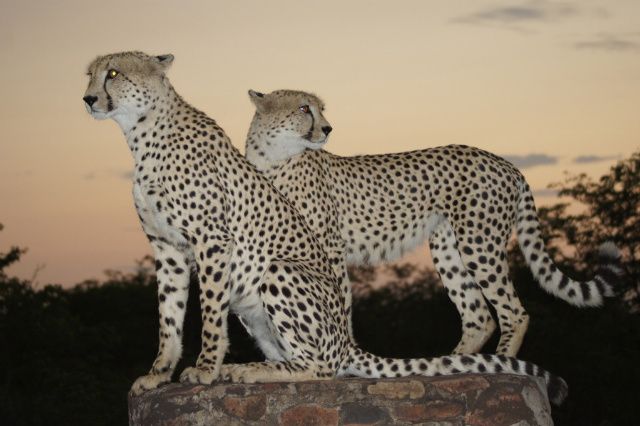 And then it's only 6.30 and a whole day ahead. What more can one wish.
KNP 2018 januar

17-20Shingwedzi
20-22 Letaba
22-27 Satara
27-31 Lower Sabie
---
Thank you Cheetahlady, Mel, Hilda, MM, Pumbaa, Norms, TD, Dellac, JnP and Heksie for being with me on this episode.
@ Cheetahlady: although fortune stayed with us she didn't provide for more of the fast cats. It would be a gotspe to complain about that.
@ Mel: we never saw a diderick, but lady luck had more cats and big tusks for us to come
@ Hilda and MM: I posted the question on the ID for the Snake and I got two suggestions: brown olive and sandsnake. I don't think there's agreement, but who cares as long as the sighting and the pics are wonderful
@ Pumbaa: keep on driving, hands on the wheel, camera ready. You know lady luck can't be forced and she roams the park like a butterfly. She'll find you I'm sure.
@Norms: and we certainly do so.
After we had our meeting with the brothers we were a little shaky so early in the morning. So we drove quietly around and to our surprise
we didn't see much. Back to camp for a (not so ) healthy bacon eggs and memorise our luck this morning. At 10.00 we packed and started of to Shingwedzi for the next three nights. At first we decided to take the S50. Mooiplaas was very kind for us this trip, because arriving there we met one of the big tuskers, named Kaleka. And isn't he a fierce proud looking bull? And Kaleka was just the first of the Tuskers we met during our stay in the Mopani/Shingwedzi area.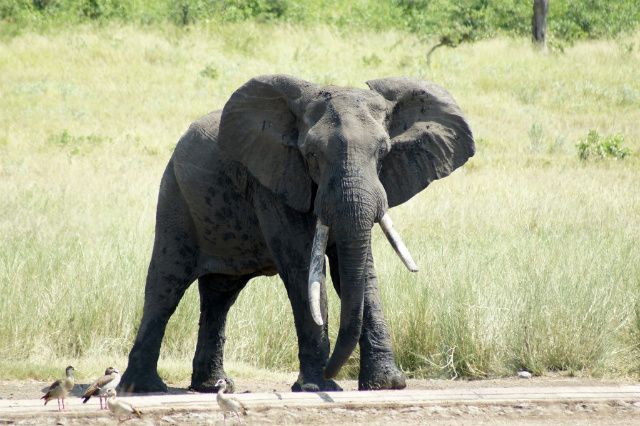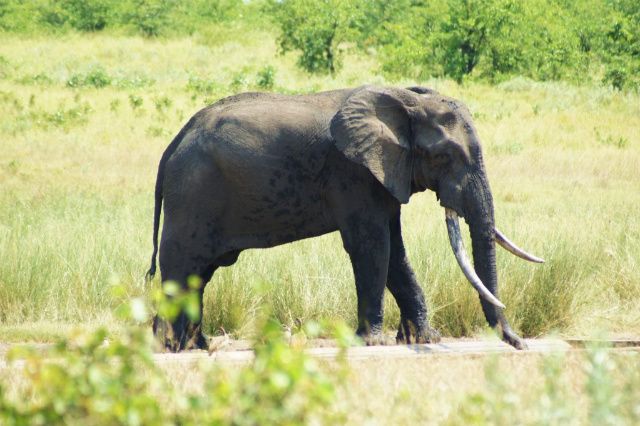 To my great surprise and joy Aat uploaded a few of the pics on his "Tuskers of Africa" website.
At the Shibavantsengele viewpoint we had a holdup by a another ellie. Don't exactly why but we turned and did a detour on the TOC road. And guess what happened on the rightside of the road some 6 k's after the turn. A beautiful bull and we had the luck that he stood in the tall grass just long enough to catch him. With a thank you to the angry ellie.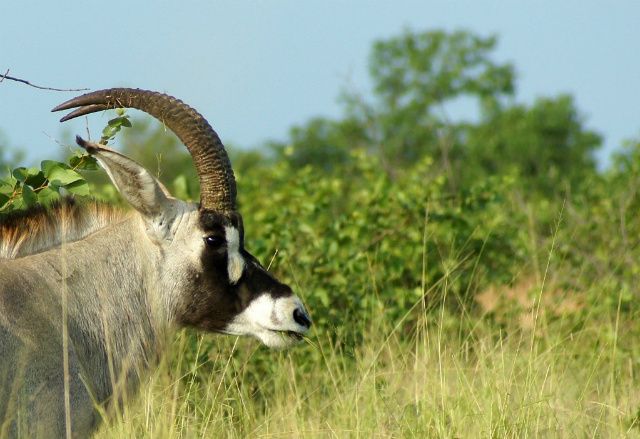 Now the heat was upon us and the swimming pool in Shing was like a magnet. So once on the tarroad we made a little more pace, but before arriving on the road we took this shot of what I call "the beaty on the plain".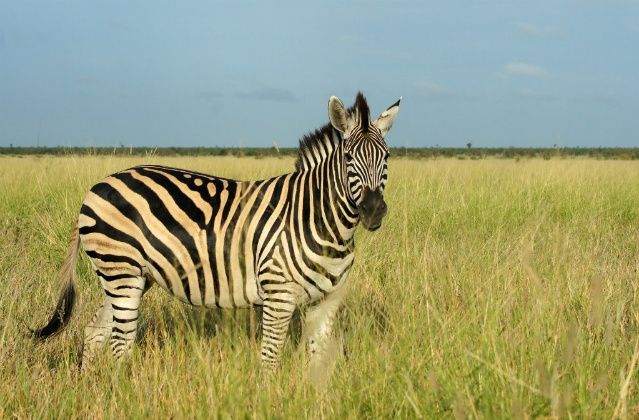 And not to forget the Egreds painting the concrete waterbasin.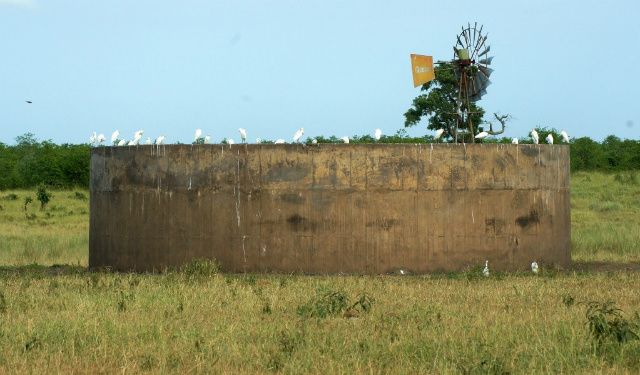 A basin or two further the egreds were chased away I suppose by this muddy creature.
And then this pair. I just don't understand why they eat so close to the ground.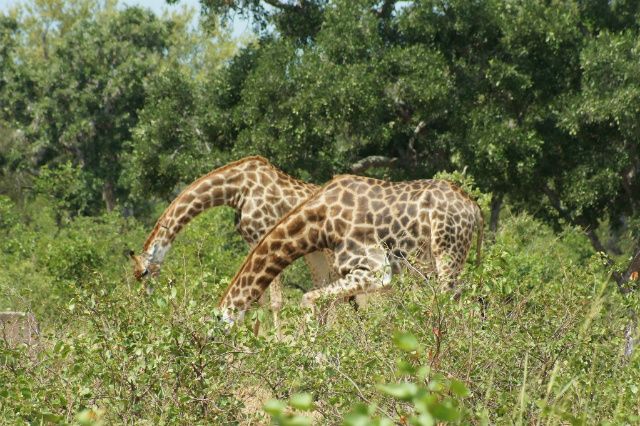 Or maybe they lost their keys. Or drinking? This TR carries a lot of long grass.
By now we are very hot and longing for the pool. But if you go to quick things become misty before your eyes.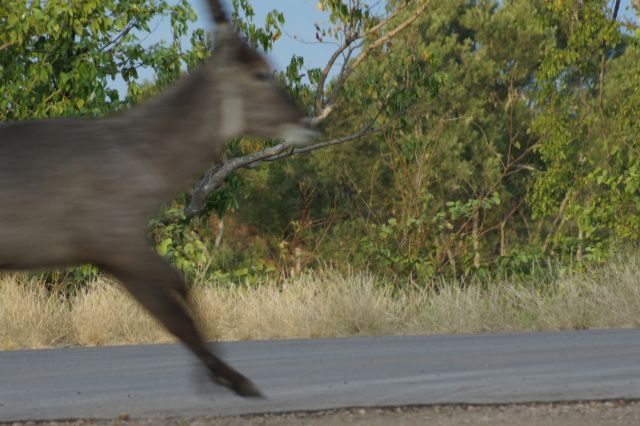 However, 30 seconds later. What's up??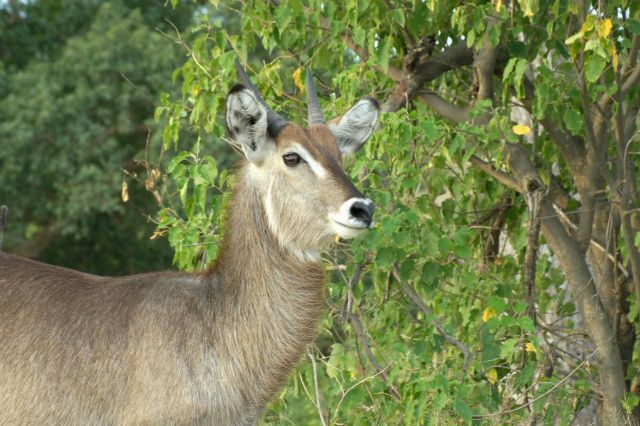 Being close to camp and 15.00 u. we decide to give in at the attraction of a cooling down. We never got out no more that day. After the pool and a good book it was nearly 18.00 so we went for the braai and made plans for a daytrip to the Luvhuvu next day.
A very memorable day to think back on. And what will the next day bring. In the middle of the night we woke by the sound of a roaring cat. We estimated: not that far away.
KNP 2018 januar

17-20Shingwedzi
20-22 Letaba
22-27 Satara
27-31 Lower Sabie
---
Thank you Pumbaa, Mellory (welcome on board ), Mel and MM for your support and kind comments on the story and pics.
@ Mellory, much welcome for the coming parts. Though not that spectaculair as the first 10 days of this trip there were many encounters to remember.
@ Mel: Maybe I should change the title of this TR in: "Daffy's magic flying circus".
@ MM: so glad you like the pic of the Zebra. With all the big cats around we tend overlook the beauty of the things right in front of our eyes every day we travel in the park.
Next day another early rise. Our plan is to travel north to Pafuri picnick spot and back again. A lot of k's, but very worthwhile for the scenic Mphongolo loop, Nyalaloop and the Luvuvhu area. It proved to be an easy driving this day with not so many sightings on the route, but we enjoyed every mile of it. Should we have had outstanding sightings we sure would have had a big problem to be back before closing time. We arrived back at 15.30 in due time for a memorable encouter and left us plenty time to answer the call of the swimming pool. Yes, it was again very hot, if not the hottest day of our trip.
But let's start by remembering being woken by the roar of a lion last night. We thought not far away. And indeed, 20 meters outside the gate you park on the right side and take a look in the riverbed. Still dark ( and the only car that went out, soon followed by 2 ! more ) we spotted this lovely pair of mating lions. We took a few pics and with a little photoshopping:
We also shot a short video, to dark, but all the same. After we shot this video the pair wandered of in to the bush at the other side of the riverbed. We took the other entrance of the camp to check for the rest of the pride but couldn't find them. As we were having a long trip ahaed we drove off after half an hour.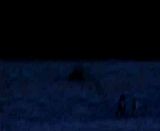 So we headed north and the Mhpongolo loop. In prior trips we had on this loop lions, leopards, buffel, etc. This trip was quiet, but the scenery was as always. And so quiet, we only met with one other car on the loop.
No animals? there is always ellie on this loop.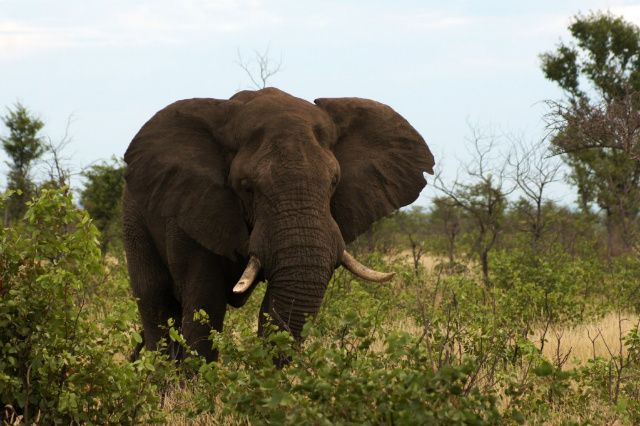 And views on the riverbed.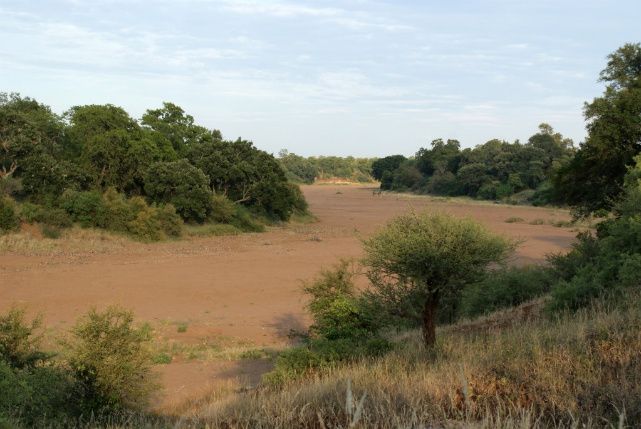 And a beautiful kudu bul.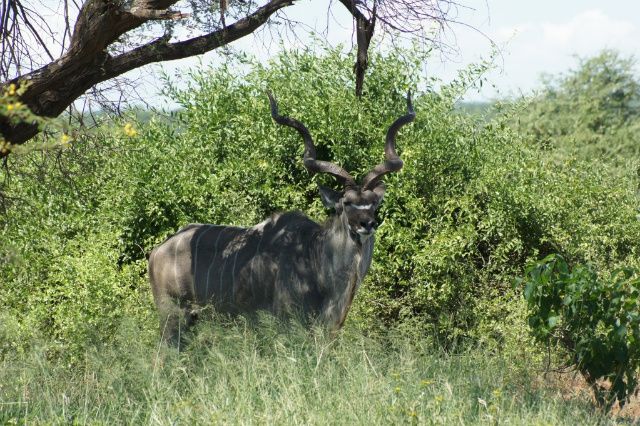 Temperature is rising quickly and the first clouds appear. Maybe we get a cooling down this day. Very good friends have arrived at Byamiti last night driving from Joburg in the pooring rain. We will meet them in a couple of days in Satara. I wonder if the rain travels with them. We will keep in (SMS) contact.
We stop at a view on a pool we remember as very special and we feel the loss of "our" yellow fever tree worse being at the spot. reading about the lightning struck is something, but the real thing gives you the final blow.
A short stop at Babalala for a coffee and on we go.
We go easy, but see practicly no animals. Nyalaloop looks gorgious as always but empty, but for one bull, half hiding in the bush.
As we arrive on the S 63 we understand why the nyalaloop was empty.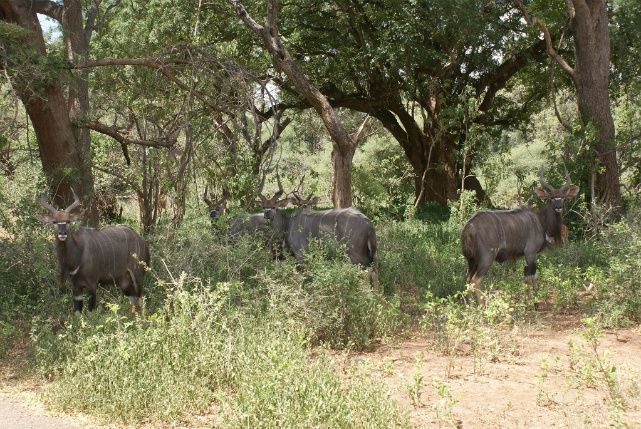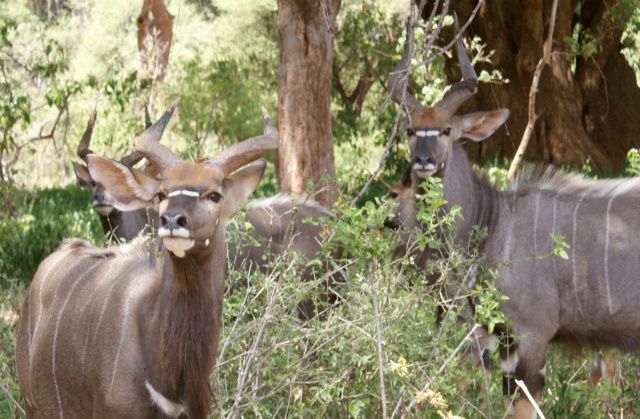 When we arrived at the Picnick spot it was so quiet. Just one car arrived after us. We had hoped to meet with Frank ( and bring him regards form Julius at Sweni ), but he was on strike that day.
We had a late breakfast and enjoyed a quiet saturday in march. I think it was just to hot for dayvisitors.
This bird was trying to join breakfast.
We decide to do a slow drive to Croocs Corner and back just enjoying the scenary, and so we did.
Driving along the Luvuvhu there is always something to see. So we couldn't resist to watch the vervet monkeys for half an hour.
While watching the monkeys we almost missed this monitor lizard.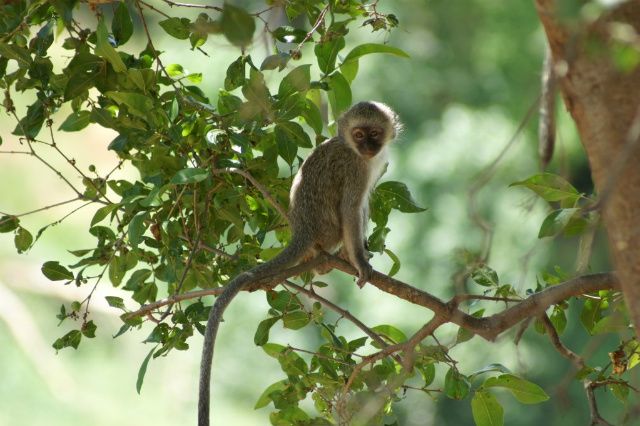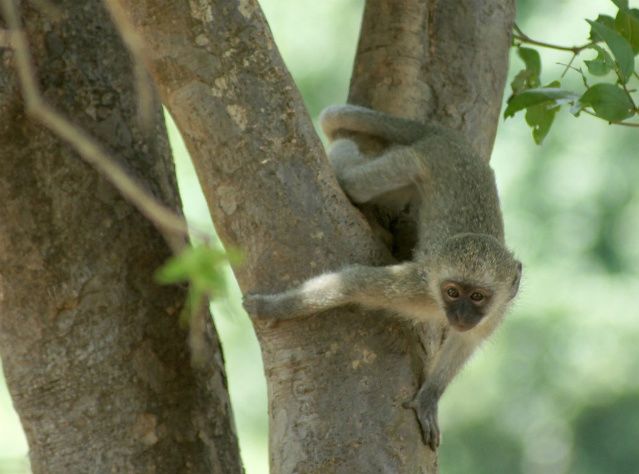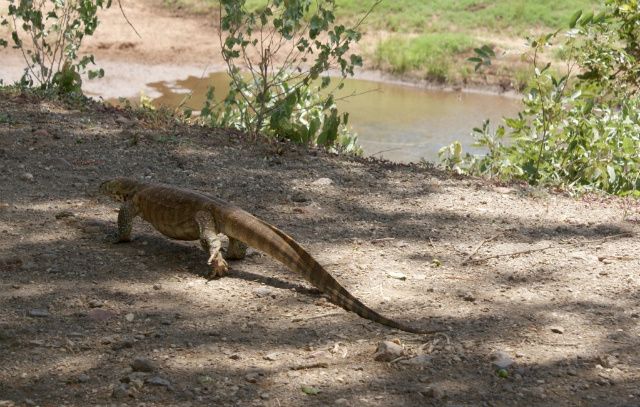 At croocs corner we stepped out and felt the full heat. Monique walked to the fence on the west side, but the clear cough of a leopard ( we didn't see it but were very sure ) in the bush made her back of quickly. So we took the pic of the eastside of the parking place. It was that hot, we didn't stay out for more than 5 minutes. With former visits we always stay for at least half an hour.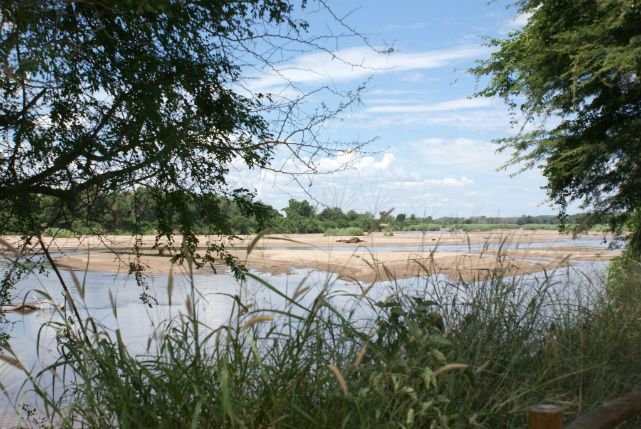 As it was 40 plus we reluctantly closed windows and switched on the airco.
On the way back we opened windows for the saddlebill stork.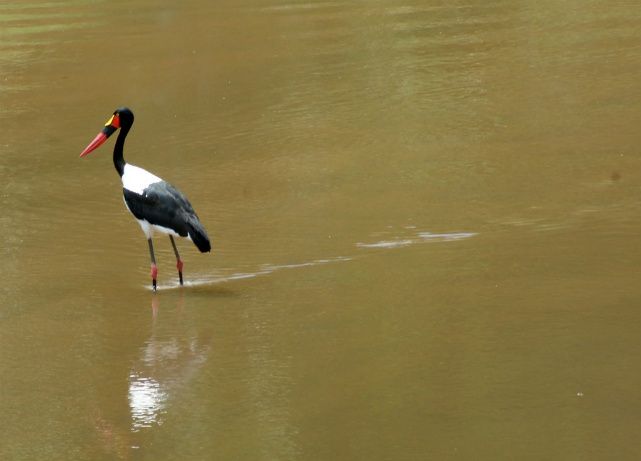 As we took the tarroad back to Shingwedzi we had a thunderstorm to our left, but no rain. We shot this baobab with the clouds behind on the left side of the road.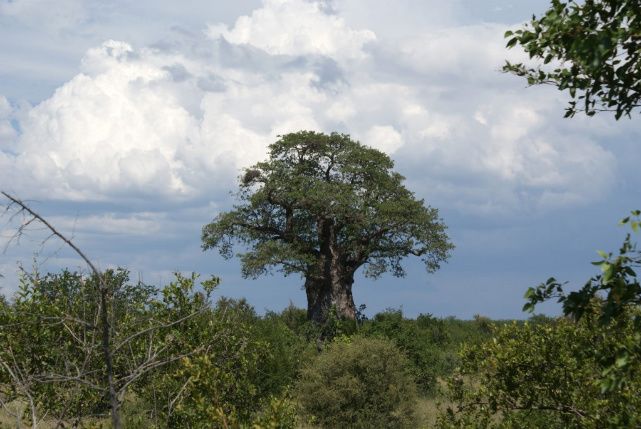 Just after the junction with the H 13-1 to Punda the road is wet and it remains so for 30 k's, marking the path of the thunderstorm. It's a little cooler, but still hot and the animals are hiding.
The swimming pool is calling and as we take the the turn to camp, with our thoughts with the pool, we take a quick look in the riverbed. 2 k's from camp we stop and spot 4 ellie bulls. The pool has to wait for another half an hour, because we think there at least two of the bulls are big tuskers with a name.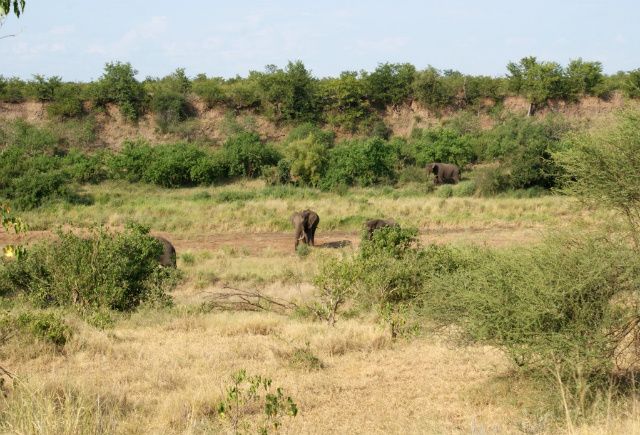 After consulting Aat back in the Netherlands, these two were really big tuskers with a name. Yesterday we had Kaleka and now two more.
In detail: this is Nkombo with two beautiful shaped tusks.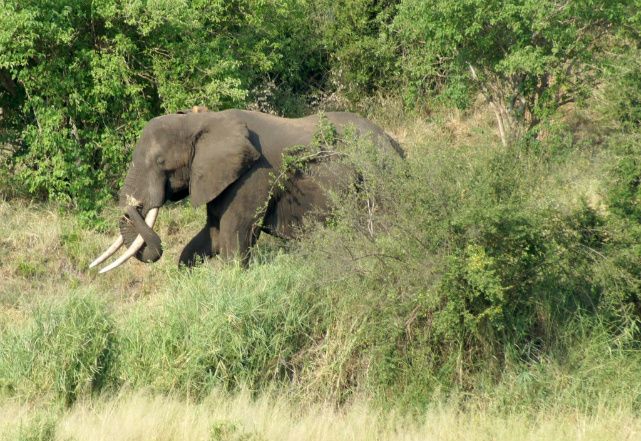 And this is almost certain Mpenza, who recently lost it's right tusk.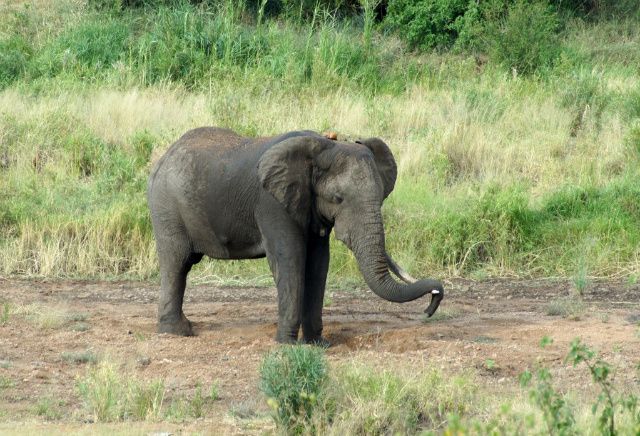 The third one is not very visible, has only a big right tusk, I couldn't put a name on him.
To memorise this encounter with the tuskers of the Shingwedzi riverbed we shot this video of Mpensa, cooling him self with mud.
And then we couldn't resist the call of the pool and spend the remains of the afternoon relaxing, reading and sleeping a little. The braai and South African wine made us think back of again a very special day in the park. Three big Tuskers and more to come.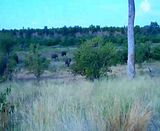 KNP 2018 januar

17-20Shingwedzi
20-22 Letaba
22-27 Satara
27-31 Lower Sabie
---
KNP 2018 januar

17-20Shingwedzi
20-22 Letaba
22-27 Satara
27-31 Lower Sabie
---
Thanks for your support Hilda, Pumbaa, Puppy, Mel, MG, Heksie, Ossedrijver, Cheetah2111, Noel, Vlakvarkvrou, MM, FC and Barryels. Great to read your reactions and enjoying your kind remarks.
@ Hilda: more tuskers to come.
@ Puppy: we consider ourselves very lucky this year.
@ Mel: and more days to come, with impies , ellies ....
@ MG: more story and pics coming up.
@ Heksie: more kitties in store
@Noel: the swimming pool was sure a favorite up till now. It was very hot in the area Mopani/Shing.
@ MM: we never get enough of these naughty vervet monkeys.
@ Barryels: keep on driving. Some day will come, in spite of the CCR-song.
@ FC: good to hear again and very good to read we are gonna have a fabulous TR in store for the end of 2012. I have made a note in my agenda to let you remember.
And maybe we can get up for The Cheetah Guides Award 2012
Lets get on with our days at Shing. Sorry to have kept you waiting, but the job and the garden ( it's spring in this part of the world ) takes loads of time.
Next day we were out early again and the first we learn is that the weather is a lot cooler and that's fine with us. A few minutes later we can see the love couple again at the same place in the river. As we plan to do the Red Rock Drive (S52) we let them to them selves. The first hour or so is very quiet. We don't see any other cars and also the game is hiding. It's a bit windy, cloudy and now and then a few drops of rain. Near Gubyane we meet with a safaritruck from Bateleur with 2 people at the back. And one other car, the only one on our drive on this route. We pointed out the lions near Shing to the truckdriver and when we met them again 2 hours later it was a very happy small party. Before we had a stop for coffee at the Tshanga view we did see some giraf and Impala. I said it before, impies never bore and some of them pose willingly.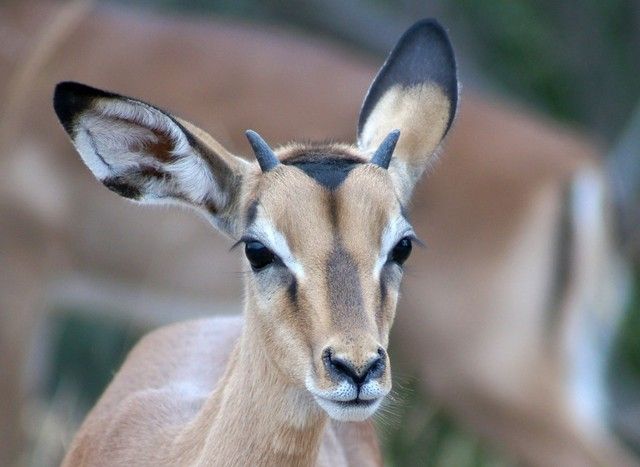 Tshanga was a bit chilly and windy but still a beautiful place for a rest, surely if you're the only car around for miles.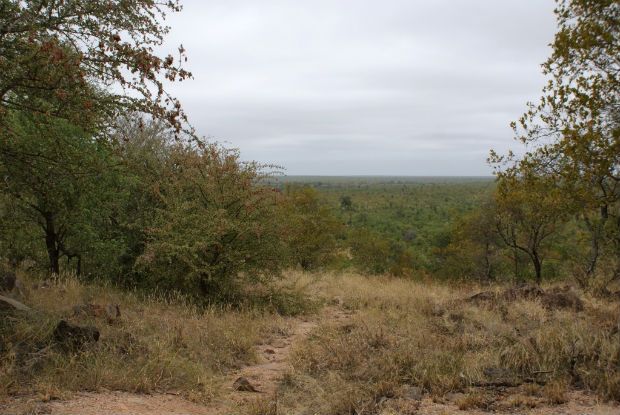 After coffee the luck was on us again. We took a bypass about 3 k's from Tshanga and first we see this bull buffalo.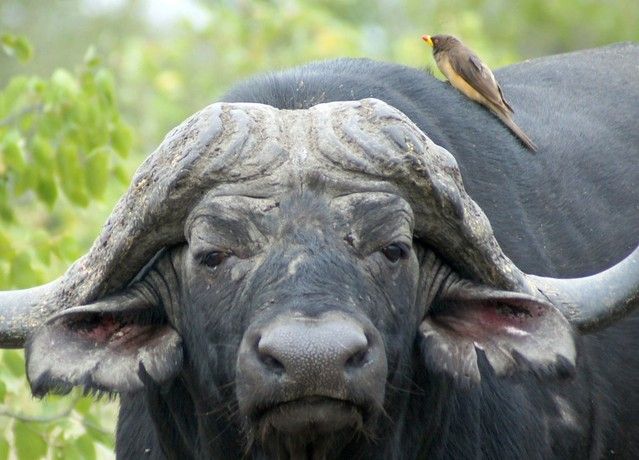 In the riverbed at some distance we say welcome to another Tusker. Aat was again helpful to give us an ID. This is Nshawani almost for sure. He has only his right tusk left. He should join with Mpenza who we saw yesterday and later this day again. Together they make a fine pair of tusks.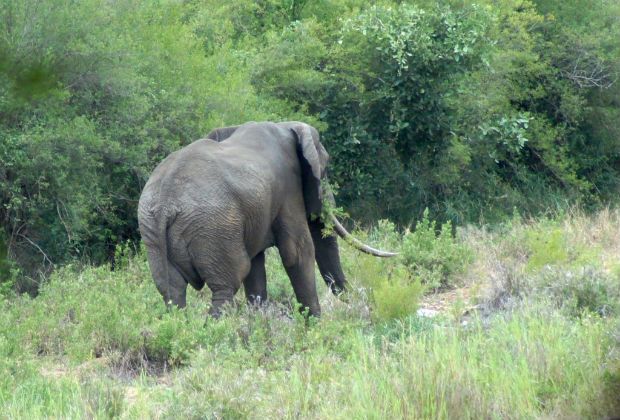 Just 200 m further on the bypass we couln't believe our eyes....Lions again. And being the only car around we watched them (doing nothing at all ) for a peacefull hour. First we saw a lioness down in the river. Think she stood (or layed ) guard for her two sisters with cub a little higher on the bank.
After half an hour she decides that all is clear and safe and she joined the rest upstairs.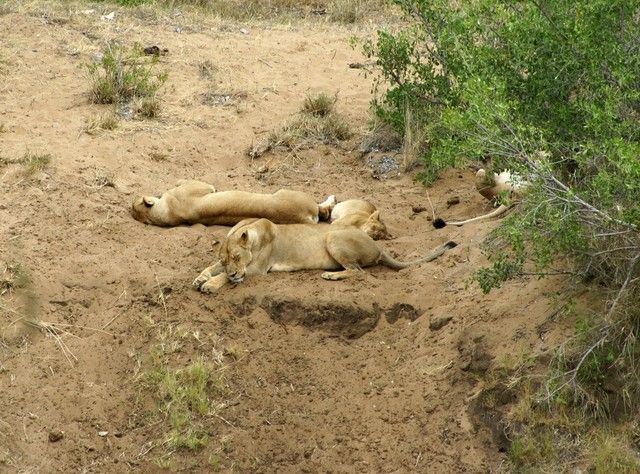 After this tiring exercise the gang went to sleep and we got on the road again.
Driving back to camp it was all quiet again untill 1 k for the gate suddenly a bateleur coems over our car and lands 50 m in front of us. Picks up ???? and takes off again. It alle happened so quickly we were to late with our camera. It was by then 11 am and we went in for a late breakfast and a rest.
More tuskers in the afternoon.
KNP 2018 januar

17-20Shingwedzi
20-22 Letaba
22-27 Satara
27-31 Lower Sabie
---
The afternoon of our last day in the Shing area we start at 3 pm. After a good rest we do the drive to the Kanniedood Dam and we take some drinks with us for a stay in the hide. But first we do a routine visit to the low water bridge and to our surprise it's Mpenza again. Now we notice the length of his trunk. He's easy going drinking water out of a hole in the sand.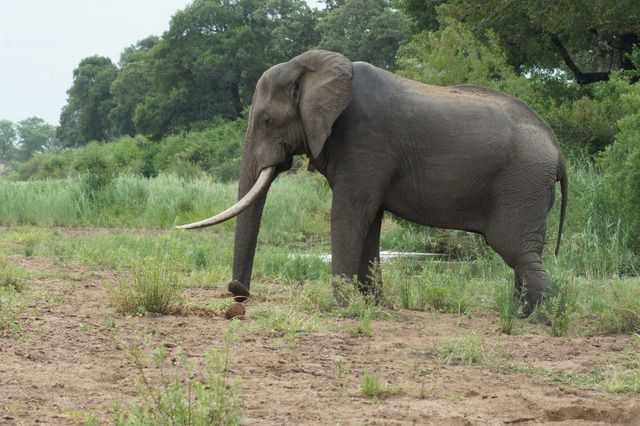 We watch him for a while and then take the road to Kanniedood. It is still a bit cloudy. I think this is an ellie trip for us, because the first sighting after Mpenza is a small herd of ellies we watch for half an hour from different spots. There were cute little ones but also a couple of adolescents having a lot of fun.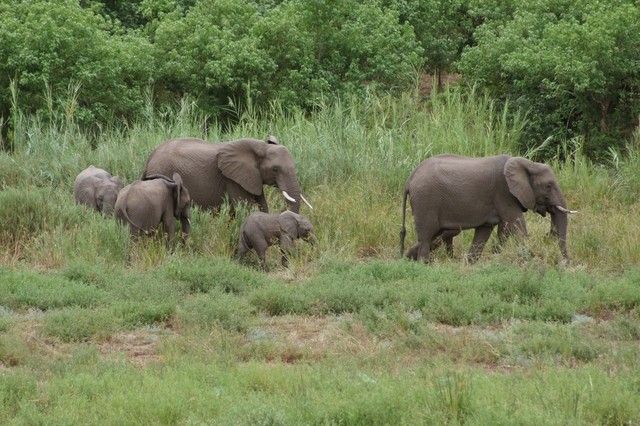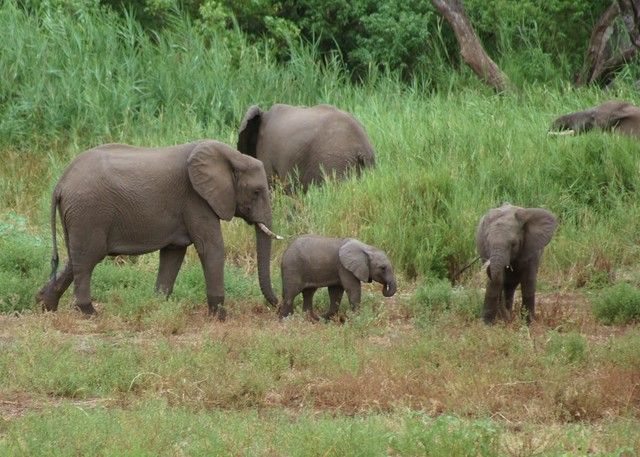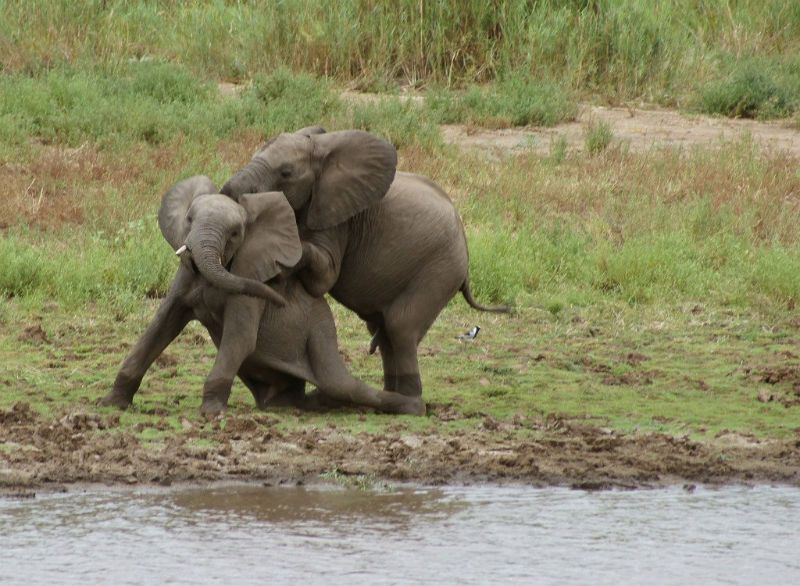 And then we dicovered that the view from the hide was very disappointing...no water at all. Don't know why, so we drove on and enjoyed the music of the hippo's and a troop of baboons making a lot of noise, but for one baboon who was soooo relaxed. A couple of bushbucks in the bush completed the scene. This road is always one of our favorites.
Almost back at the back gate of the camp and already dusky we hear a lot of noise in the few pools of water. A big herd of buffalo's seems to be a splendid end of this cool day.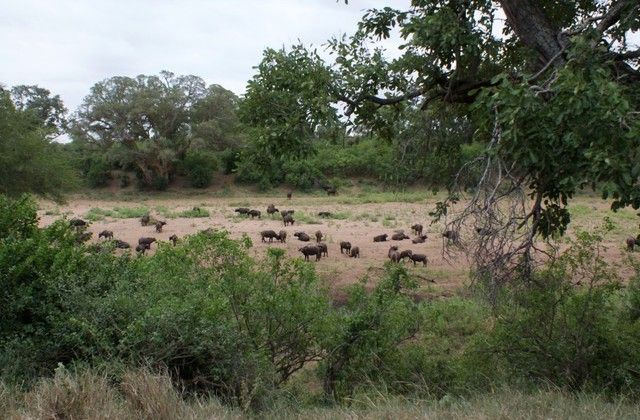 Just past the gate, it's 5.58 pm, we have a little converstaion with a lady with a camera standing watch at the gate. She says that Matchachule is due to pass the fence. The boys who close the gate tell us he is now near the bridge and we have permission to go out again for a quick pic. We did, and so another again memorable day ends with a highlight. The shutter did it without flash on 1.6 s and we were surprised that the quality was not that bad. This is certainly, without any doubt a Big Tusker Trip!
Tomorrow another traveling day as we'll heading back to Satara and of course we hope to spot our love couple for the third time and if possible a bit closer this time.
But for today we end with this fierce bull.
KNP 2018 januar

17-20Shingwedzi
20-22 Letaba
22-27 Satara
27-31 Lower Sabie
---
Thank you all again for your support.
FC, I don't want to press you, but just remind you how we enjoyed your last TR.
Next day is our last morning in the north of the park. We have enjoyed so much the tranquil, calm quiet bush. So little cars and such beautiful sightings. We are a little worried how to survive the hectic south again. Think we become real addicts of the north.
As we have a long drive before us we leave 5.30 sharp. Last night we heared the roaring again an we hope for a goodbye from our love couple. And YES!
2 ks from the gate, its still dark the two are lying near the side of the road. There's only one car with us and he is a little in front of us. We just can see another male on the road. We coudn't get a shot on that one, but we gave it a try on couple. We were so close that we couldn't use flash ( the king was a little fretful and told us in his own language to back of ). So we did after we took a lucky shot with a long shutter time. We were lucky the result was not that bad.
Shortly after we moved a little, all three rised and vanished quickly in the bush. What a way to start the day.
So at 6.00 we got on the road for our drive to Satara with a brief stop at Phalaborwa. We stayed on the tarroads and stopped at Mopani for breakfast and Phalaborwa for lunch. Then we decided to take a little drive outside and enter again at Orpen to be in time at the gate. We made it, despite the many roadblocs, without much trouble. We had a booking for 6 nights in Satare in a bungalow at the perimeter. They gave us nr 161, and what an awesome spot this is. This bungalow is just meters away from the fence and the first in a row. Never before we had the privilege of such a spot in Satara. We considered it the final highlight of the day.
In our memory the day was mainly a day for traveling, cloudy and then sunny. Cool and warming up, but fair and seeing many animals without very special sightings. Looking back on the pics we took on the side of the roads that lead us to Satara it was afterall a rewarding day with many short meetings with the wildlife.
Till today we didn't see much hyena's. This morning we had two sightings. The first was a mother with cub (and long grass again ). The second was a lazy loner.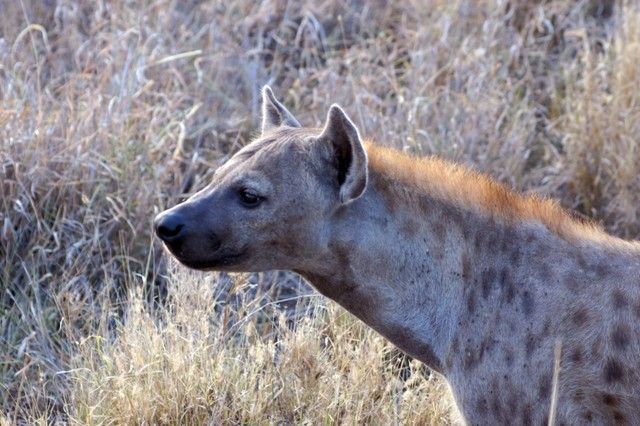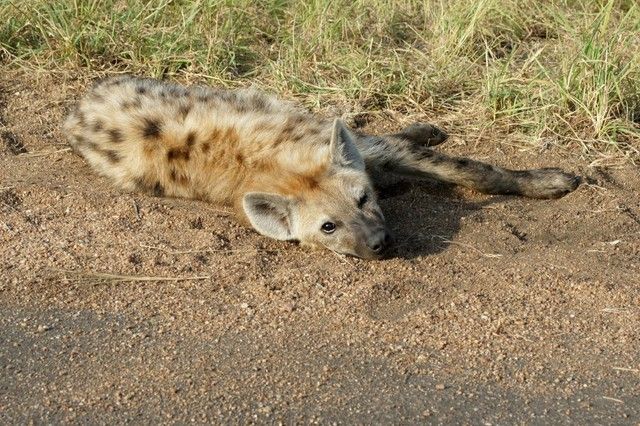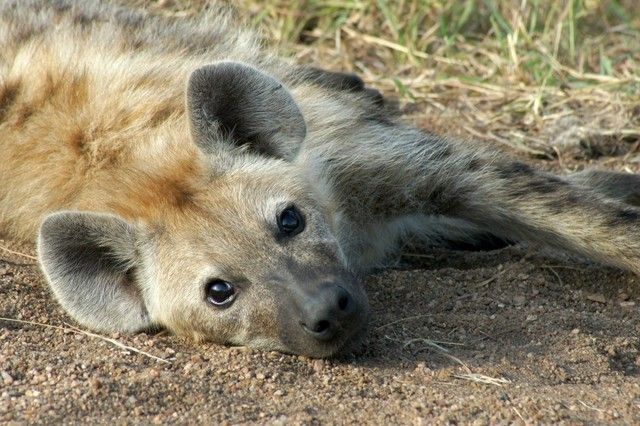 Of course there were girafs to enjoy.
And a klipspringer, just in time to to take a shot. 1 second later it disappeared.
And smaller animals
And roadblocks. This one was very bad tempered when approching a little bit more. This is one of the three blocks we had to endure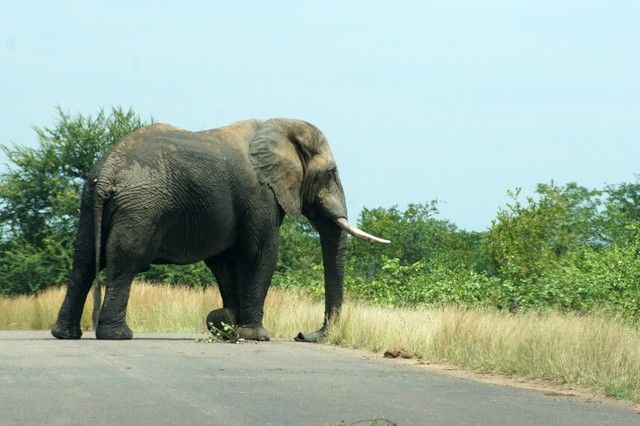 And how about the Green Backed Heron at the low water bridge in the Letaba.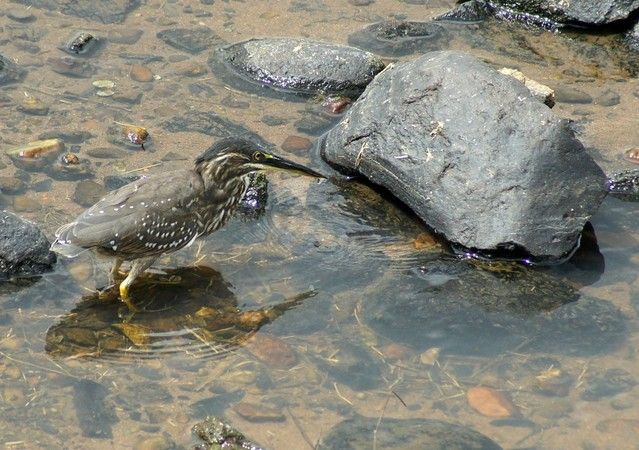 I think we saw buffalow every day this trip. Here they are again.
And not to forget the many birds.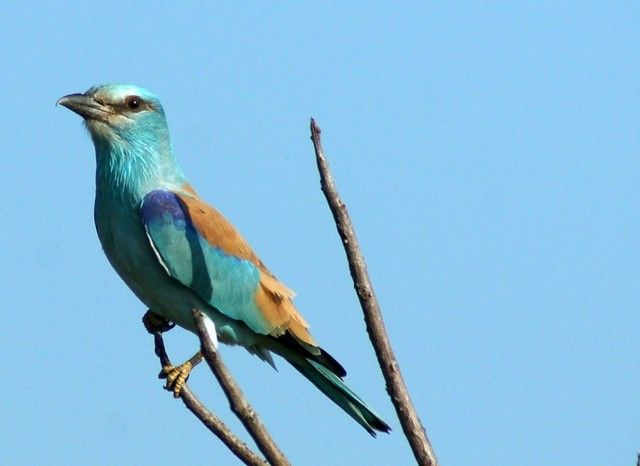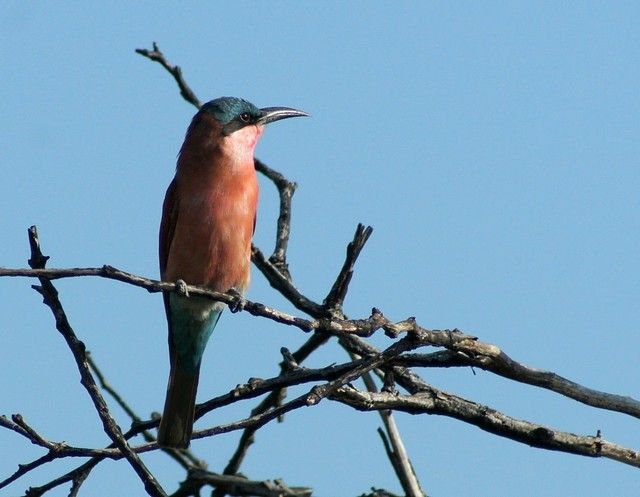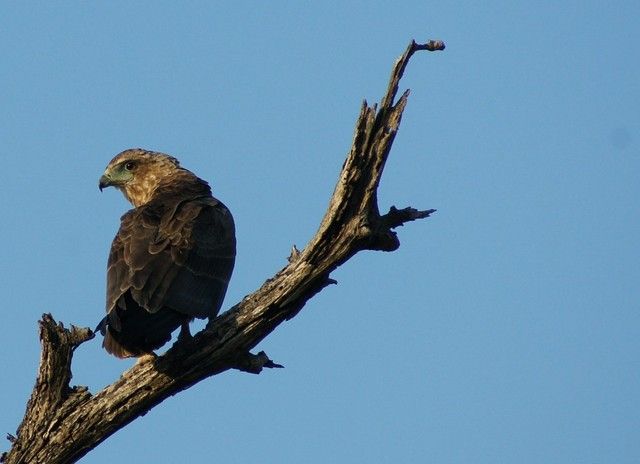 Again a very rewarding day and all on or near the tarroad. At the end of this TR on the very last day of our trip the tarroads had a warm goodbye for us coming.
But first we have this wonderful spot in Satara for the coming six nights.
KNP 2018 januar

17-20Shingwedzi
20-22 Letaba
22-27 Satara
27-31 Lower Sabie
---
Thank you all for staying on board and the patience for the next part and not to forget the nice words that push me forward to get on with the TR.
@VVV: SO only gave me permission when promised many happy returns.
@Pumbaa: memories, memories..........always they are there.
@leervis and Mel: more coming up, but a little more average sightings
@One with nature: it's just as you put in into words, writing this TR makes one relive the trip and makes the the longing for the next trip tolerable.
@ Hilda: you got to be very cool to leave your carwindow half open when the king gives you that look
@ FC: near the fence can be very rewarding as we would learn a couple of days later
Satara was our last "stop" in the park and it lasted for 6 nights. As always we have mixed feelings about this part of the park. We like the plains and the sometimes huge herds, the many beautiful drives and of course the opportunity of spotting a great varity of animals. On the other hand, with every next visit we find the crowd of cars more insistent an it makes us longing for the north and KTP. Still Satara is one of our favorite camps, mainly because of the drives and the two great hides Ratelpan and Sweni. And not to forget the pool when the heat is to much to take.
This visit to Satara was special. We met with very good friends from back home and spent some very easygoing days with them. And of course our onforgetable staying in nr 161 so close to the fence.
As for sightings I would call them average. We didn't have that many sightings. On the last day however Kruger gave us a splendid goodbye.
Day 1:
Last night we were visited by a young adult hyena. His behaviour told us he must have been fed
Of course we didn't, but he came begging every following night.
Up early to find 20 to 30 cars waiting for the gate to open ( you see what I mean by longing for the north. just a day earlier we got out of Shing gate with one other car ). We decide to postpone our meeting with the S100 and head for the S90. We spot a lot of usual game, mainly wildebeast and zebra. The eastern sky is cloudy promising rain. It's stays dusky for some time. We don't take pics for it's dark and the animals are to far of or covered with grass. At the junction we go right on the S41 and we stop to drink our coffee overlooking Gudzani dam. One of our favorite stops in the morning. We stay for almost an hour, but beside the Hippo music that always makes us laugh, nothing happened.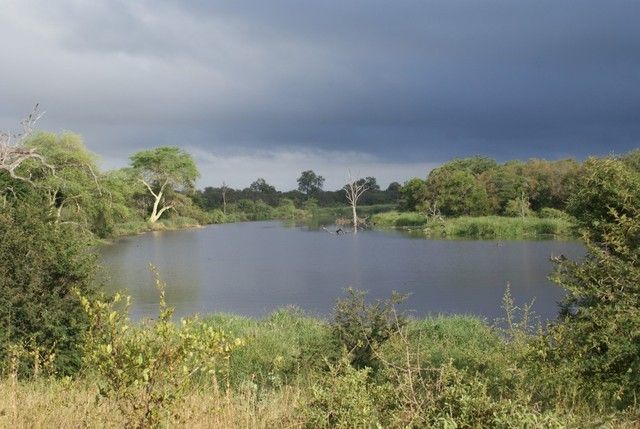 We take the S 100 back to camp. We encountered two small herds of ellies that crossed the dirtroad. At this time of the morning it's quiet with cars so we could enjoy the scenery in peace.
Back at camp we do a quick breakfast and we hit the raod again. We decide to go north on the tar and take the first junction left to Timbavati and Ratelpan. Just before the junction we learn that lions have made a buffalo kill close to the road. A male and 3 lionesses were involved. The kill was lying just meters from the road on the left side. That is the side were the road is a little higher, so you had to go close to the side looking down on the kill. Think of 30 cars all trying to get to the side of the road and you'll understand why we didn't join the party. Even the king got fed up and wandered off.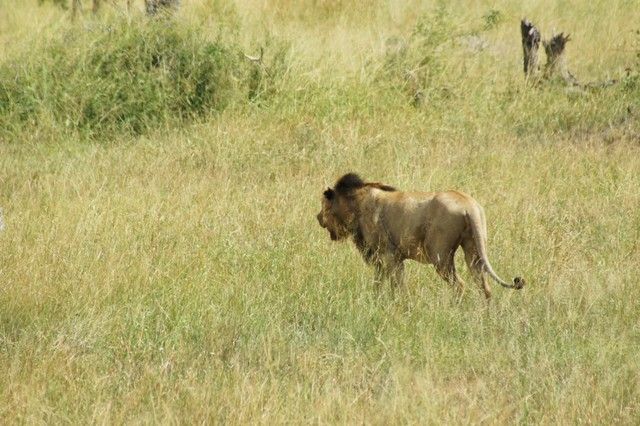 We drove on and 100 m to the right was his harem lying, half covered in the bush. No other cars around!!
Before heading for Ratelpan we took a shot. Thick bush and tall grass this trip. Not the best sighting, but again lions.
By then the day is warming up and the animals go in to shelter. At Ratelpan we stop for coffee and a snack and watch the birds coming and going. Far to the right a giraf doesn't feel save enough to drink. We are alone in the hide for some time before the next visitor arrived.
This Heron is drying up.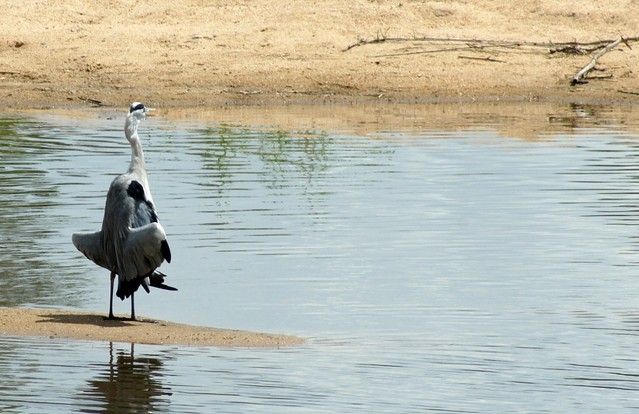 We take the S40 back to camp for a rest and a swim.
Later in the afternoon we decide to take the H6 to the Sweni Hide. To our surprise we meet our friends on the H6. The storytelling has to wait till the braai later that day. Driving the H6 overlooking the plain and the many grazing herds gives us confirmation of why we come back here again and again.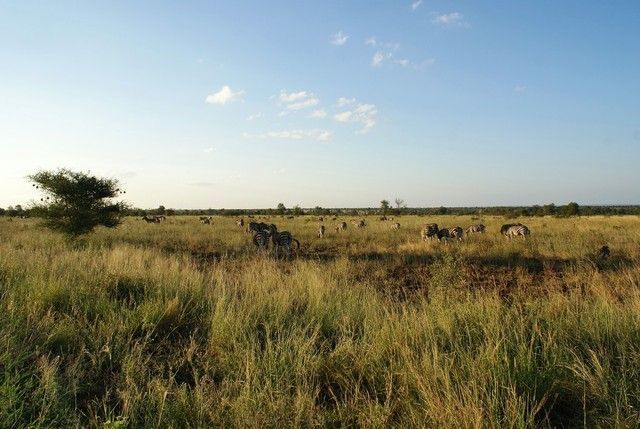 Arriving at the hide it's quiet untill a group enters and makes a lot of noise, destroying the serene moment of the late afternoon. Before this happened we watched a couple of waterbuck grazing on the eastside of the hide. To the right is was much darker.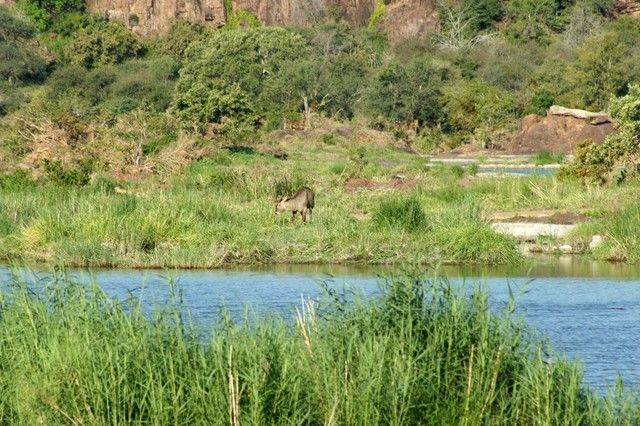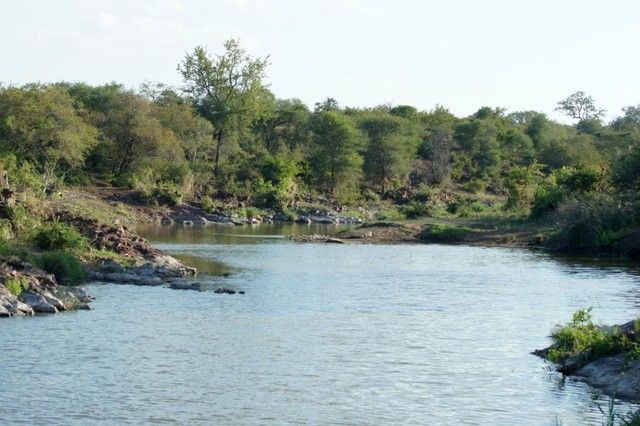 It's time anyway to head for camp. We stop at Sonop and Shihangani hoping to spot one of the leopards that are seen often here. No cats this afternoon , but we end this day with a very rare sighting.
Maybe it has something to do with the next marathon??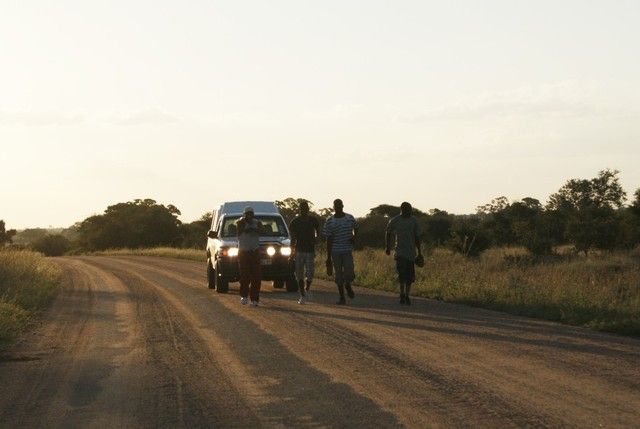 To end our first day we had a very merry evening with braai and good wines and excellent company. A big herd of wildebeast decided to sleep near the fence to make it an even better night.
KNP 2018 januar

17-20Shingwedzi
20-22 Letaba
22-27 Satara
27-31 Lower Sabie
---
---
Who is online
Users browsing this forum: No registered users and 3 guests