Rooiputs - 11-13 March 2012
Nothing beats the approach to KTP - first the endless grass covered dunes just North of Upington and then as one approaches Askham and beyond those magnificent camel thorn trees along the Auob riverbed.....we had eventually, after months of anticipation - arrived at one of the most beautiful places on Earth!
After a quick check-in we proceeded up the Nossob riverbed to pitch our camp at site No.5, Rooiputs. We were very impressed with the area around Rooiputs - the site has a really wild feel and all the sites are well positioned and far away from each other to really allow for privacy. Site 5 unfortunately doesn't have much shade in the way of trees - 1 or 2 trees further away from the A-frame - so we decided on pitching our tent in the full sun so we could utilize the A-frame for shade during the hot midday hours. We also wanted our tent fairly close to our living area in the evenings as our 5 year old son would be sleeping in the tent whilst we were at the campfire. We definitely didn't want to be in the situation where we had a predator between us and the tent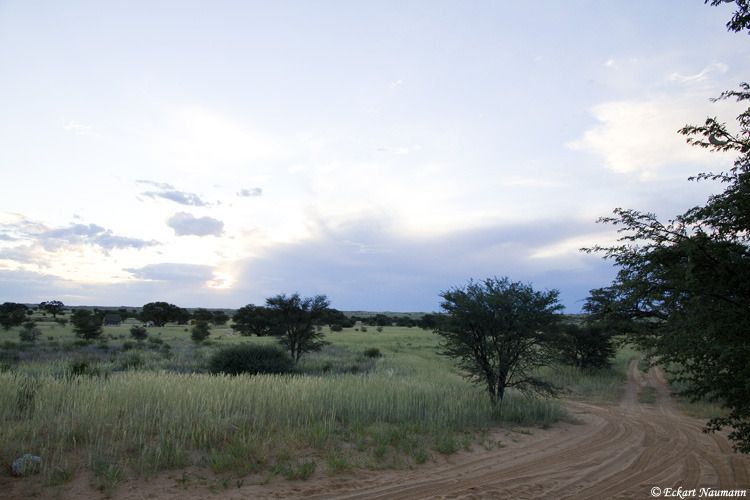 My husband went to try the water taps at the shower but unfortunately there was no water - we then settled for our solar bag shower which worked a treat hooked at the edge of the A-frame. This meant we could enjoy showers early evening when it would not have been safe to venture off to the wooden shower cubicles. We were soon settled in and sitting around the campfire listening to the welcome chorus of barking geckos!!
I awoke early 5h30am to the utter relief that I had survived my first night at Rooiputs - unscathed -I bravely ventured out of my tent to get our kettle going on the gas stove - nothing quite beats the combination of pre-dawn light,early birdsong and the hiss of a camp stove - I was in heaven
We were soon on our way to Kij Kij for our first early morning drive. These two made for a perfect first Kgalagadi sunrise pic. I'll take this opportunity to give credit to my husband, Vundla1 for being chief photographer on our trips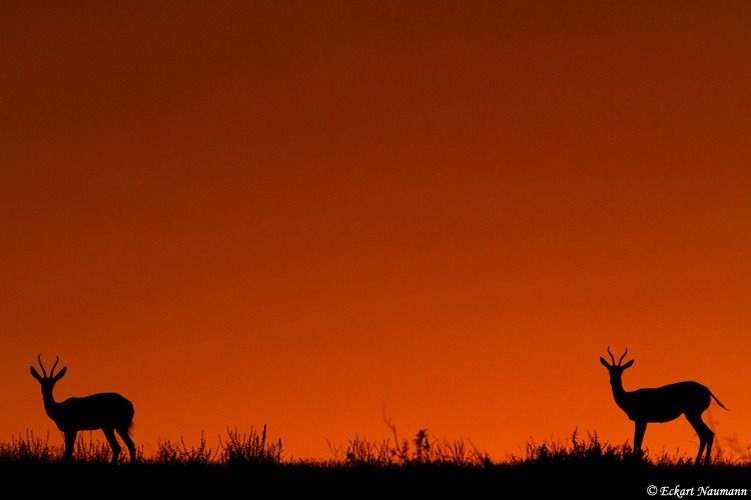 That afternoon a drive South to Twee Rivieren yielded one of our top sightings - we followed them down the riverbed and then watched them drink at Samevloeing for half an hour.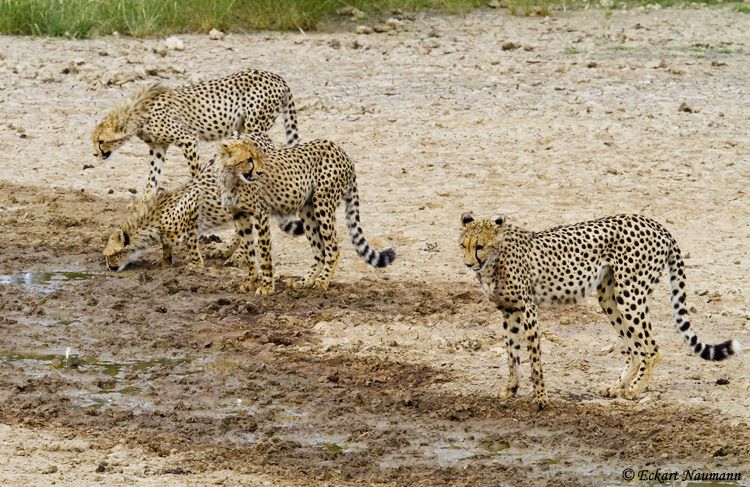 Can anyone ID them?? I mistakenly thought it was Lisette as there had been a lot of talk about Lisette and cubs in the Nossob Riverbed but a few days later we had a chat to Gus Mills and he mentioned that Lisette's collar was due to drop off and none of these four had a collar.
On our way back to Rooiputs from Twee Rivieren these boys were on a mission up the riverbed towards samevloeing - they were spotted right outside the gate which of course as we all know is open - luckily they were going in the opposite direction. There were four altogether but on the move so got a pic of two only.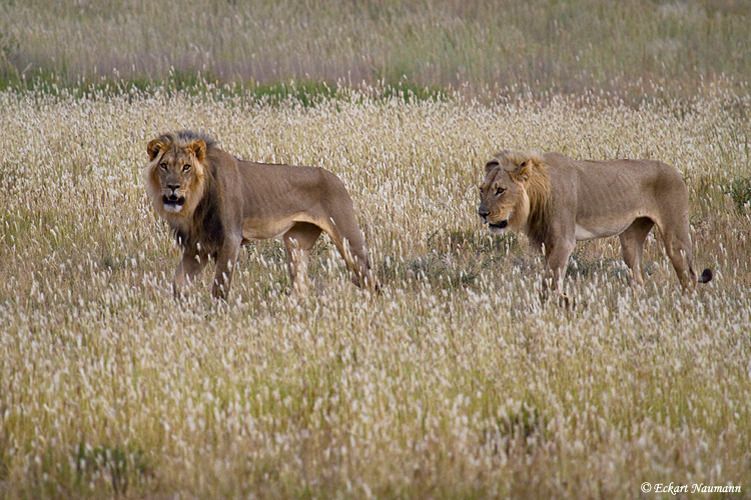 That evening we had a wonderful sighting of a pair of Western barn Owls in the trees around our site. They did regular fly-by's over our heads between the trees and our A-frame. Their screeching calls added to the wonderful wild atmosphere of camping at Rooiputs. What a special place - we will certainly be back!
The next day we came upon a rather sad sight at Melkvlei waterhole - a dying lion. He was lying a few meters from the waterhole but could hardly get up to move into the shade and kept falling over. Such a sad sight to see the king of the beasts in such a sorry state. He was literally a bag of bones. Eventually after several attempts he managed to make it to the shade and then didn't move for the next hour. We ate our breakfast a few 100 meters away at the picnic site keeping one eye on him but it was clear that he wasn't going anywhere fast and was definitely no danger to us. I suppose every creature has to have his day. Not sure if he was sick or old or both???
The following day on our way past going to Nossob, we were on the look out for vultures or some remains of a dead lion but he had miraculously moved and was nowhere to be seen.
Nossob - 14-16 March 2012
What immediately struck me on arriving at Nossob was that the whole area was significantly lush and green in comparison to our previous 3 years.
Nossob hide remains one of my favourite spots. Every evening after lights out we would go and visit and just sit and enjoy the night sounds. One morning at 5h30 the continuous jackal alarm calls beckoned me to the hide. I sat and waited and soon enough a lioness appeared out of the early dawn light and drank at the waterhole. I raced back to fetch SO and we managed to follow her briefly on the road before she settled in the long grass - 2 meters from the road - but completely out of sight!!!
That afternoon we experienced our first real Kalahari thunderstorm - Nossob campsite was flooded - but what an incredible experience. We decided to drive out towards Kwang to get the real thunderstorm experience!! Soon the roads looked like this: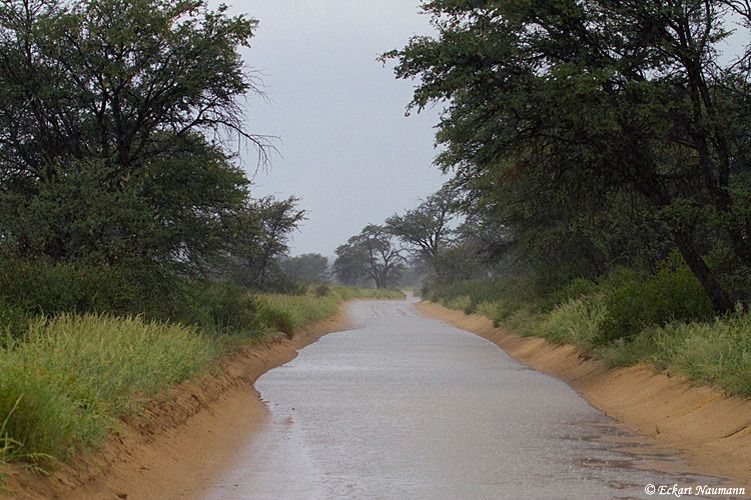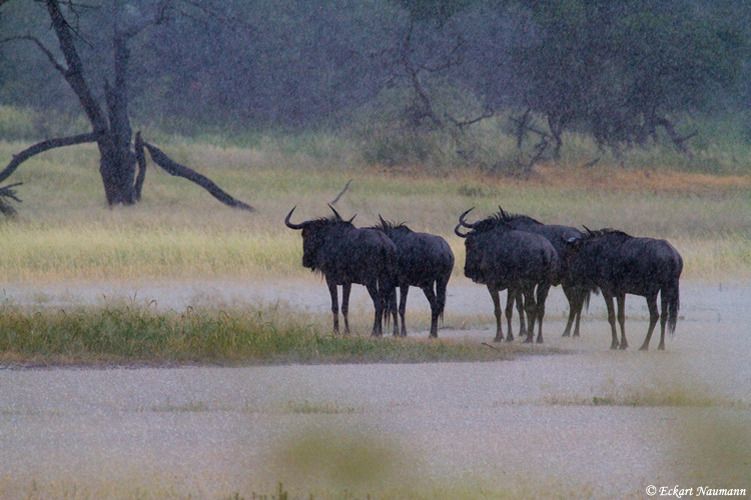 It rained 37 mm in about one hour!!! What a wonderful sight to see so much water in an arid park
The next day we immediately noticed how quite the waterholes had become. All creatures - big and small seemed to prefer the fresh rainwater puddles
Lanner Falcons
After drinking at the puddle this lioness became very interested in my husbands camera lens - she curiously approached and sniffed at the window where his lens had been hastily retreated from......quite an exhilarating moment to say the least!!
This was her "Mr Handsome"
We stayed with them for over an hour until she moved up onto a dune and he became comatose in the growing heat!!
Always a highlight for our son is the freedom of play whilst staying in the fenced camps!!
Polentswa - 17 -19 march 2012
We arrived at Polentswa at 2pm so decided to enjoy the shade of our A-frame before waiting till it was a little cooler to pitch our tent. The lovely big tree at site 1 meant our tent and vehicle could be in the shade for most of the day. We thoroughly enjoyed the magnificent view over the pan which always had gemsbok, hartebees or springbok on it.
A highlight was just sitting at Polentswa waterhole till 6h55pm watching the day come to an end, watching the springbok graze on the green grass and listening to the doves and other birds. This Tawny and Juvenile Bataleur were two of Polentswa's local residents
Nothing quite beats fresh baked roosterkoek on the open fire .....
The next morning we drove up towards Ljiersdraai picnic spot. Just before the picnic spot we stopped to admire a large herd of hartebees - they were fairly closely huddled and looking a bit nervous. We decided to switch off the engine and just observe - next minute we heard a squeal and soon enough an entire clan of spotties appeared , moving right past our car. One had a large leg bone in his mouth, obviously the remains of the previous nights kill. Their stomach's were bulging. We counted 10 in all. The one hyena showed particular interest to the rear of our car - perhaps it was our freezer/fridge full of braai meat that he fancied??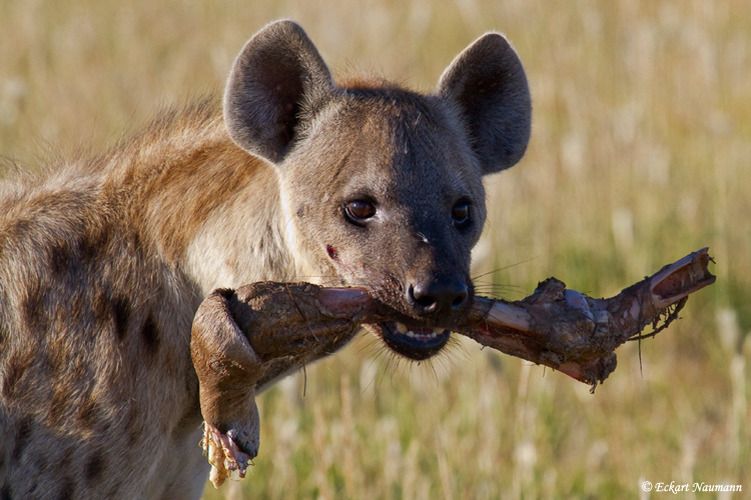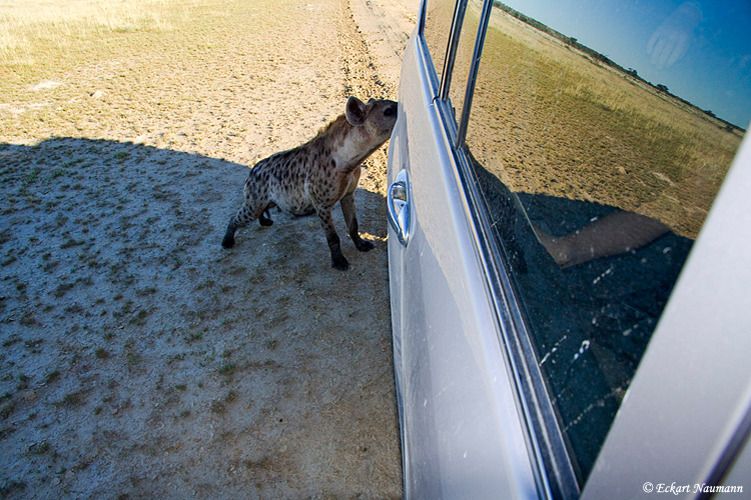 Later on that morning just past Groot Kolk we came across these beautiful boys and lady lying right next to the road
The birds of prey were prolific and we had many hours of fun identifying and enjoyed watching them gliding on the thermals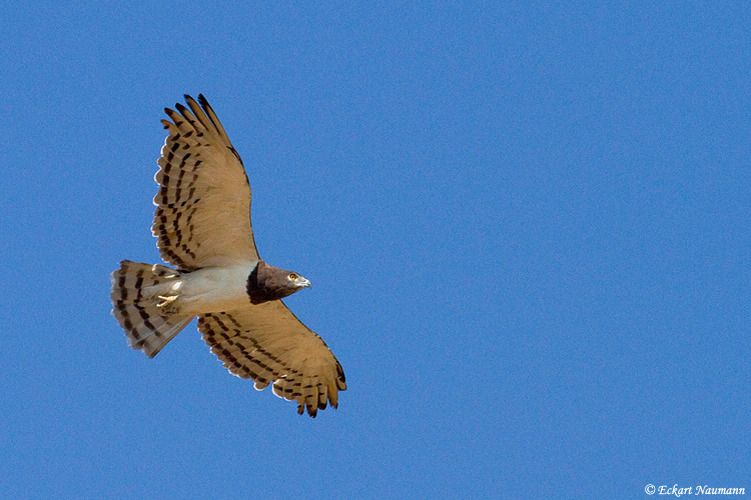 Black-chested snake eagle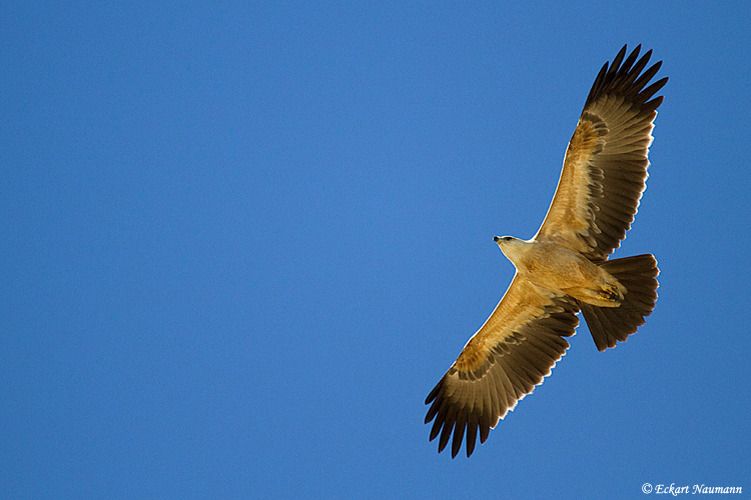 Tawny eagle
Kalahari Tented Camp - 20- 21 March 2012
This must be one of the most beautiful spots - we enjoyed just taking in the scenery from the comfort of our verandah. There was always a resident herd of springbok or wildebeest to entertain us. The roads in this part of the park were seriously corrugated so we particularly enjoyed staying in camp and game-viewing from our deck.
SO enjoyed some night sky photography - truly magical!!!
Mata Mata - 22-24 march 2012
We managed to get a site right on the fence in the shade of a lovely tree, so many an hour was spent looking out over the dunes from our deck chairs. One evening a lion came marching past the camp - he didn't even stop for a drink at the waterhole!!
We discovered a family of suricates foraging in camp near the riverside chalets and also found this little guy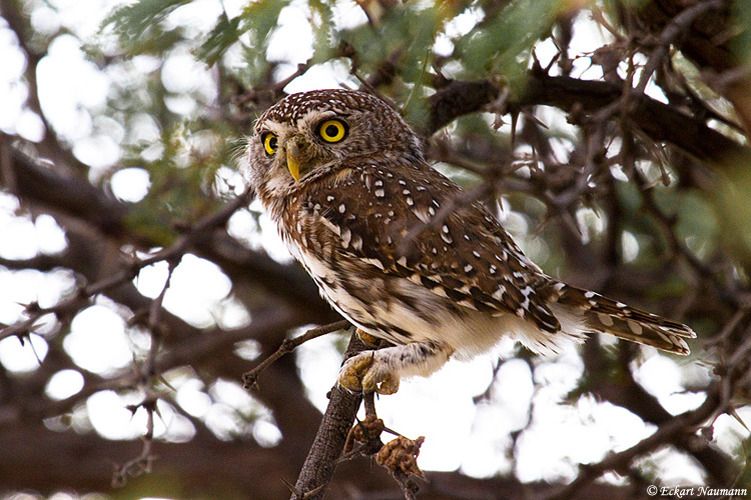 Pearl Spotted Owlet
Just have to give Mr Jackal his day - I love these guys - perhaps they deserve more credit than they are generally given - we loved hearing their cries in the evening and always knew that something was up when their alarm calls were heard - this guy was quenching his thirst at veertiende boorgat.
Twee Rivieren - 25 March 2012
On our last morning in the park we decided to do a quick drive up to Kij Kij and what a good idea this was - after enjoying sunrise at Samevloeing
this is what awaited us...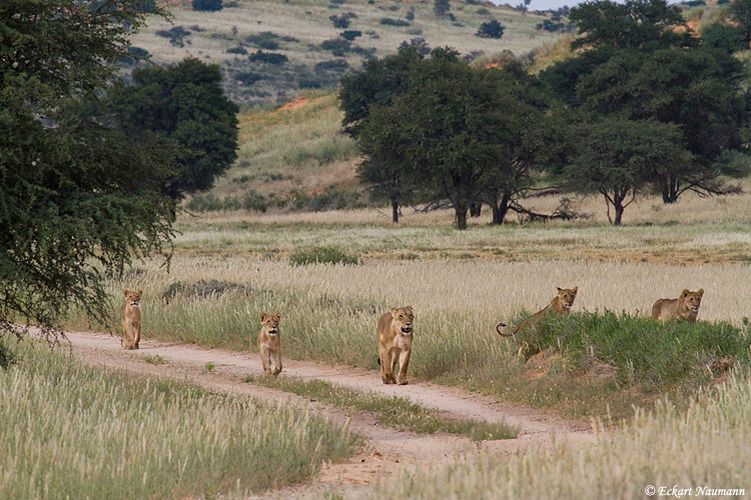 I believe this may be the Rooiputs pride who we had missed whilst camping there??? The cubs entertained us playing around the waterhole - must admit I was very glad to be enjoying this form of "play" rather than them pulling on my tent guide ropes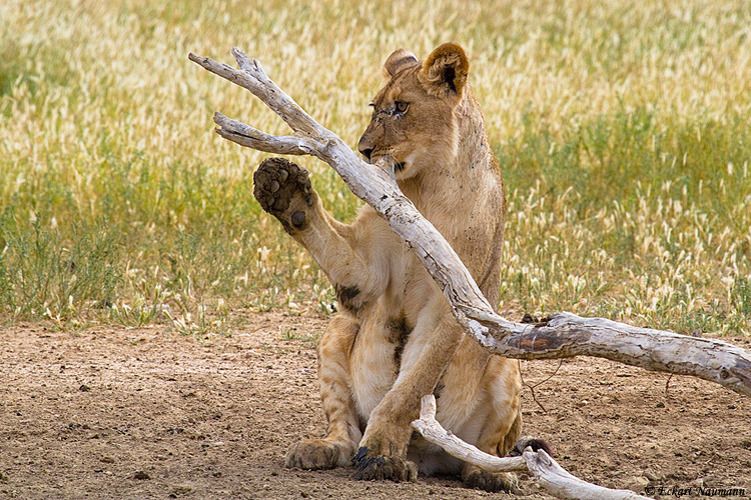 Well talk about going out with a bang!!! We now were well and truly satisfied!!!
This little guy also showed his face - a first for our trip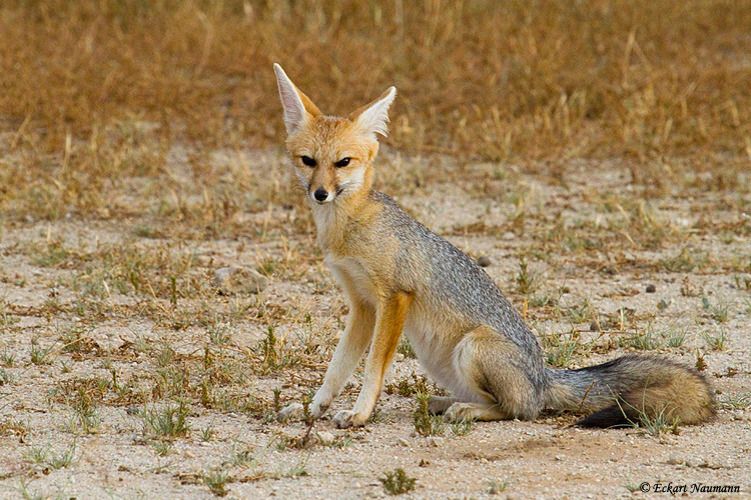 Cape Fox
Another trip had come to an end but one thing is for sure....we will be back with our feet on the red sand again!!!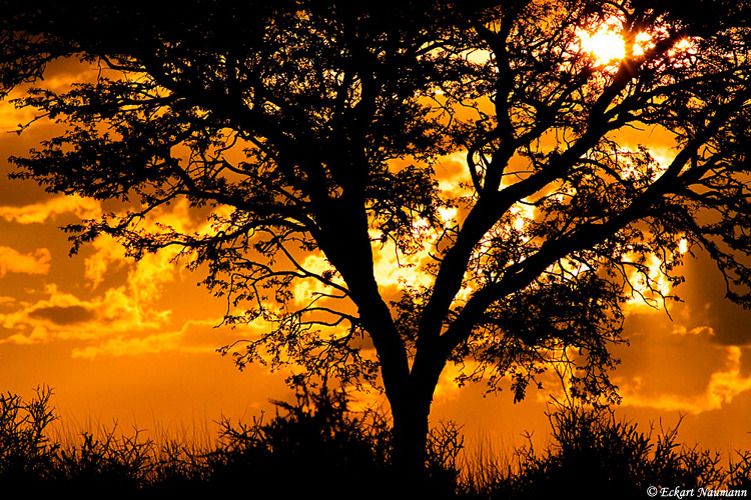 ---