Junior Virtual Ranger

Posts: 370
Joined: Fri Oct 16, 2009 10:56 am
Location: Erasmuskloof, Pretoria
While we were waiting for our meal at Pretoriuskop, I walk around and found 1 Bat under each of the individual thatched roofs at the restaurant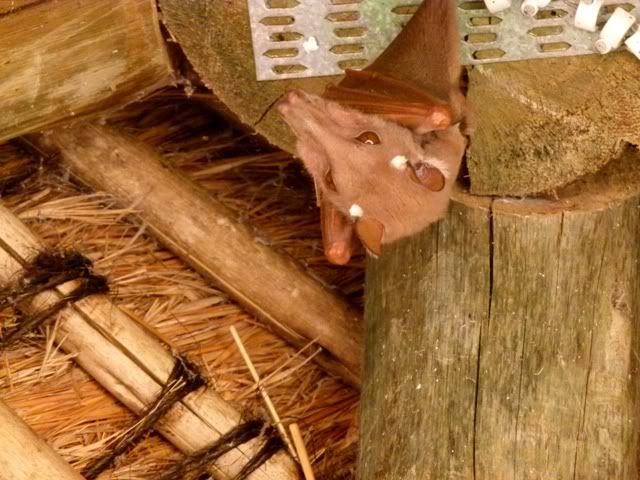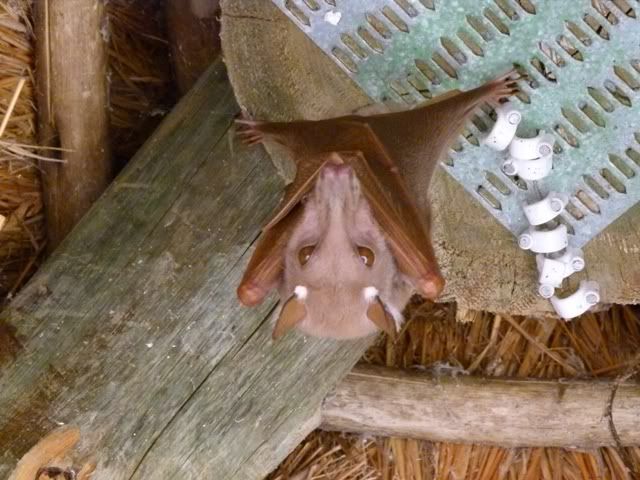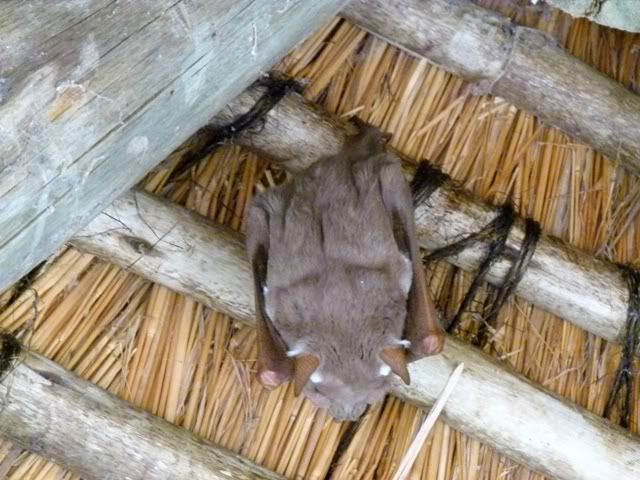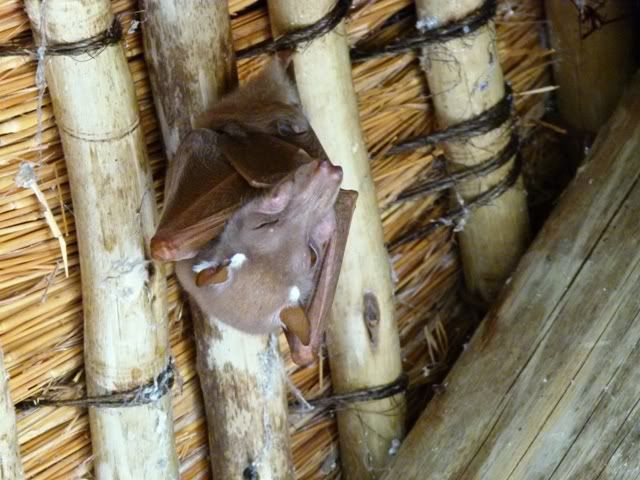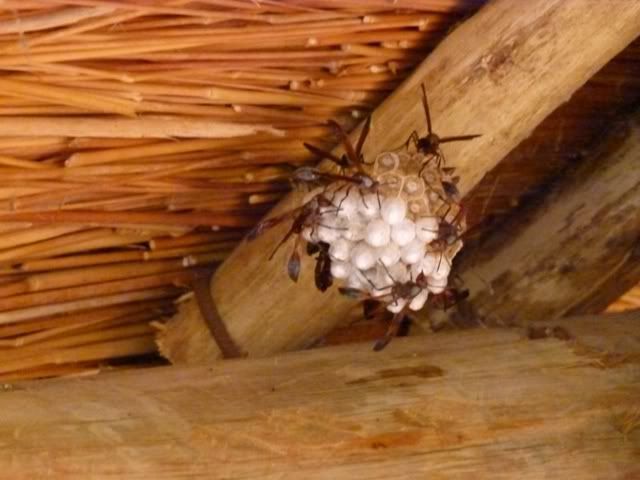 The Groundscraper Thrush (Gevlekte Lyster) was also in his usual place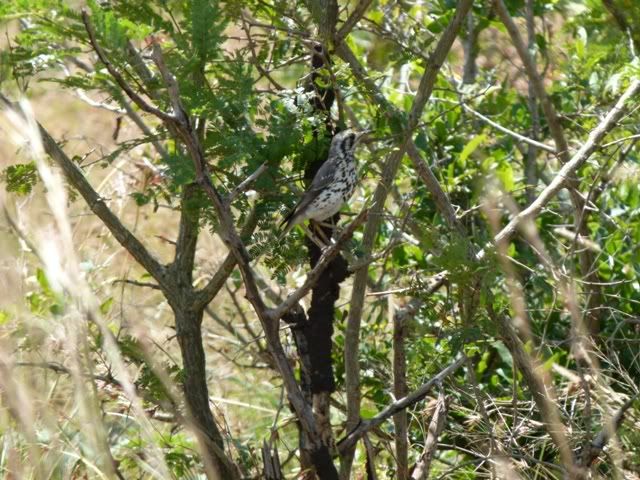 At Shitlave and Transport Dams we did not find much, except these Circle assess and a communial bird nest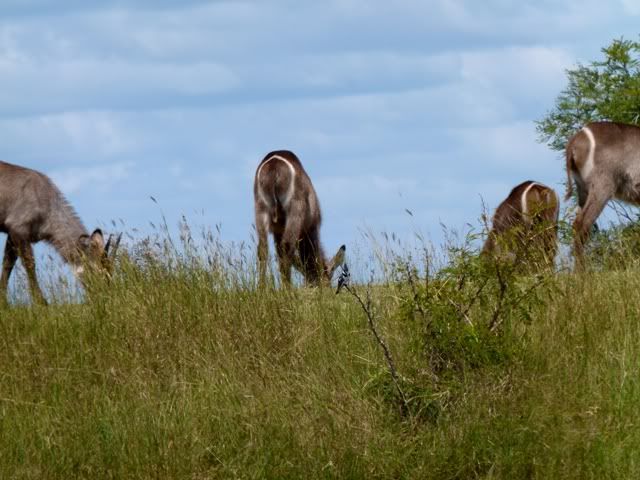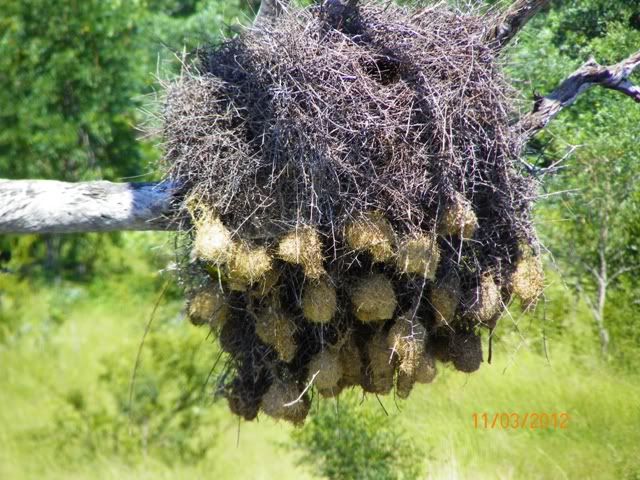 A Skillie (Tortoise) showed himself and we found this Klipspringer with part of his right ear missing, posing very nicely for us.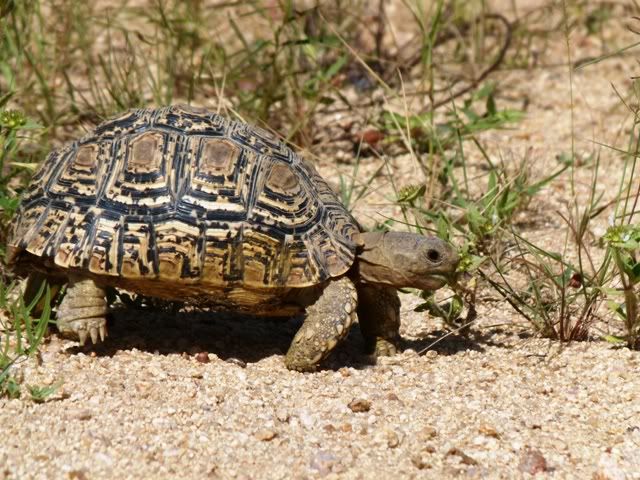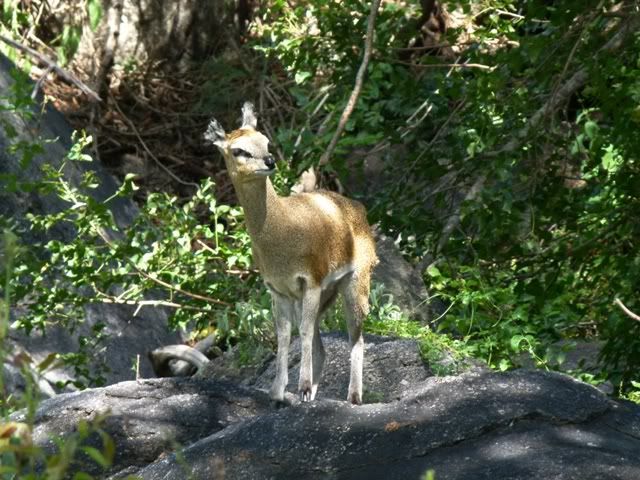 We ALWAYS stop at Sunset Dam and were entertained by the Hippos'. (There was very little activity around the dam)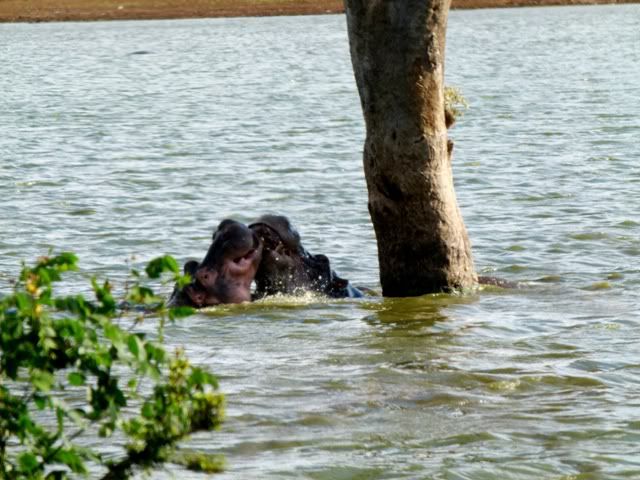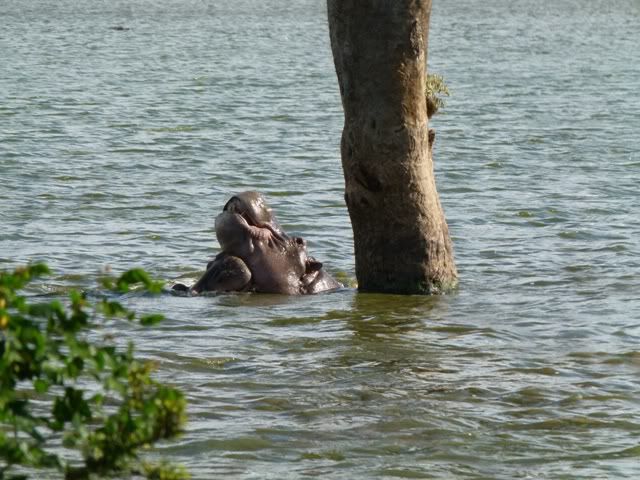 And then my photo of the trip – a little monkey tried to steal my ribbons and when we arrived back at Lower Sabie, I saw that he had left his hand print on my car door!!!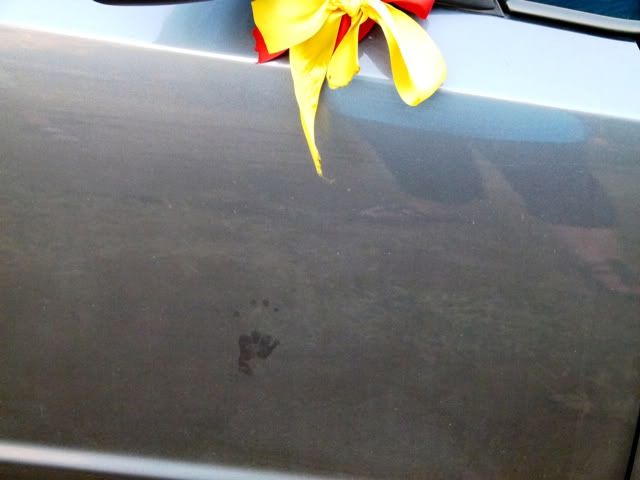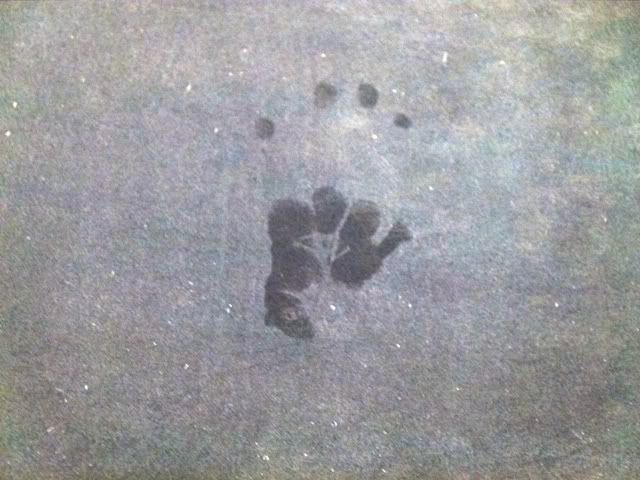 ---
Junior Virtual Ranger

Posts: 370
Joined: Fri Oct 16, 2009 10:56 am
Location: Erasmuskloof, Pretoria
Hallo
Hilda and Barry
,
Thanks for reading
It was quite funny to see only 1 Bat under every thatched roof
Apart from the ears, the klipspringer look to be in a good condition
We were greeted the next morning (12 March 2012) at Lower Sabie by some birds and a buff, a BJ, and Hippos in the water (no photo)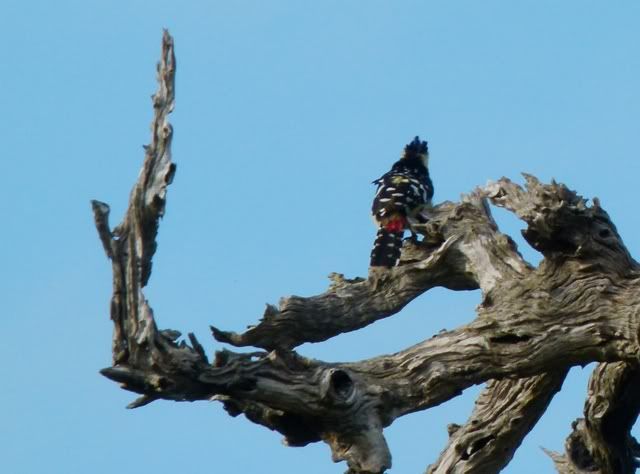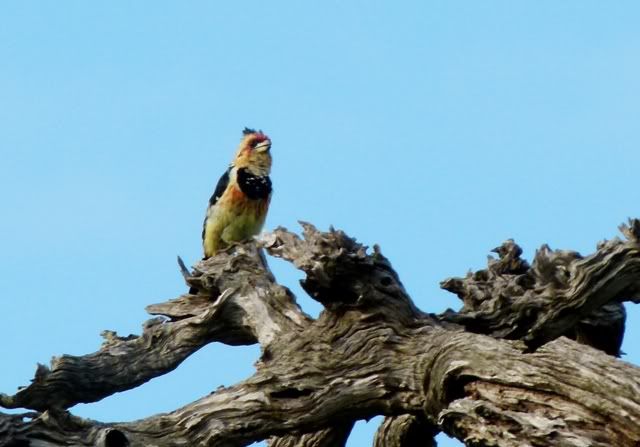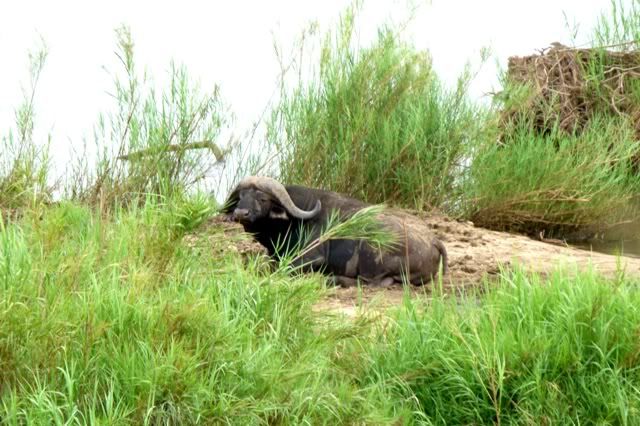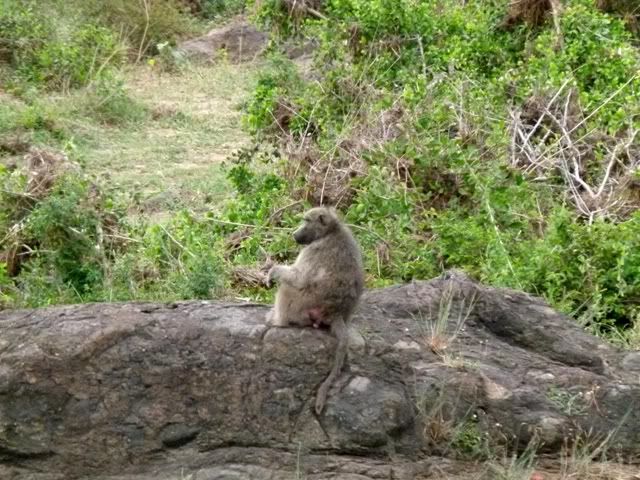 Sunset Dam – a must, irrelevant of the direction we take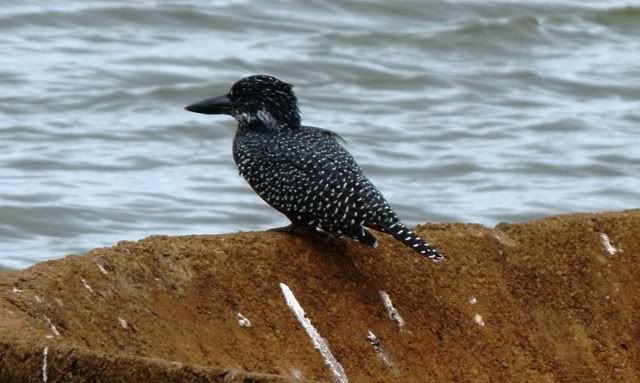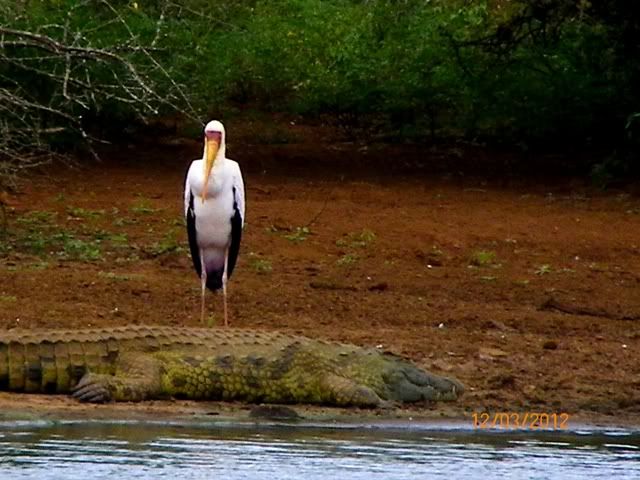 We decided to drive the Croc Bridge way and turn off where we feel like it. Various people stopped us and told us about the Lion kill next to the road not far from Lower-Sabie. On our way Sekhmet told me to stop. There were no other cars, because everybody was on their way to the Lions. On a low branch in a small tree, out in the open – our second (again a bit far but easy to see) Leopard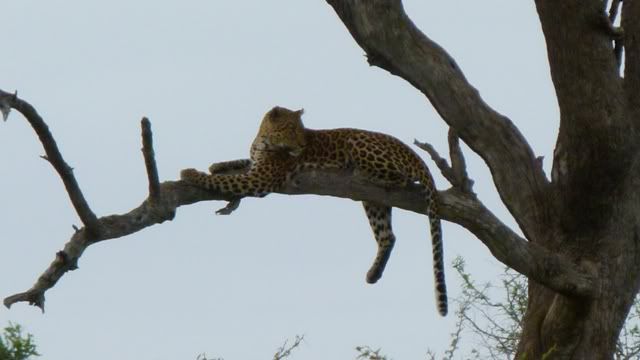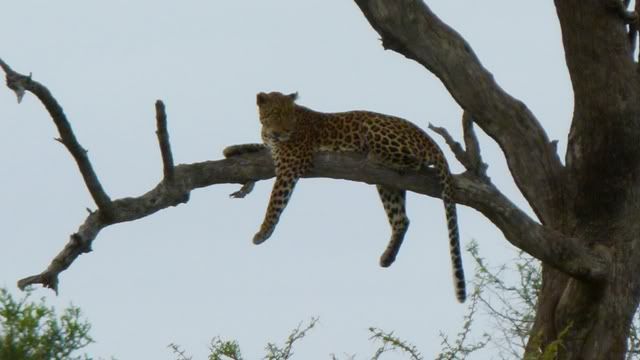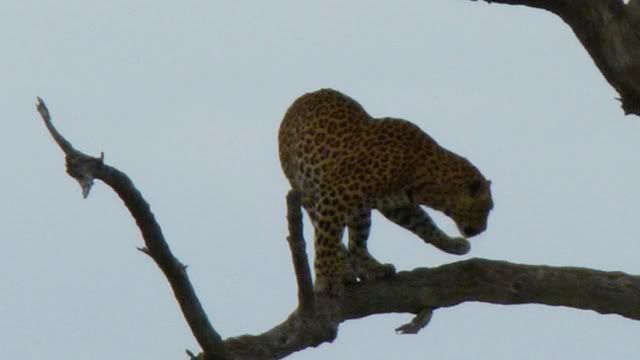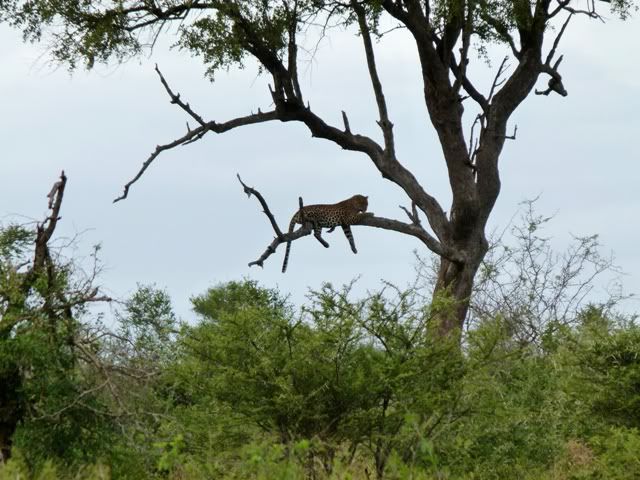 ---
Junior Virtual Ranger

Posts: 370
Joined: Fri Oct 16, 2009 10:56 am
Location: Erasmuskloof, Pretoria
Good evening everybody. Earlier in the TR I asked Dan to please send me the photos of the wild dogs chewing a piece of glass. Well, at last his SO Catmatix send me the photos - and here they are.
Interruption of the above TR
Dan and Catmatix asked me to post these photos of the glass-eating Wild Dogs we saw on the H1-1 near Skukuza during the cricket-weekend 10 March 2012.
Dog on the left has the bottle in his mouth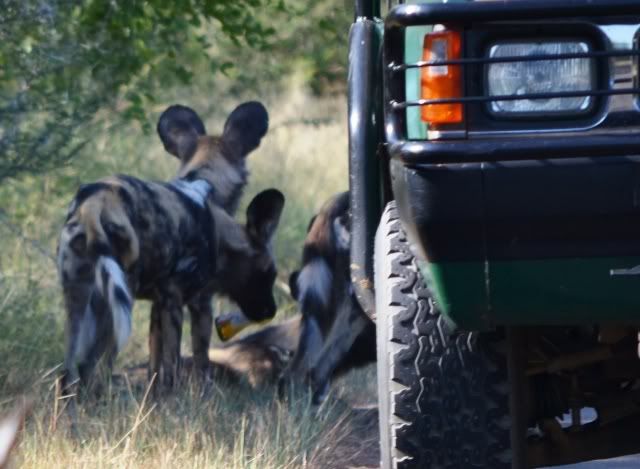 Dog behind the others playing with the bottle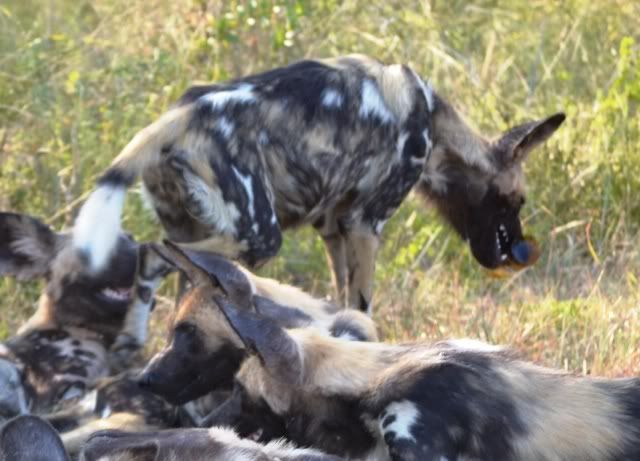 Dog on the left putting it down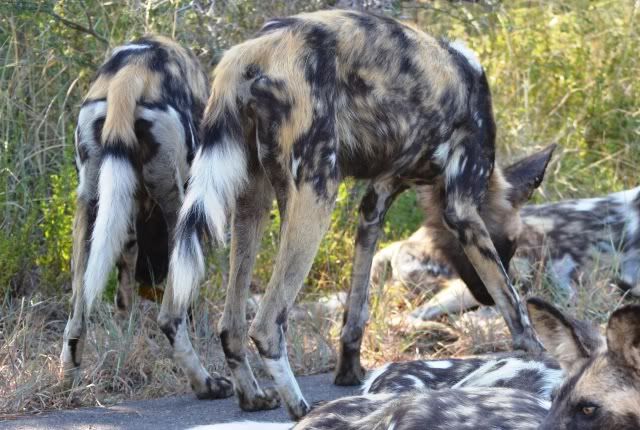 Still chewing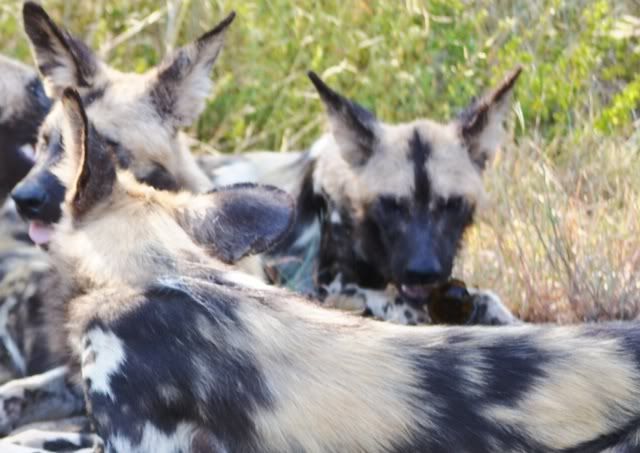 And the culprit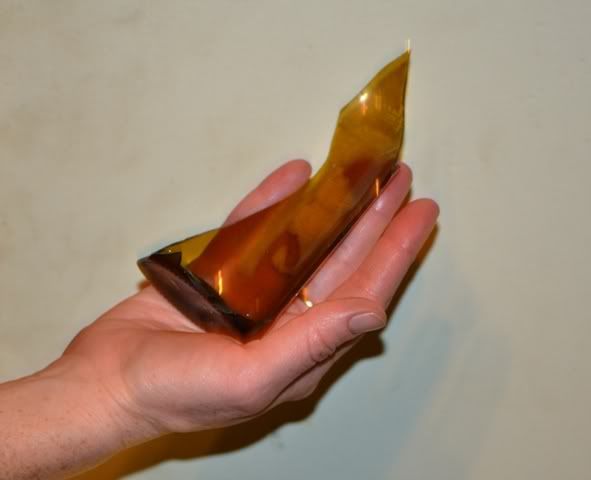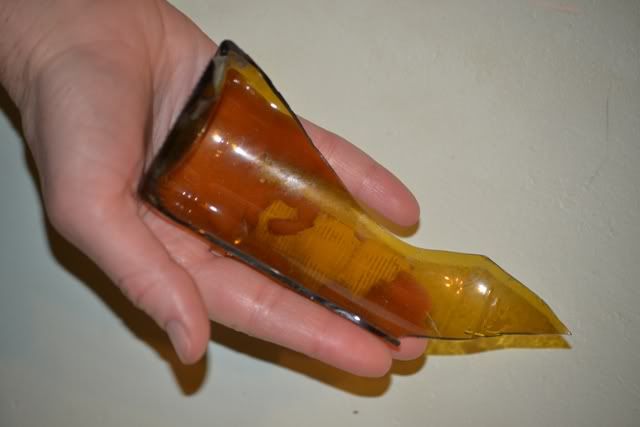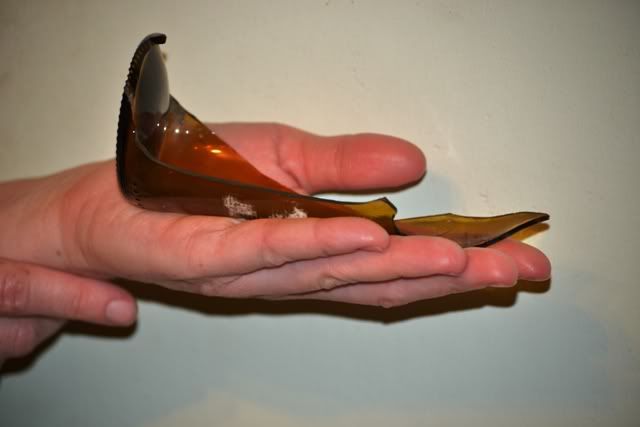 Luckily for the dogs, Dan and Catmatix managed to pick up the offending and dangerous piece of glass.
---
Hi everybody,
There was another member of the public that climbed out of his combi since there were about 7 broken bottles lying in a heap between the grass.
But I told him to get back in his vehicle, since the dogs were still around. Then the dog picked up this bottle, it was still in one piece but they broke it when they started to play with it. SO saw this big piece on which the dogs were chewing. Two of them already had cuts on their mouths so we decided to take action before another got hurt.
We managed to push the nose of the car in-between the dogs that were chewing the bottle and eventually they dropped the piece. I hooted for them to get up and luckily they left the piece lying in the road. CM opened her door with me hanging onto her belt in order for her to pick it up. Back at the cricket we told the manager at Skukuza about it and showed her the shard of glass, and she also told us that strictly they should fine us, but the circumstances were dangerous enough for the animals in that they could potentially hurt themselves even further that it justified what we did. Imagine an animal on the endangered species list ending up having sustained a serious injury to its throat or intestines because of a bottle he ate due to the littering of a foolish person.
I wonder how people can't realize the damage they can do by littering.
And if you drive behind some of these taxis you literally see things flying from them as far as they go. We drove behind some of them in the past, having to pick up cans, nappies, bottles and you name what as far as they went. What is worse is that when we finally caught up with one of them it was staff traveling in the taxi, still in uniform!!
What a disgrace! I can only hope that if people see these pics they would realize how much damage can be caused by littering.
Thanks for posting them VVV!!
---
Junior Virtual Ranger

Posts: 370
Joined: Fri Oct 16, 2009 10:56 am
Location: Erasmuskloof, Pretoria
Thank you to all the mites who commented on my post before the Dogs and also on the "Dog post" as well
TR Continue: (after the "Wild Dog interruption")
We left the Leopard in the tree and went to the Lions eating the giraffe. There were only a few cars, but because the Lions were so near the road, we could not really see them well. So we told a few people about the Leopard in the tree and realizing that the Lions would still be there after a while, most of them left and we could take nice photos, staying a while and then move on to give others a chance. There were quite a number of Lions lying everywhere in the grass and around the carcass. Somebody told us there were about 17.
Here are a few pictures of them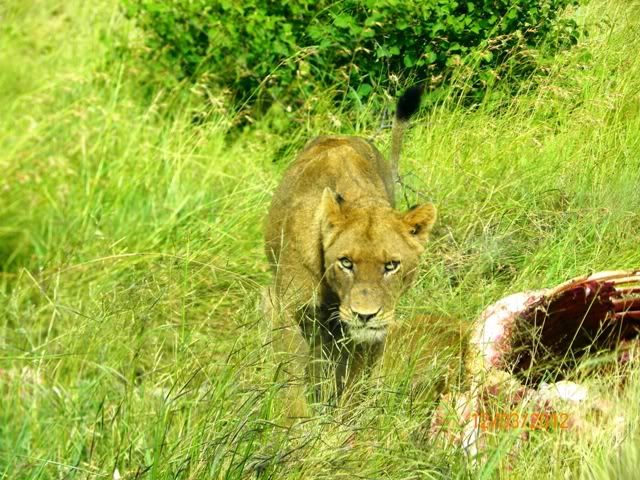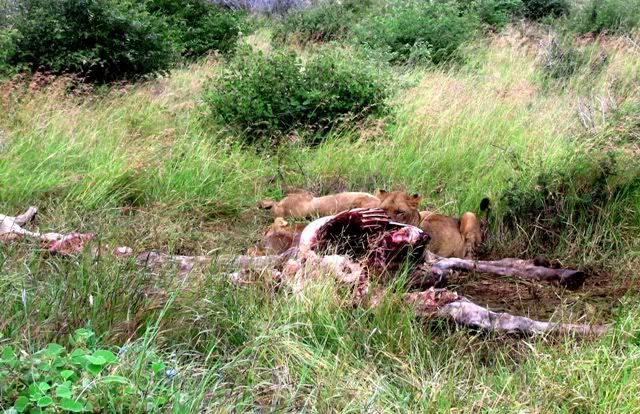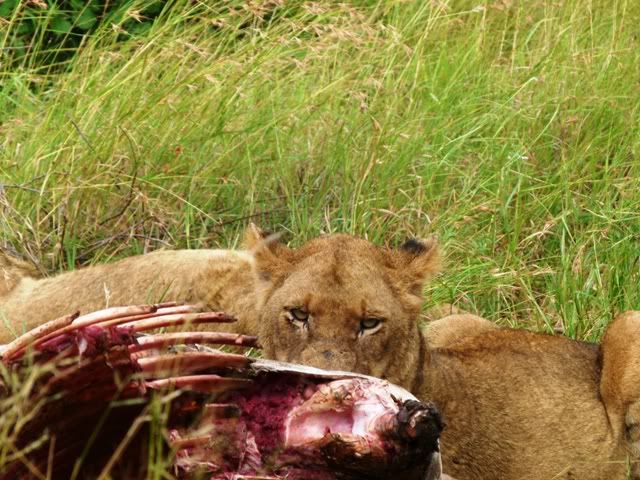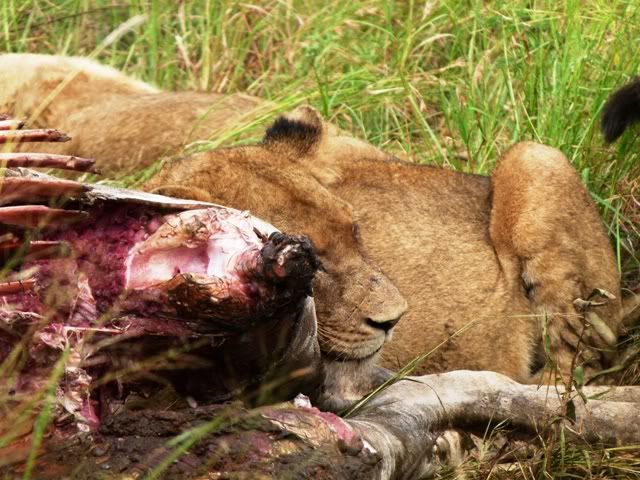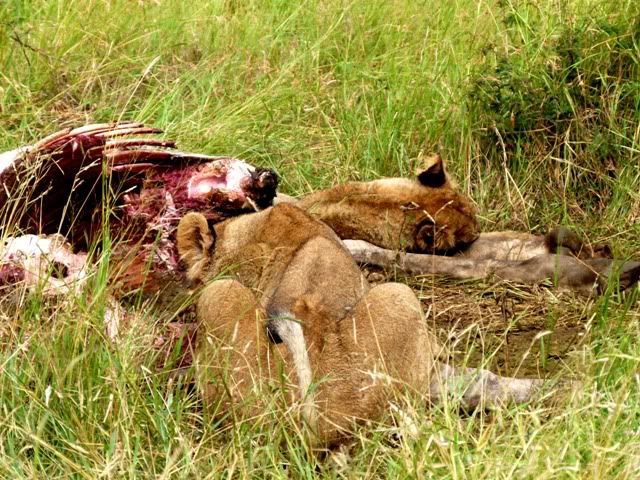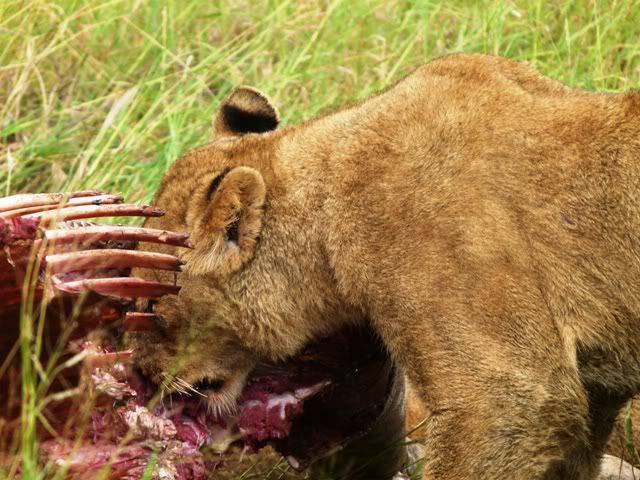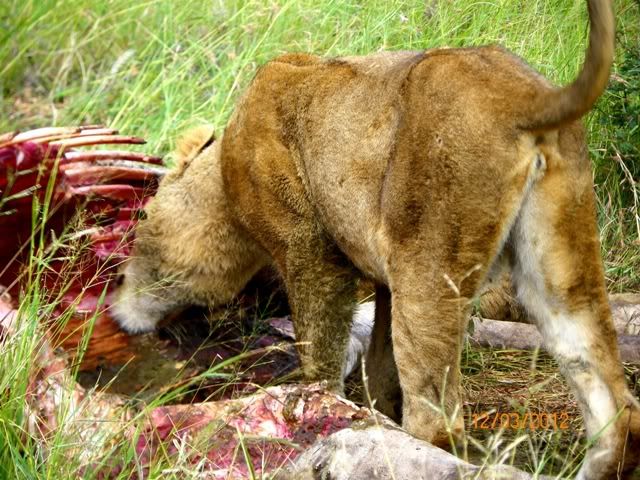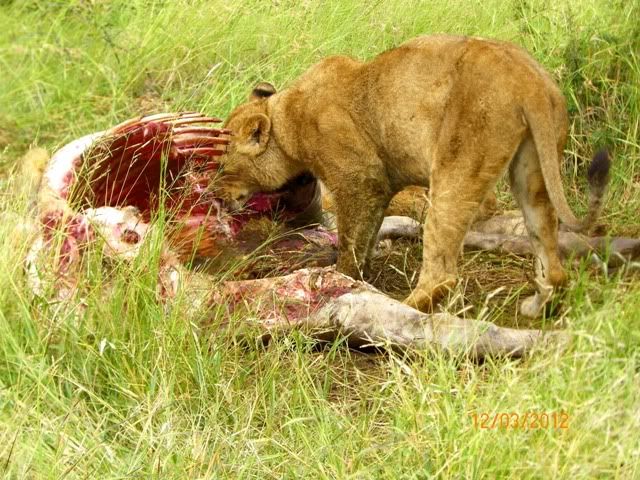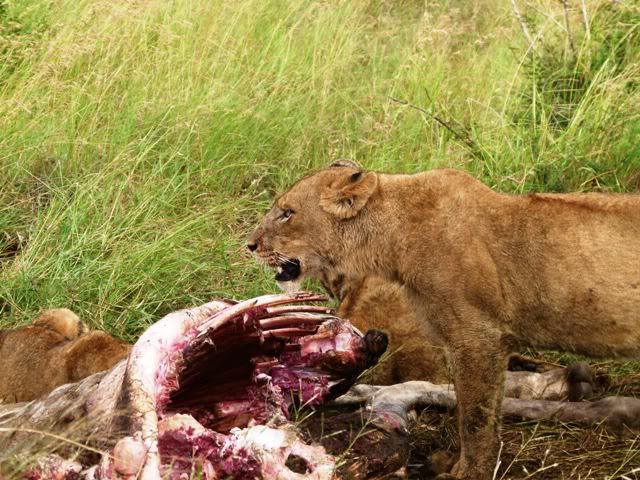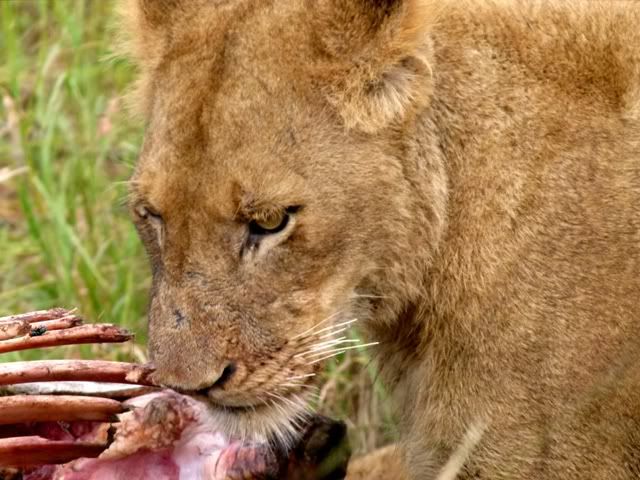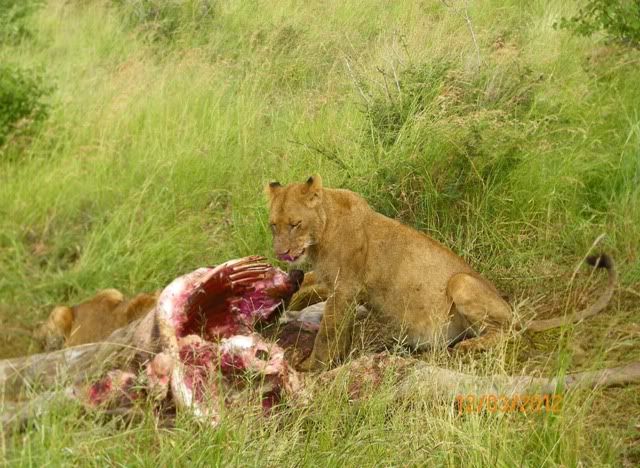 After a while we left and in a tree next to the Lions sighting we found a Burchell's Coucal (my brother's favourite bird) and some more of the Big 5 – including a buff "scratching" him selves against a tree stump.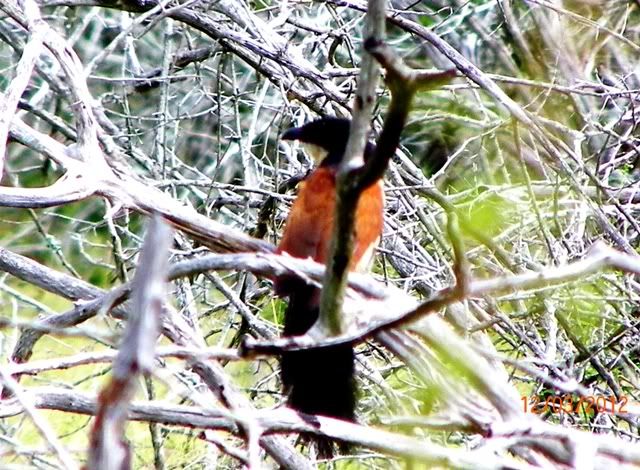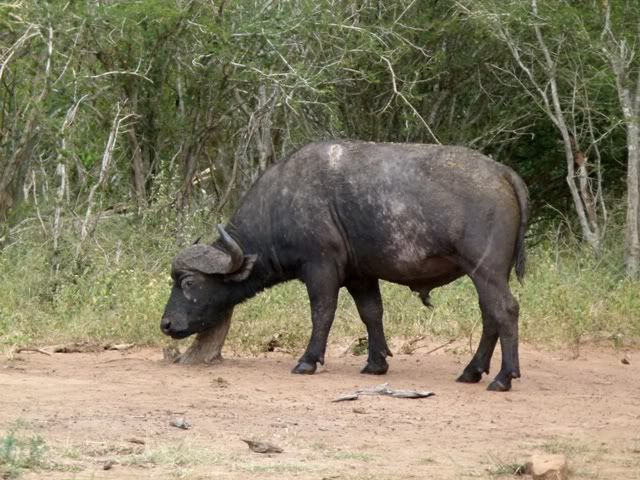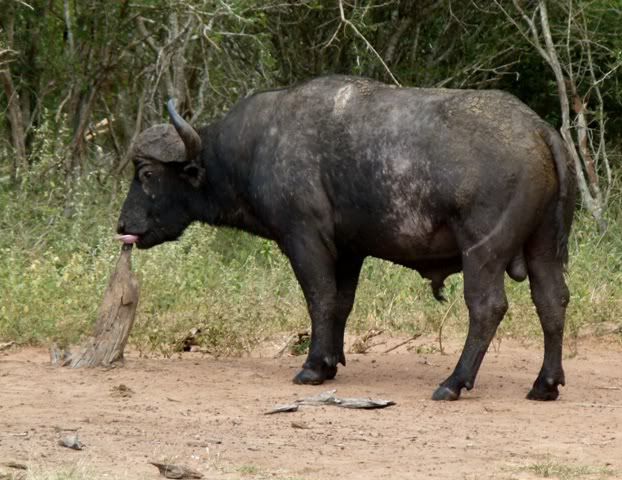 ---
Junior Virtual Ranger

Posts: 370
Joined: Fri Oct 16, 2009 10:56 am
Location: Erasmuskloof, Pretoria
Continue 12 March 2012:
We left the buffalo behind and immediately after that we found about 7 Rhinos grazing in the field on both sides of the road. Some of them crossed the road in front of us, and we decided to wait patiently for them to move on. In the surrounding trees we found lots of birds as well such as the Pin-tailed Whydah. We also stopped for Lizards before we actually started taking photos of the Rhinos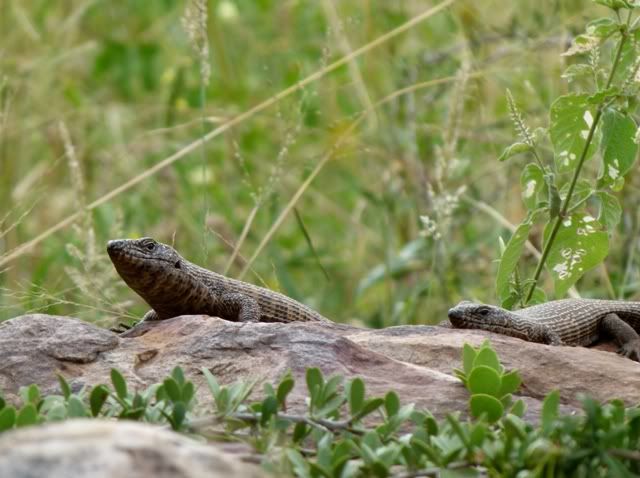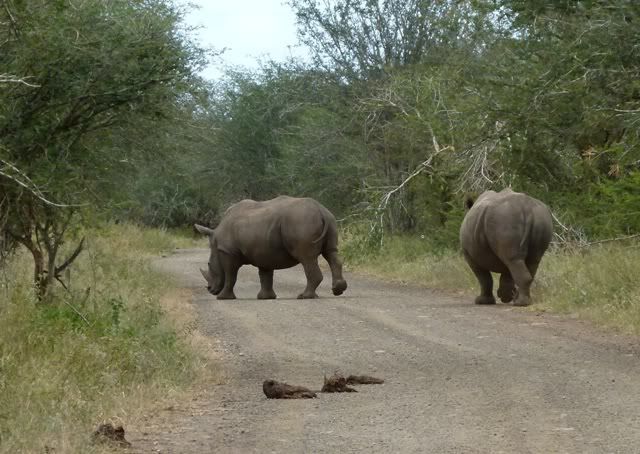 BWB and Zebras came next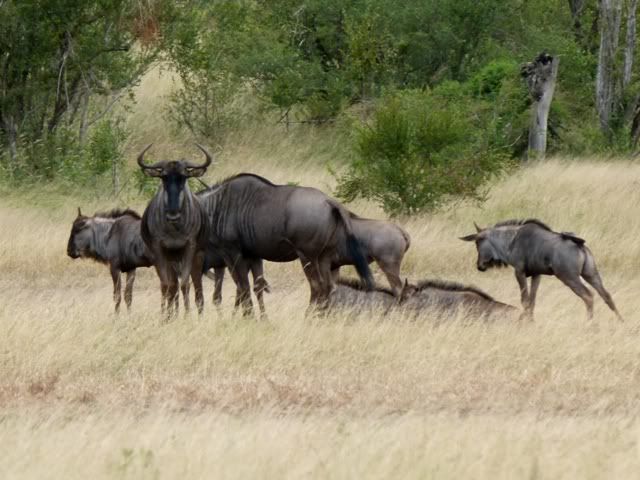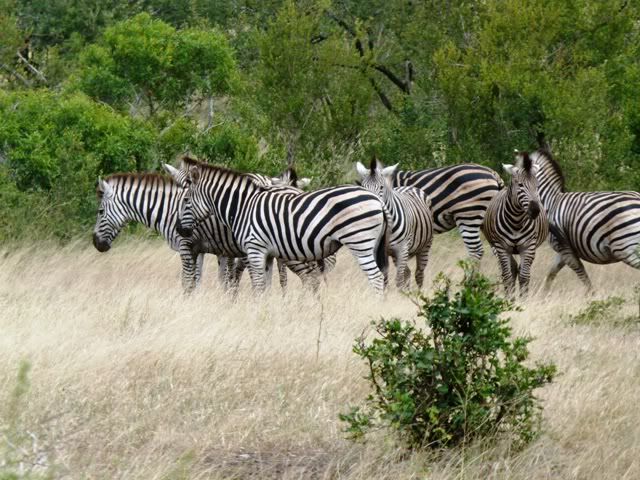 And one of the highlights of the day's sighting….this handsome couple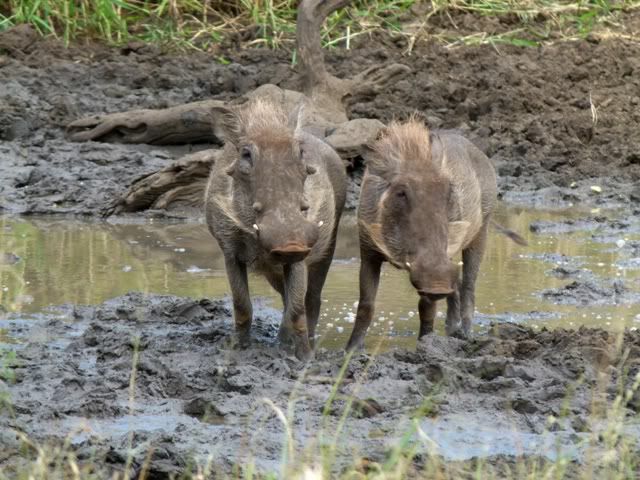 ---
Distinguished Virtual Ranger

Posts: 3958
Joined: Wed Nov 03, 2010 9:51 am
Location: Johannesburg SA
I love that pic of the lizzards tannie V!
You will see a similar pic in Heksie and my TR
They are Giant Plated Lizzards!
And they are territorial about the best rocks and I enjoy watching their antics!
Although we cannot say where we saw rhino, I know the bend of road
I always feel like there is a leopard about on that road! And not too many cars usually
Kruger 2014!!!
16-23 August - Lower Sabi!!!!
---
Junior Virtual Ranger

Posts: 370
Joined: Fri Oct 16, 2009 10:56 am
Location: Erasmuskloof, Pretoria
And on we go –
And found some more animals and birds
Giraffe, White-backed Vultures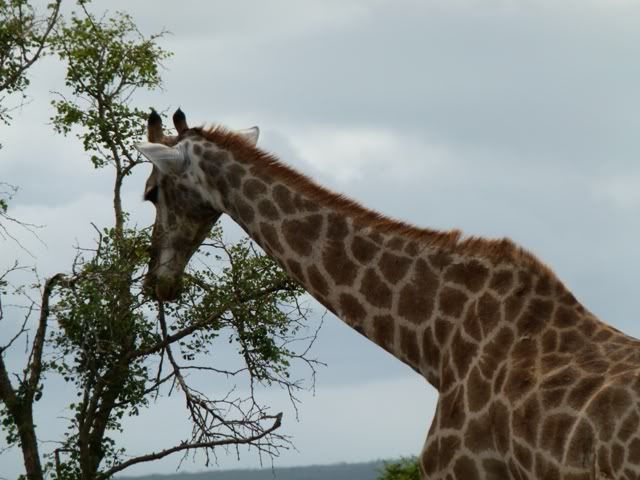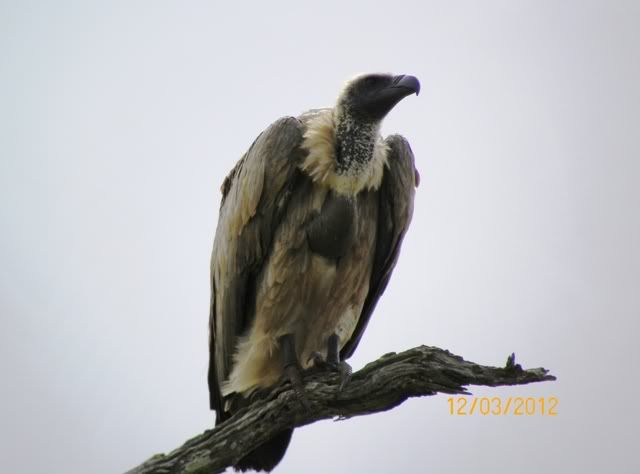 And Pumbaa – here is my Ellie, playing hide and seek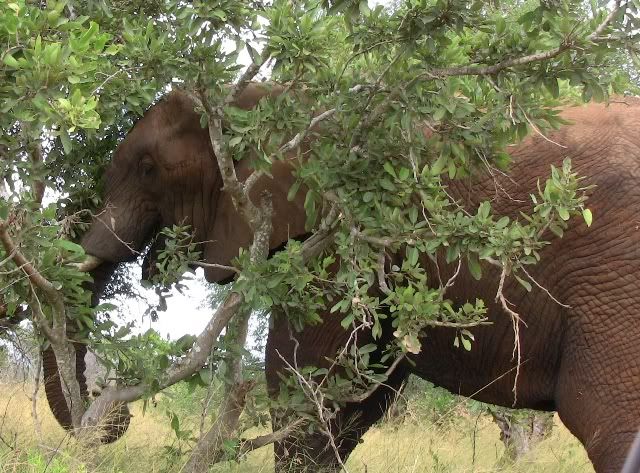 And (I like to use the word AND tonight) some more birdies and a Kudu
Magpie Shrikes – the one is offered a snack
Kudu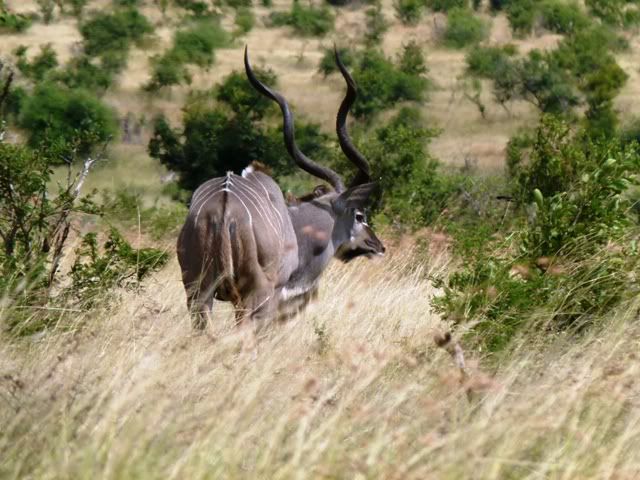 And a Lesser Grey Shrike and a Young Bateleur patrolling the road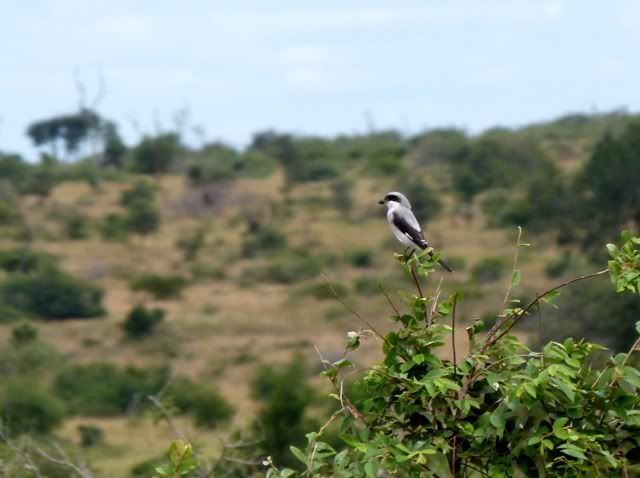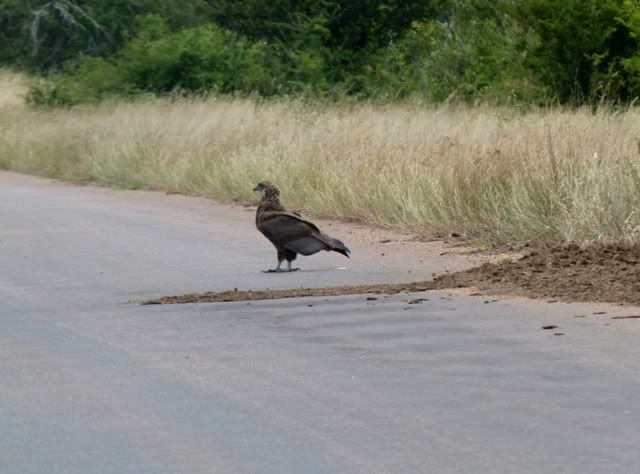 European Roller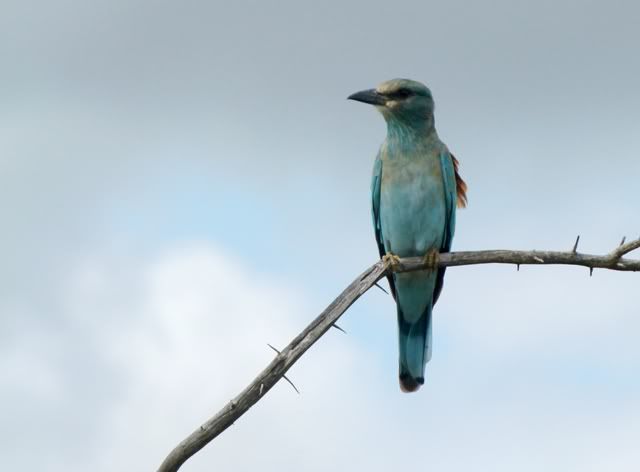 Hooded Vultures (the one on the left is a blushing adult)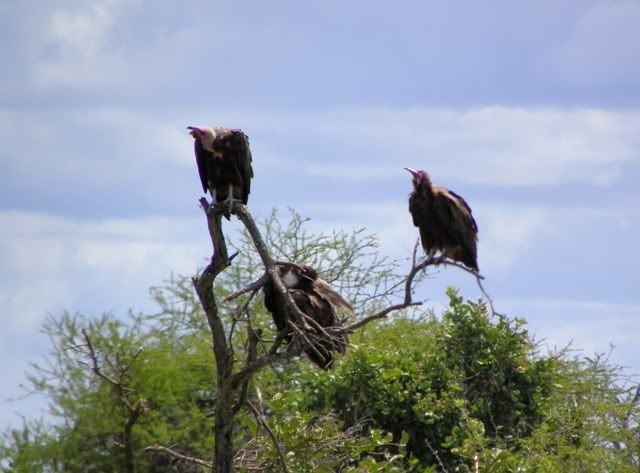 And Heksie ( and Cheetah)
Here is the promised "sleeping" monkey land special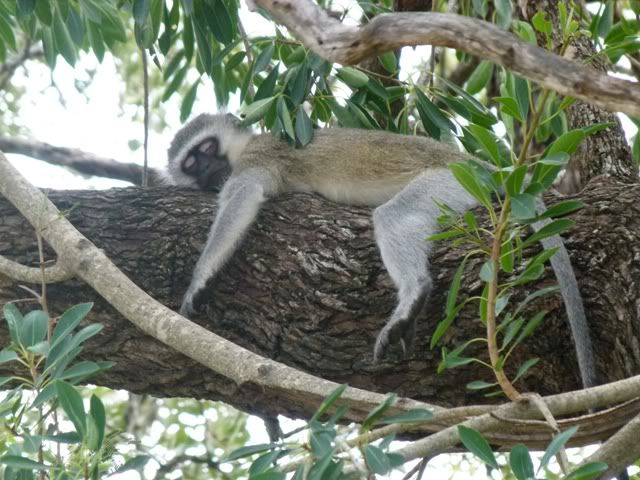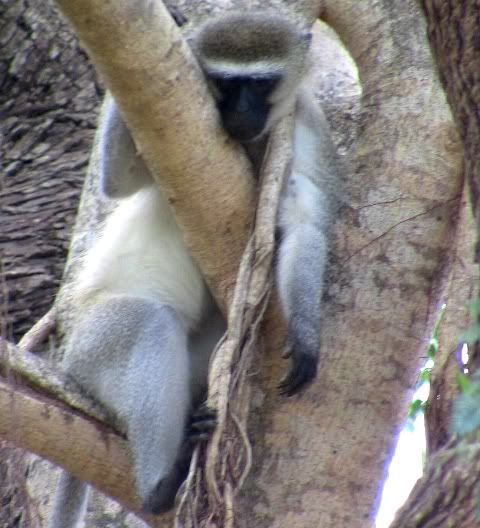 ---
Junior Virtual Ranger

Posts: 370
Joined: Fri Oct 16, 2009 10:56 am
Location: Erasmuskloof, Pretoria
Still 12 March 2012 and nearly 13.00. We left the monkeys to sleep in peace and found some birds again
Grooming Yellow-billed Hornbills and another Levaillant's Cuckoo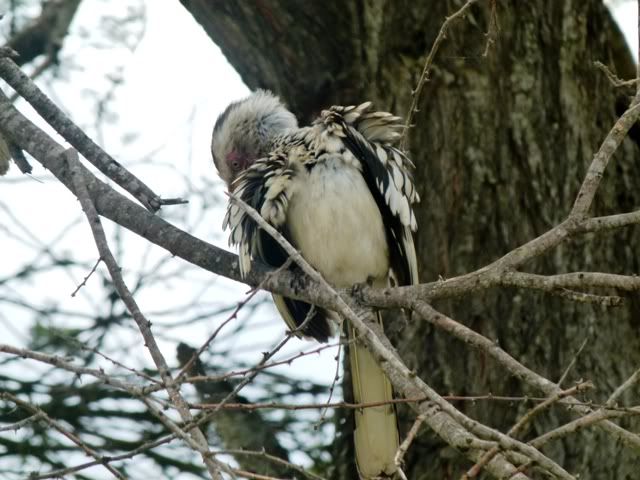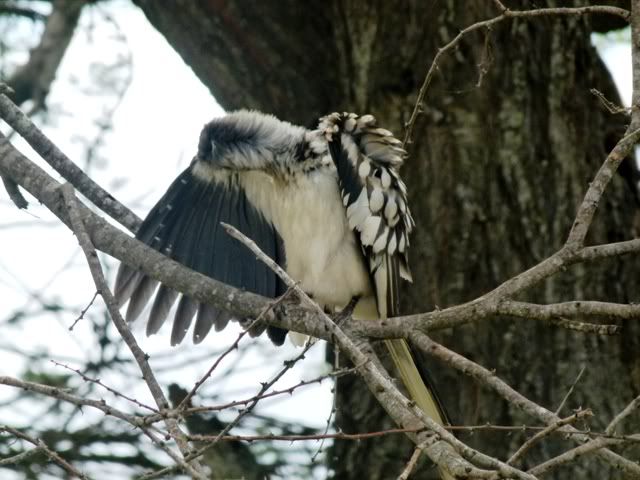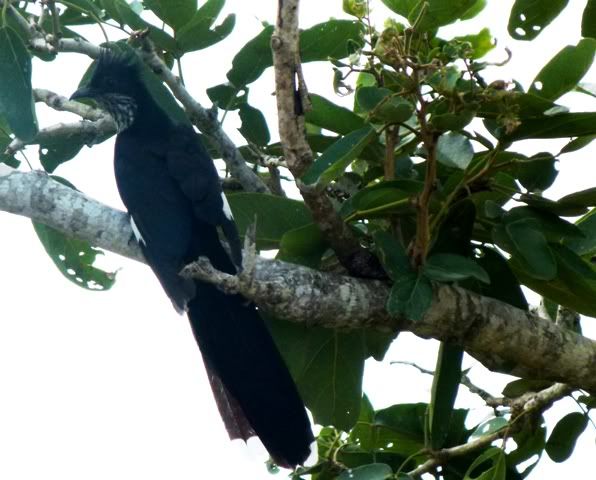 Hippos and Giraffes on the banks of the Sabie River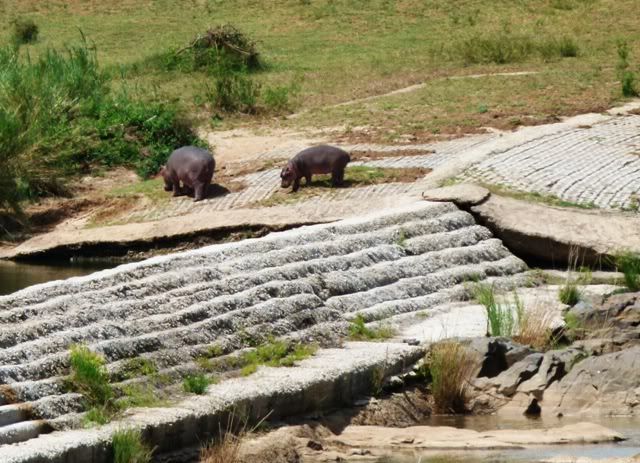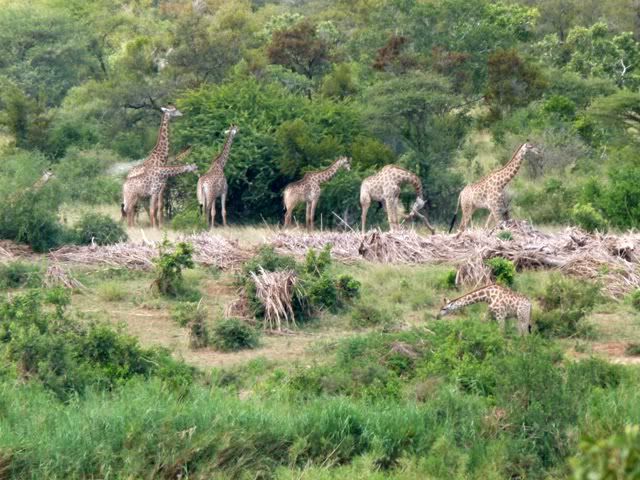 And some more inmates of the Sabie River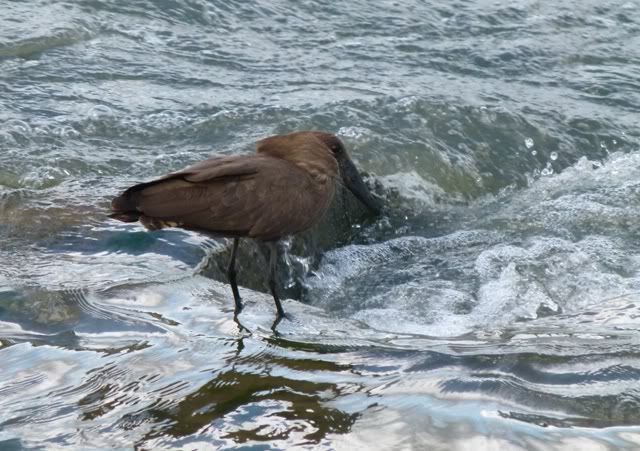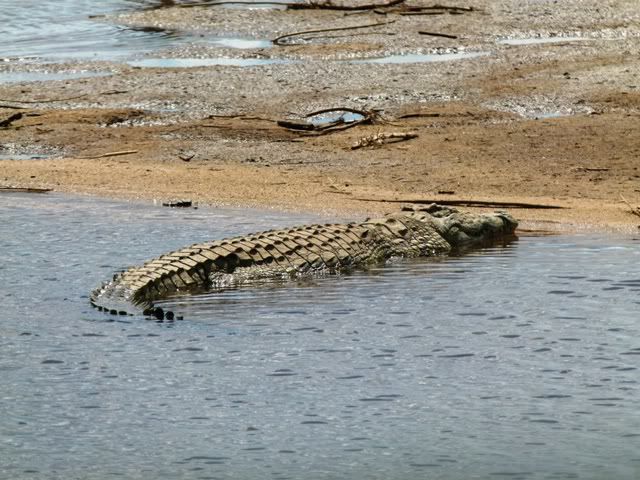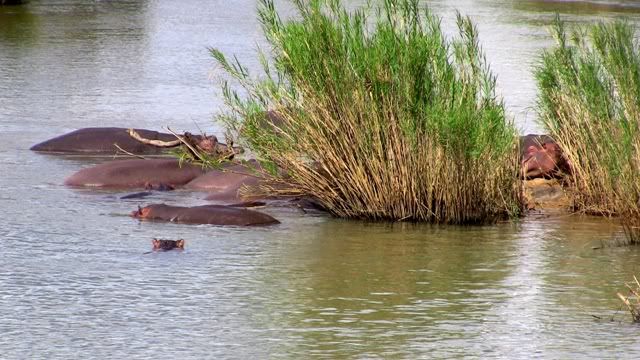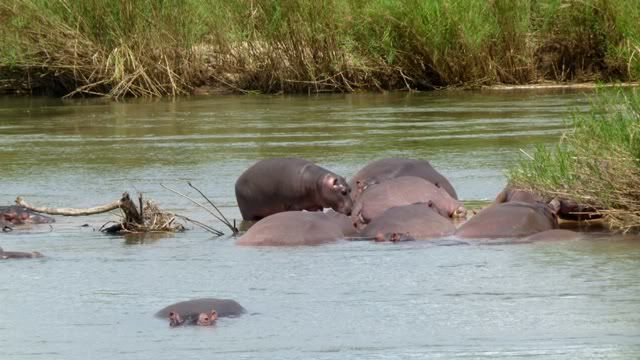 Activity around the Mlondozi picnic area
There were 2 bats under the roof of the toilets moving away backwards and watching us all the time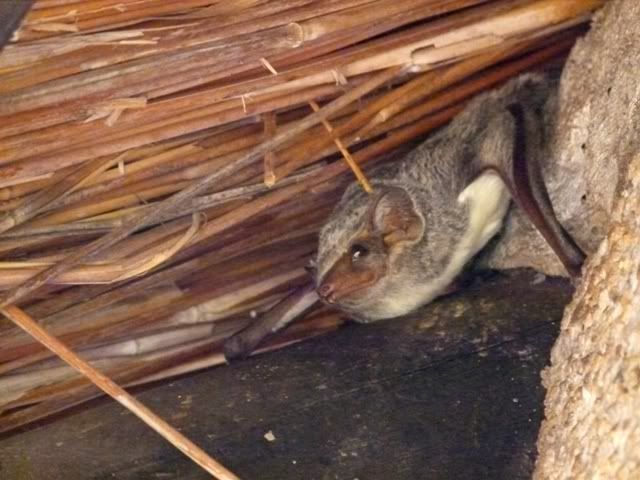 Inside the toilet area there was the Mocking Cliff-chat (Dassievoël) and our old friends the Wire-tailed Swallows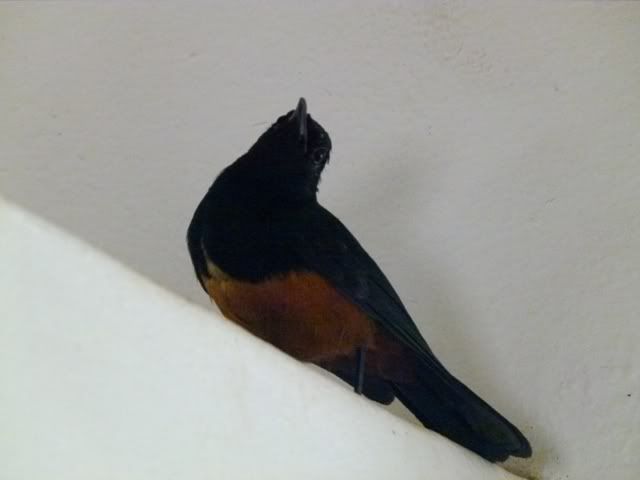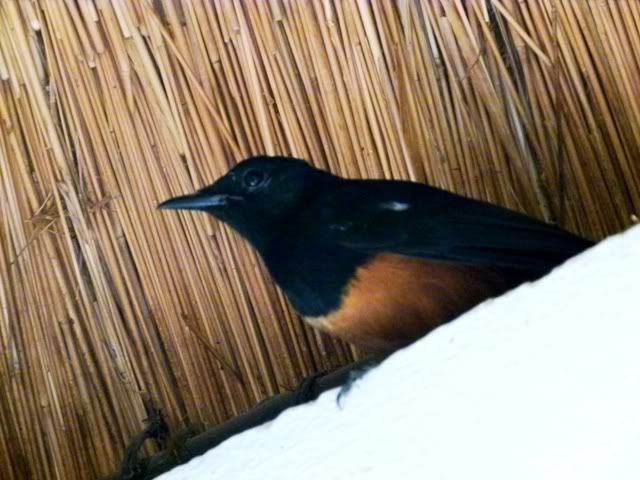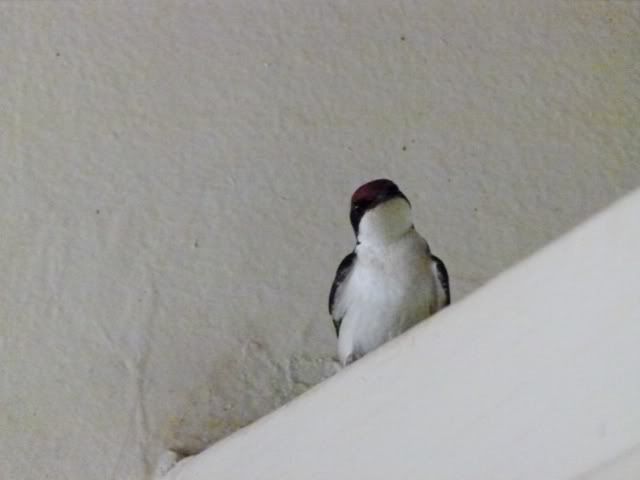 A little earlier on our way to Mlondozi, Ellies were crowding the area and we had to wait for them to move on. Later on we could take photos of this mum and calf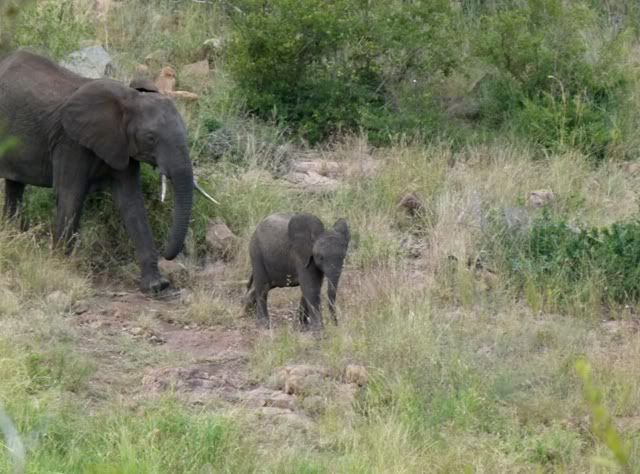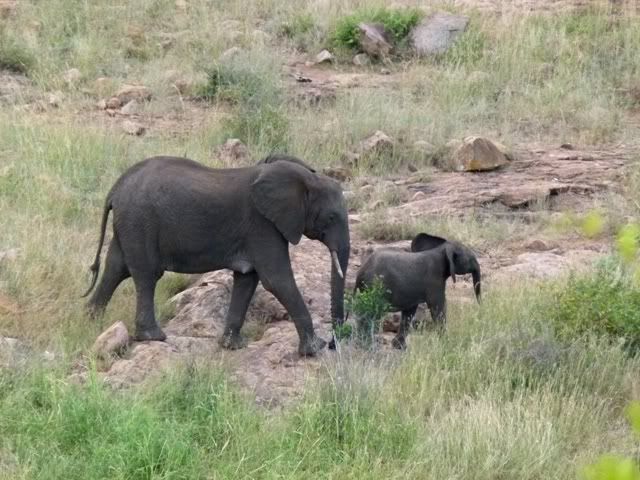 Just before we reached Nkumbi, another Ellie crossed our way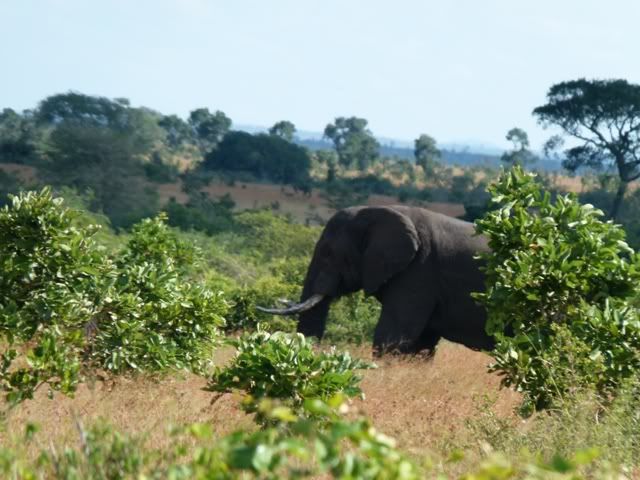 At Nkumbi we found MM's Lizzards that moved here from Mlondozi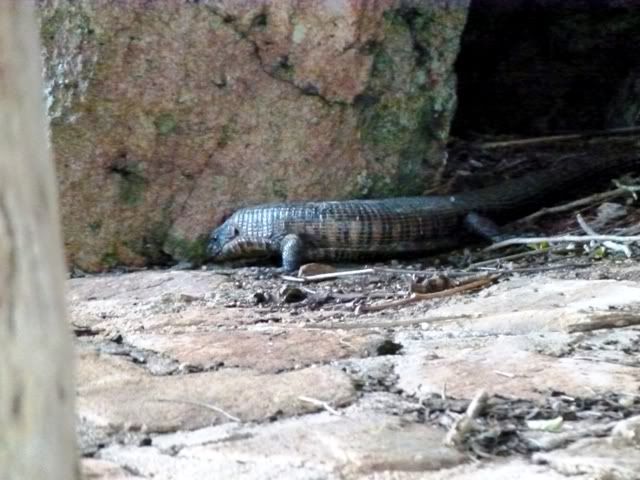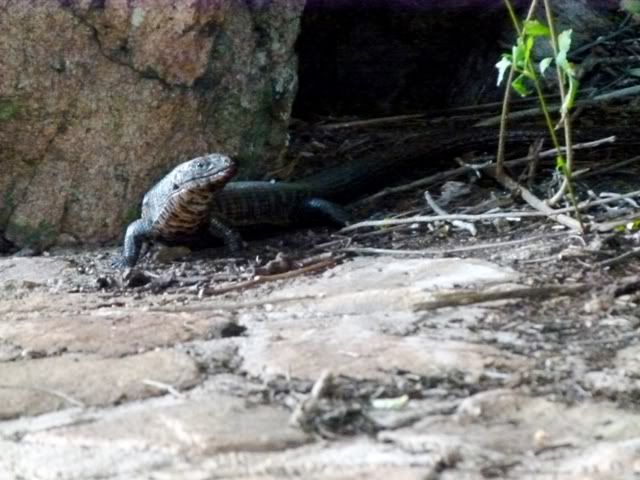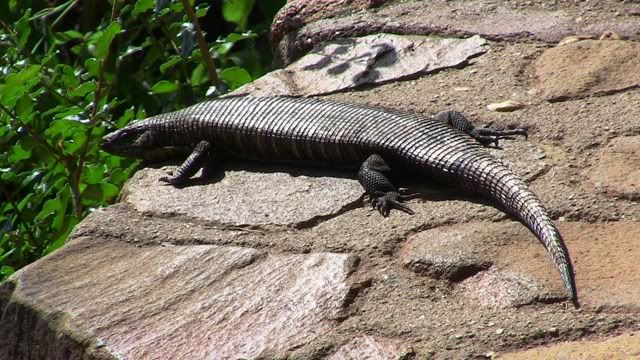 A beautiful bit of Scenery and there-after, difficult to see Ground Hornbills and a cute mongoose posing for us at the Kruger Plates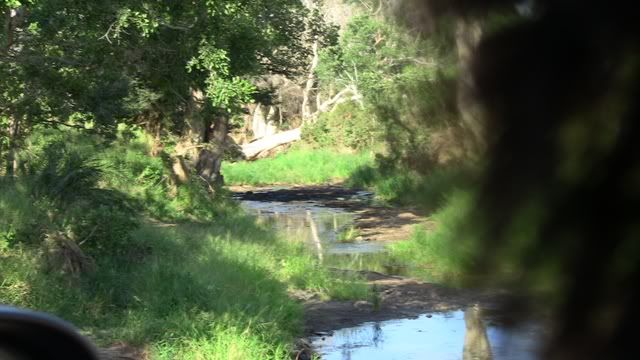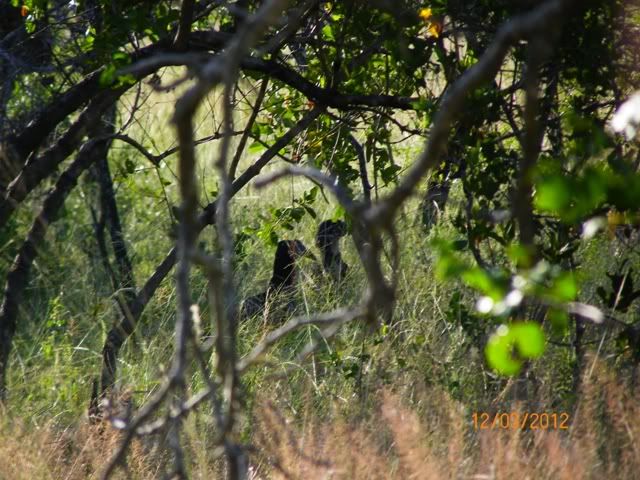 Birdies again! My favourite bird is the Fish Eagle. We found one with his juvenile chick in the tree next to it…… or so we thought. When I looked at the photos properly at home, I found this juvenile Fish Eagle to be a not so commonly found Osprey (Visvalk).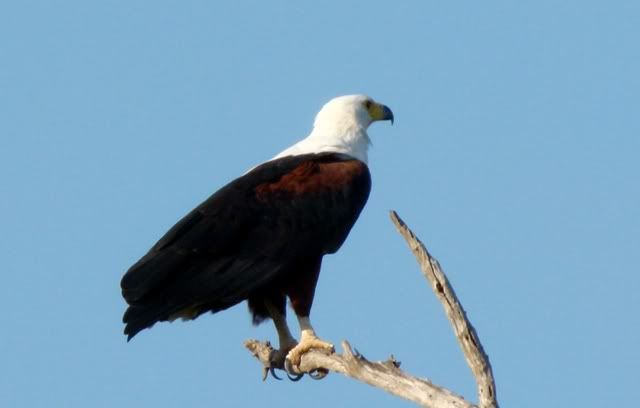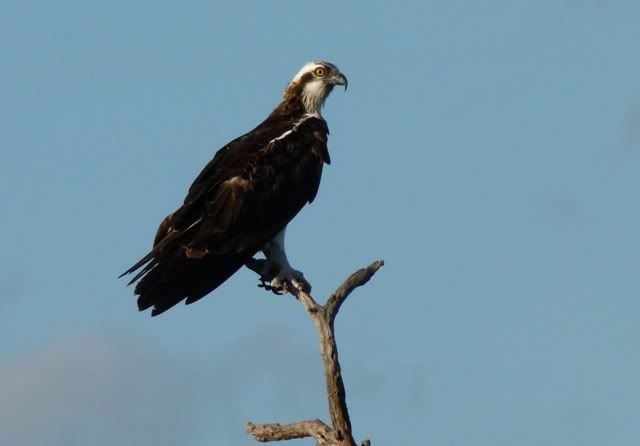 And still our luck holds – although it was becoming dark and we hope Murphy will have mercy on us and not show us too many surprises. We were still quite far from Lower Sabie….but
Another "highlight" bird we do not always get clear photos of (Saddle Bill Stork) and a Leopard with a difference – an Oupa (grandpa) Leppie. Light was not that good anymore (15.30)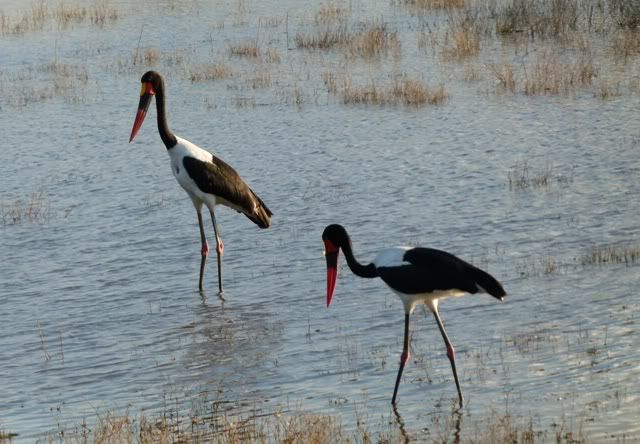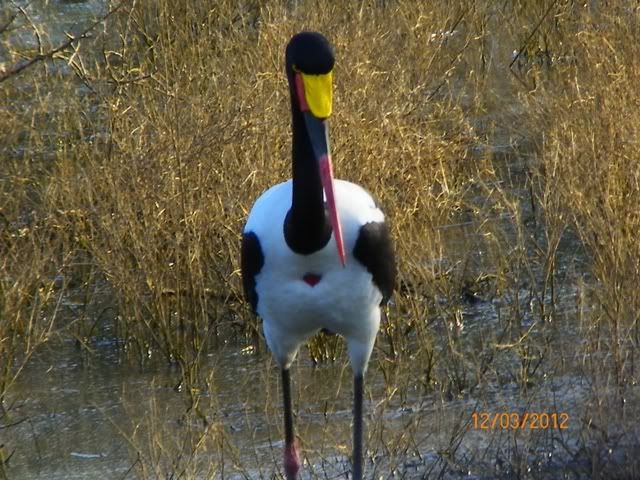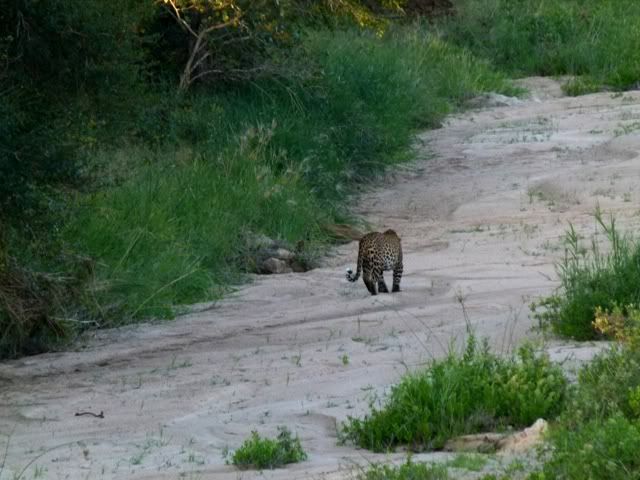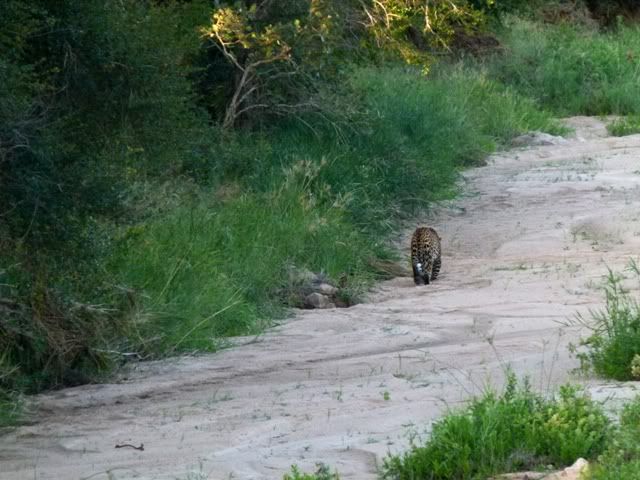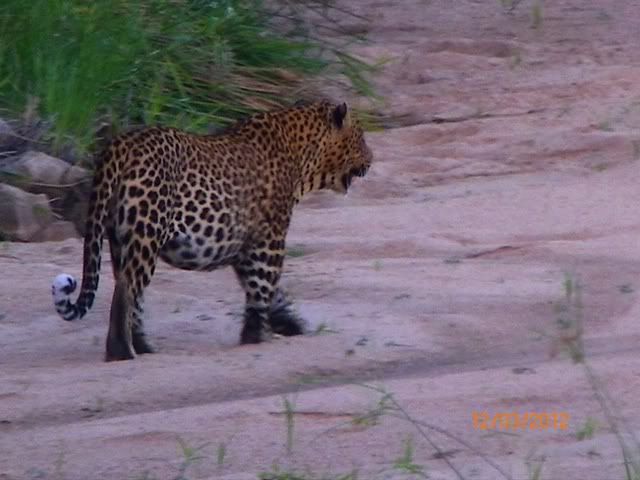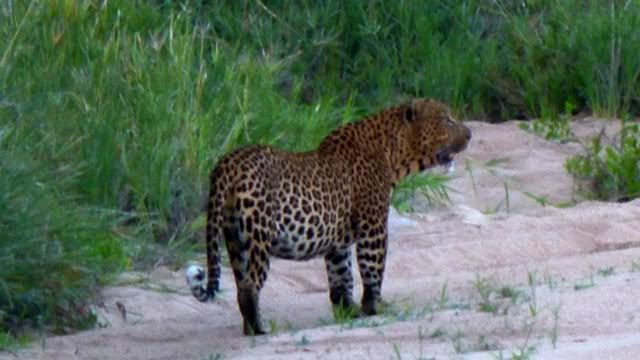 And now Murphy really becomes a problem – we are running late and Murphy is in his element busy blocking the road……………….!
The reason for the length of this post - I am going for a week to KNP tomorrow with Me Skarabee and her SO and will only post again on 27 May 2012.
---
Junior Virtual Ranger

Posts: 370
Joined: Fri Oct 16, 2009 10:56 am
Location: Erasmuskloof, Pretoria
To all my friends who commented above and also those who just read the TR
,
I promised to continue with my TR after 27 May .... and here I am nearly 5 weeks later. I had internet problems and it took the service provider all this time to fix it. To make it worse, our computers at work were "enhanced" with new programs and whatever, which resulted in a terribly slow and most of the time off service. Luckily I am back now and have an enormous lot of reading ahead of me to catch up on all the TR's I missed. I will try and post again this weekend.
Re the trip of the warthog (me) and the beetle (me skarabee) to the KNP from 21 - 25 May 2012, we had a very strange experience during this week. It seems as if were something to look at and you won't believe how many animals came to look at us
We plan to share this experience with you. We are still debating who is going to start with the TR. We also met vanniewp in the Park and I am looking forward to their trip report
Love
VVV
---
Junior Virtual Ranger

Posts: 370
Joined: Fri Oct 16, 2009 10:56 am
Location: Erasmuskloof, Pretoria
Good evening
Val, Heksie and Hilda
, thanks for the comments. Heksie we are waiting for your TR's next instalment
And so day 21 March 2012 goes on – after the oupa Leppie, we thought we will now have an un-eventful drive back to Lower Sabie, especially because it became quite dark.
And here comes Murphy
17.24 – a cute road block. We could take photos and move on fairly easily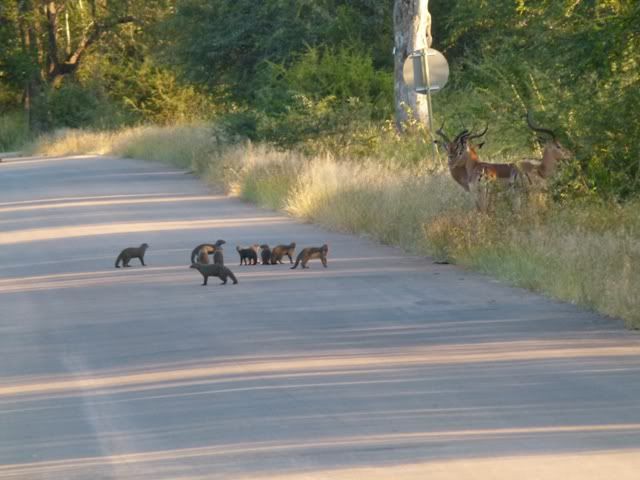 17.33 – a real road block. We were the only car for a while. Everybody was behind us trying to see the oupa Leppie in the river bed. These boeties absolutely refused to let us pass. We decided to wait until the "green bakkies" reached us (2 of them). We asked them to "assist" us – and still the Rhinos refused to let anybody move. They walked up and down the road, looked at us and sometimes just stand still in the middle of the road. After a time they moved to the side of the road and we could move on with a bakkie on each side of my car!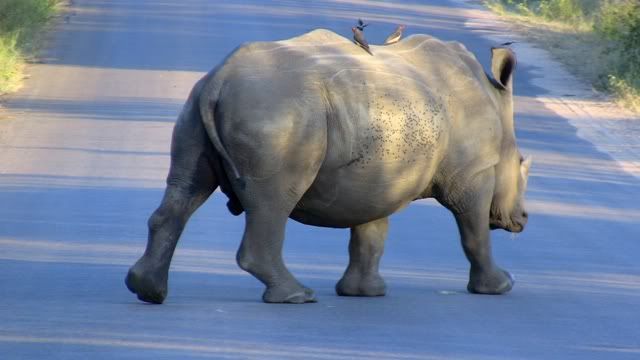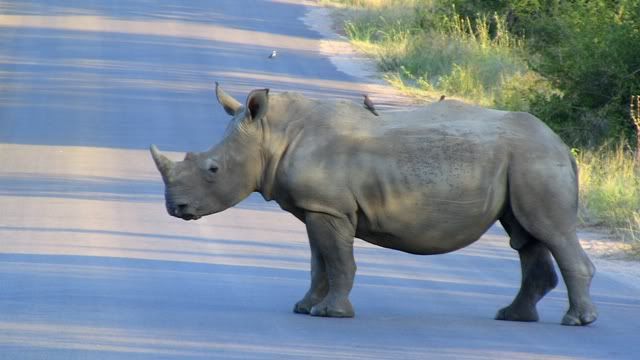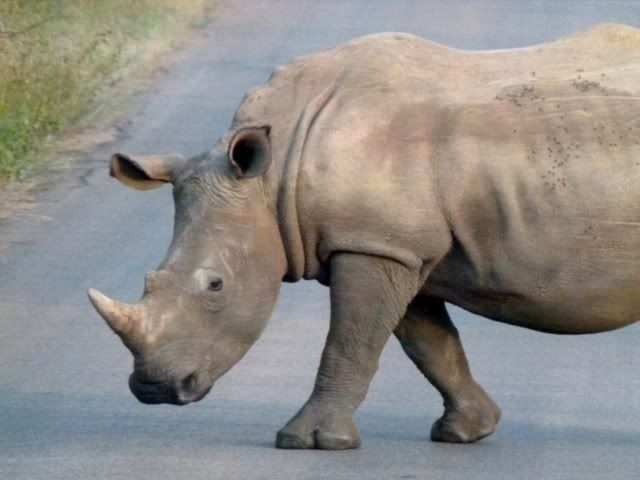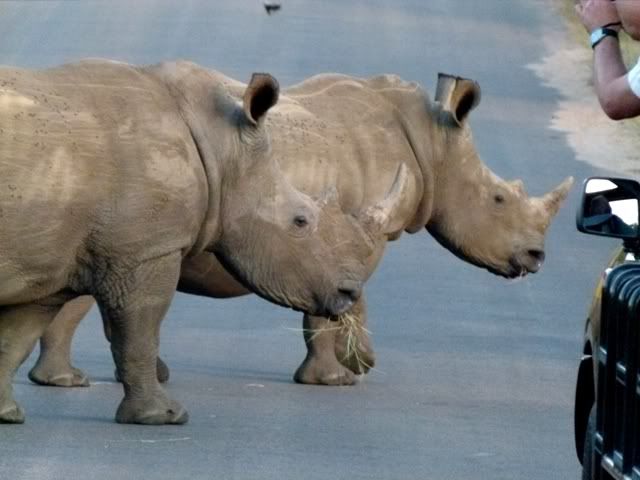 17.40 – another interesting and smaller road block. The guide on one of the bakkies told his people very enthusiastically to look at the puff adder in the road. All we could see were this young python. We struggled to take a decent photo because of bad light.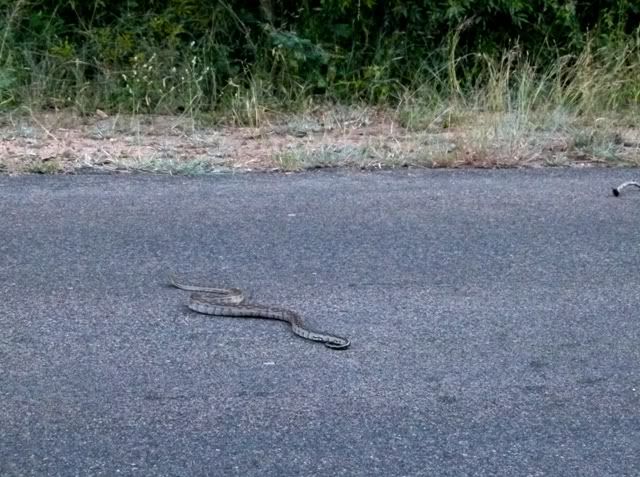 17.47 – in the middle of the road, approaching us: these ladies. Although we could see them well the JJ's blocked them very efficiently for us and we could not take photos. Luckily they passed near us in the grass after a while and we could take a few photos.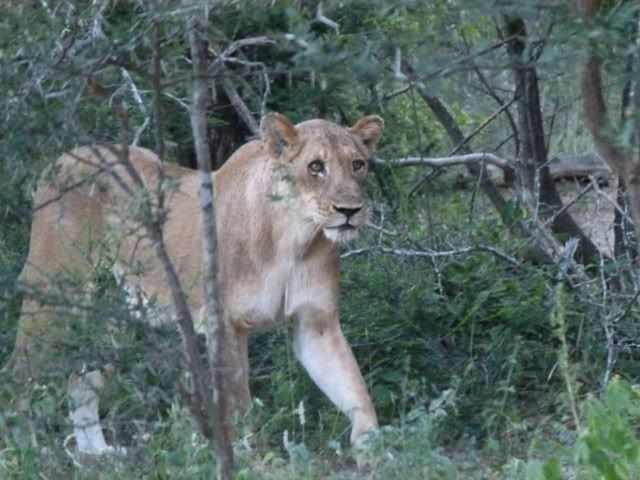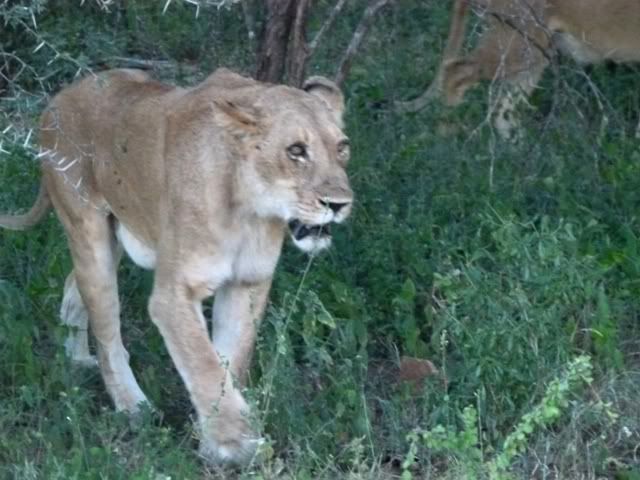 We arrived at Lower Sabie just in time. They were already closing the gates.
We got up early the next morning (13 March 2012) and were greeted by quite a number of birds who came to say goodbye in front of our tent – Speckled Mouse bird, Arrow-marked Babblers, Bulbul, yellow canaries, etc.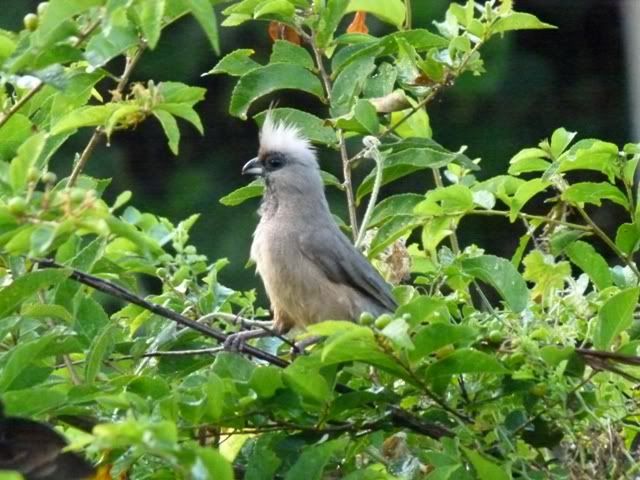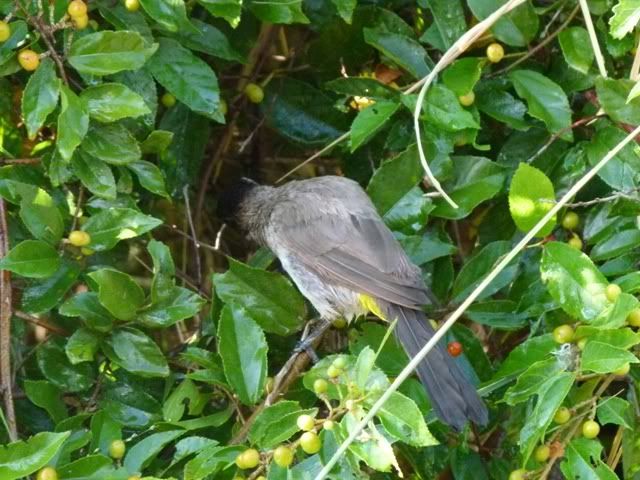 The first birds we saw on the way to Croc Bridge were this beautiful Woody enjoying himself in the rising sun and a magnificent Fish Eagle. There was also a cute tortoise crossing the road.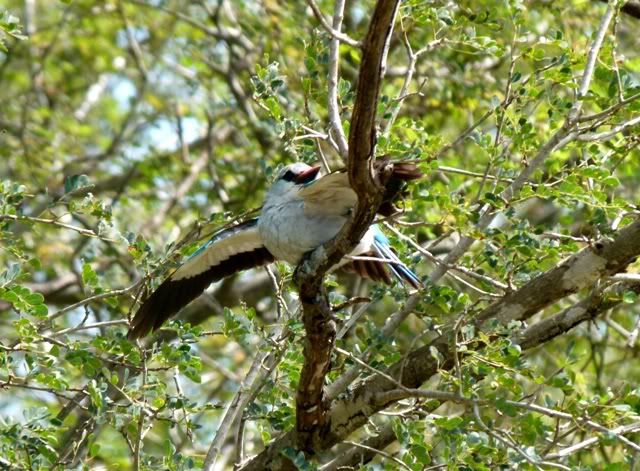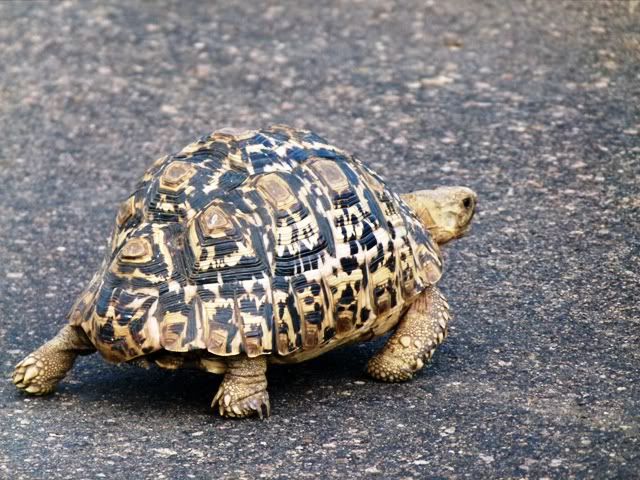 ---
Junior Virtual Ranger

Posts: 370
Joined: Fri Oct 16, 2009 10:56 am
Location: Erasmuskloof, Pretoria
Thank you vriendin
Now I can post my last episode
After these nice sightings we were optimistic and started to throw around ideas on what the rest of our parting gift from the Park will be ……………………………
We were not disappointed!!! Mums with babies. There was a big dad sleeping behind the bushes somewhere as well.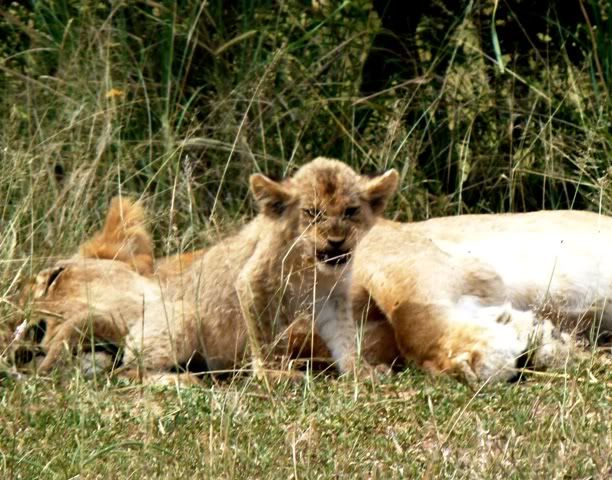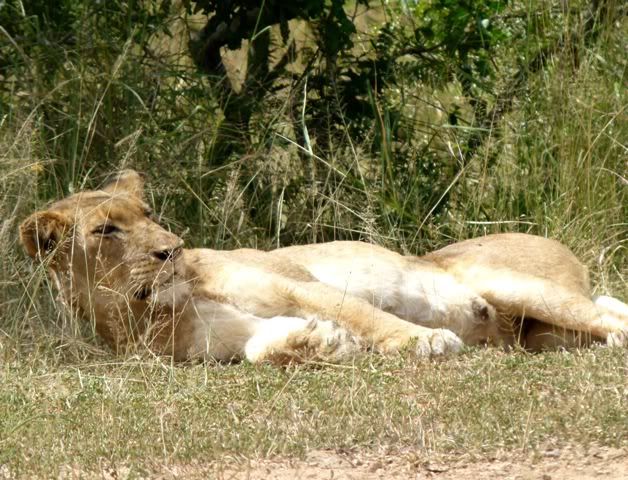 Tiny "tread slowly" (Trapsuutjie/chameleon) and another mum and baby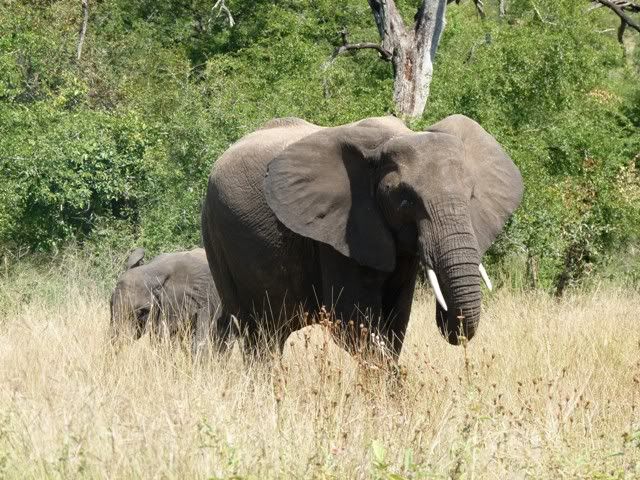 Lovely Bush buck at the Croc bridge picnic area.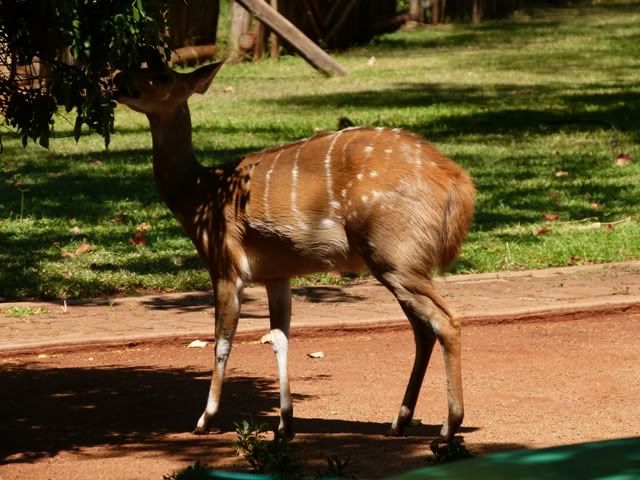 Here we also met Click click's mum and dad and Tannie Dot. We kuier a bit and told them about the Lions. They were on their way to meet their daughter at Mlondozi. Tannie Dot told me afterwards at the Rietvlei meet that they found and enjoyed the Lion family.
And so we reached the bridge and the ever present buffs and the end of again another wonderful and memorable visit to the Park.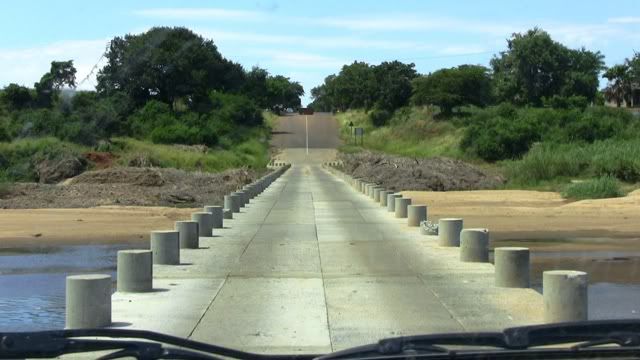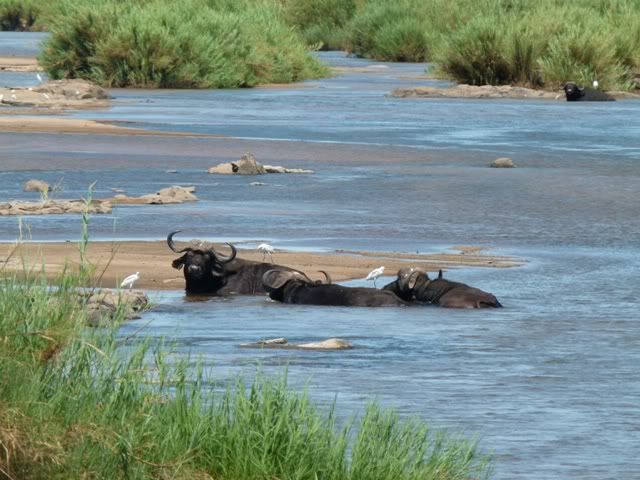 Love
VVV and family
---
---
Who is online
Users browsing this forum: Muhammad and 4 guests