Hilda, this is the photo of the frog I took at Lake Panic in Oct 2010 and I'm sure someone id'd it as a foam nest tree frog. Perhaps hotshot or flying cheetah could confirm ...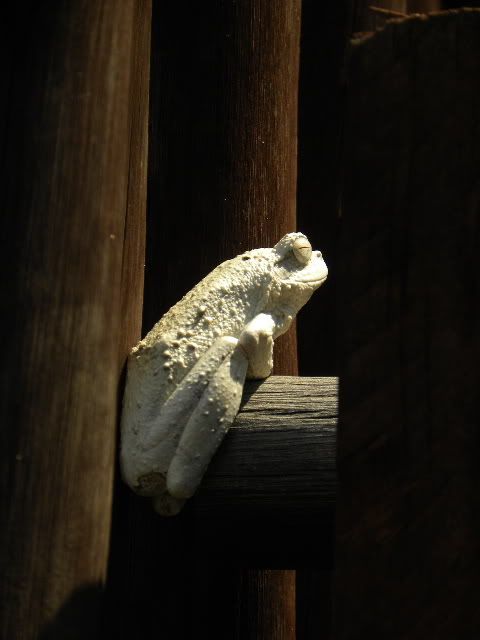 27 Feb-02 March - Satara (camping with Sparrow)!
02-06 March - Skukuza Cricket (camping with Sparrow and lots more mites!) WOO HOO!
---
Virtual Ranger

Posts: 2473
Joined: Sat Jun 06, 2009 2:49 pm
Location: Burghausen, Germany
WendyA wrote:Hilda, this is the photo of the frog I took at Lake Panic in Oct 2010 and I'm sure someone id'd it as a foam nest tree frog. Perhaps hotshot or flying cheetah could confirm ...

Sorry, I'm not sure with the ID of this frog. The only pics of a foam nest tree frog are of this unfortunate individual who was pulled out of it's nest by a Cattle Egret at Gardenia Hide:
Akukho nyon' endiz' ingahlali phansi. (Zulu)
There is not a bird that flies and never sits down.
---
Forum Assistant

FAC Member (2016)
FAC Member (2015)
Posts: 15284
Joined: Fri Apr 06, 2007 6:39 am
Location: Pretoria SA
Day 8 – 21 February 2012
What will this, our last full day in Kruger, have in store for us? Is it possible to see at least one cat on this trip (apart from the Lion head on our very first day as we entered the Park)? We'll have to wait and see.
The sky is clear, and our first sighting on the H1.3 close to Satara is a "bush" Buffalo.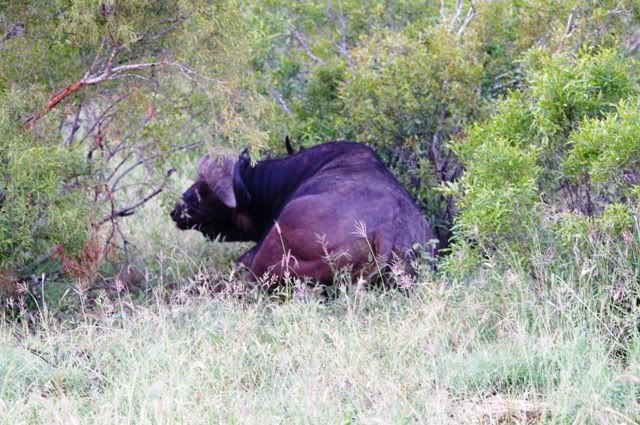 We were greeted by another beautiful Kruger sunrise.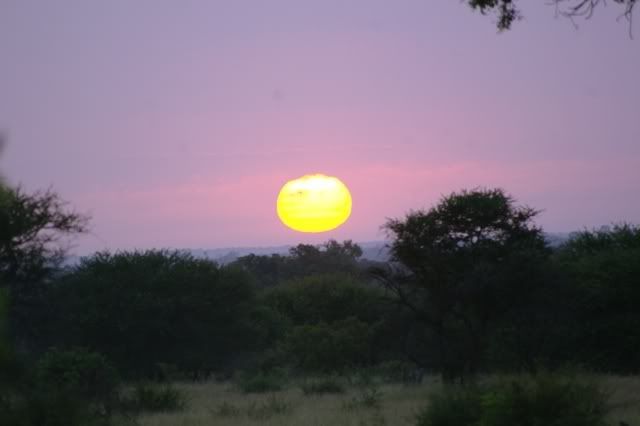 An African Fish Eagle was on the lookout for breakfast.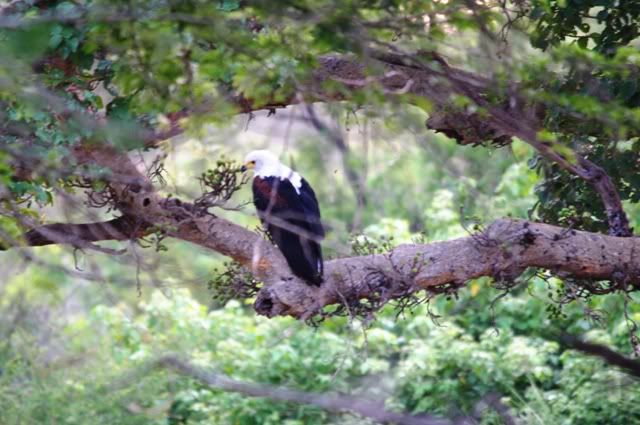 On the S100, Zebras were grazing in the distance, while baboons were running around and playing. Warthogs were trying to find some roots amongst the long grass.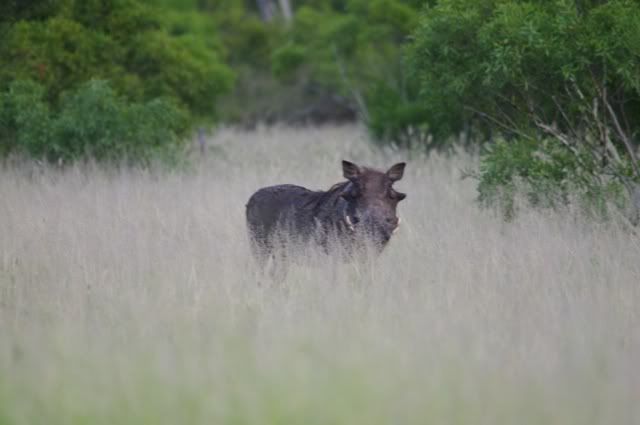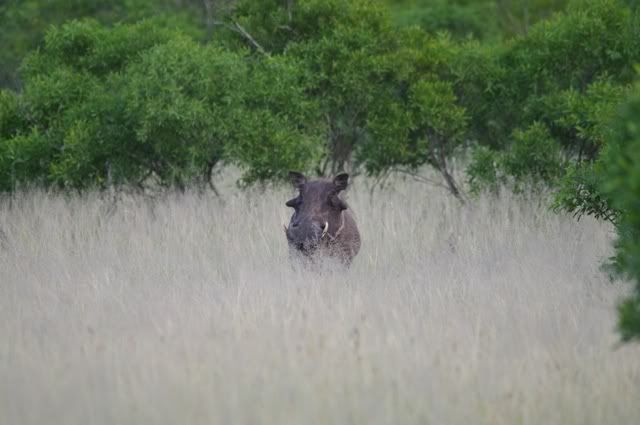 A Blue Wildebeest family couldn't decide which direction to take.
This Waterbuck ewe has a heart-shaped nose!
Marshall Eagle in the wind.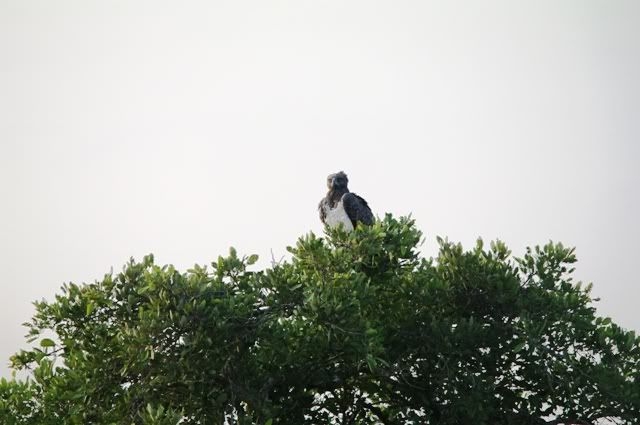 This family of Ground Hornbills are struggling through the long grass.
We stopped at Gudzani Dam for coffee, and were accompanied by two Hippos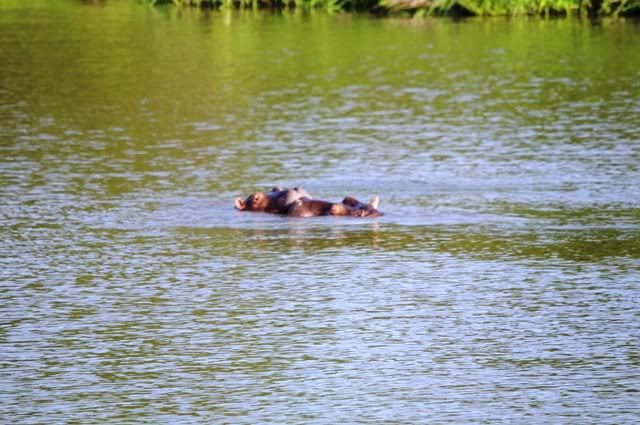 and another Spider.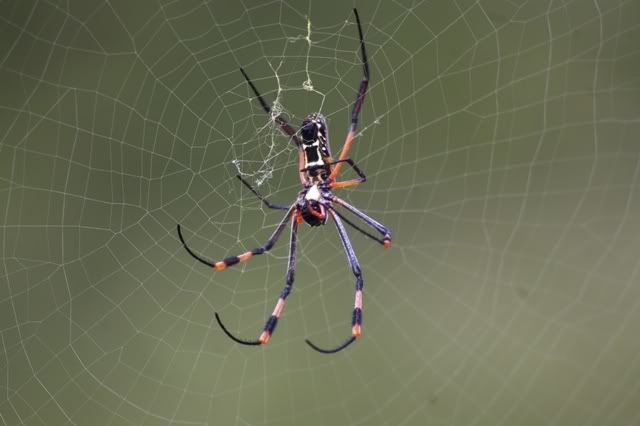 I counted 10 Giraffes together on the S41, with a few Zebras and four Elephants. One really cannot say you have seen nothing just because there are no Lions, Leopards or Cheetahs where you are driving. They probably were there, we just couldn't see them in the long grass.
At Gudzani East a few Impies quenched their thirst.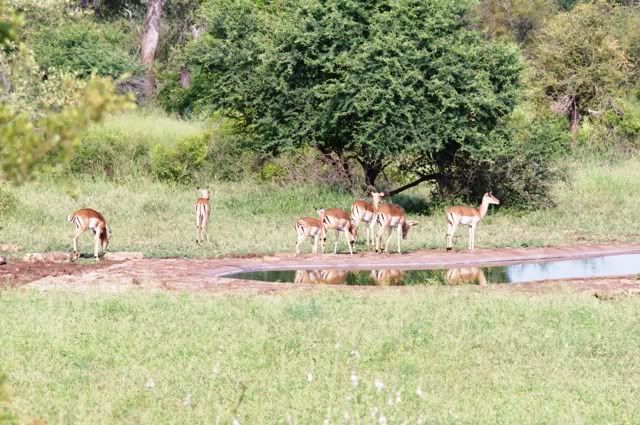 It seems that this guy on the H1.4 has lost part of his tail.
Ostriches on the H1.3.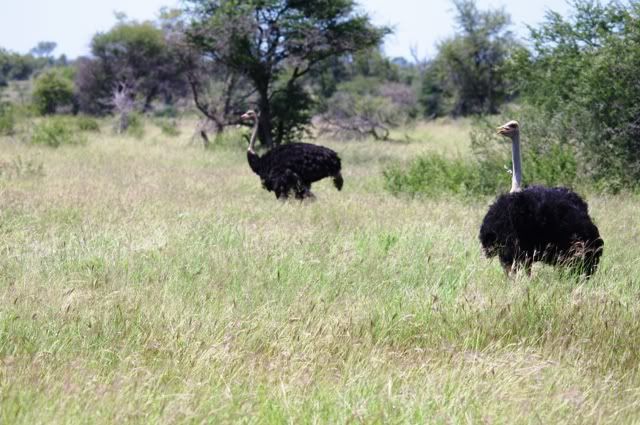 Then a few of the smaller feathered friends, which I will try to identify:
Lesser Grey Shrike?
Foto 598 en 599 en 558 (K7)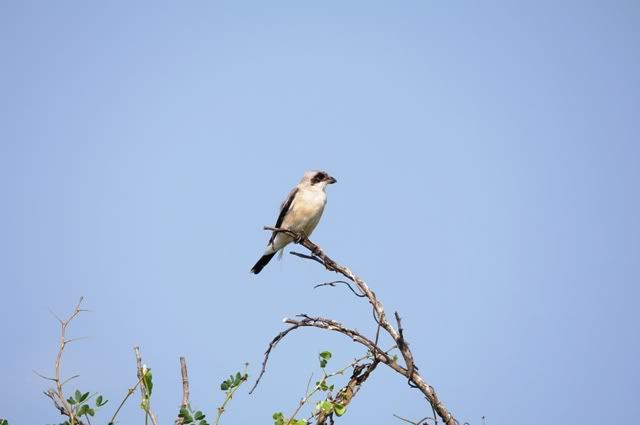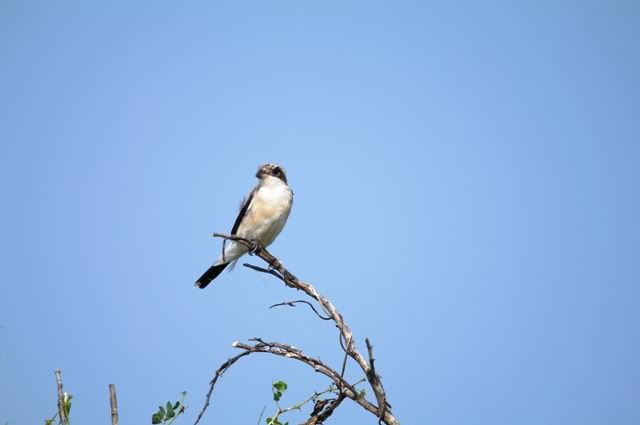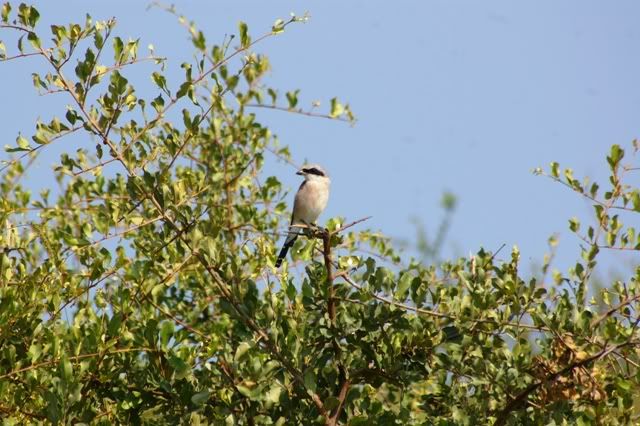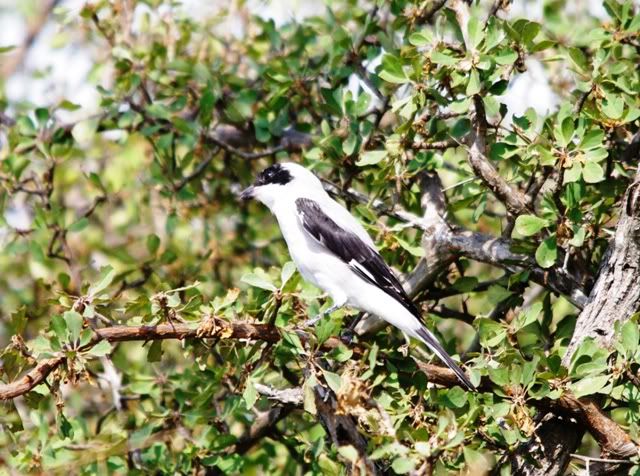 Swainson's Spurfowl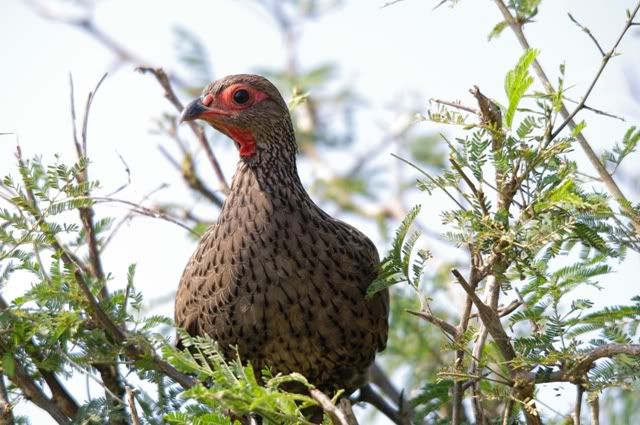 Yellow-billed Hornbill
Southern Black Flycatcher?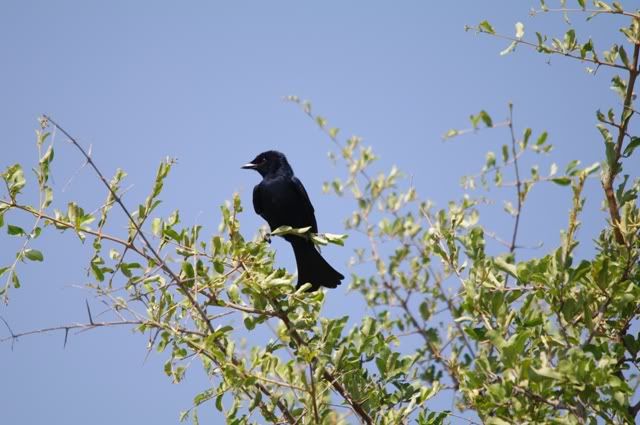 I am not sure about this one. Could it be a male White-winged Widowbird?
Sad that our last full day in the Park has come to an end, we returned to the camp to have the Hilux washed and filled up with diesel. SO got the fire going for our braai and we watched a huge Ellie, Blue Wildebeest and after a while a small herd of Buffalo that came to drink water at the Satara Cam waterhole before they also get ready for the night.
This seemed to be a birding holiday, a first for us, hence the name of my thread. I wish all the pictures were nice and clear, because we have seen so many different kinds of birds, which are not identifiable because of the distance or bad light when it was cloudy and rainy.
What will we find on our way out tomorrow?
---
Forum Assistant

FAC Member (2016)
FAC Member (2015)
Posts: 15284
Joined: Fri Apr 06, 2007 6:39 am
Location: Pretoria SA
Day 9 – 22 February 2012
Oh no! It is time to go home again! We have decided to leave Kruger at Malelane, so that we can have a nice, long drive from Satara before we exit. Is it possible that we could see just ONE cat before we leave?
After three, instead of the normal two cups of coffee, SO finally convinced me it is time to get up.
(In Kruger SO has to make the coffee in the morning, because I don't know what I will find outside, and I am too scared to go out.) Wonderful! Lady at large …. Coffee in bed!
It was completely overcast. Our first sighting was Blue Wildebeest who spent the night close to the Satara Waterhole.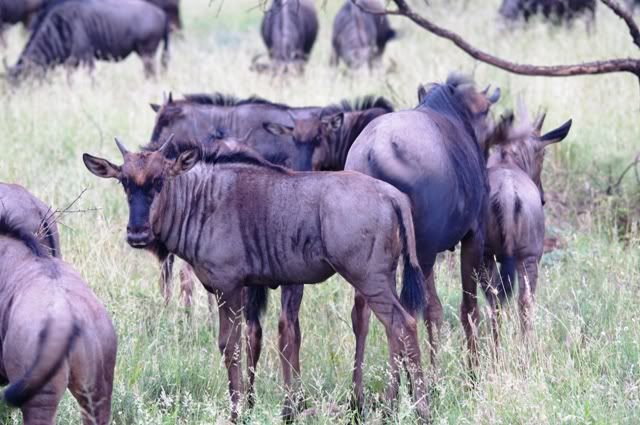 Something crossed the road in a flash of time, too fast for a picture. It could have been a serval, but too fast to identify.
On the H1.3, Guinea Fowl with a lot of chicks also crossed the road in such a hurry that no picture was possible. Why is everybody in such a hurry?
Much later in the morning we found these lovely guys.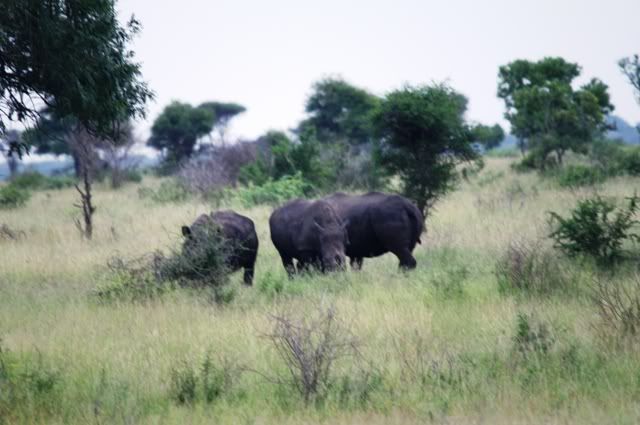 Further on an elegant Giraffe,and later on five Waterbuck and two Ellies. It was too far for a picture.
Two Burchell's Coucal surprised us in the road. The quality of the picture is not so good, is was very early and taken through the windscreen.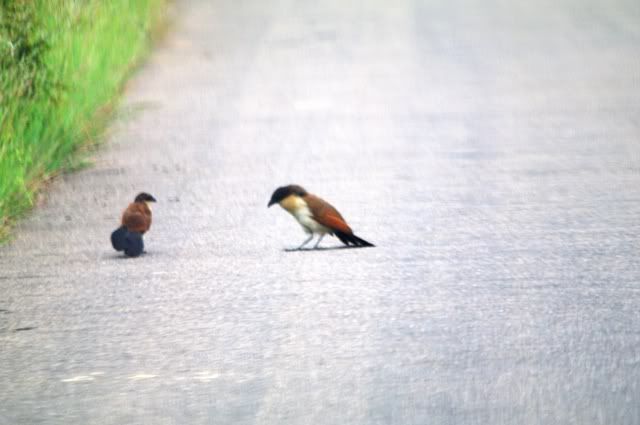 At Leeupan, this beauty, which I cannot identify. It could have been some kind of Cuckoo, but again, through the windscreen, and the light was not too good. It looks like an African Cuckoo.
It was time for coffee again, and we had these beauties as company. A beautiful Egyptian Goose.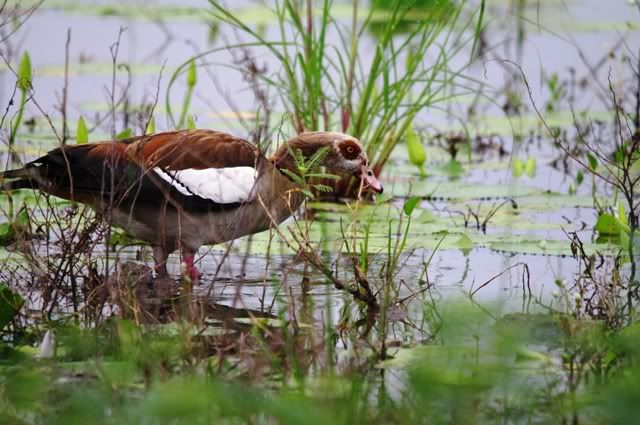 Blacksmith Lapwing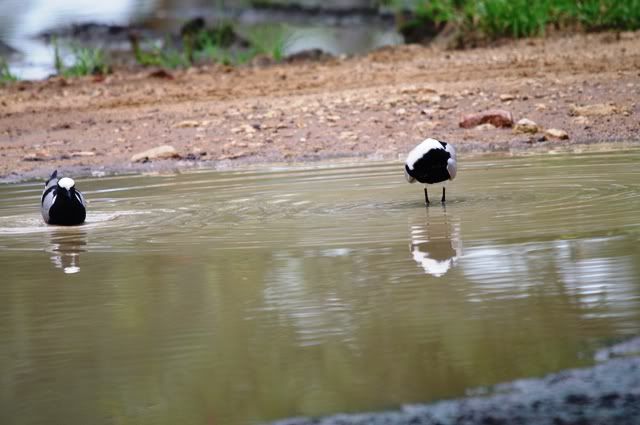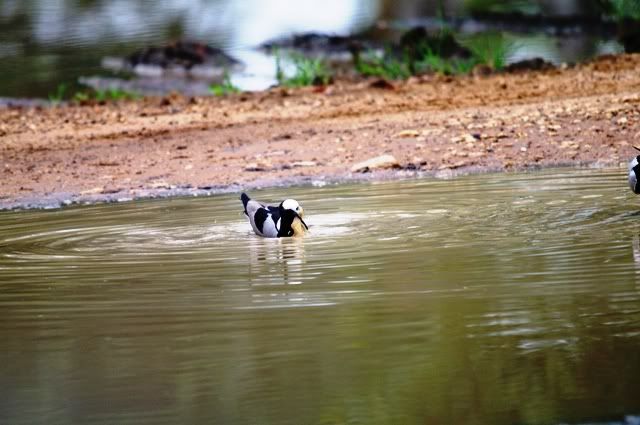 and a few Impies.
On the H1.2, at the Orpen Boulders, our first Klipspringer on this trip, very far away.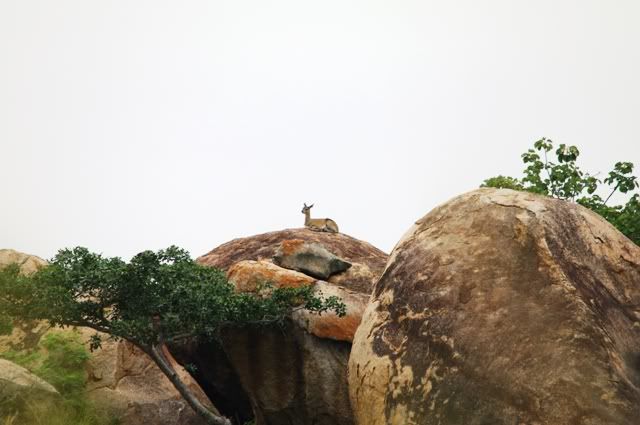 WHAT!!! At Last!!! CATS …. Lions in the road! On our way out!!! Close to the Olifants Waterhole.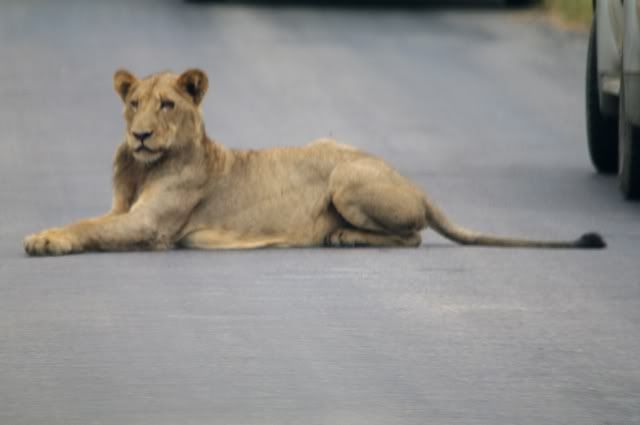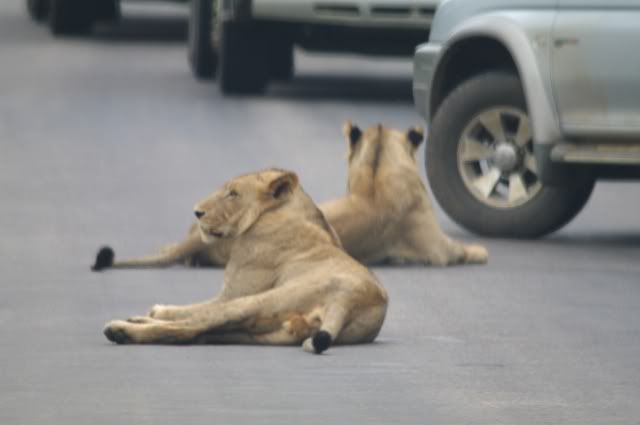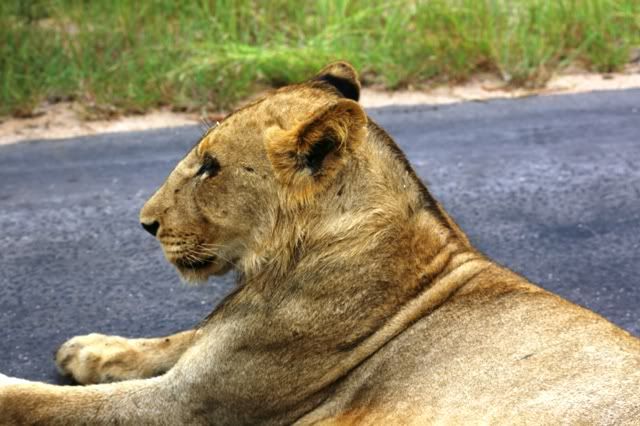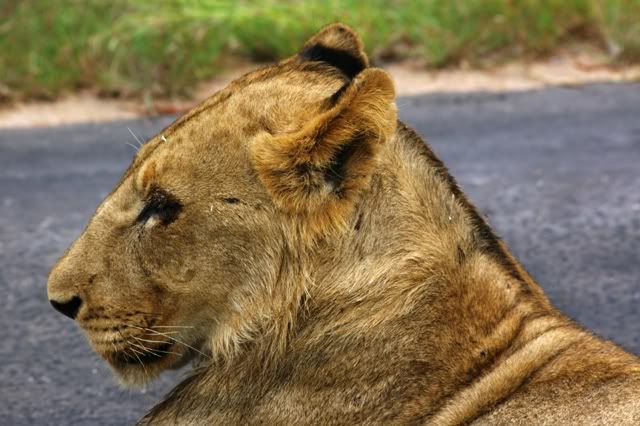 A troup of Baboons were chasing one another further on.
On the H1.3 this small tortoise was trying to get to the other side of the road.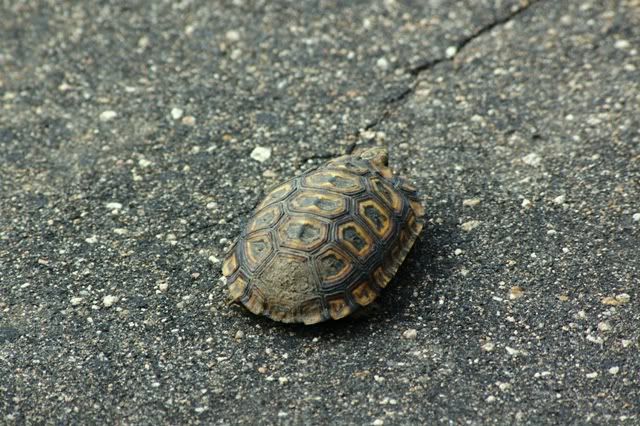 Further on, Rhino. No picture.
Buffalo far away, picture taken from the Mhlambane River bridge, in the riverbed.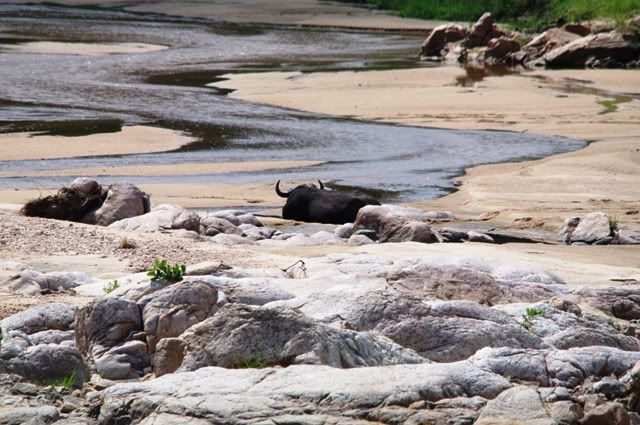 Our last sighting before we exit KNP, what else? A baby Vervet ….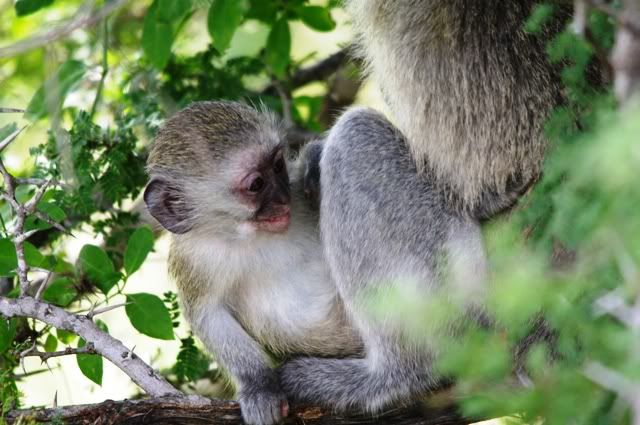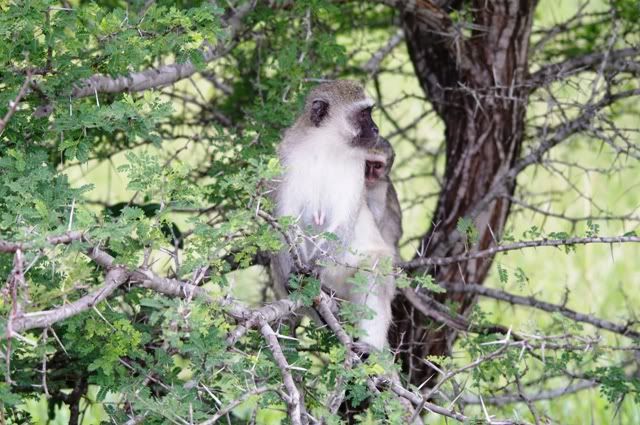 There was many a day that I have struggled for hours to submit A day's sightings (uploads from Photobucket rejected and lack of Internet linkage), to such a point that I wantedto end my report prematurely. It was, however, the Mites and Visitors' participation that gave me the strength to follow through.
Therefore I want to personally thank everybody who visited and will still visit my trip reports in future, and especially for those Mites who responded with every submission in such a positive manner.
Yes, the final day has arrived to leave "Heaven" and joint the rat race again.
If one goes through all the sightings we had, especially the four nights at Satara, something most peculiar happened for the first time in years that we visited KNP during February. We did not see a single cat for those four nights. Was it the rain? Was it because we anticipated seeing the same sightings as in past visits?
This trip just showed us again how unpredictable KNP can be, and that is why we will always go back for more.
---
---
Who is online
Users browsing this forum: No registered users and 6 guests