I have been lucky enough to have been "allowed" by my SO to nip off to KNP at every opportunity when I have had to travel for work (only happened twice so far
), but there was no way that I was going to be so nice as to let him do it 2 weeks ago.
Sometimes it is the trips that are planned (if you can call this planning) at the last possible moment that work out best.
Buglette and I had to go to Jhb on the Tuesday for meetings and I would be returning to Cape Town on the Thursday night (we had already discussed if we were going to be able to sneak off somewhere to see animals, but it was not working out), when SO came home and proudly announced that he had to go to Jhb from the Wednesday and was supposed to come home on the Friday.
What are the chances that we would both be in Jhb at the same time!
He casually asked how far the game reserve near the City of the Sun was from Jhb........Oh No, that was not fair, how could he even consider visiting a game reserve without me!
I then convinced him that although it was close by, it was too expensive. After careful consideration, he uttered the magical words "then I might as well go to Kruger". Immediately, I was on the website looking for accommodation.....seeing as it would only be the Friday and Saturday....P/Kop was the best option and it had accommodation. Then SO suggested taking the Monday off and staying for 3 nights....now who was I to say "NO", especially as it was our 30th wedding anniversary on the Sunday.
I had to talk very nicely to the Boss and once she had said yes, plans were made and flights changed, but this was all the day before I was flying and I had a meeting on the Monday night as well which left almost no time for packing and sorting out the necessaries,
but that was not going to stop me.
We have some friends staying in Jhb, who used to stay in CT and although we have sort of kept in touch, as happens when everybody gets married and has families, we have not seen each other for about 15 yrs and just recently we have been chatting on FB. When SO posted on FB that we were going to Kruger, they had to have a chirp and so he asked if they wanted to come with us!
Well long story short, they said "yes" and so more plans were made. By this stage I was in Jhb and SO and I were having to discuss telephonically what needed to be brought (first on the list was the yellow ribbon of course). We then decided that I would stay with our friends on Thursday night and then we would all leave early on Friday morning, travelling in 2 cars as they had to return on Sunday.
All was going to plan when our frinds had a problem and indicated that they were unable to leave with us on Friday and would try to come up later in the day. The fun part was that we had done some combined shopping so it was a case of trying to sort out who had to take what and "what happens if they can't get there in time?", "would they come up for Saturday night only?" (a bit far for 1 night), but I was taken to meet up with my SO and we headed out via Pretoria at 06:00 in the morning, eyes glued to the Garmin as we had no cooking clue where we were going!
We had only ever travelled straight from the airport to KNP and not from the other side of town.
Once we got onto the N4 and headed past Witbank, we thought we were home and dry and were chatting about which gate we were going to enter through and what road we were going to take once in the park. Somebody had a sense of humour and this was what we had to contend with.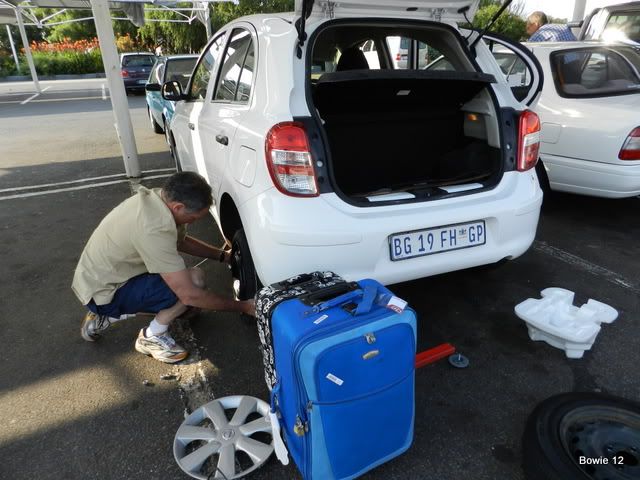 So, what is the problem, we are at a service station...."we don't fix punctures!" Great!! now what!
Marie biscuit tyre fitted, with an 80 km/h recommended speed, we set off on the 200 km to Nelspruit. What a picturesque route it is when travelling at a resonable speed. This was a good indication of the pace of our trip.
---
Thanks for joining Pannekoek.
With tyre repaired and refitted, we were on our way....finally. The little sojourn to the tyre shop had made us change our minds and we decided to enter through Malelane gate. There is always method in my madness and I had hopes of spotting the resident leopard near the gate, but he was intent on hiding from us.
As we entered the gate the windows were opened and ears were tuned....wow, we hadn't realised just how hot it was. we turned off towards B'nD but sightings were minimal. I had the feeling that this was going to be another birding trip, just like last March was!
The first bird we saw was airing its wares trying to get cool, but was so far away, that I have got no guess what it was, but took a rather bad photo anyway.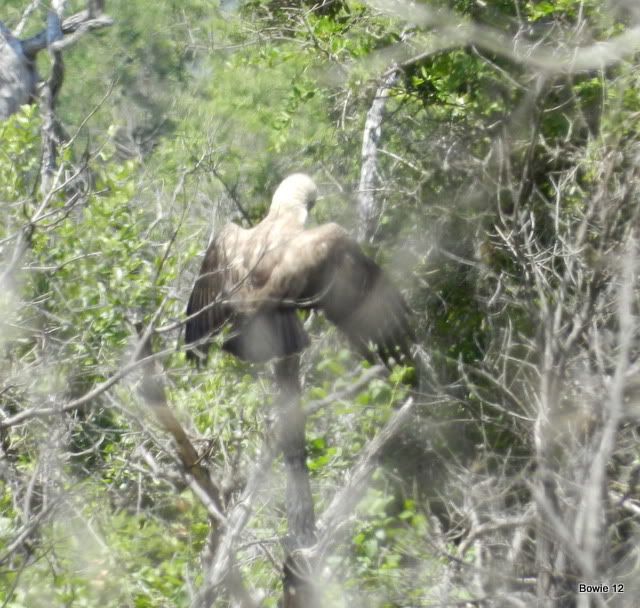 We caught a movement on the road ahead and our ever fathful Impala had come to welcome us.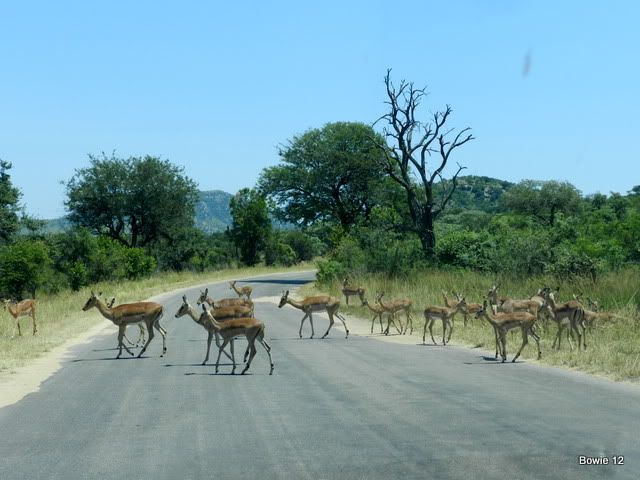 The rest of the drive was extremely quiet, with only a couple of European Bee-eaters...the first of many, far away on the wire!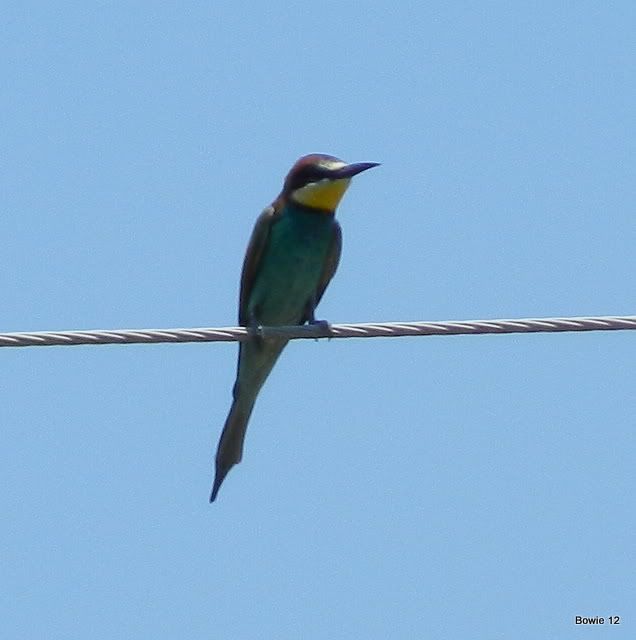 I got very excited when I spotted a couple of Ellie bums way down in the rivebed, but a photo was definitely not going to happen on that occasion.
I spotted this far-off bird which I have been told may be a tawny-flanked Prinia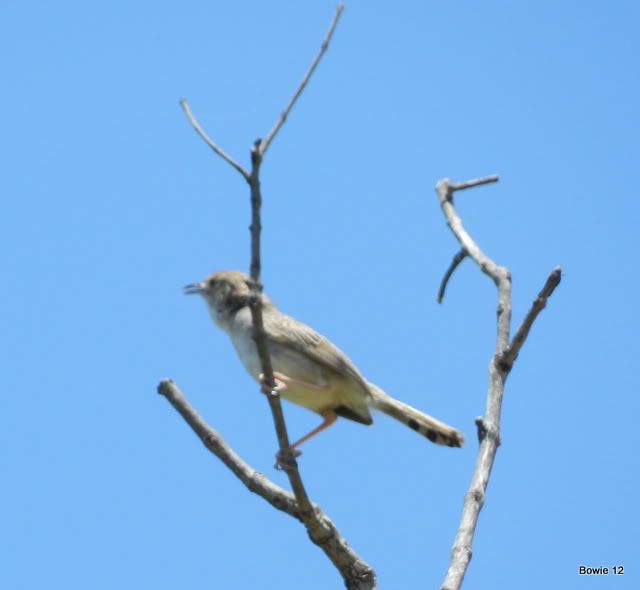 and this Pale Chanting Goshawk (having recently been to Kgalagadi, I am pretty sure of this ID)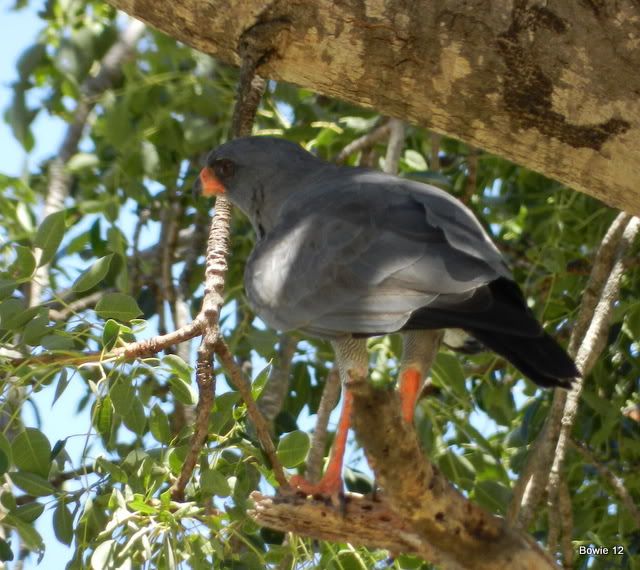 We stopped off at Afsaal for a bite to eat and I scoured the trees for the little Scops Owl, but to no avail....maybe he was flushed out by the recent flooding! My blood started to boil and it had nothing ot do with the heat at this stage....there was a family having a picnic and their darling little boy was happily filling a cup with water from the tap and then ....pouring in onto the ground where it was now forming a puddle...and this was FUN!! Now I know that Kruger has recently had more water than it knew what to do with, but still....that is not teaching your child any responsibility for the future.
I decided it was safer to leave at this point before I went ballistic and got the label of the "interfering old bat".
I have never had such a quiet drive in Kruger and I was driving, so it was not as if we were going too fast as I trundle along at about 30 km/h, looking for leopards in every tree and ellies behind every blade of grass. We arrived at P/kop and it almost felt like we were "home". I love this camp, but have to admit that the viewing around that area has never impressed me much (our previous trip was an exception). We decided that we would stay in camp for a while and wandered around, camera in hand to take in the "sights".
We headed for the swimming pool which I had yet to visit, but WOW!! it is one of the most beautiful pools I have seen and I must say that the birds were lovely too.....I AM talking about the feathered kind!
We spotted these brown headed parrots amongst the leaves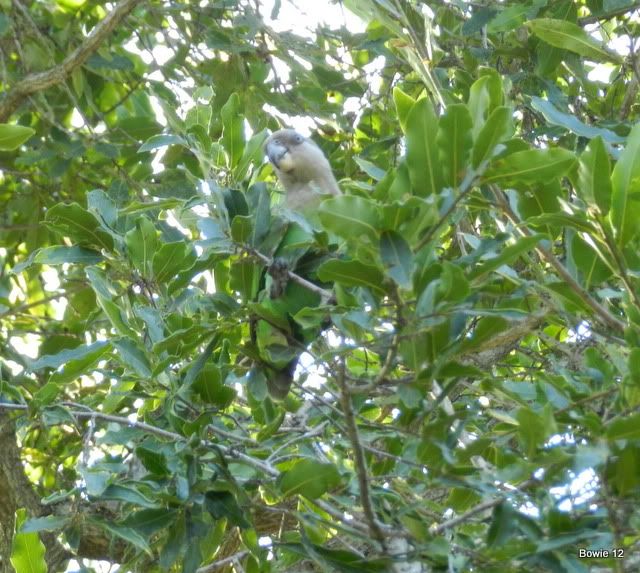 The sausage trees have always fascinated me and as we stood getting dive bombed by falling maroelas, I was ever so pleased that the sausages did not do the same thing!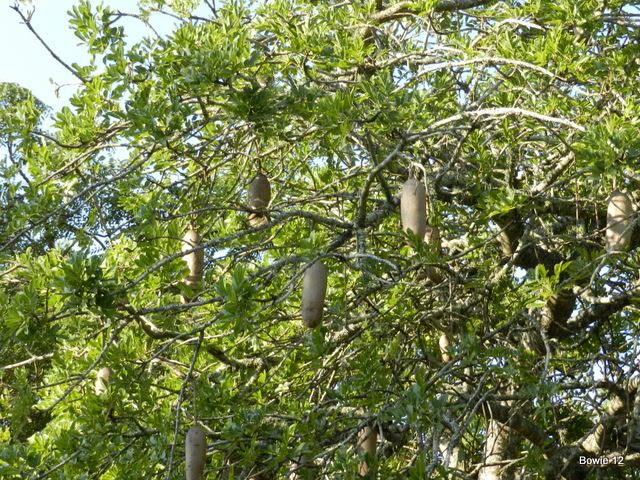 After all the rains, the bushes and flowers were also looking so pretty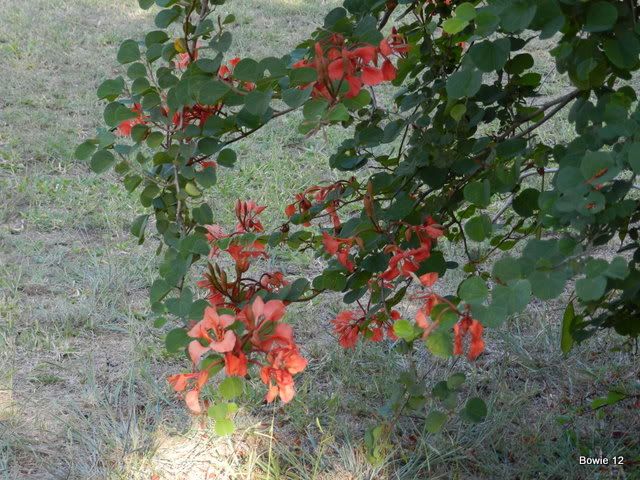 The call of the Woodland Kingfisher nearly drove me mad as I could hear it no problem, but to get a photo was really not easy. We did succeed a bit later and I will post it then.
Our friends had in the meantime smsed us to say that they were on their way and would hopefully beat the gate at Numbi and the camp. Thankfully we learned that the gates closed 1/2 hr later than we originally though , so didn't tell them that so they would hurry up.
We waited excitedly to see them and also to show them what we loved about Kruger as they had not been to the "south" for about 25 yrs!!
Would Kruger show us all the fabulous sightings we had had in Nov??
---
Thanks to everybody for the kind comments.
This really is a slow boat to Kruger and the whole pace of this weekend was dramatically slower than my previous trips, but I suppose we need a "slow" one every so often to appreciate the hectic sightings when they come.
I am sure that everybody has suffered times like these.
While we waited for our friends, I tried to convince SO to come for a quick ride with me, but seing as he had driven the whole day, he was less inclined to go than I was. Off I went, camera in hand to have a gander at what awaited us.
I headed for the S7/ S3 roads and made my way slowly around the Shabeni loop. In case anybody is interested, a Micra is NOT a 4x4 and the dongas that had been left in the road surfaces were presenting a bit of a challenge. There may have been animals on this loop, but I was having to concentrate so hard on the road, while trying to watch through the looooong grass for any evidence of 4 footed frends, that I missed them.
Cheetah 2111, I was seriously thinking that birds and impis were about all I was going to see this weekend!
The S7 was not going to oblige me today and as I turned left onto the S3, I really hoped my luck was going to change. I headed for the causeway which was flowing very strongly....decisions, decisions.....is it too deep.....well it is concrete, so at least I know that the bottom should be OK and while I was running all the options through my mind, I noticed 2 Hammerkops standing "stokstil" (still like a stick) and peering into the water looking for their supper.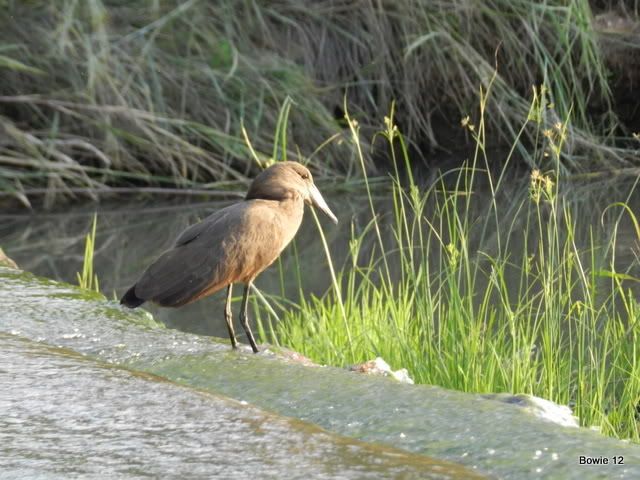 Now I am not one to want to do a birdie out of his supper, but I really needed to get past, so I edged my way forward, entered the water and tried to cross as smoothly as possible without causing a tsunami which would push the Hammerkop over the edge, but as you probably realise, coming out of a causeway and onto a soft sandy, fairly steep gravel road, needed a little bit of speed so that I could get a good run at it and just as I was excelarating, the 1 birdie decided to land just in front of me....Oh No, was I too going to be put on the gallery of shame as I squashed a poor Hammerkop!!
With a bit of jerking and almost cutting out, I managed to miss the bird and still get up the hill! I was now starting to watch the clock as it was heading towards gate time and I still had a fair way to go, but who can pass up a photo opportunity at Mestal dam?
I now really had a hurry up slowly and was praying that no large grey things were going to cause a road block and result in me being late, but had to stop to take a phot of a very far-off....you guessed it....BIRD!
According to the experts, this is possibly an European Hobby.
I have to admit that a hobby meant a very different thing when I was growing up - it was something you did in your spare time, so where this bird got its name from, I have no idead....maybe it was somebody's hobby at the time!
.
I snuk into the gates just in time and was happily greeted by our friends who had only just got there. With everybody a bit shattered after the day's activities, we headed to the restaurant for some lovely Chicken kebabs!
As they say in the classics - "more is nog 'n dag" Tomorrow is another day!!
---
Thanks to everybody for waiting for me...I had a lovely couple of days in Wilderness, but what a pity I had to do SOME work!! It just reminded me what a beautiful part of South Africa we live in and that I may just need to plan a little stopover there on our way to Addo in a couple of months, or should that be weeks!!
Anyway, to get back to our slow boat.....
As is customary for me, I was up the next morning and left the others sleeping while I headed out towards the Fayi loop. It was much darker than I expected and looking at the gague of the little Micra, I decided that it may be best if I put in some petrol before leaving. The gates were still closed as I pulled up to the pumps to wait for the petrol guy and I could watch this group of vervets, doing what they do best....being naughty (I won't post the other pic of them doing what they do best as this is a family channel!)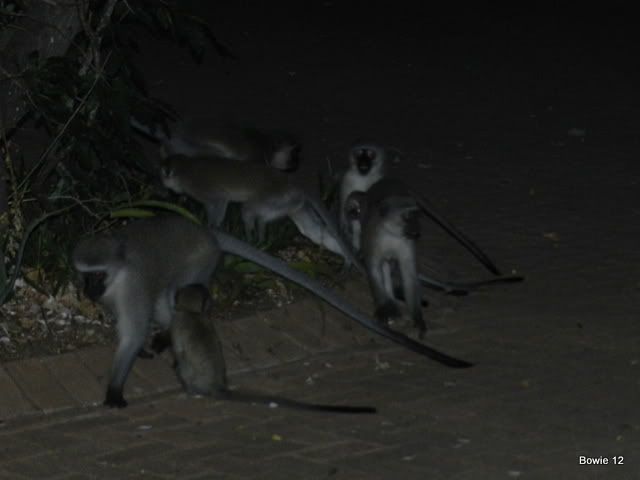 They were up the trees, on the bins, on the petrol pumps....would have been nice if they could have helped me though, and generally full of the joys of Kruger!
The gate opened and I was still waiting for the petrol man.....
Toughies I decided, I am sure that I will be OK....afterall, I was coming back in about 2 hours to collect the sleeping beauties and at that speed, I wasn't going very far.......
I turned onto the Circle road and came across this lovely ....better check in my book and get the right name.....Long Crested Eagle, although it looks like he may have lost some of his crest.
The lighting was not good and it was sitting on a tree about 75 m away, but this is the best of a couple of baddies.
I have the utmost respect for ellies and will definitely not get in their way should they want to wander down the road and as I picked my way through the puddles like Gene Kelly in "Singing in the Rain", I saw an ellie in the bush at the side of the road...or so I thought! As I rounded the corner, I came face to face with said ellie in the middle of the road.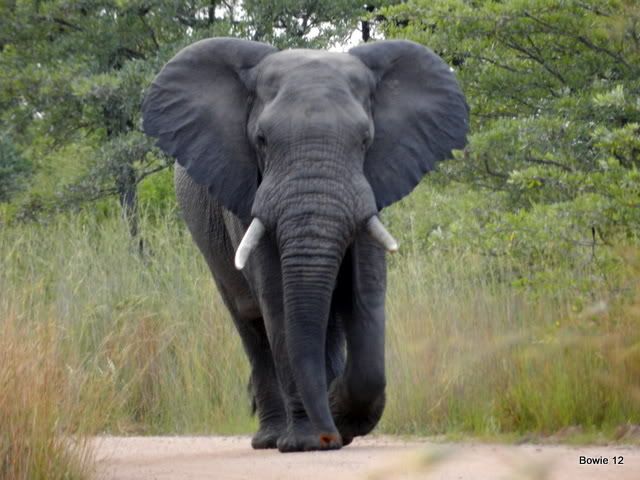 and he was not going to give way. I was hoping that the ear flapping was just a way to keep cool, but I doubted it as he has walking with "mening" (purpose) . I reversed for a bit, but the puddles I had just driven through so carefully, didn't look half as friendly in my mirror while going backwards, so I decided that a 3 point turn was in order, however, panic does something to your co-ordination and the ever advancing ellie was not doing anything to help my nerves as I tried to turn in what must have been the narrowest part of the entire road! What should have been a relatively easy 3 point turn, became about a 7 point turn and I had visions of getting stuck sideways across the road. Exhausted, I finally headed off in the direction from whence I cameth and left the ear flapping bull behind. Petrol gauge said 78 km range - plenty I thought!!
I went round the long way and eventually got onto the Fayi loop from the other side, but I have to admit that the road was not in the best of conditions and if I thought that I had done some 4x4 the previous day, I had not seen anything yet. A gent in a Merc went past me in the other direction so I reckoned that the road could not be too bad if he had just come from that way.......never think that just becasue he came from that direction that he had been all the way along the road....when I came to a huge puddle, sanity reigned and I turned around...and I imagine that that is possibly just what the previous gent did too!
Petrol gauge = 69 km range! No problem...back to the circle road, round the loop...lovely collared whydah, but no decent photo, beautiful view from the top..........Range ---!!!!!
Oops, what happened to the petrol! Note to self: gauge works on a float in the tank....reading not so true when going up or downhill!! Thankfully it is mostly downhill to camp, so she was put in neutral and freewheeled all the way down the road...sorry, no time to stop for any other photos!!
Back in camp I stopped at the pump and diplomatically (tongue in cheek) scolded the petrol man for not being there at opening time and cutting my drive short....but I was actually quite releived that I made it back as nobody would have known where I had gone and so would have battled to find me!
I found the others waiting for me, taking photos of birdies around camp, but that is more for another day!
---
Thanks p@m, Puppy and Pumbaa.....the slow boat is gaining momentum.....
Pumbaa, I hope you enjoy the feathered friends that are coming up!
As I got back to the camp, my SO and frinds were looking heavenward and i wondered if they were praying for my safe return, but no such luck, the birdies had caught their eye and this is what they saw.....
A flash of colour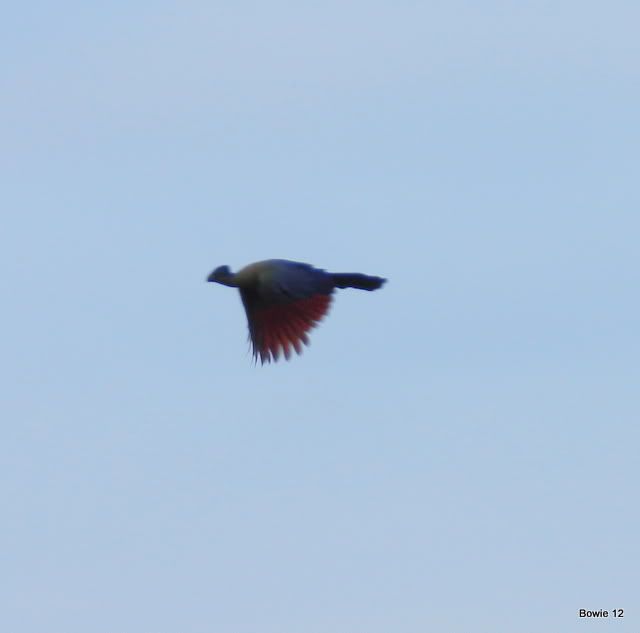 No your eyes are not squiffy, it was really blurred, but this is what it was - a stunning Purple Crested Turaco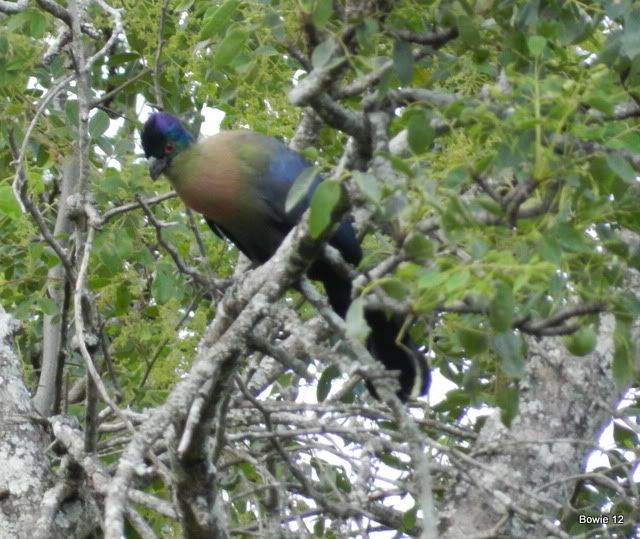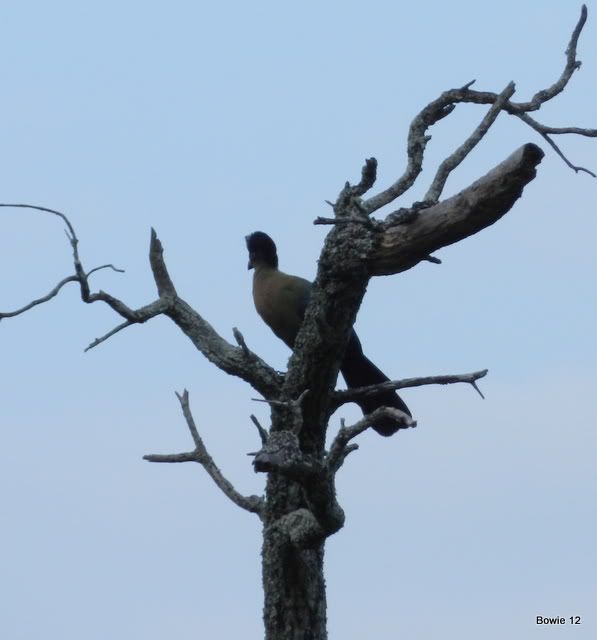 The Woodland Kingfisher landed long enough to get a snap of it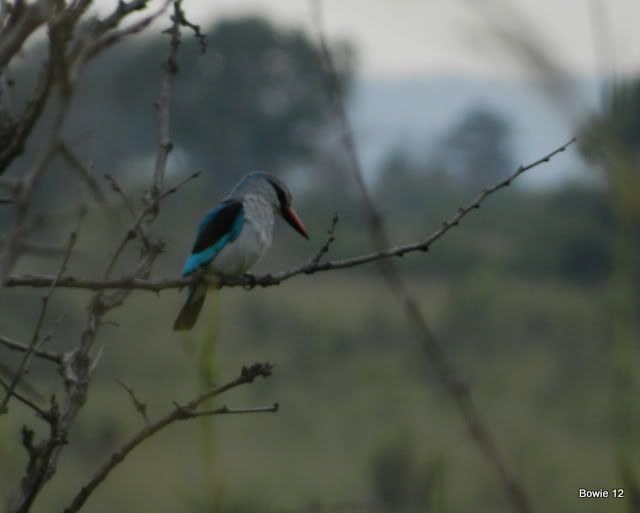 and then these little ones gave us quite a giggle. I had never seen a woodpecker before, so this Bennetts was fascinating.
The female was eating ants at the bottom of the tree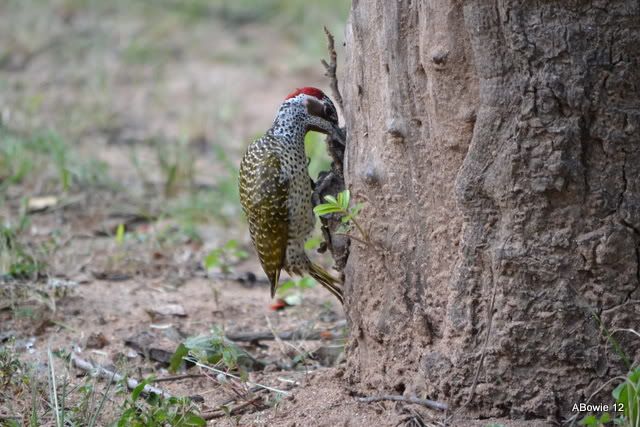 The male was knocking 3 times on wood!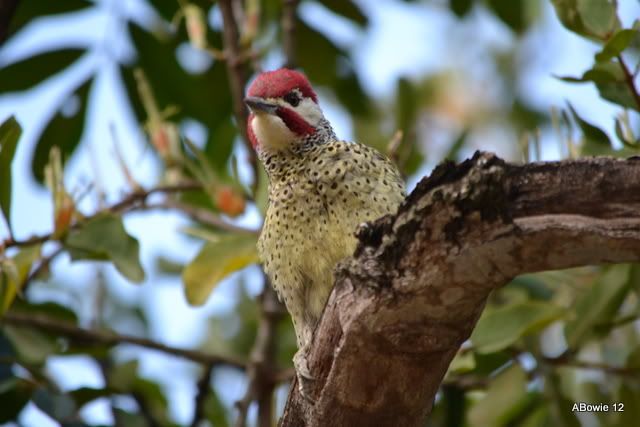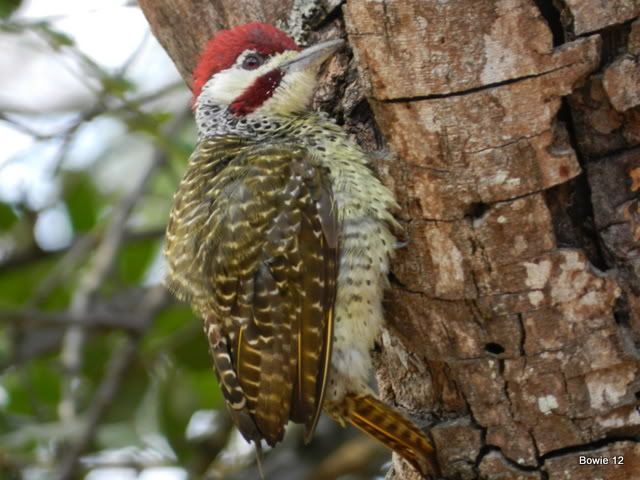 and challenging the "intruders" who were trying to muscle in on his territory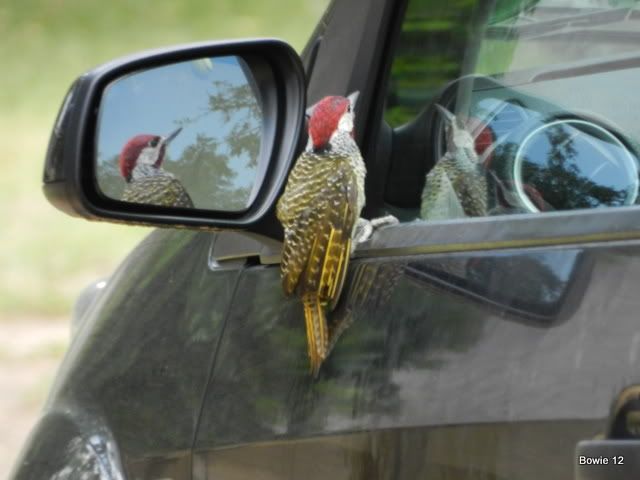 We eventually all piled into the little Micra and headed out on the H1-1 towards Skukuza.......
Again, sightings were few and far between and we headed to Transport dam in the hope of seeing the cheetah....leopard.....or something!! A great red bakkie came zooting past us at one point and then stopped. I am not sure what was being smoked in that vehicle, but boy, as it went past us, the whiff went with them...... We approached slowly, wondering what they had seen, when all of a sudden, they turned off onto a 2-track and headed off into the bush. There was already another car parked at the end of the track and I have no idea what was going on! Thinking about it now, maybe I should have reported it, but the registration numbers are quite clear if somebody would want to follow up.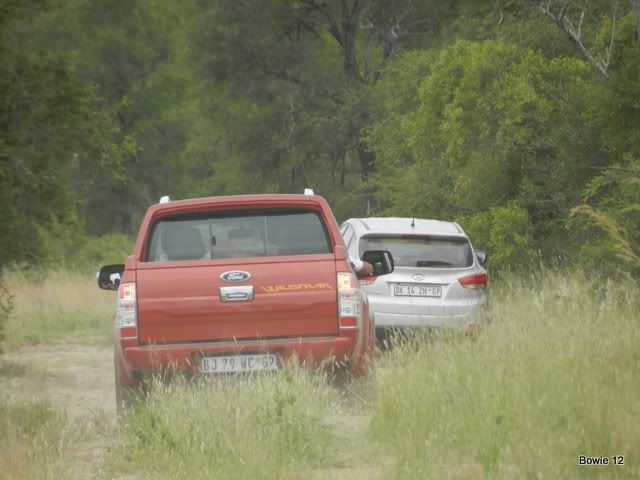 At the dam we saw the usual suspects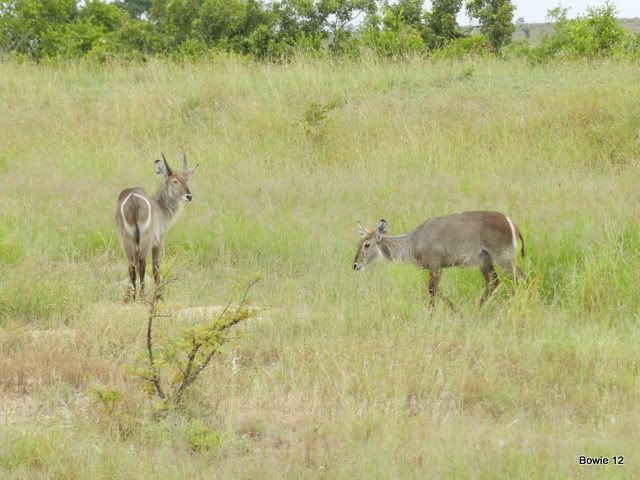 and along the road, we saw this Brown-crowned Tchagra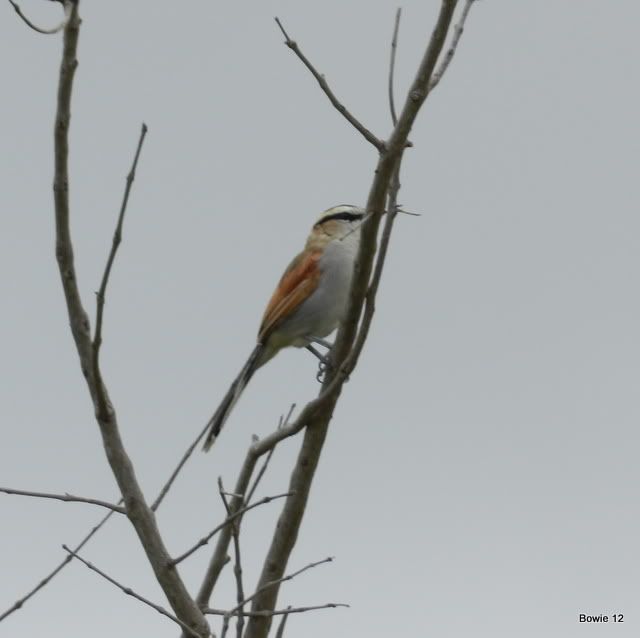 and 2 Yellow-billed Hornbills having brunch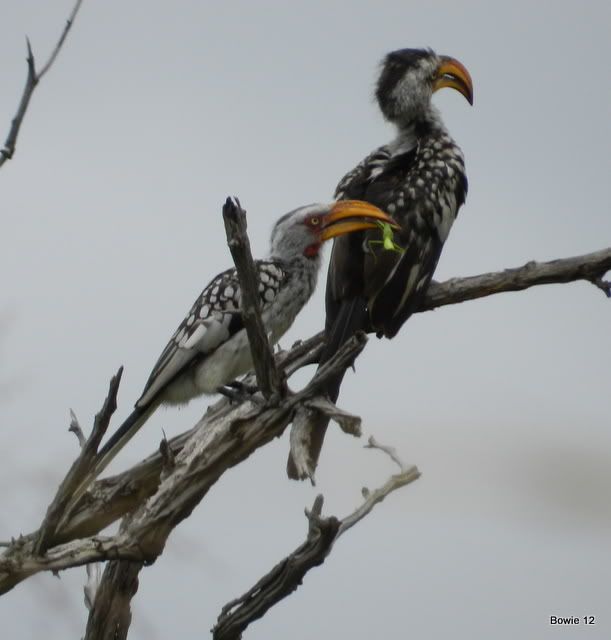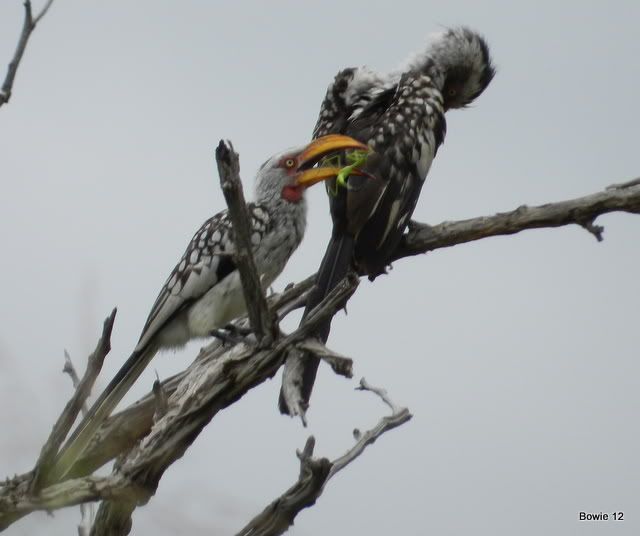 At the dam, there were lots of dragon flies
and on the way back to the tar road, we saw this beautiful Lilac Breasted Roller
and this Bokmakierie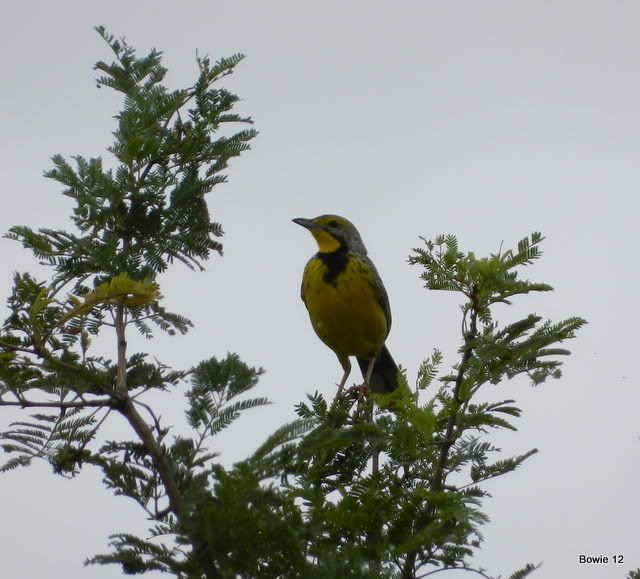 .
It was very overcast and dark and we wondered if we were going to be swept away by another cyclone....luckily we had this slow boat afterall!!
---
Sadly we didn't see the leopard, but did catch sight of this family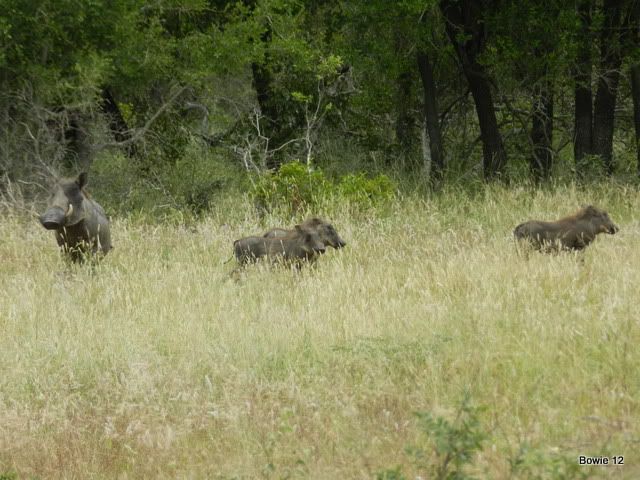 The people coming down the road, did the traditional "slow down and try to see what the heck they are looking at" and must have been a bit disappointed that it was a warthog!
We trundled on slowly, but we saw n-o-t-h-i-n-g except birdies!!
European Bee Eater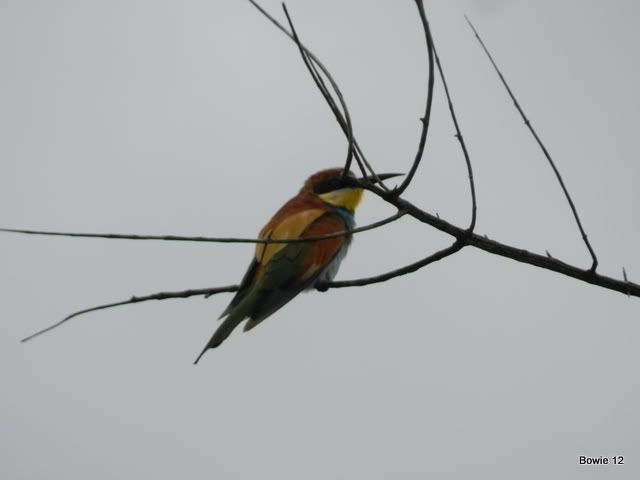 Magpie Shrikes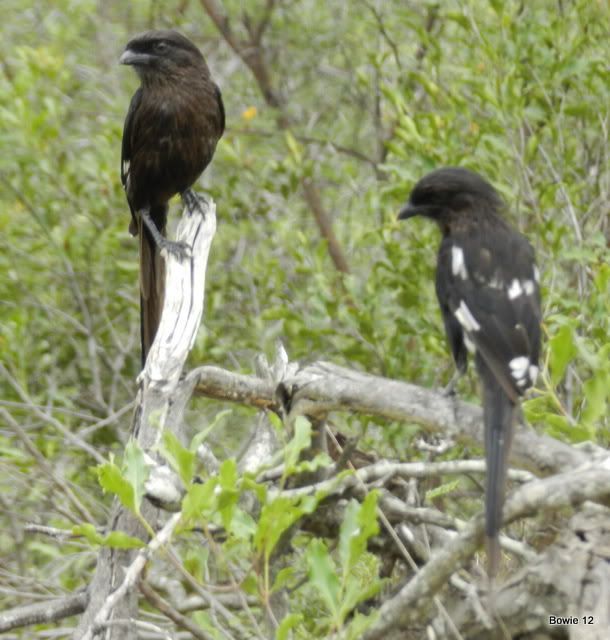 Then this little Steenbok took off across the road. Great action shot, but not the best when taking it through the windscreen.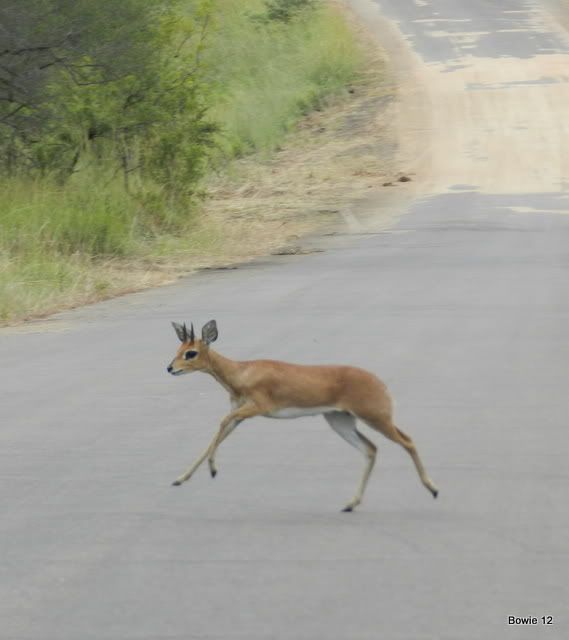 As we headed up to the viewsite (Mathokenyane I think), we saw this lovely Emerald Spotted Wood Dove
When we got to the top of the rocks, this is the view that greeted us....and we wondered why we could not see a blooming thing through the foliage!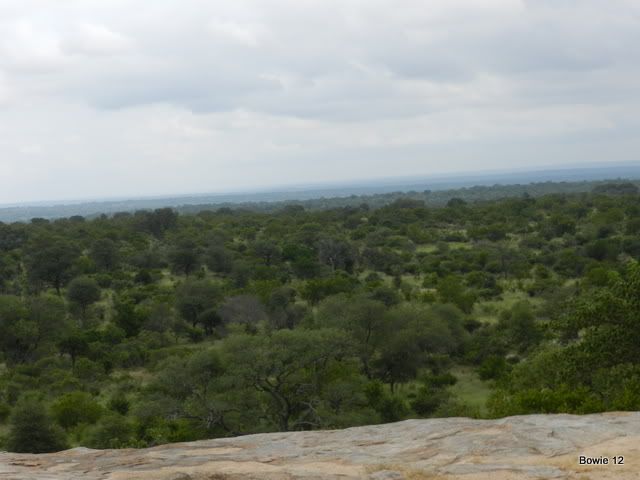 Stunning as it was, even from that vantage point, we did not see a single animal!
We continued and I was looking forward to stopping at the De la Porte waterhole as I have seen lovely animals there before, but the grass was sooooo high you couldn't actually see the waterhole itself so we didn't stay long. I was amazed at the damage done to the little bridge just past it.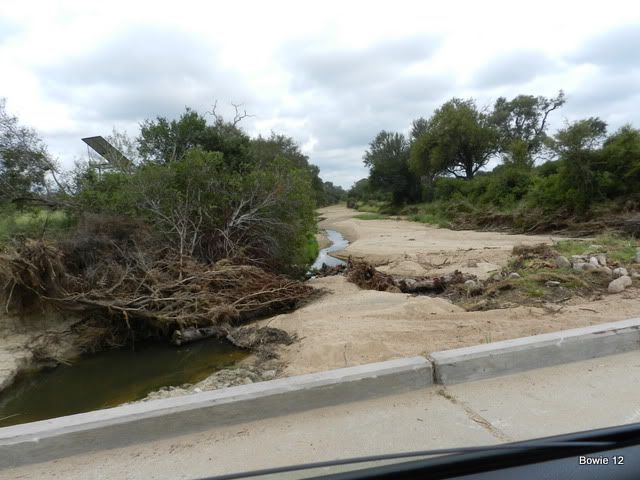 We arrived at Skukuza for a convenience break and this little spider caught my eye, but they others didn't seem interested,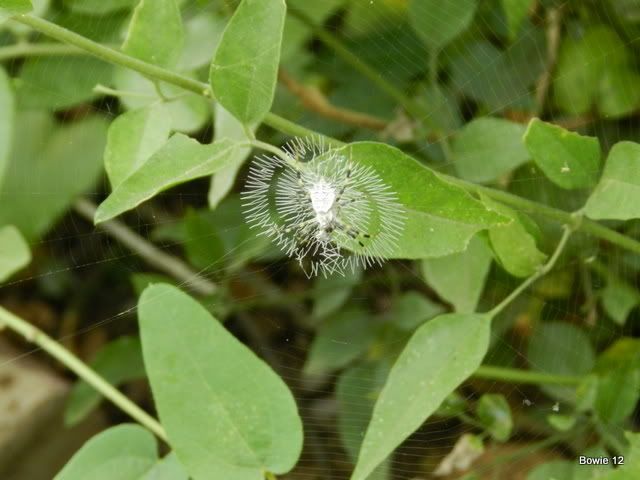 but this family was causing much interest and excitement. The staff were doing all they could to shoo them out of the way.
We checked the sightings board at Skukuza and were very happy to see that lion had been seen in 3 places along the Marula Loop, so why should we not go and have a look……
Off we went across the low water bridge and up the other side and …"Road Closed!" Blast! They must have got in from the other side, so being good law abiding citizens, we turned around and off we go again!
On the way we saw this majestic Kudu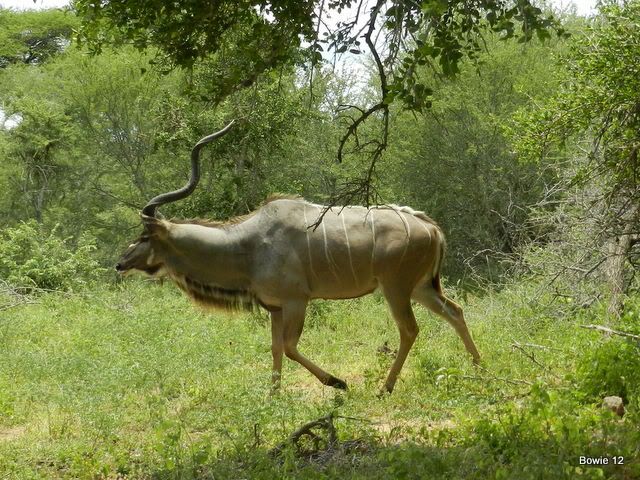 and a European Roller and Carmine Bee Eater which were a bit far for a decent photo.
We made our way to the high water bridge and were quite taken aback by the damage that the floods had caused. I know that you have probably seen so many of these photos, but we were really amazed when we realised just how high the water had gone.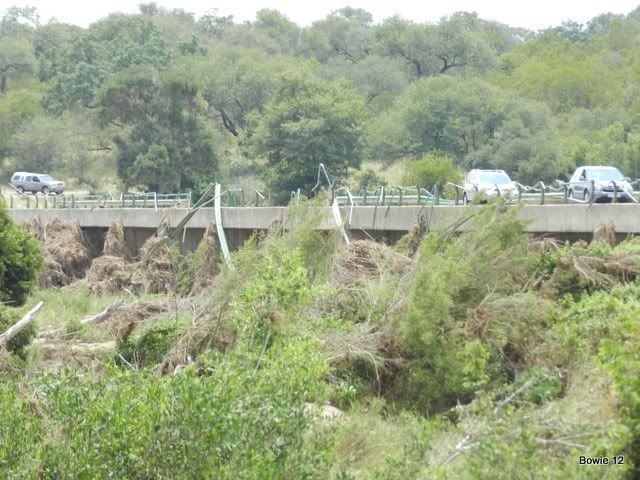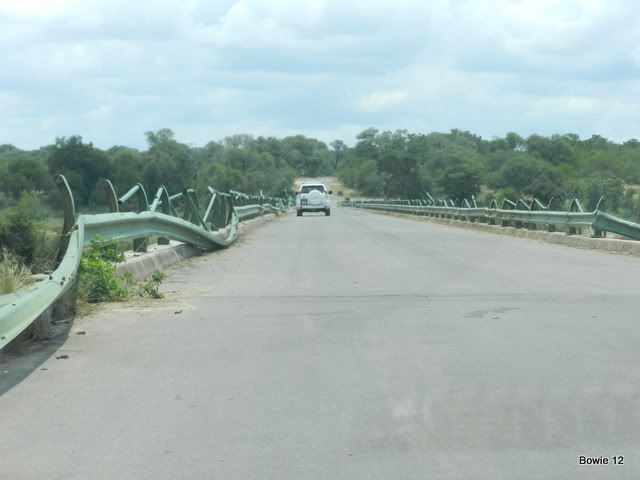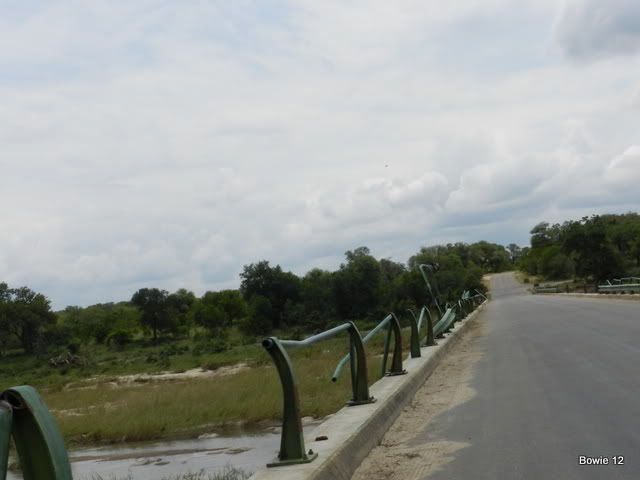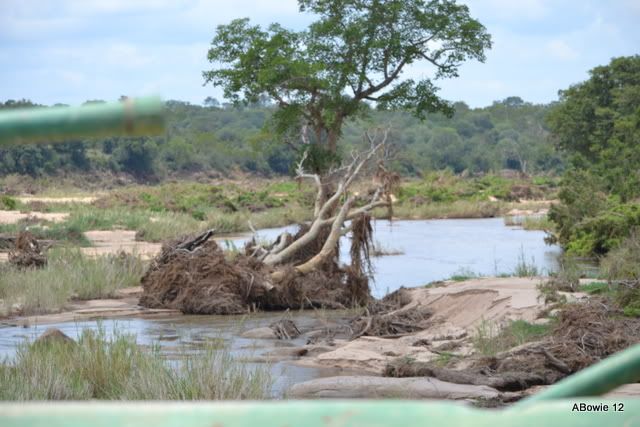 The S30 was closed so we kept going and got to the T junction with the H 1-2, turned left and ….."Road Closed"!! Now I am not blonde, but for the life of me I could not understand how, if the road at either end of the Marula Loop was closed, did people manage to see, not 1, not 2, but 3 different lots of lions!!
Oh well, plan B…turn around again and head off to LS along the H4-1. On the way back to the bridge we saw this shy Nyala family and it gave me a chance to explain the difference between the Nyala and kudu female to our friends.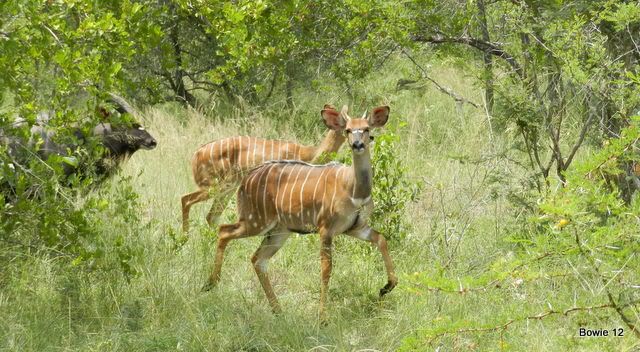 I did only realise after I had got home and downloaded my photos, that the one was actually a young male in transition to becoming as stunning as his daddy!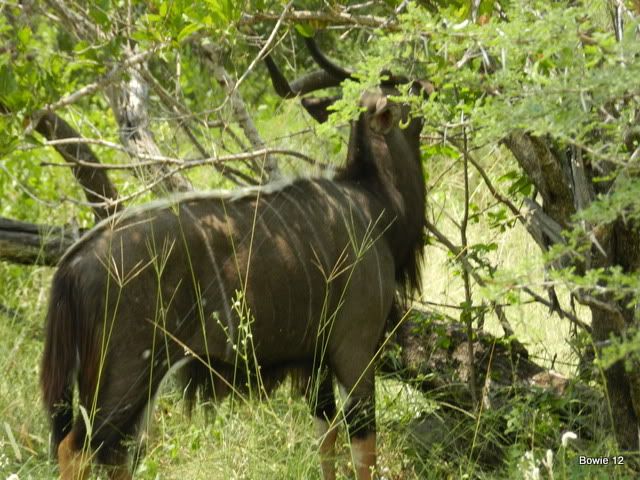 We stayed on the tar road and found this beautiful Fish Eagle sitting in his tree
and then decided to take the N'watimhiri Causeway.
In March last year, I had found a leopard family in this area and before you have a good laugh…I do realise that they don't stay in the same place waiting for me to pay a visit, but they are territorial and numerous people have reported their sighting in TRs. We swung a left and we saw……….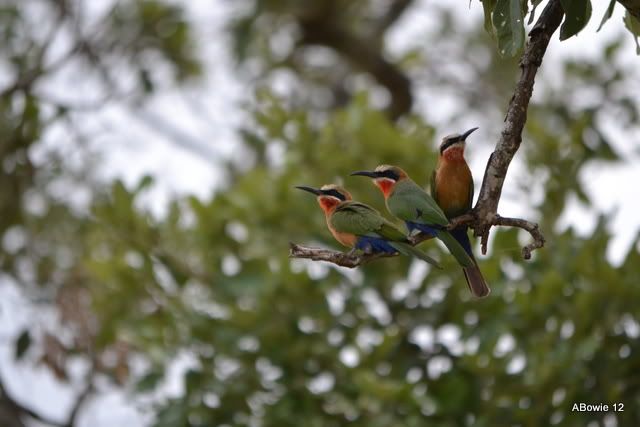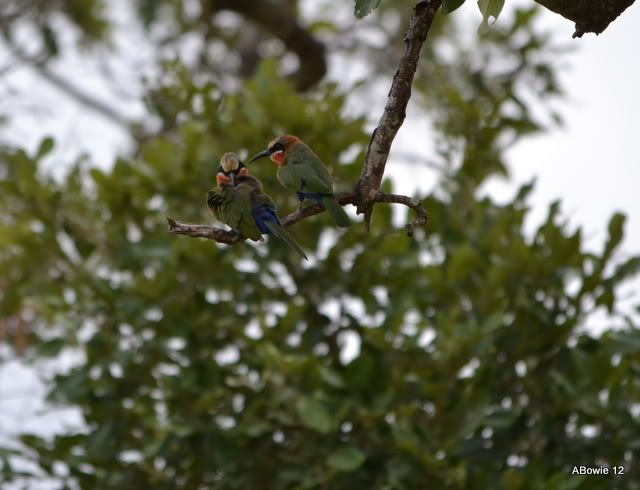 White Fronted Bee Eaters and NO leopards. Knowing our luck, they were probably waltzing down the road while we did the gravel!
Lubyebye bridge was our next stop looking for…..aahh forget it! I had given up looking for anything as it was just frustrating me. Mr Buffalo was the only resident!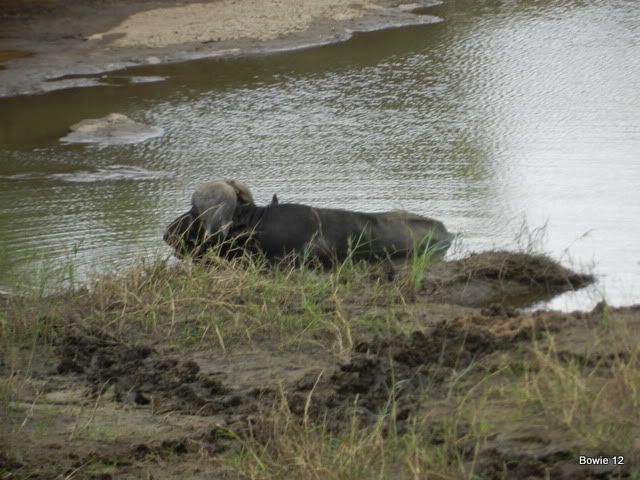 We opted to stop at Sunset Dam, surely we would see Herons and Kingfishers and Lapwings and ….and….. and not much!!
Little crocodile
White Crowned Lapwing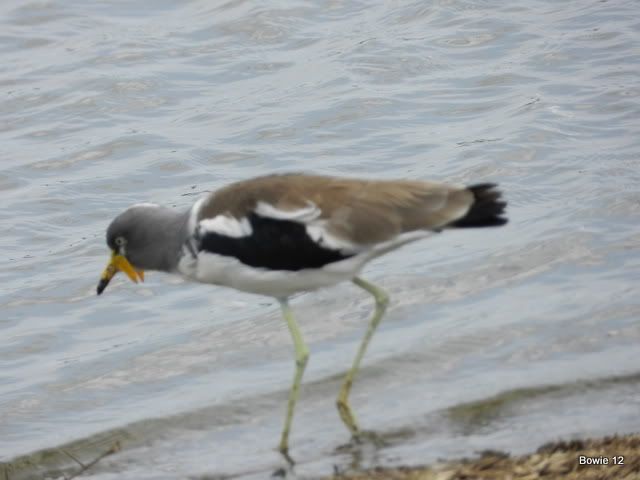 This slow boat was teaching me patience all over again!
---
Sorry for the delay. The boat is drifting along once more.
The boat docked at Lower Sabie for a quick view over the river, replenishment of refreshments and a check of the sightings board. It seemed obvious that we were not the only ones having a hard time sighting animals – the board was surprisingly empty.
We (well, I really, seeing as I was driving!) decided that we would go south for a short while in search of our ever elusive cats…..not sure why really, coz….you guessed it! NO CATS!!!
We again looked at the damage and repair of the low water bridge on the H10 – quite unreal actually when you realise just how much of the bank had been washed away. I suppose the positives that came out of the flood are the creation of new sandbanks, pools and visible areas (not that helped us at all).
It was now getting late and we had to head back towards P/Kop. Just past Sunset Dam we were joined by a group of Giraffe. It was so wonderful to see these beauties up close. They were feeding happily, loping across the road and generally making us smile!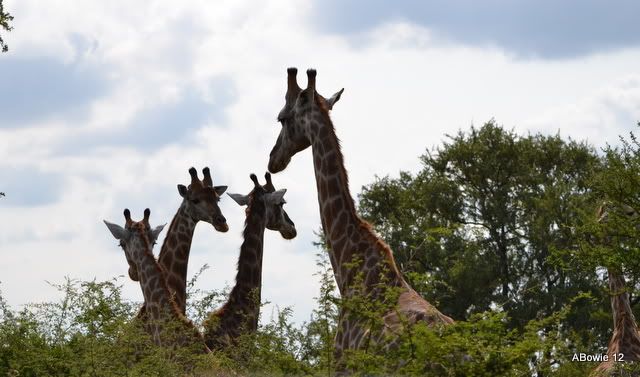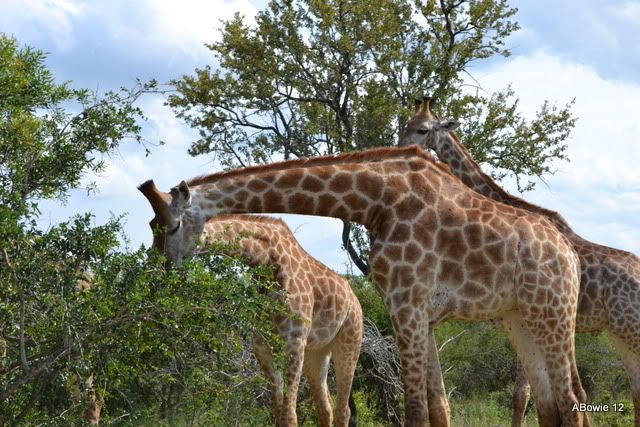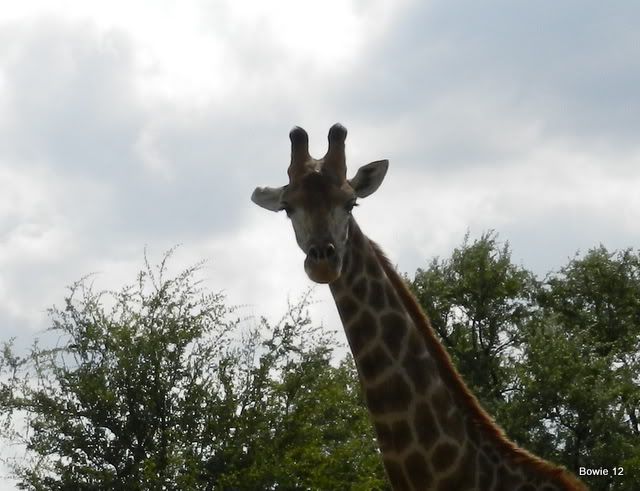 At a whim, we decided to head along the S21 towards Renosterkoppies and then along the S112. This was one of the best decisions we had made. Lovely LBRs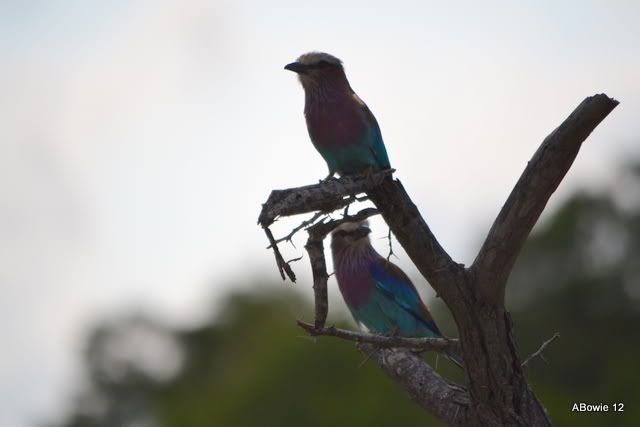 A couple of dugga boys wallowing in the mud. The one looked like he had an oxpecker in his eye!
And from the big to the small, as we avoided this little chameleon who was rushing for all he was worth into the grass.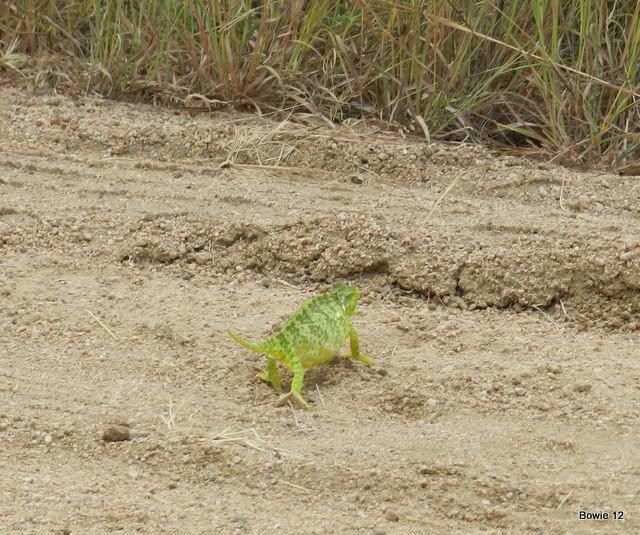 A group of "large grey unmentionables", wildebeest and a family of eye fluttering Southern Ground Hornbills. Their eyelashes are to die for!
Excuse the indulgence, but they are one of my favourites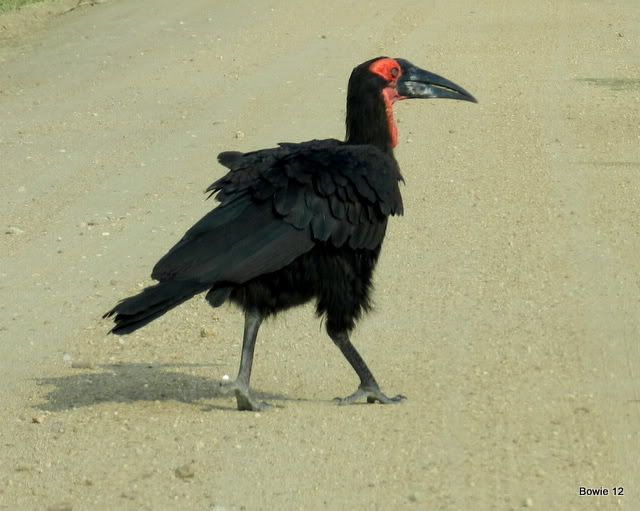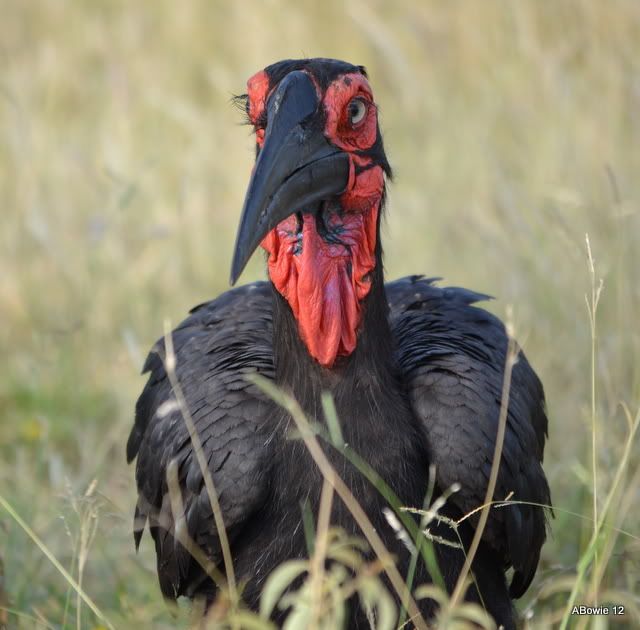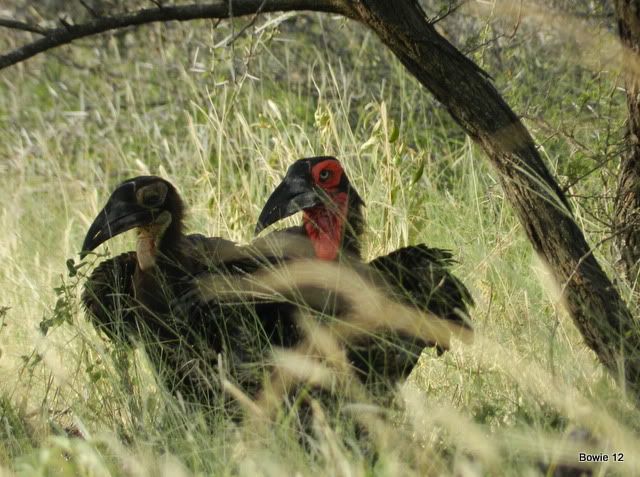 We then spotted this large odd looking bird which, as I have been informed by the experts, is a juvenile Battaleur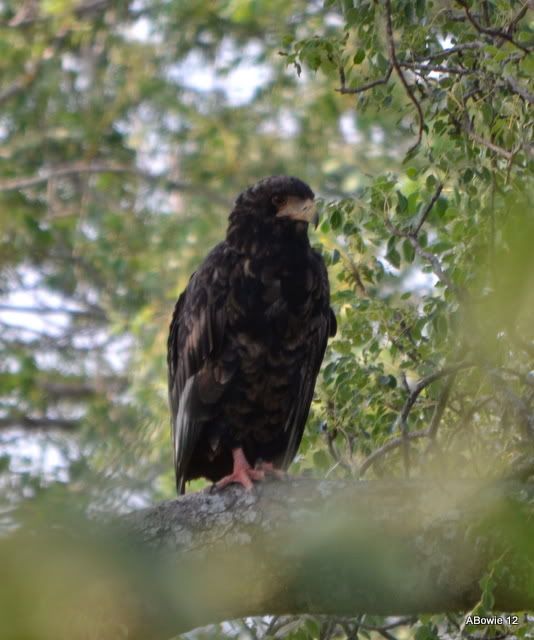 As a budding birder, I was all for stopping for every LBJ, but had I done so I would have been shot and we really did have to keep an eye on the clock. I was allowed to stop at this little family of Zebbies – who can resist a baby!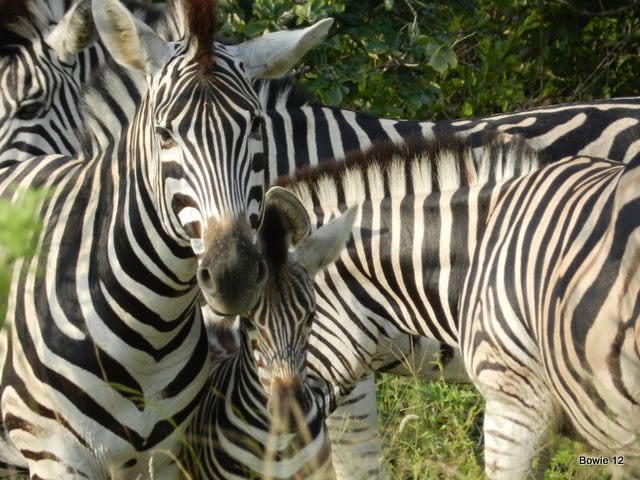 As we moved off down the road, I was silently still praying for a cat of some sort. Everybody who has infrequent guests to the park, hopes for cats. In the distance I spied her – LION!! YES, my prayers were answered! She came padding towards us, stopped about 15 meters in front of us, bent down and picked up something off the road, put it in her cheek and carried on trotting towards us.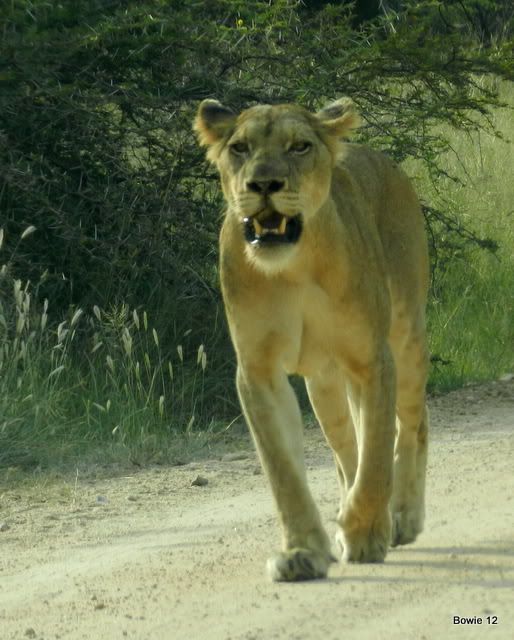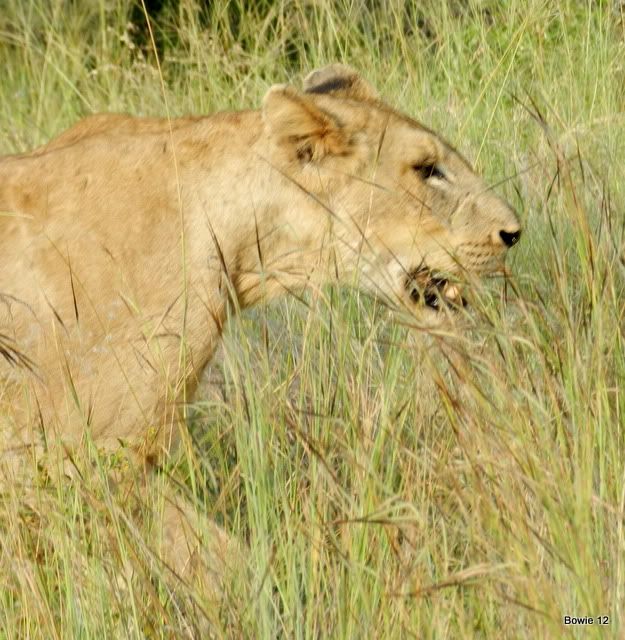 I don't know what it is about having a cat walk right past you that takes your breath away, but I could not stop smiling….and then the thought struck me…..she was heading straight for the zebra family and the baby!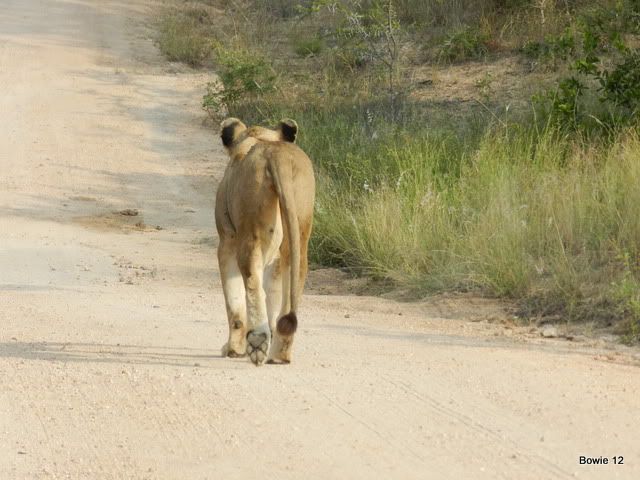 I couldn't bear the thought and carried on. We saw another large herd of Buffalo along the H1-1 and a cute family of Dwarf Mongoose just outside camp.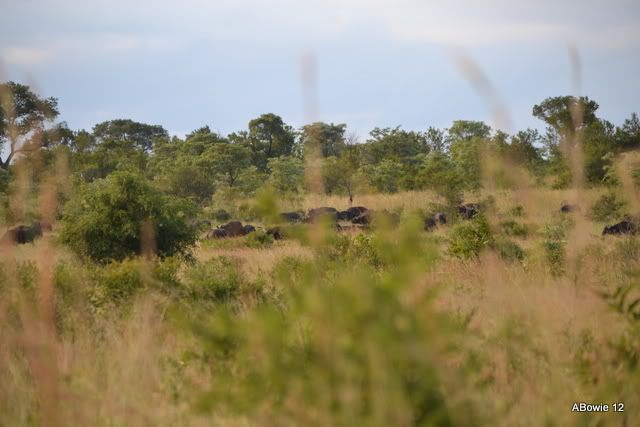 The skies were getting darker, but that didn't stop us taking a wander around the camp looking for more birds. Unfortunately it was getting too dark for a decent photo of the little Pearl-Spotted Owlet sitting in the tree near our chalet.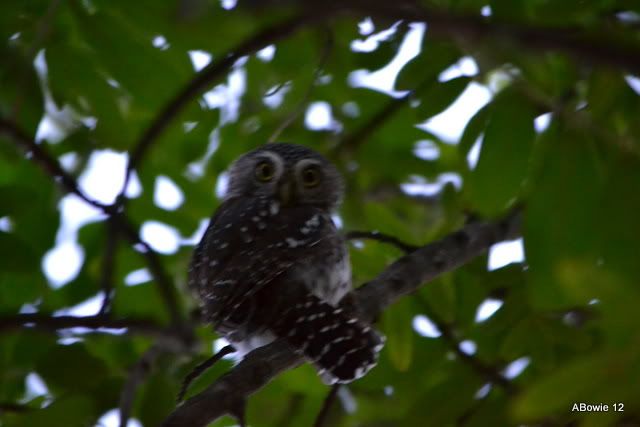 We started the fire and had a wonderful braai, finishing just as the heavens opened.
---
After a good night's rest, I crept out the door leaving the others asleep again and got dripped on!! It was still miserable and wet. Not to be deterred, I headed off and decided to stay on the tar roads.
I came across a bedraggled buffualo who decided to play chicken wiht me in the road! He zig-zagged his way across the road, giving me a seriously beady eye at each turn. Now I was not up to challenging a wet buff who was seriously the h*ll in....I waited patiently until he decided it was time to move off.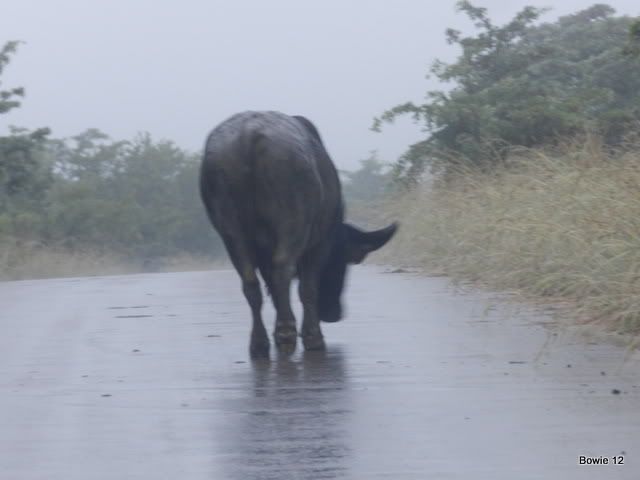 Eventually I managed to squeeze past and a bit further came across about 5 cars. What could it be.....cats????
Nope....DOGS!! Well 2 at least!
They wandered about the cars, sniffing here and there and then lay down in the wet grass at the side of the road. I am not sure where the rest of the pack was, but I was happy to see any.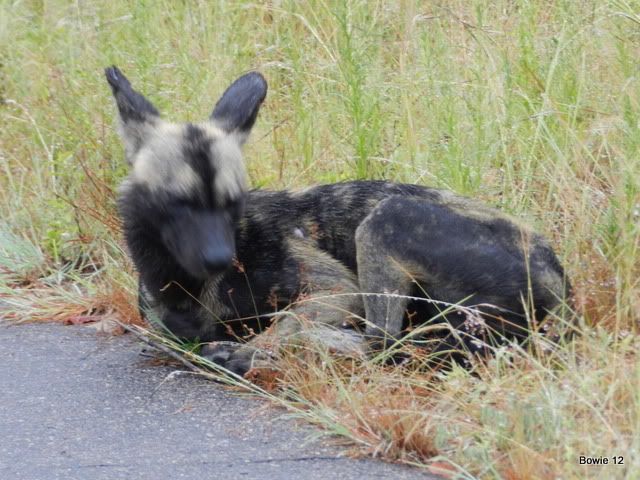 Sorry about the quality, but it was pouring and I was not about to try to get publishable, photo-competition photos - all I wanted was proof!
I headed off to Transport dam and had quite a passing parade.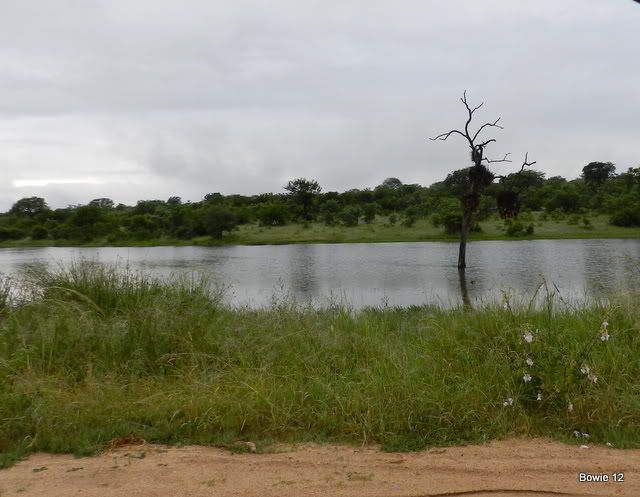 A lesser masked weaver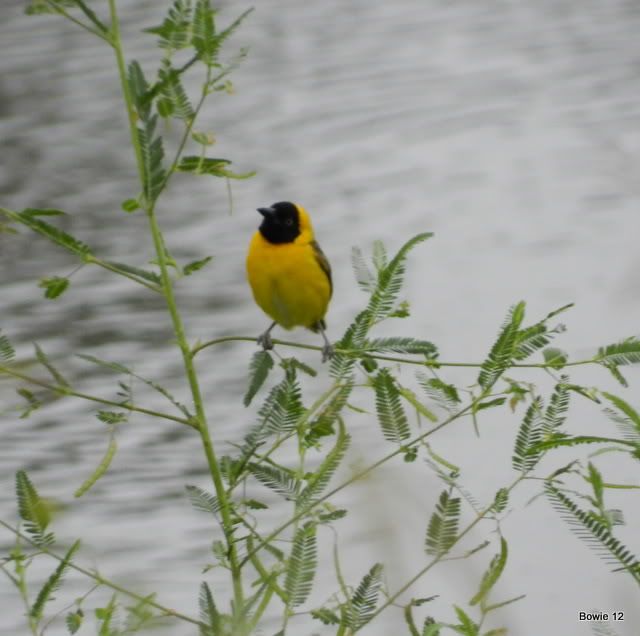 A hippo
and these white faced ducks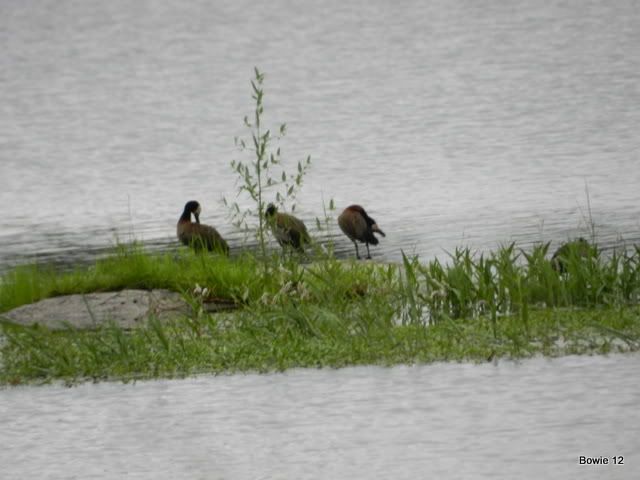 On my way back to camp, I saw this Hyena family.
Mom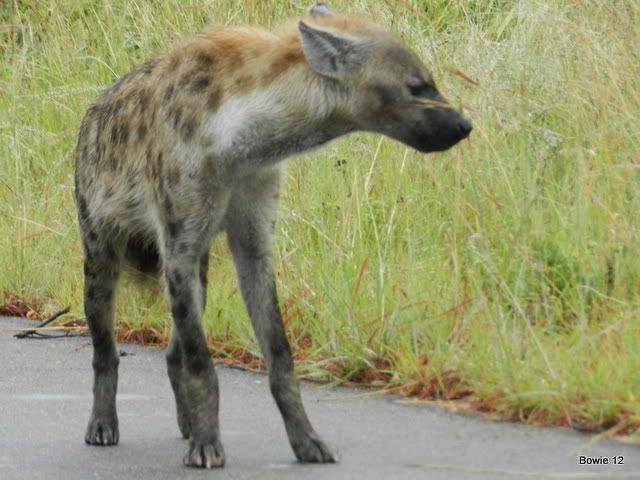 Mom and pup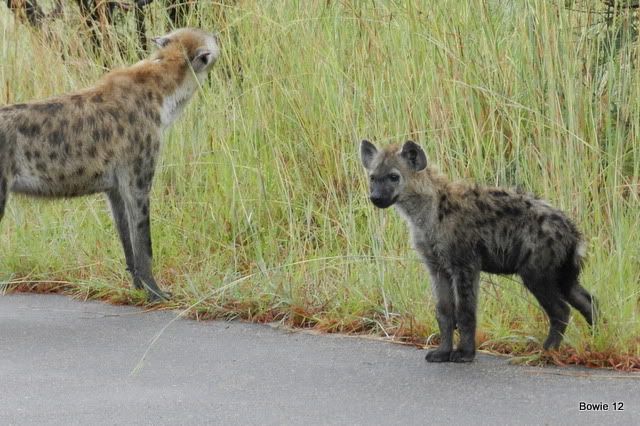 and then pup on its own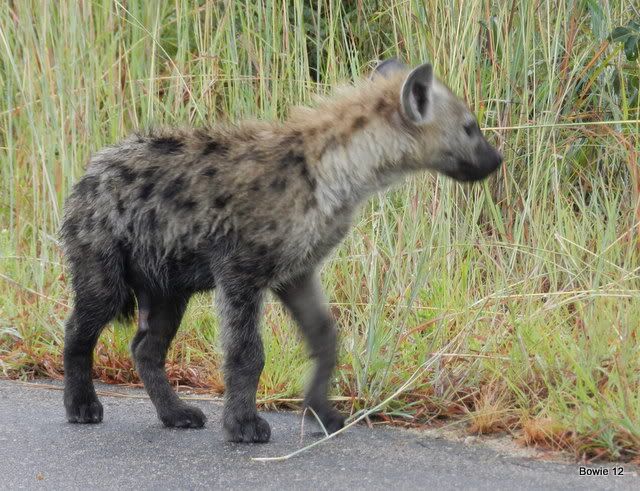 It soon disappeared in the long grass. Even though I knew where it was, I could not see it!
I got back to camp and again, my entourage was waiting for me!
Unfortunately our friends had to leave today, so we decided to take both cars and head towards Skukuza where we could have lunch and then they could go on their way and we could continue trundling along on ours.
Now we had a set of 2 way radios between the 2 cars and that was really fun....if you can class an up close and personal encounter with a kitty as fun! More about that next time!
---
Thanks to everybody staying on board and for all the kind comments.
When I got back to camp, we packed what we had to and headed off once more. Shitlave Dam was very quiet, not even the Fish Eagle was there!
As I said, we had 2 way radios and the chirpy chatter was such fun! Radio would crackle and we would realise that they were no longer behind us. As we start to revers, we get the "sorry, don't worry, it was a tree", or we would stop for "an eagle" Everything brown and large was an eagle, regardless of its actual identification! But we did see this lovely tawny en-route,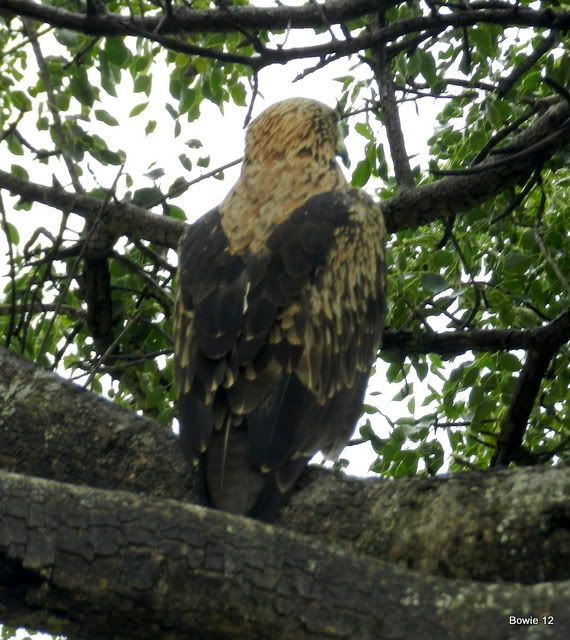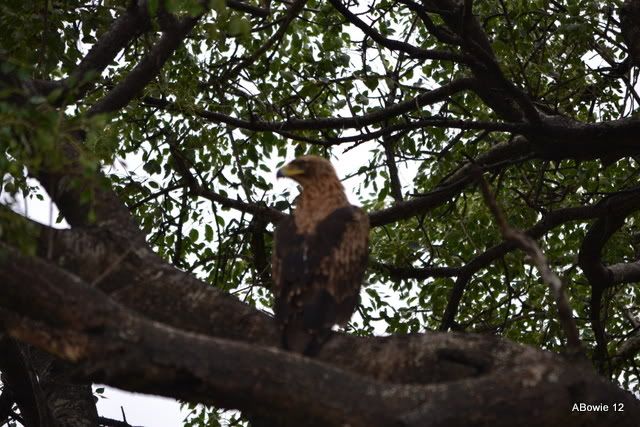 or was that the juv Batteleur??
We headed for Transport Dam, ever hopeful of seeing the spotted cat, but instead we were entertained by this European Roller having a "shower" in the rain!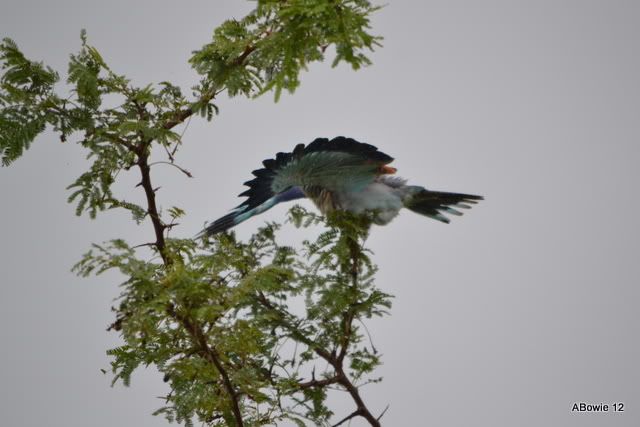 Underneath!
On top!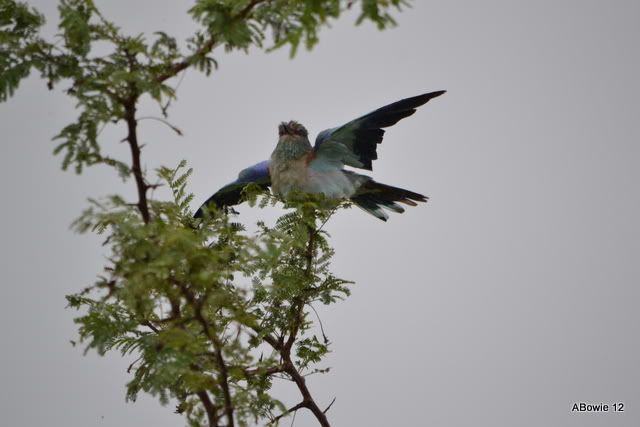 Under this wing!!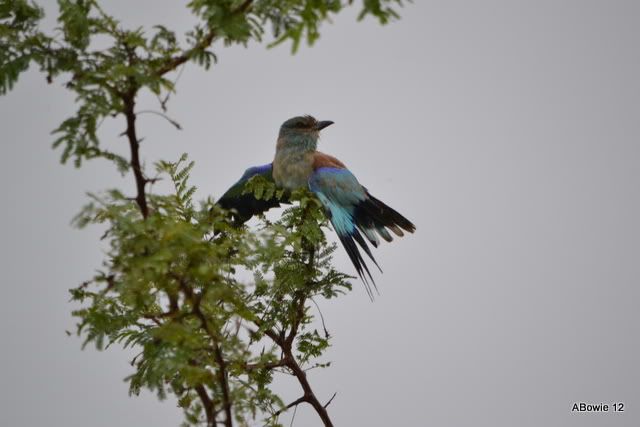 Oops, is somebody watching!!
Back on the road, we ran bang slap into a major traffic jam. About 15 cars were parked at every possible angle across the road! Well I wanted to see what they were looking at, so I convinced SO to manouvere the car into the gap and there they were!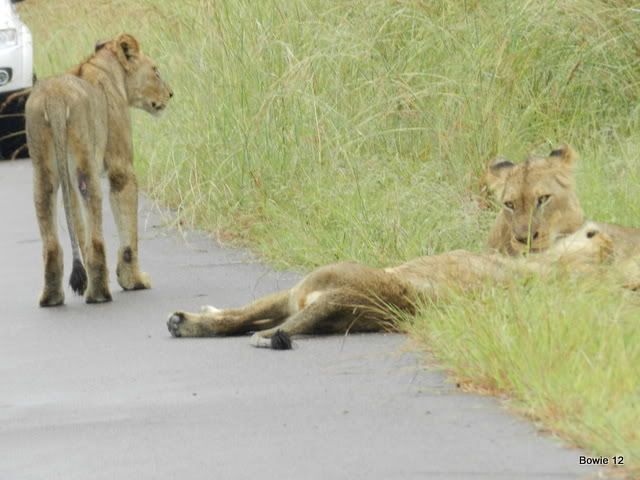 3 wet, bedraggled, very skinny lionesses!
I was trying to get a photo and although they are not the greatest, at least they were proof!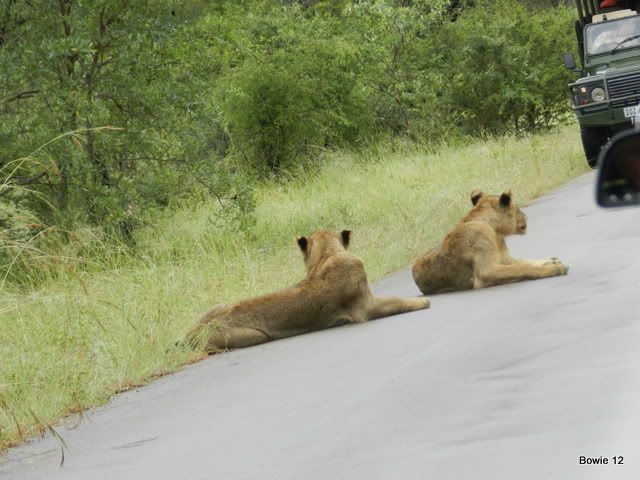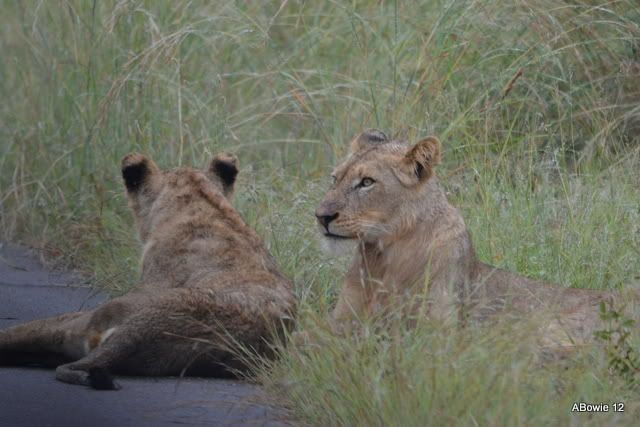 One of the cars was threading his way through the gap, trying ot move off and as we moved out of his way, he said "Never mind the ones on the left, have a look at the 1 on the right eating the tortoise!"
We snuck into the gap he had left, but we didn't see any lion eating a tortoise as it had walked across the road to join the others.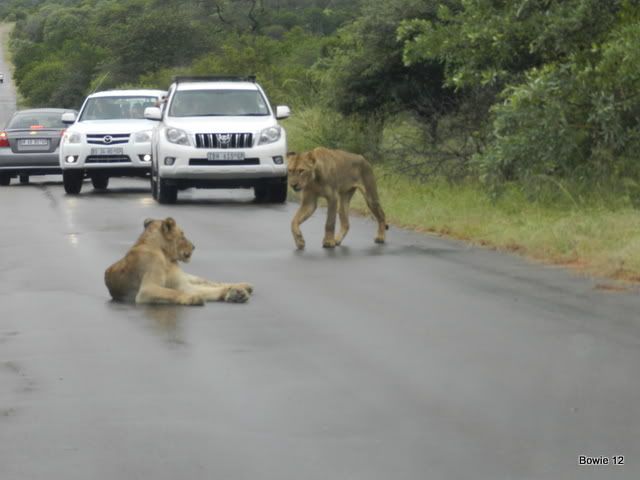 We pulled into the spce, but there was not quite enough space for our friends to pull in behind us, so they waited a bit further back, hoping that somebody else would leave.
SO looked out the window and said "Oh, there is the remains of the tortoise" and had his camera out of the window taking a photo, when I caught movement out of the corner of my eye. All I could do was squeak "watch the lion!" as it came running up alongside the car and laid itself down right outside the window and continued to eat the poor tortoise!
He was actually sooooo close that we couldn't zoom out far enough to get a decent photo!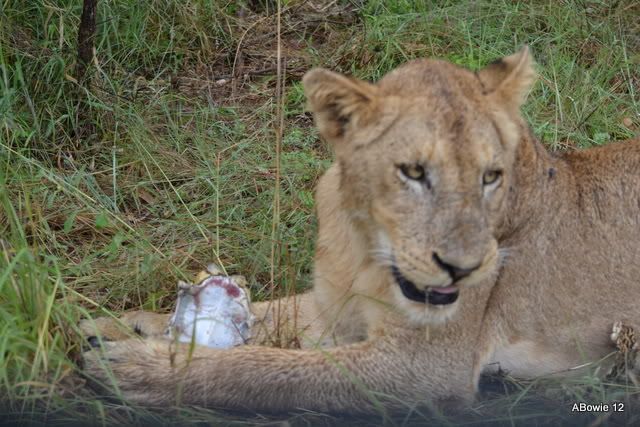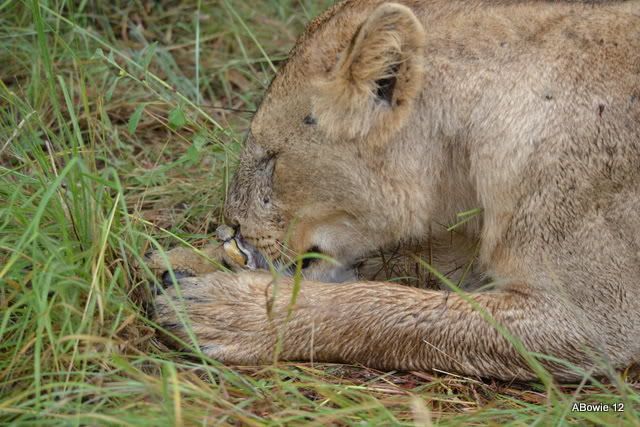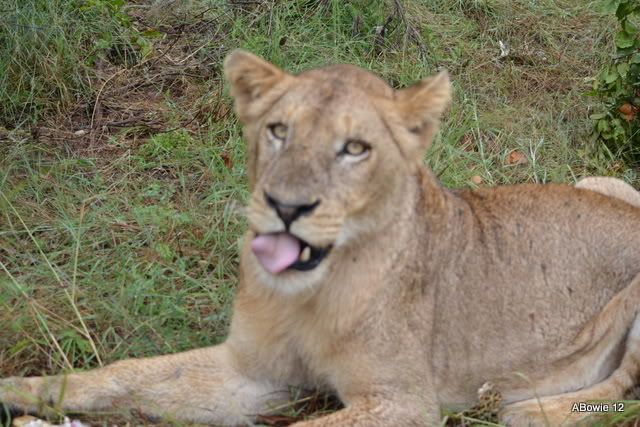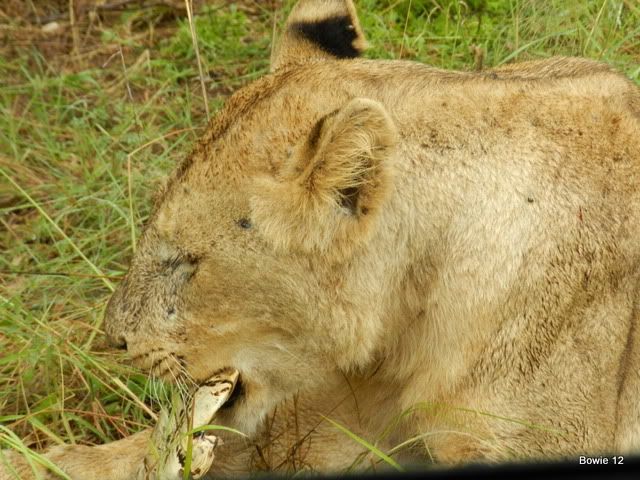 We were so enjoying having such an up close and personal moment with the young lion when the radio crackled and we got this "can you move on so that we can also see!!" Oops, sorry, but I just had to quickly take a couple more shots of the others before moving off.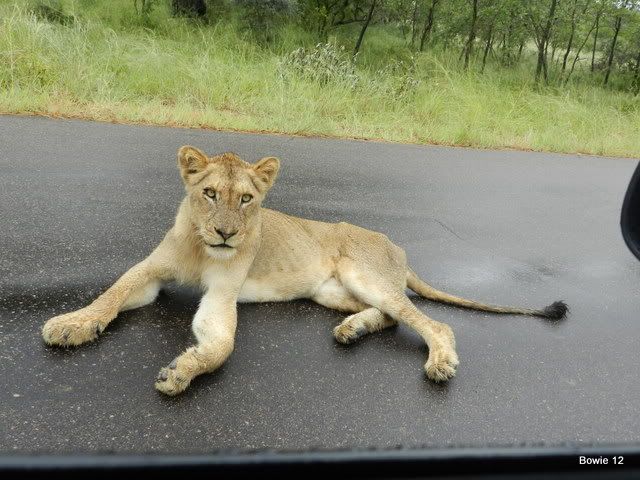 I felt quite sad that they looked so underfed, especially when I realised that it seemed to be a lioness and 3 very young males. I hope they got more to eat than a tortoise!
After our friends had got their photos, we moved off to Skukuza, had some lunch, spotted this cute butterfly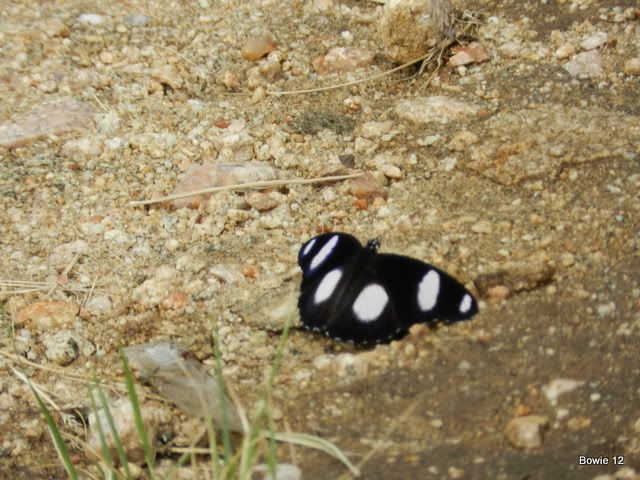 and then said some sad goodbyes!!
I hope it is not another 15 years before we get to see them again (or before we get back to KNP!!)
---
Ok, this boat needs to pick up speed now...I am being nagged by Buglette to finish this one and do my bit of our Wildeness trip!
After leaving our friends and again seeing lion reported on the Maroela loop, we headed out that way. There had to be a way to get there. First we went to the low water bridge, thinking that maybe it had been opened overnight. Now I like stopping on bridges to have a squizz, but you can bet your bottom dollar that everytime I want to do it, a car comes along when there have been none for goodness knows how long and we are hurried off the bridge. We got to the other side to discover that the road was still firmly "Closed", so U-turn it was and off we went along the H4-1 and decided that, seeing as we didn't really have to rush. we took each and every little loop there was. I have never known my SO to be so relaxed and how wonderful it was!
On the first loop we spotted this Brown Snake Eagle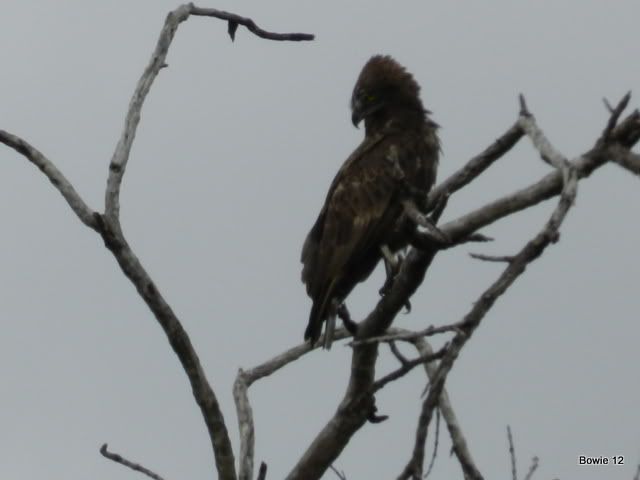 followed by this Brownhooded Kingfisher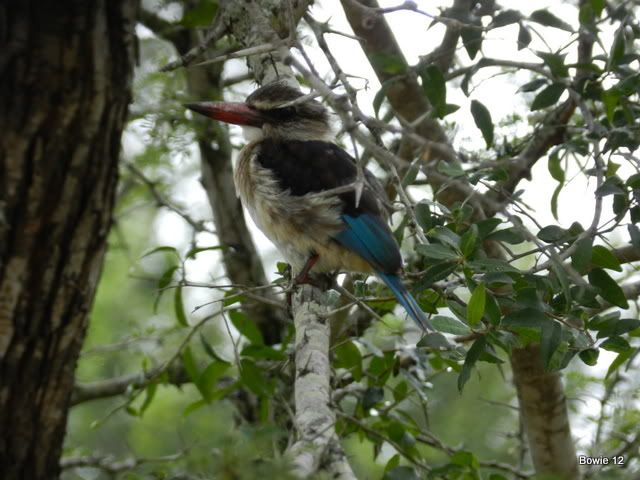 and then this totally unknown birdie, which I later found out is a Shikra!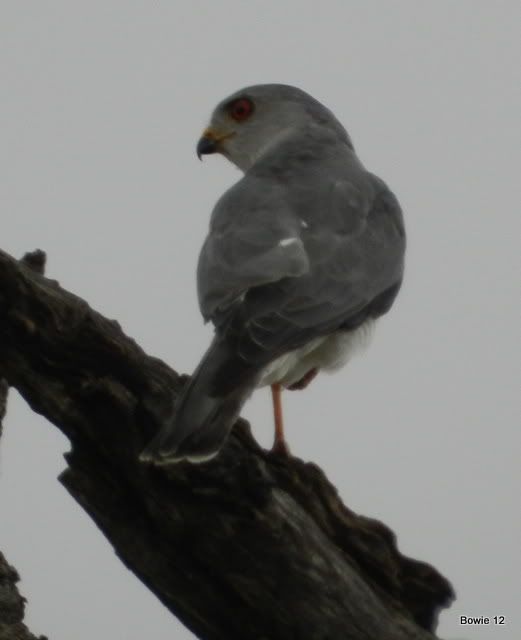 We then came across this vulture doing his early morning exercises in the road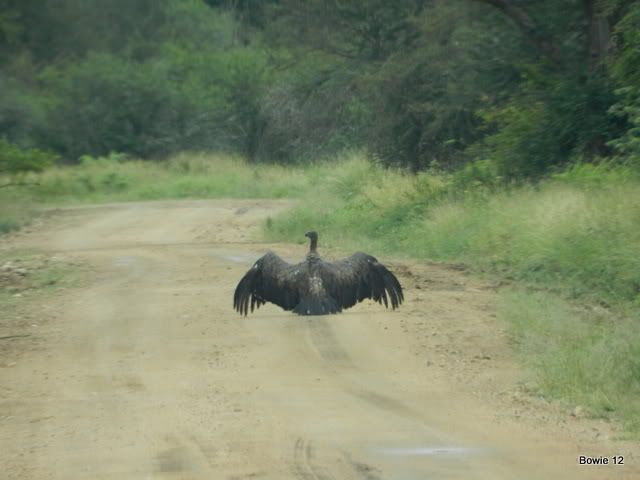 and this one in the tree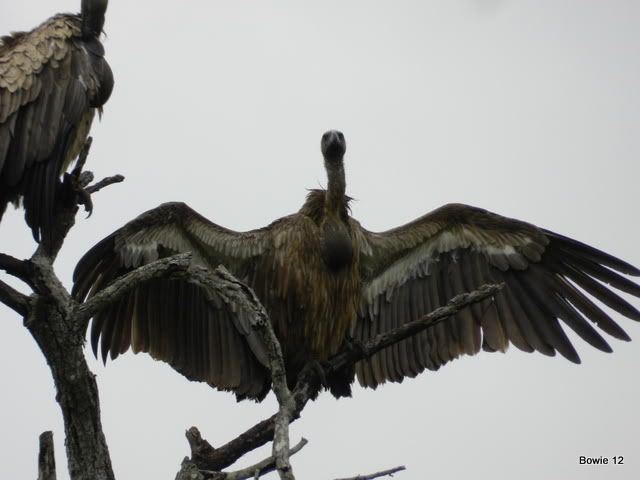 There were a lot of raptors and vultures in the trees but they were rather far off, so we never got to see what they were waiting for.
I believe that this pale birdie with the vultures is a juv Batteleur (I really wish that somebody would publish a book on juv birds as I find them awfully confusing!
)
I really enjoyed travelling parallel to the tar road, but at my pace and was glad to be seeing those animals that we miss when they walk off into the bush. (Not that we saw any of those, but never mind).
We headed off back towards the H12 bridge and waited for this ellie herd to pass.
Dad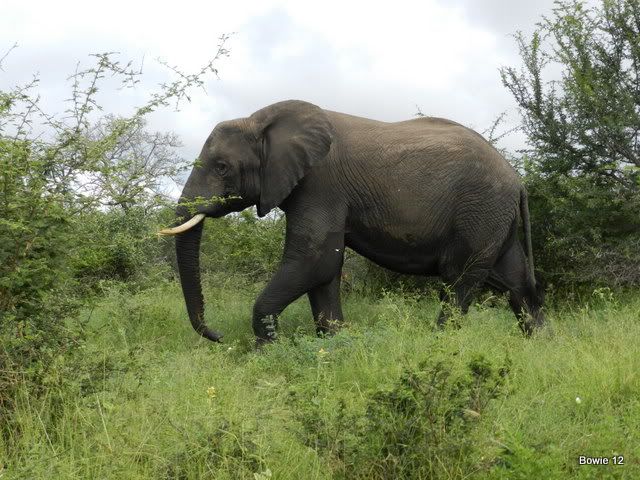 Mum and babe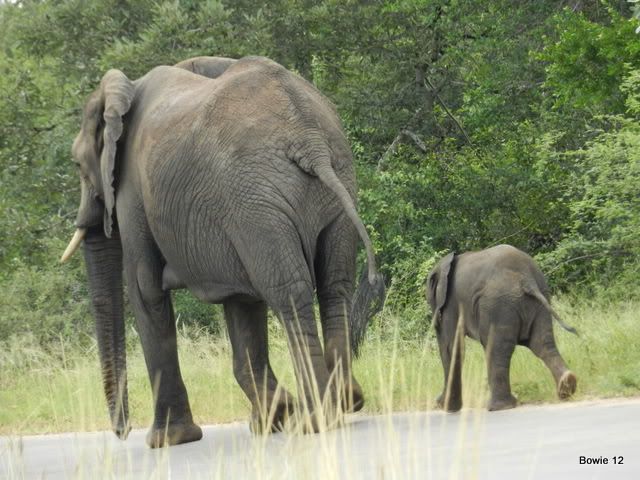 and junior running to bring up the rear - ears flapping and trunk waving
We got to the T-junction at the end of the H12 and there were cars turning down the road which was still supposedly closed, although there was also a sign that said something about "no thoroughfare if the causeway is flooded", so we assumed that that may be the reason for the closed sign and followed the others. We went all the way along the H1-2 until we reached the far entrance of the loop and we didn't see a single lion, so we took the loop, did a real "river crossing" in our little car and we then met a car coming in the opposite direction and the lady with a broad Scottish accent told us that the road was really bad ahead and the sand on the other side was soft and the bank steep and she would not suggest we try it!
do we take her advice?
Well, we did and so turned back and headed back the way we came.......still no lion!!
We stopped on the bridge over the Sand river and looked in amazement at the size of the sandbank that had developed following the flooding. These ellies were making their was down to the river and the one little one was really having a problem trying to get up the bank.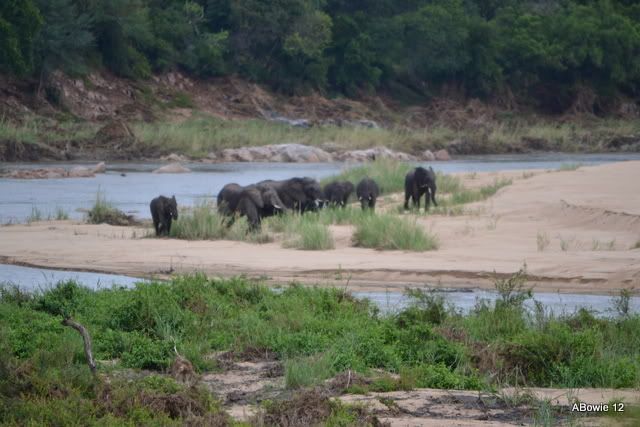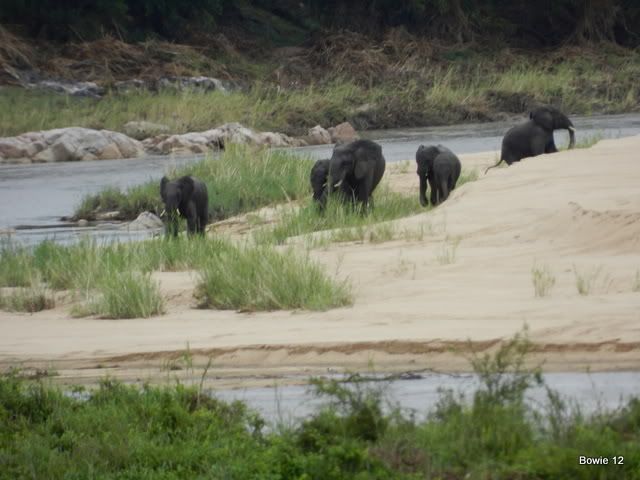 We had decided to head back to P/Kop via the Phabeni gate and couldn't resist a little stop at Lake Panic, but it was pretty quiet with a few swallows, couple of Pied Kingfishers and a water lily or 2. We couldn't compete with the long lens that was there and so slipped out quietly and just before the road, we spotted what I first thought was a cuckoo....but have been reliably informed that it is definitely not a cuckoo, but a Little Sparrowhawk!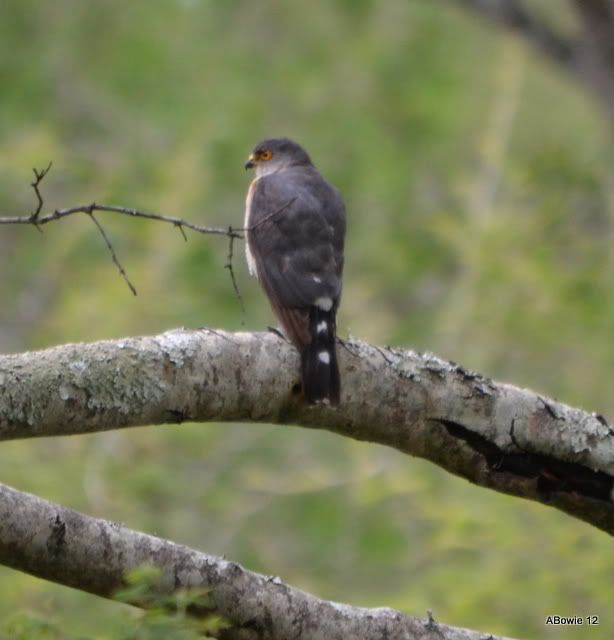 Another lifer!!
In case you hadn't noticed, we still didn't see many other animals, so birdies it is!
A stunning Black Shouldered Kite on a tree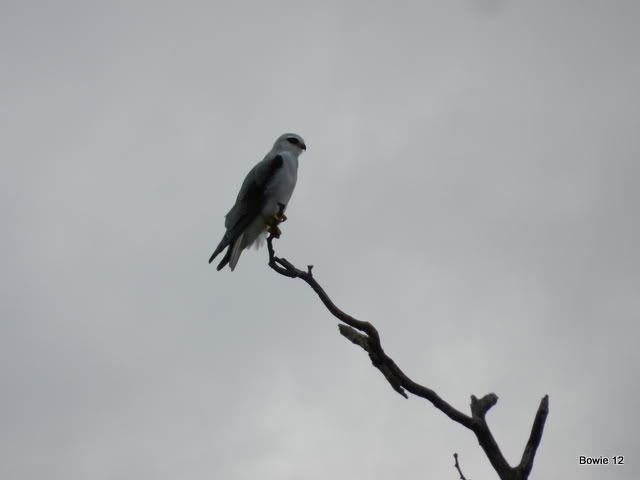 and in flight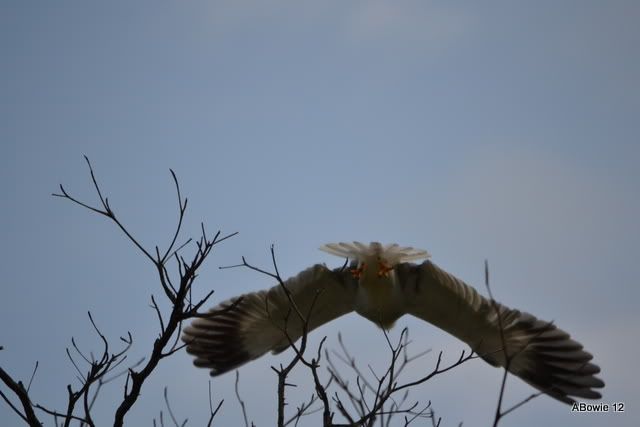 We had hoped to see the dogs which are usually hanging around the gate, but all we saw was this odd skeleton in the road and wondered if they had anything to do with it.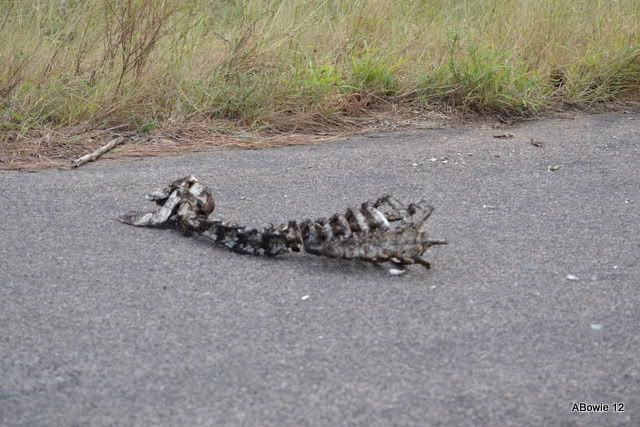 And lastly, but by no means leastly....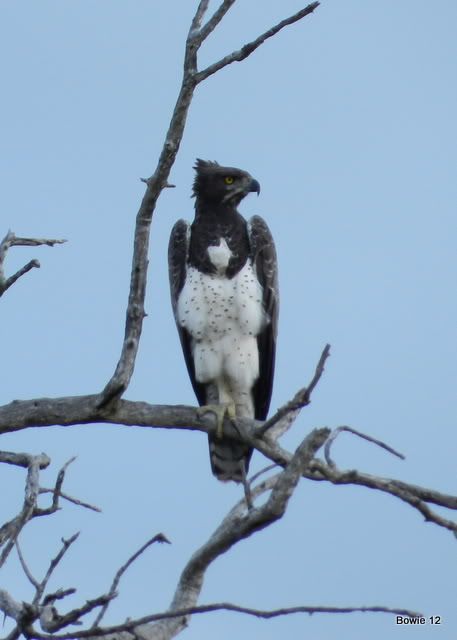 The Martial Eagle had come to bid us farewell.
We got back to camp and seeing as it was our 30th wedding anniversary, we ate at the restaurant and spent a really nice evening together.
Bed was calling early as we had to leave at gate opening to enable us to make the airport for SO's flight home. It was still very dark and we didn't see any animals on our way out, but in a way, it reflected the weekend we had and I didn't mind!
Thanks to everybody who joined me on my slow boat and for all the lovely comments. May you feel as relaxed as I did.
---
---
Who is online
Users browsing this forum: Crested Val and 3 guests