Distinguished Virtual Ranger

Posts: 3958
Joined: Wed Nov 03, 2010 9:51 am
Location: Johannesburg SA
Day 5 Morning
The first thing that catches my eye in the half light of morning is an alert pair of grey pointed ears! The raucous rumbling of the running car galvanises a grumpy little baby rhonnie to have a look see who exactly disturbed his slumber! Ag
C
ook at little Rhonnie Pon!
Off to the right a formidable rump indicates an un-roused Mommy Rhino. May you and Sanparks keep smallceros safe!! Bye Bye little Ponnetjie!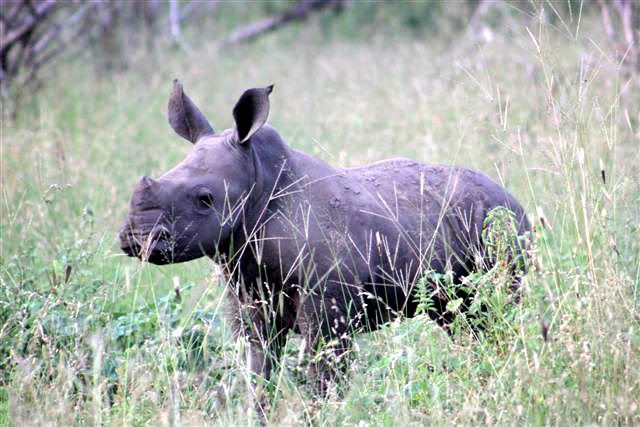 One cuty deserves another they always say ('they' being my father encouraging me to an open minded consideration of polygamy
). In this context, the timeless truth translated to a teeny tiny smalloon in the arms of Bobmom!
As if insulted by me calling him cute, bobby leaps out of moms arms in a display of independent capabilities!
Fortunately, there are other smalloons that are comfortable with their cute status
All is good in the hood as long as RP keeps an eye of guidance on the H12 troop
The usual sort of baboon leadership. Read some Shakespear, keep tabs on the troops media ... that sort of thing. In fact I believe he had Riter Skeeter take this photo to demonstrate to Sanparks the state of the bridge they have called home for a long time
The prince of the Rich troop calls for the slowing down of vehicles on Kruger roads too! Lest anyone miss a tiny little snake on the road! So we can rule out Green Mamba then?
Perhaps Mozambique spitting cobra smally?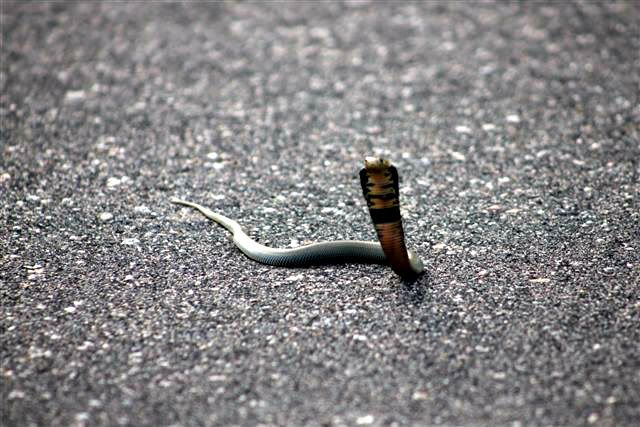 Turning on to the S22 there was something odd in the road …
Could it be?
Sommer lying in the road?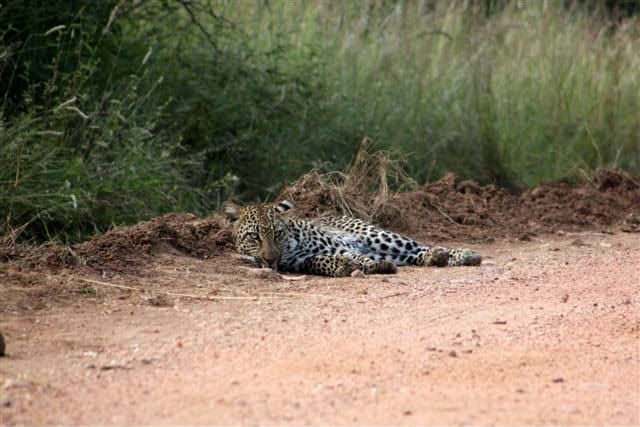 The Laziest of horses!!
It was then than Miss Rosetta decided that's that! Enough of this being seen business!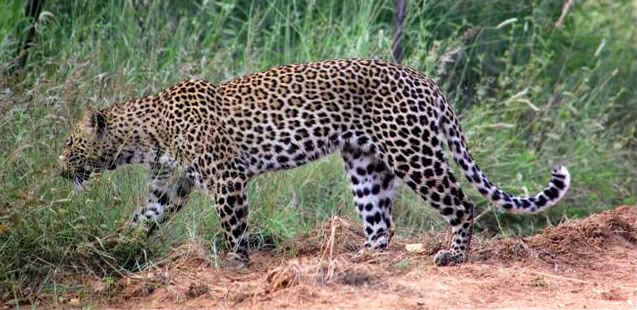 Next up. the long awaited return of Aussie Babe
Kruger 2014!!!
16-23 August - Lower Sabi!!!!
---
Distinguished Virtual Ranger

Posts: 3958
Joined: Wed Nov 03, 2010 9:51 am
Location: Johannesburg SA
Day 5 Morning Part 2
The Return of Aussie Babe
Remember where we were? Rosetta sleeking off into the Bush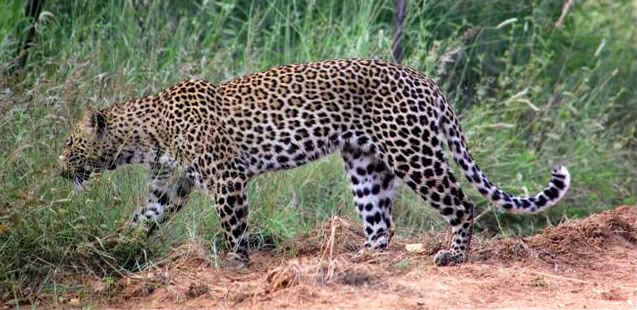 I decided to go back in the Lower Sabie direction by cutting across the S21! And I do not regret that decision
Turtalurt in the road! An old padestrian!
A terry sommer in the road!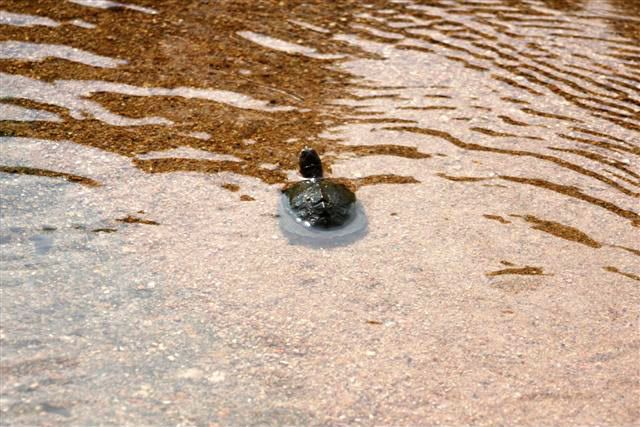 A minkey in a tree!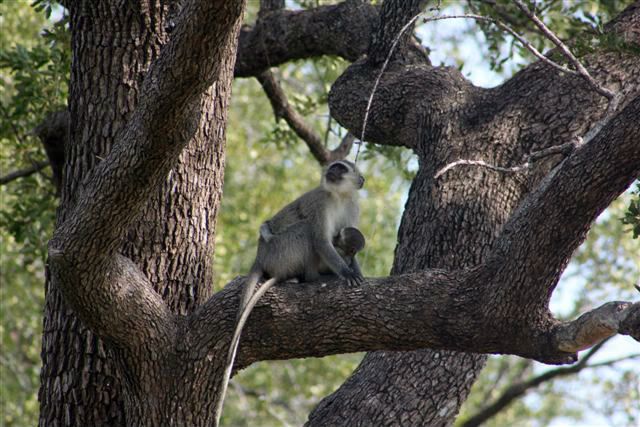 And a sign of things to come
For what occurred next was rather unexpected!
For in the road, before mine eyes, I see a car I recognize! Could it be? Oh Aussie babe?
I edge forward to pull up next to blondine, but she flashes her lights at me
what happened next I could never predict! A Barty Badger darts across the road between our cars and disappears into the bush
I now pull up next to Aussie for a chat. She says: "ah my leopard hero" Well that's the best first line ever! She decided to buy me a token of appreciation … a kuala bear that is wearing an Austrailia top! That was for showing her, her first leopard
I have a nice chat with this enchanting babe. As she departs I kick myself for NOT TAKING A PIC
So I hope you will accept some prose as a description!
Oh Aussie Babe
She's pretty to sit with,
And witty to talk with,
And pleasant, too, to think on."
Said Cheetah

She has a beauty of her own,
A beauty of a paler tone
Than Saffie gals;
Yet southern sun and southern air
Have kissed her cheeks, until they wear
Making a Barty Badger appear
From hidden shrubs.

Her frank, clear eyes bespeak a mind
Old-world traditions fail to bind.
She is not shy
Or bold, but simply self-possessed;
Her independence adds a zest
One blonder and fairer than the rest,
Oh Aussie babe.
Kruger 2014!!!
16-23 August - Lower Sabi!!!!
---
Distinguished Virtual Ranger

Posts: 3958
Joined: Wed Nov 03, 2010 9:51 am
Location: Johannesburg SA
Day 5 Afternoon
Sheez it was seriously sizzling hot that day!!
A visit to the tranquil waters of Sunset Dam was the call of the day.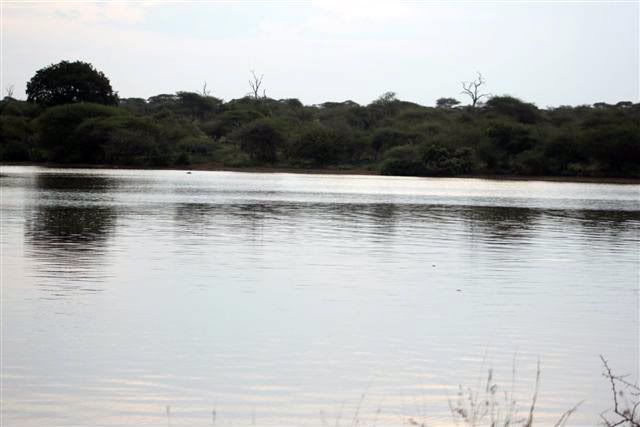 Its enough to make one very thirsty
As per tradition, I headed to the ever rewarding and ever cooling H10 bridge! And I find a small heron on the verge of foamy water! A green backed
There is plenty to catch around here!
He is actually a master of ambush this guy. One of his tactics is to float a feather or leaf on the water, then taking out the inquisitive fish that come to investigate
Some of the fattys were out on the hobble!
Whilst others were wisely avoiding the heat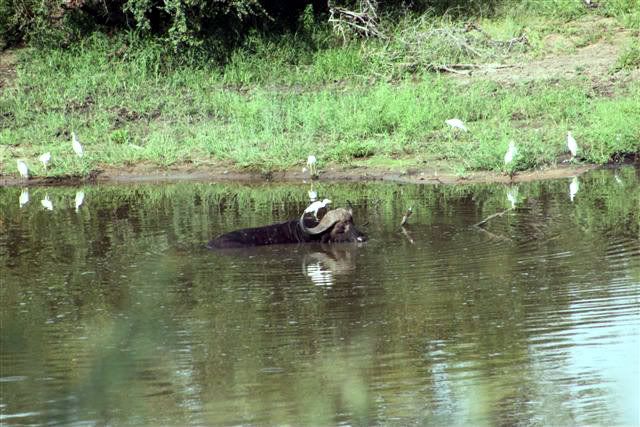 Travelling South towards Croc Bridge, stopping ever so often for the hairy scary Golden Orbs!! Have you ever seen someone bitten by one?!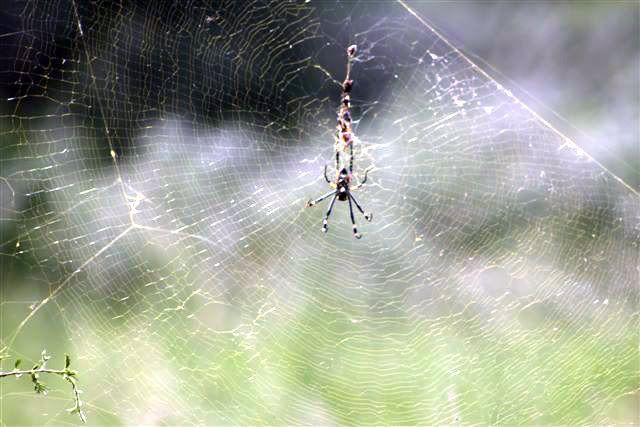 One relaxed reminiscing lonelyfant allows me to drive right next to it!!!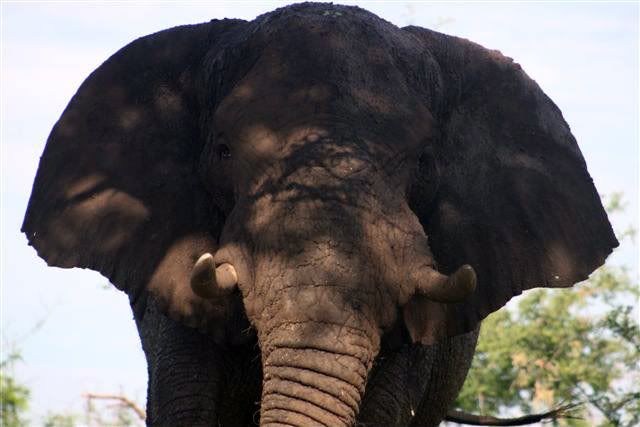 If only they were all this chilled ... duuuuude
Krugers migratory guests were missioning off on an afternoon trek!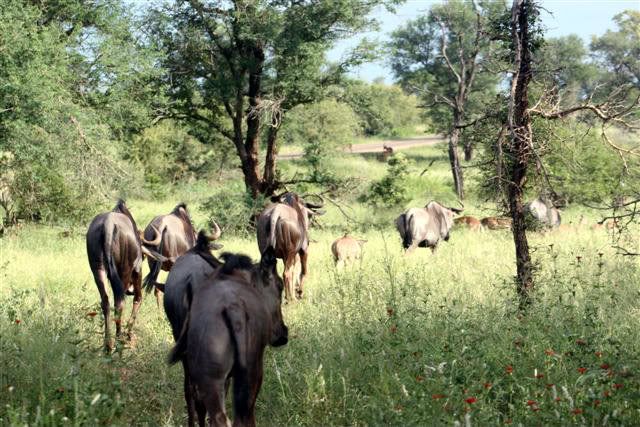 Little Willie Willie Wallie sticking close to mommybees
A magpie welcomes me to the S28!
Where the lone lioness failed her hunting attempt yesterday, a herd of buff oaks stream across the road for a good while!!
A Werner Willie stands guard near his mates!
His mates are the Zebbielebs! The herd of Blackie. Blackie was off in the distance today! Still a jolly jack! They shmaak these grasses near the Duke turn-off
Dukes guardian was there!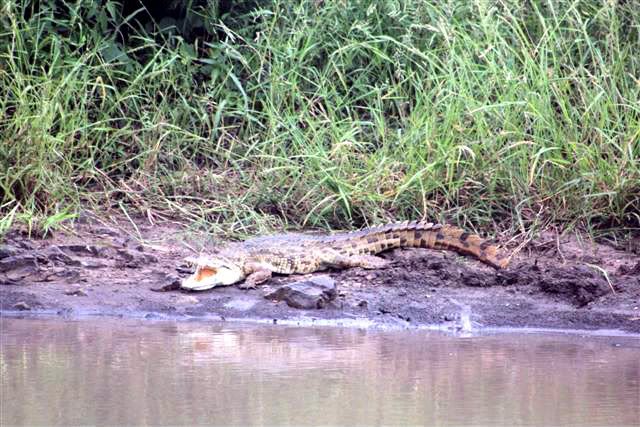 How cheerfully he seems to grin,
How neatly spreads his claws,
And welcomes little fishes in,
With gently smiling jaws
!
The fading of light had truly come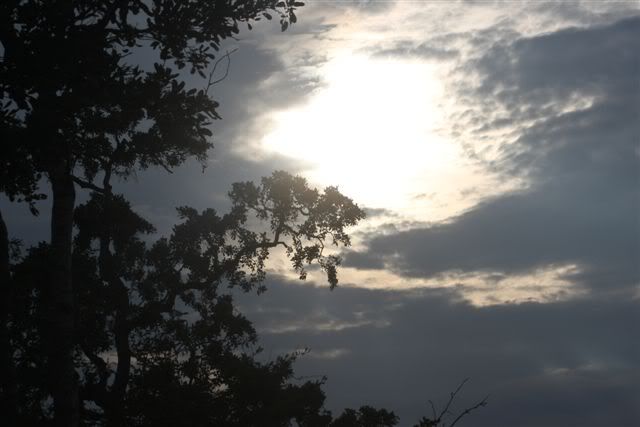 But Legolas and his wife was there to say goodbye!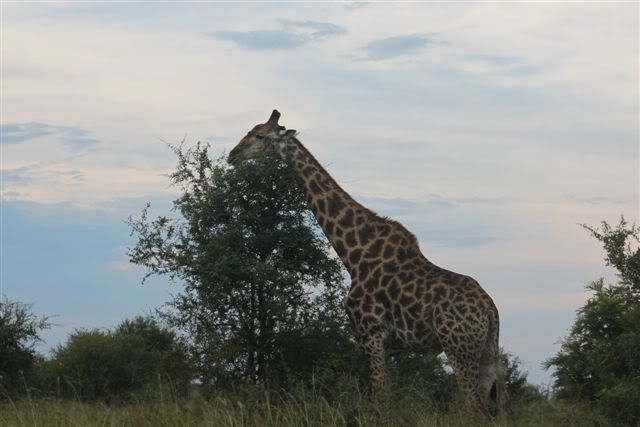 Kruger 2014!!!
16-23 August - Lower Sabi!!!!
---
Distinguished Virtual Ranger

Posts: 3958
Joined: Wed Nov 03, 2010 9:51 am
Location: Johannesburg SA
Day 6 Morning
Goooood morning Kruger!!!
There is a movement in the sky. Above head the bats and nightjars still fly. How early the bird must rise to spot the cat!
Coffee, Dried Wors, Camera, Sharp!!
I arrive a good half an hour before gate opening, yet someone has beaten me there!
The dark haired lady was asking the guard where the lions were roaring last night. That is what I usually do!
We start chatting about our common goal to find Leons! Great company over my morning coffee
I explain my struggle to find Leons towards Croc Bridge and Skuks direction. And we both agree the H10 to Tsoks and a bit further is our best chance
The more she speaks of Lion Sightings she has seen from others, the more I suspect we draw knowledge from the same source
I became most confident in my suspicion when she mentioned her friend who saw the Vutumi pride daily on the S35. Now I know that is ADW! And so I ask if she is a Forum member … and alas! She is the forumite Bornfree!! "What a pleasure to meet you Bornfree, I am cheetah"
"oh cheetah! Your TR's are a gas" Thanks Bornfree! Soon the time draws near for us to climb in our contrasting cars (a massive 4x4 and little Casper corsa), and go search for the Golden Kitties!!
In the semi darkness hippster blobs are still out of their Sabi pool home wandering the river banks. Heading on the H10 I get in my morning concentration zone looking for Kitties! The only activity my brain can process so early is squinting my eyes into the dark bush searching for catlike shapes. I keep Bornfree's red lights in sight but keep a fair distance. As dawn begins to break my eyes can more clearly discern the landscape. Once the sun permitted perfect vision, I decided to pour another cup of coffee from my flask. This turned out to be terrible timing! For no sooner had I poured the cup that I proceeded to pour it out again all over my shorts!! For up ahead Bornfree's brake lights burn red and in front of her 4X4, two large shapes stand in the road!!!!
With a hot coffee burning my legs my clumsy hands read over for my camera! I will not bother showing those pics, since the Leons stayed until light improved
With ample space given by the two cars, the Brothers plunk down in the road! It comes to my attention that a Nelliefant is browsing very close to these Bros!
Please don't chase away the guys Nellie!
Although the Angryfant acts irate, the Lions seem to take no notice of it at all! One walking closer to him!
I make the risky decision to place my car between the elephant and the boys to try act as Switzerland! And there we go! The Nellie relaxes!
What a beautiful boy the one Bro was!
Bornfree takes her last pics and moves off!
Giving me prime pic position! They really act like twin brothers!
Licking at the same time
Look this side
Look that side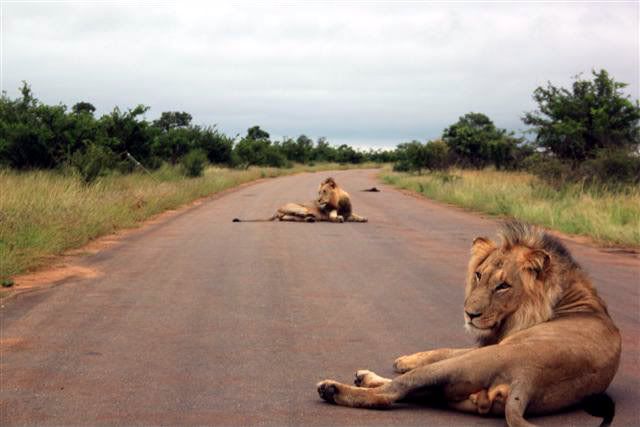 Then moving over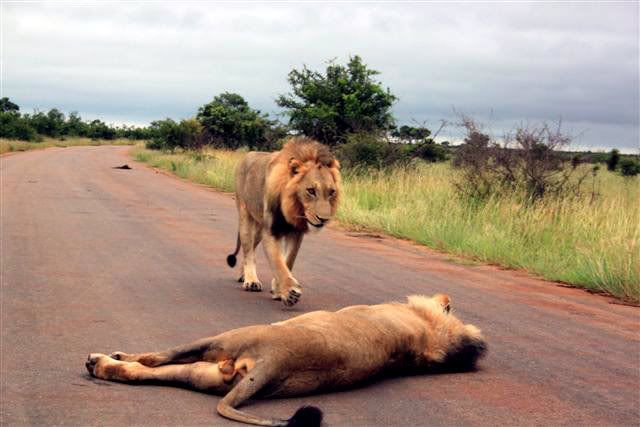 To lie in perfect symmetry as I pass giving the car behind me a chance!
Here is the pic Bornfree sent me on facebook me!!
Kruger 2014!!!
16-23 August - Lower Sabi!!!!
---
Distinguished Virtual Ranger

Posts: 3958
Joined: Wed Nov 03, 2010 9:51 am
Location: Johannesburg SA
Day 6 Morning Part 2
Perspective at Nkumbe
What a start to the day!! This hoender tells me that the bush still has may wonders to reveal this morrow!
The H10 is one of my favourite areas in the Park.
The green grass blanket dotted by shrubs The striped beauties graze in the distance with the odd Willie tagging along.. A kori bustards head becomes momentarily visible before disappearing into the lush pastures again. European Rollers perched every so often on their shrub posts. The proverbial Angryfant forcing a km of reversing
He is the boss
Once bullyfant decided that was enough backtracking, he veered off and munched some breaki! Only to give way to more oncoming traffic!
The jollybeans bouncily bound past Casper on their bobby way! Biting, chasing and mounting form part of their morning activities!
Farewell bobjins
This morning the touristy shot was on the cards since I had ample time to look over the vlaktes and do some navel gazing.
It is an interesting spot for observing people at this lookout.
Nkumbe Cat 1.
Some cars delegate the task to the youngest in the car to stumble out of their cars with reluctant stiff legs. The chosen one points the camera in the general direction of the plains, snap a pic in a jiffy and bustle backwards towards their car and wheel-spin out of the parking area as if every second was putting them deeper in debt! Thats category 1 Nkumbe Lookout peeps
Nkumbe Cat 2.
lookouters have enough time to stretch after they step out of the car! They let out a mini lion roar as they stretch like they have never stretched before. Arms out, arms up, way up to the sky, just popping that back and twisting that neck in all directions whilst emitting the funniest OOOooo sound. Nkumbe Cat 2 people all get out of the car! And what's more, armed with a pair of binoculars over and above the camera!! The alpha male will assume the wide legged rock power stance and lift those binoculars towards the eyes purposefully. After a quick 4 second left to right sweep motion he will say "no, nothing". He will gesture towards to his wife and ask "See anything?" "no there is never anything here" she will say with arms folded and a tone that says she knew it before she got out of the car. Just when they thought they were free to flee the spot of disappointment, the kid will pipe up: "but daddy, what is that?" pointing with excitement at some far off spot. With reluctance the alpha male will allow the legs to slide open into power stance once again and look vaguely in the direction indicated for a split second and deduce "it is just a bush munchkin. Or an elephant at best". With the final blow of Nkumbe disappointment being delivered they scatter back to the safety of the car.
Nkmbe Cat 3.
This lot at first appear to have the same rituals as Cat 2 Nkumbe lookouters. However they add to the stretch ritual the squeeze up on to their tippy-toes! They seem to take turns to do the stretch thing in chorus. They are more liberal in their volume, giving that squeal that transforms into a roar or two! The mom will go through the list: "okay Mike, you get the rusks, and Alice the cups". Dad will clutch to his bosom the binoculars and a Newman bird book while mom herds the kids towards the thatch. The Cat 3 people will take the time to greet anyone already at the lookout. The family will first and foremost acknowledge the view with bare eyes: "I can all of South Africa daddy" the excited voice will say with a tug on dads shorts "Isn't it wonderful son". Mom will round up some coffee and rusks and the family will sit down and occasionally a member will lift the binocs to their eyes and have a look see. They take turns to enjoy the far off elephant herd and chill a bit at the spot after the coffee is finished. They will walk back to the car with smiles and arms full of goodies.
Nkumbe Cat 4.
Is the person who was there to observe the antics of the previous categories
Smelling the fresh morning air and getting distracted by ants on the ground or even a colourful flower that catches the eye. Staring off over the vast expanse with head resting on hands with a distant look upon the face. Those philosophical eyes soak in the details of the beautiful artwork which is the landscape. When Cat 2's alpha male asks "do you see anything" the philosophical one might reply something along the lines of "its a beautiful view". Not exactly the answer they wanted to hear! Possibly far too detached from reality for their own good, the Cat 4 Nkumbe philosopher might start soliloquising when the other groups rushed have fled to their cars. In the contemporary trance you might just reach some profound conclusion about life. Or perhaps that is only me
Reflection
I went to Kruger on this trip having finished my degree and my plans for a job having fallen flat one after another. I needed to decide if I would struggle on where I haven't had an ounce of fortune, or change approach to do something where money and work is on the cards, even if it isn't what I actually want to do. Perhaps a temporary solution until I can do what I want to do – work on wildlife documentaries. I'm on to my last full day in Kruger sitting on the decision which will have significant implications on my life. What better a place to deal with a war of inward desires and thoughts than Nkumbe lookout
I am reminded of Robert Frost's poem: the road not taken
Two roads diverged in a yellow wood
and sorry I could not travel both
And be one traveller, long I stood
and looked down one as far as I could
to where it bent in the undergrowth;

Then took the other, as just as fair,
and having perhaps the better claim
because it was grassy and wanted wear;
though as for that, the passing there
had worn them really about the same,

And both that morning equally lay
in leaves no feet had trodden black.
Oh, I kept the first for another day!
Yet knowing how way leads on to way,
I doubted if I should ever come back.

I shall be telling this with a sigh
Somewhere ages and ages hence:
Two roads diverged in a wood, and I --
I took the one less travelled by,
and that has made all the difference
Sitting there in my own thoughts I had long forgotten that I was in Kruger in the middle of a planned route. A location on the map, or the time of day had become distant concepts. A lilac brested roller perches nearby to me and for the first time in a long while I lifted my head from my hands to look at his plumage. It was about then that I realised that life is not so much about what we do, as who we are. And that whichever path I choose I will not walk alone. I flip over my animal sightings list and write down this prayer/ collection of thoughts.
This feeling I've been getting
I don't know if I'm ready …
I don't know where I'm going. Could You show me slowly?

I had plans to live one day
Yet you had another way
But I do not feel lonely
You my one and only.
And with that, the weight of the decision was lifted off of my shoulders
I decided to pursue wildlife documentaries further.
A life altering visit to Nkumbe lookout point. I got in the car and drove on towards Tsoks with new purpose! Ready for Lazy Horses and other Delights!!
Kruger 2014!!!
16-23 August - Lower Sabi!!!!
---
Distinguished Virtual Ranger

Posts: 3958
Joined: Wed Nov 03, 2010 9:51 am
Location: Johannesburg SA
Day 6 Morning Part 3
Driving away from Nkumbe I did not need any great sightings to make me happy! The morning had kicked off with the Lion Brothers in the road combined with my Switzerland effort with the Nelly bull! Followed by a deep moment of self discovery. I cannot recall a happier day in the Park
I am in that sort of relaxed mode where I stop for absolutely any birdy or even an interesting looking rock deserves a pause
Crawling along the H10 my thoughts stop by on Aussie Babe
Could it be that I see her again? I know that she has been coming in as a day visitor. Perhaps from Phabeni or Paul Kruger gate
I have seen her between Lower Sabi and Skuks both times. I wonder what the chances are of seeing this blondine again. Perhaps I should ... my thoughts trail off as I see a rather interesting tree
Is that a tail in the tree?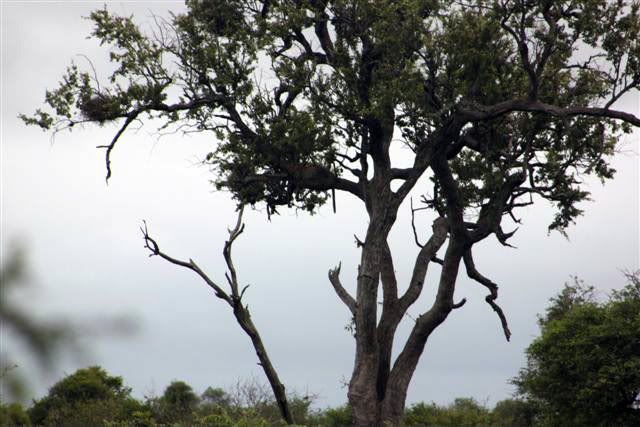 (I wish I knew how to do the drawing thing on the photo!)
Look on left branch of the tree. That is a self spotted Lazy Horse in Tree! (LHIT)
woo-hoo-hoo-hoo-hoo!!
See it?
Here: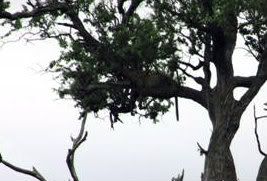 It was far off and the pic is lame! But what a find!
After some mellow time with LHIT I lifted the anchor and steared onwards towards the part-a-loo paradise
It was not long after the ex-picnic sight that I had another eye testing sighting
Can you see Rosetta?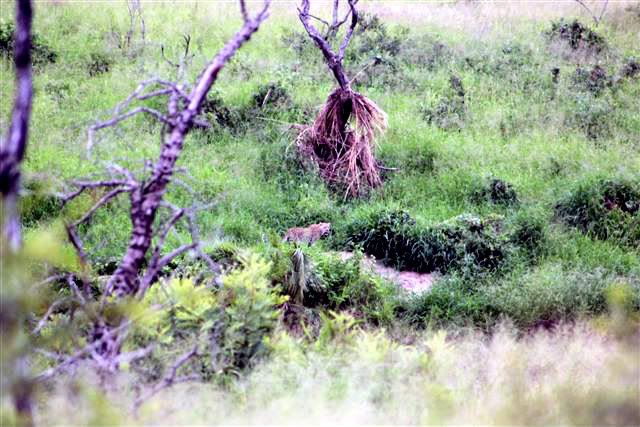 Heavily Cropped
It was actually a mating pair moving off into the bush on the far side of the river bed. May they have snotties by the dozens!
Scenery took a turn towards the eary at Mazithi dam!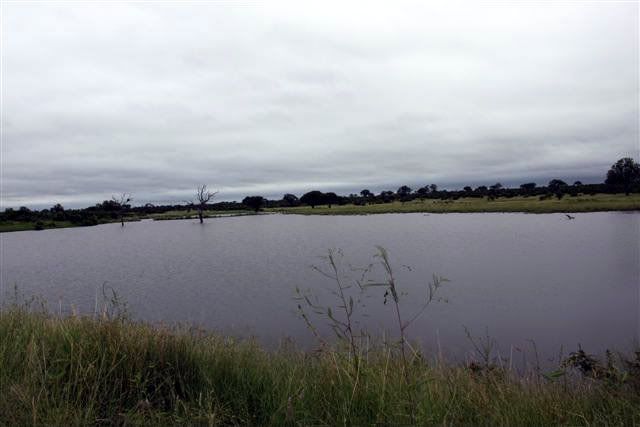 Whilst the immortal undertakers stood gloomily on the top of the dead tree!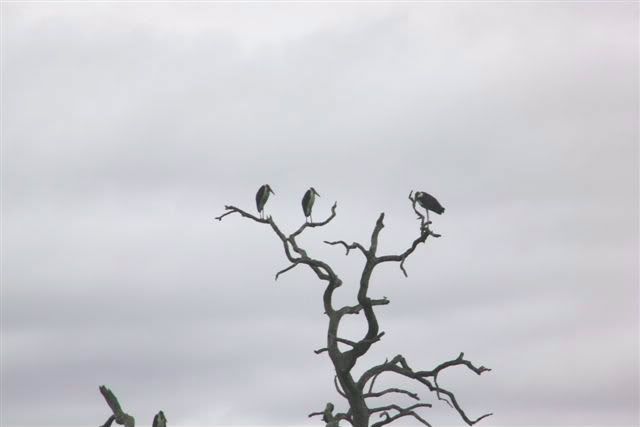 The S37 threw scavenger Jack my way!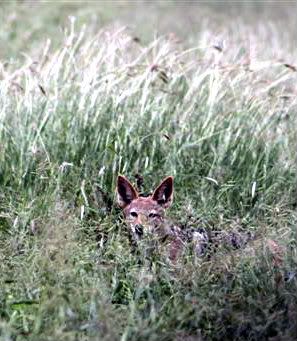 A skittish lad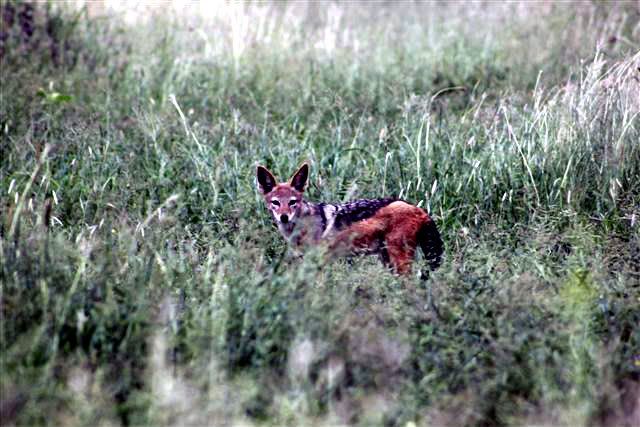 A skull to add to the theme of death!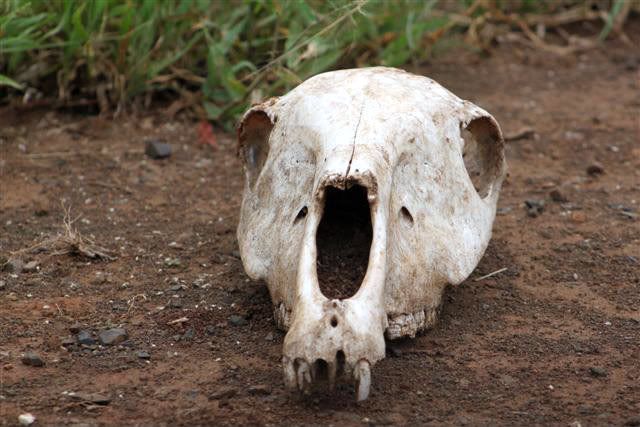 The impi Warriors were unhappy with something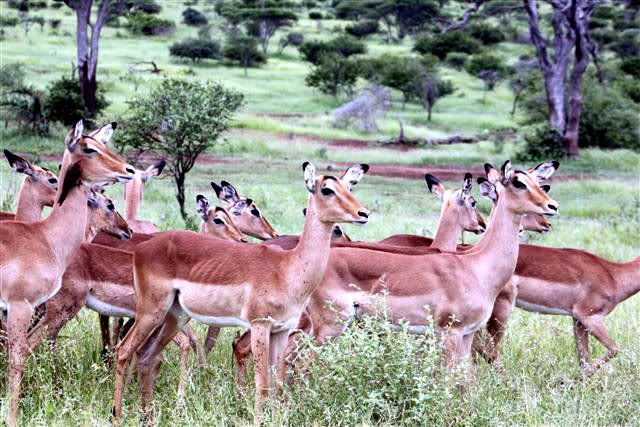 But for the life of me I could not spot the source of unhappiness! That done and dusted it was time for romance in the plains!
Kiss Kiss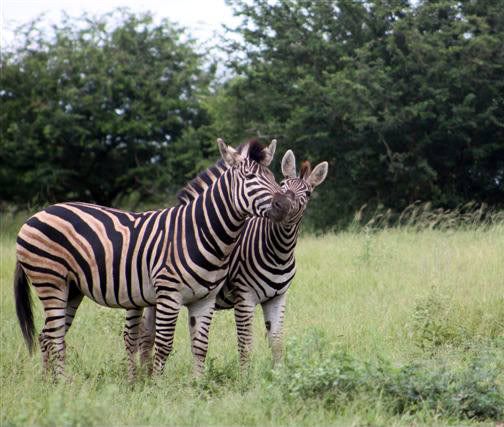 True love!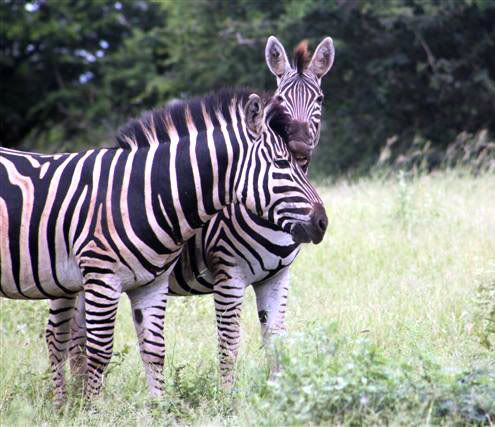 Although the lovebirds were having fun, the Twirly Horn boys didn't look too unhappy either! A group of eight of the lads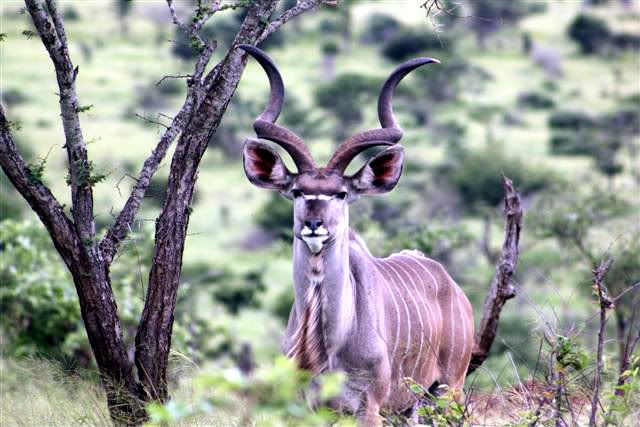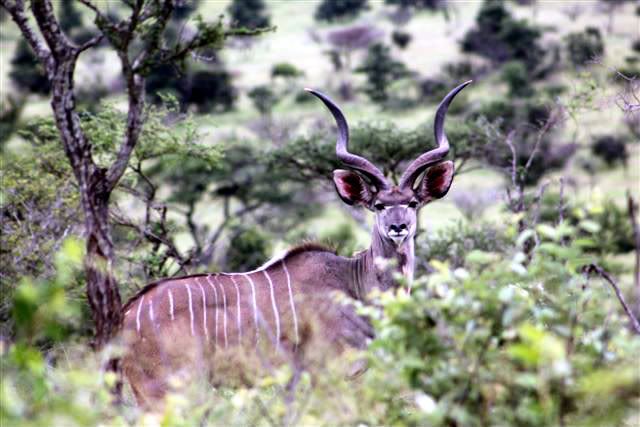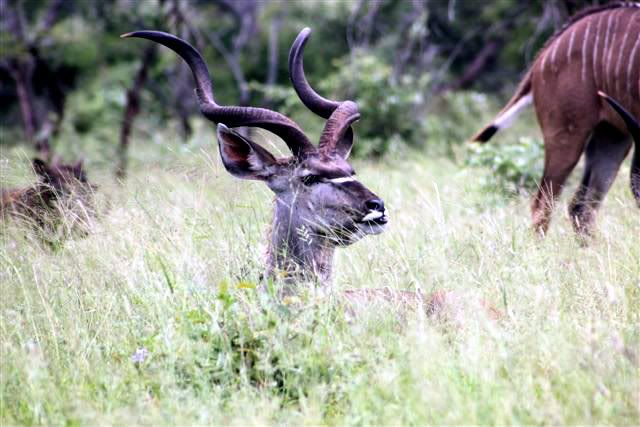 At some unknow location, Our precious stood proud and big across the road! The tank-like body bounded heavily across the road with head held high. A magnificent specimen of our precious!
It was a big five drive then!
The last gems of the drive included a drinking Nellie Fandamily and dusty Dave!
Kruger 2014!!!
16-23 August - Lower Sabi!!!!
---
Distinguished Virtual Ranger

Posts: 3958
Joined: Wed Nov 03, 2010 9:51 am
Location: Johannesburg SA
Day 6 Afternoon - How unexpected ...
Meanwhile, back at the ranch (LS) it was time to pin up all those Lion and Leopard pins and see the wide eyed looks of jealousy on faces of those standing around the board
Striding on to the wooden floor-boards of the Lower Sabi deck, I find instant relief from the harsh mid-day sun thanks to the fresh breeze gusting across the restaurant tables. I have a tramezzini and an SO
When I return to Casper in the reception parking lot, I see something foreign underneath my Windscreen wiper
My curious eyes try to decipher the arbitrary item at long distance to no avail
Arriving at Casper I lift out a piece of paper from under the wipers. It is a note
Hiya Mr Leopard Spotter!

Drat! I must have missed you on the road today. It would be handy if you could show me another leopard Hopefully I will run into you on the road tomorrow though! You mentioned your Blackberry Sightings updates, so I figured I could give you my Blackberry pin so we could contact each other? The pin is ********
Tell me where those leopards are!
The Australian girl,
Cayleigh
Kruger 2014!!!
16-23 August - Lower Sabi!!!!
---
Distinguished Virtual Ranger

Posts: 3958
Joined: Wed Nov 03, 2010 9:51 am
Location: Johannesburg SA
Day 6 Afternoon Drive
To answer the burning question, I did indeed add the Sheila on BBM
But the blonde Sheila was only likely to accept the invite once she is in the land of cell-phone reception. At any rate, it was time to visit sunset dam I thought!! This was my last afternoon in the Park!
Day 6 Afternoon
The Blackberry updates were indicating leopard and lion near Skuks, but for my last afternoon in the park, I was not going to follow the crowd. I wanted rather to just cruise along on my favourite afternoon route
Stopping over near the still, serene, sunset dam, all the usual suspects are there to greet me!
The crocarocks baking in the sun. Nile cold blooded killers of a few hundred kg's that are about as scary as they come! Hippster blobs were surfacing with a spout whilst others blobbed around on the far river bed. And Mr Gosling was attempting to direct the waters!
Sir munchalot was a pleasantfant!!
I nestle my camera down on the passenger seat and shift my sitting position to look properly at the lad! There was a sense that as much as I was observing him, he was observing me too! When I look at the others in the herd, munchy turns his attention back to the green leaves. But the second I look at him, his eyes focus on me once more! I wonder what wisdom he could share with me.
Onto the s28
where the croaky singing announces the presence of our visitor!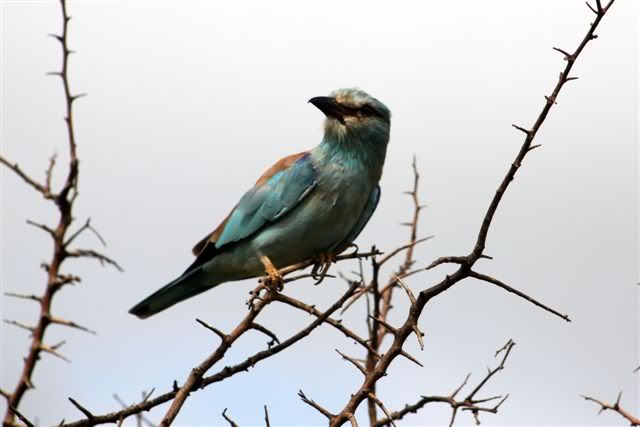 What a joy!!
Zappidy Zeebs stood in the road giving me the bizarre look!
Okes are just standing around up in this place. I slowly edge past the striped lovelies! Looking left and right at slow pace I find the next peeping Tom staring me down!
Mr Legolas was surveying out the grasslands below near Duke's waterhole!
I come back to the open plains and park of by a dancing Willie!
Swinging his head, and stomping his hooves every now and then, this Willie was as happy as could be!! The European Bee Eater also watched the dancing show but decided against joining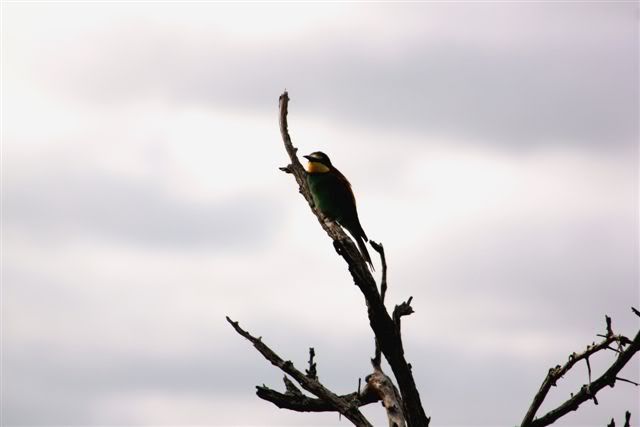 Perhaps the Willie was in love?
Meanwhile, back at the ranch, Giants were passing through the grasslands!
He did not mind my presence at all. He just went about his business as per usual.
Another one bites the dust!
Well we do not need to dwell too long on the topic of poop. It is a voodoo topic!
More of the land mine placers swooped in for an afternoon swig of water!
There is not a better end to a day, than spending it with our precious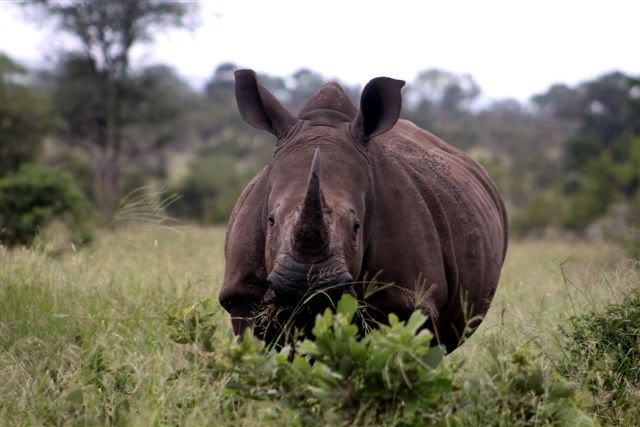 When I was tiny, my father would pick me up, and take me outside when I was being a tearful brat. He would say look at the moooon! Then I would repeat: moooon! And there we would stay until I was content and over myself. Even when I was an emo teenager, I would run outside and lie on the trampoline and look up at the moon and happy memories. But now the therapeutic effect of old is replaced by fear. I cannot help but wonder if our beautiful Rhonnies are safe when I see the full moon. What would we not do, to keep every one safe? And what would I give to look at a full moon and smile once more. These animals have caused the tears to run down our cheeks. But seeing a rhonnie now means a lot more than it did before. There as added dimension of treasuring the animal so much more! now And I was grateful to spend as much time as gate closing would allow with my friend here
Next up - The Drive out
Kruger 2014!!!
16-23 August - Lower Sabi!!!!
---
Distinguished Virtual Ranger

Posts: 3958
Joined: Wed Nov 03, 2010 9:51 am
Location: Johannesburg SA
The final Night!
The final night at Lower Sabie was an 'interesting' one. A February Kruger night where rain is absent, is a sweaty one! The best idea is to just accept this and become friends with sweat!
Removing unnecessary clothing is also a solid plan! So I settle into sleeping position saying goodnight to my tent-mates. Peter
And Parker
When I felt myself waking up, I thought it felt like my sleep was short lived. I woke up slapping my legs
I shone my torch down beneath and found a huge ant infestation!!!!!!!
The photo does not pick up the beasts very well!
I dash out of the tent and drag the ground mattress out and shake it like like a crazy man!!! After some effort I take another look with the torch … Hardly a difference!!
I started taking personal offence to the ants persistence on clinging on to the mattress!! So I decided to get committed with the shaking! These flippin Ants started crawling up onto my body! So the shaking was joined by some heavy metal head banging!
Once I thought most of the ants were now safely off the ground mattress and had made friends with my body instead, I tossed the mattress back in the tent! This was followed by some loony ant shaking dance accompanied by some weird tribal sounds!
I ran off to an ant free patch and it was then for the first time, that I looked around and saw my German neighbours looking quite shocked at the performance by the hairy lad in boxers
Totally embarrassed, I get that sheepish expression on my face and realise I need to converse with the grumpy looking Germans
But of coarse I do not even know how to say sorry in German! So I just settle for "Alles Gut". And even that did not bring on a German smile!
Well, It was not long after falling asleep again that my alarm went off!
Kruger 2014!!!
16-23 August - Lower Sabi!!!!
---
Distinguished Virtual Ranger

Posts: 3958
Joined: Wed Nov 03, 2010 9:51 am
Location: Johannesburg SA
Day 7 - The drive out
Wake up! Wake up lad! One last drive!
I better keep it down! Lest I wake the fury of the grumpy Germans from their slumber!
They must just know that I am Switzerland
Right!
Find the torch between the ants!
Get the flask of coffee ready!
Pack up the tent (in pitch darkness)
Pack the car!
Get to the gate half an hour early!
In the darkness I trip over a bag I placed there moments ago!
Face down in the dirt, the ants were given a chance to acquire sweet revenge as they scurried as quick as they could on to my body!
The milli-second when I felt my foot touch that bag I knew what would be required of me ... now all that could save me was the 'Shake it, shake, shake it off ant dance'!!
This dance move might yet become internationally recognized as cool! Or even become the new National Sport. Starting with a group of billy goat grumpy Germans at Lower Sabie!
Back to reality, where a fully packed Casper pulled up behind Bornfree's 4x4 behind the Lower Sabie gate. It was time for another lekker pre-drive chat with the legend. Apparently, she comes to Lower Sabie every time, and stays there for 10 days at a time! Somebody who knows what they like
As I turn right and she turns left, I imagine that we will someday meet again for an early morning chat. Since Lower Sabie will certainly see me again
The traffic and attitude of drivers in the South is the negative, however the game viewing makes up for it! I have never seen so many lazy horses in one trip before! I usually see one leopard on every second trip and now this trip I have seen 7 individuals!!
Also In Lower Sabie's favour, is the variety of routes one can drive! And two of my favourite roads in the Park, the S28, and the H10 being on LS's doorstep! Yet that morning I was driving the famous H4-1 highway. I was a good 10km's out of LS and had been over taken numerous times already! I could not meander too slowly on route home either. I was keeping up a 35km/hour pace which is quite fast if you are the only eyes in the car having to look left and right into the tick February bush! It gives me only enough time to glance into the bush momentarily and hope to spot something out of place, before the neck rotation to the other side proceeds. It was a relief therefore, when I reached a rare open space on my right where I can take more with the sidewards glance than normal. It was on this occasion, that the corner of my eye did detect a texture ever so slightly out of place. And upon stopping my car I had realised that my sharpest spot of the trip was saved for the last day!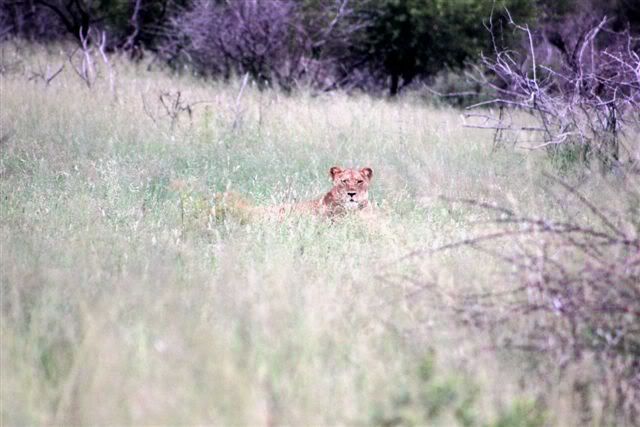 There Leana Leon lay looking at me as if to say "Oh you see me do you? The others didn't even care to stop!"
Leana thought it right to impress me with a yawn!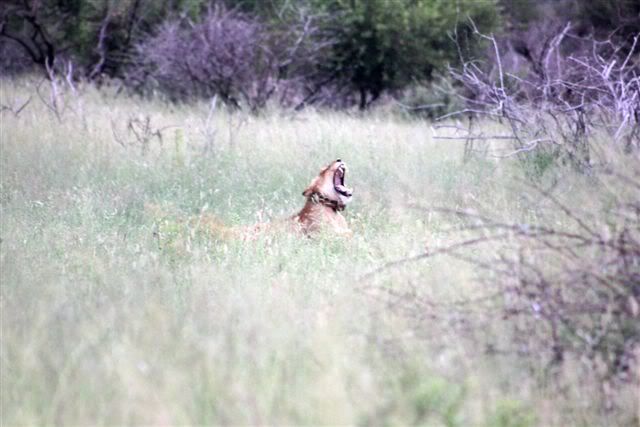 I recognized her brown collor around her neck meant she was marked as a Lioness in good condition with cubs! Yet I could not see any other leons in this grass. She sat up
Then it happened! A playful little Simba said "Good morning mooooom!"
After some persistent nagging
Leana Leon eventually agreed to move on!
What a stunning sighting I had to myself on the most unlikely of roads!!
Soon after take off one of Heksie's spies was peering into the car from above the trees as if to watch that I do not sing off keyin my morning joy!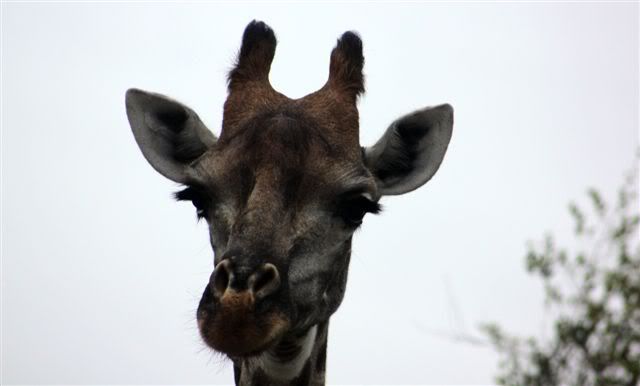 I parked next to Socrabob on the H12 bridge who was engaging in his usual philosophical hermeneutics contemplation. The Socrabob method is a story for another Travel Tale. Today Socrabob was putting forth the point of our "historically effected consciousness" and how deeply our understanding is founded in our particular history and culture. Socrabob calls for a humility to learn from others. To allow a 'fusion of horizons'. Perhaps my travelling alone has made me completely loony! But I will always enjoy a philosophical encounter with the wise leader on the H12 bridge!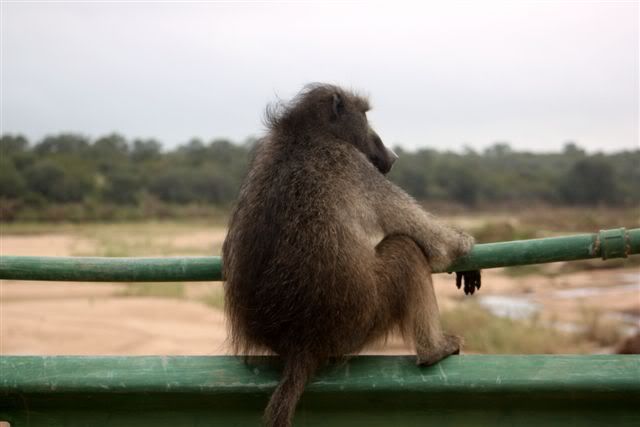 The Giant among the Kingfishers was also listening I'll have you know! Although he seemed less concerned about fusing horizons, and more concerned with catching a fish!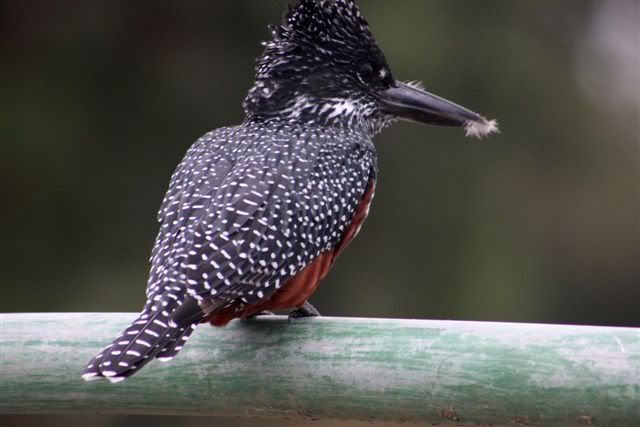 Tomothy TesticleBuff did not seem impressed by me disturbing his morning peace!
I had just passed Skukuza now and the Ena lads were having a race!
Left Ena
Right Ena
Farewell lads! See you next month!
The woody was also singing his beautiful farewell song!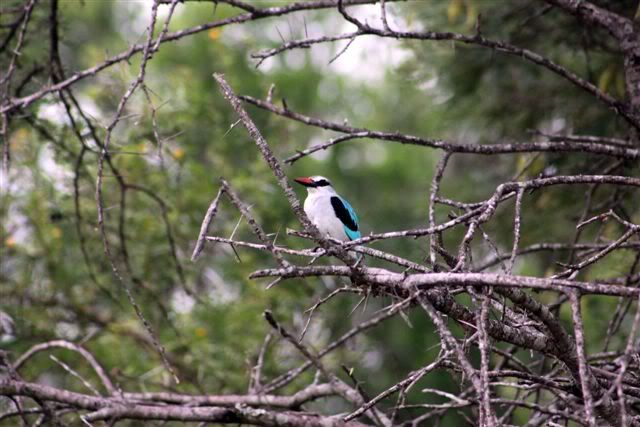 I decided that I had enough time to cut across the S65 and go out at Numbi gate. Although I must admit my thoughts were completely elsewhere! Thinking of where I'm going to stop for petrol and a bite on the way back to Jozi. Thinking about checking my tyre pressure and clearing the visibility out my rear-view mirror. All these thoughts making me forget I was in the park, when I found a Jeep parked off at the river crossing on the S65. After pulling up alongside them, I saw what they were looking at;
A young Rosetta!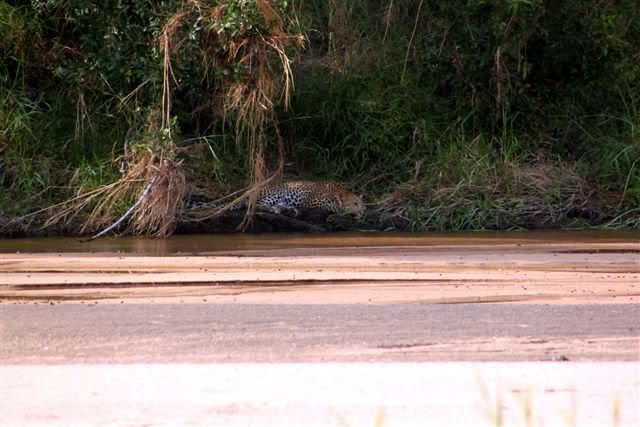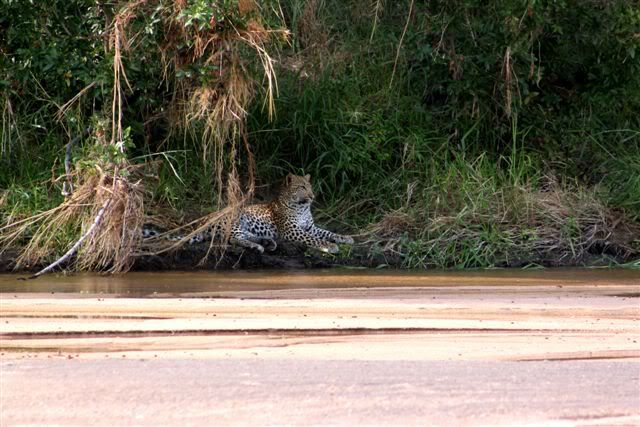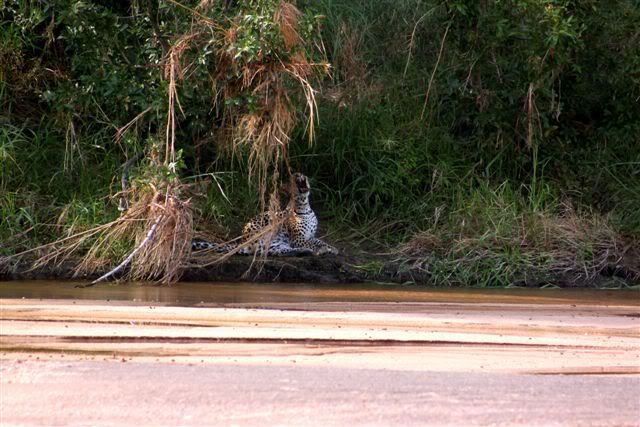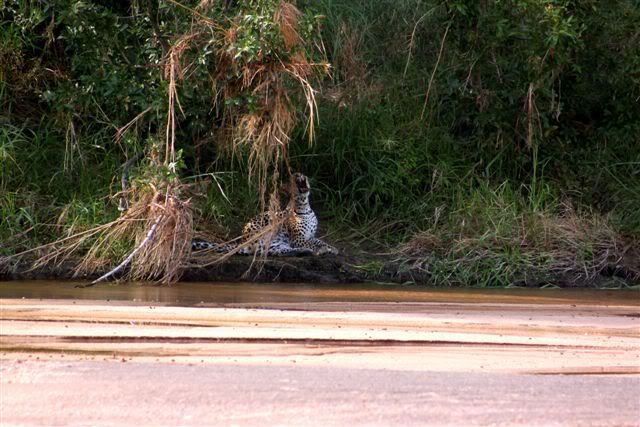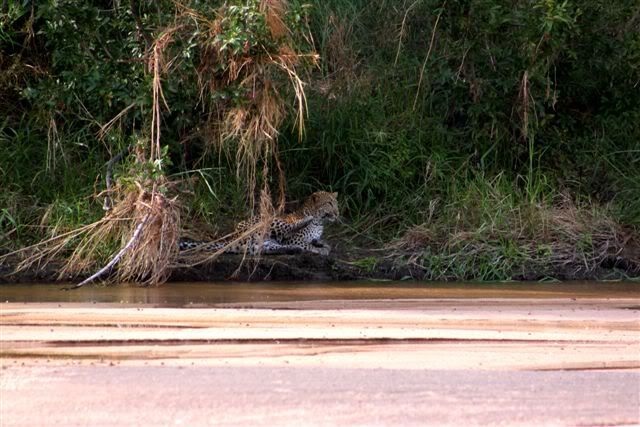 I do not know exactly how long I sat there for … but it was so long that I entirely forgotten about the objective of reaching home! Rosetta was just so beautiful!
It was only when I zoned back in to reality when I noticed about 7 cars around me! Transfixed by Ros I did not even notice the roaring car engines behind me! I set off for home, but was first greeted by Smileyfant
Despite the tear marks on the cheek, a broad smile could be seen.
A lot like me at that very moment.
I knew that what awaited me in the city was a question regarding my future plans. Indeed it was not long before my father asked me for a verdict after my pilgrimage to Kruger. It reminded me of the song Pilgrim by Enya.
Pilgrim, how you journey
On the road you chose
To find out why the winds die
And where the stories go.

All days come from one day
That much you must know,
You cannot change what's over
But only where you go.

One way leads to diamonds,
One way leads to gold,
Another leads you only
To everything you're told.

In your heart you wonder
Which of these is true;
The road that leads to nowhere,
The road that leads to you.

Each heart is a pilgrim,
Each one wants to know
The reason why the winds die
And where the stories go.

Pilgrim, in your journey
You may travel far,
For pilgrim it's a long way
To find out who you are...

This trip was certainly my most memorable to Kruger! I had many a conversation with the aMiNals! I was blessed lazy horses and other delights! And an epiphany looking over Nkumbe as the highlight! I hope you enjoyed the trip Report!
Kruger 2014!!!
16-23 August - Lower Sabi!!!!
---
Distinguished Virtual Ranger

Posts: 3958
Joined: Wed Nov 03, 2010 9:51 am
Location: Johannesburg SA
And what of Aussie babe??
Well we were in contact via Blackberry. And it turns out she once lived in SA! And she will be in town for a while! And what's more, we have a mutual friend, Ash from my class in Varsity! (small world). So we met up at the pub near me!
Drum Roll
Drum Roll
Drum Roll
AUSSIE BABE!
She is an eccentric and bonkers girl!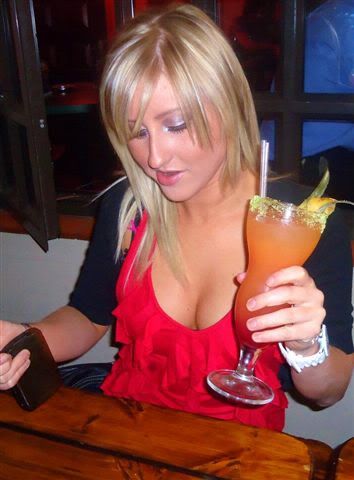 Ash and Aussie

Myself and Ash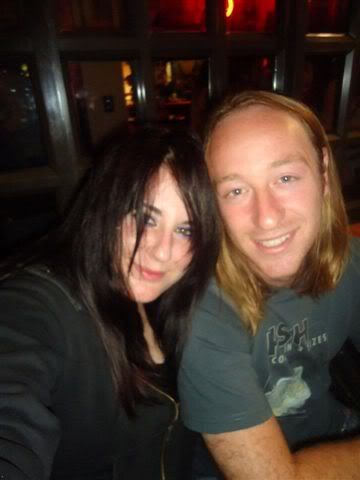 I'm not going to share the pic of Aussie and I later that night! The pub had its toll on at least one of us
Kruger 2014!!!
16-23 August - Lower Sabi!!!!
---
Distinguished Virtual Ranger

Posts: 3958
Joined: Wed Nov 03, 2010 9:51 am
Location: Johannesburg SA
Do please check out the video I made of the trip
[video]http://youtu.be/uouP-QQnq64[/video]
Kruger 2014!!!
16-23 August - Lower Sabi!!!!
---
---
Who is online
Users browsing this forum: No registered users and 2 guests