Sunday 20 November cont …
I continued down the S65 Waterhole Road where there were more baby impala …
then I came across this ewe who was still very heavily pregnant.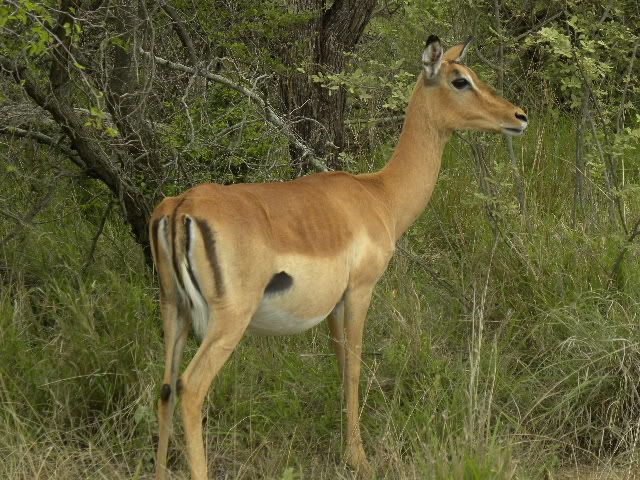 I could see the little one inside her kicking …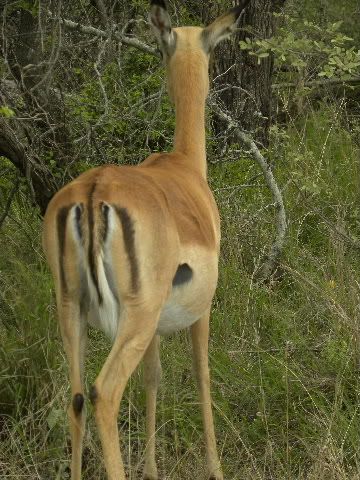 I didn't think it would be long now till another new arrival appeared … I waited but she made her way off into the bush …
At Transport Dam that morning there was a small herd of ellies who were having fun in the water …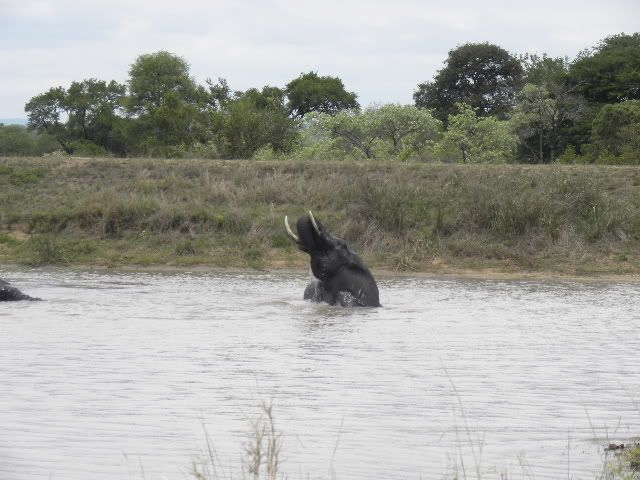 Some more fun than others …
This one had an itchy bum …
The grass wasn't doing the trick so he moved to a stone …
The waterbuck looked on … some nonchalantly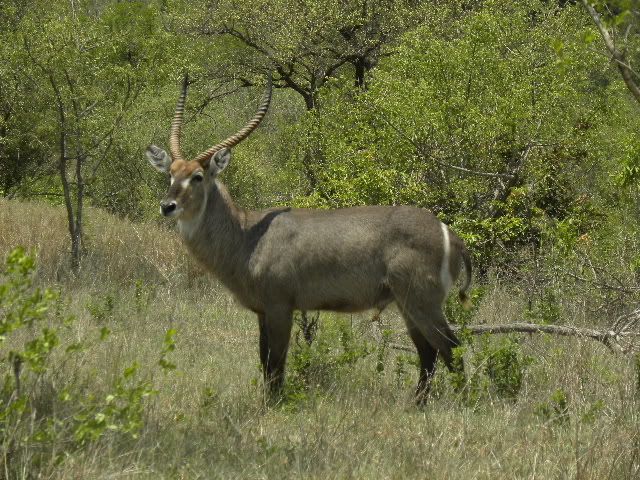 and others more majestically …
I drove the tar road back to Lower Sabie via Skukuza, and added a giant snail, a dwarf mongoose, a Whalberg's eagle and an Agama to my sightings list for the day.
---
Monday 21 November
I was up and out of camp around gate opening time again this morning. I crossed over the Sabie River and headed out on the S29. The sun was just coming up …
and Mr black-backed jackal was just coming home from a night out on the town …
he came across a huge wartie who looked like he was on steroids …
I think even Mr black-backed jackal was confused by this monster of a wartie so had a good sniff just to check …
I continued to the H10 then headed back towards Lower Sabie. There were ellies, a herd of buff, and a few giraffe out that morning. Back over the Lower Sabie Bridge where Golly was in a different spot …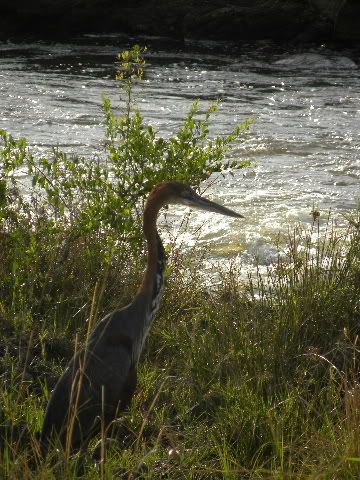 On the H4-2 at the junction with the S28 there was a hyena den. You could hear the hyenas splashing about in the water but only occasionally did a head appear …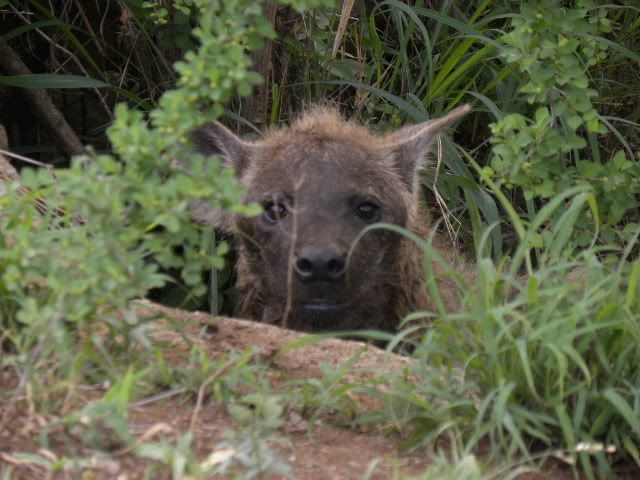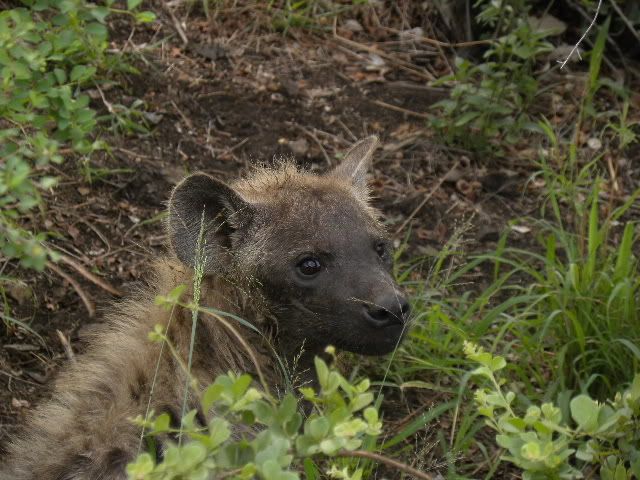 I continued to Gezantfombi. I couldn't see anything from the bridge so took the road to the back … it was so green but was still pretty dry as far as water goes.
(Apparently after the flooding in Jan, water was flowing over the dam wall!)
I drove the S25/S108/H5 loop … there were a few ellies at the side of the road; I stopped to watch them. I noticed a juvenile and was just about to take its photo when it noticed me, gave a loud trumpet, starting flapping its ears and coming towards me … luckily I pressed the shutter button just before throwing my camera down and starting to reverse …
the cheek of it!!!
My heart was really going so it was a relief to see something that humoured me and took my mind off the cheeky young ellie …
---
Monday 21 November cont …
I spent some time driving around the S28, S130 and S137 … love it around there!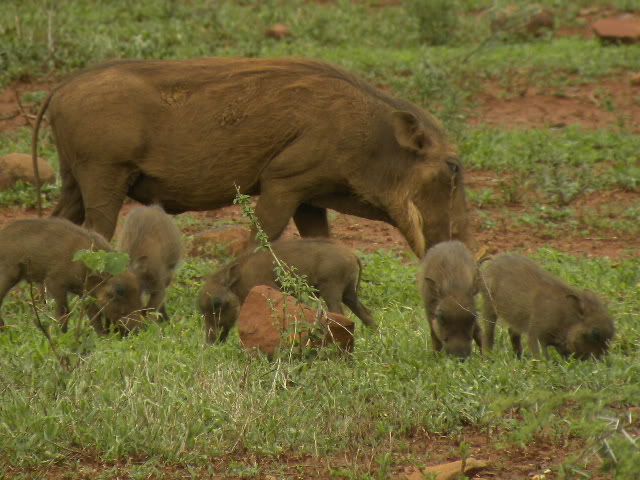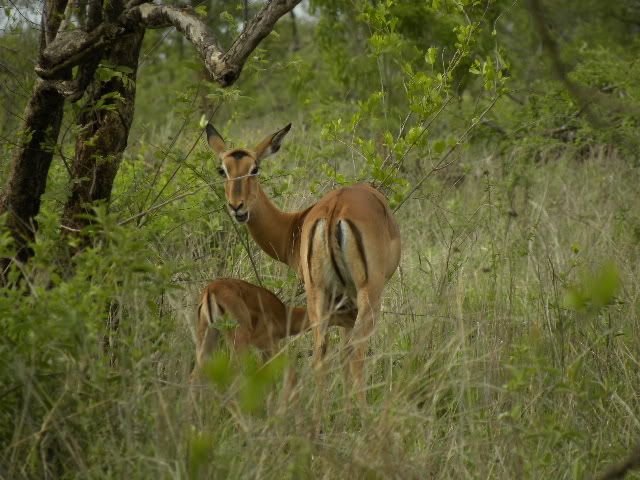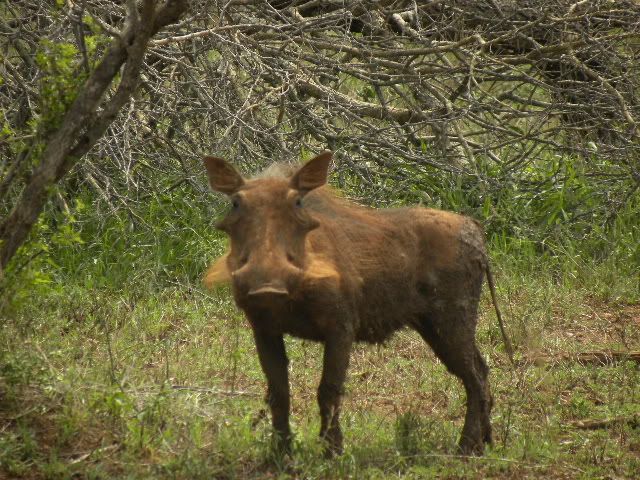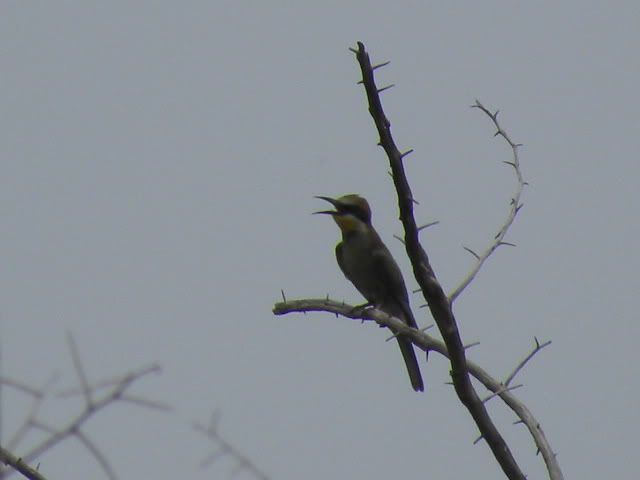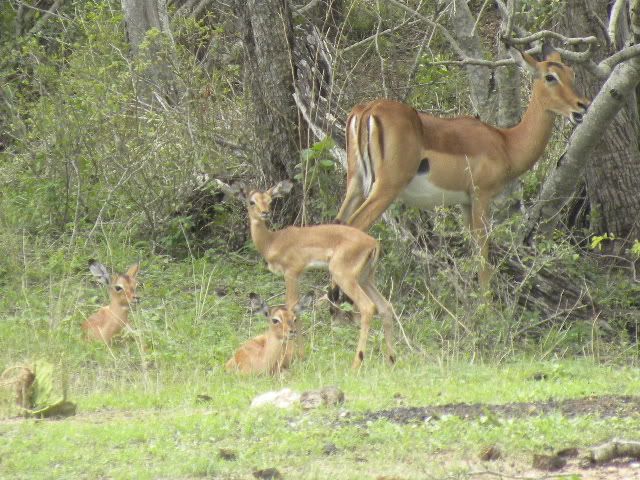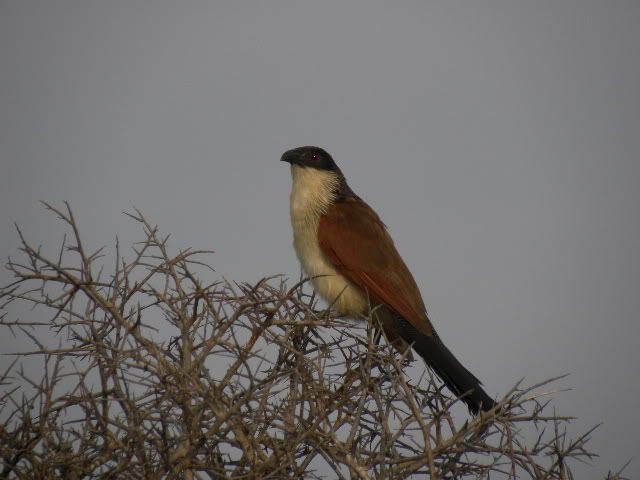 At about 5pm I got back on the main road towards Lower Sabie. In the river bed just down from one of the big sausage trees south of Lower Sabie was a lioness having her afternoon siesta …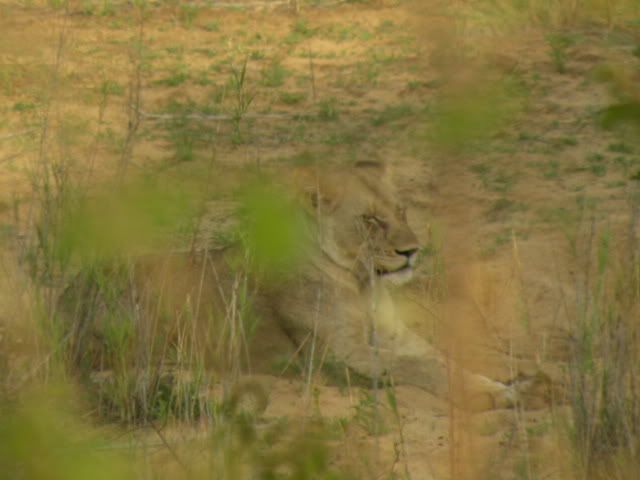 A nice sighting to end the day.
---
Tuesday 22 November
The rain came down in sheets last night and it was accompanied by lots of thunder and lightening. Was I bothered? Was I disturbed? Did I have a dreadful night? Not at all! He he he!!!
Bet this guy wishes he'd stayed in a hut …
It was probably these guys' first experience of a downpour …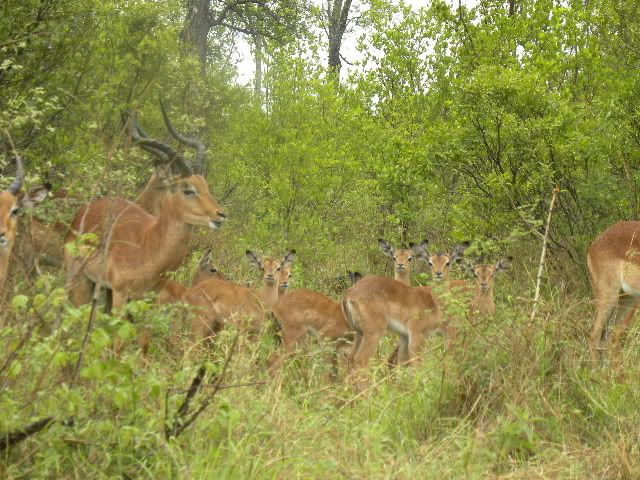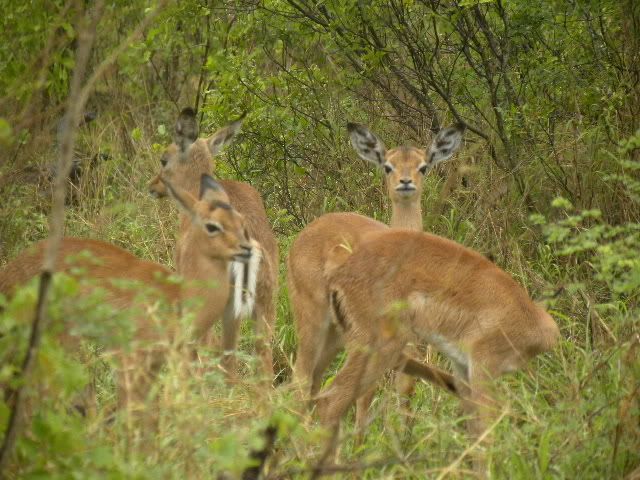 I took the S82 from Lower Sabie … I kept hearing the "tut-trrrrrrrrrrrrrrrrrrrrrrr" call of the Woodland Kingfisher and seeing flashes of brilliant blue as they flew across the road in front of me … finally I came across one sitting in a tree …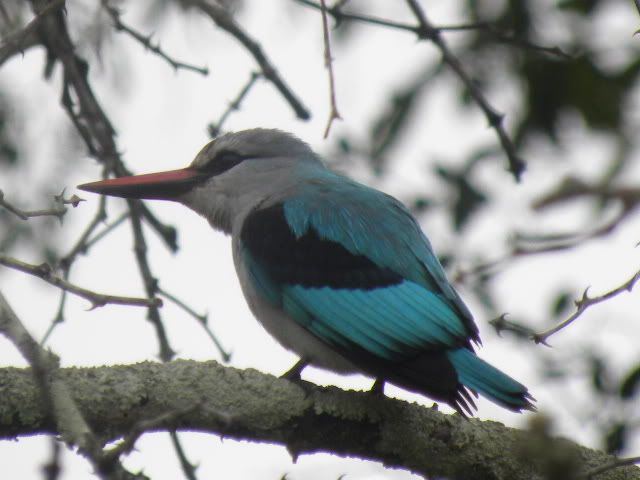 So beautiful – their colours never cease to amaze me.
I also love the colours on these chaps, especially when they are in flight …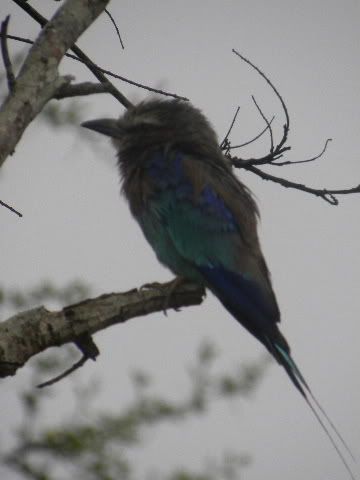 I came across this guy … id help required from stiffnecks please …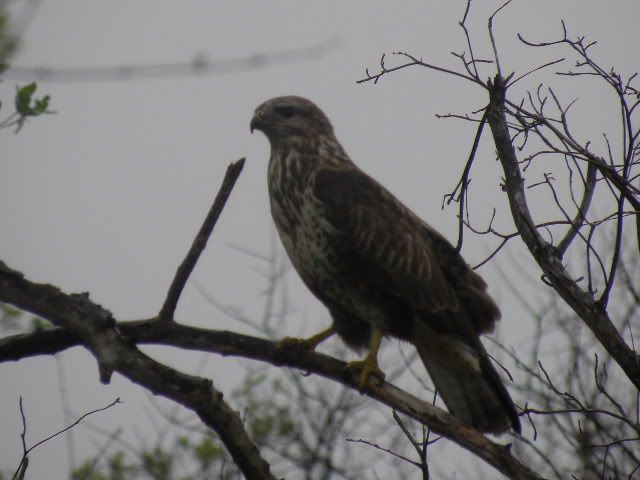 and then this guy who luckily took no interest in me whatsoever!
I got to Gezantfombi and took the road around to the back. Just a short distance from the main road and there she was, just sitting in the bush all on her own …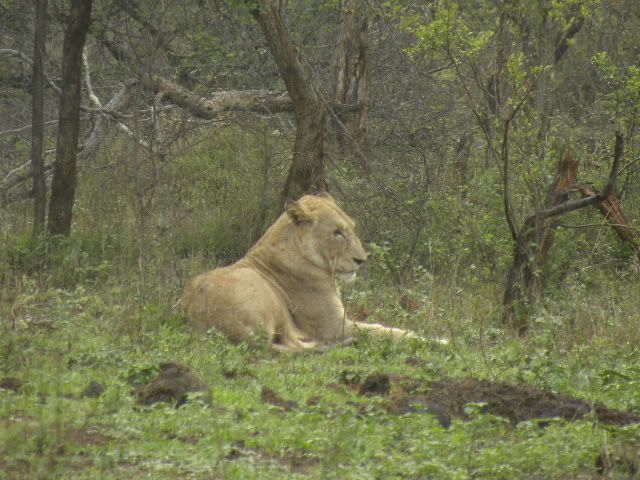 She actually looks worse for wear … her right eye looks as if its been clawed and it also looks like there are a number of small wounds on her body …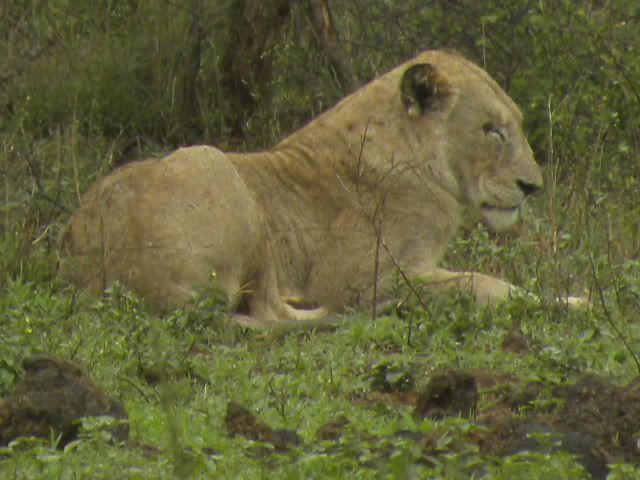 I sat with her for about 20 mins then realised I really should share my sighting with others so posted a note on the Kruger BBM group. Within about 10 minutes, about 10 cars had arrived!
Madam looked around to see what all the fuss was …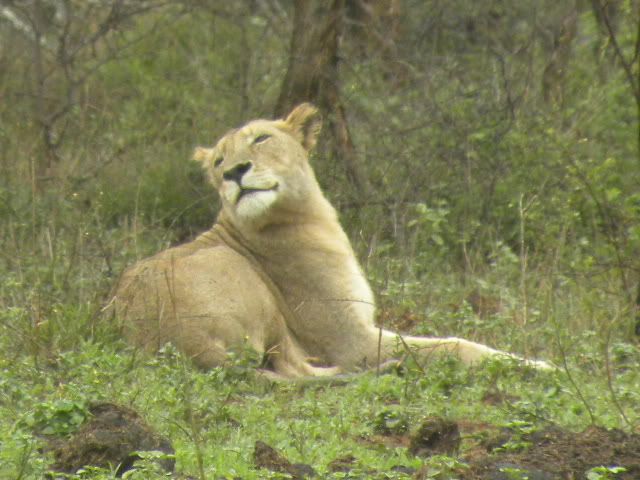 she obviously didn't realise she was the centre of attention and soon turned away from all the fuss and went about her grooming ritual …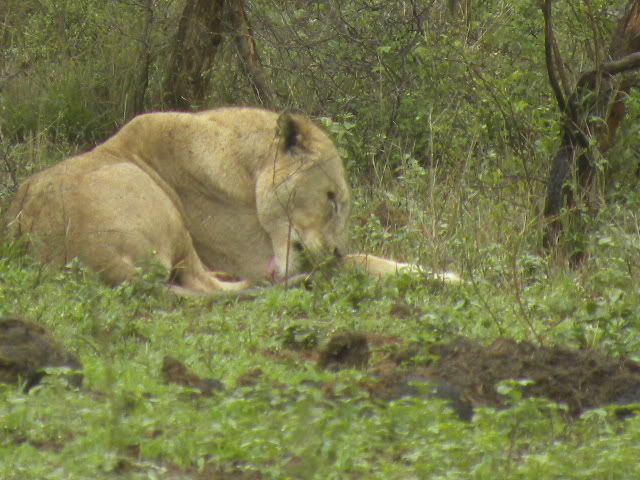 A waterbuck approached …
and Mama got up to get a better look …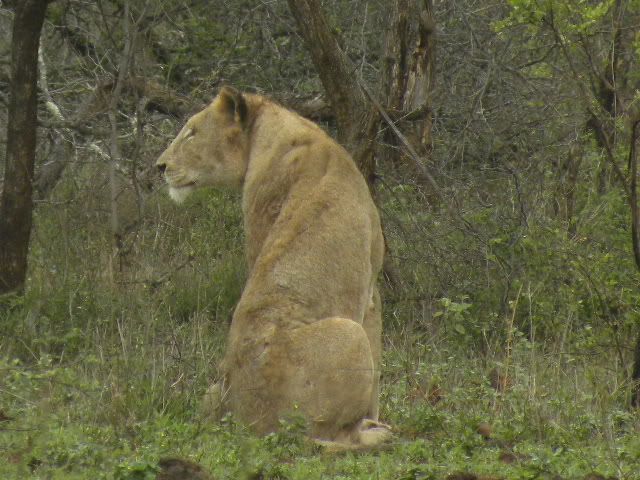 The waterbuck must have caught sight or smell of her as it soon turned around and took off.
The lioness then decided to move … she walked all the way along the road then disappeared down the hill and into the bush at the back of the dam. There were loads of cars around by then so I only got the one shot of her as she got up to start moving …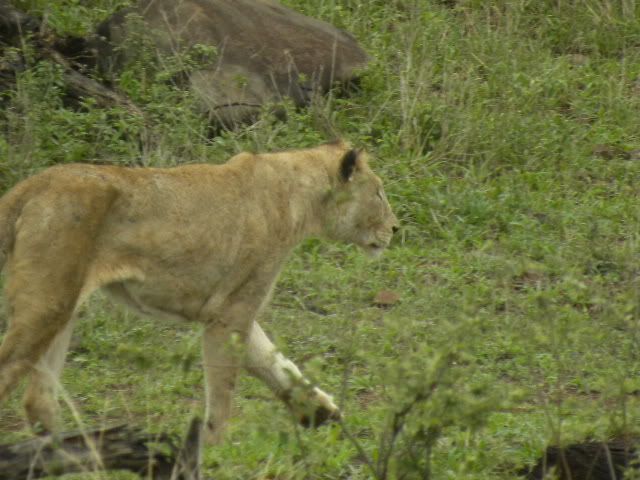 I then set off to tell the baby impies who were around that they needed to be on their guard …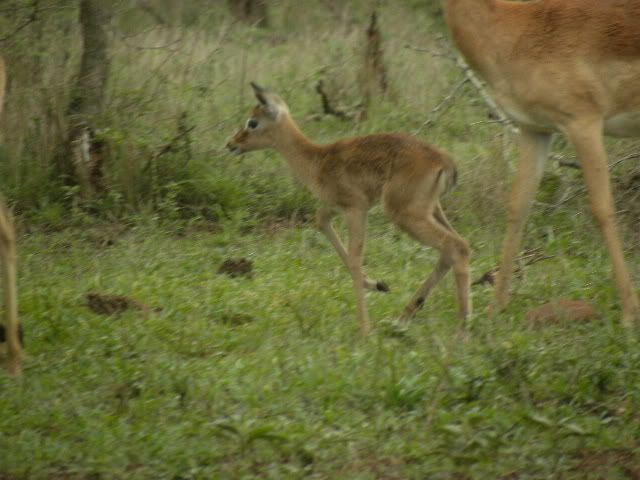 ---
Tuesday 22 November
Earlier that morning I'd seen the BBM group message about a leopard that had caught a baby impala on the S130, the hyenas who had come and stolen the leopard's kill, and the fact that the leopard was still about watching the hyenas. At the time of the message I was miles away and knew it was a waste of time trying to get there as I was sure there would be hundreds of onlookers and by the time I'd got there, the show would be over!
Anyway, I was in the area, I decided I'd go to see what I could find …
On the way, I came across this steenbok and wondered what had happened to its ears …
I guess sometimes they just put their ears down … it just looked really weird???
On the S130 there was no leopard to be seen but a few hyenas lying about with fat tummies!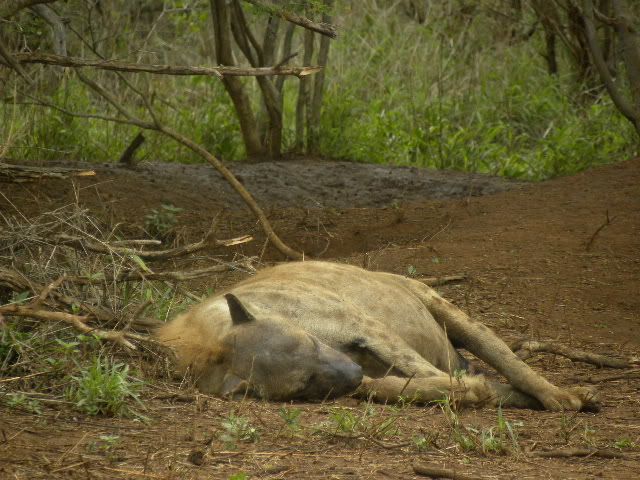 There were also some gorgeous young ones…
This one picked up what I think was the leftover skull …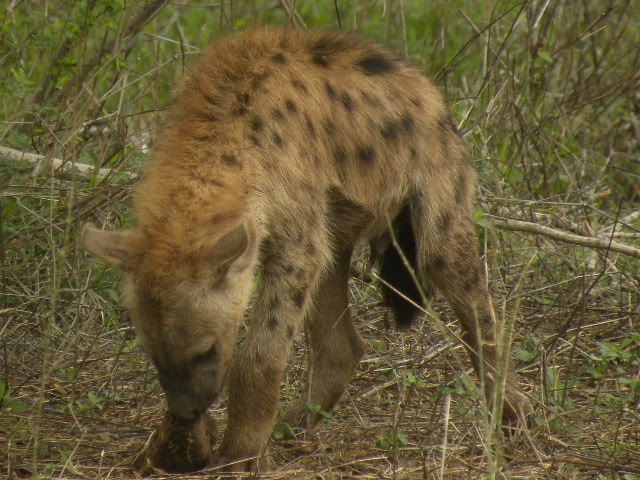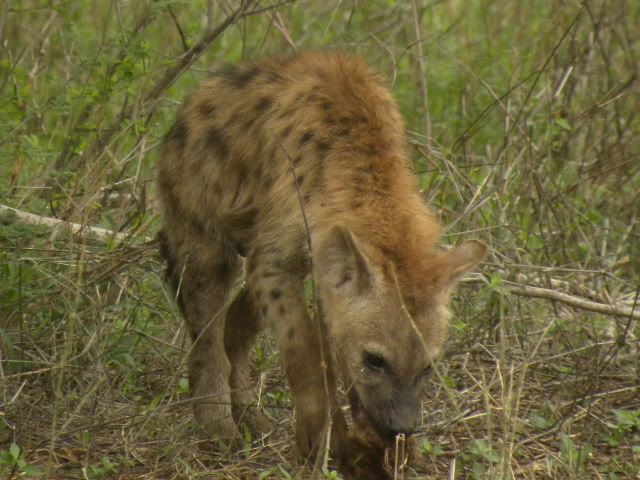 Every now and then one of the fat lazy ones would look up at the little one as if to say "will you please be quiet …"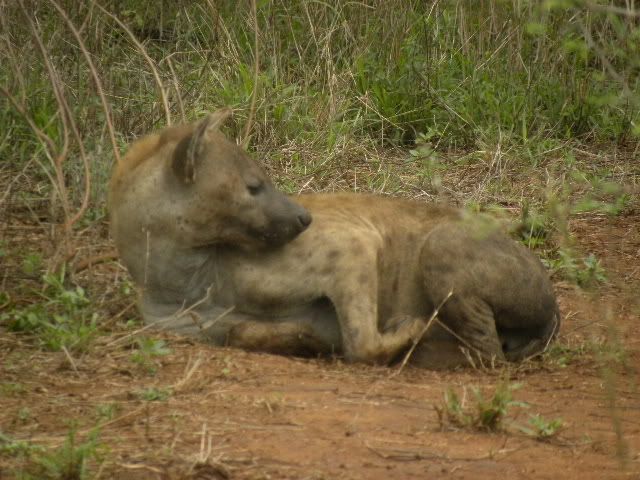 Further on and some more young ones …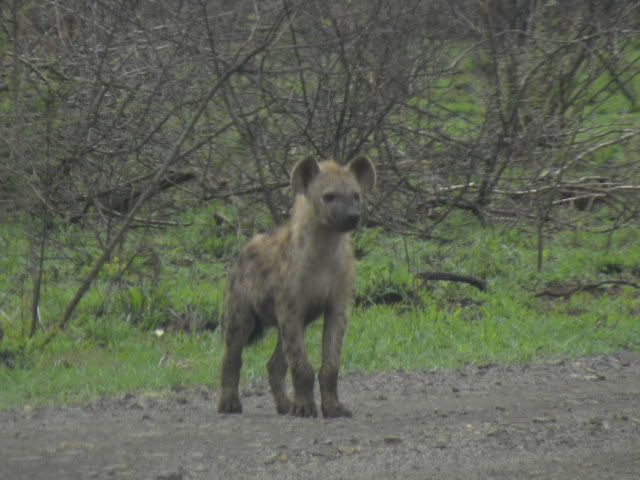 I headed back towards Lower Sabie and did a quick drive across the bridge and back. There wasn't much to see but I couldn't help notice that the sky was full of rain clouds again.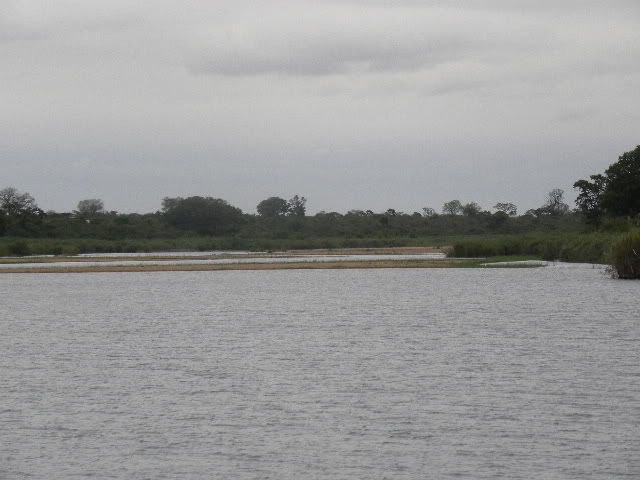 It was my last night in the park but I didn't have to stress about packing up a wet tent in the morning … I had a peaceful night's sleep to look forward to in a nice comfy bed!!!
---
Wednesday 23 November
I was packed and ready to leave camp just after the gates opened at 4.30am.
Yesterday mating lions had been seen on the S21 so I decided I'd try that road today … mating lions don't tend to move too far when they're doing the business …
At Sunset Dam that morning, the hippos were wallowing, the grey herons were doing their surfing thing, there were a couple of giant kingfishers looking longingly at the water for breakfast to swim past, marabou storks and a pair of fish eagles.
Just past the turn off to the N'watimhiri Causeway, I spotted a couple of eagle owls on the ground …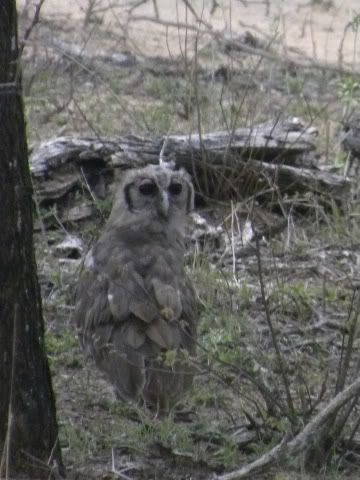 I watched them for a while then continued to the S21. No mating lions were to be seen, but the trees were just FULL of bateleurs!
I also saw this guy (martial eagle???)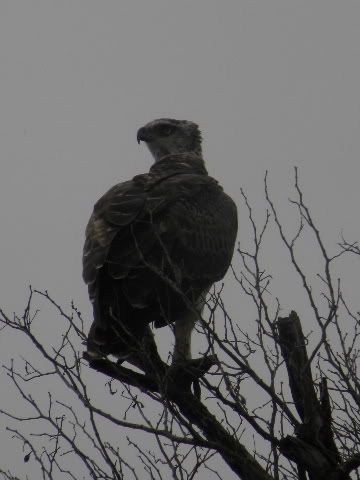 Other sightings included warties, buffalo, duiker, zebra, impala … (more babies!), giraffe, a huge leopard tortoise, vervets, a pair of woodland kingfishers, kudu, a giant snail, steenbok, one rhino and a martial eagle …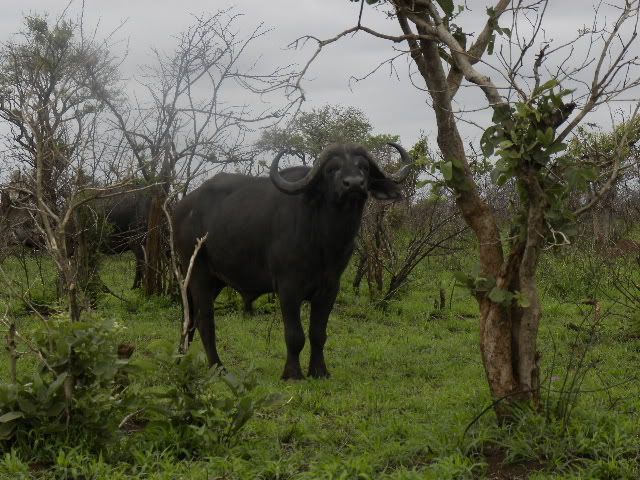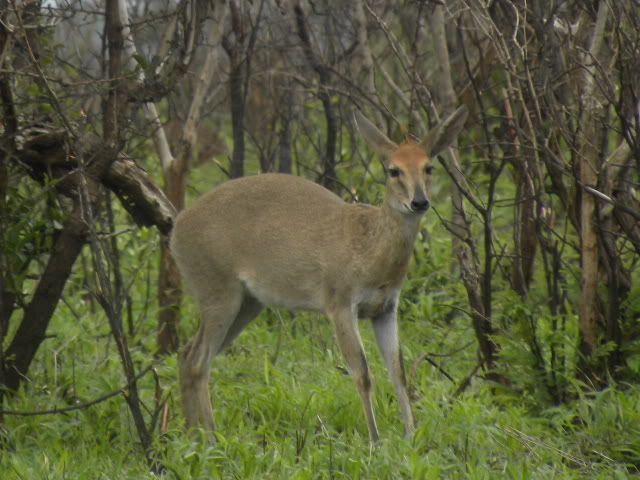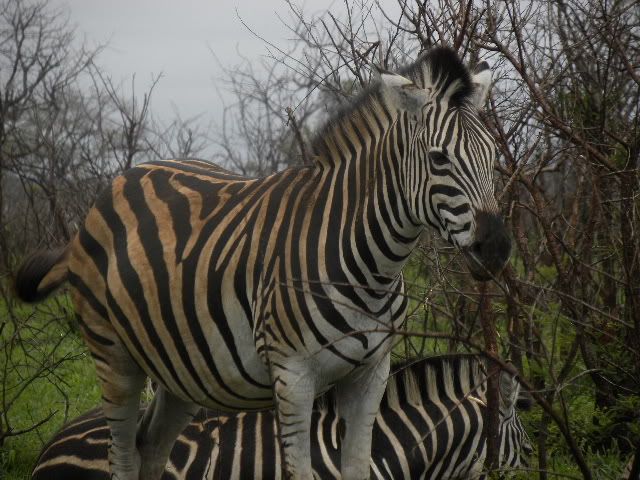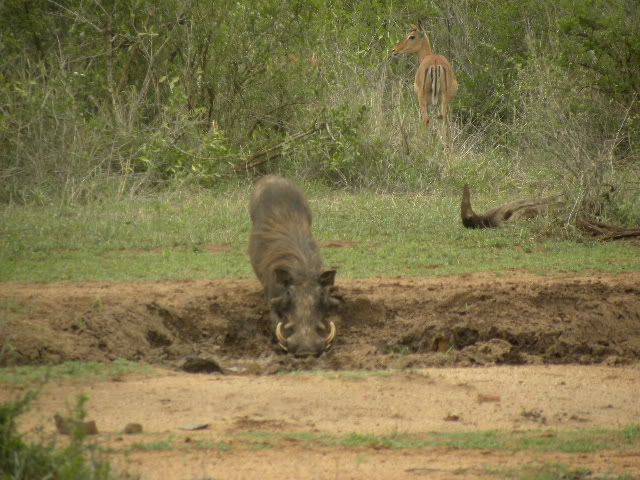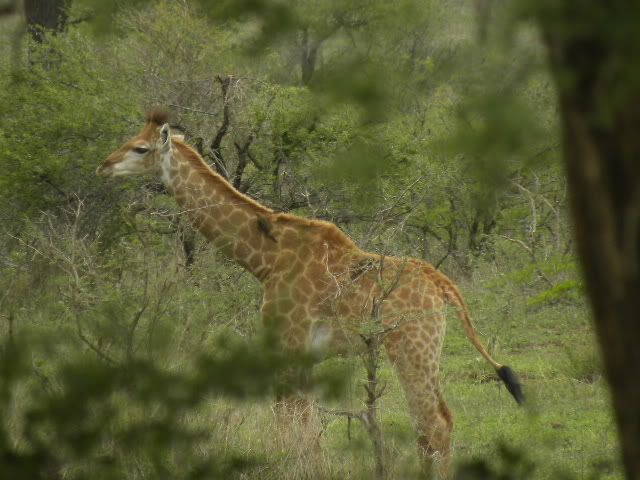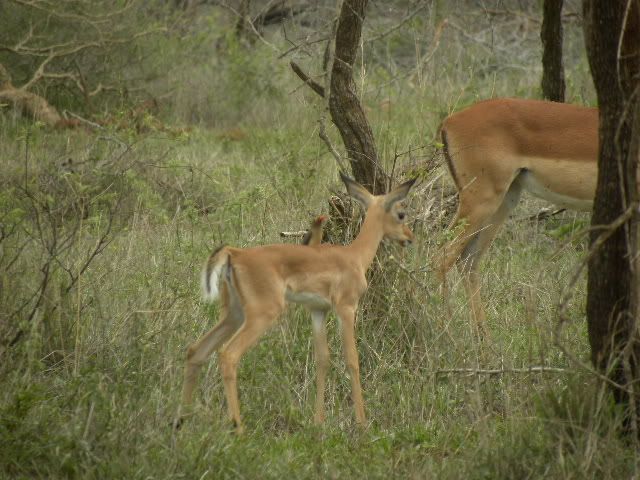 … and before I knew it, it was time to hit the N4 back to Pretoria. I said my "cheerios, adieus and goodbyes" but I was quite excited at leaving this time as I would be back in just 3 weeks with two of my favourite friends who were coming over from the States for their first experience of Africa!
Bring it on!!!
---
---
Who is online
Users browsing this forum: spargish and 10 guests