Junior Virtual Ranger

Posts: 80
Joined: Thu Sep 02, 2010 2:09 pm
Location: Cape Town, sometimes Jo'burg
Tinkering in the Tankwa
After visiting Mokala near Kimberley at the end of December
(see Red Dust and Diamonds)
my partner and I stopped off at Tankwa Karoo National Park to see the New Year in far, far away from the madding crowd.
No one is quite sure what Tankwa means – Place of the San, Place of Thirst or Place of Murky Waters - but there's something mystical about the name. Much still needs to be discovered about the park and honorary rangers are trying to piece together the history of the place from oral stories as not much has been written about it.
Hundreds of years ago the area was apparently teeming with game and vast migrations of springbok and wildebeest took place. In the seventeenth and eighteen centuries 'trekboere' moved in from the Cape and the Tankwa became something like the Wild West. Clashes with the Khoisan people were inevitable and stock theft was rife. All a far cry from the present day where the park is regarded as a haven of tranquility!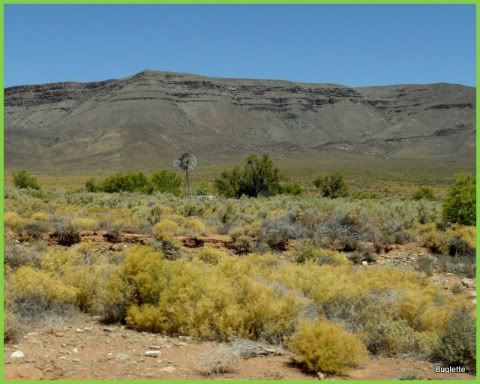 Join me for a tale about abandoned bathtubs, haunted houses, rusty old car wrecks, forgotten graves and a mysterious cat - all found at the bottom of an ancient inland sea.
Buglette's Trip Reports

:
Introducing a Rookie to the KNP
Red Dust and Diamonds (Mokala)
Tinkering in the Tankwa
Loerie Stalking in the Wilderness
Scratching the Bottom of Africa
Golden Gate to Happiness
Rambling Round the Richtersveld
---
Junior Virtual Ranger

Posts: 80
Joined: Thu Sep 02, 2010 2:09 pm
Location: Cape Town, sometimes Jo'burg
What on earth were we doing spending the last two days of 2011 in the Tankwa Karroo in forty-something degree heat? Well, we were tempted by yet another park we hadn't visited before. Plus it was more or less on the way back from Mokala, near Kimberley, where we'd spent five days. The thought of enjoying New Year amongst tranquil surroundings away from the hubbub of the city was also appealing.
Not only were we in one of the country's hottest spots but we'd booked rustic Paulshoek Cottage which has no electricity. No electricity means NO air conditioning. Yikes! Not even a swirling overhead fan to cool one either. How would we survive?
Tankwa Reception Office at Roodewerf Isolated Paulshoek Cottage
As we approached our cottage in the late afternoon I spotted an outdoor bathtub.
"How romantic," I exclaimed. "Imagine taking a bath under the stars."
"Wonderful," said SB, my significant other, otherwise known as Stinkbug. "Let's fill it with cold water and use it as a splash pool."
Only problem was that the bathtub wasn't connected to any pipes. It had obviously been discarded when the cottage was renovated and refitted with a more water-economical shower. In addition, there was absolutely no cold water to be found anywhere! The pipes feeding the cottage had been baking in the sun all day so the water running out the taps was searing - too hot to shower in but handy for washing dishes. SB was relieved at not having to make a fire under the donkey.
Walking into Paulshoek Cottage, which is located five kilometres from Reception at Roodewerf, was like stepping back in time into your great grandmother's house. The cottage was first built in the late 1800s and is kitted out with quaint antique furniture fitting that period. A chunky old coal stove dominated the kitchen. I was totally intimidated at the thought of having to cook on it. Luckily, a two-ring gas stove was also supplied.
Every window in the cottage was flung wide open to let in the breeze even if the air was uncomfortably warm. After unloading the contents of our cooler boxes into the gas fridge and settling in, supper was a hasty but tasty affair of juicy German sausages with fried onions and lashings of mustard, on crispy bread rolls, washed down with icy cider. We sat out on our stoep watching the sun set as it cast a golden then a red glow on the mountains.
Before long a stark, white quarter moon rose into the night sky shedding enough light for us to clearly see the ground at our feet. We set off on an after dinner walk down the gravel road leading into nothingness, relishing the sound of silence around us. A playful wind teased our hair and whipped at our clothing. There wasn't another soul in sight, no lights either and it felt as though the entire world belonged only to us.
On our return, we found the cottage was still hot enough to bake bread in. Drastic action was called for! Sheets were splashed with water and ice bricks were pulled from the fridge and packed alongside our bodies in an attempt to cool down and get some sleep.
Buglette's Trip Reports

:
Introducing a Rookie to the KNP
Red Dust and Diamonds (Mokala)
Tinkering in the Tankwa
Loerie Stalking in the Wilderness
Scratching the Bottom of Africa
Golden Gate to Happiness
Rambling Round the Richtersveld
---
Junior Virtual Ranger

Posts: 80
Joined: Thu Sep 02, 2010 2:09 pm
Location: Cape Town, sometimes Jo'burg
Next morning, we were up early, ready to explore, woken by the soft chanting of our two resident goshawks. They spent their time flitting from pole to pole in a desperate search for hidden rodents. A picnic was packed, thick layers of sun block were applied and we hit the dusty roads.
The barren beauty of the landscape creeps up on you and you can't help staring at the changing colours of the Roggeveld and Cederberg mountains and the rolling plains in between. It's easy to cast one's mind back and imagine this area as the bottom of vast inland sea, even if that occurred 250 million years ago.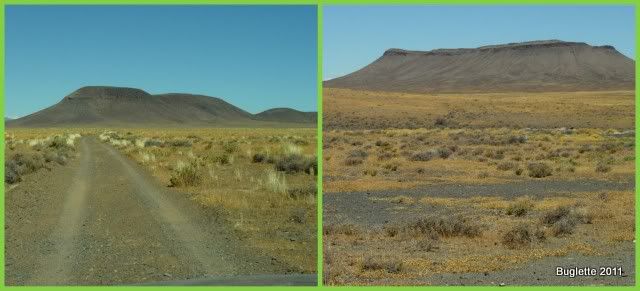 We were headed in the direction of Oudebaaskraal dam but got distracted on the way by an assortment of old tumble-down buildings. Some of these begged to be restored and I wondered who had once lived there.
Behind an old barn we discovered the rusty old bones of two forgotten vehicles. One was an old Pontiac; the other looked like a Chev once used by the army. With so little rainfall in the area it will be many hundreds of years from now before they rust away, eliminating any trace of their once proud existence.
Creeping into an old shed to investigate another old vehicle, we got the fright of our lives. A barn owl suddenly took off from its perch with a frantic flapping of its wings and flew straight at us. With hearts pounding, we ducked out of its way. Skimming just inches above our heads, the creature rose up and escaped through a gap in the rotting roof.
"Damn, I never have my camera ready at the crucial moment," exclaimed SB.
We dashed outside to follow our owl only to see its silhouette diminishing in the distance. No chance of a photograph at all.
"Poor thing probably got more of a fright than we did," I said, "being disturbed from its daytime slumber like that."
That's it for now. Internet connection playing up so probably best to post small bits at a time. More to follow tomorrow.
Buglette's Trip Reports

:
Introducing a Rookie to the KNP
Red Dust and Diamonds (Mokala)
Tinkering in the Tankwa
Loerie Stalking in the Wilderness
Scratching the Bottom of Africa
Golden Gate to Happiness
Rambling Round the Richtersveld
---
Junior Virtual Ranger

Posts: 80
Joined: Thu Sep 02, 2010 2:09 pm
Location: Cape Town, sometimes Jo'burg
We finally reached Oudebaaskraal dam in the heat of the day. The friendly lady at Reception had informed us that this was once the largest privately owned dam in the Southern hemisphere – that was before Sanparks took it over. Even so, we were not prepared for the size of it! With a length of 1,2 kilometres and a capacity of 34 million cubic metres it seemed oddly out of place in such arid surroundings.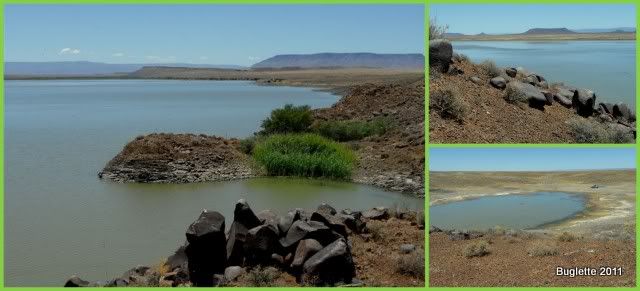 Flocks of birds and ducks were visible from the distance but took off en masse as we drove up, making photographs impossible with my pocket-sized 'mik-en-druk'. I resorted to snapping pics of the different coloured lichens instead. They certainly weren't going anywhere.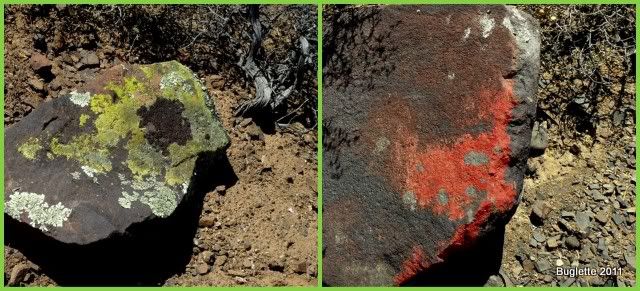 All the fresh air had made me ravenous and it was time for lunch but there wasn't an iota of shade anywhere. We followed signs to 'Die Jag Hut' in the hope of finding somewhere to shelter from the unforgiving sun. We were in luck. The hut was unoccupied due to being renovated and we settled in under the gazebo and picnicked on left-over fillet steak and salads. The last of the juicy cherries, which we'd picked in Ceres before we left, provided a refreshing end to the meal. SB challenged me to a cherry pip 'spoeging' competition. He regretted the challenge but at least it wasn't 'bok droll'e he had to contend with!
Suddenly, SB was on his feet, pointing and spluttering, unable to get any words out.
What?" I begged.
"Look! Over there . . ."
Firstly, I had no clue about what to look for and, secondly, I didn't know in what quadrant of the unending landscape the object of his attention was located.
Still he flapped his arms like a mad traffic controller and pointed.
"What the heck is it? And where?" I cried in frustration.
"Oh, damn! It's gone now."
"Well, thanks a lot," I muttered. "Now you can tell me what it was."
"A cat of some sort. It walked along the top of the ridge there. Bigger than a domestic cat, smaller than a leopard. No spots, just a brown in colour."
I despaired at the thought of possibly having just missed a caracal and no matter how hard I continued to stare at the ridge, the mystery cat didn't reappear.
We set off to look at the Tankwa Guest House which we'd declined to book because we didn't fancy sharing a communal cooking and lounge area on New Year's Eve. However, when we saw the guest house, we felt a little twinge of regret, especially since they had electricity and we didn't. Oh well, another time!
Scattered around the guest house were a couple of wagons, a corroded old steam engine and some pretty quiver trees which always remind me of Namibia, specifically the Quiver Tree Forest near Keetmanshoop.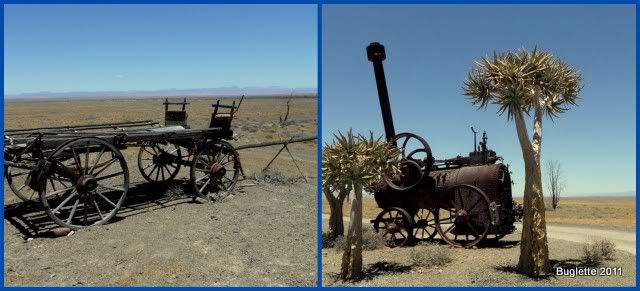 While exploring a few more abandoned farmhouses built from mud and straw bricks we stumbled across the cemetery of a forgotten farming family. What misfortune had driven them from this land and what hopes and dreams had been destroyed in the process? Humans have inhabited this area for at least 10 000 years, first hunter-gatherers and then pastoralists, but today residents are scarce in this harsh environment.
Next on our rambling agenda was the pan, aptly named Blink Vlei Vlakte. Looking at the expanse of dry, caked mud we vowed to return one day in spring to see it filled with water and shining like a mirror. Photographs of the flower season at Reception showed breathtaking vistas of sunshine yellow dotted with bright, cheerful vygies in purple, white and orange. In this Succulent Karoo Biome, nearly seventy percent of the park's plants are found nowhere else. No wonder it has been named one of the world's biodiversity hotspots.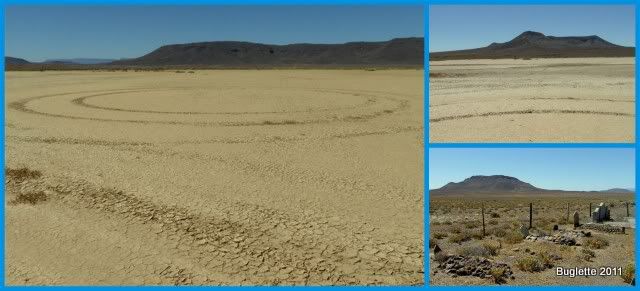 Thanks for sticking with me thus far. One more epsiode to come on the weekend.
Buglette's Trip Reports

:
Introducing a Rookie to the KNP
Red Dust and Diamonds (Mokala)
Tinkering in the Tankwa
Loerie Stalking in the Wilderness
Scratching the Bottom of Africa
Golden Gate to Happiness
Rambling Round the Richtersveld
---
Junior Virtual Ranger

Posts: 80
Joined: Thu Sep 02, 2010 2:09 pm
Location: Cape Town, sometimes Jo'burg
Thanks to Dunquixoting for the response about not needing a 4 x4 to go to Tankwa.
Other comments also much appreciated - thanks.
Last episode coming up now:
In case you're wondering whether we saw ANY wildlife at all; we did spot three gemsbok, one lonely red hartebeest (see if you can find him) and some springbok darting down the road with their with their white tails splayed. (Apologies for the poor quality pics but at least they serve as proof that we did see something.)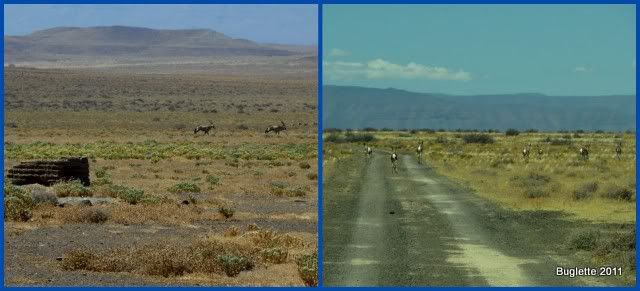 The park is apparently home to over forty mammal species but in mid-afternoon all self-respecting animals were well tucked away in scattered pockets of shade, hidden from view. Well, that's my excuse anyway. We did see lovely raptors, including a couple of magnificent Verreaux's eagles, on the poles alongside the road but we weren't quick enough with our cameras. Another excuse – I know.
As the sun dropped lower in the sky, it was back to Paulshoek for a barely tolerable hot shower. At least we weren't staying at DeZyfer (the Spring) farm cottage, I thought, as some say it's haunted. Notes about a ghost rattling around the kitchen at night have been recorded in the guestbook. In our stifling, but thankfully ghost-free, kitchen SB grilled pork ribbetjies and prunes- wrapped-in- bacon while I whipped up a stir fry with our remaining veggies. By the time we were done cooking, we were both ready for another shower.
Feeling sated after our meal, we settled down outside our home-from-home to engage in some serious star gazing. Apparently on a clear, dark night the number of stars visible to the naked human eye is around six and a half thousand. I can't vouch that we saw them all but Orion's belt, the horns of Taurus and the Pleiades were easy to spot. We had to wait some time for the Southern Cross to rise and the Milky Way to become thick and creamy.
We were rewarded by the sight of a magnificent meteorite flashing across the horizon, flaring to a crescendo before fizzling out. As we waited for midnight and the dawning of a new year, SB was lucky enough to see four more streaks across the sky while I must have blinked or something because I only caught two of them in my peripheral vision. Maybe it had something to do with finishing off that bottle of Amarula. One simply cannot take half bottles home you know!
Color-composite image of the Pleiades from the Digitized Sky Survey.
Credit: NASA/ESA/AURA/Caltech
When we arrived at Tankwa we had descended into the valley via the spectacular Gannagga Pass. We were tempted to leave in that direction again but our fuel gauge was reading low so we headed for Ceres instead. Be advised that there is no petrol available in the park, the nearest guaranteed supply being in Ceres (180 km away) or Calvinia (110 km away). At certain times of the adyone may get petrol at Middelpos which is fifty something km away. If we visit again, we'll be sure to carry a spare jerry can or two.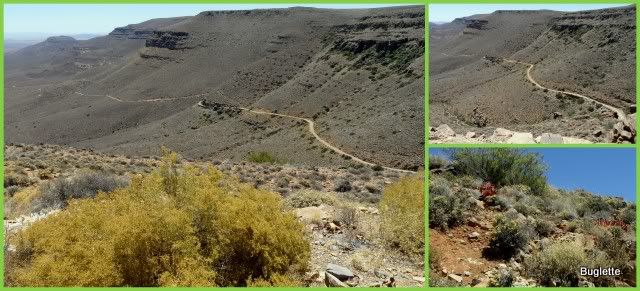 As it was, we'd underestimated the size of the park (it's over 143 000 ha) and had to curtail our exploration somewhat. Unfortunately we didn't get as far as Elandsberg or Varschfontein. Pity, as I wanted to check out the Elandsberg Wilderness Camp where each cottage has its very own plunge-pool. Sounds like a great accommodation option for next time!
Well, that's my tale. Hope you enjoyed the brief glimpse of the Tankwa Karoo National Park - a place to disappear to when life gets too stressful and body, mind and soul cry out for solitude and tranquility.
Buglette's Trip Reports

:
Introducing a Rookie to the KNP
Red Dust and Diamonds (Mokala)
Tinkering in the Tankwa
Loerie Stalking in the Wilderness
Scratching the Bottom of Africa
Golden Gate to Happiness
Rambling Round the Richtersveld
---
---
Who is online
Users browsing this forum: adw and 3 guests