Posts: 16
Joined: Fri May 21, 2010 7:30 am
Location: The Netherlands
Hi there!
Ok, we're a bit late with writing our TR, but better late than never!
We hope you enjoy our TR as much as we've enjoyed yours!
By the way, we used a 300mm lens. That's why some animals look a bit distant.
We also have a few videos, I see they don't have a little arrow in the middle. You can recognize them by the blurry picture you see.
Day 1
At 8.30 AM we arrived at Johannesburg Airport. Unfortunately Lenny's suitcase got lost on its way, so we had to fill out a lost luggage form. Qatar Airways told us they would contact us soon as our suitcase arrives.
Fortunately we still had Ralph's suitcase. But in mine were all the medicines.. One casing of Malaria tablets was in our hand luggage, so that problem was temporarily solved.
Then we went to the car rental to collect our car. It was a bit of a hassle, but finally we got the car we'd rented and we were on our way to Makhado (Louis Trichardt).
We stayed for 1 night at The Ultimate Guest House.
The morning after we drove about two hours to Punda Maria Gate.
At the gate we saw our first sighting!!
In The Netherlands we call it 'wandelende tak', we believe it's called a 'stick insect' in English?
On our way to Punda Maria Camp we saw Nyala, Grey lourie, Yellow-billed hornbills and lots of Impala's.
Near Coetzer waterhole we saw 4 Ellie's, 2 Buffalo's and Nyala.
We checked in at Punda Maria Camp. We were staying at tent number 4. It was at the back of the tented camp area, situated next to the fence.
It was a very nice tent and very luxury. The only 'downside' to it is that you can't lock it.
We saw this little one near the tent:
In the afternoon we did the Mahonieloop. We saw lot's of Impala, Nyala and Kudu. It looked like they had a gathering somewhere
We also saw lots of ellies. We think it was too hot for them to charge any cars, thankfully!!
We saw the 2 Buffalo's again near Coetzer Waterhole:
That was a nice end to our first day!
Day 2
Our first full day in KNP. It was really great!
Our route that day: up to Crooks corner via Klopperfontein dam.
On the S60 we saw Buffalo, Zebra, Ellies en lots of Impala. Especially the mid-section of that road was very quiet. At the S61 we saw Impala (a lot), Mongoose and a Grey Heron.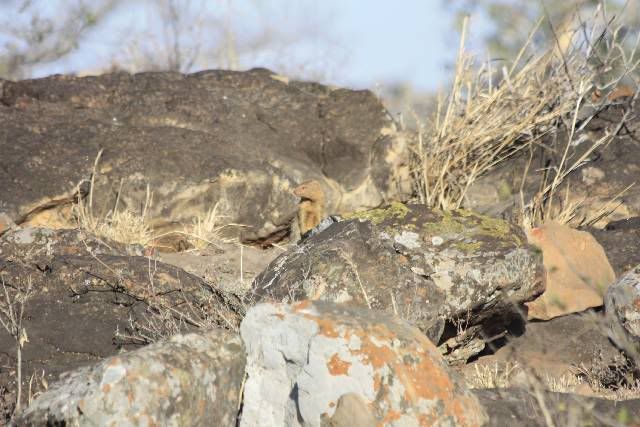 Klopperfontein dam: Side Striped Jackal, a flock of little birds in the bush, large herd of Zebra and two very thirsty male Lions (both on film and photo).
The lions on film:
The road from Klopperfontein to Pafuri was very quiet. We only came across three elephants. This was an exciting moment for us: despite the large distance between the car and the Ellies one of them shook its head like it wasn't happy to see us. We backed away and he or she went into the bushes.
A picture taken from the famous baobab trees:
It was quite busy at the Pafuri picnic spot and we didn´t like the Vervet Monkeys begging for food, so we ate our rusks in the car on our way to Crooks corner.
On the way to Crooks corner we saw Egyptian Goose, Nyala, Kudu, Impala, Zebra, Wildebeest, Baboon, Grey Heron, a bathing Ellie (really relaxing!!).
The fever tree forest looks mystical and extraordinary.
At Crooks corner we saw an African Fish Eagle, Hippo´s and Crocs.
Crooks corner also has a view that we won't forget. It´s very nice to spend some time there, just to look what you see next. The place has a lot of history.
On our way back to camp we saw Nyala, Impala, Zebra, a bathing herd of Ellies.
The Nyala road didn´t deliver for us, not even an Impala. Also the main road to Punda Maria was very quiet. At Mashikhiri water hole we saw the three Ellies we encountered on our way to Pafuri and some Zebra.
We made another stop at Klopperfontein dam, here we also saw Ellies bathing. Really magnificent!!
On the Dzundzwini road we saw Impala, Nyala and Ellies.
Near camp we saw our favourite Ellie (the sleeping one, real cute) and giraffes.
At the camp we tried to get hold of Qatar for my suitcase: no good news, it is still in Paris. We arranged to go to a pharmacy for our Malaria tablets.
In the evening we had a night drive. It was really a great drive. Our guide was Alfred. We were with five people in total: another couple with their mom from Cape Town. The route was: a little part of Mahonie loop until the first waterhole, counter clockwise, back to the H1-3, up to Thulamita waterhole, back to H1-3, a little part of Mahonie loop clockwise, back via a 'ranger-road-only'. We saw lots of Spring Hare, Scrub Hare, a Civet, a Common Duiker, a Blue Duiker, Springbok, Buff, Ellies and a Leopard hunting Baboon in a tree (on film).
Photo of a Genet, taken by a fellow traveler. Very nice of her to share!
The Leopard chasing a baboon in the tree:
Day 3
In the morning we took off to get us some malaria medicine. We still had no clue were our luggage was. They thought it was in either Paris or Doha. The people at J'burg airport didn't know it either.. Nice…
Because we had to go to the pharmacy we lost half a day of game driving, but you can't have all!
Back at Punda gate we drove the H13-1, H1-7, S56 and S57.
At the tar road H1-7 from Punda Maria to Shingwedzi we saw Giraffe, Southern Ground Hornbill, a Lilac Breasted Roller, Baboon and a Magpie Shrike.
We arrived at the Babalala Picnic site. We immediately saw a number of Vultures near the waterhole. We only stopped for a toilet break (and looking at some yellow en red billed hornbills) before heading on to the waterhole. There were really dozens of vultures, but it wasn't clear why. Later we saw on the sighting board that lions were seen there the day before.
On the first part of the Mahonie loop we didn't see anything, so we decided to take the tar road further down to Shingwedzi. At Boyela waterhole we saw a large herd of zebra. When we looked closer we saw a Tsessebe and a Liechtensteins Hartebeest walking among the Zebra.
:)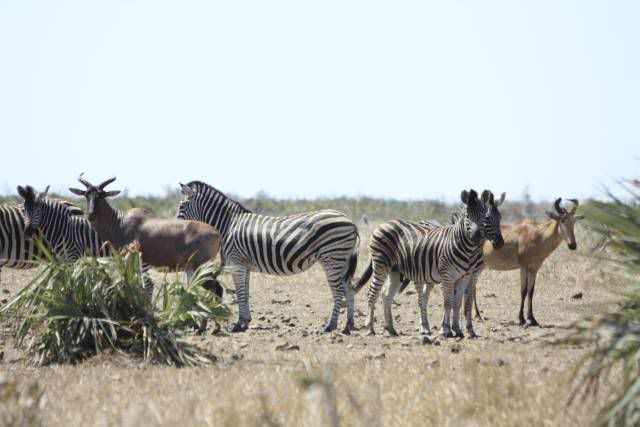 On the road down to camp there were no further sightings.
It was about 1 PM when we arrived at Shingwedzi. Unfortunately we couldn't check in yet. So we walked a bit around camp, enjoyed the Squirrels, Natal Francolins and Yellow Billed Hornbills.
Around 1.45 PM we received our key. We had unit number 7. It was really great: near the fence and a lot of space!
The afternoon drive was to Kanniedood dam. It is a really nice drive, with lots of scenic views. We saw Ellies, Buff, Impala, Waterbuck (with a little one), Nyala, and lots of birds (especially Egyptian geese). Via S134 and Nashagadzi water hole (nothing to see) we drove to the tar road that leads to camp. There we saw a lot of cars along the road. We tried to get a peak of what they were looking at: 3 male lion. And pretty ones! Unfortunately no pictures..
Just before entering the camp we saw a beautiful Bateleur enjoying a nice snack.
Day 4
In the morning we had a morning walk. It was really nice. We were the only two persons on the walk, so we had two guides all to ourselves. We could ask any questions we had. We saw Buff, Ellie, Giraffe, Zebra, Blue Duiker, Nyala, Impala, Brown Snake Eagle (and nest). Especially seeing the Buff and Ellie from up close was very exciting.
We left at 6 and were back at 9 AM. We immediately got in our car and left again for a drive. We tried the loop near the High level bridge, but there was nothing to see.
At Kanniedood we saw lots of Ellies, Bushbuck, Waterbuck, Imps, Buff, Hippo, Crocs and a lot of different birds.
Last time we visited KNP, we drove all day long. Back then we went in June. This time it's really hot between 11 AM and 3 PM, and not much game is seen during this time, only at the waterholes.
So we spent a few hours just relaxing..
We were planning an afternoon drive to the red rocks to see a Rock Dassie. We didn't make it that far. We decided to drive the R52. We were enjoying our views of Ellies and Giraffe when a man asked us if we saw the two male Lions. Dow!! We missed them! They were so well camouflaged that it was no wonder people missed them. We did see the Vultures in the tree and thought the kill was made in the valley. The Lions made a kill yesterday (in the valley) and were relaxing in the shade. We only got a clear picture of one of them.
We spent some time with the Lions and drove further on the R52. Here we saw more Ellies and a large herd of Buffalo.
Herd of Buffalo on film: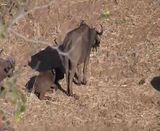 On our way back to camp there were a lot of viewers for the male Lions so we drove by.
At camp we saw two Ellies near the restaurant. Two beautiful big tuskers!
And a little woodpecker!
Day 5
The alarm went off at 5 AM, after packing everything we went to the gate. We were not the first ones! After we were released we first drove the tar road from camp. Here we saw a magnificent Giant Eagle Owl. A fellow forumite will help us with editing some of the pictures. Like this one!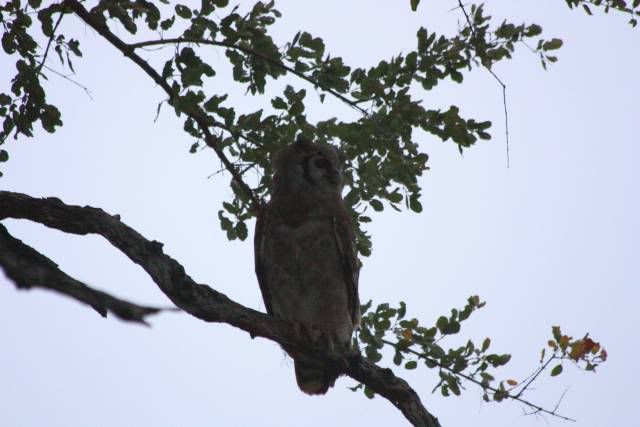 Then we drove the S134 to Kanniedood and drove all the way down the S50.
We really had a birding-day that day. A nice couple showed us a little Owl in a tree, we also saw lots of water birds and waterbuck along the road up to Nyawatsu hide.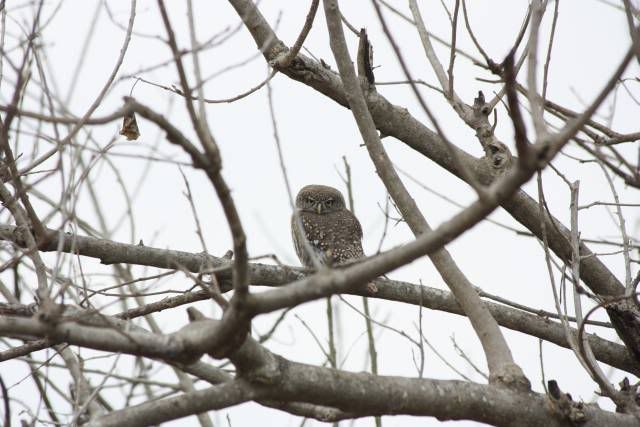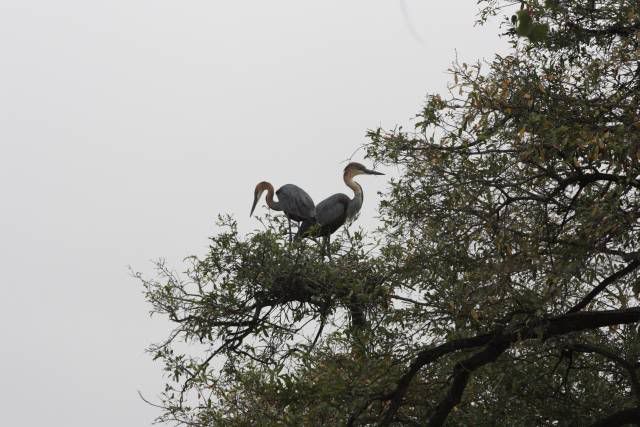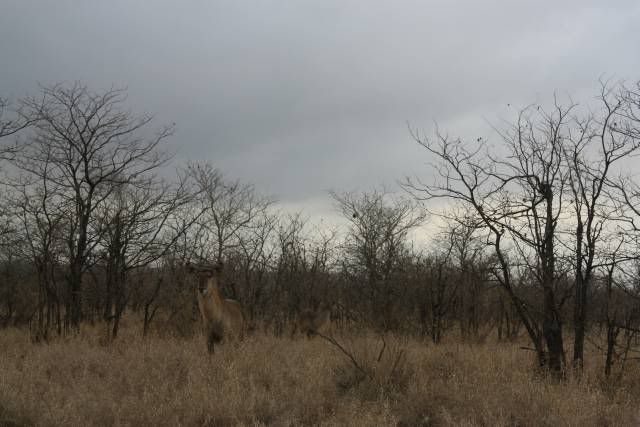 After that we saw some Imps and Zebra. Unfortunately Grootvlei dam was empty.
At Nshawu 4 we saw a herd of Tsessebe, Warthog, Zebra and an Ellie coming close to the waterhole. At the other four Nshawu's we didn't see any animals.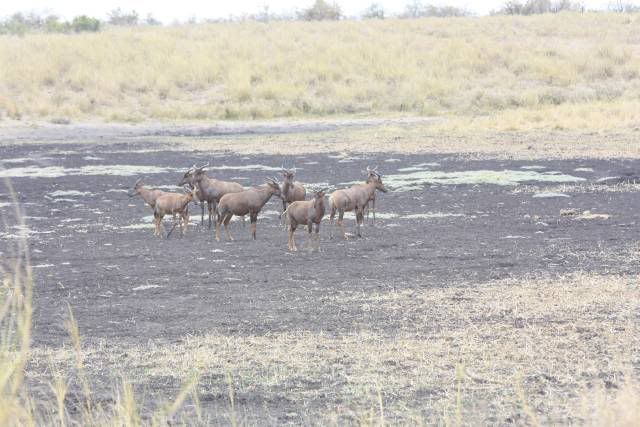 Around 11 AM we reached the Tzendse loop, which was very quiet. Maybe the animals were looking for shade in the hot sun.
At 12.30 PM we arrived at Letaba. We could already check in, which was very nice. Near our cabin we saw this little fella. We swear we saw one limping, but when he saw food he was running like there was nothing wrong.. Cheeky!
At 3 PM we went for another drive: first the south loop to Engelhard dam. Here we saw lots of Impala, Hippo and Croc. Also Kudu and Waterbuck came and joined the party.
After that we drove the S95 loop, we liked this loop more than the south loop. Here we saw lots of Hippo's and Crocs. There were also some Impala, Kudu, Waterbuck and an Eagle. We didn't have enough time to do the northern part of the loop to Engelhard dam.
Along the H1-6 we saw lots of Ellies, 2 Side Striped Jackal, Imps and a Stork.
Day 6
Sightings are very low here. Today we went on a morning drive to Mingerhout dam. We first drove the S95, then the S47 to Mingerhout dam. It was very quiet: on the main road we saw Buff and Imps, on the loop we saw more Imps and on the S47 we saw Ground Hornbills (going very fast) and a Tawny eagle (we think).
Then we took the northern loop to Engelhard dam. Here on the search for Rock Dassie, didn't find them unfortunately. We did find some Vervet Monkeys, Impala's, Kudu's, Waterbuck and Ellies.
We needed same shaving material for Ralph (the shaver was in the missing luggage), so we went to the camp shop. They only had manual shavers from the Bic. We asked if Mopani maybe had more choice. They didn't know, so we took the car and went for a drive up to Mopani along the tar road H1-6. We saw Imps, Waterbuck, Kudu and one lonely Tsessebe. At the Middelvlei waterhole we saw Zebra and an Ellie in must. The rest of the road was quiet...
On our way back we didn't see any animals.
We did by the way see a Police officer along the road, measuring the speed of cars (we don't know how else to call it in English), not the speed of the animals.. We also saw some road works by Sanparks, they were cutting trees along Mopani.
At the sunset drive with Oscar we saw lots of Jackal (maybe six or more), Imps, Hyena at Middelvlei waterhole (film), African Fish Eagle, Ellies, Buff, Bucks, Waterbuck, Hippo and Crocs.
It was a nice drive, but there were moments of half an hour or more that we didn´t see any animals.
Letaba is a nice camp, but I don´t think we´ll ever come back here. We think Shingwedzi and Punda Maria have more character. Seeing game is very difficult around Letaba and the atmosphere is different.
Day 7
We slept in and left at about 7.30 AM. We drove the main road to Phalaborwa gate to do some grocery shopping and look for decent shaving equipment for Ralph.
First we drove a few km's along the H1-5 and the S95 loop. We saw Giraffe, Buff and Impala. Then we drove the H9 to Phalaborwa gate. It was very quiet. At the S96 crossing were some koppies. We decided to look for some Rock Dassie. We knew we had to find them before we headed down to Olifants, and we didn't manage to go to Red rocks, time is ticking!! We scanned the rocks but couldn't see them. We drove a bit further down the S96 to scan the rocks with binoculars and YES: Rock Dassie!!! Woehoe! They were very cute, running from rock to rock, or just relaxing. Very nice to see!! It was a bit far from the road, but it was them :-) Thank all of you for your good advice! Really helped!
At the waterholes further down the road it was very quiet. We exited the gate for groceries and within 45 minutes we were back tracking game again.
The S51 was our next drive. Sable dam was very nice, and crowded with Imps. The rest of the loop was quiet. We did manage to drive past the picnic site. We don't know how we could miss that though..
The H14 next: lots of Ellies, especially near the water, lots of Impala and we saw Zebra. We also had a nice view of an African Fish Eagle. It was very quiet at the waterholes. The sightings we saw were at the river loops.
At and along the S141 we saw lots of Imps, Giraffe, Hippo, Croc and Ellie.
Shingwedzi camp is really great. It's very rustic and has friendly staff. We booked a sunset drive at the counter (didn't want to drive ourselves). It's not cheap (R 260 pp), but certainly worthwhile! Our guide (Portia) took us to the Letaba river viewpoint, drove down the restricted road and crossed the river. It was amazing! You get to see Crocs right under your nose, Hippo nearby, Storks around you. An experience we'll never forget!!
On the drive we also saw Klipspringer, Steenbok, Hyena, lots of Ellies (and Ellie-madness all around us, trumpeting and growling, just great!), Scrub Hare, Imps, Kudu and Waterbuck. She also educated us about the bush in a logic way. We think we'll remember the difference between a Mopane tree and a Knob-thorn or Apple leaf tree.
The drive was from half past 4 until a quarter past 7.
To be continued.......
Last edited by
ralph and lenny
on Mon Jan 09, 2012 8:42 pm, edited 3 times in total.
---
Posts: 16
Joined: Fri May 21, 2010 7:30 am
Location: The Netherlands
Hi all!
Great that you are all enjoying the trip report!
I've edited the original post, I don't know if anybody noticed the videos we included.
Especially the leopard chasing a baboon in the tree is pretty rare.
To take some suspense away from you, we got our luggage back when we were at Berg and Dal!
This was 3 days before we went back to Holland, but we were glad we got our stuff back!
@Hilda and Barry: Nice to hear from you!!!
Yes, it took a bit longer than we planned to compile a trip report. We've been so busy.....
And yes again, we were driving 50 km when we missed the lions
.
Thanks for your advice at satara camp
.
Next installment is coming up today or tomorrow!
Cheers,
Ralph and Lenny
---
Posts: 16
Joined: Fri May 21, 2010 7:30 am
Location: The Netherlands
Day 8
Around six o'clock in the morning we woke up by the sounds of hyena and hippo. The best alarm clock there is! We were lazy this morning, took our time. Breakfast at the porch with great views of the Letaba river. Birds and squirrels kept us amused.
It was about 8.30 AM before we headed out. We planned to go to Sable hide and stay there for a while. On our way on the H14 we saw Imps, Zebra, Waterbuck and Warthog. It was very quiet at Sable dam hide: we were the only ones there. When we sat down, there were just a few small water birds and some Impala along the river.
After a few minutes a little herd of Ellies came to drink. In total we sat more than an hour and saw more than 40 Ellies passing by: drinking and playing at the dam. It was really great!
Here are some video's. You have to click on them in order to watch them.
We decided to make a quick stop at the Masorini picnic site and head back to Shimuwini bushveld camp. On our way back we saw Ellies, Waterbuck, Imps, Kudu, a Secretary bird (our first ever!!) and Warthog.
Baobab near camp:
After returning to camp we spent the rest of the day relaxing and enjoying the view.
Day 9
The Shimuwini camp offered us a free river walk. Of course we accepted this!! It started at ten. Our guides were Andrew and Robert. They said the walk was free for once because of 'e-mail-free Friday' (??), it was fine by us!! We were with nine people, the rest of the folks were South African, two men came from Pretoria. It was a very nice walk. Although the rules weren't taken that seriously (scared Lenny sometimes a bit). There was an 88 year old woman doing the walk with us, nothing more than respect for that!
Again a very interesting walk, where also things were discussed that keeps South African people busy these days. For instance: rhino poaching and building hotels in Kruger. Very interesting to hear how rangers think about this. The poaching has worsened last year. The rangers said there were two poachers killed and one ranger badly wounded the day before. We hope the ranger gets better soon.
During the river walk we saw lots of Hippo (showing their teeth, making 'go away' sounds, even one hippo out of the water, great!!), Buff, Waterbuck and Zebra.
It lasted for about 2 - 2,5 hours.
Shimuwini staff made shure we could leave some stuff in the fridge, so we could pick it up after the walk. Very nice, and really good service!
We drove the H14 to Mopani Camp. We felt really hungry and thirsty, so we didn't take time for proper game watching. We did see a few Ellies (very hard not to see :-))
After lunch we came across the nice people from Pretoria we met on the river walk. It was very nice talking to them!
We checked in at unit number 101. It's like a little dream. River view, baobab next to the cabin, wow.. The room is very neat, one of the cleanest so far. We had a lot of Rock Monitors, Squirrels, Natal Francolin and birds around the unit.
Around 4 we went for a small drive to Pioneer hide, the river loops and the tar road H1-6 up to Bowerkop. We saw a herd of Buff, Ostrich (first one!), Giraffe (beautiful), Imp and Baboon.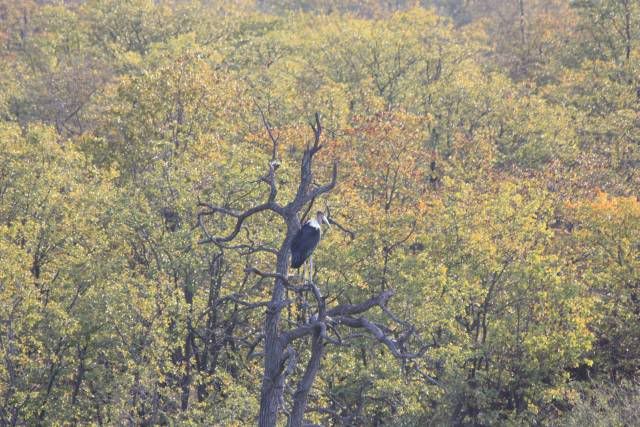 You might have noticed: we don't have any pictures of Baboons or Vervet monkeys. We both think the same about them: we respect them as wild animals, but we are just not interested in them. Lenny's a bit afraid (maybe because of the 'human' thing in them, they can see us sit in the car), Ralph just has nothing with them. Just an explanation :-)
Day 10
The alarm went off at 5 AM and we were at the gate at 5.45 AM. Unfortunately not the first ones: we came in second. We drove the following route: S49, S50, S143, S144 and the H1-6.
We saw Jackal on two separate occasions, Zebra, Tsessebe, Kori Bustard, Buff, Ostrich, Ellie, Baboon, Warthog and Imp.
After that we did the river loops where we only saw some Imp. We went for the Confluence loop, also nothing to see (no Rock Dassie
)
We decided to go back to camp. Then we saw the line-up along the H1-6. A leopard! We patiently waited for our turn and started filming, shooting pics and most of all enjoy our first decent leopard sighting! The leopard was just lying in a tree near the road, relaxing and snoozing. Really lovely.
At one point we were the only ones at the sighting, so we parked our car in a good spot and enjoyed. After a while another car came by with an elderly couple and asked what we were looking at. We pointed out the leopard in the tree.
Then the queue started to get longer again, but we weren't giving up our nice place. We still don't believe what happened next. The wife of the elderly couple got out of the car to complain that we were too long at the sighting and that there were other people who wanted to see the leopard too. The first thing Ralph said: you're not allowed to get out of your vehicle. She kept whining so I drove the car a bit to the front. Our sight on the leopard was less good then before. Lenny looked in the rear view mirror and saw the elderly man laughing. Grrr... Got us pissed! Then... you don't believe this: he got out of his car, walked in front of our car and took a picture of the leopard. We were so surprised, we forgot to take a picture of his actions...
You can correct us if we're wrong, but aren't we allowed to stay as long as we want at a sighting? This was our first decent leopard sighting EVER, so we wanted to take our time and take it all-in.. Just enjoy… It's our right, or not? Other people all reacted great and were happy to see the leopard. They waited patiently for us to move.
Near our unit we saw these lizzards lying on the rocks.
In the afternoon we did the river loops and drove up to Bowerkop, just like yesterday. We saw Buff, Ellie, Impala, Tsessebe and Giraffe.
Day 11
We slept in and drove down to Olifants camp at 8 AM. Along the H1-6 we saw Ellies and Ground Hornbills.
At Malopenyana water hole we saw Buff, Ostrich, Zebra and Warthog. Further along the H1-6 we saw Zebra and many large herds of Ellies.
Near Letaba camp we saw Giraffe, Baboon, Zebra and Ellie.
On the tar road between Letaba and Olifants we saw lots of Imps, Waterbuck, Ellie and Zebra.
We had brunch at Olifants and at 12.30AM we were allowed to check in at unit number 13. The view is great! If we had to stay at the cabin all day, that wouldn't be a problem at all! There were lots of animals to see: Ellies, Hippo, crocs, Imps and Waterbuck at the river. Rock monitors, Squirrels and lots of birds near the unit.
At 1.30 PM we decided to go on a drive again. We drove the S44 - S93 loop along the river: nothing to see.
Then we drove the tar road down to Satara up to Ngotso dam. We saw lots of Ellies (large herds), Zebra, Imps, Waterbuck, Kudu and our first Wildebeest.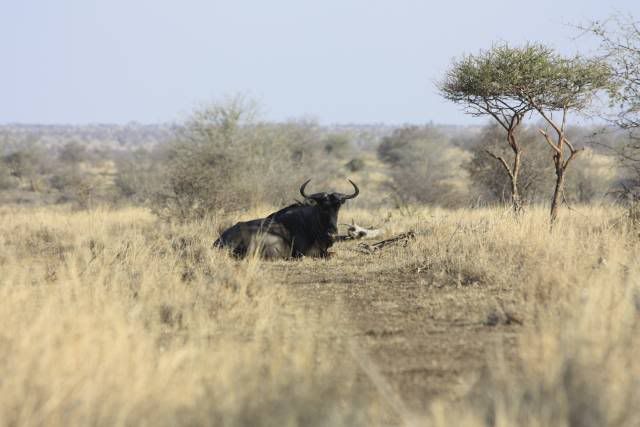 Around 5.30 PM we were back in camp. We relaxed a while and went for the lookout at camp: at 6.10 PM we had a meet and greet with Nkulu and Hilda. We didn't have a yellow ribbon, so they couldn't recognize us. Fortunately Nkulu had a yellow scarf. Nkulu, Hilda and Barry are really nice people. We spent almost an hour talking! We could keep the yellow scarf Nkulu brought, so we could make ourselves recognizable, how nice is that? Always nice to meet people who have the same interests, and now the forum comes a bit more alive!
Day 12
We woke up early this morning and were the first at the gate at 5.50 AM!! Whoehoe!
We were released at 6 AM and drove off to Balule camp, S92. It was a bit quiet, we saw some Imps. Then we had a Sanparks vehicle in front of us. The people in the back were pointing at the river: Hyena's. It were three of them, but they walked so fast, we weren't able to take a picture.
We drove on and just past Balule camp we saw another Hyena, walking in the bushes along the road.
We drove along to Bangu waterhole, we saw Zebra, Imp, Giraffe, Ellie and Jackal (just after the Bangu water hole).
We drove back to Balule, took the S91, H1-4 south, S89, S90. We saw a Kori Bustard, Imps (a lot), Zebra (a lot), Giraffe, two bateleur, an other eagle and Ellies.
We decided to drive back to camp via S92. On our way back we came across some nice people who were looking at something along the road. The man said that there was a leopard sighting a few metres in front of us.. Excitement!
And yes: there it was, lying on a rock, just relaxing and doing nothing. Lovely! We made some pictures en again took our time to take it all-in.
Suddenly the leopard moved and walked away. Ralph could still see the leopards ears behind the bushes so we decided to wait. The other cars drove off. In the meantime the leopard jumped into the tree and gave us a private show :-)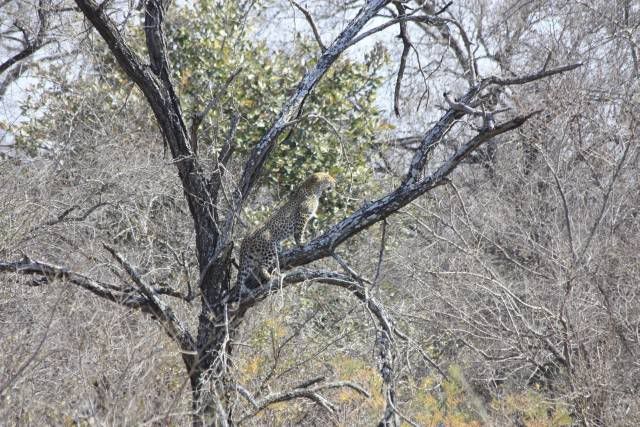 On film (click on it to open):
We went back to camp to relax and to do some laundry.
In the afternoon we had a sunset drive, which was really nice. We saw Giraffe, Imps, Ellies, two male Lion, Zebra, Steenbok, Warthog, Genet (film) and a Side Striped Jackal.
Our guide was Patrick, with every animal we saw he overloaded us with information. He really knew everything about animals and plants.
We drove along the S93 to the S46. He hear that there were two male Lion at the S46. We were with a lot of people, but Ralph seemed to be the only one who saw the Lions when we drove by..
Film of the genet, you have to click on it in order to open it:
Day 13
We woke up early and were at the gate at 5.55 AM. Again we were the first ones.
We drove The S92, S89, H1-4 and S91. We saw Giraffe, Zebra, Imps, Ellie and Kudu.
We decided to drive down the S90, because there were Rhino sightings on almost a daily bases. We saw Warthog, Kori Bustard, White Rhino (our first this trip!!), lots of Imps, lots of Zebra, further to the south also lots of Wildebeest.
On the H1-4 up to Olifants we saw Warthog, large herds of Zebra / Wildebeest and Imps and a small land Tortoise (cute!!).
Near the camp turn-off we saw a queue of cars: Lion. There were 5 female Lion and 1 cub (again, cute!!)
At camp we had brunch and relaxed till 4.30 PM.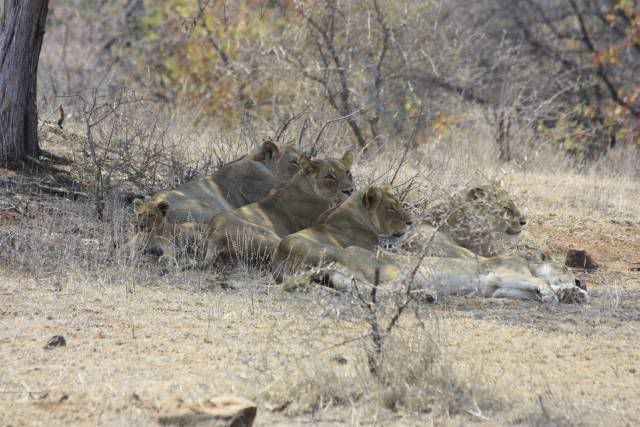 We decided to go for the large loop: we could easily make it in time if we would keep to the speed limits. So we drove the S92, S90, S89, H1-4. On the S92 and the S90 we saw some Imps and some Ellies. At the S89 we drove 40 km/ p hour. In the rear-view mirror I saw a car behind us, out of the blue. We let it pass, they drove really fast, maybe more than 60 k/ph! We slowed down near a Giraffe we saw near the road. Then suddenly a Steenbok was running in front of the car. It seemed really stressed out. We think the speeding car has something to do with that. It ran in front of the car for about 1 km. Then it ran into the bushes, straight towards a Leopard! Ralph saw it and shouted STOP! Lenny hit the brakes and reversed, what a beauty! We took some pics and enjoyed the company for a few minutes. Then we had to go on again, or else we wouldn't be back in time.
Here is a video. You have to click on it in order to watch it.
Along the H1-4 we saw some more Ellies. We made it back in time (5 - 10 minutes before closing time).
Day 14
We slept in and drove off to Satara around 8.30 AM. We drove the S90, S92 and S89 for the last time. We saw Imps, Kudu and Zebra. Along the H1-4 down to Satara we saw Ostrich, Zebra, Wildebeest, Baboon, Giraffe, Imps, Ellies, Steenbok, Warthog and Kudu.
We were way early, so after breakfast we decided to drive to Orpen gate. The weather was nice, not as hot as in the last few days. We saw female Lion, Zebra, Giraffe, Impala, Wildebeest, Kudu, a dead Snake and Ellie. On our way back we drove the Rabelais loop, here we saw nothing.
After checking in at Satara we checked out our unit (G176). It's really nice. The layout is a bit like the Olifants unit. This time we had a view on the fence.
We walked to the shop and came across Hilda and Barry again. Very nice people! They drove down to Tshokwane that morning and had wonderful sightings.
On our way back to our unit we saw the camps owl:
We decided to drive Hilda and Barry's route in the late afternoon. Unfortunately it wasn´t as good as theirs. We drove about 2,5 hours and saw Giraffe (a lot and very nice), Zebra, Kudu, Kori Bustard, Wildebeest, Ellies, Buffalo, Warthog and Imps. No cats... Damn!
At half past 5 we drove towards the camp and saw a line-up. Lions! 5 females lying on the road. What a sighting! We took some pictures, then we saw one male walking on the road. When we were in the right place to make pictures, the Lion walked towards the car and about 20 cm next to Lenny's window. She didn´t know how fast she had to close that window! We held our breath when he walked by, he really made a lasting impression!
Next installment: probably in the weekend!! Enjoy!
---
---
Who is online
Users browsing this forum: No registered users and 6 guests