Day 4: 29 Dec – Nossob to Twee Rivieren Part 2 cont'd
With it being soooo hot, my SO decided to stay at the chalet and start the braai and I took the opportunity to go on a quick drive before gate closing time.
Off I toddled and headed to Leeudril again as it had been good to me a couple of days previously. A bakkie was parked in the shade of a tree and as I drove past I asked if it was only the lion sleeping under the tree or if there was another one nearby. "Only sleeping male" was the answer, so I tried to get a reasonable photo and after watching for a while and realising that it was unlikely that he was going to jump up any time soon, I continued on.
This Kori Bustard really looked like he had swallowed a plank of wood, but I reckon he was just trying to impress some girl with his neck all puffed up.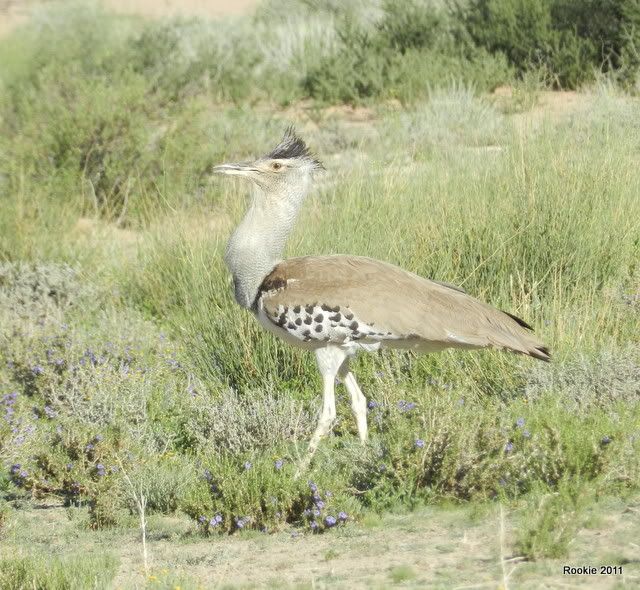 This Black-chested Snake Eagle was keeping watch on the goings on (am I finally right with my ID – I hope so!)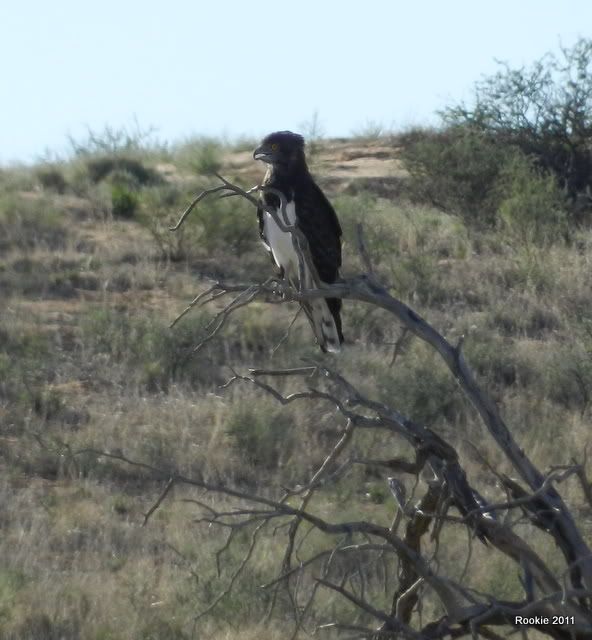 And this ??? juvenile PCG ??? was on the ground but didn't feel the need to face me and give me a decent photo opportunity.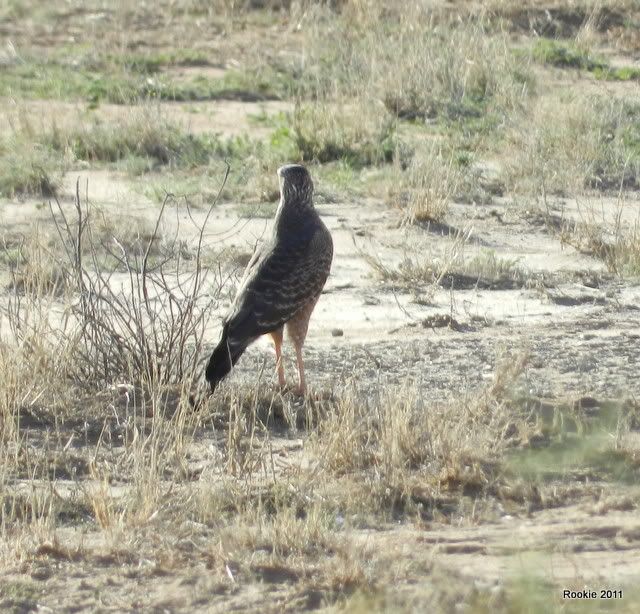 I sat watching the swarming Red-billed Quelea with no chance on this earth of getting any sort of photo. These little finches (Red-headed, male and female) were a little bit more accommodating.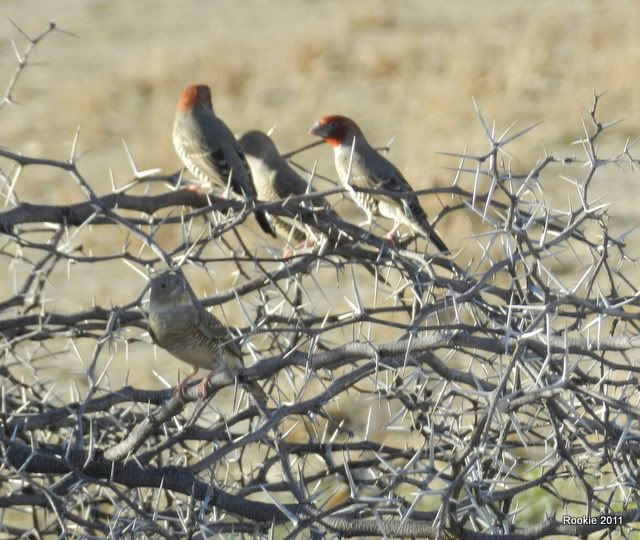 Not sure of these though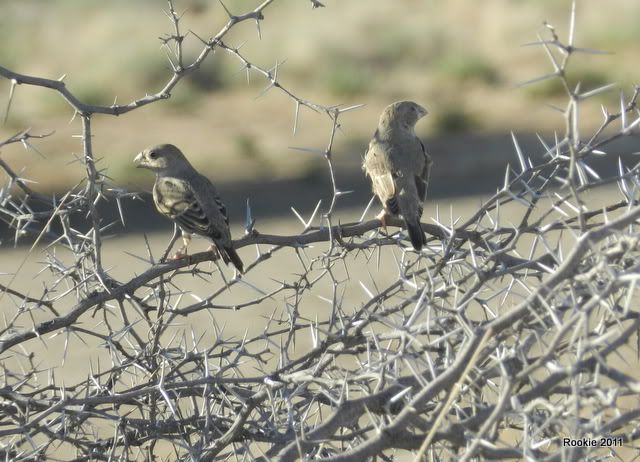 These little yellow mongoose were scurrying about in and out of the undergrowth.
When I got back to where the lion was sleeping, I was amazed to see that he HAD actually jumped up after I left….and turned around the other way. Sleeping lion again, but I really wanted to see him, so I pulled up alongside the bakkie which had been there all the time and started chatting when the driver asked me if I was on the forum….well I was flying a yellow ribbon
, so being polite as I am, I introduced myself and asked if he was too. It was NeilT. We chatted about the sightings we had seen and I showed him the photo of the little cheetah cub posted earlier and he said "That is a forum photo"……I got news for him…I didn't realise that TRs were part of a competition and ignorance is bliss, so I smartly said "all my photos are forum photos!!" I post them regardless.
So that is why you poor people reading this have to see all of them – horrid, bad and reasonable ones and a couple of flukes which are slightly better.
After sitting for about 20 minutes, Sir Lion started to move and you could feel the excitement rise amongst the keen viewers…..arise Sir Lion….and he did!! Before he moved into the next patch of shade and lay down again, I did manage to take a couple of forum photos!!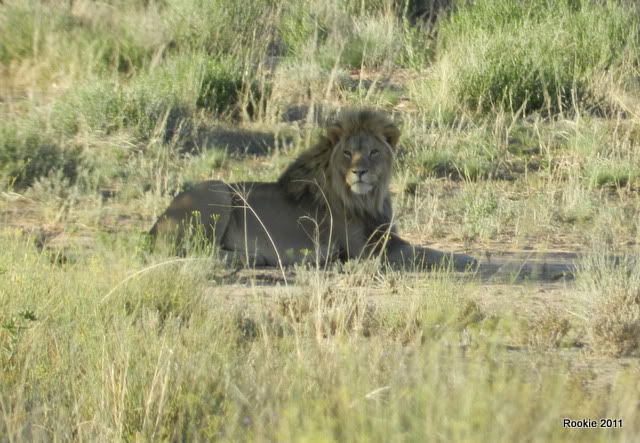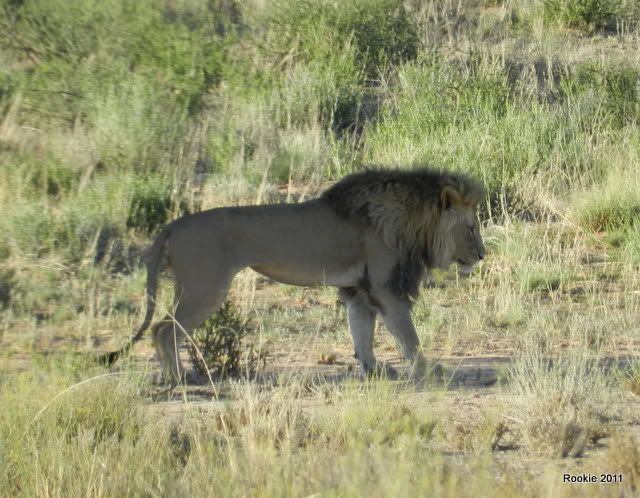 It was now heading towards gate closing and I sent SO a message that I was on my way back…..well I was, until I got to the last little rise with the pull-off area just outside the gate….traffic jam of note! 6 vehicles parked in the area, all facing off the abyss like they were a suicide pact…what could it be…did the gate close early????
Now if you have checked out the Research Camera Trap thread, you will know that KG moved the camera to the waterhole just outside the camp……was this what was causing all the excitement – an artificial termite mound!!
Well, not quite! A little family of lion, at least 3 were visible, had plonked themselves down right at the waterhole next to the camera!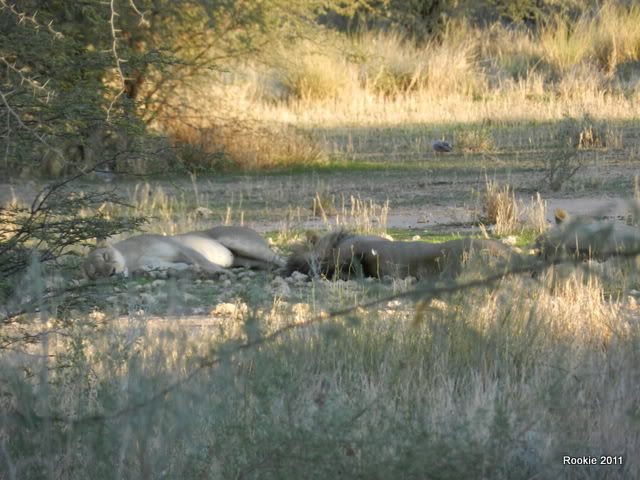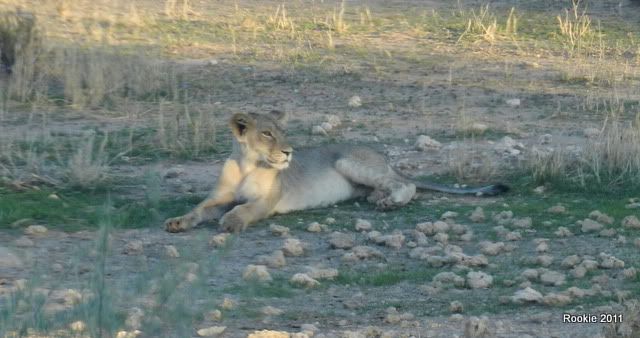 The SO did volunteer to walk down to meet me and have a look….
I left the sighting just before the gates closed so that I didn't have to queue to hand in my permit, but I bet there were a couple of people cutting it fine getting out of the gate in time……and hopefully somebody checked that the gate was properly locked that night.
We had a lovely braai, downloaded our photos and headed for bed in our nice cool room……wrong again!! The aircon, regardless of what temp you set it on, blew hot air around the room, with absolutely no cooling at all…….please tell me this was not going to be another wet towel and ice brick night,
but it was.
Needless to say that the only roaring and growling I heard that night was the SO moaning about the fact that the aircon didn't work AND the neighbours having a party.
How I wanted to wake them up when I went out at 05:30 the next morning!!!
---
Day 5: 30 Dec – Twee Rivieren Part 1
05:30 came and I had my permit in hand.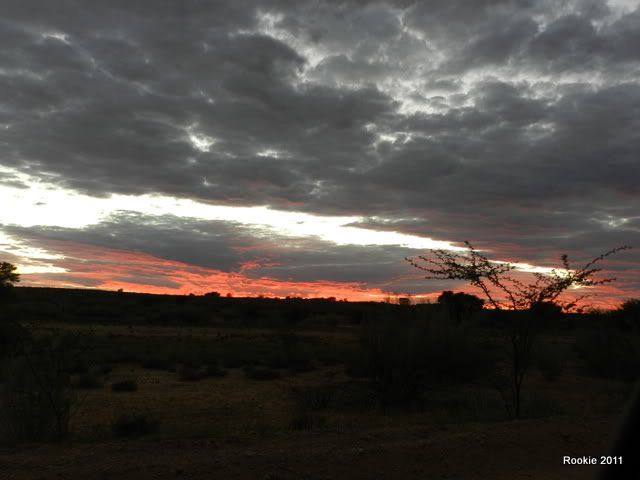 This is our last full day in KTP and we wanted to make the most of it, which is why I am up at gate opening and I wanted to see if the lions were still at the waterhole outside camp and also if I could track down the male from the previous evening.
I loved the rays of the sun shining through the clouds in the early morning.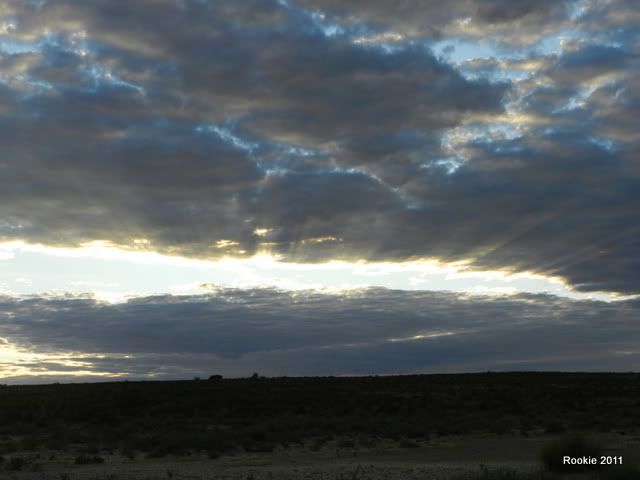 Sadly, the family had moved on and so had the lone male, but I did get to see this little Cape Fox about 12 km from camp. It didn't stay to say hello to the vehicle coming up behind me and even though I waited for a while, I didn't show its face again…but at least I did get to see it for a while.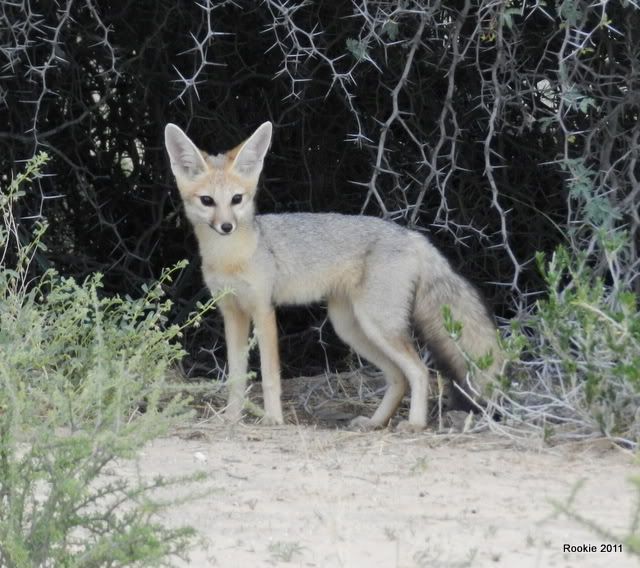 I headed off to Leeudril and was very excited to see a male lion – I wondered if it was the same one which moved on!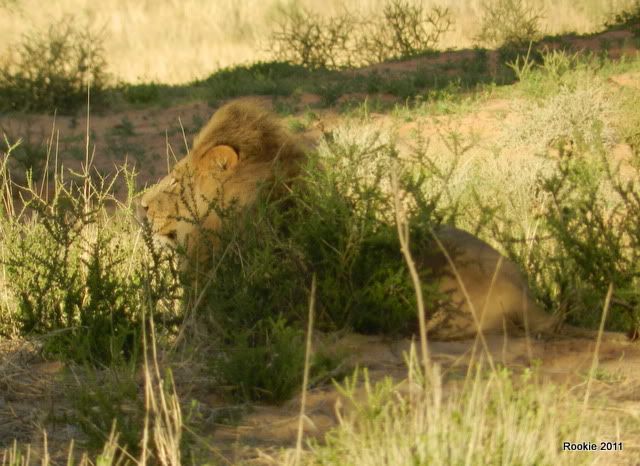 It was doubly exciting when I realised that there was a female lying close to him as well…could this mean what I think it means…..lions making whoopee!!!!! Yippee!!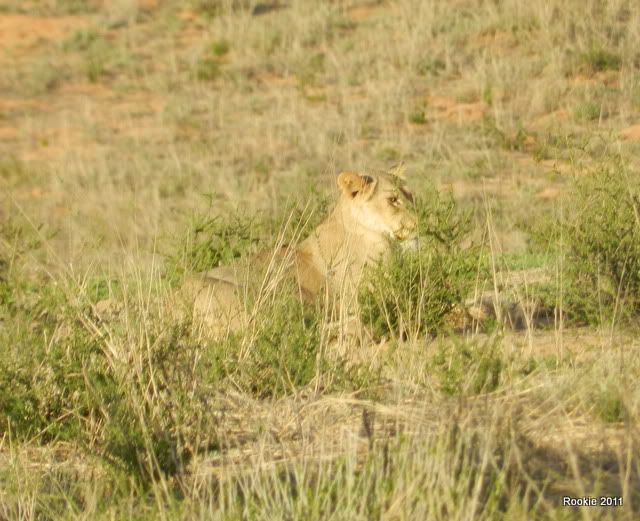 She got up slowly, swaggered towards him and "bobs your uncle"! It fascinates me how they can be dead asleep the one minute, up and at it the next and then like dead asleep again the next…..what happened to chatting?? And to top it all, I missed the action.
I was getting the evil eye from this juvenile Martial Eagle as I returned to camp to collect the SO for our day out.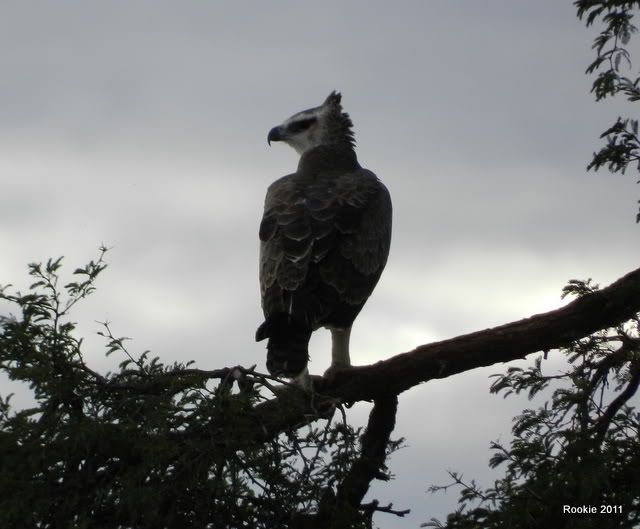 Showered and with water packed, we headed off. We had decided to take the detour road to Kij Kij and then do the lower dune road across and up to Mata-Mata and then back to TR. We had also booked a sunset drive as it was our last night and I was hoping to see some of the nocturnal animals which had not made themselves visible as yet.
We again saw the family of Ostriches at Samevloeing
She looked like she had swallowed a brick with the strange bulge in her neck.
And then we watched fascinated as a herd of Wildies came through on a mini-migration. As we sat on the road, they came from our left, crossed over in front of us and ran obliquely towards the dunes on the right. The leader of the run was actually a female with a little one running right next to her and keeping a good pace. There were a good number of babies, so the herd was fairly spread out, but to be able to sit and listen to them all "gnu'ing" as they ran was something that really captured my heart. Then the questions….do they do this all the time or only at specific times and where were they going? There was water at the waterhole, so it couldn't have been the need for water that was driving them on. Unfortunately I was taking a video at the time, so didn't get any stills shots.
The forked tail Drongo was jumping from bush to bush pleading with me to take his photo. Isn't it strange that everybody takes photos of weavers, finches, raptors etc, but very few actually take photos of the Drongos. I obliged, but I am sure that if he saw it, he would not be very impressed.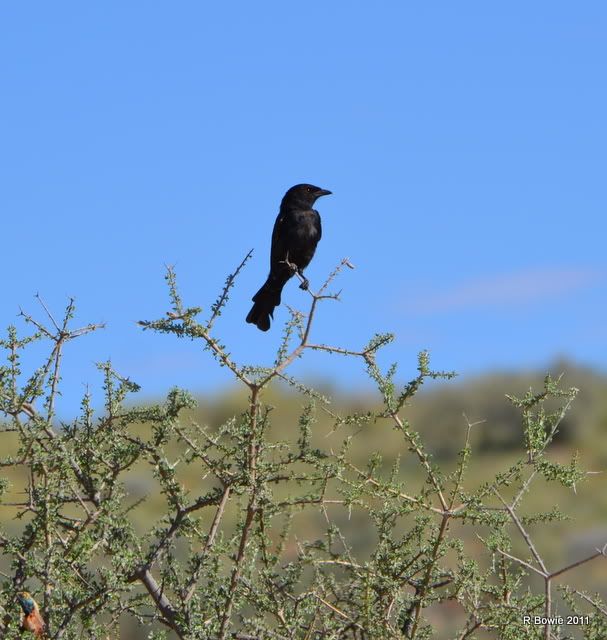 We also saw our first tortoise, so of course had to stop and take a photo.
It was only 08:30, but the temp was already 29 °C. so these Springbok were taking advantage of the shade. The one in the front looks like it was cold.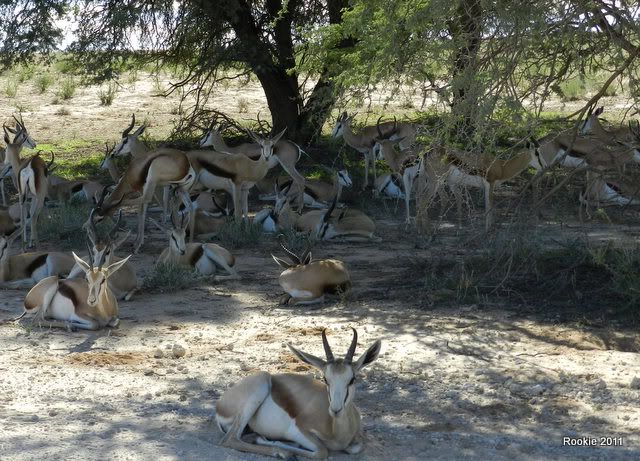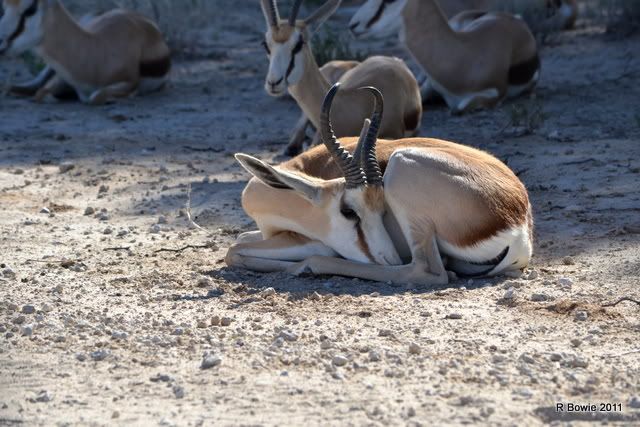 Just before we got to Leeudril, we saw that the lion pair had moved and were sleeping under a tree.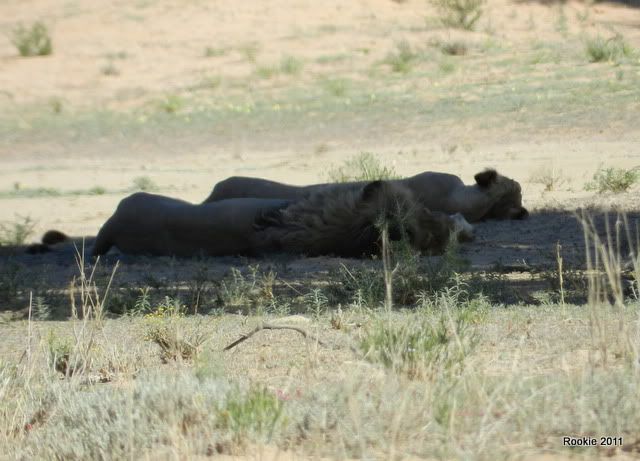 I just said, "wait, give them 20 minutes….", so we sat and watched them, along with 2 other vehicles and lo and behold, we didn't even have to wait 20 minutes when she got restless, and he got up…..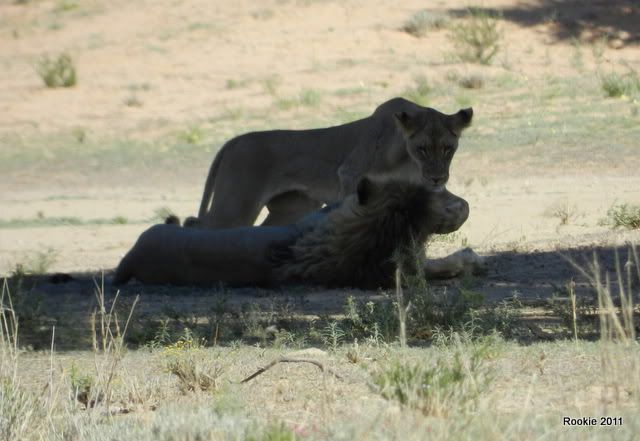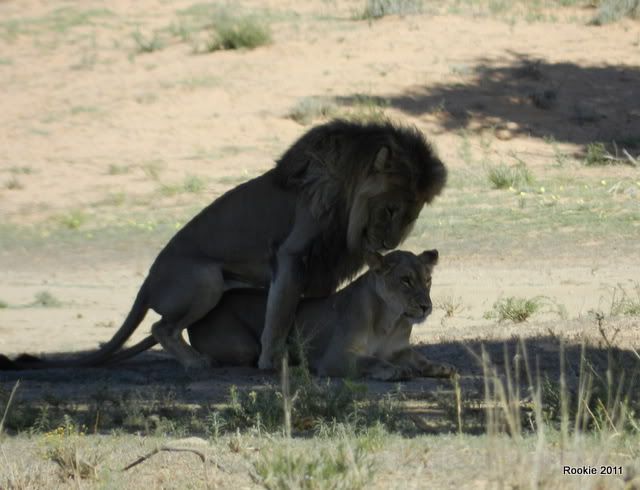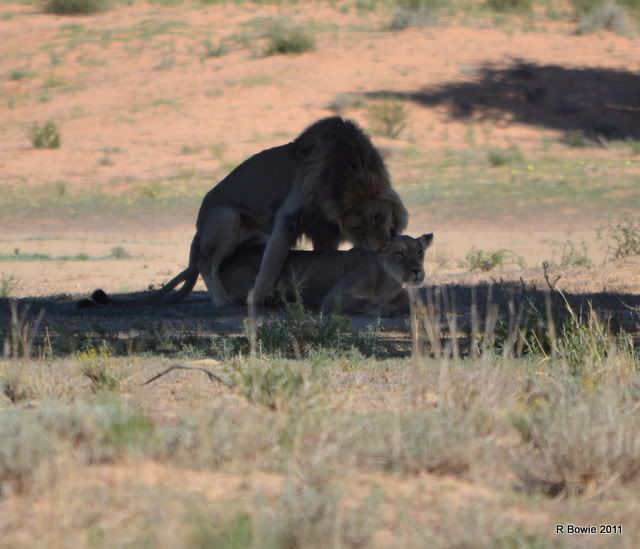 I love this picture of him looking like he has been hit by a bus and almost knocked off his feet.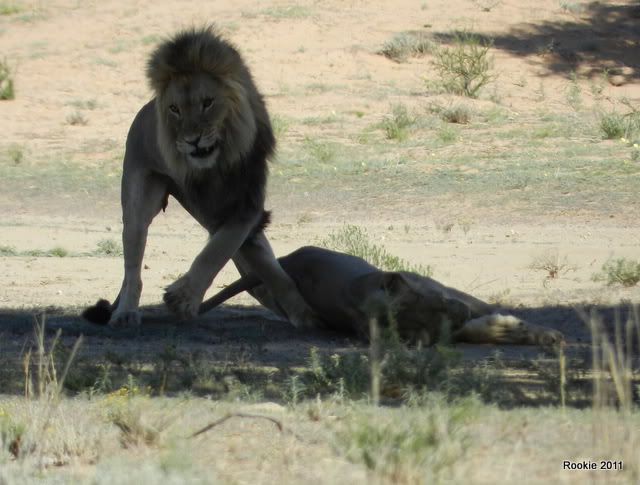 When they went back to sleeping,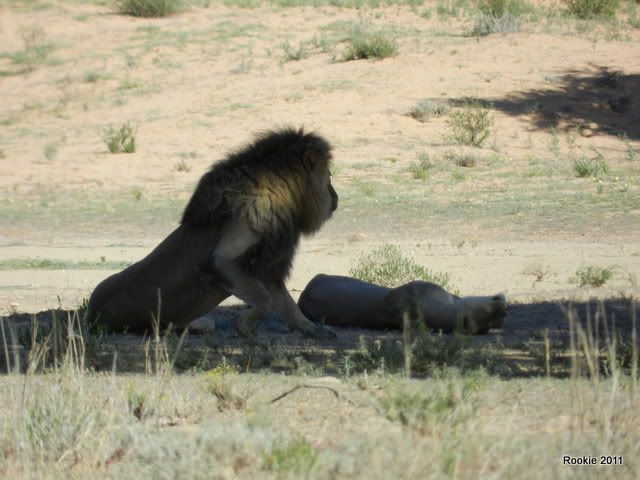 We moved on as we had a long way to go still.
We missed the bat eared fox den along the detour road….grrrr
At Kij Kij there was a lone Wildie drinking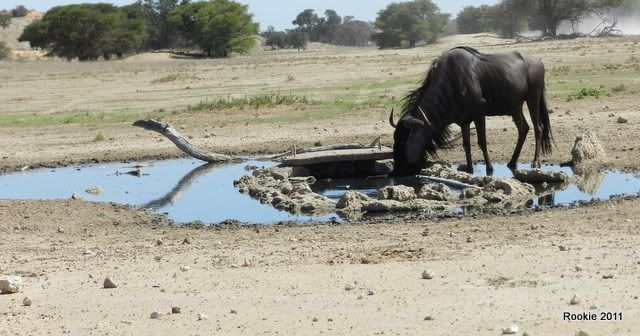 The dune road didn't deliver much in the way of animals, but the scenery was beautiful….the green and golden bushes against the red sand and the road winding its way into the distance.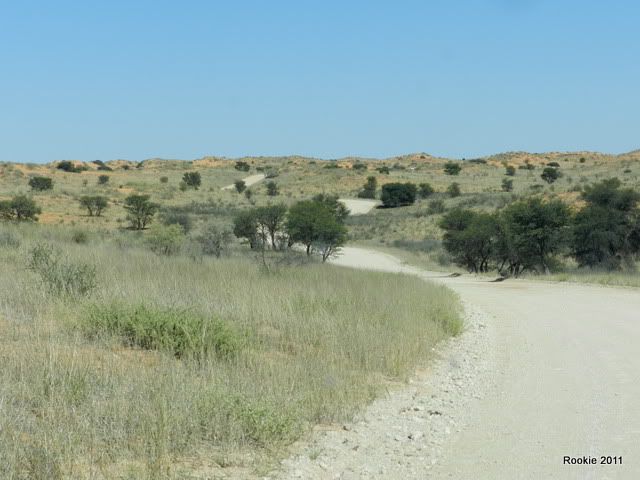 The Tsamma melons dotted about the road, their contents having been gobbled by a grateful animals.
The temperature was climbing and by the time we reached the Mata-Mata road, it was 32 °C and not even 10 :00. Between Batulama and Montrose, we saw a BBJ
and again, under a tree on the far side of the riverbed, was the cheetah,
but hold it….it looked like she had 3 cubs with her, so it was not Lizette and it was not the one with the 2 cubs….it was a different one. Also no collar as far as we could see and the cubs looked similar in age to Lizette's, so somewhere around 9 months.
This juvenile Martial Eagle was sitting keeping a beady eye on the other birdies in the tree.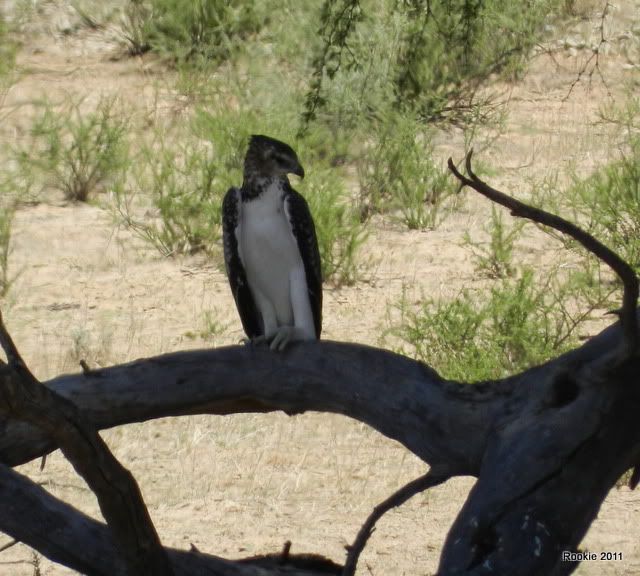 It was now hitting 35 °C and the Secretary birds were having a welcome drink at Rooibrak.
The hotter it was getting, the more agitated I was getting that SO would decide that it was no longer a joke and would decide to turn back and I so desperately wanted to go all the way to see Dalkeith and Craig Lockart as it seemed that is where all the action had been in the previous couple of days. As we soldiered on, there was nothing, no self-respecting PCG would even be out in that heat!
Just around Urikuruus waterhole, we spotted 2 Secretary Birds strutting up and down and so we slowed down to observe them…..ja we had seen them before, but hey, it was a sighting and when there is nothing else, they can be quite interesting.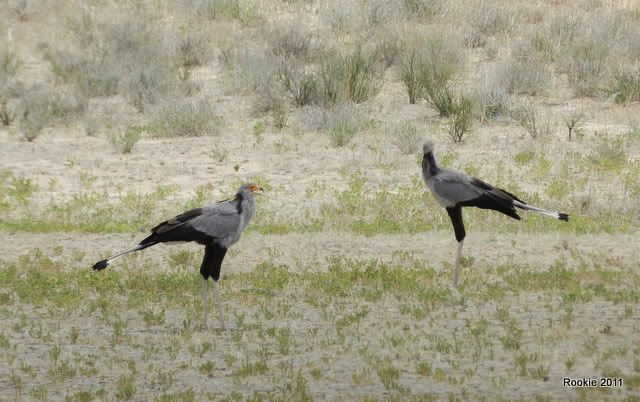 Luckily for us, as we did, we caught sight of…..you guessed this one….a CHEETAH, lying under the tree on the far side, with 2 cubs.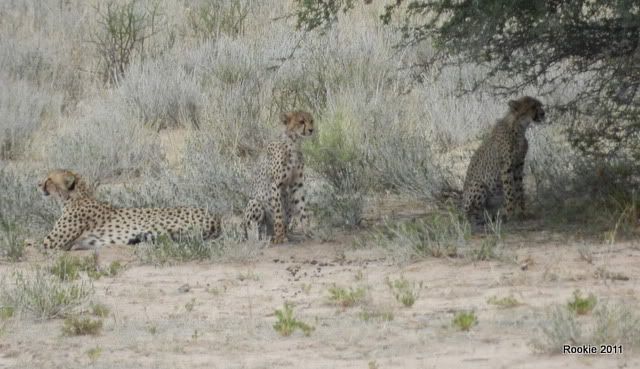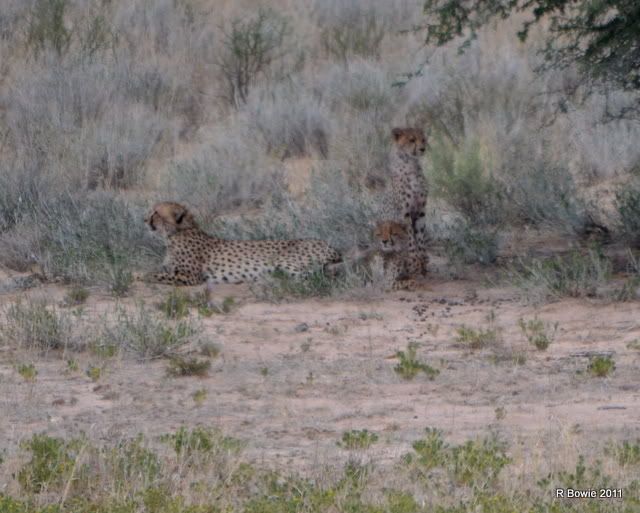 The birds were almost teasing her and the cubs…wandering about in front of her, stopping and looking at them
The cubs were interested, but mom was looking in a different direction.
The next minute, a 3rd Sec bird came flying in for a not so graceful landing.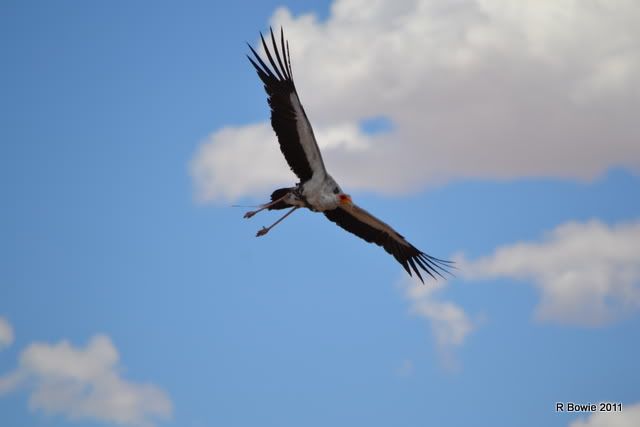 I was craning my neck to watch the interaction and it seems that it was the mother and 2 youngsters as she vomited up a pellet of some food which they then ate. I was unfortunately not able to get photos.
Mom cheetah sat up briefly and stared into the distance, but whatever it was didn't appeal to her for long, so she went back to resting.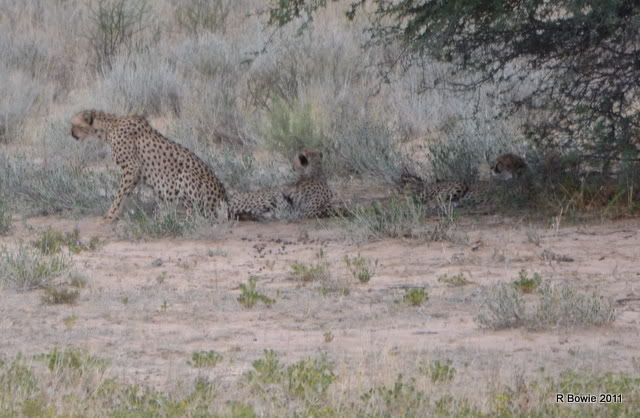 12:00 and 38 °C – were we the only thing cooking today….you will have to wait and see!
---
[/color]
Day 5: 30 Dec – Twee Rivieren Part 2
We stopped in at 14th Boorgat where these Gemsbok were quenching their thirst.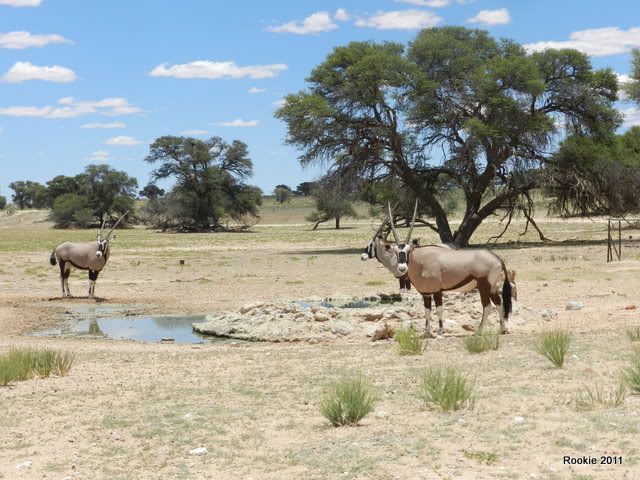 There was a secretary bird lying in the grass panting and gasping for any air that may have decided to move at that stage!
As usual, the swarms of Red-billed queleas were doing their thing in the bushes – won't subject you to another blurred photos of them!!
I did managed to get this photo of the Red-chested Shrike, but it is still not great.
Further along the loop, this beauty was taking advantage of the small amounts of green grass nestled at the base of the dry golden fronds!! Awfully poetic wasn't it! Luckily he didn't move away as we focused our cameras on him.
As we neared Craig Lockart, there was a small herd of mostly female Wildebeest with some really tiny babies trotting along with them.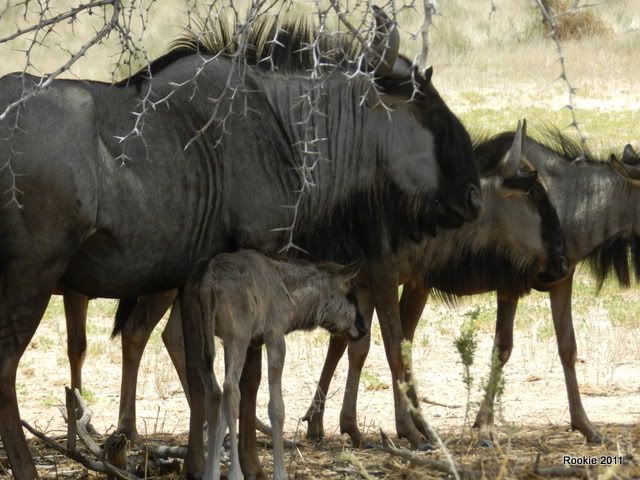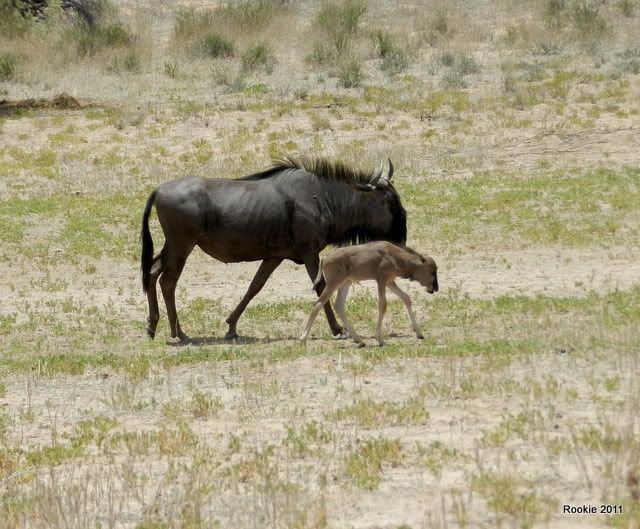 There was one of the adults hanging back and stopping and turning around every so often and looking, so we assumed it was the guy that drew the short straw and he was the one on guard duty (and therefore the one that most often gets eaten), but little did we realise that we would find the reason soon enough. Just next to the "no-entry" road, lying under a tree not 15 m from the road, were the culprits of the Wildie's angst.
Some of these photos are not for sensitive viewers.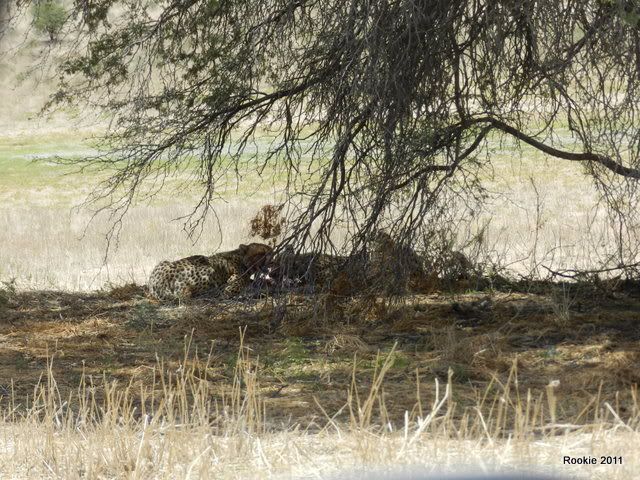 2 Adult cheetah, not collared from what we could see, were having their lunch, sadly it was a baby wildie and we could only think that it must have been the mother turning around, still looking for her baby.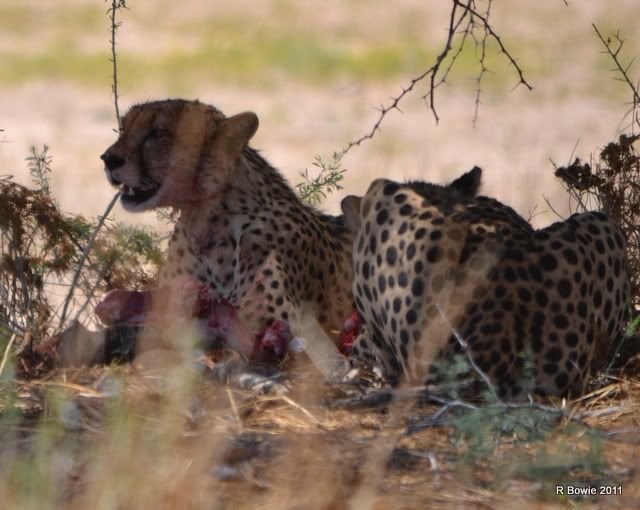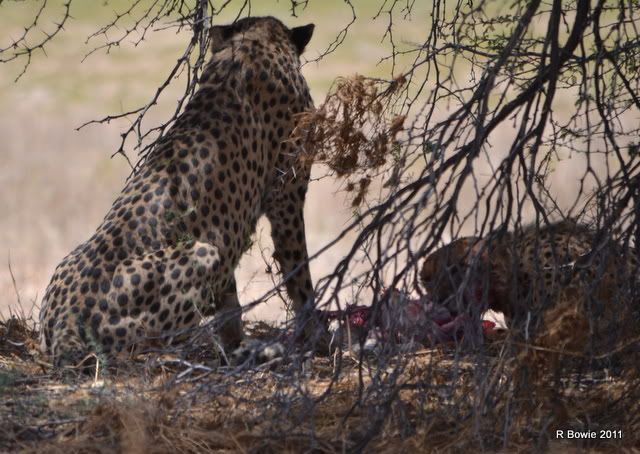 It was our first "kill" and in a way I am glad we came across it a bit after it had happened.
We sat with them for about 25 minutes, but the car in front of us gave no indication that it was going to move to allow us to have a better view, that we decided to head along.
Not long after, we did another ones of these "what was that?" "it was an Owl" "go back", so we bumped our way back a couple of meters and hiding in the branches and amongst the undergrowth were 3 Spotted Eagle Owls (possibly still babies).
One of the grounded ones looked up at the tree as if to say "you want me to hop up where??"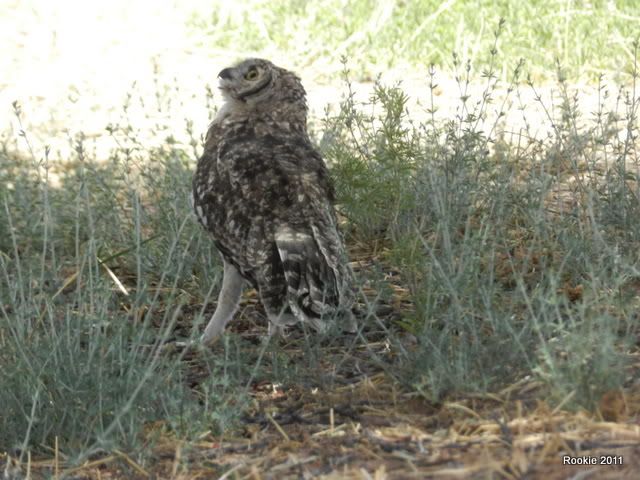 "oh go on, it is easy, look"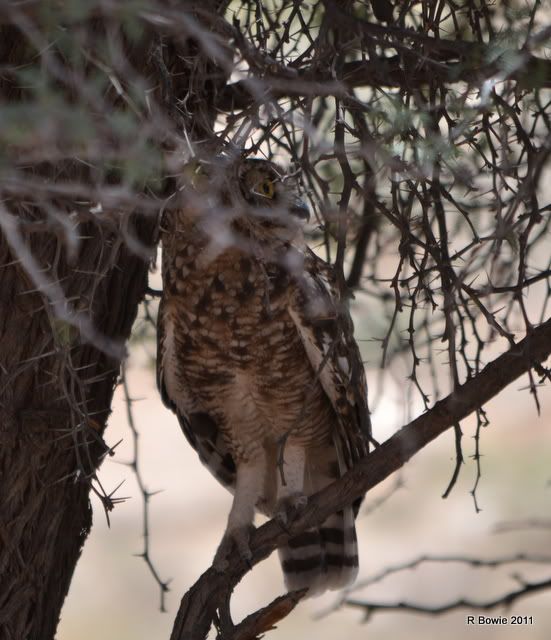 "Ok, so what are you looking at….."
"If I close my eyes I can't see you, so you can't see me!"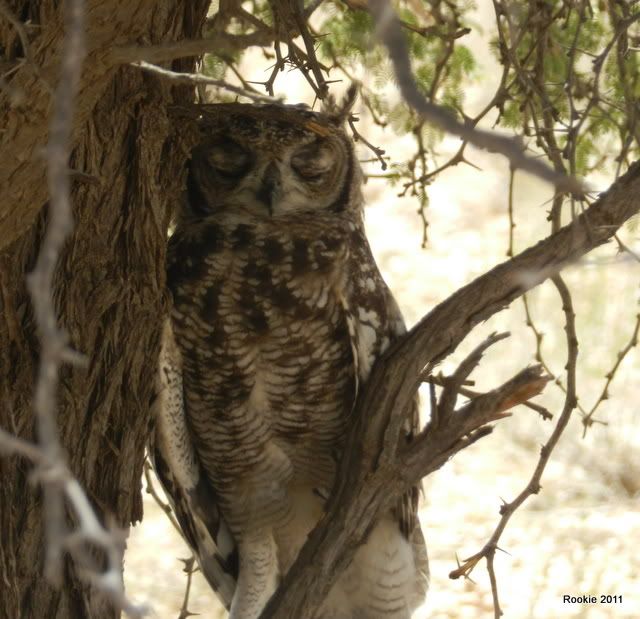 It was now 13:30 and it was 41 °C……my word!! Note the dust!
We then saw the only vultures of the whole trip high up in the trees, not a great photo opportunity.
We arrived in Mata-Mata and headed straight for the shop. Cold, anything cold……..but stocks were in short supply, so we got what we could and a packet of ice and stood under the tree having something to eat and drink.
I spotted a yellow ribbon and it has Bibrongecko's dad. We had a quick chat about raptors, BG's favourite and then he left. While I stood outside, I did what any budding birder would, I looked up….and staring back at me was this
"Ooooooo", I sounded like an Owl and there were a couple of guys also at the shop who asked what I was looking at….."an Owl" was my reply.
"A White-faced Scops Owl" he asked. "An Owl", I answered…"how am I supposed to know what it is?"
He came over, confirmed its ID and said he had to go and tell mom! I then heard "oooo"ing again, and realising that it was not me this time, suggested that there may be another there too. A quick scan of the tree revealed the mate, a little bit more difficult to see.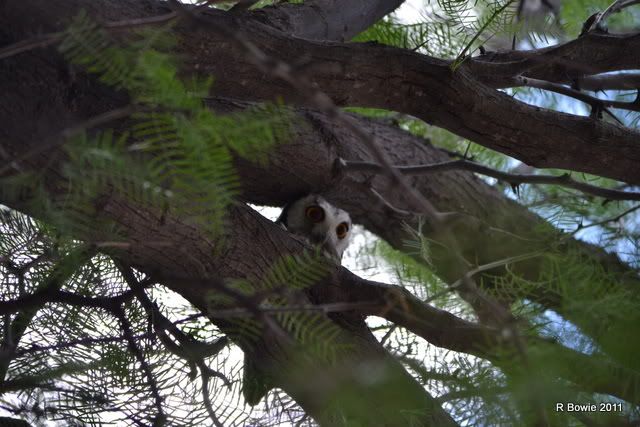 Wow, 2 lots of Owls and during the day too. What luck.
These 2 falcons were sitting in a tree not far from the camp. Please can somebody confirm the ID, I don't think they are Lanners as they don't seem to have the face markings I would expect…but then that doesn't mean they can't be juveniles!!
We past the spot where the cheetah had been feeding and the one was still "sucking on the bones" while the other one was resting under the tree. There were no other cars there, so we stopped to watch them for a while.
The one that was lying in the shade got up and from what I could see had a very bad limp. Even in the photo, you can see that the left back leg does not look right.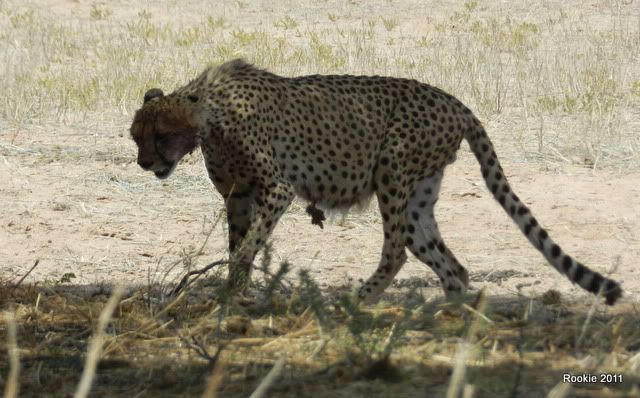 I wondered if she/ he had hurt it in the chase after the baby wildie or if this was an older injury.
We needed to make our way back to TR for our drive and felt that we had had a wonderful day and couldn't possibly be treated to anything else….wrong again!!
As you have seen my now, I love Bee-eaters, but am not successful in capturing them on camera. As we trundled along a STBE swooped down in front of us and disappeared onto a hole in the bank on the side of the road. Now we had seen the holes and wondered what lived in them, but never for one moment expected it to be one of these birdies.
We stopped as quickly as possible and sat watching, but, although they swooped, they didn't go into the hole. We were too close and just moved back ever so slightly and then they came. I can't tell you if it was the same one or two or three, but it just seemed to be a never ending stream.
I was using a Nikon P500 set on auto! "Sacrilege" I hear you photo fundies shout – "how do you ever expect to take a decent photo on auto"….well I don't reckon I have too badly on some of them so far and at least I can rely on getting at least 1 in-focus shot. (SO is using a Nikon P 3100, but the manual focus is not playing ball)
These photos will give WillemK and Touareg the cringes when you compare them to their stunning photos!
Here is a selection of the fun and games we had trying to get a photo.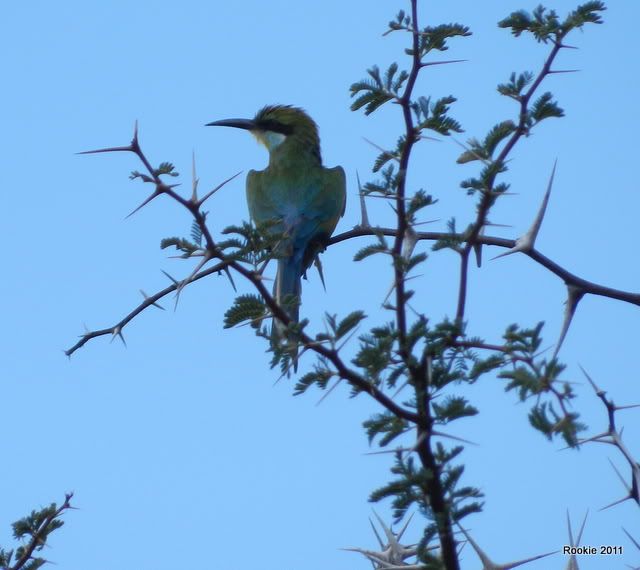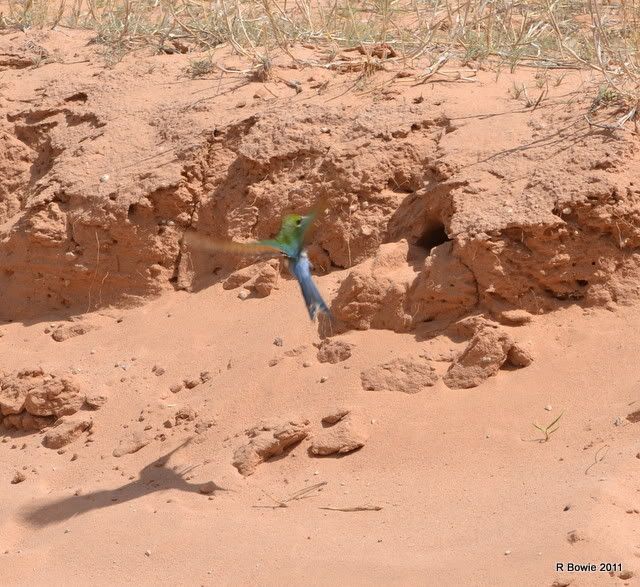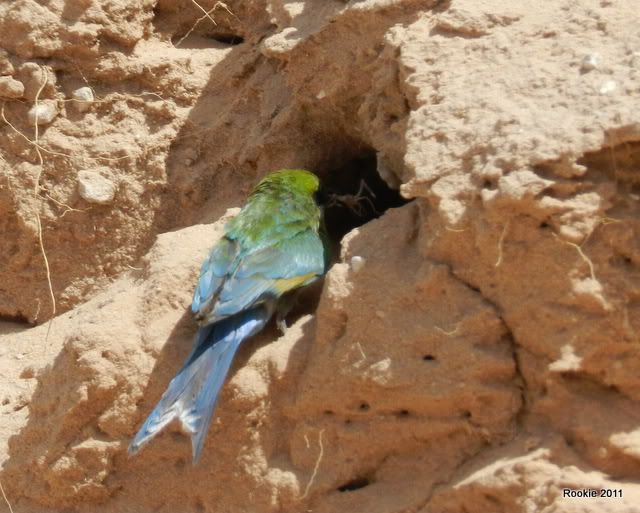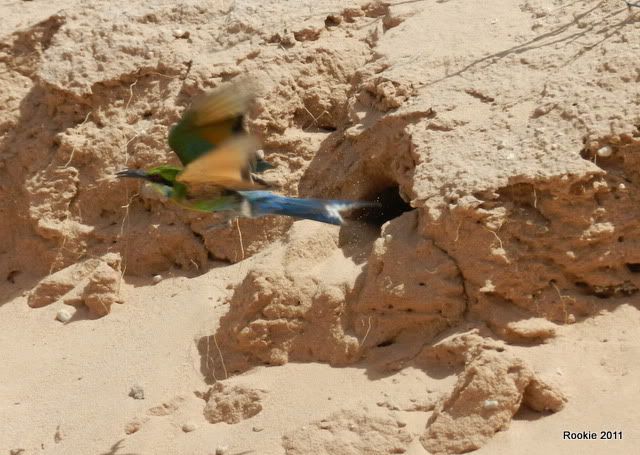 I am now going to fly away with the Phantom of the Opera and the music of the night! Has to be infinitely better than the song of the Cicada.
---
Legendary Virtual Ranger

Posts: 6884
Joined: Wed Mar 16, 2005 12:38 pm
Location: In the shadow of Table Mountain
Scouter wrote:I think those are another 2 juvenile PCG's I'm afraid -
Spot on
Whatever (according to BB): "You are correct but I don't want to admit it".
In a world of grey, be
RED
---
Day 5: 30 Dec – Twee Rivieren Part 3
We reluctantly left the SWBEs as we really had to get back to TR and time was moving relentlessly on.
What we did notice was that about ½ way between the waterholes, there was always a pile of rocks, but have no idea what their purpose is, but we liked to use them as markers for sightings, so the note in my bookie says "1 km from stones between Montrose and Batulama"…..lying in the middle of the riverbed was a Springbok….nothing unusual about that seeing as there are Springbok all over the place…..but few of them are lying on their side with little interest in life…..and have 2 young cheetah looking "lovingly" at the rear end of it!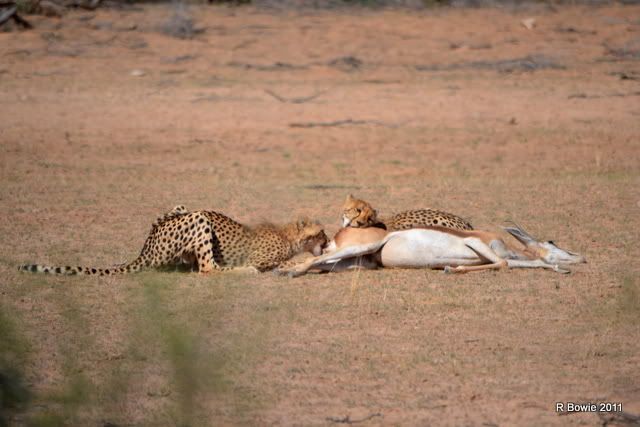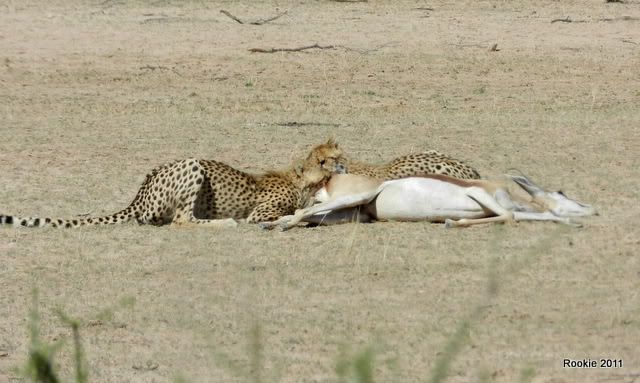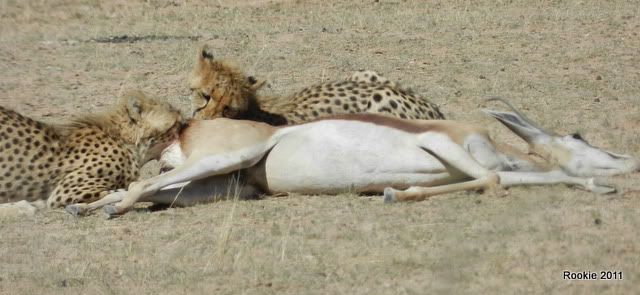 We must have just missed the kill as they had not even started to open it up yet to feed. We had stopped for a pitstop at the picnic sight (thanks to Caracal for the heads-up about the lack of loo paper), but had we not stopped, we may have missed it as well, but who knows.
So it was our 2nd kill for the day, but we were not sure who it was at this stage.
More cheetah….she has got to be making this up…..well I would not believe me if I didn't have the pictures to prove it.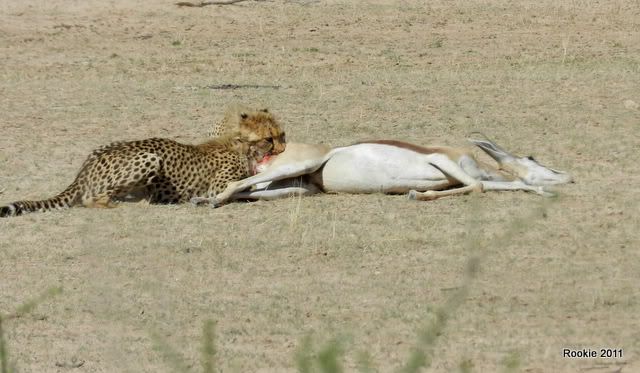 At first there were the 2 cubs trying to decide how to tackle the entry point.
They managed to start and buried their faces in between its legs and slowly we could see that they had succeeded in their feat.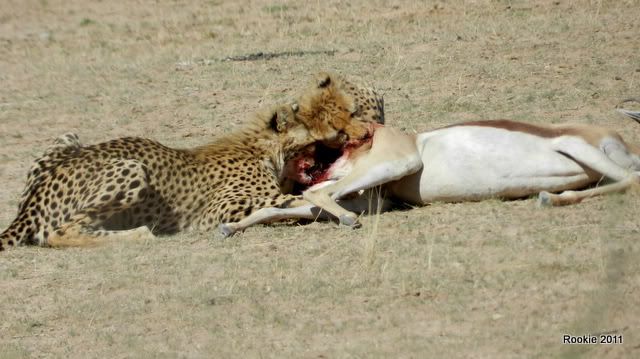 Another cub wandered over and also had its chance.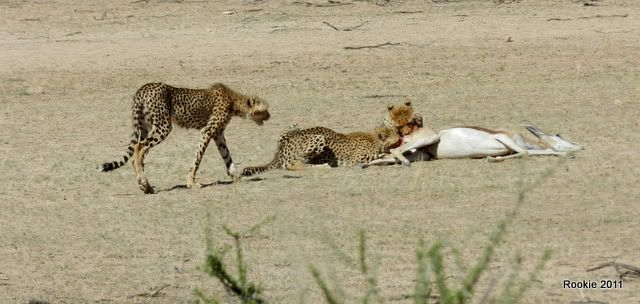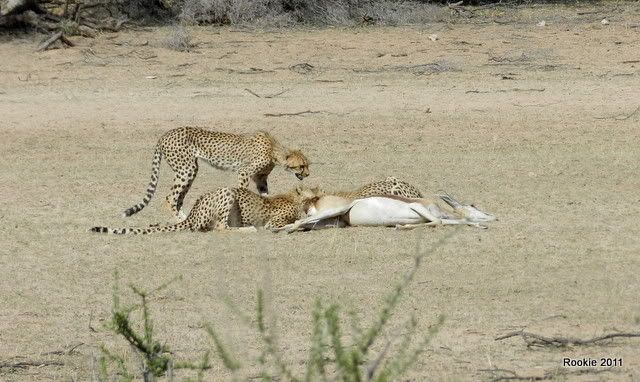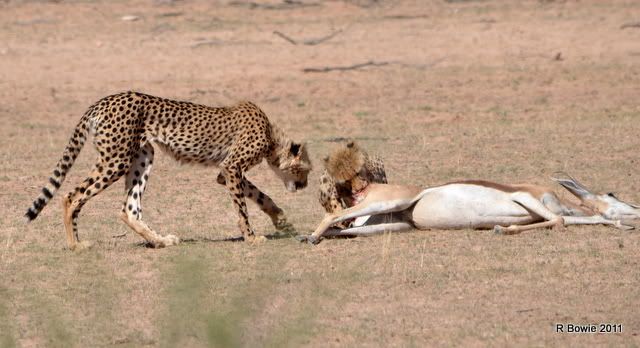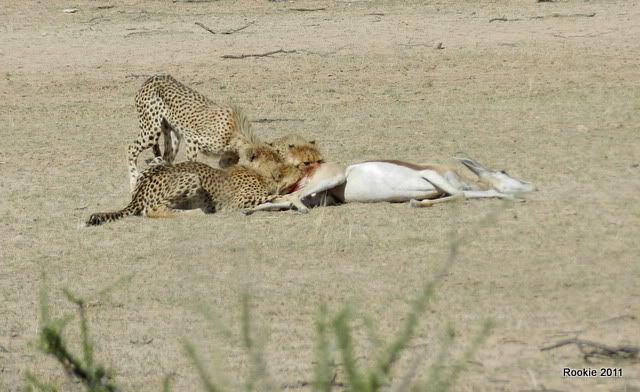 We sat and watched this for a good while – we were the only car anywhere about. It was nearing 16:00 and most sane people would have been in their camps, waiting for it to cool slightly, but then I never said I was sane!
There was a lot of swapping places between the cubs and the sun was relentless so I think they were getting very hot.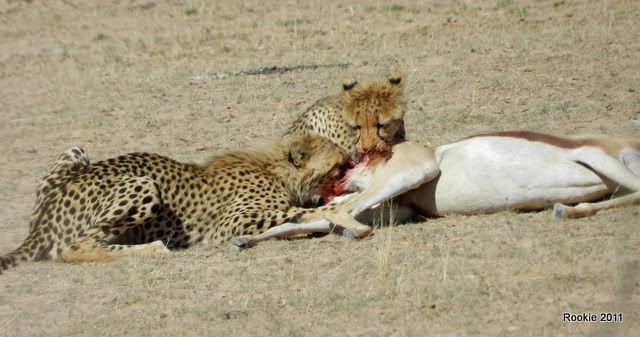 Eventually mom could not take it anymore and she wandered over, grabbed the bokkie by the back leg and within seconds, had dragged it behind the tree and into the shade.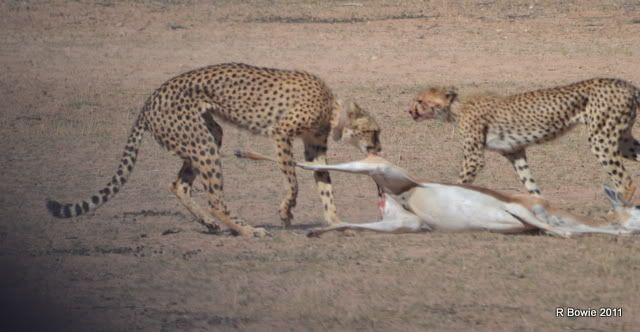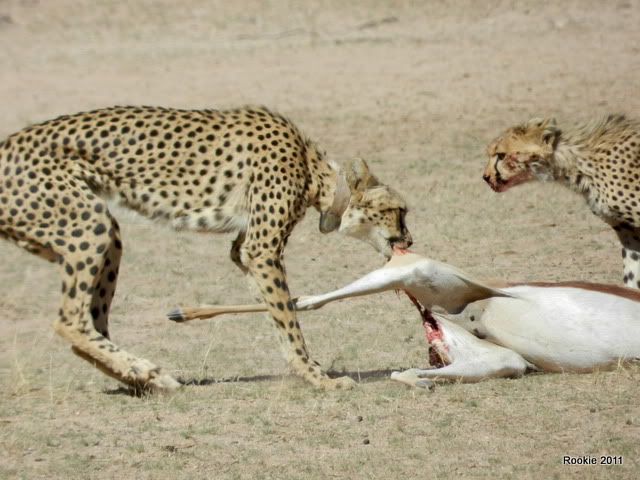 Not to be outdone, we changed position, but it was much more difficult to see now.
A young couple in a Nivara slowed down and stopped behind us, obviously looking for what we were looking at, must have reckoned we were nutty birders or something and moved on. Little did they know what they were missing! We finally caught site of all of them and it was the collared female with the 3 cubs.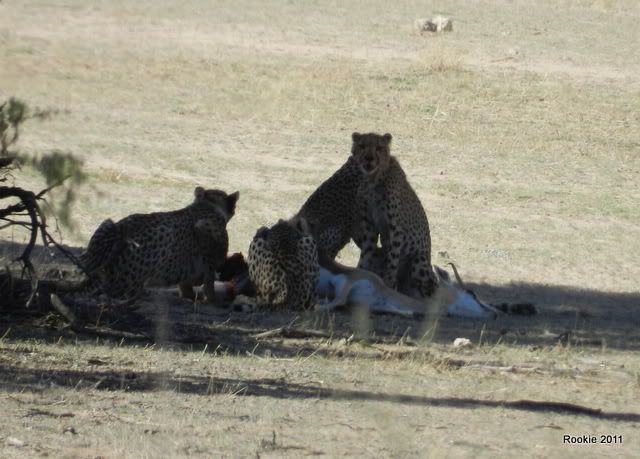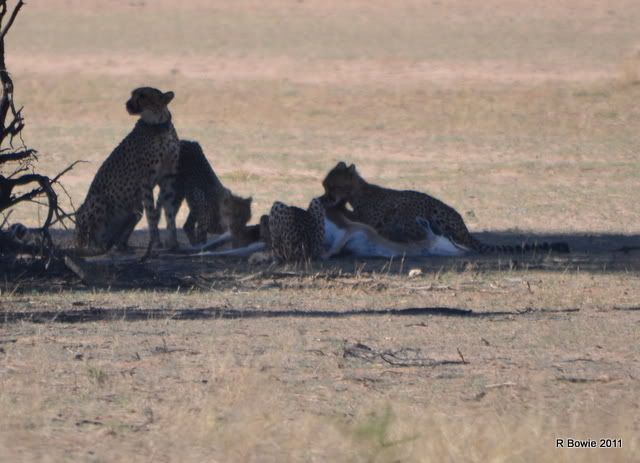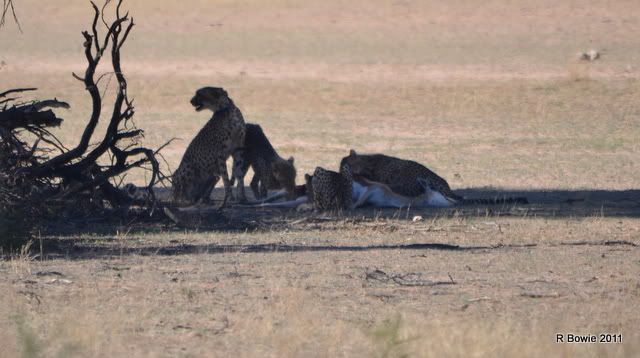 Our return to TR was now getting urgent, so we left our little family, sure that it would be the last cheetah we would have. As we got near to Auchterlonie, there was a minor traffic jam and the lady at the sighting was kind enough to tell us that there were 3 leopard in the cave at the top of the ridge and they had been waiting 11 days to see them! Aaarrrggghhh,
we didn't have the time to wait and see if they would emerge and there was no way that we would get back in the morning seeing we were leaving the park. So sadly we did not get to see any leopard.
We arrived back at camp very hot and SO headed for the pool and I headed for a cold shower before our sunset drive and topped up the charge on the camera batteries in case we saw anything on our drive. We also went to complain again that the aircon was still not working and I was assured that the man would come and maybe it needed re-gassing, because that had obviously not been done earlier in the day.
We met the driver and there were only 4 of us on this biiiig truck. I checked if he had spotlights and I was so excited for the possibility of seeing nocturnal critters. Now given that we knew that there was a pair of mating lions at Leeudril, I thought that we would head in that direction, but our guide had other ideas and took us on a track from Samevloeing that looked like it had not been used for 100 years.
It was very rough and we seriously did not go more than about 10 km/h, which I found very frustrating.
Did he know of something that we didn't?????
The other couple with us had not seen a Gemsbok and all he wanted was to see one on the drive….would our guide please his customers???
All these unanswered questions!
Ja, so, NO! Just after leaving camp, we stopped at the big weaver's nest,
but there was an eerie silence…."where are all the birds" asked I………"out scavenging….I mean foraging" was the answer. Oh boy, we were off to a good start! We were actually stopped there watching precisely nothing and getting no info either.
We eventually moved on with a little bit of prompting from yours truly and took our track. We had to do all the sighting, so there was the occasional "STOP – what is that?" from us, otherwise pretty much silence. Now don't get me wrong, I love the silence of the bush and I now that you cannot guarantee animals, but if I am paying to do this, I would at least like some info as we go along.
The first critter we saw was a family of Meerkat, sprinting in the opposite direction. On seeing them, he was asked if it was a Meerkat or a Mongoose, the answer….Meerkat.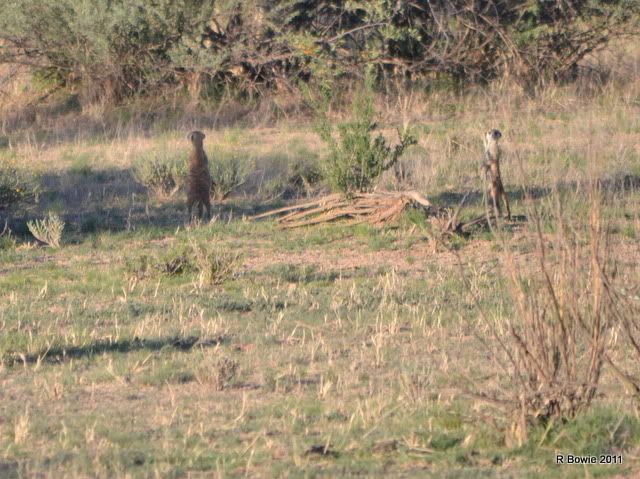 Now surely if somebody has asked then it would be a great time to tell them about the differences, the family structure, their habitat, food etc…….or so you would have thought!
Next was a Cape Fox hot footing it up the dune behind a bush – the tail, the only tell-tale sign to differentiate it from the BBJ, which we did also see.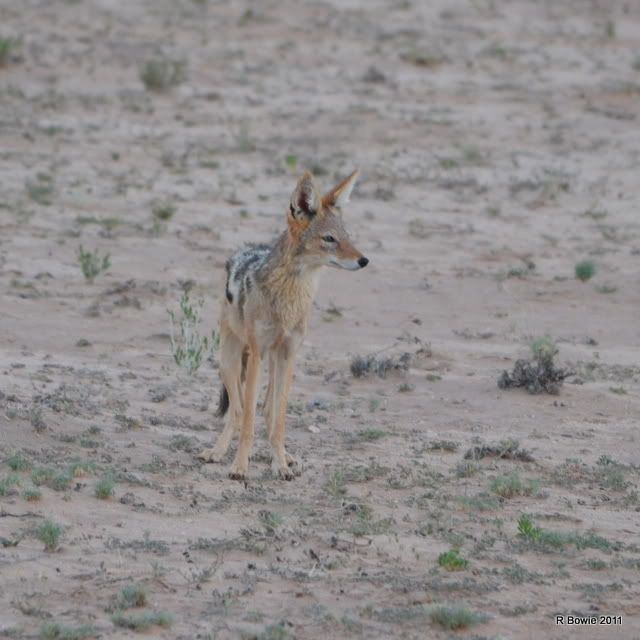 Next, the SO who was sitting on the opposite side of the truck to me shouted STOP! It was a Cape Cobra standing with its hood up, but by the time we had come to a halt, it was slithering away and went under the truck and out the other side.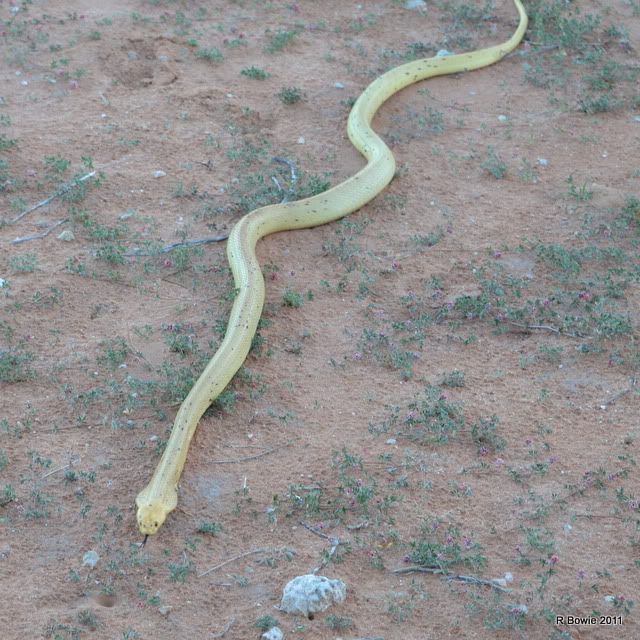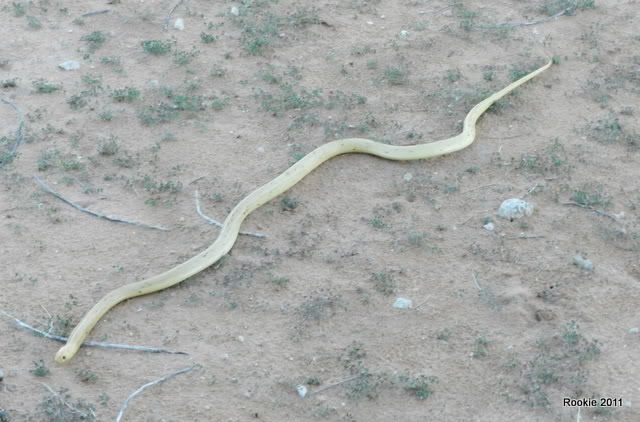 It was trying to go down different holes, probably looking for its home.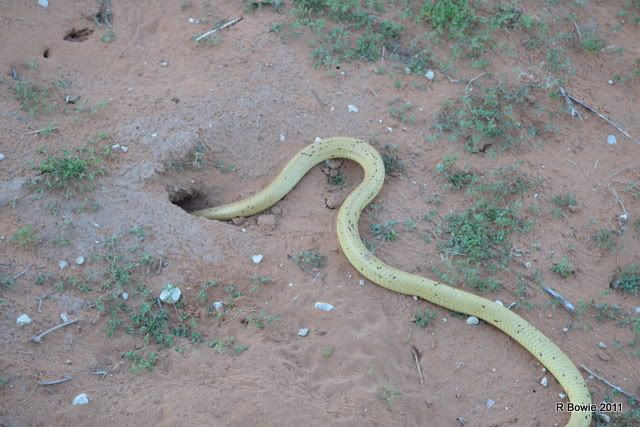 Our guide did find us a scorpion! Large pinchers, not very dangerous……
And got out at one stage and told us that the tracks he had seen were lion, but they were old! Great! If he wanted to find fresh ones, he should have gone…….Oh never mind!
On we trundled, spotting 2 Steenbok – he did tell us that they are solitary and if there are 2 that means that they are probably competing for territory or mating. A small herd of BWB and springbok were next on the shopping list, but still no Gemsbok!
It was dark and time for the spotlights before we made our way onto the Mata-Mata road and on towards Houmoed. Switch lights on……..
uummm, is the globe blown……
is there another switch I am supposed to press……the beam did not even shine 20 m, so unless the animals was standing on the road, we were not going to see it.
Wait, there is a second light, let's try that one…….same problem! So needless to say, the rest of the drive was outstanding. At one stage I picked up eyes, but with the light being so bad you couldn't make out what it was anyway. I thought AWC and he said Scrub Hare - if only we knew who was right.
Well I don't know who he was SMSing, but as we turned from the M-M road back towards camp, all of a sudden, we had spotlights that were shining about 100 m into the bush! and when we got back to camp, one of the camp bakkies pulled up and asked if he got the lights to work! I was not impressed to say the least.
We returned to our chalet to find that the neighbours were having another party, they had taken our table AND our aircon was still not working!!!
It is safer that I now stop moaning
and just say that we had something to eat and headed for bed!
---
Distinguished Virtual Ranger

Award: Sighting of the Year - Predator - Honeybadger Award (2016)
Posts: 2654
Joined: Thu Oct 05, 2006 10:44 pm
Location: Cape Town-but dreaming of KTP
Hi Rookie
I am so pleased that you saw so much in your short time in the KTP
You were indeed lucky. It seems we shared many sightings up and down ythe Auob on the 30th....and if I may I would like to add the following two photographs.
Just before 16h00 your cheetah mom had made a kill....
We drove past the same sighting ( I know that because of the trees in your pic) at 17h45 and the family had well and truly got stuck into their supper. By now the fourth cub had arrived..so in actual fact you saw a mom that has four cubs.
We drove back to camp past the cheetahs at 19h00. By now there was not much left of the kill at all. In actual fact we watched them leave the site and head off over the dunes...or maybe I should say they waddled over the dunes...
In other words it took them about three hours to get rid of that springbok. Interestingly enough when we drove past that site the next morning even the backbone was gone..we even looked through the binos..not a bit of bone or skin remained......no trace of a kill whatsoever!
---
Twee Rivieren to Augrabies to home
This was one morning that I managed to convince the SO to come out with me early seeing as we were leaving KTP today and heading back to Augrabies for 1 night before going home. We had debated changing our minds and staying in KTP for the extra night, but I was not able to get accommodation, so that was decided for us – pity!
We hummed and hawed and tried to decide whether we had time to head up to Auchterlonie to try and find the leopards, but ultimately decided to head to Leeudril to see if the lion pair was still there.
While grabbing a quick brekkie, I had an interested White-browed Sparrow Weaver watching me. I am not going to post a picture as I am now sick of being wrong with every ID I make and if I don't post a pic then nobody can correct me!!
Heeheehee
My first sighting was that of the "red fire engine" belonging to BB doing a turn at Samevloeing before heading off on the M-M road, but he was behind us, so no chance of a wave.
In the early light we saw a juvenile Martial Eagle…here we go again…please correct me if I am wrong….
I am pretty sure that it is the same one that I think it was Touareg, saw doing combat exercises on the dune. He had hold of the branch and was flapping about, turning around, "beaking" the branch and we were sure that it had prey of some sort….but no, it didn't have a thing, it was just attacking the branch.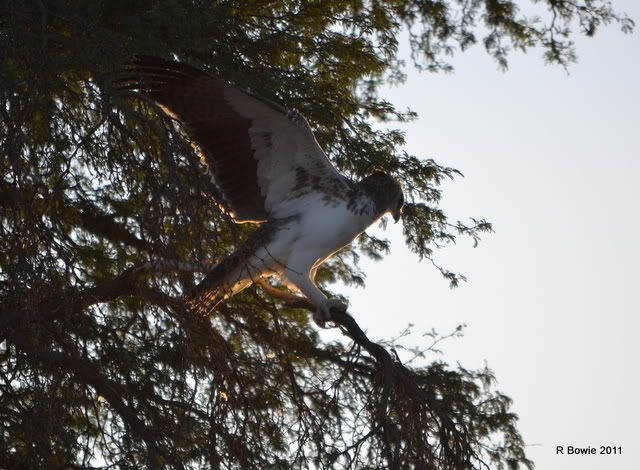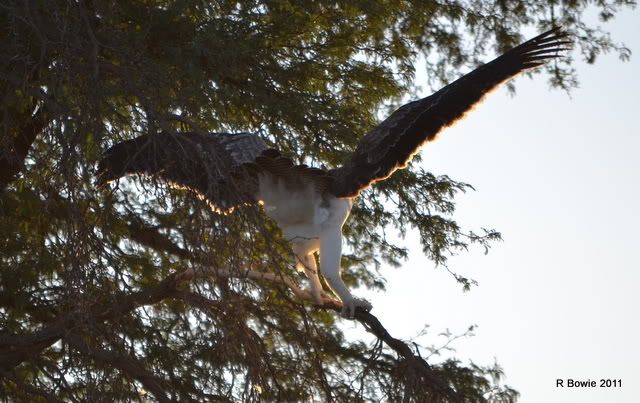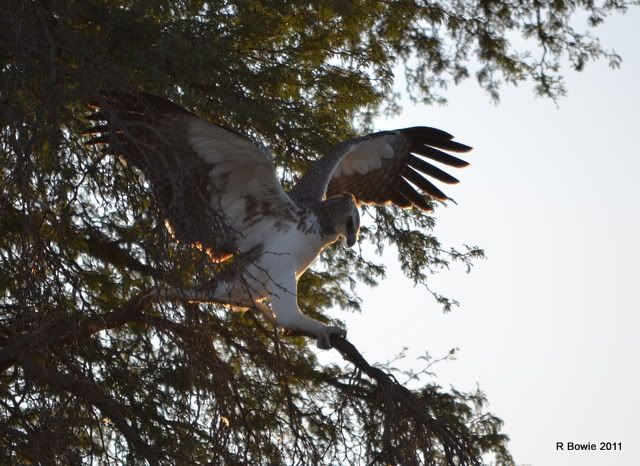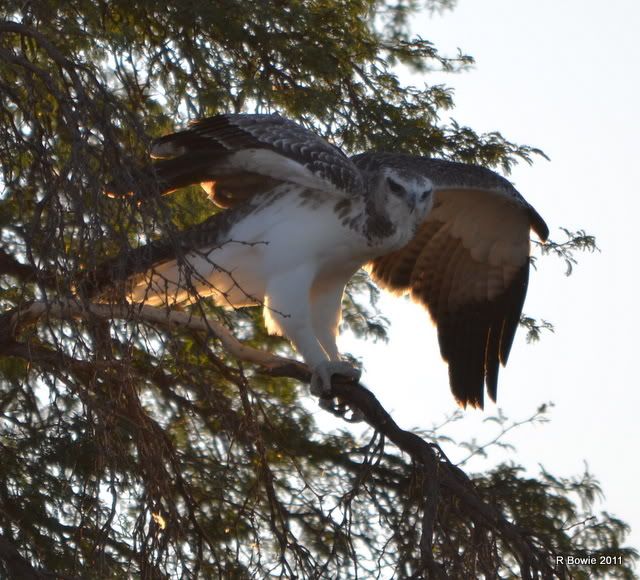 The lion were no longer at Leeudril….and I noticed that there was sign saying that the waterhole was empty due to renovation, which I had not seen previously…they didn't even give the animals instructiohn to an alternate place to get water tsk, tsk, tsk!
We were almost disappointed and I was chirping like a bird about "we shudda gone to the Leopards instead……" and we eventually turned around as we had to pack up and vacate our chalet and on the way back spied our love birds up, no, not the feathered variety, on the dune.
He was surveying and she was kipping.
He got up and we thought that it must be 20 minute alarm again, but he turned around and started to wander off up the dune.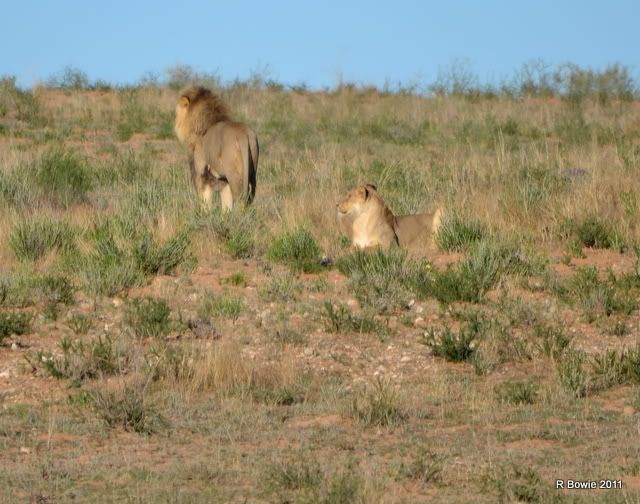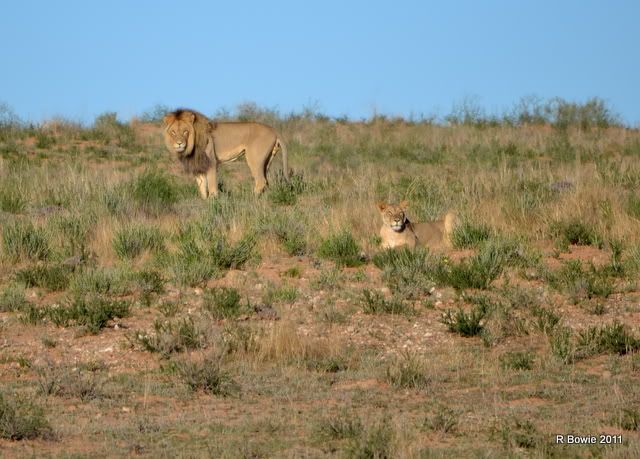 She watched him for about 5 minutes and then got up and slowly followed him.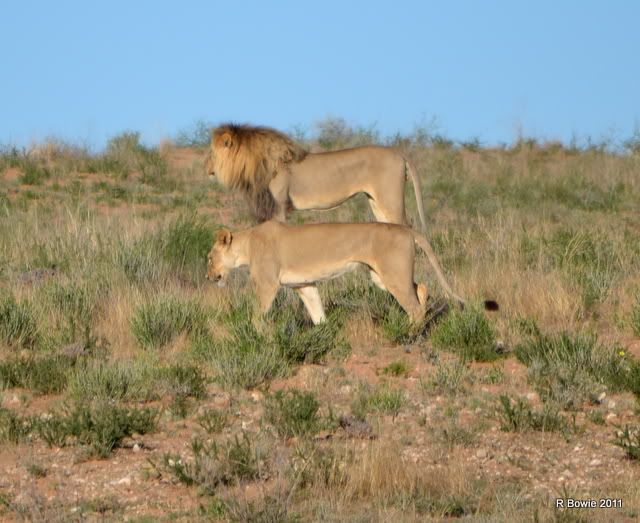 He stopped and looked around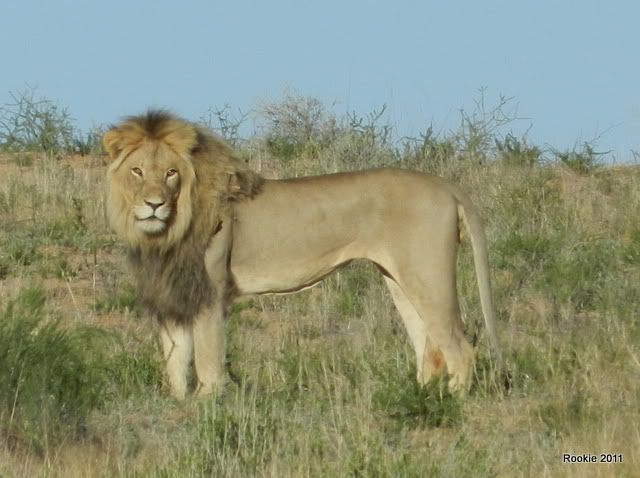 and she led the way
towards the crest of the dune and we were sure that they would disappear from sight, but they obliged us and lay down again just over the top in the shade of a small tree.
We had been with them for 20 minutes, but they were settling down for the day as the temperatures were rising steadily again.
On the way back we saw these 3 raptors in the tree.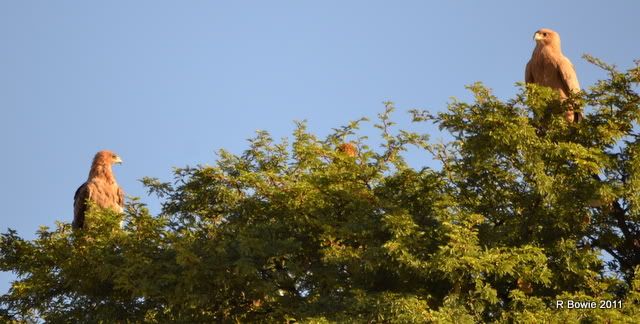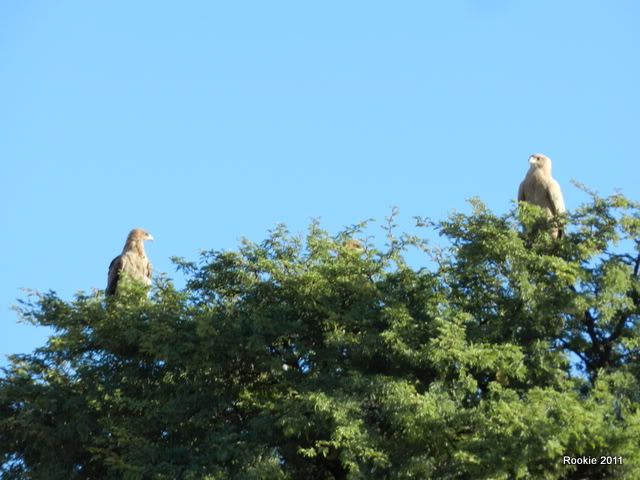 Now I know that they are not the greatest photos, but I am not even prepared to hazard a guess at them
(if I had to, I would have said Tawnys…cough, cough)
, so anybody who can, please do so.
Again we saw a Quelea tree and probably the same juvenile ME on a different tree.
We packed up and headed towards the gate, sad to leave the animals behind us and wishing we could stay longer and see all the other critters that KTP has to offer.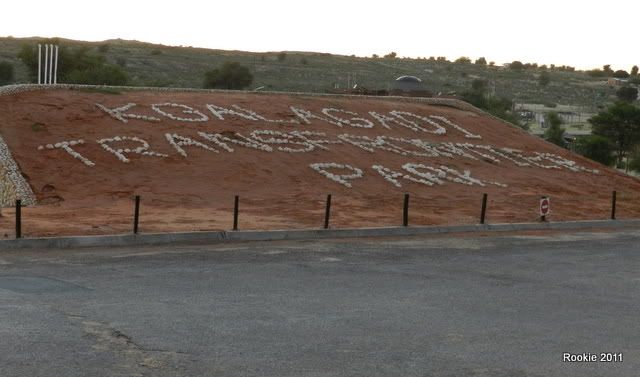 Tyres pumped, tank filled, exit stamp obtained and permit handed in, we left the gates of KTP behind us and travelled the first couple of kilometres in silence…….surveying the scenery as we did when we arrived 4 nights previously…..
Why is it that the trip home always seems shorter than the trip there?
The trip back to Augrabies was quite uneventful and I must say that I was quite glad that the aircon in that chalet worked well….in fact so well that we actually had to turn it off at one stage.
We unpacked and had a little rest and then I was ready to "up and at 'em" again and again had to coax SO into coming with me for a ride.
It was still very hot and we saw nothing, not even a Dassie and I always feel really bad about making him drive out again when there is nothing to see, but Augrabies is not really known for its abundant animals life, but the rock formations and general landscape has a beauty all of its own.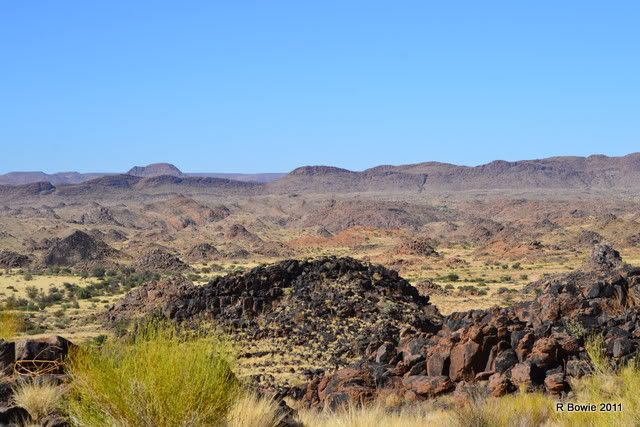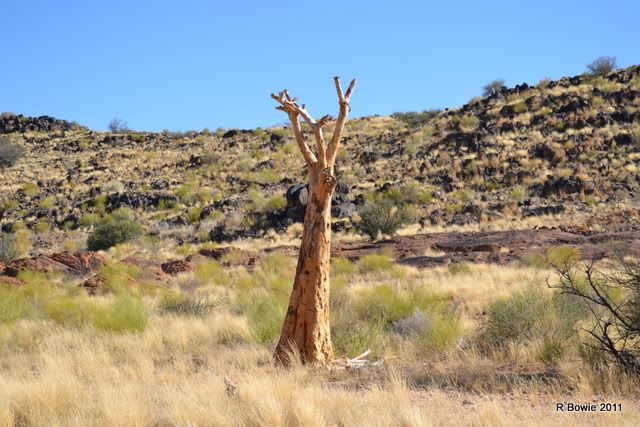 We were now very used to corrugations, but we do not have a 4x4 and the road that we took down to Echo Corner was more suited to one…no wonder we got some strange looks from the two 4x4 drivers going in the opposite direction. We bumped and bounced our way down, down, down into a never ending valley and came out at the end where there was the loveliest vista of the river.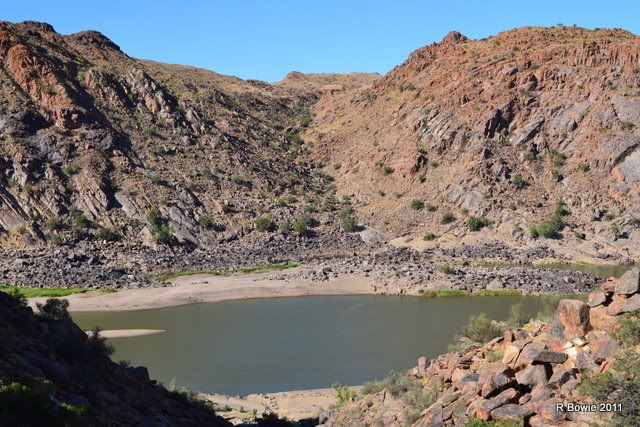 I would have loved to find a way down to the beach along the river banks, but I fear that if I had even attempted to climb down 1 of the rocks, we would have had a medical emergency evacuation!....hhhmmm always wanted to ride in a helicopter…..
There was a little car parked in the parking area and I did wonder where the owner might be, but I was not going to start looking for bodies over cliffs or anything else and decided that maybe they had gone in search of the beach after all.
We bumped our way back out of the depths and headed back to camp. We detoured to Ararat and on the way, saw this little flat lizard.
We jumped out at the parking area and trod carefully over the rocks to the viewing deck. How stunning it was!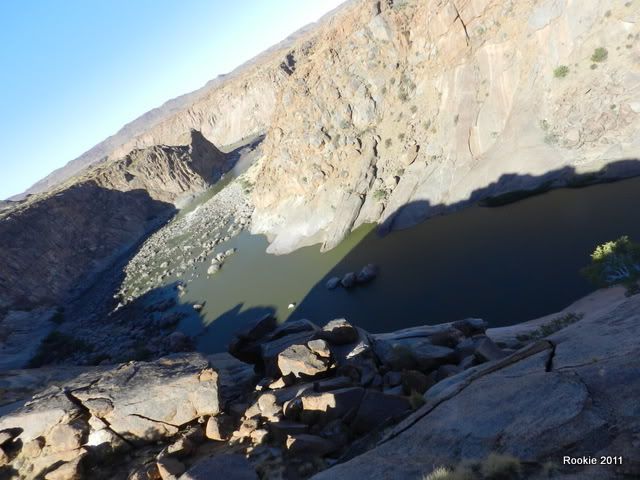 It reminded me of the Fish River canyon in Namibia.
We decided to spoil ourselves on the last night…it was New Year's eve after all and went to have supper at the restaurant. It was very nice….my SO could not resist trying the dish called Chicken Gordon Bleu…maybe it was inspired by Chef Ramsay.
There were no fireworks and New Year came and went while I was securely tucked up in dreamland.
Me being me, I had set my alarm for 6 and headed out for one last animal check. It was much cooler (14 °C) and I hoped that some of the buck would be close to camp, but alas, no such luck.
I also discovered that for some reason the camera battery had not charged, so I was left with my little Fuji, point and shoot with a 12x zoom – not quite what I had used to seeing as the P 500 has a 36x zoom. Never mind, I didn't see much anyway except some Dassies, Namaqua Doves, which I would have loved to get a decedent photo of, but this was all I could do and a Scrub hare .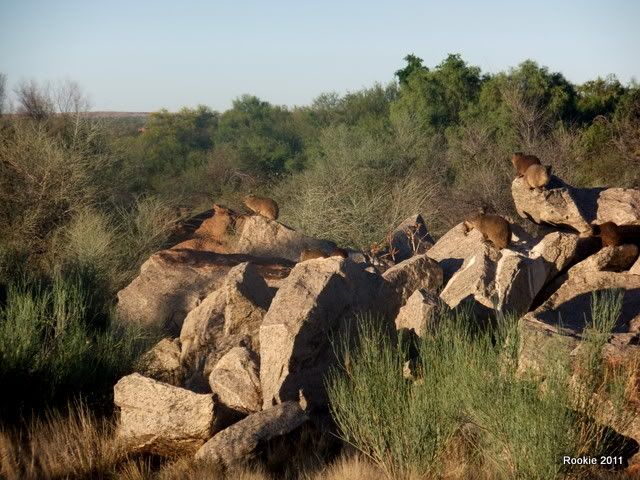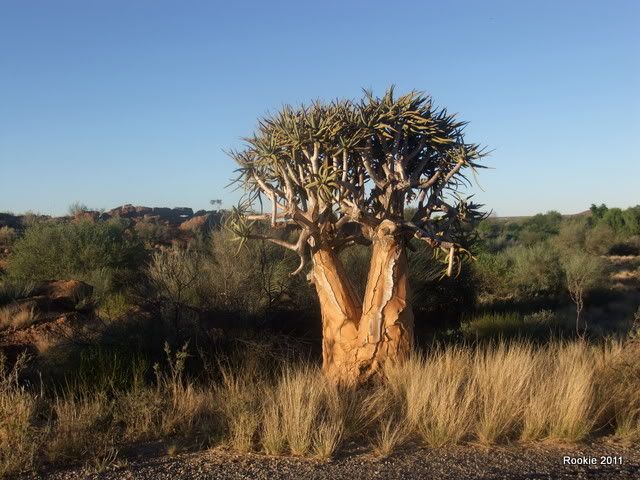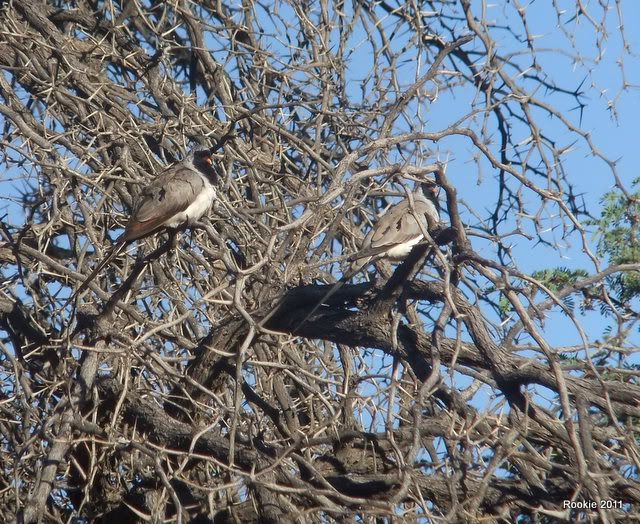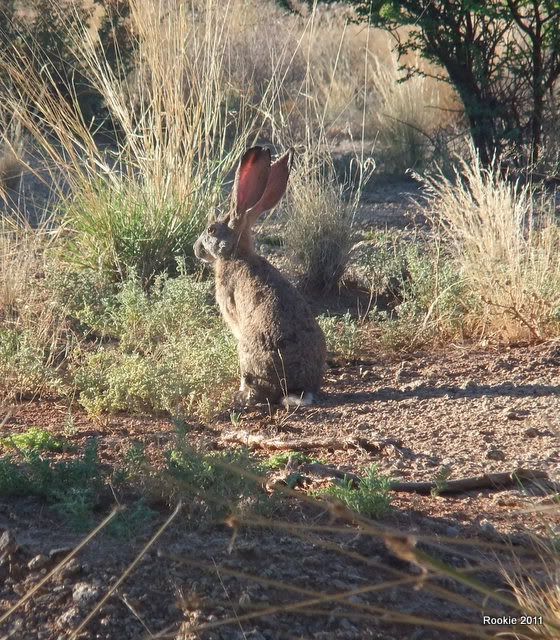 I made my way back to the chalet to pack up for the last time and sat watching these Pale-winged Starlings taking advantage of the bugs that had been caught up in the front grill of the car – like a MacDonalds take away.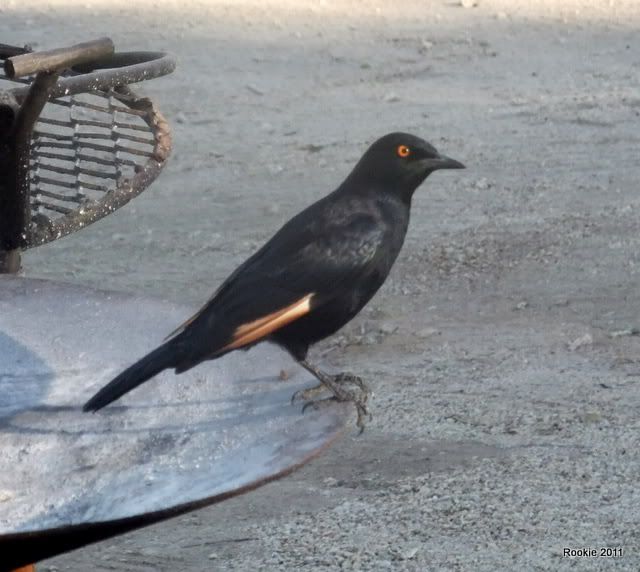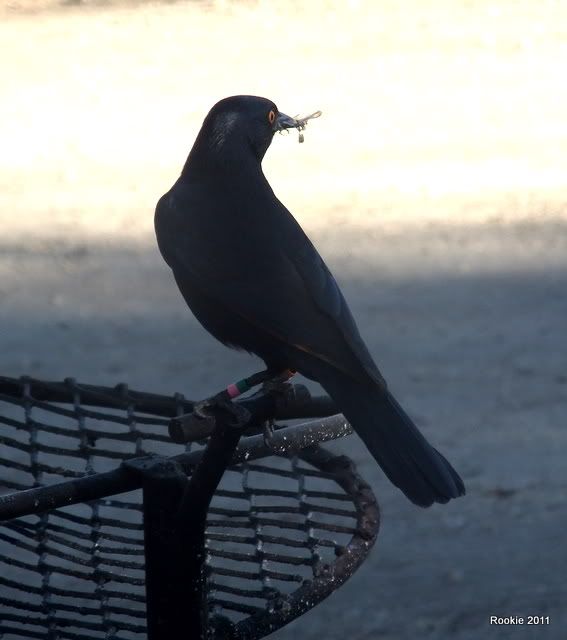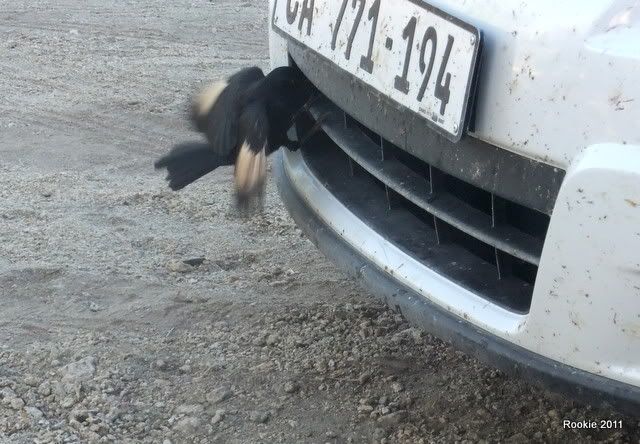 We left by about 09:00 and made our way towards Springbok for the trek down the N7 to home.
So that is the story of the
Sun
, of which we had plenty at its radiating best, the
Sand
– beautiful red Kalahari dunes with the little green and golden bushes dotted about on them and the
Cicada
–with the incessant singing heralding the ever present heat!
Would I go back…..hell yes!
Not necessarily in Dec due to the heat (or I would go better prepared) and I would probably not break the journey, but try the alternate route.
Thanks to everybody for reading this report, all the kind comments, all the IDs and for teaching me new things. Is still have so much to learn though.
Last edited by
Rookie
on Sun May 27, 2012 8:31 pm, edited 2 times in total.
---
First of all....thanks for all the kind comments.
I really appreciate them.
Well Papa Smurf, these extra piccies are for you.
Cheetah:
Collared male
Lisette with her 4 cubs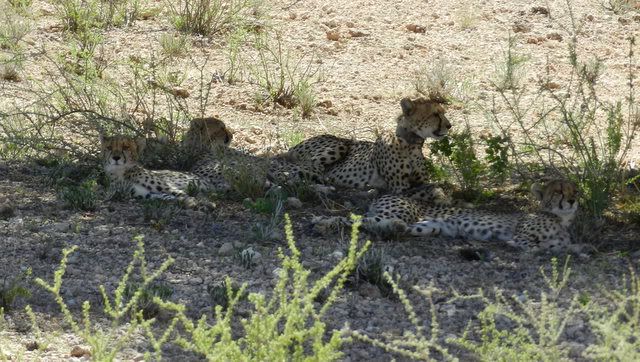 Uncollared mom with her 2 cubs
Uncollared - 2 Males??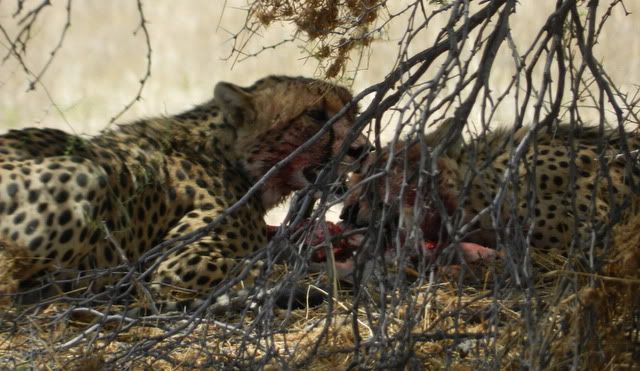 Lisette with her cubs on a kill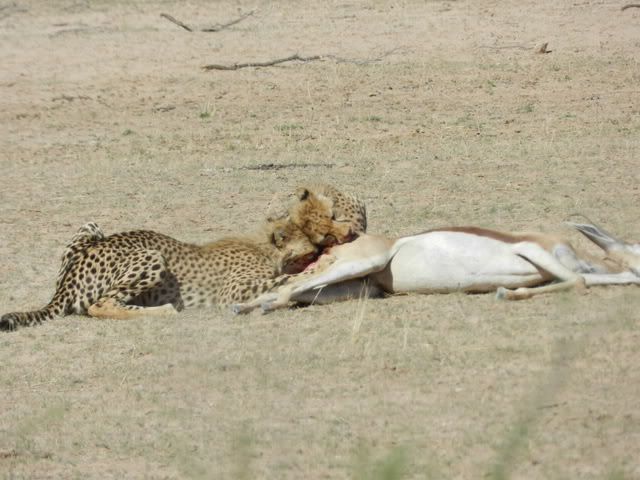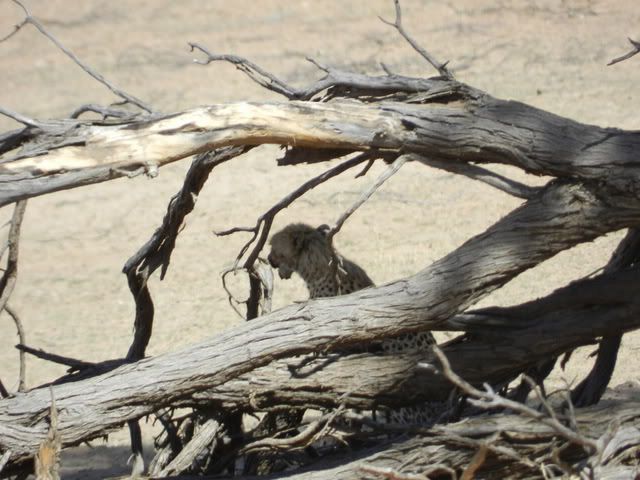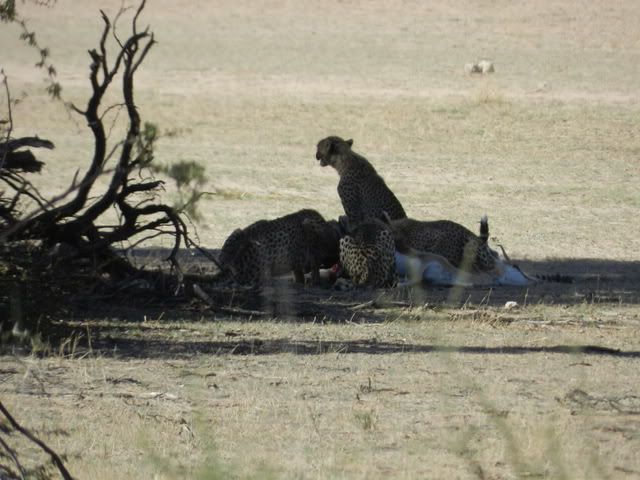 ---
Some birdies and bokkies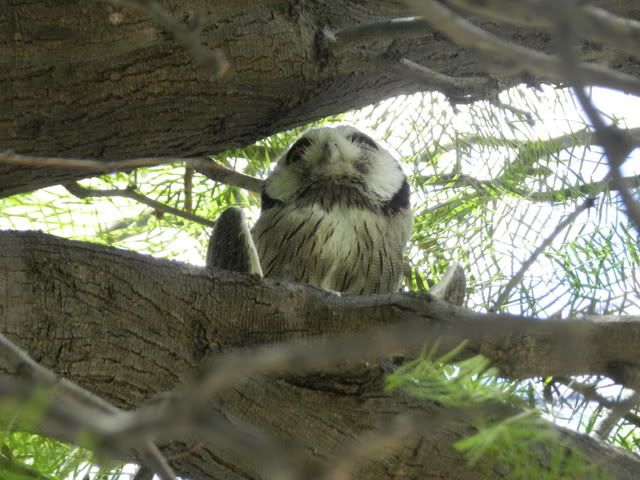 Not strictly a birdie....but it is in a bush!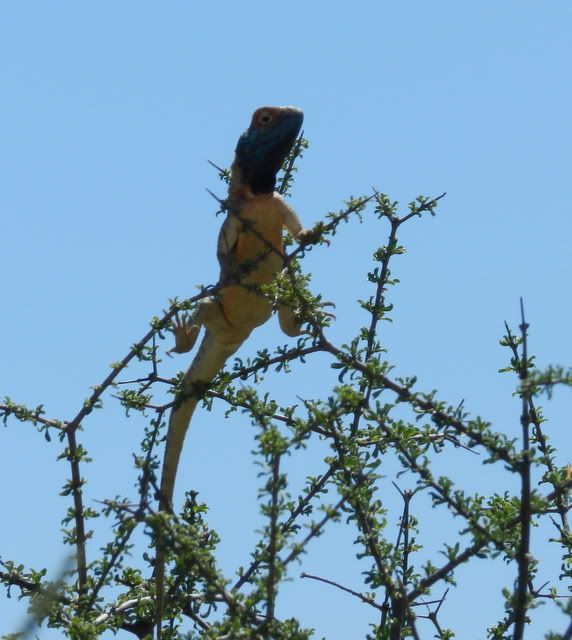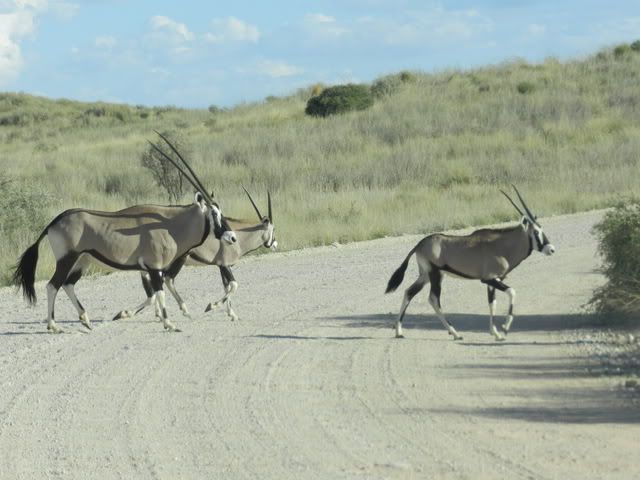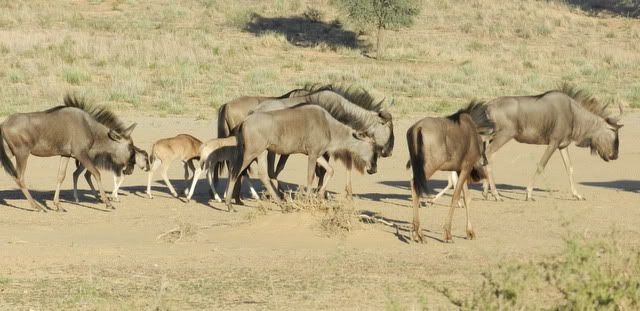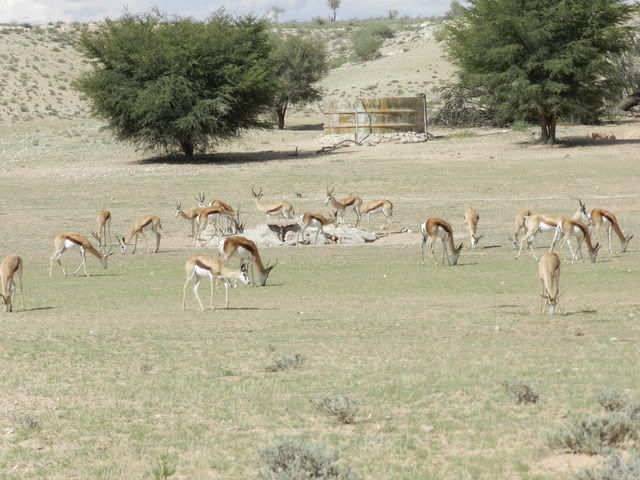 Enjoy! The king...and his queen, will follow later!
---
And lastly, some more of the kings...and queens, we managed to see.
The love birds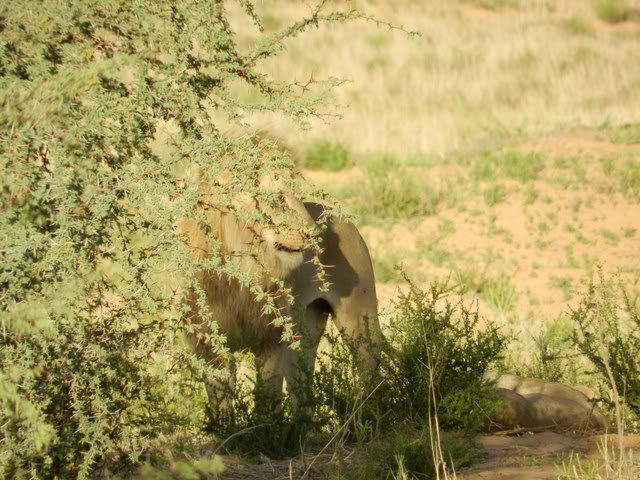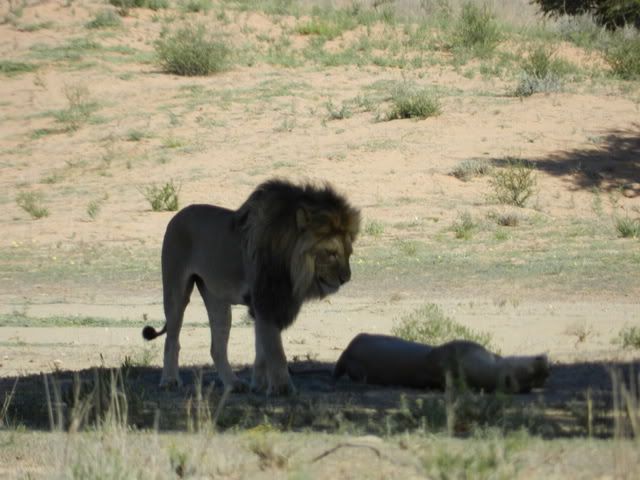 Different day....same pair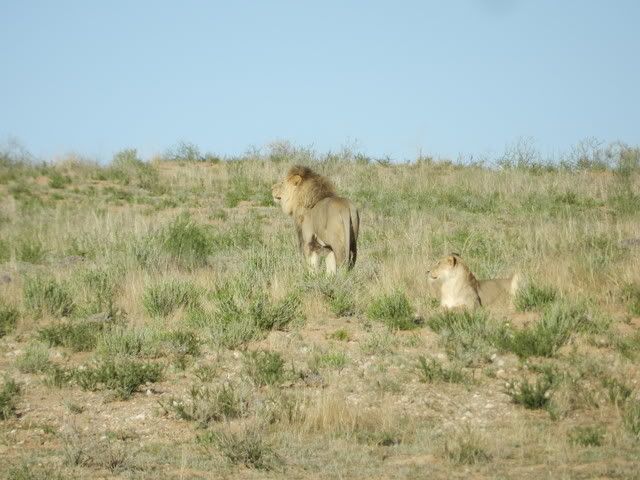 and so we left them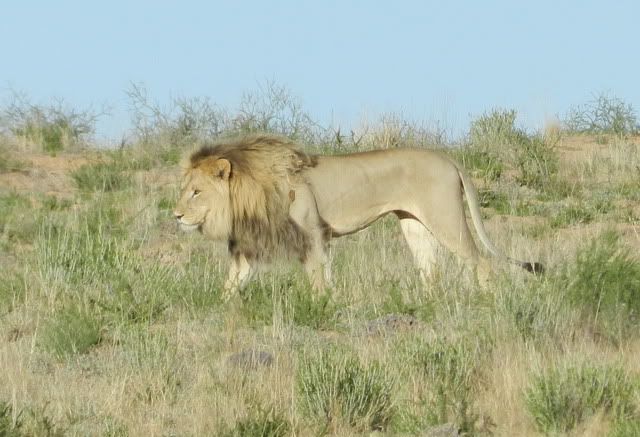 Hope you enjoyed some of the extras.
---
---