Thanks once again for all your comments everyone
lq, that cheetah was emotional as she had finally seen a Barcud after years of trying
(or did I get that one the wrong way around?)
BB, superb lion pics
...So, where were we? Oh yes, Martial Eagle.........
First one up is the one we came across not long after the end of the 4x4 trail. It was sitting in the shade under a tree at the side of the road. An absolute belter of a bird that had us all mesmerised by it;s sheer power and beauty.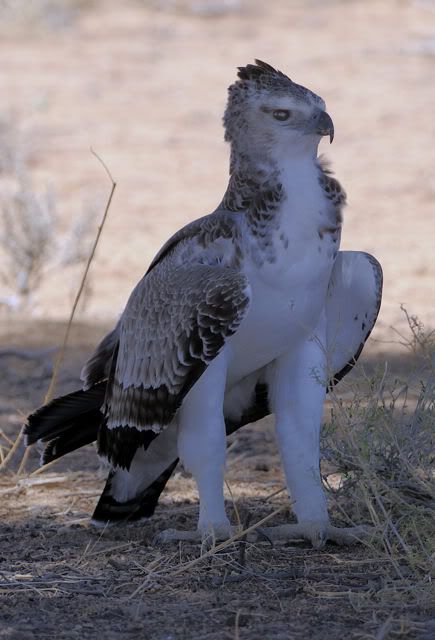 An immature was still occupying it's natal area close to Leudril, and was seen everytime we drove by. The best sighting was at sunset as it perched in a nearby tree in glorious evening light,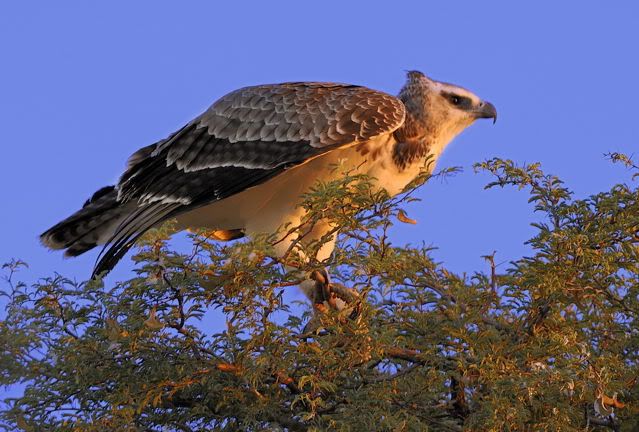 It's at times like this that I get so excitable, I completely forget what to do with my camera. I get presented with an opportunity for the pic of a lifetime (for me that is) and completely fluff it
But the sighting was well worth the missed photo opportunity.
The bird moved to a nearby tree, but the golden light had gone by now.
The Lionesses were lazing around as BB mentioned.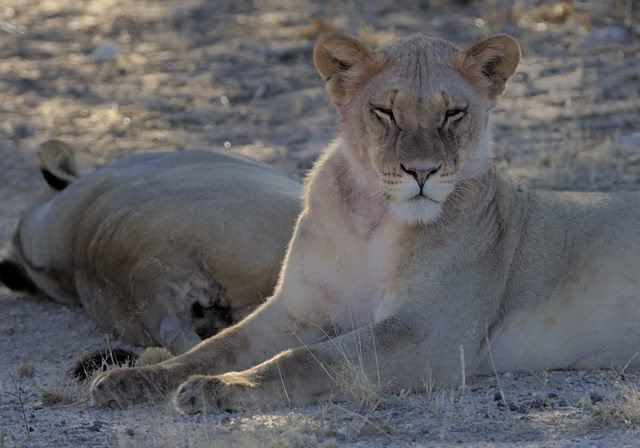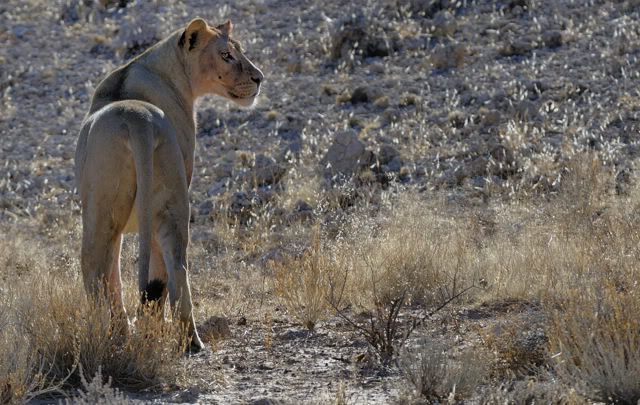 and, before I forget, a pic of the agama mentioned earlier.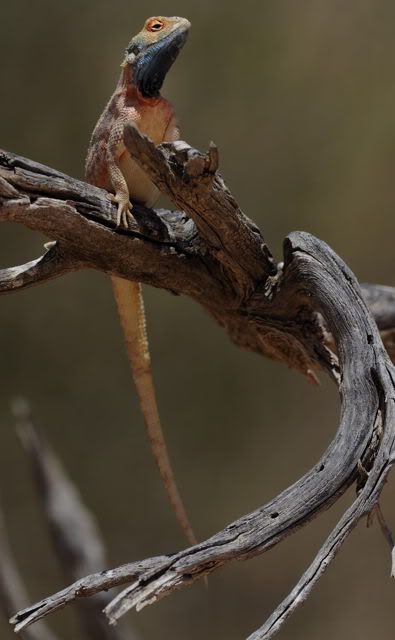 So I'll end this post with a panoramic of a Kgalagadi sunset - bliss, pure bliss.
---
Thanks yet again for all your kind comments.
The Pale-chanting Goshawks watched the Honey Badger closely, but it was too distant and fleeting to get a photo of it, so I'm afraid it's a PCG pic only here
This Bat-eared Fox was lazing in the sunshine.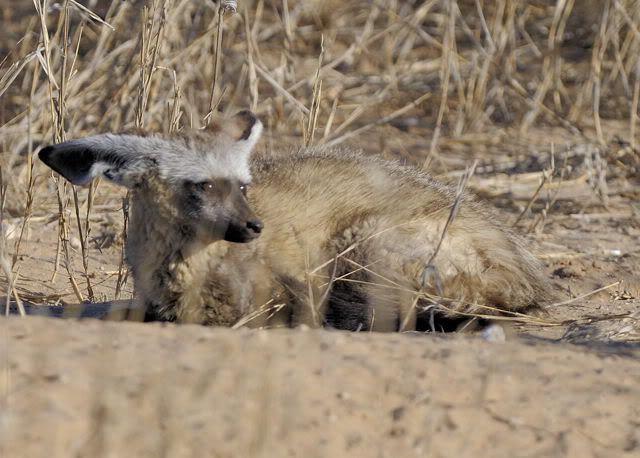 While another was a bit more active.
Cape Fox cubs popped out of their den to see what was going on outside.
One was more adventurous than the other.
But eventually, the other one overcame shyness to wander about a bit.
Mum or Dad was heading back to the den.
Our time in KTP was sadly coming to an end. We decided on one last drive to say goodbye to this magical wonderland. We had been very fortunate to see many of the inhabitants of this beautiful park and would have left very happy with what we had experienced to date. However, KTP hadn't finished with us yet. She had one more of her wonders to show us. One which left us breathless. We sat in the bakkie totally amazed at what we had just witnessed.
I'll let BB tell the story..................
---
Legendary Virtual Ranger

Posts: 6883
Joined: Wed Mar 16, 2005 12:38 pm
Location: In the shadow of Table Mountain
Ok Barcud, here we go.

BIL was tired and didn't join us on the ride.

Before Leeudril we came across yet another huge lion, but a bit distant. We moved on a few kays and once again saw Gus's vehicle standing still. Woohoo!!!!

This time the cheetah was crouching behind a slight rise, focussed on 2 springbok about 60 metres away. We joined the group of about 6 vehicles strung out on the road, each having a decent view.

The springbok were relaxed, but got spooked and took off, but settled after about another 40 metres. I thought the opportunity was gone, but they seemed to relax again and wandered back slowly, while grazing.

The cheetah meanwhile was hardly moving a muscle, as she watched with riveted interest. After about half an hour – to us that is, she must have been there longer – without warning, she broke cover and raced towards the pair.

They did not see her until she had reduced the gap by more than half, and when they eventually did see her, they spun away in panic and it was mere seconds before she grabbed the big one by the throat in the swirling dust. She hung on, and in a minute or 2 (one loses track of everything else when this happens) the bokkie collapsed. It was interesting to see her drag it a bit, and it kicked out in weak defiance. Only when it did not kick and was literally a dead weight did she release her hold and got her breath back.

After taking a few minutes to recover, she started calling, and soon, her three sub adult cubs emerged from over the small dune. They waited a little while, before, one by one, they started to feed.

We waited and watched in awe, until the light started to fade and the clock told us it was time to head back to camp.

This was the first time that Right Said and Barcud had seen the reality of life and death in the wild.

For me, I now had the privilege of seeing a big cat/dog kill for the 5th time. 3 were over in seconds almost before you could take in what was happening, and the other – a wild dog kill at Transport dam in Kruger – was a far off affair.

This one unfolded slowly and we were never sure it would happen until it did, and we could prepare ourselves for it. I didn't get the usual adrenalin rush, and we were able to witness a sight that many of you who go to Kgalagadi have also seen.

Kgalagadi is reputed to be the best place to see cheetah, and nobody can argue that after this.

The mood in the fire engine was buoyant as we drove past the lion, and we stopped briefly to snap the juvenile martial eagle that had been 'stopping' us regularly near Leeudril, and a spotted eagle owl who had woken up for the night.

As we approached the gate, who should we see walking down the road, but our king and his lover. I wanted a pic as they came alongside, but elbow and hooter met, and the king jumped into the bushes.

Still, we got another great sighting as they drank again from the waterhole just outside camp. I kept an eye on the gate, and not on the watch, and we still made it into camp before the gateman arrived.

That night, as we again sat outside the chalet under the sea of stars, celebratory liquid flowed, and we drank the fridge dry – well it was our last night and we didn't want to drink it on the way home – and had a relatively early night.
Whatever (according to BB): "You are correct but I don't want to admit it".
In a world of grey, be
RED
---
The female Cheetah watched patiently from behind the ridge.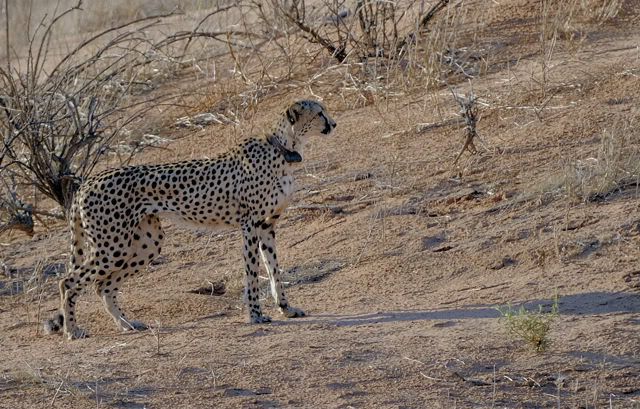 She sat down, never taking her eyes off the unsuspecting Springbok.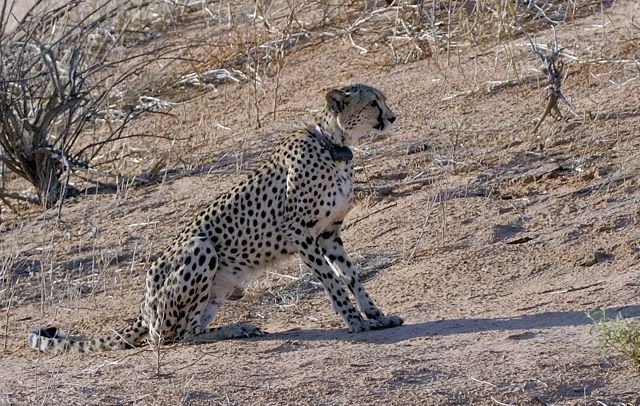 The Springbok became suspicious and moved off further, but calmed down a bit.
As they moved slowly back into range, the Cheetah readied herself.
The Springbok walked back into the killing zone.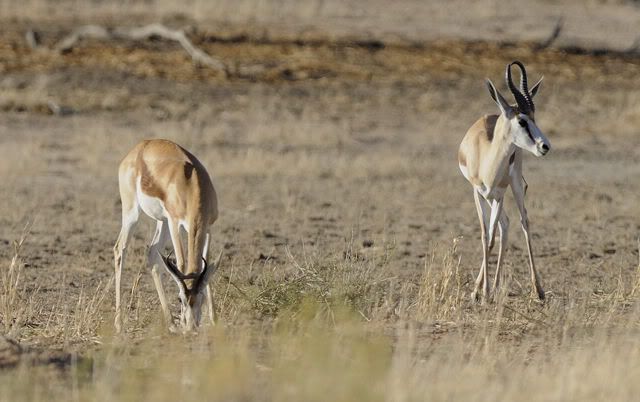 Suddenly, she sprang into action at breakneck speed.
The Springbok panicked and started to run, but the larger of the two was not fast enough to escape the deadly speed shown by the Cheetah.
She hung on to the struggling Springbok in a stranglehold.
Thankfully,death came quickly to the unfortunate Springbok.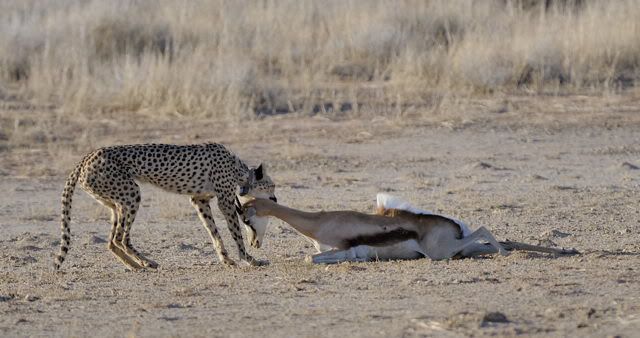 The Cheetah stood there panting, trying to get her breath back.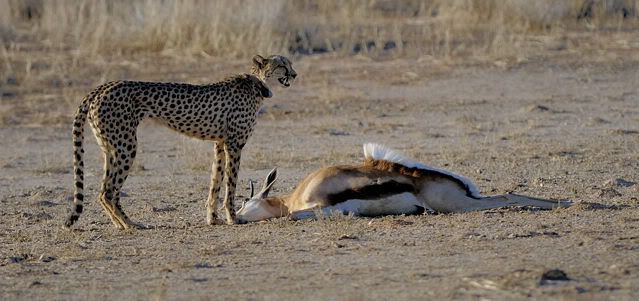 Once she had regained her breath, she called out to the cubs in that birdlike chirrup.
She eventually sat down, still calling out for the cubs to come and join her.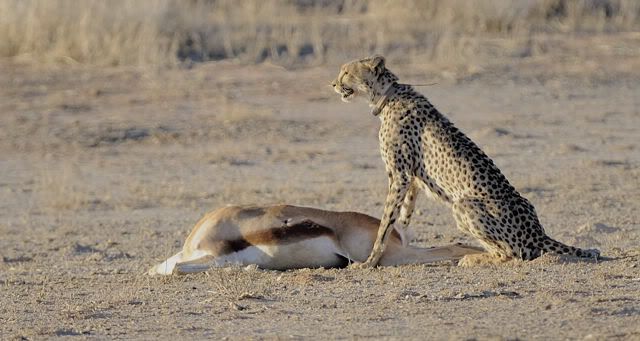 ---
The cubs had been hiding in the grass some distance away and it took them a while to make their way to where their mother was.
As they made their way down the hillside, I was giving BB & Right Said a running commentary on how good the light was. I must have been repeating myself over aand over at this point.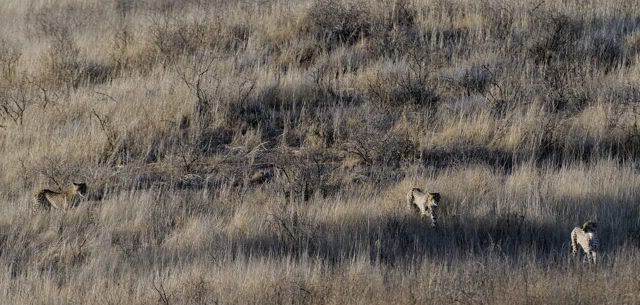 The cubs seemed to be taking it very slowly and were constantly checking if the coast was clear.
Eventually, the first cub arrived at the kill.
Followed by a second.
They seemed disinterested at first.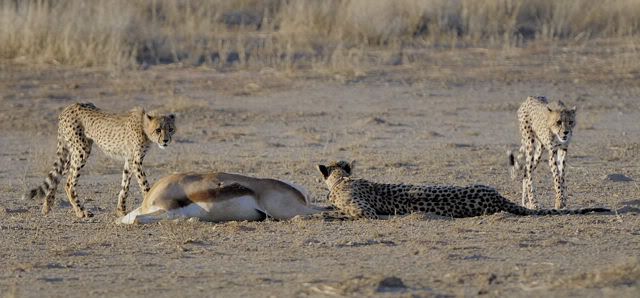 The third cub finally arrives.
It seemed as if they were waiting for their mother to make a start for them.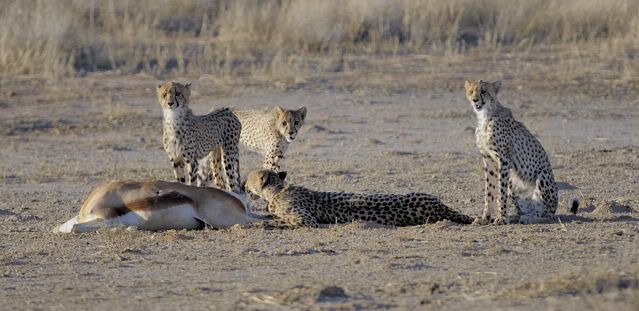 Then they wandered off some ways and left their mother to the kill for a while.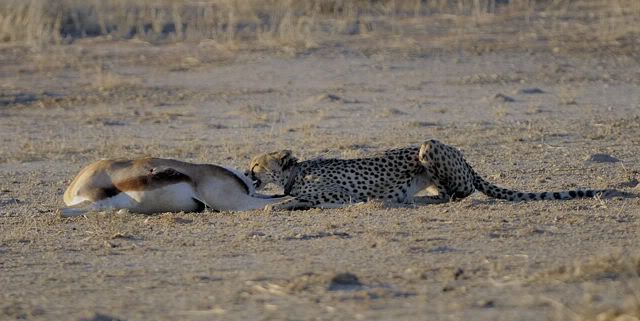 ---
Thanks Pumbaa, a-m, p&m & Elsa.
Not quite finished yet, but almost there.
So the mother began to open up the carcass alone and was joined by one of her cubs after a few minutes, then a second cub sauntered over to join them.
The three of them tucked in, gulping down meat quickly as only a Cheetah can.
the third cub decided to join in and wandered over.
By the time they were all feeding, the light was fading fast.
By now, mum had eaten enough and moved over to let her cubs have their fill.
It was getting late, we had to leave to get to the gate within time, but it's at this point that if you are late, you do not mind being fined as it's such a privelidge to see a once in a lifetime chance like this.

We drove back in convoy with the other vehicles, but stopped for a couple of sightinga along the way.
A Spotted Eagle Owl was waking up for a night's hunting.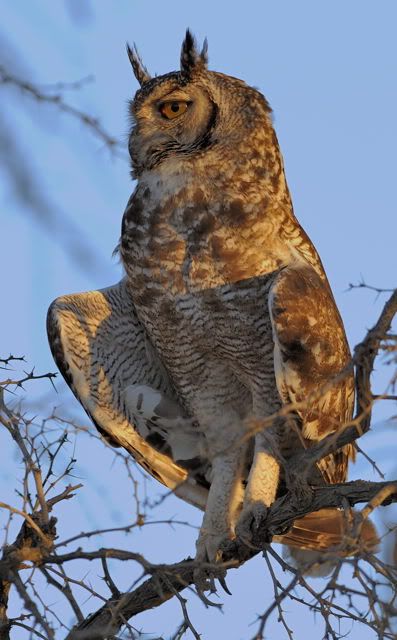 While a Pale-chanting Goshawk was getting ready for a good night's sleep.
The banter around the braai that evening was joyous and tinged with awe at what we had witnessed. We talked, we laughed, we remenisced. Four men who had been there, done that, seen it all had just spent a marvellous time in a magical wonderland that made us feel like boys again.
Hearftfelt thanks to BB for inviting me over and showing me the KTP for what it is. A place of superlatives. A place where you can loose yourself completely. A place to which I will someday return.
To BIL & Right Said - Thanks for your company, friendship and putting up with an obsessive guy who wanted to see every little small brown bird that moved, flitted and flapped about in the undergrowth. I loved every minute of it!

---
Legendary Virtual Ranger

Posts: 6883
Joined: Wed Mar 16, 2005 12:38 pm
Location: In the shadow of Table Mountain
onewithnature wrote:

Barcud and BB, wonderful TR ... Gosh, BB, but it seems you have seen many live kills in your time.
Thanks so much OWN, and of course to the rest of you who have enjoyed reading this as much as we have enjoyed sharing it.
I could not get on yesterday, so let me add my Christmas wishes. I hope you all has a blessed day and ate less than I did!
Regarding the live kills, OWN, I have also seen 2 AWC kills in KTP, and witnessed quite a few bird kills, the most dramatic being a Burchell's coucal taking a chameleon at Mantambeni hide in Kruger, but our greater kestrell kill on this trip at Polentswa, was very close.
Coming up, 'For the record'.
Whatever (according to BB): "You are correct but I don't want to admit it".
In a world of grey, be
RED
---
Legendary Virtual Ranger

Posts: 6883
Joined: Wed Mar 16, 2005 12:38 pm
Location: In the shadow of Table Mountain
For the record

For the first trip for decades, I did not keep a scorecard of each animal we saw.

On the trip we saw 102 bird species, including 24 raptors!

We also had 4 cheetah sightings of 12 animals,
15 lion (34),
4 spotted hyena (8),
2 honey badger (2) – although one was very brief by Right Said only on the forum trail (also spotted by Vanessa),
umpteen oryx, gnu, springbok, bbj, Cape fox, bat eared fox, suricates, ground squirrels, steenbok, and a few kudu, giraffe, mongoose, red harties and a scrub hare. BIL managed to see a snake – something I thought we would have a lot of – and there were 2 scorpions on the forum trail.
Whatever (according to BB): "You are correct but I don't want to admit it".
In a world of grey, be
RED
---
Pleaaaaase Barcud
Oh, ok then, you have twisted my arm, just a few more.
I'm sitting here reflecting on a wonderful trip. I'm trying to think of what I liked best, but to be honest, it was all good. As usual, the Raptors held the biggest fascination for me. Although the highlights of seeing the three most wanted on my list have been mentioned earlier, the sighting that I keep going back to and stare at the photo is one of a partially hidden Tawny Eagle that peeked out from behind a tree at us.
Close second is the Martial Eagle that PRWIN & Son godin told us about on the way to Marie's one afternoon.
It's the little things one sees that always make a trip so special. Like a Swallow-tailed Bee-eater coughing up a pellet.
Or a Kalahari Scrub-robin inspecting BB's new tyres.
Getting up close to big cats is always thrilling, even if you are in the safety of a bakkie.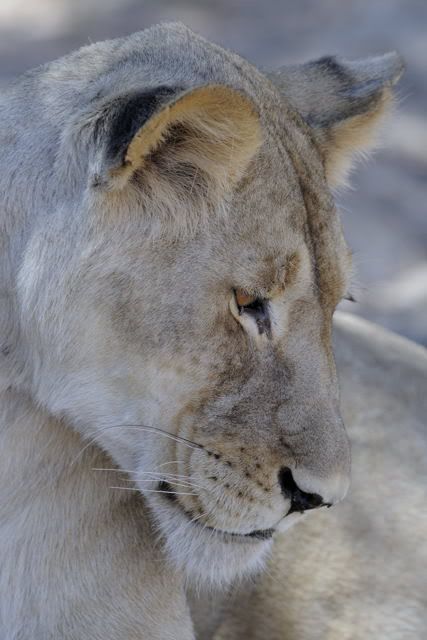 And then again, the light is so good, that it just makes the scene so perfect in my mind.
I took moon shots every night, so although you might have seen similar previously here, each one is different to me because I remember what I was feeling at the time I took the photo.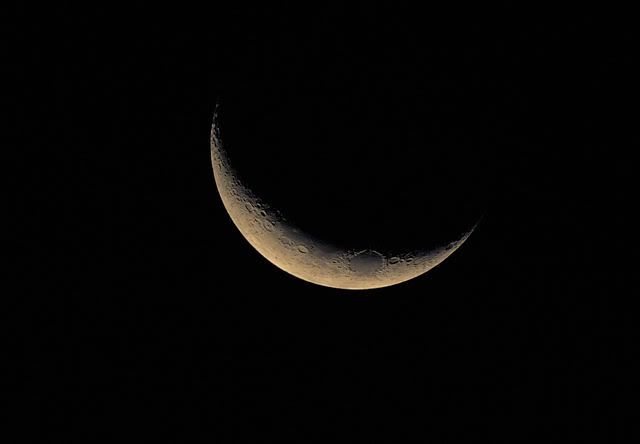 I always make an effort to capture sunsets and sunrises. Some are more spectacular than others, but all have their moments.
A mix of colours.
Rays of light shooting into the ether.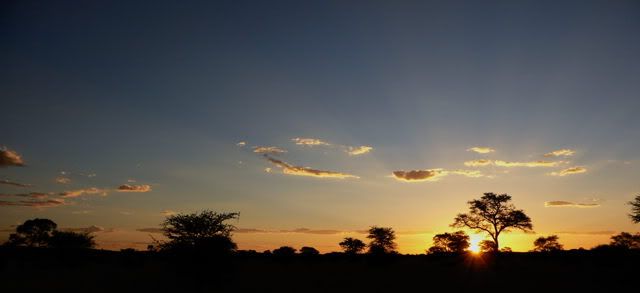 A twisting cloud.
Or simply that it is the last photo you take before you leave the perk.
Thanks to each and every one of you for following and commenting here.
---
---
Who is online
Users browsing this forum: No registered users and 4 guests