Distinguished Virtual Ranger

Posts: 3958
Joined: Wed Nov 03, 2010 9:51 am
Location: Johannesburg SA
Helloooooooo People!
The day tannie Petra/Tamer offered to lift me to Phalaborwa and stay with her and Scipio/Tiger … BEST! So here I am! Going in the direction of Kruger again
It didn't take rocket science to be able to pack for this trip:
As you can see … Kruger map
wild card
Binocs
Dried wors
(apparently, the wors we get here in the city is of a lesser quality than Phalaborwa
None the less, even Tiger the Phalaborwa meat expert, approved )
A tinsy winsy amount of beer
Hansa's for Tiger, and my lovely SO on the top
Kruger 2014!!!
16-23 August - Lower Sabi!!!!
---
Distinguished Virtual Ranger

Posts: 3958
Joined: Wed Nov 03, 2010 9:51 am
Location: Johannesburg SA
This will be quite a short TR by the way!
It will include
1.the CRAZY carwash
stay tuned to find out what the 'Carwash' is
2.The Sleep over in Phalaborwa. Including a certain serpent
3.The most unlikely party to visit a dam
4.The drive in to the Kruger where many 'Guineafowl' were spotted
5.The night drive from a certain camp
6.The drive out the next day
Kruger 2014!!!
16-23 August - Lower Sabi!!!!
---
Distinguished Virtual Ranger

Posts: 3958
Joined: Wed Nov 03, 2010 9:51 am
Location: Johannesburg SA
So have you met any of these individuals? Not in this Trip Report at least! So here is the Tamer talking to her Tiger: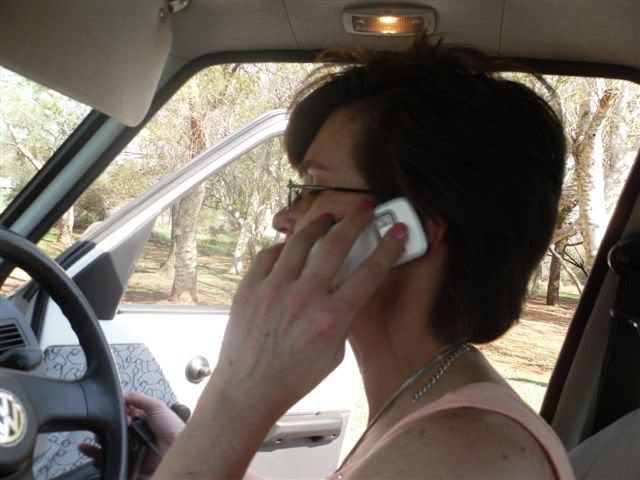 In the state that these two are in (I think its called 'Love' or something similar), one phone call for the car trip between them will be grossly inefficient!! What is necessarily is a call from Tiger to hear "we have just left UJ. Ok baaai my liefie!" then not long after that: "Hallo my Engel, we just getting onto the Highway". There I was erroneously thinking that was going to be all the calling until we there! Not a chance!! The number of calls mounted up as it was completely necessary to give a constant account of how many km we are from which place! In my memory banks I seem to remember the stretch to Pietiersberg being a particularly 'call happy' stretch.
It is as if this 'Love' phenomenon instigates doubt that cars continue to move forwards.
And perhaps it is a self fulfilling prophesy! For along the trip we came upon a random hold up in the mountains!
It does look like a gallery of shame photo doesn't it. The most unpredictable thing happened just. Whilst sitting there waiting, I didn't have the worst view in the world. Better than sewage piping in Central Africa I'd say.
At that moment, as if the universe had noted my pleasure looking at the mountains, it conspired to put an abrupt end to it! Exactly where my view was, parked a certain caterpillar: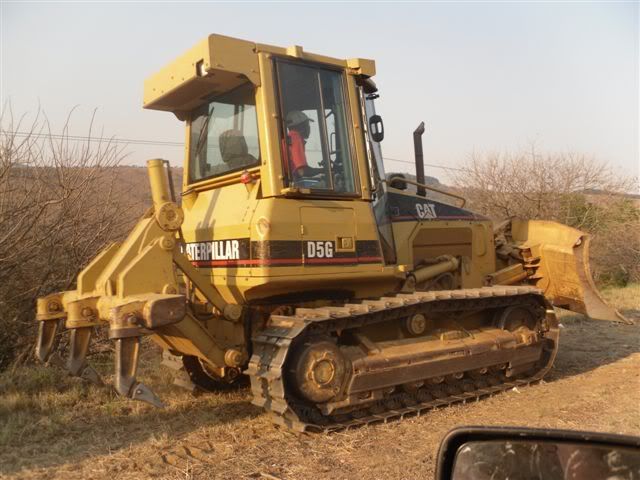 Experts hold that had it been the other type of caterpillar, the obstruction of view would decrease significantly.
Fortunately, the caterpillar couldn't spoil my view throughout the remainder of the drive as conversation turned toward the beautiful landscape of our country:
After a most pleasurable drive we found ourselves at the carwash!
Kruger 2014!!!
16-23 August - Lower Sabi!!!!
---
Distinguished Virtual Ranger

Posts: 3958
Joined: Wed Nov 03, 2010 9:51 am
Location: Johannesburg SA
The Carwash, Gustav and Kuier
As soon as we had touched ground at the 'carwash' in Phala over flew Tiger!!
One swift look at Tiger and it was apparent that he NEEDED some taming!
So here we enter this mythical 'carwash' people speak of!
There were a couple of CRAZY people at the place where cars are washed!
on the left – Scipio/Tiger. On the right Petra/Tamer. The other guy is a random
And crazy guy was making rude jokes embarrassing poor Tamer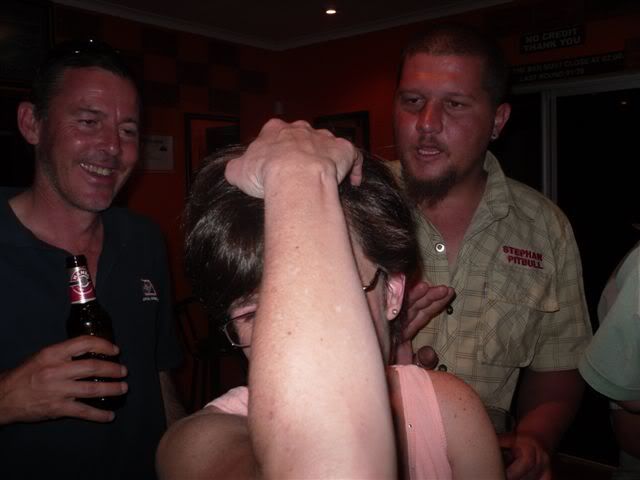 I was enjoying the company of my SO there also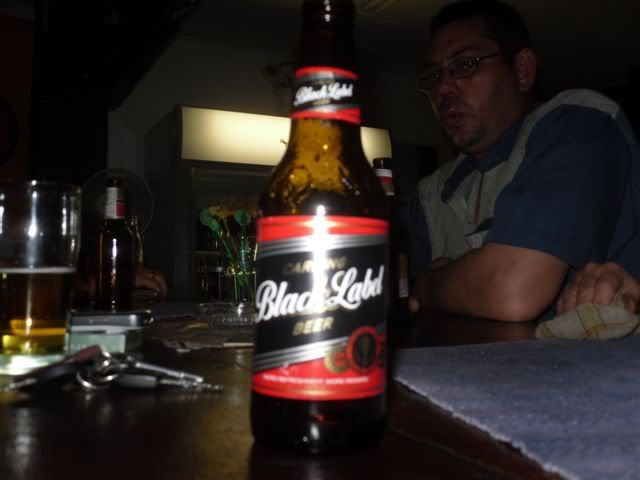 As you can see … she has a tendency to dance on top of the bar! There isn't any Taming her
And then disaster struck by my second SO dancing on the table
She fell right off the table
All broken
Oh well, can't sit around moping all the ruddy day! Off we Goooo to the abode of Tiger
Upon arrival, it was decided the call of the day was to bring out Gustav the Anaconda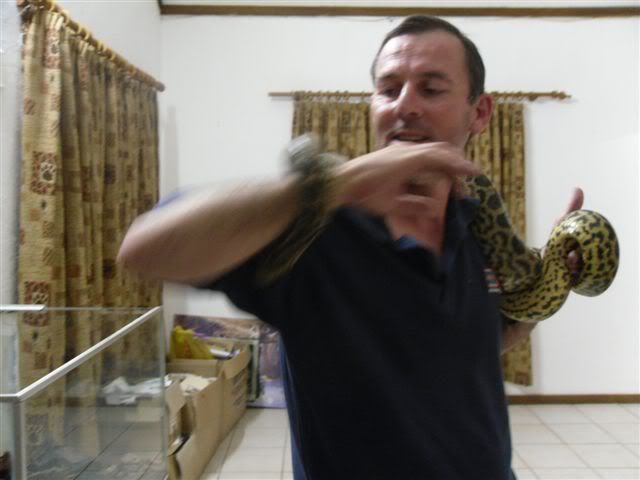 Of coarse I wanted to have a go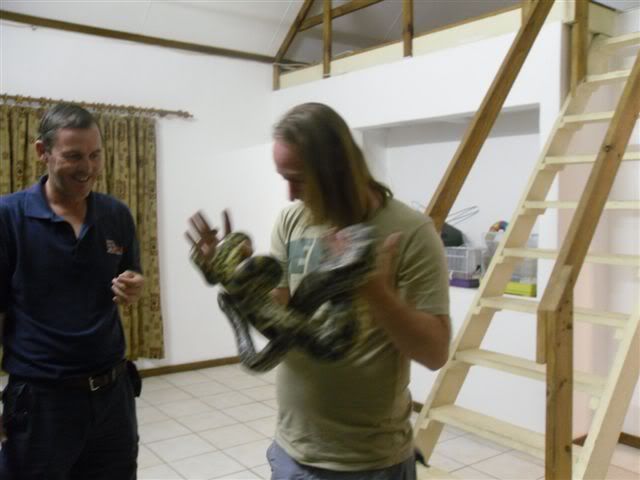 It was short-lived! But such a great feeling! Back to dad:
Tamer was most pleased with the snake back in the tank where it belonged
Well, it was eventually time for me to get the braai going! Being the youngest
It was such a nice chill out there. We heard Jackal, scops owls, nightjars, and what we think was hunny badger
If you look behind me to the left … that wall divides the two houses. But there to the right in the black is a small fence keeping the dogs out of the wild! Completely wild out there!
Tiger and Tamer re-united again -
The night ended after a trip over into the wild accompanied by the dogs!
What a wonderful evening! The next morning, my introduction to Griet!! A very surprising creature! And Then KRUGER!!
Kruger 2014!!!
16-23 August - Lower Sabi!!!!
---
Distinguished Virtual Ranger

Posts: 3958
Joined: Wed Nov 03, 2010 9:51 am
Location: Johannesburg SA
Welcome to Phala
After an epic sleep where I accumulated an impressive number of mosquito bites, I was treated to a Phalaborwa sunrise
Once all three of us were up it was time to think about breakfast and coffee. We still had a LOT of meat that we cooked the night before and planned to eat that on buns with marg. The snag is the marg ….
this is what Scipio's marg looks like …
He didn't seem to think it looks all that bad. The other problem is that there isn't any coffee in the house!! Well we certainly were having a successful time. So we did what everyone does under such situations … we went to Steers!
Steers coffee has never tasted better! (although I've never had Steers Coffee). We returned to a very ordinary sight. The type of phenomenon that the eyes glance over and do not take special notice of. It causes as much alarm as when you find impala in Kruger. In this case, the everyday occurrence, of a donkey standing at your front door.
Scipio tells us in a matter of fact tone that "This is Griet". Well right there I felt as if I was Alice in Wonderland. The truth however, was that I was Cheetah in Phalaborwa. Where anything can happen!! It is for this reason that there is a Huge sign saying 'Psychologist" in Phalaborwa on this one dudes house. Well, I decided not to frequent the psychologists help, and simply accept that ANYTHING can happen in Phala. After this paradigm shift it was not surprising that Sammy the dog came to play with the donkey which found itself at the House.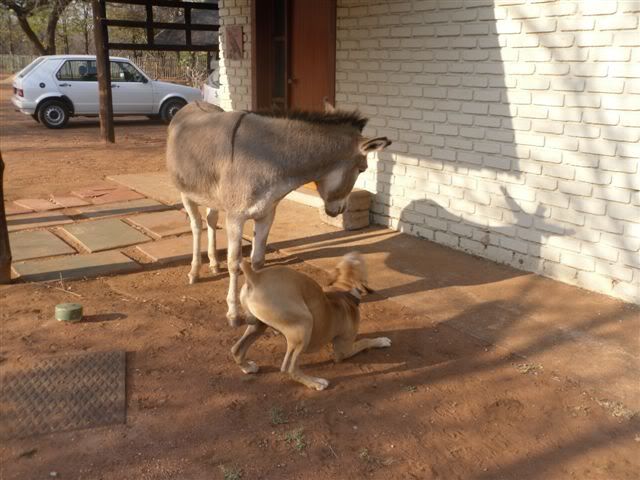 They make great friends in Phala!!!!! Another Phala moment occurred when the dog, donkey, and two humans set out into the wild to go view a dam. The usual morning patrol. Not necessary to be alarmed!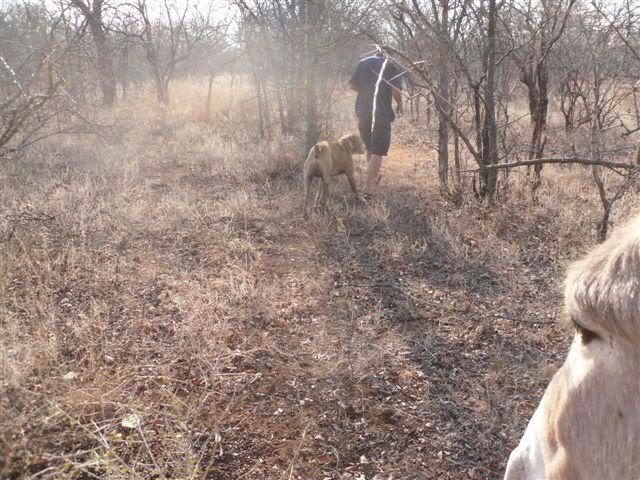 Well I felt so free in this place! Perhaps if I lived there I could invent something great!! Like wheels for the easy transportation of tomatoes! Perhaps a remote controlled convoy to trail behind Mrs Jones after her grocery shopping!! Or perhaps I will become one of the number attending the Phala Psycho.
The time had come to enter Kruger! The original plan was to sleep over at Tzenze! But for some reason things turned out differently … I think its the Phala effect. It didn't affect the magnitude of beer packed anyway!!
Kruger 2014!!!
16-23 August - Lower Sabi!!!!
---
Once upon a time there was a snake called Gustav, a donkey called Griet and a dog called Sammy, and they all lived in a big house with their master and mistress, Tiger and Tamer. One day a long-haired Cheetah stumbled across the house. He had been to the car wash where his SO had been decapitated, and he was in dire need of the services of a psychologist. "Not to worry!" exclaimed Tiger, "there's one not far from here...you can't miss him!". But the Cheetah was hungry and asked Tiger if he had any food to spare. "Of course!", said Tiger. "There's a brand new tub of crunchy margarine - help yourself." The margarine was delicious, and Tamer offered the Cheetah something in a cup with the strange name of 'Steers'. That too was delicious and suddenly the Cheetah felt much better. "I don't need a psychologist, but I wish I had my SO back." Tiger opened the fridge, and the Cheetah could not believe what he saw. There before him was a whole row of SO's, shiny and new, and everything was right with the world!!

"I think the environment should be put in the category of our national security. Defense of our resources is just as important as defense abroad. Otherwise what is there to defend?"

SAY NO TO HOTEL DEVELOPMENTS IN KRUGER
---
Distinguished Virtual Ranger

Posts: 3958
Joined: Wed Nov 03, 2010 9:51 am
Location: Johannesburg SA
Day 2. Phala - Letaba
Time for the Park!!
We had an interesting time finding out at Phalaborwa that we in fact did not have a booking at Tzenze!?
That was the whole plan … to sleep over at Tzenze!? In any case, we went in with that distinctive Phala chilled out mentality that we would make the Tzenze booking once we got to Letaba.
Our first sighting on the H9 was one of the best of the day! Unfortunately the distance and branches made it impossible to take a picture of, but it was very nice to see with the naked eye! A mighty Tawny Eagle was ripping apart some small animal on the dry ground. After some speculation we agreed to call the kill a hare. The grim scene of violent death combined with the dry August ground void of grass left me thinking what a harsh place this is.
Next up, this Steenbokkie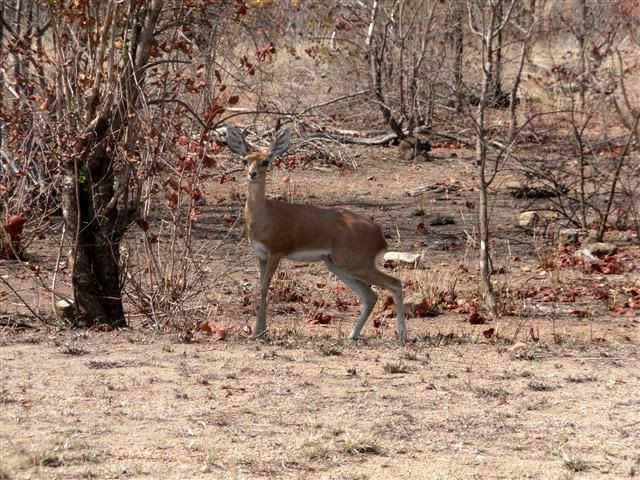 I love the great big ears on these aMiNals! It takes some skill to discern them from rocks when they standing still. So we had to reverse back to look at this one. He posed just long enough for a pic, then bolted off!
It was a relief when we reached Sable Dam and could at last see landscape that is not bone dry! These big buffs also fancied some of the sweet green grass near the dam.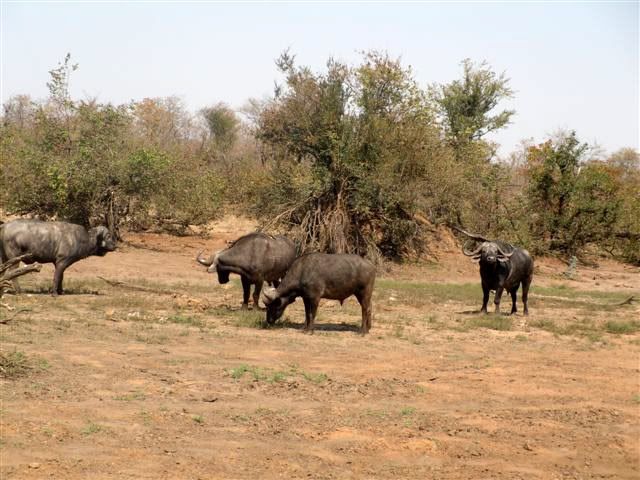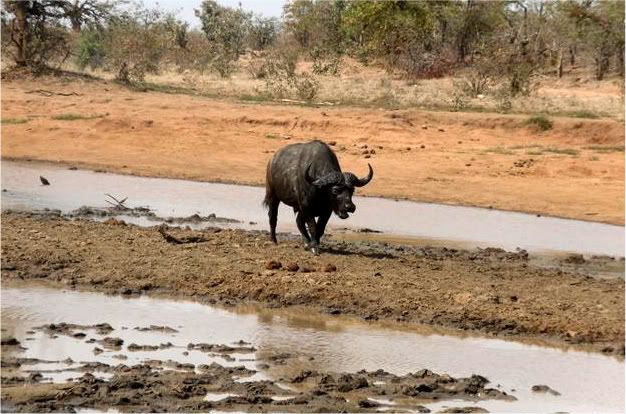 The buffs put the muddy on the outskirts of the dam to good use. Handy relief from the harsh sun just after 10am. Also basting themselves in mud was a family of 'Shallow Pigs'. What is a shallow pig?? Ah yes. I should have known!
A Vlakvark
Sable dam is quite an animal magnet really.
Impi Warriors looking good and shiny in the sun.
The long neck
This little Dassie/Rock Hyrax well spotted!
As this ground hornbill tried to demonstrate … it was Flippin hot!!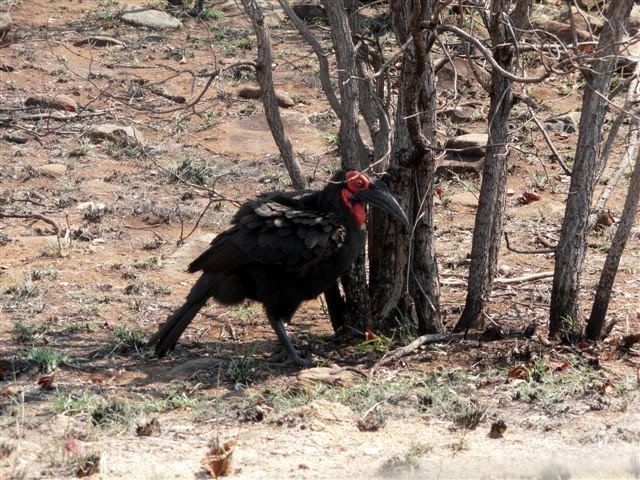 So not much more was spotted until Letaba. However we were far from bored! I was so fortunate to hear all the stories about the cricket at Skukuza through the years! Hilarious stuff! There are a few traditions I have been made aware of:
1.Tsukudu and Scipio are always the umpires with a beer in one hand, and a ciggie in another, lazily giving the signal for a wide. The best 'player' for the angel's team
2.Somebody must get naked and jump in the pool.
3.The attendance of the leopard on Moroela Loop on the Saturday morning
There were many more hilarious stories told
Before long we stopped off at Letaba
As it turns out, there isn't accommodation at Tzenze, so we had to settle for staying at Shingwedzi
Kruger 2014!!!
16-23 August - Lower Sabi!!!!
---
Distinguished Virtual Ranger

Posts: 3958
Joined: Wed Nov 03, 2010 9:51 am
Location: Johannesburg SA
Day 2 Continued

After a quick stop at Letaba we were off North on our way to Shing
As we get to the Letaba river we are treated to seeing all the common residents.
Hippos on the far river bank getting their greens in. The distinctive white ring of the waterbuck against the background of bright sand in the heat of day. Standing on his stilts a grey heron peers into the water for a fish to devour. Near the water life can be found
We were treated to two majestic kudu bulls whose horns dip against their backs as they reach into the Mopane trees to get the tastiest treats.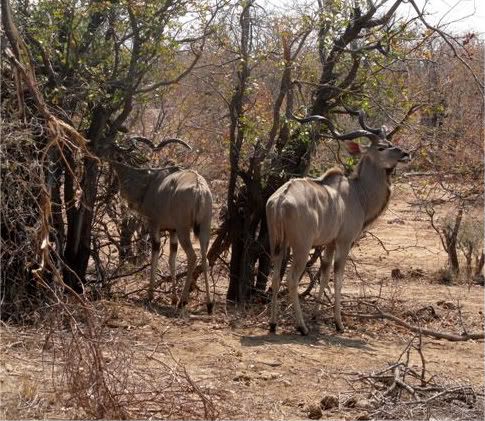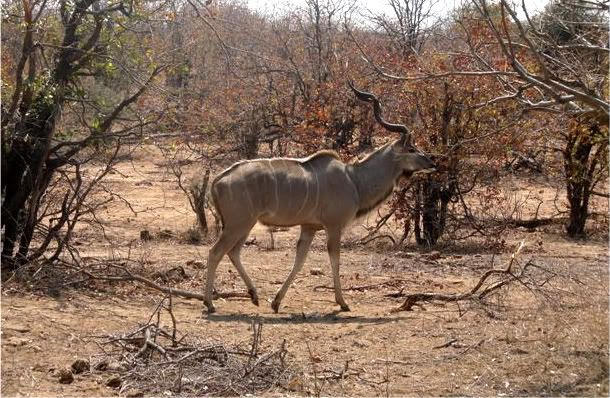 He is the prince of these parts! There is no contradition in my enjoyment of dried wors whilst watching these beaut
As we gaze toward the larger beasts of the savanna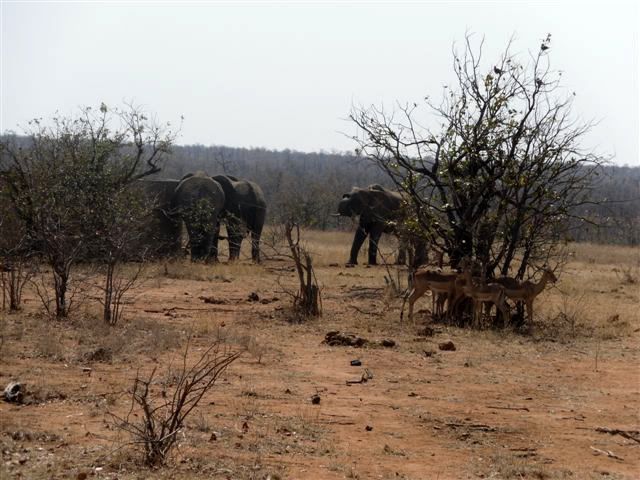 I get a story told to me that I CANNOT forget!!!
The Guineafowl story
Once upon a game drive, dear Scipio found himself scrutinising the landscape of Kruger. With eyes cast toward the horizon he identified a very distinctive and common sighting - guineafowl. What was interesting however about this fowl, was how he seemed in less of a scurry than your average fowl. The head was not as small as usual. Perhaps he was a particularly lazy and clever bird. And if there was ever a guineafowl that one doubted could fly, it would be him! Scipio seemed intrigued by the whole thing. He watched this bird emerge over the horizon as it slowly walked towards him. Strange of coarse that it was walking slowly in one direction. Not characteristic of your average guineafowl ... but hey! Stranger things have happened after a Hansa or two!
From the sight of the large flappy grey ears, large bulky grey body, and long trunk, Scipio started to imagine this was more an elephant than a guineaflowl in fact. Yes, a simple oversight. Easily mistaken the two often are, but at least in the end after good inspection he could deduce it was an elephant!
Myself, Tiger and Tamer didn't bother trying to identify our sightings during that trip as either guineafolwl or elephant, due to the contraversial nature of the debate. So easy to confuse the two we will spend half our time debating! We just decided we would call them guineafowl on both counts \O
We stopped at the Letaba bridge. Beautiful as always
We hear a rustling in the bush
Could it be our first guineafowl!
Scips loves them fowl!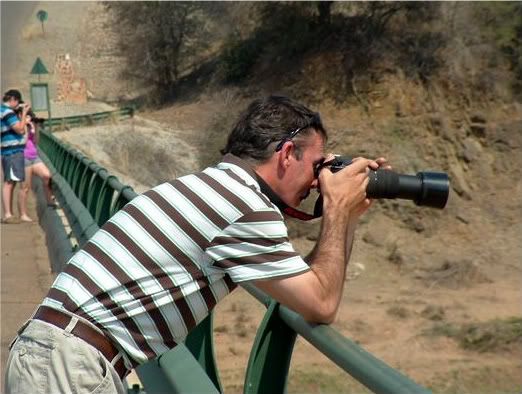 It was a sighting iconic of the North. Only one other car there. we heard the guineafowl stomp towards much needed water in the heat of the day.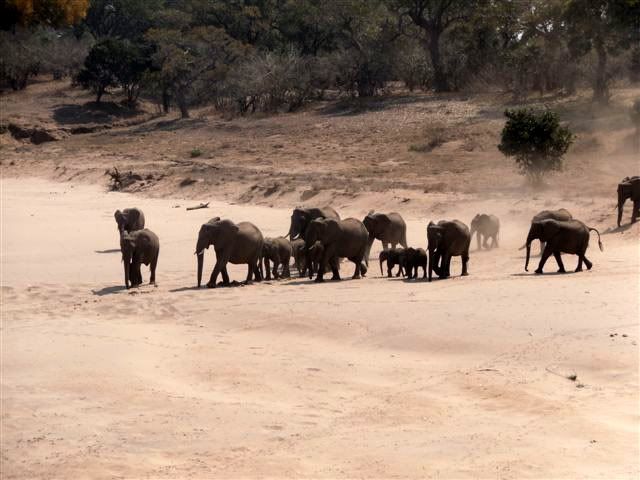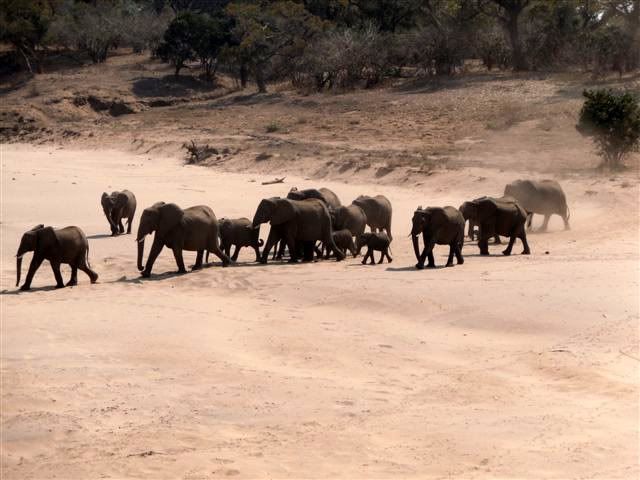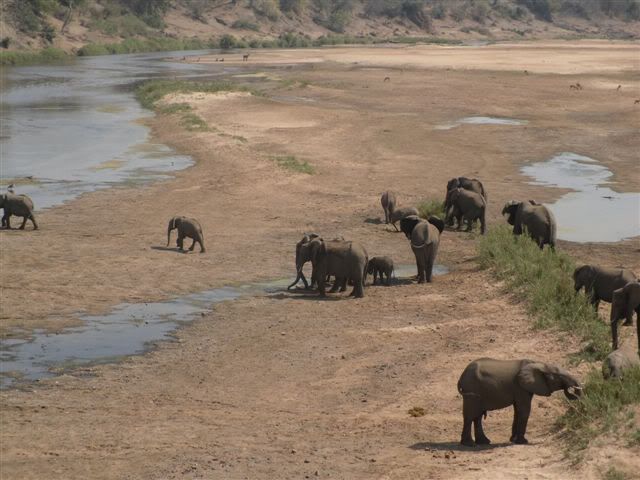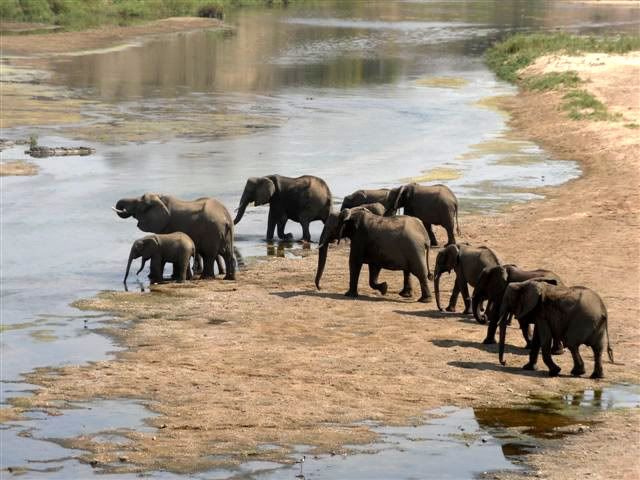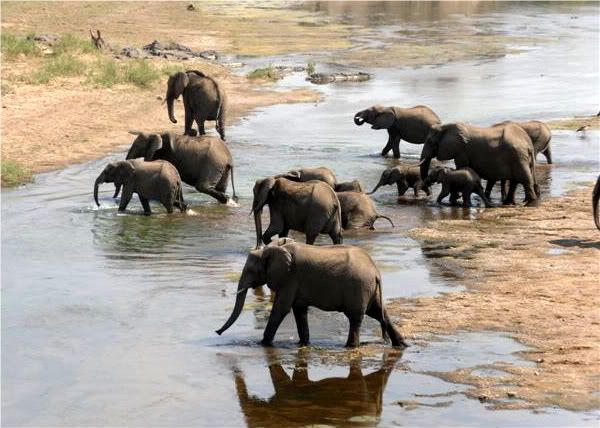 The sound of the Mighty Fowl pushing through the river - magic. All happiness!
Kruger 2014!!!
16-23 August - Lower Sabi!!!!
---
---
Who is online
Users browsing this forum: Jesscan1 and 4 guests