Senior Virtual Ranger

Posts: 989
Joined: Wed Nov 18, 2009 6:22 pm
Location: Centurion
Work has been hectic... And SO has added exam stres...
So we decided it was time to get away and relax. The choice of where to go was easy - to the peace and quiet of KNP. North vs South? Well, seeing as we only had a weekend for this trip, and we did the North earlier this year - we decided on the South. The FAR South. 1 night Lower Sabie, 2 nights Berg-en-Dal.
We left at about 9:00 on Spring Day - 1 September, after SO returned home from night shift. The road was not too busy, and at about 13:45, we entered the park at Malelane gate. We decided to drive via the Crocodile River Road up to Lower Sabie.
A warm welcome was extended to us by this Pearl-spotted Owlet:
The rest of the road was relatively quiet, probably because we were driving it in the heat of the day.
So we decided to take the S108 to get to Lower Sabie. It ended up being a very good decision!
When we got to about 200m from the T-junction with the tar road, we got stopped by another vehicle. "Hi, have you seen leopard today?" was their question. "No", we had just ENTERED the park!
."Well, you just drove passed one..."
"WHAT?" In our defence - it was impossible to spot the leopard from the angle we had come from. Luckily these friendly folks pointed him out to us, and we could get ourselves in a better position to view him well.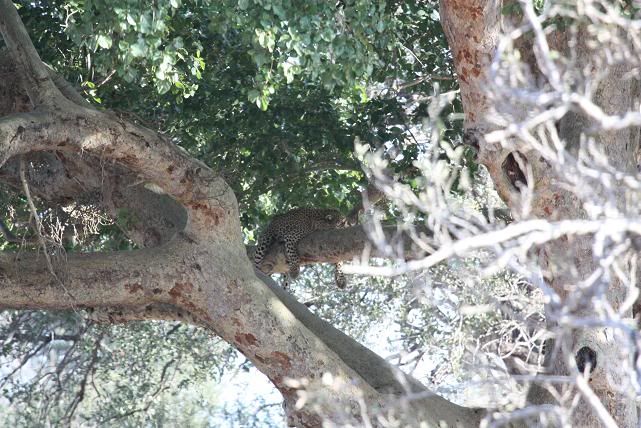 He was quite far away, and a real LAZY guy. We stayed with him for over 45 minutes - and he just stayed where he was. So very happy with the sighting, we decided to move on.
A little bit further up the H4-2, we stopped for a pic of this Brown Snake Eagle (Bruinslangarend):
While I was taking photos, SO all of a sudden remarked "did you hear that?". "No, what?", he replied "it sounded like something growling or roaring..." I really tried to hear it, but couldn't hear a thing. He looked through the binoculars, and all of a sudden he shouted "I think it's a leopard!" I grabbed the binoculars and scanned the area. Nothing. I decided SO's imagination was running wild with him again...
This is after all the guy who thought that lions lying in the road was "just dung" on a previous visit, and a lion walking towards us was an impala! He was starting to get quite a reputation in our car...
But then I saw a movement in the bush, and I grabbed the binoculars again - and I SAW it - SPOTS! It was not his imagination. Shortly afterwards, the leopard gave a louder much more audible growl / roar. But it kept on playing hide and seek with us behind the bushes. It seemed very agitated. We saw glimpses of it again - but never got a good sighting of it. Thus also no photographic proof.
I had to eat some humble pie...
I mean really - who can say that while they were at a bird sighting - they HEARD a leopard, started looking for it and found it behind the bushes? BRILLIANT spotting, my Love!
Next up - another lovely bird sighting - immature Martial Eagle (Breekoparend). While I was taking the pics, SO was keeping an ear out for some predators...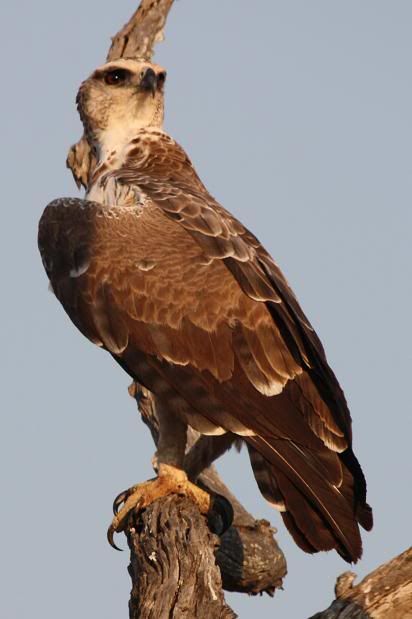 By now it was becoming quite late - with us stopping a while at both leopard sightings. We still had 5 minutes before the gate closed, so we did a quick drive across the bridge and back. Got a nice sighting of a Wire-tailed Swallow (Draadstertswael):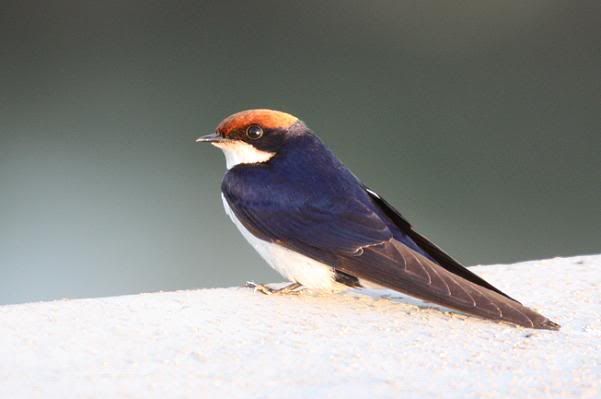 And an African Pied Wagtail (Bontkwikkie) singing at the top of his voice:
We booked into our perimeter tent. I scanned the forums before this trip, and heard about the wonderful "tent 27". So I managed to get this tent for us - and man, what a view - a GREAT unit to have!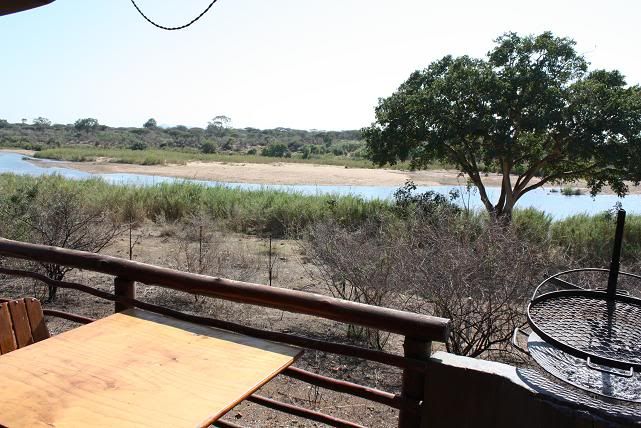 22-25 July 2016 - Pafuri Border Camp
25-28 July 2016 - Shingwedzi
28-31 July 2016 - Olifants
---
Senior Virtual Ranger

Posts: 989
Joined: Wed Nov 18, 2009 6:22 pm
Location: Centurion
As we were only in the park for a short 3 days, we decided to make the most of it. And by going on sunrise or sunset drives in the park - it adds a few hours before or after gate closing to your game-viewing day.
We've done a few drives from LS camp before. The first drive was quite a few years back - and great - big 5 in one drive. But since then, no luck. We hoped to change that by doing a sunrise drive the next morning.
The drive was again taken by the lovely Martie. We must have been on 3 or 4 drives with Martie before - and only once saw a lion in the far distance with her. She has always commented on how quiet the drives were that we had been on with her. Today was, unfortunately, no exception. My SO and I decided that we must be bringing Martie bad luck!
But even though we did not see anything amazing - it was really still a beautiful drive, and we enjoyed it thoroughly!
First up (and still in bad light) was this Giant Eagle Owl (Reuse-ooruil) - it was calling and I wish this picture could have added sound...
On our previous trip to the North we did not see a single rhino in 9 days! So we were delighted when the "drought" was broken by 2 rhinos walking across the road. They did not like the company, so they quickly ran into the bushes - and I only managed to get a shot of the one:
We saw quite a few banded mongoose along the way - but they were also very skittish... This one gave me a short opportunity for a pic, but unfortunately into the light.
Next up - an African Barred Owlet (Gebande Uil)
A huge herd of buffs...
...and some zebras.
All too soon the drive came to an end. We decided to enjoy the view from our tent, and have some tea and rusks (and maybe a cookie too
) for breakfast on our deck. Packing followed, and we left for our stop for the next 2 evenings - Berg-en-dal.
22-25 July 2016 - Pafuri Border Camp
25-28 July 2016 - Shingwedzi
28-31 July 2016 - Olifants
---
Senior Virtual Ranger

Posts: 989
Joined: Wed Nov 18, 2009 6:22 pm
Location: Centurion
Unfortunately we did not have a lot of time to sit and enjoy our lovely view. So we finnished our tea and rusks, got packed and moved on towards Berg-en-Dal.
We decided to take the tar road down to Croc Bridge, and then the Crocodile River Road to Berg-en-Dal. Today was a very hot day in the park. The max our car's thermometer recorded was 39,5'C -
- quite high for an early September day! And the animals also felt the heat...
We did not see much on the road to Croc Bridge. After a quick ice-cream at CB, we decided to visit the Hippo Pools. It was the first time that we were actually in the area while the guard was on duty! It was very nice to meet him...(Oops - forgot his name...
) He told us about a lioness in the area earlier, but she had left by the time we arrived. He then took us for a short walk into the riverbed to show us the reason for the name Hippo Pools:
We thanked him for his time, and decided to move on. Many people rant and rave about the S25/Crocodile River Road. Now we have driven this road NUMEROUS times before. We've seen many elephants and rhinos, general game and even a large herd of buffalo once. But never have we seen any cats on this road. Are we the only ones?
Closer to Malelane side - we spotted these two bulls with quite impressive tusks:
We usually see a lot of raptors on this road - but today the only birdie that posed for a pic was this Korhaan:
We arrived at BD just after 14:00, and were just too happy to check in to our cool unit. We got unit nr 25 - also a lovely Bungalow on the Perimeter:
After unpacking - I was impressed by the amount of birdlife around our unit. So out came the camera...
Brown-hooded Kingfisher (Bruinkopvisvanger) - with a centipede kill:
...almost in completely - just the last few feet sticking out...
A new tick for us - the Cardinal Woodpecker (Kardinaalspeg):
And a Blue Waxbill (Blousysie) ALMOST sat still enough for me to get a nice pic...but not quite!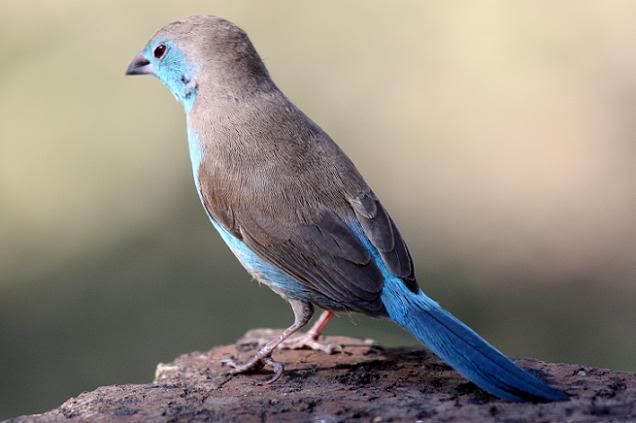 For our afternoon drive, we decided to do the Matjulu loop. Berg-en-Dal is a great place for great rhino sightings. We found this family of 3 taking a rest right next to the road:
And they even posed for some nice close-ups:
The sunset in KNP - as always - beautiful:
And the last sighting for the day - a Marabou Stork (Maraboe):
After a lovely braai, we went to bed - quite tired after a long and hot day on the roads. The next day was awaiting us...
22-25 July 2016 - Pafuri Border Camp
25-28 July 2016 - Shingwedzi
28-31 July 2016 - Olifants
---
Senior Virtual Ranger

Posts: 989
Joined: Wed Nov 18, 2009 6:22 pm
Location: Centurion
The next morning we were up early and at the gate at gate-opening time, as usual. We drove down to the H3 and at the T-junction turned left towards Afsaal. A little bit down the road we stopped to enjoy the company of some ellies. The vehicle from Jock's Safari Lodge drove up towards us and the friendly guide told us to make a u-turn and go back to Malelane gate. Apparently there were lions with a buffalo kill. SO got super-happy!
Thank you mr Friendly Guide from Jock's!
About 200m before we got to the gate - we got the traffic. There was still a big mess of intestinal contents in the middle of the road, and the smell that goes with it...
Next to the road we spotted a collared female:
...another female behind her:
...and a young male cub:
...with their buffalo kill:
We spent some time at the sighting. For most part, these lions looked like they've fed enough, and were sleeping it off now. The cub was the only one that still seemed interested in more food. But with the sighting being so close to the gate - you can imagine how much traffic it caused.
So we left the sighting, deciding we'll come back later - we were sure they'd be there for a while...
Back on the H3 heading North, we spotted a birdie or two. First up this Lesser Striped Swallow (Kleinstreepswael). Good to have them back after the winter!
Then a breading pair of Wahlberg's Eagles (Bruinarende) - also good to have them back...
Seeing as we've not been on many of the dirtroads East of the H3, we thought it was time to do these routes. And what a good choice. It will definitely not the last times I take these routes. Great sightings AND beautiful scenery.
To start off with we took a right onto the S118 at Ampie-se-boorgat. This is a lovely road, running next to a riverbed. We could not have driven a kilometer, when SO shouted: "Look at that LOVELY leopard!" A THIRD leopard sighting!!!
This beautiful leopard came out from the riverbed and crossed the road right in front of us. Unfortunately, one could see that she was NOT a fan of being in the limelight, and as soon as she saw us, she started moving with more urgency. It all happened so quickly, by the time I got my camera ready - she was almost out of sight. So even though we saw her beautifully - I only got a "proof-pic"....
And she was off into the bushes. The whole sighting could not have lasted more than 10 seconds. We were the only witnesses. A true blessing!
Our next sighting also got me quite excited! A new tick in the bird book!
A lovely Retz's Helmet-Shrike (Swarthelmlaksman):
We made a quick stop at Gardenia Hide. Not much happening there. So we continued on back via the S114 and H2-2 to Afsaal for a lovely breakfast after a morning with some great sightings!
22-25 July 2016 - Pafuri Border Camp
25-28 July 2016 - Shingwedzi
28-31 July 2016 - Olifants
---
Senior Virtual Ranger

Posts: 989
Joined: Wed Nov 18, 2009 6:22 pm
Location: Centurion
After a lovley "skottelskaar" breakfast at Afsaal, we decided to take the S113/S23/S114 (Biyamiti Loop) back to Berg-en-Dal. We have been reading so much about Biyamiti, but are yet to get accomodation available there when we want to go...
So we decided to do this loop and check out the surroundings.
Although the famous Biyamiti Weir was very quiet today, we saw lots of other lovely sightings on the way.
These terrapins all tried to get the most sun...
This Hammerkop was rather far off - but I thought it made a pic with quite a nice mood to it:
And then I got really lucky at one of the low water bridges - a Malachite Kingfisher (Kuifkopvisvanger) was sitting quite close to the road, on a reed in the river. FINALLY - I got my chance to take a close-up of this lovely little birdie - without having Touareg's lens!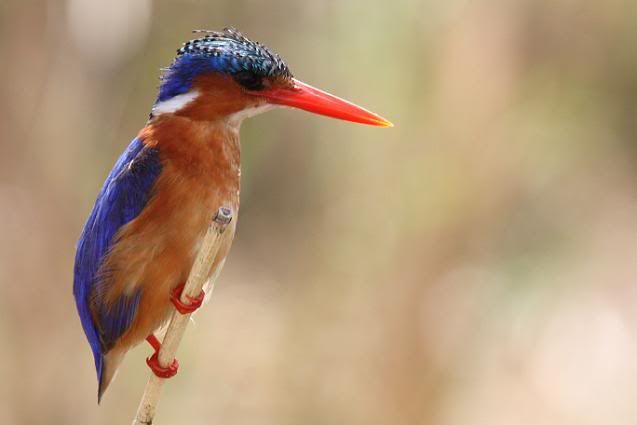 It even posed for me with a kill!
On our way back to camp, we decided to first go and check out the lions and their kill once again. This time we were treated to seeing the young male enjoying his feast:
The ladies were still flat in the grass, bellies in the air. We headed back to camp for a short siesta ourselves.
22-25 July 2016 - Pafuri Border Camp
25-28 July 2016 - Shingwedzi
28-31 July 2016 - Olifants
---
Senior Virtual Ranger

Posts: 989
Joined: Wed Nov 18, 2009 6:22 pm
Location: Centurion
After our afternoon nap, we decided to walk around camp a bit. We decided on doing the sunset drive at the camp, so we had a bit of time to relax. We did the rhino trail
and I got to spot and photograph a few birdies.
I thought this Black-headed Oriole (Swartkopwielewaal) looked all too lovely with the colours surrounding it: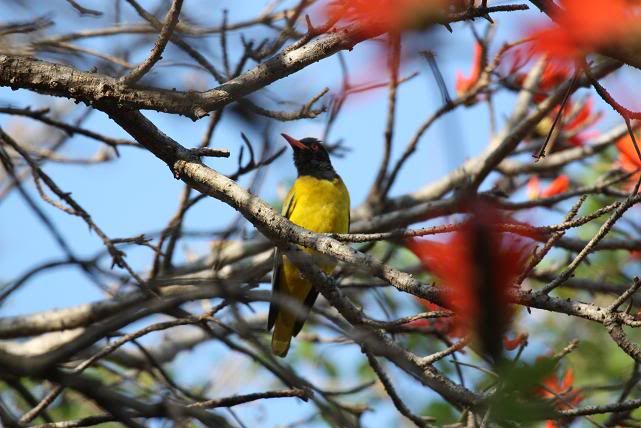 And at the dam - a friendly gentleman pointed out some Brown-headed Parrots (Bruinkoppapegaaie) in a tree. Finally I got the chance to get a close up of these pretty boys as well!
An "interesting" guide took our sunset drive. Language was unfortunately not one of his strong points, and with three yanks sitting in front of us all the time yacking about how weird South Africans are, this drive became a quiet one from the guide's side and a loud one from the front seat passengers... (Sorry - I hate complaining - but these people were really a bit much...
)
Anyhow, the guide decided to start off with the Matjulu loop. Not far down the road, a combi full of boy scouts stopped our vehicle. I thought boy scouts came primarily from the USA, but these guys definitely had some or other European accent. They were very friendly, and informed us of a leopard and her cub with an impala kill in a tree just a km down the road.
When we got there - the road was packed with cars. The impala kill was hanging in the tree. But the leopards had decided that the show was over, and had left.
Our guide decided to drive and we found a little family of white rhinos coming to have a drink.
Mom and baby: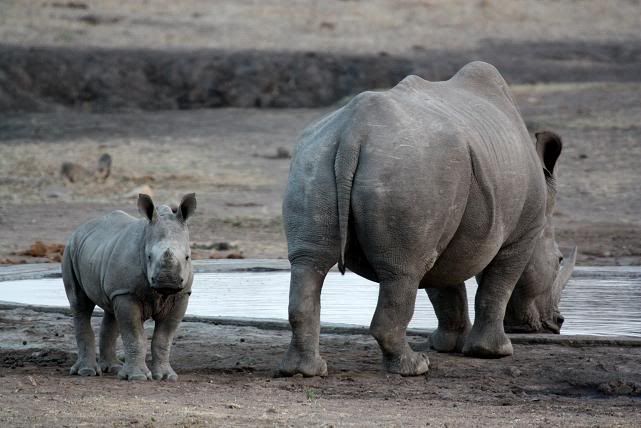 Dad coming to join in:
On return to the impala kill, the leopards had still not returned, and we decided to move on. The rest of the S110 was very quiet (except of course for our frontseat passengers...
), but on the S114 we got a lovely sighting of a Civet!
Unfortunately it had one bad leg, and was limping badly...
Luckily he still seem to be able to get around - he was eating a bird of sorts when we saw him. (Sorry for the poor quality pic...)
We asked the guide to drive by the lion/buffalo kill sighting. It took us a while to spot them in the dark, but the same lions were still at the carcass, although most of them were still lying with their full bellies in the air.
As we drove back, we were just about to go up the S110 to Berg-en-Dal, when I saw something walking towards us from the H3. We stopped the guide - who turned around. And there came his majesty - the king, probably coming to get his share of that buffalo kill! It was a lovely maned lion. When he spotted us, he moved into the bush. This was the best pic I managed to get of him:
He soon got up again, and moved off in the direction of the kill. Time was running out, and the guide decided to rather head back to camp. Back at camp, we quickly put together a fire, had a quick braai, and we were off to bed. Tomorrow we would be leaving the park... after a short drive, that is...
22-25 July 2016 - Pafuri Border Camp
25-28 July 2016 - Shingwedzi
28-31 July 2016 - Olifants
---
Senior Virtual Ranger

Posts: 989
Joined: Wed Nov 18, 2009 6:22 pm
Location: Centurion
The next morning we had a decision to make. We knew about the lions with the buff kill at Malelane Gate, but then we also knew of the impala in the tree - left by the leopards the previous evening. Chances were good to possibly see some cats at both kills. But timing could be of the essence...
We decided to first drive up to the impala kill, and then back down to Malelane. It was a great decision. We arrived at the sight of the impala kill, a few other cars around - and the cub was in the tree eating his share of the kill. It took some time to get the car in the right position, and some time for the cub to move into the right spot for us to see his face clearly - but eventually I got a few nice shots: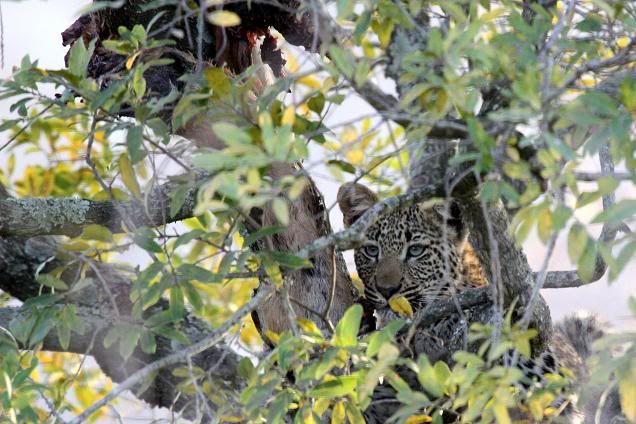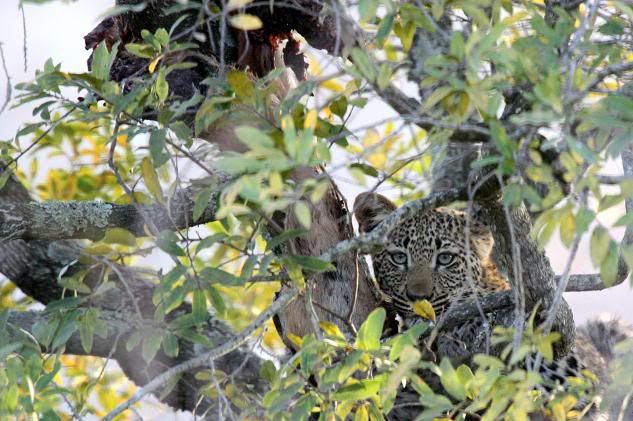 Eventually the crowd of vehicles started getting really big. As the cub jumped down the tree, disappearing into the grass, we decided to go on, turn around at Matjulu waterhole, and then drive back to the tar road toward Malelane. As we started driving towards the waterhole - we saw some competition arriving for the impala:
The waterhole was quiet. On return to the leopard sighting - there was no sight of the hyena. But Mother leopard had returned and was now in the tree with her kill:
She did not seem happy with all the company of the vehicles and obviously now hyena as well, so she took her food...
...and hit the road - into veld, not to be seen again.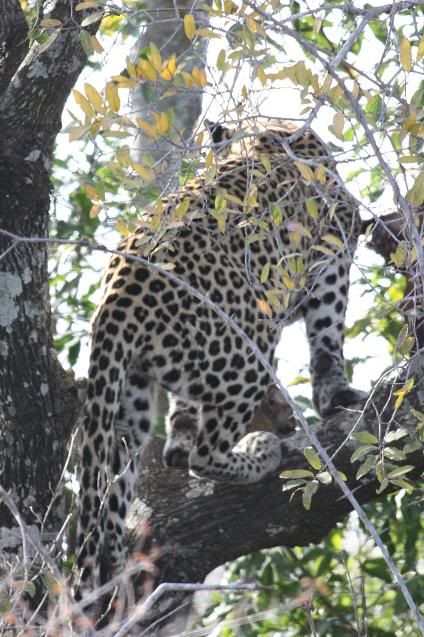 Can you imagine how we felt about our decision to first check out the leopard sighting...
Ok - so now down to see if daddy lion came to chase away the others for the buffalo kill... On the way there a Kori Bustard (Gompou) in golden morning light:
At the place of the buff kill - absolutely NOTHING. No lions and no buff carcass. It was indeed a good decision not to go there first. I'm sure the male lion took his share and took off!
On our way to Afsaal for our last breakfast in the park - a big car pile-up. And in the far distance - our lionpride responsible for the buff kill! Now basking in the sun after a full day and night of buffalo-pie!
After a lovely breakfast of pap and wors at Afsaal, we headed back to Malelane gate and off to home. What a way to spend your last few hours in the park...
Always sweet of the bush to remind you to come back for more...
22-25 July 2016 - Pafuri Border Camp
25-28 July 2016 - Shingwedzi
28-31 July 2016 - Olifants
---
---