Virtual Ranger

Posts: 596
Joined: Tue Aug 18, 2009 9:41 pm
Location: Behind a Nikon camera...
Aah...now this feels good...starting a new TR here in Travel Tales...something I haven't done for quite a while, even though as some of you know, I've been around!
So, in the spirit of becoming more active on the forum again and catching up with a mountain of images from my trips over the past 2 years...let's start catching up, shall we??
For those who missed my previous TR - Northern Kruger in December 2009 - you can do a quick catch-up
here
while I get things rolling on this one.
I still have 2 AMAZING trips to the Kgalagadi to catch up with, as well as some time spent in Addo and MZNP and Golden Gate...so I best get moving
In February 2010, my wife and I were very kindly invited to spend 2 nights at one of the most luxurious lodges in the Sabi-Sands Game Reserve...and of course we first had to think about it...
....well of course we jumped at this opportunity!
I decided to make a longer trip out of it and added 2 nights in Satara to the itinerary.
So we packed all our stuff and I charged all my camera batteries cause there was a lot of photos waiting to be taken
.
Day 1 (part 1):
Malelane to Skukuza
Route:
H3
Normally when I know we have a short time to be in Kruger, I will make sure we can leave home at about 2-3am, meaning we can be at Malelane gate when the sun rises (after all, for us keen photographic enthusiasts that 'golden hour' around sunrise and sunset is what we strive for).
We were actually booked for Sabi-Sands tonight but I decided to drive up from Malelane, out through Paul Kruger gate and then into the "Sands", thereby maximising time spent in the bush...
So we left darn early and arrived at Malelane gate about 15 minutes after opening time. To my disappointment, cloud cover had settled in once we passed Nelspruit and it was by now drizzling slightly.
Shortly through the gate we encountered our first sighting - which I cannot share here due to the request made in the 'sticky' threads...
This herd of impala looked like they enjoyed the light drizzle on their coats.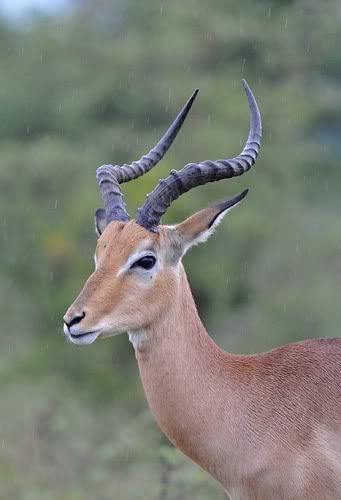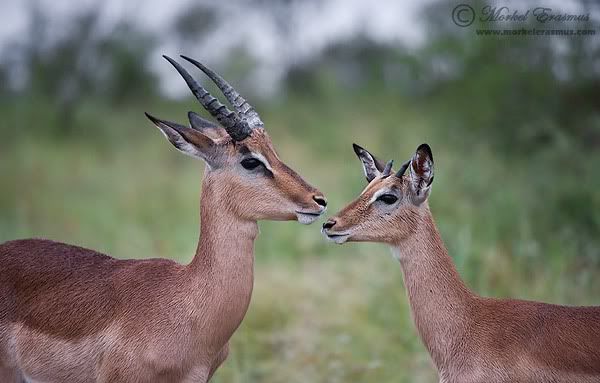 Overcast skies are not ideal for photographing perched or flying birds, but sometimes it can deliver a nice 'high-key' look like in the case of this whitebacked vulture sitting in a tree next to the road.
We turned into the Renosterpan dam, and came across a carcass of some kind (hard to tell as it was very far and behind grass), with a herd of hyenas and a flock of vultures vying for the remains. It was starting to rain more intensely now.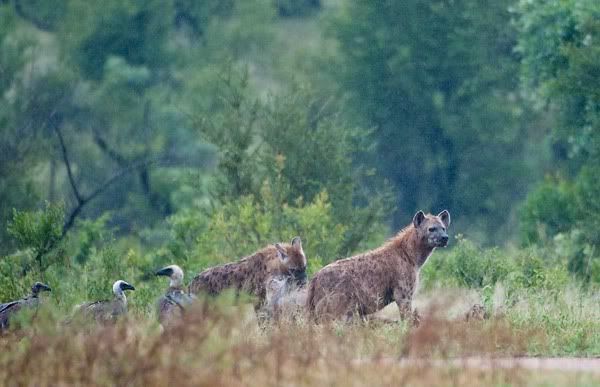 We encountered this Fish Eagle on the road back North and I wished he was closer!
A zebra in the rain...
And the birdies keep popping up all over the place...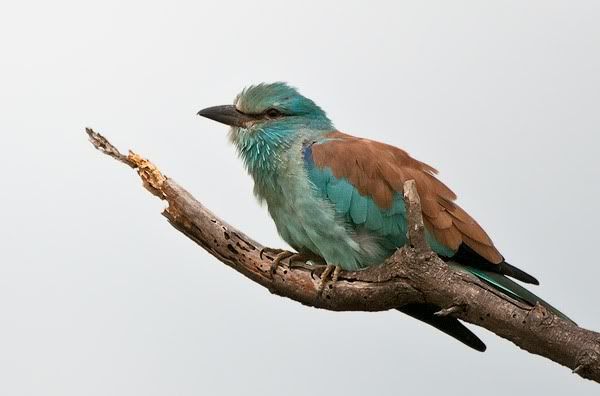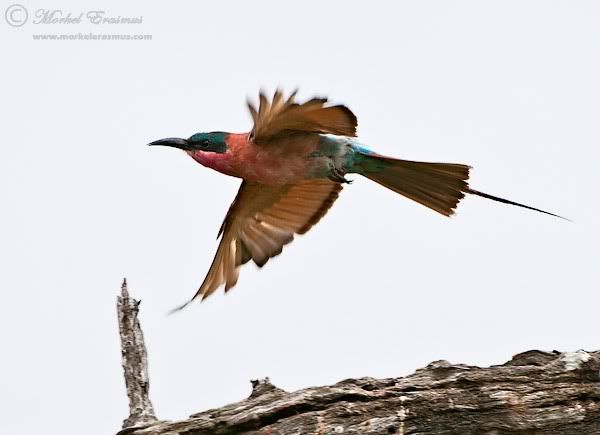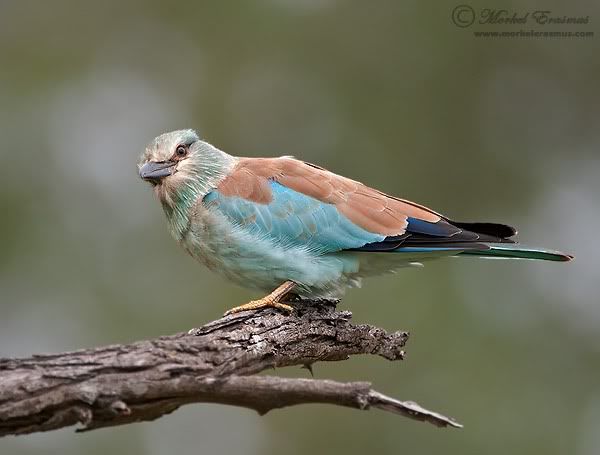 We drove up to the "Granokop" (Mathekenyane) and took in the view of the lush green bushveld:
No trip past Skukuza to Kruger Gate would be complete without a stop-over at Lake Panic. I decided to check out the hide despite the gloomy weather...and am I glad I did!
Last edited by
Morkel777
on Wed Aug 10, 2011 6:15 pm, edited 1 time in total.
Planning the next trip already...
---
Virtual Ranger

Posts: 596
Joined: Tue Aug 18, 2009 9:41 pm
Location: Behind a Nikon camera...
Thanks Pumbaa! Glad to have you onboard...I do hope others will join the journey...
Day 1 (part 2):
Skukuza to Paul Kruger Gate
Route:
H11
How could we not stop at Lake Panic, despite the rainy weather??
You would think that the hide would be quiet...well it was, except for this juvenile Greenbacked Heron: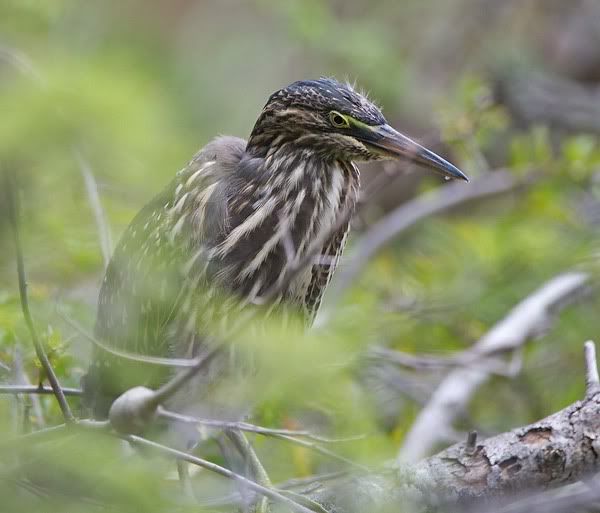 ...and THIS VERY ACTIVE Malachite Kingfisher! By observing his flight patterns between 3 or 4 twigs he was frequenting I was able to fire off some successful images of this very quick flyer...
(I had to get shutter speeds of 1/6400 and it still wasn't fast enough...luckily the high ISO capabilities of the Nikon D3s I was using saved my bacon here - most of these were taken at a ridiculous ISO-4000
oh yes and these are all big crops, it's a very tiny birdie!
)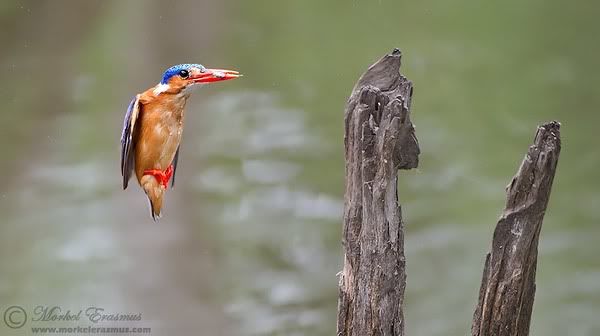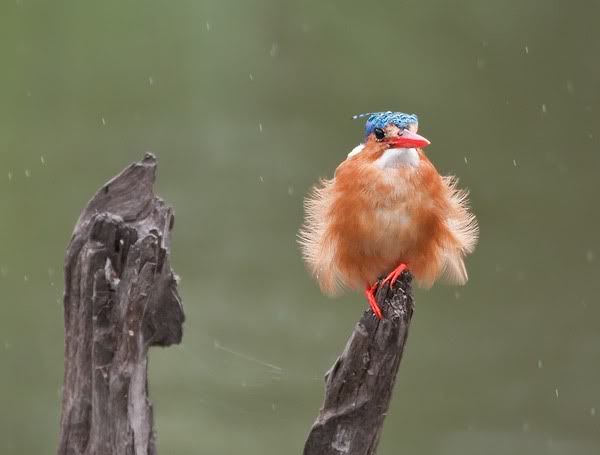 Since we had a book-in time to make for our Sabi-Sands experience, we decided to best keep going.
Right before Kruger Gate I saw a bright flash of purple, red and blue: Purple-Crested Turaco!!
I hoped he would come out of the tree he flew into, but he only flew out the back and deeper into the bush...this was the best I managed: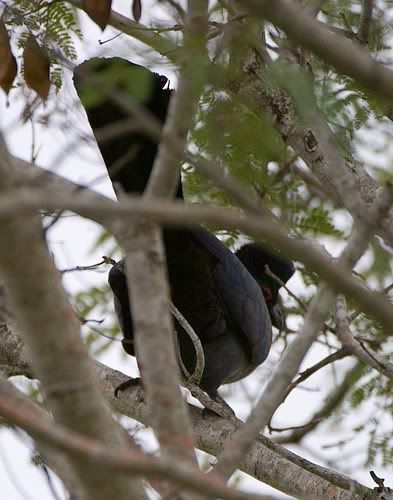 Anyhow, we left KNP knowing we were onto a very similar yet very different experience, and also knowing that we would be back in 2 days to enjoy more safari in Kruger style!
...to be continued...
Planning the next trip already...
---
Virtual Ranger

Posts: 596
Joined: Tue Aug 18, 2009 9:41 pm
Location: Behind a Nikon camera...
I will continue straight away - but I feel I just need to give you a glimpse of our Sabi-Sands experience (it is part of the "Greater Kruger Park" after all
)
So here are a few of my favourite shots from our 2 days in the "Sands"
(without elaborating too much - we need to get back to the real KNP TR, right?
)
Buffaloes under a massive rainbow:
Elephant ear-flap: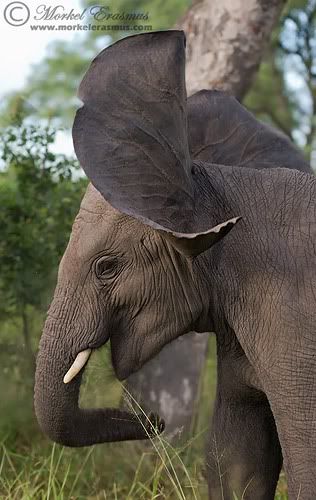 Leopard male:
Lion mom and cub: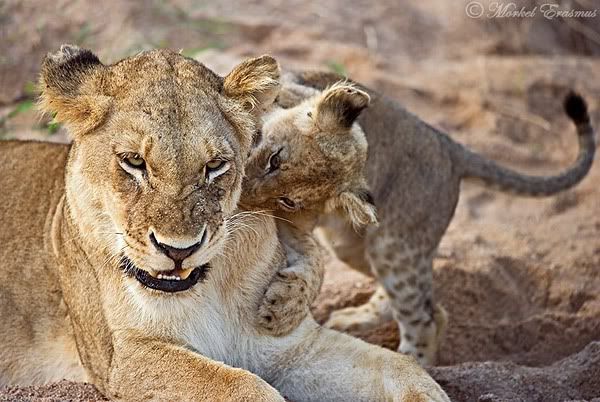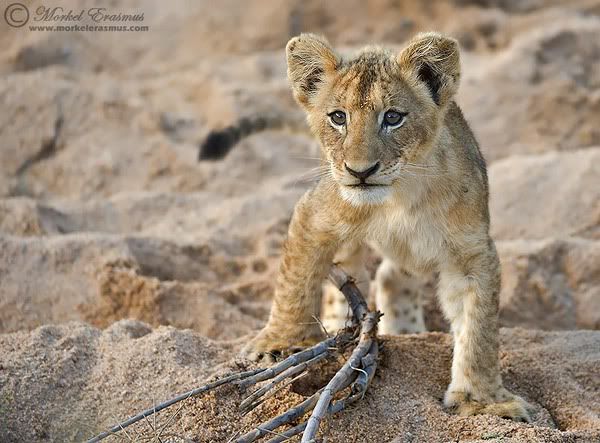 Giraffe under a rainbow:
Large male lion:
Leopard mom and cub: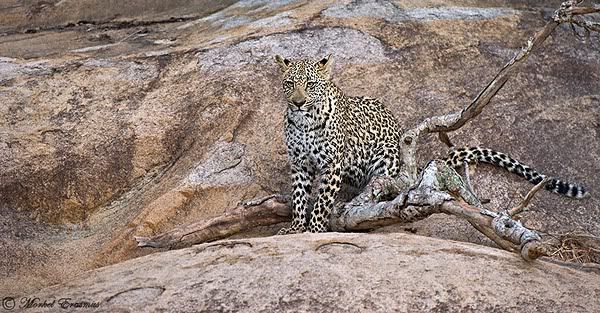 Hope you enjoyed those...
I'll continue with our trip back into Kruger shortly...
Planning the next trip already...
---
Virtual Ranger

Posts: 596
Joined: Tue Aug 18, 2009 9:41 pm
Location: Behind a Nikon camera...
Wow thanks for the overwhelming responses Bushbuddies, PeterPM, Lion Queen, Tawny, Pumbaa, Micetta, Lionspoon and Buffalo Soldier
I will now continue with our Kruger trip...
Day 2 (part 1):
Paul Kruger Gate to Satara
Route:
H11, H1-2
After our stunning 2 days in the Sabi-Sands we ventured back into the park via Paul Kruger Gate. Our destination: Satara for 2 nights...
We encountered a LLUT (Lazy Lions Under Tree) sighting on the H1-2 just past Skukuza, but pictures were not forthcoming. Still, it was good finding our first lions in the heat of the day shortly after entering KNP again.
On the way between Tshokwane and Satara we had a chance to view some birdies...like an European Roller who gave me a good chance to photograph it taking off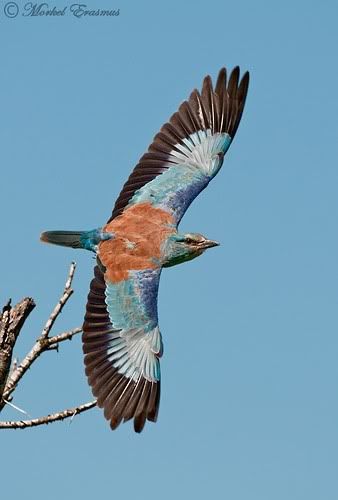 And this Brown Snake Eagle - my first proper sighting of this bird in Kruger.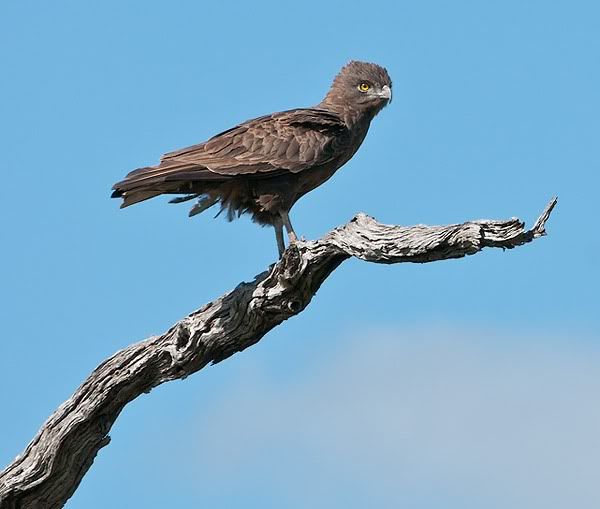 We got to Satara without any further interesting sightings, settled into our chalet and rested a while before the afternoon drive...
Planning the next trip already...
---
Virtual Ranger

Posts: 596
Joined: Tue Aug 18, 2009 9:41 pm
Location: Behind a Nikon camera...
Thanks for the kind words Elsa and Lion Queen...
Day 2 (part 1):
Around Satara
Route:
H1-3, S126
We headed south for our afternoon drive, and decided to skip the busy S100 and go in search of whatever would be found...
It wasn't far from the H6 N'wanetsi tar road that we noticed some commotion...birds...lots of them. It seemed that there was something on the ground drawing the attention of a whole bunch of avian species. The grass was too long to see what it was...but whatever it was it was a magnet for feathered friends!
The first bird we spotted was a first-time sighting...a Lesser Spotted Eagle (correct me if this is actually a Steppe
)
As soon as I had taken that photo, the eagle flew off...and my focus shifted to a whole flock of Carmine Bee-Eaters doing their acrobatics around a closer perch.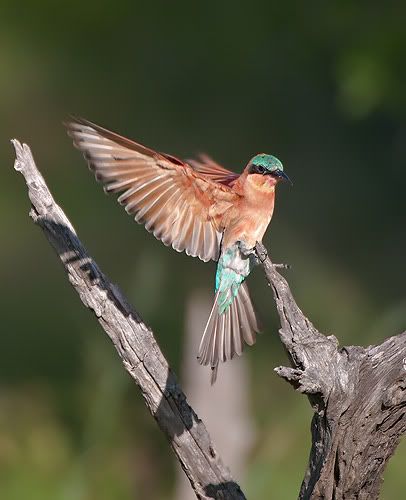 These guys are hard to photograph!!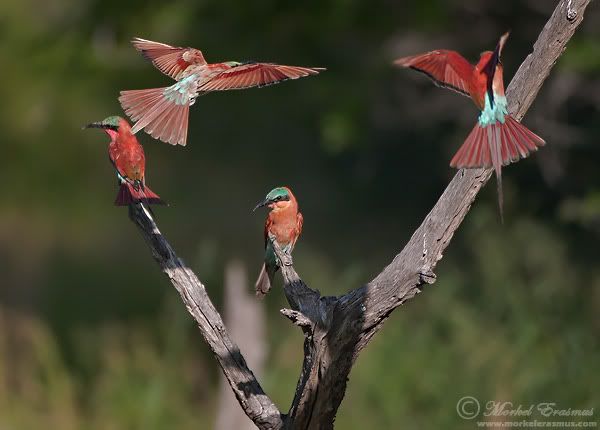 A starling joined the fun and chased a Carmine away...
Suddenly all the birds flew up...the Lesser Spotted Eagle had returned!! It perched on a branch behind the Bee-Eater branch, and posed nicely for a few shots...
I was wishing and hoping it would take off in our general direction...it would make me smile a mile wide!
And pretty soon the smile was justifiable!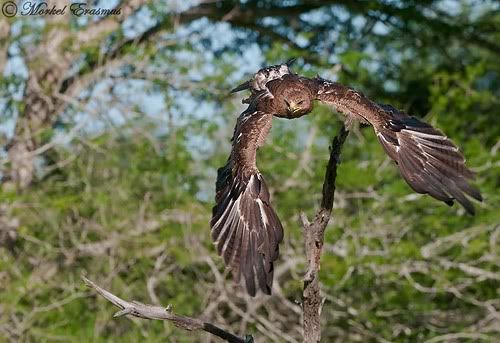 We thought it could be time to move on...but no, as soon as the Lesser Spotted Eagle flew off, lo and behold a Tawny Eagle landed on the very same branch out of nowhere...
Shutters kept firing...
The Carmine's were still fluttering about - as can be seen in this image...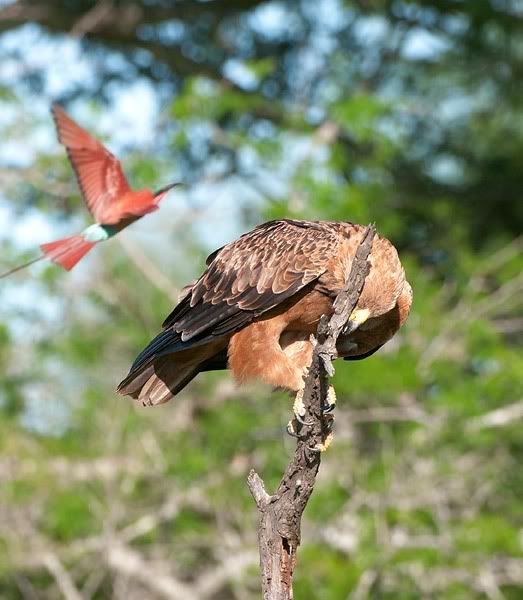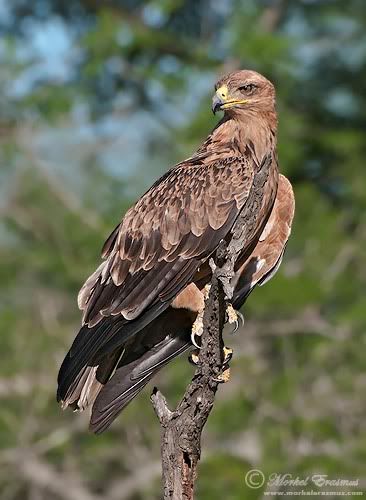 I wondered if I might be twice-lucky with the takeoff, but it flew off away from us and out of sight...
Some more Carmine Bee-Eaters...
Who were then replaced by a few Fork-Tailed Drongo's (note the SAME perch -
)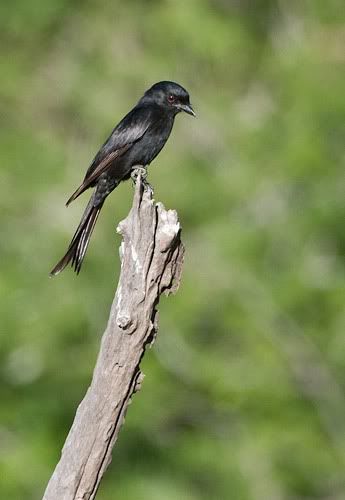 And the pushy starling again...
By now whatever was causing the commotion on the ground was fading (at this point we thought it might be a termite nest or something but that wouldn't explain the eagles' fascination with the sight
).
We moved on...very happy with what we had witnessed...
...to be continued...
Planning the next trip already...
---
Virtual Ranger

Posts: 596
Joined: Tue Aug 18, 2009 9:41 pm
Location: Behind a Nikon camera...
Cody wrote:STUNNING PICTURES! what camera do you have??
Thanks Cody.
At the time of this trip I was a Canon user, but I rented some Nikon kit for this specific trip. I am now officially a Nikon shooter though
.
For this trip I was using a D3s/D300s/D700 depending on the situation. Lenses used were the 200-400mm f4 VR, 70-200mm f2.8 VR-II, 24-70mm f2.8 and 14-24mm f2.8
I now use most of those lenses personally except that I opted for a 500mm f4 VR-II prime telephoto instead of the 200-400mm (although the 200-400mm is a superb telephoto zoom).
Planning the next trip already...
---
Virtual Ranger

Posts: 596
Joined: Tue Aug 18, 2009 9:41 pm
Location: Behind a Nikon camera...
Thanks Jennet! Welcome aboard...LOTS more to come as I find time to process, post and write!
Let's continue...
Day 3 (part 1):
Around Satara
Route:
H7, S40, S127, H1-4
We set out early the next morning in search of whatever the bush may deliver.
Pied Babbler and Swainson's Francolin seemed to be the first to greet us...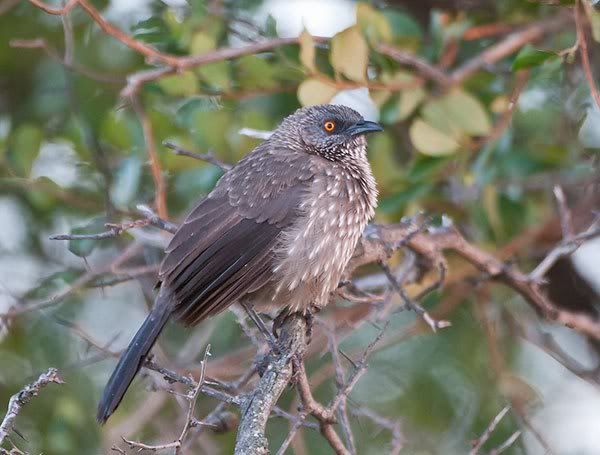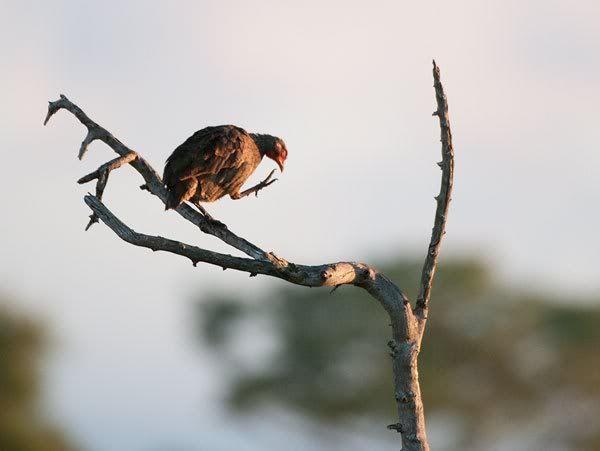 This particular francolin posed very nicely in the sunrise light, and even gave us a legendary wake-up call!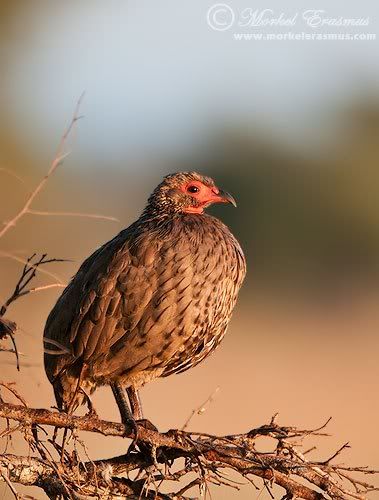 As we turned onto the S40, a Redbacked Shrike turned around to face the cameras:
A herd of impalas were grazing in the golden light. These 2 males were in a battle for female attention:
...after which we witnessed the strangest thing...little impalas mimicking what they had seen the grown males do! Butting heads! Pity the grass was so long, so these photos are just to show you what took place: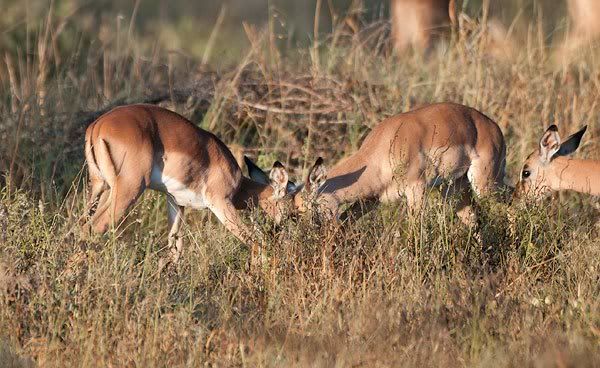 The next moment, still on our way to Girivana dam, we were dazzled by a flash of vibrant colour...Longtailed Paradise Whydah! A first for us! It settled in a tree next to the road and we approached quietly to be able to get a photo or 2...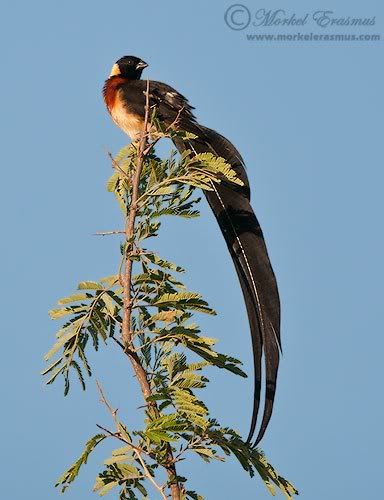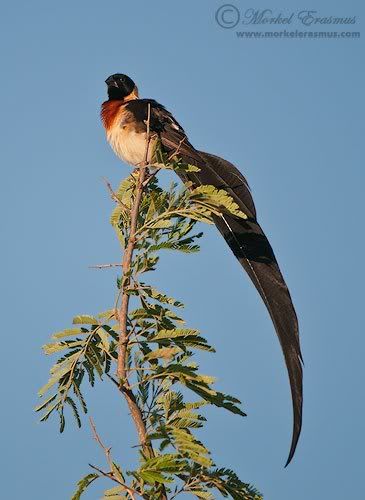 We arrived at Girivana, and found a lone hippo basking in the morning sun.
We proceeded north up to the Ntomeni road, and found a few general characters like wildebeest and giraffe...and the European Roller (the Park just seemed stocked with them!)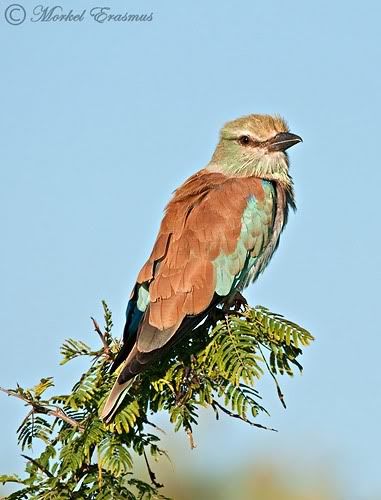 As we turned onto the Ntomeni road, we noticed something strange under a bush...Kudu?!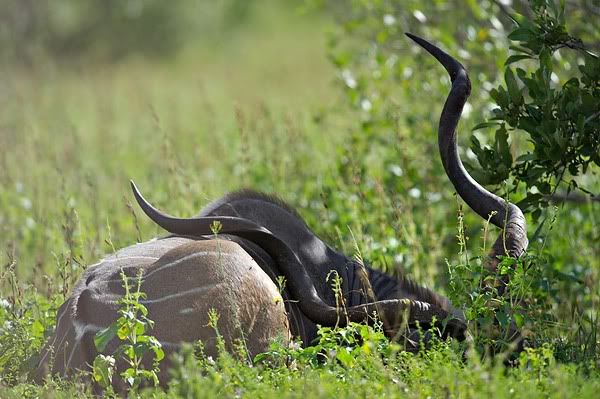 This bull didn't move. Presumably sleeping, yet strange position and location to do so?
This road has some great open plains and these zebras gave me a great shot that seemed to fit more with the plains of the Serengeti than with the Kruger Park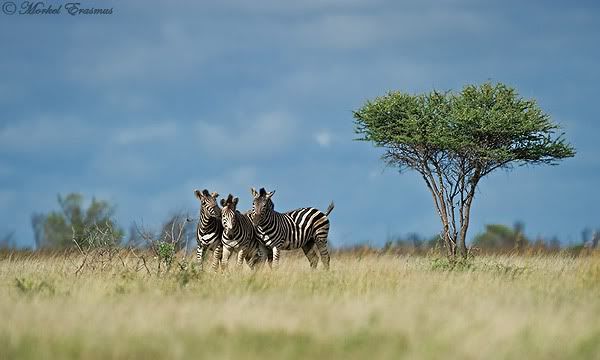 We turned south again on the H1-4 and headed back to camp, with nothing else really spectacular happening along the way...
We went back for a hearty brunch and for some siesta in the scorching heat...there would be some
LYIN
' around before there would be some
LION
around
Planning the next trip already...
---
Virtual Ranger

Posts: 596
Joined: Tue Aug 18, 2009 9:41 pm
Location: Behind a Nikon camera...
Thanks again for the kind and wonderful comments everyone!!
Day 3 (part 2):
Around Satara
Route:
H7, S40, S127
That afternoon as we strolled through the shop, we heard people talking about a pride of lions that were passed out at Girivana dam, so guess where we were headed immediately??
We drove out there immediately to get a good "spot" to park. The pride was right next to the road, and some of them were not lying down. This youngster didn't look too healthy, as did one female, but the rest were all in good shape. We counted 11 lions in total.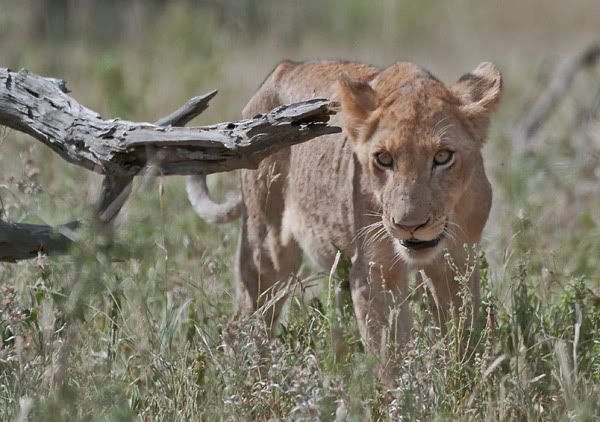 While we were sitting and watching the lions...a couple of Hooded Vultures flew in and perched on a tree close by...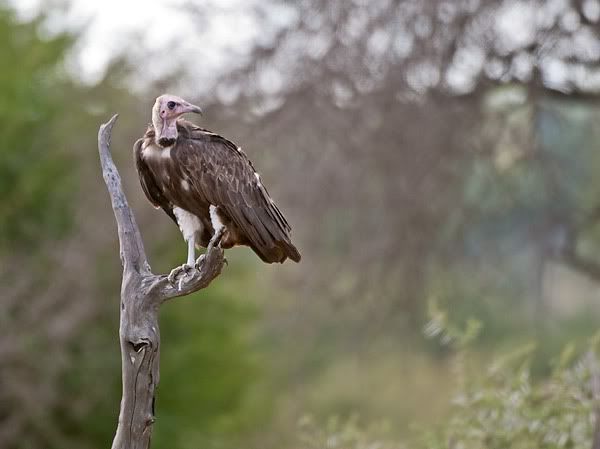 This sudden activity drew the attention of the nearest male, who lifted his head for us and stared in the direction of the vultures.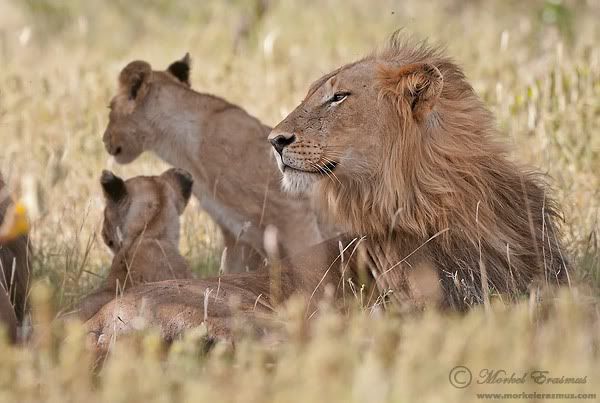 Some family interaction in the background...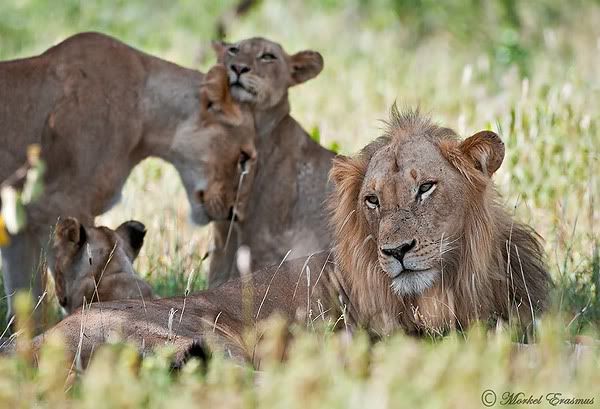 Then his brother got up and approached him...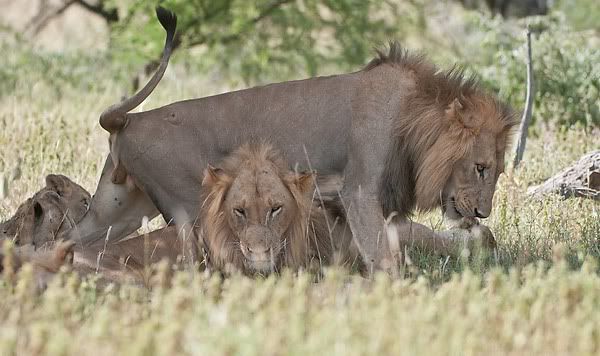 He then "flumped" down next to his brother, and proceeded to yawn right up against him, and then rubbed faces in a display of affection.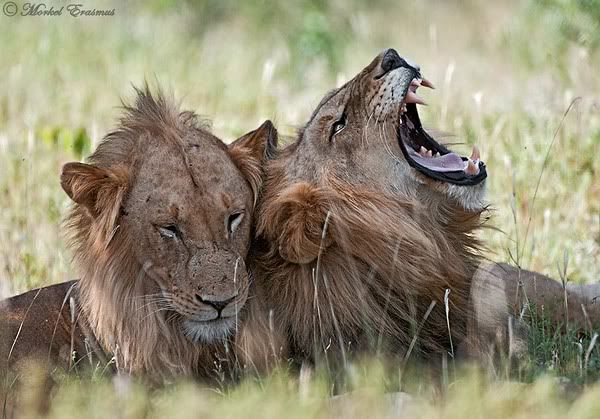 After watching them for a few minutes more, we decided to move forward and see if we can get better close-ups of the vultures. There was no sign of a kill nearby so we found their presence strange given the lions lying around...
We needed to head back to Satara to say goodbye to friends who had been with us and were heading out that afternoon...but we intended to return to the lions for a late afternoon drive since they would start to wake up by then...
Planning the next trip already...
---
Virtual Ranger

Posts: 596
Joined: Tue Aug 18, 2009 9:41 pm
Location: Behind a Nikon camera...
Your comments flatter me Pumbaa, Puppy and Katja
Day 3 (part 3):
Around Satara
Route:
H7, S40, S127
We headed back out to the location of the lions...and lo and behold they were still there...but becoming more and more active.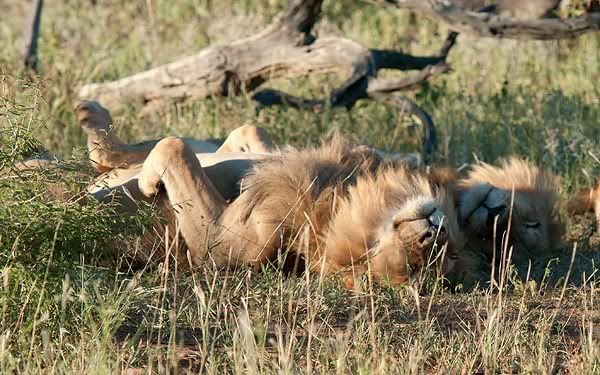 The hooded vultures were also still around...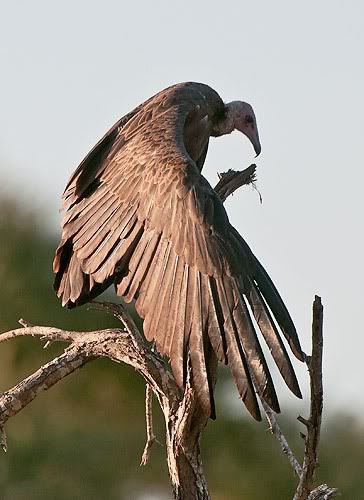 The golden late afternoon light was now beginning to 'peak' and it broke through the foliage of the trees under which they were resting to create a nice effect.
They all started to streeeeetch...and yaaaaaawn...getting ready for the night's hunt...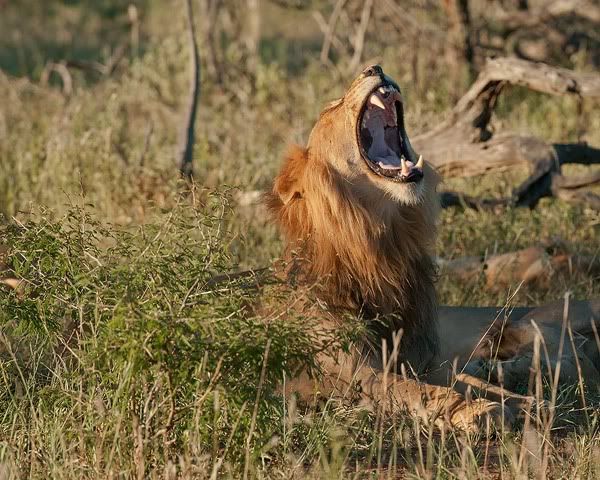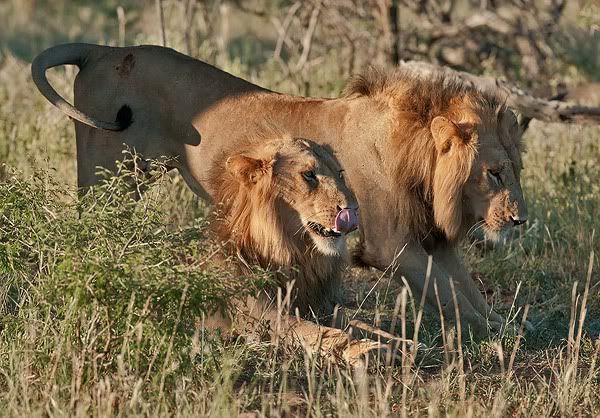 I hope you don't suffer from "death by lions yawning" by now
Man, I'm getting sleepy just uploading these...!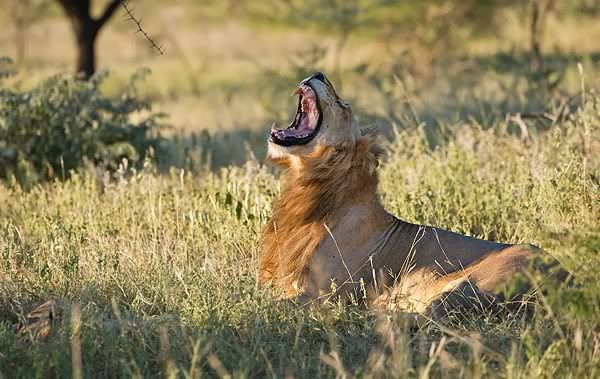 I had hoped they would be milling about by now...but it was becoming time to turn back so that we don't get a fine at the gate! We left them, wondering if they would catch something during the night...
As we approached the turn-off into Satara, we saw this character coming from the waterhole on the southern side of the fence...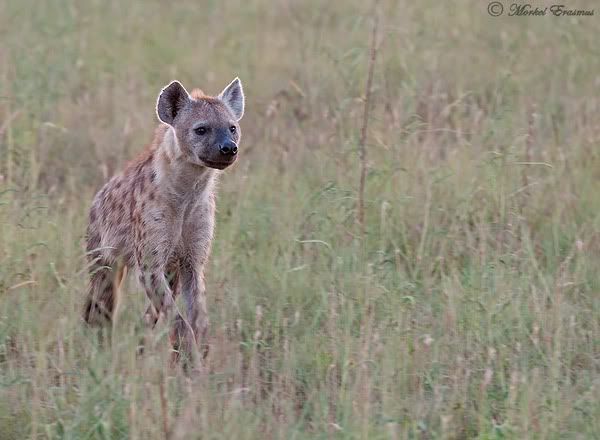 We enjoyed our last night (for this trip) under the Kruger sky and looked forward to our last drive tomorrow as we headed home...
Planning the next trip already...
---
Virtual Ranger

Posts: 596
Joined: Tue Aug 18, 2009 9:41 pm
Location: Behind a Nikon camera...
Thanks for reading so far and the comments guys!
Last day, here we go...
Day 4 (part 1):
Satara to Kruger gate via Orpen
Route:
H7, S140, S36, S125, H1-3, H1-2, H11
We headed out that morning...and as is customary I am always looking to maximise our time in the Park
so I planned to head out further south at Kruger or Phabeni gate. But first I wanted to head to Girivana dam to see if the lions perhaps made a kill overnight...
First, here's a shot I missed from yesterday's drive...European Roller in last rays of light...
It was a dreary, overcast morning...and we immediately encountered a roadblock on the H7...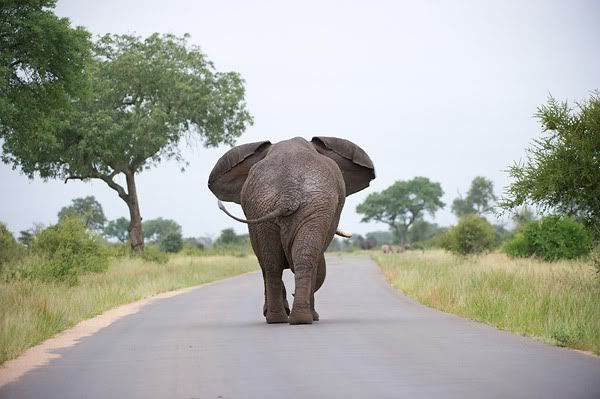 When the old boy eventually moved off the road, we could push on...
The lions had moved off during the night...I had hoped they would kill something and drag it to the water so they can be close to a source of moisture to quench the thirst that accompanies feeding.
I stopped for a moment and noticed the monkeys in a big tree were making alarm calls...was there a leopard nearby???
I was scanning the trees, when movement next to the road caught my eye...and a blooming HUGE crocodile came scuffling across the road and slid into the water...now that was unexpected and explained the monkeys' state of alarm...I was totally unprepared and the photos came out shoddy...
We decided to head on with the H7 and take the gravel roads past the Talamati Bushveld Camp back to the main road south. On the way we stopped at one of the lookout points - and someone seemed to have lost a bumper!
Some waterbucks also wandered around on the way - this image shows the 'circular butt'
We turned off on the S140 and came across a colony of dwarf mongooses (anyone wonder why it's "goose >> geese" but not "mongoose >> mongEEse"??
). It was my first decent sighting of these little guys so we stopped and observed them for a few moments.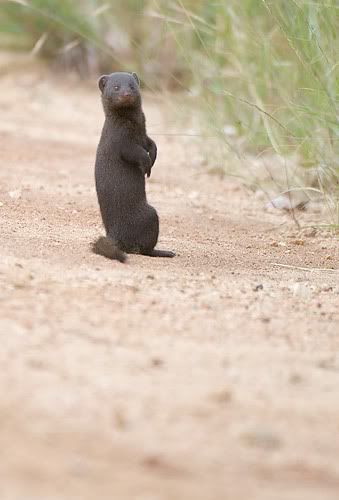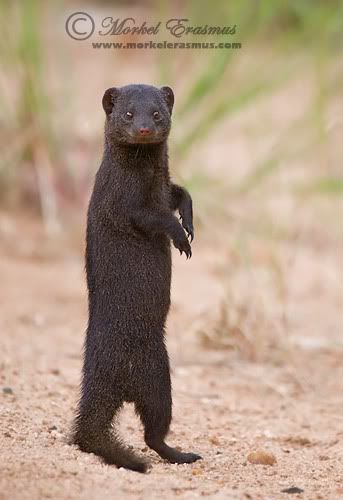 We had previously had good luck on this road with lions so I hoped for some of the same...but it was a very quiet morning (and a quiet day for that matter). This Double-banded Sandgrouse couple showed off their relationship to the world.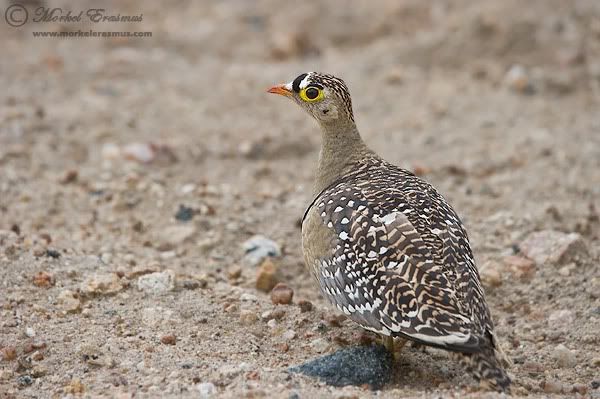 A little further down the road we saw this very small chick all on its own in the road!
We knew it wouldn't last long out here and wondered where its parents were...anyone with an ID on the species??
We knew we could not interfere, besides, where would we take it if we 'rescued' it?
We saw this buffalo cross a clearing:
A few birds came out to see us...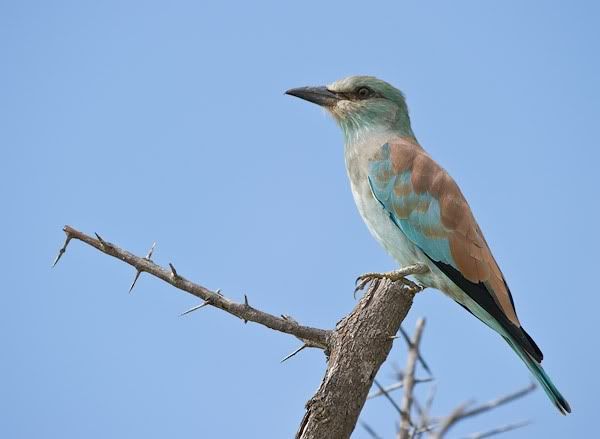 On the tar road we saw a banded mongoose and a little baby - it was quite far so this is the best I got...
The rest of the road was surprisingly quiet! A few giraffes and waterbuck, impala of course and baboons around Skukuza, and before you knew it we were out of the Park...
Thanks for tagging along - these last day's images aren't much, but hang in there...I am now going to start catching up on 2 awesome Kgalagadi trips in 2010!!
Last edited by
Morkel777
on Mon Sep 12, 2011 11:31 am, edited 1 time in total.
Planning the next trip already...
---
---
Who is online
Users browsing this forum: Yahoo [Bot] and 3 guests