Posts: 11
Joined: Thu Jun 24, 2010 11:22 pm
my trip Back To KNP has been 15 years in the making. As a South African who left as a kid in the late 90's, there was only one place to have our honeymoon and show my new wife why I am the way I am and Where I came from. Our trip started with a long long long plane flight from Hawaii to KNP.

Upon reaching the Malelane Gate we saw three of the big 5 within 3k's of the gate! wow what a way to start a trip. Checking into Berg we had A quick Braai and a much needed shower and off to bed we went. Now flying from Hawaii our sense of time was way off, after 4hours of sleep we woke up totally refreshed and ready to go, Not knowing it was 11pm. (we did not bring watches.) Only upon reaching the car with our binos camera gear and coffee did we realize we were just a little bit early, like 7 hours early.

The first morning in KNP is Amazing every time, we felt like we had stepped back in time, into a time and place where we people are not as important as we think we are, A time where a sunrise and morning Coffee is the most satisfying thing in the world.

Back to our morning drive we saw zebra giraffe and rutting Impala, The Wife was excited and craning her neck over every bush looking for the next sighting surprise. Well did we get a surprise on the next turn, two male lions who had decided that the road was theirs. Side note here: our rental car was by far the smallest car i Had ever seen, I think the Spark by Chevy.

The two lions then proceeded to come right up to the passenger window and give the wife the hairy eyeball. The best part of this whole experience was my new love, locking the door and slinking back in her chair ( she told me later she thought they would jump up and come through the window, Hahaha.) The lions then walked around the little go-cart and licked our rear brake lights ( first time I have seen or heard of this.).

First day 1st drive, so much more to come photos will be posted soon.
---
Posts: 11
Joined: Thu Jun 24, 2010 11:22 pm
Thanks guys, yes the no watches idea is the best way to experience Kruger. We knew we had to be back before sunset and that was it everything else was on the fly.

Ok so back to the TR. Day two and we were off to lower sable our plan was to stay off the tar roads as much as possible. Driving up parallel with the tar road we hardly see anyone we saw some ellies and buff along with multiple stops as we were starting to become bird nerds. As we drive down the dirt road we see an official looking car with orange lights on top drive slowly by the driver does not say anything and gives me a real long look, we drive on a little bit and see some elephants by the side of the road, not a big deal as they are medium sized, no babies and not many. Round the corner stands a very large and irritated Ellie, one look at our tiny go cart and off it comes down the road towards us, for all of you people renting cars please note that the chevy spark has great pickup and top speed in reverse. As we continue to back up down the road it seems that ellies are popping out of every tree. 2 ks later we meet mr official lights who is parked on the side of the road he looks at our ash white faces and starts laughing. Well we decided that LS could now be reached via tar road. The next 3 hour ride was amazing as the terrain changes and animal sightings got better and better.

We had booked into the luxury safari tents at lower sabie in # 20 a great spot and the braai was lit and the wors was applied shortly there after. Our simple dinner of a wors roll and great SA wine with the hippos and river sunset is one of the best memories of our whole trip. Needless to say we may have opened more than one great bottle of SA wine that night. Sometime in the middle of the night I was awoken by a leopard growling that seemed to be coming from our deck. For the next hour we lay awake thinking mr leopard wanted a piece of us. ( the morning was filled with me trying to explain to the wife how big and strong I am and how I was not scared by rather was shivering from the cold, haha that did not work.
---
Posts: 11
Joined: Thu Jun 24, 2010 11:22 pm
During our time at LS we had some great sIghtings from black rhino, to mating lions on the side of the road. On of our best experiences was a morning walk with Patrick. We did do other walks but the morning walk with Patrick was special, he is very insitive and even if you don't see large animals his knowledge and personable demeanor made our walk amazing (we did see rhino). Anyone going to LS must do a morning walk with these guys it will change your outlook on the park, the park is more than just the big five.

Also in our trip we stayed at tamboti, lots of people on the forums talk up tamboti and say kits the best camp. Well to be truthful they are exactly spot on. We stayed on the perimeter in tent 40 and felt like we were the only people in the whole camp. The tents are great, real bush luxury.

Whilst we were at tamboti it was a full moon. The best dinner we had was eating on the deck with all the lights out in the full moon light. AMAZING. The night was alive as lions were on the other side of the river bed. Also whilst at tamboti we had the rare pleasure of watching a young leopard hunting.

I am now getting a tiny URL account and will post photos
---
Posts: 11
Joined: Thu Jun 24, 2010 11:22 pm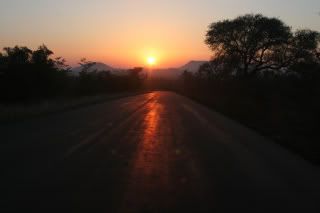 A great way to start the day
The sight from our tent at LS
---
Posts: 11
Joined: Thu Jun 24, 2010 11:22 pm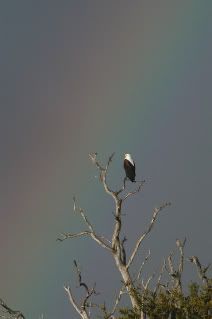 Rainbow and an eagle
The one who got away. Saw this poor guyvoutside of tamboti, it looked prettyvnasty. We came back that eveningcand he was still around and kicking
---
Posts: 11
Joined: Thu Jun 24, 2010 11:22 pm
on our trip we also made it up to Satara for a couple of days, one night we stayed in the bungalows with the view of the fence, these are greats places as you can watch as the sun dips over the horizon. two memories stick out for me at Satara. one night the wife and I decided to watch the night environmental movie, on this particular evening the movie was entitled snake killer and was all about the badger, for any newbie going to the park this is a must do, nothing is quite like sitting under the stars watching a good movie. so the next morning we head out for our early morning self drive and as soon as we turn off the tar road we see two badgers, mother and cub trotting down the road, it was decided after this great sighting that the previous nights movie was the cause, and that we should watch the nature movie every night
---
Posts: 11
Joined: Thu Jun 24, 2010 11:22 pm
Thanks for all the responses.
during our stay at Satara we decided that our walk at LS was so amazing that we should do it again. We booked the Sunday Morning Walk (if you get the chance book walk for a week day, to many people on the weekends.)
The night before our walk we also decided that we should do a sunset drive in Cat country. It was an amazing trip, watching lions hunting a genet up a tree. They must have been really hungry for 9 lions to be chasing this little creature. However on this trip were some guys who were more interested in making fun of the animals and telling the worlds worst jokes. ( hey I am a young guy but sometimes you need to realize that maybe when everyone including families are trying to spot animals you should not act like a bunch of donkeys) As we left My comment to the wifey was that was a great amazing drive but thank god those jokers wont be on the walk. Oops i spoke to soon. So on the joker morning walk, We are eating some breake on a pile of rocks when all of a sudden a lion roars in the not so distant distance, to be truthful i think i jumped in the guides pocket..
so he says ok guys we are going to track these guys and see if we can get a look...he looks at the group seriously and reminds us of single line walking no lagging in the back and NO talking. off we go we me and the wifey making sure team funny joker guys are behind us. as we slowly walk through the bush the guides take a sec to stop and listen, At this time Mr Funny guy decides that tracking lions is an appropriate time to have a smoke break, Well if we had a chance of seeing lions it was now gone. after some stern looks from the rest of the group and quite words with the guide he puts out the smoke. not 15 minutes later RING RING mr joker has his cellphone in his pocket and has the balls to answer it. I think after that the guides gave up on the lions and aimed us back to the truck. So for all of you going on the morning walk no cells and no smokes, take the 3 hours out of your life to leave technology behind you and breath some clean african air.
Well we really did enjoy our time at Satara, but it had come to an end and it was time to head to the the sprawling metropolis of skukuza
---
Posts: 11
Joined: Thu Jun 24, 2010 11:22 pm
Hi forum, the real world has fully sucked me into it's routine, I am now in KNP depression mode. So a quick story to end our TR. The last day we leave from berg n D. As we go down the main road we see a huge traffic jam with caravans and a full on car scrum, must be lions I say to the wife. We sit and wait for the jam to clear trying to figure out what everyone is looking at. All of a sudden a leopard walks right in front of our car looks at us as if to say shhh don't tell anyone I am sneaking away. As we pull up to the scrum the lead car rolls down their window and tells us that there is a leopard lying under a tree, but he is hiding now. Keeping our sighting a little secret we chuckle to ourselves thank the man and head for the gate. Our honeymoon at KNP in the rear view mirror.
Below are some great shots from our trip. Enjoy
---
Posts: 11
Joined: Thu Jun 24, 2010 11:22 pm
---
Posts: 11
Joined: Thu Jun 24, 2010 11:22 pm
Sorry computer issues
This is why we come to KNP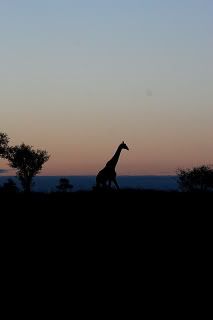 A rare find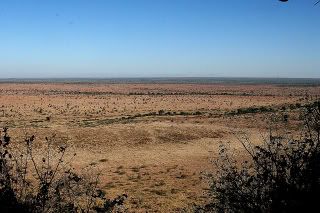 ---
---