Posts: 9
Joined: Tue Jun 06, 2006 2:46 pm
Location: Grahamstown RSA
Hi all,
Thought you might be interested . . . and a couple of queries . . .
My wife and I treated ourselves to a five day trip for our 40th wedding anniversary last week. We took in three of the frontier parks and we've really had a great trip, although very cold.
We started off (leaving an awful cold and wet Grahamstown behind us) heading for the Mountain Zebra. If you ever go there (via Cradock) from Grahamstown, stop at the Daggaboersnek roadside stall and have some of their bean soup!
The MZNP was bitterly cold. However, we drove in and made our slow way to the camp for the late afternoon and night. Plentiful antelope on the way, a bird which we think is a courser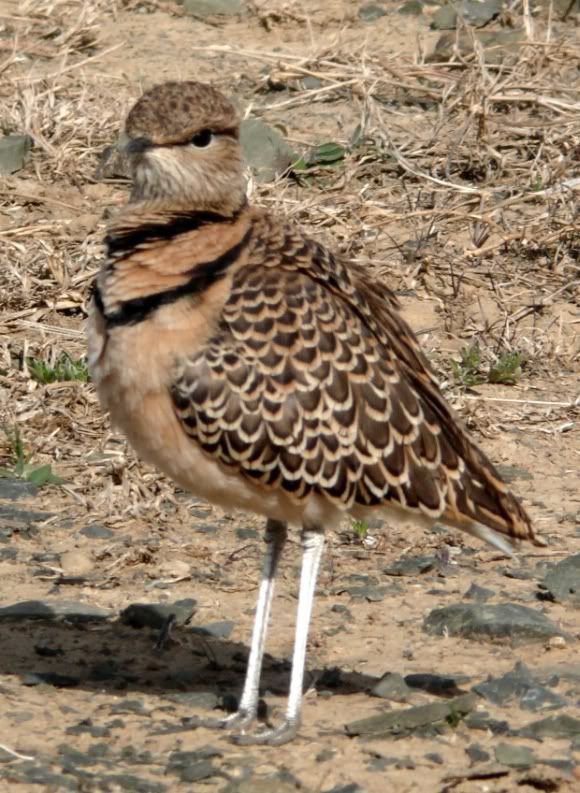 but its appearance contradicts the pictures in our two reference books. Gemsbok, Springbok, Hartebees, Wildebeest; zebras quite far off; no buffalo, rhino or cheetahs!
We dined out in the restaurant. Do you know it has a heated floor? This should be stressed in its marketing efforts; what a pleasure that was. Damn nice food, too. Back to the room afterwards, tried to make a fire with little success (wood bought in the park a bit damp and logs far too large to "take" from the firelighters). Sherry, coffee and into bed under quite the warmest duvet I've come across for a long time.
Just one suggestion; surely it cannot be a bad thing for the Park to spend a few bucks on bedside rugs? You have NO idea how cold those tiles are when you hit the floor from a warm bed! Same in the sitting room area. Please, Megan; a word in someone's ear?
Next day we took a leisurely drive all over the place before leaving for Graaff Reinett and the Camdeboo. What a game drive that turned out to be! Firstly a group of a dozen or 15 buffalo, close to the camp. Difficult to see and impossible to photograph but fun to watch for a while. Then a rhino with what looked like last year's sized calf. Also hard to see in very deep shadow and too far away and in extremely harsh backlighting to photograph, but we enjoyed watching what we were later told comprised 50% of the total rhino population (4) of the park. Then the zebra again but up close. More antelope and birds, squirrels and meerkats, too, so we were well pleased. We checked out (you need to remember your 'pass out') and looked at the signage at the gate which asks for info on cheetah sightings. Ah, well.
We turned left for the Camdeboo. You travel right next to the Park fence for a few kilometres. Not one km from the gate, what do we see but a cheetah patrolling the fence. Obviously we stopped and backed up. And (yes, I know it's naughty), being now outside the Park and with the cheetah on the other side of the electrified fence, we got out of the car and walked up to him, getting about 3 metres away from him. He didn't really like our proximity, however, and sloped off deeper into the park; at no great hurry, it should be said. So; there was a cheetah sighting after all, and the end of really pleasant (first) visit for us to that Park.
We've never been to the Camdeboo before either and we found the experience immense. We spent time gawking across the Valley and we also went into the game viewing area. Saw many antelope (including a waterbuck – didn't know they were there) and some nice birds. All roads going anywhere near the dam, however, were closed on account of weather damage, which was disappointing for us. We were also keen to look at the site for the long-awaited rest camp (see latest page in the Camdeboo section of the forums), but I guess that's also down one or other of those closed roads. We B&Bd in town and (PM me if you're interested) can recommend it highly. We also found a strange-looking (but pleasant on the inside, with good food) restaurant at which we ate.
Bed, bath, brandy ('twas still very cold) and off to Addo the next morning, via Jansenville and Kirkwood.
Comment
: It will be wonderful when we are able to enter Addo somewhere near the Darlington Dam one day! Without having to have 4-wheel drive.
We bought some intimidating looking granadilla witblits at Jansenville and a fine piece of kudu at Kirkwood to address later that evening, at supper time! My wife was, shall we say, peeved because I would not let her buy some beautiful oranges at Kirkwood to 'keep in the boot and take back home after our visit'. As far as I recall you are simply not allowed to take citrus into the Park – period! Doesn't matter what you wish to do with it!
I'll leave you to imagine my extreme discomfort when she exchanged loud pleasantries with me after seeing, within half an hour of our arrival, visitors in the 'day' area with just such a pocket of oranges, which they were peeling and eating with great relish. I fear that the 'citrus' rule needs to be more clearly communicated (yes; I know there's a sign at the gate but it's clearly not doing its job) and, in fairness to all, enforced in some manner.
We've had better luck with animal sightings in Addo on other trips, it must be said, but, as always, we enjoyed being there. I don't think I've ever seen so many kudu and the jackals were prolific as well. All animals are looking fat and healthy and the lions seem to have noticed this as well – we saw more than one skeleton!
We went on the night drive, something we've wanted to do for a long time. The luck of the draw, I guess, but apart from two owls and several nightjars, we saw nothing that you wouldn't see during the day. I have to comment, however, that the vehicle was horribly loud – something between a farm lorry and a caterpillar bulldozer, both diesel – and I wondered if this wasn't making the nocturnal beasties keep well clear.
We had one of the rondawels, which we really like, and so slept comfortably, especially after the witblits and the kudu fillets!
Next day we chose the 'long' way home, via Matyholweni. Saw not much in the southern section of the park, except warthogs by the dozen, but several animals including a single ellie, on the way.
We had a great little trip and shall hopefully repeat it one day; perhaps not in the middle of winter! And, next time, we'll take in the Karoo park as well.
Last edited by
HappySnapper
on Tue Jul 12, 2011 8:11 am, edited 2 times in total.
---
Posts: 9
Joined: Tue Jun 06, 2006 2:46 pm
Location: Grahamstown RSA
lettuceleaf711 wrote:sounds fantastic!

any chance of a picture or 2? - esp. from Camdeboo as I've never been there.
Here's a view of the Valley from the toposcope and one of Graaff Reinet from the same spot. And one from the game viewing area (Yes; I also think he's fast asleep!).
---
Posts: 9
Joined: Tue Jun 06, 2006 2:46 pm
Location: Grahamstown RSA
Kaapsedraai wrote:Daggaboer no 1 - as we have travelled from Cape Town, visited Affieplaas padstal (no 2) on our way to Wildernis, then Addo, and before visiting MZNAP, first do a stop at Daggaboer. You cannot compare as they each got something unique, nevertheless - stop over at Daggaboer for roosterbrood and coffee is a must, especially travelling from Addo to MZNP or visa versa.
Absolutely! We had the soup, not coffee, with the roosterbrood but we'll do it again; with coffee as well
At Camdeboo, we only visited the Valley of Desolation viewpoints and was impressed with how neatly it is layed out, the roads and pathways and viewpoint areas. It was one of the highlights to enjoy this equisite view and unique area of the Karoo.

Unfortunately, time did not allow us to visit the reserve area, but will factor it in with a future visit.
I have to say that seeing both the Camdeboo and MZNP areas in their immense beauty really made me think deeply once more about this whole business of fracking the Karoo. The implications are horrendous, IMHO, and, while I am no expert, it seems to me that we really are being lied to. The big two questions for me (amongst several others) are "where are they going to get the vast quantities of water that are apparently needed?" and, secondly, "what are they going to do with that water once it has been polluted beyond hope of redemption?".
One the most motivating factors in raising children has always been for me the desire to show them all sorts of things which my parents once showed me. Some I've managed; others I've simply not been able to do and, sadly, others are already gone for ever. I pray that the Karoo as it still is will not end up in the latter category before my grandchildren see it.
---
Legendary Virtual Ranger

Award: Small Parks Promoter of the Year (2015)
Posts: 4138
Joined: Tue Jan 26, 2010 7:02 pm
Location: Bellville, Cape Town
Lettuceleaf711, here are some pics for your interest. It has been my first trip to this area and was very eager to visit this gem of the Karoo, It reminded me of our trip to Blyde River Canyon and the '3 rondawals' as well as God's window. We have it right here in the Karoo.
]
--------------------
Kruger: 10-18 Dec'11
"Everything I do, is exclusively my appreciation for the love of nature and showcase my Creator's creation"
.
---
Moderator

Posts: 16215
Joined: Tue Mar 22, 2005 6:31 pm
Location: Tinley Manor, KZN North Coast, South Africa
What a lovely down to earth and detailed trip report and pics from parks that are not so well known.
The Courser would seem to me to be a Double-banded variety but the creamy eyebrow stripe does appear to be missing?
If you would like more confirmation try posting your pic
Here
and I am sure one of the experts there will be able to give you the correct answer.
---
---
Who is online
Users browsing this forum: No registered users and 5 guests