Day 1 – 29th June 2011

NUMBI GATE – S10 – S7 – S1 – H11 – H4-1 – H12 – S30 – S29 – MLONDOZI – H10 – LOWER SABIE
After leaving our stop over spot in White River for the night we entered Numbi Gate around 7.30 am. The Mpumulanga weather was already so much warmer and brighter than the Jozi smog we had left behind a day earlier.
I cleared the km count to zero of our little Honda Jazz and we were on our way. The eagerness to start the sighting hunt was insane and we could barely hold our excitement. The bet on what animal we would see first was made. I guessed Warthog whilst Badger (my SO) guessed giraffe...well... we were both wrong...our first sighting were the pyjama wearing horses. I love these guys and there hooves sounding off the tarmac. We spent a few moments enjoying the first of what would be a fantastic 6 days of game viewing.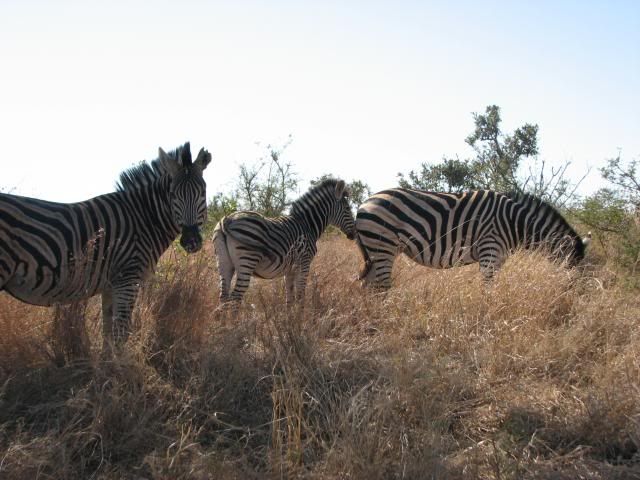 At this point I would like to post a pic of the first of the regular hundreds of Impies we saw on the trip. (I won't have time to post more when I start mentioning my moggie sightings)
I always have this idea that these Impies must think to themselves "why don't they stop for us", with images of them having weekly sessions laying across a rock with the local hornbill shrink discussing this. I also think they deliberately cross the road when I come past so I am forced to stop and view them. Regardless, they are stunning delicate creatures. So here are two bucks to get the ball rolling...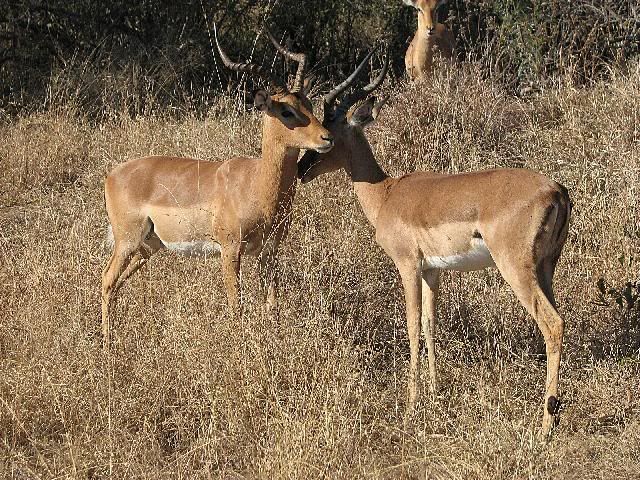 I usually travel the H1-1 to Skuks when entering Numbi . However this trip would be one where we would do as many 'firsts' for us in the Kruger as possible. So we headed for our first visit to Shabeni Loop and S3 up towards the S1. I had never travelled the Loop before and absolutely loved its potential. The S3 provided our first sign of the Big 5 with large amounts of 'cow' patties covering a good 300m of the S3, nice and fresh, some still steaming. The disturbed dust up ahead began to fill the air as we neared the buffs. We were blessed with the sighting of a herd of I guess 300 buffs. I switched off the engine and enjoyed the mooing and trampling of the burnt grassland as they marched forward single file. I have not seen such a large herd before and there were many calves amongst the group.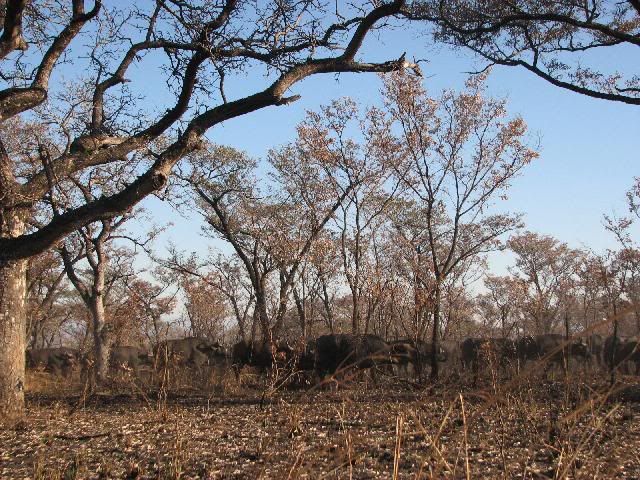 Next up... a stop at Nyomondwa Dam
Last edited by
BushKrazy
on Tue Jul 05, 2011 12:05 pm, edited 2 times in total.
June/July TR here http://www.sanparks.org/forums/viewtopic.php?style=2&f=27&t=54133&start=30
---
The rest of the S3 and S1 up until Nyamundwa Dam provided us with the viewing of our first ele's for the trip, although we could only manage a view of the tops of their heads form our little Jazz. We also saw a family of giraffe and the impressive Kudu. We proceeded to Skuks after this fish eagle sighting at the Dam.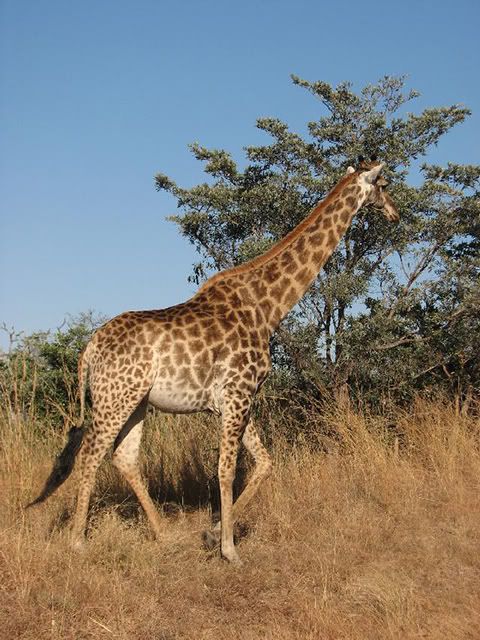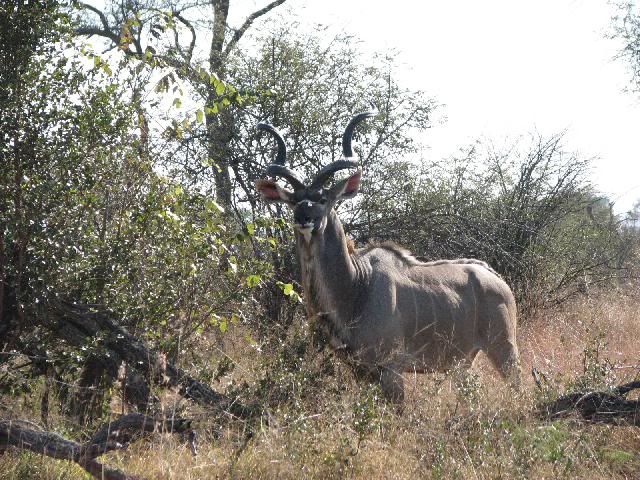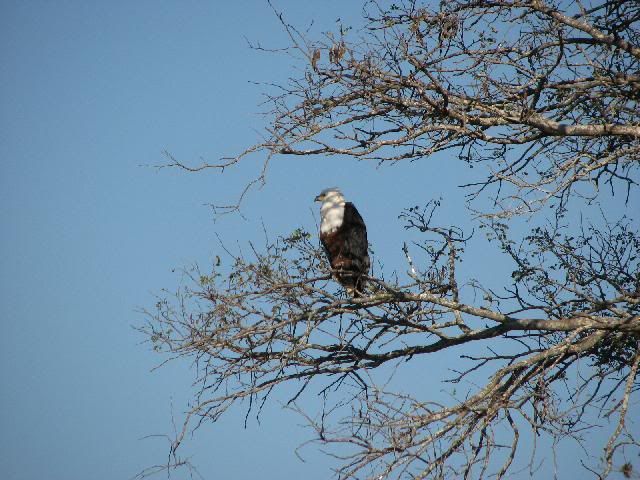 The Skuks pit stop allowed us to grab some lovely fresh rolls for our planned skottel breakfast later on in the day. We headed down the H1-2 and took the H12 and then Salietjies Road all in the aid of getting to Mlondozi for a brunch to satisfy our rumbling stomachs. Along this route we found white rhino (I wont specify where for obvious reasons), an elephant roadblock and this little Steenbokkie also decided to gaze at us with those beautiful big eyes.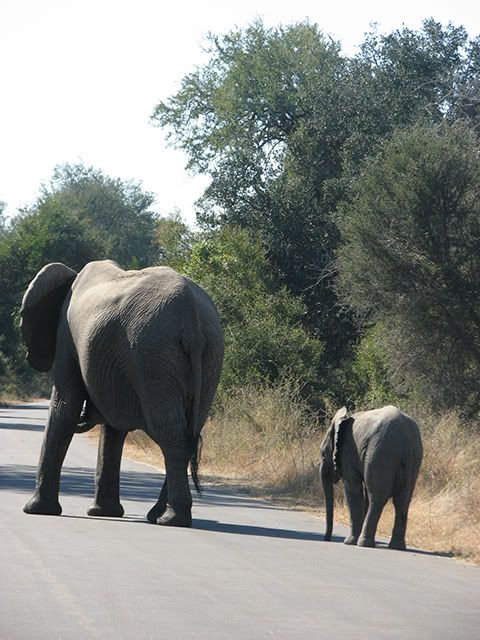 We arrived at Mlondozi at 1 o clock. We hadn't been in this area during our previous visits so we marked this as a MUST do first for us. We then whipped out the trusty Cadac and enjoyed our first skottel 'breakfast' accompanied by eles, meandering hippo on the mountain slope, waterbuck and this fatty of a lizard.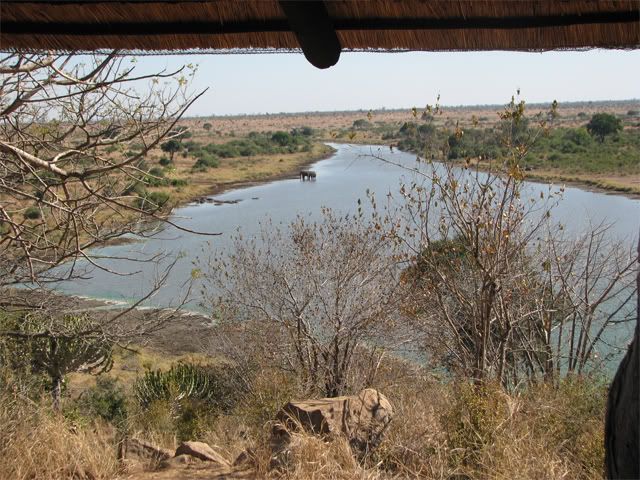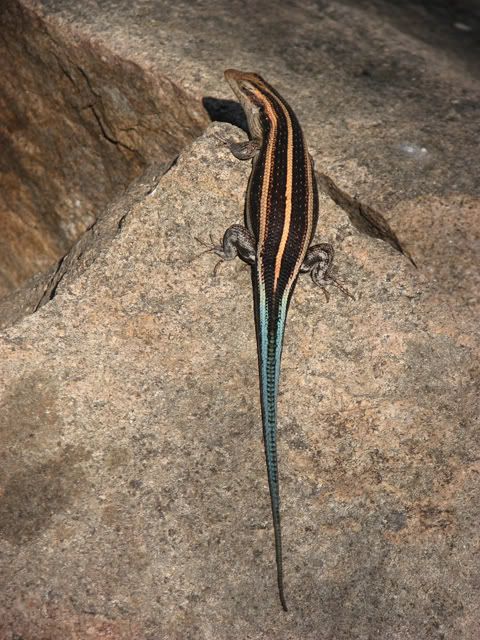 The journey down to Lower Sabie on the H10 was very quiet. Crossing the bridge the bird life was impressive with this goliath heron and pied kingfisher observing the waters for their next meal. A lazy hippo with his pink belly was sunbathing on the rocks and the pools below the bridge was the perfect spot for this large fish... I think it was a Tiger fish but Im not really sure.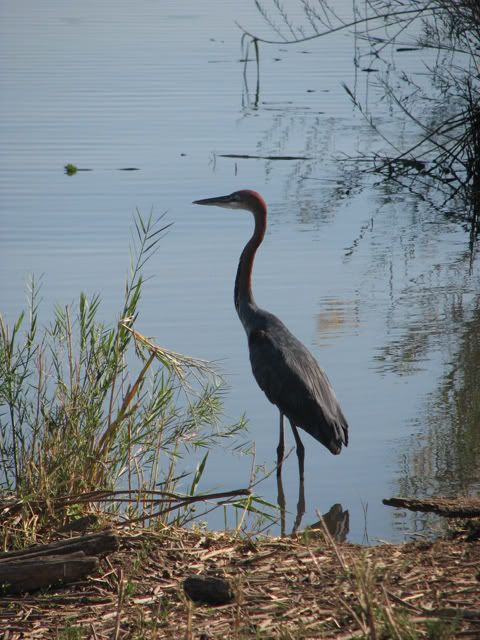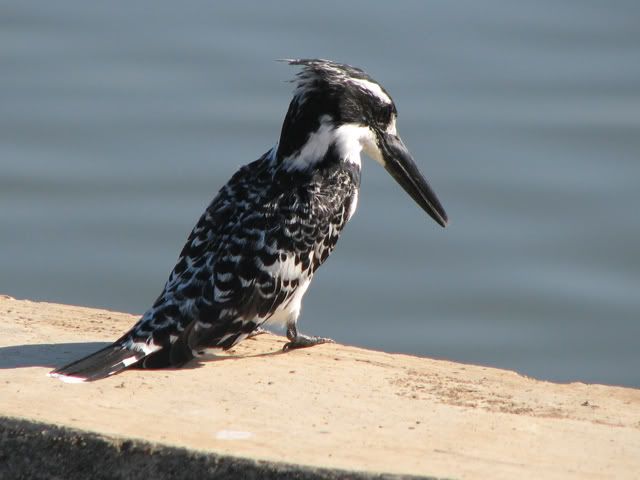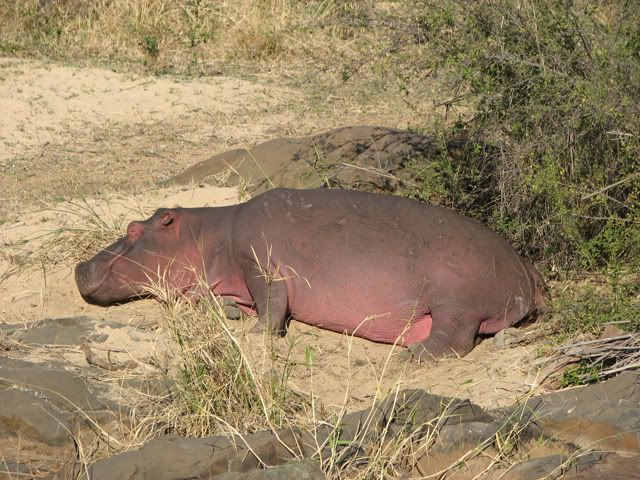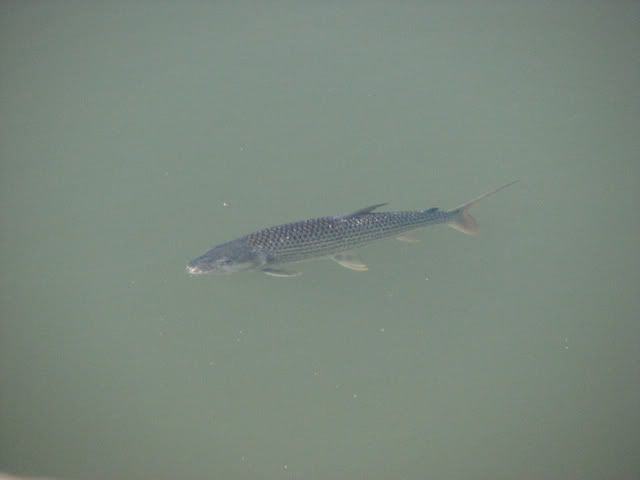 After booking into bungalow number 83 we bundled up in some warmer clothes and headed for our first Sunset drive.... To Be Continued
June/July TR here http://www.sanparks.org/forums/viewtopic.php?style=2&f=27&t=54133&start=30
---
DAY 1 CONTINUED - SUNSET DRIVE
We were lucky to get Martie who lived up to the high praise she has received from other forumites. Her sense of humour, knowledge and abundant and obvious love for all things Kruger made it an outstanding drive.
Round of applause Martie
Our first sighting was a distant leopard lying deep within the reeds of the opposite side of the Sabie. Unfortunately it was a little too far for decent pics. We proceeded north towards Skuks and as the light faded the spotlights were brought out and the night creatures began to emerge. Bushbabies, a large spotted genet and 3 African Civets briefly showed themselves before scurrying off into the thickets.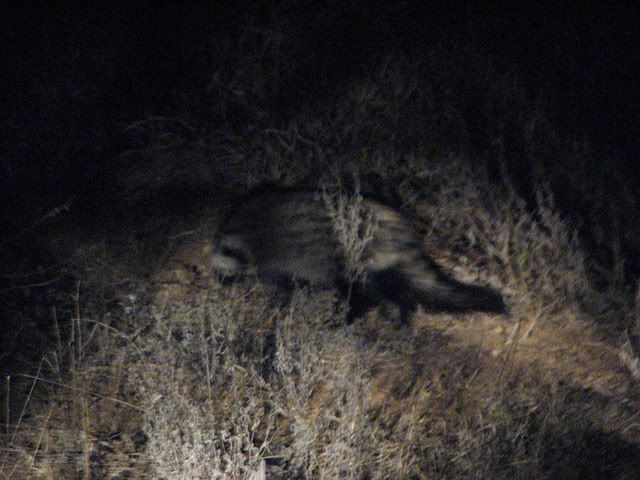 We had a beautiful encounter with eles coming up after their bath within the Sabie.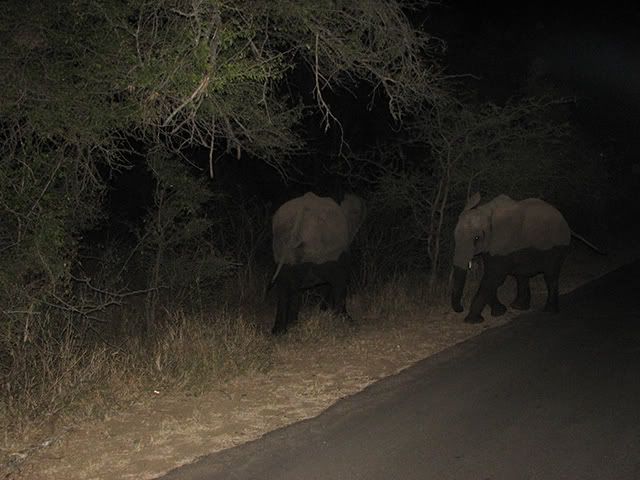 It was quite humourous watching the younger once getting spooked by their own shadow and mock charging themselves. Our last sighting on the drive was a patrol of 4 hyena running up the H1-2 looking for morsels that might be around after the planned fire around Nwatimhuru Loop.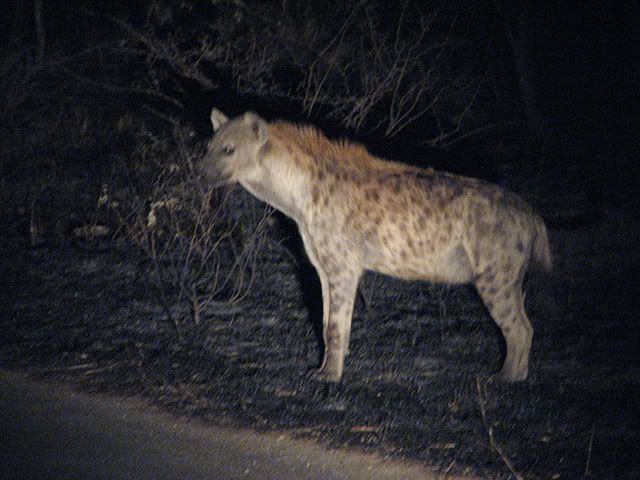 I saved the best sighting for last here, despite limited photo ops we were privileged to observe a black rhino.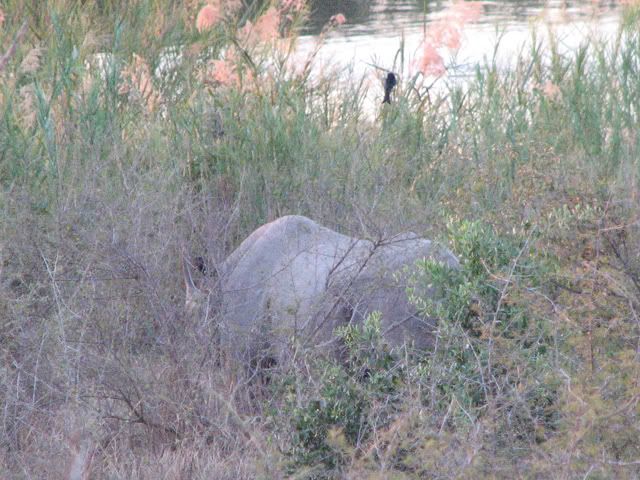 We managed a few minutes with him or her before it made its why deep within the reeds. Day one ended with us quietly listening to the hippos of Lower Sabie serenade us with the finest of tunes and whilst tucking into some prego rolls and enjoying a couple of cold ones.
Next up is our drive up to Tamboti and what would be the first of our kitty days
June/July TR here http://www.sanparks.org/forums/viewtopic.php?style=2&f=27&t=54133&start=30
---
Junior Virtual Ranger

Posts: 115
Joined: Mon Feb 23, 2009 8:39 pm
Location: Bristol, United Kingdom
I think it was a Tiger fish but Im not really sure.
Correct - those teeth look so scary. Nice photographs - looking forward to more.
Dave
Too far from the Kruger.... looking forward to my next trip....
Details of last trip:
Pretoriuskop- 11-14/10/2017
Skukuza - 15-17/10/2017
Satara - 18/10/2017
Orpen - 19/10/2017
Satara - 20-21/10/2017
Skukuza - 22-23/10/2017
---
Day 2 – 30th June 2011
LOWER SABIE – S128 – S29 – H10 – H1-3 – SATARA -S100 – GUDZANI DAM – BACK DOWN THE S100 – H7 - TAMBOTI

We set the alarm for bright and early on what would be a long and unforgettable day up to Tamboti from Lower Sabie. I had the most restless night sleep in a long time... AND IT WAS AWESOME.
I couldn't think of anything better to keep one awake then hippo grunts and hyena calls. We decided to take the most direct route through to Tam which was over the hills around Mlondozi and up to Tshokwane.
It was a quiet and dark 7 degree start to the morning with our brights only picking up the green glow of Impala eyes as we started our journey northwards up the S128. As the sun rose above Muntshe the animals began to show themselves. Firstly another large herd of buffs halfway up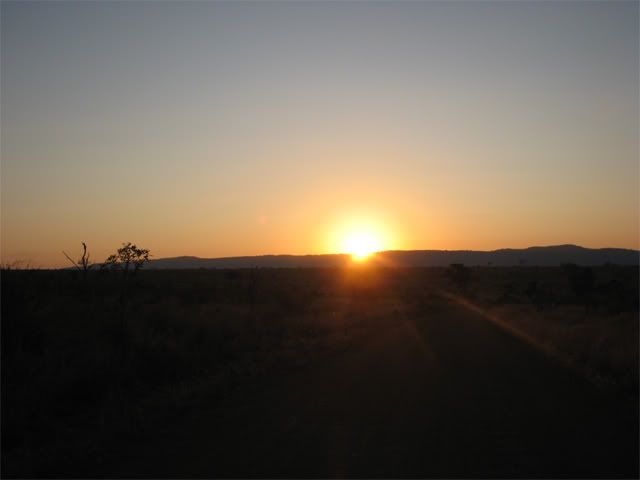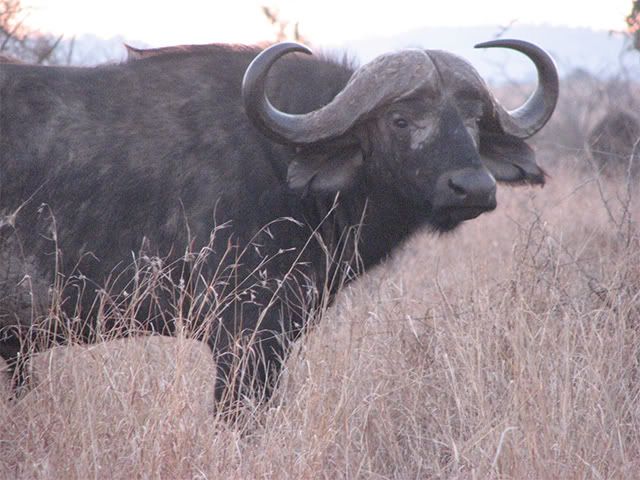 and just before the T-junction of the s29 a duiker bound across the road.
Turning back to give us a stareoff, I reached for my camera but in a wink...this is the only shot I could achieve.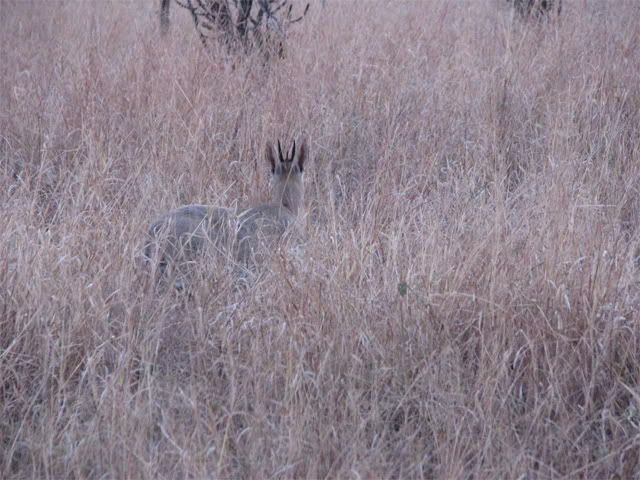 We turned down the s29. The sunrise was once again breathtaking and this small elephant herd of mixed ages was enjoying a breakfast, with every member walking with a tasty branch either in their mouths or their trunk.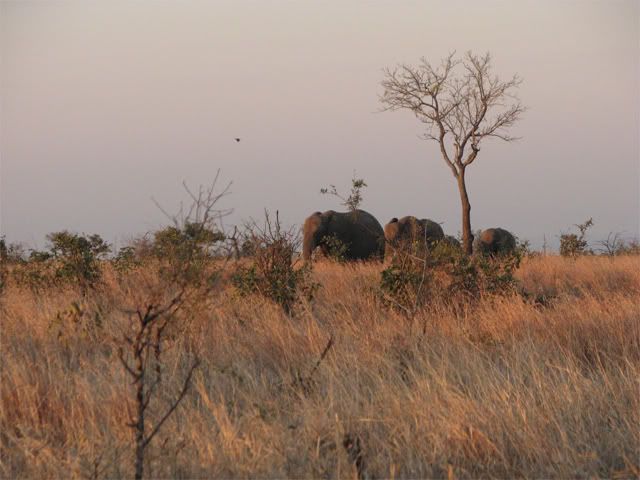 A left onto the H10 and once again a new road for us. The initial drive was picture perfect landscape wise and we shared the morning with these lovely kudu ladies and the first wildebeest of the trip. The sightings for the rest of this portion of the drive were quiet.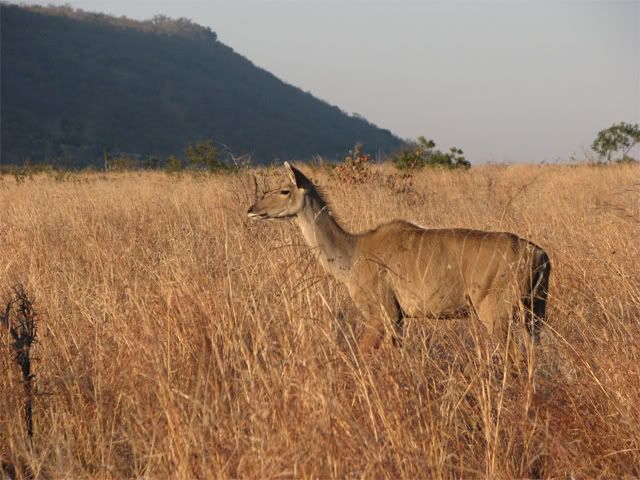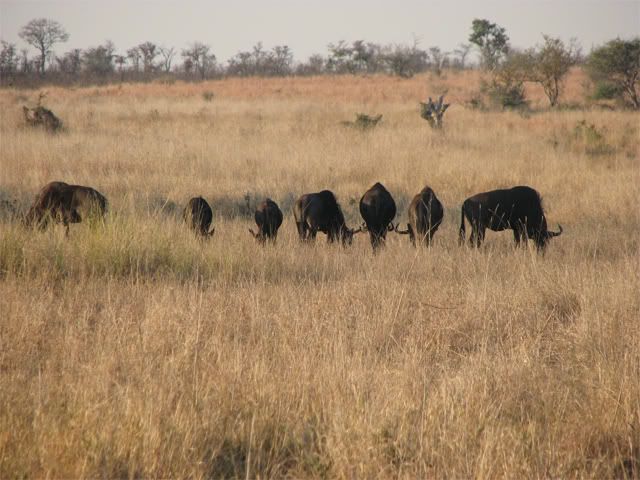 The entire right hand side of the road has been burnt and is now waiting for the summer rains to awaken what I'm sure will be spectacular grassland in latter 2011. The openness of the burnt surrounds did allow us to say howzit Mr and Mrs Steenbok of No 2 H10 Street Marula Region. Their undying love was clearly visible. Such romantics.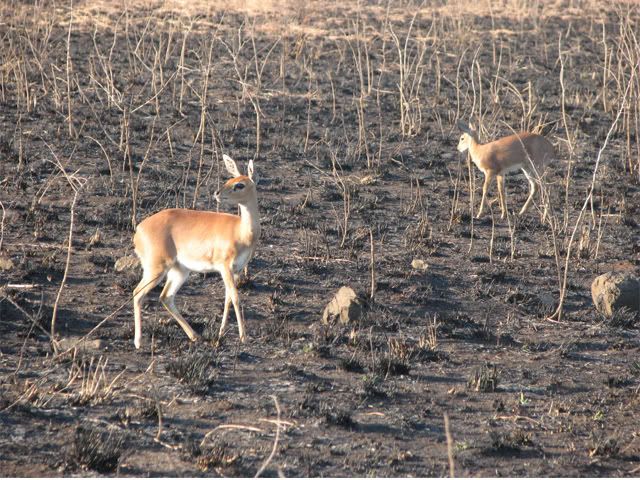 We also loved this tree. So sculptural and with many stories to tell I am sure.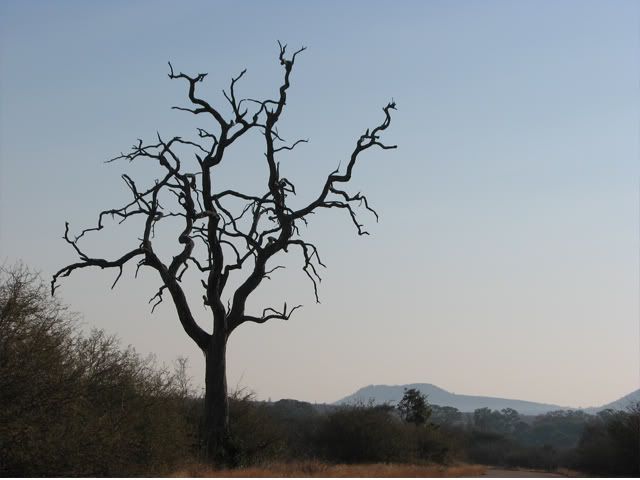 Just past the Orpen Dam turnoff and whilst enjoying only our second giraffe sighting a kind couple informed us of a lion sighting 2km from Tshoks towards Satara.
We did the tourist thing and delayed the planned Tshoks breakfast stop and headed straight for the 'sighting'. We were a little too late on the scene and agreed that it was not meant to be... A quick U-turn and we were on our way back at Tshoks. Along the way I stopped for this Burchells Coucal.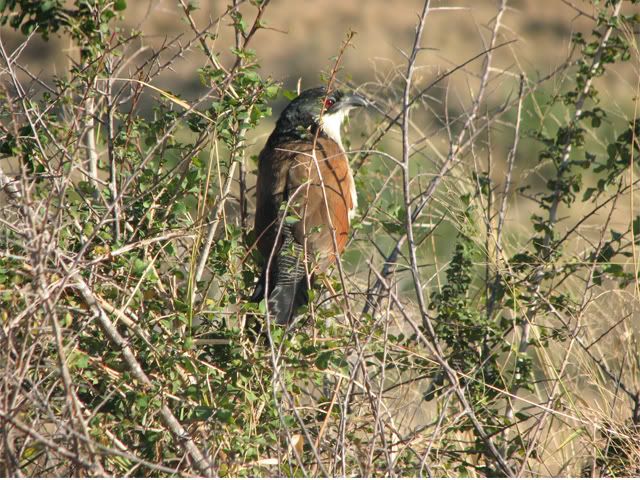 At Tshoks another first for me was coming up... the LEGENDARY kudu rolls. There
IS
something better than a Full English Breakfast... and that is a boerie roll from this spot. YUMMMMMMMMMM. How did I not do this on my previous trips.
I wolfed the lot down, emptied the tank and we remarked on what a quite morning it had been. Luckily this was too be a day that the saying you need the "bad moments to appreciate the good ones was so so SO true". (Not that there is ever a bad moment in Kruger heaven).
Now to find those elusive cats
.......
June/July TR here http://www.sanparks.org/forums/viewtopic.php?style=2&f=27&t=54133&start=30
---
We headed back up the H1-3 and neared the spot where the lions were said to have been spotted, and low and behold cars had began to line the road. We scanned the distant slopes and there he was the first kitty sighting for the day. A young male lion basking in the morning sunlight in all his imperial glory. Through the binos we could see him perfectly but he was a good 150m away so pics were hard to achieve. Before long 5 stunners appeared and one was very affectionate to her man nuzzling her nose against his new mane. By complete accident I dropped my binos and focused on the wrong part of the bush... what a mistake... I had seen 3 cubs playing tag up the slope on the way to their Moms. We spent a few minutes with this sighting even if they were far as it was our first lion sighting of the trip.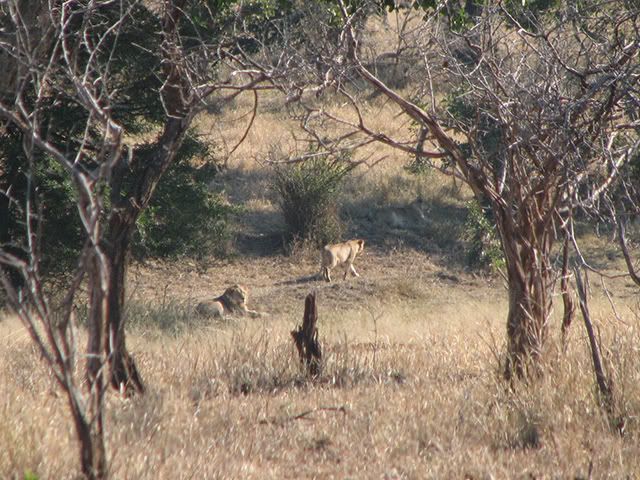 We travelled northwards and watched a waterbuck herd and some saddlebilled storks enjoying a refresher at a waterhole. (I cant remember if it was Nwatinungu or Kumano).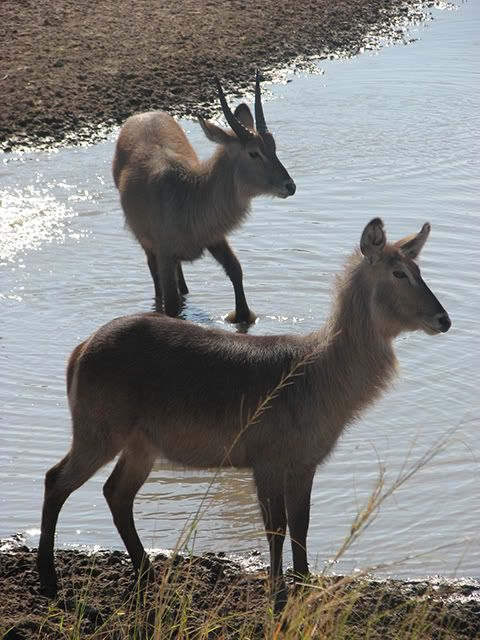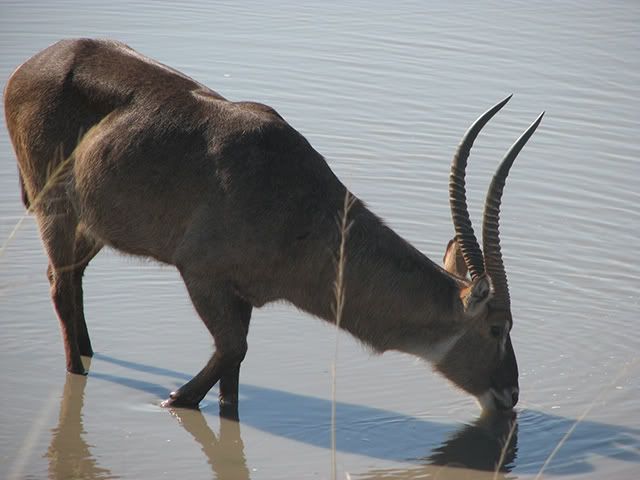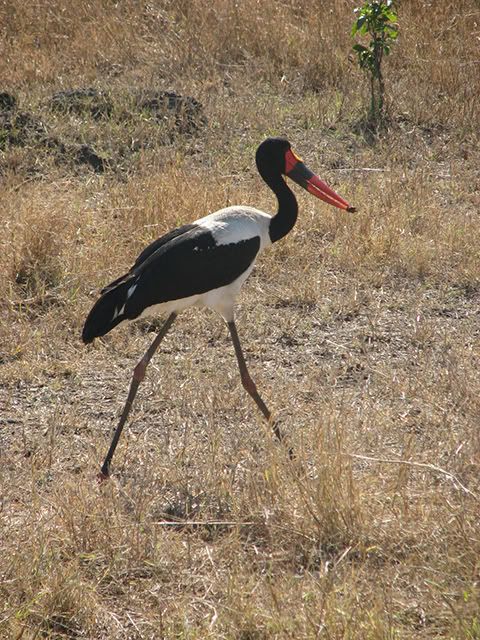 As mentioned before, the focus on this trip was to do things we didn't get around to doing or seeing on the previous ones... so a stop off at the baobab was in order. Gosh it is HUGE.
It was extremely quite up the to Satara and I was left to look for the big and hairies all on my lonesome as my SO fell asleep... the pressure was on but nothing appeared other than Impies, Wildebeest and some Zee Bees. Just before the camp we had a great laugh at the Bobbejaane. They had quite a few youngsters with them. How these little pink guys with patches of black hair turn into such impressive and intimidating primates is beyond me.
Two of the kids were having their own Kruger (Durban) July race saddled to their Moms. You can clearly see the second guy had a better chance of taking the winners podium. I should have put R50 on him for a place.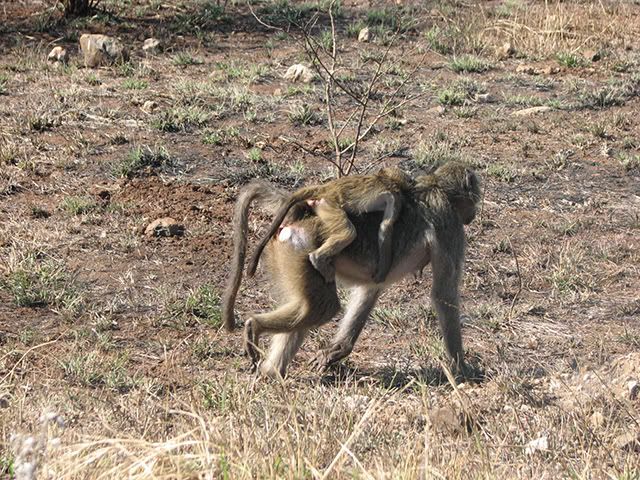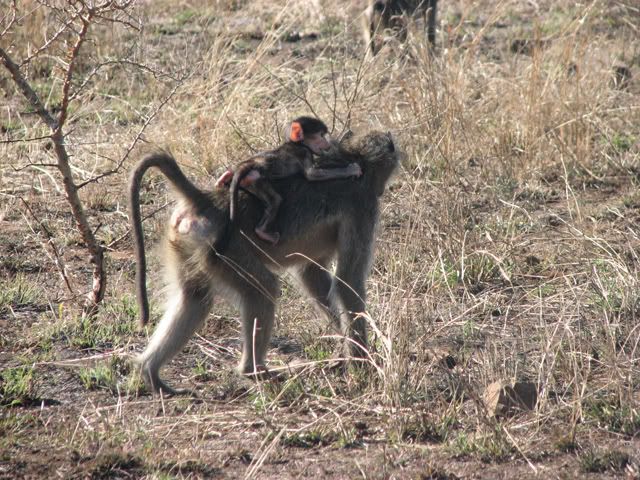 This little guy was very interested in the grasses.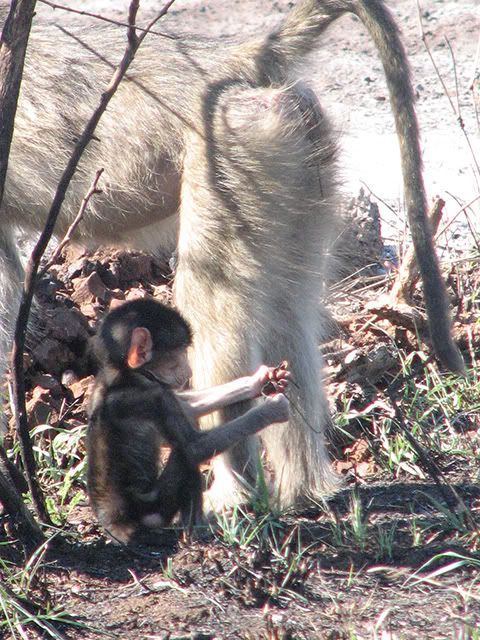 We arrived at Satara a lot earlier than we thought we would so we had two options:
Behind door number 1:
Take the H7 and get to Tam early... this would mean driving Cheetah2111s cat road at not such a good time.
Behind door number 2:
Take the s100 and back. We have had success on this road in the past so its always a favourite.
Which one did we choose... and did it produce...
June/July TR here http://www.sanparks.org/forums/viewtopic.php?style=2&f=27&t=54133&start=30
---
Day 2 - Continued
DING DING DING... we have chosen Door NUUUMMMMBBBERRRR 2 – the S100
As I am sure everyone knows this road is one that is either loved or 'less preferred'. You either have success on it or not. Our last visit up to the Satara region in 2009 gifted us with a fierce looking lioness and two cubs running in an open patch near the Nsasane waterhole. It was our only lion on the trip and the S100 was now considered one of our "Lucky roads". Thus we decided we had to give it a go. PLEASE DELIVER
The first stretch was kind to us with this impressive looking tusker gracing us with his presence. What a gentle giant.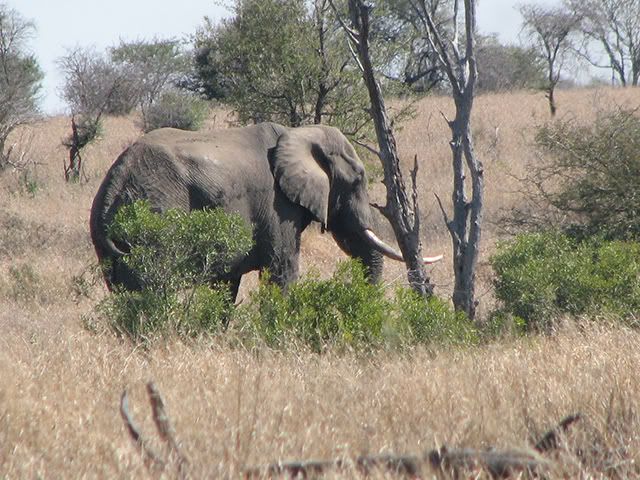 Further on another ele crossed the road and gave us the opportunity to take this photo of him strolling through the flat parade grounds in the mid S100 region. Our lucky road was after that point very quiet. Impala, ZB, Wildebeest and waterbuck kept our interests a float though.
The 'debate' began: Do we turn around before we have driven the full 16km or drive to the end.
I won and we drove the full extent so that we could stop at Gudzani Dam for a first visit to this spot. It is a lovely stop and larger than I thought it would be considering how dry the Satara region is. The game consisted of the resident hippos and crocs as well as a troop of baboons foraging within the muddy banks, running and hopping between the sleeping dinosaurs.
We chose to return to Satara down the s100 again rather than do the S41 – H6 loop. Now... Rangers will always say how often it happens that one vehicle will go in front and see nothing on a road ONLY to have a vehicle follow a few minutes after and see everything...
HOW TRUE
.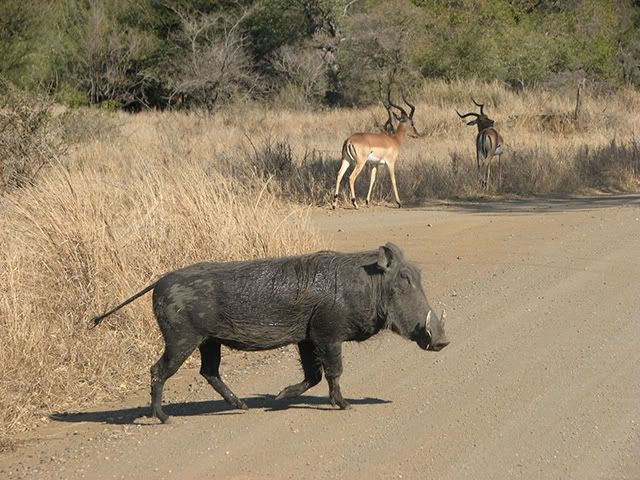 Where the road delivered nothing 30mins earlier we were blessed with this beautiful warthog above
...
June/July TR here http://www.sanparks.org/forums/viewtopic.php?style=2&f=27&t=54133&start=30
---
We had just reached the top of a higher part of the road when in the dip the slim shape of two beauties were seen just beyond the edge of the road partly hidden by the tall grass. Either too speechless or too scared to scare them away I tapped my SO on the thigh and pointed to the two cheetahs. Two stunning young specimens of one of my favourite animals.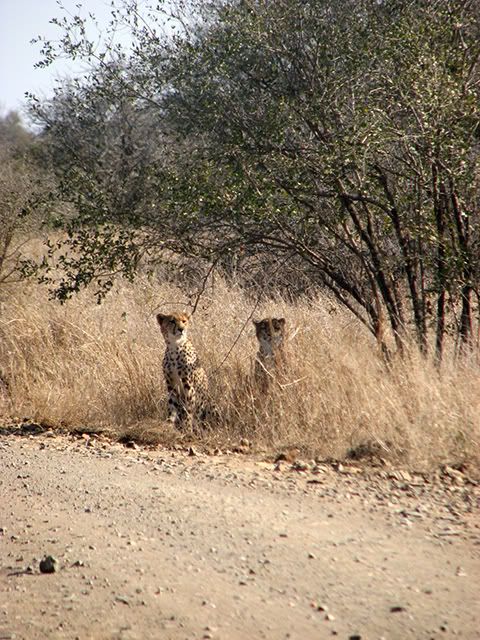 What made it even better was that we were the only car in sight. The two cats and us spent a good 10 minutes with each other as they lay in the grass, got up again walked along the edge of the road. Its these characteristics that make Cheetahs so much more interesting to me then resting lions. Which is what we usually catch.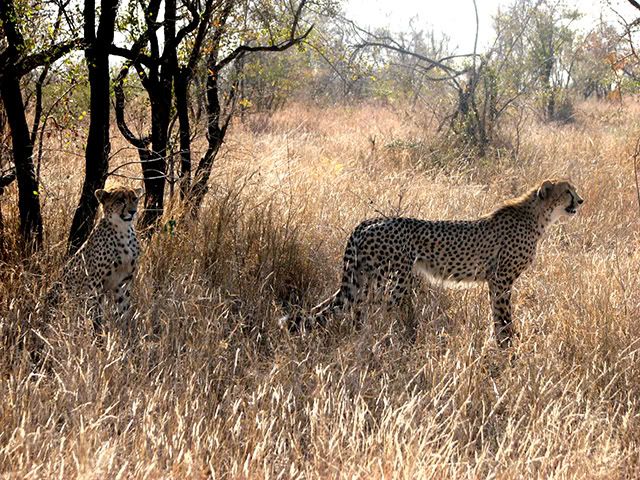 I heard an approaching car and so did the cats. They got up and moved off. I thought that was the end but they crossed the road and started to look increasingly active and alert.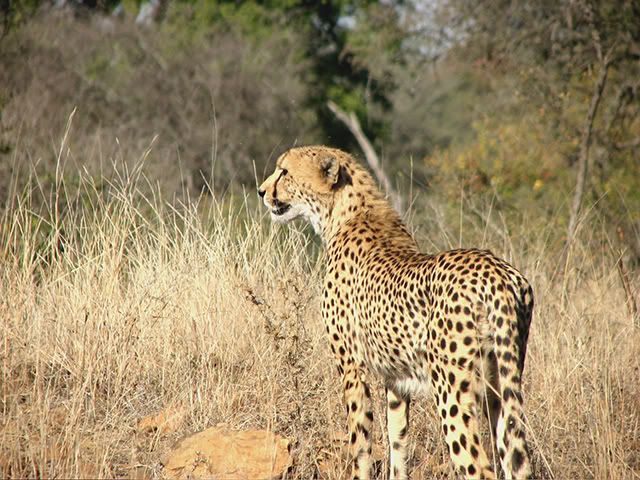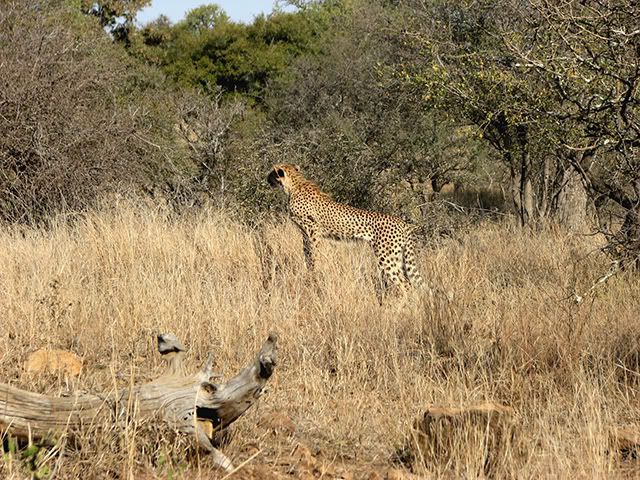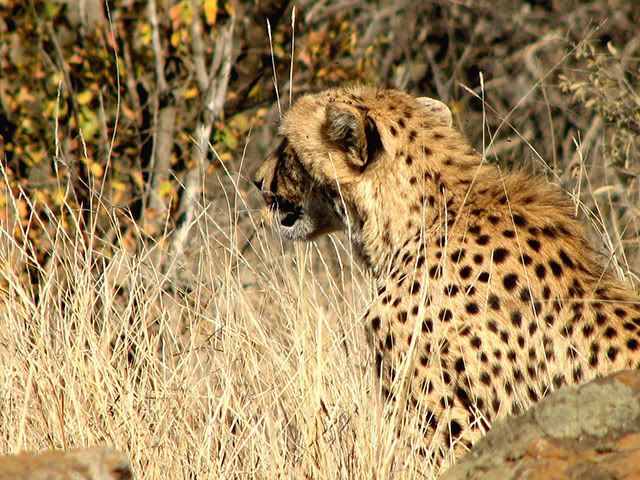 Then it hit me... the impala further back. (The same group behind pumbaa in the previous instalment). These guys were hungry and they were ready for the hunt. They surveyed the situation and moved deeper into the thick cover waiting for their opportunity.
A brief crouch and very quick stalk under the thickets got our hair raised and the goosebumps going.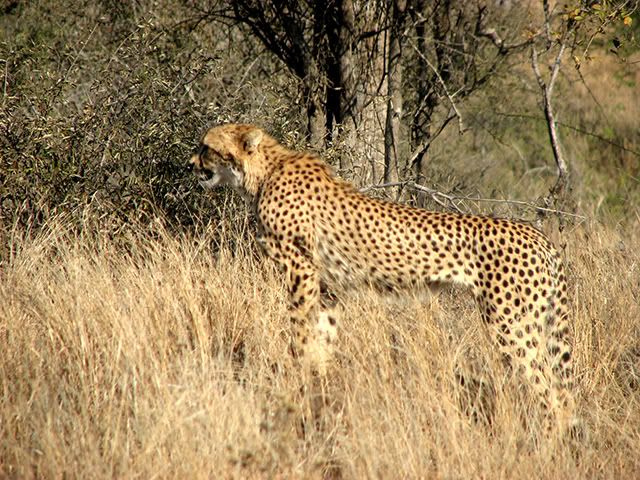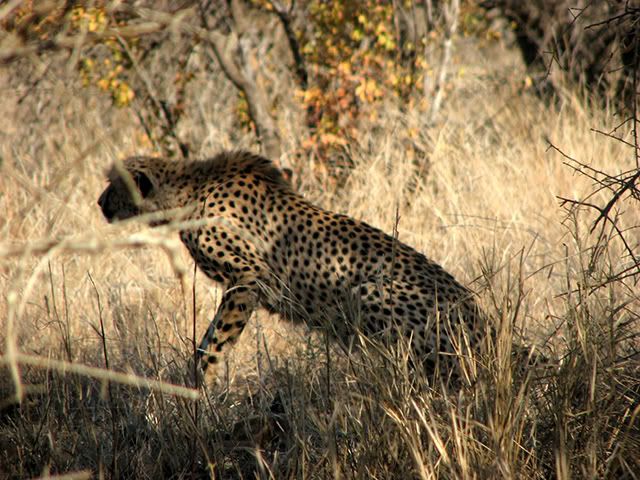 We last sight of the two in the same thickets and positioned ourselves in the perfect spot between the impala and cheetah waiting for the action.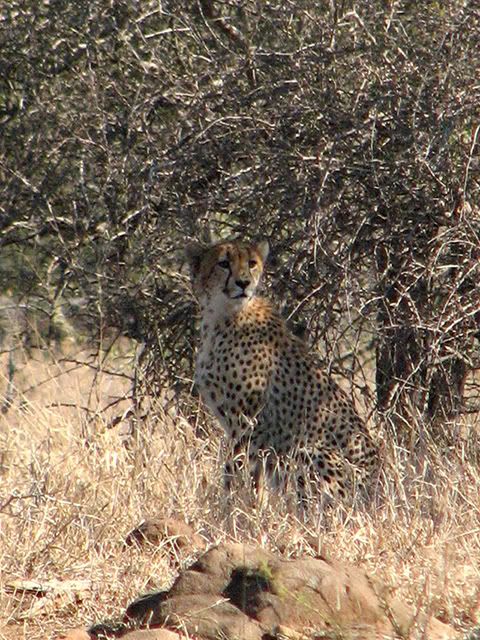 Unfortunately for us (and fortunately) for the Imps the wind changed and the herd picked up on the cheetahs scent and scampered off.
Then up on the far banks I saw one again, I know they quick but come on they wouldn't use their energy for that... nope...we counted again... one two... yes 3 cheetah.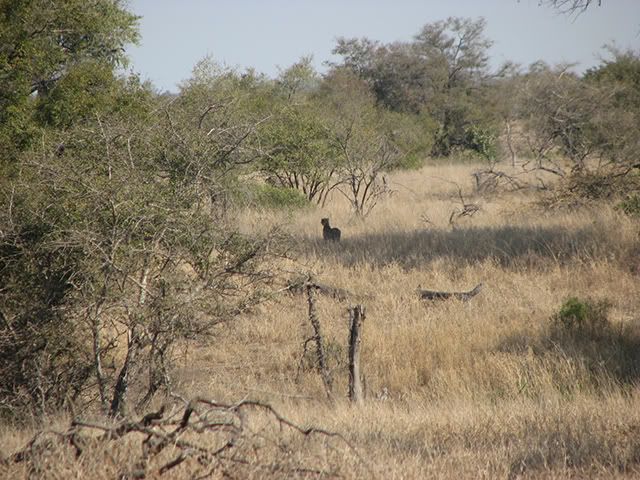 I guess 2 youngsters and their mom. She come back down the hill and the three disappeared from our view. Maybe planning their next assault on this herd.
We continued on to Tam in awe out our closest ever sighting of cheetah very impressed with ourselves and the spotties.
Gosh they are elegant with their streamlined frames and black teardrop lines running from their eyes. A sighting like this is what the Kruger is all about. The thought of how everything in the day was meant to be... all leading up to that one second when you are in the right spot at the right time. That detour past Tshoks just to miss the lions, the longer than expected pit stop at Satara, the unplanned trip to the ancient baobab and more importantly the decision to not turn back halfway on the s100.
Along the H7 to Tam we had on ele herd, a baboon using a tree branch as a spring board, zb, impies, wildebeest, kudu girls and some giraffes as well as distant ground hornbills and a tawny eagle at the tip of a tree.
Driving through those gates at Tam and I didn't think my SO realised how in the bush Tam really is. It is the perfect bushveld camp secluded, still and quite. The dry Timbivati was the perfect view from tent number 40.
I wonder what it could look like in full flood one day. We unpacked the car did a little bit of perimeter inspection and settled down to have a chat with our hornbill guest for some "dop and tjop" and took the obligatory photo of the braaivleis.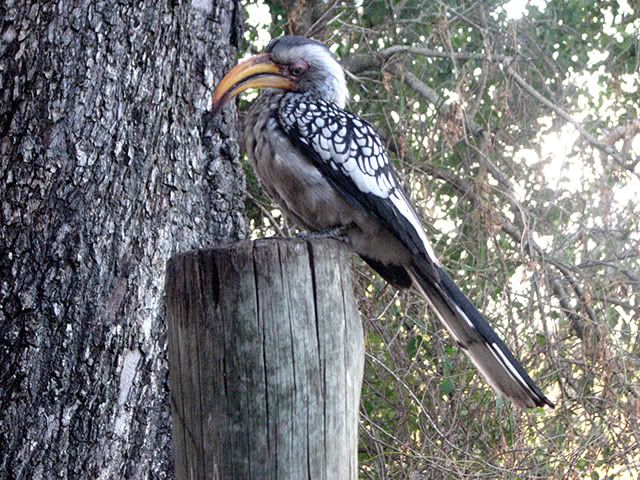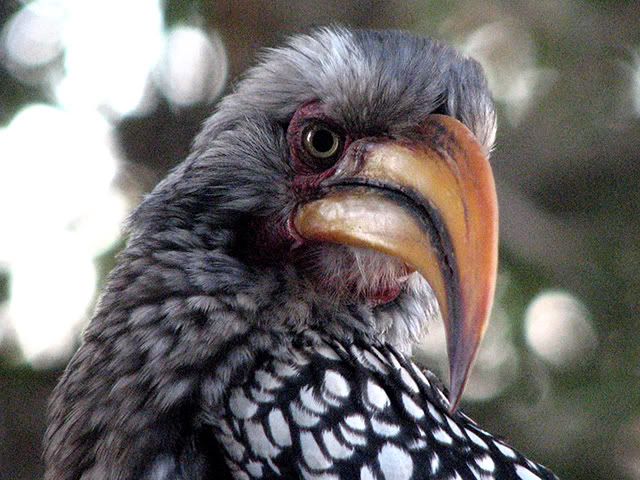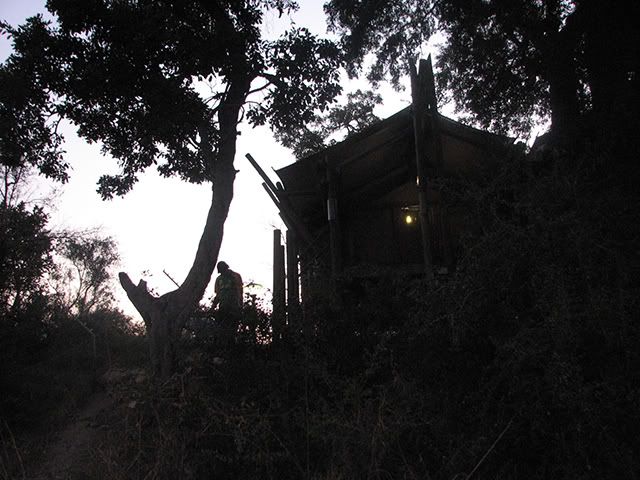 Before the night would be done. One more creature would pay us a visit by our fence. We always have the luck of these fellows visiting us on our stoep whether at Orpen and now Tam. The encounter at Orpen consisted of it been very aggressive to our neighbour, so my SO is a little scared of these guys. We were just reminiscing of our Cheetah sighting for the day when a rustling come from below. My SO jumped up screamed badger and ran inside the tent and closed the door.. Thank goodness it was that side of the fence or not some other predator as I was denied the right to flee inside. I still love her though. He he.
The little guy bolted with that unmistakable march of theirs.
This was the only night we could get at Tamboti so the next morning its back down the H1-3 and back to Lower Sabie.
June/July TR here http://www.sanparks.org/forums/viewtopic.php?style=2&f=27&t=54133&start=30
---
DAY 3
After a disturbed sleep due to a rowdy badger rummaging through our dustbin at 3 am we still managed to rise and be on the H7 by 6am. We were very reluctant to leave Tamboti and would highly recommend it to anyone. We know the H7 can deliver some amazing cat sightings early morning, as proven by Cheetah2111, but we had none of those. Instead our headlights allowed us to see Black Backed Jackal and a spotted hyena finishing his evening patrol. As the sun began to rise it was "top of the morning" to a lone ele and a stop to capture one more incredible sunrise which never fails to get us to stop and appreciate the early morning colours of the bush.
We proceeded to our lucky road...which... was not so lucky....but hey, you win some and you lose some. We continued down towards Nwanetsi to go take in that amazing view which really brightened up our day after the quite morning down the S100 and S41. The H6 was just as quite, the day was stunning but the sightings minimal. The H1-3 down to Tshoks has never really been good to us predator wise with only our distant lion sighting earlier in a TR been seen on the road. Bird wise however this road always delivers us some saddle billed storks.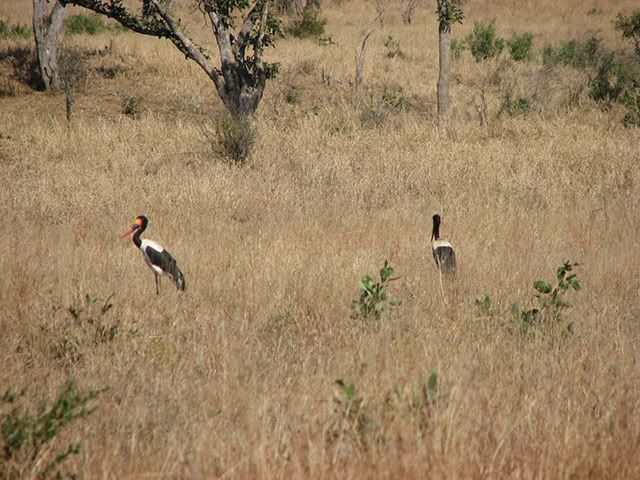 On this journey downwards we were fortunate to catch the fleeting moments of a tawny eagle finishing off its kill on the tarmac as well as my favourite raptor making the best of a sad roadkill meal. I was just about to lift the binos to identify the poor creature that met his or her fate under some vehicle when a shadow was cast over our windshield and a wing practically touched our bonnet. Seeing the bateleur land, pick up his meal to go and take off was indeed special for me.
We briefly stopped off at Tshoks to visit the bogs and were off. Hoping to get to LS earlier enough to enjoy the view from our riverside tent. The quietness of sightings certainly aided this, I couldn't believe the low amount of animals we had seen today. Even the impies were not keen to block the road for me today. We crossed the Lower Sabie after a ritual stop and view and caught some distant white backed vultures cleaning themselves on the banks. We waved at this giraffe jogging down the Skuks highway and then The H4-1, near Lubye Lubye, did provide us with something were weren't banking on seeing during the winter months, the crossing of a snake.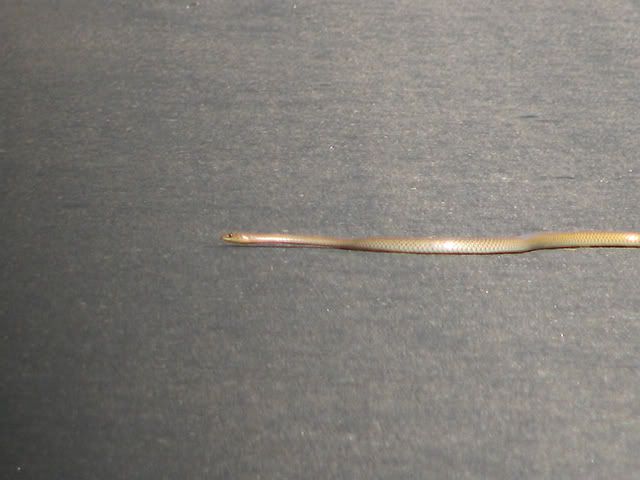 This Oliver Whip snake caused quite the traffic jump as he slowly (surprisingly) slithered his way towards the safety of the thickets.
We arrived at Lower Sabie at 2pm eagerly awaiting the view of the Sabie form our stoep...a 30 min power nap ...and what ultimately would be a short but rewarding afternoon drive...
June/July TR here http://www.sanparks.org/forums/viewtopic.php?style=2&f=27&t=54133&start=30
---
DAY 3 CONTINUED...
We managed to secure the recommended tent number 16 and it did not disappoint. Right in the corner the tent is secluded and has views of the far river banks, the river itself and is hugging the perimeter fence.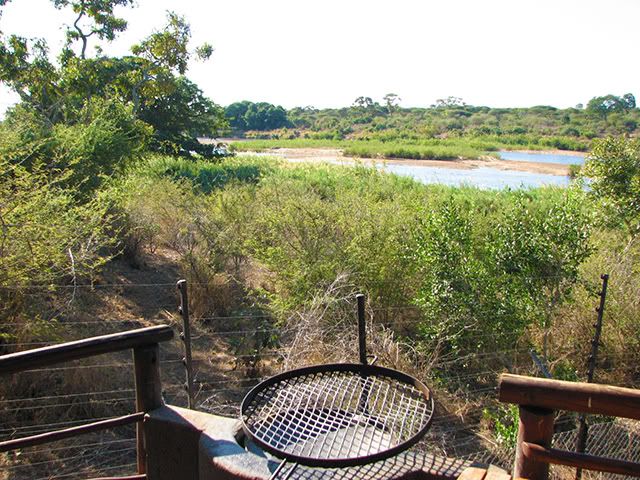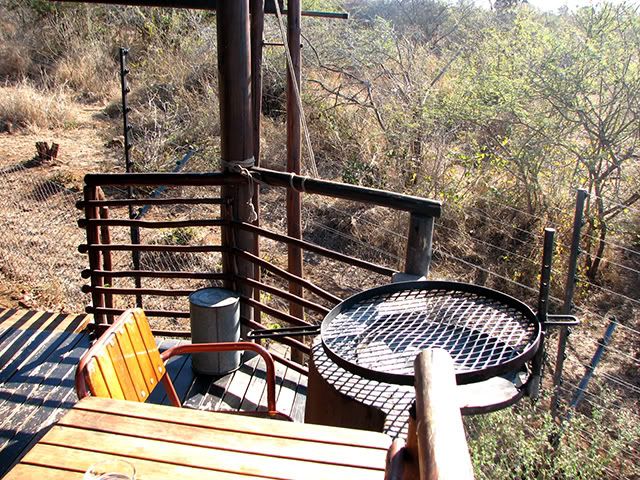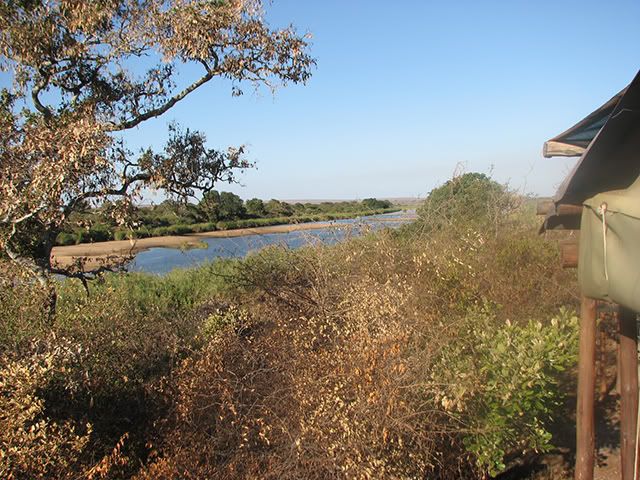 The first little guy we saw from our stoep was this woodpecker but unfortunately the all I could get was this silhouette.
After 40 winks we woke up and debated on whether to head out on another drive or sit and enjoy the view... the drive won... I can't not try and find that dream sighting. Without getting into exact locations I will share with you 2 rhino sightings we had during this day. Magnificent animals.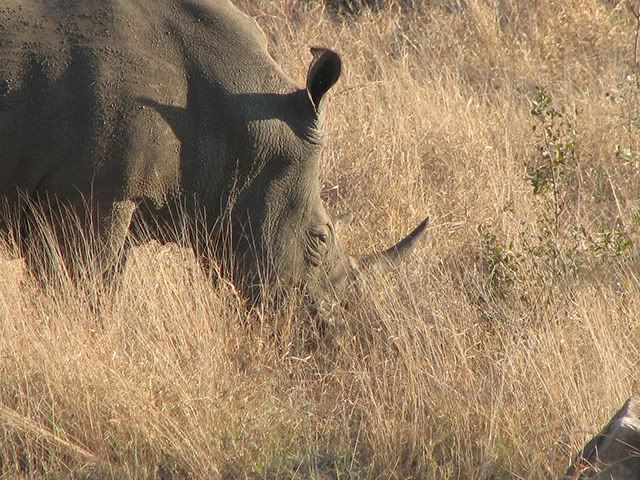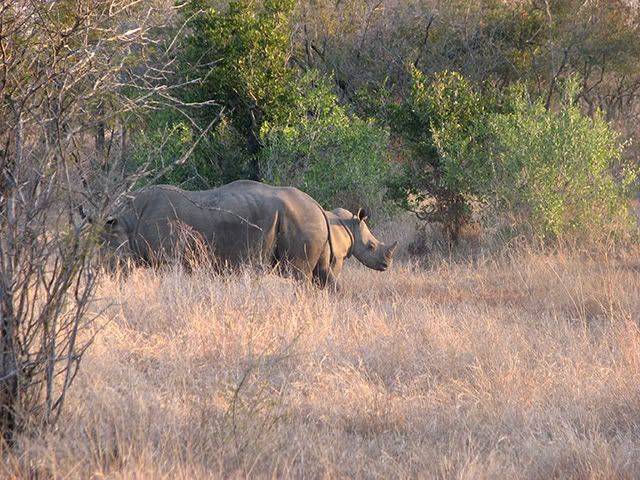 We also saw the famed African fish eagle on the H4-1, giraffe and this buck that I shamefully cant positively id... female bushbuck?
My favourite road in the South is the S28 and I was eager to drive the entire length at least once whilst in the south. However unfortunately vast amounts of it had been burnt under controlled fires which seriously deflated my enthusiasm. So we thought we would give a short portion of it a go before getting 'home'. The northern part of the S28 has only seen patched burning so animal sightings would be assisted. 3km down and there it was, the unmistakable feline silhouette in a burnt opening surrounding by patches of tall savannah grasses enjoying the last rays of the afternoon sun.
Our 4th cheetah in 2 days. The spotty surveyed the growing traffic jam beast , its awareness clear for all to see.
He stuck around for a few minutes before turning tail and moving towards a section of grass before snuggling up to ANOTHER cheetah.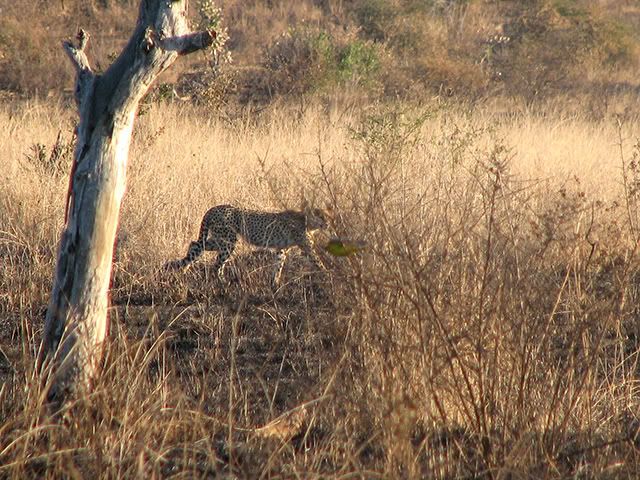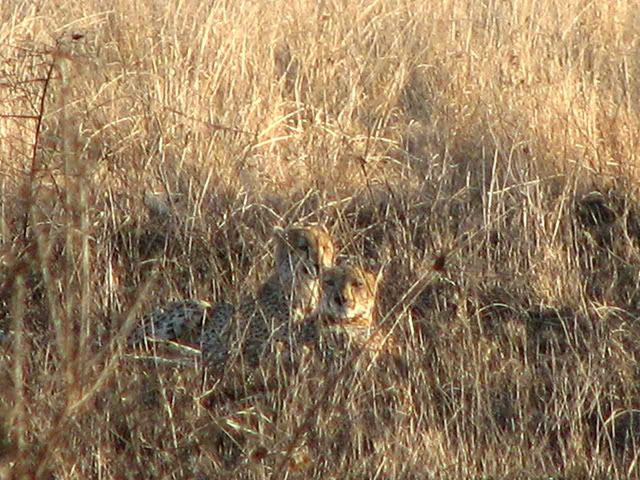 5 in 2 days. Booyah!!!
The two shared company for sometime before the first became very active again and walked across the open land once again before disappearing into the thickets. We couldn't believe our luck. We reluctantly left the sighting and journeyed back to tent number 16, not before we finally got a picture of a BBJ, two very affectionate once actually.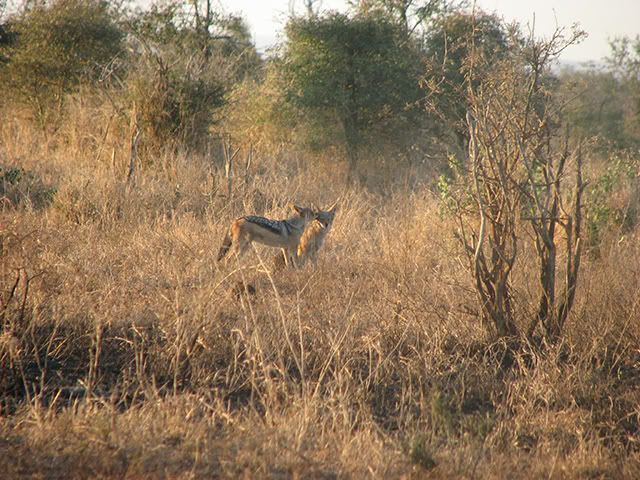 After opening up a bottle of wine and tuning into Radio Lower Sabie featuring hippo and fighting baboon we enjoyed a pasta meal.
The listening only interrupted by this hyena and a large spotted genet.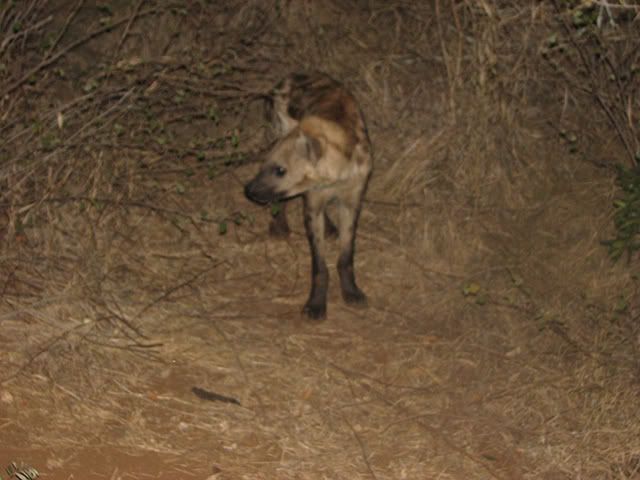 Day 3 had started off slowly but certainly ended been an incredible day in our Eden.
Last edited by
BushKrazy
on Sun Jul 10, 2011 7:46 pm, edited 2 times in total.
June/July TR here http://www.sanparks.org/forums/viewtopic.php?style=2&f=27&t=54133&start=30
---
DAY 4
LOWER SABIE – H4-2 – S28 – POWER LINE ROAD (PRIVATE) - S82 – LOWER SABIE – MLONDOZI LOOP (S29) – SALIETJIE ROAD (S30) – H12 – H4-1 – NKHULU – H4-1 – S28 – S130 – H4-2 – CROC BRIDGE
When booking into reception the previous night a last minute decision to book a morning drive saw us having to get up bright and early for the 5.30 departure.
Two our surprise we were the only ones on the game drive... so this is how the "laanies" do it on the western Kruger boundaries.
Our guide for this morning was Bridgeman ( I think he used to be up at Olifants). Over the previous few days the sightings board around Croc Bridge was COVERED in red dots, left, right, above. They were EVERYWHERE. So Bridgeman decided to head down South. Going on a drive by yourselves has its benefits and its disadvantages. It's pretty awesome that you have the Rangers full attention and can take on so much information about the bush, and it's also great two have full control over the spotlight. The main problem however is that there are now only three sets of eyes.
Heading south our spotlights jumped from bush to bush without picking up a single glint of a predators eye. The vegeterians were a plenty... making the best of the lack of predators on this FLIPPEN COLD morning.
Impala, Zebra and Kudu got the Day 4 animal count off zero and before the spotlights were packed away a foraging hippo tried to hide behind a bush away from the harsh glow. These guys really get me laughing. I love the way you shine the light on them and they try and hide. They always get there head out of view but there big behinds stick out like sore thumbs... I wonder if they think to themselves... "Fooled them again...muhahahahahaha".
The journey down to Croc Bridge was very quiet, but that is how my luck in the Kruger goes. I generally have quite mornings and better afternoons. Excuse the pic below but this was our only out of the ordinary sighting for the drive of the H4-2. This guy was on a serious mission, as evidenced by the blur of a photo. Still counts though... a Honey Badger.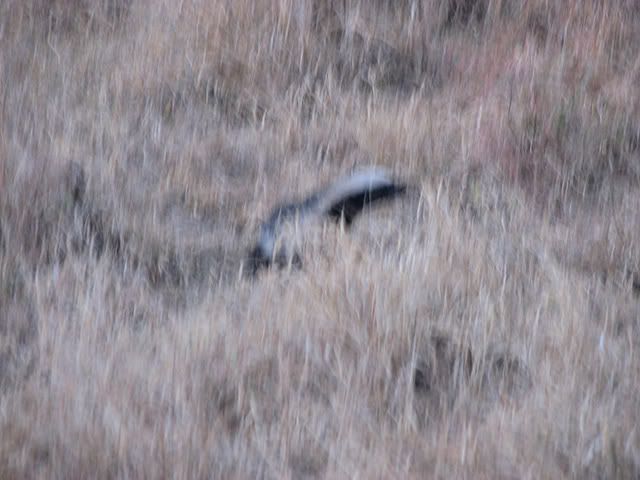 We 'swung' a left onto the S28 and no kitty cats. I think it was at this point that Bridgeman realised this was going to be a 'predatorless' drive, he then kicked into high gear and did what makes good ranger a great ranger – when sightings are few you teach the guest as much about the bush as possible... the sounds and smells, how the bush works, how the animals go about their daily lives and why some of them look the way they do. I was glad at this point to be alone because I have been on drives in the past where there is always a loudmouth who thinks he knows everything and hassles the ranger to move on if he doesn't find something interesting.
We learnt about the way fires are undertaken and managed, how to survive a bushfire, that Kruger Zebras have brown hair between their black stripes due to strong genes, how to tell the difference between white and black rhino by their number 2's (namely how with black rhino you find the digested branch cuttings with a 45 degree angle due to their molars, on a side note I now know why Blackies are so grumpy...the size of some of those camel thorns they passed through themselves looks tougher than digesting the hottest vindaloo), all about rhino scratching poles, community nest spiders and territorial wildebeest... a round of applause to Bridgeman. The private powerline road brought it's fair share of game despite no kitties. The resident warthog family digging for undigested seeds in steaming rhino dung, rutting impies, rhino (somewhere), PLENTY of white backed vultures, a lappet faced vulture, bateluer and this tawny on perch.
My SO bundled up, learning about this very territorial Bluey
Before heading back to camp we had the ritual stop off at Sunset Dam. We shared the last discussion with Bridgeman after counting 37 crocs on the banks.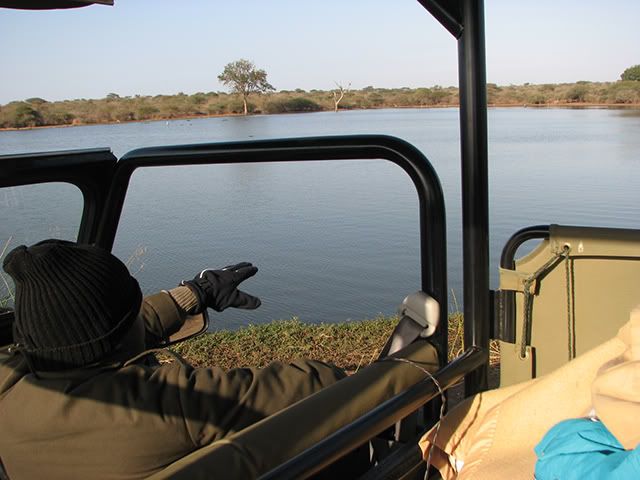 Counting crocs with Bridgeman
No Big Game but we had an outstanding start to the day and it was only 8.30........my afternoons always deliver and this one was going to be no different....
June/July TR here http://www.sanparks.org/forums/viewtopic.php?style=2&f=27&t=54133&start=30
---
DAY 4 CONTINUED...
After the informative drive with Bridgeman we sadly had to leave tent number 16, wishing we could have gotten it for one more night at least, we will DEFINATELY be back. The great views of nothing but the flowing Sabie and the oh so close perimeter bush, the resident baboon family, Radio Lower Sabie playing all my favourite tunes. A highly recommend it to anyone.
The new times require us to leave by 10 but only check in at 2...which meant we had a LONG wait to our next camp at Croc Bridge so a long drive was in order. We decided to head up the H10 and do the Mlondzi loop before settling in for a nice long stop at the Mlondozi Dam picnic spot (after just one visit it has become a favourite). Today the wind really announced itself in the Kruger, and was blowing some serious gusts across the plains around the H10. This resulted in one very poor photo of the first animal of our self drive on Day 4. A car had already stopped in the distance and it was a lot larger than our little Jazz so they could see a lot better...but luckily I just made out the shape before it lay down with his 'posse'. ANOTHER CHEETAH. They were a fair distance away... maybe 80m...so decent photos were not an option... this had to be one for the memory banks.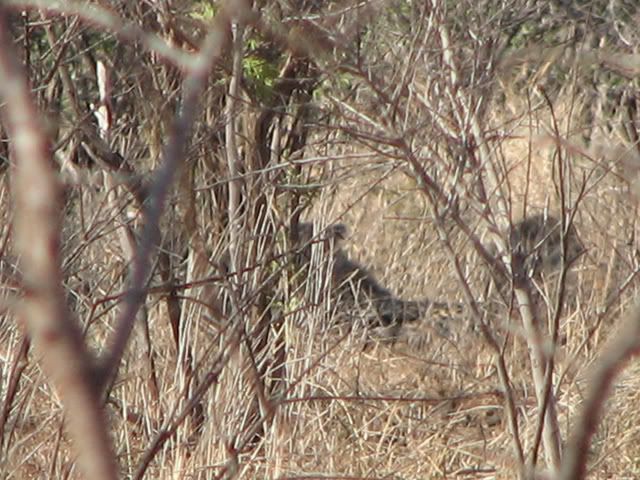 Sorry about the pic
. you can make out the ones face though.
We hung around for a few minutes hoping for some action but these guys were been very sensible hiding from these "gale" force winds. Through the thickets and with some help with our binos we managed to count three different spotties. The higher vehicle (damn I want a 4x4) said they counted 5. We didnt count the other two as we didn't see them with our own eyes. We left the sheltering cats and continued on our way, not a great viewing but as they say...IT STILL COUNTS 8 CHEETAH IN 3 DAYS... on to Mlondozi....
We continued the loop onto the dam and shared the route with some ZB's, two Ostriches and a Kori Busted. Not a bad start to the rest of our day. Mlondozi was busy as usual but been at such a high elevation fellow Krugerites were having serious battles and some strong words with their skottles as the wind would not cooperate and kept blowing the flame out.
Tables were turned into shields but I didn't feel like arguing with another inanimate object so breakfast at Mlondozi turned into lunch at Nkhulu. We headed onto Salietjies road once again. No notable sightings but this road is one of those that we all have... a road that I think something will happen at any time around any corner. I will get that sighting one day as I will not give up on this road.
Nkhulu is another first for us and a really awesome spot to kickback and have a snack. Todays skottle consisted of bacon, eggs, fried potatoes and tomato and onion mix. The local baboon troop were out causing mischief but the Nkhulu staff and their brooms did a great job keeping them at bay. One even looked to the heavens for help.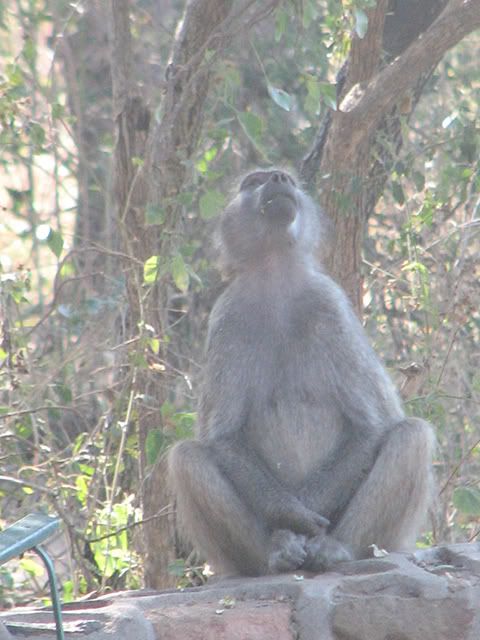 "Please Lord, just one piece of fruit... Ill quit the chocolates and even sniffing my own finger if you just give me ONE piece of fruit... Amen"
Over our lunch we spent time just amazed at how two elephants amongst the reeds turned into a whole herd.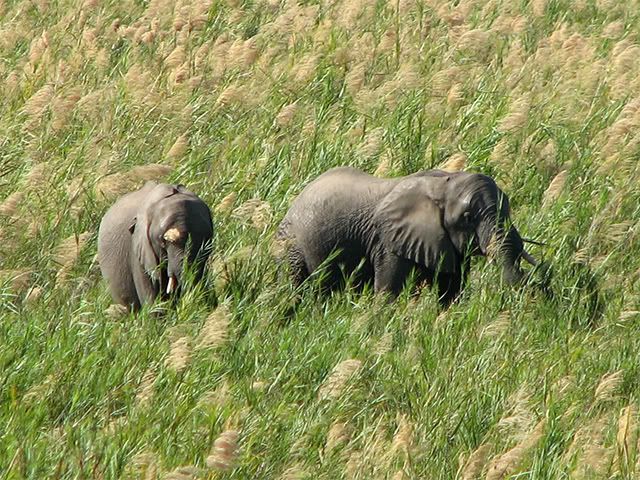 How the family stayed silently hidden amongst the vegetation is quite impressive. Two of the littlies had as in stitches with their play fighting.

Half an hour had passed and time was starting to tick as we still had to get to CB by 5.30. So we packed up the picnic stuff and headed down the H4-2 and on to our second cat of the day...
June/July TR here http://www.sanparks.org/forums/viewtopic.php?style=2&f=27&t=54133&start=30
---
DAY 4 CONTINUED
We left Nkhulu and headed for my favourite spot on the H4-2 (Lubye Lubye). We happened upon a 4 car traffic jam (not too many for a sighting on the highway). Everyone was focusing their attention and lens to the eastern side of the road... I followed and there she was... the beautiful golden tan fur of the king of the beasts sent the two of us into hyper mode.
We could only see one lovely lady initially but when she got up and crossed the road another stunner got up and followed, she was stunning and was sporting the latest in designer research necklace jewellery.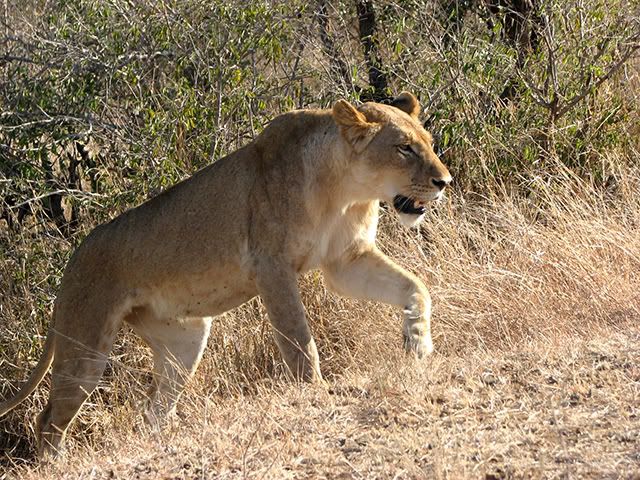 Lubye lubye is another one of those places where I picture having the perfect sighting, a "Lion King" moment with a big male surveying the Sabie whilst lying on those unique rock formations. The lioness headed through those thickets towards Lubye Lubye, and luckily loving the area,I knew there is that little loop road to the right of the bridge. I left the ,now around 10 vehicle strong, traffic jam beast and headed for the loop, hoping they would come around the other side. We lost sight of them, until motion allowed us to see action of lioness walking back in the direction of the tar.... naturally I followed.
The traffic beast is a strange creature, with normal humans often taking on strange personas when thrown in with the more of their kind in vehicles and with another creature in the mix.
The vehicular creature showed one of its peculiar characteristics, that of 'follow the leader'.
All the cars had followed me, and now I had unintentionally double backed on them... allowing me the perfect view of the ladies as they crossed the road. In total 5 lioness appeared from the thickets.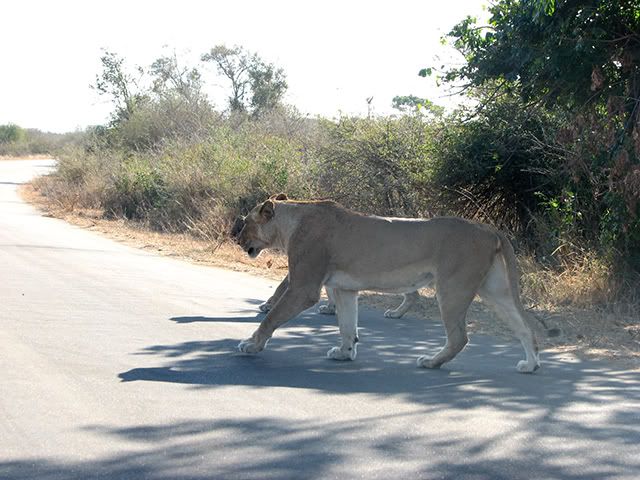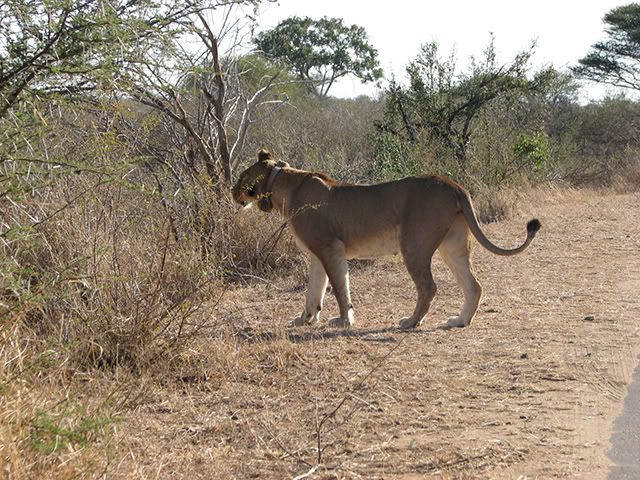 One cared to lie down in front of the vehicle, showing her impressive size, with almost an entire lane blocked by her immense frame. So stunning.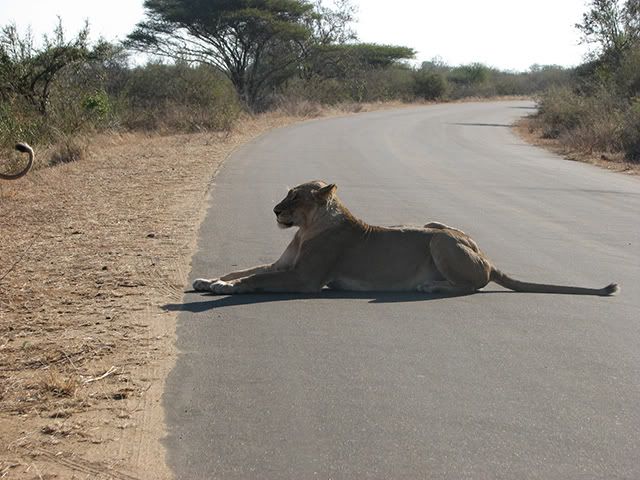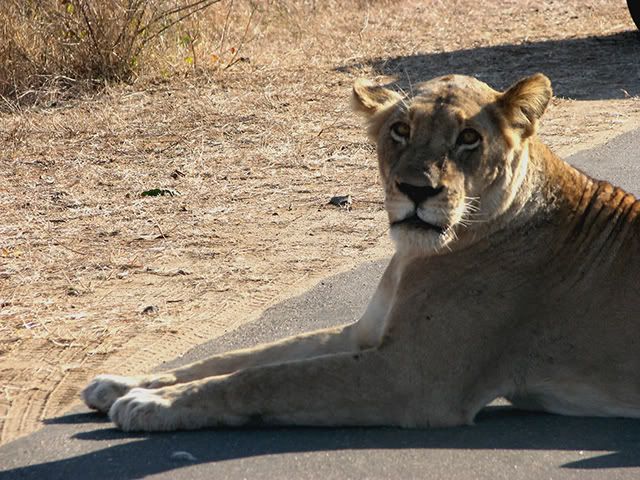 They all proceeded to get up and disappear deep into the bush. At this point my SO went bananas. She just loves these cats.
We took the s28, Dukes road and the s130 Gomondwane loop before rejoining the H4-2 down to Croc Bridge. Whilst the other roads delivered elephant, 5 rhino (I am glad to see these guys around) and the usual grazers, the s130 Gomondwane loop did not deliver a single creature... not even an Impie... It is probably my eyesight or my bad luck on this road but I think these might be a road for the summer months.
It's at this point in the TR that I will have my 'moaning session'. We arrived at CB excited for the stay as I have heard such good things about the camp, that it is a small and quite. We booked tent number 8, right up a against the perimeter and upon driving to it we noticed that a family of campers had parked their caravan and pitched their tent almost on top of our tent. I could get past this as they were there first and had quite an impressive set up but when I noticed the DSTV dish and then had to listen to the rugby I just didn't enjoy my evening there on. I hope I don't step on any toes... and apologise if I do
... but I don't see the point in bringing any form of television entertainment to a National Wildlife Park. I love my sport but didn't need to hear the Stormers getting trounced. This coupled with barking dogs in the distance really knocked the bush vibe out of my sails.
We were due two nights at CB but it wasn't giving us that Bush feel...so we luckily manage to swop for our last night at Lower Sabie.
Before I frighten anyone away from CB, this area does cook when it comes to sightings as forumite Bush Baptist and MM have suggested, with the patrolling hyenas and roars of lions restoring my sanity. I still hold high hopes for this camp and all will be revealed on the early morning sighting possibilities near the camp in the next episode...

June/July TR here http://www.sanparks.org/forums/viewtopic.php?style=2&f=27&t=54133&start=30
---
---
Who is online
Users browsing this forum: No registered users and 9 guests