Did a full day drive from Croc Bridge gate on 12/6/11 and it was really rewarding.
In the 1st 4km on the H4-2 we had elephant bulls (unfor not Duke) , giraffe , zebra , wildebeest and of course the ever faithful impala.
Kruger sunrise
Turning onto the S28 we had a hippo grazing right next to the road and then a breeding herd of elephant. General game going up and then we turned onto the S137 where we had lots of zebra , wildebeest , warthog , another elephant bull and a lappet faced vulture.
Back on the H4-2 we saw 2 male lions guarding their buffalo kill with vulture galore around them - white backed , hooded and also a pair of white headed which was great. Carrying on up the H4-2 there was a tawny eagle and then a pair of leopards - the male on the road to start and then he joined the female in the tree. They both then climed down and disappeared towards the Sabie river.
The male leopard
The female leopard
Breakfast break at Lower Sabie and then we headed over the bridge to the Mlondozi side. On our way there was a massive male lion on the river bank but he headed into the bushes shortly after we saw him. We also saw a very sleepy hippo.
Sleepy hippo
Up the H10 we saw elephant , waterbuck , kudu , steenbok , warthog , zebra , wildebeest , monkeys , baboons , brown snake eagle and a purple roller.
Waterbuck
Of course a quick stop at Nkumbe and then onto Tshokwane for lunch. We then came down the H1-2 and met a breeding herd of elephants.
Eles crossing
We also saw klipspringer , zebra , slender mongoose , waterbuck and a lion pride at the Mantimahle Dam.
Young lion relaxing
Across the H12 onto the H4-1 and a special treat of two nyala bulls.
Nyala bull
We also had lovely giraffe , kudu , monkeys , baboons , elephant , buffalo and ground hornbills.
Giraffes
Passed Lower Sabie and more luck in another leopard which was too quick to get a foto of. We also saw buffalo , elephant , the lions on the buffalo kill again , giraffe , wildebeest , zebra , warthog , dwarf mongoose , waterbuck and woolly necked storks.
All in all a very exciting day.
---
Half day drive 23/6/2011.
Started off at Croc Bridge with a very cold and a bit misty morning. Along the tar we saw 2 hyena walking off into the distance and then before the S28 turnoff we saw impala , wildebeest and giraffe.
On the S28 we had elephant , zebra , warthog , wildebeest and with it being a bit cold the big raptors were sitting so we found a juvenile white headed vulture , white backed vultures , martial eagle , bateleur and brown snake eagle. We also saw brown headed parrots flying along in the distance. We also just missed a male lion crossing the road.
On to Lower Sabie for a snack breakfast break and then we headed to Sunset Dam where the crocs and hippos were giving a nice show. Saw a small baby hippo with its mom just on the edge of the dam.
Heading up to Lubyelubye we were rewarded by a male leopard marking its territory so he gave us a nice visual before making his way back behind a large leadwood tree. Turning to go back to Lower Sabie within 2km we had a leopard pair lying in a sandy patch next to some reeds - great sighting but far away. The leopards were being most obliging.
After passing Lower Sabie we saw 3 old dagga boys and then after crossing the Sabie causeway we came across 4 cars who told us that 3 leopards had just crossed the road. Definately a leopard day and unusual for 3 together.
Heading up the H10 we found kudu , zebra and a huge puffadder. After turning onto the S29 we saw a secretary bird , zebra , steenbok and a nice tusker. Also a confident lilac breasted roller.
Back across the Sabie causeway with a sleeping hippo and back down on the H4-2. More warthog , zebra and a pearl spotted owl. About 13km from Croc Bridge a few cars and 2 very sleepy lionesses. A purple roller and some giraffe later we were out the gate at midday.
Great half day.
---
Mon 27th June - another half day drive from Croc Bridge.
As we entered before reaching the gate there were 3 dagga boys near the staff houses and then on the H4-2 there were some wildebeest and of course the ever presnt impala. We saw a lovely sunrise as well.
Turning onto the s28 we saw elephant , giraffe , warthog , zebra , wildebeest , hyena , white headed vulture , lappet faced vulture and kori bustard. Then we had a really special sighting of a mother cheetah with 3 small cubs crossing the road.
Not a km after that another rare sighting of a side striped jackal.
On to the H4-2 and some hippo , crocs and a bushbuck. A visit to Sunset Dam and a short drive along the H4-1 before returning to Lower Sabie for a short break yielded more crocs , hippos , elephant , warthog , baboon , an African Hawk eagle , crested barbet and brown headed parrots.
After Lower Sabie we took a drive up the H10 where we saw kudu , elephant and a stunning female leopard.
Up to Mlondozi Dam and the waterbuck , monkeys and hippo were in their normal spots. Around the Muntshe loop we cam across a secretary bird , ostrich , zebra and wildebeest. Back on the H10 we saw elephant , baboon and kudu.
Home via the H4-2 with more wildebeest , zebra , warthog , giraffe and a martial eagle.
---
Another full day drive on the 9th July.
It was still dark when we entered the Park and we'ed just passed the Vurhami spruit when a lioness and a male lion crossed in front of us. They went down to the Spruit and then climbed up on the bank above the waterhole. We waited for a while but the light was still pretty bad. Took a couple of fotos and then decided to carry on up the H4-2.
Not too far along we came across a big elephant bull eating so we sat and watched him for a bit. Further up the road there was some wildebeest , warthog , kudu and a nice herd of giraffe. About 10km from Croc Bridge we had a lovely sighting of a leopard relaxing in a tree.
Approaching Lower Sabie we saw zebra , hippo , crocs , a bushbuck and some buffalo bulls. We also saw a juvenile martial eagle with a monitor lizard kill.
After a snack breakfast at Lower Sabie we crossed the causeway and saw a young croc eating a freshly caught fish.
We carried on up the H10 where we saw some more kudu , wildebeest and zebra. A visit to Mlondozi Dam yielded waterbuck , hippo and crocs. Around the Muntshe loop there was more zebra and wildebeest. We carried on to Nkumbe lookout and saw ostrich , elephant and giraffe from the seating area.
On to the H1-2 passing a couple of fighting impala and a herd of about 200 buffalo were chilling out just before Tshokwane. A tip from a friendly tourist took us 3km on to see a large male leopard sitting in long grass but he was pretty far off the road so no decent fotos were possible. We then went to the Orpen loop road junction and there was a pride of lion that were sleeping on top of each other.
Lunch at Tshokwane and then down the H1-2 seeing a martial eagle , elephant , kudu and a klipspringer. We crossed the high level bridge on the Sabie river and turned onto the H4-1 where we saw elephant , nyala , bushbuck , baboon , vervet monkey , kudu , buffalo and giraffe. Passed Sunset Dam with the hippo pile and crocs lazing around and then down the H4-2. White backed vultures , a spotted eagle owl , ground hornbills and of course close to Croc Bridge we saw more zebra and wildebeest.
---
Full day drive on the 20th July 2011.
We entered early about 6am and saw baboon , giraffe , wildebeest , zebra and impala on the H4-2 before we turned onto the S28. We had a lovely sunrise and then saw a pearl spotted owl , more giraffe , marabou stork and kori bustard.
We carried on up the road and saw zebra , wildebeest , warthog , steenbok , a lappet faced vulture , tawny eagle and a beautiful secretary bird.
Coming back onto the H4-2 we heard lions roar but didn't catch sight of them. We saw a lovey fish eagle , buffalo ,hippos and crocs on the way to Lower Sabie.
After Lower Sabie we headed up the H10 with sightings of kudu , steenbok , waterbuck , zebra , wildebeest , warthog and 3 bull elephants that gave us a few scary moments.
200m after the elephants we had a leopard lying next to a bush but it did not stick around for long - seemed a very young and nervous leopard.
Carrying on up the H10 we saw more zebra , also ostrich , baboon , more elephant , waterbuckand wildebeest.
After lunch at Tshokwane we went down the H1-2 and saw some sleeping lions at Mantimahle Dam.
We then crossed the high level bridge over the Sabie river and saw a saddle bill stork and buffalo in the riverbed.
Back on the H4-1 and a km after Nhkulu picnic spot there was a lioness on a rock enjoying a bit of sunbathing.
After that a lovely buffalo herd of about 200.
Then some more giraffe , baboon , bushbuck , slender mongoose , vervet monkey and a fish eagle. 6km before Lower Sabie we caught a disappearing sighting of a female leopard and 2 teenage cubs. Then 3km on a pride of lions doing what they do best - sleeping. Another 2km on a female leopard crossing the road in front of us. The H4-1 was certainly unbelievable this afternoon.
At Sunset Dam we saw crocs , hippos , water thickknees and a greenbacked heron.Carrying down the H4-2 we saw dwarf mongoose , elephant , giraffe , zebra , wildebeest , warthog and waterbuck.
Rhino were also seen during the day.
---
Virtual Ranger

Posts: 563
Joined: Fri Nov 07, 2008 6:46 pm
I hope the JEG won't mind that i'm hijacking her topic for a post. While she's been off discovering KTP
i've been able to do one of her drives for her (in her extremely beautiful safari vehicle).
So yesterday I took out four of her clients on a morning drive from Croc Bridge and we had some amazing sightings!
Just inside the gate, we came across an epic elephant road block and watched as a large breeding herd of eles crossed the road behind us.
Further along the main road up from Croc Bridge, we stopped to watch a group a bull giraffes doing a little play-fighting.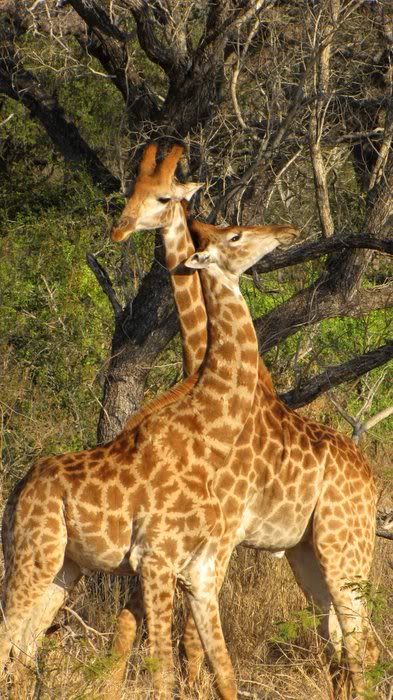 The guests (and me!) loved this and we sat watching them for nearly 20 mins. All the while, another car was parked 50m up the road from us and I assumed they had been watching our giraffes too.
That is, until I looked up and saw a lioness standing by their car window! I quickly alerted my guests to the lion and we quietly rolled down the road towards it. It then dove off into the bushes to our left and crouched low in the grass. She was hunting- I looked around for zebras or impalas and then realized she was hunting the giraffes! As she hurried off into the riverbed, my guests yelled that there were more lions behind the other car. Two BIG males. One stalked off towards the giraffes, but on the opposite side of the road to the lioness. They were surrounding the giraffes...
The other lion used our two vehicles as cover and crept slowly towards the giraffe, which were munching trees by the road none the wiser.
Do you want this watching you?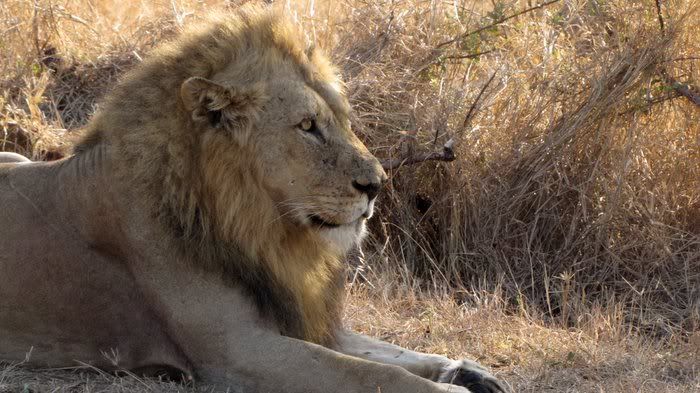 (This all comes after telling my clients minutes earlier that giraffe could be great indicators that there are predators around- if they're all looking in one direction, there may well be a cat around. I had explained that because these giraffe were so relaxed, it meant there probably weren't any hungry predators close by
)
As our boy crept closer and we rolled down the road with him, one of my guests noticed the female from earlier was now running towards the giraffe along the road and in our direction. They didn't see her until she was right at them!
Watching giraffes run was an absolute thrill. The lioness was joined by the two males and another girl for the chase, but they just missed out.
The lions then walked back into the road to sulk together, before retiring to a nearby tree.
It was truly incredible, and to have a sighting like that largely to ourselves in Kruger was extremely special.
Later in the day we found this guy, hanging out of a dead tree and watched as it climbed down inside, turned itself around and climbed back up again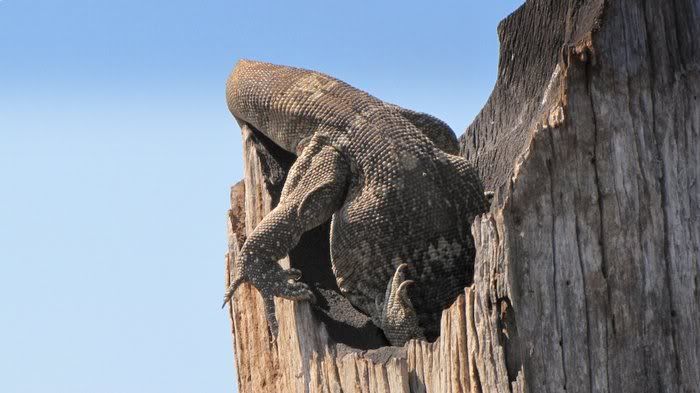 And finally, to end the day, we had a leopard on the S28. It was far off, but was still a 'tick' on my guests checklist and they really enjoyed it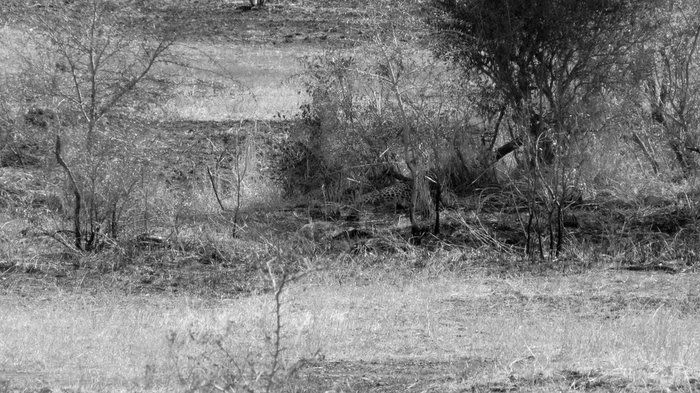 In all, we had elephants, rhino, lion, leopard, kudu, bushbuck, zebra, impala, wildebeest, crocodiles, hippos, water monitor, rock monitor, warthog, steenbok, giraffe and a few others i'm probably forgetting.
---
---
Who is online
Users browsing this forum: No registered users and 5 guests