This trip proved a lot quieter than my January trip. But that is what is all about in Kruger. I was there from Saturday 21st and departed on the 28th. Temperatures varied considerably with some days as cool as 4 degrees in the morning, warming up to 25 degrees. Then on other days it would be as warm as 11 degrees in the morning warming up to 36 degrees in the afternoon!
I entered via Malelane gate and the trip up to Satara was fairly uneventful with only sightings of general game. I kept to the tar roads as I was towing a caravan. (Not a 4x4 caravan).
As soon as I had managed to find a camp spot in a very full camping site I took a drive on the S100, then the S41 and a few kms up the S90. The S100 was extremely quiet and even the general game was in short supply. The S41 was better with a fair amount of general game. The S90 was fairly quiet but I was able to watch an elephant grazing placidly in the grass.
Here is one photo of him. As you can see the veld is still in magnificent condition.
Sunday 22 May. Up early and first at the gate. This did not help much and sightings for the day were limited to general game and a white rhino in the afternoon.
In the following photo taken on the S125 a female baboon is suckling her youngster.
In the afternoon I drove on the S39 (north of the picnic spot) and came across a troop of monkeys and took a photo of this Alpha male.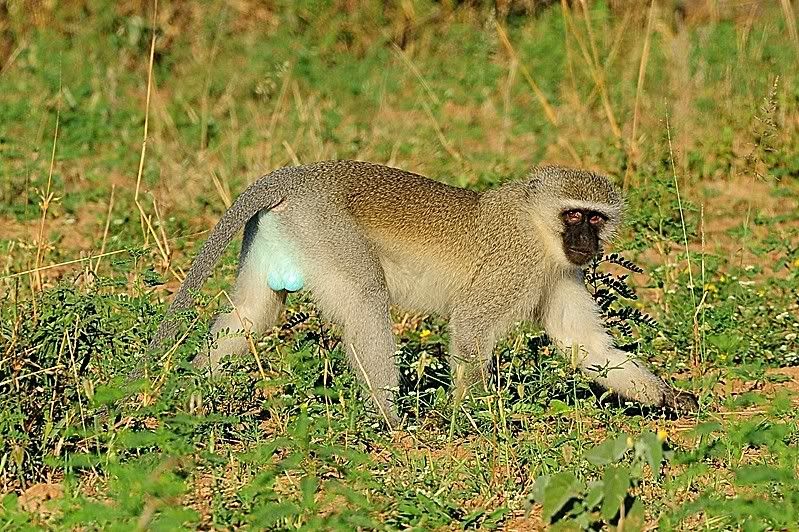 This white rhino was seen on the S.. and after that I had to return to camp.
Tr to be continued....
Last edited by
adw
on Sun Oct 02, 2011 2:41 pm, edited 1 time in total.
Rhino Poaching - Highlight's man's stupidity and greediness.
---
Thank you hoyle for your kind comments.
Monday 23/5 proved frustratingly quiet and I have only two photos to post for that day.
This magnificent Nyala tree was photographed on the S125. Before the trip I purchased the Sappi Tree Spotting book in an effort to improve my identification of trees. The book certainly helped.
Late on in the afternoon I rejoined the main road from the S125 and photographed this herd of zebra in the golden hour.
Tuesday 24/5 proved to be the turning point and my luck started to change for the better.
It was early in the morning (06h15) and in the poor light came across a Rhino family with the youngster suckling its mother. I could hear the slurping of the milk!
Later in the day I met fellow forumite Bornfree at Orpen dam. The weavils have lost the battle with the hyacinth totally out of control. In this photo this young elephant battled to cross the dam and there were a few anxious moments as the mother lost sight of her youngster. It all finished okay as the youngster made it across.
TR to be continued....
Rhino Poaching - Highlight's man's stupidity and greediness.
---
Tuesday 24/5 continued. Whilst talking to Bornfree at Orpen we suddenly heard two hippo bulls having an almighty territorial battle. The photo is not too good as the action was at the far side of the dam and obstructed by trees and bushes. At one stage the bull on the left had jumped up to get the height advantage and all four legs were out of the water. Unfortunately I did not capture that moment on film!
After Orpen I was travelling on the S32 and came across these two Giraffe bulls also engaged in battle!
In the afternoon I drove on the S126 and at the Sweni waterhole came across an Elephant herd who were enjoying a mud pool. The herd was very placid and I was able to take a number of photos of my favourite animal. In this photo this female was suckling her youngster.
In the next photo some of the herd members were playing in the mud. A joy to watch!!!
Trip report to continue....
Rhino Poaching - Highlight's man's stupidity and greediness.
---
Thanks Higgsie.
24/5 continued. This bull elephant was mixing with the breeding herd.
I dont have a very powerful telephoto lens and to get a photo of a small bird I have to get really close.
This LBR obliged by allowing me to approach fairly close.
Late on in the afternoon I came across a small herd of Wildebeest on the S126 and the golden light was ideal.
TR to be continued....
Rhino Poaching - Highlight's man's stupidity and greediness.
---
Thanks VVV.
Wenesday 25/5. At last a major predator sighting. I had left camp early and driven on the S125 and then onto the S36. When I got to Lugmag Dam I drove very slowly as I know there is a resident Leopard at the dam. When I got to the dam wall I saw a white bakkie parked on the side and knew straight away they were looking at a Leopard. Sure enough as I approached out came this Leopard into the road and he was stalking a herd of Impala.
He crept closer and closer to the Impala and at the last moment the ram spotted him and gave the alarm call. This photo was taken right after the failed hunt.
After the hunt the Leopard went deeper into the bush and disappeared. The other cars left but I decided to stay for a few minutes and drove up and down. Eventually he reappeared and settled down. I started to take a few photos but something made him move off again into the bush not to be seen again.
After that I moved on to Vutomi Dam which was quiet and no big game around. I then drove to Mazithi dam and encountered a major traffic jam were 10 or more lions were lying down. After 20 minutes of no activity I decided to move on.
To be continued....
Rhino Poaching - Highlight's man's stupidity and greediness.
---
After the Mazithi Lions I and early lunch at Tshokwane I went back to Vutomi dam to see if there was any action there. There was not much activity but decided to wait a while under the tree and managed to photograph the Vutomi Crocodile. This was the first time I have seen a croc at this dam. I have seen the two Hippo before but not the Croc.
Whilst waiting I managed to photograph a Grey Heron who gave the Croc a wide berth and a Red Billed Hornbill.
This Buffalo was caught in the act of filling up the roadside pool just past the Vutomi Dam.
To be continued.....
Rhino Poaching - Highlight's man's stupidity and greediness.
---
Getting back to camp via a dirt road S..... I came across this road-block. Looking at these magnificent creatures one can only hope that anti-poaching efforts succeed over mans greed and stupidity!!!
Thursday 26/5. Up early and back onto the S125. When travelling on the S125 I go as slow as 10 to 15 km/h. Suddenly a shake of the bushes and out runs a Leopard. Without stopping he crossed the road and melted into the thick bushes bordering the road. I managed to get one photo but not of good quality. He was definitely on the hunt.
This Vulture was photographed alongside the S125 waiting for the thermals to arrive.
This Hamerkop was looking for food in a roadside pool on the S33. He gave me all the time I needed to photograph him. Thats the kind of bird I like to photograph!
To be continued
Last edited by
adw
on Mon Jun 06, 2011 4:27 pm, edited 1 time in total.
Rhino Poaching - Highlight's man's stupidity and greediness.
---
This Puffadder was crossing the S125 as I was on my way back to camp. At least I think it is a Puffadder. If I am wrong can somebody please correct me. As I stopped my vehicle next to him he struck out at my vehicle!
This YBH was also photographed on the S125 and gave me enough time to photograph him!
As I was nearing the end of the S125 (4 km from the tar road) I was surprised to see two Nyala bulls.
Although fairly far in I managed to get this photo of them which I have cropped quite a bit.
Last edited by
adw
on Mon Jun 06, 2011 4:18 pm, edited 1 time in total.
Rhino Poaching - Highlight's man's stupidity and greediness.
---
Friday 27 May. One more night left. Up early and first at the gate. Travelling on the H1-3 and just before the Nkaya Pan turnoff two young male Lions were huddled together on a cold Kruger morning (4 degrees). I was able to get a couple of photos before the Lions were disturbed by another motorist.
After the Lions I drove onto the S126 (again!) and about one km before the low-level bridge turnoff
the bakkie in front of me came across a female Leopard with two cubs. Mother went to the right and cubs to the left. I knew she would cross the road to get to the cubs but by now there were three cars looking for her. I reversed away from the other two cars to give her a bit of breathing space. After a few minutes I saw her coming to cross the road but she was still behind me. So I had to look back and with my unwieldy 400mm lens managed to get a couple of photos of her.
and another one
Although I got glimpses of her cubs I was not fortunate enough in photographing them.
To be continued....
Rhino Poaching - Highlight's man's stupidity and greediness.
---
Thank you Flutterby, Justnature, Crested Barbet, Cheetah2111, Kamadejo and Nkulu for your kind comments.
Nearly at an end now.
This Lioness was seen on the S36 a couple of kms south of Lugmag Dam. There was another female there and part of her can just be seen in the photo. A fellow forumite, Bornfree, was already there.
This bull Elephant was photographed at Vutomi Dam in the afternoon. When I saw this bull I thought he had a large pair of tusks yet the photograph clearly shows tusks of an average size! I was photographing into the sunlight so not the best of lighting conditions.
This Elephant bull was standing right next to the road (S125) and I nearly drove into him. That is what I like about these narrow roads with thick vegetation on both sides. You really get the feeling of the wild.
One more post to come to conclude my trip.
Rhino Poaching - Highlight's man's stupidity and greediness.
---
Whenever I ride back to camp on my final day I seem to appreciate all the animal sightings even more and find myself stopping at every sighting. The one consolation is that I know I will be back. For me there is no other place I'd rather be!!!!!
I don't think I have had a trip with more species suckling their young in photographic range, than this trip. Here a Kudu cow is suckling her young on the S125.
There was a small bachelor herd of Buffalo grazing alonside the H1-3 opposite the Nwanedzi river.
This young bull gave me the proverbial stare and as the light was fading fast I used the built in flash.
Saturday morning 06h30 left Satara and decided to exit Kruger at Crocodile Bridge via the H10. Along the way on the H1-3 I came across a dead Hyeana which looked like he had fallen victim to Lion attack. It was a gruesome sight and I will not be posting a photo of it. On the H10 I spotted a Leopard walking in the long grass. All you could see was part of the head bobbing up and down and an upright tail. It slowly disappeared from sight and could not get a photo of it.
The final photo of the trip was these White Rhinos. Believe it or not there is a motor vehicle behind the Rhinos.
I would like to thank all of you for your kind comments posted on my trip report. It has been great interacting with you all!
Rhino Poaching - Highlight's man's stupidity and greediness.
---
---
Who is online
Users browsing this forum: No registered users and 6 guests