Senior Virtual Ranger

Posts: 311
Joined: Wed Jan 12, 2005 12:55 pm
Location: Neither here nor there.
Make yourself a cuppa first!
THE HONEYMOON
Croc Bridge 2 nights
We woke up early the morning after the wedding, had breakfast in bed, fresh fruit, toast, etc. Our best friends came to pick us up and we headed for the airport. We looked awful and felt pretty much as bad - we both regretted having to get up so early. Neither of us are light packers so we struggled a bit with all the baggage but finally boarded the plane. After arriving in Joburg and getting our hire car we headed for Kruger. We had to stop off and do shopping but had arranged a late arrival with reception at Croc Bridge. The last two hours on the road were horrendus from insane drivers to poor roads, to poor lighting. We were both very shaken by the time we arrived at the camp gate and after waiting for what seemed like hours in the pitch dark (it was more like two minutes!) the friendly guard opened up and handed us our keys and we headed to our bungalow. The night passed quickly and having had a good rest we booked in at reception and headed on our way. We saw a lot of impala as can be expected, a rhino or two, bufallo and surprisingly only a few elephant. The park was dry and the burnt areas had transformed what was once eden into a desert of ash and burnt trees. Luckily the burnt patches were reasonably isolated and there was much to see. We came across a tree full of vultures and expecting to see a kill nearby we kept our eyes peeled. It turned out to be a dead zebra with no predator activity but it did offer a good view of all the vultures. Duke waterhole was dry as bone and not surprisingly its namesake was nowhere to be seen. We were hoping to catch a glimpse of that giant tusker so were a little disappointed at seeing his scrub pub all dry. We took a walk with the ranger down to the hippo pool which is always fun and gives you a chance to stretch a bit. The resident hippos were out sunning themselves and offered us a good view of their bulk, that said we had magical weather the whole trip - much like summer in fact. We spent the rest of the day just cruising around, still on a high from the wedding and the fact we were back HOME! It was about here that we discovered our video recorder's charger was left in Cape Town. Damn! (Luckily we managed to get hold of my dad and he couriered it to Nelspruit where we picked it up about a week into the trip.) The next day we headed to:
BIYAMITI CAMP 2 nights
The drive there was reasonably eventful with more rhino, buffs, zebra, a wildebeest and the odd elephant thrown in the mix. We booked in early and were immediatly impressed with the friendliness of all the staff. The camp was brilliant, quiet and we felt quite private. We booked a morning walk for the following day and as it turned out they had a 2 for 1 special on all activities. That was a bonus so we booked a night drive for that night. We left camp and saw a lot of kudu including some massive bulls and some cows with young. Vervet monkeys abounded and they are always entertaining to watch, especially the babies. The night drive was excellent if not a bit long (which I normally wouldn't mind but I needed to wee the last half an hour!)We saw a herd of about 40 elephant with young, buffalo dagga boys and then a buffalo herd of about 200, rhino, hippo out of the water, spotted genet, chameleon, two lionesses, civet,impala,hyena,night jars. The morning walk was the best activity we've done in Kruger. We were guided by Van Rooi and Steven. They were both brilliant and we just loved walking out in the bush. We came across a rhino scratching post which was caked in mud about 2 inches thick. Van Rooi pulled off a piece of the mud and showed us the ticks which had been scratched off the rhino's back and embedded in the mud. We came across lion and hyena dung and its amazing what information can be gleened from it. There was an impala's hoof in the lion dung! We never saw much game on the walk, a single common duiker and a giraffe. Towards the end we came upon the remains of one of the dead rhino's that was involved in a fight over territory. He had apparantly been killed on the spot, while his adversery had made it across the river where he too perished - we got to see his remains too. It was a bit sad, there was no winner and that spat cost them both their lives. We got back to camp and headed out. At Biyamiti weir we came across two lionesses on an impala. We had just missed their struggle with a massive croc who had also layed claim to their prey. We were happy to see them but as they were in the river, sightings were sporadic as they hopped amongs the rocks and tall,lush river grasses. After an hour we moved on and headed up the S114 to Renosterkoppies were there were lots of impala,zebra, wildebeest and warthog. The yellow and red billed hornbills were too friendly and a bit of a nuisence- the result of tourists feeding them no doubt. We turned around and headed back to camp hoping to catch the reserved road at the magic time of the afternoon when the animals start to move around again. On the way we stopped at the weir where Twiga wanted to spot for the two lionesses again. While she was looking with the binocs I just looked out my window and my eyes travelled up the trunk of a tree, two or three metres from our car. A twitch of the ear and there he was! A leopard! Right above me, just lazing in the tree!!! Best of all we were alone with him. A car came about 10 minutes later and we flagged them down and pointed him out. Why do people leave their car engines running!! The leopard got agitated no doubt and stood up and headed down the back of the tree. All of a sudden he popped around the front and ambled straight for our car. In with the camera and windows were closed very quickly as he stopped and looked at us two feet away from my door. He continued and walked around the front of the car and off to the left. In the commotion I managed three pics of which one is usable! I had my 300mm lens on and it wouldn't focus as he was too close! With that we had seen our first "all of the big 5" in a day, well in 3 hours really. We were on a high and headed off to camp and quite content to see nothing for the rest of the day if it so happened. On the reserved road we had a huge python slither in front of us - that was a great day!
PRETORIUSKOP 3 nights
We took the H2-2 to P/kop from Biyamiti which like last time turned out to be uneventful. There were areas of burn but not as badly as October last year were it was burnt the whole way really. We ate at the restaurant that night - and as usual it didn't disappoint. The restaurant at P/kop is without equal as far as we are concerned and every meal we've eaten there has been exceptional. The manager on duty,who had learnt it was our honeymoon, showed us to our table which they had decorated with a candle and the most beautiful wildflowers, making for a very romantic setting! The flowers were a lovely touch and we were impressed by the effort they put in to make our meal special. We headed out on the first morning around the koppies where we saw lots of waterbuck, another huge kudu bull and some kudu cows with young, Tsessebe and a puffadder! I managed to get some poor pics of the Tsessebe as they were off the road and in incredibly high grass. It is the last time I will travel to this part of the park in a car - 4x4 only! The afternoon we spent at Shitlhave Dam where just before sunset a family of four rhino including a young one came to drink. It was beautiful and they were really so cute. They cant see at all though, with the huge male basically standing on a croc before realising it was there, causing an about turn and a mini dust storm! Funny! The following morning was spent on a trip to Nelspruit for our video's charger and topping up of supplies. The rest of the day offered much kudu, impala and we spent some time at Transport Dam with a beautiful Fish Eagle and a few crocs. We spotted a yellow ribbon on a green (I think) 4x4 type vehicle on the S7/S3. We ate out again the last night and turned in early. The last morning we packed up and took the H1-1 to Lower Sabie. After driving for about 30 minutes we realised we had forgot to drop the bungalow key in the box so we had to turn around. We were more than a bit miffed. Everything happens for a reason though and after dropping the key off we headed back down the h1-1 and spotted a Sable Bull on our left. He spooked but came running to the road where he stood and watched us. Beautiful and such an exceptional sighting - again we were alone. We stopped off at De Laporte where there were two big buffs, impala,a lot of kudu bulls and a saddle billed stalk. If you know the little turn off and the short road to the damn then one can imagine the chaos that ensued when car after 4x4 after caravan pulled into see what we were looking at. In no time we we were boxed in and astounded at how rude and inconsiderate people can be. After we managed to get out we then went down the S114 and hooked up with the Bume Road which was mostly burnt and uneventful. We did come across some foreigners with a flat tire though. A chap in his 30's and two younger girls in their 20's. Said girls were ambling around the 4x4 with no-one in the least bit worried about the threat of predators. The chap seemed to be struggling with getting the spare wheel loose. We got out and helped them to change their wheel and warned them about the dangers of walking around the bush. That was our good deed for the holiday. Further on we came across a duiker in the road with a bataleur and two eagles eating it. On closer inspection we could see it had been knocked over and the tell tale signs of blood in the middle of the road and an open fracture of the leg confirmed a speeding motorist was the culperate. We did get photo's and film of the eagles and bataleur though.
LOWER SABIE 3 NIGHTS
Our favourite place in the world. We were told our bungalow didn't have a perimeter view so we were expecting something stuck in the middle of the camp. We were wrong, and our bungalow faced the perimeter at an angle which was great. We got there quite late and dropped off our luggage and quickly went to Sunset Dam and caught the last of the suns rays. There were the regulars, hippo's and crocs as well as some impala and warthog at the far end of the dam. The following morning we set out on the H4-1 and took a very slow drive passed Nkuhlu towards the big bridge. Twiga pointed out a vervet monkey sitting at the top of a very tall tree and we stopped to take some photo's. I was snapping away and Twigs was observing with the binoc's when we heard the familiar sound of a diesel engine heading our way. While we are never rude, when we are spotting small stuff we usually carry on with what we are doing and let cars pass us by. People usually get the message other times not, but generally they slow down and move off without a fuss. Anyway I'm snapping away and we both notice that this car has now come to a halt right next to ours. Not wanting to be rude, but slightly agitated, we turned around to greet the occupants. This guy goes into an animated frenzy and says "Did you see the LION?". All he got was a blank stare - we thought he was playing the fool because we were photographing a distant vervet. Again he shouts "Did you see the Lion?". "It was standing right behing you, right behind your car! We've all been watching it for 5 minutes now, its moved off into the river." To which he points to another car heading up the road, who stops next to us and says they can't believe we never heard it or saw it as it was so close. We reversed a bit and caught a fleeting glimpse of her running alongside the road and then heading down to the river. We both felt like twits and cursed our lack of luck. But that is the way of the bush. We turned back and headed to Nkuhlu to make our breakfast. We were greeted by the familiar face of Edward, a member of staff there, and the finest ambassador SANParks has that I've met as far as I'm concerned. He remembered us from October even down to where we stay and the car we came in last time. We chatted for a long time and his enthusiasm and love for talking to and helping people was humbling and heart warming. He set up our skottel and went on to help some foreigners down the way and within minutes they were talking to him like an old friend. If anyone from SANParks/Kruger is reading this - here is raw talent, a young man that could be utilised so much better than he is now. We went back to camp at around lunch time to find a surprise for us in our bungalow! Thank you so much. It really made our day and we are so grateful. You know who you are! Anyway we spent the day driving around and saw rhino, lots of elephant and buffalo everywhere, an added bonus was seeing a couple of ground hornbills. We came back down the H4-1 late afternoon and took it very slow. At about 17h15 we had a leopard cross the road in front us. We glided in line with him and watched him as he took us in right next to the road. His eyes were piercing and something we'll never forget is the look he gave us. What a special sighting so close and intense and we were alone again!That also gave us our second big 5 in day sighting. The following morning we headed up my favourite road, the Muntshe Loop behind Muntshe mountain. I love the feeling of isolation and I've always had good luck there. On the way we had 6 hyenas running up the road towards us and we watched them for a good while. They are so strange and their antics are even wierder. They were accompanied by a black back jackal which was a nice sighting too. The Muntshe loop offered up a couple of Kori Bustards and 5 common reedbuck including 2 very nice size males. There was also a big herd of zebra and wildebeest and a big bull elephant with more on his mind than the water he was heading to
. We headed up to Nkumbe and took in the splendid view and then stopped off at Tshokwane for a light lunch. On the way back on the H10 we were taking it very slow as usual and the next thing Twiga shouts "Lion!". I got a better view and shouted "Cheetah!". This big, full bellied cheetah male crossed the road just ahead of us. We managed to stop next to him and he walked with us for about half an hour next to the road. His stomach was huge and it looked like he had a whole impala in there. Just like a cat he marked himself on every tree and bush he walked past, including one of the road signs. Yet again we were the ones who spotted him and were alone for most of the sighting. The reaction of other animals was interesting. Giraffe ran away and then turned and stared at him as he walked by. Blue Wildebeest actually ran towards him and formed a line of defence. Then he came across a troop of baboons. All of a sudden two huge male baboons turned and flew towards the cheetah. What a sight, he took off like only a cheetah can, leaving the baboons eating his dust! I was quite surprised at the baboons reaction and their aggression towards the cheetah. A great day!
SATARA 5 nights
We took the long drive up to Satara stopping at Nkumbe, Tshokwane for brekkie, Orpen Dam and at the Baobab for a photo. Other than that we saw two Giant Eagle Owls, one a juvenile which was nice. The road to Satara has never been good for us and besides a herd of about 150 impalas and another big Kudu bull on the Nwaswitsontso Loop there wasn't much to report. At this stage let me tell you that Twiga and I decided to buy a bird book and start birding. It was great fun and we enjoyed spotting and then trying to identify the birds. We did fairly well I think but we struggled with some of the small birds. We booked into Satara just after 13h00 and decided to take the H1-4 towards Olifants. About 10km up we came across a single lioness on a zebra kill. We took some photo's and when the traffic got a bit heavy we decided to take the H7 to Orpen. On the way we spotted a honeybadger which we were over the moon to see. Time was obviously against us and we hadn't seen too much so we turned back about 15km from Orpen gate. We got to the T-junction where the H7 meets the H1-3 and we ummed and aah'd and decided to turn right instead of going back to camp. We didn't have much time but thought we'd go to the Nwantsi bridge and turn around. As we got to the bridge we both saw it at the same time - Leopard! A juvenile standing right on the verge of the road. We had him to ourselves again and he he hissed and growled at us a bit before walking down the bank. He then lay down in the grass flat on his stomach trying to hide away. It was so cute and so special. This was our 3rd big 5 sighting! Satara was teeming with game and we saw lions everyday. Black back jackal abounded and we came across 2 big male lions and 2 lionesses on a kill on the S100. The day before they had taken down the zebra at the waterhole in full view of everyone. We got to see them fighting over the kill and there were jackal and vultures everywhere. Sweni hide was very nice and we managed to get some close ups of crocs, terrapins, white faced ducks and some jacana's walking on hippo's heads. We also saws huge herds of zebra and wildebeest and a lot of waterbuck. We had one morning where it was very misty and I managed to take some nice snaps with the mist adding an eerie touch. It was this morning where we stumbled across two Fish Eagles mating. We went to Timbavati picnic spot and the road was quiet but we saw a big water monitor, a large group of giraffe and this bird which we think is and Osprey- maybe someone can ID it for us (see pic below-Correction- It is indeed a Juvenile Martial Eagle- thanks for the correct ID) The day before we left we had done all the roads more than once so we decided to travel to Orpen and thats when the ranger took us down to the cam to wave at you guys. It was a great feeling to walk on the place we watch on the internet. Its much smaller and confined than it looks though! On the way back we came across an African Wild Cat next to the road. The last morning we went for a quick drive down the S100 for a look at the lions and we had the luck of having a big male and female lion walk right up to our car and cross the road in front of us. We then headed down to Berg en Dal via Skukuza where we spotted a leopard with an impala kill in a tree. Soon chaos ensued with probably close to 30 cars all scrambling for position. We took some film and after half an hour moved off. We managed to get a good couple of photo's for the Mug of the Month in Getaway though. Soon aferwards we saw elephant and rhino and then at Olifants dam we cam across a pride of lions making it our 4th big 5 sighting.
Berg en Dal 1 night
We arrived late in the afternoon and took a short drive to the Matjulu waterhole but we never saw much. The next day we took a drive around the Matjulu Loop which was extensively burnt and besides a hyena and a couple of rhino there was little else to report. We took the H5 and bumped into a pride of lionesses resting up. Two of them were collared. Shortly thereafter we heard this commosion ahead of us and suddenly we saw these rhino's going crazy. Two younger males were taking on an older male. The fighting was incredible and dust and entire bushes were flung around like crazy. The sounds they made were eerie and dinosaur like. It wasn't long before one of the younger males started dripping blood and soon after they turned around and bolted away. It was crazy and we got some good video footage. We then went to Lower Sabie so Twiga could buy a DVD there and then headed for Croc Bridge and left the park very much depressed.
We stayed at Timamoon Lodge in the Sabie/Hazeyview road. It was brilliant and so luxurious. In all honesty the most romantic setting and it really ended off our trip well. I can definately recommend it for couples who want some time alone after visiting the park. Its the best place I've ever stayed, the service impeccable, the privacy unmatched, and the lodges are out of this world. Decadence at its best.
In total we saw:
1 Cheetah
4 Leopards
Lots of buffalo
Lots of Elephant
15 lions
1 Honeybadger
1 million Impala
6 Ground Hornbills
6 Kori Bustards
Over 10 Jackal
1 Civet
1 Spotted Genet
Hundreds of Kudu, Wildebeest, Zebra, Impala
Lots of Rhino
Lots of Elephant
1 Sable Bull
1 Herd of Tsessebe
Lots of Steenbuck and Duiker
5 Common Reedbuck
1 African Wild Cat
1 AFrican Rock Python
1 Puffadder
3 Water monitors
1 Rock monitor
About 10 Hyena
Birds:
Darter
Goliath,Grey,Black Headed,Great White Heron
Saddle Billed,Marabou,White,Yellow Billed,Open Billed Stork
White Faced Duck
Black Crake
African Jacana
Three Banded,Crowned,Blacksmith Plover
Water Dikkop
Ostrich
Helmeted Guineafowl
Black Bellied,Red Crested Korhaan
Kori Bustard
Double Banded Sandgrouse
Coqui,Crested,Natal,Swainson's,Shelley's Francolin
Lappet Faced, Hooded Vulture
Bataleur
Brown Snake,Fish,Martial Eagle
Red Eyed,Emerald,Cape Turtle,Laughing Doves
Grey Lourie
Brown Headed Parrot
Burchells Coucal
Pearl Spotted, Giant Eagle Owls
Giant,Pied,Brown Hooded,Malachite Kingfishers
Lilac Breasted Roller
African,Red Billed Wood Hoopoe
Ground,Souther Yellow Billed, Red Billed,Grey Hornbill
Crested Barbet
Cardinal, Golden Tailed Woodpeckers
Grassveld Pipet
Fork Tail Drongo
Black Flycatcher
Groundscraper Thrush
Chin-Spot Batis
Long Tailed Shrike
Black Crowned Tchagra
Cape,Burchells Glossy Starling
Red Billed Oxpecker
Red Billed Buffalo Weaver
Blue Waxbill
There were ofcourse a couple of things that were unfortunate:
The many tourists feeding the birds at all the picnic spots and waterholes. The tourists who on either side of us at Shitlave Dam had their radios on listening to the rugby and totally disturbing the tranquility of the scene. The idiot who fed the hyena through the fence at Satara and when Twiga asked him not to, he used the rest of the evening to "vloek" and utter "Haar moer en sy is 'n ....". IDIOT. The people at the dam outside Croc Bridge who tried to work out on the top of their voices what the big bird was on the dam wall, "Dit het bruin vlerke, en dit het..Nee maar dit het nogals baie baie wit.." - for all means discuss it but there is no need to speak at the top of your voices chasing everything in a 10km radius away.IDIOTS. The family who all decided to get out of their cars at the Leopard with kill sighting. IDIOTS. The twits who were speeding around and disobeying the rules-IDIOTS.
As much as these were irritating they in no way detracted from the wonderful trip we had. We have already started planning our next trip!
bwana and twiga
What bird is this? (edit: Its a Juvenile Martial Eagle)
Link to the rest of the photos:
Click Here
Link to report on our Wedding:
Click here
Last edited by
bwana
on Mon Jul 25, 2005 8:48 pm, edited 2 times in total.
All your snakes are belong to us.
---
Translated version below.
Alo a todos .
Sou novo nesta linha preciso mais de uma ajuda no Internete. Sou amiga da Jumbo e ela a juda me a usar o Internete , porque preciso de comtar o terei vesto na paijazam lindo de Kruger.
Eu gusto muito de Kruger porque deixo de ler as historias dos animais nos livro passo a ler fisicamente.
A primeira vez ospedei no Biyamiti e as duas veses no Crocbridge e na terca-feira de novo a Biyamiti.
O primeiro animal que vi foi o elefante na entrada de Malelane Gate. Estava no rio. Quando vi foi uma supresa e cheia de alegria gritei "Haa, o que e aquelo?"
.
Pela Segunda vez o elefante, estava a distancia de um metro na Crocbridge e som da hiena e liao toda noite pela aredor da ospedaria.
Atriceira ves vi a familia leiao alimentando-se da girafa muito perto da rua gostei mas com grande sintimento de outro que ja nao tinha vida.
Terca-feira vi os dois renicerontes bebendo agua a distancia de vinte metros ficamos durante um tempo, era volta das 15:00 na James waterhole.
E Quarta-feira denovo vi 3 vezes os rinecerotes antes das 10:00.
Na primeira vez foi na S139 eram dois, na Brume road era um grupo de 4e a saida vi mais 1 que estava so.
E vi Ground Hornbill na Brume road. Era a mae e seu bebe. O bebe queitado sorava toda esfomiado.
Vi tambem o Fish Eagle quarto veses, e um passarinho muito bonito e grande tem 4 cores pescuoso branco ,enfrete e castanho,boca e pernas amarelos e azas pretos.
Vi o Brown snake eagle e Martial eagle.
Por tudo vi muitos outros animais incluido buffalo e elefante nos deu muito medo quando ia-mos quase sair, vinha emfrete do carro toda apressado. (Jumbo minha amiga tem muito medo do elefante
)
Fui muito prazer …
Sempre
Zebra
[quote]Jumbo's attempt at translation (apologise if it is not perfect).
Hallo everybody
I am new and am still inexperienced at working on the Internet. Jumbo is my friend and will help me to put this on the Internet because I also want to share what I see in Kruger.
I like Kruger very much. In the past I was only able to read about it, but now I am experiencing it.
On my first visit I stayed at Biyamiti, after that I stayed in Crocbridge twice, and on Tuesday we stayed in Biyamiti again.
The very first animal I have ever seen was elephants at the entrance to Malelane Gate.
They were in the river. This first time I got very excited and said "Haa, what is that?â€Â
---
Seen the 7th september 2005 4:00pm near the Shingwedzi camp.
We were verry lucky to see 2 cheetah's on the road juist on front of our car. We oberved them more than one our.
Greetings from Belgium
Last edited by
Selamat
on Mon Oct 03, 2005 12:36 pm, edited 1 time in total.
---
Distinguished Virtual Ranger

Posts: 492
Joined: Thu May 26, 2005 12:00 pm
Location: At work longing for the outdoors!
Bosnimf did a quick tour for some American guests to KNP over the weekend... Had a stunning time.
Baboons grooming: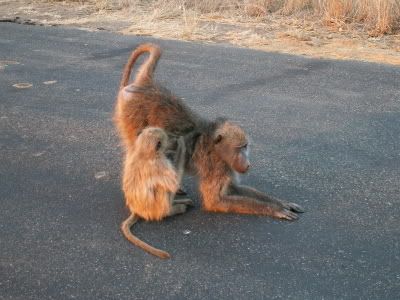 Big pride of lions on the H6 (tar road to Nwanetsi)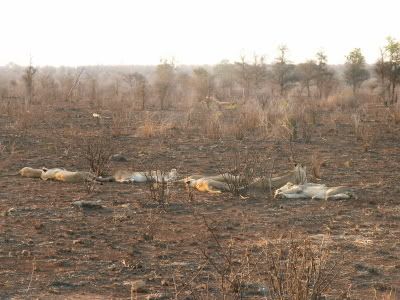 Same pride... two young male's lying DIRECTLY next to the road...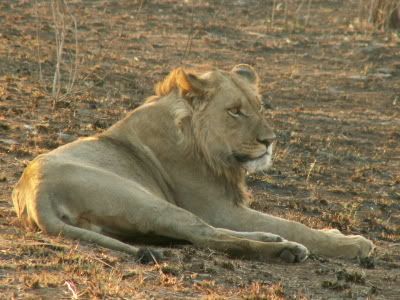 This was on the S41 just south off the S100, they found this lioness stalking zebra. She moved as if in SUPER slow motion
paw by paw
(BNF took same GREAT video clips on her digital by i don't know how to post them
) while another lioness and male was also present.
She then charged the zebra but missed. The male also tried and failed. It was AWSOME to see a big male lion in action
They kept following them and boom they charged again and caught a Kudu bull! They were extatic... she says it was amazing to see AND HEAR how the lionesses ripped it apart... (one of the guest said she were going to be sick
)
(
some video clips again)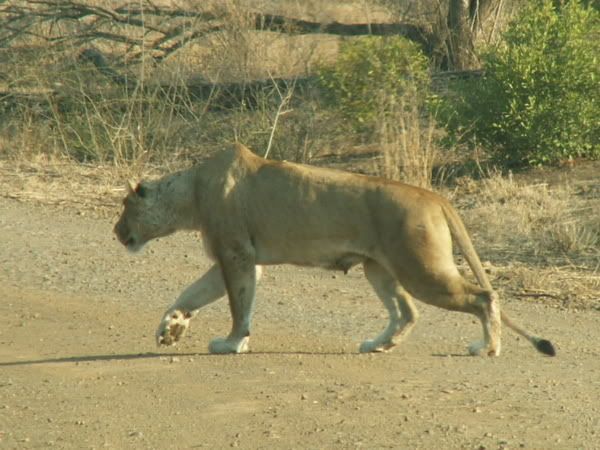 Last edited by
Jakkalsbessie
on Tue Oct 04, 2005 1:11 pm, edited 1 time in total.
---
Posts: 2
Joined: Wed Jul 06, 2005 2:26 pm
Call me Lucky. Over the past weekend I spent 1 night at Pretoriuskop. I arrived at Malelane gate at 11am on Saturday making my way to P/kop on H2-2. I saw at least 9 White Rino, 2 Big Ellies and a lot of general game. And on the Fayi loop on the koppie 6 lions. 2 Females with 4 cubs. And on the same day on the numbi road there was a herd of about 200+ Buffelos. So from 11am to about 4pm I got 4 out of 5. not bad??
On Sunday early start', I started with 9 White Rino on Shabrni loop. A mother with a very young calf. Making my wat to Skukuza on the S1 I spotted another 11 White Rino, 2 Thethesebe, Hyena and some general game. From Sukuza to Malelane gate I Spotted a Njala , a small herd of buffelos, black back jackal. And a herd of ellies with 2 young bulls battle in the road for a least 1 hour. And finally about 2 km from the gate there they were, 2 huge male lions relaxing under a bush about 10 m from the road. Lucky!!!! I left the park at about 3pm on Sunday afternoon.
---
---
Junior Virtual Ranger

Posts: 92
Joined: Mon Feb 14, 2005 3:54 pm
Location: Venetia, Limpopo
Hi all,

In usual traditon herewith brief trip report - period - 24th - 27th Nov, camps stayed at Skukuza and satara.

In general not too many sightings, most animals may have dispersed with rains throughout park ? Didnt see ele's along Sabie river as they appeared to be abundant there during the last winter - did see herds nr Stevenson-Hamilton memorial though and out in the bush.
Park nice and green, and those old burnt areas were looking great with carpet of green - nice roads to see that landscape - Nwatimhiri, Renosterkoppies rd, tar rd section - Orpen rocks area,
Rhino - Orpen rocks,
Buffalo - herds nr Mavumbye, Satara and all over there in scattered groups.
Lion - one male between Bobbejaankrans & Rabelais dam on that sand rd.
Nice plains game and herds on plains north of Satara - zebs, wildebeest, etc. North of Olifants has had less rain, and not as green.
Common reedbuck - 2 females, near Ntomeni vlei area, n Satara (where that strangler fig cloaks the leadwood).
Interesting behaviour observed - giraffe courtship at Tshokwane.
Thicktailed bushbaby in the eaves of Satara reception area- look there in day.
Night drives - same past complaints (see threads on that)- drivers wanting to get drive over and done with and involved in excessive amount of personal things, ie. speaking on his cell phone - not acceptable.

Otherwise,good, park looking nice and green, and grass understorey is nice and short - anyone going to park south & central is in for good scenery and all.

Yours,

w
---
---
Who is online
Users browsing this forum: No registered users and 4 guests