Hi - this is to be my first ever trip report, and having read through some of the fantastic reports and seen so many stunning photographs being currently submitted, I began to doubt whether my humble offering would be of interest to anyone. However, I've decided to give it a go so here goes...
Our trip took place over 10 days in late March / early April 2011, staying at Skukuza, Satara and Mopani rest camps. This was only our second venture to Kruger, we first visited in February 2010, staying just 5 nights, following which we were totally overwhelmed by the experience, and just had to come back for more.
So on 24th March we arrived in White River, worn out and hoping for a good nights rest, to recover from our 24 hour journey from a cold and wet Northern England, via Paris, Johannesberg, and Kruger airports.
Tomorrow we enter Kruger and the adventure begins...
Day 1 - Numbi Gate to Skukuza
We arrived at Numbi Gate around midday, having stocked up on food and essentials at the Pick & Pay supermarket in White River. Through the gate and were off, full of excitement and anticipation. It was a quiet start with no sightings until we reached Shitlhave Dam on the H1-1.
First photograph of the trip was this Lilac Breasted Roller - thought I'd get some practice in with the camera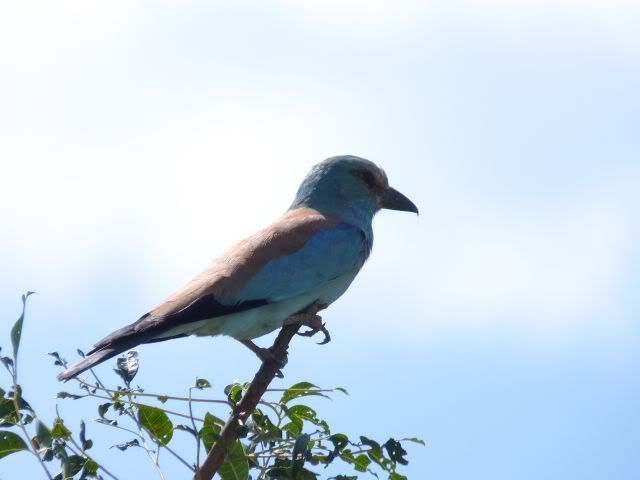 Our first mammal sighting was a couple of Waterbuck, cooling off in the margins -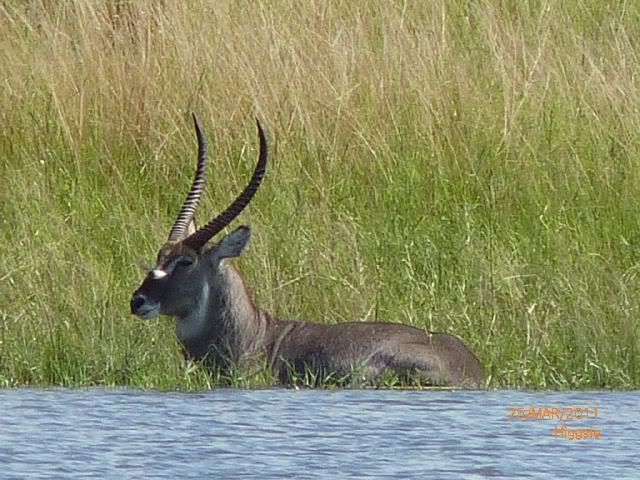 It was a hot afternoon, and as we sat and ate lunch in the car, we saw another pair of waterbuck in the shrubs by the road. A female stood grazing whilst a magnificent male lay down in the grassy shade, avoiding the hot sun -
We headed off, spotting another pair of buck just along the road, and a fish eagle perched in a tree top. Continuing along to Transport Dam, it was again quiet, then onto the S65 dirt road we started to get a few more sightings, impala, zebra, giraffe and a lone male wildebeest -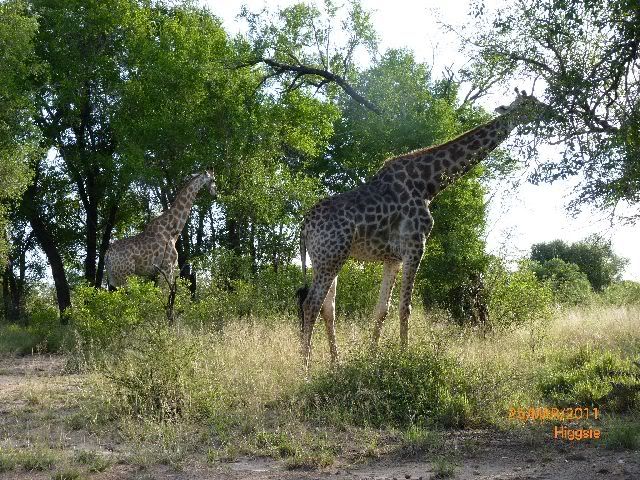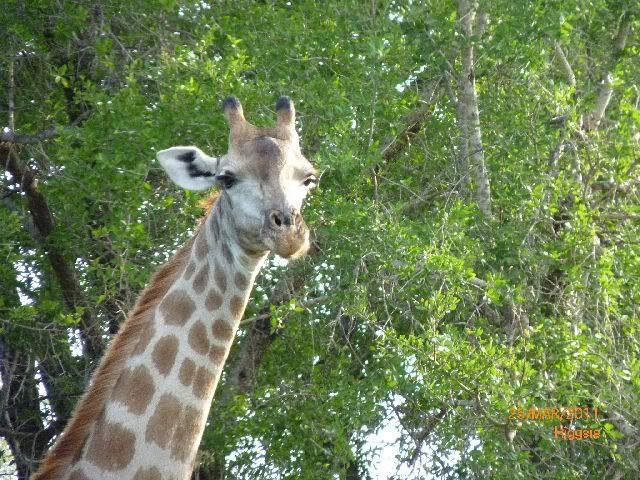 Where the river crossed the road, we came across a couple of competing fishermen -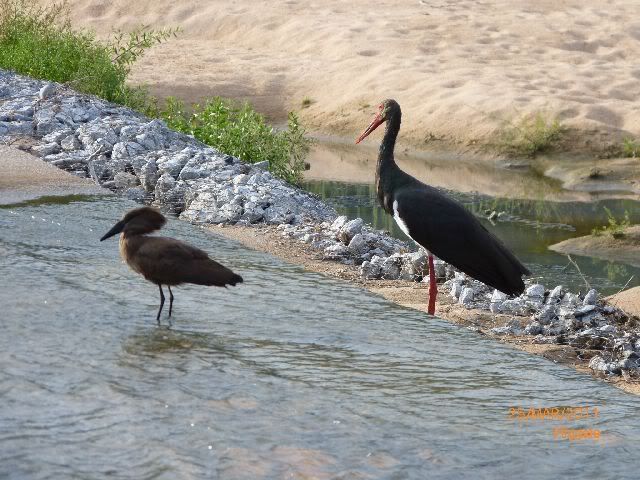 We arrived at camp and made our way to our bungalow - it was No. 90 with a lovely river view. We set out on foot for dinner at the Selati restaurant. We got completely lost
so decided to return to pick up the car and drive there instead. That didnt work either and we again got hopelessly lost again
. We were almost on the verge of giving up hope of finding the place, but eventually our persistence paid off and we got our dinner in the end. Lets hope our attempts at tracking down the wildlife are better than they are at finding our dinner !
Higgsie
---
Legendary Virtual Ranger

Posts: 6883
Joined: Wed Mar 16, 2005 12:38 pm
Location: In the shadow of Table Mountain
Nice start Higgsie.

I think your lilac BR is a European Roller.

Where in Lancashire?
Whatever (according to BB): "You are correct but I don't want to admit it".
In a world of grey, be
RED
---
Day 2 began with an early start as we'd booked onto a Sunrise Game Drive, leaving camp at 05.00.
First up was this pair of young hyenas lying by the road. They appeared extremely calm and relaxed - cute almost
but arent most animals when they're young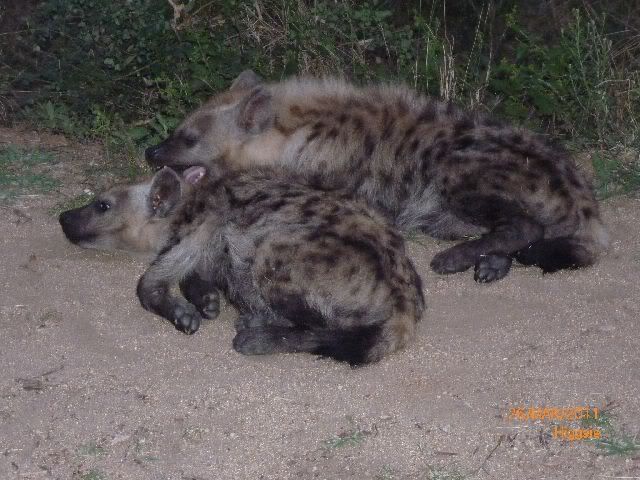 A bit further along we came across a group of 5 white rhino - a little way off in the bush but a wonderful sighting nevertheless and the first of our big 5.
Please let me know whether I should be mentioning Rhinos on here - the sightings were over 6 weeks ago, and I'll not mention any specific locations
Another cutie
The rest of the drive was fairly quiet, we did see occasional game - impala, wildebeest, warhogs and kudu, plus Saddle billed and red billed storks and a fish eagle by the river.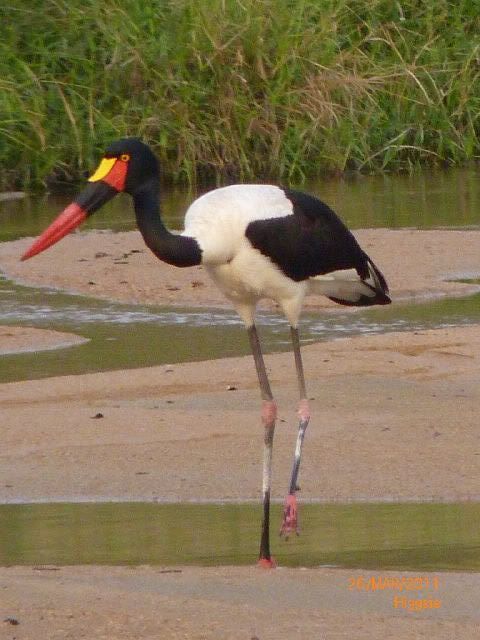 In the afternoon we drove ourselves out to Afsaal picnic site hoping to see wild dogs but the journey was quite uneventful. The plan was to turn off onto the H2-2 and then head back towards Skukuza on the S114 dirt road. However, at the junction we found the S114 closed northwards so had to rejig our plan. The time seemed to be flying by and even though we had a couple of great sightings of 2 rhino and a magnificent bull elephant we didnt stop as it was getting late and I was really concerned about not getting back before the camp gates closed. Its amazing how the time just evaporates and its so easy to get engrossed in a sighting. We did make it back in time, and finished off the day with our first Kruger Park braai - it was wonderful to be able to eat out under the stars
Day 3 will be along shortly - sightings do start to improve - trust me - maybe we just needed a couple of days to get our eyes tuned in
---
Day 3 - Skukuza to Lower Sabie and return
The plan was to head down the Lower Sabie Road, a route reported to be a real hotspot for sightings, so off we went in eager anticipation. A short rain shower wet the tar road, bringing out a family of vervet monkeys to sit in the road and drink from the puddles.
"Whos that down there ??"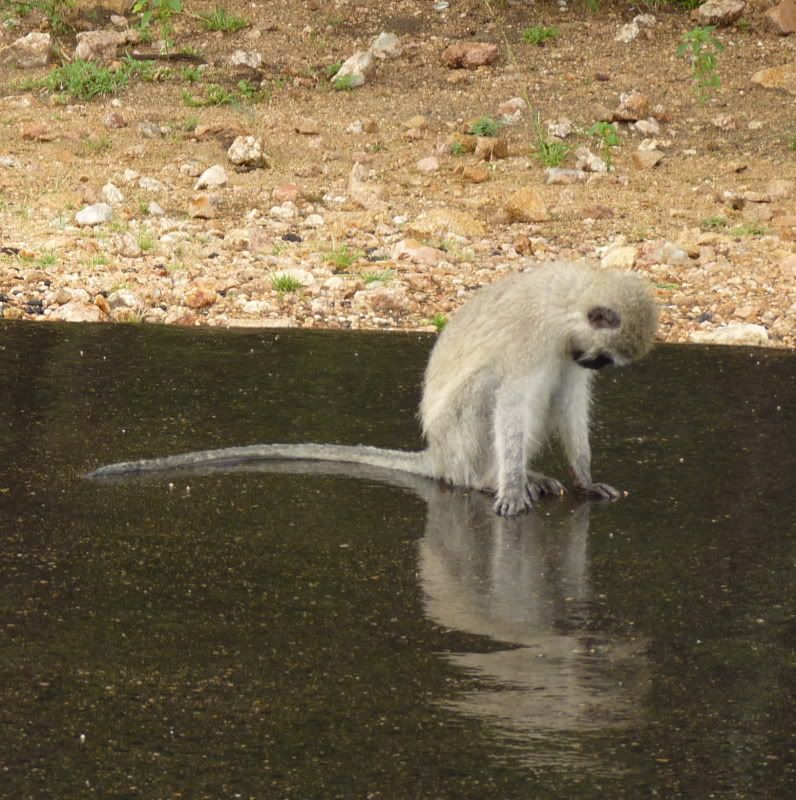 Then up ahead a small cluster of cars were stopped - this must be a significant sighting we thought - well hidden but easily identifiable was a huge male lion with a magnificent dark mane, laid up and relaxing in the shade. After watching for a while, a second big male appeared as if from nowhere to join his companion. We got a great view with the binocs but couldnt get a decent picture unfortunately
More cars gathered, it was a Sunday and probably the most popular route in the Park, afterall. So we moved on, happy bunnies now and very excited
Shortly after we came across our first family of eliphants. They were browsing right at the side of the road, we got a wonderful sighting of 4 adults with 2 youngsters.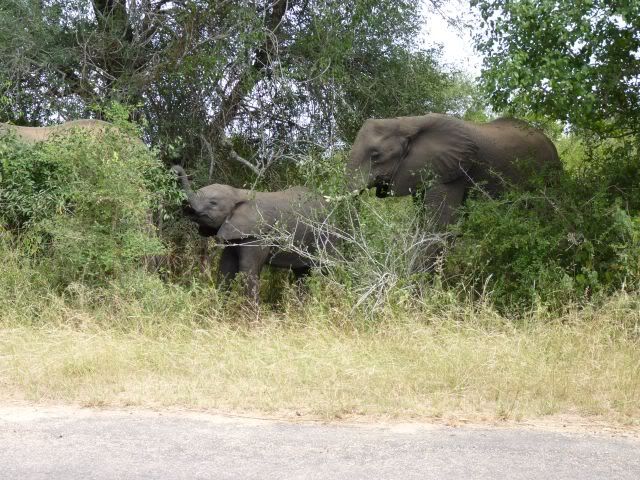 The group then moved onto the road ahead of us and started walking along it, forcing a car to reverse up as he'd got boxed in by another vehicle crawling alongside him - I bet he wasn't too impressed with the other driver. We sat back and watched, waiting to see what happens. Incredibly, another car then passes us and the 6 eli's became completely boxed in - not a clever move in our opinion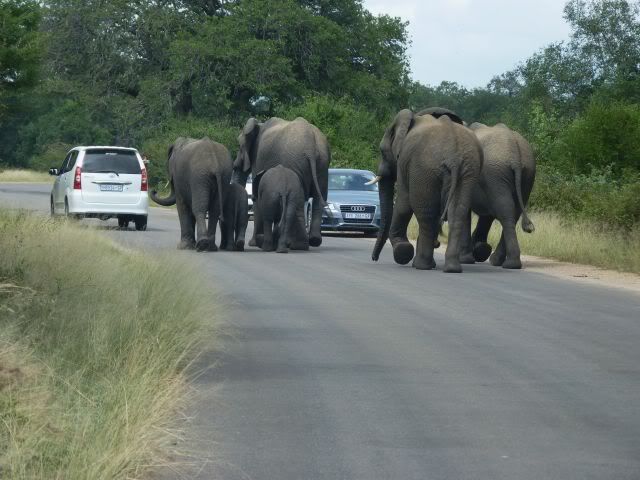 Soon the eli's move off the road and into the bush - I'm sure we heard a massive sigh of relief from the driver of the reversing blue Audi at that point
At Nkuhlu picnic site we stopped for our very first Skottel breakfast - what a great way to break up a fabulous morning - bacon & eggs in the open air - sometimes the simple pleasures can be so wonderful and memorable
Julie - the 'ROOKIE SKOTTELER'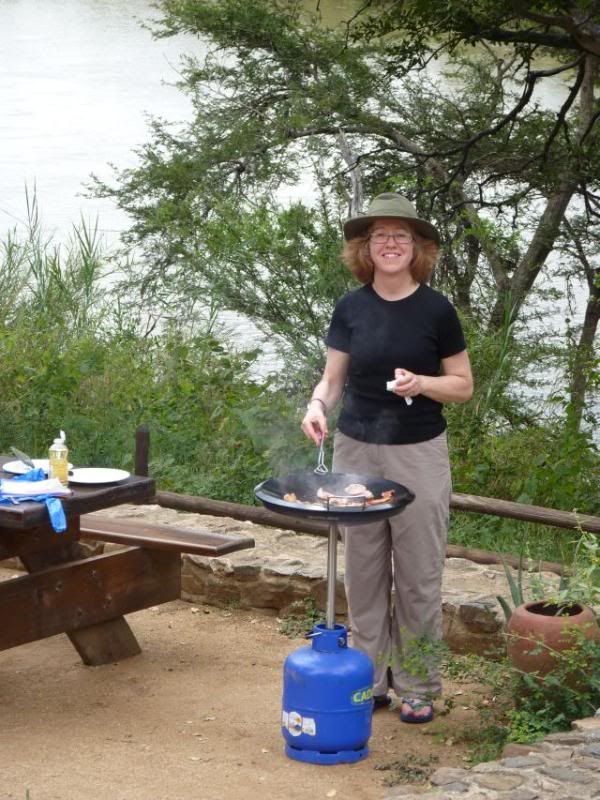 Whilst there, a cheeky vervey monkey took advantage of a young family setting up for breakfast nearby. As the parents went to the shop, leaving their 2 very young kids at the picnic table, the monkey pounced on a bread loaf and shot up a tree with his illgotten gain
Sadly, I guess this monkeys days are probably numbered as he seemed to be making a nuisance of himself
Breakfast over, suitably refueled and refreshed we journeyed on. A short stop at the waterhole revealed a group of 5 eli's at the far side of the dam, clustered together in the shade of a tree at the waters edge.
Then, up ahead , another cluster of cars were spotted - what now ?
Lion again
or should I say lions
In the shade of the shrubby undergrowth a pride of lions lazed.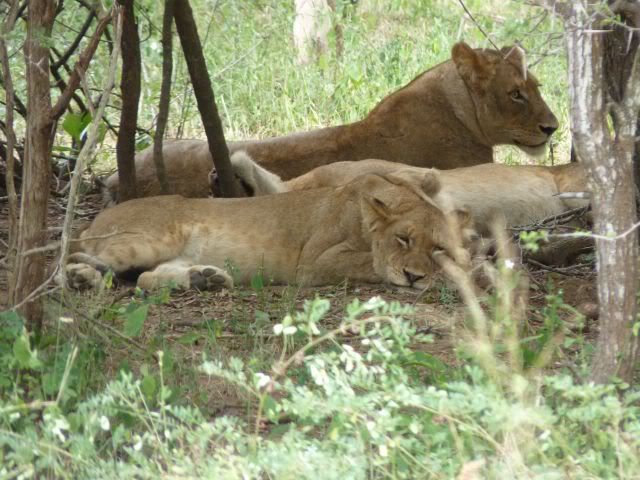 How many
5 or 6 maybe ? We sat and watched in awe. They appeared so comfortable and at ease - sleeping, dozing, grooming, all laid down in a tight close group.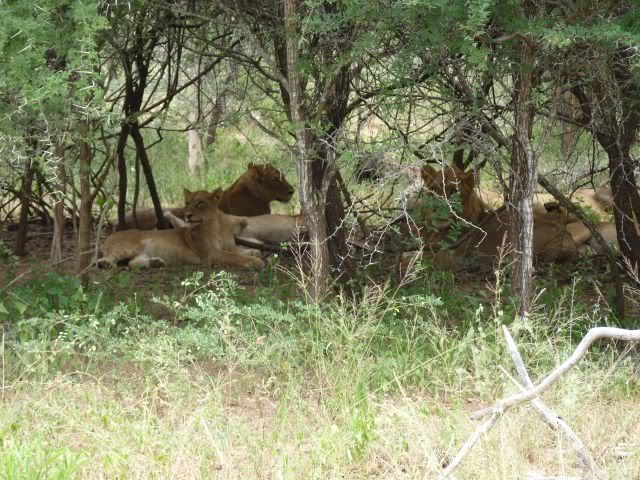 We counted 8 in all, 1 male and 7 females (we think ?) A stunning sighting - 1 lioness (the one on the right in the photo, had a collar fitted - so I assume this group is very well known and studied ?
After a short lunch break at Lower Sabie, we headed out towards Mlondozi Dam. Sighting became less frequent - a group of kudu and numerous families of warthog were spotted along the way. At the Picnic site overlooking the dam we were alone except for a solitary monkey. The view down over the dam was stunning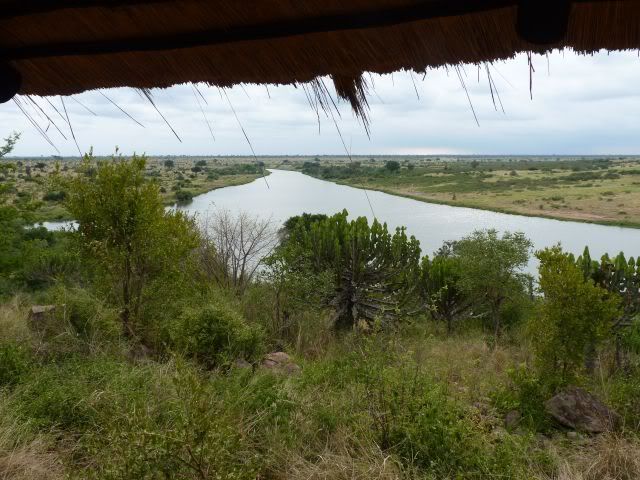 and we could hear and see numerous hippos down below.
We headed back along the Salitje Road spotting numeous game along the way.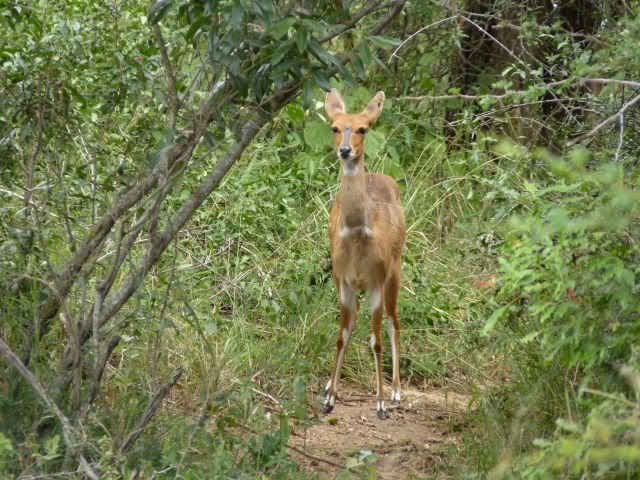 At the H12 bridge over the Sabie River, we were forced to stop by a large troop of baboons scattered across the bridge, sitting and grooming each other in the middle of the road. One large baboon made us laugh
he appeared to be hanging on to the railing whilst fast asleep, with a deadly drop into the fast flowing river below.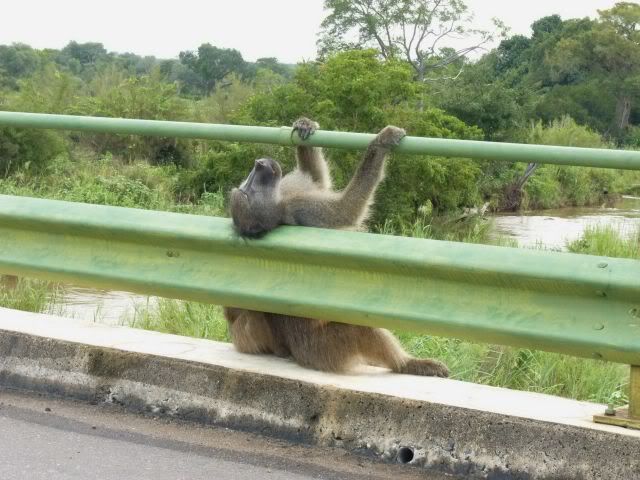 Back to camp and another Braai supper
Wow - what a day we'd had - an absolute treat
Higgsie
---
Day 4 - Skukuza to Satara
As we looked out from our riverside bungalow that morning, we could see the Sabie River had risen considerably overnight with lots of debris was being washed downstream. A lone buffalo was grazing on the far bank opposite our room. We headed off intending to take the H1-2 from camp, however the rising river had resulted in the river crossing being closed, so we retraced our route from yesterday along the H4-1 towards the H12 bridge. From there we stuck to the main tar road, stopping off for lunch at Tshokwane picnic site en route to Satara.
Along the way I spotted a lone rhino in the thicket, looking our way. It was back in the bush, slightly obscured by tall grass. He ? moved a little towards us and I could now see he was a Black Rhino
, and a quite agitated Black rhino at that
. He moved again towards us, his demeaner aggressive and agitated
Before I could get a decent photo I was summoned by Julie to put down the camera and drive
Good idea, he definitely had an unfriendly look about him, and as I drove away, he came right to the edge of the bush to see us off - grumpy old git - the rhino not Julie
Exciting stuff, and our first 'new' sighting.
A couple of sighting along the way
Martial Eagle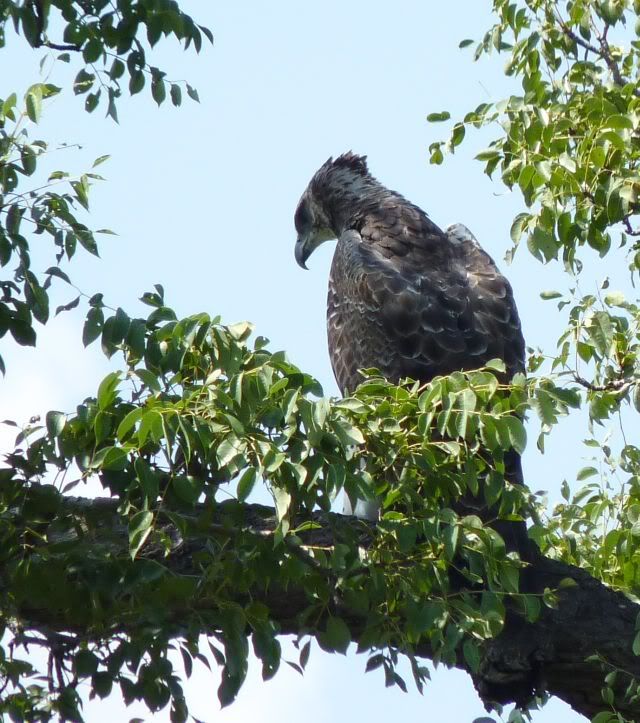 'Big Ears !"
The remainder of the drive to Tshokwane was fairly uneventful, until we spotted an eagle up ahead suddenly dive out of the sky towards the ground and we knew it had maybe caught something. We turned a corner and as luck would have it , there it was , slap-bang in the middle of the road right in front of us - a magnificent Bateleur with its hapless victim.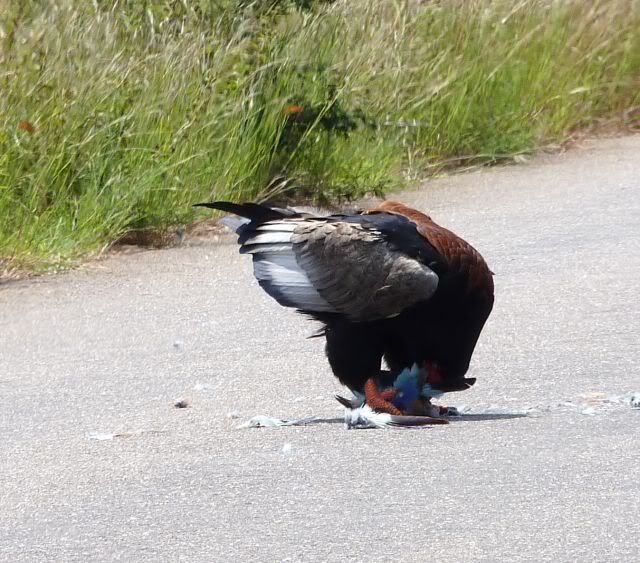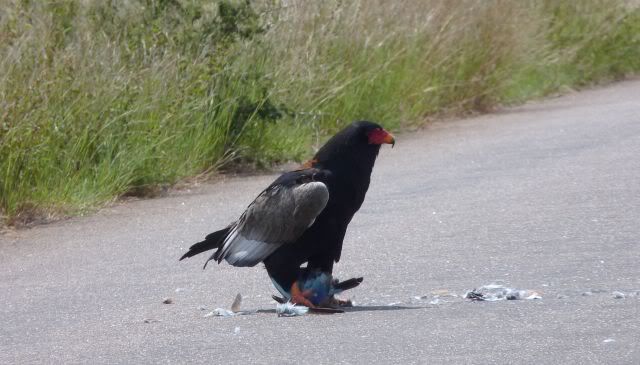 It ripped the roller apart, taking a few mouthfuls on the road before flying off to a nearby tree to
finish off its lunch.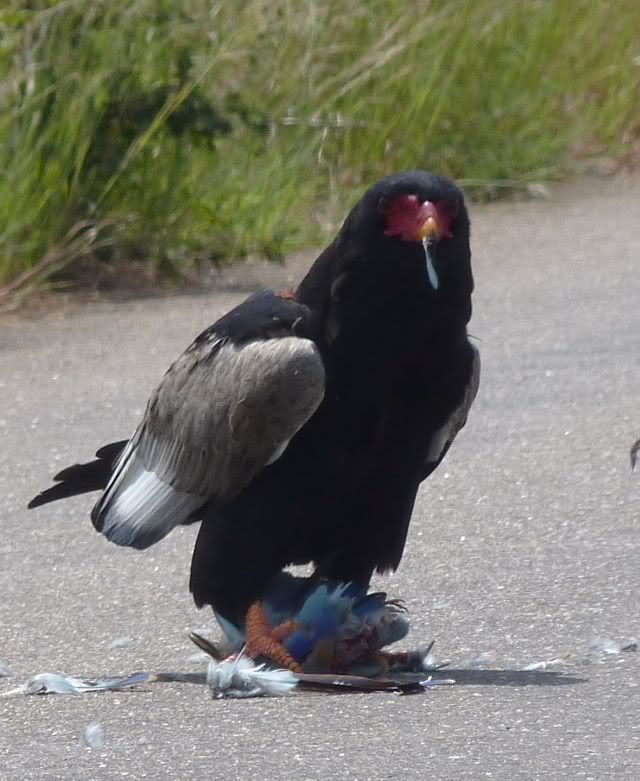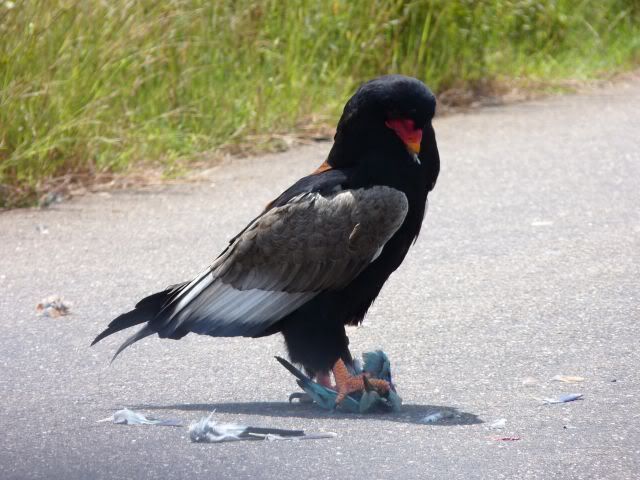 One of the great things about Kruger, is that you never know whats around the next corner, and events like this are just mere chance encounters, often for just a few fleeting seconds, yet remain fabulous memories for life
We lunched at Tshokwane before continuing our journey to Satara. It was quiet along the tar road, so we pulled off on to the S86 loop. Up ahead and blocking our way was a big female eliphant - what to do
so we sat and waited to see what she decided to do
We sat and waited a coiuple of minutes, at a good distance, ready to reverse back out if necessary. She moved off to the right, but only to be replaced by another, then another eliphant. There was a big family of them, maybe 15 strong - a mix of adults and youngsters - a wonderful sighting and so exciting to be up close to these magnificent creatures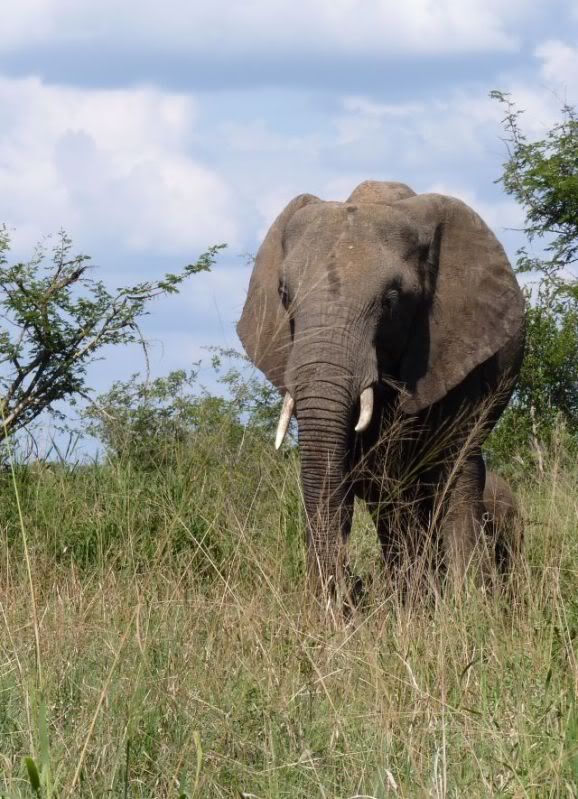 A little further along we came across this scrub hare - sat bold as brass in the shade by the roadside.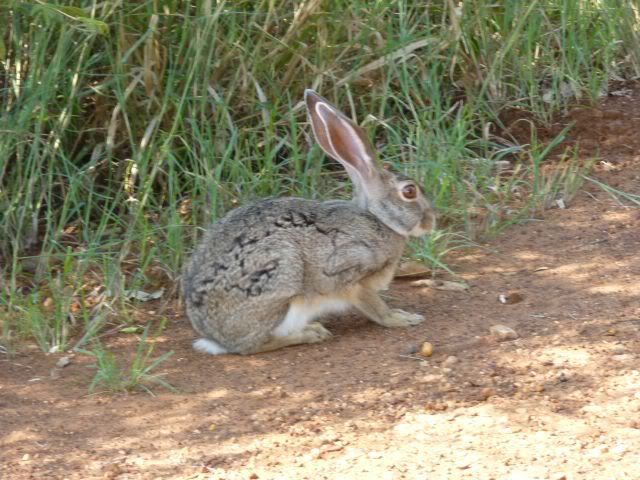 In the middle of the day it just sat there and never moved, even when we drove right past it still stayed put - strange behaviour we thought
Back on the H1-3 a couple of cars were pulled over - interesting - what now ? We stopped and tried to work out where they were looking. We couldn't see anything - so we had to enquire - " a leopard in a tree" was the reply - but where
We pulled along a few yards to try to get a better view - and there it was - draped over a large low branch, completely motionless and probably sound asleep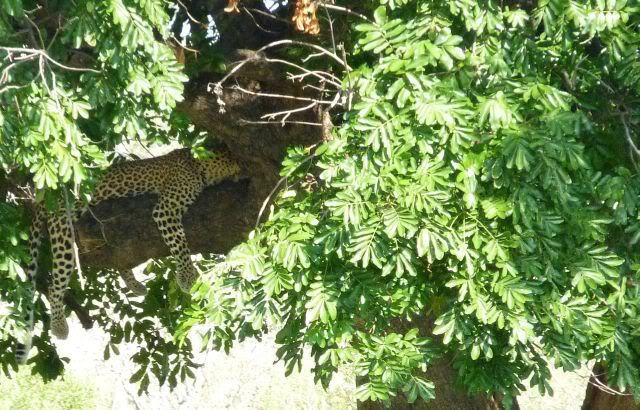 A few cars came and went, until we were the only ones left at the sighting. The big cat still didnt move and as a couple of other cars arrived, we passed the sighting over to them and moved on.
As we neared Satara camp the game started to increase in numbers - zebra, impala, wildebeest, giraffe were all present in good numbers.
It was 4 pm as we checked in, and we had pre booked on the evening Sunset game drive so we had a mad rush to find our bungalow, drop off our gear and return to reception to board the truck, leaving at 4.30.
The Sunset Game Drive was full and we headed off down a 'private' dirt track just north of the camp entrance. There was plenty of wildlife about - wildebeest, impala and zebra in good numbers and this lovely Steenbok ram.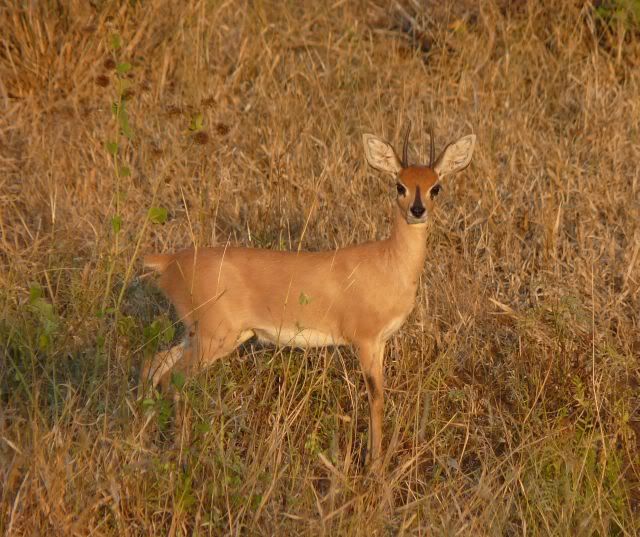 Before the sun went down, we came across a group of 3 white rhino, a bachelor group of 3 buffalo and a Black-backed Jackel, which decided to hide behind a shrub before I could get in position with the camera
"George - Is this my best side ?"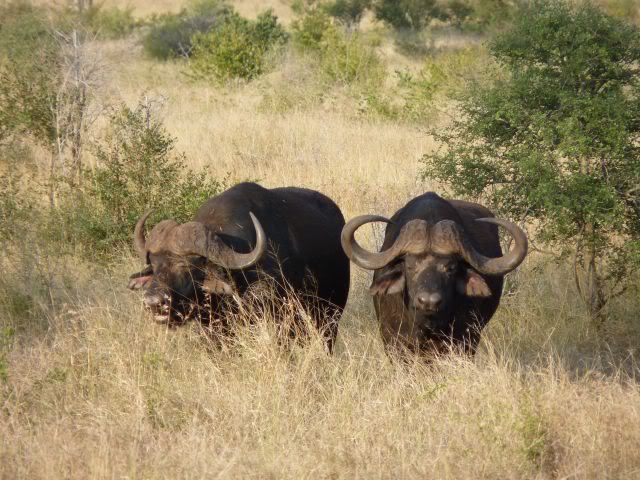 3 pairs of Kori bustard and an ostrich were spotted before the beautiful sunset brought on the darkness.
"Did you hear those buffalo - such posers"
In the darkness, and utilising the spotting lamps in the vehicle we had further sightings of a pair of B-B jackel, another 2 rhino, plus eliphant, hippo and a small-spotted genet
Almost at the end of the drive, heading back towards camp, in the headlights of the truck our guide picked out lions in the road up ahead. Excitement grew as we got closer
. There were 5 lionesses out hunting and they spread out into the vegetation by the roadside - totally focused on their task for the night - catching a meal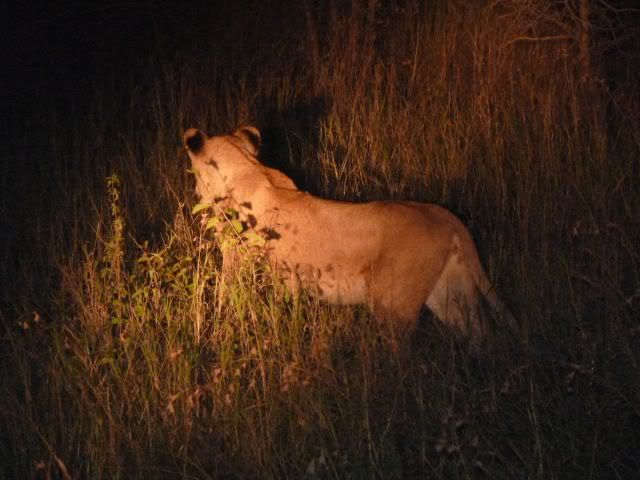 We returned to camp elated and exhausted - another magnificent day in Kruger
Higgsie
---
Thanks again Cheetah2111 and vgstephens and welcome along - Rookie and Gemma T ......
Day 5 - Around Satara
From our perimeter view bungalow (BD2V) we could see buffalo, wildebeest and giraffe grazing the adjacent plain. The wildebeest were very active and a bit agitated - I wondered if a big cat was out hunting
or just wishful thinking on my part
We set off down the S100 - the site of our lion sighting from the previous evenings drive. A pair of Wooly-necked storks were perched high up in a dead tree.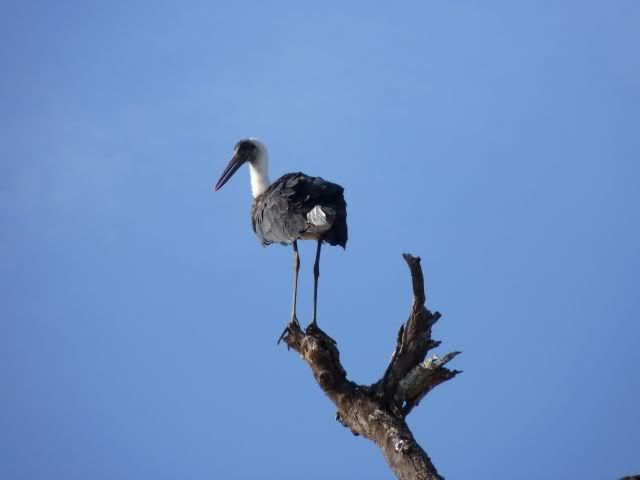 Along the route we encountered numerous game - Zebra, impala, wildebeest, occasional waterbuck, a pair of kudu and a small troop of baboons.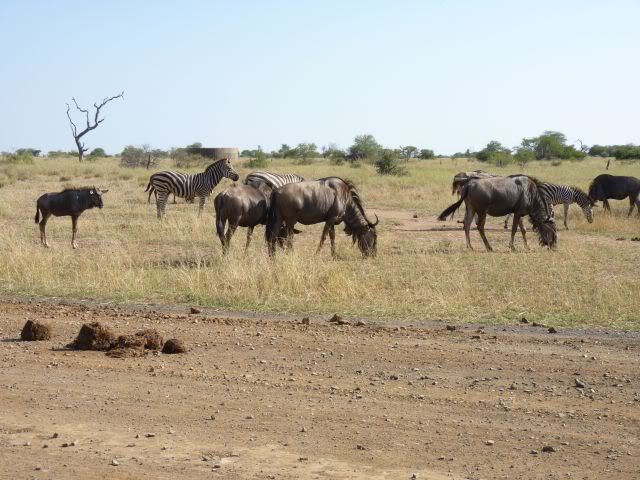 A hippo wallowed at Gudzani Dam. A short stop was taken at the lovely, shady N'wanetsi picnic site, with its wonderful mural backed viewing deck, before returning to camp along the H6 tar road which revealed plenty more game and 1 big eliphant but no sightings of major significance unfortunately.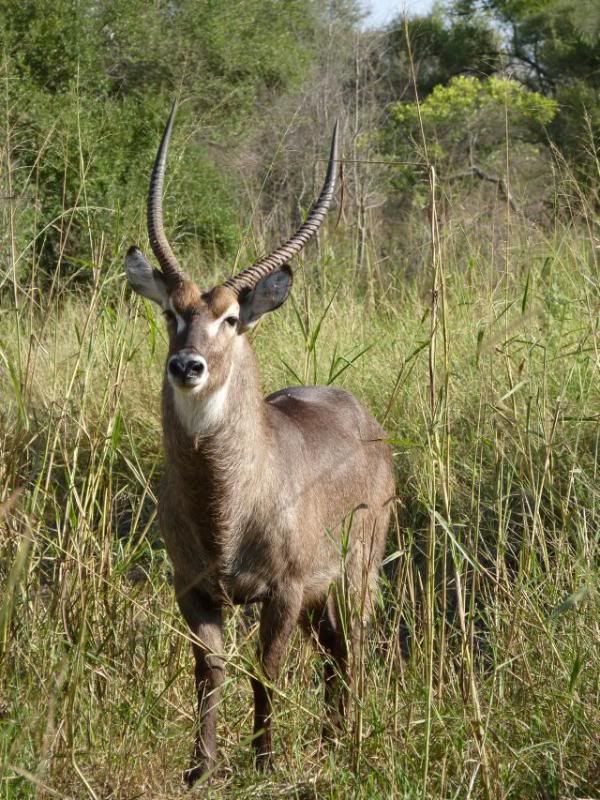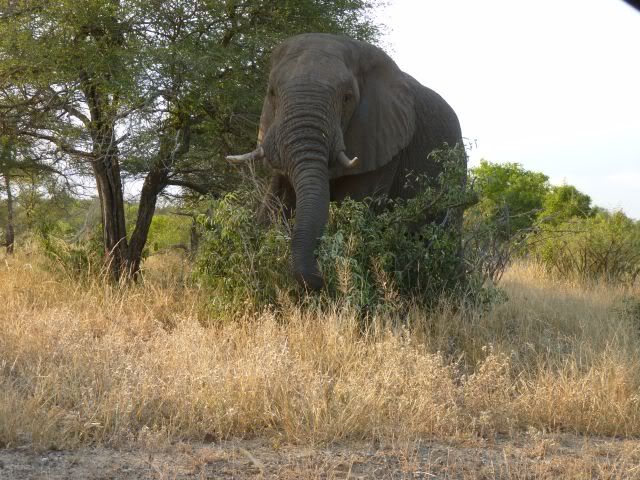 At Sonop waterhole there was a herd of impala and zebra present - the impala were a bit skittish, with a couple of rams chasing the females around.
Back to camp for lunch - Our afternoon drive consisted of clockwise loop taking in the H6, S126, S36 and H7. Close to the camp there was a high concentration of Zebra, wildebeest and impala, but it was hot and apart from occasional game sightings - waterbuck, giraffe, steenbok the drive was disappointing. With about an hour left before the camp gate was to close we pulled off the H7 onto the S12 dirt loop - a lone eli was spotted at Girivani waterhole. Finally, with the clock running down we drew up at Nsemani Dam for the last half hour of the day. Lots of other vehicles were there too. There was a large herd of impala spread around the dam and a few baboons too. At the far side of the dam a huge herd of buffalo were passing through. A few were stood in the water but most were on the move and the herd just kept on coming and coming - there were hundreds of them.
Time up - we headed back to camp.
After the excitement and spectacular sightings of the previous 2 days, today seemed a bit disappointing - but it shouldn't have - after all, wildlife sightings are fleeting chance events and the excitement of the unknown would soon disappear if you always knew what was going to happen next.
Day 6
Satara to Mopani
Heading north on the H1-4 tar road we came across a group of vultures (lappet faced ?) in a tree by the road. We stopped to photograph the birds.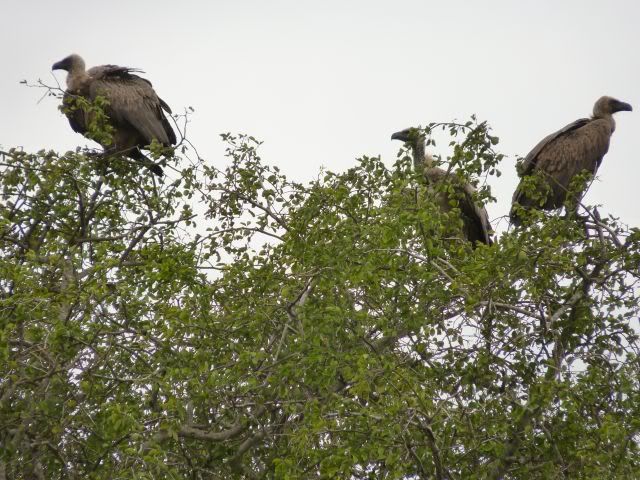 So engrossed in studying the birds, we were completely oblivious to the presence of an approaching white rhino from the other side of the road
until he was almost on top of us - he strolled across the road right in front of us and then melted back into the bush - fantastic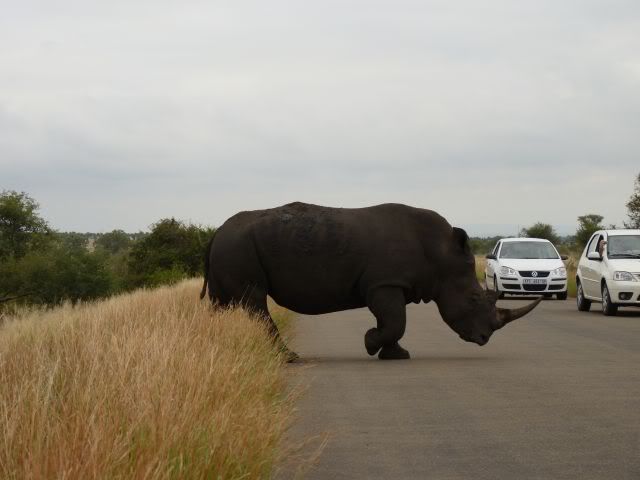 A mid morning stop for coffee and cake at Oliphants - that view over the river is stunning, before continuing on to Letaba for lunch - with a maybe even more stunning river view from the restaurant area ? We sat and enjoyed lunch - watching eliphants, waterbuck and buffalo by the river down below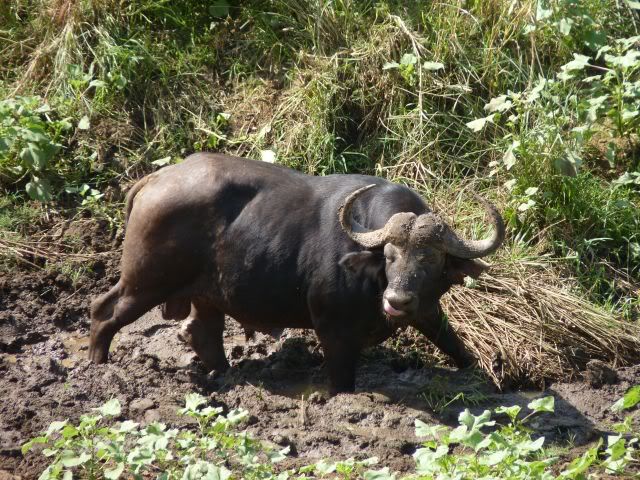 Heading off towards Mopani we pulled off at Middelviei waterhole to find a lone buffalo drinking.
A big bull eli approached and we sat and watched this interesting scenario unfold for quite some time - the eli lumbering closer to the waterhole 'ears flapping' and not happy with the buffalo's presence. The buffalo knew its place and backed away, but the eli didn't drink from the waterhole, but continued past to a circular concrete tank nearby and drank from there instead. Whilst all this was going on a dung beetle was rolling a dung ball across the ground in front of us - how on earth do they manage to move such an object around
and wouldn't they be better making it a bit smaller and more manageable too
Nearing Mopani we pulled off the tar road onto the Confluence loop - very soon we realised we were right amongst a big herd of buffalo - they were right by the track on both sides of us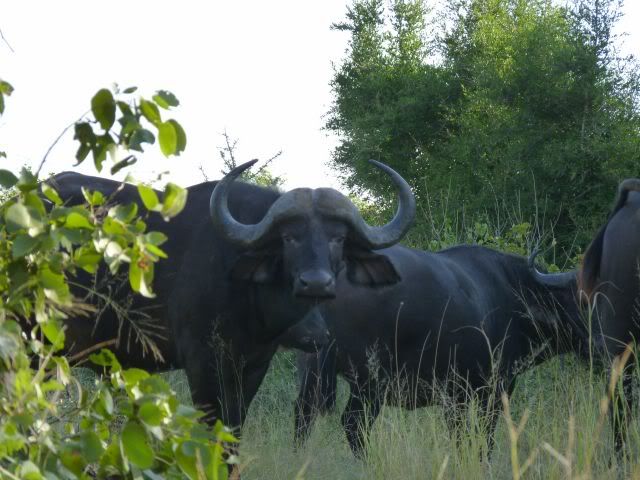 - we were a bit concerned to say the least
- should we try to reverse out or sit tight and see how things unfold
We eventually carried on - everything was ok and the buffalo continued grazing happily.
We reached Mopani, a couple of big elis spotted along the way in the Mopane scrub.
We were lucky enough to have been allocated one of the bungalows with a view over Pioneer Dam (No. 49) and it was a truly stunning view and location. Hippos grunted from the dam immediately below us - what a wonderful end to another great day - plus a few beers and a braai to finish off the evening - heaven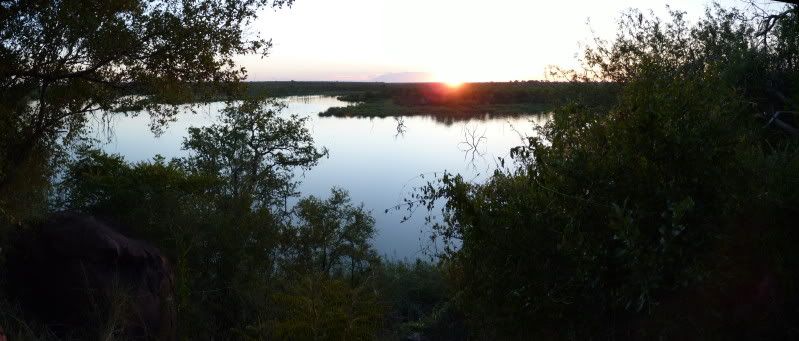 ---
Hi - thanks John n poppy, Elzet, Roaneric, Meandering Mouse and fenwickh
Bush Baptist wrote:Your vultures are white backed.
Thanks - dont know why I thought they might be Lappet faced - totally wrong
- must use the Birds ID book next time before posting
Bush Baptist wrote:I have been to Kruger 22 times and never seen a blackie
Here's hoping that its 23rd time lucky for you , Bush Baptist
Cheetah2111, Micetta, WELSH_ASH, vgstephens, and bushcraft - thanks for the input - much appreciated
Day 7 - Mopani
We took the day off today and just relaxed in camp enjoying the view over the dam,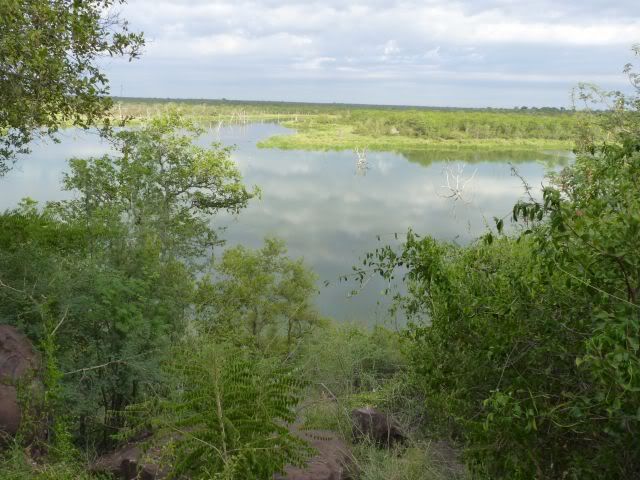 listening to the grunting of the ever-present Hippos down below, watching crocs drifting and cruising by and watching the numerous birds, Green Wood-hoopoe and noisy Grey Lourie, come and go, and a goliath heron fishing on the far side of the dam. Julie read her book and I caught up on my notes for the TR.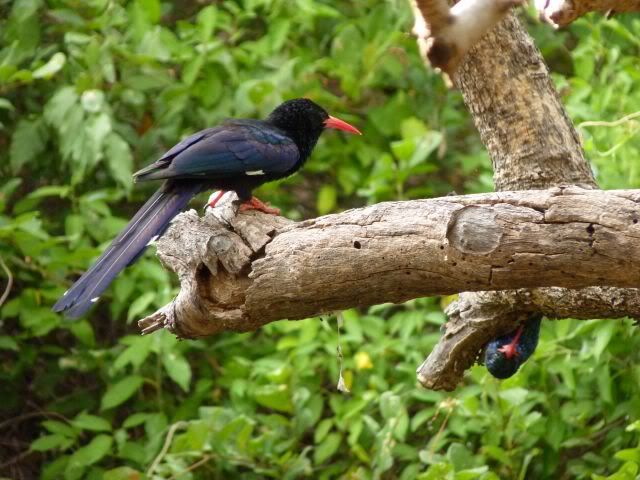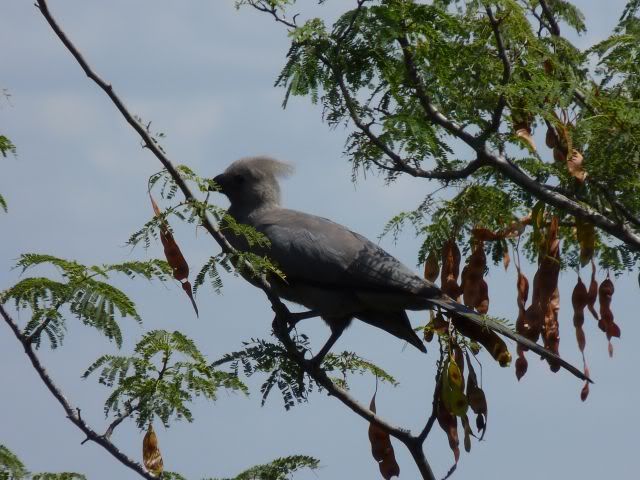 At lunchtime we were joined by 4 local residents - our tuna mayonaisse sandwiches must have smelt very tasty to them
Rock Monitor looking for lunch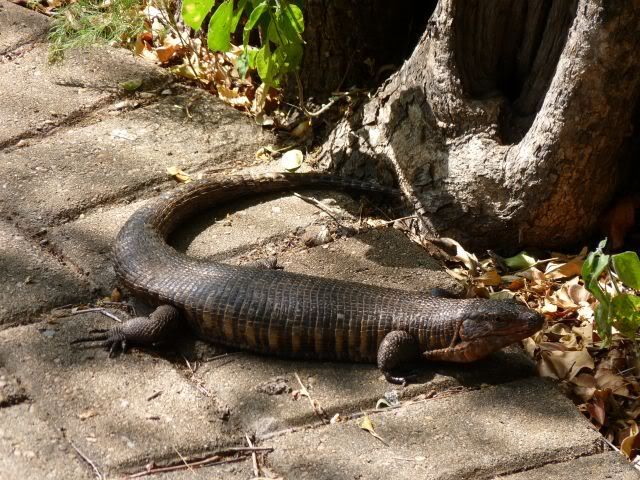 and friends
That evening we took a Sunset Guided game drive from camp. We were the only 2 people booked on it, so we had our own private game drive
We saw many lone eliphants on the drive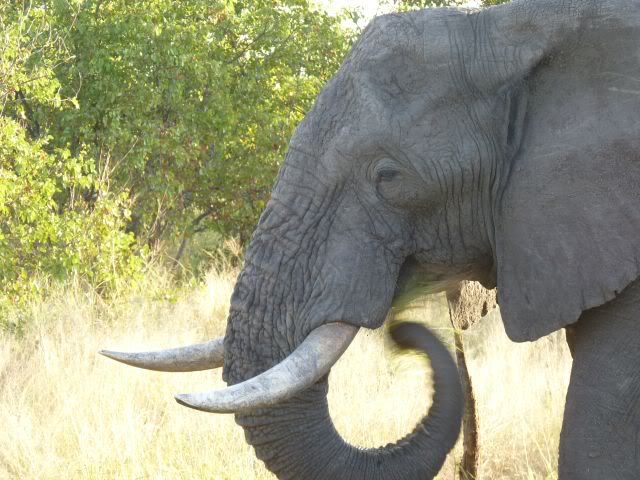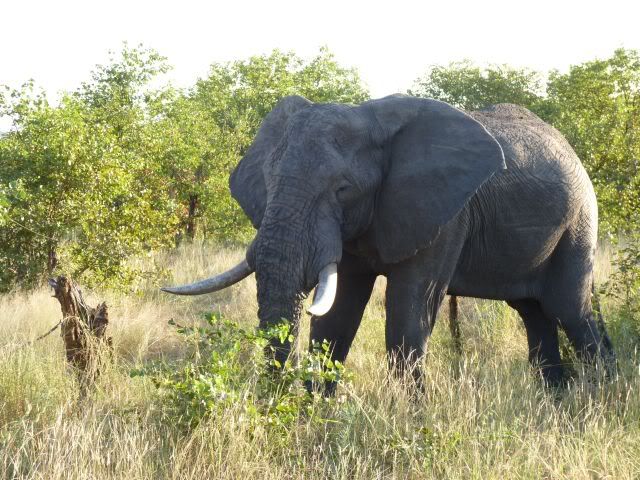 including one huge bull in mustt, (not the eli in the pics) he was walking along in the road ahead of us and did not want to let us past
After watching the sun go down, we continued our tour of the dirt / tar roads - sightings included a pair of BB jackel, cameleons, a greater eagle owl and a spotted eagle owl (both on the road rather than in trees) and the highlight of the drive - a beautiful African Wild Cat - what a stunning creature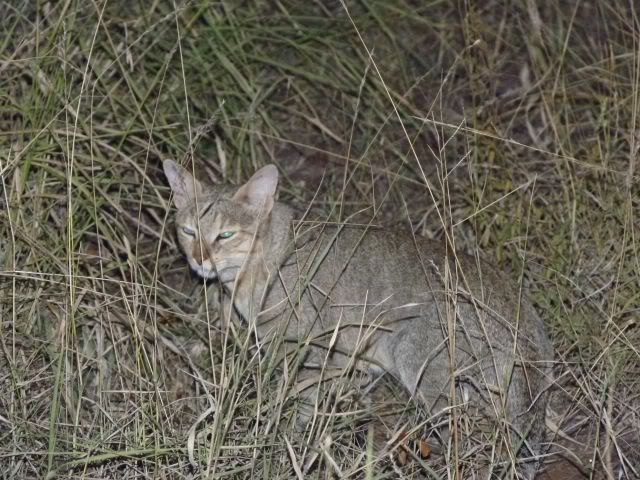 and fortunately I managed to get a half decent picture even though it was pitch black that night - very lucky
Higgsie
---
Hi Bushmom and welcome along - Micetta, Bushkrazy and Barcelona - sorry missed welcoming you along in my earlier post - thanks everyone for your kind words of encouragement
Day 8 - Tour north to Red Rocks
Before leaving camp we checked the sightings board, a couple of coloured dots indicated cheetahs on the S143 Tropic of Capricorn Loop, which the Head Ranger confirmed were genuine sightings
We set off north along the H1-6, passing eli's along the way, mainly lone bulls but a couple of family groups, one drinking from a water tank.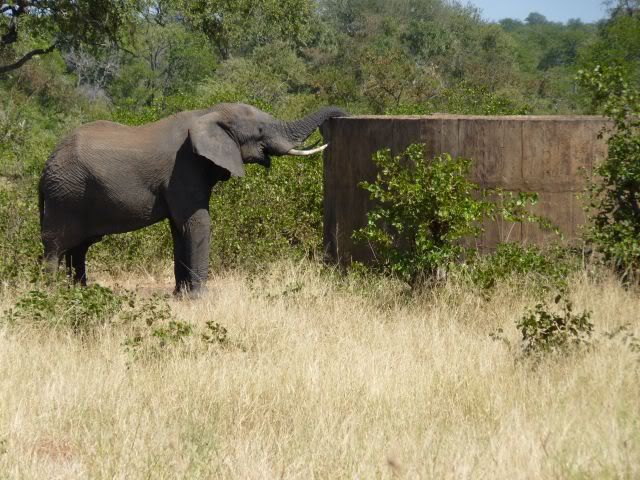 We took a detour onto the Tropic of Capricorn loop to look for the cheetah, but no luck – will try again on the way back.
Another large bull eli was encountered at Olifantsbad pan and 5 Ground hornbill were 'playing' in the roadside vegetation
We toured the Red Rocks loop, the day was extremely hot, spotting general game and occasional eliphants.
Red Rocks formation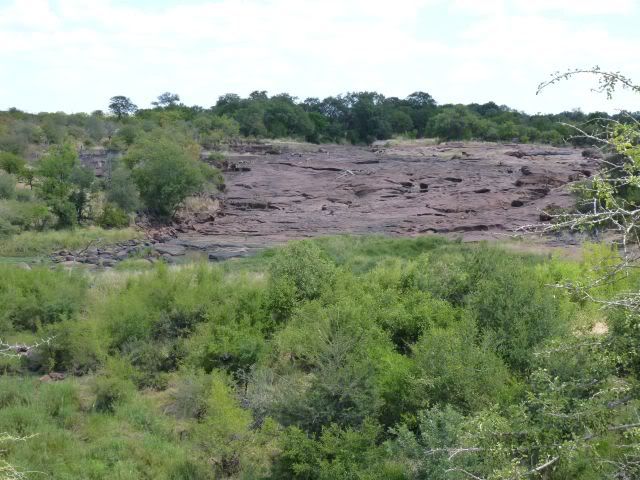 Giraffe and Eagle at Waterhole
Brown Snake Eagle at waterhole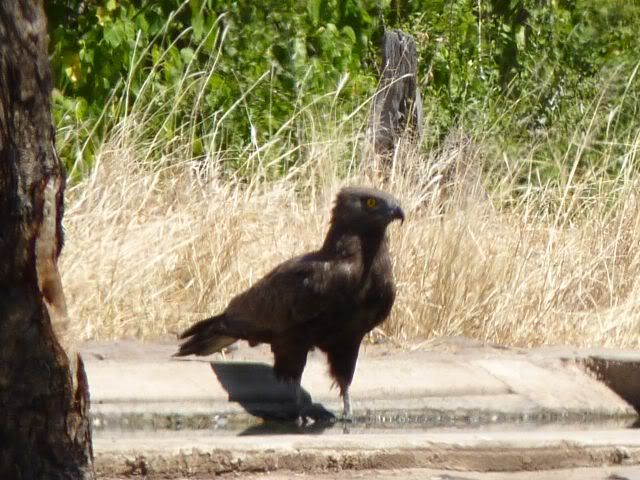 At Tshanga look-out we stopped for lunch - a rustic picnic spot with a couple of stone tables and log seats under shady trees – although we were the only people there, I must admit I felt a bit uncomfortable – like I was being watched - were we really alone or was there something nearby watching us
On the way back, more eli's were encountered including this one standing by the river under the shade of a tree – resting his trunk on his tusk.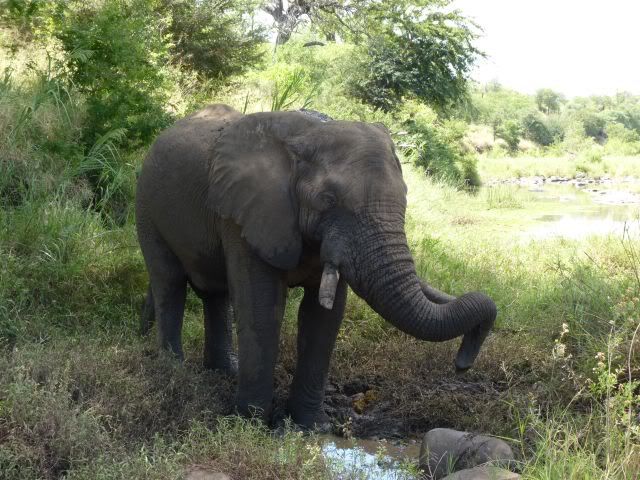 The road along the north side of the river had a very 'leopardy' feel about it with lots of big trees along the riverbank. A couple of female nyala popped out of the bush as we drove along – we stopped and watched a while – hoping a male might be around
- this was our first sighting of Nyala and the males looked mighty impressive in the pictures we'd seen of them - sadly none appeared
Family group of giraffe
Waterbuck family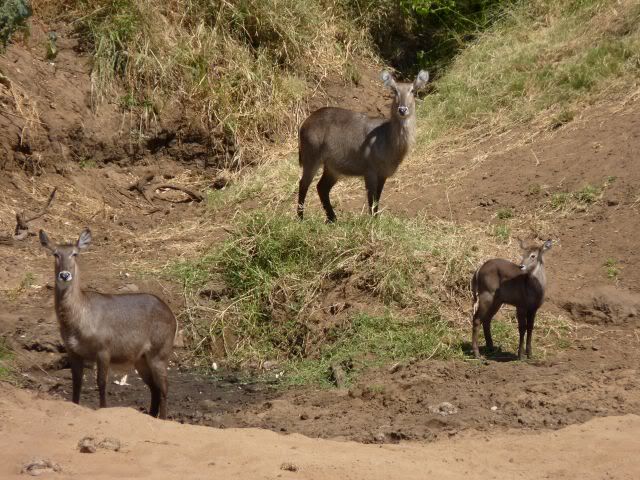 Dung beetle - busy doing what dung beetles do best
We returned – still no cheetahs, unfortunately. A lone bull buffalo was drinking at a waterhole – he looked rather sad and very old – with no horns only his cap left - poor old fella - I felt quite sorry for him
Back to camp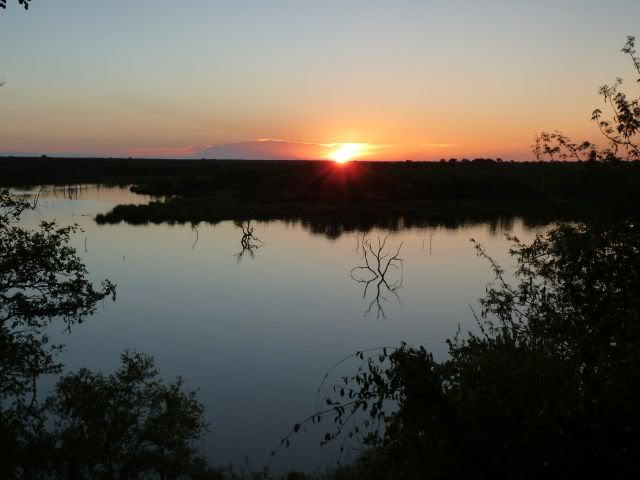 Back very soon - just need to resize some more pics for day 9
Thanks Higgsie
---
Thanks - vgstephens, Micetta and Kamadejo......
Continuing on......
Day 9 Morning drive - we decided to taker a circular tour of the S49, S50 and H1-6, before breakfasting at Mooiplaas picnic site. Wildebeest, eli's, a couple of steenbok and a magnificent kudu bull were encountered on the way to a waterhole on the S50.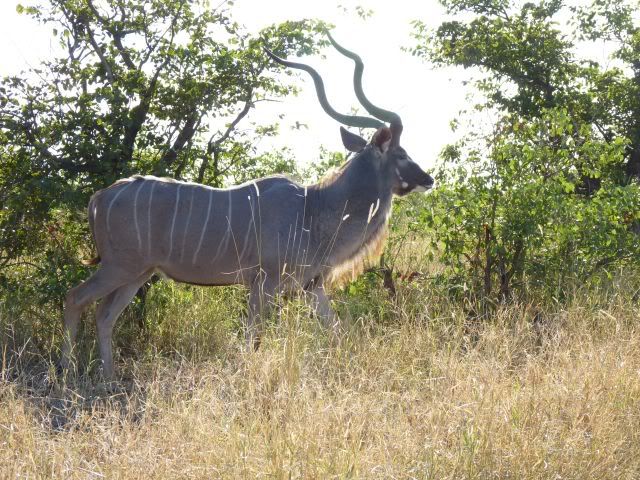 I really think that the male kudu is a truly stunning and majestic beast
. Approaching the waterhole we passed a fish eagle perched in a tree, and we could see a group of about 6 kudu in the distance - running away from the waterhole - excitement increased as we imagined the possibility of predators around
. At the waterhole the kudu had disappeared. 4 spoonbills were preening and a hamerkop waded around. Heading back, the fish eagle was still resting in the dead tree. We turned north on the tar road heading towards the picnic site for breakfast. Shortly after the turn off for the confluence lookout (where we'd encountered the buffalo herd 2 days before), we came across another smaller herd of buffalo, 6-8 adults and 1 calf, grazing by the roadside.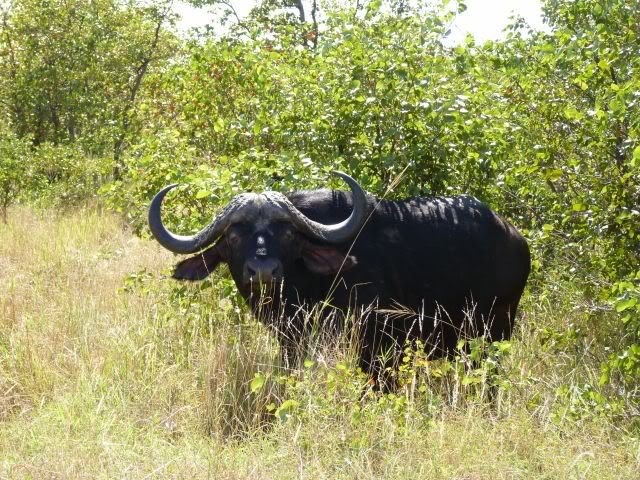 We'd had a great mornings sightings but now that skottel fry up was top of the agenda. Only, about a km further up the road we were confronted by a big adult hyena stepping out of the bush to our right about 20 metres up ahead. It crossed the road and dropped down the banking to our left. We stopped, looking and listening for its whereabouts. We could hear rustling in the grass but couldnt see it. It then reappeared again, this time behind us, it then crossed over the road again, came along side us and back across the road in front of us.
Curious behaviour
- it seemed a bit confused and acting strangely - we wondered if it had perhaps become detached from its clan and become a bit lost ??
So we finally got to the picnic site for the skottel breakfast - bacon, eggs and tomatoes taste so good outdoors. The site was busy - and a lovely place to rest up, refuel and relax after a wonderful mornings drive. We continued after breakfast taking a short detour to the Shipandani and Pioneer dam hides. At Pioneer dam 4 hippos - 2 adults and 2 young were out of the water and playing on the far bank.
A green backed heron was fishing in the margin just below the hide. We continued along the Shongololo loop but it was very quiet only 1 impala showing itself in the now heat of the day, so we turned around and headed back towards camp. On the way back we came across 20 or more impala, 3 giraffe and a pair of waterbuck at Shipandani hide - its amazing how the animals appear and disappear from view - one minute theyre there - next minute theyre gone
. We returned to our bungalow for an afternoon rest and to get our breath back - it was a breathtaking morning and all within 15 km of camp.
The afternoon break gave me chance to catch up with my diary notes and soak up the wonderful views of the dam from our bungalow. It was another hot and sunny day, with a few scattered high clouds, but a refreshing breeze was blowing in off the dam - perfect....
We set out later, deciding to head for the Tropic of Capricorn loop still hopeful of a cheetah sighting. At the waterhole, the spoonbills we'd seen earlier in the day were still there, and had been joined by a pair of saddle billed storks, which were putting on a great display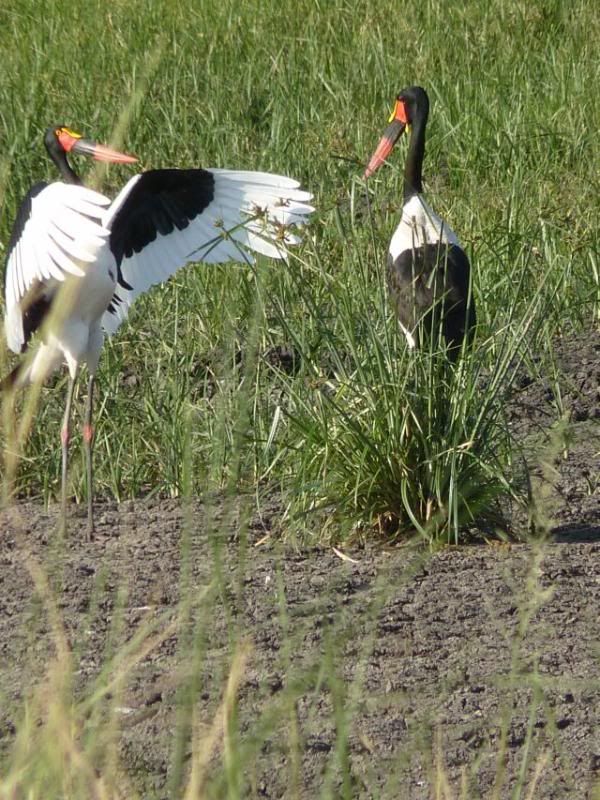 We continued along until we came across a large herd of zebra, - upon closer inspection we could see a number of tsessebe mixed in amongst them - it was great to come across another new species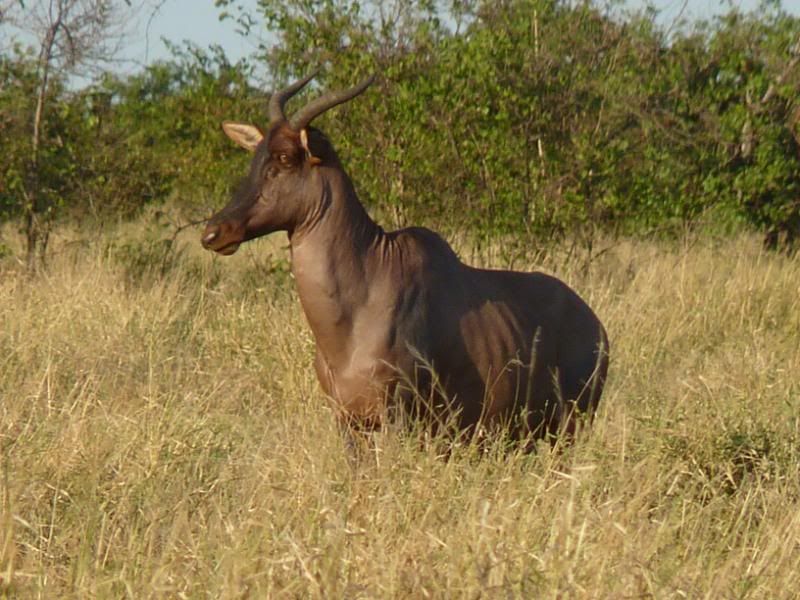 - strange looking beasts they are
. Carrying on, a huge martial eagle was perched in a tree, having just finished off a meal - what a stunning bird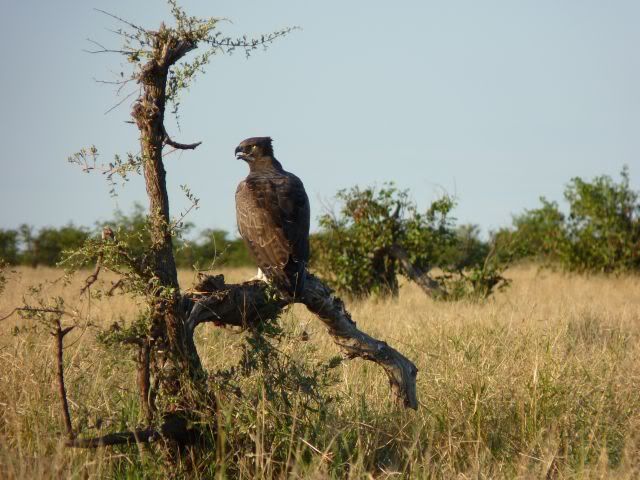 3 pairs of kori bustard were encountered
before we came across a major road block halting our progress to the main tar road. Buffalo - and lots of them
. We stopped , held back, watched and waited. They were all around - adults, juveniles and young. We were excited and apprehensive at the same time.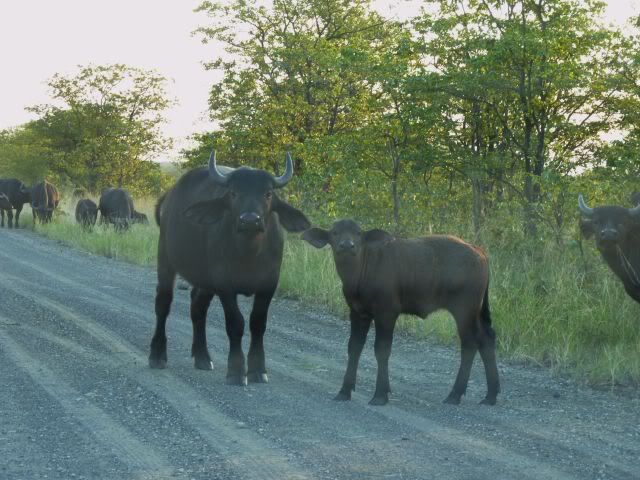 Once again time was running short - we really needed to get moving in order to get back before camp gates closed but what could we do
A slight gap in the herd allowed us to creep forward and we made it through and past the herd safely - but my heart was beating like a drum - wow exciting but a bit scary too
A dash back to camp saw us in through the gates with a couple of minutes to spare.
All in all a terrific day in Kruger, once again
Higgsie
---
Day 10 - our exit drive to Orpen
We said goodbye to Pioneer Dam, to the grunting and bellowing hippos and to our lovely bungalow and headed south on our final drive, heading to Orpen Gate and back to 'civilisation' beyond…
Again, Kruger's unpredictable nature kicked in, and we drove 20 km from Mopani without a single sighting
. A lone impala ram was our first sighting of the morning, and then once we'd broken our duck, this was quickly followed by a majestic Kudu bull, a couple of playful mongoose by the roadside and a kori bustard. A further quiet spell followed before we reached Middelviei waterhole where there was a hive of activity - around 50 wildebeest were spread around on both sides of the road,
plus around 15 zebra and a couple of dozen buffalo
. A pair of warthogs crossed the road just behind us - we stopped a while enjoying the scene.
I always loved to stop a while at waterholes with windmills - turning the engine off and listening to the animals, to the wind rustling through the shrubs and the squeeks and whines from the slowly turning blades of the windmills - always a very atmospheric experience - filled with anticipation, excitement and calm too
At Letaba bridge we got out to stretch our legs - a large croc was basking on a sand spit below.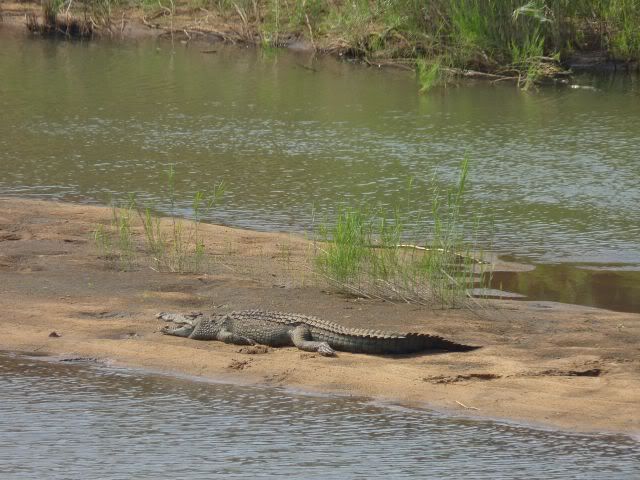 After crossing the bridge we decided to take a detour onto a dirt loop, the S95. Stopping at a look-out point over the river, we saw our first eli's of the day. A group of 10 were in the river, along with a few hippos, with waterbuck and impala on the riverbank too.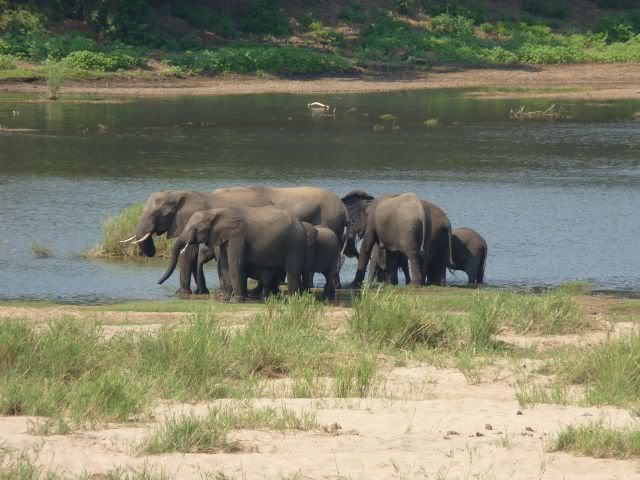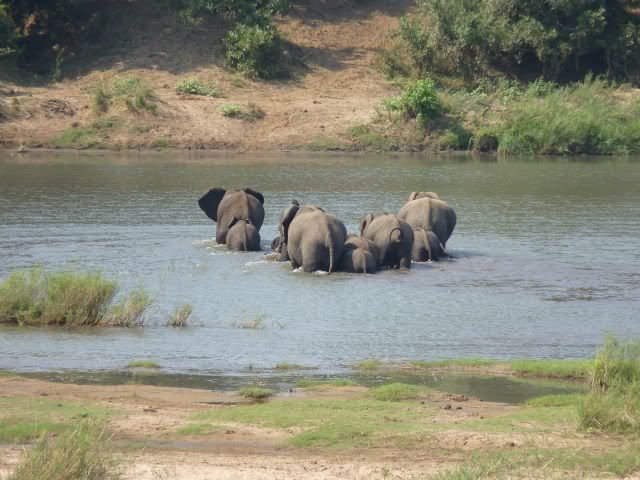 After all the eli's we'd seen around Mopani over the previous few days, we'd travelled over 50 km before our first eli' sighting today. Then within a few hundred metres another dozen eli's were encountered right by the roadside.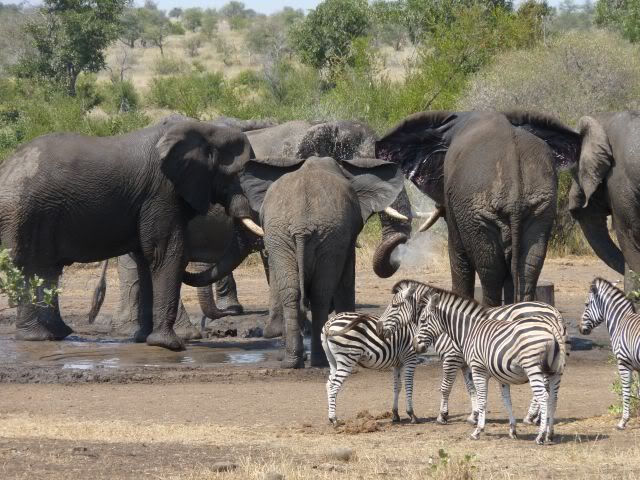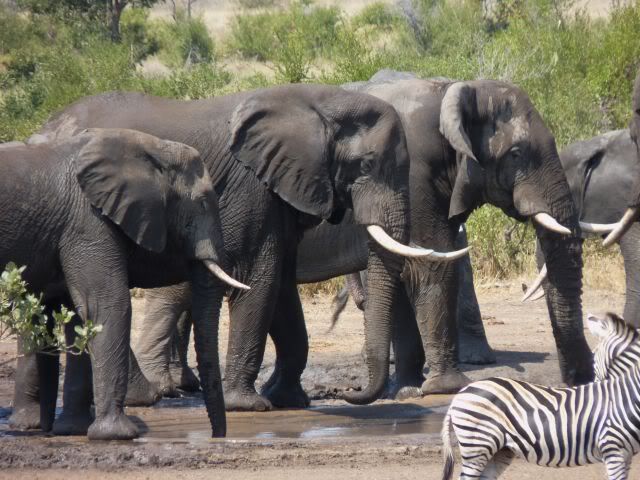 We took a break for coffee and muffins at Letaba camp - we could see 8 waterbuck, a herd of wildebeest, 3 giraffe and a Maribou stork from the restaurant terrace, overlooking the river below.
Between Letaba and Olifants we had a lovely sighting of 3 eli's bathing in the river, a pod of hippos, a single hippo grazing on the far bank and 4 waterbuck above it on the far bank.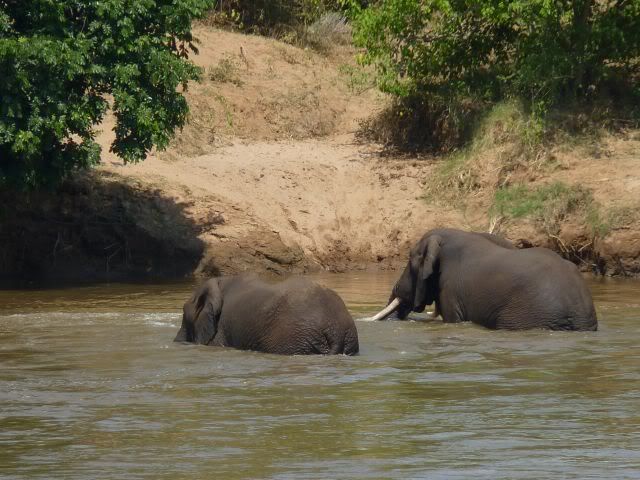 We continued on and past Satara, occasional game about but generally quiet. We lunched at Nsemani Dam on the H7 heading towards Orpen Gate. A hippo was grazing on the far bank and a pod bathed in the dam. A few impalas were present, along with a troop of baboons. 2 eagles were perched on a tree stump just in front of us. The photos not brilliant, but any help with ID would be nice - juvenile Bateleur possibly ??.
The remainder of the route to the exit gate was fairly quiet. A pair of waterbuck, then a lone giraffe and a couple of buffalo wallowing in a mud pool were amongst our last sightings.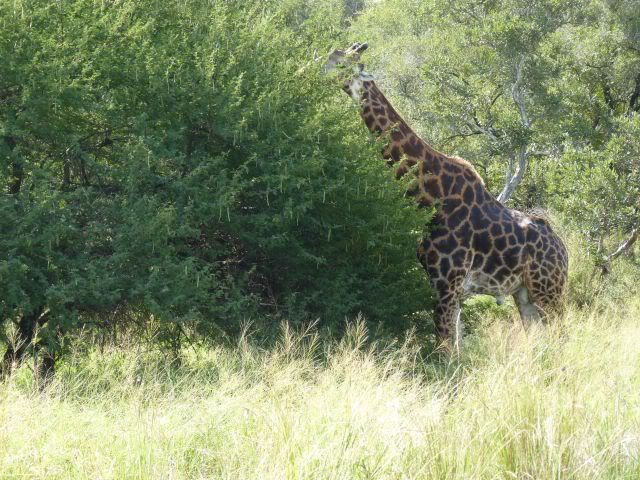 Within sight of the gate a lone wildebeest bull was standing by the roadside, he watched us pass by and he was our last Kruger sighting of our trip.
We exited through Orpen Gate with some sadness
, and shortly were thrust back into the madness of modern human civilisation.
So that brings me to the end of our 10 days in Kruger - what a magical time we had.
OK we didn't get to see cheetah, wild dogs, and a few other species
but thats wildlife for you and the mystery of Kruger and its all about what we did see and the experiences along the way. What it does mean is that we will have to return - as there's still plenty of unfinished business to attend to......
Higgsie
---
Soooo ......After leaving KNP the remainder of our holiday was to be based in Hazyview, staying at the excellent Abangane Guest lodge. We planned to relax a bit by the pool, and hopefully get out and tour the Blyde River Canyon and Panorama route, weather permitting
However, the weather wasn't being too kind in the Drakensberg mountains and so rather than potentially waste a day mist bound in the canyon with poor visibility, we set off for an extra bonus day in Kruger
We entered via Phabeni gate, making use of our international wild card allowing us free access as day visitors
. Driving along the S1 we soon encountered wildlife, a group of zebra were spotted within a kilometre of the entrance gate. Vervet monkeys and abundant impala were present in close proximity to the road. A herd of eli's were spotted, but a distance away so we kept moving. Shortly along we had a wonderful sighting of a group of 10-12 buffalo by a mud wallow. There was a lot of interaction between the group as they rolled and wallowed in the mud.
Along the S65 more game were encountered, kudu,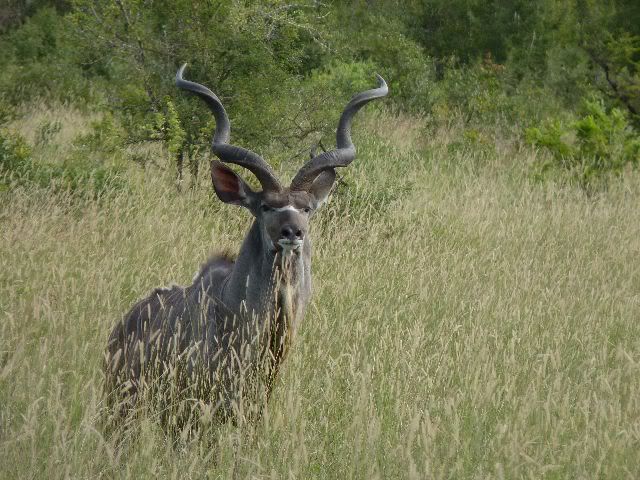 impala and zebra,
then we spotted a cloud of vultures circling in the sky ahead. About 15 - 20 huge birds were circling in a tight formation and we wondered if there had been a kill below. We pulled up as close to where the vultures were circling, watched, listened and smelt the air to detect the presence of death. Nothing was evident and the vultures began to disperse
. We moved on heading for lunch at Skukuza. Lunch was enjoyed on the decking overlooking the Sabie River, watching a hippo doing what hippos do best…
During lunch we noticed occasional vehicles crossing the river downstream of the old railway bridge and assumed the river crossing we'd been unable to take a few days earlier, was now passable. We decided to head that way and took the H1-2 going east along the northern side of the river. The crossing was now dry, the river having dropped about a metre since our previous attempt at the crossing.
We drove along a while until we encountered 2 vehicles by the road. We pulled up and joined them. Just below the road, barely 5 metres away I could see 2 lions lazing in the grass
. One was lying on its back and never moved all the time we were there. The other lioness was awake, occasionally looking around. I filmed a short sequence of video and as I did the lioness looked straight at me her deep golden orange eyes watching me as I watched her
-- it was a glorious moment.
There were at least 4 lions present as far as we could make out, 1 male and 3 females.- the other 2 well hidden in the scrub. We stayed awhile before moving along to allow others to jostle for the best vantage point.
Lots of impala were around that day, in some quite big herds too.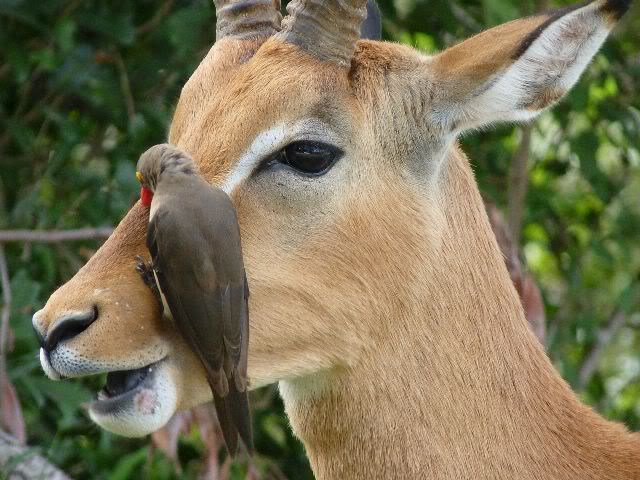 and another magnificent kudu male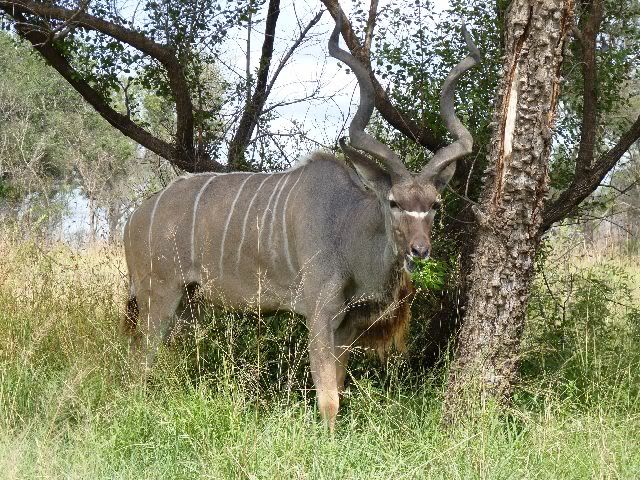 Out past Nkulu picnic site we encountered a troop of baboons in the road, seemingly oblivious to the gathering of cars which was developing - 1 driver had decided to stop bang in the middle of the road, blocking it in both ways and wasn't going to move until he'd got his trophy shot of a big male sat at the side of the road.
We continued on a while before retracing or steps to Nkulu., passing once again the baboons which now seemed to be on a mission, moving apace along the road in the direction of the picnic site.
We watched 3 hippo in the river during our coffee break at Nkulu before heading back. Next along we came across a number of impala and another group of baboons in the roadside scrub. A couple of the impala started running, circling around us in a very alarmed state - something had spooked them and then we heard a noise from within the bush nearby, it sounded like a grow
We pondered - was a leopard about
we again sat and waited quietly, scanning the bush with eyes and ears. Nothing more was heard and the impala fled. We thought things over and decided that our over-eagerness for another big cat sighting had got the better of us
. - after all if there was to have been a leopard about surely the baboons would have been alarmed and they clearly werent
. We decided the 'growl' was probably made by a baboon and it was probably them which freaked the impi's.
Heading back out towards Phabeni gate we had a close encounter with a large eli browsing next to the road.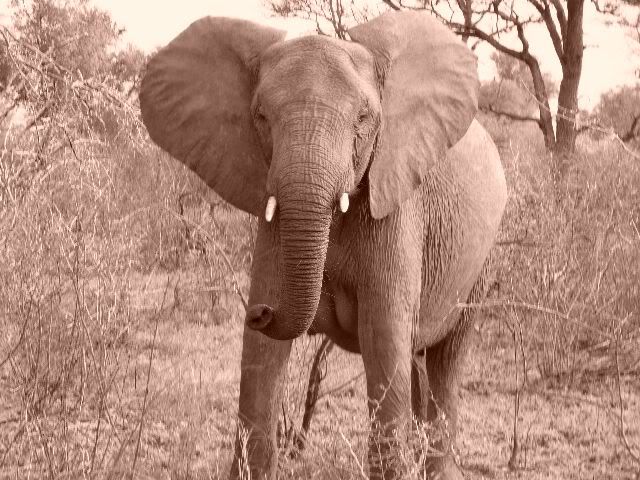 We passed another couple of eli's, plus more buffalo, zebras, kudu, waterbuck, giraffe and impi's.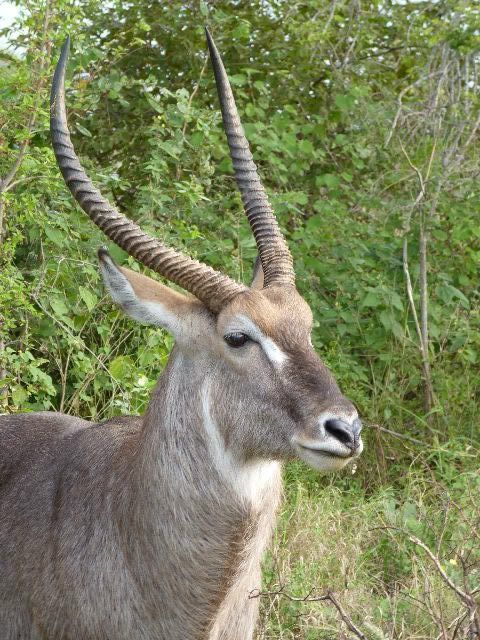 As we neared the gate, the sun was going down and the light beginning to fade, but we were lucky enough to fit 1 last sighting into this great day.- a white rhino and this was definitely our last sighting of the trip.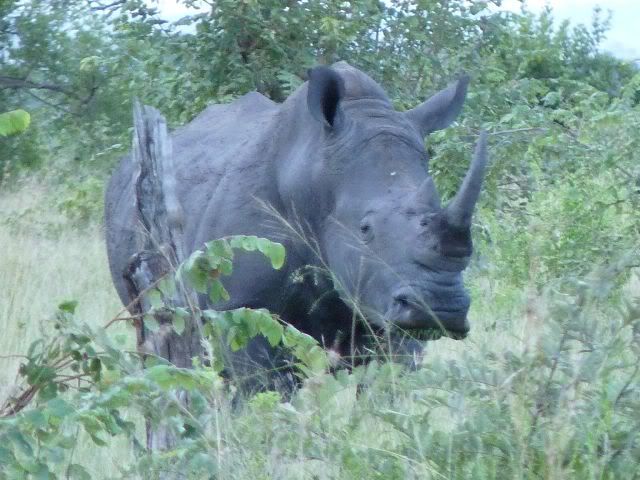 We exited the gate at 5.55 pm - exhilarated and enthralled once again.
Ohh - I do hope we get to return to Kruger soon ...........
Thanks to everyone for joining - here's hoping we all get back to Kruger sooner rather than later
Cheers and byeee (for now...... )
Steven
---
---
Who is online
Users browsing this forum: dukla2000 and 2 guests