Posts: 10
Joined: Sun May 01, 2011 11:46 pm
Greetings Forumites and Guests,
Well, We travelled over 10,000 miles to get here and boy o boy was it worth it !

I actually wrote this report out each day for accuracy, but I did not want to post it right away, so the animals had time to move out of each area (especially those with tusks and horns). And I know you guys have read hundreds of reports just like this and seen thousands of these types of pictures. But I am also writing this for my friends and family here in the U.S. I have giving them all this website, so you may see a few more americans in the future.
--------------------------------------------------------------------------------------------------
Kruger National Park - Trip Report
" I was dreaming of Afrika "

Day - 0
Flew into Mpumalanga airport in South Africa April 20th at 10am, right on time. Only took us 18 hours of actual flight time to get here from the U.S. (two days counting all the airport time and time change). Got our bakkie (that's a 4x4 for you folks in the states) and headed north on the 538.
Only took a short while to acquire the left handed manual stick shift. But it took almost half a day to remember to stay on the wrong side of the road, especially after leaving the first Rhino sighting (we'll get to that in a minute).

We weren't going to count this as day one, this was just supposed to be the fly in, get the room and try to acclimate from the jet lag day. BUT…

My SO, our two grown boys and myself pulled in right on time at 1400 (2pm). Got the keys, threw a few things in the lodge and decided to go for a short hop in the bakkie over to the famous transport dam- (the battle of Kruger). Saw the cutest little turtle, a few odd birds and a lot of beautiful landscape. Then not more than five minutes from camp and less than ten miles from the Numbi entrance, the gate we came in on, we happened upon a herd of ellies. 12 total, 8 adults and 4 little ones. One of the little ones seemed to be only about a year or two old, wow. They were about 30 feet from us and we starting taking pictures like we had never seen an elephant before. Then all of a sudden they decided to cross the tar road right in front of us, as if on que. Two of the adult females led the way with a little one and walked across slowly, like they owned the road (which they did). Sitting there in awe as if we would never see anything more exciting, a couple more and then the semi-little ones started to edge their way out of the bush and just as they put their cute little feet to the asphalt, bang- they took off running, either to keep up with mom and auntie or maybe they have been trained by mom and auntie to get across roads as quickly as possible, because there might be someone from California driving by. (haha).

We stayed with them for about 10 minutes and they often looked us right in the eye almost taking turns to insure that we did not invade the space of the young ones. We actually had it in our minds that we might not see any elephants and that would be ok (haha…). Saw a lot more of the beautiful landscape and then turned into the Transport Dam Loop. Less than a mile down the dirt road was a family of warthogs. Mom, the three little pigs and the "tusker" big-daddy who was follaging around in the back. At the famous battle of Kruger site it was calm with a couple of egret, about 30 impala and some other medium size antelope type's way on the other side from us. And in the water were two huge eyes that surfaced up from the depths about 3-4 times and appeared to be a huge croc. Maybe it was the famous croc from the utube video, after all this was his stomping ground.

Thought we had seen more than our fair share for a day, but on the way back after seeing a huge bull elephant about 20 feet off the road, we saw two magnificent adolescent rhino's. I can't give you their exact location, but how exciting for our check-in day to see 2 of the big 5 (not that anyone is counting).

My whole mantra to the gang was "big or small- we film em' all" and right from the beginning, we really don't care what we see or don't see. So after the rhino's, we stopped to get a close up pic of the famous dung beetle that was walking across the road. Wow, he was a beauty. Then another cute little turtle. Also shot a couple of hornbills and one eagle (not the fish, the brown one I think). Gee, I wonder what we're going to see tomorrow on our first actual full day in the park… I not going to bore everyone with too many pics, I'm just putting on the scarce and well-focused on the next post.
---
Posts: 10
Joined: Sun May 01, 2011 11:46 pm
Hi Sharifa and Duke,
Yes, isn't nice to actually meet folks face to face. Sometimes its hard to place a face with a post. It was wonderful meeting you guys and your nice friends from Capetown..
----------------------------------------------------------------------------------------------
Here are a few of the over two thousand pictures that we took (I know, but we came a long way and we filmed everthing that moved)... I hope you find my captions "entertaining"
"he's not going to crawl up my leg is he"? No honey, not unless your wearing deodorant..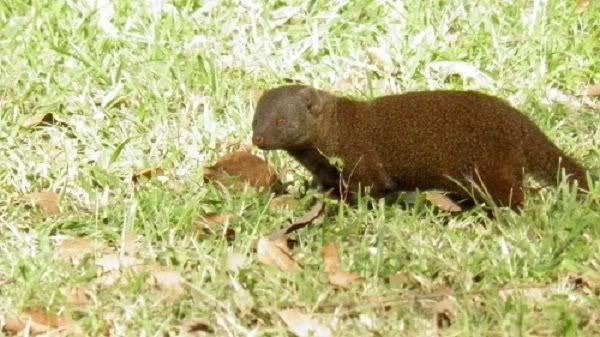 Hey dad what kind of bird is that...(haha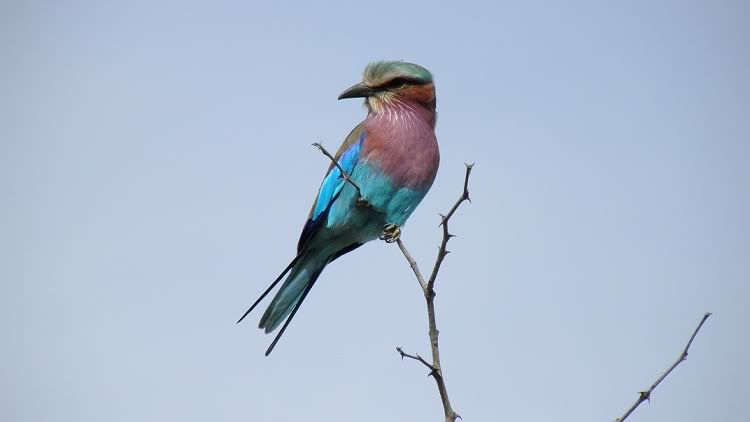 they just remind me of dinosaurs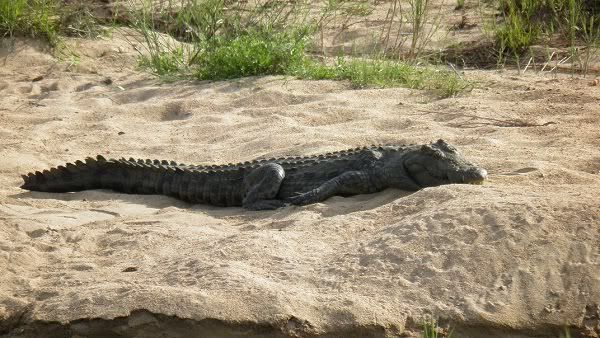 big and small- we film em all....The King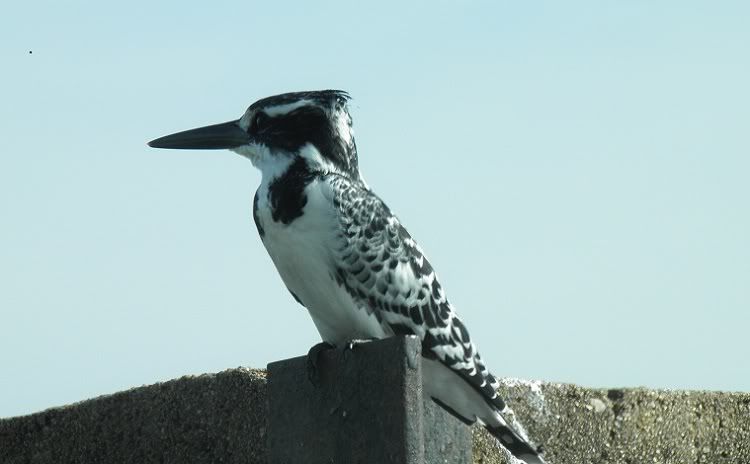 no, I don't see any cavities, really your fine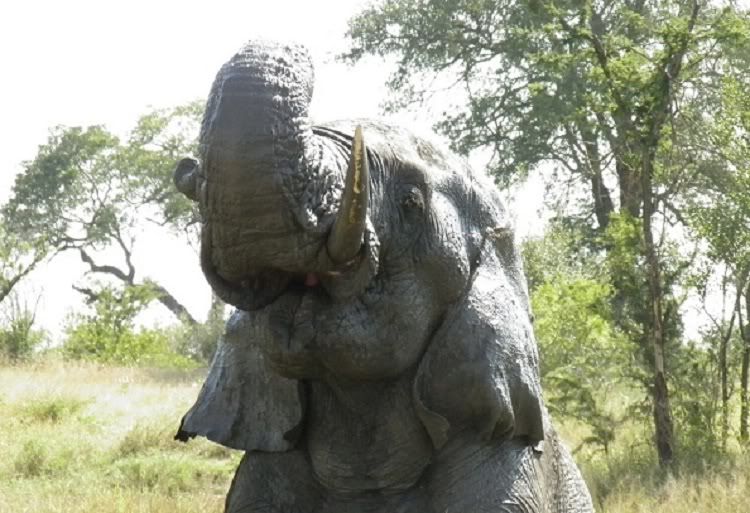 what a beauty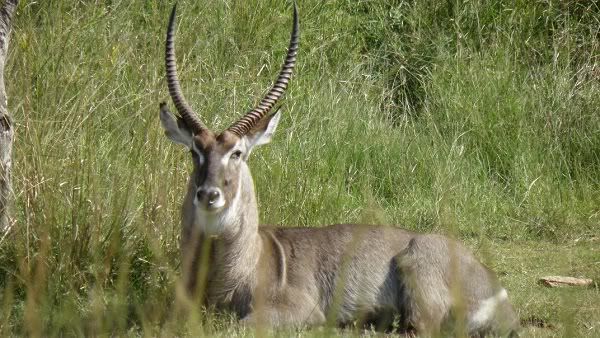 alright everybody, hide your food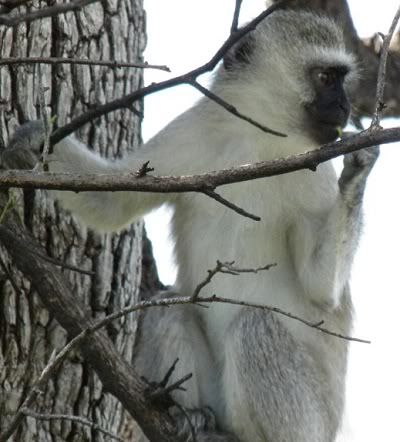 hey, if you've got an itch, scratch it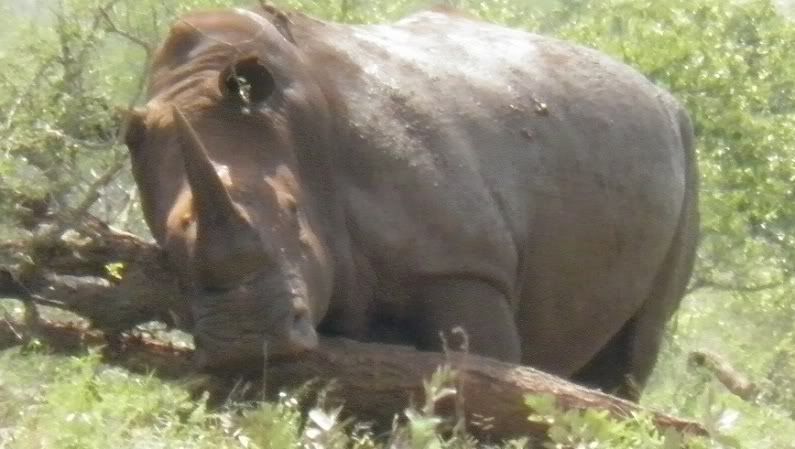 "I thought you said there was a fence around this stop" ?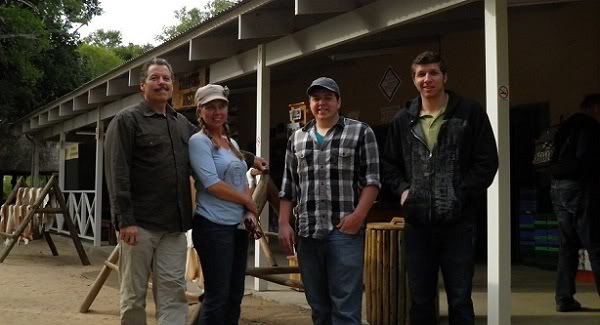 I don't have anything to say here, except wow !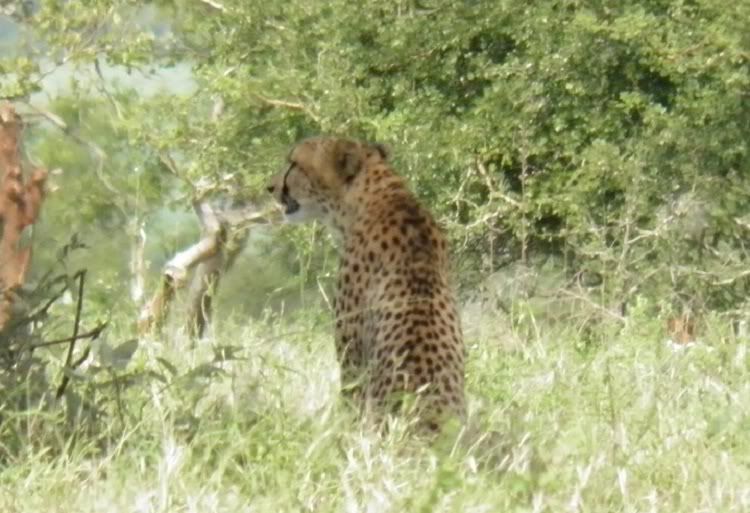 and here's my prize winner... All rights reserved !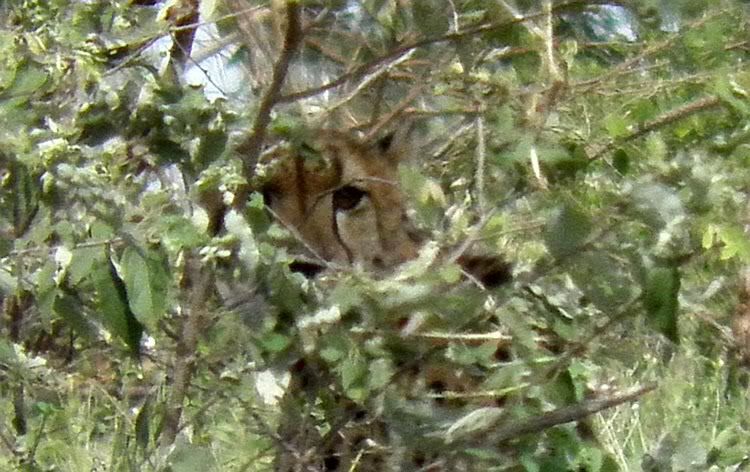 I thought the ancient DohDoh bird was exstinct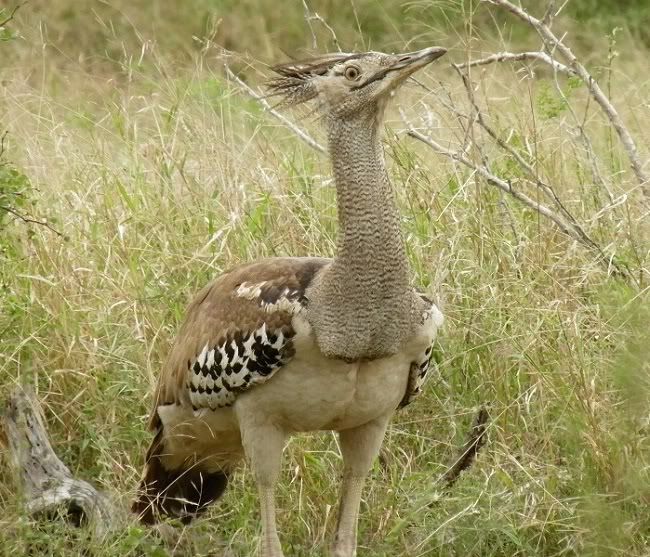 sometimes you just need a hug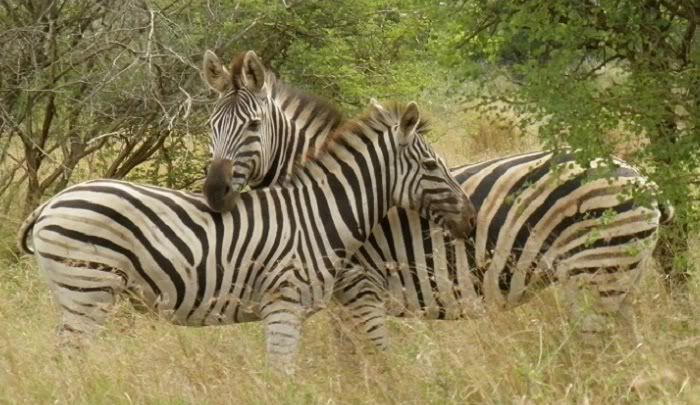 this guy was huge, I'm guessing almost 4 ft with the tail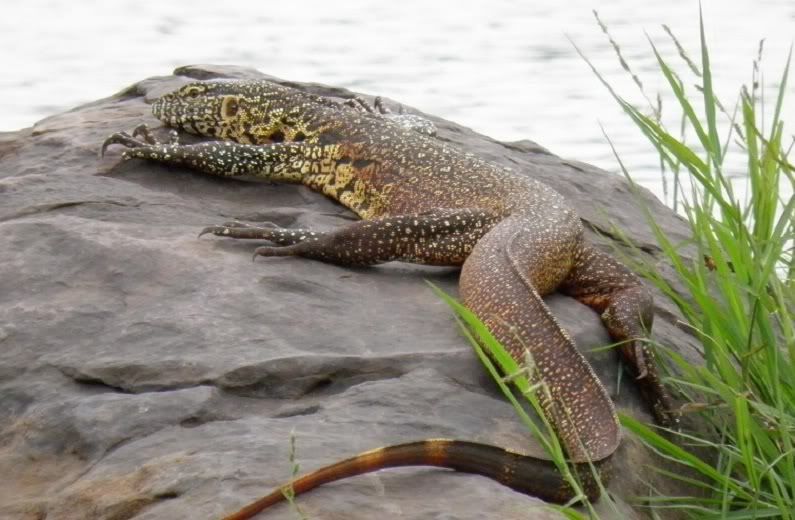 he looks so friendly, just needs a manicure
I enhanced this one just a little bit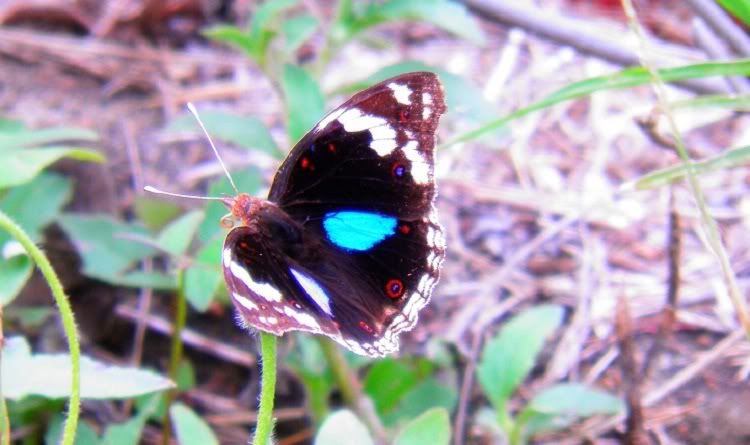 ---
Posts: 10
Joined: Sun May 01, 2011 11:46 pm
Hello Again to all,
We're from Southern California and we live about an hour outside of L.A. up in the So cal mountains. We have a few critters up here, but nothing like Kruger. You guys are blessed...
------------------------------------------------------------------------------------------------------
DAY – 1
"I was dreaming of Afrika"
Well, day 1 actually. We were so overwhelmed from our check-in day yesterday and we had no idea if it was a good day of sightings or the norm (it was an exceptionally good day for us). Left Pretoriouskop at 6am, drove a short distance, and shaboom, the biggest rhino I have ever seen. He was just sitting there posing for all the cam's. Just about every car from camp was stopped, so we clicked off a couple of quick pics and took off south and found ourselves all alone on the open road with everyone back at the big rhino getting their fill of pics.
Before we even got to the rest area Afsall, we came across three large giraffes, Warthogs, birds, more rhino's and a few more elephants.. After that, we took the 114 and the 23 past the Buyamiti weir to the 26, up to Mpondo dam, over to the H4-2 and down to crocodile bridge. We just wanted to drive across the bridge and back. Of course the guy at the gate gave us a funny look when we came right back in as if he just saw our twins leave.
We were going to give the S-28 a try, but just as we left from croc, some very nice girls waved us down and said there was a cheetah on the S-25. Went up, turned left and there he was just sitting under a tree waiting for his lunch to come by. We only stayed about 10 minutes, snapped off our fair share of pic's and headed back up to the S-28.
Pulled onto S-28 and sighted more elephants, rhino's, cape buffalo, wildebeests, giraffe, warthogs, zebra's, impala's and a huge monitor at a little pond, just before dukes. We did not spot duke, but we saw pretty much everything else. We were in sighting overload as we were coming across something wonderful every 15-20 minutes and just kept wondering if this was normal to see so many animals in such a short period of time. We just got here and we had 5 more days of touring lined up with 3 of the "big five" already spotted (again, not that anyone was counting)…
Pulled into Lower Sabie, got our keys, but didn't even make it into our perimeter room as we were stunned by the hippo's, ellies, a very large buffalo and an 12-15 ft crocodile right out in front of our river view room (wow). Had a little afternoon drive up past sunset dam to chase down a leopard report which did not pan out, only to run into a 12-14 foot python that was slowly digesting an impala (what?)… I'm pretty confident we'll see one or two more sightings tomorrow… (as you can tell, the pictures are not exactly in cronological order)...
you guys may be used to seeing a Kudu, but the first time you see one...wow
we have zoo's here, but seeing this in the wild not more than 10 ft away was really cool
my second son is such a character, he go's look dad a llama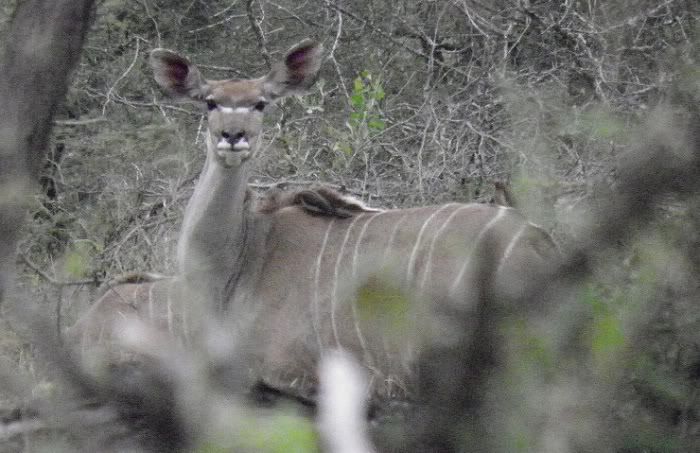 I guess its nice to be able to sleep and eat in the same spot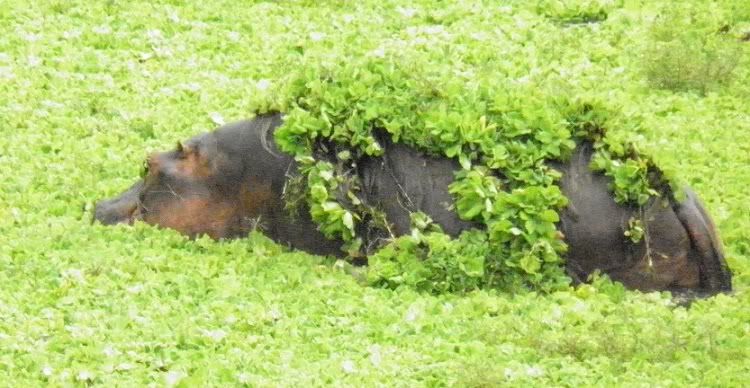 hey look, its super chicken...
oh yah, well how many times have you seen a two headed giraffe ?
here's my girl, she charged us twice and we will never forget the lesson learned...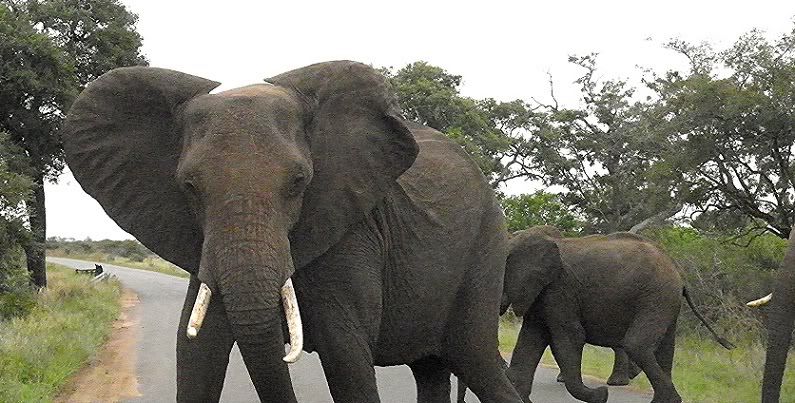 you better not be staring at the target on my butt
came around the corner with all the windows all the way down, they were only about 15 ft away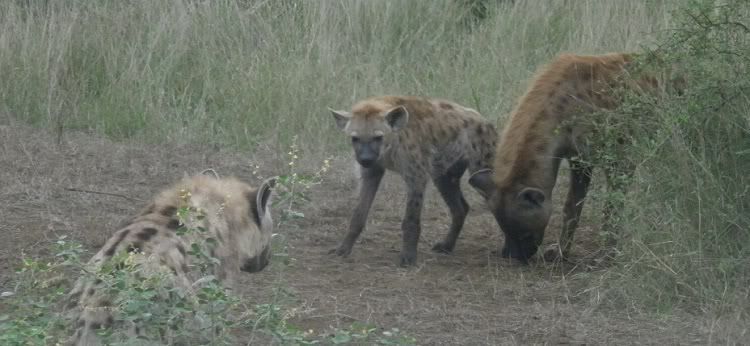 mr alpha comes walking straight at me and says "hey, I'm your friend, just put your hand out and pet me (yah right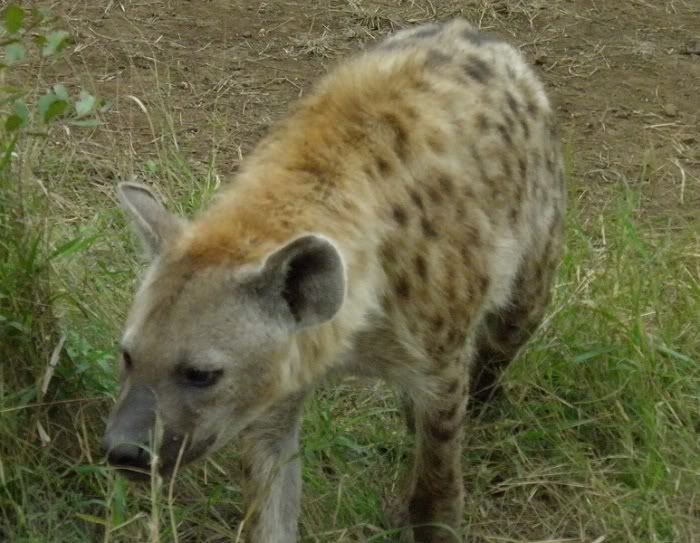 so he lays down not more than 3 ft from me, just waiting to see how stupid I am (maybe someone tipped him off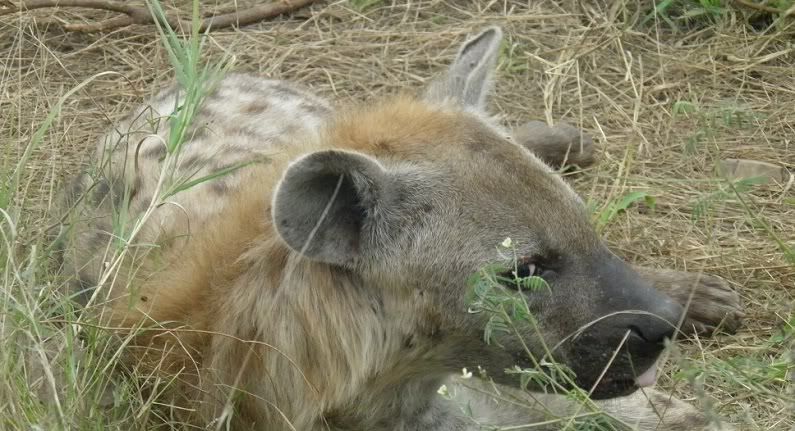 we never got tired of the big birds...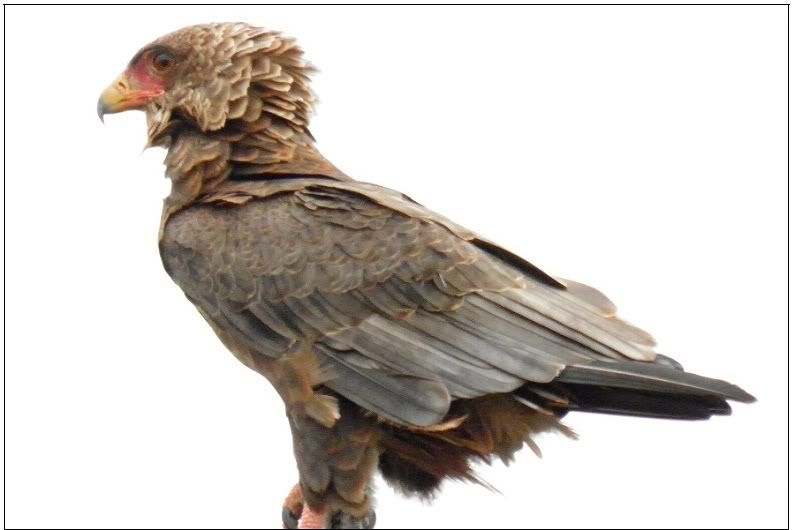 I was told they don't come on to dry land very often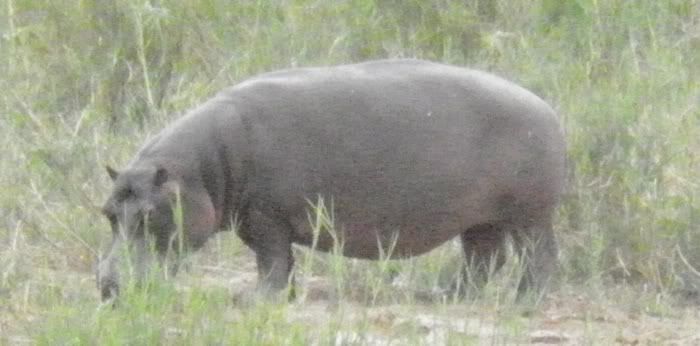 honey, did you remember to turn the fridge around before we left for the afternoon drive ?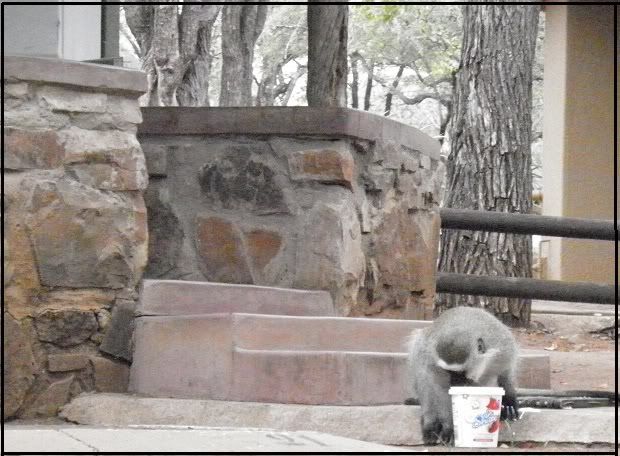 I think we were having way too much fun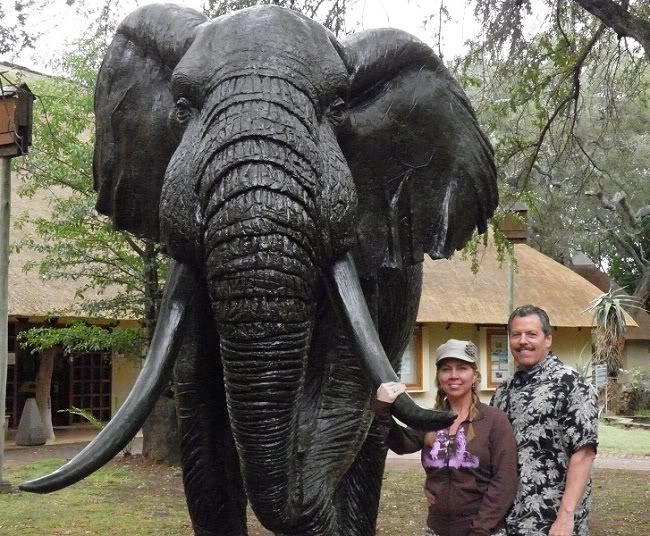 you do realize that we're very shy and don't usually get this close to humans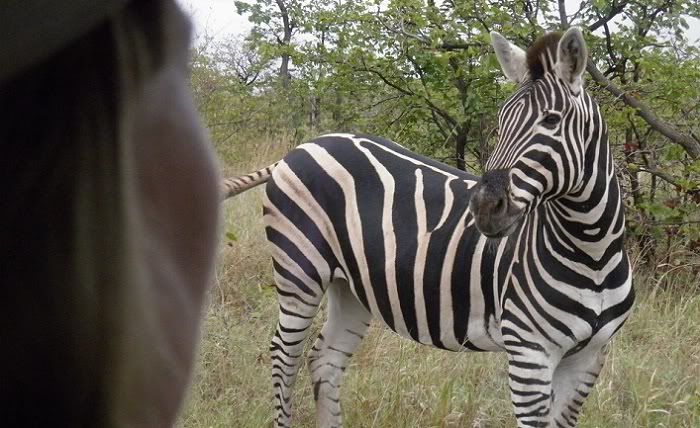 if I stand really really still, they will never see me (he was about 150 ft away)
seems like every time we passed water, we were playing peek a boo with these guys

---
Posts: 10
Joined: Sun May 01, 2011 11:46 pm
Day – 2
"I was dreaming of Afrika"
Left Lower Sabie at 6am and decided to go up the back way to Tokaswane. Took the H10 and started off with a huge kudu, more impala's, rhino's, ellies, zebra's , giraffe's , cape buffalo, eagles and of course the lilac breasted roller. By now, the two boys were making fun of me for having said the name "Lilac breasted roller" so many times and blurted out " hey dad, have you seen the yellow chested rock-n-roller yet "? haw, haw, haw…
Went right on the s32 to the hide at orpen dam and got some cool pics of the monkeys and hippo's. Had to just sit and gaze at this hide for a bit as it looked like a post card. Took 32 over to the 35 and stopped for about 10 minutes as we became surrounded by a herd of zebra's. The boys expressed earlier how they wanted to view some zebras and now they were sitting right in the middle of a huge crowd of them. I already knew from where we live, that if you shut down and become very still and quiet, most animals will just go about their business naturally.
Looped back down to Tokaswane for some roadside sa fare. While eating, we tried not to laugh at the kid next to us who got robbed by a local. (a local vervet monkey). This little thief came down from the awning over the outside dining area, jumped up on his table and as this 10 yr old kid put his hands up in shock and leaned back, the monkey snatched a small bread roll right off his plate and was gone in a flash (again, tried real hard not to let his dad see us laughing). We had the kudu roll and bought a variety of biltong (soft jerky) for the long drive up the s100, 41 and 90 to Oliphant's. As we sat and ate, we kind of leaned over our food to keep from getting robbed (haha). It really wasn't that bad as there was staff there trying his best to shoo them off as we ate. Of course, the boys and I thought that this was the coolest thing to see a monkey in action. After all, we were in his back-yard, not the other way around.
Took a quick break at Satara, and headed up the s100. Pretty quiet, but the 41 had a few good sightings. Turned onto the 90, drove a short distance and then we saw her… She was about 100 feet off the road in tall grass and even though I was driving, I somehow caught her out of the corner of my eye. It was the shoulder bones that push out the top that I noticed as I scrambled to stop and get my camera fired up. When we completely stopped and everyone got a quick glance at her, there was just dead silence in the truck. And then within maybe 4 seconds, she just disappeared into the thicket- Our first Lion. You know, I told myself and the gang that the odds are we may not see any of the big cats, because what they are really good at aside from catching meals is stealth (hiding). We of course were thrilled even though the picture looks like one of those bigfoot pics. All you can see is the top of her back in the tall grass.
All in all, these roads were fantastic.
Now we thought it would be calm the last few miles on this road and then just before the end, we had a little excitement. (maybe too much). There was a herd of about 30 ellies coming up on our right to cross the road. So I backed up a good distance and gave them plenty of right of way. Well a large female decided to fork off from the crowd in my direction and before her little group started crossing, to be honest, I was so comfortable with them, that I kind of let my guard down and since there was a car behind me, I didn't back up any further. Let me rephrase that= I did not back up any further until she flapped her ears straight out and charged us. That's right… we had the jurassic park "must go faster" moment and my poor SO went into panic mode. I did not hesitate and stomped on the gas in reverse hoping that she would not chase us all the way back to camp (in reverse.) And luckily the guy behind us was on his gas pedal too. This is something that I would not intentionally recommend for anyone. These are all completely wild creatures and every one of them can run a lot faster than we think. So after re-composing ourselves, we proceeded on with more educated caution on to Oliphants.
Just before we got there and thought we had seen everything (again), we came around a curve with our widows all the way down and happened upon 4 hyenas' that were no more than 10ft from the road. Instinctively, I stopped right next to them and as the large one got up and started to advance straight towards me, I hit both windows on my side to go up and shouted to the others to get their windows up as well. He walked right up to my window and was within 3 feet of me showing absolutely no fear and no aggression. (all the fear was on our side, especially since our blood pressure had just returned to normal after the ellie charge). The hyenas are quite fascinating animals. I know what their capable of and yet they look so docile, like a cat or a dog. Again, this is no place for fooling around. So with all the windows safely up, I shut off the engine and we just sat with them for about 10 minutes as they just messed around right next to us.
Pulled across the mighty Oliphant river and just on the other side, my son spotted a good size hippo out of the water, walking across the shore. I know it's uncommon to see a hippo on dry land, so once again we shut off the motor, took our fill of pics and just enjoyed the show. Headed into Oliphants with apparently everyone else who was staying there at the same time and I have to say, the two gentlemen at the desk had us all with keys in hand in record time. Pulled up to our view bungalow and was just amazed at the vast river view in both directions. We could see hippo's and ellies from our chairs in our outside kitchen/dining area. What a treat!
(again, you'll notice the pics are not in any sequential order)
we have some pretty neat sunsets in california, but these sunrises were awesome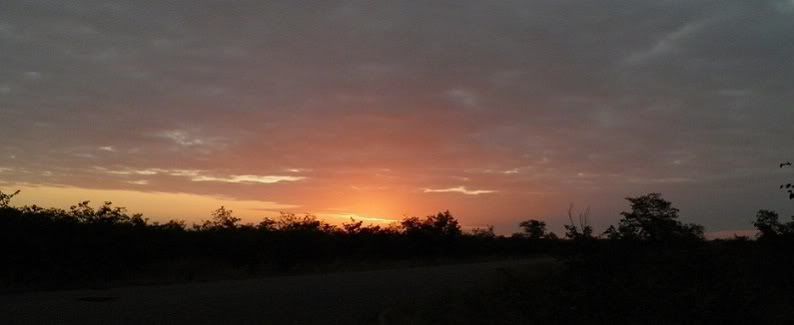 a little more to the left, yah right there, clic, clic, clic...thanks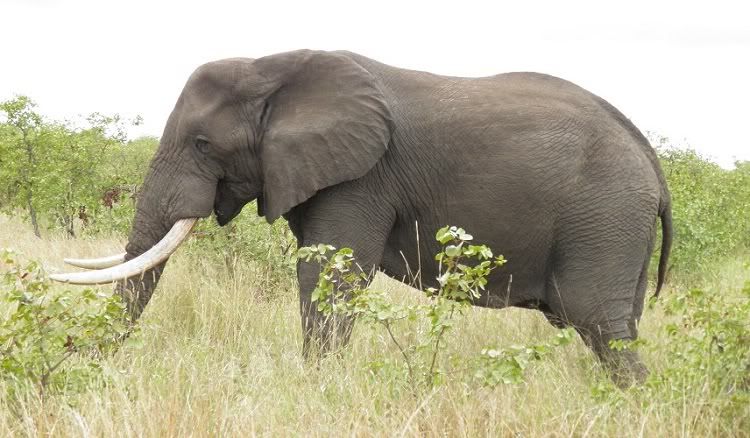 we didn't make it to Gods window, but we did see the "Finger of God"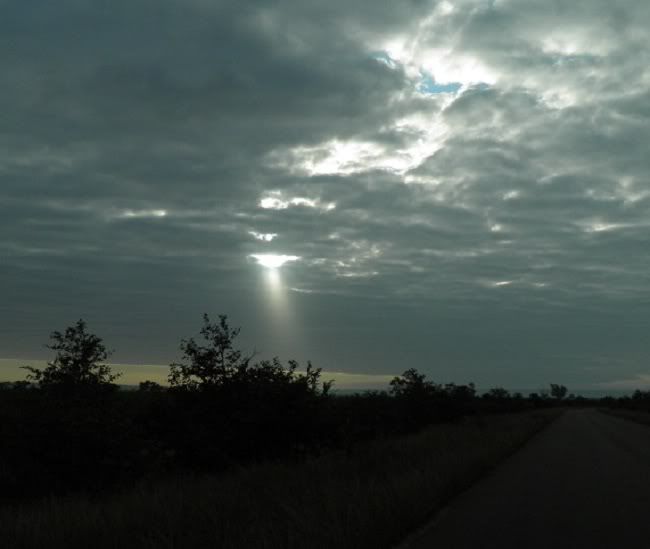 or maybe it was the "Day of the Jackal"
I noticed these guys were pretty scarce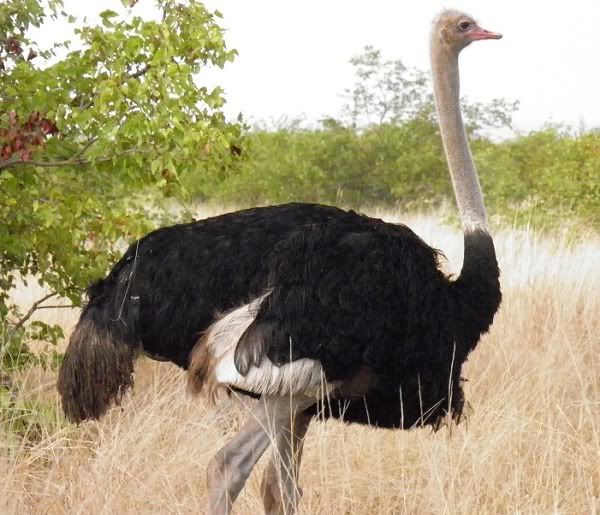 why do I have to be on the lookout, when everybody else is eating ?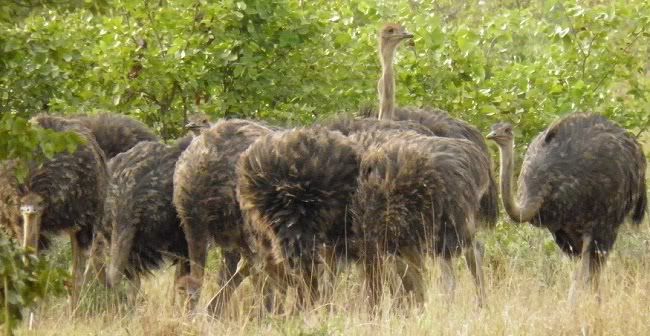 hey, give me a break, I'm goin as fast as I can...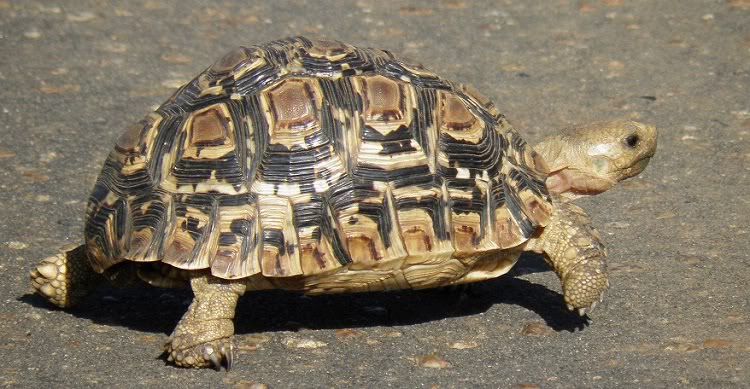 yep, you hardly ever see em out of the water (this is our second one out)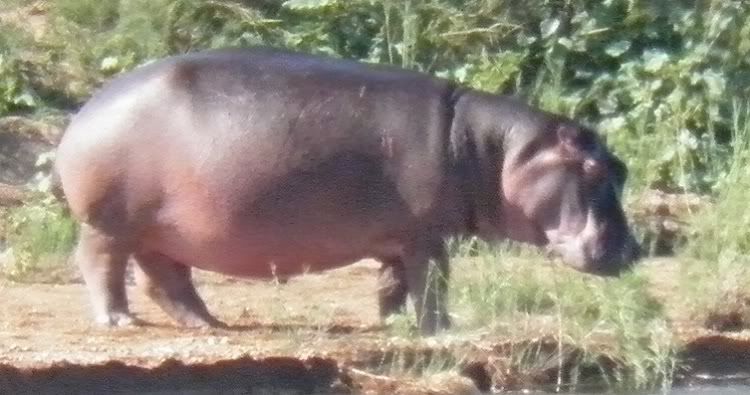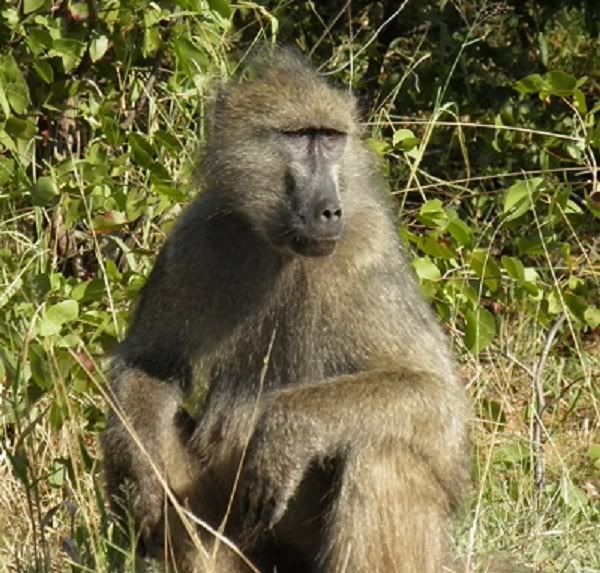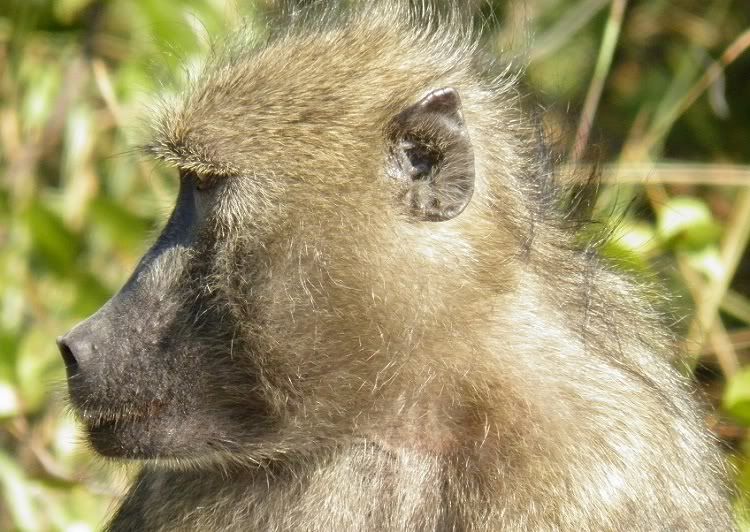 are you, looking at me ?
streetfighters
hey dad, it seem like they never move...
oh yah, why don't you walk down there and touch one of them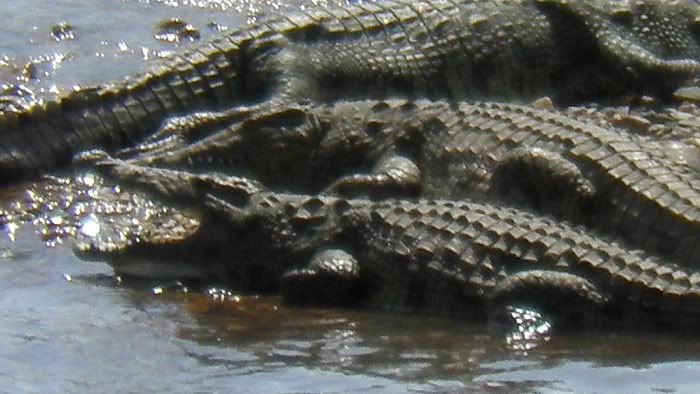 nope, nothing like this back in the states
do you mind, were trying to have a little family time here...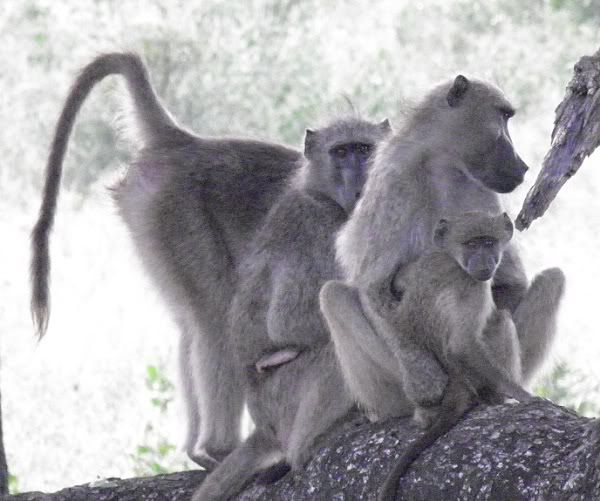 I didn't realize that I got this till we were back home and I transferred it to the computor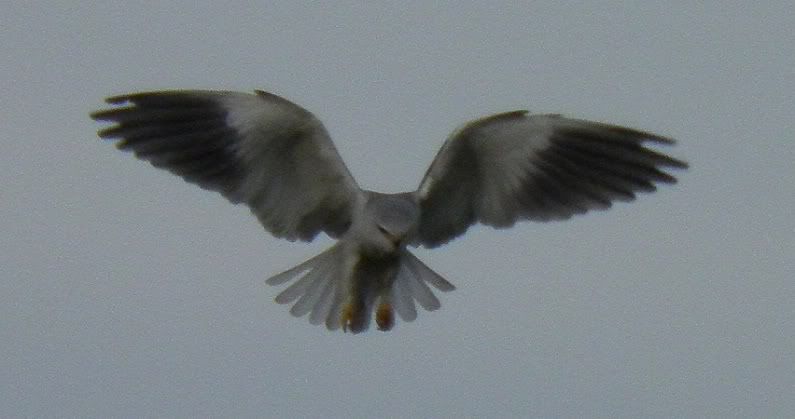 ok, bob and henry attack him from the right, we'll take the left and together, we should be able to take him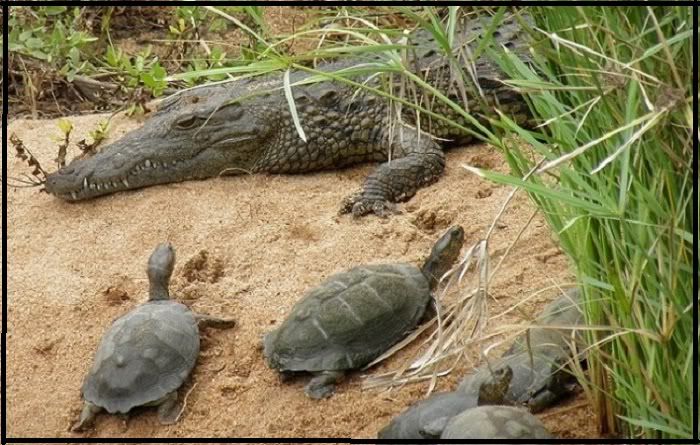 ---
Posts: 10
Joined: Sun May 01, 2011 11:46 pm
By now, we were all dreaming of Afrika...
Day – 3
Left Oliphants right at 6am after meeting some very nice locals and headed up the tar road to Letaba. Stopped at their restaurant and had a great breakfast. Took off down the 131 heading for the H14 to take the long way up and around to Mopani. A lot of good sightings on this route. Ellies, buffalo, giraffe, kudu, sable's, impala, hornbills, cory-bustards, eagles and lots of beautiful scenery. We got up to Mopani a little early, so we took a drive up the H1-6 to see if we could spot some cats that were on the board. No cats there but saw more giraffes and ellies at the waterhole playing in the water. Some buffalo's, zebras and another cute little turtle right on the side of the road. I don't know what it is, but my wife just loved those turtle's. Also got some close up pics of a croc in one of the aqueduct crossings with a gang of terapins.
Back at Mopani at 2 and went for the "inside the park" nature walk. This was really cool because we were able to hike along the perimeter of the fence (inside) and basically walk through the jungle unattended, but still fairly safe. Contemplated a night drive, but we really had a great day and after some dinner, we called it a night.
A few more pics, again in no particular order...
these guys were one of my favorites...
whats the matter, you never seen a talking giraffe before ?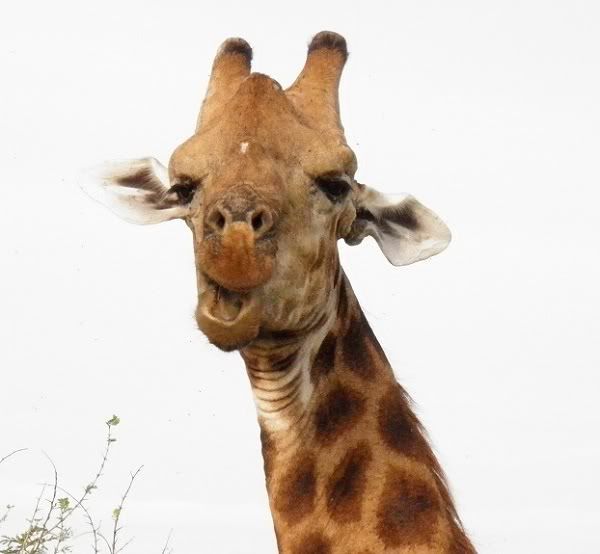 just magnificient
I can see why we met more "Birders" up north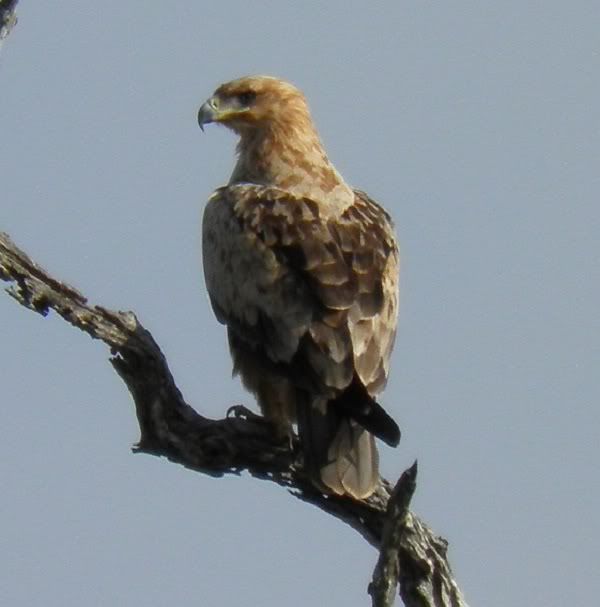 don't get to see their eyes too often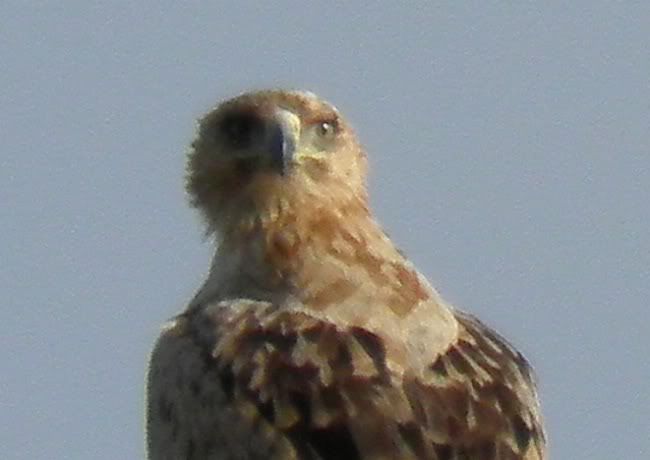 I kid you not, we saw this behavior on Easter Sunday
What the heck is that , his wing span was almost 6ft across -
I named him Sockatara, because he was socking the tar out of a snake in the grass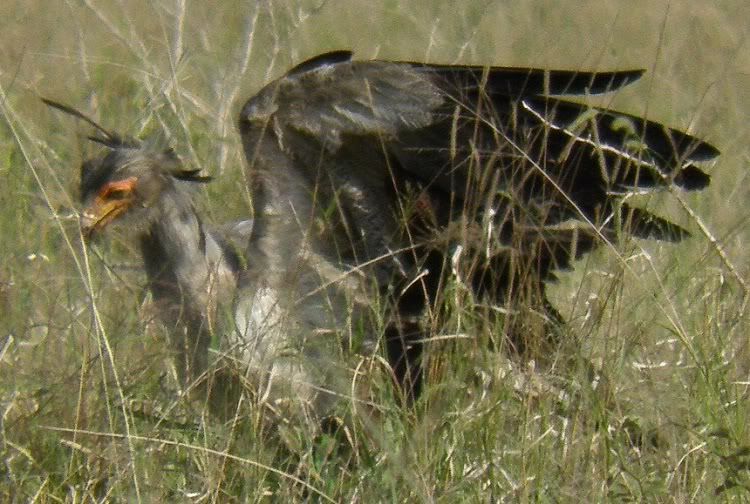 do you mind, I'm trying to get a nap in here
ok, one quick pic and then you need to move on and let me sleep...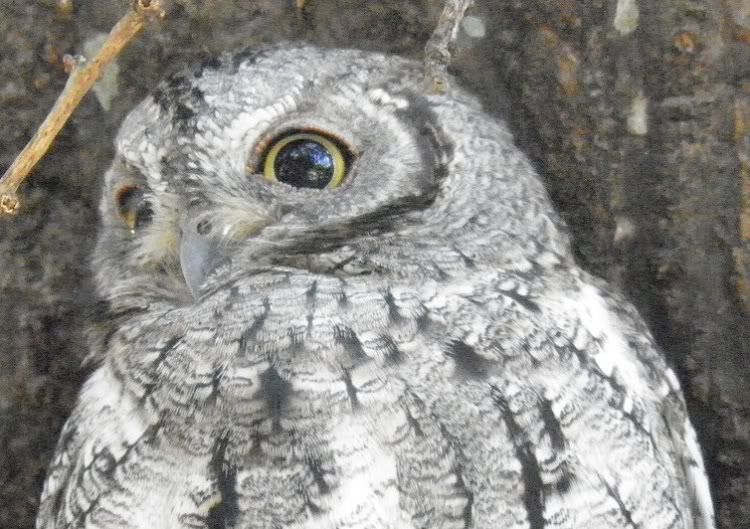 my SO did not think it amusing, when the guys at the rest stop said, oh its a female boomslang,
so you would have more time to get to the hospital
do you guys mind, I'm trying to pick up on some cute females here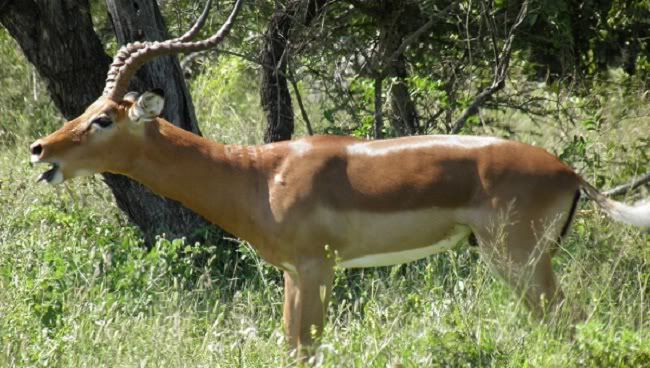 hey, I'll stand here all day, take as many pics as you want...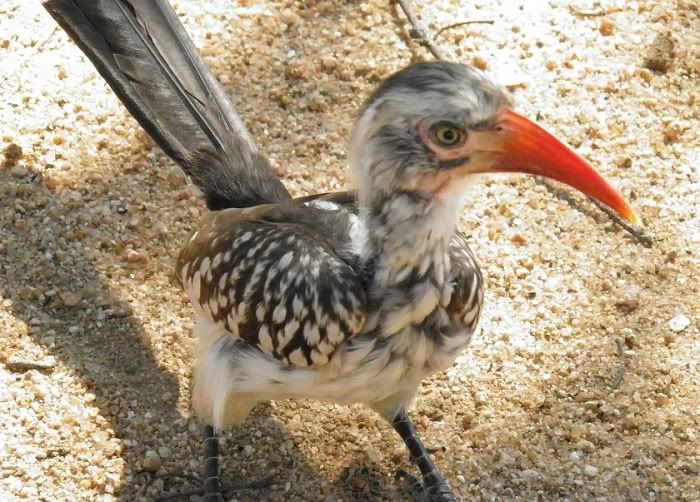 what Lion, no, I don't see a foot....where ?
an ear flicking, no, I don't see that either.....where ?

oh yah, I see him clearly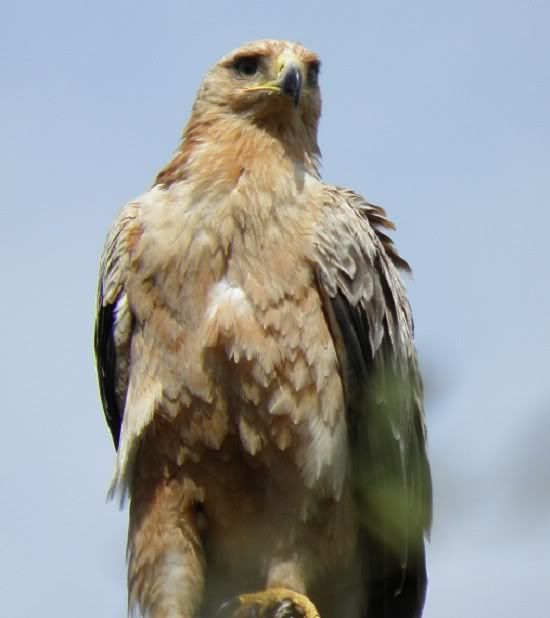 hey, don't laugh, I'm retired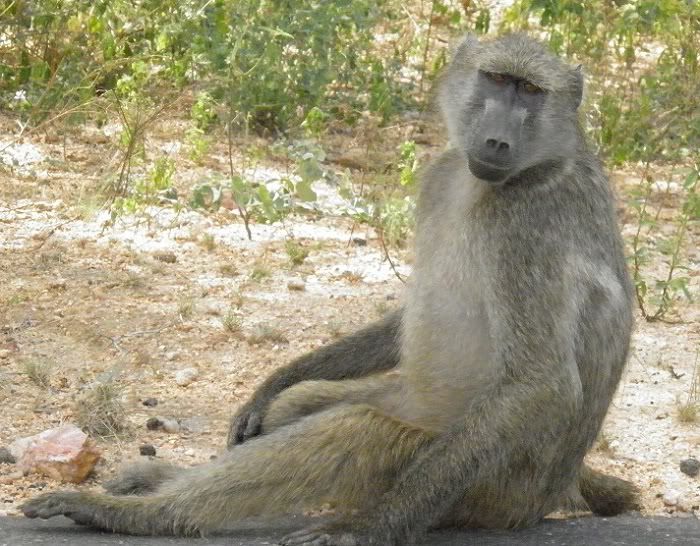 ---
Posts: 10
Joined: Sun May 01, 2011 11:46 pm
Hello all,

I had to get back to work this week, but I will get caught up tomorrow (wed)... I still have two days left on the report and quite a few more decent pics.

Yes tedredrum, when you leave a place, you say one of a few things. We're never coming back or this was a nice place to visit, but you wouldn't want to live here.....Or, I could live here.

And of course, my response was the latter. Not only did I enjoy the wildlife, but I met quite a few of the locals. I just wish I had more time to really get to know them. South Africans are very friendly and very "real", you know its a mixed bag here in So cal. We have a lot of really nice people too, but sometimes they get a little lost in the crowd... I really enjoyed the pace in SA. I wouldn't so much say it was slower as there is plenty of commerce going on there too, it was just different.
---
Posts: 10
Joined: Sun May 01, 2011 11:46 pm
Day - 4
"I was dreaming of Afrika"
Left Mopani at 6 and headed down the H1-6. The plan was to do a few of the loops and just over the Letaba river, turned right to take the long way around some side roads back to Letaba and then the back way along the river down to Oliphants. We were having way too much fun in the 4x4 we rented and so far only had to lock it into 4wheel low twice to cross some water (probably didn't really need the 4 wheel drive, but it sounds good for the story line).
South Africa is such a friendly place. Everyone goes out of their way to be polite and friendly. And San-parks was terrific as far as gate personnel, receptionists and rooms. The longest wait we had one time checking in was only about 10 minutes and this is a busy time of year for them. The rooms were clean; the kitchens were all well stocked with clean pots and pans, glasses and silverware. There was also a coffee pot at each place, so we could make our own very early before we left each day.
We had travelled about 350 miles so far in the Park and enjoyed every minute of it. Saw a lot of really cool stuff again today- Ellies, giraffe, impala's, kudu, sables, warthogs, eagles. On one of the loops we were not sure if we were going to take or not, as soon as we were maybe 500 feet in on it, we saw two magnificent ostrich's right next to us. A male and a female. When we finished the loop and came back down the same stretch of the H1-6, we saw a large group of female ostrich that we did not see just 30 minutes before.
And then just before Letaba, we came upon the wackiest group of baboons that were playing very rough right on the highway. There were about 40 of them and the younger ones were really going at it just a few feet away from us. I took a bunch of stills, but my son who was manning the video got some really great live footage. As we headed down the 92 back to Oliphants, we saw plenty more ellies, giraffe, sables, hippos, and some really cool birds and shhh, another snake (much smaller than the python)
Back at Oliphants, we just kicked back the rest of the day and took a few shots of the local hooligans ransacking the open refers. The vervet monkeys will open your fridge and rob you blind if you don't turn your little fridge to the wall when not in use. Again, we just thought the whole thing was hilarious. These are outside kitchens, of course.
am I on candid camera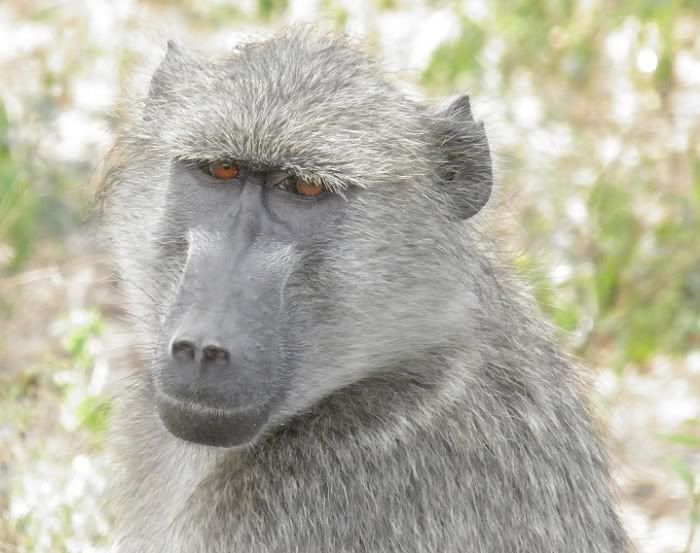 so whats the big deal with standing upright...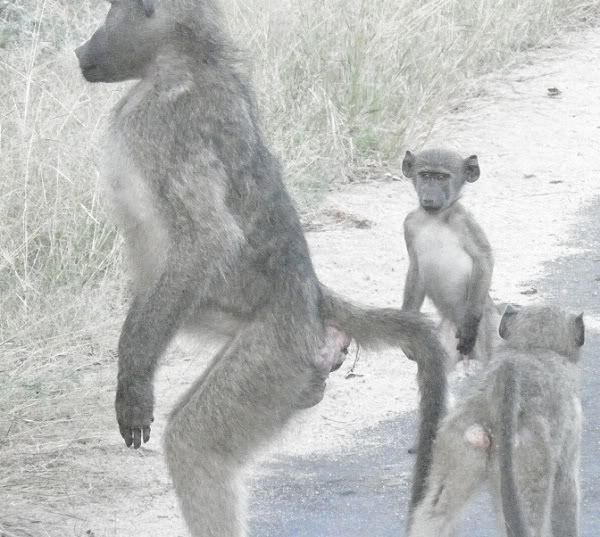 nope, nothing going on over there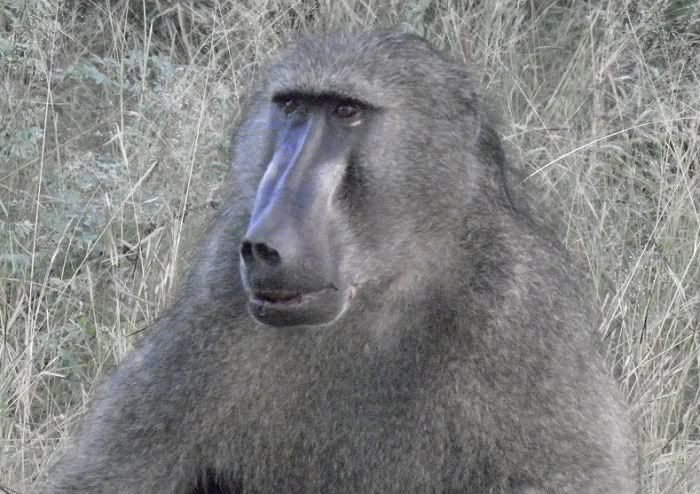 and nothing going on over here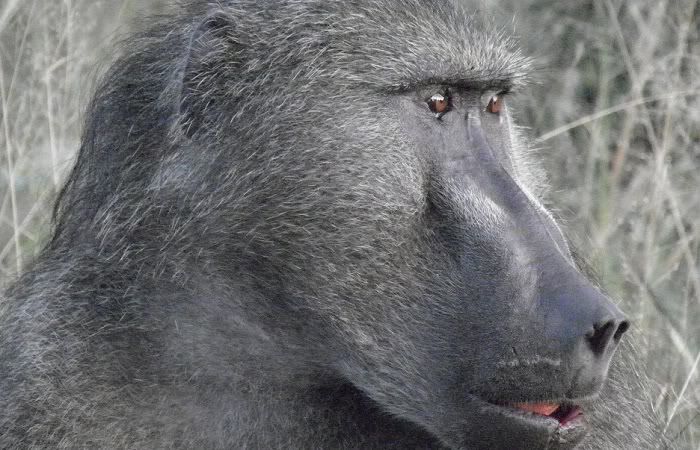 woa, look at these four strange creatures stuck in this big white thing...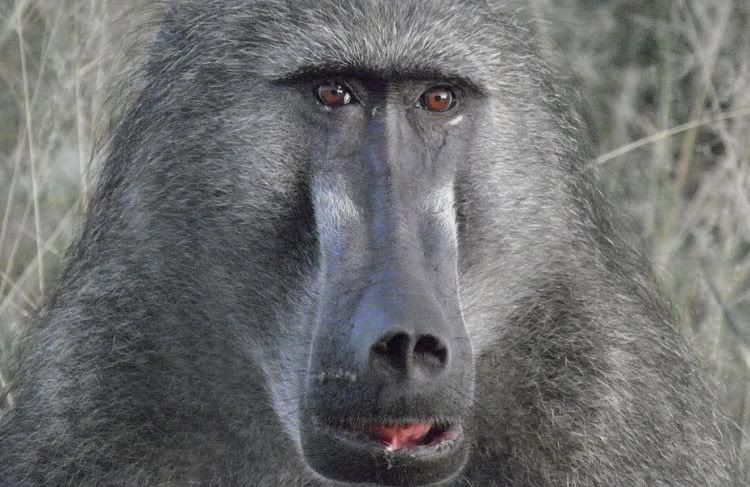 you see it ?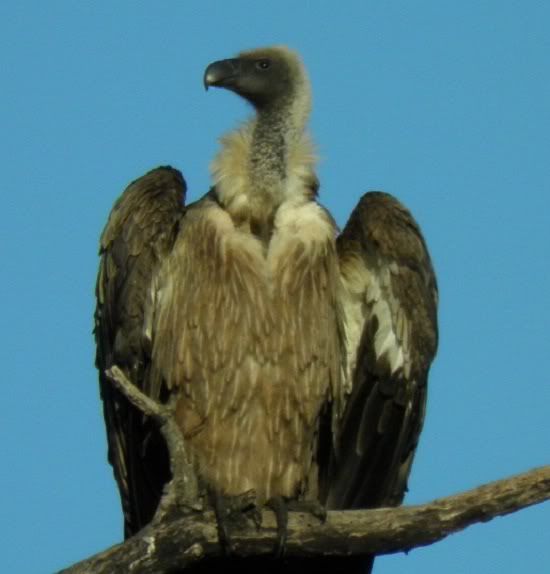 yah, I see it, but your bigger than me...
if I just don't look at him, he'll go away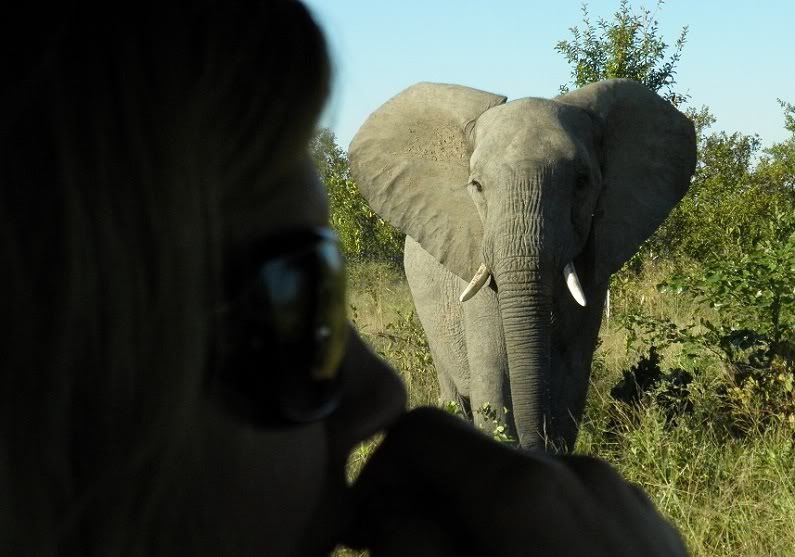 another wild animal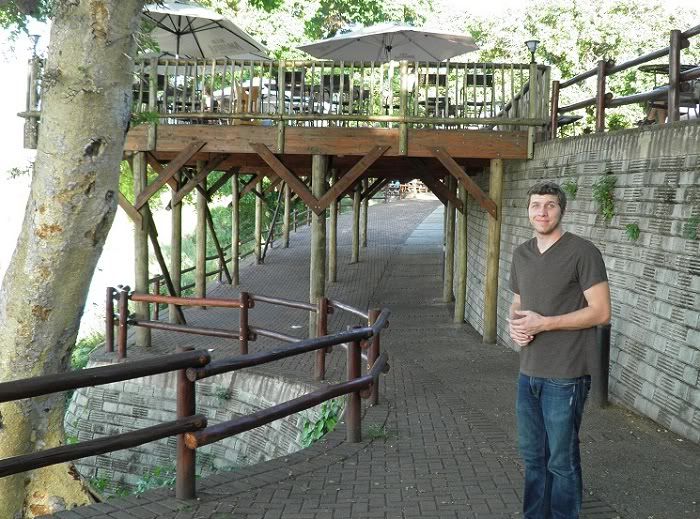 and of course, the wildest of them all....hey, put those down
big and small, we film em all...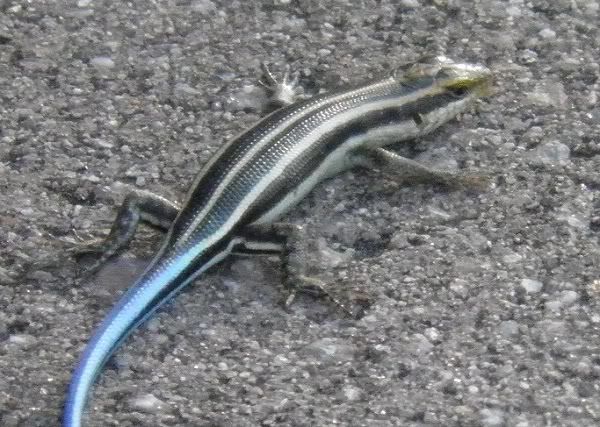 do you think he's poisonous ?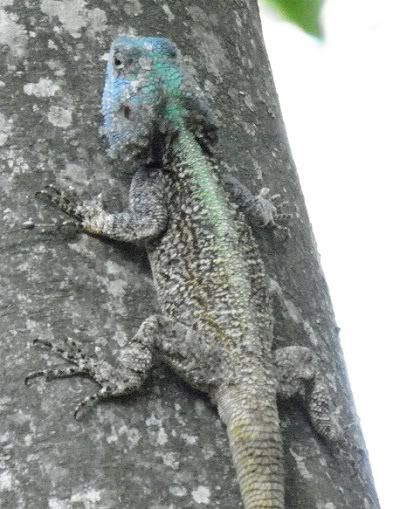 time for a little more monkey business
who said there's no such thing as a free lunch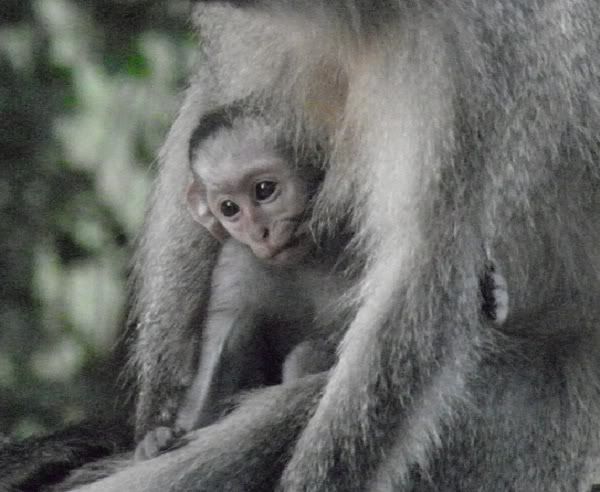 Shhh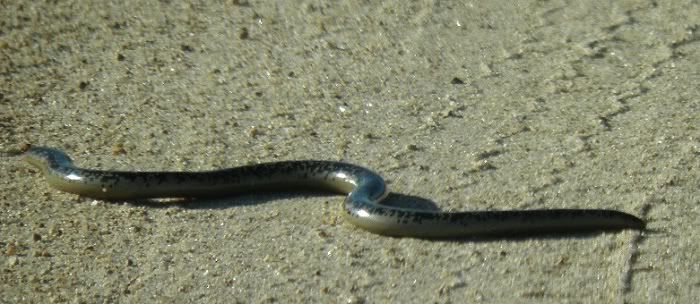 ---
Posts: 10
Joined: Sun May 01, 2011 11:46 pm
Hello All,
Sorry to say this is my last post for the trip report.. It has been a pleasure meeting some of you and I have read dozens of posts before we left and I am sure I will continue to do so in the future. Even though I am just a construction worker, I have been very fortunate to have been able to travel to many different places in the world and I must admit that South Africa rates at the top of the list and will be at the top of the list of most favorites that I would like to see again someday.
------------------------------------------------------------------------------------------------------------------
As for this trip, we did the "not-recommended" and it worked out for us as we are "professional travellers" (haha, as most of you are also)... We only brought a backpack and a small duffle bag each and had prepared ourselves mentally for what we were going to attempt to do.... over 10,000 miles there- 7 days and a different camp each night and about 100+ miles (about 160 to 180 kl per day - I obviously love to drive)... Pretoriouskop, Lower Sabie, Oliphants, Mopani, back to Oliphants, Skukuza and over 10,000 miles back. ( and yes, we all slept for two days straight when we got back... And it was well worth it.
-----------------------------------------------
Day – 5 (last full day)
"I was dreaming of Afrika"
Another great day ! Left Oliphants right at 6am and our plan was to take the main tar road down to Satara and then cut in to the 36 and take it all the way down the back way to Skukuza. Got some beautiful sunrise shots on the road and the temp was perfect today, around 70-75f. We saw- Giraffe, kudu, impala, sables, a lot of different kinds of birds and caught a few eagles hunting out on the open area about half way to Satara. Saw some kori-bustards on the road as they were honking their way through the traffic. More ostrich, ellies, zebra and my personal favorite, the Rhino- well you get the picture.
If you can estimate that all the road frontage we travelled the past five days was say 1/20th of the area between all the roads and the sightings were proportionate to that equation, then oh my goodness this park must be the most well protected of all game reserves. And let's hope it stays that way (no hotels). One of the neat things I noticed is that a lot of the locals had little kids with them. Being as excited as we were as adults, I can only imagine what this must look like from a child's perspective. My boys are the typical 21 and 24 year olds and they are not easily excited, but they were glued to the windows the entire trip so far and will probably be on alert for our last day tomorrow as well.
I have been looking for snakes and lizards and the monitor we saw on thurs was magnificent. Today, I saw a dark greenish colored snake about 4 ft long as we were going into one of the picnic spots on the 36. She was stretched out perfectly across the road and stopped right in front of us when we stopped. I got one well focused pic and then she took off like a flash, back into the bush. I asked the guys at the picnic stop just a few feet around the corner and they were pretty sure it was a female Boomslang. My wife overheard them as they said "yah, with a female, you have more time to get to the hospital". You should have seen her face when I turned around, as we were standing in an area where you can get out of your vehicle and there are signs that say "at your own risk". There are no big wire fences, just horse type barriers. Really cool.
I think the highlights of today aside from seeing our second Lion (not that we're counting) was our encounter with another troop of baboons. This gang was much smaller, of maybe 8 or so. It looked like one really big guy and maybe the rest of the family. A mid-aged male came right up next to us across the road just sat down like a human. So we shut the truck off and decided to visit with him for a while. He had his legs stretched out almost like he was pretending he was in a lounge chair. He was picking at himself like they all do and occasionally looked straight at us with a curiosity that was above average for these guys. Anyway, I got some really cool portrait type shots of his face each time he looked at us and we'll see what I can do with them when we get back home. The 36 was a long dirt road with a couple of stops, which is exactly what we wanted for half of our touring as we headed back south.
Skakuza is a beautiful camp just like all the rest and sitting right on the river like most of them really adds to the setting.
I think the boys are taking us out tonight for dinner as we have only eaten out about 3-4 times since we've been here. We hit the pick-n-pay at Whiteriver on our way in and stocked up just enough for one full week, plus an ice chest. It has worked out really well, especially for my specialty- breakfast. We have had eggs, bacon, cereal, yogurt with granola mixed in, fruit, toast with jelly and sweet Hawaiian type rolls that they sell here. I'm sure tomorrow will be just as much fun as today, but were a little bummed that we have to leave tomorrow. This is one of those trips where you wished you booked another week.
yah, he's pretty cute, but be sure to keep an eye on mom and don't tick her off !
even if there were no animals here, the scenery alone would be worth the trip...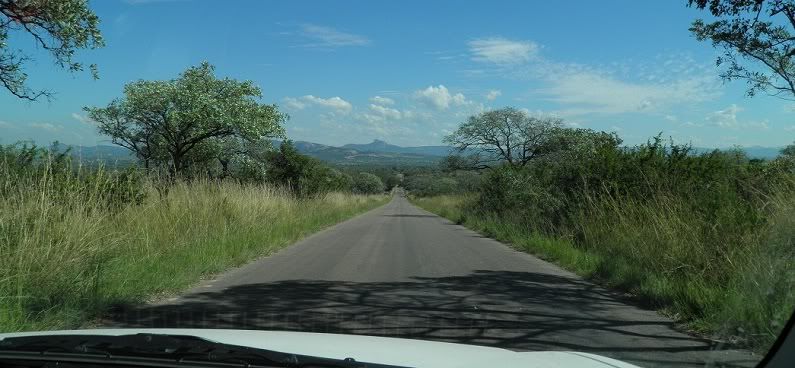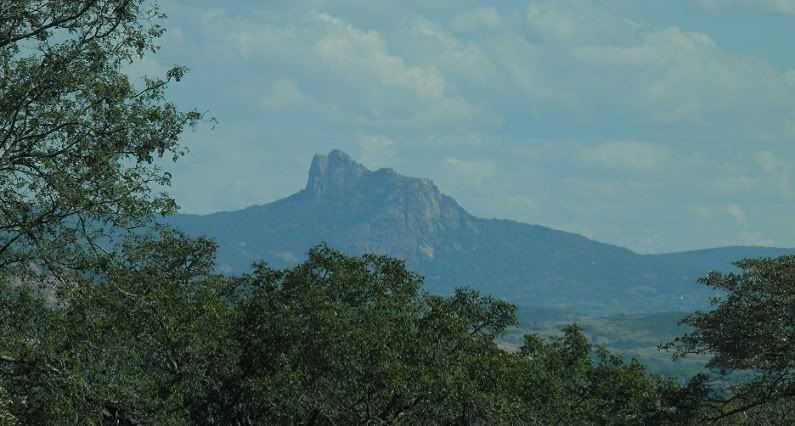 one last pic of my favorite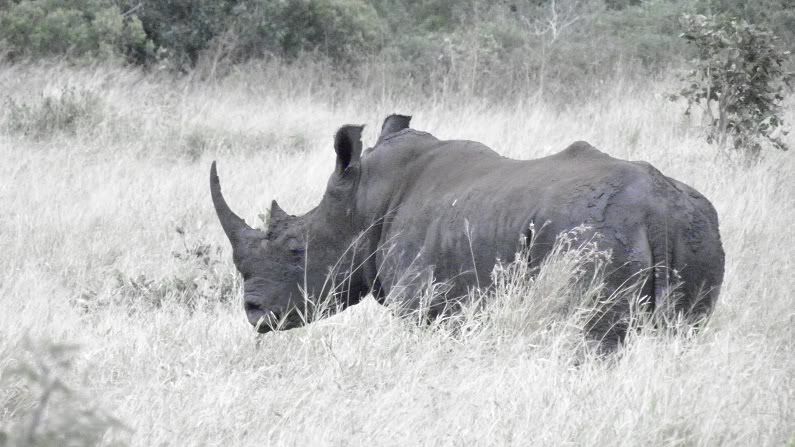 Oh, and here's another one of my really good Lion pics...
You know, just being in a place where you could have a Lion jump out at you at any minute was really cool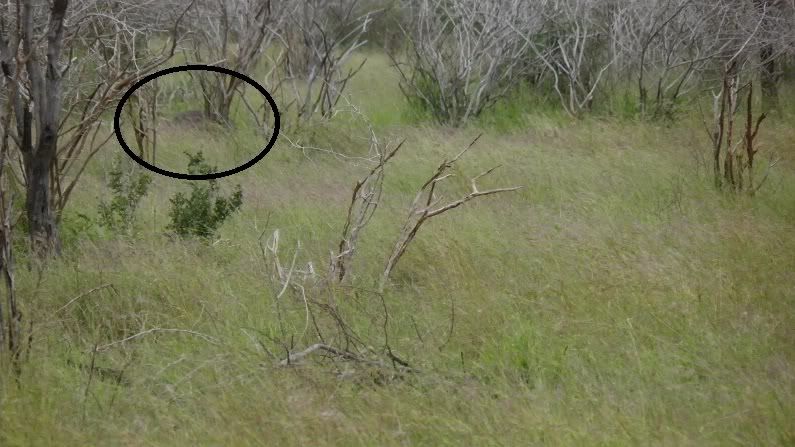 --------------------------------------------------------------------------------------------------
Drive out day- (day 7)
"I will be dreaming of Afrika for some time to come"
We said we were going to sleep in this morning, but we all got up at 5 and after a big breakfast, we were at the gate again right at 6am (again). We had plenty of time to go back down to the Numbi gate, so we took a couple of loops around Skakuza, went down and back up the 114 and then headed west to go down the S1 and take our time heading out. Even though we were a little tired, we had another great half day of spotting and pretty much saw all of our favorites. Left Numbi at 1pm and then it was a quick and easy 45 minutes down to the Mpumalanga-Kruger airport as we headed back to the US.
Mpumalanga-Kruger was the coolest little airport I have ever seen...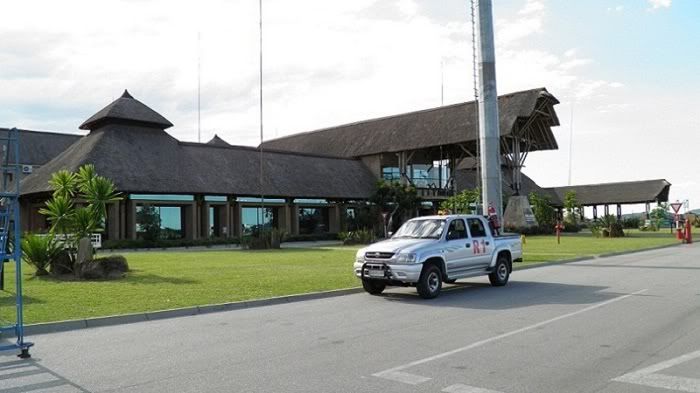 and away we go...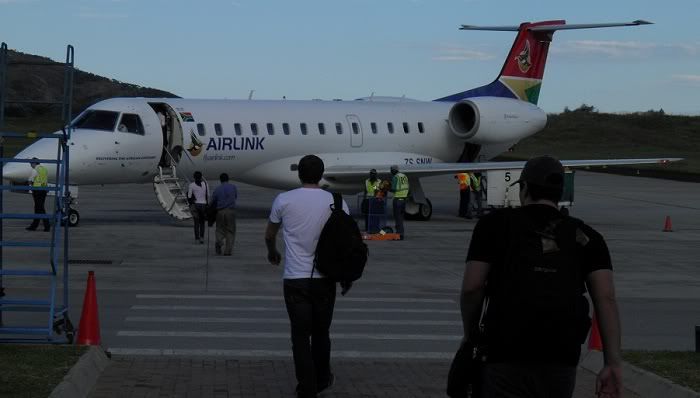 ----------------------------------------
I know its just about Kruger here, but I thought you might like to see a couple my friends back here in the US. We have Bears, Deer, Cougars- which we call mountain Lions, bighorn sheep, hawks, wolves, coyotes, squirrels, the little chipmonks and plenty of cool birds...
the Coyote, about the same size as a jackal, but we have plenty of them...( he's walking thru my front yard...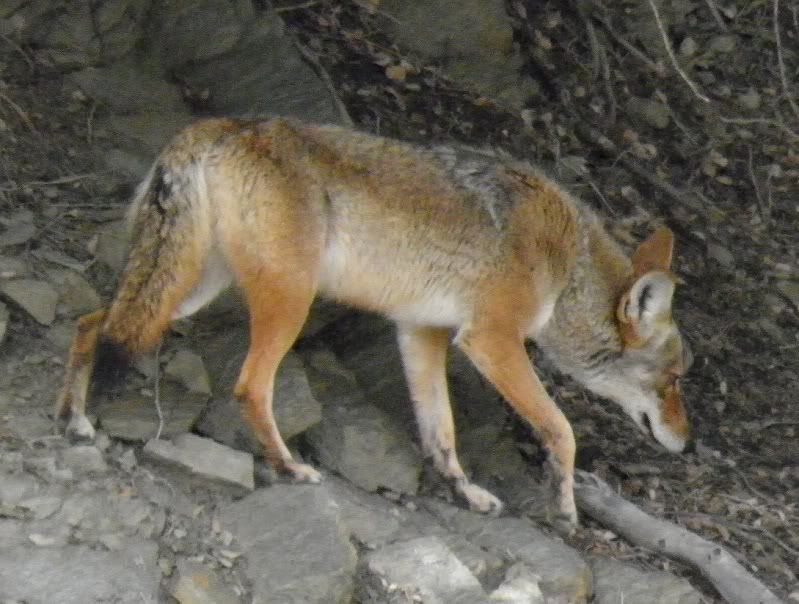 these little guys are my favorites, Alvin here is only about 5 1/2 inches long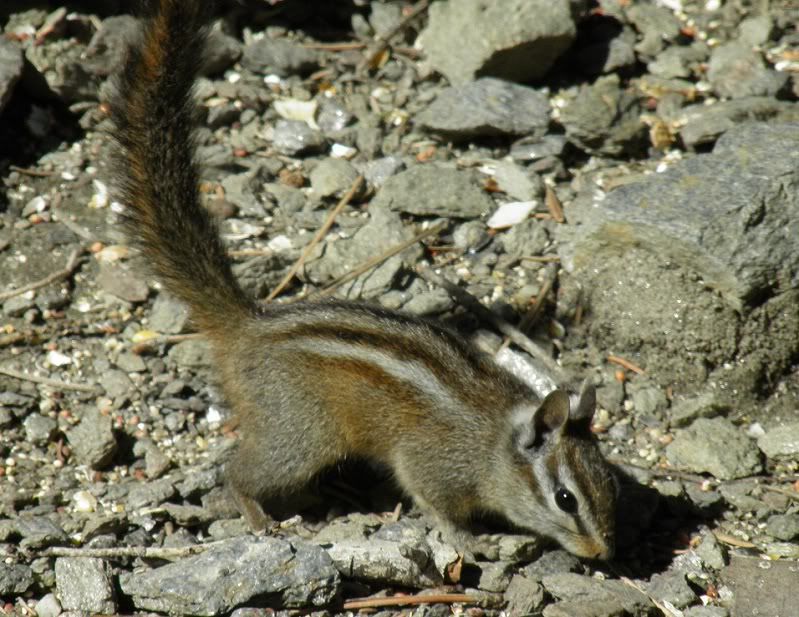 and he does just fine in the winter months up here...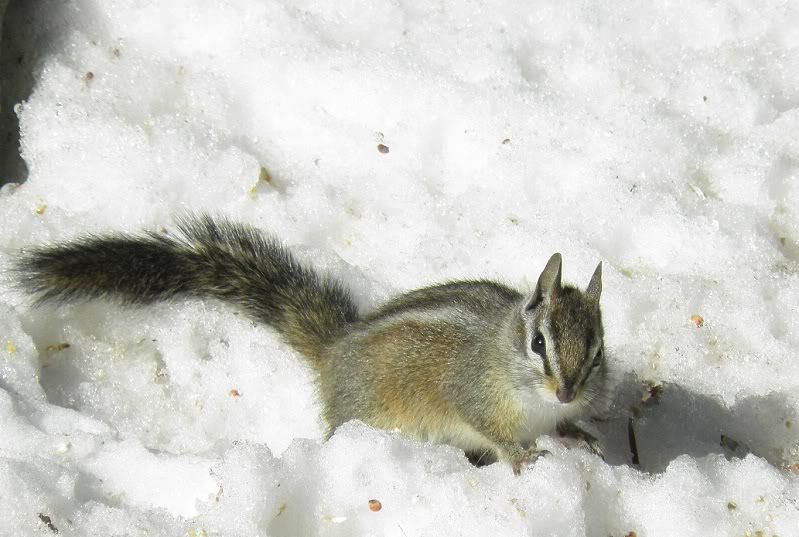 Again, it was a wonderful time here in South Africa, God Bless..., Dennis, Ronda, Daniel & David
---
Posts: 10
Joined: Sun May 01, 2011 11:46 pm
Thank you all again for the Kind Words. It was truly a pleasure reading all your trip reports. And seeing all the wonderful pics that you guys have posted. I look forward to coming back again sometime and most of my friends that I have shared the DVD with have expressed a similar interest after seeing what a safe, yet exciting time we had. Take care and keep up those trip reports and pics......C-ya, Dennis-
---
Posts: 10
Joined: Sun May 01, 2011 11:46 pm
I have read a few posts where some have felt inadequate on their photography. I purchased a very inexpensive camera that had a ton of zoom for this trip and I was very pleased at what I was able to do for the amount of money I spent (of course, you get what you pay for and we can't all be Shafira's and Duke's)

It was an Olympus Sp-800UZ and it has 30x optical and x5 digital for a total of 150x zoom with a fairly wide angle. I also purchased a window mounted tri-pod (it just screwed onto the window) and again was very satisfied with what I was able to produce for what I spent. I supposed when I come back, I will break open my piggy bank and purchase something like what Duke and Shafira use to get those really professional pics that they are so good at...:-)
---
---
Who is online
Users browsing this forum: No registered users and 3 guests