Woohoo have finally convinced my missus that Kruger is the place to be. Not only has she agreed to join me this time she has agreed to marriage as well. Taking into account her nervousness with Elephants I thought what better place to get married than on the Olifants river! And got to say a big thank you to Sprocky for making our dreams a reailty he is certainly a miracle worker! Then 11 nights honeymoon in Kruger
1 night Punda Maria
1 night Mopani
2 night olifants
1 night pretoriouskp
1 night Malelane
1 night Skukuza
3 nights Maroela
These were the only nights we could get as we'll be coming in July but I'm so excited and can't wait. It doesn't matter to me where we stay as long as we're in Kruger! Hopefully will catch up with some other forumites then! Braais, Biltong and the best sunsets ever here we come
[ Post made via Mobile Device ]
Last edited by
El-Bok
on Tue Apr 26, 2011 7:10 pm, edited 1 time in total.
---
Ok time to start the trip report with my first disclaimer due to the current request of not posting rhino sightings I didnt take any pictures that will be published however I can safely say that between Punda Maria and Berg en Dal we saw plenty of Rhinos
.
Day 1
- A serious of unfortunate events.
The time had finally come for us all to start on journey to Kruger the excitement that had built up to fever pitch would subside to frustration within the next 30 odd hours. Just to highlight the first days travelling My missus, her son, mum, and our 10 month old baby all set off on what would become one of the longest ever journeys filled with many moments of
Arriving at Johburg we met up with a family friend who supplied some sandwiches drinks, and GOLD (Borewors & Biltong) for the Journey. We picked up the hire car and Set of for Punda Maria gate for our first night under the stars. Making great time we hit the R81 for Giryani at about 1:30pm so our hopes were high that we would be in the park by 4pm for a small drive however we were hit with major roadworks meaning every 5kms there seemed to be a 15 minute wait and 10kms of single file travel
eventually arriving at the gate at 7:00pm we were able to arrange a late pick up and were escorted to our camp site. Setting up camp under the stars and song filled air (owls and night jars calling) we were slowly starting to relax with a cold castle (considering we couldnt find a braai ) when first our camp light broke, then both our torches ran leaving us in darkness
plan B use the car lights and start the engine intermittingly which as you can guess could only result in ?? yep total darkness and a dead battery
in fact the only person seeming to enjoy it was our baby revelling in his new found freedom and dirt to play in! We decided to call it a night and hit the sack knowing it could only get better!
Day 2 -
- A serious of unfortunate events Kruger Bites back
Waking up nice and early we managed to get some much appreciated help to start our car and head off for our morning drive. We had been warned that this was a bad winter but didnt believe it until the overcast and cold morning produced very little as we took the S60 & H1-8 on our way to the Pafuri Picnic Spot with the missus starting realise I wasnt joking when I said that to see her leopard and lion she so desperatly wanted to see would be difficult and to prepare herself for not seeing them! we did mangage to get a nice glimpse and pic of this lovely steenbok
This alerted me to the fact I hadnt loaded my sim card into the camera leaving me with only limited internal memory (leaving me 3 more photos) which Im sure you could imagine didnt improve my sense of humour!
Pafuri picnic spot was beautiful with many vultures circling overhead just before we got there. We stopped counting when we reached 50!, we did scan for a kill but couldnt find anything
so we just settled for a lovely cup of coffee and some biltong before heading off. Our next animal was the only one we saw on the trip and one of my wishlist.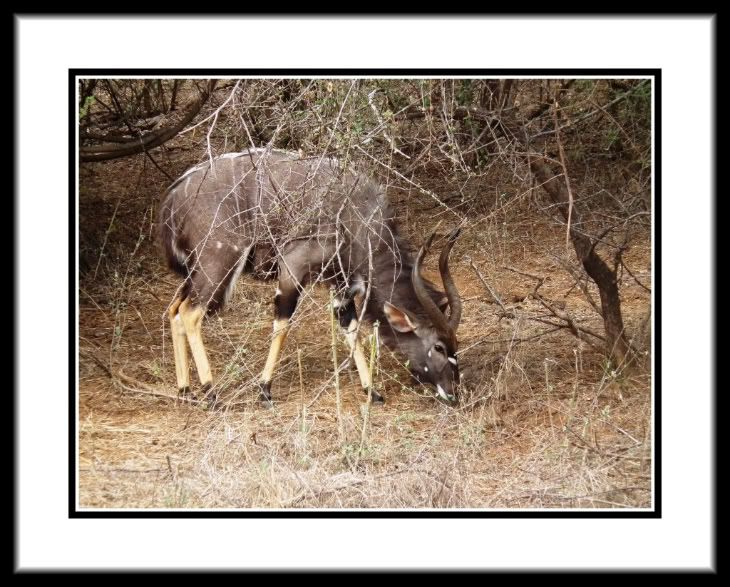 With my mood finally starting to lift at the Nyala sighting I took a wrong turning and found ourselves at the Pafuri gate oops. Guess it was going be one of those trips. So turning back for camp with the missus complaining on the lack of wildlife and suggesting we should have gone somewhere else
Kruger struck back with its very own brand of Magic walking across the road.
Just enough time for my last two shots, I'm not sure what happened to the leopard right eye seems cloudy? still with our first joint wishlist sightings we were all content and decided some R & R was in order for the afternoon and settled in for a nice steak and vors Braai washed down with some cold castles whislt contemplating our next days adventure under the skies (the stars in Punda Maria need to be seen to be believed) - I hope this is what heaven is like
---
Thank you all for your great comments and yes the Leopard certainly lifted the mood we couldnt believe how lucky we were.
Day 3
An early morning wake up and coffee was enjoyed by all before we started the long all day safari down to Mopani. The plan was to travel down the main raod to babala picnic spot in search of the rare antelope of the North I was desperate for Roan. Our first sighting was a beautiful little grysbok which was to quick for a phot however, it was to long before we encountered our first of many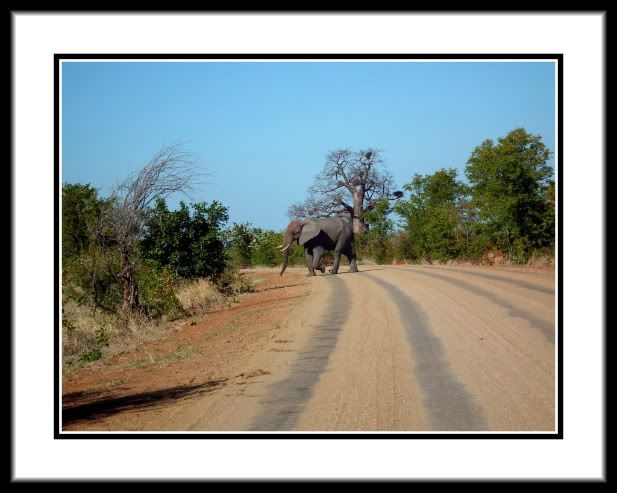 the other usual suspects were to be seen along the way aswell.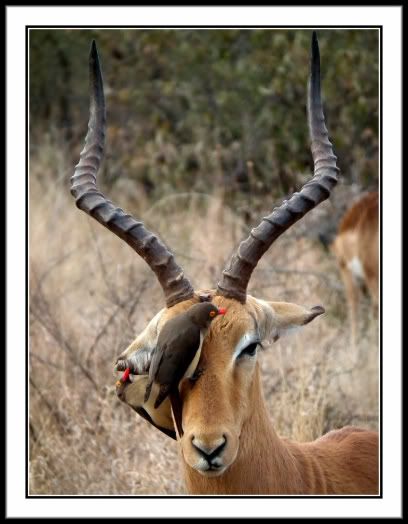 and finally the largest herd of buffallo I have ever seen must h ave been 300 but they were all deep in the bush apart from a few
and one of my favourite birds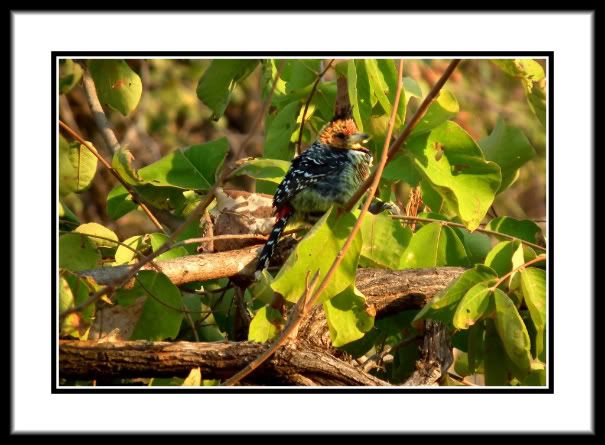 Unfortunately no rare antelope untill of course we got to bababla picnic spot where we rewarded with a lovely surprise a small of herd of these beauties drinking at the waterhole.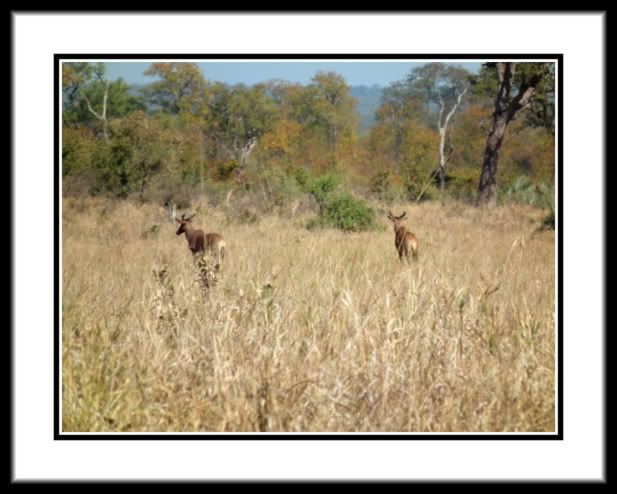 Got to say bababala picnic spot turned into my favourite picnic spot in the whole park with this sighting. very nice place with some opportunities for lovely photos of these birds
One of my favourite photos ever
---
Thanks Pumbaa
From Bababla the drive was long to Mopani via shingwedzi for lunch but it did give us our first Bird of Prey sighting of my favourite eagle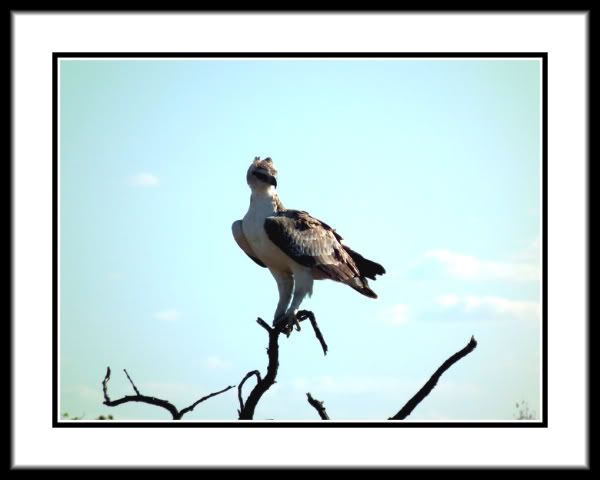 Also a quick stop off at the Tropic of Capricorn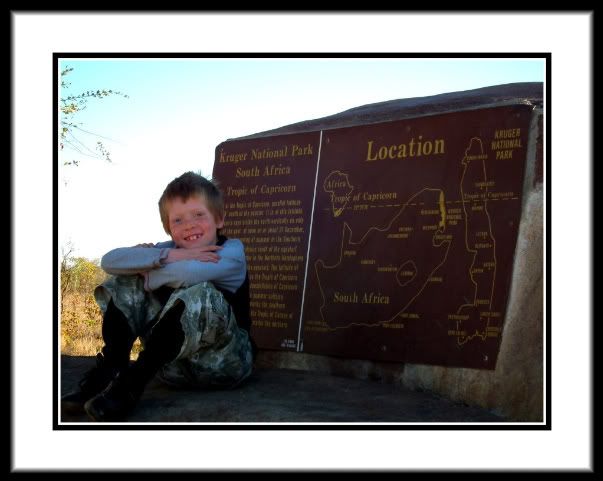 and we were finally there and boy was it worth what a few from the family cottages at Mopani over looking the dam, I will defintely be staying there for many more nights next time, espceially since we were welcomed at the cottage by this gorgeous creature
---
Hi all thank you so much for your comments.
Matthys I do not have a pic of my YR as it was a very poor mans effort
in case anyone else is wandering it was a yellow bag held round the wing mirror with a plaster
Day 4
- Wedding drawing nearer
Today we were set leave the park for our wedding destination both feelings of dissapointment at leaving the park for a while and nervous anticpation where growing now. The plan was to have brunch at letaba before heading out phalabowra gate. At this point I hope some sanparks staff are reading this and can pass on my sincere grattitude to all staff at Punda and Mopani the only two camps where every member of staff said hello and where ready to have a friendly chat at all times they made you feel like part of a family and they where brilliant and really made us want to come back
we didnt really see much untill letaba when the sightings started rolling in.
First up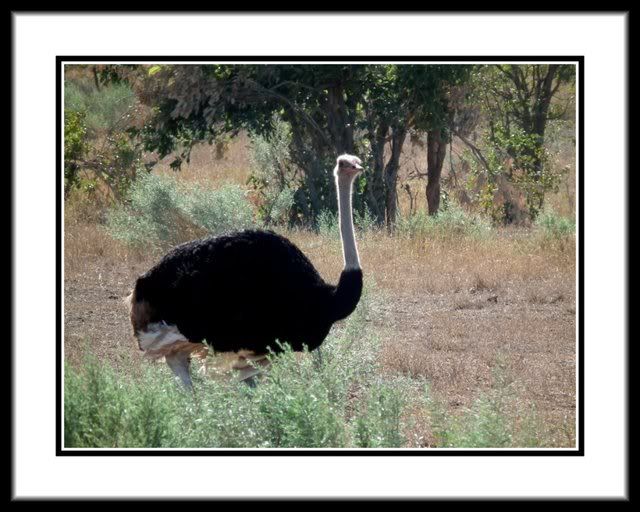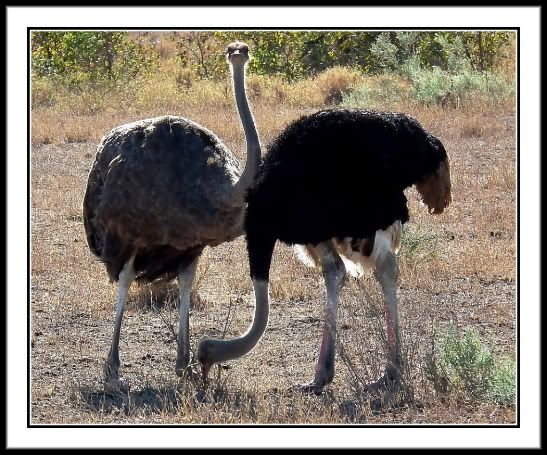 I dont know what it is about Ostrichs but I could watch them all day they are just so cool and demand a stop a photo we didnt see many on this trip which is what made this group so special.
Then it was the turn of the dinosaur looking big bird
and our first GNU's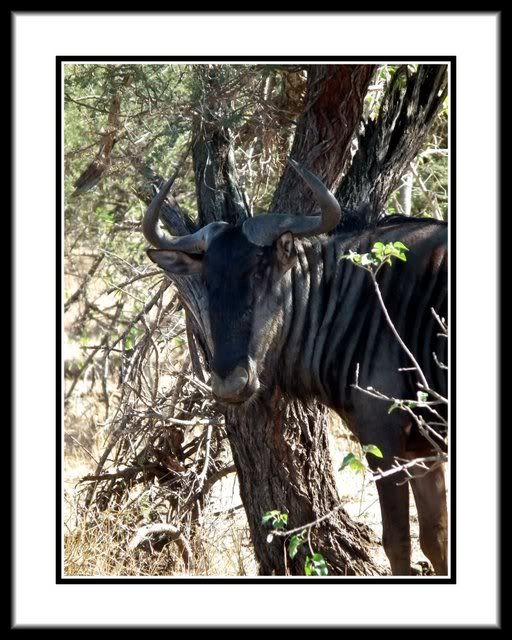 And then what was to become a familiar sight the Battle at the OK Corral (otherwise known as a Kruger Jam) except no lions but a large tower of Giraffes blocking the road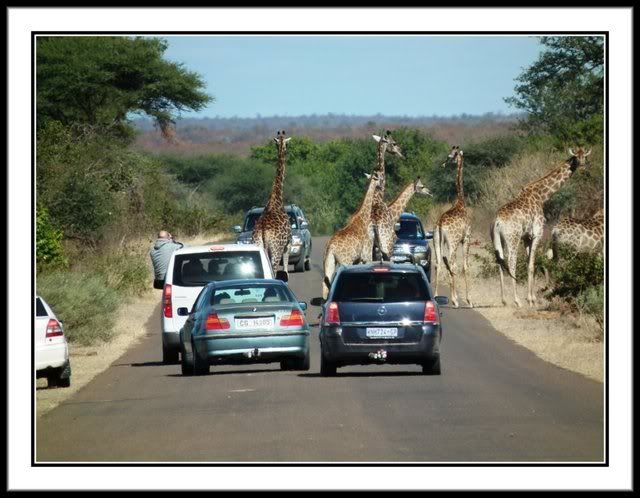 Brunch at Letaba was awesome and the view as to be one of the best in the park, I wish I could retire there and have every meal overlooking that view.
Our last few sightings included a coucal and some dassies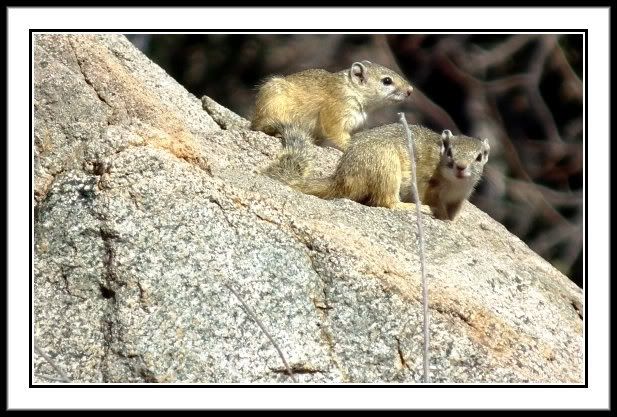 Right of for a short break - Still to come wedding photos as requested
---
The Wedding
Can you imagine the most important day of your lives together on the banks of a major river with the hippos grunting and the owls begining to hoot as the setting sun illuminates the sky in a beautiful orange glow?
Well thats what we had envisaged when we first discussed it. A few months ago I sent forumite Sprocky an email asking for advice on getting married in Kruger Park and after a few emails he set events in motion and got us something on the banks of the Olifants situated in the Greater Kruger and it was everything we hoped for and more!!!! it was the an extrodinary gesutre of generosity what Sprocky did for two people he had never met before and something we will both be grateful for and made me glad to be part of this forum, not to forget he was a great ambassador of the forum and SA when we finally met him to and he also provided us photos as a momento for the day. I would definetly recommend anyone travelling to SA to take a few days there and if anyone needs any help or advice contact sprocky.
The setting
The beautiful bride to be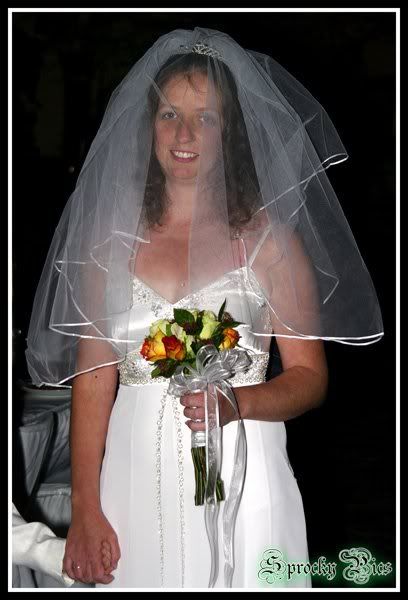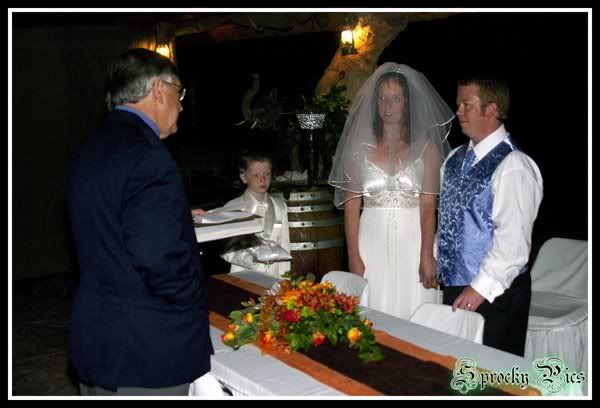 Ever since I can remember my Gran has always called me Graham confusing me with my cousin
and with here passing away a week before we flew out there was an air of sadness and regret that she did not see me get married. But when the priest went do you Mrs El-bok take Graham to be your wedded husband there was a huge roar of laughter and I knew then that she was watching over me in her beloved africa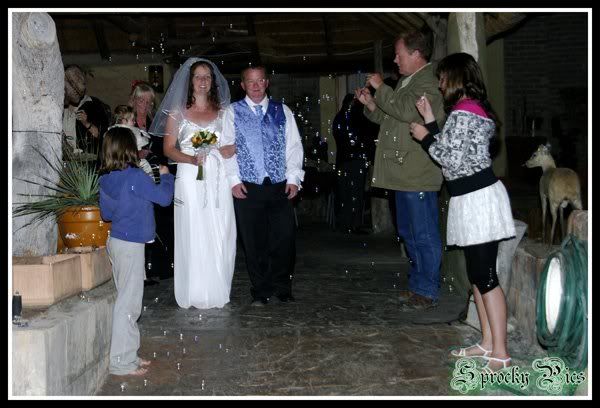 Embarking on our private late night river cruise with champagne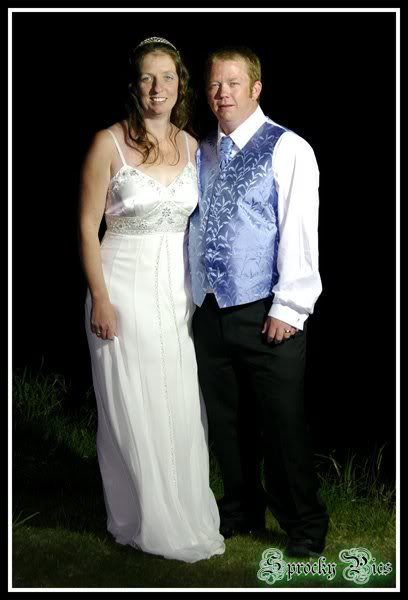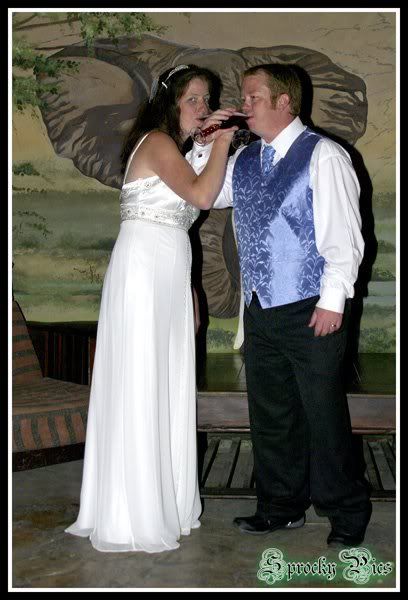 I hope you enjoyed the wedding photos, tomorrow is the first day of our honeymoon and time to finally reveal our first sighting as a married couple in Kruger Park and I can promise you it will be a surprise
---
Hi all thank you for the great comments
it certainly was a romantic day and im glad you enjoyed the photos.
Now for the week long honeymoon
We awoke nice and early and after long debates whether to drive down to orpen gate and then drive up to olifants or to enter through phalabowra gate we chose phalabowra and how pleased we were to be with decision. After getting a nice cuppa coffe at the gate we proceeded through and before anything could register about 1km in there was a shout of stop go back go back and what was staring at us????????? our first married KNP animal
only this beauty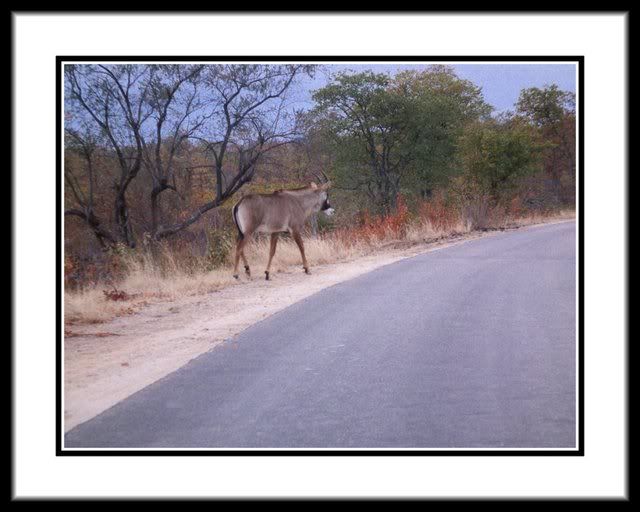 two roans crossed the road sorry about the pic but the light was bad and I was so excited couldnt believe I had finally seen them thought we had missed them again and didnt think they were seen this low??????? Also about 5 cars steamed pass making them very skittish couldnt believe anyone would just drive past a Roan sighting
A littlde further down was one of my target birds
What a start to our honeymoon
Which only got better when we stopped to watch our first african fish eagle of the trip who decided to catch a fish then land only 5 metres away in a small tree
What a first day we couldnt have been happier as we settled down for our evening braai and cold castle enjoying our sightings and with me still blabbering about seeing Roan for the very first time
---
---
Who is online
Users browsing this forum: No registered users and 3 guests