Virtual Ranger

Posts: 504
Joined: Sat Feb 28, 2009 9:09 pm
Location: Pretoria but on my way to KTP
Day 8 Grootkolk
We had another short windstorm and a few drops of rain during the night.
As per my daily routine left camp at 7:00, and at the cross road had to decide left (UE) or right (Nossob)?? Decided to go left as the waterhole at UE has always treated me well. It was very quiet this morning with just the normal general game in the riverbed. Then 7 km from camp I spotted my Lioness from yesterday afternoon, walking. She was again too far away for decent photos but at least I could this time determine that she has 2 cubs following her.
According to Franco there is a Lioness in the area that has 4 cubs. She was later spotted (in camp) with only 3. I wonder if this was the same one and if she has not lost another cub?? I followed her for some time and then realised that she was on her way to Geinab (I could see the solar panel). I quickly drove there and positioned myself for her arrival. It was against the sun but in its own way a special photo.
The cubs fooled around while mum had a drink (a looong one) after which they left into the direction they appeared from.
I drove past the waterhole to Union's End but no Lion today. The beauty of this area is that I have it mostly to myself. My tracks from 30 minutes earlier.
At UE waterhole it was initially very quiet and the birds started arriving and leaving (mostly Doves). I noticed this bird trying to hunt but I could clearly see he had no chance of catching anything. He was so slow and inexperienced. He almost gave the impression as if he was playing. He parked himself in a nearby tree and I think it is an immature Gabar Goshawk. Here he is amongst the doves on one of his mock charges ….
This lovely creature came for a bath and although he looked larger than the earlier one I am almost certain it is also an immature Gabar Goshawk. (Any help in ID out there?)
Later two BWB came for a drink.
Something spooked the one (if you look at his eyes, I would not be surprised if he saw my face
)
Returned to camp for a late brunch (11:30) and met this Tawny Eagle (?) at Geinab. Caught him sitting still and then he decided to leave my company.
Met the other people from camp on their way to Gharagab. They first turned towards Nossob and found two huge male Lions in the road …. Life is about choices ... although I would have loved the male Lions I really enjoyed the Gabar Goshawk improving his hunting skills.
For the afternoon drive I decided to go in the direction of Nossob. I left earlier than normal and it was still 31°C on the car's temperature gauge. Just after turning I found these Squirrels feeding on the Kalahari water reservoir, a tsamma. They really attacked them and I must say it did look tasty and full of moisture.
This stretch of the road was very quiet with very little happening so I decided to only travel as far as Kannagaus and then turn around. I went all the way back to UE waterhole but for once even this was not as rewarding as always. I decided to call it a day and return to camp. I witnessed a beautiful sunset while sitting next to my fire.
What will tomorrow bring? Will I be lucky enough to see the lioness with cubs again......
---
Those cubs are to die for!!!
I'm not a bird expert either, but I'd say gabar goshawk is spot on. The PCG seems to have a flatter top of the head and this one looks quite roundish.
Summer 2014 - Oz! It was awesome!
---
Virtual Ranger

Posts: 504
Joined: Sat Feb 28, 2009 9:09 pm
Location: Pretoria but on my way to KTP
Day 9 Grootkolk
Same as every other day, I left camp at 7:00. It rained again during the night and it was a bit misty. The Surricates brave the early morning air to get some sun on their bellies while they were playing lookout.
Will I once again meet up with the Lioness and two cubs on their way to Geinab?? I checked the area carefully but no luck this morning, no wait what is that up ahead ….? She was already at Geinab but was going to drink from the rainwater in the road (where the White Stork hunted two days ago).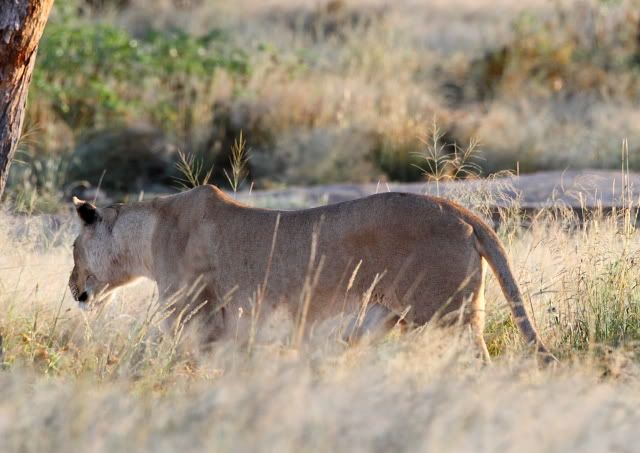 At least I can get a clear shot of the cubs. They are soaking wet from walking through the tall wet grass. Aren't they cute?
The one even dared to bare its teeth at something (Who me? Never …)
Was joined by a forumite (without yellow ribbon ...). I think it was BeeGee(?) and they wanted to know if I was Touareg (driving one). They left to return to the E Cape (bakkie and off road trailer registration numbers) and I continued to UE. I almost immediately noticed some more tracks in the road, looked like a Lioness. Although it was fresh I did not think they were still "smoking". I followed them for some kilometres and later lost interest. All of a sudden I noticed a movement in the tall grass ±10 yards from the road. What, another Lioness, but this time with some blood around the mouth, fresh blood!
The grass was very tall but she had just made a kill! I could suddenly make out a BWB leg sticking out. (not a good photo)
As she was busy feeding, probably lying down, I lost sight of her and I decided to continue on. A short distance forward some more tracks but coming in my direction, must be the Lioness that just killed the BWB.
Quite a "Lion morning", what will I see next? No I don't believe it, another Lion. This time a large male but he was not very friendly and not to keen to pose for a photo.
I followed him (back to the kill, which was ±1 km away), but he did not like this and moved further away from the road. I left him to go his way.
(tbc)
Nov 2017 KTP
9 & 10 Nossob
11 to 15 Grootkolk
16 to 19 Urikaruus
TR on the Nov 2017 trip is active, bus has departed
---
Virtual Ranger

Posts: 504
Joined: Sat Feb 28, 2009 9:09 pm
Location: Pretoria but on my way to KTP
Day 9 Grootkolk Part 2
Arriving at UE waterhole a Southern Pale Cheeked Goshawk was bathing but he flew off as I approached. There was very little action as the same young birds of yesterday (I am not convinced they are Gabar Goshawks as they are slightly bigger than the doves) were flying past and chased everything away. This is the best shot I could get of the "lazy"hunter
Eventually the first NSG arrived but just as it landed a Lanner Falcon tried to catch it. The rest of the morning the NSG tried to stop off for a drink but were very skittish. They had quite a few flyby's but did not land. Eventually 2 brave ones landed some distance from the water but never came to drink.
We had a near mid air collision with some Doves but no long drinks and loading feathers like the day before.
Later some BWB came to drink after a very uncertain approach (I did shower this morning …).
Decide to return to camp as my tummy was starting to growl (it was already 11:30). The Lioness moved her kill to a shady spot right next to the road and I could see that it indeed was a BWB. (you can see the corner of the side mirror in the photo)
She left the carcass as I approached and watched me from the opposite side of the road.
Back at camp (after a cold beer and some left over braai of last night and some grapes) a Hammerkop visited the camp waterhole. I noticed he was playing with a dead bird. I don't know if he caught it or where he got it from, but he threw it into the air a few times. Photo not too good as it is cropped (even with 500mm lens).
For the Afternoon drive I decided to (I wonder why...) drive up to UE again (still no water at Kannagaus and Lijers Draai just too far). Found this Martial Eagle at the vlei area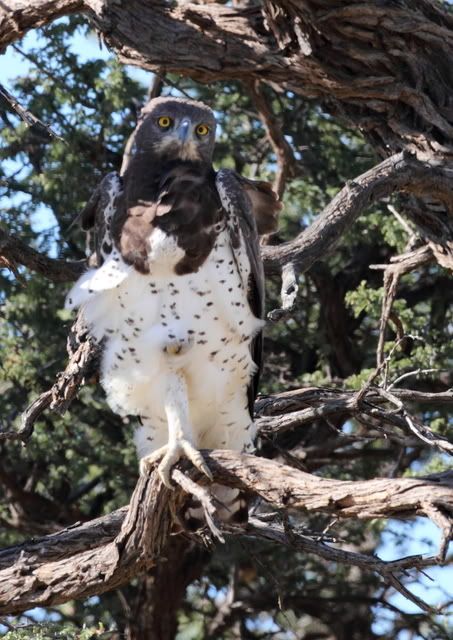 And this LBR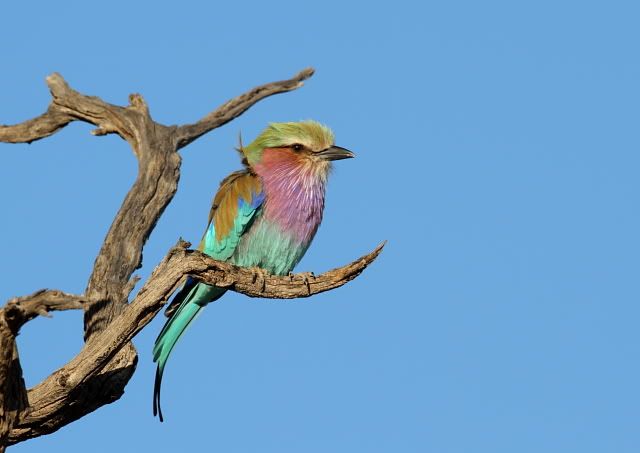 and this massive herd of Springbok (could only fit probably a quarter of them into the photo)
For once Geinab was unproductive and I travelled on to the Lioness with her kill. She was still around and not keen to be photographed …. I told the neighbours in camp about the kill and they were following me. I therefore left for the UE waterhole as she was very skittish.
Again the waterhole was dead quiet and after relaxing there for an hour returned to camp to pack (boooo). The Lioness's tummy was too full to move away so she rather tried to hide.
I was not aware that they relocated some Rhino to KTP???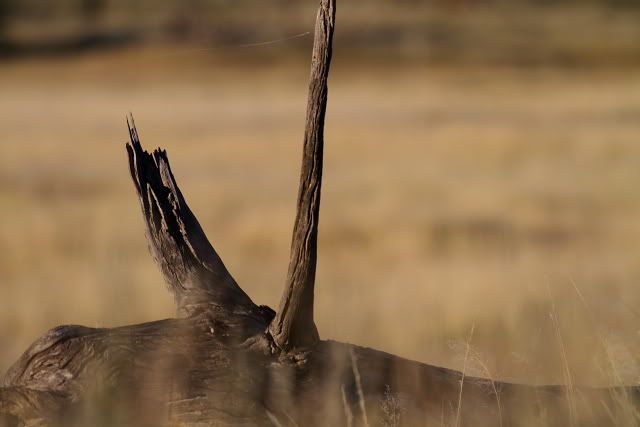 I still need to find a decent Silver Backed Jackal and my favourite the Bat Eared Foxes. Back at camp I sadly started to pack while again cooked my veggies to add to my wife's chicken stew (potato, onion, pumpkin and baby marrows, njammies …). Franco came to exchange some of the magazines that I brought for the camp attendants (he finished some and cleverly suggested an exchange, now also running Tobie's library service, any excuse will do ….)
While preparing dinner, some Hyena visited the waterhole but too dark for aphoto. As I am updating this there is a very funny but unfamiliar noise from outside (I can see it is not the neighbour attacking his wife). Almost sounds like a Jackal but not that frantic howling, hope to remember to ask Franco in the morning.
Plan to leave camp at 7:00 and hope to find the female with the cubs at Geinab again!! Perhaps the Lions will visit camp tonight, or even better, a Leopard……
[ Post made via Mobile Device ]
---
Virtual Ranger

Posts: 504
Joined: Sat Feb 28, 2009 9:09 pm
Location: Pretoria but on my way to KTP
Day 10 Grootkolk to Gharagab
No visitors during the night
(or I slept while they were here …). Getting up early this morning (6:00) was rather challenging as it was nippy (later saw car temperature gauge said 6°C). I quickly packed the car, made coffee, collected my permit and said my goodbyes to Franco. I had a wonderful 4 days here in Grootkolk and enjoyed my daily chats with Franco. Goodbye Grootkolk, until next time …
Will I be in time to see my Lioness and cubs at Geinab? Will she be there this morning? It was with great anticipation that I approached the waterhole. From a distance I could see some BWB and the large herd of Springbuck close to the waterhole.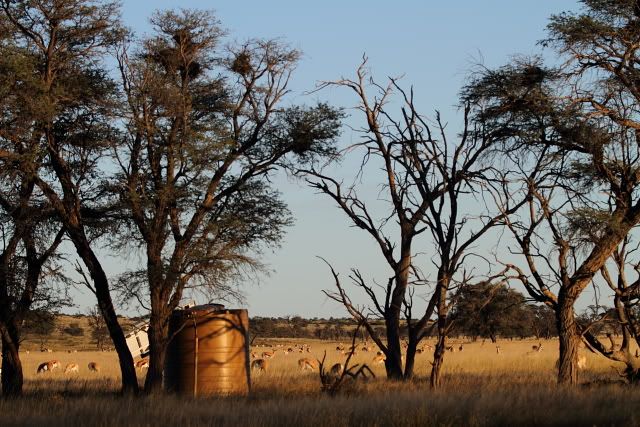 This can only mean one thing, no Lioness. I parked and really scanned the area from which she normally approached. I checked the road for fresh tracks but could only find some prints of the day before.
Unfortunately I had to say my goodbye to her in her absence. All the best with raising your 2 (remaining??) cubs.
The Lioness at the BWB kill either moved the carcass herself (drag marks in the road) or the scavengers got hold of it. There were such a lot of different spoor that it was difficult to tell. I did find this lion dung with a variety insect visiting.
So far no Lion today! Will it remain this way? At last I found a semi decent SBJ, although far off.
In the distance I noticed a large herd of Eland walking towards me, parallel to the road. I know they are VERY skittish so found a spot with, what I hoped, was a clear line of sight, turned off the car and waited. It worked and I managed to take some nice photos. It was amazing the number of calves that were with the herd, a very productive year in Kgalagadi.
Once they realised I was there......
This RHB must feel very akward
I moved on to the UE waterhole for my daily dose of finger exercise in improving my BIF of the NSG.
While I was just sitting there staring at the waterhole (which by the way, for those who do not know, is quite close to the road) Two Lanner Falcons made a quick dive past for an opportunistic breakfast. It was amazing, the speed and the woosh sound their wings made in diving past, one after the other.
This male Shaft Tailed Whydah came for a quick drink
I eventually decided that it is time to go to Gharagab and unpack for the last time this trip (in KTP).
The two spoor track was amazing with the grass being very tall after all the good rains.
Sightings on these tracks are normally few and far between but the landscape truly makes up for this. Also being alone, I often just stop, turn off the car and listen to the silence, WOW.
I found this abandoned simplex complex
and the lodgings of the in-laws.
Gharagab waterhole with all the tsammas,
And a pair of Steenbuck.
Arriving at camp I was met by Oliver, who I met when I was in Grootkolk during a previous visit (Eric the almost permanent attendant is off and will be arriving tomorrow). There was a chill wind blowing right into the face of the cabins. Oliver informed me that hut no. 1 is mine and very eagerly enquired about the magazines that "he was told I am bringing". These guys are so appreciative of whatever magazines or books you bring them (especially Afrikaans and outdoor living although they all said they also enjoy English magazines as well).
I drove the short way to my cabin and to my shock my neighbour was showering in my cabin! Obviously I was not happy, especially by his excuse, that the water in his cabin is not ok. Hell! Did he report this to Oliver? NO! He just wanted to shower at the same time as his travel companion and conveniently decided to use the facilities next door …. (or that is what I think).
On arrival Oliver told me that the Lions were seen on a dune on the other side of the waterhole in front of camp early this morning. Later the kind gentleman from chalet 3 came over and showed me the Lions. They were still there, just moved to stay in the sun.
The view from the cabins is just spectacular.
I later went for a drive to the Dankbaar waterhole, only 4 km away.
Just as I stopped next to the waterhole 3 SPCG were flying past making a hell of a noise. I noticed the one had something in its claw and the other 2 were trying to make him share. They unfortunately werenever in a position to photograph but was still very funny.
At the waterhole many different birds were enjoying themselves by drinking or taking a quick bath
Back at camp it was now really getting cold so I decided against watching the sun set from the lookout platform and started the fire for my braai. While I was turning my steak this SBJ asked for it.
Obviously I did not oblige (I noticed in the visitors book a lady, who visited for 8 days in December asked the visitors to feed her cute jackal that came by every night for his leftover from the braai…. How ignorant can you be?)!!
It is now after dinner and it feels as if the cold breeze has died down a bit (or is it my happy feeling as a result of a tasty steak in my belly?) I wonder if the Lions will be visiting tonight. I hope at least they give us some spectacular roars.
The breeze was only quiet for about 15 minutes and then it picked up speed and it became freezing cold. Luckily the shower was nice and hot but then the cabin is so cold. I have earlier closed all the flaps but they obviously do not seal 100%, but this is still better than being cosy in Gauteng …. I eventually ended up with the duvet and both other blankets over me, that was really cosy and warm enough.
Last edited by
Tobieo
on Fri May 13, 2011 5:38 pm, edited 1 time in total.
---
Virtual Ranger

Posts: 504
Joined: Sat Feb 28, 2009 9:09 pm
Location: Pretoria but on my way to KTP
Day 11 Gharagab
Wow, imagine being woken early morning by Lions roaring in camp. Fabulous!!!
It sounded like coming from cabin 4 (it was not the inhabitant snoring …)! I quickly braved the cold, took my spotlight but there was nothing to be seen anywhere, just this beautiful roaring. I jumped back into bed and lay there listening to the Lion's roars. I must have dozed off again because I was later once again woken by roaring. The only difference is that this time they were closer
. I suddenly realised that he must be at my cabin!!! I jumped out of bed and grabbed my camera. Yes there he was! It was so stunning that by the time I realised I have to take a photo he has moved off (still taken only with my 24 – 105 mm lens).
As you can see it was just after sunrise and I watched him for some time walking away from camp and roaring. As I was now again very cold (only short pyjama pants and T shirt) I popped back in bed for another while. The neighbours (shower man) were packing their car and left soon after so camp was quiet again. You could still hear the Lion in the background.
I later spoke to Oliver and he told me the 2 males started playing outside his cabin at 5:15. They then moved on to cabin 4 where they entertained the guests and then later moved through the back of the cabins leaving the camp past my cabin. I looked for the spoor and unfortunately the wind blowing (freezing!) has somewhat spoilt them.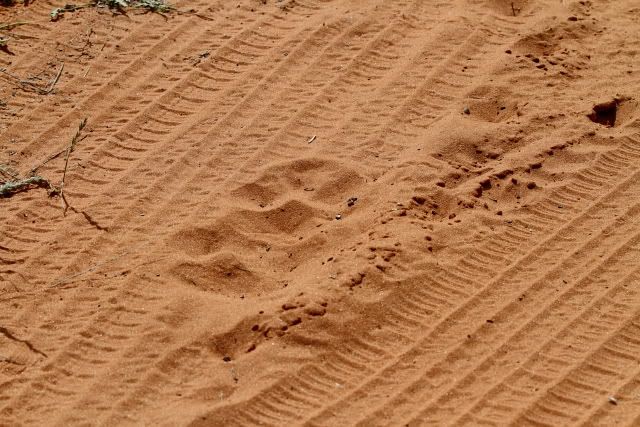 My need for an early morning cup of coffee (no not the other need, which was taken care of between the Lion's roars) forced me out of bed. I made my coffee and sat outside (with several layers of T shirt, sweater and fleece top) and enjoyed Gharagab's view. These Red Hartebees came for a drink, with some very nice reflections in the water.
After a nice breakfast made my way to Dankbaar again where I watched the birds for some time and returned to camp to find this beautiful Gemsbuck at the waterhole.
This is the view of camp from the lookout tower.
and from the front
I spent the rest of the day braving the cold wind on the veranda of my cabin reading and just chilling out (excuse the pun).
This Steenbok later came for a drink
Sadly
this is my last night in Kgalagadi as I am leaving tomorrow and driving all the way to Van Zylsrus. I am staying at the Van Zylsrus Hotel and then the final leg back to Pretoria. I wonder if the Lions will put up a show again tonight?? The wind died down and it turned out to be a very nice evening, a very nice last night in Gharagab sitting outside enjoying the stars and the sounds of the night.
Nov 2017 KTP
9 & 10 Nossob
11 to 15 Grootkolk
16 to 19 Urikaruus
TR on the Nov 2017 trip is active, bus has departed
---
Hello.
Here another video from our stay with Tobie in Urikaruus.
vimeo.com/23728418
Regards
Michael
---
Virtual Ranger

Posts: 504
Joined: Sat Feb 28, 2009 9:09 pm
Location: Pretoria but on my way to KTP
Day 12 Gharagab to Van Zylsrus
Damn, no Lions in camp this morning. Heard them roaring in the direction of Dankbaar though. I got up at 6:00 packed the remaining goodies in the car, put the kettle on and had a quick shower. I got the mug and flask ready to just add the boiling water and then I am off …… Yes you guessed it! Probably at 80% boiling point the gas ran out. I in any case filled the flask, made my coffee and drove to Eric's cabin for last chat and waiting for 7:00. He was very apologetic about the gas and offered to boil me some water. By now I have taken a sip of coffee and decided to not take him up on the offer. I had a long way to travel and wanted to be first out of the camp.
As I was slightly early I walked around in camp taking a few last photos including the sunrise over my cabin of the last 2 days
Then I was ready to go (look at my worse for wear yellow ribbon)
I departed at 7:00 after a somewhat emotional goodbye to Gharagab (stupid me). About halfway between camp and Dankbaar I see a lot of tracts in the road, but a lot and all over. As I glance to the left what do I see?
A Lion with 2 beautiful cheeky cubs. By the time I noticed them they were unfortunately some distance from the road. They probably heard me approaching and decided to leave. I grab the camera and take a few shots
While I am following the family I luckily glanced around and there is Dad, he must have still been next to the road and only followed later. (taken through front window so not sharp)
Then one last glance back before he also disappears over the dune
It was fun driving the 4x4 route back to the main tourist routes
and I surprisingly saw a lot of general game including some Steenbok and these Gemsbok in the rising sun on the 4x4 route..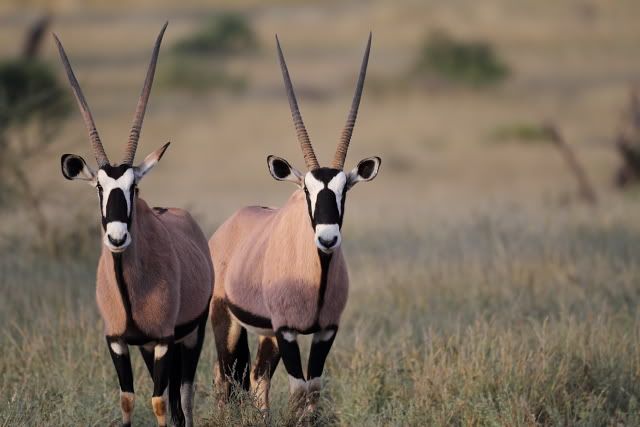 On the way to Nossob spent some time at Polentswa waterhole with some Gemsbok coming for a drink and quite a few Lanner Falcon trying to catch NSG
I stopped at Nossob for fuel and some refreshments only to find them running low on fuel; they had very little left so I just asked for 10 litres to see me through to 2R. I then continued on a leisurely drive down to 2R and stopped at every waterhole along the way. No predators (I had my fair share and there is more to KTP than only cats) but I still have not seen a leopard.....
Along the way came across this puffie in the road
I arrived at 2R and stopped for fuel and to inflate the tyres. I was very surprised to find Oliver (camp attendant that left Gharagab yesterday morning at 9:00) standing at the service station. He knew I was leaving and asked for a lift as he has been standing there since yesterday trying to find a lift. I just had to pack away all my photographic equipment and rearrange the car a bit and we eventually left 2R at 17:15. We don't realise the challenges these people face to get to and from work and be back in their respective camps to service us. Please, when asked, make a plan to accommodate them. They are all good people and are worth the effort and perhaps inconvenience for a 60 km trip to the "crossing" just past Molopo Lodge.
I bumped into KG just outside the shop (no one got hurt!!) and we had a brief but nice chat. Next time I promise to talk for longer Jannie.
I was sad but content when I finally left the exit gate. I had an excellent time in my favourite park. She shared some wonderful moments with me for which I am truly grateful. It is a privilege we have to be able to visit this beauty. Until next year, stay well ....
I misjudged the distance to Van Zylsrus (thought it to be ±1.5 hour's drive) and only arrived there well after dark at 19:30. I phoned ahead to confirm my reservation so all was ok. It is a very nice hotel, very friendly owners and staff. Willie the owner even welcomed me with a Blue Bulls (not Red Bull) shirt on.
Last edited by
Tobieo
on Sun May 15, 2011 1:53 pm, edited 1 time in total.
Nov 2017 KTP
9 & 10 Nossob
11 to 15 Grootkolk
16 to 19 Urikaruus
TR on the Nov 2017 trip is active, bus has departed
---
Virtual Ranger

Posts: 504
Joined: Sat Feb 28, 2009 9:09 pm
Location: Pretoria but on my way to KTP
Day 13 Van Zylsrus to Pretoria
Left the nice hotel at 5:45 and after some frustration caused by a detour in Mafeking (which is not clearly sign posted) resulting in me getting lost (again) arrived back home at 14:30.
This is the last of this TR
. I enjoyed sharing my visit with you and appreciate all the comments made. My recommendation to anyone would be, if possible, do the TR on a daily basis while in the park
. It is less of a problem to remember everything and it can be edited and updated as you wish on your return.
PS On my return I realised I am addicted (still looking for the KTP Anonymous group) and have since made reservations to visit Nov / Dec
(and obviously my yearly pilgrimage in April 2012)
Nov 2017 KTP
9 & 10 Nossob
11 to 15 Grootkolk
16 to 19 Urikaruus
TR on the Nov 2017 trip is active, bus has departed
---
---
Who is online
Users browsing this forum: No registered users and 2 guests