This was our 3rd visit to Kgalagadi – after having done KNP last year we just had to get back again to the red dunes! Although we booked almost 7 months before, we could not manage any camping sites between Easter weekend and the 1st May, so we had to revert to Plan B.
Plan B was to spend Easter at Koningskop (near Citrusdal) and then work our way up slowly via 2 nights at Strandfontein, 3 nights at Augrabies where we stayed at Augrabies Falls Lodge and then a last sleep over at Molopo Lodge before entering KTP early morning on the 1st May. Below are some photos of Koningskop, Strandfontein and Augrabies.
Koningskop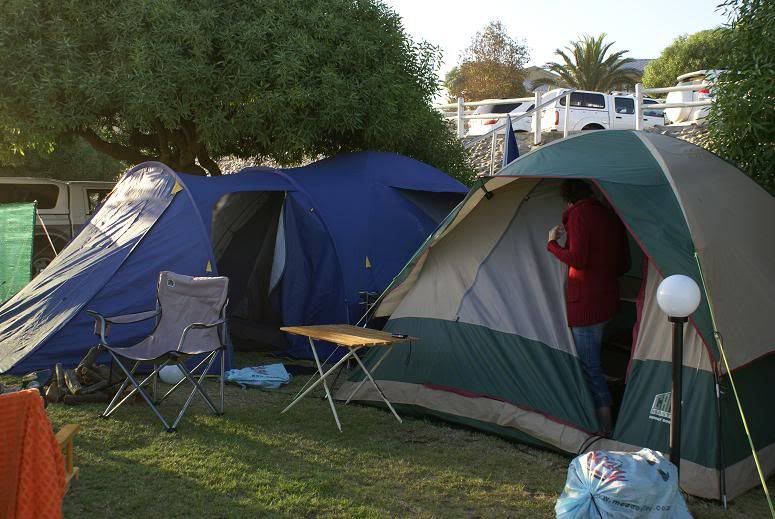 Strandfontein
Damaged viewing deck at Augrabies
Camping at Augrabies Falls Lodge
After having done the paperwork at TR we headed north for Nossob, first via the Auob river road up to the 1st dune road at Achterlonie from where we headed east to the Nossob river, and then north to Nossob to pitch camp around lunch time. We saw the usual on our way to Nossob.
Arriving at TR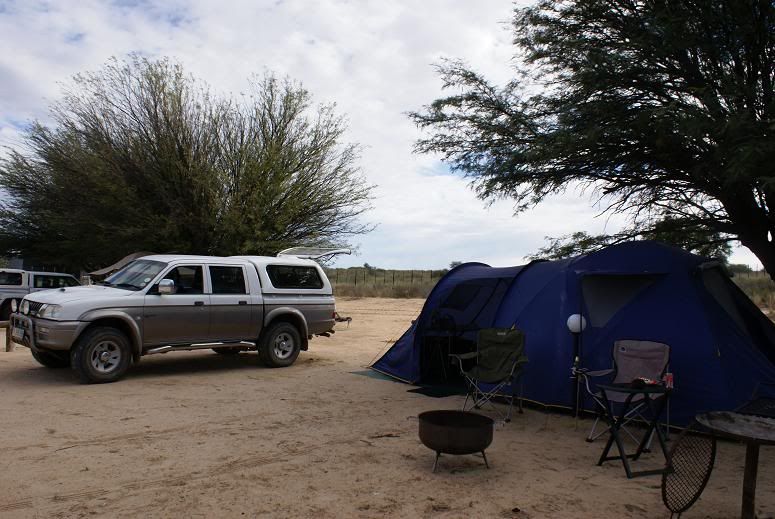 Camping spot at Nossob
First morning up at Nossob we were greeted with this sunrise from the waterhole and then headed north to Unions End. At this point I must apologise for not posting many photos as well as the quality as my zoom lens went on the blink at Augrabies and I was down to a "mik & druk" for most of the photos. We again saw the usual plus a pair of lions but they were a bit far away for any decent shots. Coming back from Unions End we noticed the weather building up to the South and found a very wet Nossob upon our arrival – Lucky for us, our neighbours lowered the tent awnings otherwise we would have been in for a wet bed.
Sunrise over Nossob waterhole
We spent a total of 4 days at Nossob but contrary to many postings before our departure, we did not see much on this side (Nossob river) other than the usual. On the 3rd day we decided to cross the upper dune road and go north towards Mata Mata, where we met this cheetah next to the road with a Springbuck kill – apparently we were just about 1 minute too late to see the kill itself.
The roads were filled with water puddles due to the previous day's rain and some Gemsbuck used the opportunity to lessen their thirst.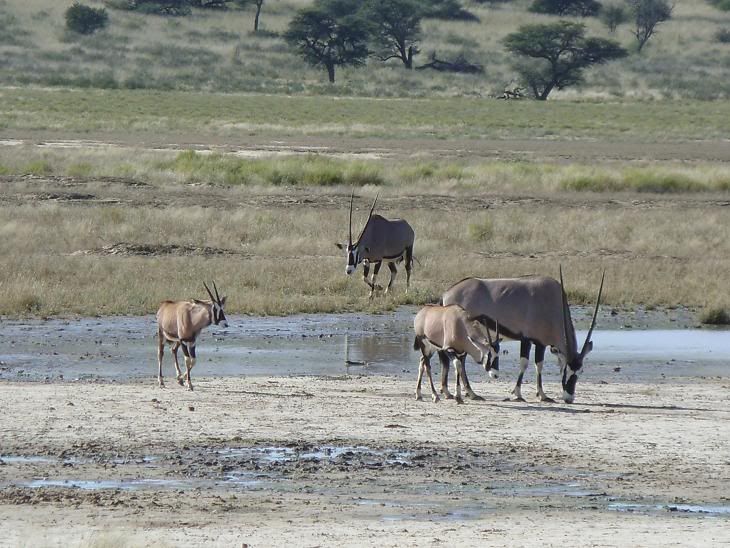 Gemsbuck with little ones at Marie se Draai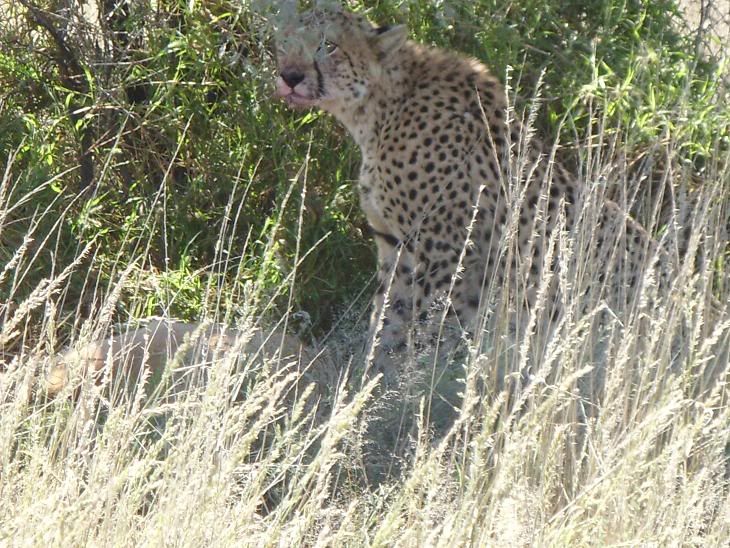 Cheetah with Springbuck kill
Nossob roads after the rain
On day 5 it was all pack up and go to spend the next 6 days at Mata Mata.
Camp site at Mata Mata
Sunrise at Mata Mata
On our way to Mata Mata, we spotted this huge male lion 10 meters off the road. As we stopped, he started walking towards the road, then followed the road for a while and then turning into the riverbed and started walking north. We were aware that there was a waterhole not far away so decided to drive there and wait. Our suspicion was right but instead of drinking at the waterhole, he came past our vehicle and started drinking from a puddle in the road right next to the l/h front door! This was the first time we experienced something like this!
Male Lion south of Mata Mata
The 2nd day at Mata Mata was a rest day as some washing and cleaning etc had to be done as we were now already 2 weeks away from home! We did however take a short afternoon drive and upon our return found that there had been a lion kill of a wildebeest just below the first chalet! Needless to say everyone rushed there to view a huge lion male still finishing off what was left of the carcass. Unfortunately it was a bit dark already and photos are not good quality to post.
During the next 3 days we saw lions everyday and sometimes even twice a day. Here is another young pair we saw south of 13th borehole on our way down to TR. We also saw plenty of Red Hartebeest which were in excellent condition.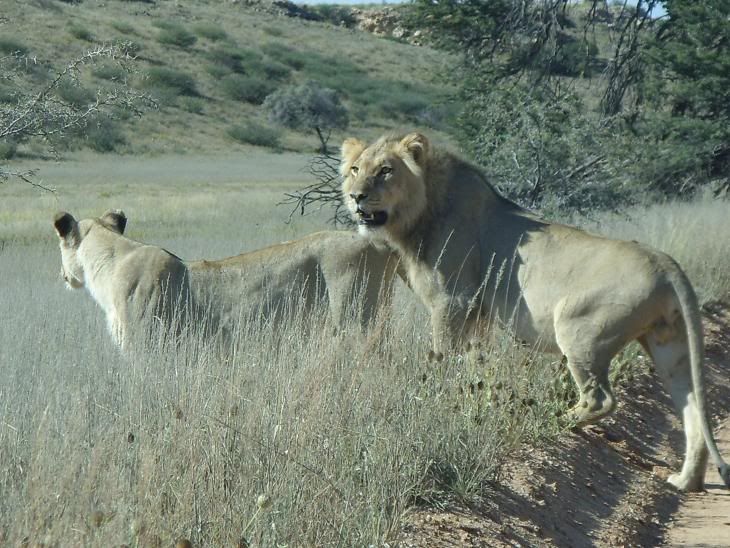 Young lion pair south of Mata Mata
Rooi Hartebeest
Our last day arrived and we sadly had to start packing up as we were still heading for Upington for an overnight stop. Little did we know that Kgalagadi has left its best for us, for last. Not even 10 kms south of Mata Mata, we spotted two cheetahs in the river bed walking north. We decided to stop and was slowly reversing back in line with them. By this time a few vehicles arrived and everybody turned around and drove back as once again, there was a waterhold just about 1 km further north.
I was on the point of turning back as well, when the cheetahs all of a sudden turned and started walking towards us. It was then that my wife noticed a water puddle in the grass next to the road, exactly where we were and not even 5 meters away. They came right up to the water and stayed there for at least 15 minutes, drinking, lying down, getting up and drinking again until they eventually crossed the road into the dunes. Unfortunately again photo quality was not good as it was also quite early morning taking into the sun but at least here is 1 photo of them: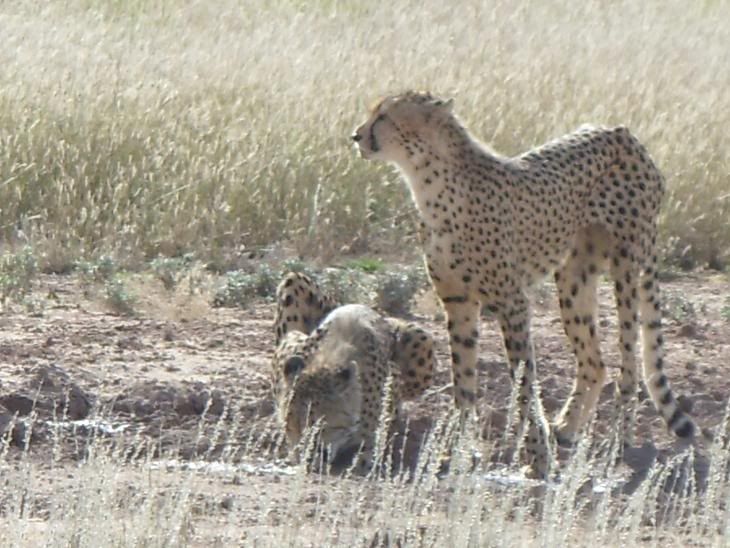 Cheetah pair south of Mata Mata
Back at TR it was checking out quickly and then the drive back to Upington. We initially thought of staying for 2 nights at Die Eiland but after having heard some negative remarks we decided to push on to Oranjerus which was recommended by some of our neighbours at Mata Mata. We were surprised by the campsite, ablutions as well as the restaurant and the friendliness of the staff. Defnitely a place I will go back to in future.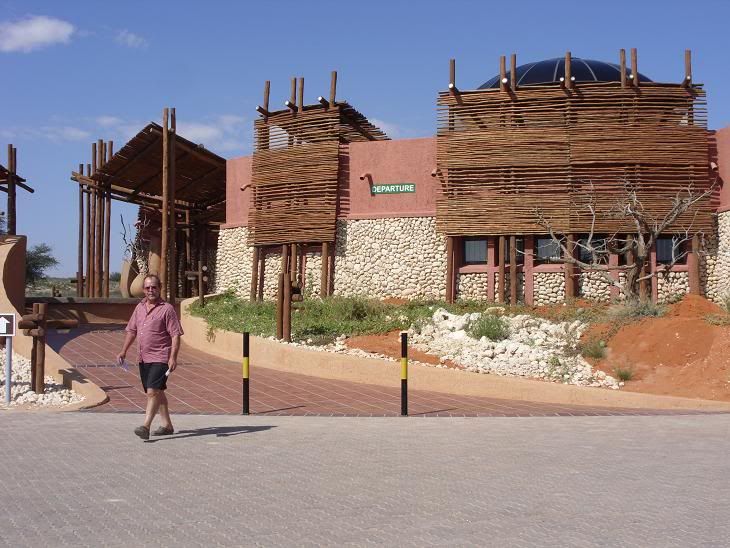 Checking out at TR
Oranjerus camping site
After our 2 nights at Oranjerus it was back via Calvinia for a short visit to some relatives and finally home again. We travelled a total of 4,700 hassle free kms. As expected, road conditions in Kgalagadi was the same as previously however, having deflated tyres to 1.3 bar (as opposed to the recommended 1.5) we had a comfortable drive in the park.
Sunday afternoon we revisited our video footage and immediately thought of starting to plan our next visit – one thing is for sure, you get addicted to these red dunes!!.
March/April 2013: Frontier Parks here we come!
---
Who is online
Users browsing this forum: No registered users and 6 guests