Sorry for delay in posting - half term here in England has left me little time with the computer....
Monday 18th October
Today we were heading towards Kalahari Tented Camp for two nights, so at 6.10am we took the right hand gate out of Nossob and headed south. A few kms on, a couple pointed out a large carcass and jackals in the distance – it was pretty far away, but it was our first sighting of a kill, so we were very pleased to see it.
A little further on another couple were stopped and showed us where two lions were lying asleep on the top of a sand dune above the road. From where we were, we could only see one of the lions (at least a bit of him) but our patience was rewarded and eventually he lifted his head and we got to see how magnificent he was.
It was quite a windy day, and these gemsbok looked like they were struggling a little….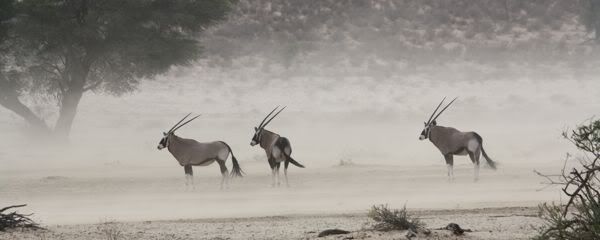 We were planning to stop for breakfast and a loo-stop at Dikbaardskolk and we were lucky that when we arrived there were some people already there and they were able to tell us, before we tried to use it, that there was a puff adder under the basin in the ladies!
I used the mens….They then told us that we had passed by some cheetah far away a few kms back and were kind enough to have made a note of the distance.
Thoughts of breakfast were much less interesting than cheetah, however difficult to see, so we set off back again exactly 13.6km then scanned the area with binoculars. Was that a log? No it moved….yes there were two cheetah! They may have been a long way away, but I had REALLY wanted to see cheetah and now we had!
They're hard to see in this photo, but they are there!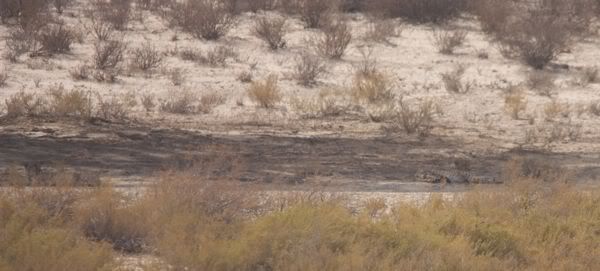 We set off along the upper dune road and came to a traffic jam of four cars at Eland waterhole: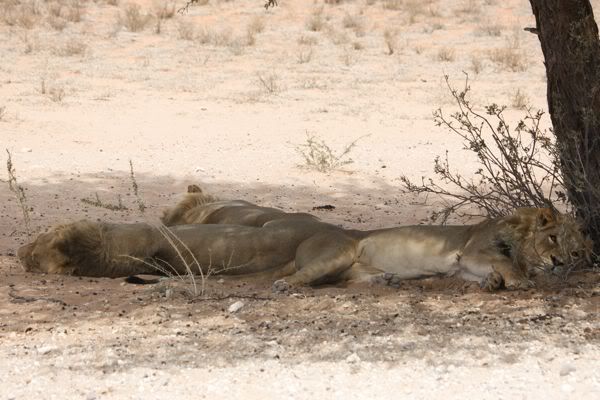 We arrived just as one of the lions decided to go for a long drink (it was quite a hot day by now)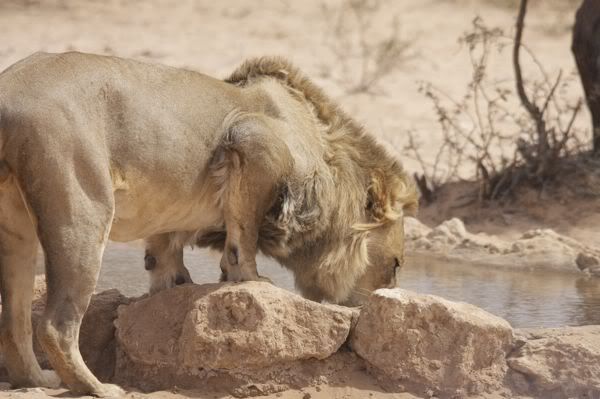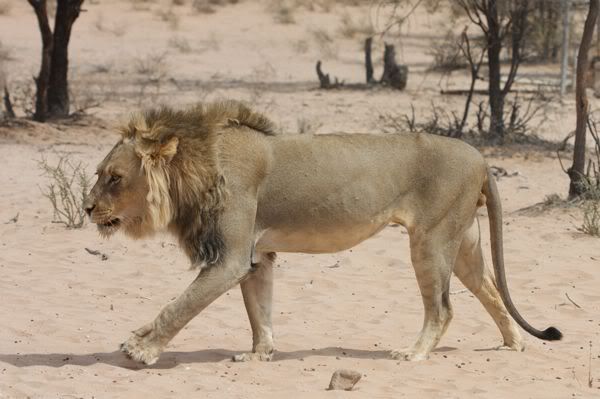 and gradually the other cars left, leaving us to enjoy being alone with these beautiful creatures.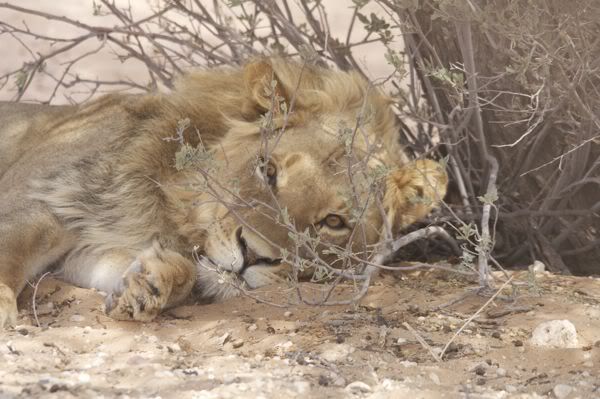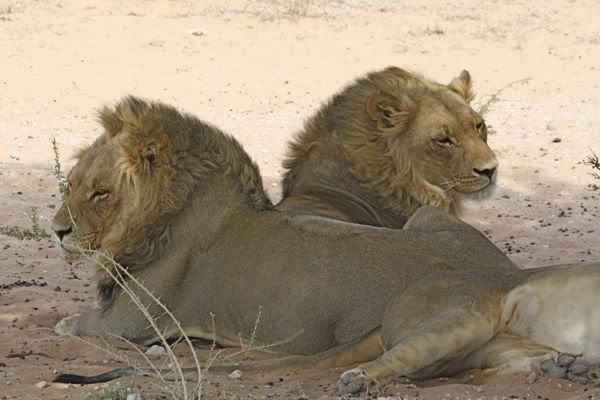 ---
We drove on towards KTC and saw a number of animals making their way towards waterholes in the midday heat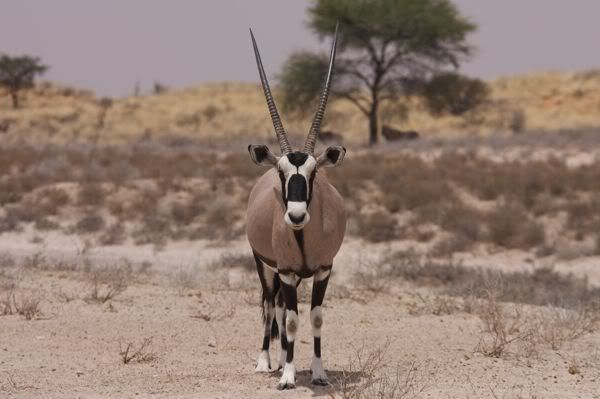 and this Kori Bustard
On the Mata-Mata road just after Kamqua we saw this spotted hyena – the only one we saw in our trip. It was lovingly guarding a big chunk of carcass (we couldn't see what), every now and again it would get up, shuffle around and lick the meat, just checking it was still there and it was OK!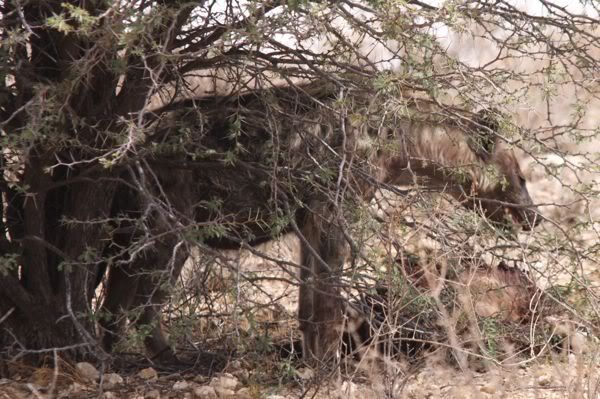 Our first Slender Mongoose
and another beautiful Bee-eater
Arrived at KTC and checked into our tent – what a lovely camp. Spent the rest of the afternoon enjoying the birds in camp, deleting photos from our laptop as it was nearly full and taking a short drive to Mata-Mata. It was great to use our torch to see the eyes of the animals coming to the waterhole and to hear the hyenas 'laughing' and the jackals barking as we went to sleep.
---
Tuesday 19th October
What a beautiful morning. Clear blue skies and the promise of a hot day got us out of camp at 6am. We were heading for the 14th waterhole as we had heard from a few people we met that this was a good place to try to see cheetah and we were keen to see some a little nearer if we could. Shortly out of KTC, we saw some bat eared foxes. They didn't hang around to let us take many photos (we had to restart our car engine, which spooked them), but we did manage a couple – they are so sweet!
Just past Dalkeith Waterhole, Simon said "What's that over there? Is it a Bat-earred Fox or a hyena?" I said "Don't be silly, it's just a jackal!" But then I looked again and saw that as well as the (several) jackals, there was a Brown Hyena!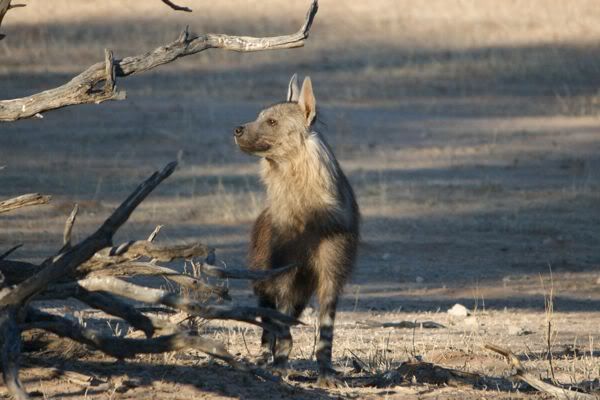 It wandered around for about 10 minutes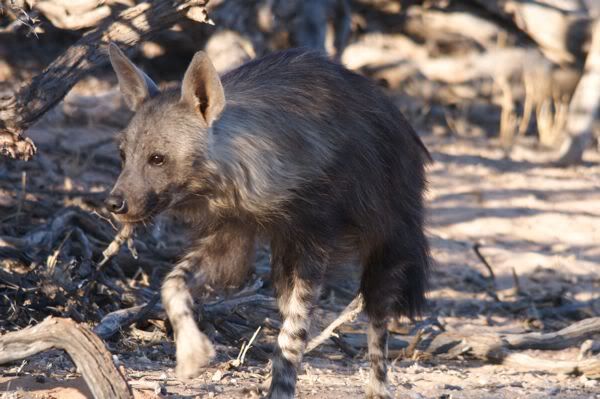 before crossing the road and lying down on the other side.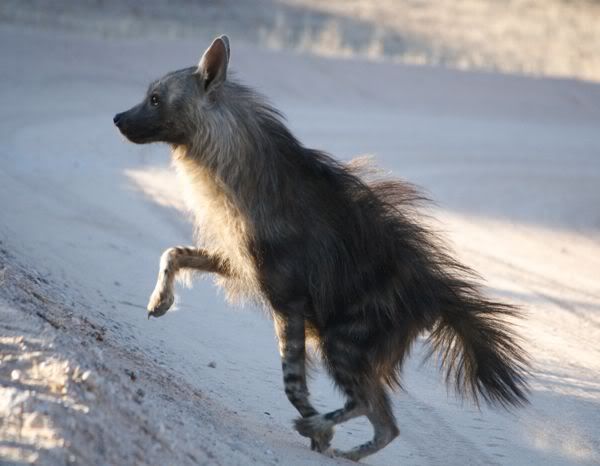 There was also a Martial Eagle in a tree nearby having its breakfast :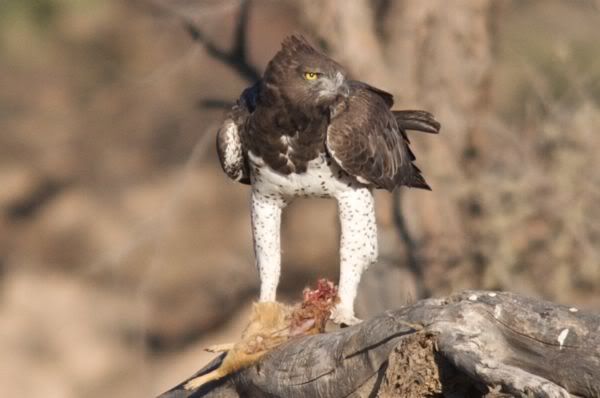 All the time, there were quite a few jackals wandering around, and I said a number of times that I thought that there must be a kill somewhere nearby. I didn't realise quite how near at that stage! For a while, we were on our own, then another car joined us with the hyena and a minibus came from the other direction and stopped quite a distance away. "How considerate! Leaving us plenty of room." I thought.
After a little while watching the hyena and Eagle, there were quite a quite a few cars and we decided to move on. We stared the engine, drove about 5m around a small corner and past a bush and there was…..
….what all the scavengers were waiting for!
I couldn't believe that we hadn't seen them before, but we were just in the wrong position. We weren't in a very good position now either - rather in the way of other people as this wasn't what we had expected when we had driven around the corner!
One of the cubs and the mother were both very concerned about the hyena – they kept on looking over at it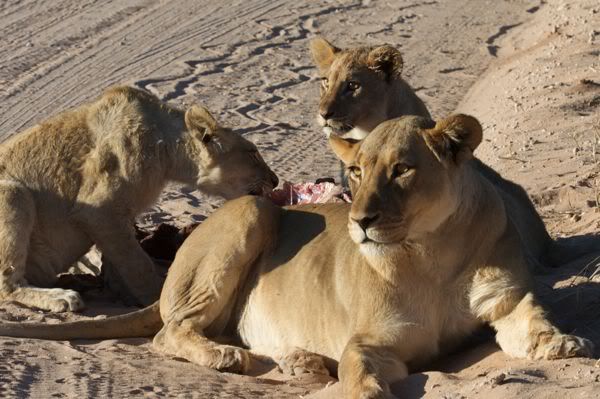 but the other cub was too busy eating to be bothered!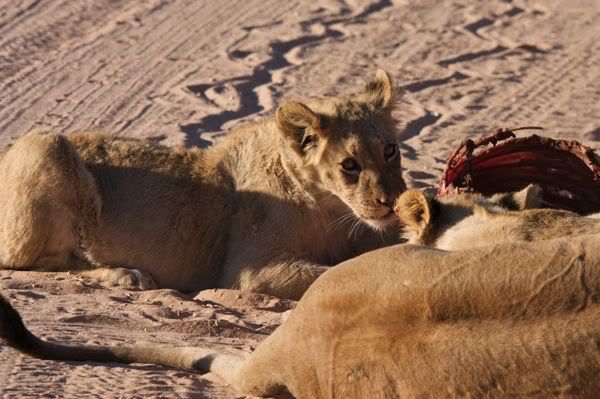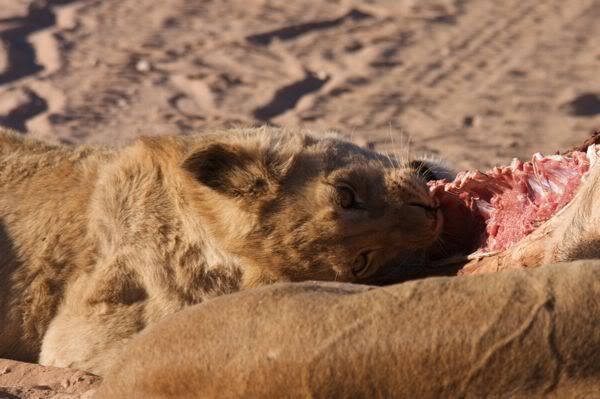 We were very aware that we were parked in a rather unfriendly position, so we didn't stay too long and although it was a wonderful sight, there were rather a lot of cars now and we thought we would find a quiet spot to have some breakfast.
---
We drove on to the 14th waterhole, our original destination, and just as I was about to say "Isn't that a lion print?"
Simon pointed out that there were two lion under a tree up on the ridge.
Our very own lions and although they were further away, we got to enjoy them all on our own, along with some beautiful birds. A Hoopoe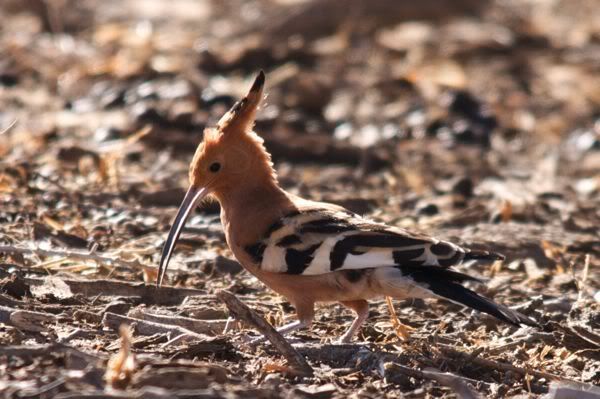 and, finally, some Bee-eaters in flight ( a little bit blurry so we still wanted more better ones!).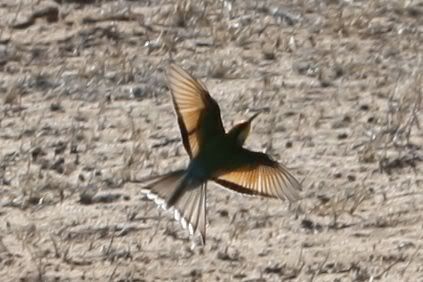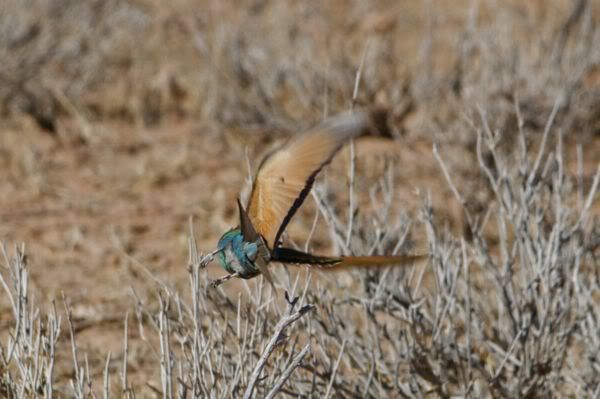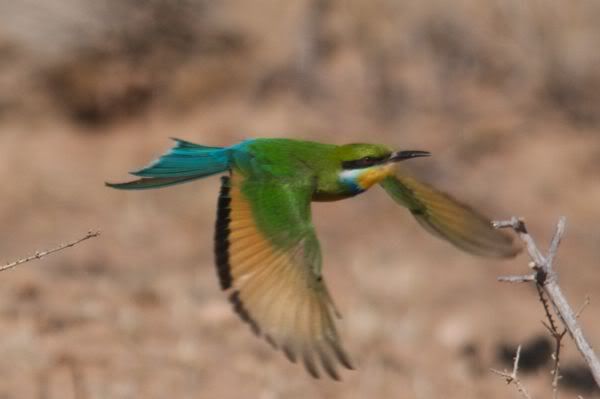 ---
After an hour and a half or so, we drove on to the 13th and looped back on the upper road, where Simon was able to achieve one of his most-wanted sightings – a Pygmy Falcon. It didn't hang around for long but he was able to get a picture before it flew off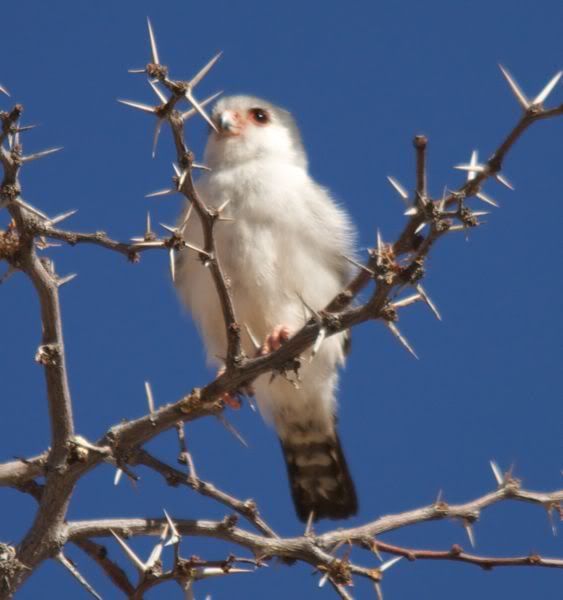 We drove back past the lion kill and saw that the lions had dragged their kill behind some trees and although they weren't hungry any more, they were enjoying having the carcass.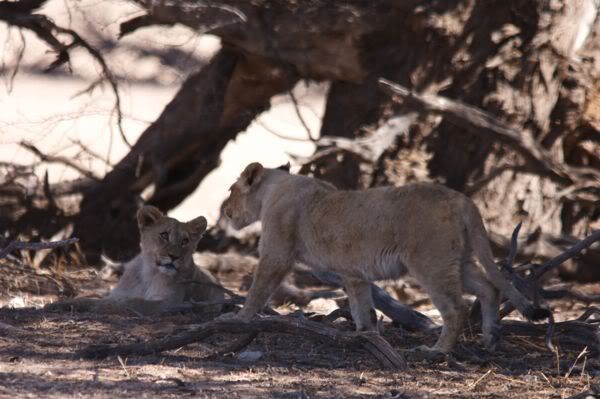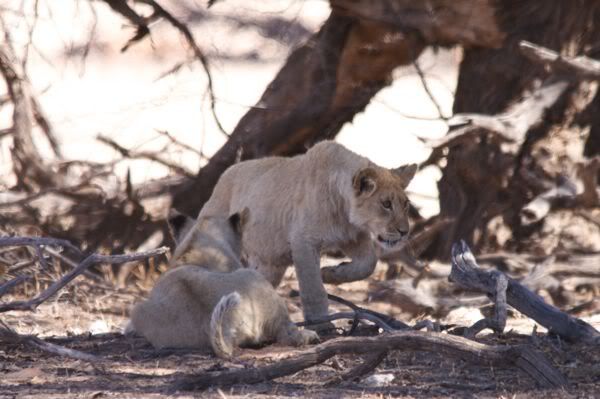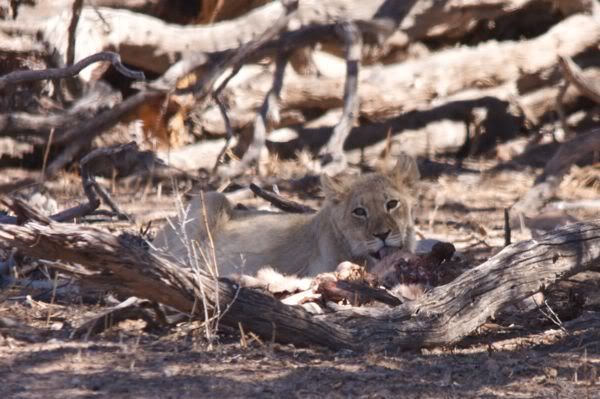 After so much excitement, we decided we needed a rest back at camp! We were rather disgruntled to find a digger and lots of workmen outside our tent, diesel fumes belching, men calling and rather spoiling the tranquil atmosphere. There certainly weren't many birds around. We asked to move tent and eventually, after asking a number of times and several hours later, we moved to one at the other end of the camp, which was a good thing as although we had been reassured that it wouldn't be there for long, the digger didn't finish and leave until about 4pm. Clearly it wasn't anyone's fault that there was a pipe that needed replacing, but we did feel that we could have been moved a bit quicker and with better grace. But, of course, being English we didn't like to make a fuss and so didn't help our own cause!
Later in the afternoon we drove back out to 14th waterhole and sat for a while enjoying the atmosphere and colours. We saw the lions from this morning high up on the ridge and this ostrich looked too beautiful to ignore
and we nearly got good photos of this Lilac-breasted Roller flying (not quite in focus but nearly!)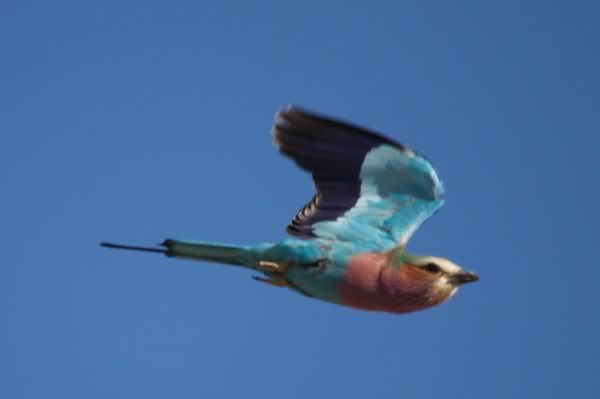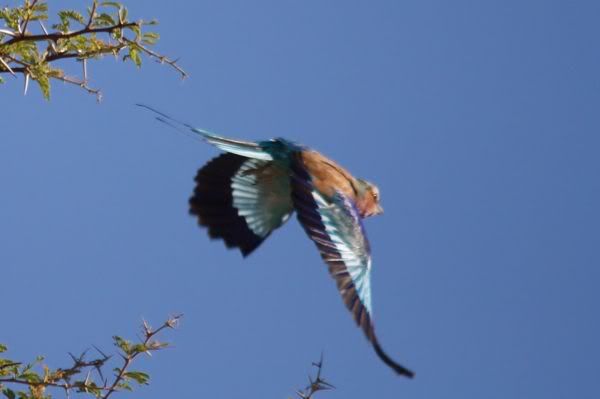 and this beautiful Spotted Eagle Owl who seemed to be winking at us.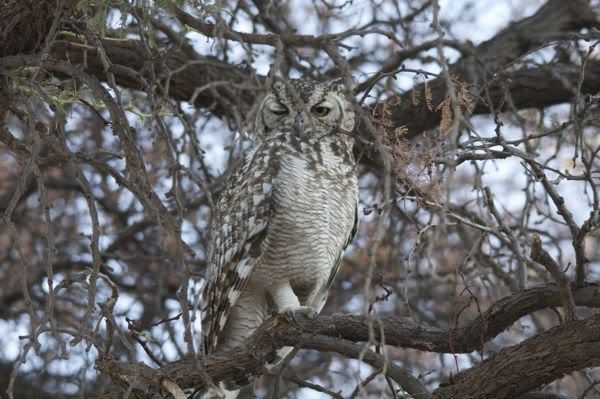 We drove back past the the kill site and saw a jackal trying to get something off all that seemed to be left of the carcass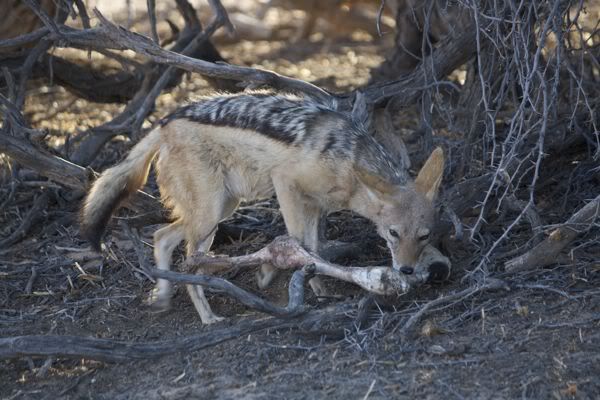 Up on a dune nearby the mother and one of the cubs was just visible – I bet they had full tummies!
What a fantastic day!
---
Wednesday 20th October
Only two days of our holiday left and our thoughts were starting to turn towards home – our daughter was one of the leads in the school production of 'Grease' starting this evening and we were very sad to be missing it. But sightings were to conspire to make us forget all about England!
We were only going to Urikaruus today and planning to drive very slowly as we couldn't check in before 1pm. All the same, we couldn't resist getting out as soon as we could – only two other people seemed to be leaving early as we speculated as to why everyone wasn't trying to get out there too. We packed up the car as quietly as possible and drove out of camp in the cool, still morning.
We had intended to drive to each waterhole and stop, but very soon there was a whole procession of cars and because it was such a still morning, the dust hung in the air for ages and sometimes it was almost impossible to see where we were going, rather like thick fog. Simon did manage to get this rather artistic picture of a springbok though: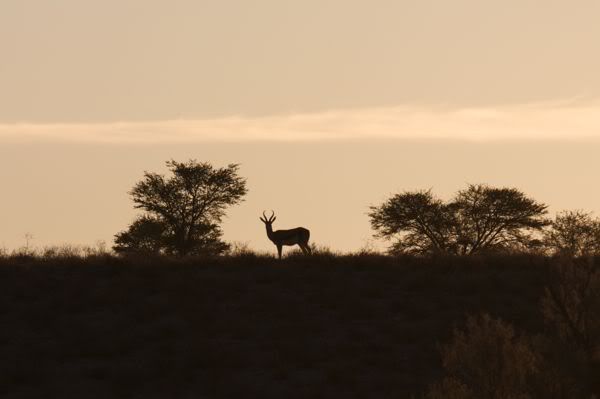 When we got to 14th waterhole, we stopped to have some breakfast, which allowed lots of the cars to pass us – we'd rather see fewer 'big' sightings but see them on our own! I was able (finally) to get a nice picture of a Fork-tailed Drongo
and this juvenile Bateleur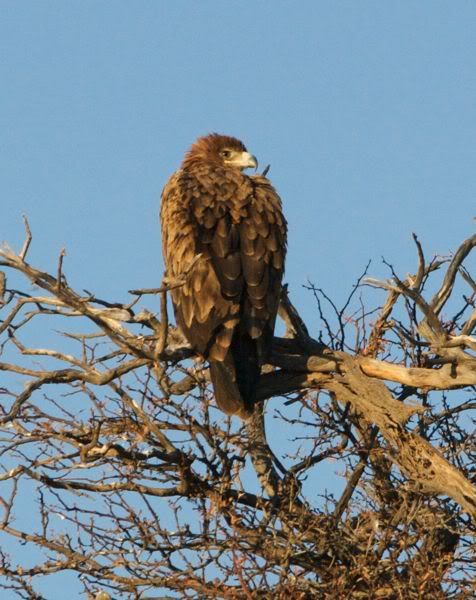 Just before we got to Urikaruus waterhole, we came up behind an adapted Landrover, labelled 'The Kalahari Cheetah Project', with a man holding a tracking antenna out of the sunroof.
Hmmmm – this looked pretty promising! Really, we just wanted to drive behind them as we felt it would significantly enhance our chance of seeing a cheetah(!), but we thought that it must be so annoying for them to have people following them all the time. So we drove past and up to the nearby lookout point, where we sat waiting for the van to come past, and which point we would set off too.
After waiting for five minutes or so, the van still hadn't appeared and we thought we should go and find it. With mounting excitement, we drove back the way we came and after a couple of hundred metres and saw the stationary van with three or four cars. A lovely couple we had chatted to the day before beckoned us forward and pointed out
three cheetah under a tree up on the ridge! We were so excited! After a few minutes, the cheetah decided that they didn't want to be the centre of attention any more and the collared one (presumably the mother of the two grown cubs) got up and started down towards the road.

The youngsters followed at a leisurely pace. They seemed to be moving so slowly yet they came down the ridge so quickly. I have read so much about how graceful these animals are, but nothing can compare to actually seeing them. They are just gorgeous, so smooth, full of energy. They came across the riverbed and crossed the road about 30m behind the car. They gave us plenty of time to take some photos of them.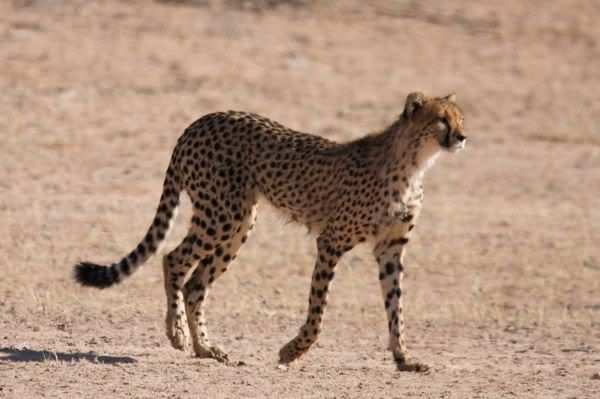 Once they crossed the road, they stood on the ridge opposite for a short time
then disappeared over the other side and it was as if they had never been there. I couldn't get over how lucky we had been – five minutes earlier or later and we just wouldn't have seen them at all. I know that it is always like that with sightings, but still – we were so lucky!
---
We checked into Urikaruus (unit 4) just after lunch and WOW – what an amazing place!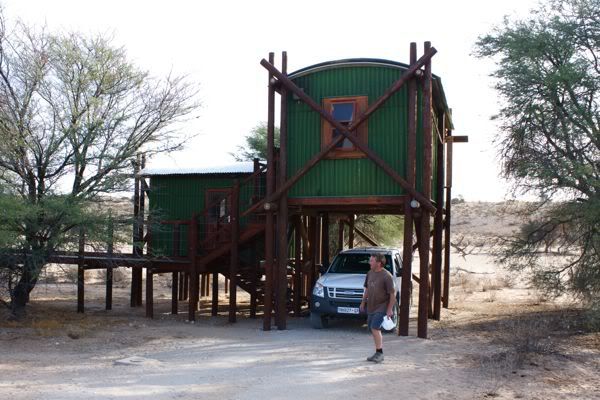 We relaxed and enjoyed our surroundings for a few hours and then went out for a short drive, during which saw a Southern Pale Chanting Goshawk acting in a very strange way – perhaps someone might be able to shed some light on what it was doing?! It was standing on the top of a large flimsy bush (about 5m tall), where it was having difficulty balancing as the bush couldn't really support its weight.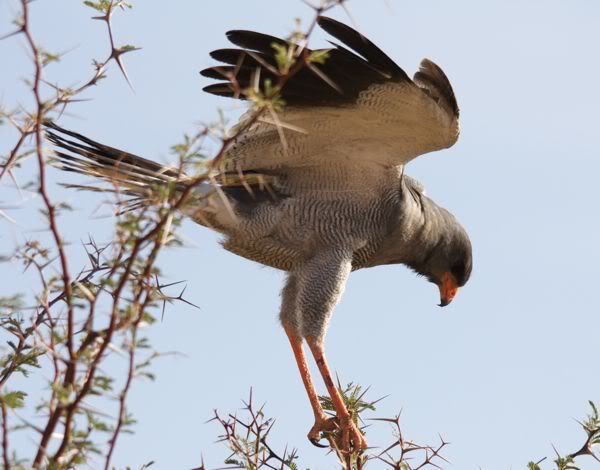 Then it started half hopping and half falling down through the bush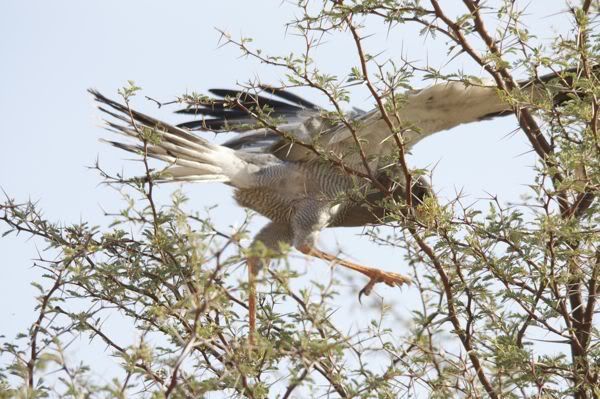 until it reached the bottom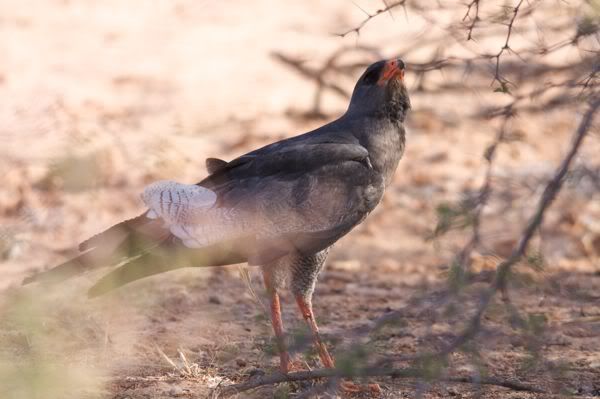 at which point it then it flew back up to the top again. All the time it was looking around, mostly at the ground but then as it got near to the bottom it started looking back up towards the top again. At first we thought that it was trying to catch an insect or something that was on the ground, but after watching it go through the same routine five times, it seemed that it must be something else (or that it was extremely bad at hunting!). We couldn't work out what was going on, but it was very funny to watch.
We also saw this beautiful Spotted Thick-knee (I see from my book that it is mostly nocturnal, which maybe explains why in most of our photos it has its eyes shut!)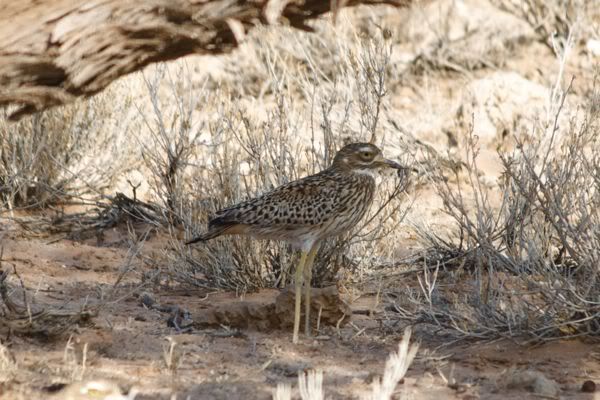 Back at Urikaruus, we could see the 'Cheetah van' in the distance, parked under a large tree on the riverbed. It had been there when we arrived at Urikaruus and we guessed that it was observing the three cheetah that we had seen that morning. We kept and eye on it – it was exciting to know that the cheetah must be nearby.
We spent time enjoying the surrounding, watching the birds, including this White-browed Sparrow-weaver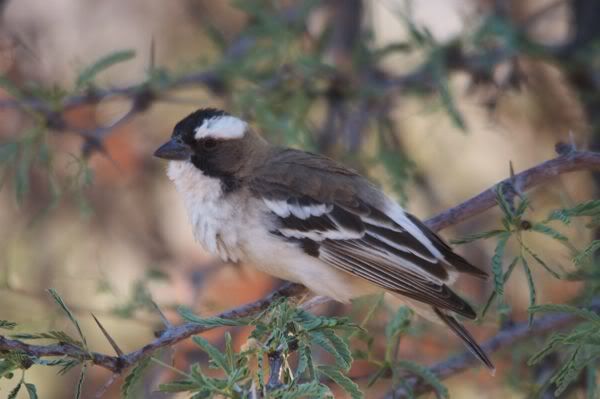 and the yellow mongooses and ground squirrels, who were obviously thirsty.

---
At 6.10pm, the 'Cheetah Van' started moving across the river bed, the mongooses made a very quick dash to their homes and I went up to the bedroom to see if I could see anything coming towards us. Then I saw Simon gesturing towards me – he had been trying to get my attention to show me that the three cheetah were sauntering towards us!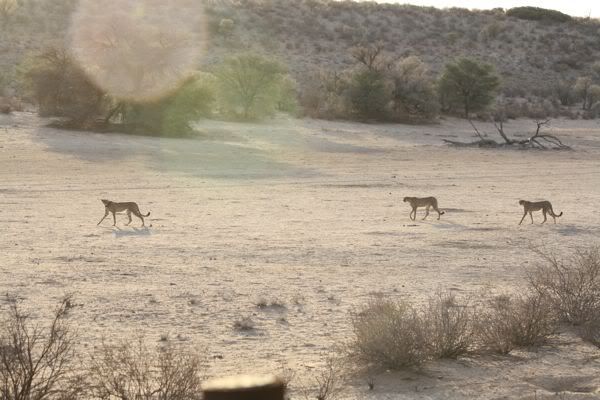 I couldn't believe it – it was so exciting! I have hardly any photos that are in focus because I was shaking with excitement, but fortunately Simon had a tripod, so his were nice and steady! The Cheetah came right past our hut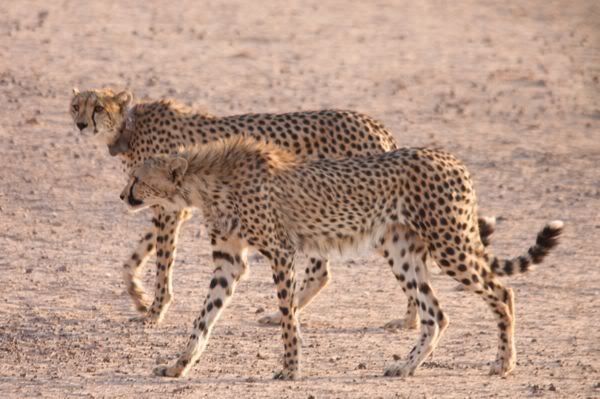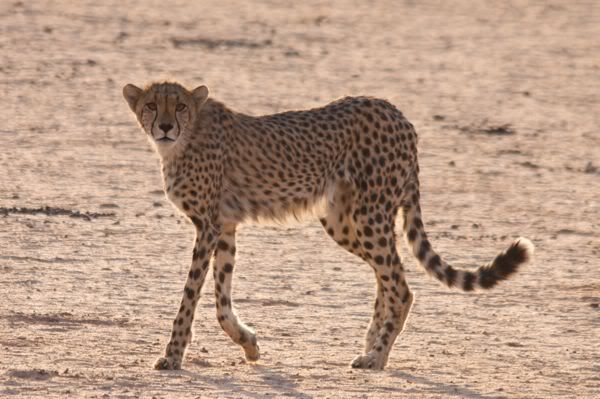 and down to the waterhole.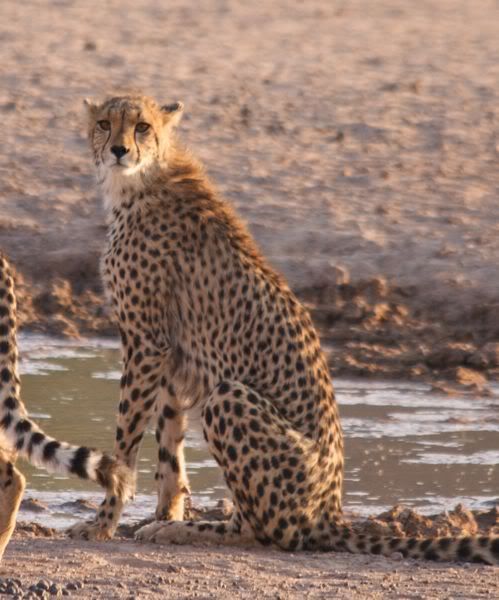 The cheetah were quite nervous and as the cabins at Urikaruus are rather creaky, there was a reasonable amount of noise to distract them. This is the point at which our neighbours returned to their cabin – who is watching who?!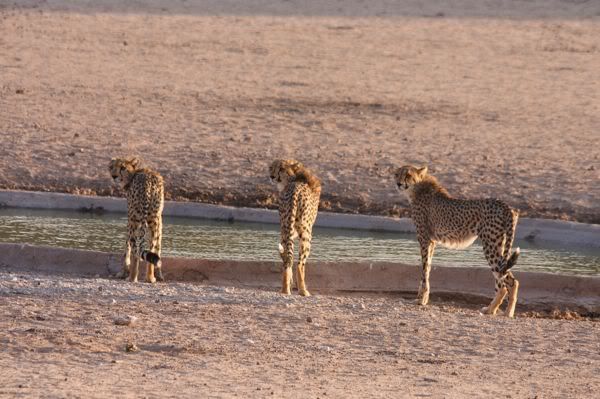 They did eventually settle down and have a good long drink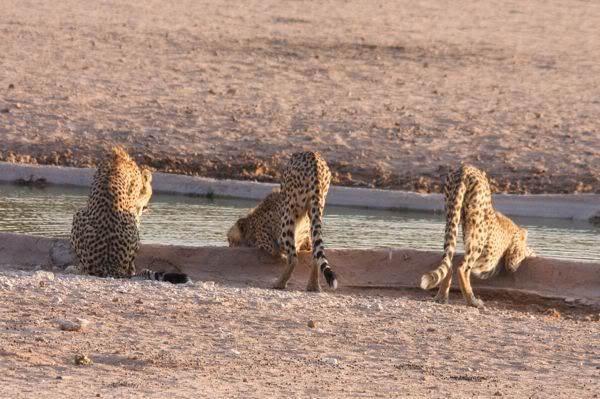 although they never really relaxed and were always looking carefully around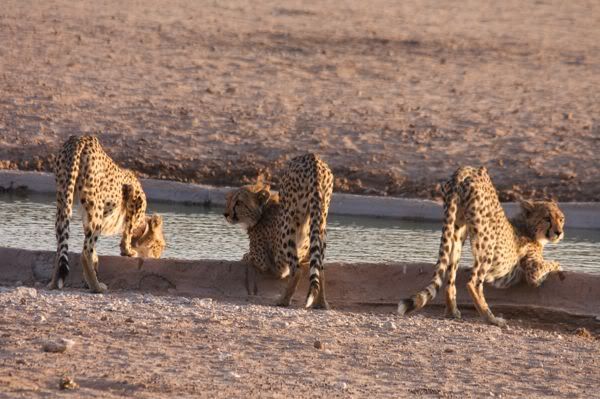 especially the tagged one, who we assumed to be the mother of the other two.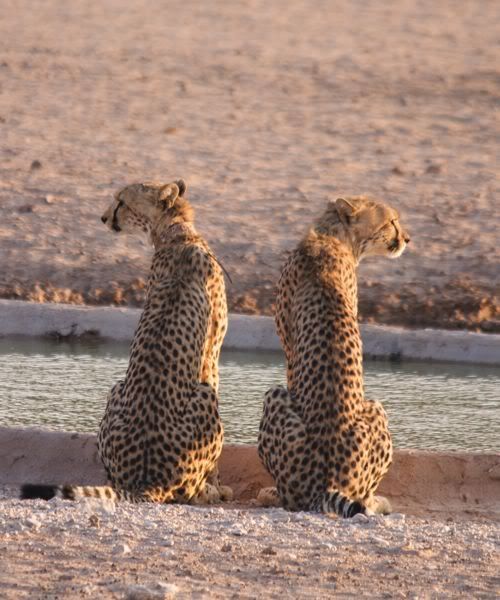 They were at the waterhole for about 10 minutes then they wandered off up the ridge on the other side of the river bed.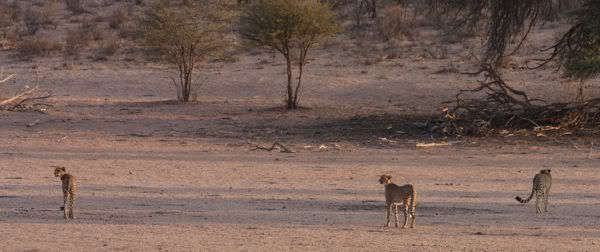 The light was really disappearing now, especially for photography, but we kept a watch on the cheetah. They moved slowly up the ridge, stopping every now and again. Then suddenly they started running – one went over the top of the ridge, another to the right, along the ridge near to the top, a long way in the distance. It was so fast! I watched it go behind a tree, then…it didn't come out the other side! Our neighbours in cabin 3 had seen the cheetah catch a steenbok behind the tree and there was a lot of activity at the camp - running from one cabin to another to try to see and Jacque, the lovely camp person, came over to see what was going on. We were so grateful to everyone (who we hadn't met before) for being so friendly and sharing their decks/knowledge/personal space. There was a really horrible crying coming from where the cheetah were and it seems that the mother cheetah was letting the steenbok go and then encouraging the youngsters to catch it again to get in some practice. It was a really sad noise, but I guess that is nature at work – they have to learn somehow.
By now, it was almost completely dark and we tried to make some supper, but it got very over-cooked as just as it was nearly ready, a Cape Fox started running about between the cabins, searching for insects (I guess) and we had great fun watching it and trying to shine our torches enough to get a photo (we failed to get anything more than a 'proof' picture!).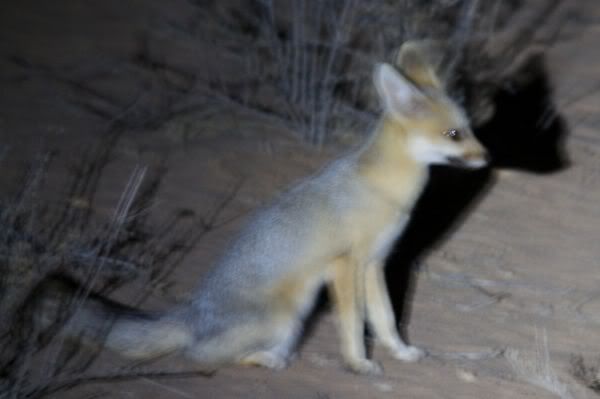 Later on, we saw eyes at the waterhole and torches showed that the cheetah had come back for an after-dinner drink, before settling down under a tree for a rest.
We were so happy when we went to bed!
---
Thursday 21st October
Our last day.
We decided that we would stay in camp until 9am and make the most of the camp as we only had to get to Twee Riviern for our last night. We sat on deck and listened to the birds and all the gentle sounds, it was so peaceful. Then just before 6.30am Simon said "Is that a lion coming?" and I looked through my binoculars and said "No, it's two, no three, no four…." In the end, there were six lions coming towards us and the waterhole, two females and four young males.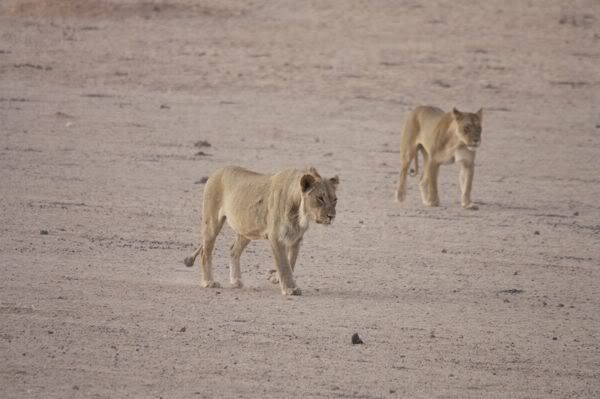 So we sat on the deck as the sun rose, watching and listening to the lions lapping at the water.
After about 7 minutes, the lions had drunk their fill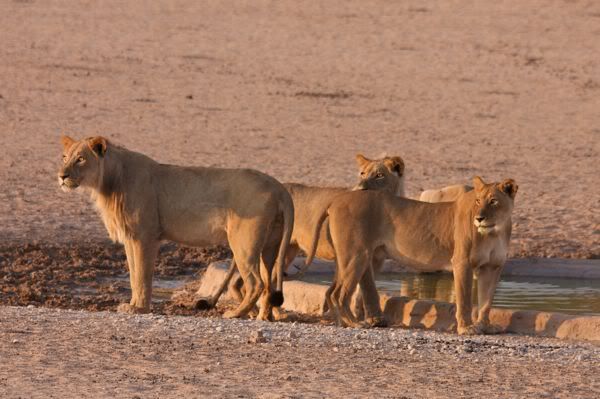 and started to walk towards our cabin, some of them showing rather a lot of interest in us, who were sitting on our deck taking photos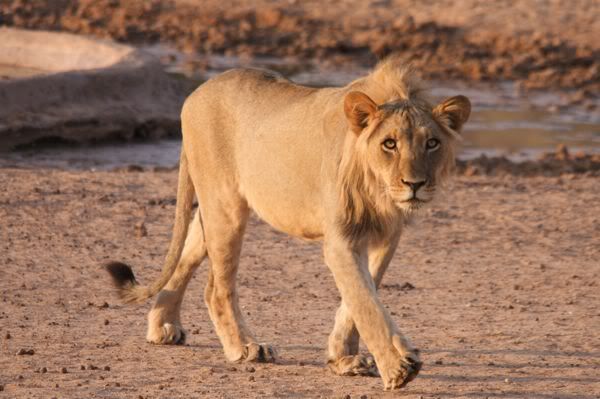 Most of the lions walked past the cabin and onto the driveway beside us, but one lion stopped about 12m from the cabin and stared at Simon so hard that he felt it was safer to move to the upper balcony.
He was so cross that he was unable to get the amazing photo that it would have made
, but I thought that it was more important that he wasn't eaten!
Although not so close (I was already on the upper balcony), I did get a picture of it staring at us
- I was glad to be a bit higher up and safe! Another one stopped around the side of the cabin by our car and Simon went onto the walkway to see properly (I was in the bathroom, peering out of the window at this stage as I felt a little threatened!
) and get these photos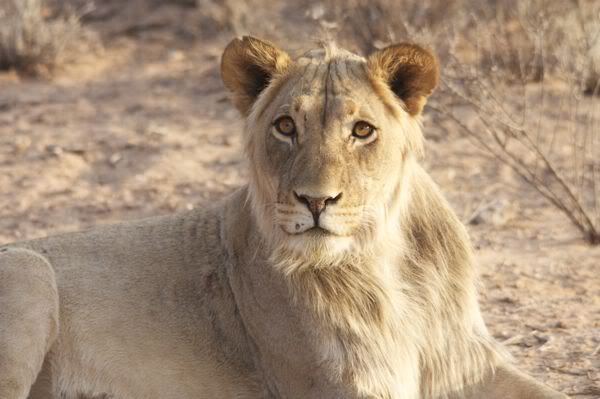 Slowly, the lions walked up the ridge behind the cabins and over the top. Later on when we left the camp, we found that the lions had settled under a tree at the top of the road to the camp.
---
We spent quite a while watching a beautiful Lanner Falcon trying, but failing, to catch a pigeon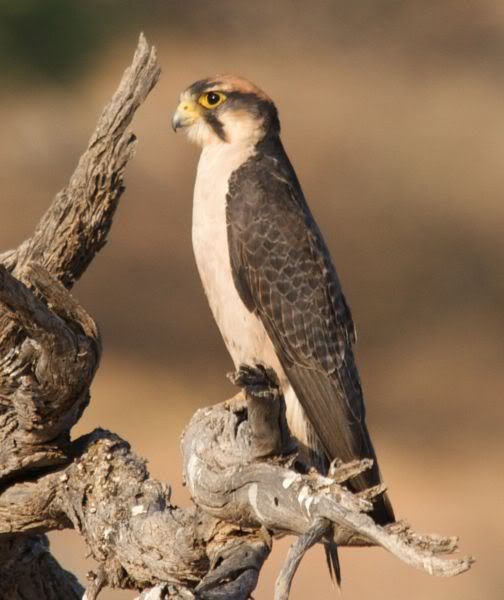 before leaving this most wonderful camp. Each camp we visited was special in different ways, but we both agreed that Urikaruus was particularly special.
As we left, we jostled with a lot of other cars at the top of the Urikaruus Camp road who were all admiring 'our' lions. We spent a little while with them again – they were so beautiful and hard to resist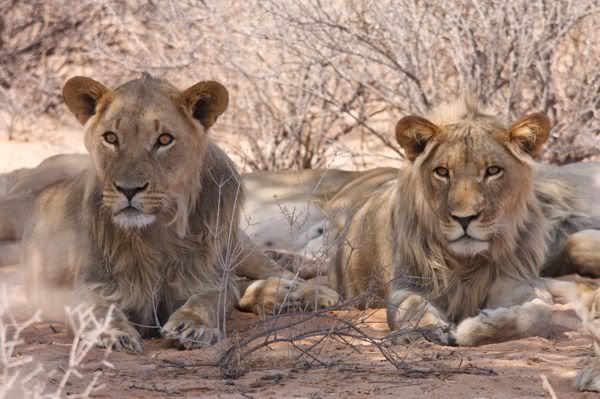 before setting off to Twee Rivieren with very mixed feeling – very sad to be leaving such a wonderful place, but really looking forward to being in contact again with our family.
This little family was attracting nearly as much attention as a feline family would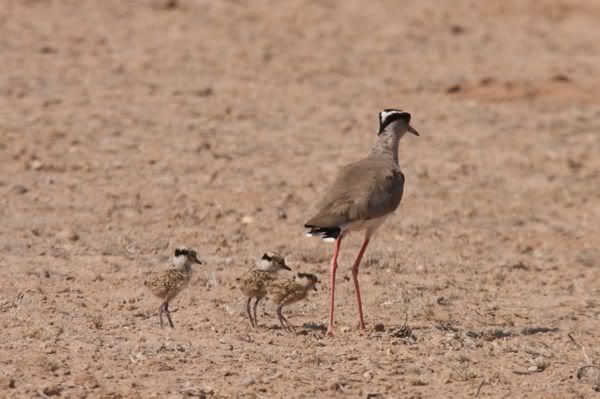 no wonder – they looked very cute!
Finally, on our last day, we found the opportunity to spend a long time watching some beautiful Swallow-tailed Bee eaters and getting some pictures that do justice to them. Please indulge us - we have rather a large number of pictures!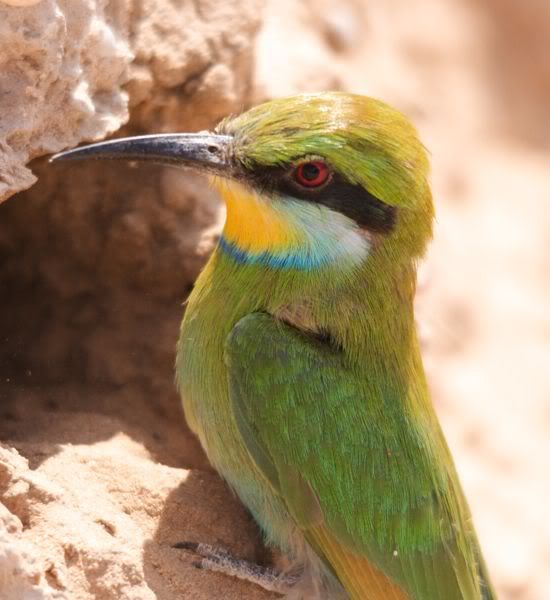 We saw them making their nests in holes on the side of the road (at least, we assume that is what they were doing).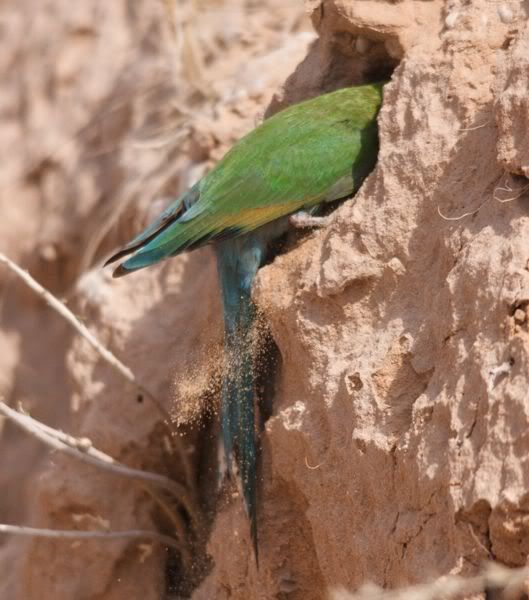 And we loved these two sharing their lunch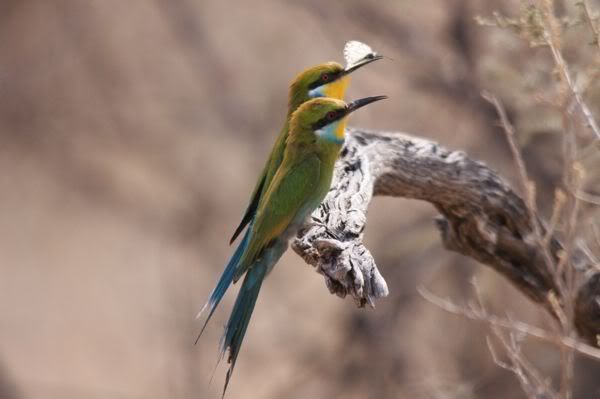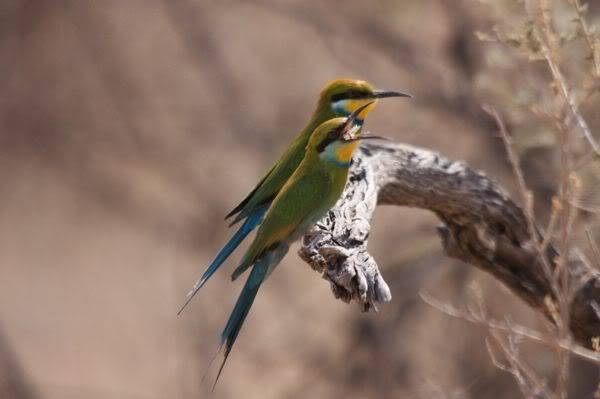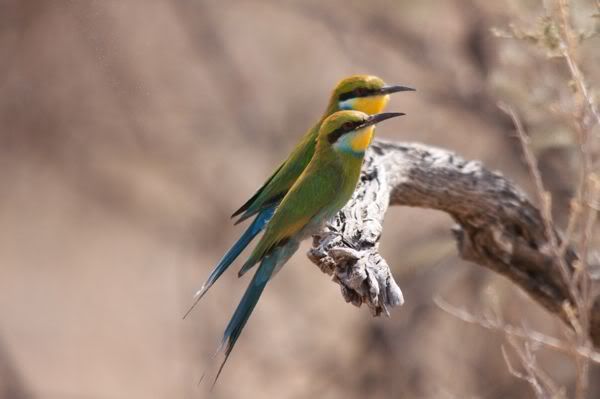 And with this pair too
While we were there, lots of cars stopped to find out what we were doing and what we had seen. Mostly they looked slightly surprised that we should be spending such effort on the birds, but one of the couples who had been so kind to us a Urikaruus stopped to chat and to tell us that they had just seen a young leopard in a tree just a little distance from Rooibrak water hole and described the tree that it had been in.
We drove to the spot (we think!) and spent a long time watching the tree and looking at every branch and twig with great care, but weren't lucky enough to see it. We weren't too upset – it was only 11.30am and we had already had a wonderful day.
---
After being sure that we weren't missing an obvious leopard, we set off towards Twee Rivieren. We did see a slender mongoose though (although it refused, again, to pose for us!)
these majestic and particularly beautiful giraffe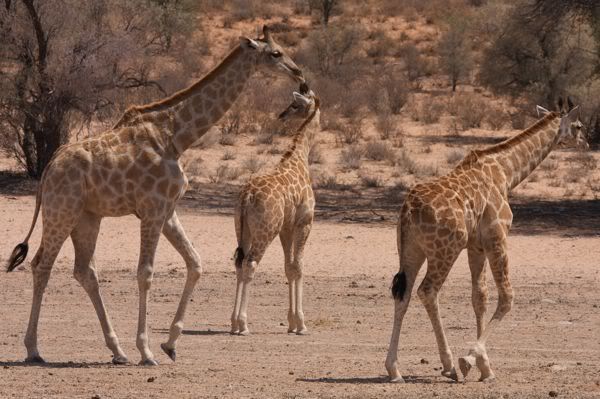 and a black-breasted Snake Eagle flying just above the car.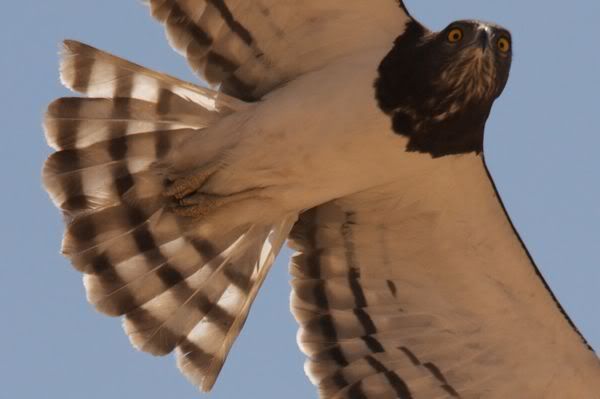 We arrived at Twee Rivieren and were allocated chalet 2 – a lovely position but quite a different kind of accommodation from where we had been previously! The first thing we did was check our text messages – we were desperate to know how the first night of our daughter's production of 'Grease' had gone – to find one that said "First night was AWESOME" really made our day!
After re-packing for our flight tomorrow, we went out to hunt for meerkats. Our children, like many in England, are quite obsessed with meerkats since a certain advertising campaign and we really needed to be able to say we had seen them and bring pictures! Somehow we hadn't seen more than a flash of them during our stay and that flash had been on our first day when we had needed to get on. Fortunately, I had marked on our map where we had seen them and we drove straight there – 100m before the Monro waterhole and there they were!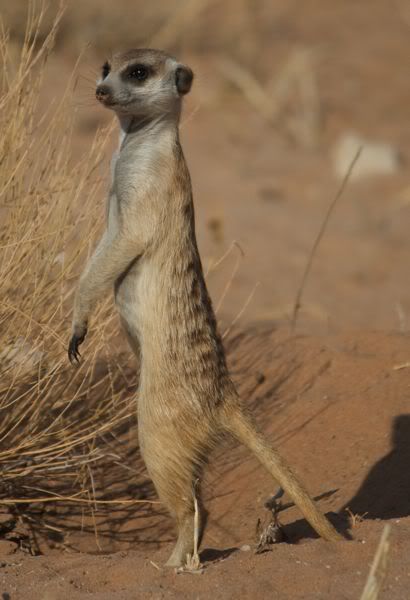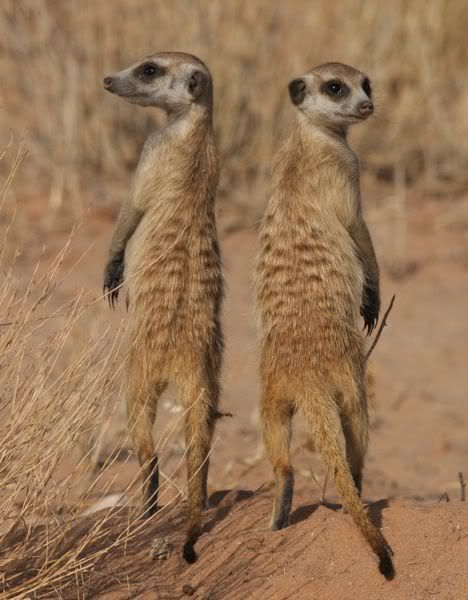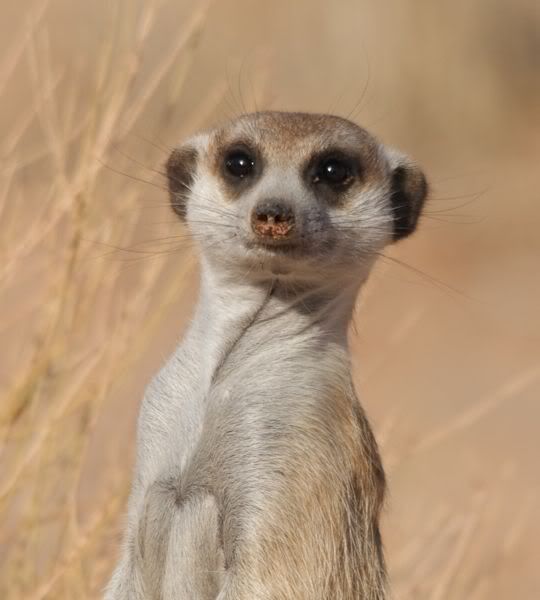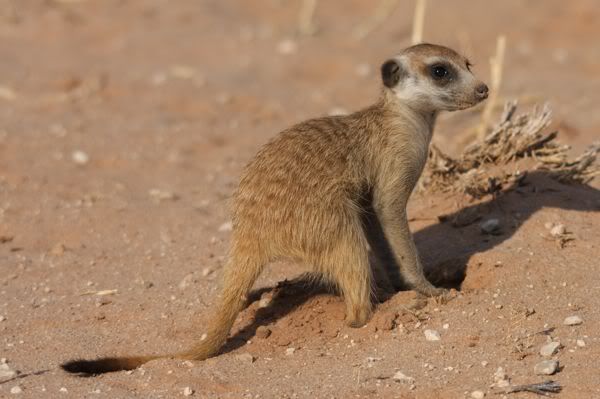 We spent over an hour on our own with this captivating extended family, then in a flash they were suddenly gone. We were so lucky to have arrived at a time when they were out.
We saw our first Greater Scimitarbill (at least, we think it was) – not a good picture but the best we could get, despite many goes.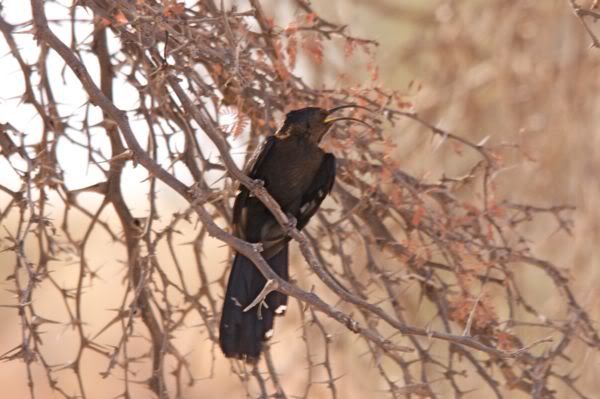 We were also able to spend time with this female Pygmy Falcon
before it went into its nest in the nearest Sociable weaverbird colony.
We drove slowly back to camp, savouring every minute of our last evening in the KTP. We ate out at the restaurant, and very tasty it was too (ostrich steak and springbok pie – yum!) although rather surreal to be being waited upon by highly-trained staff in the middle of such an empty landscape.
Friday 22nd October
Up at 5.15am to do our final packing and to give us time to spend an hour in the park before leaving. As we were getting into the car, I took my camera and walked backwards to get a picture of the chalet. I heard a rustling behind me and turned just in time to see an African Wild Cat about 2m from me. I tried to attract Simon's attention but couldn't without making a noise, so took pictures. But I hadn't set my camera up properly yet – it was still on the settings I had used for the meerkats yesterday afternoon and all the photos just looked black. With a bit of fiddling on the computer back home, I was able to get some sort of picture, which was a great relief, but I was very cross that I hadn't thought to set it up properly before leaving the chalet.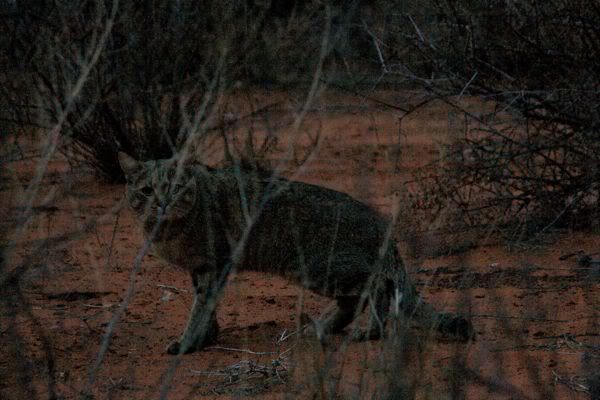 It walked off into the bush in front of the chalets, leaving me hardly believing that I had seen it, but I definitely had!
We took a final drive down the Nossob riverbed towards Leeuwdril, admiring the springbok and finally seeing them 'springing' for the first time. It was a fitting way to finish our stay.
We had a truly fantastic time, seeing lots of amazing things and soaking up the unique atmosphere of the KTP. No Honey Badger, but then you can't see everything and we felt amazingly privileged by what we had experienced. Back at home, our minds keep turning to how we could manage to come again. It may be a few years but there is no doubt that we will be back!
The End
---
---
Who is online
Users browsing this forum: No registered users and 4 guests