Sunday, 29-8-2010 Satara
When we went outside this morning we noticed that all the dustbins in the A-circle had been knocked over. We were a bit surprised as we hadn't seen or heard the offender(s).
First I thought it must have been baboons (by former years experience), but then I doubted it because I have never seen baboons in Satara camp and I couldn't imagine that they would have done this during the night. After I put our dustbin upright, we left for another Kruger adventure.
As we liked our stay at the Sweni hide the day before so much, we had planned to pay it a visit again.
When leaving Satara a lot of cars were in front of us. We were lucky, as almost all of them went into the s100. The H1-3 started with 2 hyena's crossing the road very fast and then they disappeared in the high grasses. We took the H6 and halfway we came by a hyena den. There were a few of them but only the little one was active and curious.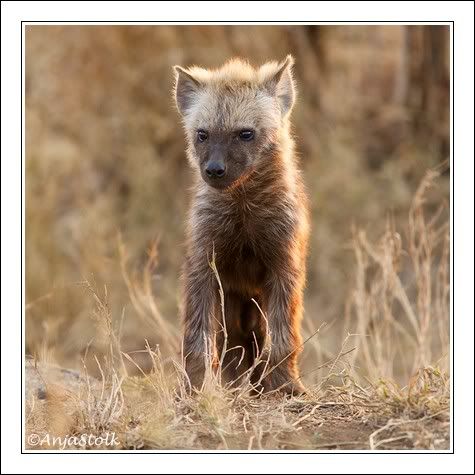 Before it definitely went back to the others it once looked back.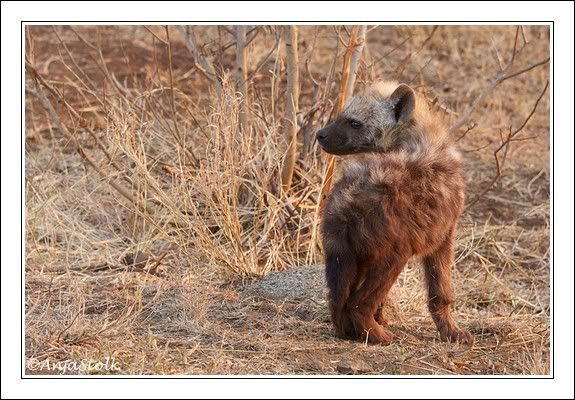 Somewhat further we found 3 white-rhino's round a tree.
When we arrived at the Swen hide it was much quiet than the day before. We saw a black-crowned night heron, jacanas, black crakes, a grey heron, hippos, Egyptian geese, a bushbuck, a sharpe's grysbok and a lot of green crocodiles.
The black crakes made an incredible noise, for such a small bird. They were very active.
Some Egyptian geese flew by. It's always a challenge taking pictures of flying birds.
The black-crowned night heron sat on the rock in the middle of the water. It motionless stared into the water. After a few minutes, just at the moment I wasn't looking, it caught a fish.
It had some difficulty swallowing the fish, which was considering the size of the fish not quite surprisingly. The grey heron, which was on the other side of the water had noticed that the night heron had caught something delicious and flew immediately to the rock. The night heron then flew away, still having the fish in its beak, and hided at the waterside under grass and branches. That was a save spot. The heron tried but couldn't get closer. After several attempts the night heron finally swallowed it and the heron lost its interest in its little nephew.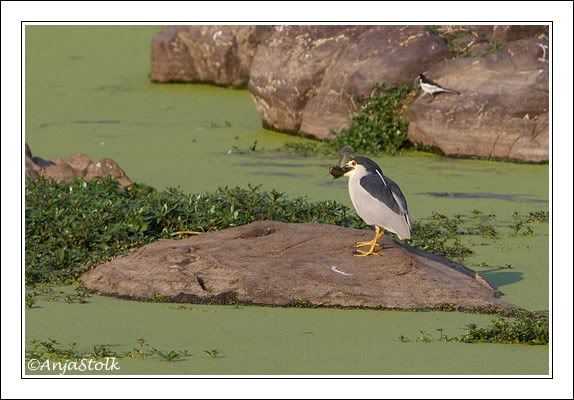 The bushbuck felt at home at the Sweni hide. It kept very calm during our presence.
This Sharpe's grysbok appeared at the other side of the water. It walked very cautiously to the water but just didn't dare to drink. Probably the presence of the crocodiles made it feeling uncomfortable.
After 1,5 hour we left the hide and drove to the Sweni road (s126).
Burchell's coucal at the H6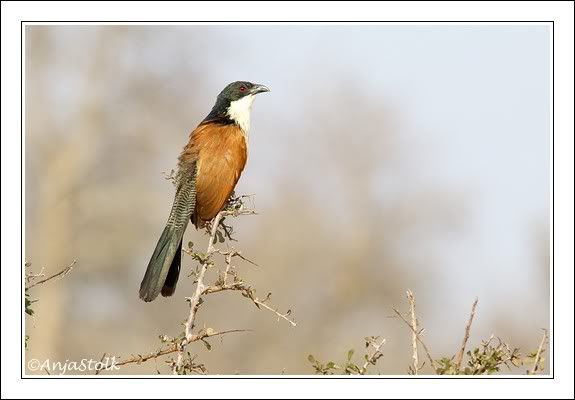 At the Sweni waterhole we saw several cars being parked. There were baboons, a giraffe trying to drink and some impala's further down. We couldn't imagine that all these people had stopped for watching this scene. And we were right. After asking, it appeared that some had seen a male lion crossing the road in the direction of the river. They expected to see him again maybe he was stalking the giraffe. We waited until the giraffe had finished its drink and we left.
We had a short break at Muzandzeni and watched 2 scopsowls. This was the first time we had seen them there. We couldn't have missed them now, because they were calling from time to time.
We returned to Satara via the s36 and the H7 with a stopover at Nsemani dam.
At the other side of the water a small herd of elephants was having a mud bath. We were so focussed on the elephants that we almost overlooked a hippo mum (named Mary in Aat's Kruger story's) with her newborn child.
The baby was so cute and so tiny. One can hardly imagine that this little one will become just as big or even bigger as its mum.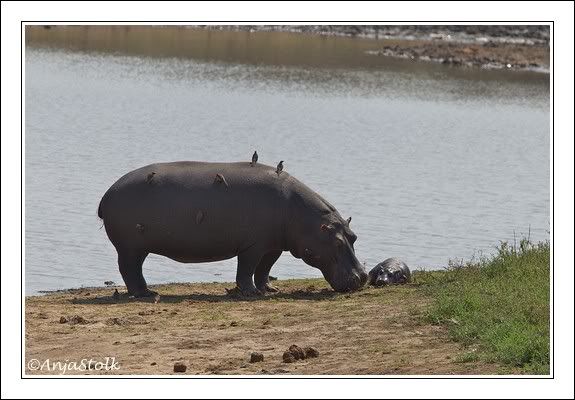 After having taken a lot of pictures we left for Satara for having lunch.
At Satara Mark was told that a lioness with cubs was seen on the H1-4 about 17 km from Satara. We knew there was a slight chance to find them, but as we didn't know yet which way we would take, we decided to give it a try. We drove up to Ngotso dam and no sign of the lions. But we did have some great big bird sightings.
It started with Kori bustards, in total 6 (2 pair and 2 single).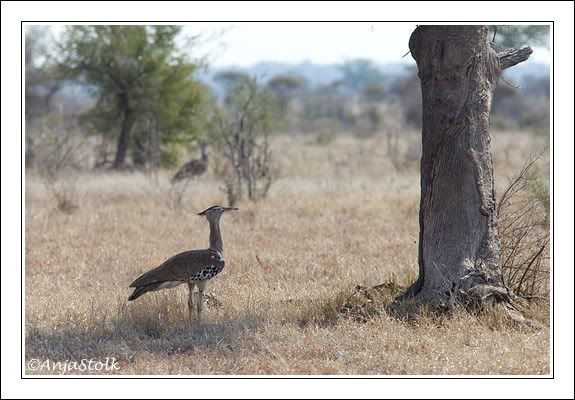 We saw 2 secretary birds, unfortunately they were too far for a picture and a family ground hornbill.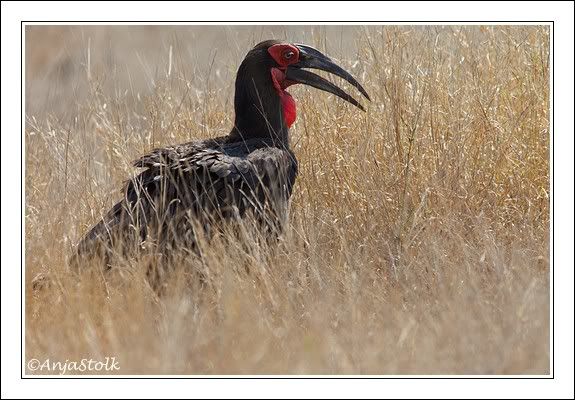 The most special sighting of the big birds was this ostrich. We saw him walking in the field in the direction of the road. We stopped the car and watched him approaching.
He crossed the road. That was not without any risk, because not every car was willing to stop and wait for this bird to cross. But he kept very calm.
And then when he had crossed, he suddenly spread his feathers and ran off. It almost looked as if he had a nervous breakdown. It was very funny watching him.
At Ngotso dam it was very dry. We turned and we drove to Timbavati. The area around the s127 was dry and there were not many animals. We did see a vulture on the ground having its wings spread. But we couldn't see if there was more.
After a short break at Timbavati we took the s39. This road turned out to be the impala road. We saw lots of them.
This one didn't look that healthy.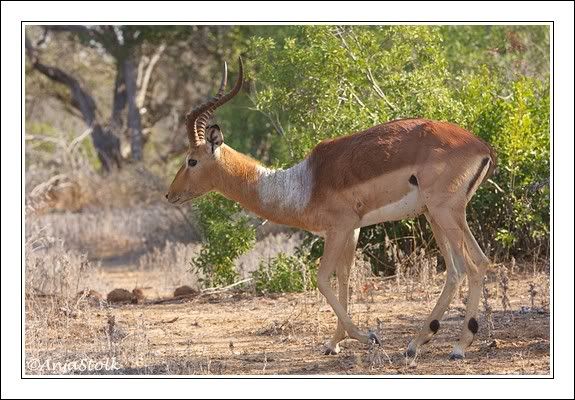 Besides the impala's we also saw this Bateleur pair on the s39.
Elephants close to the road at Nsemani dam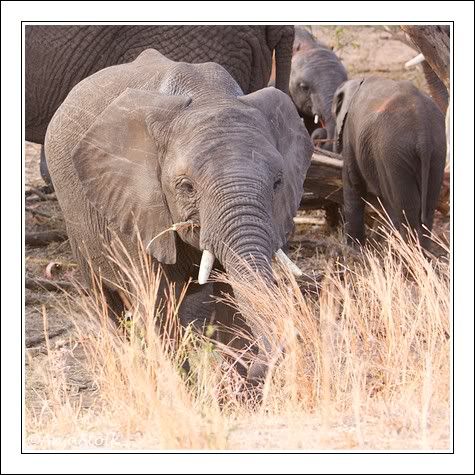 Pearl-spotted owl, also at Nsemani dam.
When we drove off, after watching the owl, we heard a sound from under our car when driving. We asked a couple in a car close by if they could see something under our car. The man told us that besides a dead lion he didn't see anything.
We thanked him and we drove off hoping that the car wouldn't break down before we had reached Satara. After 1 km the man in the car passed us and waved us on to stop. He then told us that we had a branch under our car. Again we thanked him and we, relieved, continued our way.
At Satara we removed the branch, which was not easy, because it was quite stucked.
We had dinner at out bungalow and we enjoyed the evening outside.
When we were just in bed we herd people making noise and a few minutes after I heard our dustbin being knocked over. I quickly got my torch and had a look. It was not a baboon and neither a vervet monkey, it was a honey badger. I quickly got my camera, but unfortunately the photo was blurred. When the honey badger had inspected our dustbin, he went off to our neighbours. The dustbin mystery had been solved.
Sightings:
buffalo, wildebeest, giraffe, hyena, white-rhino, zebra, impala, hippo, bushbuck, kudu, sharpe's grysbok, ostrich, waterbuck, baboon, warthog, elephant, vervet monkey, steenbok.
Route:
H1-3, H6, Sweni hide, H6, H1-3, s126, s36, H7, Satara, H1-4 (Ngotso), s127, s39, H7 Satara.
---
In 2008 we met 4 big tuskers. I send my photos of these 4 giants to the Emerging Tusker Project. Last year in June I received a message from Kirsty Redman telling me I had won the first prize for 2 new tuskers, Mavalanga and Ntombazana.
The prize was a 4 nights stay in Letaba with 2 ranger activities.
As we had already booked for 2010, we decided to go again in 2011.
Unfortunately Mark isn't able to go this year due to a professional training.
After a lot of thinking, we decided last week that I should go together with my mother.
Because the prize is only valid until June 8th, I had to hurry making the reservations. I was lucky that it all could be managed.
My mother and I will visit Kruger from May 26th until June 11th. We are really looking forward to it.
---
our 4 tuskers
Last edited by
Anja
on Mon Apr 04, 2011 7:53 pm, edited 1 time in total.
---
Monday, 30-8-2010 Satara
For today was visiting Lugmagdam and Tshokwane on our list. We left Satara after having filled up the car, which we had forgotten the day before
and we drove to the Sweni road (s126). We saw quite a lot of game on the H1-3, such as buffalo, wildebeest, kudu, giraffe, impala and zebra.
The s126 started very well with the sighting of a white-rhino. This animal was very relaxed. We stopped the car and watched until he finally had crossed the road. We enjoyed it very much.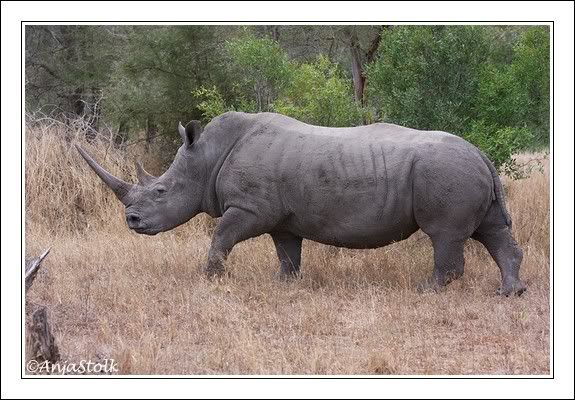 Further on the road we saw 2 white-rhino's, a lot of impala's, steenbok, duiker and a small herd of elephants. We had to wait for a while before the elephants went out of the way. But we didn't mind, it was fun watching them.
The s126 was wonderful, we had a lot of nice sightings.
When having a break at Muzandzeni we looked for the scopsowls. This time we found them very easy because we knew now where to look.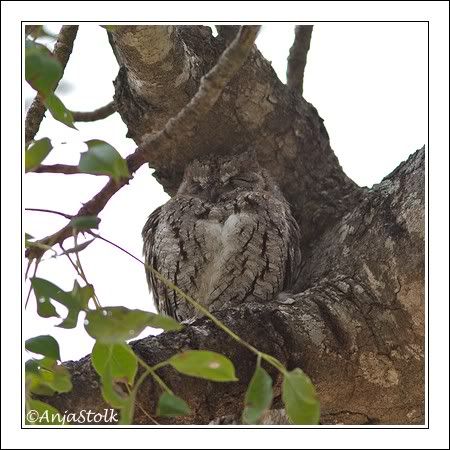 At Shimangwaneni dam was a small bachelor herd of old dagga boys, having a drink.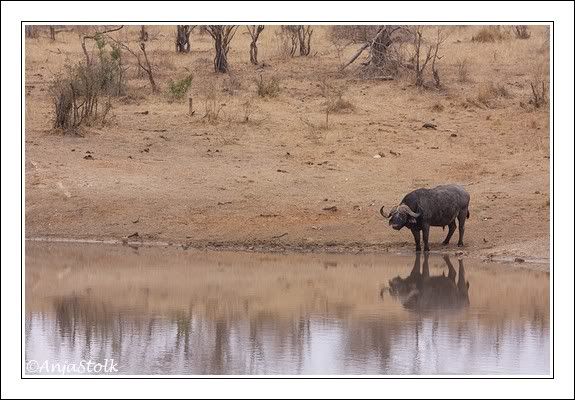 Further on we found this nice little owl.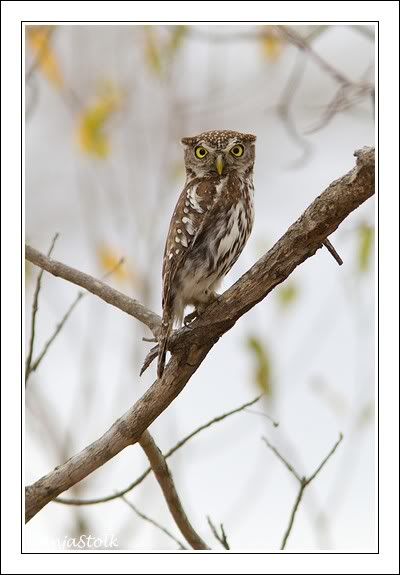 Unfortunately it didn't like our presence and quickly flew away.
On the s36 just past the Ngwenyeni waterhole we found this water monitor .
And also this one quickly disappeared after seeing us.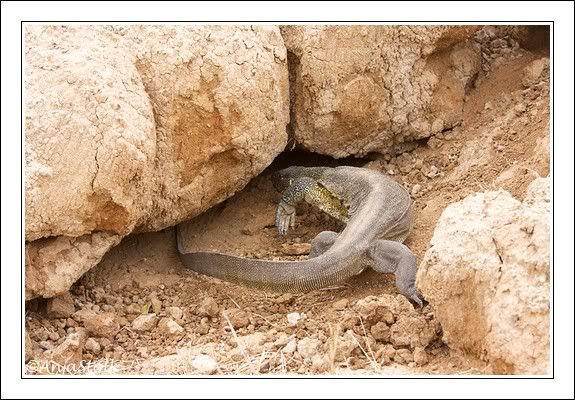 It was very nice staying at Lugmagdam. There were a lot of wildebeests, impala's and zebra's. At one moment the impala's and wildebeests all began to run. First I thought something had scared them, but I guess they were in a springtime mood, as the zebra's kept very calm.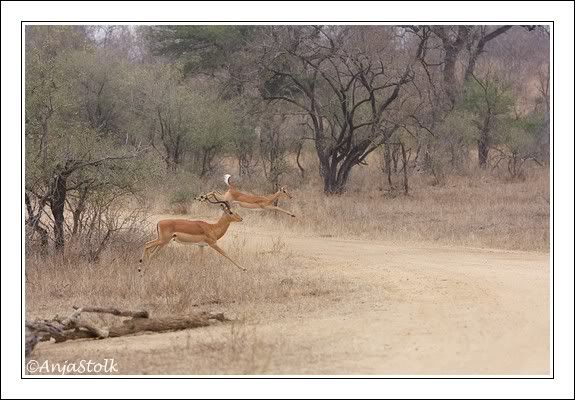 There was only one thing we didn't like at all, a car off the road, driving to the water.
When driving on the H1-3 we heard baboons screaming. They were on the other side of the river. A car was parked and first we thought because of the baboons. When we moved on a little bit, Mark suddenly saw 3 lions lying under the baboon tree. Now it was clear why they made such a noise. We stopped and watched the lazy lions and the active baboons.
A lot of cars passed us without stopping, probably because they "only" saw the baboons.
Not much later a herd of elephants crossed the road in front of our car in the direction of the river. All of a sudden the lions were wide awake and they all looked up disturbed. At that time it turned out that there were at least 7 lions.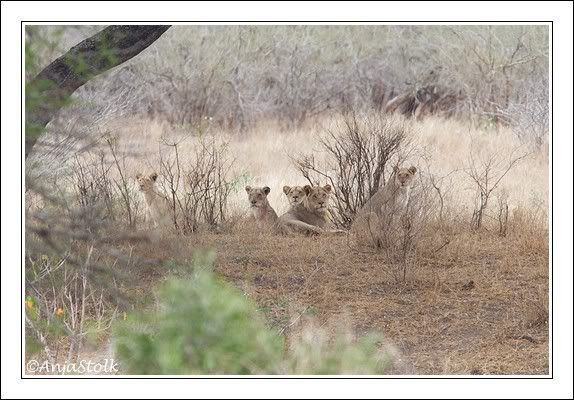 It was funny how they kept a watchful eye on the elephants. After some minutes we couldn't locate the elephants anymore. They all had disappeared from our view.
When a traffic jam started we left for Tshokwane, where we stretched our legs and had lunch.
After our break we again drove to the lugmagdam, but now via the s34. On this road it was a bit quiet, except for impala's.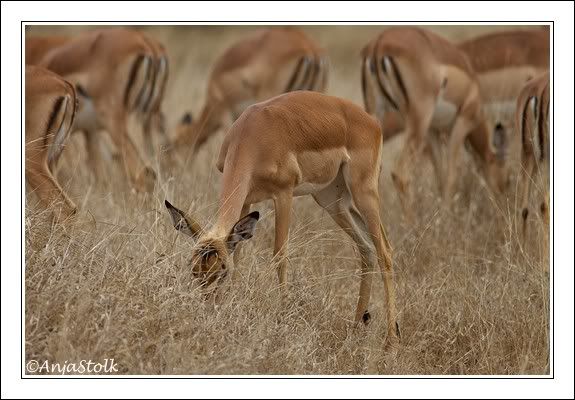 At Lugmagdam nothing much had changed. There were still zebra's, wildebeests and impala's.
On the s125 we met a very promising big tusker.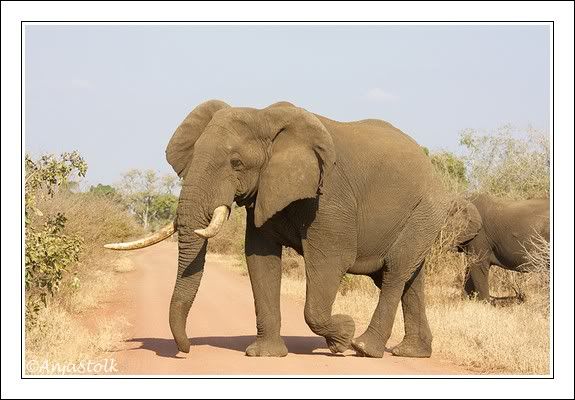 Aat has named him Kumana.
Unfortunately this guy was in a bit of a hurry, we would have loved it to watch him much longer.
Instead of going north to Satara we first paid a visit to Kumana dam and the baobab tree. The dam was completely dry. Nothing much to see there. But on the other side of the road we found these 2 lazy ones.
As there was enough time left we went into the s100 for a few kilometres. When we were just on this road we were told that there were lions further down. And indeed, they were still there with a lot of cars. The lions weren't good visible in the grass and we hardly got any closer to them. I could only manage to take this shot.
Shortly after we left again for Satara, where we had a delicious pizza for dinner.
Sightings:
buffalo, wildebeest, kudu, impala, giraffe, zebra, white rhino, elephant, steenbok, duiker, waterbuck, warthog, hippo, vervet monkey, lion, baboon, bushbuck, hyena.
Route:
H1-3, s126, s36, s33, H1-3, Tshokwane, s34, s36, s125, H1-3, s100, Satara.
---
Tuesday, 31-8-2010 Satara
When we walked at 5:45 to the meeting point for the morning walk we already had a great sighting. 3 honey badgers crossing our path.
They were in a great hurry and ran into the A-circle. Our dustbin hadn't been knocked over, so they probably had to catch up on that work. We were very surprised that there were 3 of them.
The morning walk group consisted of 6 people and the 2 rangers Matwell and Edward. We left at 6 and headed south. After the s126 we turned left into a no entry road. On our way we had very nice sightings. A male lion, 6 white-rhino's, wildebeests, kudu, impala and zebra's.
After the instruction about the do's and don'ts during the walk we left the vehicle.
The walk was totally different from the one we had in Lower Sabie with Irving. Matwell and Edward were informing us about all things in the field, while Irving went in search for animals. A lot of it we heard before on other walks, but we still enjoyed it.
Although not close by we saw impala, wildebeest, zebra, 2 steenboks, an elephant and a giraffe during the walk. We watched the steenboks from a rock where we had our breakfast. One was chasing the other. We could watch them very well from that height.
Matwell having a break while Edward was explaining something about the bush.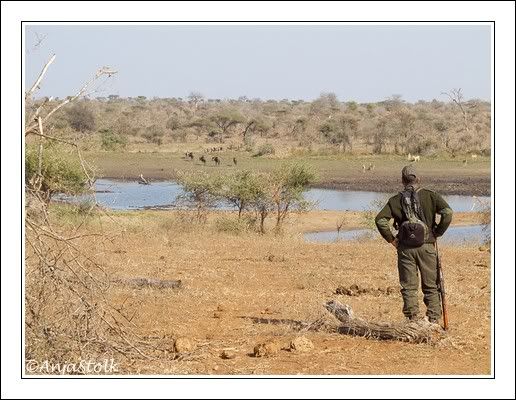 Somewhat later we all could enjoy the animals at the water.
When back in Satara we decided to do the Managa trail once again and we quickly booked for it at the reception.
I still think it's a very nice trail, but for this day we weren't lucky there.
We saw some zebra's, wildebeest and halfway a lot of people sitting outside, having breakfast.
But for the rest it was all very quiet.
The nicest sightings we had on the roads around the Managa trail.
First on the s100, 2 elephant mums with their young were approaching the river to have a drink and a bath.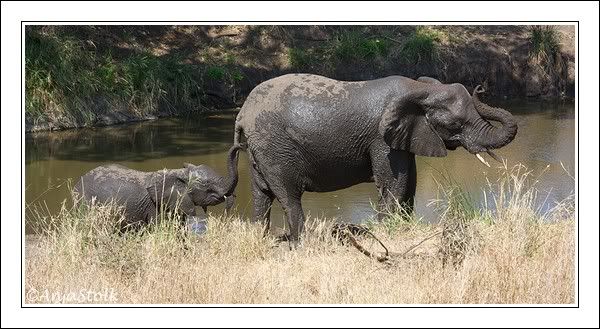 In the beginning it all was very peaceful. A few wildebeests came also for a drink. The elephant mums didn't bother it and kept on drinking. But then a young elephant came on the scene and like a lot of other elephants of that age he behaved badly.
He chased the wildebeests away.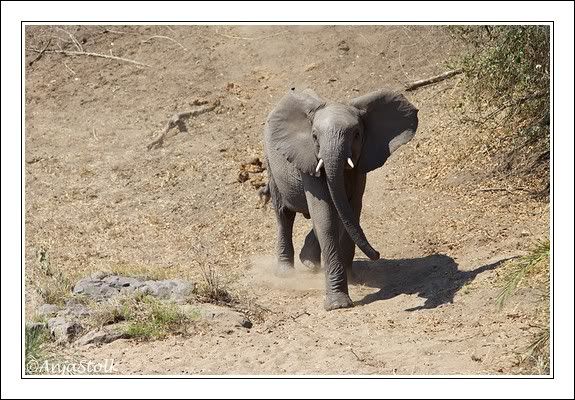 One wildebeest gave it another try, probably it was very thirsty, but there was no way the young elephant would let it drink.
On the s90 we also met some elephants
and a Tawny eagle (I believe)
On the s41 we saw 2 cars at the side of the road. When we had approached them for about 50 meters we suddenly saw a lioness walking to the road.
We could follow her for a little while. When she had crossed the road, she quickly disappeared between the bushes. We hoped that there were more of them and we went back to the spot where we first saw her. We were lucky. In the distance we saw a male lion with a kudu kill and some other lionesses.
The vultures were already present at the place and when the lion, for some reason, drag the kill away, they all flew down to look for leftovers. The lionesses then chased off the vultures to have the leftovers for themselves.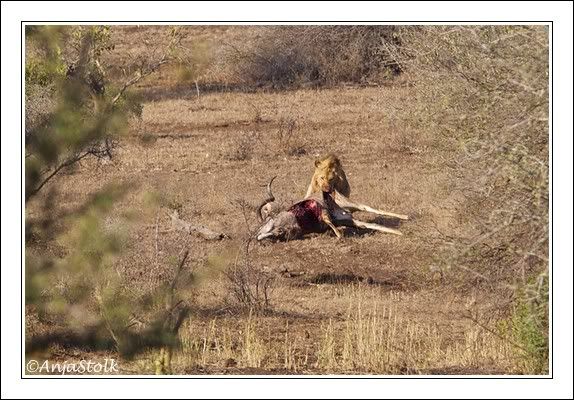 When almost all lions were out of sight, we turned the car and went back to Satara via the s90 and H1-4.
On the s90 we met this jackal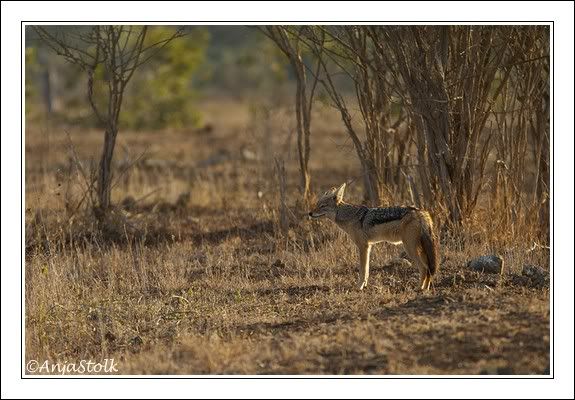 and this Kori bustard trying to impress someone.
In the evening when sitting outside, the 3 honey badgers suddenly appeared again in the A-circle. This time they had no interest in the dustbins. They were running after each other and playing. For me this was a good opportunity to come closer and take some pictures.
Later on, when we almost went to sleep, they returned to our circle for inspecting the dustbins. We would love to see them knocking over the dustbin and waited until one of them arrived at our bungalow. Very surprisingly he first lifted the top and then sniffed. Our dustbin wasn't worth for knocking it over. He left and went to our neighbours.
It was very nice to have a closer look at these animals, as we had hardly seen them in the past years. But I do prefer them seeing in the wild.
Sightings:
wildebeest, zebra, impala, kudu, waterbuck, lion, white-rhino, steenbok, giraffe, buffalo, elephant, ostrich, warthog, baboon, vervet monkey, black-backed jackal.
Route:
Managa trail, s90, s41, s90, H1-4, Satara.
Last edited by
Anja
on Mon May 02, 2011 8:19 pm, edited 1 time in total.
---
Wednesday, 1-9-2010 Satara
This was our last full day in Kruger
and we wanted to make the most of it. We woke up early and before leaving camp we first paid a visit to a few buffalo's, which were lying next to the fence, close to our bungalow.
When we left we had to join the queue for the gate, there were already a lot of cars waiting.
But when we were out of the camp, most of the cars were soon out of sight.
We started taking the s100. It was a bit quiet on this road. We saw a steenbok, waterbucks and kudu's. Near the Mananga trail several cars were parked. There were 2 male lions walking. Unfortunately they were far away.
This one looks like being out of shape.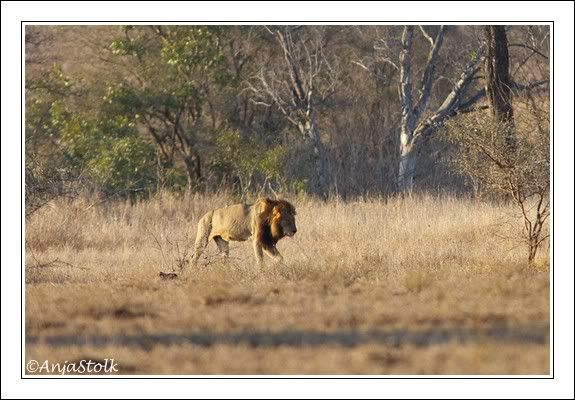 Soon they disappeared in the bush at the riverside.
We then went to Gudzani dam. All looked very quiet and peaceful over there. Only some hippo's were making noise by running in the water, which was very funny to watch.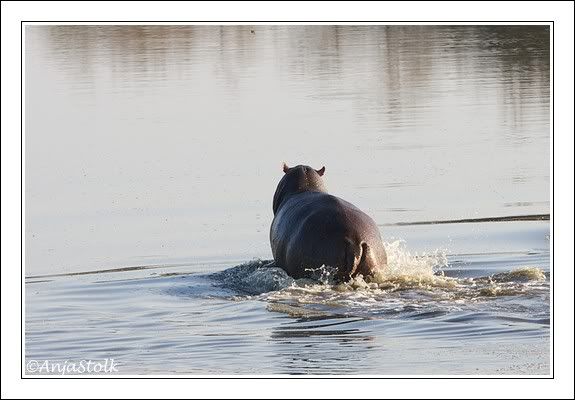 The s41 was also quiet. The area over there was very dry, so this place was far from ideal for the animals.
At Sweni hide we had our breakfast. Except for a yellow-billed stork there were no early birds present. We enjoyed this peaceful place for a while and we then drove to the s126 (Sweni road) via the H9. On the same spot as a few days ago we again found a hyena, but now on the other side of the road. This little one didn't pay any attention to us. Maybe it had already seen so many cars that it wasn't curious anymore. It scratched its head and felt asleep.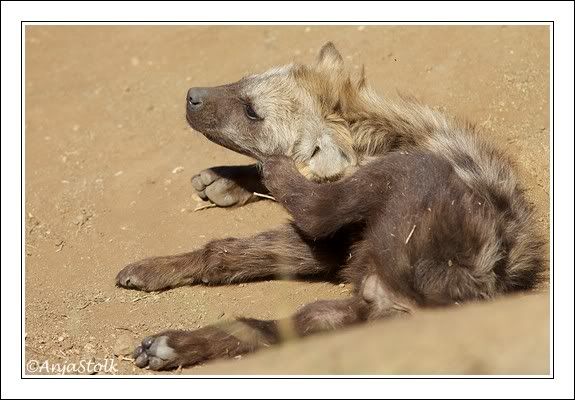 A herd of elephant was just having a drink when we arrived at waterhole Sweni.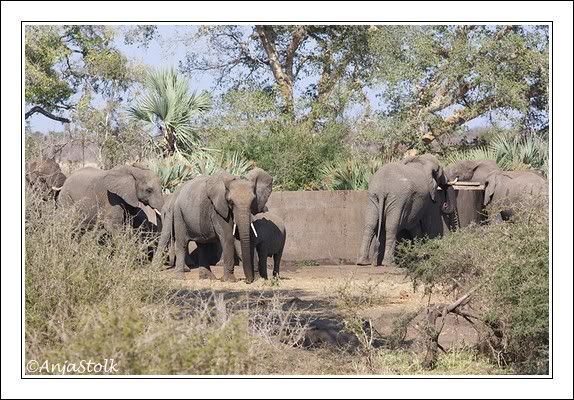 After some time the herd suddenly formed a group and left en masse the waterhole.
The reason, we soon found out, was the arrival of another herd. It looked like a sort of greeting ceremony.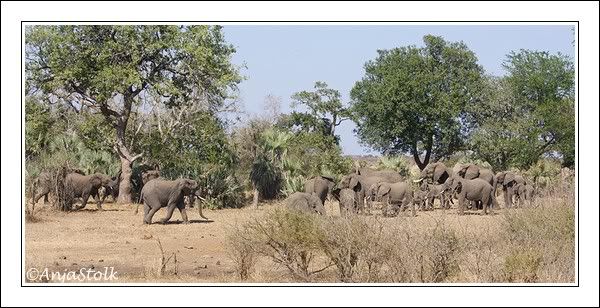 We were very impressed by this behaviour and enjoyed this thoroughly.
After all of them had said hello, they walked all to the waterhole to have a drink together.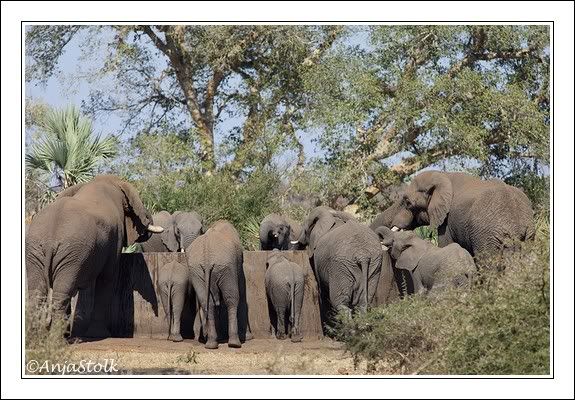 Amongst the 2nd herd was one very impressive promising tusker.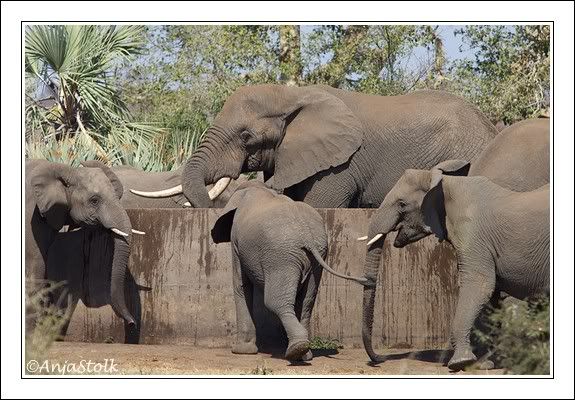 15 minutes after the arrival of the 2nd herd, another smaller herd arrived. They also were greeted, but now only by a few elephants. The others did notice them but were probably too thirsty to leave the waterhole.
The whole time we heard them rumbling and sometimes, when one got a bit irritated, trumpeting. It was a wonderful experience.
Besides these elephants we saw zebra's, wildebeests, impala's and another herd of elephants on the Sweni road.
On the s36 we watched a giraffe having a drink waterhole Rockvale.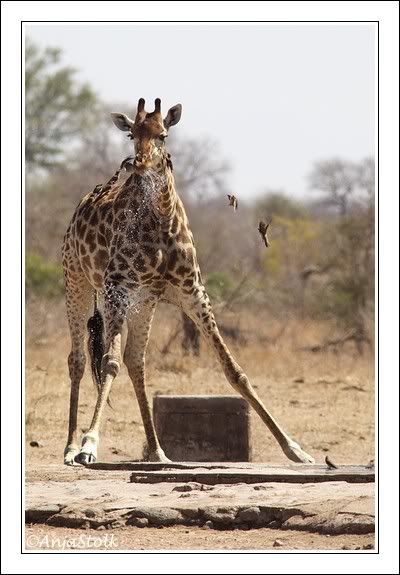 At Nsemani dam we again saw the baby hippo with its mum.

We had lunch at Satara, went to the store and relaxed a bit at our bungalow.
At 13:30 we left and took the s100 again.
On our way we saw this white-rhino
and this giraffe.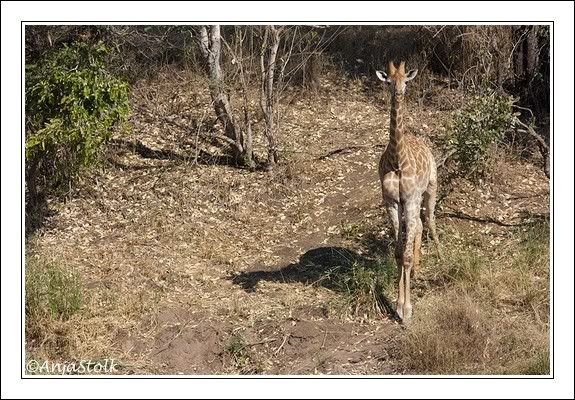 This time we could look down on him, instead of otherwise.
We also saw one of the lions of this morning. He now was closer by but not well visible.
When we drove into the road to Gudzani dam we were flagged down by someone, telling us that there was a lion at the other side of the dam. He told us that we probably had to be patient because the lion had vanished behind the grass.
We thanked him and had a look. We were patience for 20 minutes and still no sign of a lion. As we wanted to visit Sweni hide again, we decided to move on.
On the s41 we found this terrapin in green water land.
We arrived just in time at the Sweni hide as a small herd of elephants was just having a drink and bath. Again we were lucky to watch their behaviour and now so close by.
The herd slowly moved on. 2 elephants stayed for longer and followed the herd later on.
One had some trouble to get out of the water.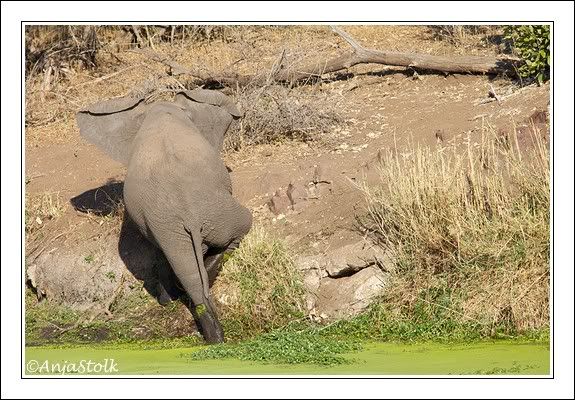 When the elephant was out of sight, the storks had a good laugh.
We stayed for about 1 hour and then it was time to leave. Instead of taking the H6, we went back to Gudzani dam, to see if the lion had shown up. First we saw a few elephants, but when having a better look we saw the lion at the right of the tree.
He had caught something but we couldn't see what it was. We only could stay there for a few minutes as time was running out.
On the s100 we could only stop to take some photo's of the baboons.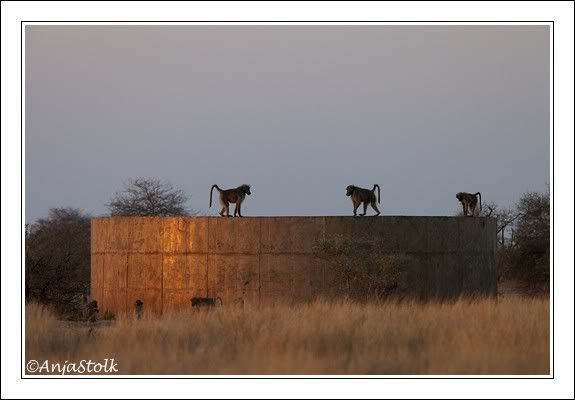 We arrived at Satara just in time.
When back at our bungalow I had a look at my pictures to find out what the lion at Gudzani dam had caught. Then I remembered I had taken in morning some pictures of the dam. Would the lion already have been there?
I looked at the photo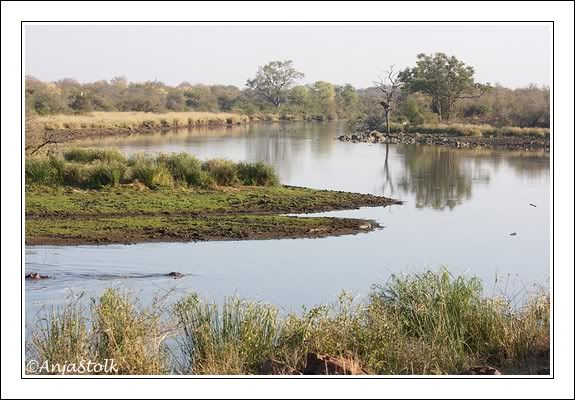 I enlarged the photo and …….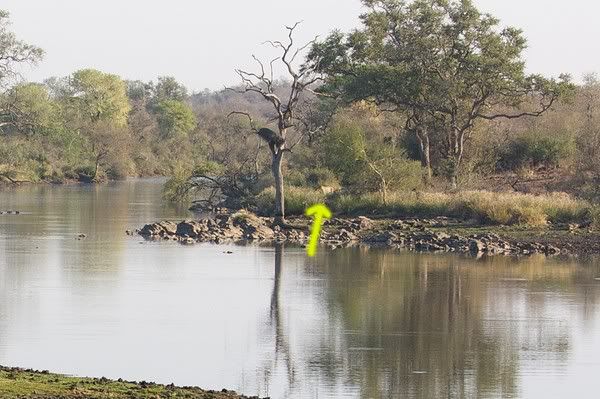 First we had the feeling
then
. Why didn't we have scanned the area better?
But then we were thinking about the elephants we had seen instead and we both agreed that we wouldn't have missed that for anything.
Sightings:
buffalo, steenbok, kudu, waterbuck, lion, impala, giraffe, elephant, baboon, zebra, warthog, hippo, bushbuck, hyena, white-rhino, vervet monkey, nyala, wildebeest, impala.
Route:
s100, s41, Swenin hide, H6, H1-3, s126, s36, H7, Satara, s100, s41, Sweni hide, s41, s100 Satara.
---
Thursday, 2-9-2010 Satara → Phalaborwa
After being in the park for 4 weeks it almost felt as if there was no other world than Kruger. But today we had to face up to, that there was. We had to leave our favourite place to return to the "real" world. We could hardly imagine that time had passed so quickly.
After saying goodbye to the buffalo's, which were lying near the fence, we left Satara at 6:15.
We took the tar road to Letaba and had a lot of lovely sightings.
A lion, 3 jackals, 6 white-rhino's, steenboks, kudu's, elephant, giraffe and lots of impala's.
On the bridge over the Olifants we stopped to have breakfast. While eating we enjoyed the view. A starling came to sit down on the railing next to me and had an eye for the cracker in my hand. For some reason, I don't know why, I looked behind me and I suddenly saw a yellow-billed kite flying towards me.
It was almost on eye level and it was only a few meters away. For safety's sake, I quickly bent over.
It appeared that the kite tried to catch the starling. It used me for a sort of hide, to keep itself as long as possible out of the starling's sight. The attack was not successful, probably because of my reaction.
The YB kite then sat down on the railing and shortly after it flew off.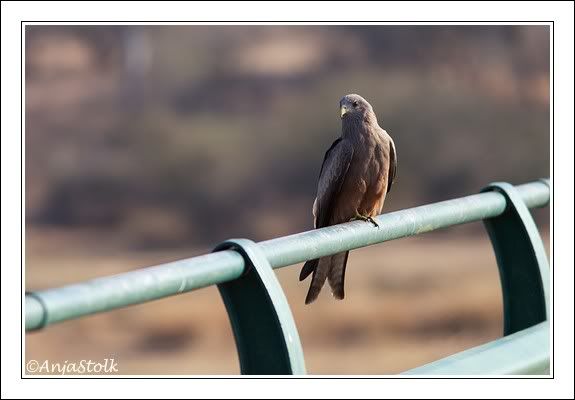 Not much later the YB kite had another attempt to catch a starling, but again it failed.
After that the YB kite flew in circles above the river and then got chased away by a few plovers.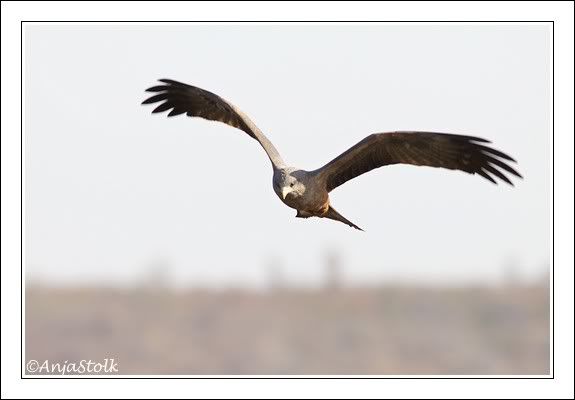 Along the river beyond the N'wamanzi lookout we first met this baboon sucking a leaf.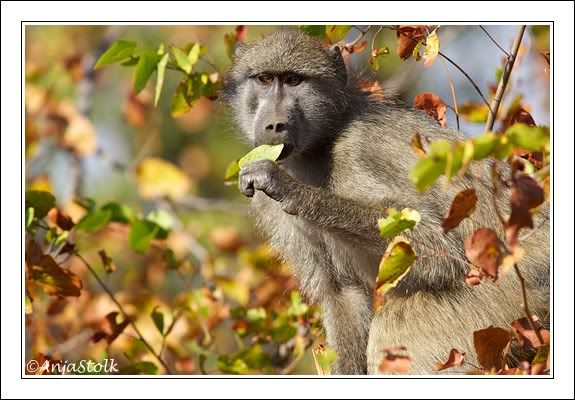 Then we saw 2 hippo's. One was chasing the other. The chased one must have made the other very angry, because it got bitten a few times. It could just escape from its attacker.
At almost the same spot as where we found Ntombazana in 2008 we now saw another tusker.
This time a one tusker.
Aat has named him Mfuleni.
Mfuleni is a real gentleman. It was no problem at all being close to him and taking photos.
Before going to have a break at Letaba we first drove to the bridge over the Letaba.
View from the brigde.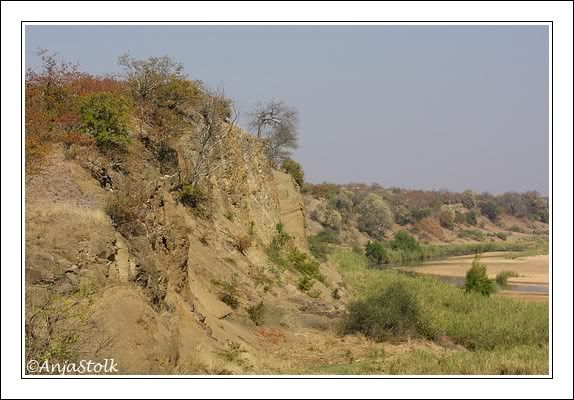 Close to the camp we found this fish-eagle having a brunch.
At Letaba we enjoyed the view from the restaurant and stayed for one hour.
Via the H9 we drove to Phalaborwa gate. Unfortunately it was very quiet on this road. Not very strange, I guess, because it was already hot (35 degrees) and there was hardly any shade.
But we still had some nice sightings such as these elephants
and a steenbok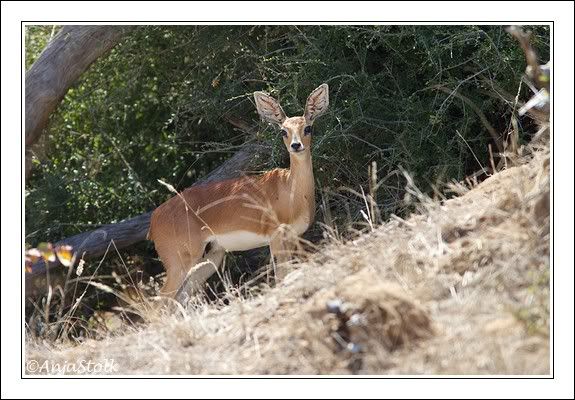 The last animal this stay I took a picture of.
This is the end of a wonderful stay in KNP 2010.
We had very nice sightings and learned a lot more about the bush and the behaviour of the animals, great and small.
Again Kruger didn't disappoint us.
Sightings:
buffalo, wildebeest, impala, steenbok, kudu, white-rhino, elephant, giraffe, blackbacked jackal, lion, duiker, hippo, baboon, waterbuck, warthog, zebra, ostrich.
Route:
H1-4, H1-5, Letaba, H9 Phalaborwa gate.
---
---
Who is online
Users browsing this forum: No registered users and 4 guests