Posts: 4478
Joined: Mon Jun 19, 2006 6:13 pm
Location: Centurion, ZA
5 August 2010 - Skukuza

Just back from another great trip to Kruger. Many areas in the south were been burned and game viewing was not good. Good game viewing around Satara and in the north.
This was one of those spontaneous trips. We checked on what was available a week before the August long weekend and got a night each in Skukuza, Orpen, Olifants and Punda so covered the whole Park in four days.
Once again we were very lucky to get a once in a lifetime sighting and also a Mega-tick bird. Talking about mega-ticks we were hoping to see the
Taita Falcon
but just could not make time on this trip - definitely next trip
Sharifa, once again, was shutter happy and many photos to sort through and select. In the meantime I leave you with this video of essential Kruger – the sights and sounds of Africa (listen out for the call of the fish eagle)
View My Video
---
Posts: 4478
Joined: Mon Jun 19, 2006 6:13 pm
Location: Centurion, ZA
Thank you
Katja, Gunner, Elsa, PetraJ
More coming up
Hugh
Buffalo charge occurred on the H1-3
Rooies
and will get to the story shortly
Wild about cats.
Wish we were back there too
mposthumus
- Sigh………………..
You will enjoy the main course
Pumbaa.
The video was taken at Nsemani dam
kite, CB and Shi
– a magnificent herd of ellies – more about them later.
We arrived at Malelane gate at 9.00am and there was no queue and we were on the road by 9.15am. We decided that we will make our way to Mpondo Dam where we will have our packed lunch and then slowly make our way to Skukuza to get there by 2.00pm. The bush was burnt in many parts and did not get to see much.
First sighting was female kudu followed by a pied kingfisher at Biyamiti weir
The resident waterbuck were at Mpondo and also some smaller and more colorful critters
Dark Chanting Goshawk on the H5 and giraffe stretching for the uppermost leaves on the S114
We got to Skukuza at 1.30pm and found more colorful photo subjects which helped to pass the time before we could check in.
---
Posts: 4478
Joined: Mon Jun 19, 2006 6:13 pm
Location: Centurion, ZA
Thank you for all the comments
While waiting to check in at Skukuza we found a purple crested turaco and some butterflies.
The evening drive was very quiet but we did get a great Kruger sunset
6 August 2010 – Orpen

The next day began as beautifully as the previous one had ended.
It was going to be a wonderful day with some great sightings
At Jones Dam (S36) we found two saddle billed storks and decided it was a good place for tea and rusks.
Even I pulled out my
for some shots
---
Posts: 4478
Joined: Mon Jun 19, 2006 6:13 pm
Location: Centurion, ZA
Thank you
Dankbaar, Shi, mposthumus, Katja
Pumbaa and WAC
At the Vutomi Dam we saw 3 buffaloes
and further on the S33 a gang of mongooses (
mongeese)
and still further a Gabar Goshawk.
Then it was on to the H1-3. There were about 10 cars parked off at Kumana Dam. We got there and
Oh My Word
sorry
Caracal
but just had to use that expression for what we saw
They were in full view and no need to ask anybody what they were seeing. I grabbed the video and Sharifa was in the back seat in a flash with her
---
Posts: 4478
Joined: Mon Jun 19, 2006 6:13 pm
Location: Centurion, ZA
Thank you
Katja, Shi, CB, Anne-Marie
and
Kath U.K.
Although we enjoy everything Kruger has to offer, like most people we have this fascination with cats. The lion that looks so docile but you know the latent power that can suddenly spring into action. It is such a joy to see the fast and sleek cheetah at full throttle. The strength of the secretive and solitary leopard when hoisting prey up a tree.
Chances of seeing these felines are greatly improved at daybreak but experience have taught us that the only predictability about wildlife is their unpredictability and as long as you are on the road you will see something. We have seen leopards hunting in the middle of the day and a black rhino grazing at noon (suppose to be nocturnal and a browser).
I particularly get very excited on finding a cheetah or a leopard. Finding a leopard is a Wow moment, finding a mating pair is MAGIC. So we were DELIGHTED to find this pair at Kumana Dam at about 9.00 am. Although some distance from the road (so image quality not the best due to cropping) they were in a clearing and our view was perfect.
View My Video
View My Video
hello.....what is that over there????????
---
Posts: 4478
Joined: Mon Jun 19, 2006 6:13 pm
Location: Centurion, ZA
Thank you
Katja, anne-marie, icurrie, Micetta, mposthumus, arks, annalie
and
billyf
Spot on with your guess
Crested Barbet
Micetta
- we also would have liked to see 2 together but the buffs had other ideas
We were enjoying the spectacle when a heard of buffs thought it was time for a drink.
the honeymoon couple were sent scurrying.
Each cat for itself and he was ready to climb up a tree (chivalry is dead)
she just walked away nonchalantly saying catch me if you can
With the cats gone the buffs got into the dam
---
Posts: 4478
Joined: Mon Jun 19, 2006 6:13 pm
Location: Centurion, ZA
Thank you for all the comments
. This was a
very special
sighting
We moved on and on the S125 a testosterone loaded ellie held us back for about half an hour. Everytime we advanced a little he would step into the road and trumpet and a couple of times I had to reverse in a hurry... phew
eventually he moved on and we could pass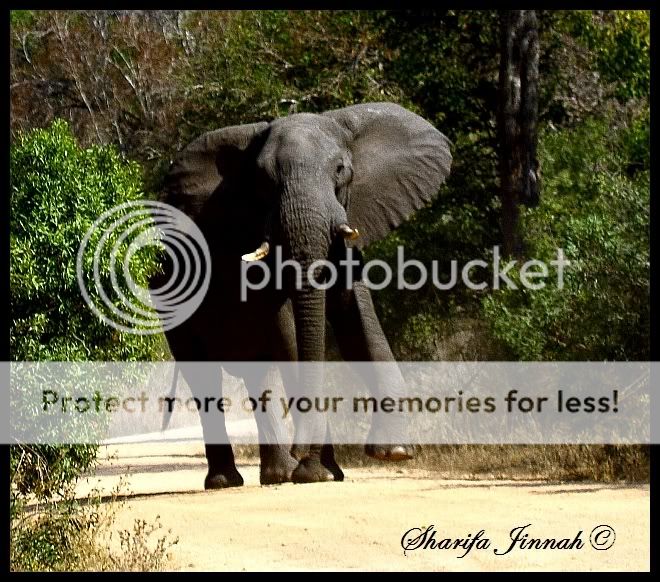 Did not find any sable antelope on this trip
We had a break at Muzandzeni picnic site and enjoyed the birds.
It was still too early for the 2.00pm check in at Orpen so we decided to go to Nsemani dam first. Good move as we had the most splendid ellie sighting - the video I posted in the introduction is of this herd.
some came running
others jostled
and played
and the fish eagle you heard in the first video was in search of a meal
Video of ellies frolicking in the mud
View My Video
---
Posts: 4478
Joined: Mon Jun 19, 2006 6:13 pm
Location: Centurion, ZA
Shi, anne-marie
and
Micetta
We got to Orpen, settled down and relaxed for a while and then went out for an evening drive. We found a car parked off and they were looking at a Pearl Spotted Owlet. The couple could best be described as "owlers" as they told us that owls are their interest and they seek out owls. Excellent spotting by them.
Just as the buffs had chased the leopards away a grey go away bird sent the owlet packing.
In the evening light we also found some plains animals
And the day ended with another splendid sunset
---
Posts: 4478
Joined: Mon Jun 19, 2006 6:13 pm
Location: Centurion, ZA
Thank You
Katja, Flutterby, Bushcraft, Micetta
and
CB7 August 2010 – Olifants
We had not stayed at Orpen for a while and had forgotten what a delightful little camp it is. Although it was a long weekend and it is also an entrance gate we did not get the feeling of overcrowding. Our day started early again and there was a Black backed jackal at the waterhole.
We decided to do the S39 to Timbavati picnic site and then go to Satara and then make our way to Olifants.
We saw a herd of buffs on the S39
and on looking closer realized we had found a
lifer
as we have not seen a yellow billed oxpecker before.
Thought they only found in the far north so we were surprised
to find one in the central area.
here together with its red billed cousin
Just before the Ratel hide there were lions in the riverbed – 4 young males and 7 lionesses but the reeds just did not allow good pix
Our only rhino sighting for the trip on the H1-4
This one for you Katja
---
Posts: 4478
Joined: Mon Jun 19, 2006 6:13 pm
Location: Centurion, ZA
Elsa
- my son said the same thing about the buffalo – the oxpeckers must be doing a good job eating the ectoparasites
Thank You
Katja, Anne-Marie, wanderw, flutterby, MM
and
Magic Guarri.Naomi,
have sent you a PM on camera and thank you
Micetta
for answering the other question.
We had a break at Satara. The resident Scops was in a tree alongside the reception area. Amazing how habituated it is to all the human activity.
We got to Olifants and there was a brown hooded kingfisher and trumpeter hornbill in the tree next to our bungalow.
Later we found theses on our afternoon drive
mongoose
baby ellie
goliath heron
smiling croc on a rock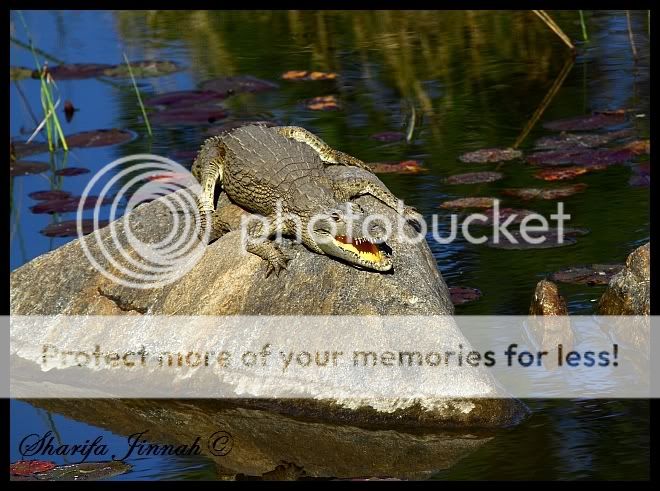 a vulture taking off from a hippo carcass failing to get through the thick hide
another beautiful sunset
---
Posts: 4478
Joined: Mon Jun 19, 2006 6:13 pm
Location: Centurion, ZA
08 August 2010 – Punda Maria
Thank you
Katja, Micetta, Nkumbe, fenwickh, flutterby
and
Maddie 88.Anne-Marie
, I am sure you will see a trumpeter hornbill in the north and the Scops is in the reception area at Satara most of the time
Crested Barbet
, the trumpeter is found all over KNP but more likely to be seen in the North (where they grow on trees, so to speak – see below).
The journey from Olifants to Punda was rather quiet although we did see impala, giraffe and ellies.
In the afternoon we did the Mahonie loop.
Nyala females
And the male darted across the road
Brown snake eagle
And a very vocal brown hooded kingfisher trying to look like the log it was sitting on
Fork tailed drongo and brown headed parrot
And 9 trumpeter hornbills in a tree, could only fit 6 in the frame.
And a Sharpe's Grysbok.
A thoughtful looking vervet monkey
---
Posts: 4478
Joined: Mon Jun 19, 2006 6:13 pm
Location: Centurion, ZA
Thank you once again for all the comments
9 August 2010
We left Punda at gate opening time. The smart thing to do (take note Shi) would have been to drive the Mahonie loop and then exit from Punda gate. But you cannot be so close to Pafuri and not pay a visit. We usually have good sightings at Klopperfontein Dam but only a little grebe was present today.
On the bridge over the Luvuvhu we found a giant kingfisher
and a wire tailed swallow.
We drove very slowly on the S63 scanning every tree and hoping to find the elusive Pel's. Just past the picnic site Sharifa shouted stop…… Ayres's Hawk Eagle.
I reversed a few meters and it was not an Ayres's but an African Crowned Eagle, another
lifer
for us. Very lucky as there are only about 50 in KNP and very difficult to find as they sit in the canopy of large trees. This is the most powerful eagle in Africa and there is authenticated evidence of it attacking a 7 year old boy in Zambia recently but could not carry the boy off.
At Crocs (Crooks) Corner
The white fronted bee-eaters were also out in force at Crooks Corner.
We made our way to Pafuri picnic site, our Crowned Eagle was gone. Had a chat with Frank and were on our way to Pafuri gate. The return journey home took us 9 hours instead of the 6 hours due to traffic but would have done the unsmart thing all over again.
On our way out found a bateleur was riding the thermals
And also some white backed vultures
---
---
Who is online
Users browsing this forum: No registered users and 3 guests