Forum Assistant

FAC Member (2016)
FAC Member (2015)
Posts: 19398
Joined: Fri Apr 06, 2007 6:39 am
Location: Pretoria SA
9 September 2011- It is the day before our departure and me and SO can't wait anymore. Six months have passed since our last visit to KNP in Feb 2011. We left home at 06:15 to drop off the four X four-legged "children" at Bergendal Kennels for their vacation. We are forcefully pulled into reception by the foursome, because they love this place! (This gives one peace of mind to enjoy your own vacation). Packing in their presence is to upsetting for them, that's why we take them to the Kennels in the morning. Back home at ten and the KNP packing lists are double checked and everything that can be loaded during the day is done with. Only the cameras, coffee and cooler bags left for the next morning.

Now for a quick nap before we hit the road!
---
Forum Assistant

FAC Member (2016)
FAC Member (2015)
Posts: 19398
Joined: Fri Apr 06, 2007 6:39 am
Location: Pretoria SA
We woke up at 02:30 and hit the road by 04:15 (could not wait any longer). We always pack some snacks and coffee to be consumed on the way. Had a quick breakfast at Malelane and at 09:30 we entered the park at Malelane gate. With YR visible to all, bino's for both, me with my Pentax K7 fitted with a 150 – 500 mm sigma lens on my lap for the first time, ready for shooting at anything that moves. SO set up the Pentax K100 fitted with a 70-300 mm sigma lens for closer shots and the Cannon Legria HF200 HD video camera ready for action. We set off for Olifants (our first 4 nights' stay) 206 km away. We took the H3 tar road to Skukuza. Our first sighting was an ellie in the distance (too far for a good photo).

H3 – 15km along the tar road, rhino family crossing the road. Mom and Dad on each side of their little bambino.

IMGP0374-1.jpg

Still on the H3 tar road just past the S112. A big rhino on the left, taking his early siesta. Maybe a busy night?

IMGP0379-1.jpg

We stopped at Skukuza for a comfort break just after 1 o'clock, and saw a car with a YR. No people in sight though, so we left a note on the windscreen to let them know that they have been spotted.

We carried on on the H3 and at Kumana Dam we saw this big guy:

IMGP0387.jpg

I have never seen a rhino drinking water, except for a picture on this forum and on TV of course, let alone a rhino lying in the dam. I must say, it was quite hot!

Further on we came across two male lions, doing what they do best in the heat of the day - sleeping.

IMGP0397.jpg

IMGP0396.jpg

About 4 kms from Satara we saw a few lions in a distance, but it was to far to take a picture.

Between Satara and Olifants at the Ngotso North waterhole, be found two thirsty buffaloes:

IMGP0409.jpg

A lonely elephant also needed some water.

IMGP0403.jpg

At the Olifants River Bridge we saw a breeding herd of elephants, 35 in all, although only a few are visible in the picture.

IMGP0433.jpg

We reached our destination at about 5:30, booked in at Olifants' reception without any hassles with only a confirmation letter of my Wildcard's renewal, and started unpacking. The fire was lighted, and we had a well-deserved braai, nice hot shower and went straight to bed - very tired after all the excitement of the day.
---
Forum Assistant

FAC Member (2016)
FAC Member (2015)
Posts: 19398
Joined: Fri Apr 06, 2007 6:39 am
Location: Pretoria SA
Sorry folks, I found the right way to insert the pictures. Here they are in order of my TR for 10 September 2011: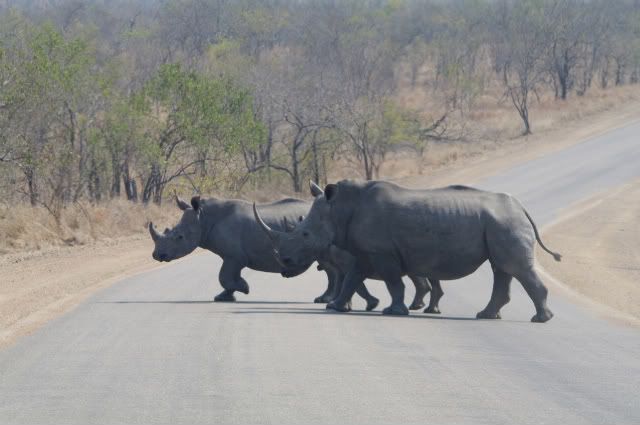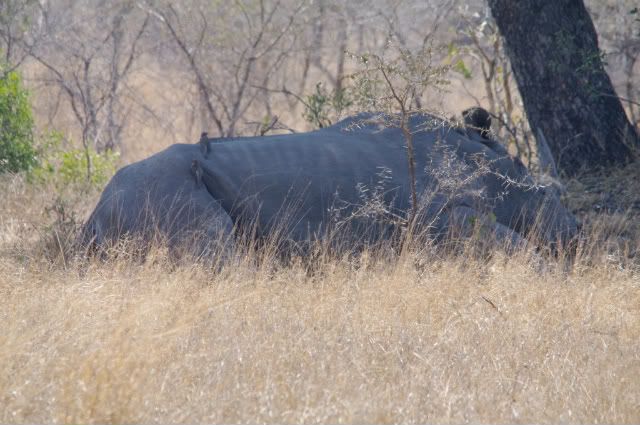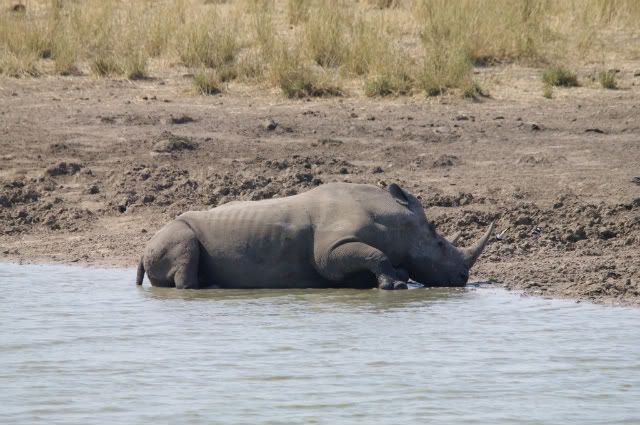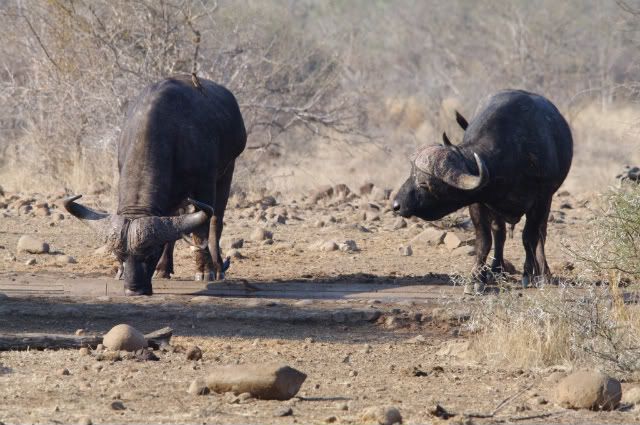 Sorry for the inconvenience! There is no medicine for stupidity!
---
Forum Assistant

FAC Member (2016)
FAC Member (2015)
Posts: 19398
Joined: Fri Apr 06, 2007 6:39 am
Location: Pretoria SA
With all my struggling yesterday to get the pictures in my report, I forgot to add a few pics.
This beautiful kudu - just look at those horns!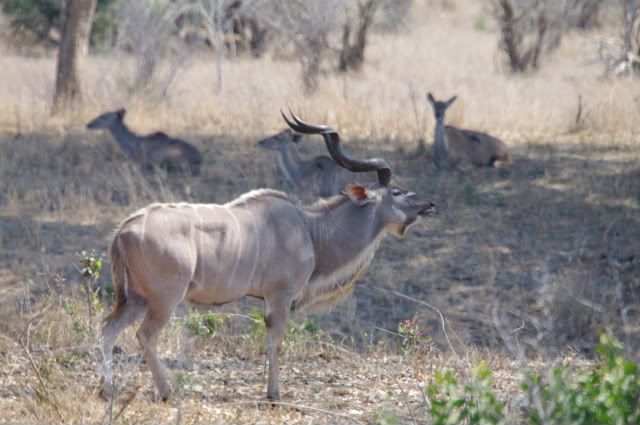 A herd of beautiful waterbuck: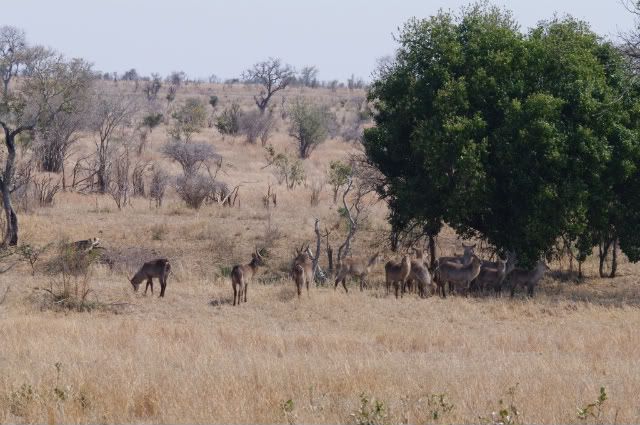 And last but not least, this saddle-billed stork with 2 immatured ones. They were very far away, as you can see on the picture:
11 September 2011 - This was a day of elephants - lots and lots of them, and none of them were aggresive. A lonely buffalo was dwelling on the S44, about 4 km past Olifants view point. On the S93 we found this kori bustard:
Apart from giraffe, impala, zebra and blue wildebeest, we found this little one on the S46: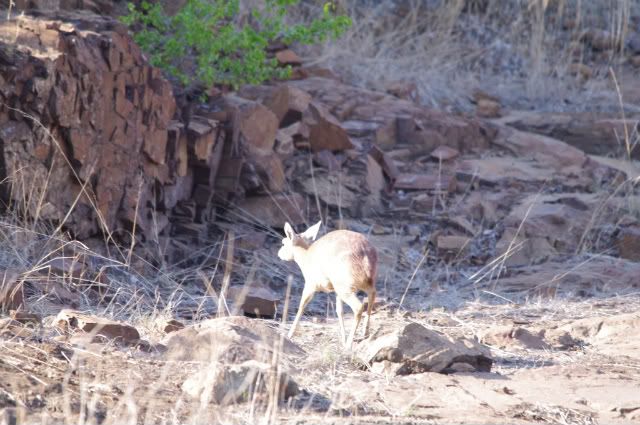 Could it be a suni? I am not sure, but according to my reference book it could be one. Please correct me if I am wrong.
The rest of the day was very quiet animalwise, apart from the regular sightings, and lots of elephants. Not big herds, but they were all over. Fantastic to watch them eating and wandering around.
Before we left for KNP, Nkulu arranged a mini meet at Olifants for 6:10, just after the gates closed. Ralph and Lenny from the Netherlands, whom we saw earlier during the day in one of the shops and of course didn't know who they were, also arrived. Very interesting to meet these mites! After a long, nice chat, we returned to our unit for our braai. Thanks Nkulu for your initiative to arrange this meeting.
---
Forum Assistant

FAC Member (2016)
FAC Member (2015)
Posts: 19398
Joined: Fri Apr 06, 2007 6:39 am
Location: Pretoria SA
I don't know why my pictures came out so big?
Anyway, on Monday, 12 September, it seemed that all the animals have returned from the weekend. We found these two hyenas on the S90, past the Balule turnoff:
Although very hot during the day, the early mornings were quite chilly, as could be seen by this little squirrel trying to catch up some sun rays:
This little steenbuck has such a friendly face:
I always get the back sides of the animals, like this picture of the herd of blue wildebeest:
Lilac-breasted roller: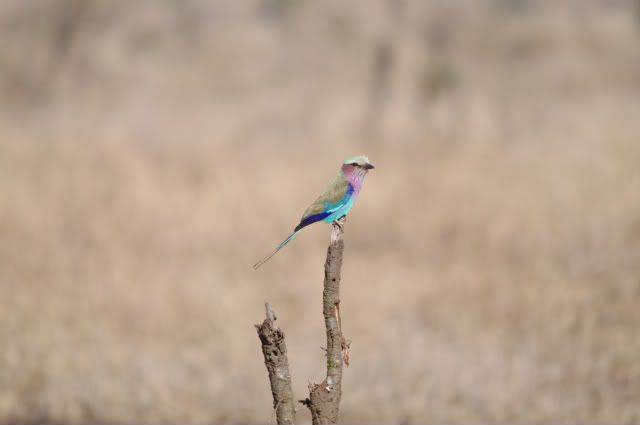 On the H1-4 at the Witpens waterhole, these pack of lions were watching the zebras closeby:
At the Nsemani Dam on the H7 (Satara-Orpen road), a herd of buffalo and a few zebras: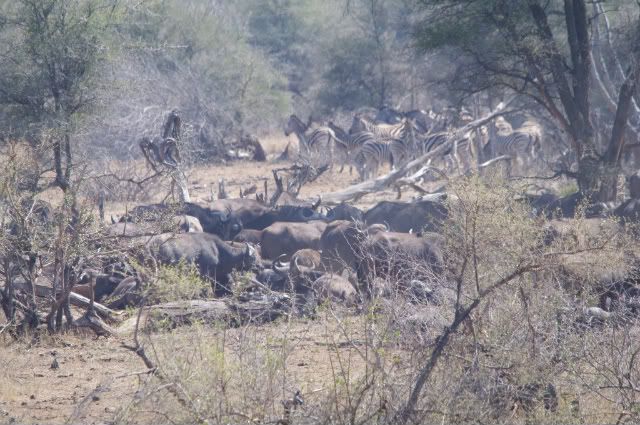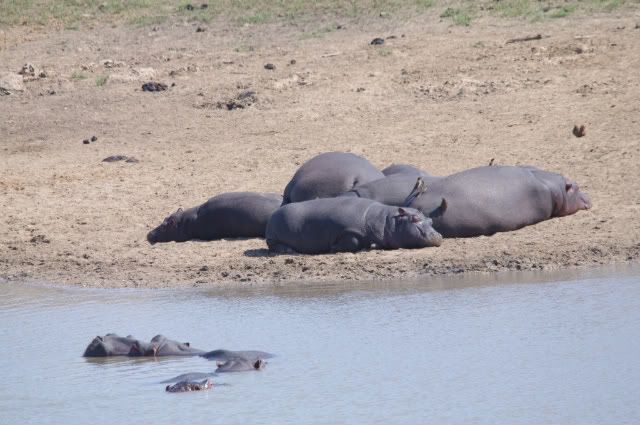 Another rhino:
Elephants at the Ngotso waterhole:
Elephants, impalas and zebras at the Nyamarhi waterhole. One doesn't always realise how big an elephant really is, until you can compare it to other animals:
Very satisfied with our day's sightings, back to Olifants camp to check out what was going on in the river below our bungalow.
---
Forum Assistant

FAC Member (2016)
FAC Member (2015)
Posts: 19398
Joined: Fri Apr 06, 2007 6:39 am
Location: Pretoria SA
Tuesday, 13 September, our last day at Olifants camp. This lonely guy seems to be lost:
It seems to be breeding time for the vultures.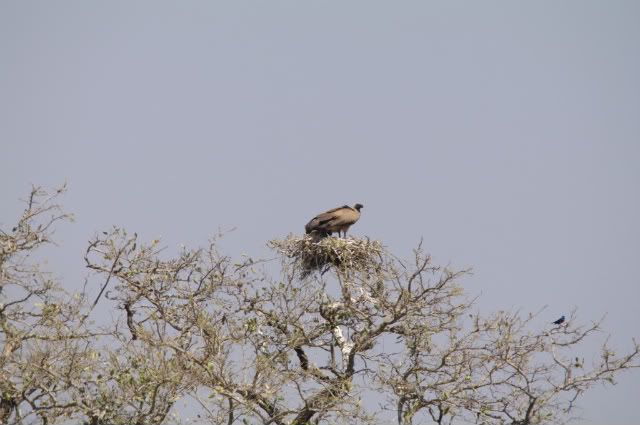 Brown Snake-eagle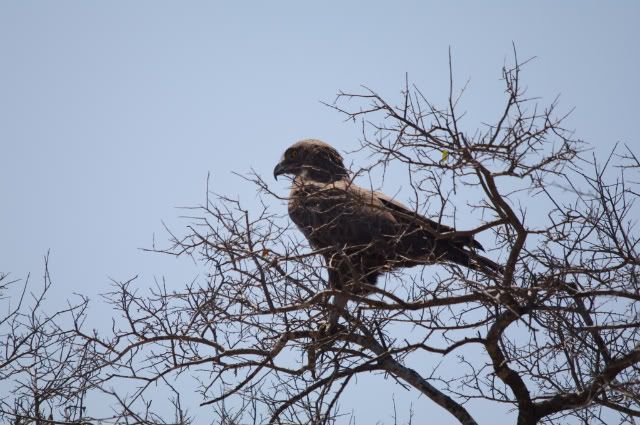 I cannot resist a baby elephant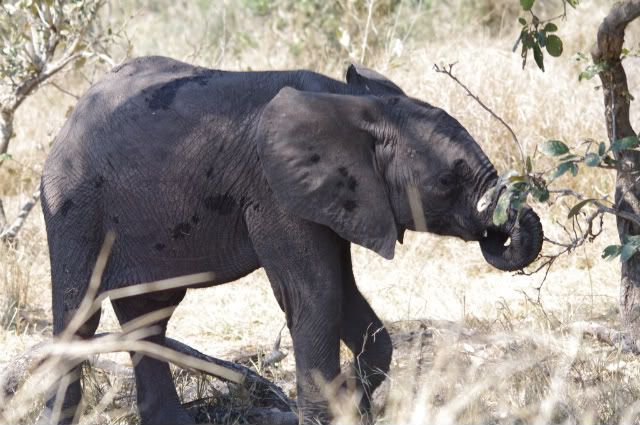 This looks like an African Hawk-eagle. Please correct me if I am wrong. We found it on the S39: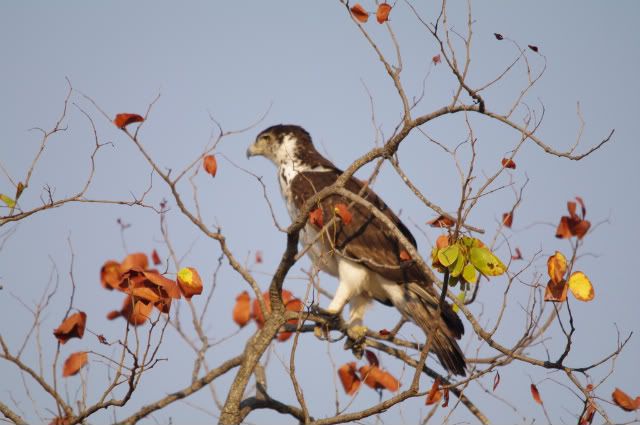 Helmeted Guineafowl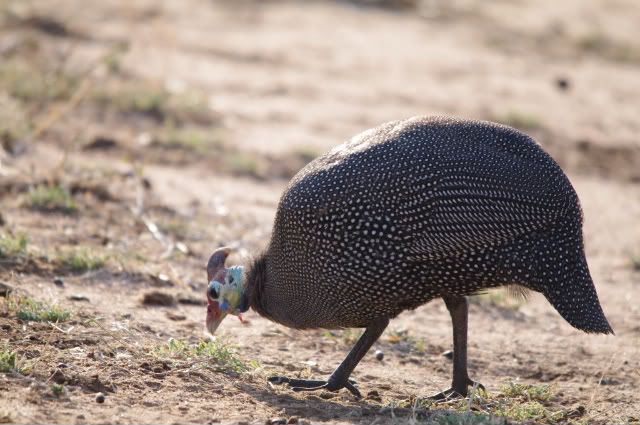 Still on the S39, we found this Kori Bustard which looks so elegant: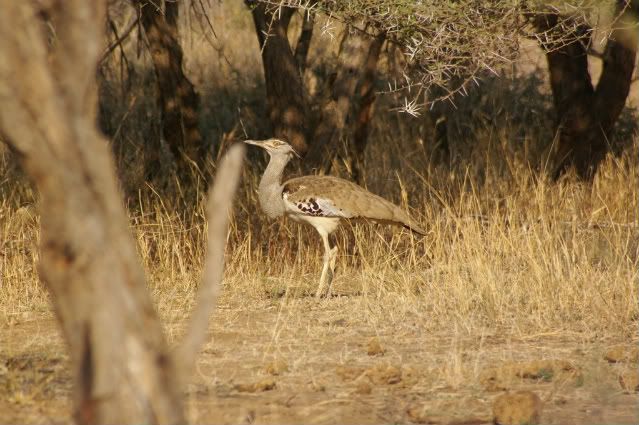 Bateleur, still on the S39: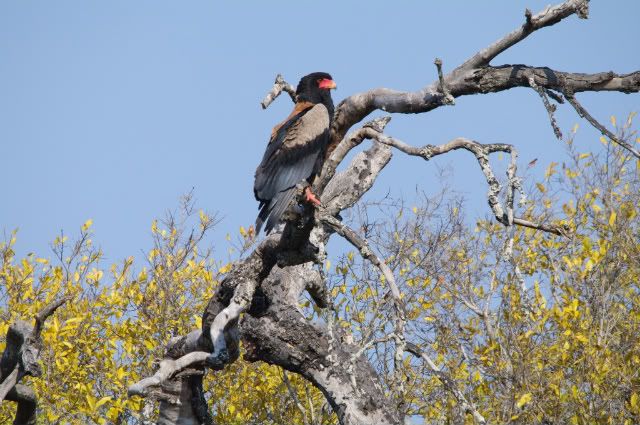 It seemed to be the end of the birds for the morning, when these two beauties appear, still in their pajamas.
The Boabab at Timbavati: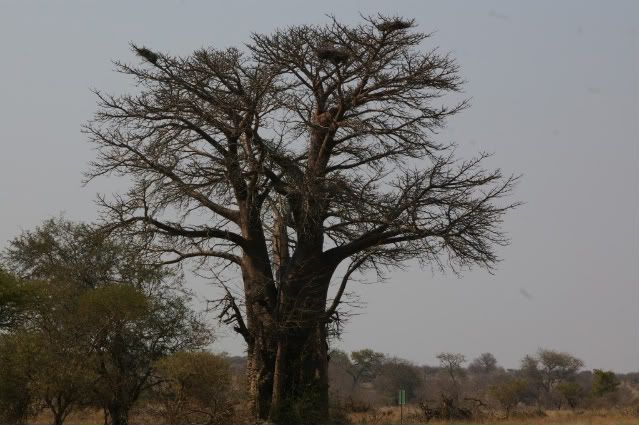 Nothing better than a nice sun tan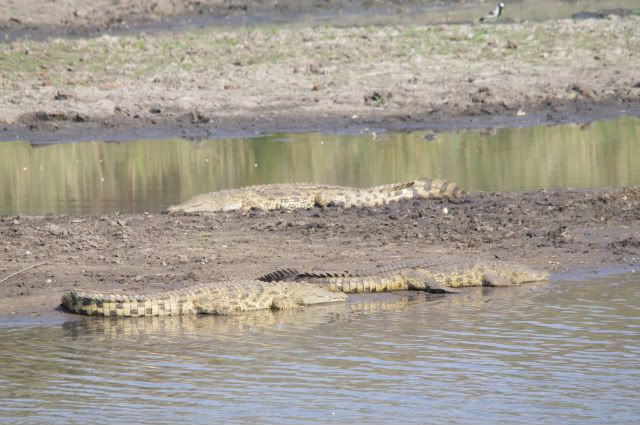 This lioness seems to be very tired and lonely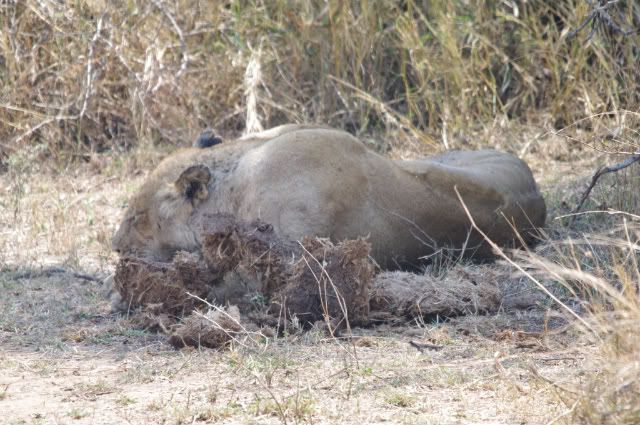 Spot the leopard! At the Ngotsodam, two young guys told us that they saw this leopard climbing out of the tree, and lie down behind the bush under the tree, only its head visible. It was far away, and very hard to find. If I knew how to put a circle around it, I would have done that, but see if you can find it:
While the one is showing off his beautiful set of horns, the other simply has to show off the circle on her backside.
Baby elephant drinking while mom is eating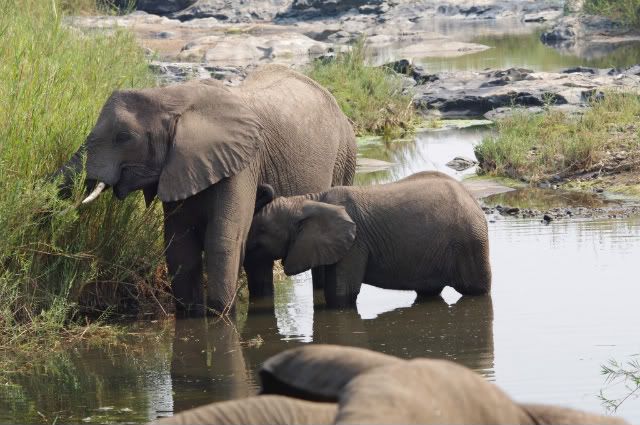 What a beautiful face: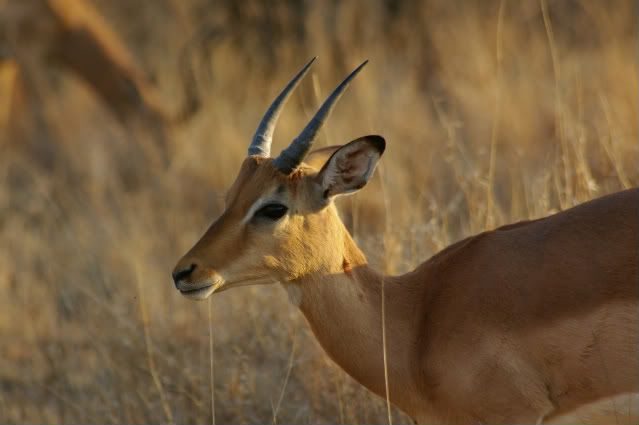 If it itches, you've got to scratch.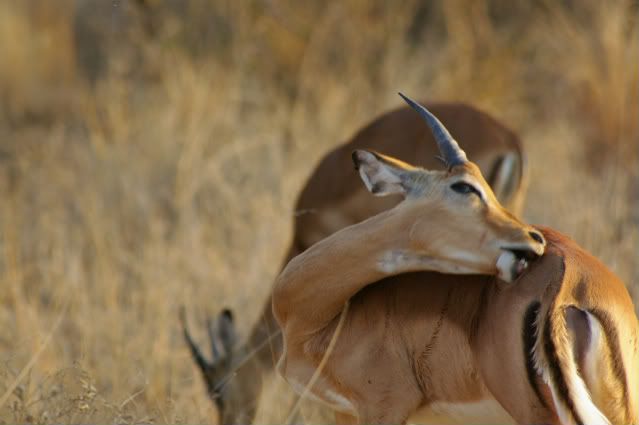 Back at the camp after a lovely day, SO took these pictures from the porch of our bungalow:
Is this a Tawny-flanked Prinia? Please help!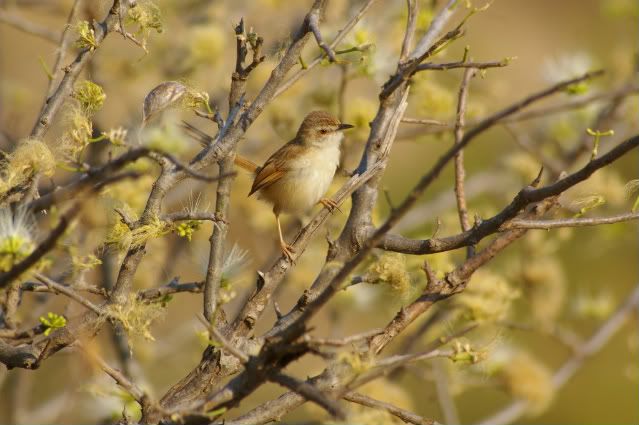 The Sunbirds are also not very easy to identify. I think this was a Southern Double-collared Sunbird. Do you agree?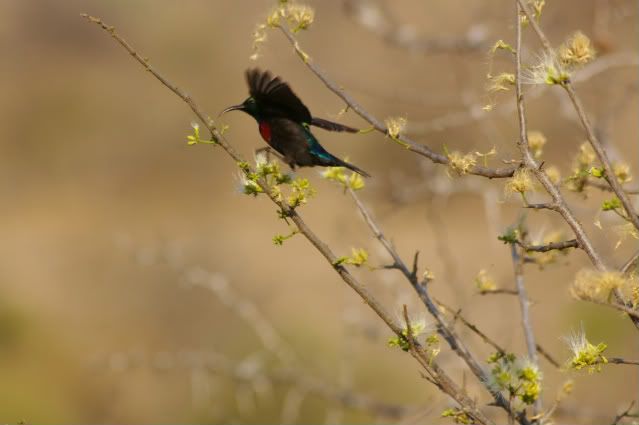 And this beautiful Black-collared Barbet.
This was the end of Olifants Camp for us for 2011. Tomorrow we are moving to Satara for four nights and are looking forward to see what we will find there!
---
Forum Assistant

FAC Member (2016)
FAC Member (2015)
Posts: 19398
Joined: Fri Apr 06, 2007 6:39 am
Location: Pretoria SA
Good morning everybody! I thought I would find time over the weekend to start on our Satara sightings, but mission impossible! Our garden needed some urgent attention, and lots of other things had to be done as well.
On 14 September we left Olifants for our next 4 nights' stay at Satara. I simply love these little guys on their knees: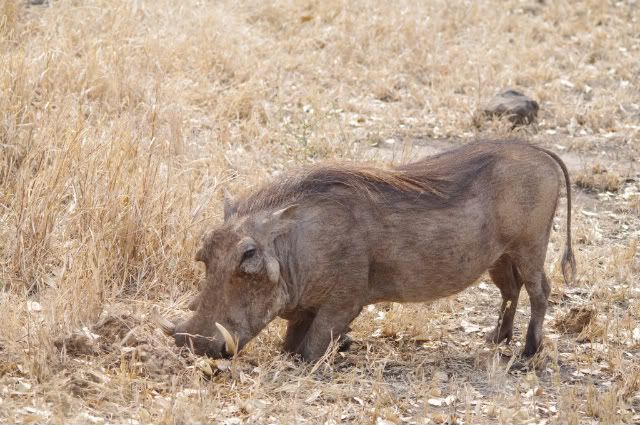 On the H1-4, apart from the warthog, we found giraffe, zebra, guineafowl, buffalo, elephant, impala, and a beautiful kudu bull.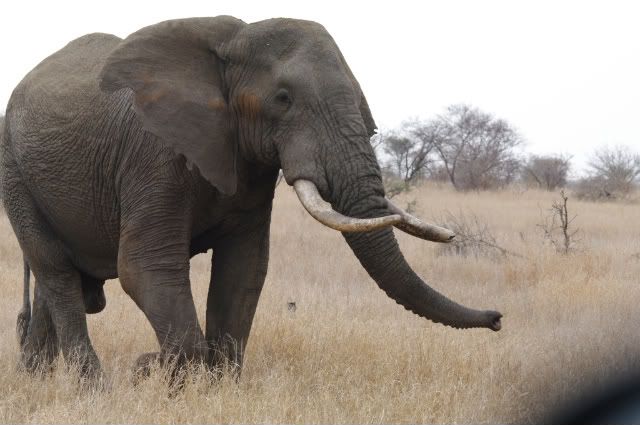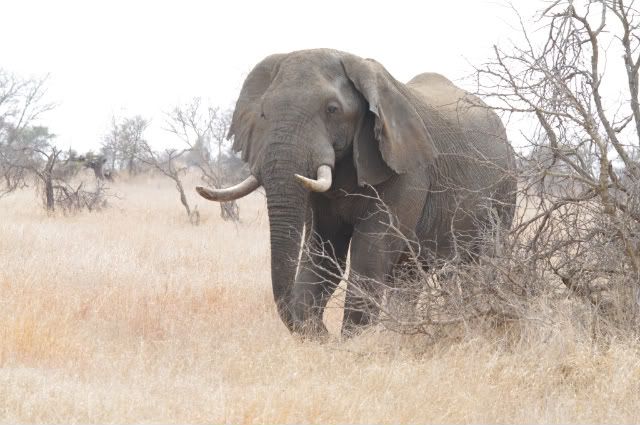 At the Mazithi-dam a lot of impala, warthog, waterbuck, zebras and blue wildebeest were drinking water. Unfortunately the picture came out blurry.
On the H1-3 on our way to Tshokwane, a herd of thirsty buffaloes, with an elephant in the distance: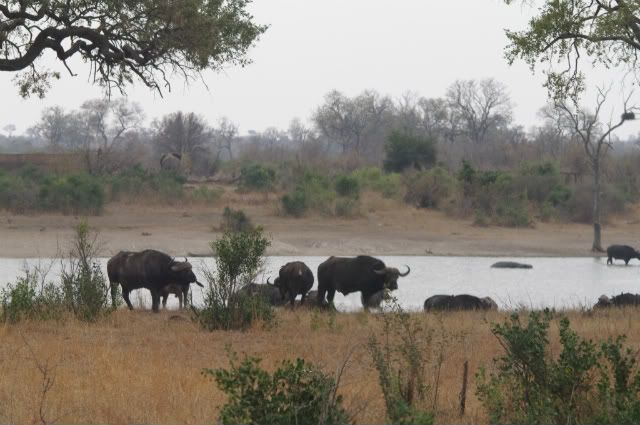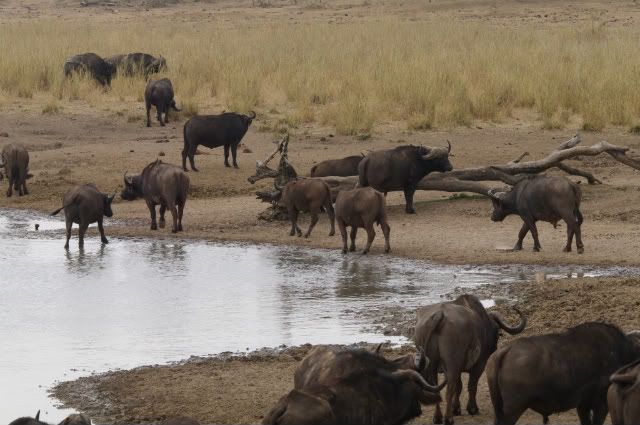 This hyena wanted to get some sleep.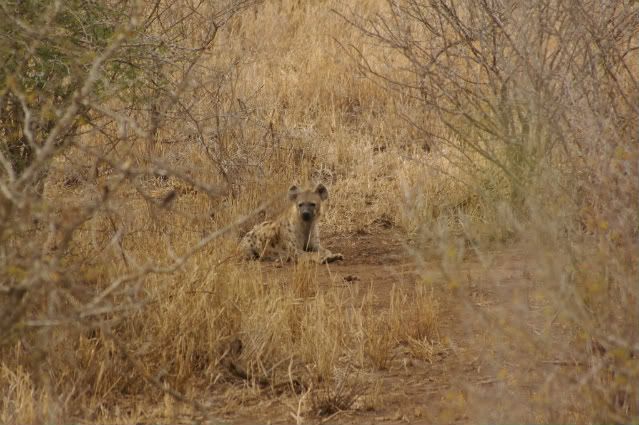 These littles ones are just beautiful: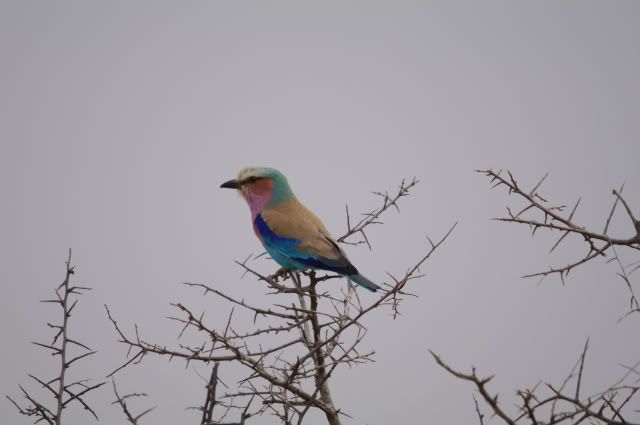 In a distance, we spotted this pride of lions. We have counted 8 in all, 5 of them young ones: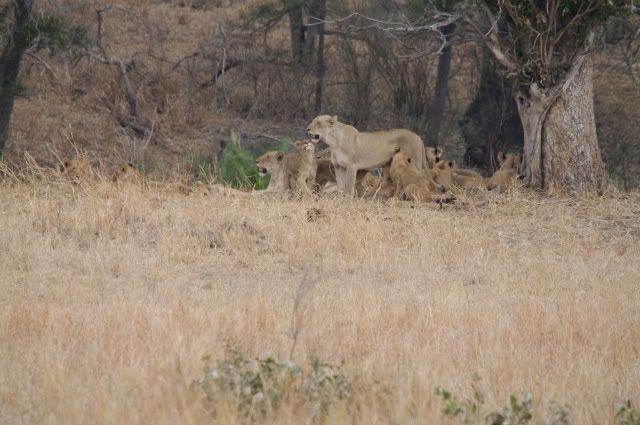 I wonder what he was thinking:
This Verreaux's Eagle-Owl was a first for us. Just look at the pink eyelids. We found it about 20 kms south of Satara on the H1.3: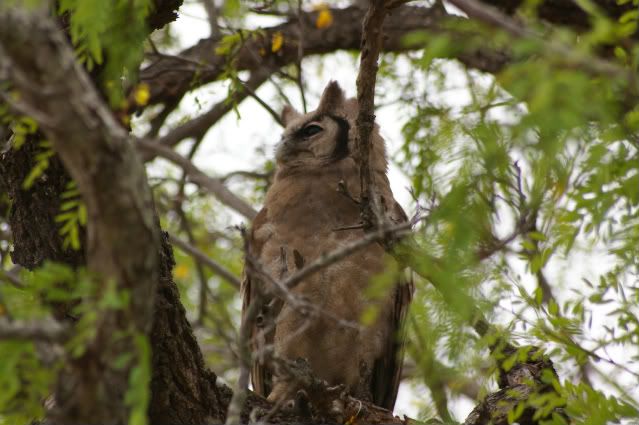 On the Orpen road back to Satara to book in, we passed the same blue Corolla with the yellow ribbon we saw at Skukuza. My SO turned around and stopped him for a chat, and he was quite surprised because he didn't see us. It was about 13:15 and really hot. It was Winnie the Pooh from Chicago. He was on his way back to their chalet at Orpen, where he left his wife and baby during the heat of the day. Lovely people, these YRs!
We booked in at Satara, and since no. 163 was not available, we had to take no. 173. Nothing wrong with that anyway, just not so close to the perimeter, with the advantage that people who walk around do not have to step over your porch. After the huge effort of unpacking, a nice braai with an ice cold glass of wine or two with ice, it was time to hit the sacks.
---
Forum Assistant

FAC Member (2016)
FAC Member (2015)
Posts: 19398
Joined: Fri Apr 06, 2007 6:39 am
Location: Pretoria SA
15 September was, for some or other reason, very quiet. Apart from the normal sightings, we saw hippos, impala, two Woolly-necked Storks at the Noemani Dam, and an African Fish Eagle, clinging to a far-off branch in the wind: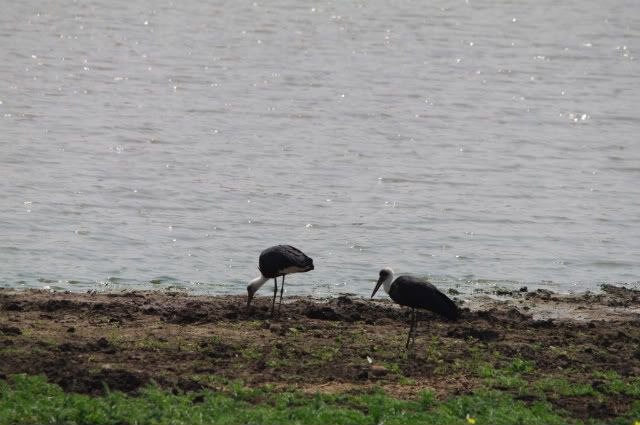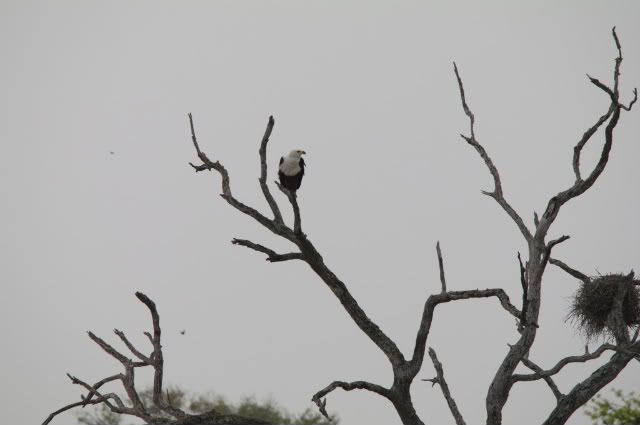 There were another buffalo herd on the Orpen Road as well, and a black-bellied bustard, but the picture came out very blurry.
On the S100, we found these two lions:
More baby ellies: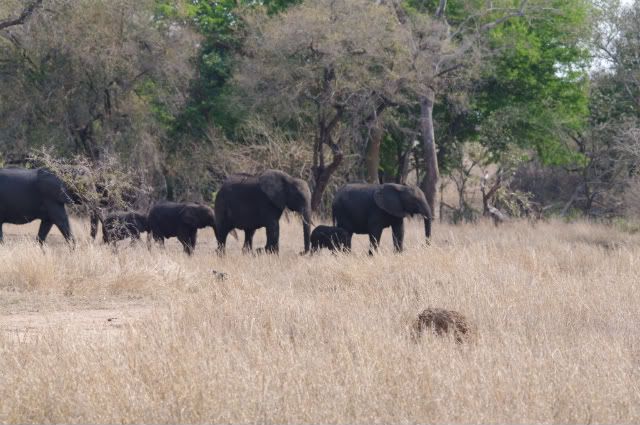 After a lovely day in the bush, we returned to Satara. At the Satara shop, Vlakvarksegat and his SO came to introduce themselves. Again, warm and very friendly people!
---
Forum Assistant

FAC Member (2016)
FAC Member (2015)
Posts: 19398
Joined: Fri Apr 06, 2007 6:39 am
Location: Pretoria SA
16 September: At the gate, waiting in line for them to open at six and ready for a "who-knows-what-we-will-find" day.
It started with a big herd of buffalo far away on the H-7. We have decided to go to Talamati camp to see what the camp looks like for a possible future booking. There were almost no animals on the road, because of no or dry waterholes. The Ngwenyeni Waterhole on the S125 for instance, donated by staff of Allied Bank (a member of ABSA) when commemorating their centenery (1888 - 1998), was completely dry. There was supposed to be a solar system to fill the waterhole, but none could be seen.
At Talamati, there was a dam where blue wildebeest were quenching their thirst. It is a beautiful camp, but not many animals or even birds to see for long distances.
Further on, on our way back, we found the Mhisanamond Waterhole also dry. There were two windmills in good working order (it seemed) but no dam. Where does the water go to if the boreholes are not dry?
On our way to Tshokwane, a turtle was joining these crocs in the sun:
Another Saddle-billed stork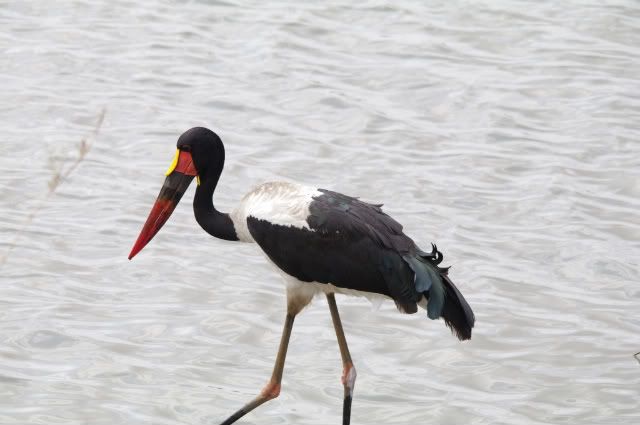 And this one (no! it is not what it looks like, that would be impossible):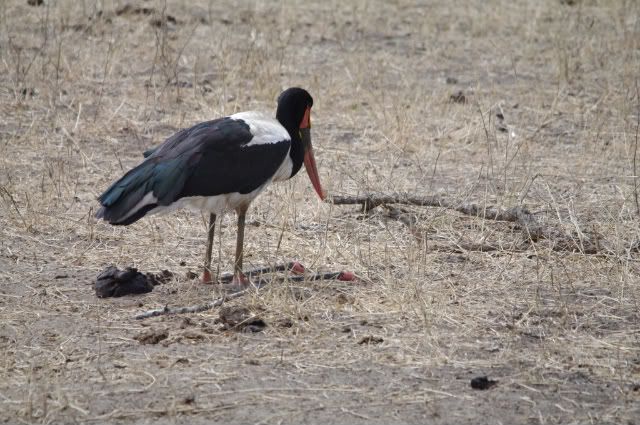 We went to have another look at the most Southernly Boabab in the KNP again. This is such a magnificent tree, I cannot stay away from it when we are in its vicinity:
And the huge tree trunk: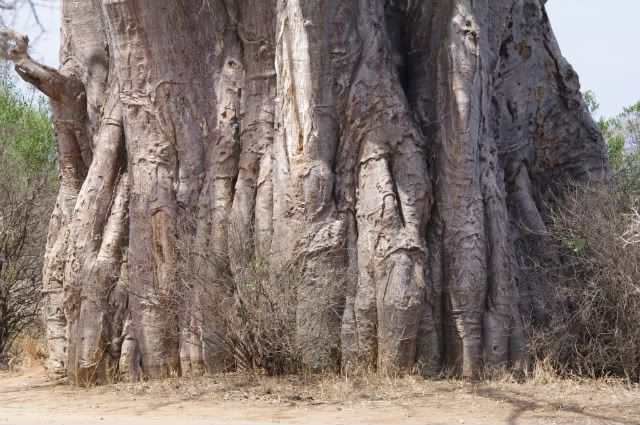 On our way back, we found a bush-buck, a family of seven giraffes and another beautiful bull kudu (no pictures I'm afraid).
Secretary bird:
A very tiny baby baboon: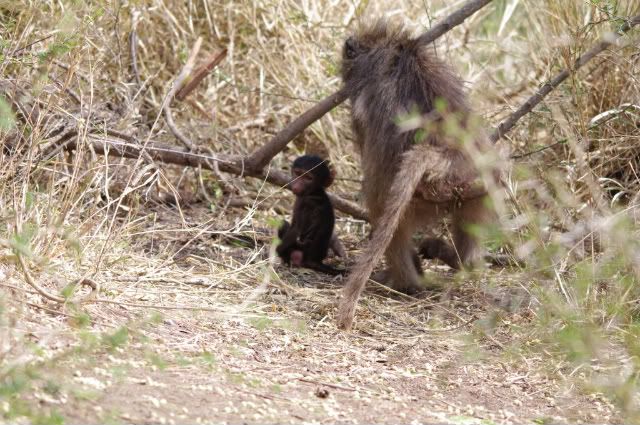 On our way back to Satara, at the Shibotswana waterhole, a few giraffes were running like mad, with blue wildebeest and zebras to follow. Then a few lions followed, but it was to quick and too far away for any pictures or even a video clip.
Back at the bungalow at Satara, we saw these Red-billed Hoopoe on the thatched roof next to our bungalow:
It is a beautiful bird, as can be seen on this picture: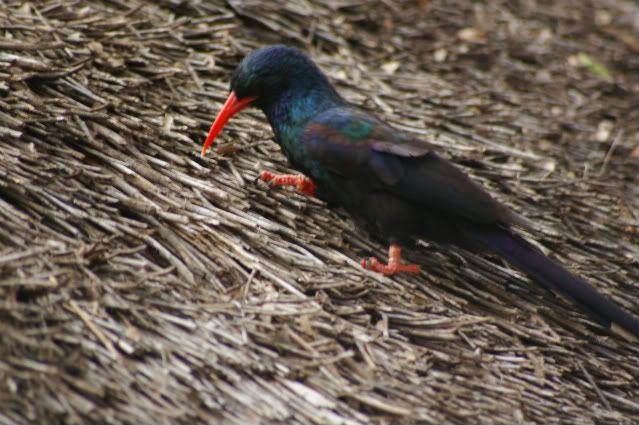 They were eating all the insects in the thatched roof. I have never seen them doing this before, and found it quite interesting. How do they know where to look for the insects?
The end of another very interesting day, with the time passing far to quickly.
---
Forum Assistant

FAC Member (2016)
FAC Member (2015)
Posts: 19398
Joined: Fri Apr 06, 2007 6:39 am
Location: Pretoria SA
17 September, our last day at Satara. With no more than a glimpse, we managed to take a picture of this honey badger, running like mad:
Not a very good picture, but proof that we saw it.
Further on on the H1-3, we stopped to take a picture of this beautiful Burchell's Coucal,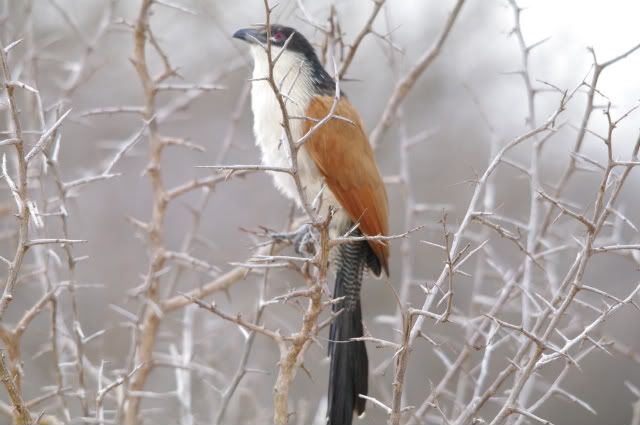 when we saw something sitting on a twig in the tree next to the Burchell's Coucal: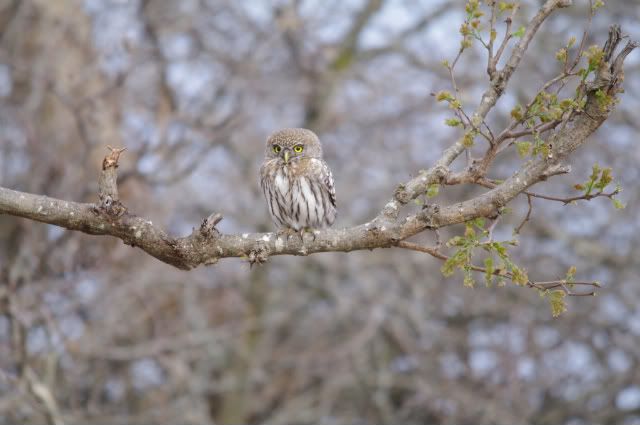 The most beautiful Pearl Spotted Owlet! It was so small, one could hardly see it properly without binoculars, but simply beautiful! It's a first for us!
Then we came across two sleeping hyenas: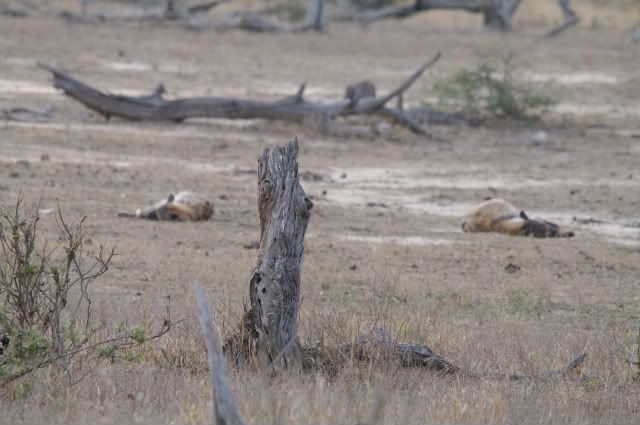 Then, of course, more baby ellies: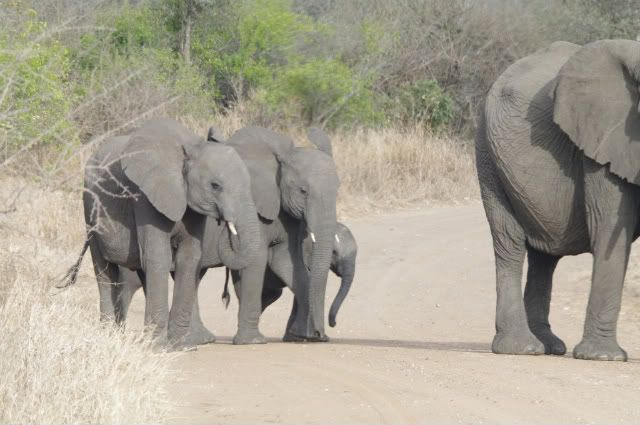 Hamerkop, impala and a rhino crossing the road: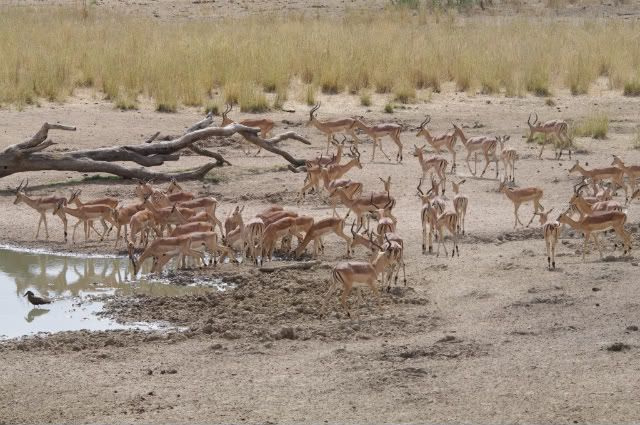 Another vulture on her nest, in the heat of the day:
We found these buffaloes and elephants at Sweni. The baby ellies were so thirsty and couldn't reach the water in the dam, but the buffaloes did not want to leave the water hole so that they could also drink some water. Unaware of the danger, one of the little ones tried to chase the buffaloes away with flapping ears and a swinging little trunk, but his mom quickly reprimanded him.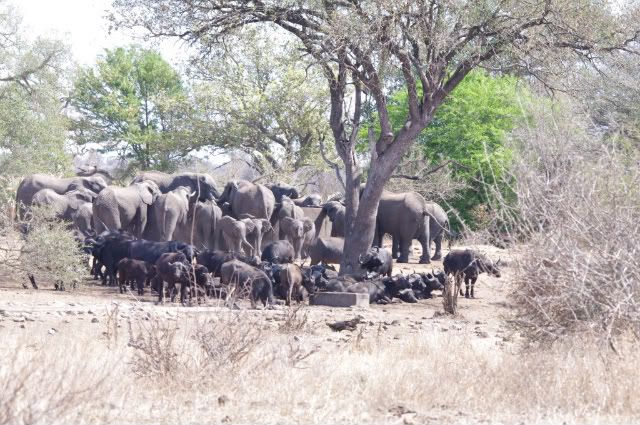 We returned to the camp just after 3 o'clock, since we were invited for a braai by MGoddard, Vlakvarksegat and SO per e-mail just before we left for KNP. I have decided to make us some "spekkies" for a snack not to be empty handed when we meet them.
In her e-mail, MGoddard mentioned that they will be staying in bungalows 171 and 172, should we not be able to contact one another beforehand, we will know where to find them. Without remembering it, my SO phoned Satara to book bungalow no. 163, which was not available, and decided to take the next available one, which was, of course, 173. When he told me about it, I said but these people that invited us, will be staying in 171 and 172. He did not believe me, and I showed him the e-mail that I have printed. He couldn't believe the coincidence, and they were also unaware of it. It was very convenient to stay next to each other, since the cutlery and everything we needed were close by for anyone of us.
Click Click was also supposed to join us, but her plans changed and she spent the evening with family. She did, however, came to meet us, which we really appreciated.
The cherry on top of it all was the African Wild Cat that ran past us. MGoddard's camera was closest, and she managed to get a picture of it.
MGoddard, Vlakvarksegat and SO and Click Click, it was lovely meeting you. Thank you again for a five star dinner and a lovely evening.
---
Forum Assistant

FAC Member (2016)
FAC Member (2015)
Posts: 19398
Joined: Fri Apr 06, 2007 6:39 am
Location: Pretoria SA
18 September – Everything is packed, we were leaving Satara for our last two nights in the Park at Crocodile Bridge. On our way to the gate, we met Okie from Cape Town (YR), introduced ourselves and had a nice chat before we left the camp.
Just outside Satara was a herd of buffalo. On the H1-3, just past the S126 from Satara to Tshokwane, we found a pride of seven lions busy with their breakfast, with four black-backed jackals waiting anxiously for them to finish: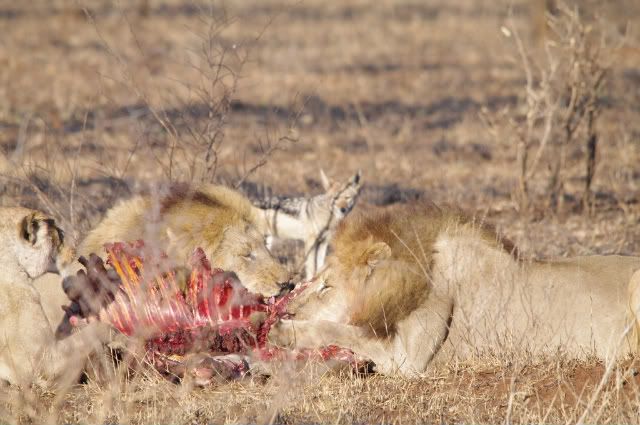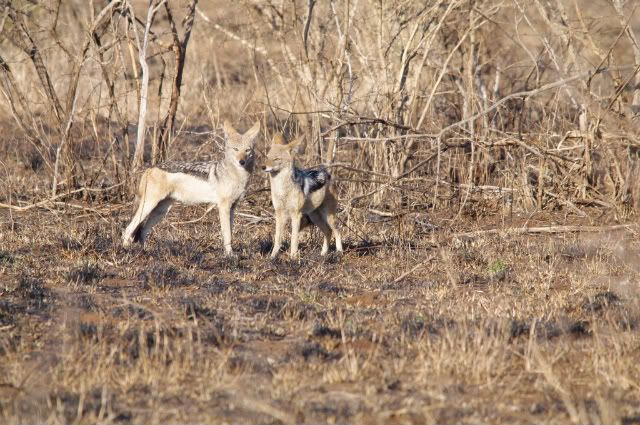 At the Mazithi Dam we found another black-backed jackal, African fish eagle, and Egyptian Geese.
More or less 2 kms further on, these two beauties crossed the road:
This lady did not seem to be impressed with our presence. SO turned the vehicle (and blocked the road in the process) so that I could take a picture through the open window:
She stood up, walked past the Hilux, and lie down again, in the middle of the road.
The male also stood up and decided to lie down on the other side of the Hilux, making use of the shade. (I always cut off the animals feet or part of their heads while taking pictures
):
SO took this picture from his closed window, to show how close the lion was: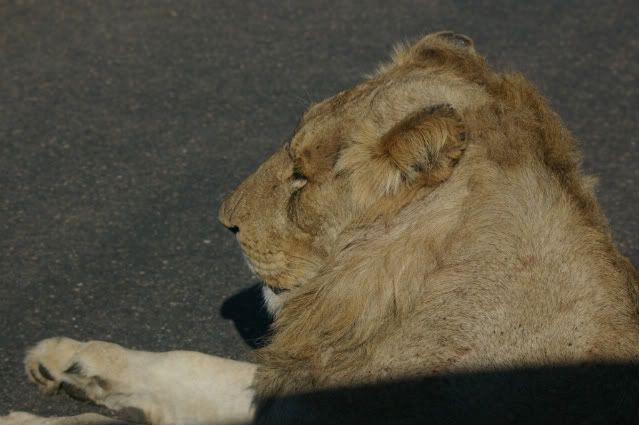 A few cars were also taking pictures of these two, and we didn't want to start the engine to unblock the road, scared that the lions would run away without these people being able to take pictures of them.
After a while we decided to leave, but they didn't even move. They stayed in the middle of the road, with a third one (male) coming from the other side and joined them.
Not far from the lions, we found three hyenas (only one in the picture). It seems he had blood on his face, neck and shoulder, and must have had something to eat:
It was quite hot outside, as can be seen here, just outside Skukuza: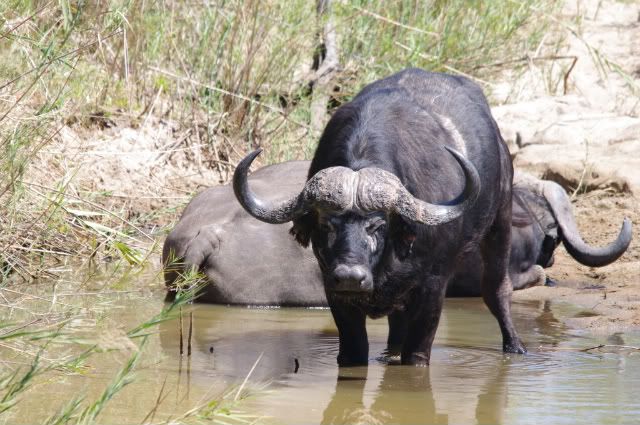 We have decided to visit Lake Panic. We have never been there before, and what a surprise! It is, to me, to most beautiful bird hide I have ever seen. I did not take my camera, because it is too heavy, and didn't think of taking the other one with the smaller lense, because SO took his video camera. Next time I will know better.
On the Skukuza/Lower Sabie road (H4-1) we found these two:
He could hardly keep his eyes open, while she is fast asleep at his back.
Just to show how beautiful it is on the LS bridge: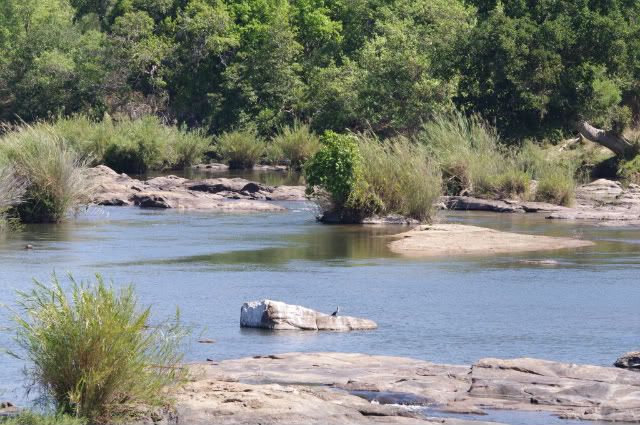 We also came across a male Nyala, but the picture is not very clear because of the long grass.
We spent a while at Sunset Dam with all the hippos, crocs, elephants on the other side of the dam and lots of different kinds of birds, before we left for Croc Bridge to book in after another lovely day in "heaven on earth".
---
Forum Assistant

FAC Member (2016)
FAC Member (2015)
Posts: 19398
Joined: Fri Apr 06, 2007 6:39 am
Location: Pretoria SA
19 September – We left camp at 6 o'clock as usual. On the H4-2, this guy crossed the road.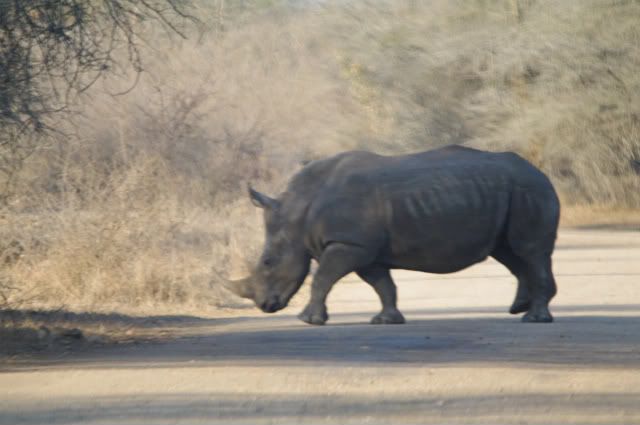 On the H5, a glimpse of two more: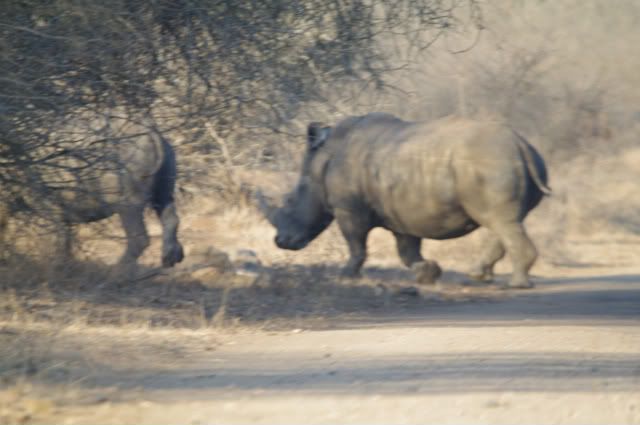 On our way to the Mpondo Dam this baby giraffe was hiding behind his mother: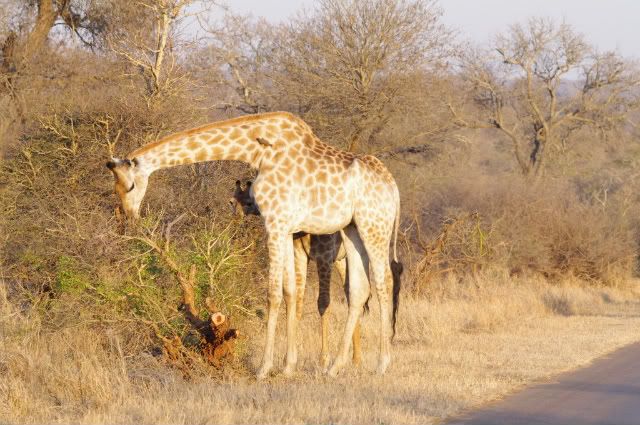 A lonely zebra in the middle of the road: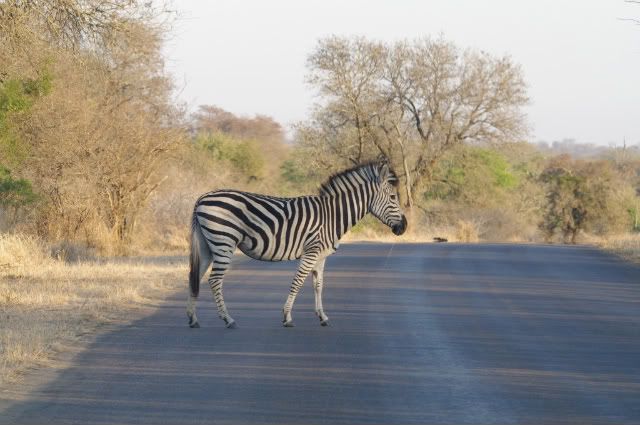 Pied Kingfisher
This Black Crake, looking for food
At the Mpondo Dam, we found these – I am not sure whether it is Cattle Egret? (because of their yellow bills and legs – N Br).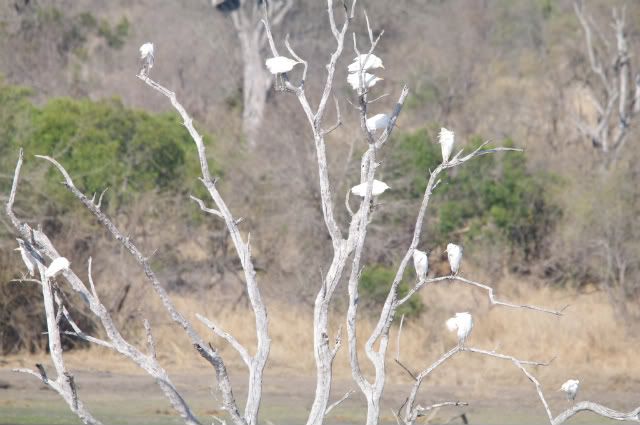 On our last full day in the Park, on the H5, at last, a clear leopard: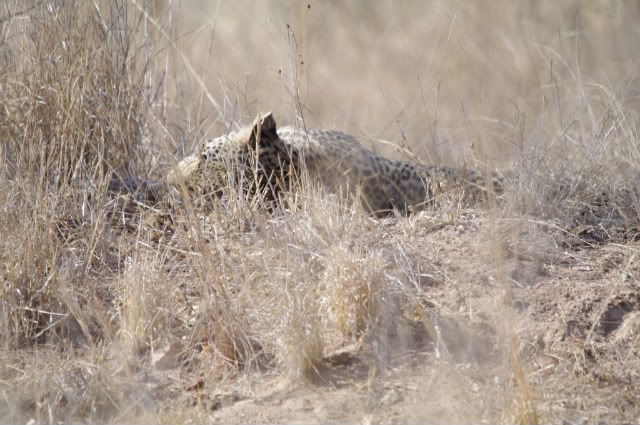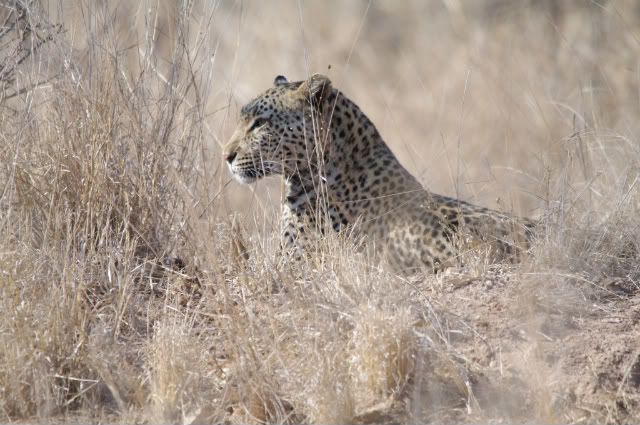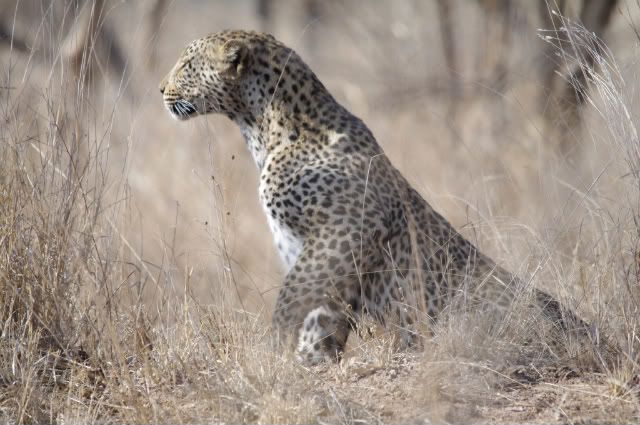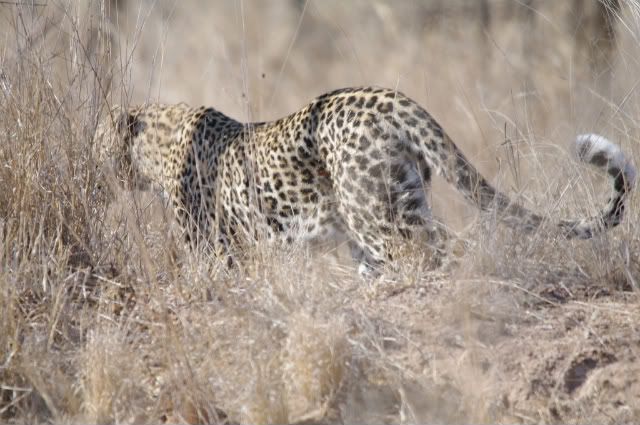 We stopped in the shade of a big tree at Renosterpan for a nice cup of coffee. When my SO looked up, he saw another leopard in a distance. It was behind the bushes and not very clear, but one could see he was watching the impalas drinking water. They were aware of his presence though:
We have been waiting for quite a while, but in the end the impalas ran away without the leopard chasing them.
On our way back, these cuties crossed the road.
A little steenbuck tried to hide behind the long grass.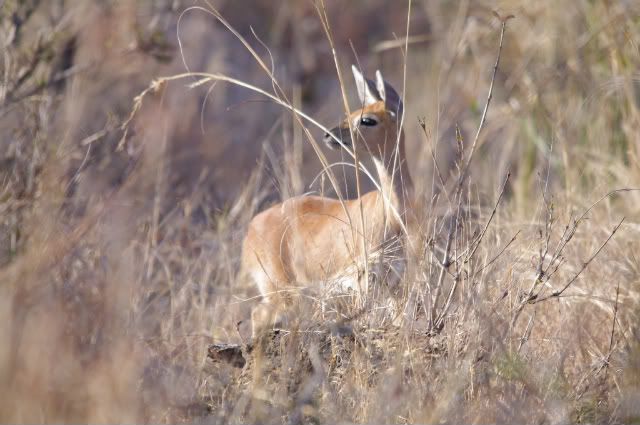 Another baby ellie: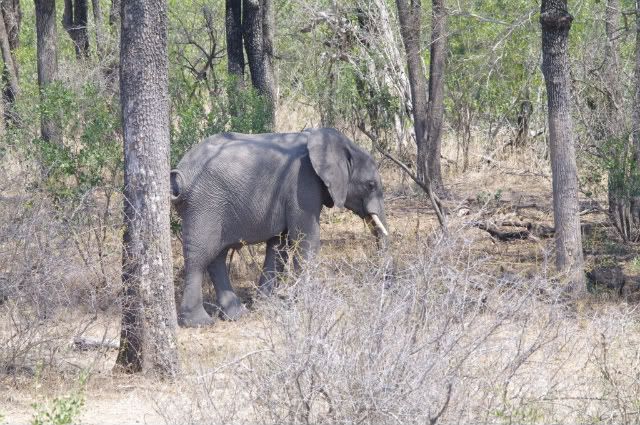 On the S25, three cheetahs were stalking impalas on the other side of the road. Although one of them chased the impalas, it was not successful.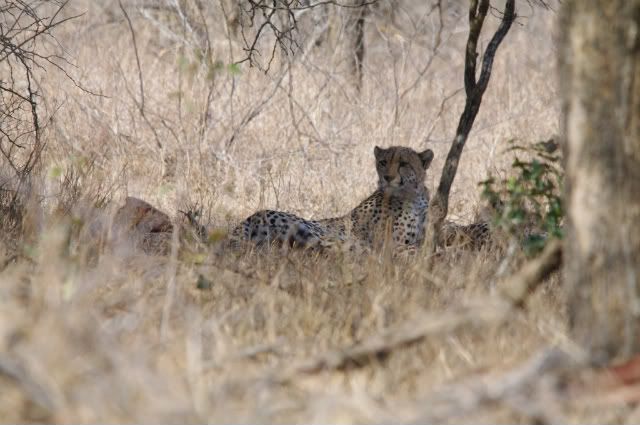 After a very busy, but fantastic last day, we had our last braai for this trip at Crocodile Bridge.
---
Forum Assistant

FAC Member (2016)
FAC Member (2015)
Posts: 19398
Joined: Fri Apr 06, 2007 6:39 am
Location: Pretoria SA
20 September 2011 – After a thank you note to the cleaning lady with a tip for good service, (as we normally do when leaving a camp), we have decided to go for a short drive to Sunset Dam at LS before leaving the Park at Croc Bridge.
A herd of elephants just outside the camp on the H4.2.
A few kms further, we found these two: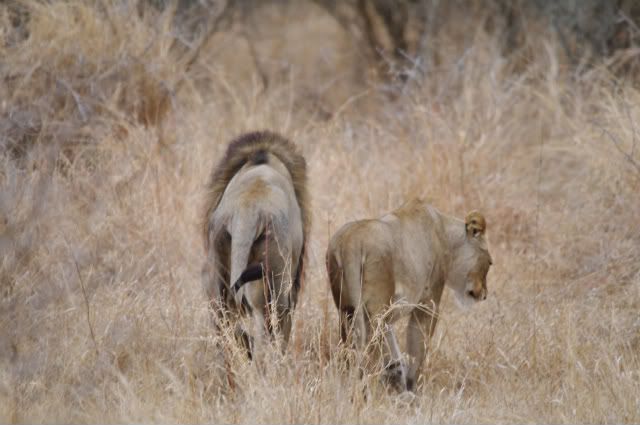 They were sleeping close to the road, and as more and more cars stopped, they have decided to leave.
Then we came across this hyena, looking very hungry:
Is this a Goliath Heron?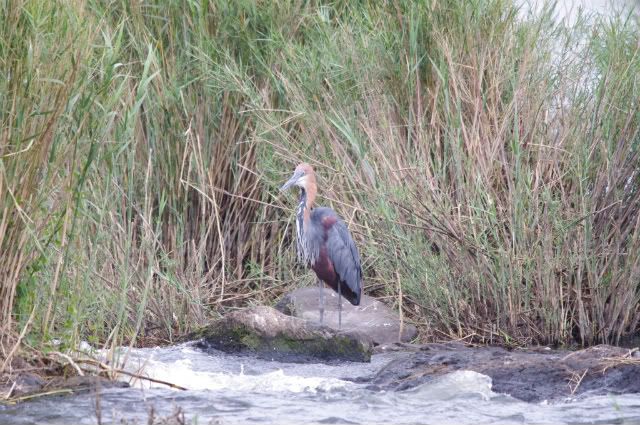 Yellow-billed Stork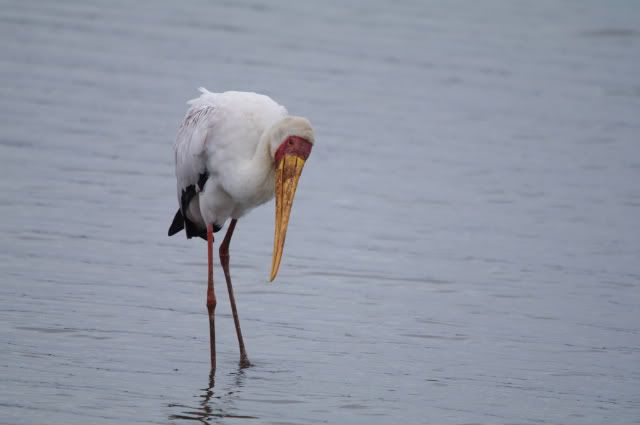 Always nice to look at - African Fish Eagle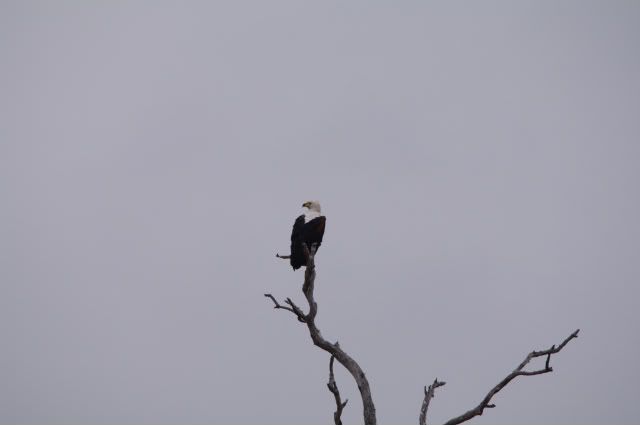 Last but not least, a Bateleur.
Sad that our holiday has come to an end, we headed for Croc Bridge Gate. On our way, we met Hoyle and SO, who were also staying at Croc Bridge (YR), but we could not find them there. It appeared that their holiday only started, while ours was something of the past. After a short chat, we headed back home, looking forward to see my four four-legged "kids" again! Here they are:
It is impossible to get them all into one picture, because the little one (2nd picture) is too busy.
This then, is the end of my September 2011 TR. Thanks for reading it. It is too soon for a count down, we will have to wait until middle February before we can visit the Park again.
---
---
Who is online
Users browsing this forum: barryels and 7 guests