Posts: 4478
Joined: Mon Jun 19, 2006 6:13 pm
Location: Centurion, ZA
A syndrome whereby you have become addicted to a place. There is no cure and the only treatment is making another trip to the place.

Kruger Addiction-Treatment Syndrome.


We are in need of treatment and are fortunate enough to be able to go for another weekend to KNP.

4 June – Pretoriuskop
5 June – Lower Sabie

Not searching for anything specific this time. OK, hopefully something from the rare sighting list and maybe some Kats.

This just happens to be trip number 50 to KNP and we are just as excited as we were about our first trip.
---
Posts: 4478
Joined: Mon Jun 19, 2006 6:13 pm
Location: Centurion, ZA
Hi All,

Back home after another wonderful trip to Kruger - just too short, but aren't all trips too short?

The vegetation is still dense although not as green as it was a few weeks ago. It was cold at night and in the mornings for Kruger with temperatures down to 6 degrees C (brrrrr)

Met soccer fans from Argentina, Brazil, Germany and France during the weekend and it was good to see all these people enjoying the magic of KNP. The park was not full though.

Will get the TR going shortly.
---
Posts: 4478
Joined: Mon Jun 19, 2006 6:13 pm
Location: Centurion, ZA
4 June 2010 - Pretoriuskop
We got to Numbi gate at 4.30pm and took a slow drive to Pretoriuskop. It was good to be in Kruger, and world cup fever was in Kruger too.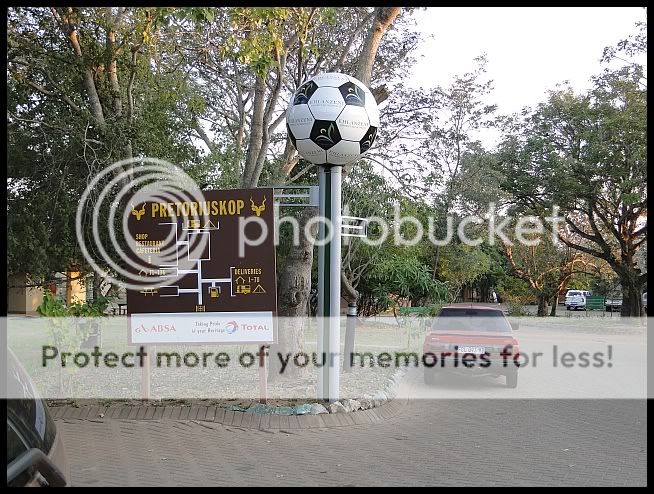 As we were unpacking a kurrichane thrush welcomed us and we got a shot in the fading light.
Darkness sets in quickly in winter and the temperature dropped rapidly too.
5 June 2010 – Lower Sabie

We were the first car out and took the H2-2 road towards Afsaal. The reason for staying in Pretoriuskop was to hopefully find wild dogs – haven't seen them since September 1998
when we saw 3 different packs. Also maybe sable around ship mountain
A Kruger sunrise
A white rhino mother and calf was our first sighting but they did not hang around for a photo.
Near shipment mountain there was a zebra amongst some impala
Saw nothing further till Afsaal. Made for the S118 and then the S119. The day was warming up now and we found some female kudu
and a little bee-eater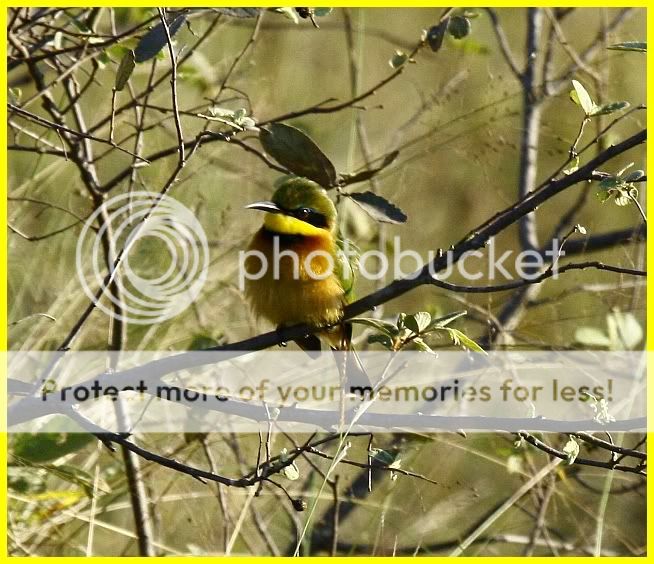 fork-tailed drongo.
We got below this white backed vulture
---
Posts: 4478
Joined: Mon Jun 19, 2006 6:13 pm
Location: Centurion, ZA
Thank you
Kamadejo, p@m, DinkyBird, Pumbaa, Crested Barbet, Shi, MM and billyf
The sunrise was beautiful and we had parked off for 10 minutes just enjoying it and the feel of the bush...SIGH!
Further on the S119 we found some white fronted bee eaters sunning themselves.
On the S25 we stopped for a herd of impala. Two were testing each other out
and these were feeding
there was also a go away bird and a yellow-billed hornbill around
Sharifa then noticed the heads popping out of the holes in the termite mount
It was so good to watch the curious mongoose. Friend or foe? they settled down seeing we were not a danger.
Two cars drove past not bothering to stop for the impala
Further on the S25 we found another of our endangered storks like its cousin the saddle-billed.
A wooly necked stork
---
Posts: 4478
Joined: Mon Jun 19, 2006 6:13 pm
Location: Centurion, ZA
Thank you
Micetta, RichardJ, Kamadejo, Shi, Pumbaa, Mauxie
(have sent a PM to you re camera),
p@m, lorrainep, Jungle Junkie, haileyidaho
MM
- "the dwarf mongoose never fails to uplift me" - too true
We continued on the S25 and saw some warthogs
And Zebra
We stopped at the hippo pools, which we have not done in ages, and spend a memorable half hour with the guide Daniel, who is very knowledgeable about the area
Sharifa and Daniel – notice the citrus plantation across the river.
There were Egyptian geese all over the place and Daniel informed us that it was the breeding season for them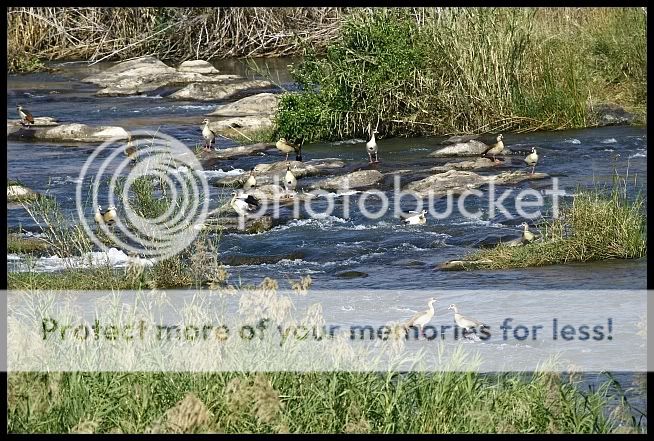 the Marlothi aloe
Skin shed by a snake
A busmen painting
We enjoyed a Martial Eagle letting a Fish eagle know who is boss.
A skink.
---
Posts: 4478
Joined: Mon Jun 19, 2006 6:13 pm
Location: Centurion, ZA
Thank you
Kamadejo, Pumbaa, Bush Brat, Crested Barbet, p@m and Lorraine
.
We had lunch at Crocodile Bridge and then headed to the S28.
A magpie shrike
LIT but very far and this was the only view we got of it.
Back on the H4-2 there was a breeding herd of ellies and we stopped.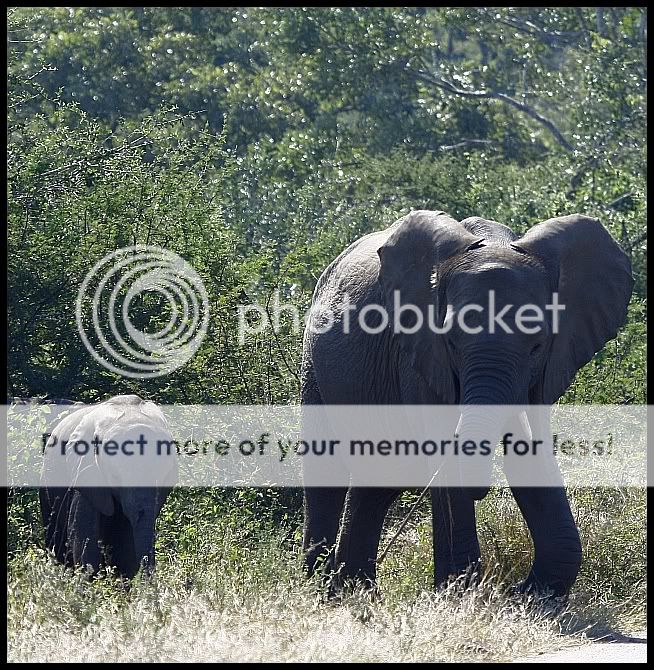 A car came along wanting to carry on and we advised them not to as there were little ones and it could be dangerous. They were foreigners and obviously did not understand us
Fortunately all ended well but not without drama for the next car that wanted to pass and they reversed in a hurry
We took up our accommodation at Lower Sabie and settled down to relaxing.
See who came to visit Crested Barbet
We did not go out again as we were going to do the evening drive and Raymond was our guide. Martie was also doing a drive. We headed south to the S28 and returned via the H4-2.
Saw ellies and hippo and also a porcupine
and white tailed mongoose
on the evening drive but could not get any
Close to camp Martie contacted Raymond about a lion on the S29 so Raymond took us to see the lion.
It was freezing cold on the night drive and we could not get the braai fire going quickly enough when we got back to the camp.
---
Posts: 4478
Joined: Mon Jun 19, 2006 6:13 pm
Location: Centurion, ZA
Thank you
Annalie
6 June 2010
One of the dilemmas about staying in Lower Sabie is which road to take in the morning as they all excellent. We decided to go north on the H4-1, then take the S21, head down to the Biyamiti weir on the S114 and then get to Afsaal and then decide which gate to exit from.
It was very cold and quiet on the H4-1. Some white rhino as we hit the S21.
The African Harrier Hawk (Gymnogene)
This is an amazing bird and we always enjoy watching it when it is in search of a meal. The most unusual feature of the Gymnogene is the knee joint, which allows the leg to bend in all directions, unlike all other birds of prey, whose lower legs can move in one direction only.
This is what
Brett Hilton- Barber
and
Lou Arthur
think of the Gymnogene in their book,
"The Killer Birds of the Kruger".
The Gymnogene is a specialist nest raider and appears to be universally hated by other birds. It is often seen hopping about in the tree canopy, flapping its wings for balance as it grips on vertical surfaces looking for holes in trees.
Although the early morning light was not good and the gymnogene was some distance from the road we were lucky to see this bird in action.
Smaller birds were mobbing the gymnogene
What is that down there
let's go have a look
Gotcha
video of gymnogene
View My Video
---
Posts: 4478
Joined: Mon Jun 19, 2006 6:13 pm
Location: Centurion, ZA
Thank you
Micetta, Kamadejo, Shi, Pumbaa, MM, billyf
and
CB
Further on we saw a martial eagle.
Fluffy green balls
African green pigeon
Then Sharifa said kudu and I thought she was losing it because a lion was walking on the road some distance ahead.
Ah……. the kudu was alongside the road on her side of the road.
Meanwhile the lion moved into the bush, you would think that it would be easy to pick out a lion amongst some bushes ….have a look.
Ground hornbill – eyelashes to kill for I read somewhere
White Backed vulture that was plucking grass. Amazing that it did not drop a blade of grass as it kept plucking more
The Biyamiti weir is one of our favourite places in Kruger and again it did not disappoint. Hard to decide whether the next sighting or the gymnogene was the better one for the trip but I am getting ahead of myself…………………………………..
---
Posts: 4478
Joined: Mon Jun 19, 2006 6:13 pm
Location: Centurion, ZA
Thank you
Micetta, Pumbaa, Shi, Kamadejo, MM

Just pass the weir and when the road narrows again there was a car parked diagonally, then there was a bush and on the other side of the bush were 3 cars blocking the road. We had seen many lions in the area and thought OK, lions.
So, we were very pleasantly surprised
to find a LOG sitting under a log
Wow
A little yawn
A cat lick
Cat scan of tonsils
Picture "Purrfect" poses
Another car arriving
Eventually we got to the other side of the bush – first view was better
Now if all of you can let me be so I can get some sleep
---
Posts: 4478
Joined: Mon Jun 19, 2006 6:13 pm
Location: Centurion, ZA
Thank you
All
for the comments. This was a young leopard and did not seem concerned with us humans at all. It seems to me that it is habituated to human traffic. We spent half an hour with it and this was one of the few occasions where we left a leopard sighting, normally they just disappear.
It was also very noisy, still cannot understand why people do not switch of their cars
at a sighting. Despite all this the leopard seemed relaxed and therefore I say it is habituated to traffic.
video of leopard
View My Video
---
Posts: 4478
Joined: Mon Jun 19, 2006 6:13 pm
Location: Centurion, ZA
Thank you
Pumbaa, Kamadejo
and
anne-marie
We made our way to the H3 and headed north. Got a wonderful sighting of a Lizard Buzzard.
Too soon we were at Phabeni gate and ready to leave for home. A short trip but just the treatment required for the KATS syndrome. Thank you for tripping with us and hope you got the same high we did.
---
---
Who is online
Users browsing this forum: No registered users and 6 guests